Are you looking for Hawaii songs for a party or just want something fun to listen to while you plan your Hawaii vacation? Keep scrolling to find out the 20 most famous Hawaiian songs!
This post about the most famous Hawaiian songs contains affiliate links which means if you purchase something from one of my affiliate links, I may earn a small commission that goes back into maintaining this blog.
Don't Want to Scroll? Here Are the Top Hawaiian Songs
hide
I have heard thousands of Hawaii songs throughout the years. Most of that is because I was a professional hula dancer for 20 years.
Not only that, but I used to stream Hawaiian music at work for years and always listen to Hawaiian radio stations when I'm visiting Hawaii.
Previously, I've written about popular Hawaiian musicians that I think people should know about before heading to Hawaii.
But today, I thought I'd break down the top Hawaiian music, from traditional Hawaiian songs to Hapa Haole classic Hawaiian songs to Hawaiian pop music of today. There's even a song or two from Elvis Presley!
There are SO many great songs from Hawaii, so I narrowed it down to my top 20 of all time.
These are awesome to add to your luau playlist or to get yourself pumped for your next trip to Hawaii!
Be sure to find out the top Hawaiian musicians to add to your Spotify List!
Hawaiian Music FAQs
What is Jawaiian music?
Jawaiian music is a hybrid of Hawaiian and Jamaican/Reggae music that is popular in Hawaii. It's got an island vibe and usually a beat you can dance to. It was super popular in the 1990s, but you can still hear it today. Sean Na'auao has a lot of Jawaiian songs.
What is Hapa Haole music?
While traditional Hawaiian music is all in the Hawaiian language, Hapa Haole music is mostly in English. This type of music became popular in the 1930s and 1940s as more travelers from the Mainland started vacationing in Hawaii. It's usually has a jazzy style.
Who is the most famous ukulele player?
Jake Shimabukuro is a genius ukulele player who has tons of albums. While you might not immediately recognize his music, you'll be impressed with the intricacies and the beautiful melody. He plays lots of popular Hawaiian songs on the ukulele.
Why is the ukulele so popular in Hawaii?
The Portuguese brought over small guitar-like instruments to Hawaii. They morphed into the popular Hawaiian instrument. Because there are only 4 strings and the size is small, it's an easy instrument for kids and adults.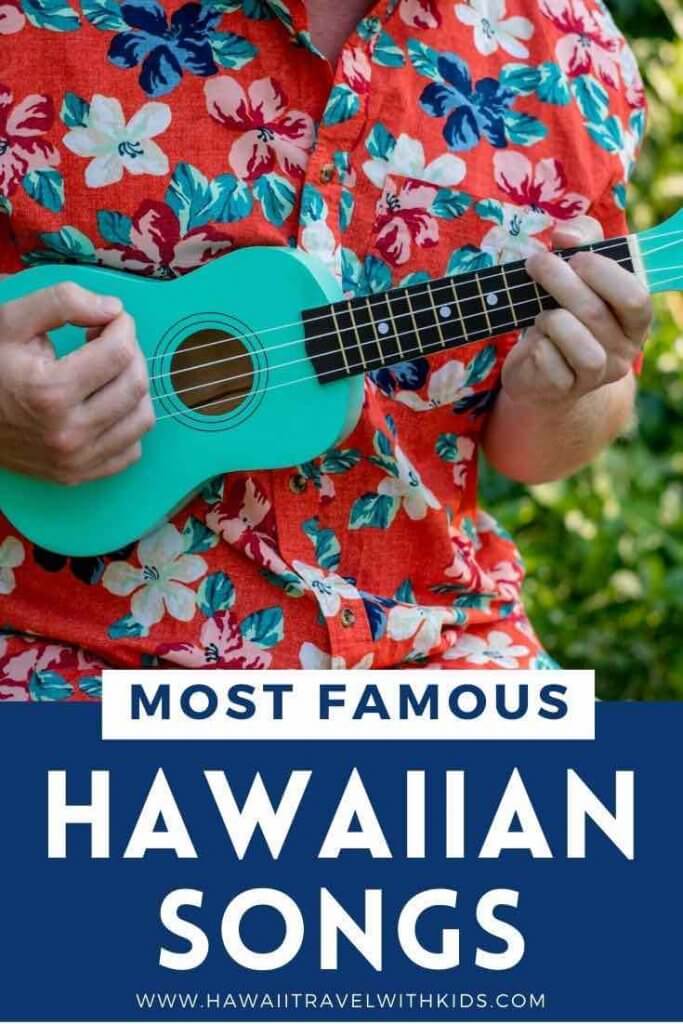 20 Super Famous Hawaiian Songs to Check Out
I had to start this list with Hawaii's most famous Hawaiian song written by the last queen of Hawaii, Queen Liliuokalani.
She originally wrote Aloha 'Oe during a horseback ride when she saw two people embrace and bid each other farewell.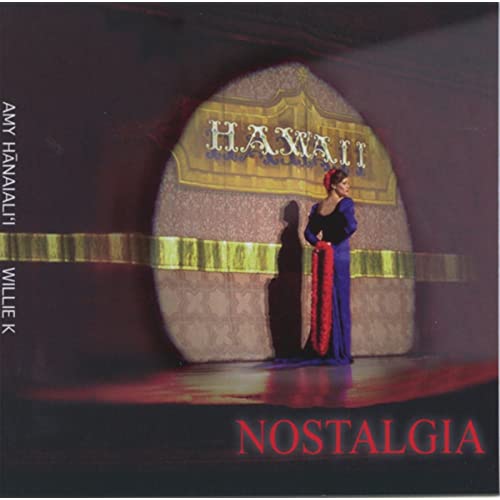 However, this song became most popular while she was imprisoned in her home during the annexation of Hawaii.
She used this song as a farewell to her people. You can feel her sorrow in the lyrics and melody.
Kids will recognize this song from Disney's Lilo & Stitch! It's the song Nani sings to Lilo.
It's definitely one of the most well-known Hawaii songs and the epitome of traditional music from Hawaii.
This is probably one of the most special songs in Hawaii of all time. That's because it's all about bringing people together.
It was written by a missionary named Lorenzo Lyons and uses the melody of the hymn "I Left It All With Jesus."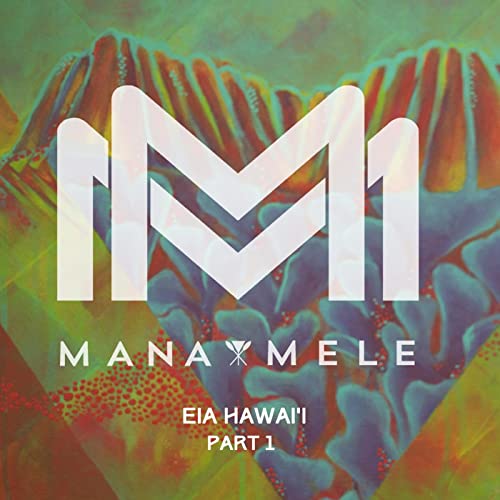 It's customary to join hands and sing Hawaii Aloha at the ends of events, parties, celebrations, etc. It's always a crowd favorite.
And it's not just in Hawaii. If you attend a Hawaiian cultural event or listen to live Hawaiian music anywhere in the world, you will most likely participate in a Hawaii Aloha sing-a-long at the end of the event.
This is hands-down one of the most recognizable Hawaiian songs across the world. It's been featured in tons of movies and TV shows (I still cry at that ER scene.)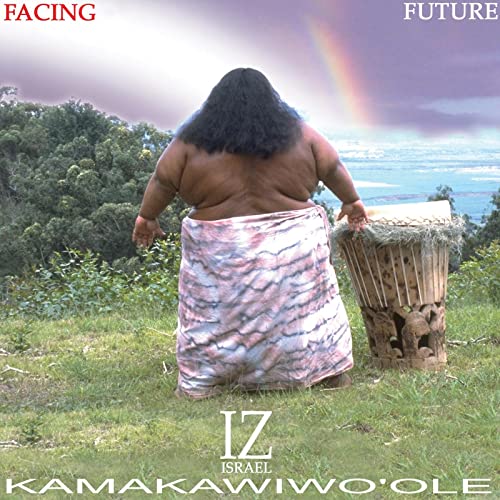 It was recorded by legendary Hawaiian musician Israel Kamakawiwo'ole (aka IZ) in just one take. The arrangement is absolutely brilliant and it's special because he recorded it for his daughter.
While the song itself is pretty amazing, it's also a bit haunting because IZ died so young.
It's one of the most popular Hawaiian songs and this rendition is magical. Once you've heard it, all other versions will pale in comparison.
First of all, this isn't a chant. And the original version is actually a love song.
This has been a popular hula song where the dancer uses hula implements (like the split bamboo or feather rattles.)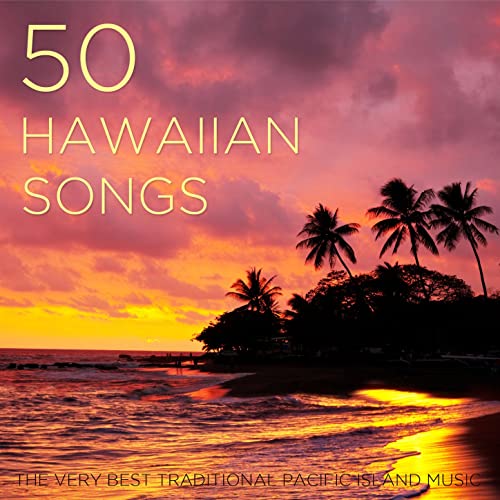 While the song is in both English and Hawaiian, most of the time you'll just hear the Hawaiian version of it.
Usually, you'll hear this song at free hula shows in Hawaii and the melody speeds up as the song goes on, making it a show-stopping number.
If you are a Disney fan, you'll recognize this tune from the Enchanted Tiki Room attraction.
Don Ho is one of the most famous Hawaiian musicians from the 1960s. He used to perform in Waikiki and became a global sensation.
Even though these Don Ho songs are different, I listed them together because they have the same melody and sometimes musicians perform them as a medley.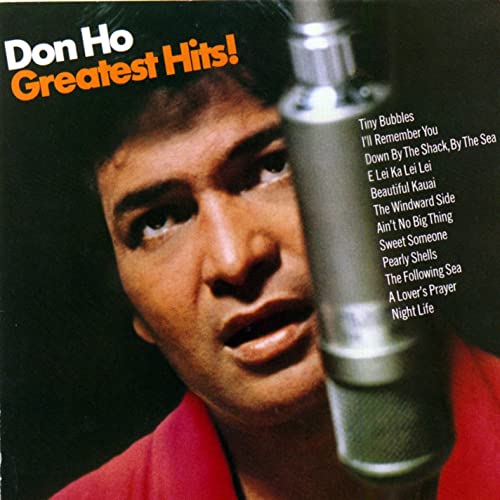 The song Pearly Shells is a popular song for people to learn how to hula dance. The lyrics are simple and it's easy to do the hand motions depicted in the song.
And Tiny Bubbles is all about drinking wine.
If you don't already know, Elvis Presley loved Hawaii and filmed a few movies there (Blue Hawaii, Paradise Hawaiian Style, and Girls!)
Out of these, Blue Hawaii is probably the most famous of all time and the title song is definitely iconic.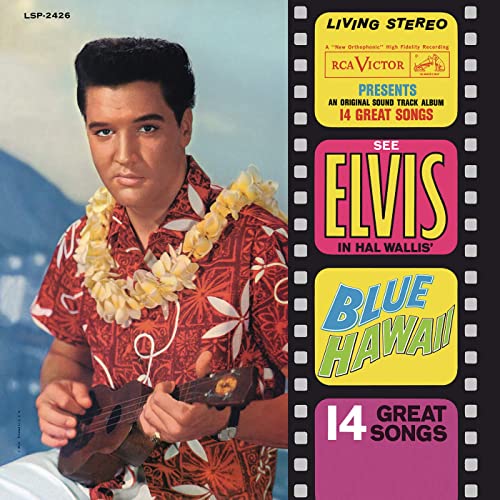 It's the kind of song you'll hear at just about every bar in Hawaii, especially if they have live music. It's a crowd favorite among the older generation.
The last time I was on Kauai, they invited a bunch of us hula dancers up to perform our own versions of Blue Hawaii. It was really cool!
While this song was originally written in the 1920s, it was Elvis Presley who made it popular in his 1961 film Blue Hawaii. And Bing Crosby and Andy Williams recorded their own versions of it.
This beloved classic is mostly in English, but there's a verse in Hawaiian.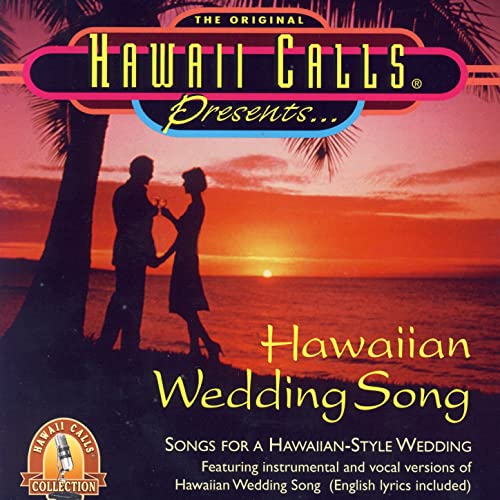 As the name might suggest, it's a super popular song to play at weddings. I actually walked down the aisle to the Hawaiian wedding song at my own wedding in Seattle!.
You'll also hear this song at luaus in Hawaii dedicated to all the newlyweds, honeymooners, and people celebrating anniversaries.
While Elvis Presley made it famous, many Hawaiian artists have recorded their own versions of it.
This is actually a traditional Hawaiian song that became super popular after the group Hapa recorded it. They even added their own special Ka Uluwehi O Ke Kai ending.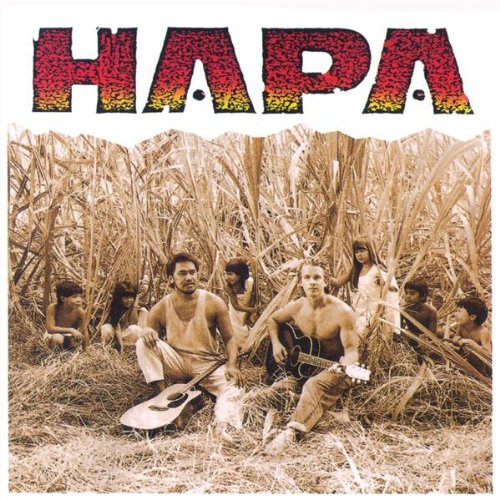 On the surface, it's about collecting seaweed from the ocean. But Hawaiian songs are known for having "hidden meanings" and this is actually comparing the different types of seaweed to different lovers.
Almost all hula dancers know a version of this song and you'll see it performed in lots of Hawaiian cultural festivals.
And lots of popular Hawaiian singers cover Ka Uluwehi O Ke Kai.
If you have kids and watch Disney movies, you'll recognize Hawaiian Roller Coaster Ride from Lilo & Stitch. It's in the scene where Lilo is swimming in the ocean at the beginning of the movie.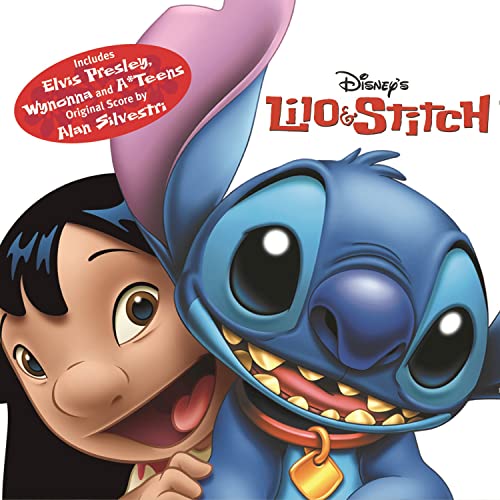 It also gets played on Disney Pandora ALL THE TIME.
What's special about this song is that it was recorded by Mark Keali'i Ho'omalu (a hula teacher and musician) and the Kamehameha Schools Children's Chorus.
The whole song is about surfing (aka Hawaii's version of a roller coaster ride!)
When a lot of people think about Hawaiian music, they're really thinking about the Hapa Haole music from the 1930s and 1940s.
My Little Grass Shack was originally meant as a parody of the 1920s song "Back in Hackensack, New Jersey." However, after a lot of tweaking and adding in local flavor, it morphed into an iconic Hawaiian song.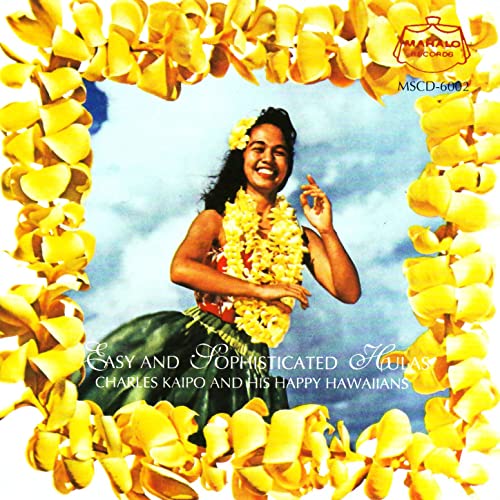 This old Hawaiian song takes place in Kealakekua Bay on the Big Island of Hawaii and it's hard to drive through the town without this song popping into your head.
My Little Grass Shack is basically about someone being homesick for the Big Island and all the things that make it special.
I get teary-eyed just about every time this song plays. That's usually because it's played at a lot of funerals or in remembrance of someone who has passed away.
Both Don Ho and Elvis Presley recorded popular versions of this song. But there are lots of other versions that are hauntingly beautiful.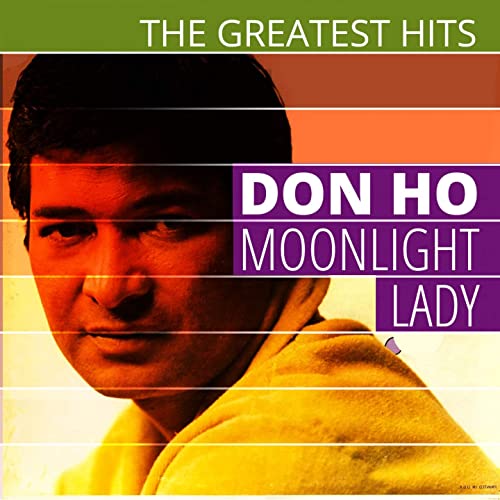 The origins of the song are also somber. Kui Lee wrote the song after his wife left him and then he got cancer and died young.
It's one of the most beautiful, yet sad Hawaiian songs you'll hear.
Ok, this might have been my jam back in the 90s! It's a really fun song that's all about Hawaiian food and island life!
It's by Sean Na'auao and it's definitely in the Jawaiian style with a slight reggae beat. And there's a whole reggae verse in the middle.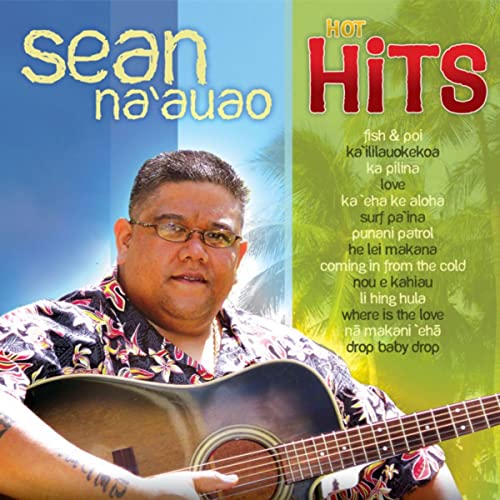 It's about a guy from Hawaii who is missing all his favorite foods from home. He reminisces and lists off all kinds of tasty dishes like Beef Stew, Lomi Salmon, and Lau Lau.
It's so catchy and easy to sing along with friends! And it's one of the best Hawaiian songs for a party!
Jack Johnson is one of my favorite musicians and he lives in Hawaii. His songs aren't in the Hawaiian language, but they definitely have a chilled-out island vibe.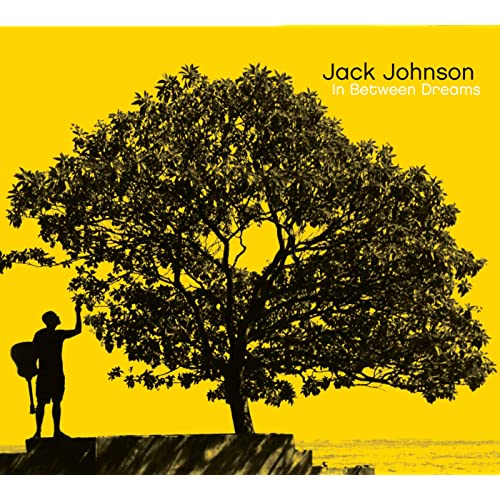 He's got a lot of awesome songs, but my favorite is Better Together. This was the song my husband and I danced to at our wedding.
Because Jack Johnson was born and raised in Hawaii, you'll hear him a ton on the radio there.
This is another popular Hawaiian wedding song.
So, the term "ku'uipo" literally translates to "sweetheart" in the Hawaiian language. You'll also see it on a bunch of jewelry.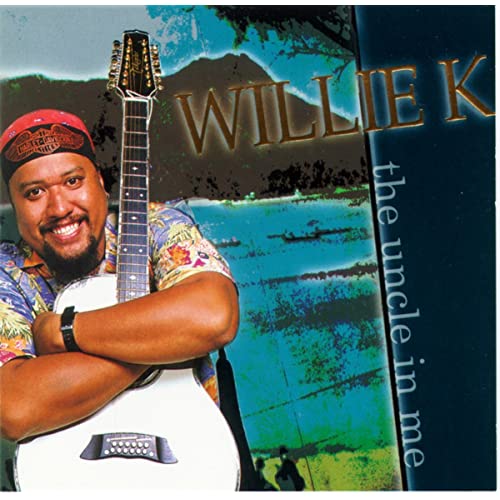 This song is actually a love song to the island of Maui. The composer fell in love with Hana, Maui back in the 1980s and then partnered up with top Hawaiian singer Willie K. to release it.
It's still one of Willie K.'s most recognizable songs about island life from his career. And it's one of the most upbeat songs perfect for a Hawaiian playlist.
I admit, I always hum this song anytime I hear about the Hawaiian Christmas festival on Oahu with the same name.
The song has nothing to do with Christmas, however.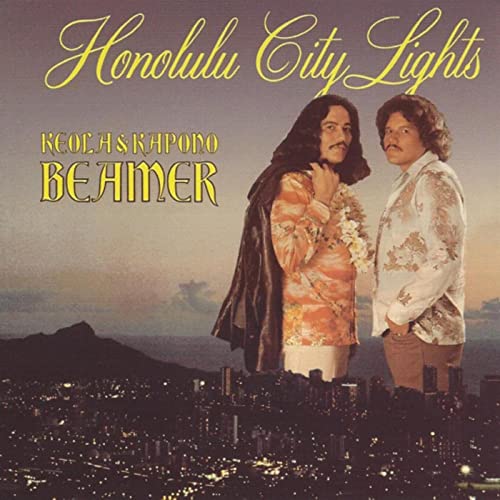 It's an island style song about a guy (Keola Beamer) who's leaving Hawaii to go to the Mainland and he's feeling a bit sad to leave behind his beloved city.
While Keola Beamer was one of the most famous Hawaiian singers, this was one of his most famous Hawaiian songs.
Hi'ilawe is one of the most classic Hawaiian songs. It was written a long time ago and has become a hula dancing standard song.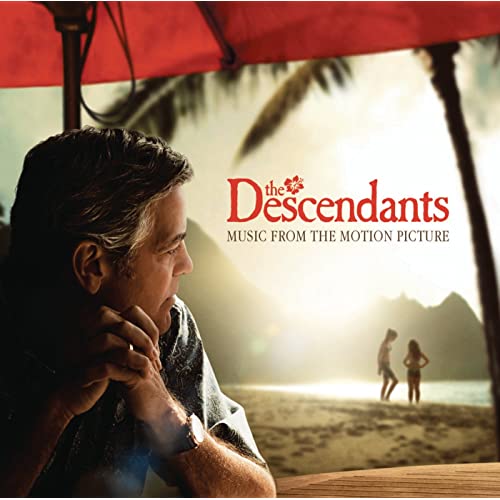 It's all about a scandalous love affair that takes place at the Big Island waterfall Hi'ilawe. The song complains about people gossiping about the lovers, but that doesn't deter them.
It's a really popular Hawaiian slack key guitar song made famous by Gabby Pahinui. And it's on The Descendants soundtrack.
This is one of those traditional Hawaiian songs that you'll hear on the radio, in stores, and at Hawaiian music shows across Hawaii. It was copyrighted by Andy Cummings, however, no one really knows why wrote it.
It's based on a true story where a couple is riding on a streetcar in Hawaii back in the 1920s. It talks about the different places they go and what they do when they get there.
While it's always been one of those old Hawaiian songs you hear, Israel Kamakawiwo'ole made this beloved classic even more popular.
It was also recently featured in the new Netflix movie Finding 'Ohana!
I had a hard time picking which Keali'i Reichel song to include in this list. He's written SO many popular Hawaiian songs that it was hard to choose.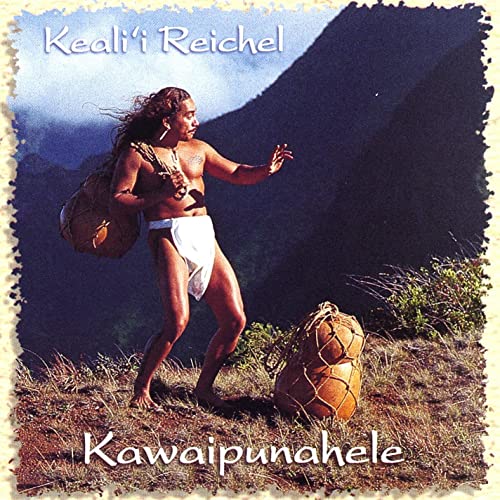 I ended up listing Kawaipunahele because it's the title track to his debut album and the song that kicked off his celebrity status.
It's a Hawaiian love song that's basically about a guy begging his partner to come back to him. Instant classic.
This Hawaiian Christmas song is now known all over the world. This island style Christmas song was made popular by Bing Crosby in the 1950s.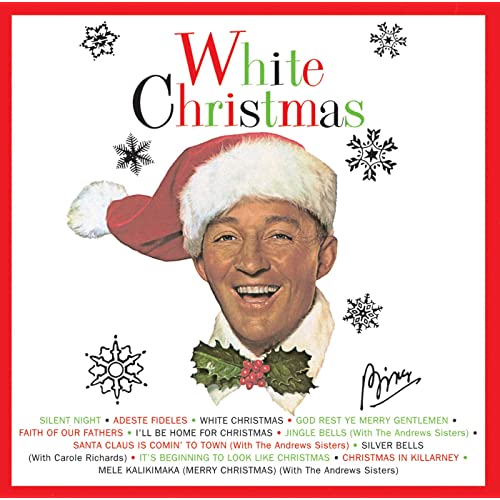 What made it so special is that it was the first Hawaiian Christmas song. And of course, it gets played a LOT every holiday season both in Hawaii and on the Mainland.
The whole song is in English, except for the phrase "Mele Kalikimaka" which is the Hawaiian translation for "Merry Christmas."
While there are lots of versions, Bing Crosby's is definitely the most famous.
I'm ending this list of famous Hawaiian music in kind of a weird way.
Beyond the Reef isn't really a Hawaiian song. It was written by a Canadian (Jack Pitman) and there is no mention of Hawaii in the lyrics.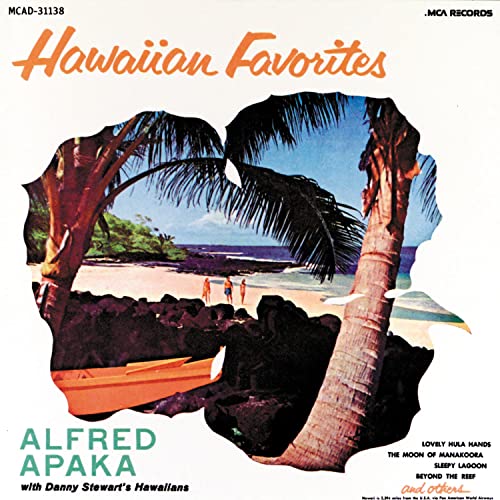 But, famous Hawaiian singer Alfred Apaka made it super popular in the islands.
It's really a heartbreaking song about someone who loses their true love. It's played at a lot of funerals.
Hawaii Songs Wrap Up
If you're planning a trip to the Hawaiian Islands, this list of my top 20 favorite songs from Hawaii will make it feel like you never left. You can listen to these before your vacation starts and throughout your stay in Hawaii.
When you get back home, keep listening for that authentic Hawaiian sound to remind yourself why people love living in Paradise! From Don Ho and Elvis Presley to more modern Hawaiian artists, we have you covered.
To learn more about Hawaiian culture and traditional music, check out some of the other blog posts we have published.