Are you planing a trip to Oahu and will be renting a car? Find out the best places to find parking in Waikiki so you won't have to stress about it later.
This list of where to find parking in Waikiki Hawaii was written by Hawaii travel expert Marcie Cheung and contains affiliate links which means if you purchase something from one of my affiliate links, I may earn a small commission that goes back into maintaining this blog.
Worried about where to park in Waikiki?
I know the struggle of trying to find a spot in Waikiki – it can be hectic! That's why I put together this guide with all the best places to park, depending on what you're looking for.
So whether you're staying in Waikiki or just visiting for the day, you won't have to worry about where to leave your car.
These spots are close to the action and will make your visit much more enjoyable.
Save yourself the hassle and stress of finding a parking spot by using my guide. It includes information on where to find free parking, paid parking, and even valet parking. You won't regret it!
With my experience traveling the islands, I've put together my top recommendations for where to find parking in Waikiki.
Don't have time to read a bunch of Hawaii blog posts and reviews? Here are some of our top picks for visiting Oahu.
Popular Oahu Tours/Activities
Favorite Oahu Resorts/Hotels
Want to Rent a Car in Hawaii?
One of the best places to rent a car in Hawaii is Discount Hawaii Car Rental because they get the best rates from top national companies like Alamo, Dollar, Thrifty, Avis, Enterprise, Budget, and Payless.
Want to skip all the planning and just access my detailed Oahu Itinerary complete with daily schedules, kid-friendly activities, and travel hacks? Click the button below.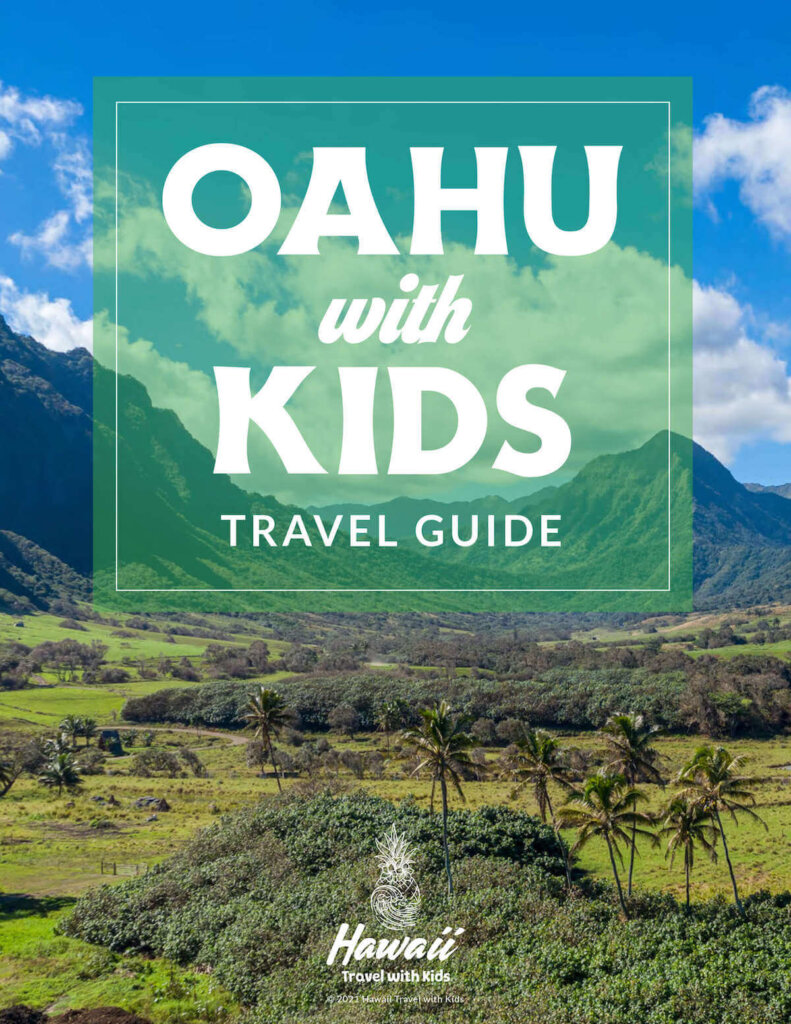 Waikiki Parking FAQ
When parking in Waikiki, what kind of payment should I bring?
Some meters take credit cards but bring quarters, just to be safe. Also, some garages and lots take only cash while some only take credit cards.
Can I use my handicap placard in Hawaii?
If you plan to rent a car and have a handicapped parking placard, bring it with you! In Hawaii, you can park for free with a placard for up to 2-and-a-half hours.
What's the local driving etiquette?
Don't honk your horn unless there's an emergency. Also, merging is casual on the roads in Hawaii. Expect cars to merge wherever there's a space. You're expected to let others merge in front of you and they'll allow you to merge as well!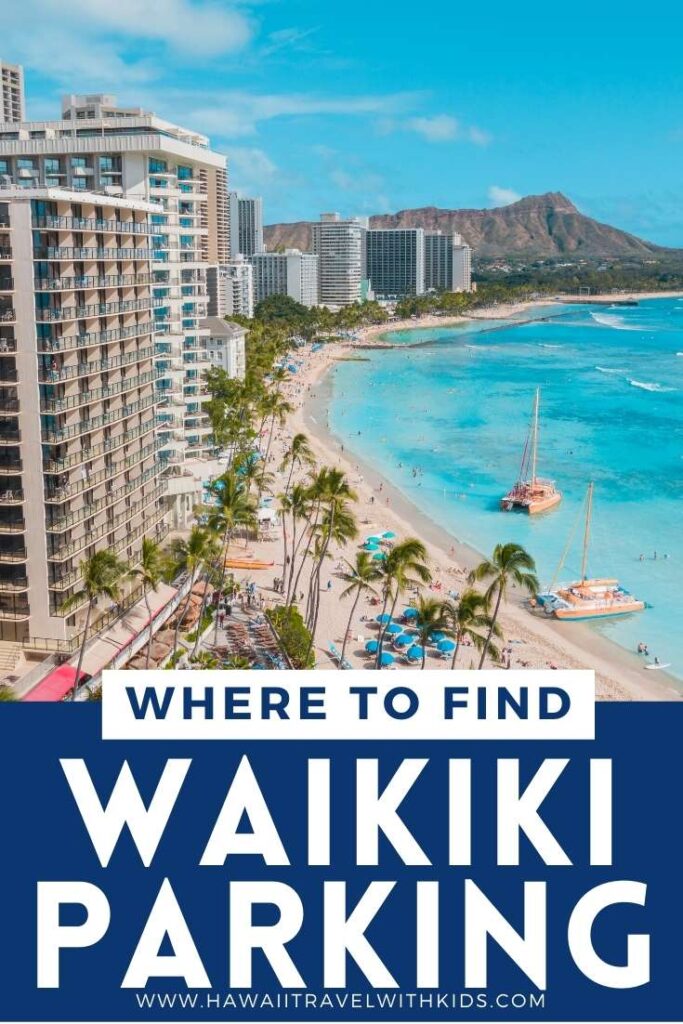 Find the Best Waikiki Parking
Parking in Waikiki can be pretty expensive. Like any large city, parking spots are a commodity.
If you prefer not to pay for a rental car plus the parking fees, you could always take the Waikiki Trolley. This service winds through all of Waikiki. Or you can use car services and Uber.
However, especially when you're traveling with children, the freedom of having a car is priceless. To give you the best experience with parking in Waikiki, I've put together a list that will make parking easier.
It's certainly possible to find free parking in Waikiki, but you have to know where to look!
Honolulu public parking is similar to other big cities, so I'll give you the rundown of what to look out for. If you need overnight parking in Waikiki, I'll cover that as well. Finally, I'll also go over where to find parking near Waikiki beaches.
Keep reading for all my suggestions on where to find the best parking in Waikiki!
Free Parking in Waikiki
During peak tourism season in Honolulu (November through April), you'll find that Waikiki public parking lots and unmetered streets stay pretty packed. Locals and tourists alike utilize this parking, so it's often easier to find free parking near Waikiki on the weekends!
I'll go over both free lots and free street parking so you know what to expect.
Free Parking Lots in Waikiki
Enjoy quality shopping at Ala Moana Center on the west side of Waikiki. This sprawling 4-level mall has all the big stores you love. This is also a great place to find parking in Waikiki if you're heading to Kahanamoku Beach.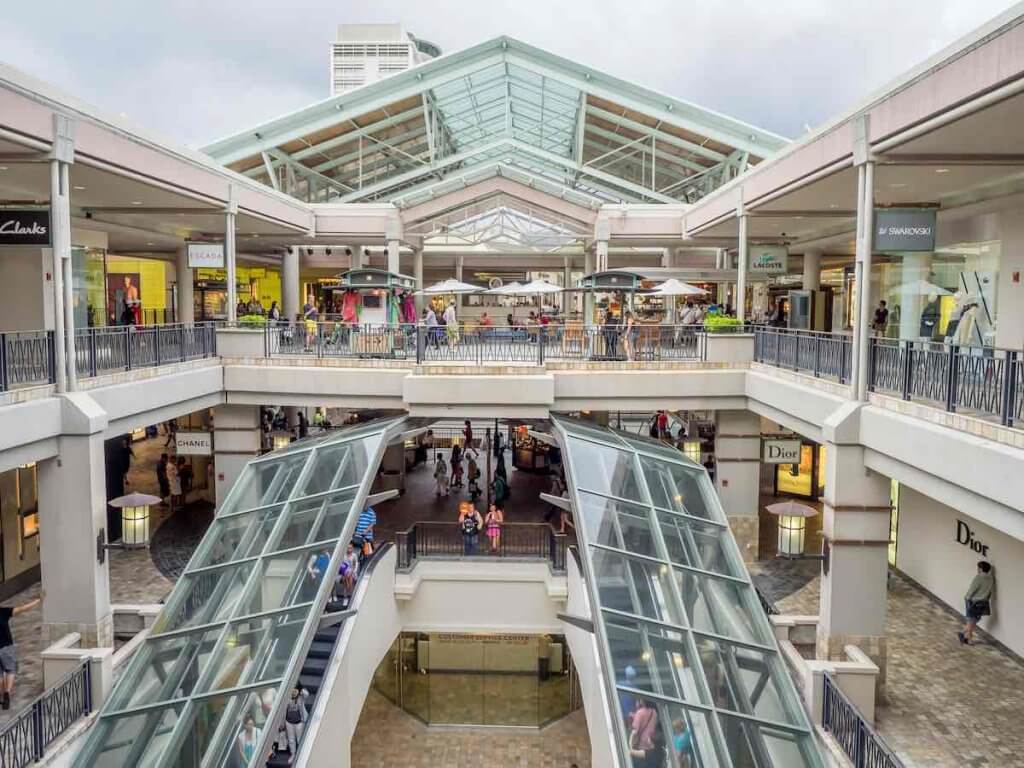 The lot is free for up to 6 hours. Just check the signs so you don't park there during restricted hours.
Just across the street from the shopping center is Ala Moana Beach Park. They have a lot where you can park for free between 4 AM and 10 PM. You just can't park there overnight.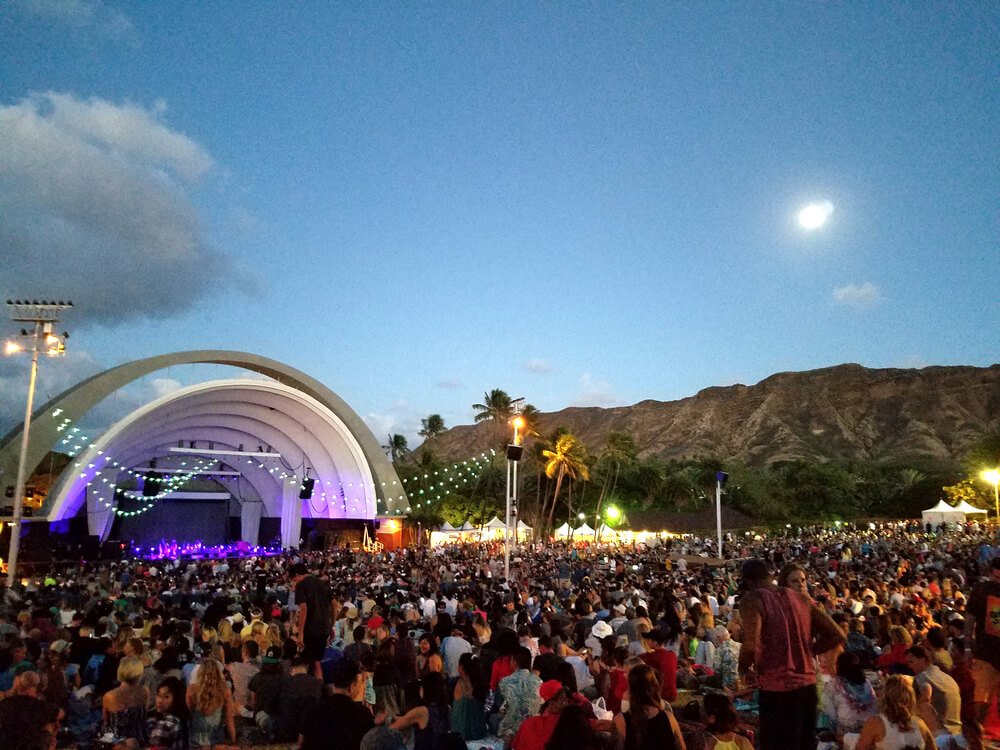 If you're headed to the famous Honolulu Zoo, Kapi'olani Park, or even Diamond Head, there's a great free central lot. Check out the Waikiki Shell parking lot on Monsarrat Avenue. Come here if you're looking for unlimited, 24-hour free parking. The lot is huge, so you're most likely to find a spot!
Free Street Parking in Waikiki
For your best chances of free parking in Honolulu, head to a public park. There's a parking lot at Ala Moana Beach Park on the west side of Waikiki. You can park here during the day, but keep in mind that this area is very busy on the weekends and spots can be hard to find.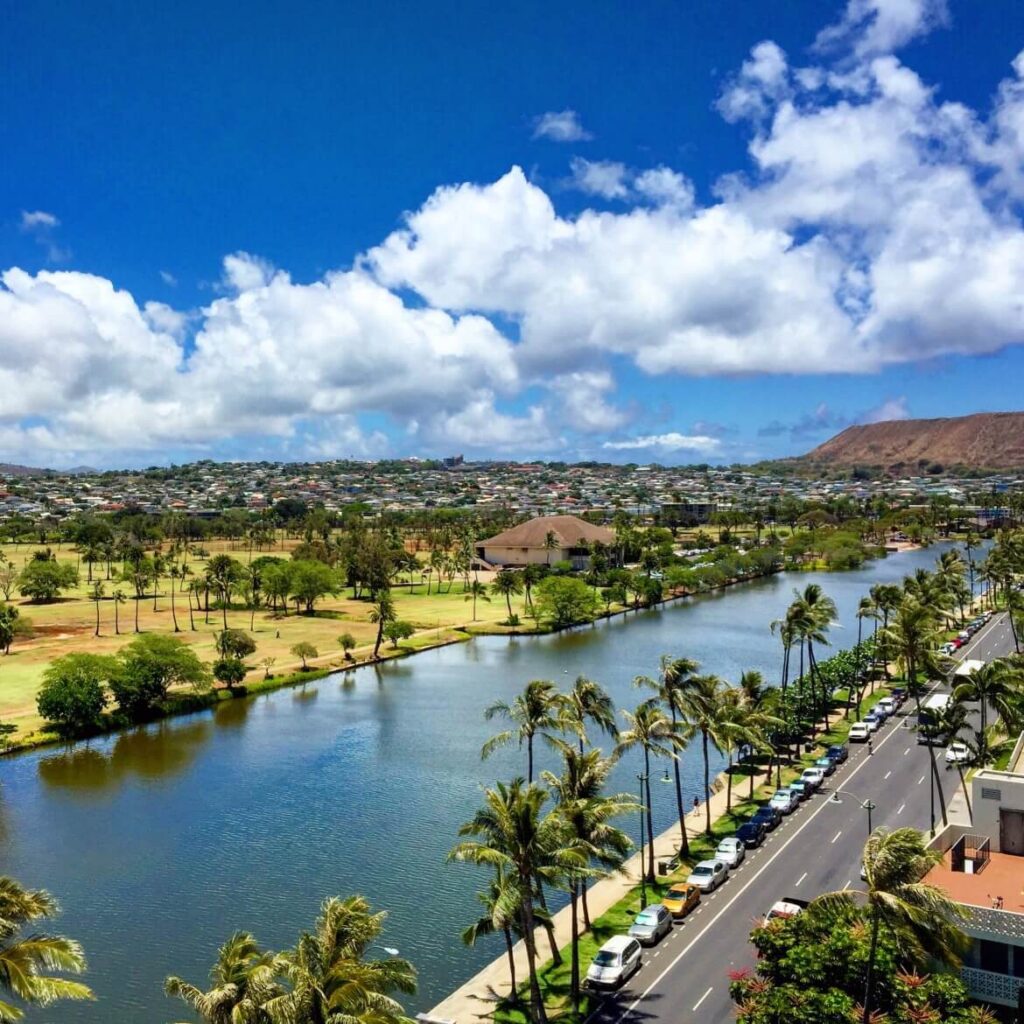 You'll find free street parking 24hr a day along Ala Wai Boulevard which runs beside Ala Wai Canal. You just can't park here during street cleaning on weekday mornings. Just pay attention to street signs and make sure you're parking in allowed areas.
A few blocks from the sand beaches of Waikiki Bay is Wai Nani Way. Closer to the Diamond Head side, you'll find free parking 24-hours a day. Consider looking here if you're heading to the zoo or the beach. It's a relatively longer stroll to tourist spots for Waikiki, but it's a location to keep in mind if you're here during a busy day.
You can also find free parking near Waikiki on the east end. Here, Both Monsarrat Avenue and Kalakaua Avenue run through Kapi'olani Park. Check out these streets for both metered and free public parking in Waikiki.
Diamond Head Beach portion of Diamond Head Road is free to park along between 5 AM and 10 PM if you can find a spot. You have to wind down the road a bit, but it's worth it if you can find parking.
Metered Street Parking
For more public parking in Waikiki, don't rule out metered spots. Waikiki parking meters can vary in price and time allowances. But depending on your plans, they can be really convenient. You can usually find parking for less than $1 an hour, for up 4 hours in some places.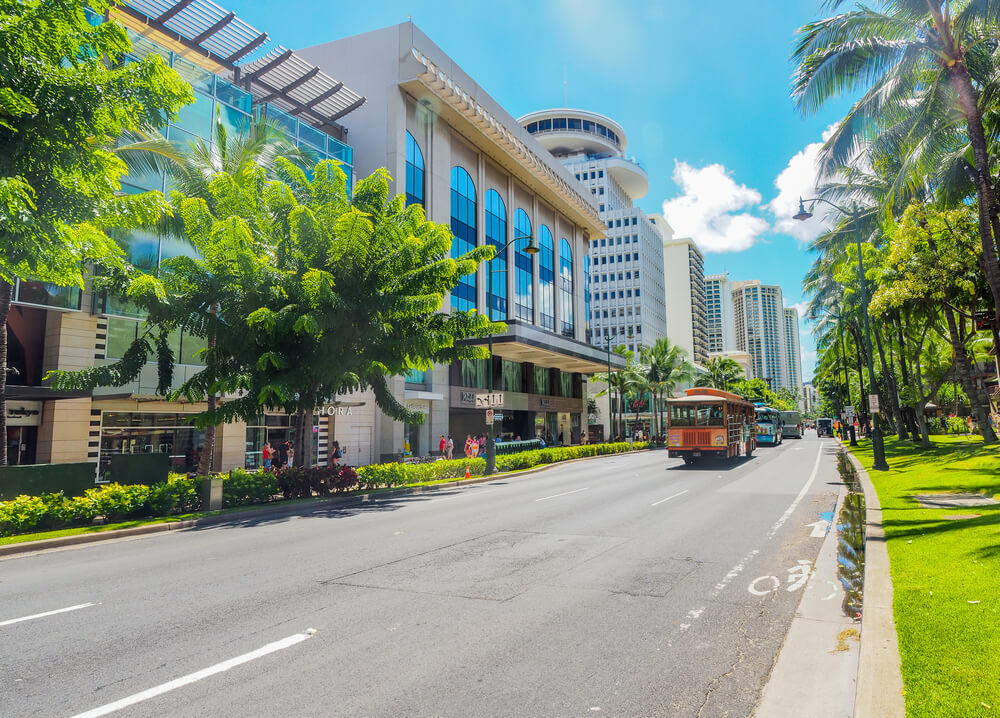 Honolulu street parking is free outside of designated hours, and all day on Sundays. This is a great overnight option if you're staying at a resort or hotel nearby and don't want to pay the garage fees! Just look for parking rules on signs in the area where you're parking.
For metered spots, I suggest heading to Kalakaua Avenue, which stretches east to west across the length of Waikiki. Just like Diamond Head Road, you can also find a lot of metered spots along portions of this main thoroughfare.
Permit Parking Lots
When you're looking for where to find parking in Waikiki, a paid lot allows you a base to return to. Lots with attendants offer more security, and they tend to be cheaper than garages.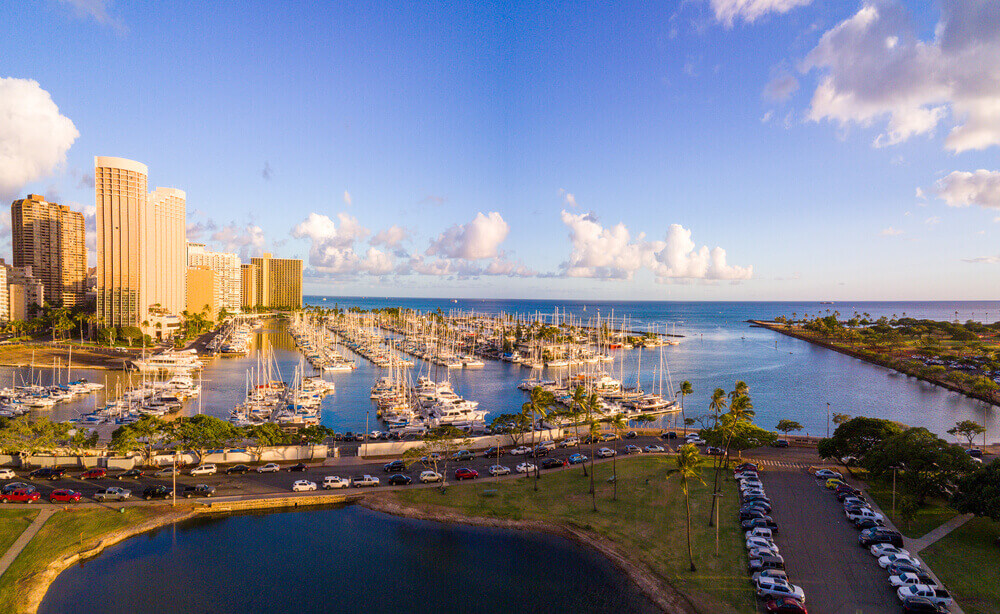 One of the best permit lots on the west side is the Ala Wai Boat Harbor parking lot. If you're looking for cheap parking in Waikiki, this one's free during the day! Just be aware that there's a 6-hour limit. They also have an overnight option for only $1 per hour, which is a great option if you're staying on this side of the neighborhood.
Also on the west side of Waikiki is Fort DeRussy. This is a great location to enjoy the park or the beach. It's also halfway between both the International Marketplace Mall and the Ala Moana Center!
The Fort DeRussy parking lot is at Kalia Road on the east side of the park. There's an hourly rate for a few bucks or it's $36 for 24-hours. It's a military ground so if you have a military ID they'll give you a discount the first time you use it.
Another great option is the large Waikiki Zoo parking lot near Diamond Head. You don't actually have to go to the zoo to use the parking lot, and you only pay $1.50 an hour. Just keep in mind that there's a 4-hour limit.
Parking Garages in Waikiki
When it comes to Waikiki parking garages, you're paying for the security and attendance. If you use a valet lot, you'll be paying a higher rate than you would for self-parking. While you won't find cheap Waikiki parking in a garage, there are a lot of perks to using a garage.
First, there are garages conveniently scattered throughout the area. It's really about what features you're looking for in a garage.
Most of them don't have in-out privileges. If you're paying for 12 hours, don't expect to use your car during that time. If you just need overnight parking and can't find a lot, you'll definitely find a garage that's open 24-hours!
Waikiki parking garage rates run anywhere from a few dollars to $35 for the day. I'll share with you my strategy for this type of service.
Park at a Shopping Center
You might be coming to Waikiki to take advantage of all the luxury shopping centers. A great way to get a deal on parking is to use a shopping center garage. You get a discounted rate with proof of purchase from the center's shops!
Use this parking option if you need parking for the day only. There's usually a time limit and no overnight parking.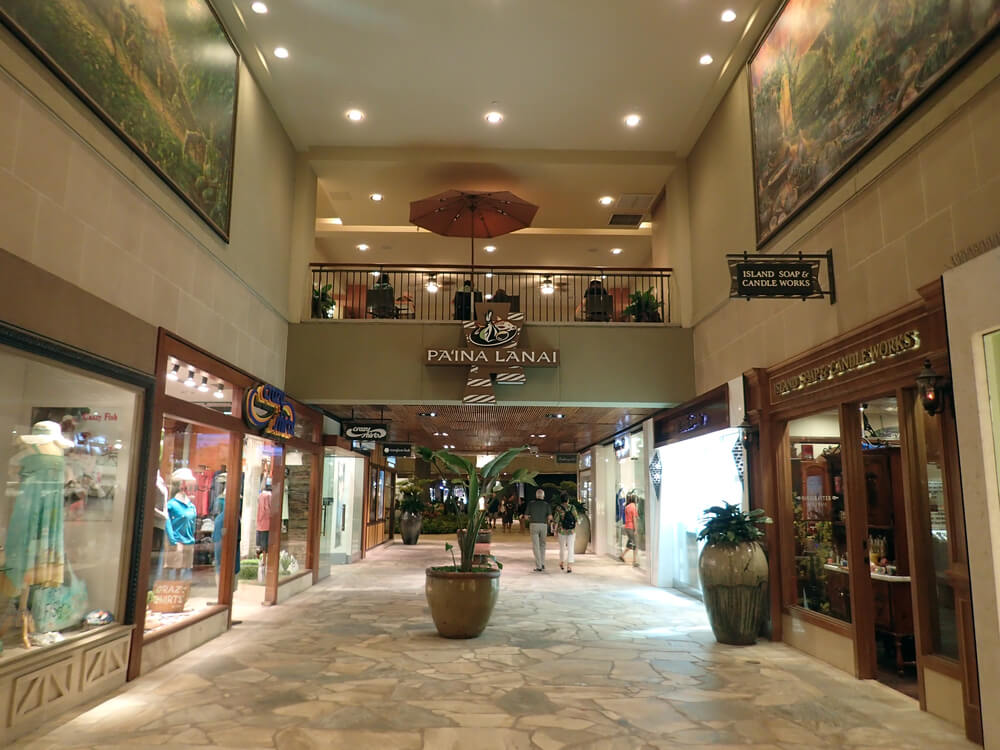 For example, The Royal Hawaiian Center offers complimentary 2-hour parking with additional hours at a discounted rate. You have to show a receipt from a center store or restaurant. Otherwise, it's a standard $6 per hour to park there for the day. When it comes to Waikiki parking rates, this is a great deal!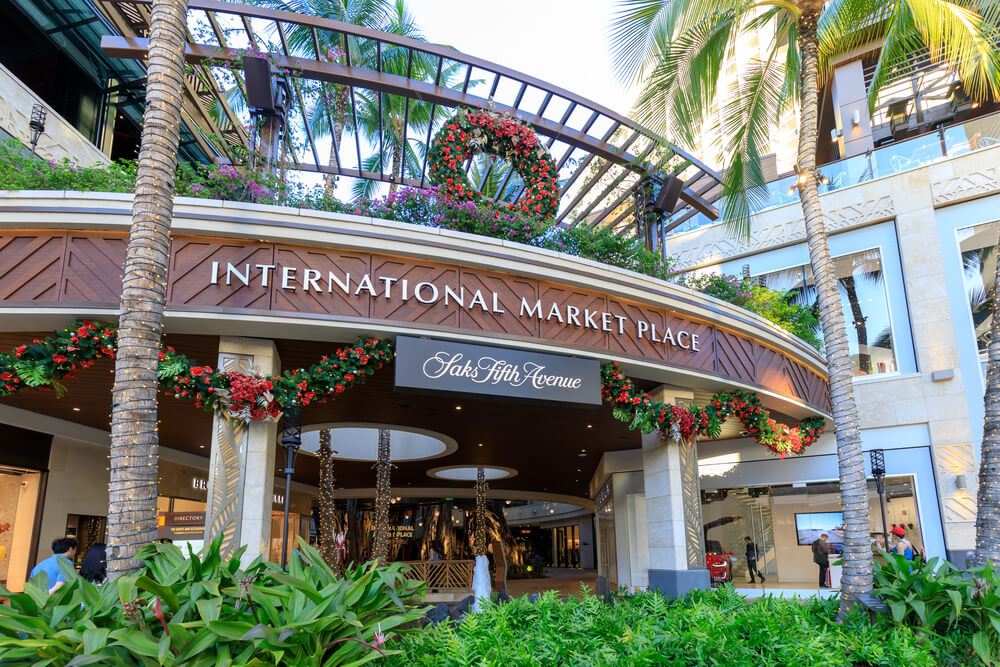 The International Marketplace Shopping Mall is also a good place to park for a decent rate. You can park here if you're going to Waikiki Beach. The early bird special is only $12 if you're in before 9 AM and out before 6 PM. Otherwise, it's $3 an hour with validation from one of the mall shops.
Find an Overnight Garage
For longer-term parking, I suggest the Waikiki Banyan Parking Garage on Kuhio Avenue. They allow you to come and go as you please, which is hard to find! They charge a daily rate of $27 or $125 for the week.
You can find a lot of overnight parking in Hawaii at one of the many resorts or condo buildings near the beach! These garages are great if you want to pay a standard fee for 24-hours' worth of parking. You'll find this kind of parking garage at locations like:
Waikiki Beach Marriott Resort & Spa
Sheraton Waikiki Hotel
Hyatt Regency Waikiki
These types of locations offer a variety of rates. There's often one rate for guest parking and another for public parking. Or some garages might offer a day rate and a separate overnight rate. Some are valet only. Just check all the signs outside the garage for all the information you need.
Waikiki Beach Parking
Parking at Waikiki beaches varies widely. Some have free lots while others will require you to look for paid parking. The following are my recommendations for where to find parking in Waikiki close to each beach. A lot of the locations we've gone over already.
Ala Moana Beach Park
Park at Ala Moana Beach Park near Waikiki for free during the day. You could also park at the Ala Moana Center parking lot for free. Park here for the Kahanamoku Beach, as well.
Fort Derussy Beach Park
Use their paid lot parking lot at Kalia Road, on the east side of the park.
Waikiki Beach
I recommend parking at the International Marketplace Shopping Mall and walking down to the beach. There isn't any public parking in Waikiki Beach. All parking will require you to pay and walk a few blocks. But it's an easy walk!
Kuhio Beach
Park at Waikiki Banyan parking garage that's only a few blocks away.
Kapiolani Beach Park
Both Queens Beach and Kaimana Beach are also adjacent to Kapiolani Beach Park. For access to all 3, look for parking on Monsarrat Avenue for free. You can also look on Kalakaua Avenue for both free and metered parking.
Diamond Head Beach Park
Park along Diamond Head Road. It may take some searching, but this is the only parking available that's not a walk. It's worth it for the view!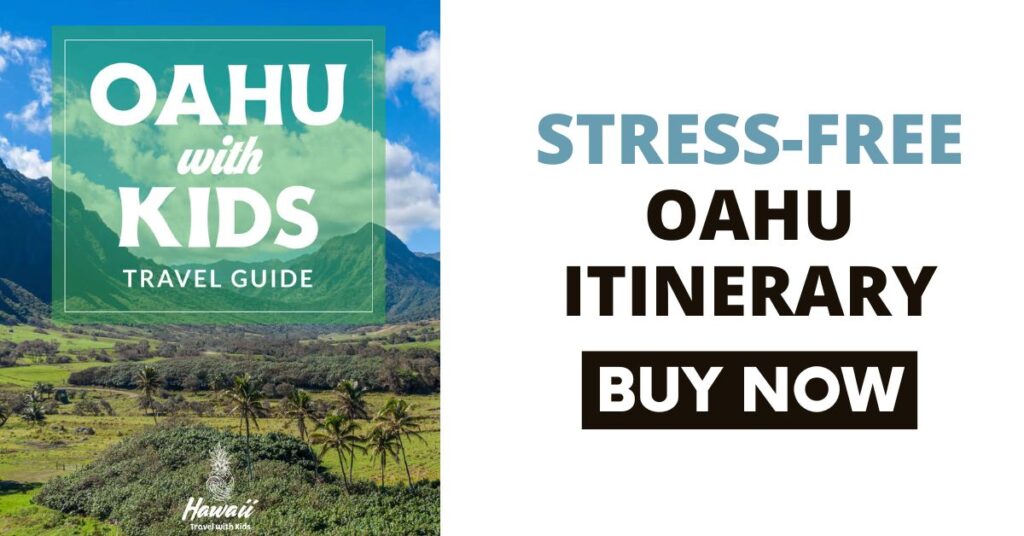 The Best Places to Find Parking in Waikiki
When it comes to finding parking in Waikiki, you have options. Honolulu is tourist-friendly! There's free street parking and lots, as well as metered parking and paid lots and garages. It all depends on what your family needs during your vacation to Waikiki.