Are you looking for things to do in Honolulu with kids? Keep scrolling for my top tips and tricks for visiting the Honolulu Zoo and why it's a top thing to do on Oahu with toddlers.
This guide to visiting the Honolulu Zoo was co-written by Hawaii travel expert Marcie Cheung and contains affiliate links which means if you purchase something from one of my affiliate links, I may earn a small commission that goes back into maintaining this blog.
Guest post by local Oahu mom Kate Tekurio
Do you have kids and are looking for a fun activity to do on Oahu?
If so, the Honolulu Zoo is a must-see! It's one of the best things to do on Oahu with kids. The zoo is small and easy to get around, plus it has a lot of great features for toddlers and preschoolers.
Here's your ultimate guide to getting the best experience when visiting the Hawaii zoo!
You'll learn about all of these fun activities at this unique zoo that makes it such an amazing family vacation destination in Hawaii. Plus, you'll find out how easy it is to get there from many Waikiki hotels.
So let's go over everything you need to know before planning your trip! The Honolulu Zoo is one of the top things to do with kids in Oahu!
Don't have time to read a bunch of Hawaii blog posts and reviews? Here are some of our top picks for visiting Oahu with kids.
Best Kid-Friendly Oahu Tours/Activities
Best Kid-Friendly Oahu Resorts
Want to Rent a Car in Hawaii?
One of the best places to rent a car in Hawaii is Discount Hawaii Car Rental because they get the best rates from top national companies like Alamo, Dollar, Thrifty, Avis, Enterprise, Budget, and Payless.
Want to skip all the planning and just access my detailed Oahu Itinerary complete with daily schedules, kid-friendly activities, and travel hacks? Click the button below.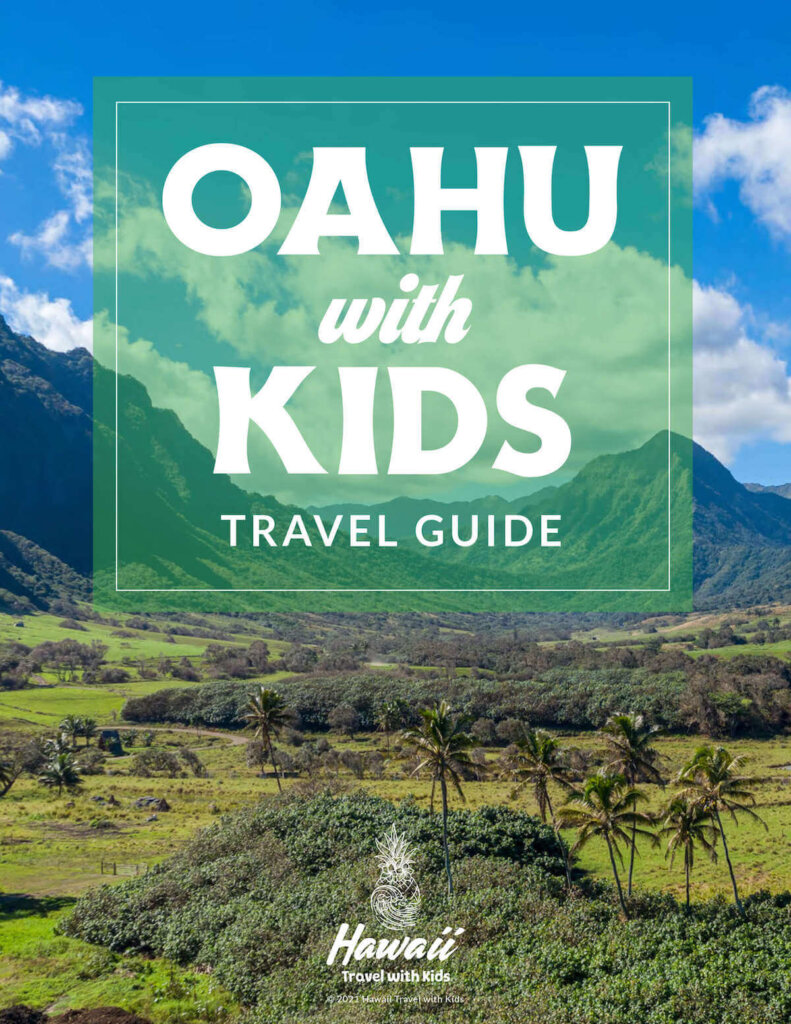 Honolulu Zoo FAQs
Is the Honolulu Zoo worth it?
Yes, the Honolulu Zoo is worth it! The animals are so fun to visit and explore, and your kids will love experiencing a zoo in Hawaii! It is really quite special to see penguins living in Hawaii!
Are dogs allowed at the Honolulu Zoo? 
Only service dogs for those with disabilities are allowed. All other dogs are not allowed at the Honolulu Zoo.
What animals do they have at the Honolulu Zoo?
Even though it's a fairly small zoo, they still have more than 1200 animal species. Here you can find tigers, monkeys, elephants, penguins, sloths, and much more.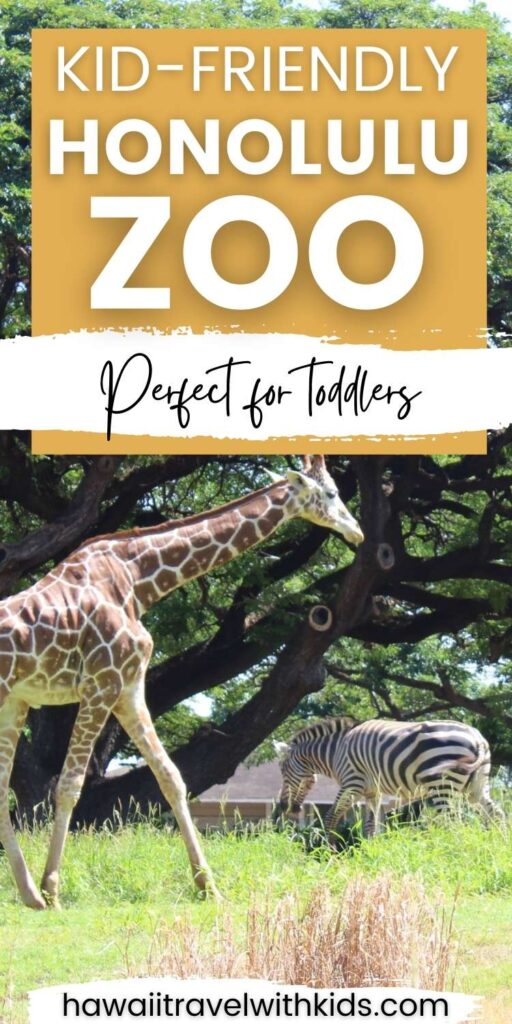 Where is the Zoo in Hawaii?
The only zoo is located on Oahu in Honolulu. Because it is so close to Waikiki, some will call it the Waikiki Zoo. This is the only typical zoo in Hawaii.
All other "zoos" or places to visit animals on the other islands are different zoos such as the rainforest zoo on the Big Island and Sea Life Park also on Oahu.
Visiting the Honolulu Zoo: What to Expect
Here is what to expect when you go to visit and explore the Honolulu Zoo. You'll quickly see why it's one of the best Oahu activities for families.
Learn all about parking, ticket info, what animals to expect, and lots of tips to have a super fun day with your family at the zoo! We think it's one of the top things to do in Honolulu with toddlers and preschoolers.
Parking
You actually have to pay for parking if you park in the zoo lot; it is not added to the ticket cost. It costs $1.50 per hour to park there. It is best to pay for two to three hours, especially if there is a line to enter the zoo.
There are places close by to the zoo where you might find free parking. There are parks with street parking that may have free parking or different stores nearby as well. The Shell parking lot on Monsarrat Avenue has free parking if you can find a spot there!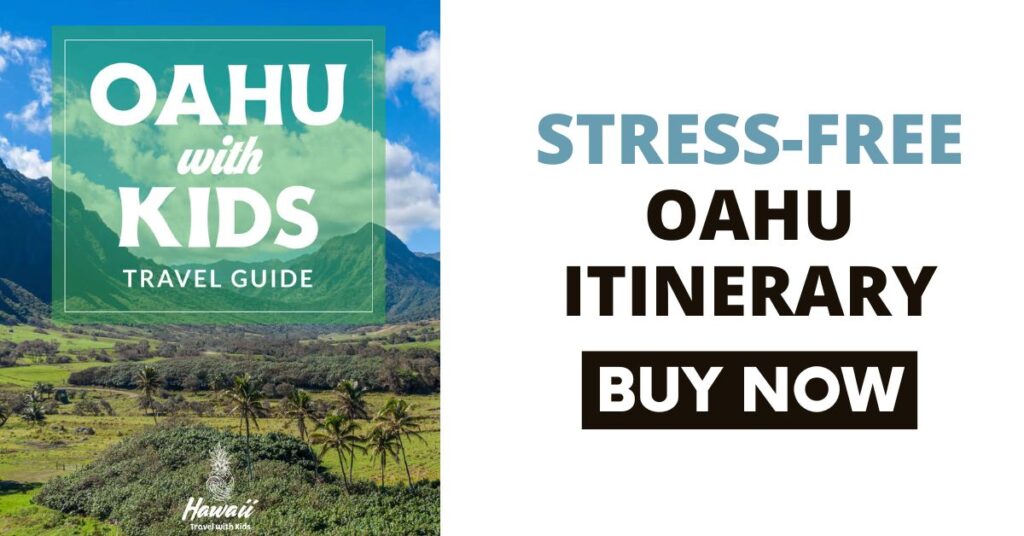 What time does the Honolulu Zoo open and close?
The Honolulu Zoo opens at 10:00 am and closes at 4:00 pm. But you can only get tickets until 3:00 pm. You do not have to have a reservation; you are welcome to come and go as you please!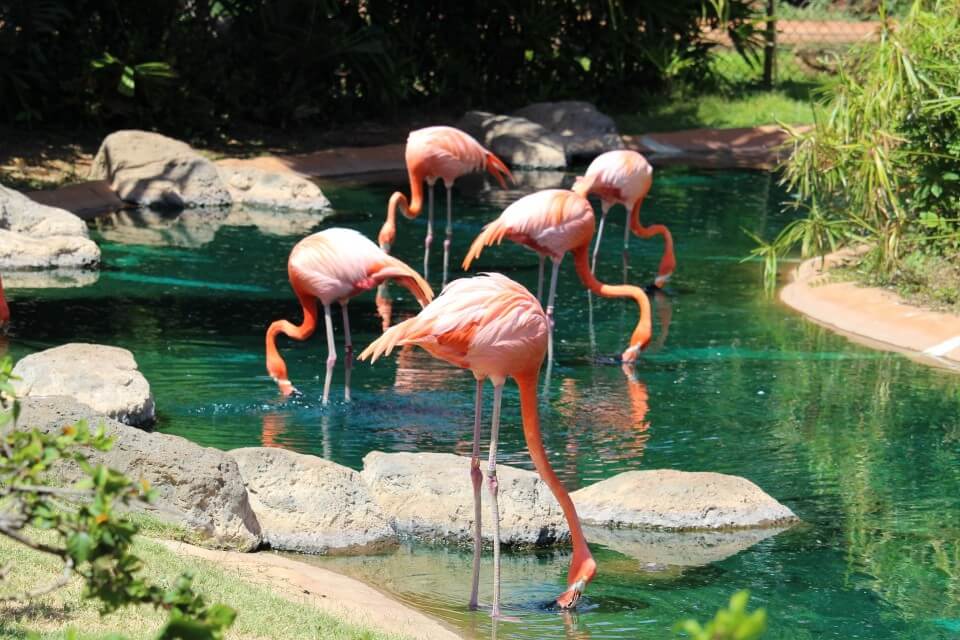 Membership vs. Day Admission
You can't purchase your Honolulu Zoo tickets online, only at the gate. There are a few different options for tickets.
General Admission:
Adults 13 and older are $19.00
Children 3 to 12 years old are $11.00
Children 2 and under are free!
Kama'aina / U.S. Military Admission:
Adults 13 and older are $8.00
Children 3 to 12 years old are $4.00
Children 2 and under are free!
The Honolulu Zoo kama'aina rate is for those who live on the island and have a valid ID to prove it.
Memberships:
You can also become a member of the Honolulu Zoo to get extra discounts. You can enter the zoo however many times you want, with your own membership line for an entire year. You will get discounts at the gift shop, snack bar, and other deals.
This might not be the best option if you only plan to vacation once in Oahu for the year. Plus, when we went, the membership line was longer than the general admission line!
Stroller Rentals
There are stroller rentals available if you forget to bring your own! They have both double and single strollers. You will need to pay a $10 refundable deposit if you wish to rent.
You can also rent a wheelchair if needed!
Playground Area
In the middle of the zoo, there is a fun playground area for the kids. While children love to look at all the animals and explore, they also need to wiggle and run around to let out some of their energy.
This playground is perfect! It has slides, swings, ropes to climb, pretty much a child's dream. There are picnic benches and tons of shaded grass for parents to sit down on. You can even enjoy a nice picnic lunch out there too!
Gift Shop
Right at the entrance is the Honolulu Zoo gift shop. It has fuzzy animal toys, postcards, and other fun wildlife souvenirs. You can also find some snacks, water, and even a fan if you get too hot.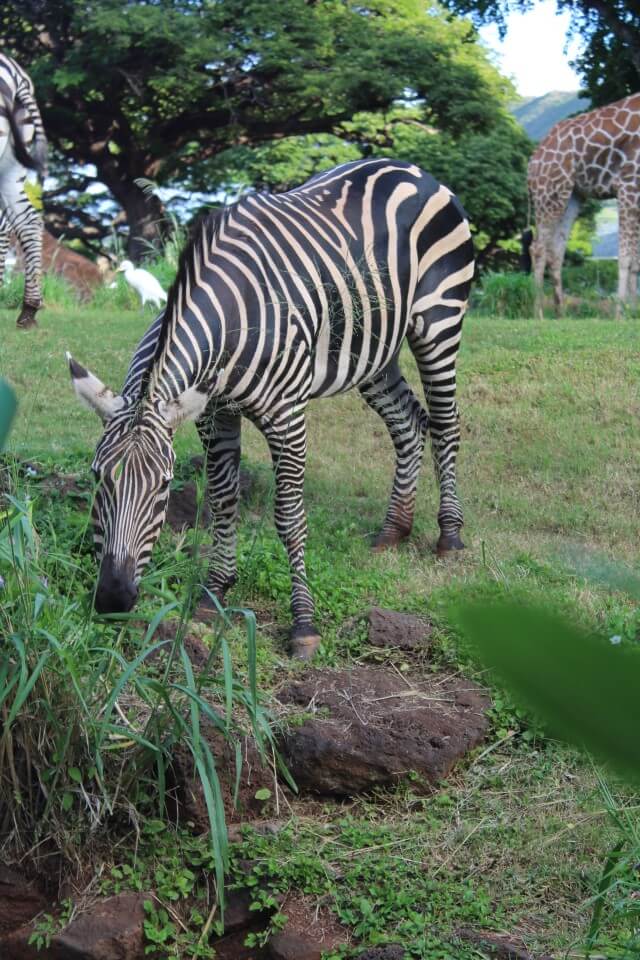 What animals does the Honolulu Zoo have?
There are over 1200 animals at the Honolulu Zoo! It is a 42-acre zoo, so there is room for plenty of fun animals for you to explore.
All animals have signs so you can identify the real name and where they come from. Most of the animals' habitats are also fun facts about each animal individually. There are also volunteers around some shelters who share the animals' names and how old they are!
There is a huge variety of animals at this zoo. That's part of why it's one of the most fun things to do in Oahu with kids. They have a few main sections in correlation to each part of the world: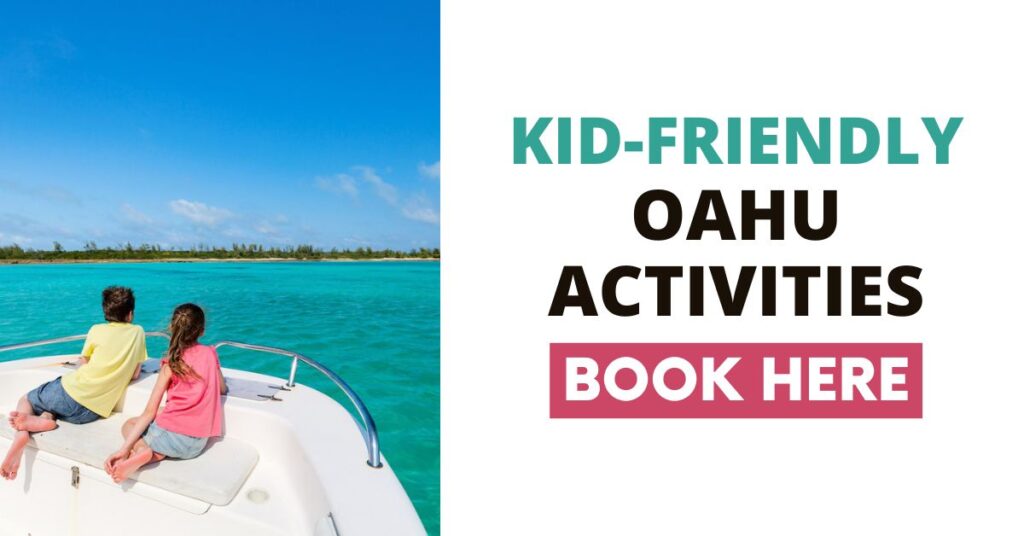 Birds
When you first enter the zoo, there are bird habitats. You will see and hear so many exotic birds! Have some fun talking with the parrots, watching a stunning black swan swim around, and see a huge variety of birds.
You can see some pretty cute sloths here too! One sloth just had a baby back in March of 2021, and it is so cute!
Primates of the World
This is probably the favorite part of the zoo for the kids! You will definitely hear this section way before you see it. Here you will see some very active spider monkeys, golden lion tamarins, lemurs, white-handed gibbons, siamangs, and chimpanzees!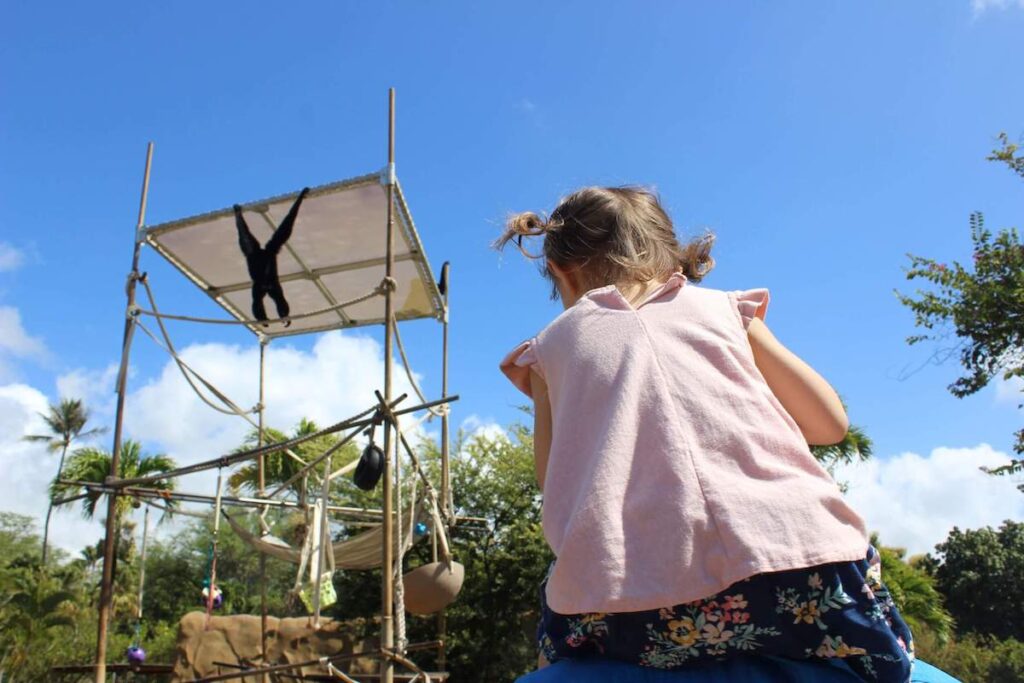 These animals are so fun to watch climb everywhere as they squeal and play with one another. Then, you can see beautiful orangutans too! There are two that are kept in their own habitat behind the glass. They usually like to stay close to the glass and are friendly, so you can see them very close up!
African Savanna
In this zoo section, you will find many of the animals you will see in traditional zoos, with a few fun exceptions. Here are some animals to explore in the African Savanna section:
Elephants
Penguins
Hippo: The hippos are in an enclosed section where you can look and see. When we went, he was right up against the glass!
Flamingos
Aardvarks
Giraffes: There is a fun giraffe sculpture to take pictures at too!
Zebras
Amongst other animals
This was our favorite section of the zoo and where we spent the majority of our time.
Arusha Town
The last main section of the zoo is Arusha Town. Here is where you will see a lion, along with:
African Wild Dogs
Meerkats
Reptiles
Baboon
And many others
Compared to the other sections, this one was smaller and went pretty fast. A lot of these animals slept during the day, so we couldn't see very much.
These are just some of the fun animals to explore here, but there is so much more! Some can also see tigers and cheetahs, alligators in the swamp sections, and a huge python!
Some animals aren't available to see during some parts of the day. Many sleep and go where you cannot see them. But the majority are out and ready for visits!
How long should I plan to visit the Honolulu Zoo?
You should plan about 2-3 hours to experience the zoo fully. We got to see almost all the animals in around two hours, but we did not stop at the playground or eat any food.
Two and a half hours will allow you to fully explore the entire zoo and get the most out of your visit.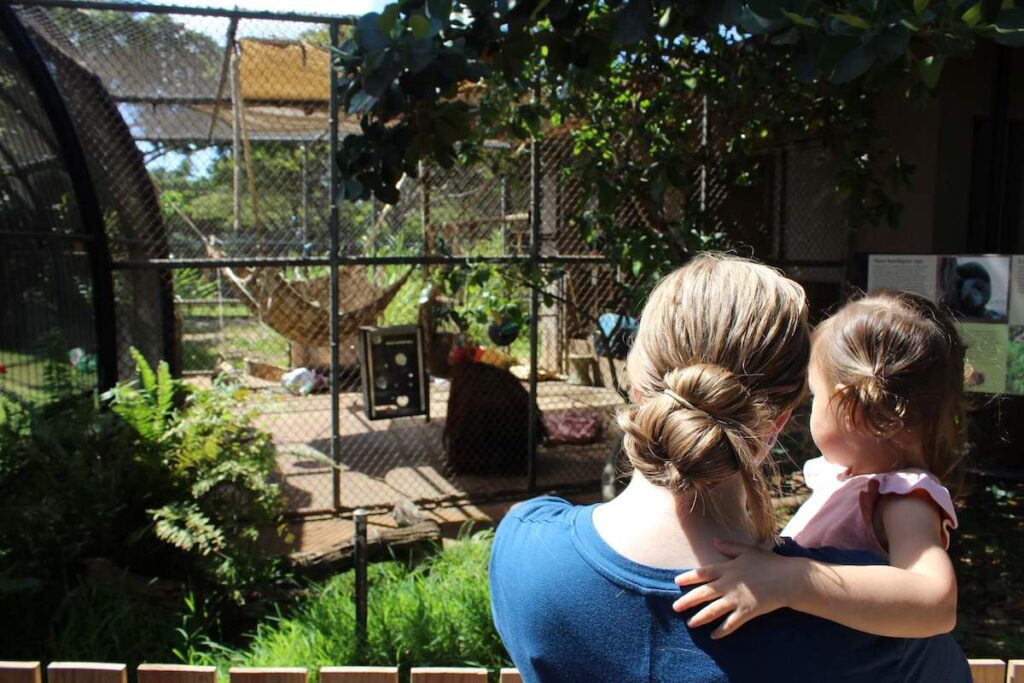 Tips for Visiting the Honolulu Zoo
Here are just a few tips to make the most out of your visit to the Hawaii zoo:
Bring and apply sunscreen: We forgot and got a little burned during the few hours we were there!
Bring bug spray: Because there is a lot of wildlife, lakes, and grassy areas, there are also a lot of bugs. Bring bug spray, so you don't get bit by a lot of mosquitos!
Bring a hat: While there is some shade, many animals are out in the open. Wear a hat to protect you and keep you cooler.
Bring a fan: Make sure to bring a small portable handheld fan with you, especially if you have children. They will get hot!
Bring a wagon: Strollers are great too, but we brought our foldable wagon, and it was so easy to get around everywhere!
Arrive before the zoo starts: We arrived right at 10:00 am and grabbed the last parking spot. We had to wait in a long line for about 15 minutes. If you plan to go in the morning, arrive earlier, so you don't have to wait much in line!
Bring water: It gets really hot walking around in the sun, so bring plenty of water for you and your kids!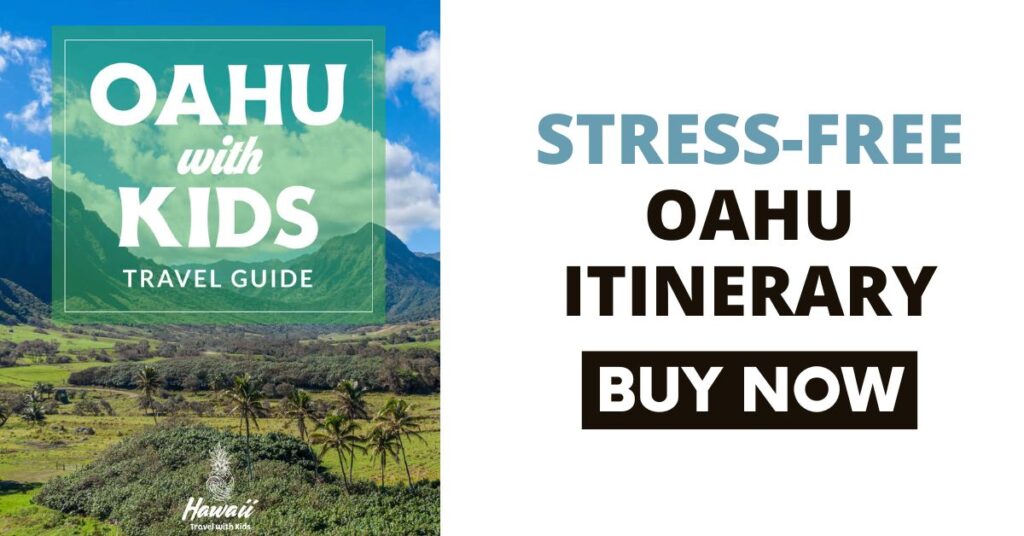 Honolulu Zoo in Hawaii Wrap Up
The Honolulu Zoo is unlike other zoos in Hawaii. Because of its beautiful location and unique animals, be sure to plan a visit to this Hawaiian zoo during your next vacation to Oahu!
Your kids will have so much fun learning about all the animals and make for a great day out in the sun! And now you know what to do in Honolulu with kids who love animals! It's one of the best Waikiki activities for families with young children.
About Kate
Kate Tekurio lives on Oahu with her husband and toddler. They love exploring the island and sharing their best tips with other families traveling to Hawaii.