Planning a trip to Oahu and aren't sure which Polynesian luau on Oahu to book? Find out 15 of the best kid-friendly Oahu luau experiences for families with kids of all ages. Keep scrolling for more info and discounts!
This best Oahu luau for kids post was written by Hawaii travel expert Marcie Cheung and contains affiliate links which means if you purchase something from one of my affiliate links, I may earn a small commission that goes back into maintaining this blog.
How to Choose the Best Oahu Luau for Your Family
I don't think a trip to Oahu is truly complete without attending an Oahu luau!
But choosing the best luau in Oahu for your family really depends on what you want out of the experience.
I know a lot of people think all Hawaiian luaus are the same, but they really aren't!
In this post, I'll break down all the top luaus on Oahu so you can choose the best one. And make sure to check out all the links for special Oahu luau discounts!
Get all your Hawaii luau questions answered HERE
Don't have time to read a bunch of Hawaii blog posts and reviews? Here are some of our top picks for visiting Oahu with kids.
Best Kid-Friendly Oahu Tours/Activities
Best Kid-Friendly Oahu Resorts
Want to Rent a Car in Hawaii?
One of the best places to rent a car in Hawaii is Discount Hawaii Car Rental because they get the best rates from top national companies like Alamo, Dollar, Thrifty, Avis, Enterprise, Budget, and Payless.
Want to skip all the planning and just access my detailed Oahu Itinerary complete with daily schedules, kid-friendly activities, and travel hacks? Click the button below.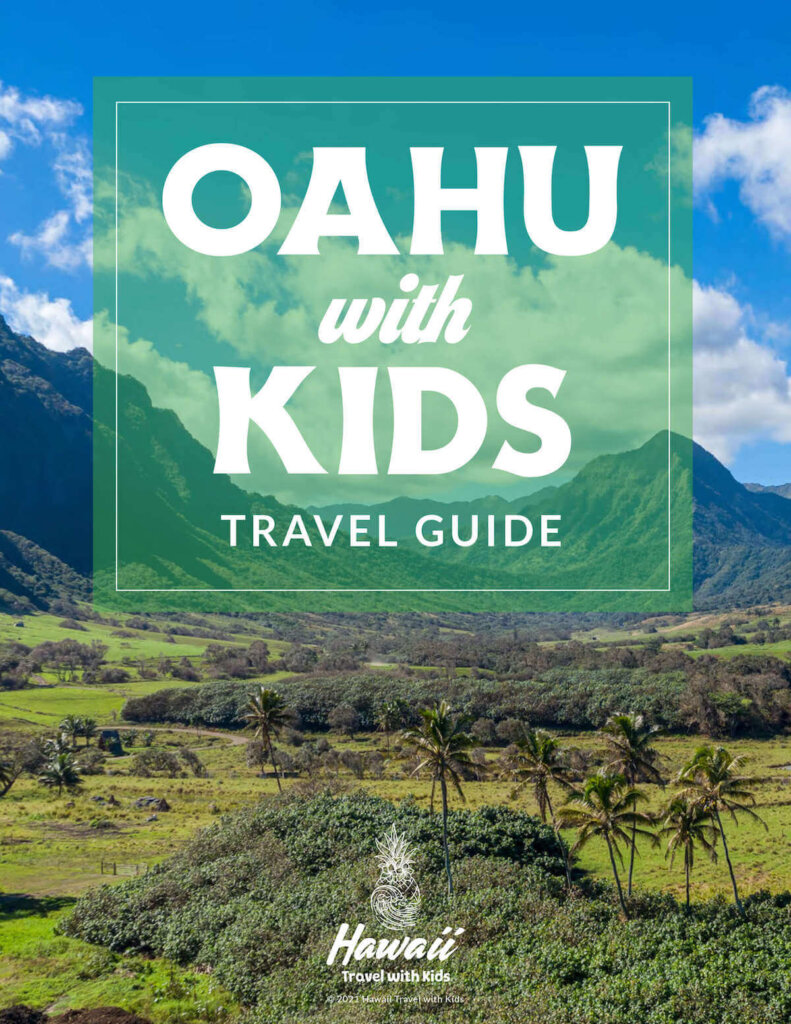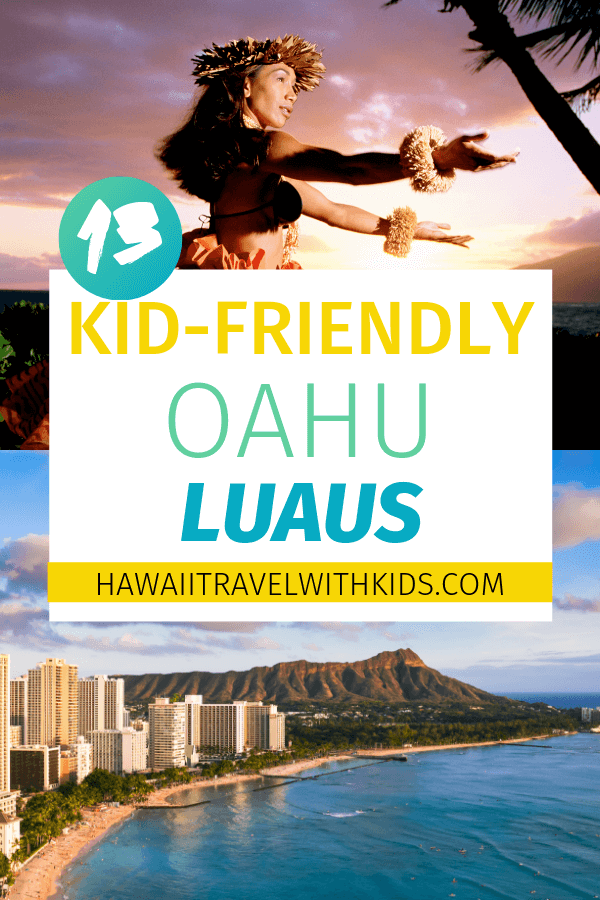 The Most Kid-Friendly Oahu Luau Experiences
Here are the top luaus in Oahu for your family to enjoy. These each share some Hawaiian culture with you and all about the Polynesian islands.
These are the best luaus on Oahu, Hawaii!
1. Toa Luau
This is by far our top luau on Oahu for kids. They opened a couple of years ago, and I've sent SO many friends and family there.
I love it because it's a small luau, so it's perfect for families who don't like huge crowds. Plus, it's one of the most authentic Hawaiian luaus I've experienced.
Oh, and when you purchase a ticket to Toa Luau, you also get free admission to Waimea Valley, a cultural park where you can swim under a waterfall! Check out our full guide to Waimea Valley with kids.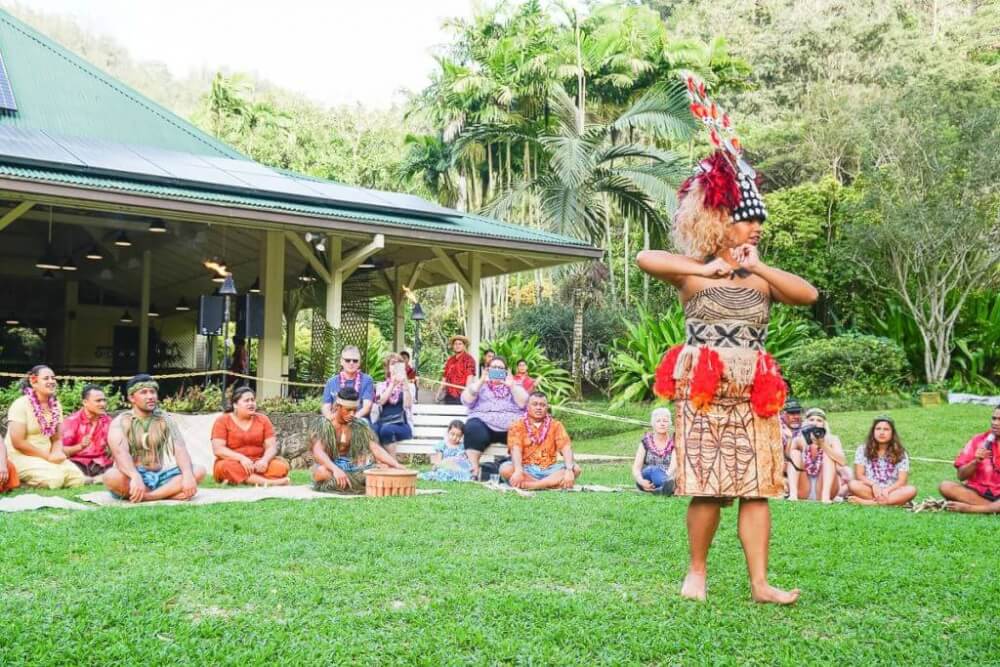 Before this North Shore Oahu luau, they have a lot of cool cultural activities for you to enjoy. Check out the latest prices and more details.
My favorite part is their Kava Ceremony, which is something you don't see every day. Kava is a special drink that has a slight numbing effect. It's safe for kids and adults to try.
Everyone sits in a circle, and they explain why they do the ceremony. Then all the guests have an opportunity to taste the drink. Kava is a big part of Hawaiian culture, so this helped make it feel like the most authentic luau in Oahu.
There are lots of opportunities for kids to get involved in this authentic Polynesian experience. They can even help uncover the food. And since it's a true family affair, they'll get to see kid performers, making it the best luau for families in Oahu!
I really think this is the best luau in Hawaii. And you can read my full Toa Luau review.
2. Experience Nutridge Luau
Another incredible Oahu luau for families is the Experience Nutridge Luau in Honolulu. It's located at Nutridge Estate, which was one of the first macadamia nut plantations in Hawaii. And the views are epic!
We love this luau so much that we went twice in one year, so you know it is the best luau in Oahu for families.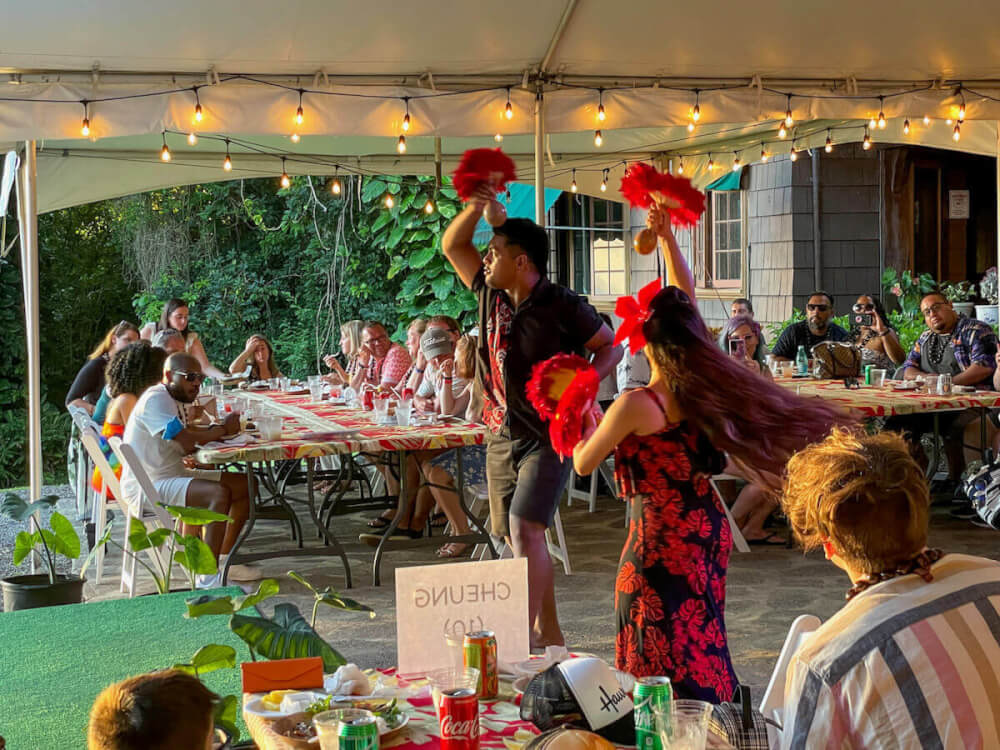 here are lots of hands-on activities and presentations throughout the evening. The Hawaiian lawn games are always a hit with the kids. And they'll get to roast sweet potatoes in the imu, which is a cool experience.
Experience Nutridge has some of the best luau food I've ever tasted. And it's one of the few luaus in Hawaii where you'll get a mini lau lau (meat steamed in a ti leaf) at the luau buffet. It is a real traditional Hawaiian feast! For an Oahu luau with best food, this is definitely it.
Just like Toa Luau, this is a very intimate luau experience. It's perfect for families looking for something "authentic" versus a large tourist attraction. Check out the latest prices and more information.
I think it is the best luau in Honolulu. You can read my full Experience Nutridge Luau review HERE.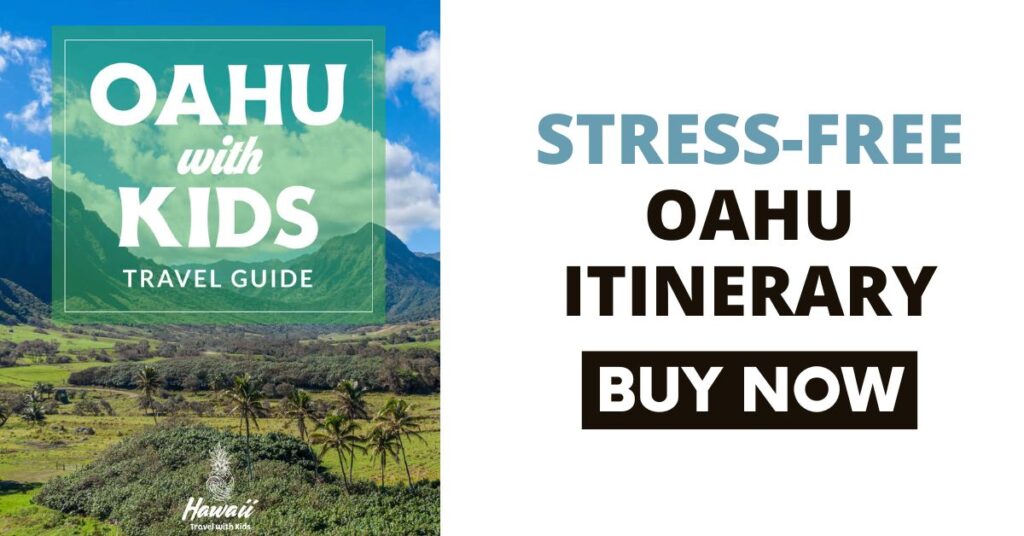 3. Polynesian Cultural Center Luau
The theatrical luau show at Polynesian Cultural Center is fantastic! What makes this one of the best luaus on Oahu is that it also includes admission to the entire cultural park.
You'll want to arrive around Noon so you can visit lots of Polynesian "villages" to see dancing, sample food, and participate in activities to learn more about the Polynesian culture at each village.
And they have a cool new canoe pageant where performers dance on canoes in a stream that runs through the park. Read my full Polynesian Cultural Center review HERE.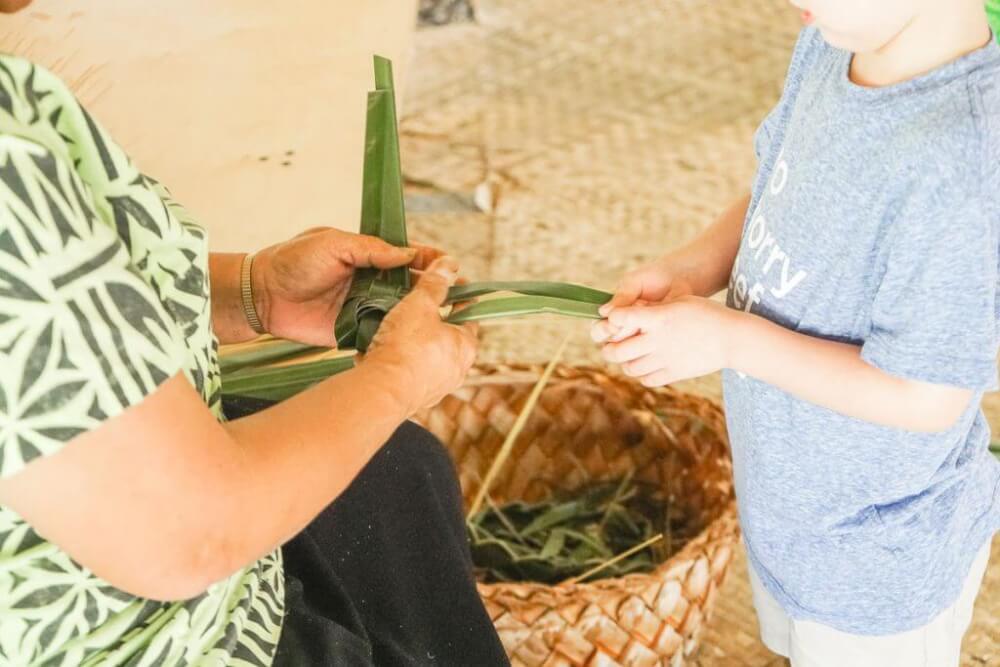 We like to spend the whole day at PCC and then end with the luau and Ha: The Breath of Life. This is a great option for families because you get the traditional luau PLUS a dramatic theatrical show that talks about voyaging to new islands.
If you have any Moana fans in your family (and who doesn't?), it's a MUST-DO in Oahu!
Note: They don't serve alcohol at this North Shore luau, but that can be a good thing! My husband thinks when guests aren't tipsy, the Oahu luau show has to try harder to impress!
The Polynesian Cultural Center Luau is one of the best Oahu luaus for families who want to explore and learn all about the Polynesian islands and have a traditional Hawaiian luau too.
Waikiki Luau
If you are staying in Waikiki, you might not want to rent a car or hop on a shuttle to go to an Oahu luau.
That's why it's nice there are a few Waikiki luau you can either walk to, hop on the Waikiki Trolley, or take an Uber. And several are in fun locations with extra bonus opportunities!
Going to the best Waikiki luau is one of the best things to do in Waikiki with kids!
4. Diamond Head Luau
If you're looking for a unique luau, the Diamond Head luau is the only Farm to Table luau in Hawaii!
Plus, it's located at the Waikiki Aquarium and they give you free admission to explore later in your trip. Check out the latest prices and more details.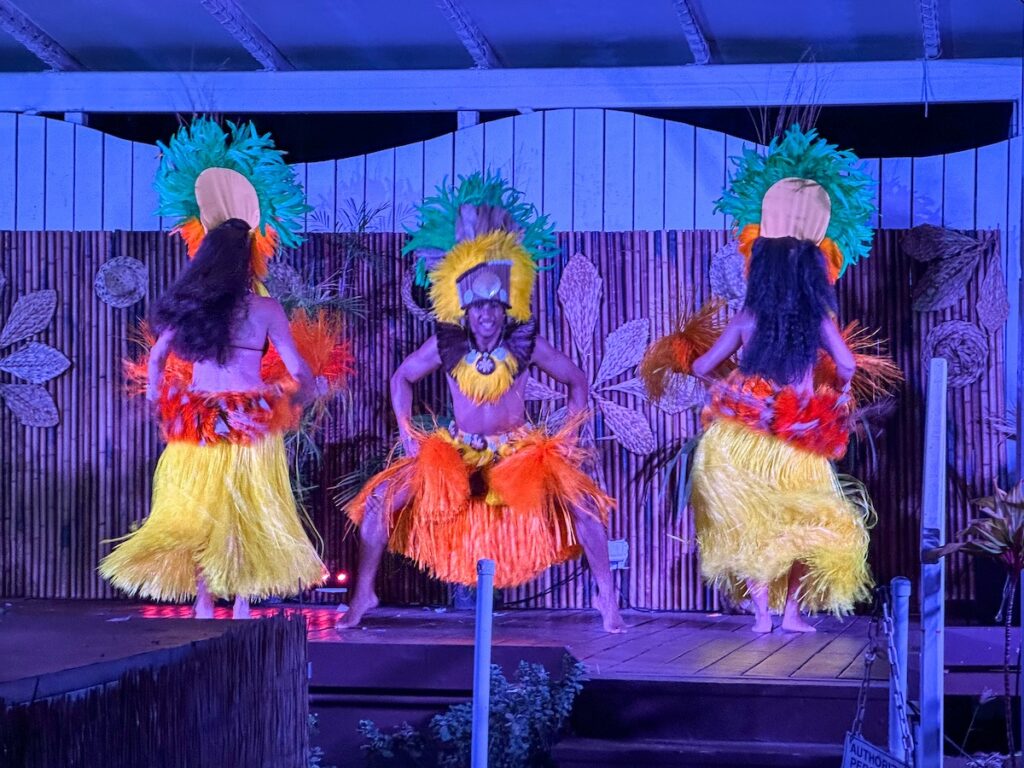 And if you are staying in Waikiki, you can easily walk or Uber there from your hotel.
Seating for this Waikiki luau dinner is typically limited to 250 people, making it a fairly intimate experience. Children age three and under are free.
At this best luau in Waikiki, you can enjoy a hula lesson, learn how to make a lei, and do some coconut weaving.
This is truly the best luau near Waikiki! Read my full Diamond Head Luau review.
Book a Family Photo Shoot
Whenever we travel to Hawaii, we almost always book a family photo shoot with Flytographer. They are super easy, affordable, AND it guarantees that I'll be in some photos. You can get $25 off if you book through this link or use the code HAWAIITRAVEL.
5. Aha'aina Luau
The Aha'aina Luau show has been completely updated recently. It's held on the sacred Coconut Grove at the historic Royal Hawaiian Resort in Waikiki.
You've probably seen the Pink Palace in photos of Waikiki Beach. It's pretty iconic and the best luau on Waikiki Beach.
The Royal Hawaiian luau experience is a lot like the Feast at Lele on Maui. It's a gourmet sit-down dinner with vignette performances throughout the evening. Check latest rates and availability.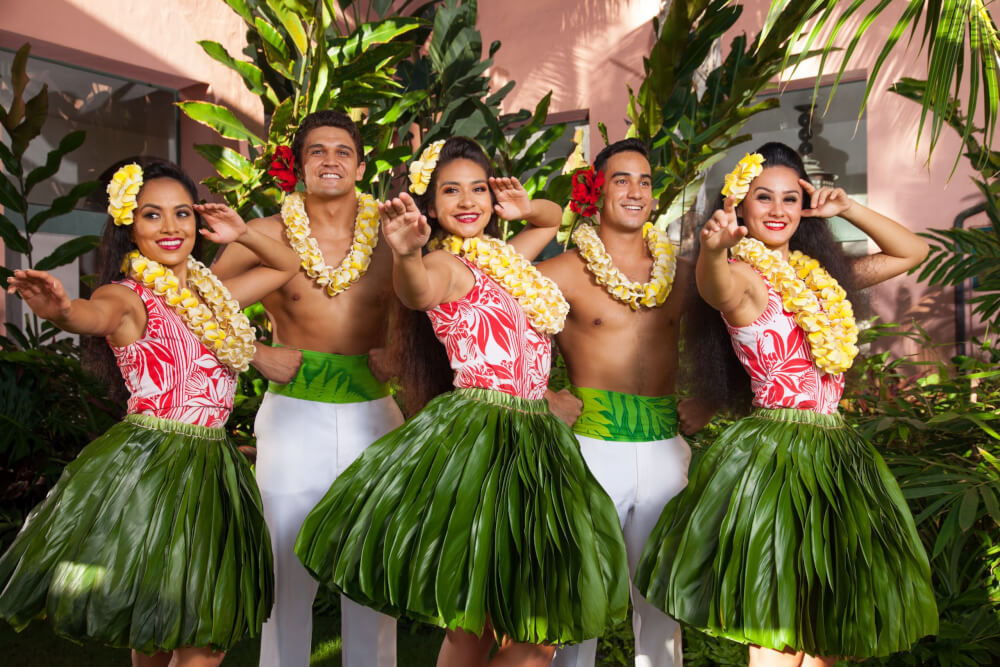 They offer some cool luau activities before the show, like tapa/kapa (barkcloth) making, lauhala mat weaving, as well as poi pounding.
This Waikiki luau is more expensive than others, and children of all ages need to purchase a ticket (but it's still at a discounted price).
It sounds like the ultimate romantic date night in Waikiki, and it's currently on my Oahu bucket list!
As it is the closest luau to Waikiki Beach, it is the best luau in Oahu for families with young kids who are staying right in town.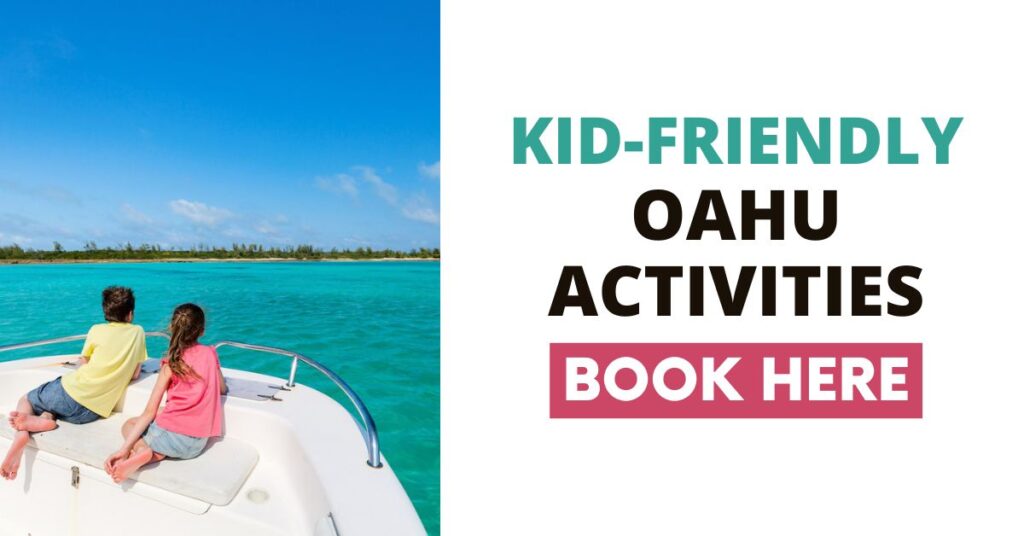 6. Waikiki Starlight Luau
If you're trying to find a luau in Waikiki with lots of availability, the Waikiki Starlight Luau might be your best bet.
They offer luau shows five nights a week and they take place under the stars and is one of the top Oahu luaus. Check latest rates and availability.
The Waikiki Starlight Luau is hosted at the Hilton Hawaiian Village (where many scenes from Hawaii Five-O are filmed). And what's unique about this Waikiki luau is that it also includes a fashion show!
This famous luau in Oahu shares tons of Polynesian culture dances and activities that are fun for the entire family!
While the luau experience is so fun, the buffet dinner is also amazing.
During this luau, you'll see dancing from Hawaii, Polynesia, and across the Pacific. It also includes 4 acrobatic fire knife dancers. Children ages 3 and under are free.
7. Te Moana Nui
Another easy-to-get-to Waikiki luau is right at the Sheraton Princess Kaiulani Hotel in the heart of Waikiki. This is Waikiki's newest indoor luau that is perfect for when the weather is iffy.
If you don't really like Hawaiian food, this luau offers prime rib and crab legs in addition to island cuisine. So there's really something for all taste buds.
There are also artists on site who will hand draw temporary tattoos on your face or body, which is sure to be a hit with kids. Children 4 and younger are free.
It is the best luau near Honolulu for families to enjoy.
8. Ka Moana Luau
The Ka Moana Luau used to be located at Sea Life Park, but they recently moved to a location in Waikiki. It's held at the iconic Aloha Tower.
They've completely re-vamped their show and have improved their dining experience to have delicious food like kalua pig. Check the latest rates and availability.
Guests can enjoy pre-show appetizer stations, table service for drinks and dinner, and even stop by a lemonade stand with local ingredients at the Ka Moana Luau. You will also get a shell lei-greeting too!
The Ka Moana Luau has many ways to learn more about the Hawaiian culture too! Try some lei-making, headband leaving, hula lessons, and more!
Your family will love the Ka Moana Luau, as it is one of the best luau in Honolulu Waikiki. Enjoy some hula dancing, fire dance, and more dinner entertainment with this evening luau!
While you will see the traditional dances, the best part is the fire knife dancers with the sword of fire at the end!
9. Rock-A-Hula Luau Buffet and Show
One luau-adjacent option is the Rock-A-Hula Luau Buffet. This will definitely remind you of a Las Vegas show in all the right ways. It's one of the top dinner shows in Waikiki.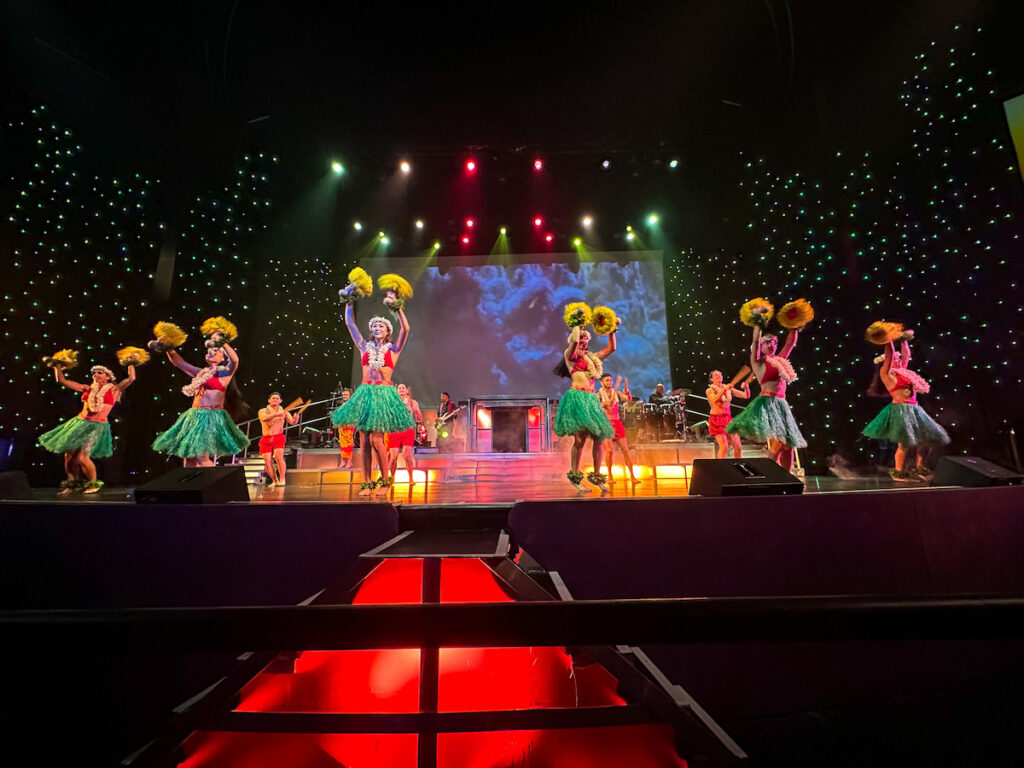 It's located at the Royal Hawaiian Center, which is easy to get to from anywhere in Waikiki. Check the latest prices and availability.
It's a fun mix of pop culture icons and Hawaiian entertainment. You'll be able to see Elvis Presley in his popular role in Blue Hawaii! This Waikiki dinner show was revamped in 2017 and now includes a journey from the 1920s through today.
And if you have dietary restrictions, this is something to look into. They have some vegan options and a detailed menu that shows all the diet/allergy info. Kids ages 2 and younger are free.
It is one of the fun Honolulu luau shows. While it is not the most authentic luau, it is one of the top dinner entertainment on the Hawaiian islands you will love. It still has traditional Hawaiian dishes like kalua pork. Read my full Rock-A-Hula review.
10. Pa'ina Luau Waikiki at Waikiki Beach Marriott Resort
Experience the rich culture of Waikiki at the Pa'ina Luau.
Indulge in a Hawaiian buffet, watch traditional dances including an original hula, and honor Queen Lili'uokalani.
Opt for the full dinner or just the show, with VIP options offering premium seating and cocktails. Check the latest rates and availability.
The Pa'ina Luau offers a lei greeting, Mai Tai welcome, lei making demonstrations, temporary Polynesian tattoos, music, dance, audience participation, and a fire knife dancing finale.
Don't miss the chance for photos and meeting the cast.
Other Oahu Luau Options
While those are some of the most popular Oahu luaus, there are many more options across the island.
If you are staying on the East Shore, North Shore, or outside of Waikiki and are renting a car, you have even more options for Hawaiian luaus.
11. Aloha Kai Luau
The Aloha Kai Luau is the only East Coast Oahu Luau. It takes place at Sea Life Park, and your luau tickets get you admission to a play at the park.
It's a great deal and a great option if you're looking for a cheap luau in Oahu for families. Check out the latest prices and more details.
This Sea Life Park luau is also highly recommended by parents as a family-friendly Oahu Luau. You can make it a full-day experience!
Children can learn hula dancing, make flower leis, taste poi, play the ukulele, and more before the show begins. Kids ages 3 and under are free.
For the best affordable luau in Oahu, try the Aloha Kai Luau!
12. Ka Waa at Aulani, a Disney Resort & Spa
If you are staying at Aulani, a Disney Resort & Spa, this is the most convenient luau since it's right on the property. But it's also open to people not staying there.
So, if you are curious about what Disney Aulani is like, this is a great opportunity to check it out. Plus you get 4 hours of free parking.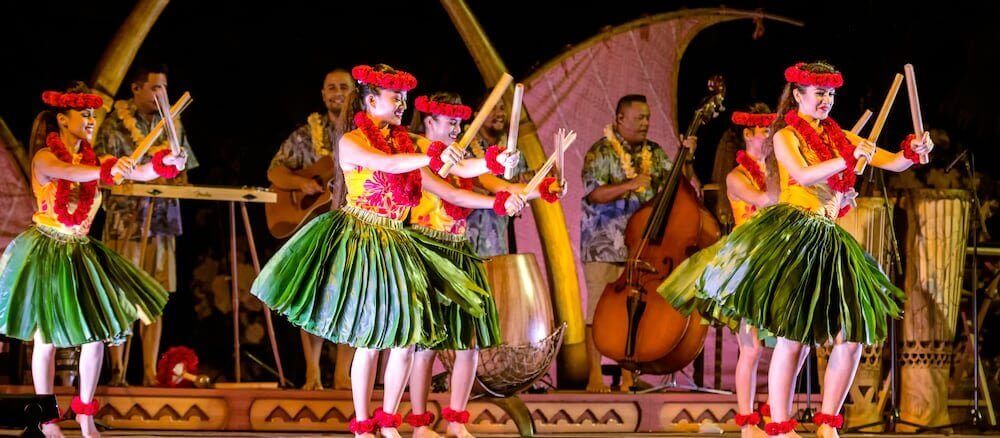 Even though it's run by Disney, it's basically your average Hawaiian luau. Moana, Mickey, and Minnie make a brief appearance, but that's it. It's definitely not a Disney show.
The Ka Wa'a Luau is a 3-hour experience from start to finish, which makes it easy to do for families and offers the best Hawaiian luau in Oahu. And kids ages 2 and under are free.
This traditional luau lets you make your own fresh flower lei and has tons of luau entertainment your entire family will love.
We definitely think Ka Wa'a Luau is one of the best luaus in Oahu. Hawaii! You can read our full Ka Wa'a Disney Aulani luau review HERE.
13. Paradise Cove Luau
This is another popular luau on Oahu. You'll see advertisements for Paradise Cove Luau in all the tourism magazines. Check out the latest prices and more details.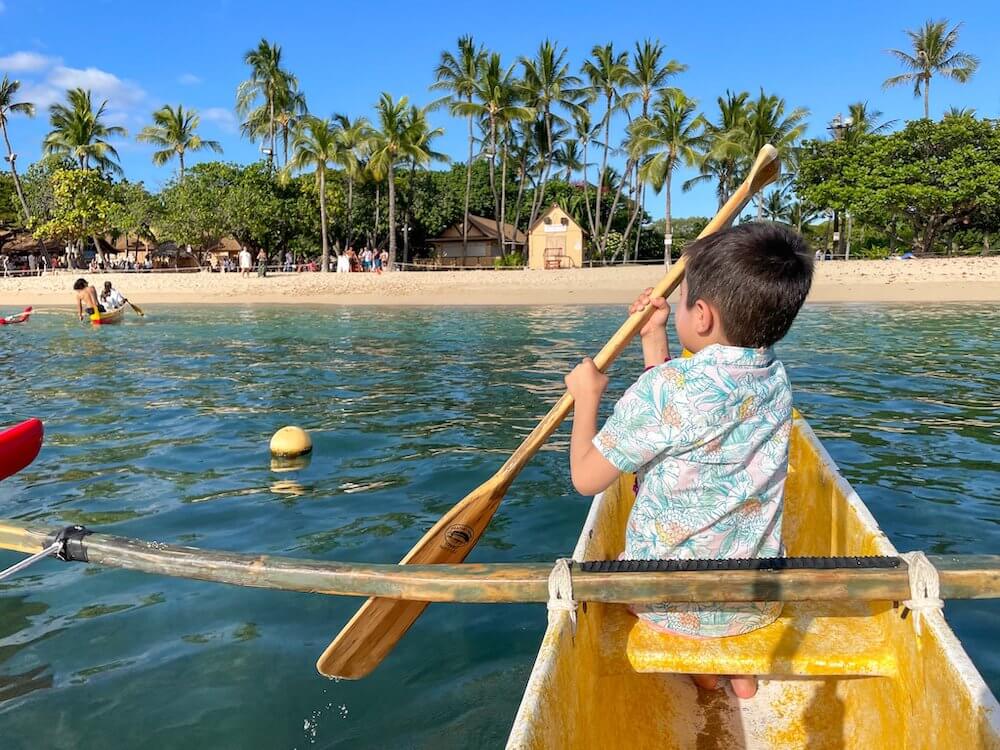 People love the show. But what's really cool about this one is that you can participate in a Hukilau and learn about ancient Hawaiian fishing before the show!
There's actually a lot of time before dinner to explore their Hawaiian village and see the demonstrations/pre-luau activities. And kids ages 3 and under are free.
From all the Hawaiian games you can play to the Shower of Flowers preshow, there is no wonder why it is a top rated luau in Oahu.
Paradise Cove's extensive menu is another reason why it is an amazing luau. You will see an imu ceremony and have tons of delicious food to enjoy all night long.
The Paradise Cove Luau is truly one of the most popular luaus in Oahu you will love! Read our full Paradise Cove luau review.
14. Chief's Luau
Chief's Luau is located right at Wet N Wild, a Hawaii water park. So, you really could make this a full-day Oahu activity. Check out latest prices and more information.
The luau is run by Chief Sielu, who is the original world champion fire-knife dancer and Polynesian comedian.
You might recognize him from his appearances on Oprah Winfrey, The Tonight Show with Jay Leno, Late Night with David Letterman, Travel & Discovery Channels, BBC, and MTV.
A lot of people say this is the top luau in Oahu because it's so entertaining. At one point, there is a specific part of the show dedicated to couples on their honeymoon or anniversary trip, so it is the best luau in Oahu for adults looking for a romantic fun evening too!
Chief's Luau also offers stunning Polynesian dances, especially the fire knife dancing.
This luau also has a special dietary menu! You can find items that are dairy-free, vegetarian, gluten-free and peanut-free, another reason why it is the best luau show in Oahu.
Kids ages 4 and under are free.
15. Mauka Warriors Luau
Immerse yourself in Hawaiian culture with an Island Feast offering views of Honolulu.
The Mauka Warriors Luau has an all-you-can-eat Polynesian buffet with vegetarian options, and hands-on activities like headband weaving, hula lessons, and Maori games.
The feast features an exciting show with cultural dances, fire-knife performances, and tales of Hawaiian war history. Check the latest rates.
This includes the Great Battle of Kipapa and King Kamehameha I's unification campaign.
Learn about the culture and history of other islands such as Tonga, Fiji, Samoa, Tahiti, and the Cook Islands.
16. Germaine's Luau
Germaine's Luau on Oahu is one of the most popular Hawaiian luau near Waikiki. Check out the latest prices and more details.
They even have shuttles from many Waikiki hotels and resorts. This can be crucial for some people. We were here about 8 years ago for a wedding rehearsal dinner. They offered a refillable cup for alcoholic drinks, and guests were very tipsy!
Honestly, it's not my favorite Honolulu luaus. But, if you're looking for something really touristy with an awesome cocktail bar, this is a good option.
Plus, it's right on the beach, and children ages 3 and younger are free.
It is another one of the Hawaiian luaus on Oahu you might enjoy. It has an imu ceremony, live music, and hula lessons to have some fun.
Some consider it the best luau on Waikiki Beach!
Top Oahu Luau Questions Answered:
What is Typical Luau Food?
At most traditional Hawaiian luaus, you'll find the following food items: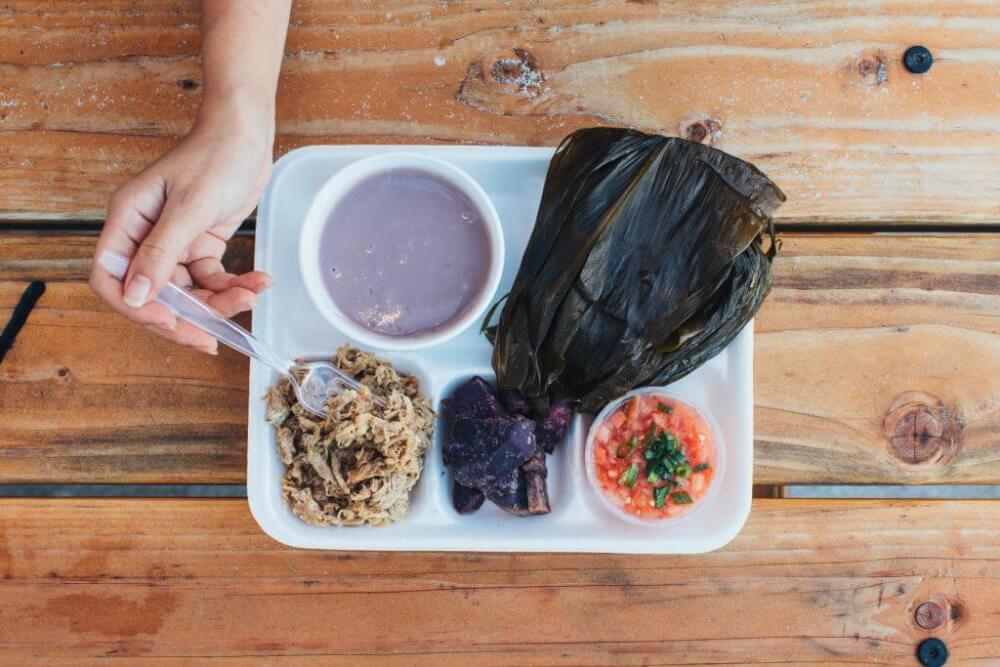 Kalua Pork
Kalua pork is the most popular traditional Hawaiian luau food. It's a whole pig that's been roasted underground in an imu.
The pork is so tender that it falls right off the bone. The pork is shredded before it's served, and it has a nice, smoky flavor.
It is truly the best luau food in Oahu!
Poi
At whatever Oahu luau you choose, they will probably make some sort of joke about poi tasting like wallpaper paste. Don't believe them!
Poi is just mashed-up taro root that is fermented to get a slightly sour flavor. You'll want to eat it alongside fish or meat. It's more like a condiment instead of a stand-alone dish.
Chicken Long Rice
If you have a picky eater in your family, chances are they'll like Chicken Long Rice!
It's long noodles with bits of chicken sprinkled in and cooked in chicken broth. It's similar to chicken noodle soup, but the noodles are way longer, and there are more noodles than broth.
Huli Huli Chicken
If you like barbecue chicken with an island twist, you'll love Huli Huli Chicken! It's chicken that has been cooked on a rotisserie, and it's super popular in Hawaii.
In fact, you'll see roadside stands selling Huli Huli Chicken or at fundraisers all around Oahu. The best luau dinner in Honolulu will definitely have this!
Lau Lau
This is a super traditional Hawaiian food, and it's only served at a few luaus. It's usually pork or fish wrapped up in ti leaves and steamed. It's definitely worth trying if you see it on a menu anywhere.
Lomi Lomi Salmon
This is very similar to ceviche, where it's chopped up raw fish mixed with diced tomatoes and onions. You can eat it on its own (it's a side dish) or mix in a little pork, rice, or even poi.
Macaroni Salad
Yes, it's just what it sounds like! But it's super popular in Hawaii, and you'll see it on Plate Lunch menus. Basically, it's cold macaroni noodles with a lot of mayonnaise and usually some shredded carrots.
This is another great option for picky eaters. Personally, I love mixing in a bit of Huli Huli Chicken or Kalua Pork when I eat it. So tasty!
Haupia
This is a traditional Hawaiian dessert that is basically creamy coconut jello. You'll see it cut into small squares.
It's a cold dessert and makes for a refreshing palate cleanser! Plus, kids usually enjoy eating it.
How to Dress for a Luau
I know when people are packing for their trip to Oahu, they always ask about what to wear to a luau. So, here are my top luau clothes ideas:
Luau Dresses
Most Oahu luaus will give you either a shell lei or a purple orchid lei when you arrive. This is good to know because if you think you'll be taking a lot of photos, you'll want to make sure your lei will stand out against your dress.
For fun tropical dresses, my top picks are this one and this one. Putting on a new Hawaiian dress always makes me feel happy, and like I'm on vacation!
But, you honestly don't need to buy a new dress. Take a look in your closet and see if you can find something brightly colored. Or even a white dress can look really nice, especially if you have a tan.
When I think about the best shoes for Hawaii, I tend to always wear sandals. You probably won't want to risk heels, especially if the luau is on grass or near the beach. It's much better to stick with flats.
Aloha Shirts
Men usually get a shell lei, purple orchid lei, or sometimes they get a black kukui nut lei at the luau.
While men can really wear any type of shirt (polo shirts or button-down shirts are really popular), a Hawaiian shirt is always more memorable!
If you want to order ahead of time, this one and this one are fun picks!
Men can wear their Aloha Shirts with khaki pants or shorts. Or linen pants or slacks of any kind. And sandals are always a good option.
Hawaiian Clothes for Kids
And don't forget about your kids! While they can really wear anything they like, it's so much cuter if they wear Hawaiian print!
I love matching Aloha shirts and short sets like this for my boys and adorable Hawaiian dresses like this for girls.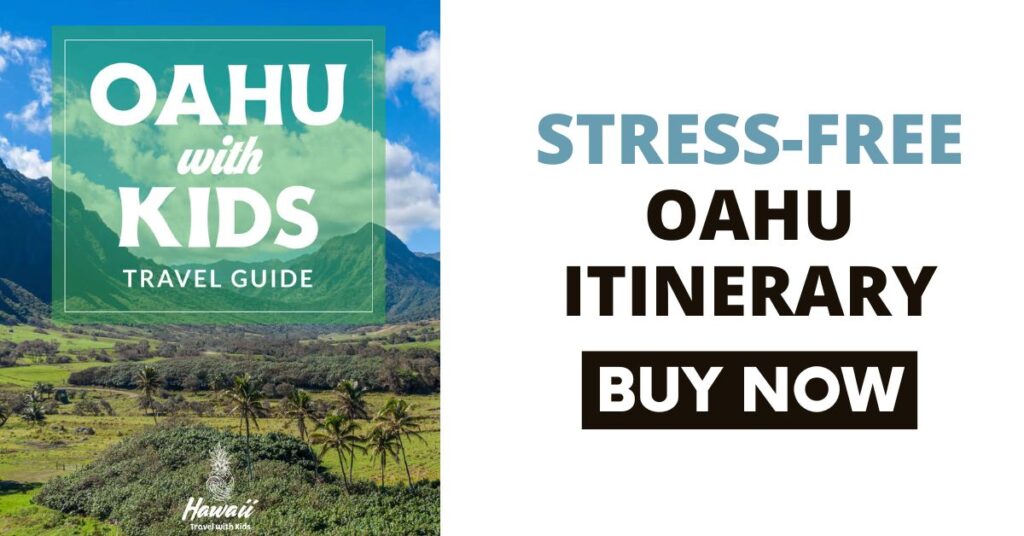 Oahu Luau FAQs
Is it worth going to a luau in Hawaii?
If you want to have a cultural experience on your Oahu vacation, attending a luau is a great starter opportunity. The prices and experience vary widely from luau to luau. That's why it's important to research before you book one.
What's the best luau on Oahu?
It honestly depends on what you are looking for (kid-friendly, open bar, authentic, entertaining, etc.). Some luaus on Oahu come with extra entrance tickets or are located at your hotel, so there are many factors to consider. So far for our family, the best luau on Oahu has been Toa Luau on the North Shore. It's totally worth the drive from Waikiki.
How much is a luau on Oahu?
Luau prices vary but expect to pay at least $100 for adults. Some luaus on Oahu cost $200 per ticket. It really depends on the location.
Family-Friendly Oahu Luau Wrap Up
There are tons of fun luaus on Oahu that are totally worth checking out on your Oahu vacation. I hope this post helped you figure out the right Oahu luau for your family!
From the best luau in Oahu on the beach to the best luau North Shore Oahu offers, the Honolulu luau show, and Ko Olina Hawaiian luau party, you will find something to fit the entire family.
For authentic Polynesian luau Oahu offers, check out any of these Oahu luaus ranked above.
P.S. Join our Hawaii Travel with Kids Facebook group to get connected with other families planning a trip to Hawaii!