Want to know how to make traditional Hawaiian food? It doesn't get more classic than Kalua Pork. Scroll to get my full Instant Pot Kalua Pork recipe!
This Instant Pot Kalua Pork recipe contains affiliate links which means if you purchase something from one of my affiliate links, I may earn a small commission that goes back into maintaining this blog.
Kalua pork is a traditional Hawaiian pork dish that's typically served at luaus. Usually cooked in an underground oven in backyards or outdoor spaces, this kalua pig is cooked in an Instant Pot but keeps all the same flavors and incredibly delicious texture!
If you've never heard about kalua pork before then you are in for a big treat! Kalua pork is a smoky , tender pulled pork that's totally delicious and really easy to make.
Traditionally, kalua pork (also called kalua pig) is served at Hawaiian luaus. Think of it as a dish made at parties and get-togethers.
It's usually cooked in an underground oven, called an Imu. Basically it's a pit that's dug outdoors and filled with coal and rocks.
Once the oven is hot enough the oven is filled with palm leaves or cabbage leaves and the pig is laid on top and covered with more leaves.
The pork is slowly cooked for around 8 hours so it gets a smoky flavor that's to die for!
However and since most of us don't have an Imu at home (or don't want to dig a hole in our backyards) we are cooking this kalua pork in an Instant Pot. The end result is just as delicious as the real deal!
What I love about this easy kalua pork recipe is that it's so versatile.
The first night, we usually eat it over rice for dinner. Or (if I'm on a health kick), we put it over fresh lettuce or cabbage and turn it into a salad.
Then, the next day, we love turning them into sliders with these yummy Hawaiian dinner rolls. They are perfect for sack lunches for kids, too!
Ok, now that we're all hungry, let me show you how to make kalua pork in the Instant Pot!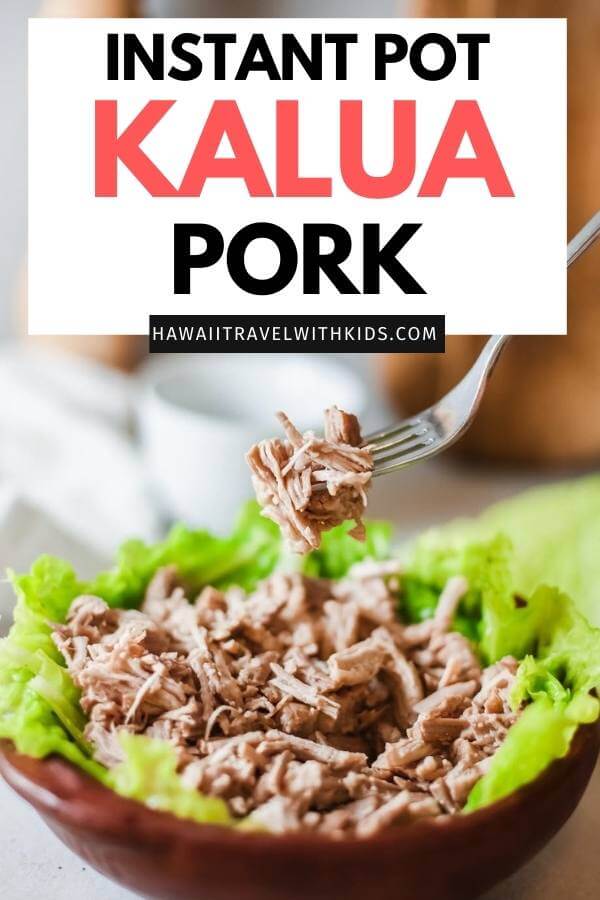 Kalua Pork FAQs
What is kalua pork served with?
Usually, kalua pork is steamed with cabbage and served with white sticky rice. You can also use kalua pork to make Hawaiian sliders.
How do you reheat kalua pork?
To keep the kalua pork nice and juicy, the best way to reheat it is in a baking dish in the oven. Just be sure to add in all the juice and cover it with a lid or foil to let it re-steam.
Can you put liquid smoke in an Instant Pot?
Yes! In fact, that's one of the most important ingredients in this Instant Pot kalua pork recipe. That's what gives it that nice, smoky flavor.
How to Make Hawaiian Kalua Pork in the Instant Pot
Traditional kalua pork is simple and not heavily seasoned. We are keeping that on this recipe!
Start by setting the instant pot on sautee and heating a bit of vegetable oil. Sautee the pork shoulder until browned on the outside.
Then add a bit of water, sea salt – even better if you can get your hands on some red Hawaiian sea salt – and some liquid smoke. Liquid smoke is what gives it its distinct smoky flavor without having to smoke it.
Manually release steam and roughly shred it with two forks. Add some cabbage leaves and close the lid again so it gets steamed and soft. Let it rest for 3 minutes and once again.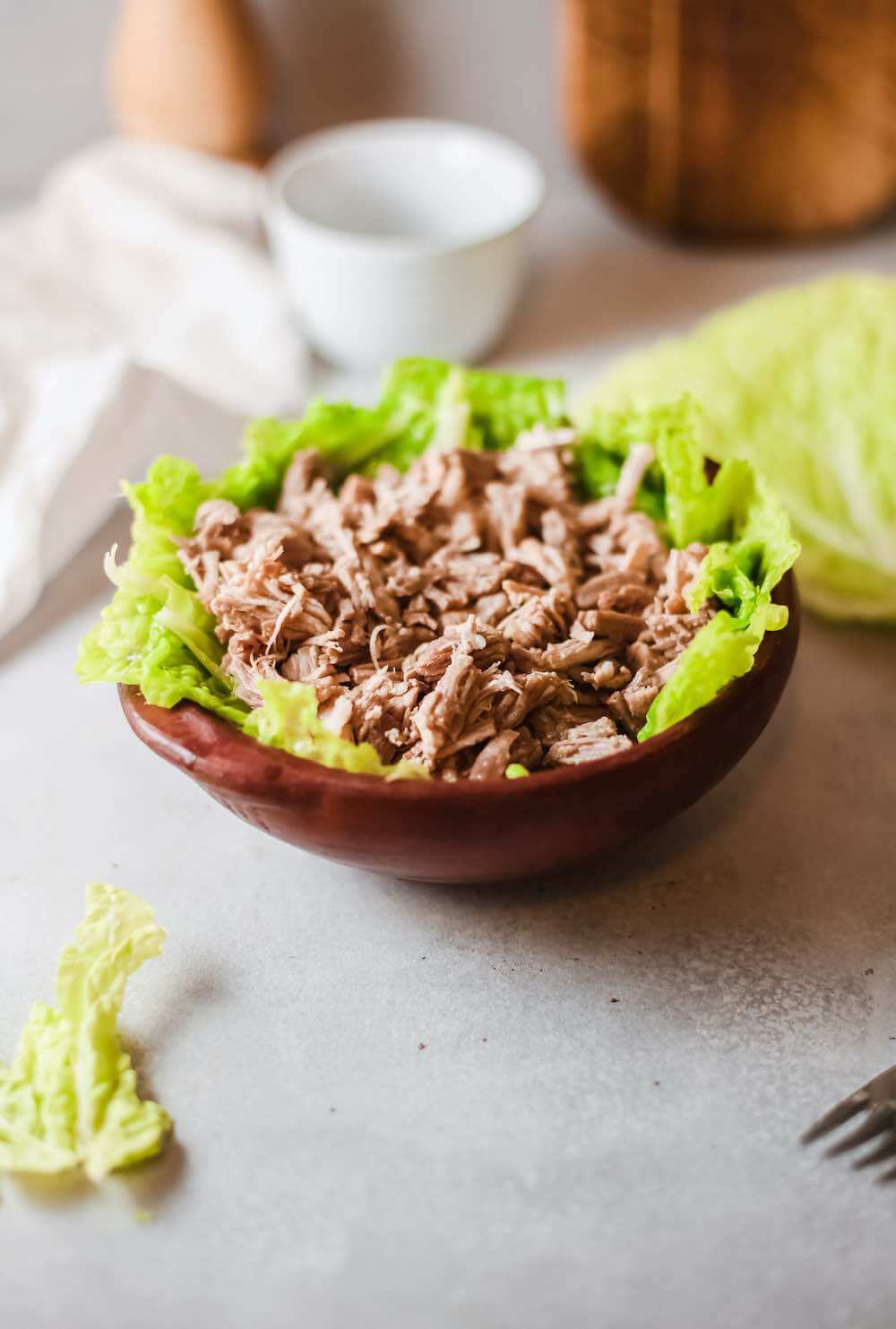 Kalua Pork Instant Pot Recipe
Ingredients for your Instant Pot Kalua Pork:
A roughly 5 pound pork shoulder, roughly chopped
1 Tbsp vegetable oil
¼ Cup water
2 Tsp sea salt
1 Tbsp liquid smoke
1 Cup cabbage
How to Make Instant Pot Kalua Pork
Set the Instant Pot on the Saute setting. Add the pork shoulder and cook until browned on the outside.
Pour the water, liquid smoke and salt and stir to combine.
Close the lid and valve and set on high pressure. Cook for 35 minutes.
Manually release steam and open the lid. With the help of two forks shred the pork. Top with the cabbage leaves and close the lid to trap the heat inside. Let the cabbage steam for 3 minutes.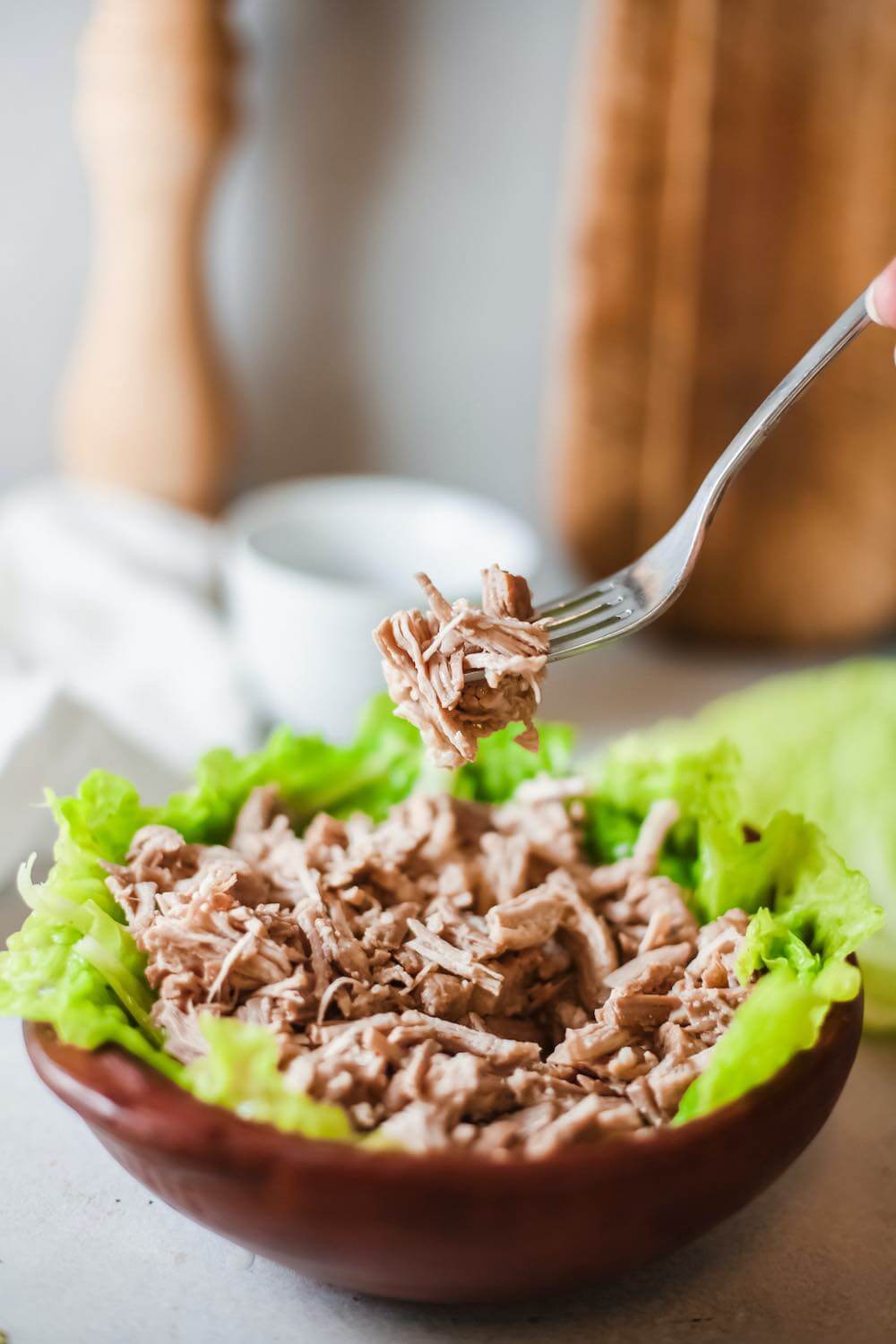 I told you this Kalua Pork recipe was super easy to make!