Trying to figure out what to eat in Hawaii? Check out these popular and traditional Hawaiian food items you should taste on your next trip to Hawaii. Scroll for the full list!
This post on traditional Hawaiian food contains affiliate links which means if you purchase something from one of my affiliate links, I may earn a small commission that goes back into maintaining this blog.
Don't Want to Scroll? Here Are the Top Traditional Hawaiian Foods
hide
Hawaii is truly a melting pot of many different cultures and cuisines. That's why it's so much fun to eat in Hawaii!
Not only is there traditional Hawaiian food, but there are also Hawaiian versions of dishes from Asia, Europe, and the Mainland.
Whether you are planning your first trip to Hawaii or are going back for the 5th time, chances are you haven't tried every dish on this list.
Below, I've outlined some of my top picks for traditional Hawaiian food items that should be on your radar. You'll learn more about what each dish is and where you can find it in Hawaii.
Plus, I've also included a few Hawaiian recipes in case you want to make them at home!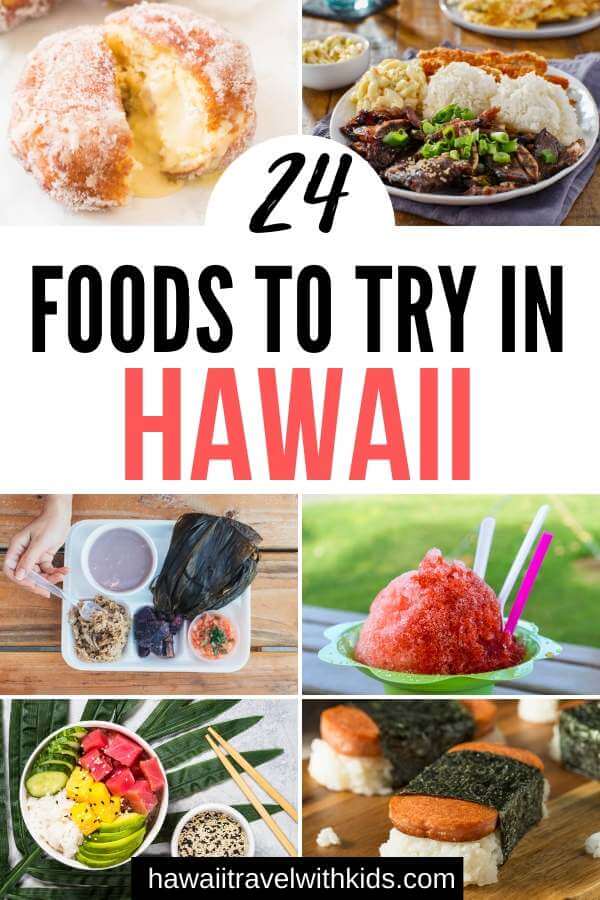 24 Traditional Hawaiian Food Items You Have to Try
When you think of traditional Hawaiian food, you are probably picturing a roasted pig. In Hawaii, whole pigs are wrapped in leaves and roasted in an underground oven called an imu.
If you go to a luau in Hawaii, chances are they will have an imu ceremony where you can watch them lift the roasted pig out of the imu. It's pretty cool to watch, especially for kids!
Kalua Pork is shredded roasted pig. It can have a strong smoky flavor (especially close to the skin) or a mild flavor. It's usually served with white rice and poi at restaurants or has part of a buffet at luaus.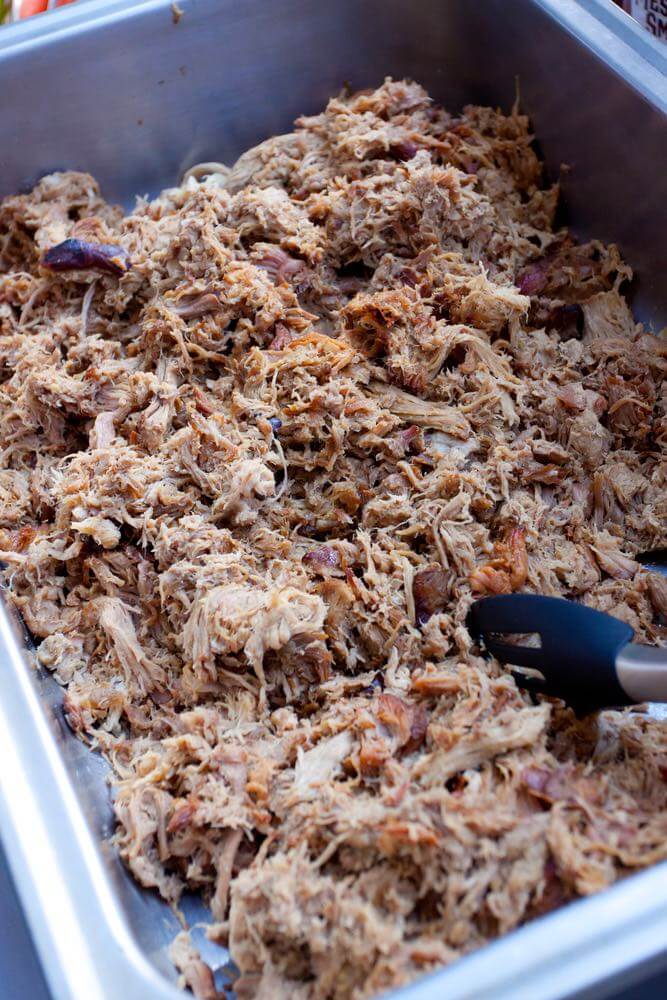 Where to Find Kalua Pork in Hawaii:
Luaus: If you are doing a Hawaiian luau on any island in Hawaii, you will definitely have an opportunity to try Kalua Pig.
Kono's Northshore: If you are heading to the North Shore of Oahu, make sure to order a Kalua Pork sandwich from Kono's. It's one of their specialties. They also have a Waikiki location.
Da Kitchen: On Maui, Da Kitchen is one of the best places to find incredible Hawaiian food and their Kalua Pork is outstanding.
Anuenue Cafe: On Kauai, be sure to order their Kalua Pork Eggs Benedict. It's an amazing Hawaiian breakfast!
Want to make it at home? Try my Instant Pot Kalua Pork recipe!
2. Lomi Lomi Salmon
Another Hawaiian luau food item is Lomi Lomi Salmon. It's basically finely chopped onion and tomato with bits of raw salmon and it's a Hawaiian side dish.
It's almost a smaller version of poke. Usually, you just eat it as part of a plate lunch. But, you can also make it at home and eat it with chips.
It's definitely not ceviche, as there is no citrus juice to "cook" the fish.
Some restaurants have elevated the dish a bit with green onions, macadamia nuts, sesame seeds, etc. This is definitely Hawaiian traditional food worth trying, especially if you like poke.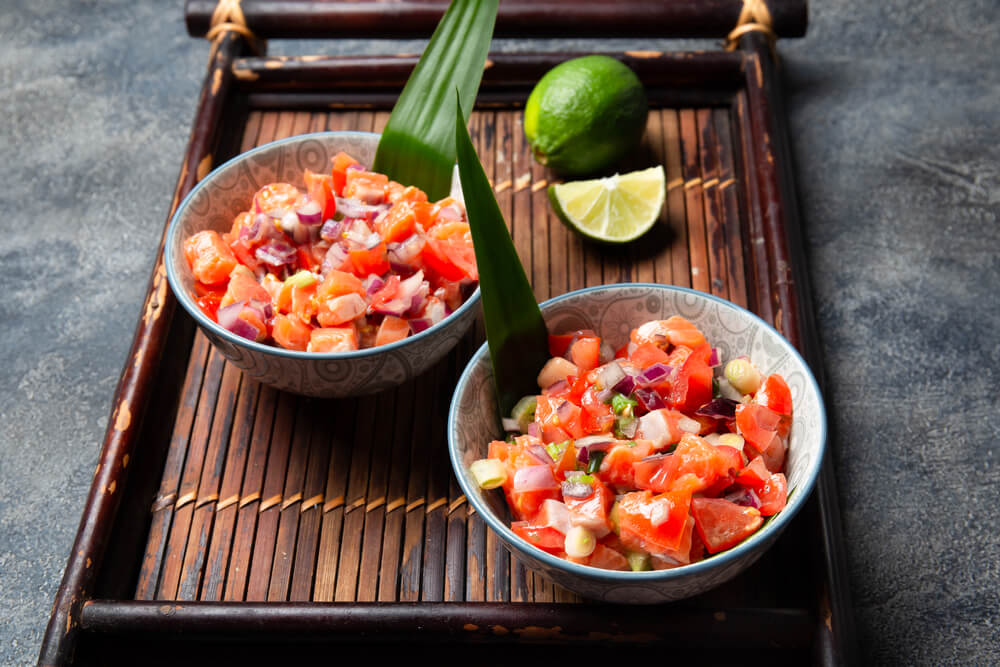 Where to Find Lomi Lomi Salmon in Hawaii:
Luaus: There is usually a large dish of Lomi Lomi Salmon at almost every luau in Hawaii.
Helena's Hawaiian Food: On Oahu, make sure to hit up Helena's Hawaiian food. They have a few different Lomi Lomi Salmon options that are tasty.
Grocery Store: You can find Taro Brand Lomi Salmon at many grocery stores in Hawaii, including Costco.
3. Chicken Luau
Chicken Luau is a sweet and savory traditional Hawaiian dish that is usually made with beef, taro leaves, and coconut milk. It can also be made with squid instead of chicken.
If you are making Chicken Luau at home, you can substitute spinach for the taro leaves. Just put the whole thing over rice and you have a full meal of Hawaiian cuisine.
It can be tricky to find restaurants that serve Chicken Luau, as it's more of a home-cooked dish.
I admit, Chicken Luau isn't a very "Insta-worthy" dish, but it's full of flavor and will leave you satisfied.
Where to Find Chicken Luau in Hawaii:
Da Ono Hawaiian Food: This Honolulu restaurant offers both Chicken Luau and Squid Luau.
Helena's Hawaiian Food: They offer the Squid Luau option if you want to try this Hawaii cuisine.
4. Huli Huli Chicken
I'm pretty obsessed with Hawaiian barbecue. The flavors are a bit sweeter than traditional barbecue and I love it! It's one of the most popular food in Hawaii.
One of the best Hawaiian chicken options is Huli Huli Chicken. The term "Huli Huli" means "to turn" in the Hawaiian language. So, this chicken is slathered with Hawaiian barbecue sauce and then turned many times as it's cooking.
If you want to make it at home, I have a great baked Huli Huli chicken recipe that is easy to cook. It is one of the traditional Hawaiian meals you will have to try!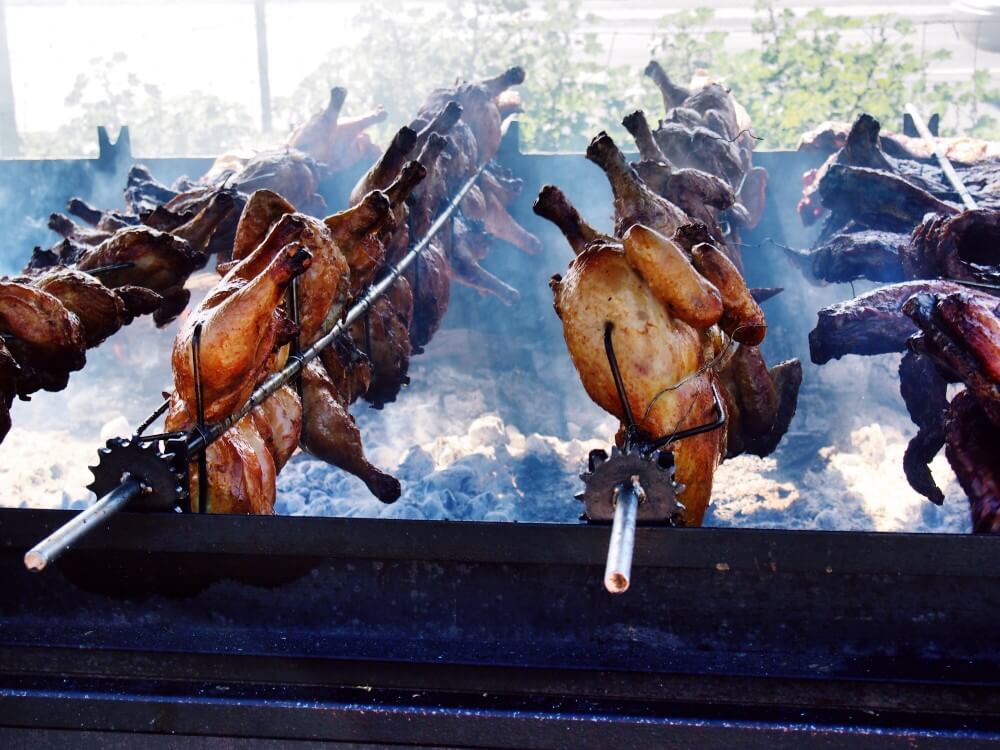 Where to Find Huli Huli Chicken in Hawaii:
Roadside Stands: One of the best places to get authentic Huli Huli Chicken is by the side of the road, usually as a fundraiser for something. You can also find Miguel's Flippin' Ono Chicken in various spots on Oahu.
Mike's Huli Chicken: Head up to the North Shore of Oahu to taste the Huli Huli Chicken from this restaurant featured on Diners, Drive-Ins, and Dives, as well as Food Paradise.
Maui Rotisserie Chicken: If you are in Kihei on Maui, make sure to swing by Maui Rotisserie Chicken, which usually has a long line (so you know it's good!)
5. Chicken Long Rice
Chicken Long Rice is one of my favorite Hawaiian comfort foods. It's kind of like Chicken Noodle Soup, but with a focus on the noodles.
It's the Hawaiian version of a Chinese noodle soup. This one is made with rice noodles, chicken thighs, ginger, garlic, and soy sauce. It's very light and flavorful.
You'll see it as a side dish at Hawaiian luaus, but it can also be a meal all on its own. You can even add extra broth to make it a Chicken Long Rice soup.
Where to Find Chicken Long Rice in Hawaii:
Haili's Hawaiian Food: This is a great Oahu restaurant where you can find all kinds of Hawaiian food, like Chicken Long Rice.
Young's Fish Market: This is a great grab-and-go place on Oahu for lots of plate lunch items, including Chicken Long Rice.
Tin Roof Maui: This is an awesome place to find Hawaiian comfort food near the airport on Maui.
6. Manapua (aka Char Siu Bao)
If you've ever had Chinese Dim Sum, you've probably seen those fluffy white buns filled with barbecue pork. Those are called Char Siu Bao and they are delicious food you have to try.
Manapua got its start during Hawaii's plantation days and has grown in popularity all across the islands. It began as Char Siu Bao but slowly morphed into a larger bun filled will all kinds of fillings like curried chicken and hot dogs.
We're still partial to the traditional barbecue pork filling. We've found Manapua to be a big hit with kids! And it's the ultimate lunch for Hawaii on a budget!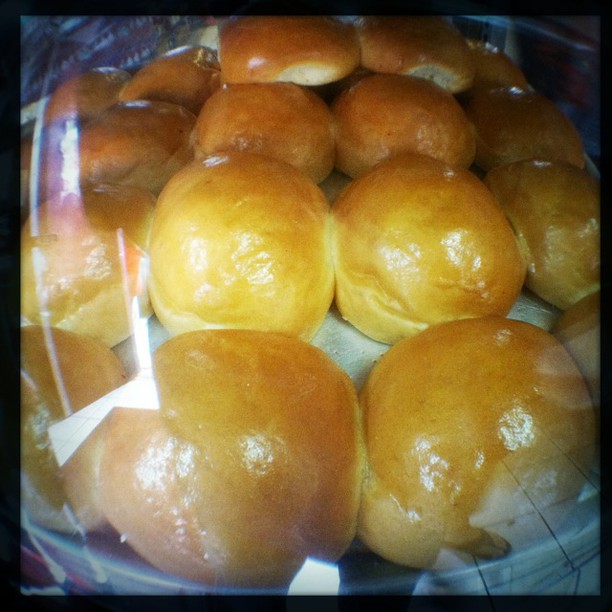 Where to Find Manapua in Hawaii:
Sing Cheong Yuan: This is a bakery in Honolulu's Chinatown and it's consistently one of the top places to find Manapua on Oahu.
Manapua Creations: Located on Maui, they are known for their unique Manapua flavors like Philly Cheesesteak and Spam Musubi.
Grocery Stores: We actually like to pick up a bag of frozen Manapua (the kind that can be heated in the microwave) and we make them for easy lunches or sometimes even breakfast.
7. Lau Lau
Another popular traditional Hawaiian food is Lau Lau. It's pork and/or fish wrapped in taro leaves and ti leaves and then steamed for several hours. Because it's steamed so long in the leaves, the meat gets an earthy taste and is some delicious food you'll want to try.
It's served still wrapped up in ti leaves, so you'll need to unwrap it in order to get to the meat inside. The ti leaves aren't edible, but you can eat the taro leaves if you like.
Sometimes it's served as part of a Hawaiian plate lunch with items like Lomi Lomi Salmon and poi. Other times, you'll just get it with rice and macaroni salad.
Nowadays, you can also sometimes find Chicken or Beef Lau Lau. These Hawaii traditional foods can be tricky to find.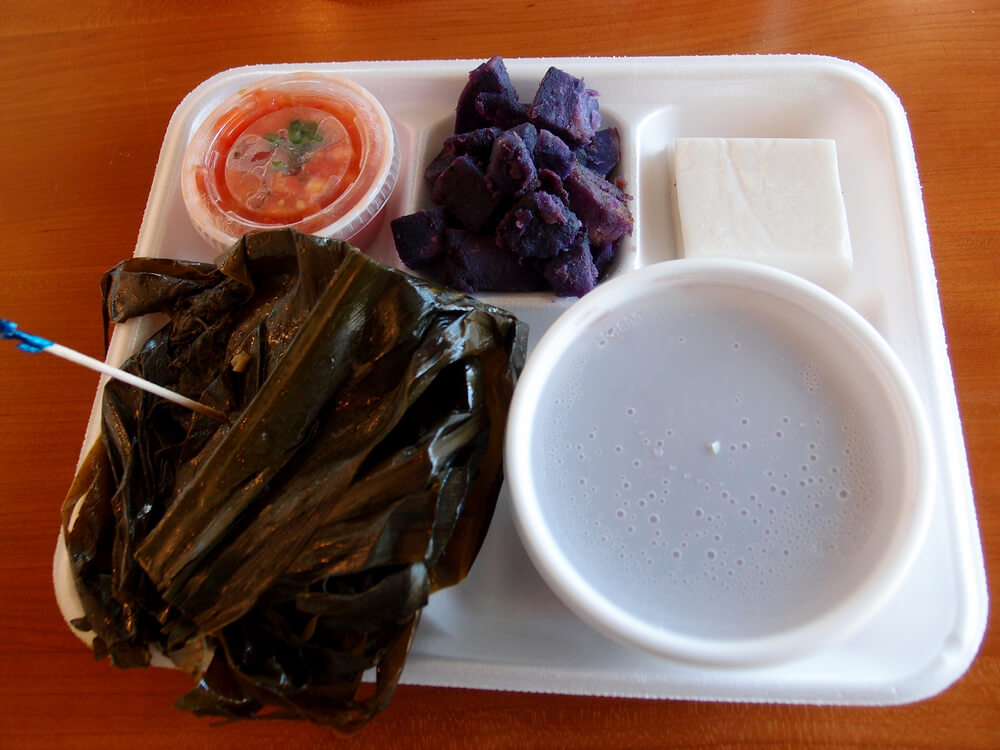 Where to Find Lau Lau in Hawaii:
Highway Inn: Located in Kakaako on Oahu, you can actually stop by and watch them hand-make the Lau Lau on certain days of the week.
Kaaloa's Super J's: This Big Island roadside spot was featured on Food Network's The Best Thing I Ever Ate, and they specialize in Lau Lau, along with many traditional Hawaiian foods.
Lahaina Fish Co: This Maui spot has a fancy Seafood Lau Lau with scallops, mahi mahi, and shrimp which is another one of the delicious foods from the Pacific Polynesian Islands.
8. Tripe Stew
This tomato-based stew is pretty popular in Hawaii. It's made with tripe, which is the stomach lining of cows.
It also has standard stew vegetables like carrots and potatoes but also has a bit of ginger. Some people eat it served hot with poi or rice.
Personally, it's not my favorite Hawaiian stew (I much prefer Beef Stew), but my husband and his family really like it. They usually order it when we go to restaurants that specialize in most traditional Hawaiian meals.
Where to Find Tripe Stew in Hawaii:
O'ahu Grill: This Oahu restaurant specializes in authentic Hawaiian food with recipes passed down through the generations.
Lynn's Saimin and Cookie Shop: This Oahu spot is perfect for people who don't like a lot of filler in their Tripe Stew (aka too many potatoes and carrots.)
Dani's Restaurant: This Kauai spot is known for its top-notch Tripe Stew and other traditional Hawaiian foods you'll love.
This is very similar to any beef stew you might find, except for subtle differences like soy sauce. The meat and veggies also are much larger chunks than you'd find in other places and is another local food.
I think part of why Hawaiian Beef Stew tastes so different than other beef stews is that you usually eat it with a scoop of macaroni salad and rice. The flavor combination is next level.
Whenever I see Hawaiian Beef Stew on a menu, I'm compelled to try it. It's one of my absolute favorite Hawaiian dishes, and it just hits the spot.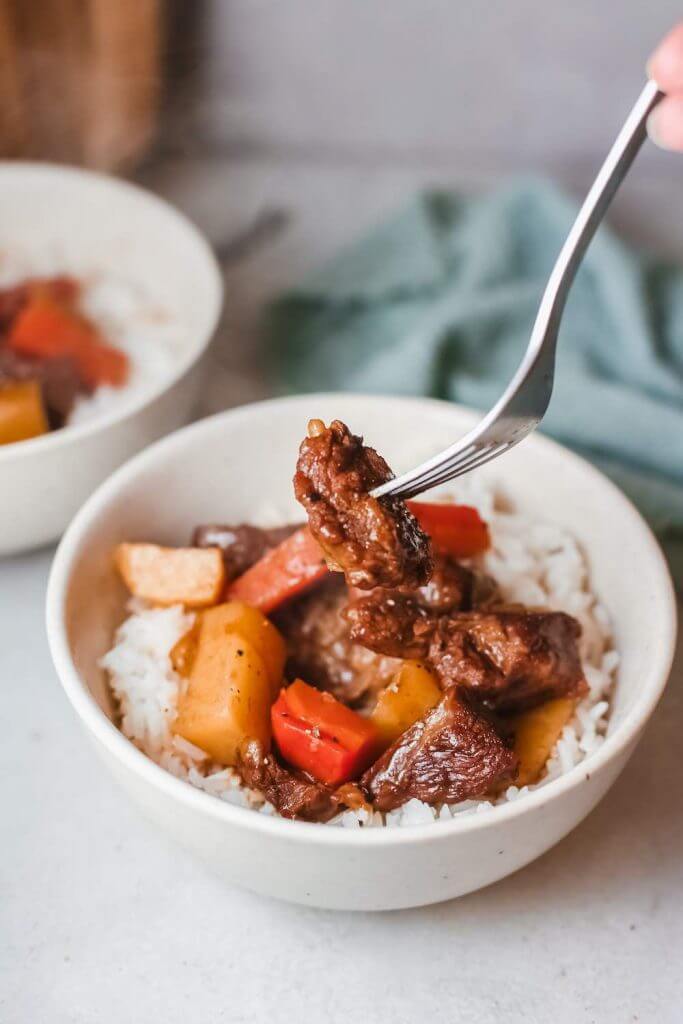 Where to Find Beef Stew in Hawaii:
Mark's Place: This is my favorite hole-in-the-wall on Kauai, and my favorite thing to order is their Beef Stew. It's incredible!
Rainbow Drive-In: I always order beef stew here when I'm on Oahu, and it's on the menu. So tasty!
Meg's Drive In: This Oahu restaurant is also known for its Beef Stew and other top Hawaiian foods.
Want to make it at home? Try my Hawaiian Beef Stew recipe!
10. Poi
Poi is a traditional Hawaiian food that is basically cooked taro root that has been pounded into a paste and then fermented.
It kind of has a sour taste if you just eat a spoonful of it. In fact, some luaus even call it "wallpaper paste."
But, Poi is one of the most underrated Hawaiian foods. I think it's because tourists think of it as something to eat by itself. Instead, think of it more like a condiment.
If you dip your meat or fish into the poi, it will bring out another layer of flavor, and you'll totally get why people love it.
When all else fails, you can always add milk and sugar to it and eat it like a sweet pudding. No judgment!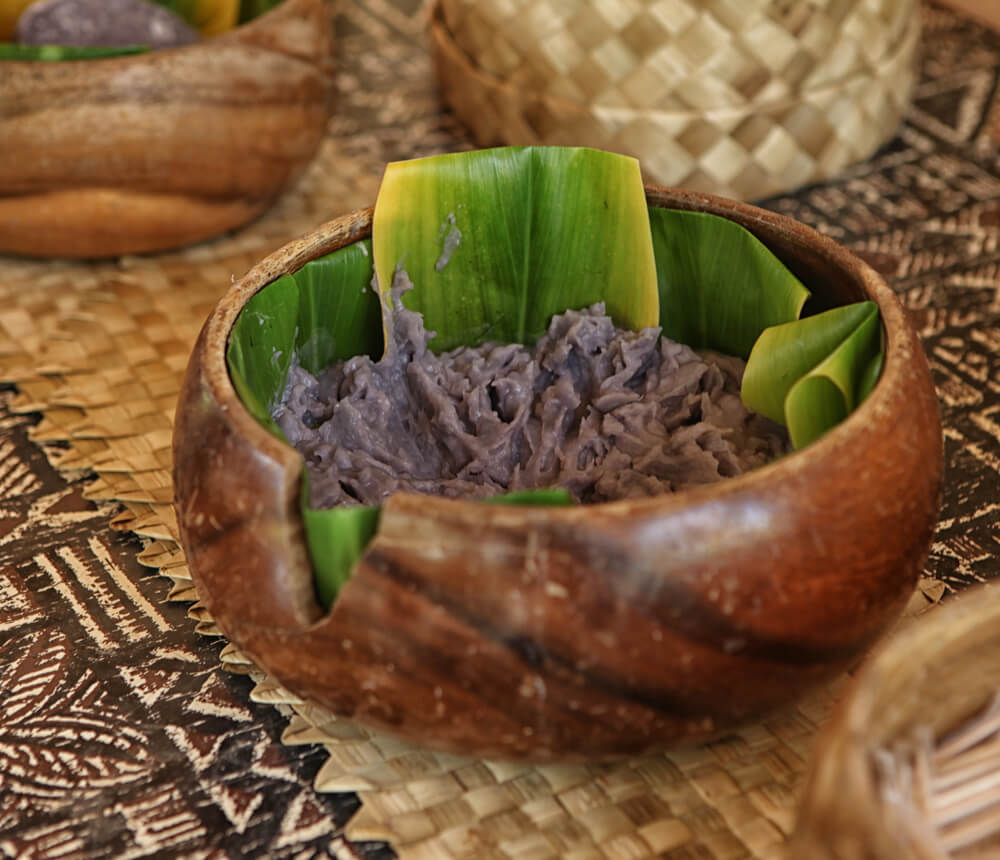 Where to Find Poi in Hawaii:
Waiahole Poi Factory: They make amazing hand-pounded poi here on Oahu, and you can even take a tour to watch them make it.
Hanalei Taro & Juice Co.: This North Shore Kauai spot actually has a food truck where you can get Poi, Lomi Lomi Salmon, and Kalua Pig layered in a little bowl. Seriously amazing!
Any Luau: You will probably find a big vat of poi at your luau. This is not the good stuff, but it's still worth a taste. Just remember to eat it with your Kalua Pig.
11. Macaroni Salad
While Macaroni Salad may be a staple of Mainland BBQs, Hawaii has made it 1/3 of their famous Plate Lunch. When ordering Plate Lunch in Hawaii, you'll get meat, two scoops of rice, and one scoop of Macaroni Salad.
And there are variations to it. One of my favorites is a Tuna Macaroni Salad that also has green peas in it. I could eat an entire container of that in one sitting.
I'm also a fan of the Potato Macaroni Salad. Yep, it's basically just mixing Potato Salad with Macaroni Salad, but it's mind-blowingly tasty.
The key ingredient is not the macaroni noodle but the mayonnaise. It's got to be the good stuff in order for the salad to really stand out.
No Hawaiian meal is complete without it!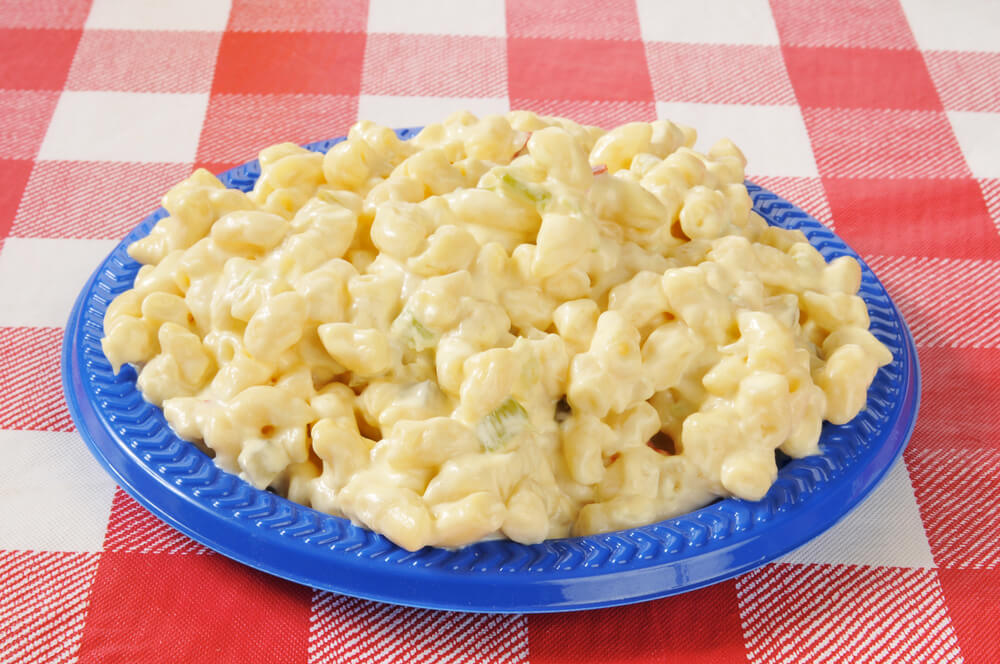 Where to Find Macaroni Salad in Hawaii:
Zippy's: This Hawaiian restaurant chain makes a really solid Macaroni Salad that goes well with everything they serve.
W&M Bar-B-Q: This Oahu mom & pop shop specializes in crab-flavored macaroni salad. Yum!
Grocery Stores: You can always grab a tub (or two) at any Hawaii grocery store.
12. Poke
Unless you've been living under a rock, you've probably heard about the Poke craze that has taken over the Mainland.
Poke is Hawaiian-style sashimi (raw fish) that is diced up and marinated. Usually, it's Ahi (Tuna), Salmon, or Octopus.
You can get a popular Poke Bowl (Poke and toppings over rice), scoop it up with chips, enjoy a Poke Taco, or just eat it by itself.
I love Poke so much that I actually have some dedicated posts about the best Poke spots on Oahu and top Poke restaurants on Maui.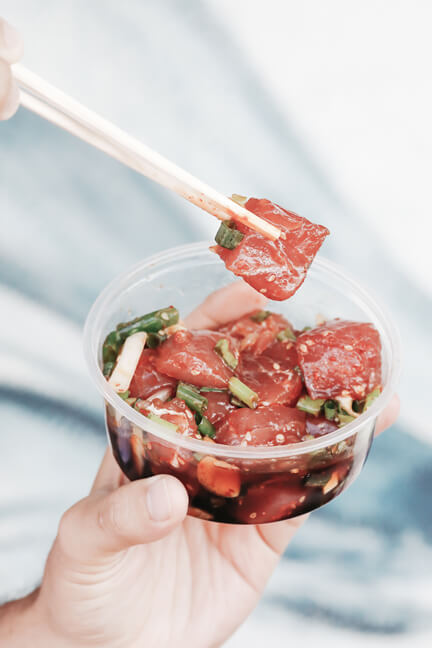 Where to Find Poke in Hawaii:
Yama's Fish Market: This Oahu spot is known for its Ahi Poke and Octopus Poke.
Fish Express: This is a great poke spot on Kauai.
Costco: I'm serious. You can usually find several types of Poke at a great price.
When I think of Hawaiian comfort food, Loco Moco is right up there with Chicken Long Rice. We started eating it as kids, and it's only gotten better and better.
The simplest Loco Moco is a bed of rice topped with a hamburger patty, a fried egg, and then smothered in gravy. It's one of the top Hawaiian foods you must try!
However, over the past decade, Hawaiian restaurants have added their own twists, like swapping out the white rice for fried rice (or even kimchee fried rice), making it on a bed of fries for Hawaiian Poutine, and adding ingredients like fresh ginger.
This is what my husband always orders for breakfast in Hawaii (and then I steal about 5 bites because it's SO good!)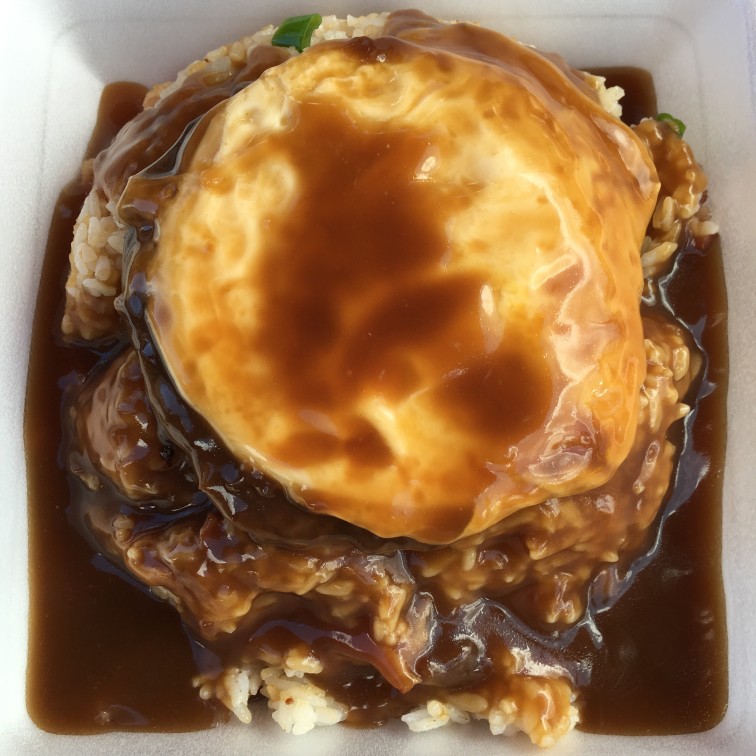 Where to Find Loco Moco in Hawaii:
Cafe 100: This is where Loco Moco first started, and this Hilo cafe now offers 30 Loco Moco varieties of this Hawaiian cuisine!
Mark's Place: This is my husband's favorite Kauai spot for Loco Moco.
Da Kitchen: On Maui, you can order their Notorious B.I.G. Moco, which is a regular Loco Moco but with chili, mushrooms, Spam, bacon, Portuguese sausage, and cheese. Not for the faint of heart!
Get my easy Hawaiian Loco Moco recipe
14. Saimin
Another Chinese-style soup is Saimin. In Hawaii, this usually means a noodle soup in broth with sliced fish cake and strips of barbecue pork.
It's not Japanese Ramen. The noodles aren't the same, and the flavor is completely different.
There are tons of places to eat Saimin in Hawaii, and some offer toppings like Chinese wontons, Spam, Portuguese sausage, and finely sliced fried eggs.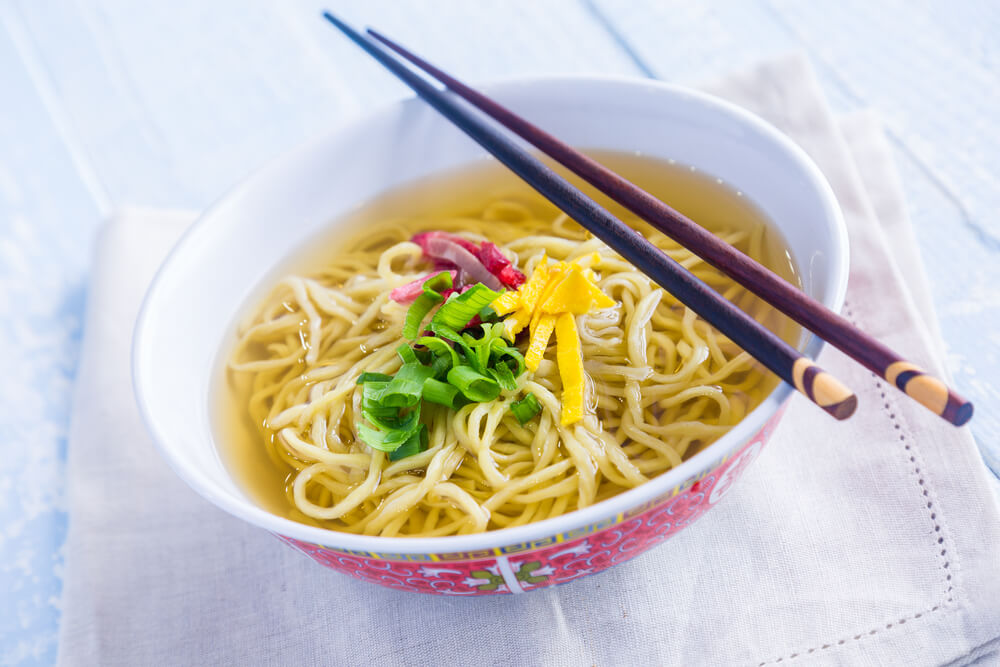 Where to Find Saimin in Hawaii:
Palace Saimin: This Oahu hole-in-the-wall specializes in Hawaiian Saimin, and it's always worth the trek!
Shige's Saimin Stand: Located in an Oahu strip mall, this Saimin shop makes its own noodles.
McDonalds: While it's not the best Saimin in Hawaii, it's quick and hits the spot (especially if you add in soy sauce.)
One of the most iconic Hawaiian snacks is Spam Musubi. It's the Hawaiian version of sushi but with Spam as the protein instead of fish.
It's a rectangular block of rice topped with a slice of fried Spam and then wrapped in seaweed. You can find them all over Hawaii, and they are usually individually wrapped in Saran wrap.
Most places either marinate the Spam or put a special teriyaki-style sauce on top. Some even sprinkle furikake on the rice.
People eat these for breakfast, a quick lunch, or a snack any time of day. They are perfect for the beach or for driving around the islands.
Insider tip: Squirt a little mayonnaise on each bite, and it's pure heaven!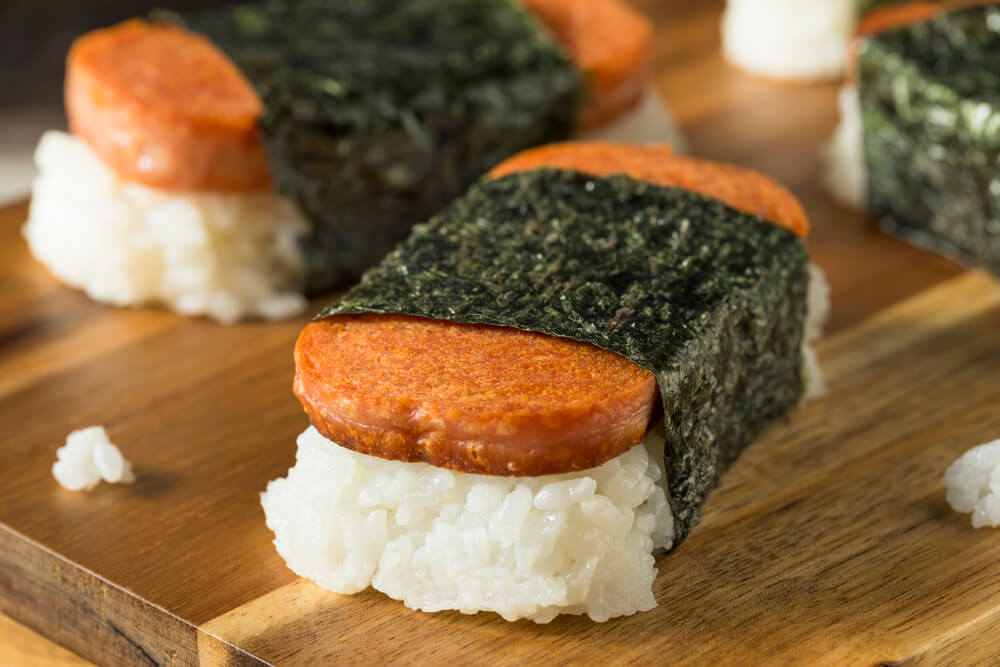 Where to Find Spam Musubi in Hawaii:
Musubi Cafe Iyasume: Located on Oahu, they have a large selection of tasty musubi with several variations of the traditional Spam Musubi.
Da Kitchen: Located on Maui, they have amazing deep-fried Spam Musubi that will knock your socks off!
7-11: This convenience store chain is different in Hawaii, and you'll find the best Spam Musubi, as well as Mochiko Chicken Musubi and other varieties here.
Make your own with my Spam Musubi recipe!
If you are heading up to the North Shore of Oahu, you can't miss all the shrimp trucks. You'll see clusters of food trucks, and the ones with the long lines are the ones offering fresh Hawaii shrimp!
As soon as you arrive, you'll be greeted with the smell of sizzling garlic and melted butter. We've waited up to an hour to get our plates of Garlic Shrimp, and it was totally worth it!
I think what makes it so tasty is the fact that the shrimp in Hawaii is just a bit sweeter than the shrimp we're used to getting on the Mainland. That's especially true for Kauai shrimp.
If you want to make it at home, I've got an amazing Hawaiian Style Garlic Shrimp recipe.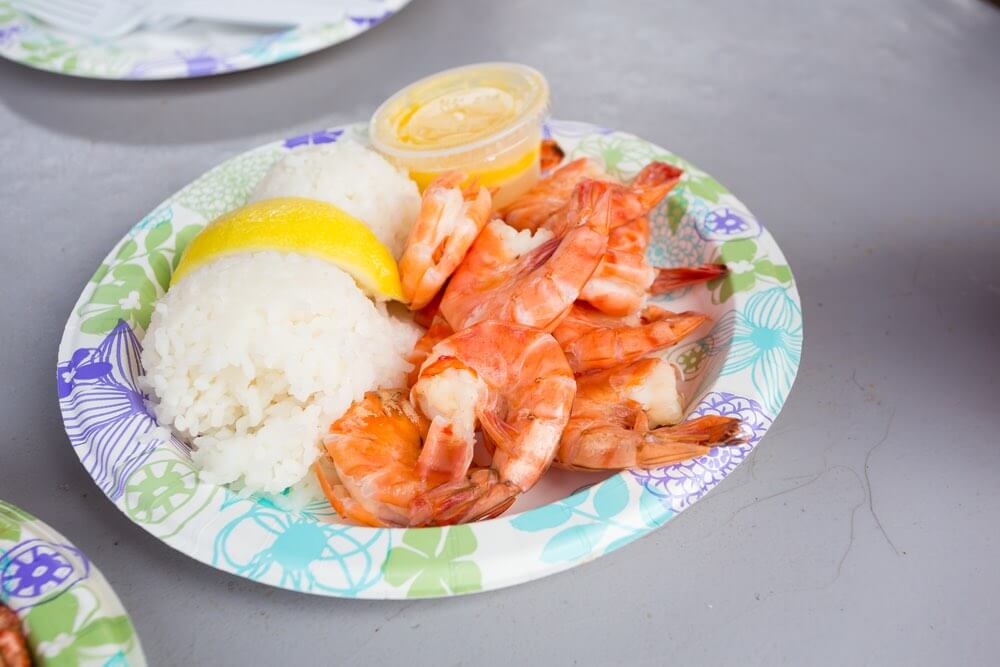 Where to Find Garlic Shrimp in Hawaii:
Giovanni's Shrimp Truck: This is the shrimp truck that kind of started it all up on the North Shore of Oahu, and we've been impressed each time we've eaten there.
Romy's Kahuku Prawns & Shrimp: In the past few years, we've started eating here instead of Giovanni's, and it's got amazing flavor!
Shrimp Station: If you're heading to Kauai, Shrimp Station in Waimea is incredible. We usually get one plate of their Garlic Shrimp and one plate of their Coconut Shrimp and share.
17. Kalbi Ribs
Inspired by Korean Kalbi Ribs, the Hawaiian-style short ribs have a much sweeter sauce. They are cut in a way where there are just little oval discs of bone, and the rest is pure meat.
Some places will just pan-fry it, which is fine. But, the best places will grill it so there are little bits of charred edges, and it takes it to the next level.
You can often find it on the menu for dinner, but some places also offer it for Plate Lunch.
Insider Tip: Try taking a bite of Kalbi with a little rice and Mac Salad, and it's pure joy!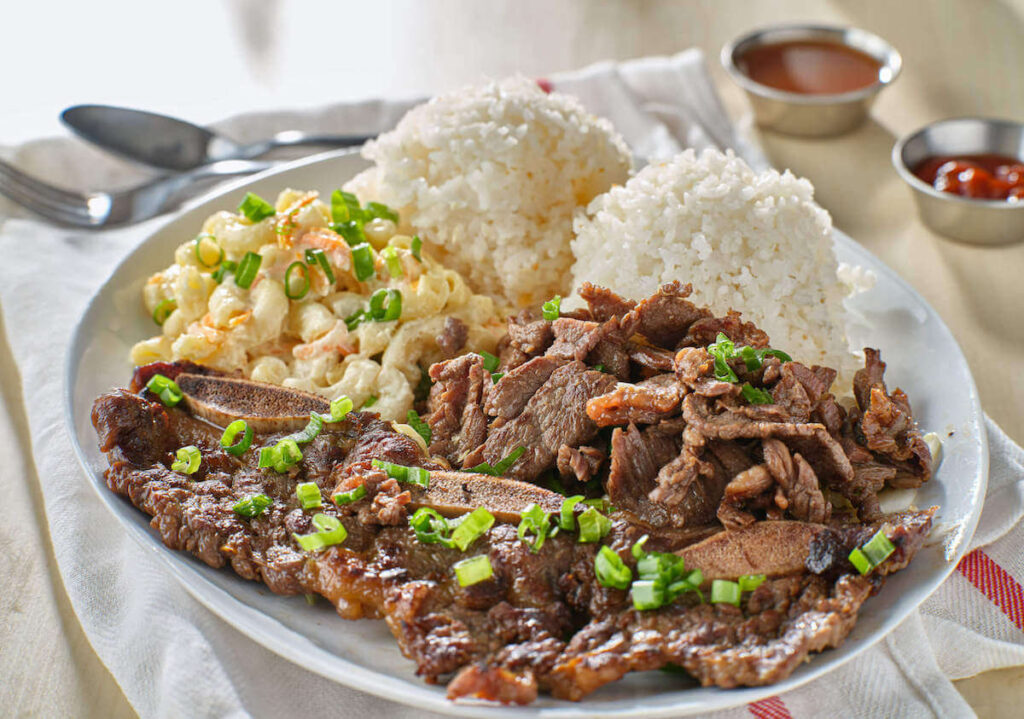 Where to Find Kalbi Ribs in Hawaii:
Da Kitchen: Located on Maui, their Kalbi is one to write home about, and the portions are huge!
Guava Smoked: This Oahu spot is only open for lunch, but they have a large selection of Hawaiian barbecue, including some delicious Kalbi Ribs.
South Shore Grill: This Oahu restaurant is great for grabbing a Kalbi Plate Lunch.
18. Kulolo
This traditional Hawaiian dessert is a firm pudding that is sliced. It's made with taro, sugar, and coconut milk and has a brownish/purplish color.
The taro flavor is usually a bit mild, and the coconut flavor really comes through. The consistency is a little chewy but not as chewy as mochi.
It's not the most flavorful Hawaiian dessert, but it's definitely worth trying a piece just to experience it.
Because both Kulolo and Poi are made from taro, you can often find Kulolo sold at Poi factories. Sometimes you'll also see them on roadside stands or at fundraisers.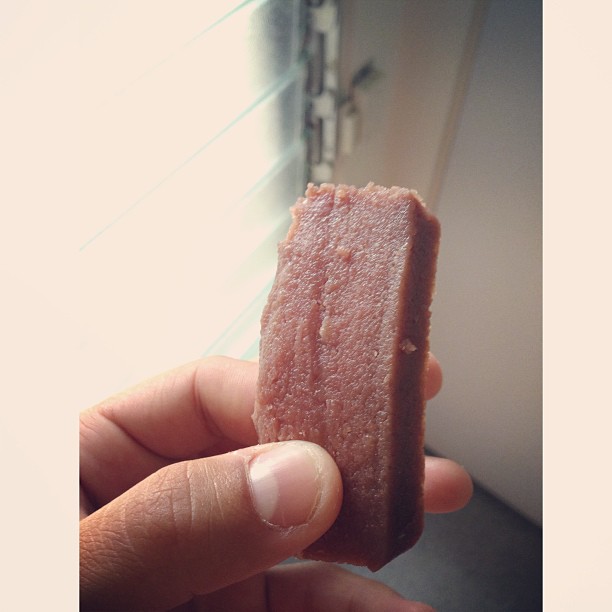 Where to Find Kulolo in Hawaii:
Kapaa Poi Factory: This Kauai poi factory is actually the oldest commercial Kulolo factory in Hawaii, and they still use their original recipe passed down through the generations.
Waiahole Poi Factory: This Oahu spot serves their Kulolo with ice cream for an incredible combination!
Grocery Stores: You can usually find a little package of Kulolo in the bakery section of grocery stores. They also sell Kulolo mixes, where you can make your own.
19. Haupia
If you like coconut, you'll love Haupia. This Hawaiian dessert is a firm coconut Jello/pudding that is cut into little squares. It's super light and refreshing.
Sometimes restaurants will top it with some toasted shredded coconut, but most often, it's just plain.
It's also super easy to make from scratch or with a mix.
Where to Find Haupia in Hawaii:
Plate Lunch Restaurants: This is a super common dessert anywhere that sells Plate Lunch.
Luaus: This is one of the most common luau desserts.
Grocery Stores: They sell Haupia mixes where you can make it yourself.
Cream pies are super popular in Hawaii. I'm talking about old-school, diner-style slices of pies.
While you can find lots of Hawaiian cream pies made with tropical fruits, the most iconic one is the Coconut Cream Pie. It's often called Haupia Pie at restaurants and bakeries sometimes it's made with a Macadamia Nut Crust or a traditional pie crust.
Coconut Cream Pie is served cold, and it's a great way to end a Hawaiian meal.
If you want to make it yourself, I've got an amazing Chocolate Haupia Pie recipe that will impress just about anyone.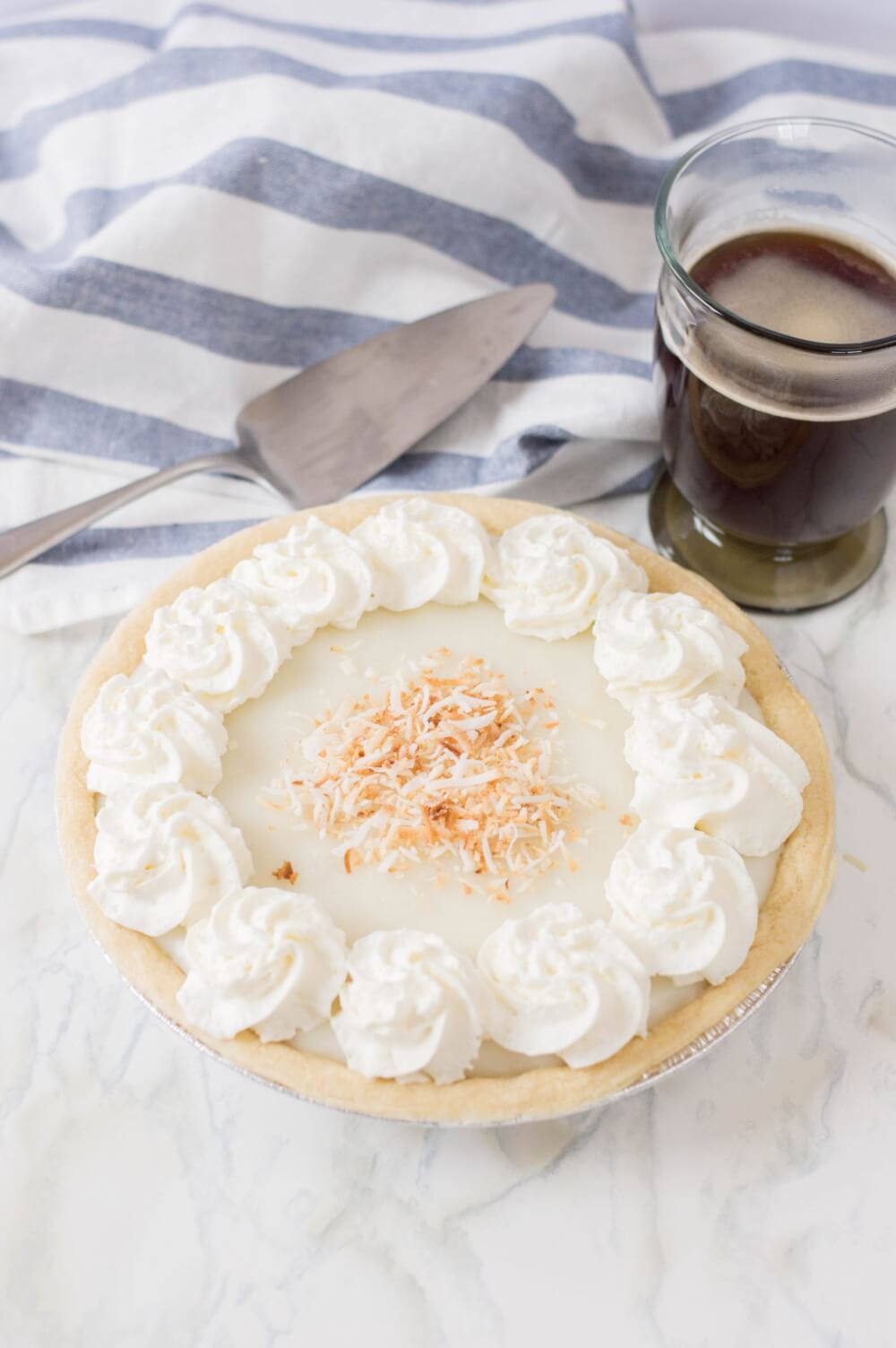 Where to Find Coconut Cream Pie in Hawaii:
Ted's Bakery: This is one of the most popular pie shops on Oahu, and their Haupia Pie is outstanding.
Ani's Bake Shop: This Oahu spot is worth the drive if you want to taste Chocolate Haupia Pie or their famous Sweet Potato Haupia Pie.
Leoda's Kitchen & Pie Shop: This Lahaina restaurant is THE place to get pie on Maui.
When it comes to Hawaiian pastries, the most famous are Malasadas. These Portuguese doughnuts have become one of the most popular breakfast items in Hawaii.
It kind of looks like a big donut hole (about the size of a fist), and it's usually rolled in white sugar. These are fried and definitely taste best fresh (although you can reheat them in the microwave, it's just not the same.)
Leonard's Bakery on Oahu is the gold standard of Malasadas. They've been making them for decades and now offer them with all kinds of yummy tropical fruit fillings.
If you want to make them at home, I've got a great copycat Coconut Filled Malasadas recipe that is a huge hit with my family!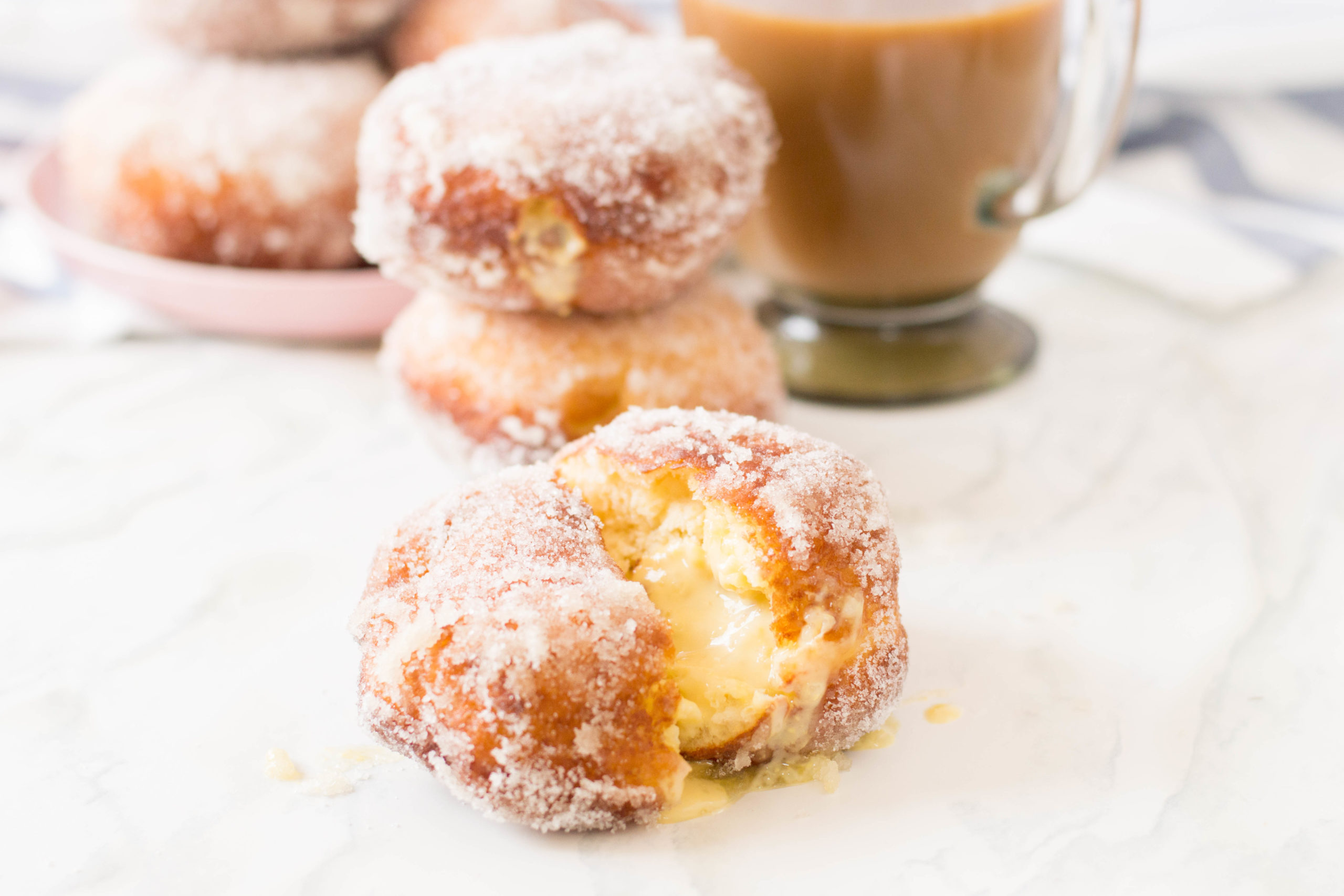 Where to Find Malasadas in Hawaii:
Leonard's Bakery: They usually have a long line out the door each morning, and it's totally worth the wait!
KTA Bakery: This Big Island grocery store chain makes fresh Malasadas with yummy fillings like lilikoi, banana cream, and ube.
Kamehameha Bakery: This is the best place on Oahu to try Poi Malasadas. OMG so good!
22. Coco Puffs
Coco Puffs are Hawaiian cream puff pastries that are filled with chocolate pudding. These light pastries are topped with a buttery macadamia nut Chantilly frosting.
They are kept cold, but they still melt in your mouth on the first bite. Definitely a great breakfast treat!
The Hawaiian bakery most famous for its Coco Puffs is Liliha Bakery on Oahu. While they offer several different cream puffs, their Coco Puffs are what put them on the map.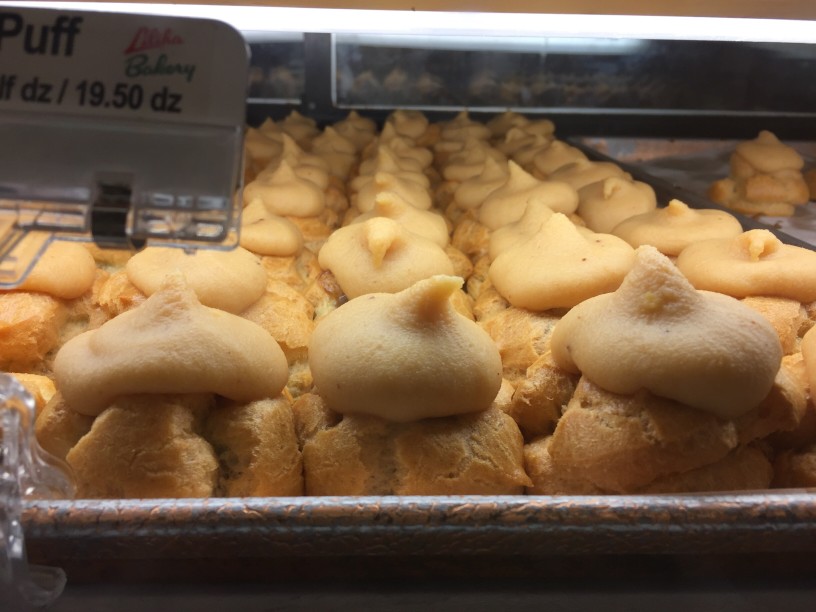 Where to Find Coco Puffs in Hawaii:
Liliha Bakery: This Oahu bakery holds the gold standard for Coco Puffs.
T Komoda Store & Bakery: If you are doing the Road to Hana on Maui, definitely stop here to get all kinds of goodies and Hawaiian dishes, including their cream puffs.
23. Butter Mochi
If you like Japanese mochi, you'll love the Hawaiian version. Just like the name implies, there is tons of butter, making it a decadent, chewy treat!
It also has coconut milk and mochiko flour, and sometimes it's topped with toasted shredded coconut. It's made in a large pan and then cut into squares.
It's also pretty easy to make (especially if you already are making Mochiko Chicken.) The hard part is not eating the entire pan in one sitting!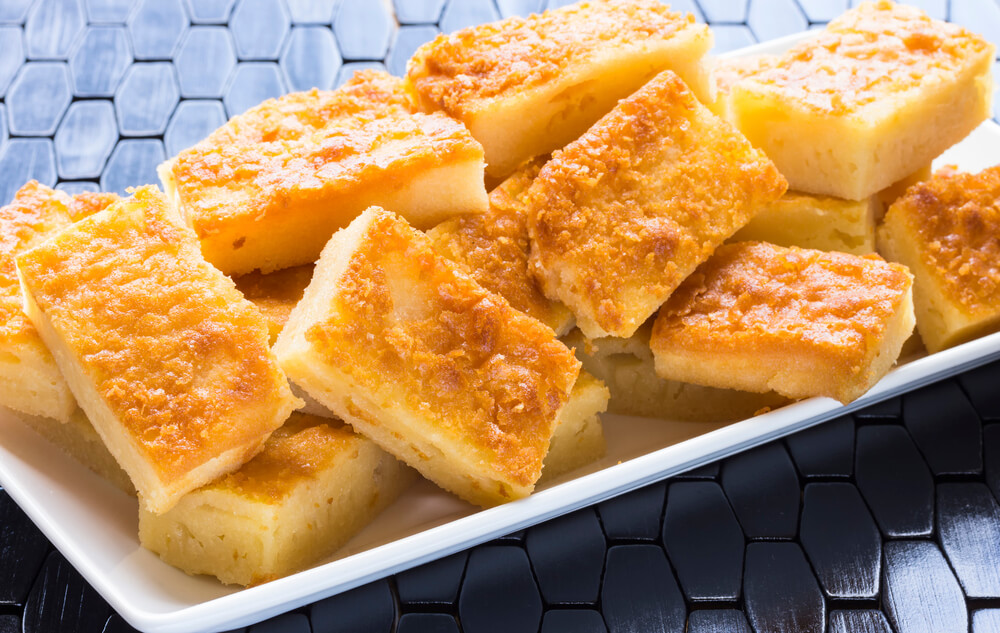 Where to Find Butter Mochi in Hawaii:
Diamond Head Market & Grill: While they have a ton of yummy food items at this Oahu shop, I recommend their Butter Mochi.
Kahuku Farms: This North Shore Oahu spot takes Butter Mochi to the next level with new flavors!
Farmers Markets: Go to any Farmers Market in Hawaii, and you'll see at least one stand selling Butter Mochi. Just get it!
24. Hawaiian Shave Ice
If you are going to try one thing in Hawaii, make it Shave Ice!
No, it's not a snow cone. The biggest difference is that the ice is finely shaven, so it almost has a creamy texture when combined with the syrup.
In the past decade or so, more and more Shave Ice stands are offering organic syrups using fresh fruit juices and are coming up with tons of new toppings.
I've listed my top places to find Shave Ice on Oahu, Kauai, and Maui on my blogs.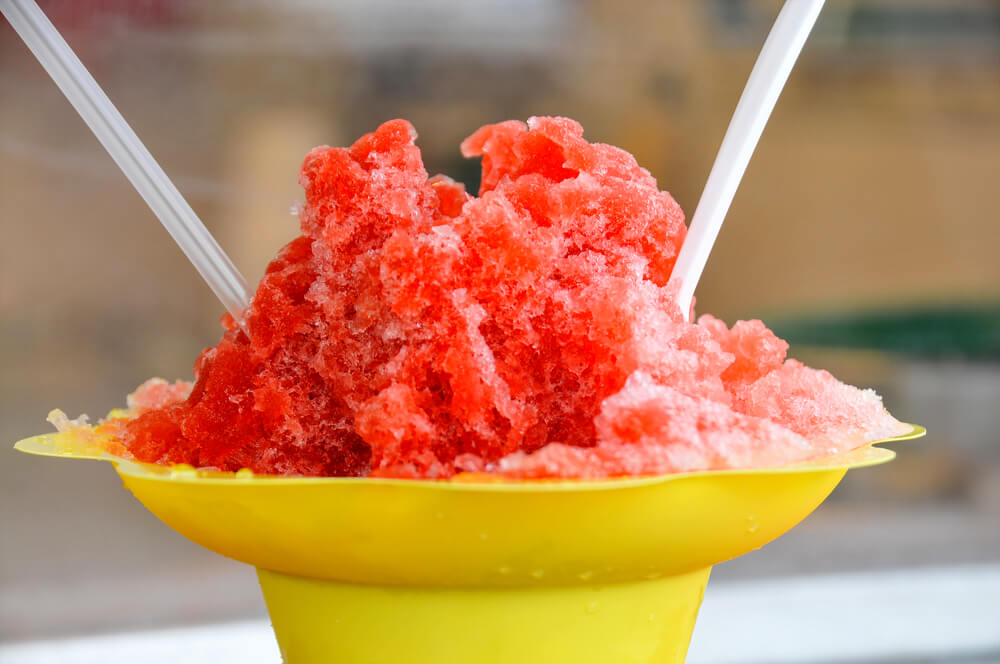 Where to Find Shave Ice in Hawaii:
Wishing Well Shave Ice: This is my top Kauai Shave Ice spot, and they use organic syrups and top with fresh fruit.
Matsumoto's Shave Ice: This is the most famous North Shore Oahu Shave Ice spot, and people have been coming here for decades.
Ululani's Shave Ice: Definitely my pick for the best Shave Ice on Maui.
Traditional Hawaiian Food FAQs
What is a traditional Hawaiian breakfast?
Many locals eat Spam and eggs, Portuguese sausage, Spam musubi, and fresh Hawaiian fruit.
What are Hawaiian appetizers called?
They are called pupus. Popular pupus include poke, coconut shrimp, kalua pork sliders, and musubi.
Why is Spam so popular in Hawaii?
It all started in WWII when U.S. soldiers brought this canned meat to Hawaii. Since it doesn't need refrigeration and has a long shelf life, it became quite popular with locals.
Does McDonald's in Hawaii serve Spam?
Absolutely. It's been on their menu since 2002 in all their locations in Hawaii. They have a few other island favorites, including saimin!
What is Hawaii's most famous dish?
Some of the most famous traditional Hawaiian foods are the purple sweet potato, raw fish, kalua pig, and so much more. Local food on the Hawaiian islands mainly include a Hawaiian plate with rice, mac salad, and a type of meat.
Traditional Hawaiian Dishes Wrap-Up
By now, you should know a few Hawaii traditional food items worth ordering on your next trip. There are tons of tasty Hawaii foods to add to your food bucket list!
From typical Hawaiian food to specialty Hawaii food, your tastebuds are in for a real treat on the islands!
Want to know how to make some of this amazing traditional Hawaiian food? Head over to my Hawaii Recipe page for lots of Hawaiian breakfast, lunch, dinner, and dessert ideas!