Are you planning a trip to the Big Island and want to know some fun Big Island activities to add to your itinerary? Find out the best Big Island volcano tours worth booking to see Hawaii Volcanoes National Park.
This list of the best Big Island volcano tours in Hawaii contains affiliate links which means if you purchase something from one of my affiliate links, I may earn a small commission that goes back into maintaining this blog.
The Big Island, known as Hawaii, is an incredible place to take a relaxing vacation where you can swim with dolphins, go snorkeling, ride through caves, and even zipline over the tropical rainforest.
It's an area with so much to do, see, and enjoy while you're with your loved ones, whether traveling with a group of friends or your family. The vast island is the perfect place to travel to when you'd like to enjoy a learning experience while spending lots of time in the sun and by the water.
During your visit to Hawaii Island, be sure to check out the Hawaiian volcano tours. If you love learning about volcanoes, this is an excellent time to see dormant ones on the island that are large, unique, and worth visiting.
If you're not sure which tour to take, check out this list of Hawaii Volcanoes National Park tours that will leave you with more knowledge and a new perspective on the Earth!
See the top-rated Hawaii volcano tour HERE!
Don't have time to read a bunch of Hawaii blog posts and reviews? Here are some of our top picks for visiting the Big Island.
Popular Big Island Tours/Activities
Favorite Big Island Resorts/Hotels
Want to Rent a Car in Hawaii?
One of the best places to rent a car in Hawaii is Discount Hawaii Car Rental because they get the best rates from top national companies like Alamo, Dollar, Thrifty, Avis, Enterprise, Budget, and Payless.
Want to skip all the planning and just access my detailed Big Island Itinerary complete with daily schedules, kid-friendly activities, and travel hacks? Click the button below.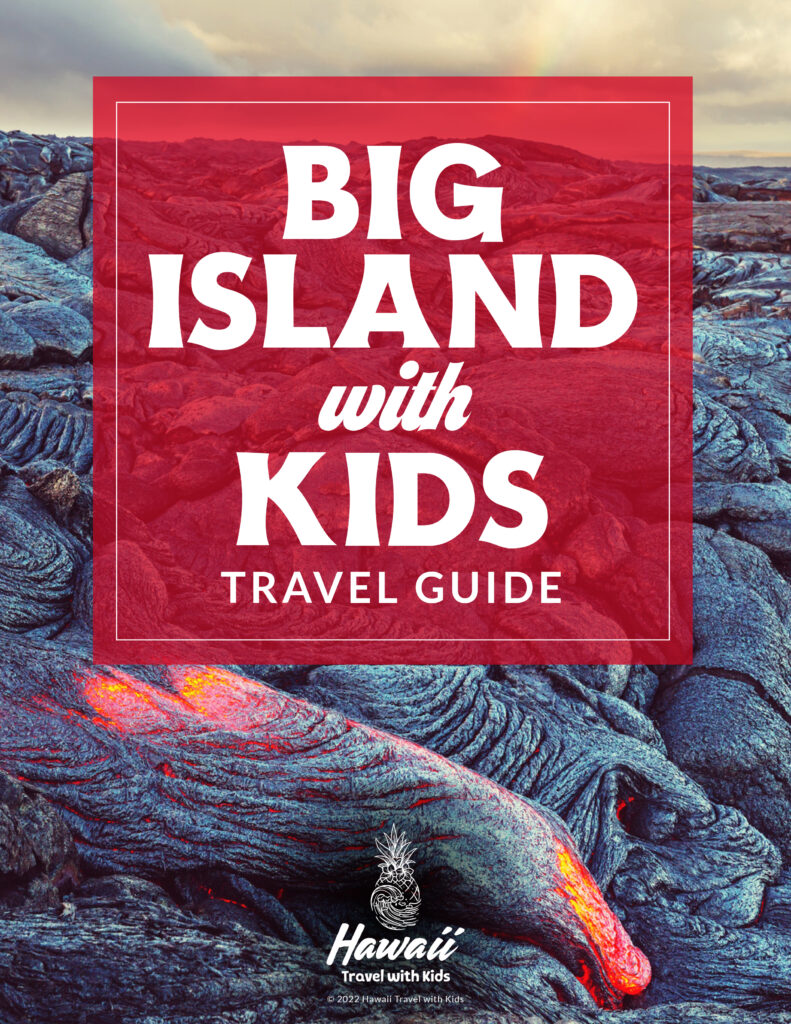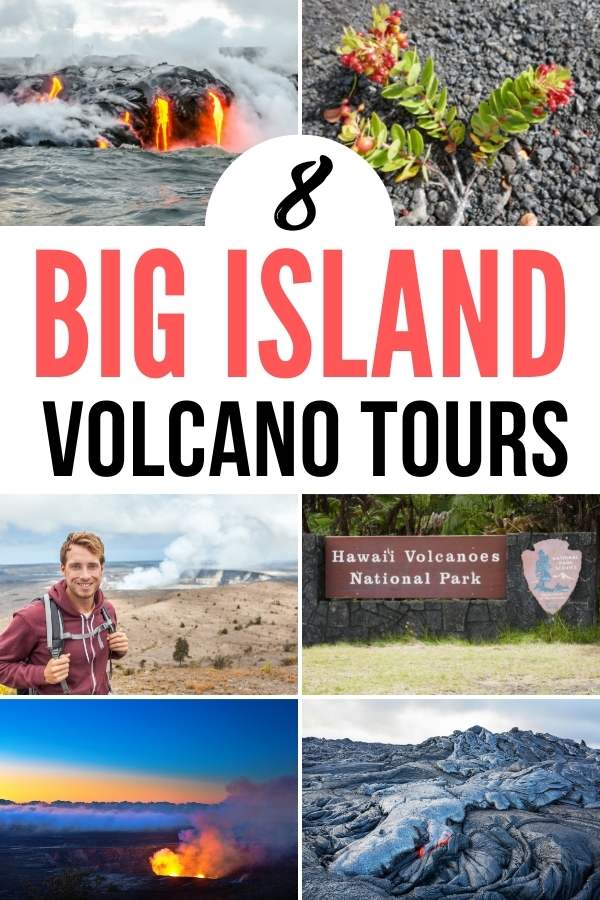 Incredible Big Island Volcano Tours Worth Booking
Here are some of the top Hawaii volcano tours you can enjoy on the Big Island of Hawaii!
Go on the exploration of a lifetime with the Volcano Circle of Fire Helicopter Flight From Hilo. You can ride on a helicopter for nearly an hour during the trip while heading out over the Hawaii Volcanoes National Park.
You may be surprised to see an active volcano on the excursion, but Kilauea Volcano is such a sight to see. People enjoy the experience so much that it's common for the company to sell out of tickets. So it's a good idea to buy your tickets in advance for such an unforgettable experience in the air. Check latest rates and more information.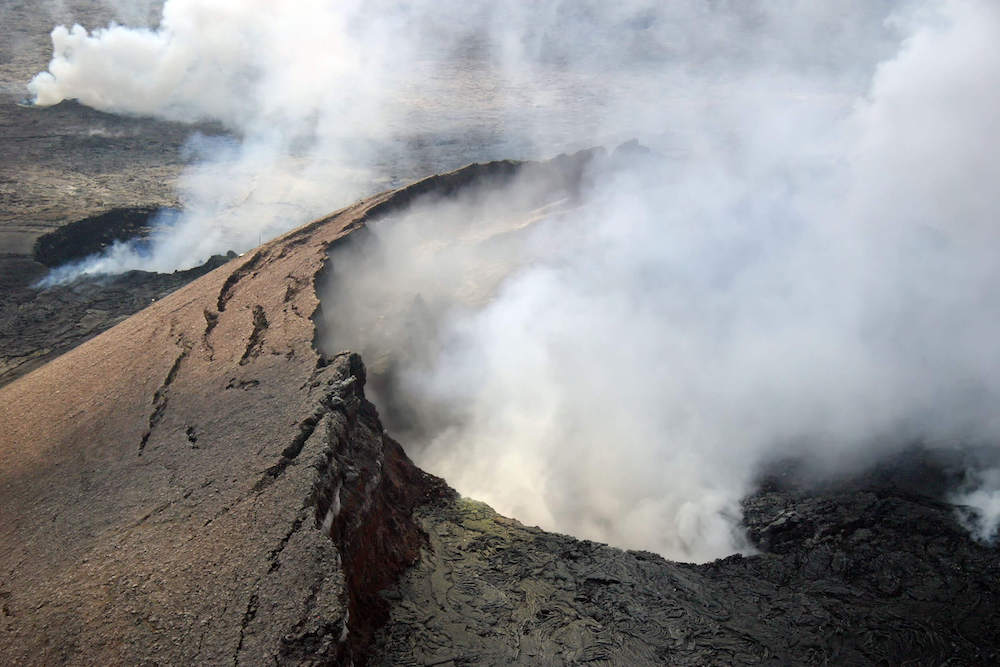 Take Your Family to New Heights to See Amazing Views
Infants and children under the age of one can ride free with their parents or guardians. There is enough space on the helicopter for a small family to hang together while taking in the views, including the beautiful ocean water, cliffs, waterfalls, and volcanoes.
Unlike outdated helicopters, this technologically advanced aircraft doesn't make too much noise at all. The pilot provides a safe and comfortable experience for riders while offering valuable information on the area during the trip. It's one Hawaii lava helicopter tour you won't forget about taking while you're on the Big Island.
As one of the Big Island's top attractions, you will love this small group tour on a helicopter!
Do you look forward to heading out early in the morning and spending a full day exploring while seeing volcanoes? If so, the Ultimate Circle Island Tour – Volcano, Waterfalls, and Waipio is a must-do!
While you're on this Big Island volcano tour, you get the opportunity to see some of the most exciting and popular places on the island.
Some of the stops that you'll get to make include visits to the Volcanoes National Park, Waipio Valley, and the stunning Rainbow Falls, to name a few. Check latest rates and more information.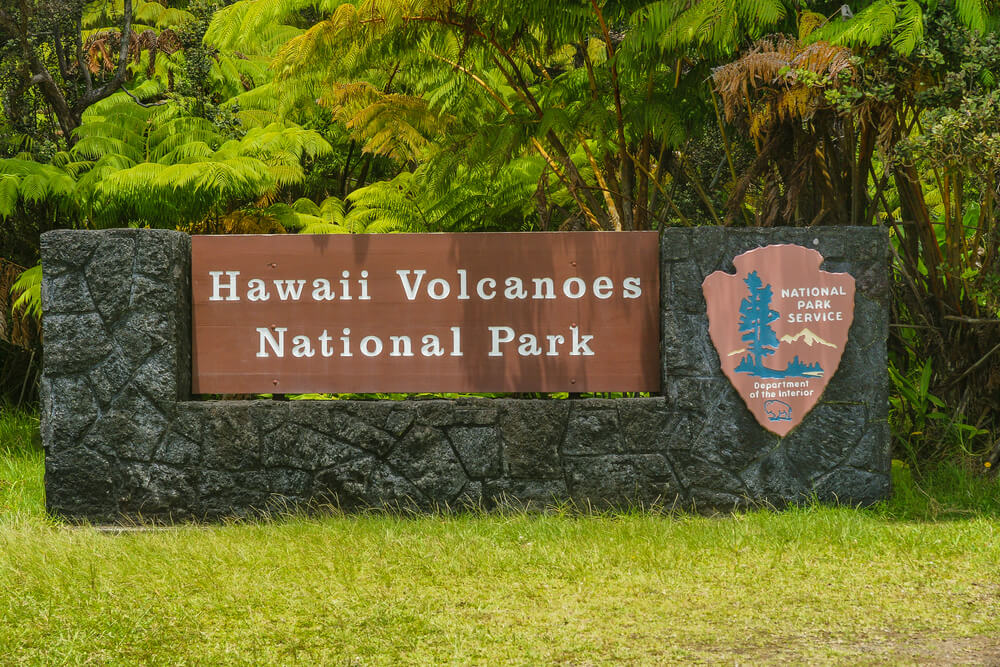 Fun for All Ages
The Kona volcano tour is ideal for people of all ages. If you're traveling with young children, you can still enjoy this incredible full-day adventure that begins with a stop at the Bay View Coffee Farm and a trip to the Punalu'u Black Sand Beach.
While you're on the excursion, you can expect to visit the Hawaii Volcanoes National Park, Big Island Candies, and even the KKA Store. It's a lot to see, do, and experience in one day, but it's worth it!
Lunch, Snacks, and Beverages are Included
The tour is perfect for groups of 14 people or less! Don't worry about going hungry or thirsty while spending so many hours exploring. Guests receive a picnic-style lunch on the beach. Snacks and beverages are also available throughout the excursion.
It's a great tour to learn more about the Hawaiian culture and see the volcano national park all in one day!
Check out some of the top attractions with the Big Circle Island Tour which will take you to the Volcanoes National Park in Hawaii. The tour is available daily, takes place for roughly 12 hours, and is ideal for adults and children at least five years old or older.
The trip starts with an incredible breakfast consisting of fresh fruit and homemade delicacies. Next, you can spend time at the famous Punalu'u Bakery, head over to Black Sand Beach, and visit the Volcano Winery and Tea Farm. Check latest rates and more information.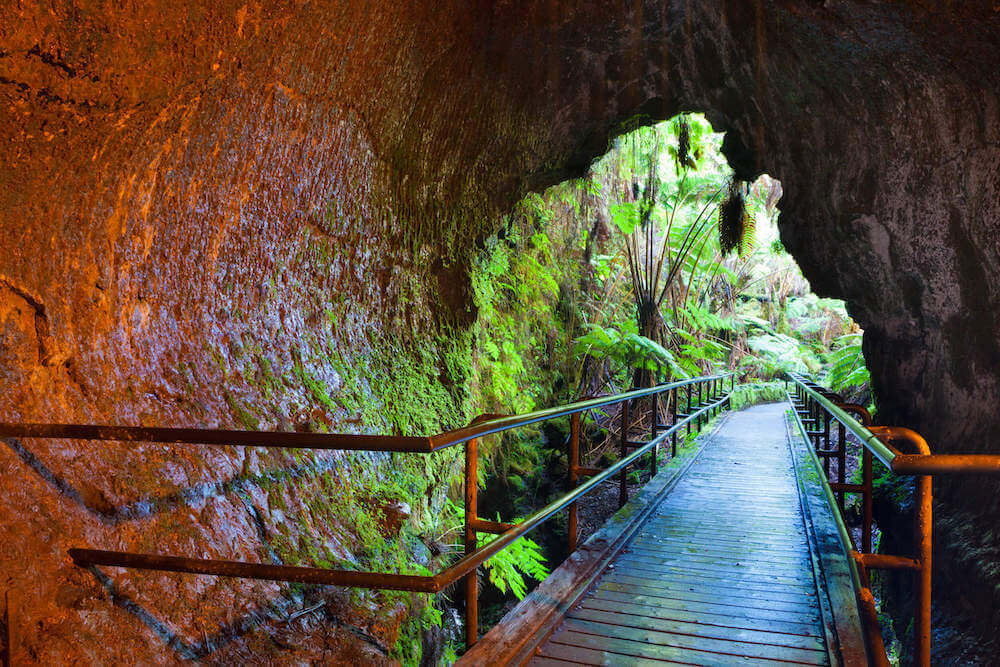 Witness Impressive Sights
From there, you'll head over to the Hawaii Volcanoes National Park to see some of the most impressive sights, including Chain of Craters Road, lava flow depending on lava viewing conditions, and many natural steam vents.
While it already sounds like a lot of fun, there is even more for you to do on this tour. You can stop by Rainbow Falls and enjoy its beauty, along with the fresh and cool breeze that comes from it.
You can also take a drive along the coast of Hamakua. Expect to have an incredible Hawaiian-style lunch while on the journey. If you look forward to seeing new sights and spending hours outside in the warm sunshine, this volcano tour will leave you satisfied and thoroughly impressed with the experience.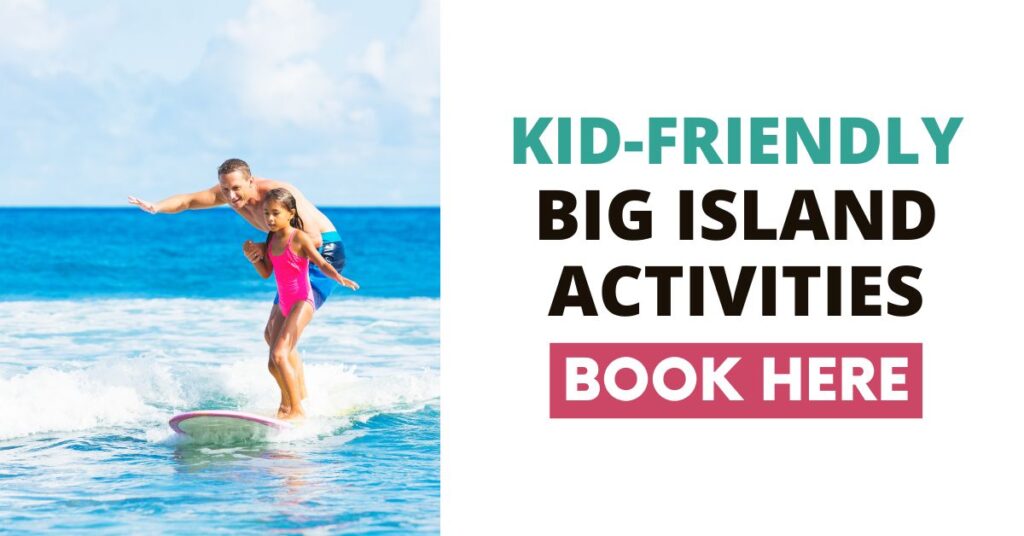 Discover Hawaii's most mesmerizing sights on this Big Island twilight volcano tour. Sample Kona-grown coffee from a local Kona coffee farm, keep an eye out for sea turtles at Punaluu Black Sand Beach, and taste Hawaiian sweet bread at Punalu'hu Bakery before exploring Volcanoes National Park with views of the night sky.
Indulge in a Hawaiian dinner as you explore one of the best locations to see stars in all their glory—perfect for taking in amazing vistas of nighttime skies! Check latest rates and more information.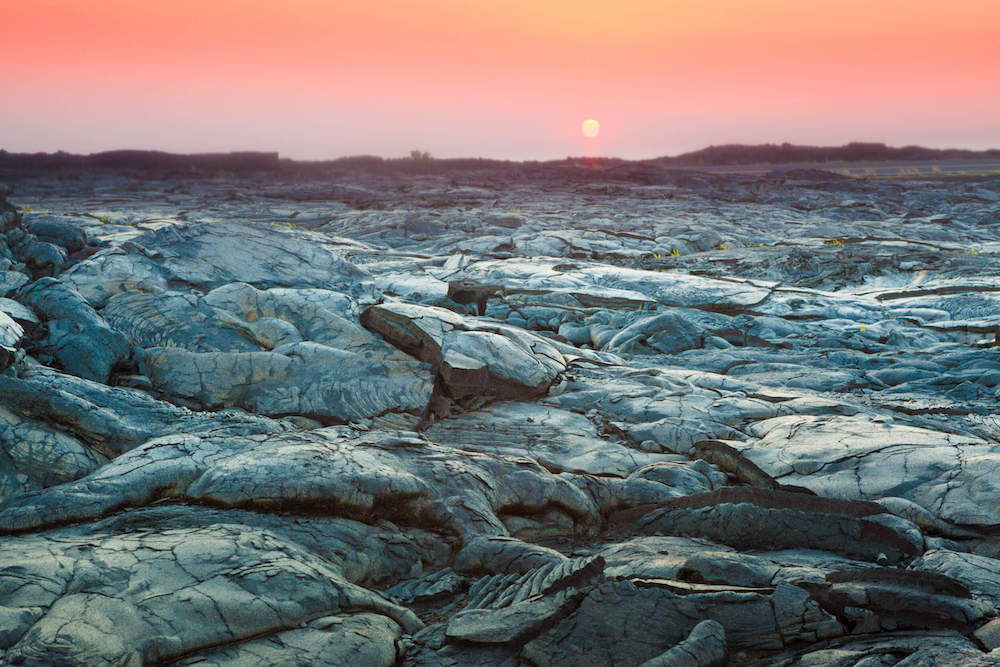 Perfect for Families with Kids Ages 5+
Because of the uneven terrain, this Hawaii Volcanoes National Park night tour is only offered for kids who are at least 5 years old. You'll also get a picnic lunch and restaurant dinner, plus snacks and drinks.
You can even borrow jackets to stay nice and warm while gazing at the stars. Plus, it is awesome to see the volcanic activity on the active lava during the night!
Why not take a thrilling trip while on the Big Island with the Paradise Helicopters Volcano Tour? It's the perfect way to see volcanoes from a unique angle that you wouldn't see any other way.
This Big Island lava tour isn't too long, lasting for roughly 50 minutes, but it's worth every minute spent in the air while overlooking these incredible volcanoes in front of you.
The comfortable and convenient ride gives guests a chance to see the stunning Kilauea volcano and the lava flowing from it. Helicopter tours are some of the best Hawaii volcano tours you can go on!
Along with the volcanoes that you'll get to see, expect to enjoy views of the beautiful waterfalls on the island. The helicopter pilot will take you over to the Hilo area to see the waterfalls in action! Check latest rates and more information.
Ideal for Smaller Families with Children 2 Years and Older
The unique and unforgettable experience is available for adults and children at least two years old. If you'd like to go on a shorter tour where you're excitingly experiencing the area from an aerial viewpoint, this tour is perfect.
It's great for small families looking to do something exhilarating while enjoying the scenery. The sights you'll see will leave you stunned because of the natural beauty of the island.
I love that the entire family can enjoy this helicopter tour to enjoy the active volcanic landscape and molten lava. The tour operators are so kind and truly try to make this one of the best volcano tours you'll find!
Visit the world's most active volcano on a private tour around Hawaii Volcanoes National Park. These 3- and 6-hour, education-based explorations focus on native flora and fauna, geology, as well as Hawaiian culture that still thrives today.
Learn more about Kilauea's summit area by hiking or watching an eruption from sunset to sunrise (if the volcano is currently erupting). With your own personal guide for a personalized experience, you will be able to explore this amazing park and get all your questions answered! Check latest rates and more information.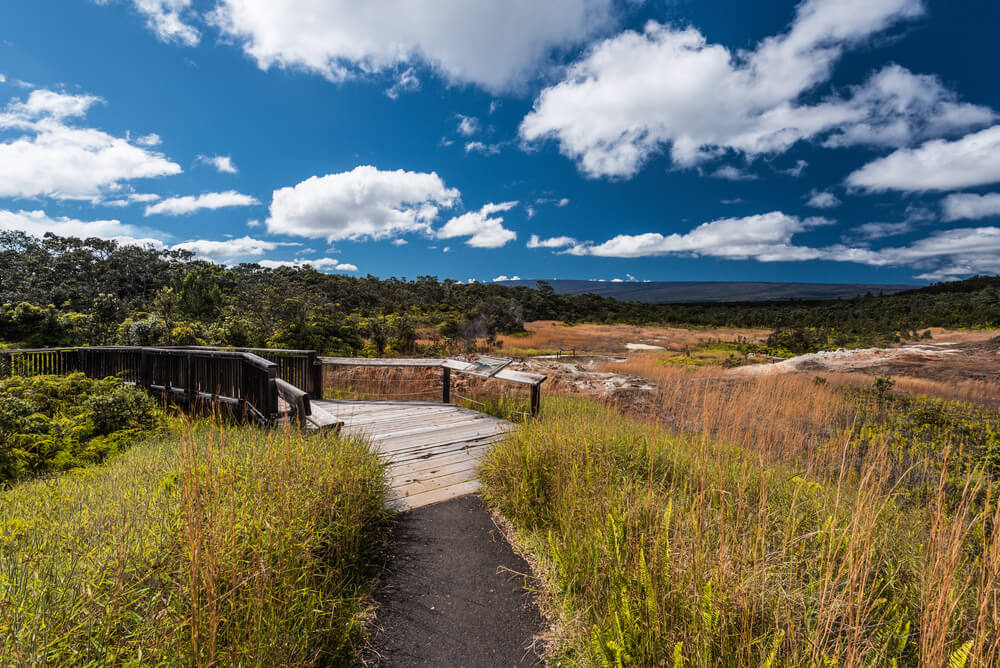 Perfect for Small Groups or Multi-Generational Trips
The main perk of this Big Island Hawaii volcano tour is that it is only your group participating. It's completely private so you can fully enjoy an in depth volcano experience.
Because this tour is stroller friendly, it's an easy Big Island tour to do with young kids as well as older people.
Take a trip from Oahu on this Oahu to Big Island – One Day Fly Away excursion. The lengthy trip lasts for a little over 15 hours and is ideal for people of all ages.
Even if you're traveling with an infant or toddler, you can still go on this tour and have a great time with the family. The sightseeing adventure begins with a quick flight from Oahu to Hilo.
Once you arrive at the destination, you'll make one of the first stops at the Hawaii Volcanoes National Park. While you're at the park, you can see enormous craters that will leave you in shock and excitement. You can even grab food from the Volcano House Restaurant. Check latest rates and more information.
Check-in at the Mauna Loa Macadamia Nuts Factory
Once you've visited the Hawaii Volcanoes National Park and have had time to explore and eat, you can take the trip over to the Mauna Loa Macadamia Nuts Factory. Not only can you taste some of these great nuts, but you'll also have access to other delicious treats, including fresh cookies baked on the premises.
Not far from the nut factory, you can take the trip over to the beautiful Akaka Falls. While you're taking this tour, you'll also get to check out other spots, including Rainbow Falls and Banyan Drive. Spend a day exploring Hawaii with this fantastic tour for children and adults.
It is one of the top inter-island tours on the Hawaiian islands!
If you're all about exploring Hawaii and its incredible volcanoes, take advantage of the opportunity to get out there with the Hawaii Volcano Explorer Tour Adventure. The 12-hour trip is perfect for families traveling together and looking to have wonderful experiences.
Even if you're traveling with a toddler or infant, you can still go on this incredible adventure. Check latest rates and more information.
Find Out How Coffee is Made
Expect to stop at the Bay View Farm, where you can learn more about coffee produced in the area and even taste it for yourself! After a trip to the farm, you can make your way over to the Punaluu Black Sand Beach for fun on the sand and in the water. You might even come across some green sea turtles!
Learn Fascinating History
Once you've stopped at the beach and have had time to explore, it's the perfect time to visit Hawaii Volcanoes National Park, where you can spend several hours learning about the history of these impressive volcanoes, and you might even see some lava flowing from the Kilauea Volcano.
Then, enjoy a hike to some of the best spots in the area, including Mauna Ulu and Steaming Bluffs. You'll also get to enjoy a picnic-style lunch with the family on this fun adventure.
If you are looking for a fun adventure while on Big Island's volcano tours, you will love this Fat Tire E-Bike Activity. Your tour guide will teach you all about Hawaiian history and culture and give you the latest volcano updates and facts as you zoom around the park.
It is one of the best volcano tours if you want to soak in as much of the park as you can while being out in the open air. Check latest rates and more information.
This tour is best for teens and adults who want to see the volcanic activity, see the steam vents, the Kilauea caldera, this incredible Hawaii forest, and so much more.
If you are comfortable riding an E-bike, you will love this small group tour!
If you packed your hiking boots, this is one of the best Big Island tours for you. With the Elite Volcano Hiking Tour, you will get to explore Volcanoes National Park!
From the lava flows to lava tubes, Kilauea Iki Overlook, Mauna Ulu Forest Loop, and so much more! You will see lava up close from the glow of the lava as well as molten lava. Check latest rates and more information.
Not only can you enjoy the hikes at this national park, but you will also get to explore many other places around here. To start off the tour, you will drive along Saddle Road, which is located between Mauna Loa and Mauna Kea.
You will also drive through Hilo Town and see the Kaumana Caves. At the end of your tour, you will have a delicious dinner at Lava Rock Cafe.
This full-day trip tour lasts for 14 hours and is an awesome experience!
Enjoy the Most Incredible Hawaii Volcano Tours on the Big Island
You can see a volcano on television, but have you witnessed one in person? If not, consider booking one of the Big Island Volcano Tours for an adventure of a lifetime.
You'll get to spend hours outside exploring some of these Hawaii lava tours. However, there are shorter options that allow you to ride on a helicopter to get some of the best views of all time.
Regardless of the tour you choose, you can expect the experience of the tour to leave a lasting impression on you and your loved ones.
And if you really want to turn it into an educational experience, try running one of these volcano experiments before your trip!
Hawaii Volcanoes FAQs
How many active volcanoes are in Hawaii?
As of 2023, there are 6 Hawaii volcanoes that are considered active. And the Big Island of Hawaii is home to 4 out of those 6. The active volcanoes on the Big Island include Kilauea, Mauna Loa, Mauna Kea, and Hualalai. The remaining active volcano is Haleakala on Maui. There is also a volcano off of Big Island's coast that is underwater too!
Can you see lava in Hawaii?
Unless the volcanoes are actively erupting, you will not be able to see lava in Hawaii. Kilauea last erupted in December 2020.
Can you touch lava?
While you won't die if you quickly touch the lava, you will definitely get a horrible burn. I definitely don't recommend it!
How long does it take to get from Kona to Hawaii Volcanoes National Park?
It depends on traffic, but it usually takes about 2 hours if you don't make any stops. There are a lot of cool places to see along the drive from Kona, so I suggest planning for 3-4 hours to take in some sights along the way.
What is the best way to see the volcano in Big Island?
Usually, the best way to see the volcano in Big Island is to go on a Hawaii volcano tour! You can also enjoy some self-guided tours if you prefer to go at your own pace to view these active volcanoes.
What is the best volcano tour in Hawaii?
The best volcano tours take you to see the Kilauea volcano and help you to explore Volcanoes National Park. There are even some that take you to some black sand beaches and take you on a day trip all around the island of Hawaii.
What is the best time to visit the Big Island volcano?
If you want to see the red, hot lava glow, then you will want to go very early in the morning or after it gets dark under the night sky. However, there are plenty of other awesome things to explore at the Big Island volcanoes, so you can visit any time you want!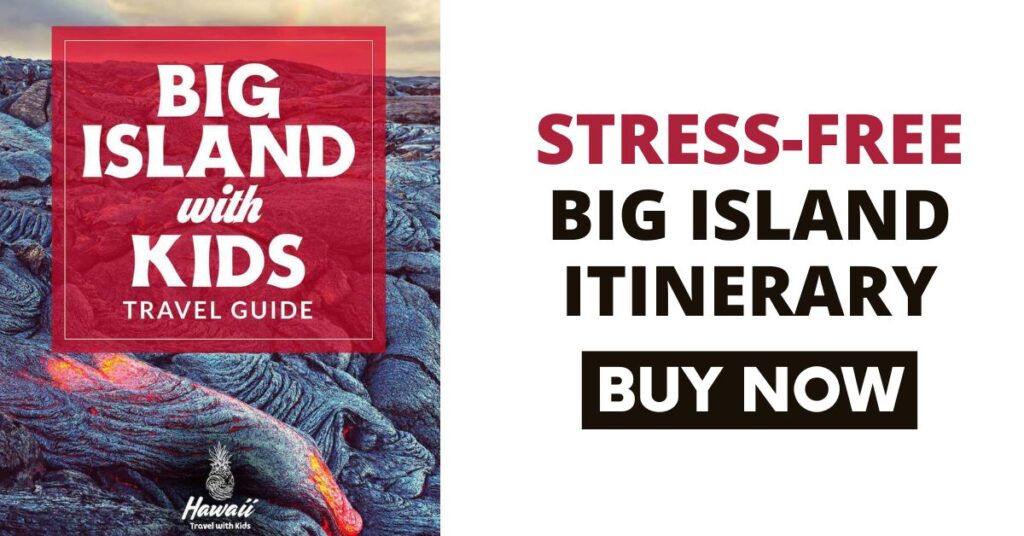 Where to Stay in Volcano Hawaii
Now that you know what to do at Hawaii Volcanoes National Park, let's talk about accommodations. There are tons of options for places to stay in Volcano Hawaii for all price points.
Unless you want to go camping, the only place to stay inside Hawaii Volcanoes National Park is the Volcano House Hotel. It's a historic Big Island hotel that is super convenient for exploring the park. And it's great for exploring Hawaii Volcanoes National Park with kids!
Otherwise, your best bet is to stay at a vacation rental in Volcano Village. Some of my top picks include Hale Sweet Hale (featured on HGTV), At the Crater's Edge, and Volcano Hideaway Hale (also seen on HGTV).