Are you looking to visit Hawaii Volcanoes National Park with kids? Keep scrolling for my honest tips and tricks for exploring this Big Island Hawaii national park.
This post about Hawaii Volcanoes National Park with kids contains affiliate links which means if you purchase something from one of my affiliate links, I may earn a small commission that goes back into maintaining this blog.
Are you wondering if Hawaii Volcanoes National Park is kid-friendly?
I just got back from a trip there with my 5-year-old and I'm here to give you ALL my honest tips and tricks for navigating this Hawaii national park with kids.
By the end of this post, you should know exactly which Hawaii volcano activities are engaging for kids (and which ones to skip). Plus, I'll tell you what to wear, what to pack, and how to make the most memorable time exploring volcanoes in Hawaii with your family.
You can read all about it right here! Let's dive into everything that makes visiting volcanoes in Hawaii so fun…with or without your little one(s)!
And don't forget – at the end of this post I've included some helpful links on where we stayed while we were there too! Ready? Okay, let's go!
Check out my top 101 Things to do on the Big Island with Kids!
Don't have time to read a bunch of Hawaii blog posts and reviews? Here are some of our top picks for visiting the Big Island with kids.
Best Kid-Friendly Big Island Tours/Activities
Best Kid-Friendly Big Island Resorts
Want to Rent a Car in Hawaii?
One of the best places to rent a car in Hawaii is Discount Hawaii Car Rental because they get the best rates from top national companies like Alamo, Dollar, Thrifty, Avis, Enterprise, Budget, and Payless.
Want to skip all the planning and just access my detailed Big Island Itinerary complete with daily schedules, kid-friendly activities, and travel hacks? Click the button below.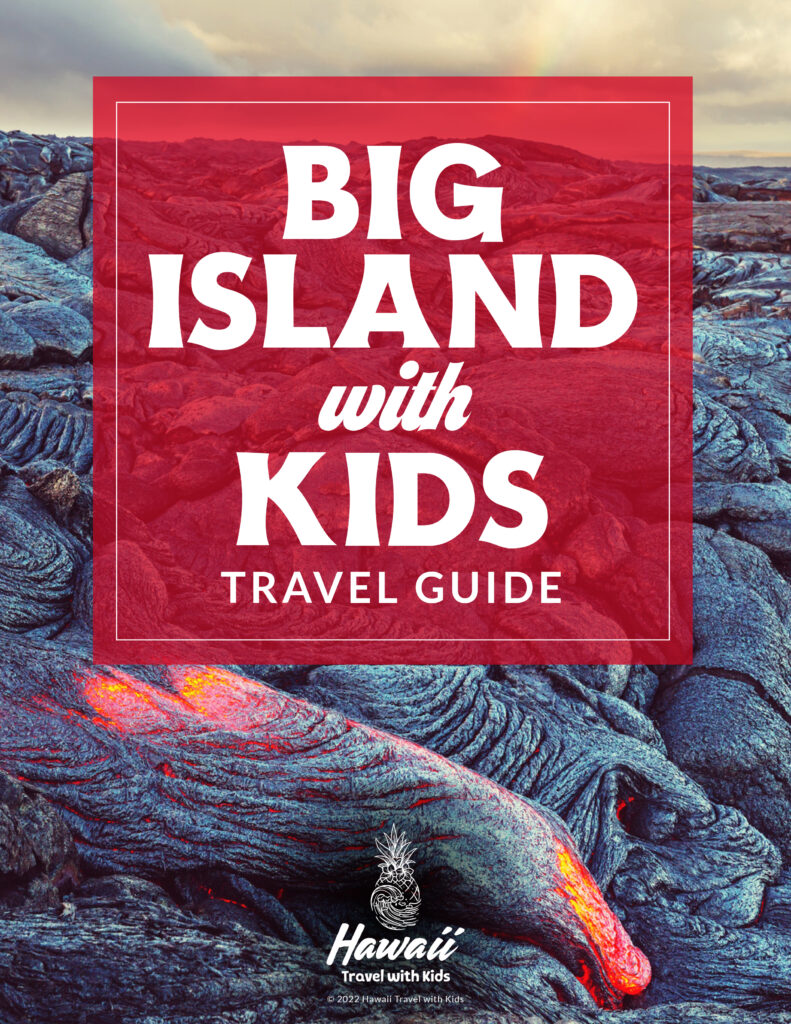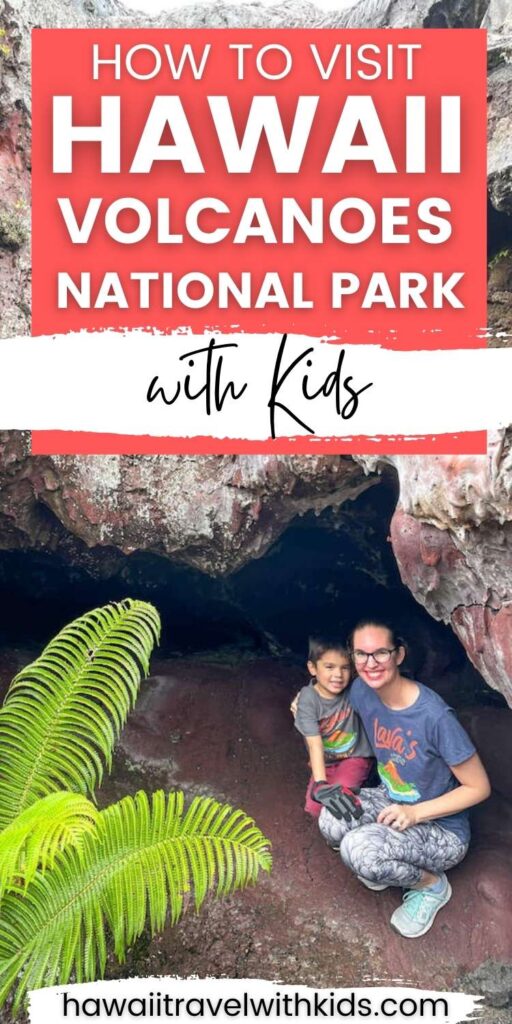 What to Know Before Visiting Hawaii Volcanoes National Parks with Kids
1. It's about 2 hours from Kona
Most people visiting the Big Island with kids end up staying in either Kona or Waikoloa. What they don't realize is the Big Island is, well, BIG. You'll spend a lot of time in the car getting places.
It will take you a full 2 hours to drive to Hawai Volcanoes National Park from Kona. And add on another 30-45 minutes if you're staying in Waikoloa. And that's without any stops.
If you're driving from Kona to Hawaii Volcanoes National Park, I suggest downloading the Shaka Guide. It does a great job of giving you a narrated tour of what you're passing on your drive. Plus, you might want to get out of the car at some of the attractions or scenic lookouts.
I also appreciate that it mentions when you might want to grab food or gas because it will be a while before your next opportunity.
2. It's a whole other climate up there
The Big Island is super awesome because it's home to almost every climate imaginable. There's a desert climate, tropical rainforests, and it even snows up in Mauna Kea!
The temperature up at Hawaii Volcanoes National Park is between 10-20 degrees cooler than Kona. That means you'll definitely want to layer up.
When we first arrived, I saw so many people shivering in their bikini tops or shorty-shorts. They didn't realize how cold it was, and that was all they could focus on.
So, it's really important to have extra layers of clothing for everyone in your family. Otherwise, you will be miserable.
3. It's worth spending the night
A lot of people don't realize that the only time you can really see the lava (or at least the lava glow) is at nighttime. That means you'll need to either come to the park before dawn or stay after sunset.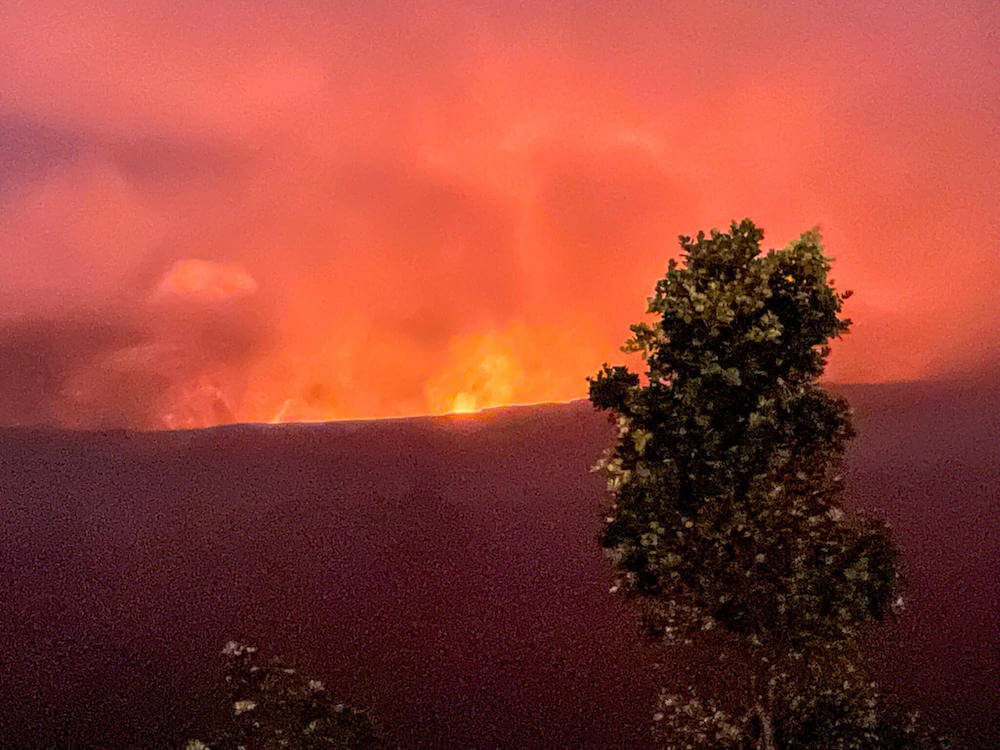 Now, if you're traveling solo or just with other adults, that might totally be feasible for your Big Island itinerary.
However, traveling with kids is a whole other ballgame. Either way makes a really long day for them, especially if you are doing a day trip from Kona.
That's one of the reasons I recommend staying near Hawaii Volcanoes National Park for a night or two. Plus, you won't feel rushed to explore the park quickly, and you can go at a slower pace. Besides, how many people can say they've spent the night on a volcano?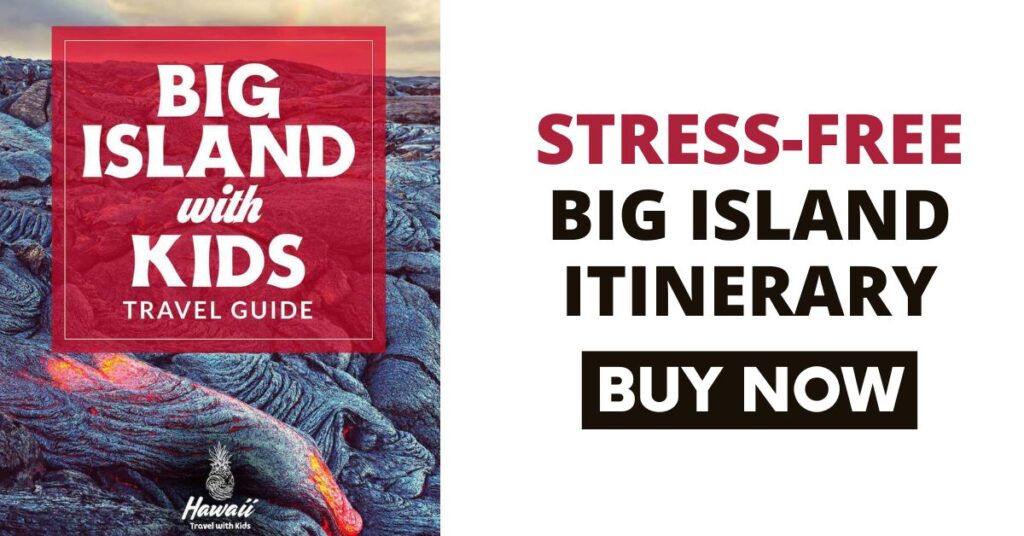 4. Jagger Museum is CLOSED
Something that I didn't realize until I got there is that Jagger Museum is fully closed. I thought it was just a Covid thing, but apparently, the building is condemned, and people cannot enter it.
However, almost every guidebook and blog post will recommend stopping there. That's why I didn't realize it was not an option anymore. Now you know.
5. Not all Hawaii volcano hikes are kid-friendly
If you like hiking with kids, you probably realize that some Hawaii hikes aren't kid-friendly. This is especially true when it comes to Hawaii Volcanoes National Park.
One of the biggest reasons is that you'll probably be hiking across lava rock, which can be sharp and uneven. Not a great combination when you include kids who might trip walking on carpet.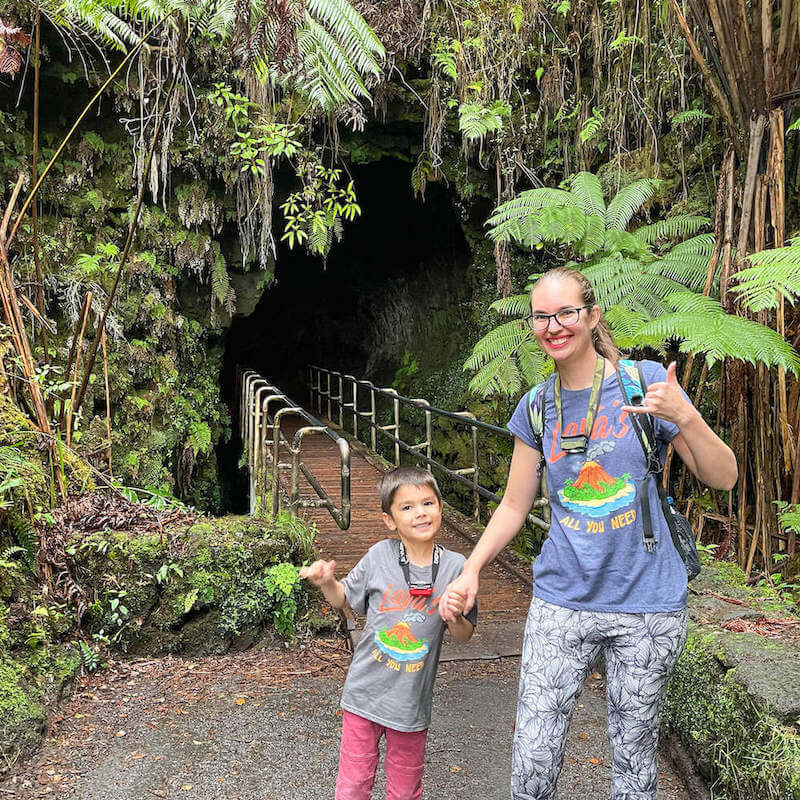 The easiest Hawaii Volcanoes National Park hike for kids is the Thurston Lava Tube. It's a paved walking path until you get to the lava tube. Then, you can explore the lava tube with flashlights or headlamps.
Devastation Trail is about 1 mile long, and most of the pathway is paved. It's a cool trail where you can see the aftermath of a volcanic eruption.
The Kilauea Iki trail is another popular Big Island volcano hike for families. It's about 3 miles round-trip from the Kilauea Iki Overlook or the Thurston Lava Tube parking lot.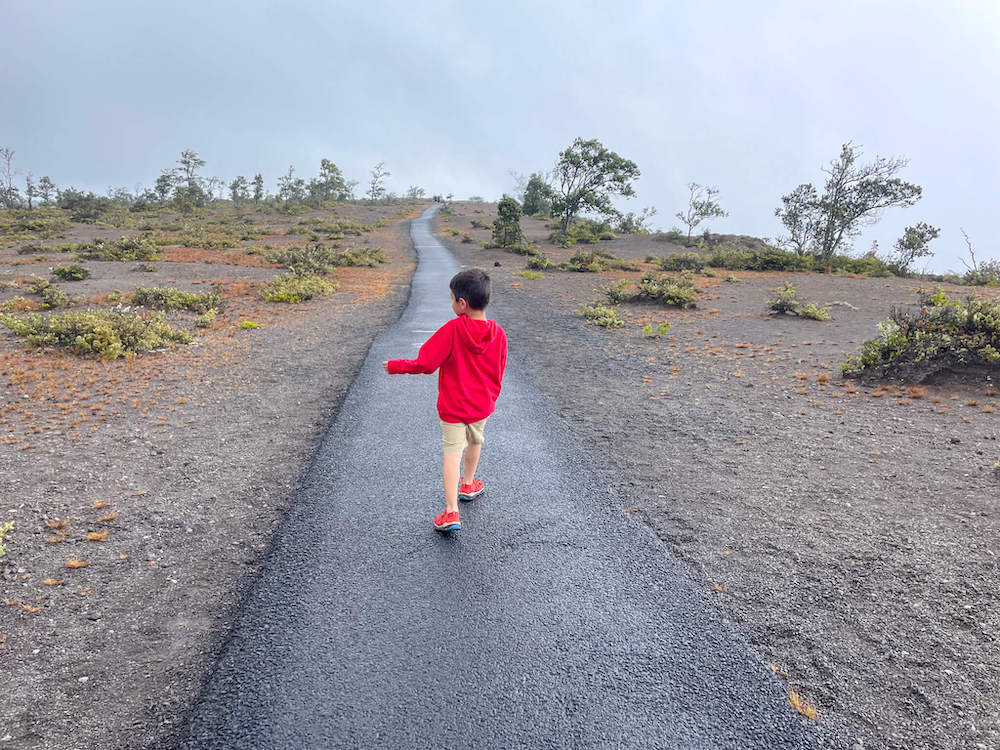 There's also a nice, paved walking path that goes from the Volcano House through the Sulfur banks and all the way to the Kilauea scenic viewpoint. That's perfect for doing with a stroller or baby carrier.
You can also find some opportunities to just walk out on the lava rock. These aren't dedicated hikes or marked trails, so it's helpful to either have a compass with you or look for the rock piles to get you back to your car.
6. The Shaka Guide inside the park is hit/miss
While the Shaka Guide is really great for the drive from Kona to Hawaii Volcanoes National Park, some of the information about the park wasn't super accurate.
If you want to tour around on your own, I still think the HVNP Shaka Guide is worth it, so you'll know the significance of some of the places you'll drive past.
However, just be aware that it might send you places that are closed or give you not-so-accurate geological information.
7. The Holei Sea Arch is CLOSED
We've all seen the photos of the beautiful sea arch in the ocean, and I'm sure it's on your bucket list. However, the land around it is now unstable, so the whole area is closed off to visitors.
8. You might not see flowing lava
One of the things I really want to highlight for families is that the active volcano isn't constantly erupting. When it's not erupting, that means there is no lava flowing or much volcanic activity. Please don't tell your kids they will see active lava flow unless you've seen a video that day on your trip that there's lava!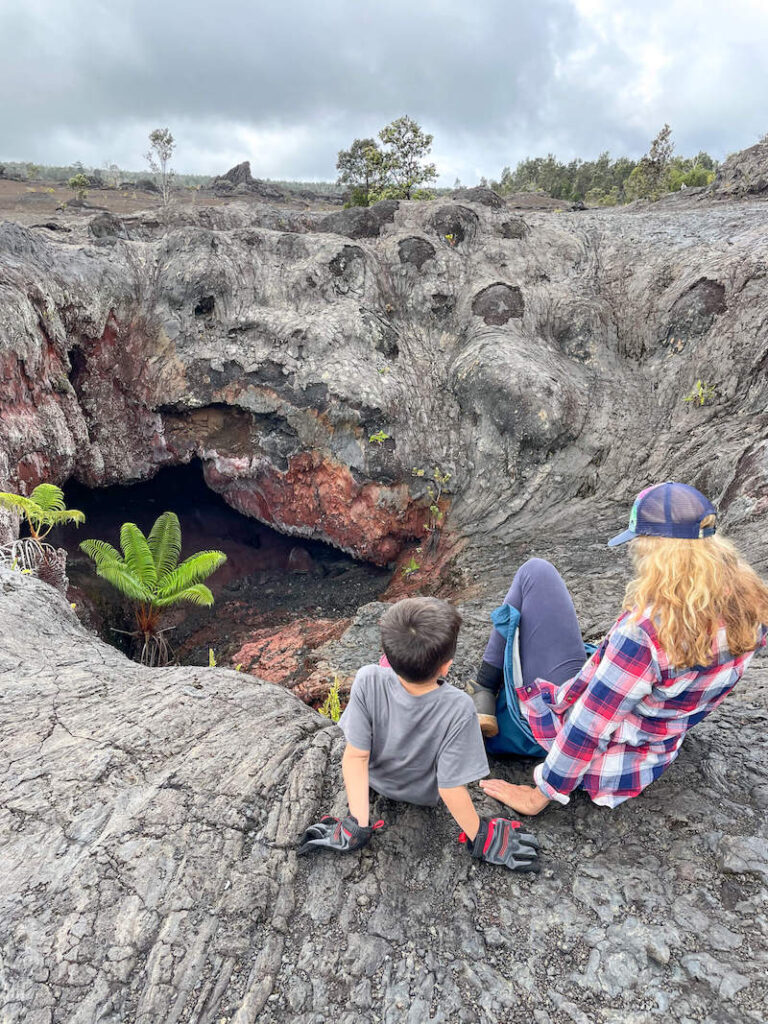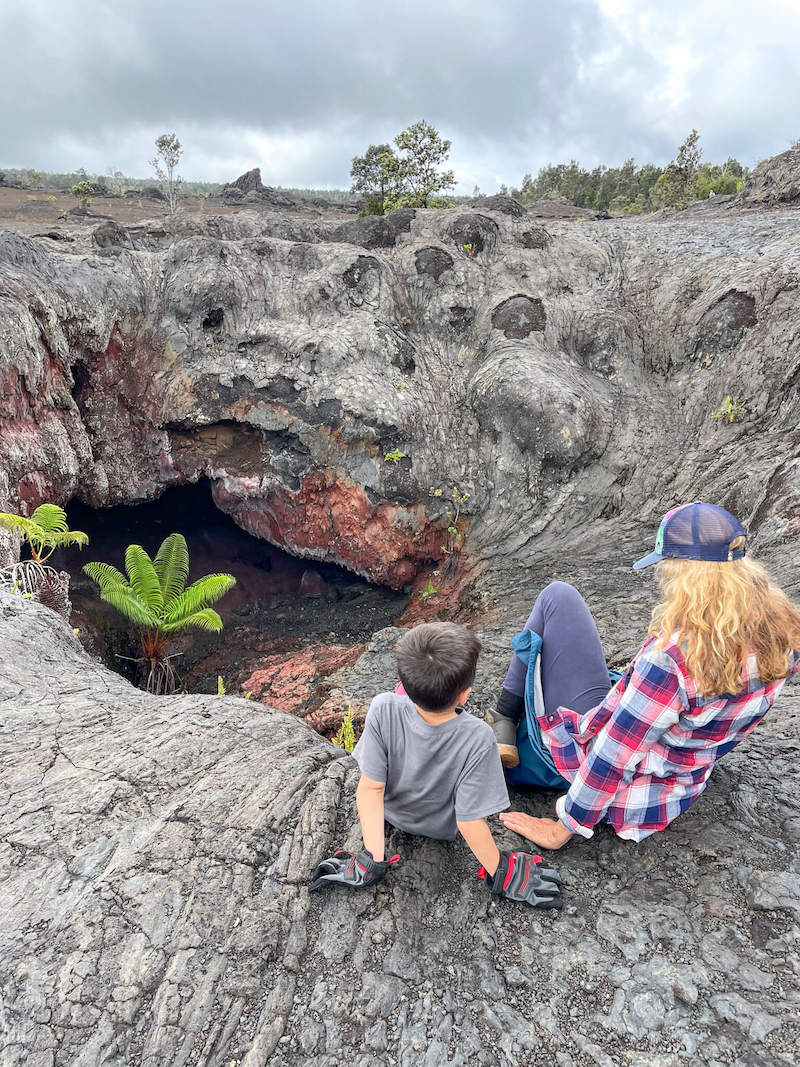 I still think Hawaii Volcanoes National Park is really cool to explore, even when the volcano is quiet. However, it's really magical when you can see that fiery glow!
9. Make sure your kids know they aren't in danger
When I told my 5-year-old that we were spending a few days on a volcano, his face went pale, and he started legitimately freaking out.
He thought we were staying on the top of a volcano spewing lava and that the lava might get on us. He's only seen volcanoes in cartoons, and that's what they all look like.
Kilauea is a different kind of volcano. It has a lot of lava tubes, and the lava erupts from those. It's all well-marked, and experts are always keeping an eye on things.
10. Definitely check the weather before you go
So, remember when I told you about how there's a different climate up at the volcano? Well, that means it can easily be rainy, cloudy, or foggy all day long. So, you won't be able to see anything at the scenic lookouts.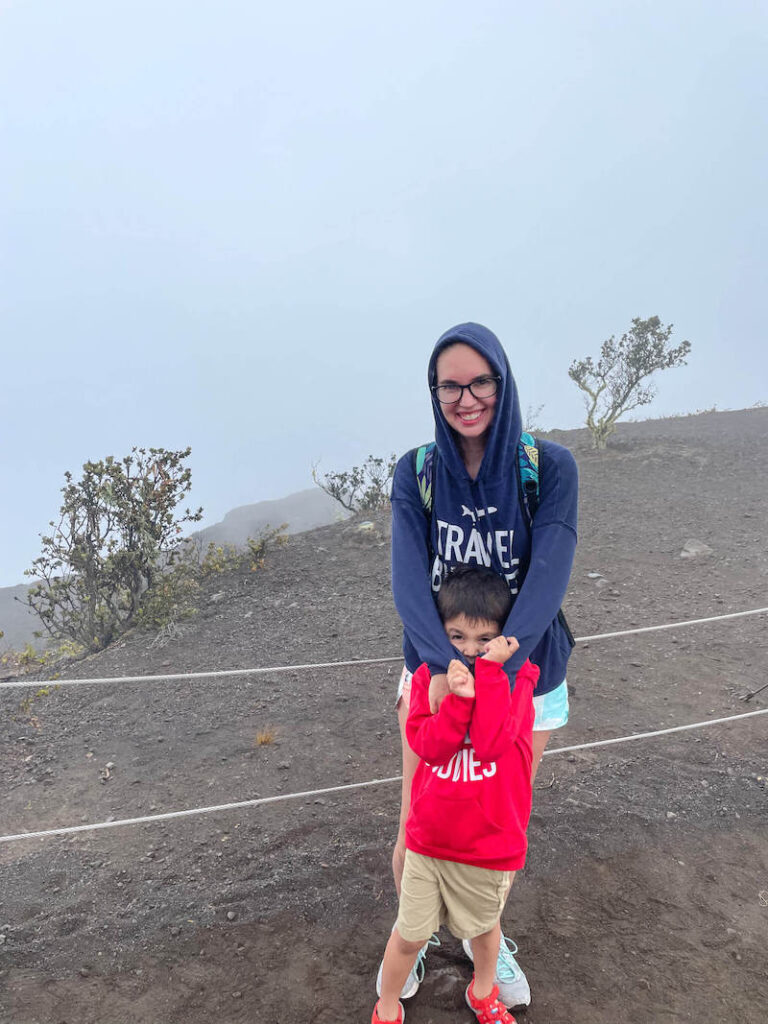 On our first day, it was pouring down rain, and we trekked out to a few spots just in case we could see something. We'd get little slivers of a view, and then the fog would roll back in. I felt so bad for the people who just drove 2 hours to not see anything and then drove back to Kona.
If you have flexibility in your schedule, keep checking the weather in Volcano, HI, until you see a clear day. That's what you want for this epic adventure!
11. Get souvenirs at Volcano House gift shop
We're all about Hawaii souvenirs! I was pretty disappointed at the selection of items at the Hawaii Volcanoes National Park Kilauea visitor center. They had some badges, pins, and a couple of shirts. However, it was mostly books.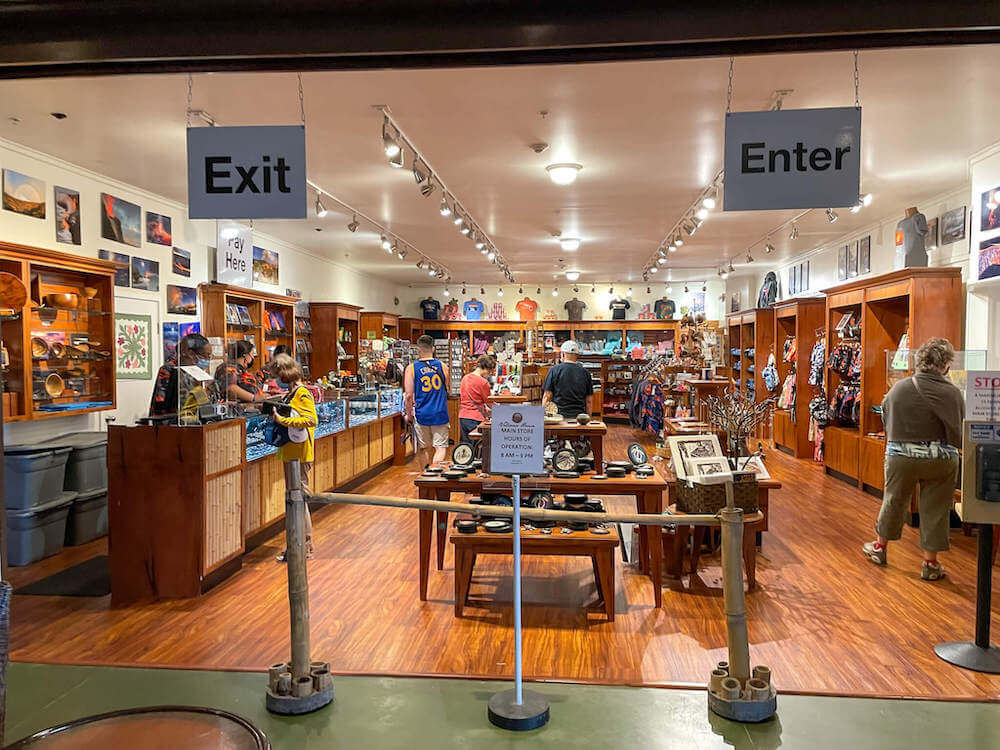 However, the Volcano House actually has 2 really amazing gift shops right in the entryway.
This is where you'll want to go to get your Hawaii Volcanoes National Park t-shirts and sweatshirts. They also have a bunch of volcano-related items for kids.
12. Eat at Uncle George's Lounge
So, a lot of guidebooks will tell you to eat at the Rim at Volcano House. This is the premier place to eat at Hawaii Volcanoes National Park. But, since it's a "special" reservation-only place, you might not want to bring your kids there.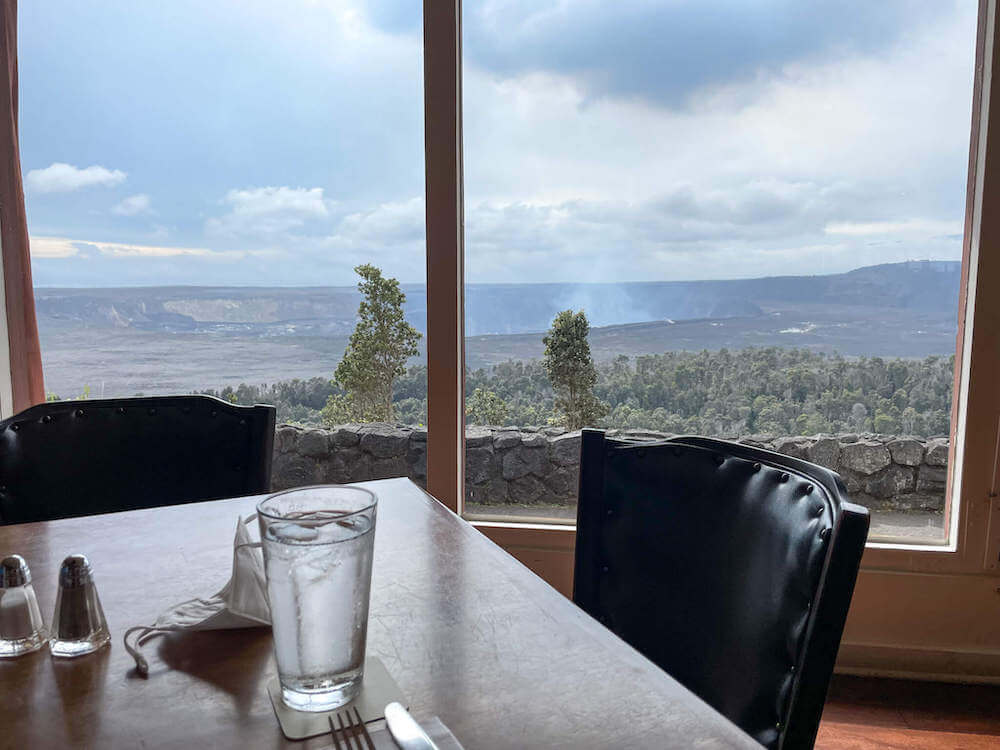 Instead, plan on eating at Uncle George's Lounge, which is across the lobby from the Rim at Volcano House. It has the same amazing view, but it's more casual.
They actually share the same kitchen, and the food is amazing! They don't take reservations, so it's first come, first served. So, I suggest getting on their list early and then heading outside to walk around.
They also have a full espresso bar in the morning if you need a caffeine kick.
13. Do the Chain of Craters Drive
One of the best things to do with kids at Hawaii Volcanoes National Park is to drive the Chain of Craters road. Not only will it take you past several places to get out and explore the sites of former lava eruptions, but it's a very scenic drive.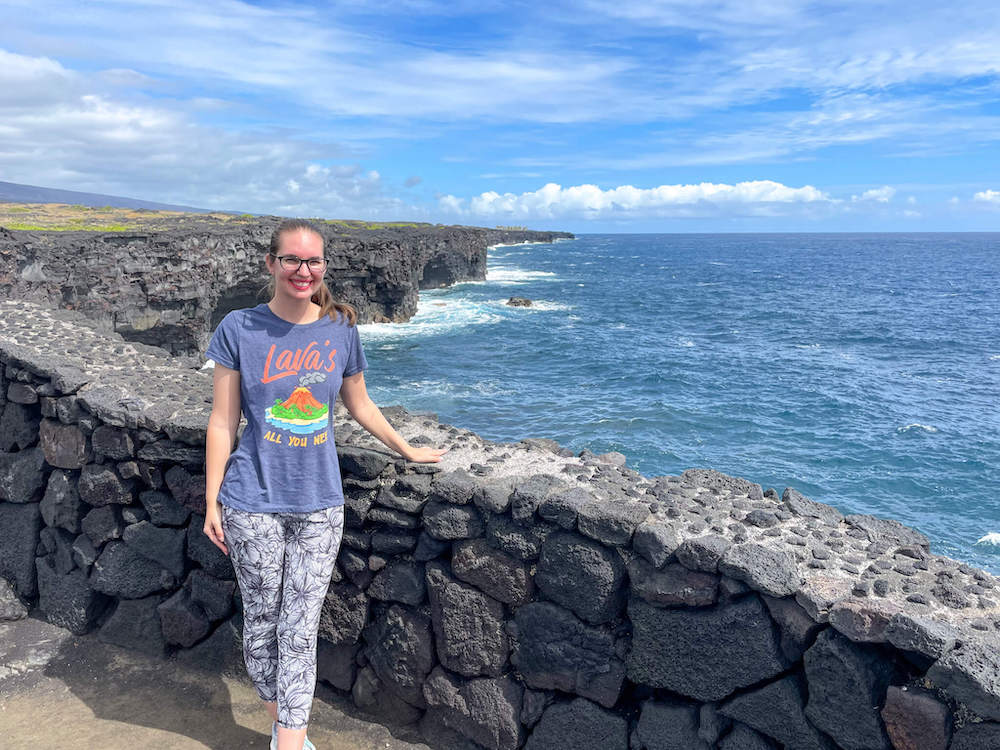 It ends with a bunch of scenic viewpoints down near the ocean. Look for the one with the rock wall. This is the best one for kids because you won't be freaked out about your kids falling off the cliff. Plus, the views are epic!
The Craters Road Chain is always a plus for pregnant women, and it is a family-friendly thing to do here for the entire family!
Best Hawaii Volcanoes National Park Tours for Families
Whether you are doing a day trip to Hawaii Volcanoes National Park or spending a few days up there, I highly recommend taking a tour. It's the best way to find out what to do or where to see lava with up-to-date information.
This is the tour I did with my 5-year-old son, and it was phenomenal! It's run by a non-profit organization dedicated to preserving this national park in Hawaii.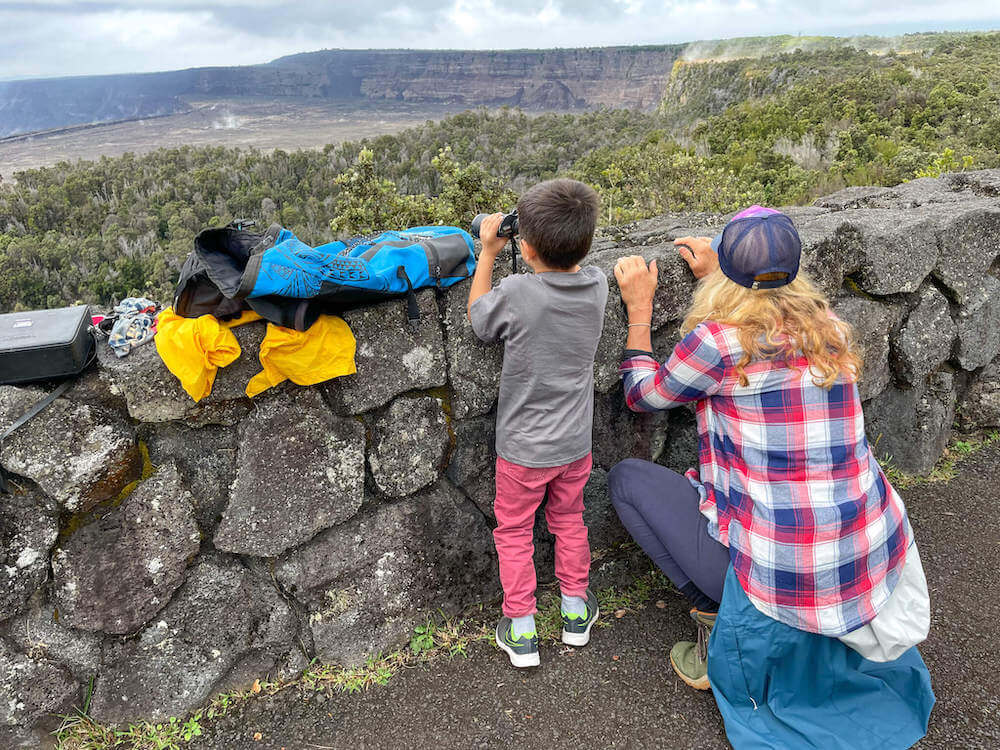 You can sign up for a private tour, and they will match you up with a guide who can share the history and geography of the area and tailor a tour specifically to what your family is most interested in.
I was really impressed with how much we were able to do and see in a 4-hour tour, and my son was super engaged. It was so much fun!
Big Island in a Day: Volcanoes, Waterfalls, Sightseeing, History
If you are staying in Kona and want to pack as many things as you can, this Big Island in a Day tour might be just what you're looking for.
Kids as young as 4 years old can participate in this group tour, and it really does hit the highlights. You'll go through paniolo country (Hawaiian ranches with cowboys), see top Big Island waterfalls, stop at scenic lookouts on the East Shore and make your way down to Hawaii Volcanoes National Park.
This is ideal for people doing a Kona resort vacation but who also want to see what the rest of the island is like. Check the latest rates and more information.
I've got a whole list of amazing Hawaii Volcano tours you'll probably want to look at before making a final decision. A lot depends on the ages of your kids.
Hawaii Volcanoes National Park Packing List
Ok, so now that you know a few things to do with kids at Hawaii Volcanoes National Park, let's talk about what to add to your Hawaii packing list.
STURDY HIKING SHOES
If you think you might want to go walking on lava rocks at this Hawaii national park, you'll definitely want sturdy shoes that will protect your feet.
My son and I wore athletic shoes, and they were pretty good for the limited amount of hiking/walking we did. Next time, I'll bring kids hiking shoes so I'll feel more confident with the longer hikes. The ground is really uneven. Check my top pick HERE.
LAYERED CLOTHING
Like I previously said, the weather at Hawaii Volcanoes National Park is pretty cool temperature-wise. You'll definitely want to wear layers. It's super cold in the early morning and the evening. But it can feel warm if you're hiking in the park.
If you forget warm layers, just head into the Volcano House store to buy a souvenir sweatshirt or long-sleeved t-shirt.
RAIN JACKET
If you're heading to Hawaii Volcanoes National Park in winter, prepare for rain.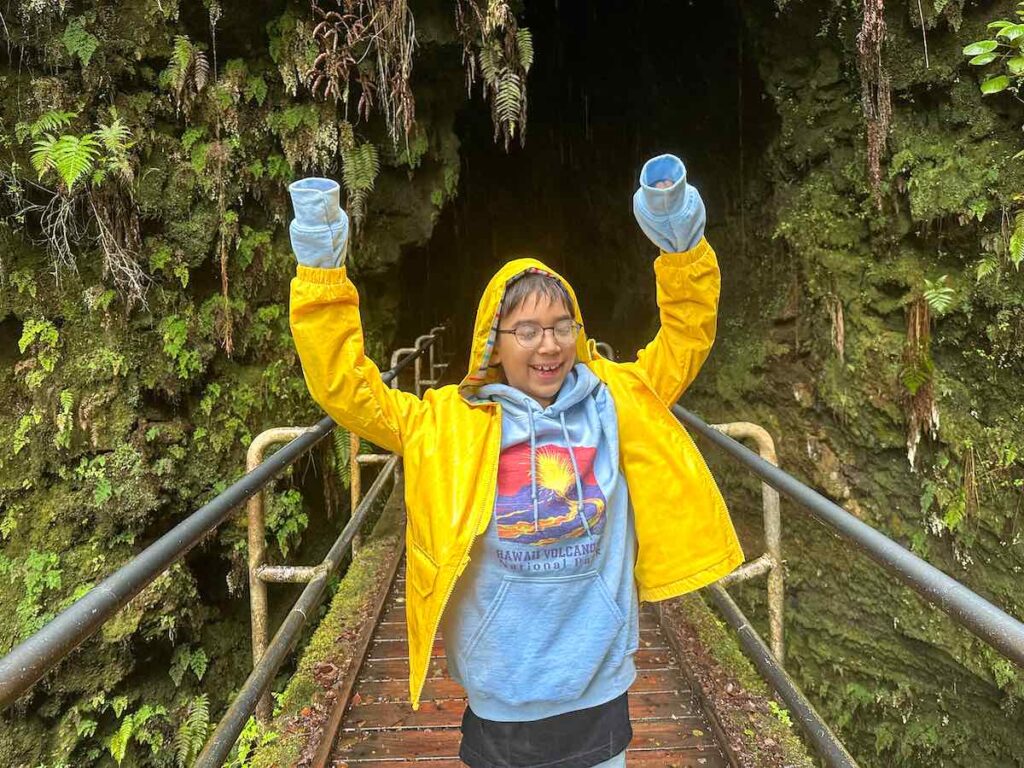 We packed foldable rainjackets in our suitcase, and they were such a help during our trip! They aren't too warm, so they are great for layering in Hawaii. Check the latest prices on this rain gear HERE.
SUN HAT
You will definitely want some sort of sun hat when walking around Hawaii Volcanoes National Park with kids. Most areas don't have a lot of shade, and you can easily burn your face, ears, and shoulders without a good sunhat.
SUNSCREEN
If you're exploring the lava rocks, chances are there won't be any shade. So, it's smart to put on lots of sunscreen and re-apply it throughout the day. We always use reef-safe sunscreen in Hawaii, even when we aren't at the beach.
FIRST AID KIT
If you aren't doing a guided tour, make sure to have a basic first aid kit either in your car or a backpack. It's really easy to trip on the lava rock and really hurt yourself.
My son ended up spraining his elbow when he got distracted for a moment and misstepped. It could have been SO much worse.
I'd suggest at least some bandages, Neosporin, and an ice pack. It's always better to have and not need than be stranded without. This is my top pick.
FLASHLIGHTS OR HEADLAMPS
If you really want to make the Thurston Lava Tube exciting (or you're planning on hiking to see the lava at night), I recommend bringing either flashlights or headlamps.
These don't take up much space, and they will really elevate your experience. Not only does it help with safety, but it also is super fun for kids.
PORTABLE BATTERY PACK
I'm one of those people who rely on my phone for everything. I love that it has a compass, GPS, and a camera, and I can contact the outside world.
However, if you take as many photos and videos as I do, you'll probably run low on battery at some point during your trip. That's why it's helpful to bring a portable battery pack.
You never know if you might get injured somewhere and need to call for help only to realize you're out of juice. See my top pick HERE.
Where to Stay Near Hawaii Volcanoes National Park
VOLCANO HOUSE HOTEL
So, hands-down, the coolest place to stay in the park is the Hawaii Volcanoes National Park hotel called Volcano House. This is where my son and I stayed, and we literally saw the lava glow all night long with the active volcanoes. It was incredible!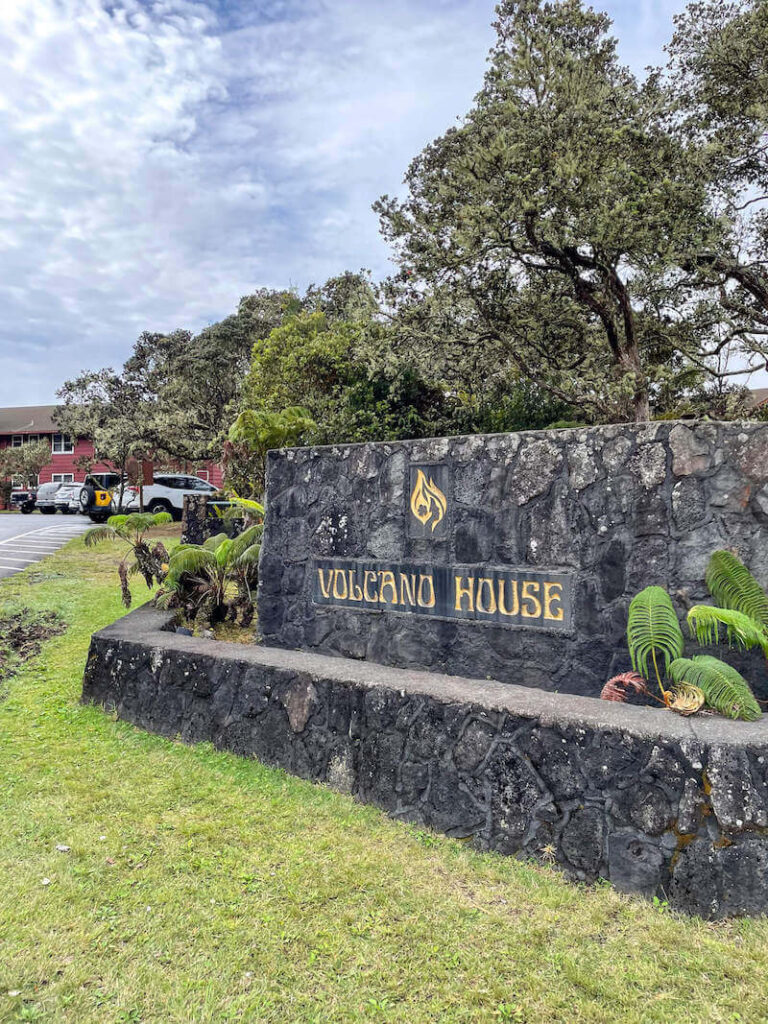 It's a historic Hawaii hotel, so it might not have all the amenities you're looking for. But it has rustic charm and the ultimate location. You can read my full Volcano House review HERE.
VOLANO HOUSE CABINS
Alongside the Volcano House hotel are the cabins at Hawaii Volcanoes National Park. These can sleep up to 4 people, and they are sort of like glamping. It's all the fun of camping without having to bring all the gear.
VOLCANO VILLAGE VACATION RENTALS
There are a bunch of vacation rental homes available in Volcano, Hawaii, just outside of the park.
There's a really cool 3 bedroom cabin that can sleep 4 people comfortably. It's one of the places to stay in Volcano Hawaii. Plus, there's a kitchen, so it's easy to make your own meals. Check the latest rates and more information.
If you need something larger, there's a 3 bedroom home that can sleep up to 8 people in 6 different beds. Check the latest rates and more information.
Just check VRBO or Airbnb to see what's available during your dates.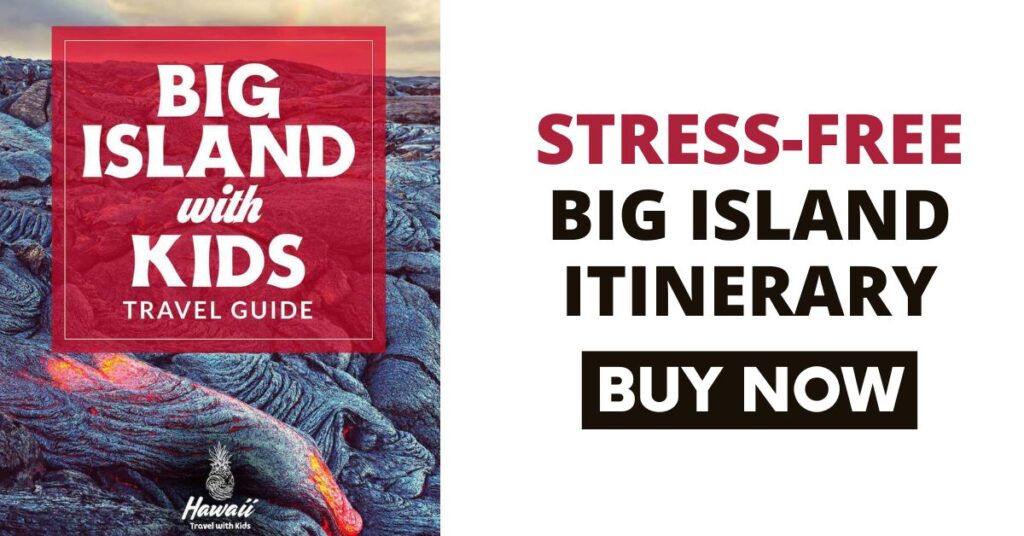 Hawaii Volcanoes National Park FAQs
When is Hawaii Volcanoes National Park open?
This national park in Hawaii is open 24 hours a day, 7 days a week, and even on holidays. It is ALWAYS open. The visitor center is open from 9 a.m. to 5 p.m. every day.
Where can I park at Hawaii Volcanoes National Park?
There are lots of designated parking spots throughout the park, including the visitor center, scenic lookouts, and hiking spots. However, sometimes these parking spots fill up quickly, especially if the volcano is active. When that's the case, keep moving until you find another legal parking spot.
Hawaii Volcanoes National Park with Kids Wrap Up
Ok, hopefully by now, you've got a clear idea of what it's like to explore Hawaii Volcanoes National Park with family. A lot of these tips can also help you if you're doing multi-generational travel with grandparents.
If you still want more information, keep scrolling for my other posts about Hawaii Volcanoes National Park.
P.S. Join our Hawaii Travel with Kids Facebook group to get connected with other families planning a trip to Hawaii!