Are your kids interested in volcanoes or are you looking for a cool science experiment to do with them? Scroll down to learn how to make a traditional volcano experiment for kids, plus new twists involving fruit!
This volcano experiment for kids contains affiliate links which means if you purchase something from one of my affiliate links, I may earn a small commission that goes back into maintaining this blog.
We're planning a trip to Hawaii Volcanoes National Park later this year! It's going to be a great opportunity for our kids to see what it's like to walk around a real volcano in Hawaii.
In preparation for our adventure, we thought it would be fun to learn about volcanoes. And what better way than with a volcano science experiment?
Have you ever seen a volcano in person? If not, here's your chance – without the risk of being boiled alive or getting burned up by molten lava.
This volcano experiment for kids offers the traditional one you see at science fairs. But, it also has one using lemons and another using apples.
Ready? Let's goooo make a volcano!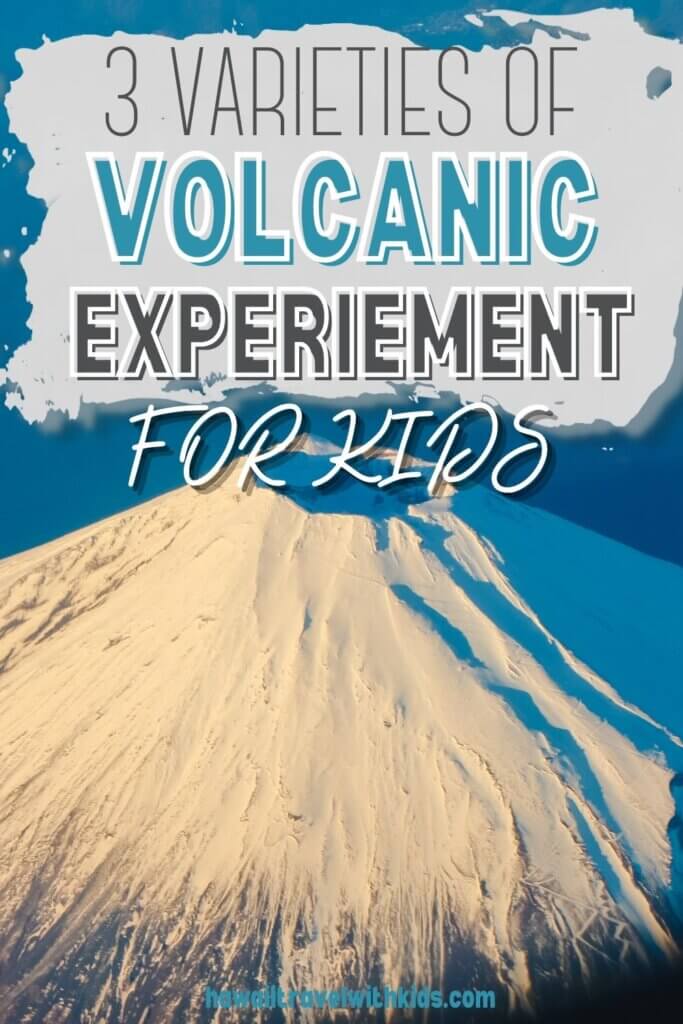 Traditional Hawaii Volcano Experiment
A volcano eruption is a powerful and destructive force of nature. In this baking soda volcano experiment, you can harness the power by creating your own erupting cup!
The materials are simple but important: water, baking soda, dish soap, food coloring, and vinegar. First, you'll want to fill your container mostly full of water. Pick a container that isn't breakable in case an explosion occurs (a large plastic or glass mug will work). This project also works best outside for safety reasons.
Next add baking soda and dish soap with some drops of food color mixed together until it's well blended before adding some vinegar. Just watch out when you're finished as there will be volcanic eruptions out of this baking soda and vinegar volcano!
You can change up this volcano science project a bit by building your own homemade volcano out of supplies you find around the house.
Lemon Volcano Experiment
This volcano eruption experiment is a fun way to explore the properties of baking soda and acid. In this project, you'll be combining lemons with sodium bicarbonate (baking soda) and citric acid (from fruit juice). Bakers often use these two ingredients for things like cookies or cakes because they react so well together!
This lemon volcano experiment only needs two to four lemons, baking soda, food coloring (in any color but yellow), and one drop of dish soap (which will make it bubble up better).
Apple Volcano Experiment
This apple volcano experiment is so fun! Just cut a hole in the top of an apple and carve out some of the flesh. Next, put a couple of small drops of dish soap into this opening (not too much!). Now add one spoonful of baking soda to make it bubbly inside before adding food coloring for color-full results!
Finally, pour vinegar into these juicy apples. What do you think you will observe?
But you don't have to just follow my instructions for this easy volcano experiment. Let your creative juices flow by playing with different types of apples or amounts of baking soda or vinegar.
Hawaii Volcano FAQs
What's a cool fact about volcanoes for kids?
We think the oldest volcano is Mt. Etna in Sicily, Italy. It apparently dates back to 350,000 years ago. Most volcanoes that we know about seem to be less than 100,000 years old. That means they were around when dinosaurs roamed the Earth.
What's the biggest volcano in the world?
Mauna Loa is the biggest volcano in the world. It is 4 kilometers high. The base of Mauna Loa is 5 kilometers under the sea floor and it pushes up 8 kilometers to make a mountain.
Is Mount Everest a volcano?
Mount Everest is not a volcano. It is formed when two tectonic plates collide. One of these plates is the Indo-Australian plate and the other one is the Eurasian plate. Mount Everest stands at 29,030 feet high and it's the tallest mountain in the world.
Wrap Up
I hope you are as excited about these volcano experiments for kids as I am.
We've tried to provide a variety of options so that there is something perfect for your homeschooling curriculum or any other fun project before visiting Hawaii Volcanoes National Park on the Big Island.
These projects would also be great science fair ideas and we have included instructions with worksheets, which will make it easier to complete them in order to enter into a competition. It's easy to get started – just download the PDFs below!