Looking for awesome memory games for kids to play? Keep scrolling to get this Under the Sea animal matching game printable for kids!
This Under the Sea memory matching game for kids contains affiliate links which means if you purchase something from one of my affiliate links, I may earn a small commission that goes back into maintaining this blog.
Our family is always on the lookout for kids activities that travel well. We need all the fun things when flying with kids to Hawaii.
That's what's so great about this Under the Sea Memory Matching Game for kids. It's easy to print out and stash in your carry on bag to keep kids busy at the airport, on the airplane, or in your hotel room.
Of course, it's also a fun matching pairs game to play anytime (not just when you're traveling!)
Get my free mermaid activity pack or Hawaiian coloring pages!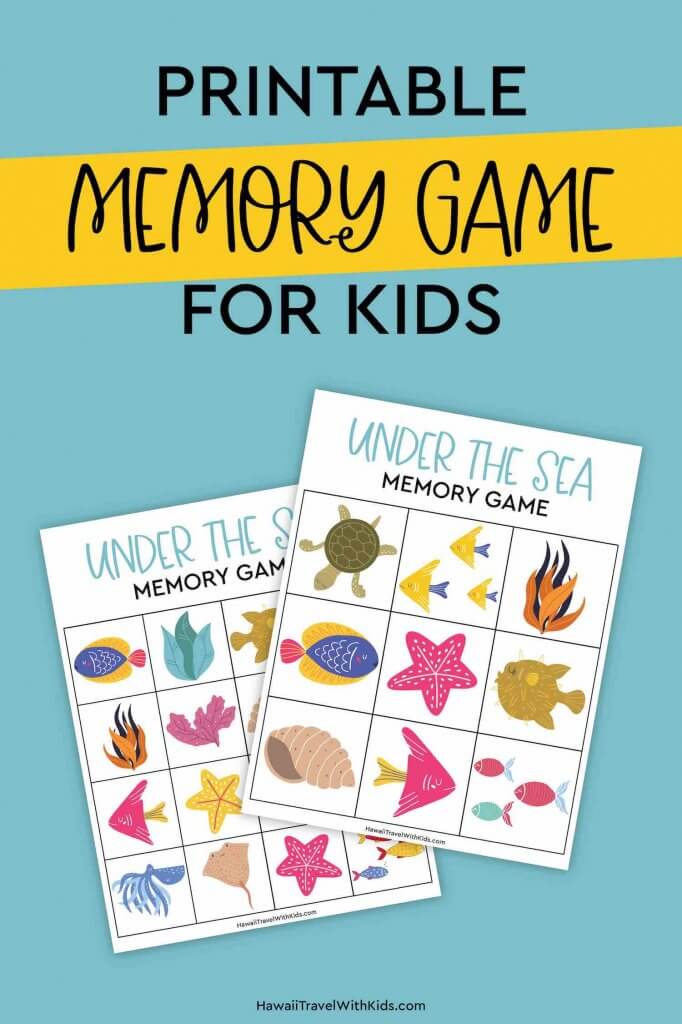 Memory Games for Children FAQs
What is the matching game called?
There are lots of different names for matching games (like Concentration, Matching Pairs, Memory, Match Up, etc) but they are all the same concept. Cards are placed face down and people take turns flipping over the cards to find matches.
How can I improve my child's memory?
Kids are notorious for not being able to find items that are right in front of them. Or they have a hard time remembering where they put stuff. That's why memory games for kids are so important. Besides this Under the Sea matching game, you can also have them teach you how to do something, use play cards to help tell a story, or work on visualization skills with your child.
What ages are memory matching games good for?
This one is perfect for toddlers, preschoolers, or elementary aged kids. They can easily recognize the different pictures of sea creatures. Plus, these are the perfect size for little hands.
Under the Sea Match Pairs Game
This picture memory game features sea creatures on 16 matching cards. You can label them to add a little more educational value, but that's totally optional.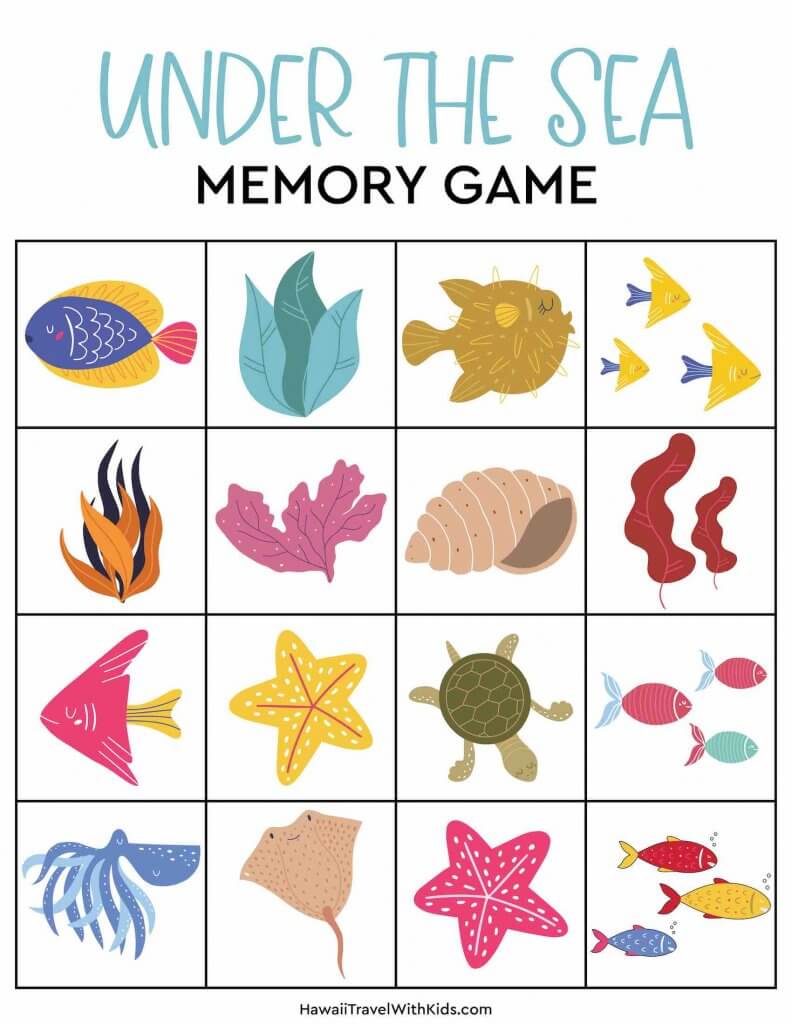 Memory Game for Toddlers
Sometimes younger kids can get overwhelmed when there are too many cards. That's why we have a version just for them!
This one only has 9 matching cards and they are a bit larger.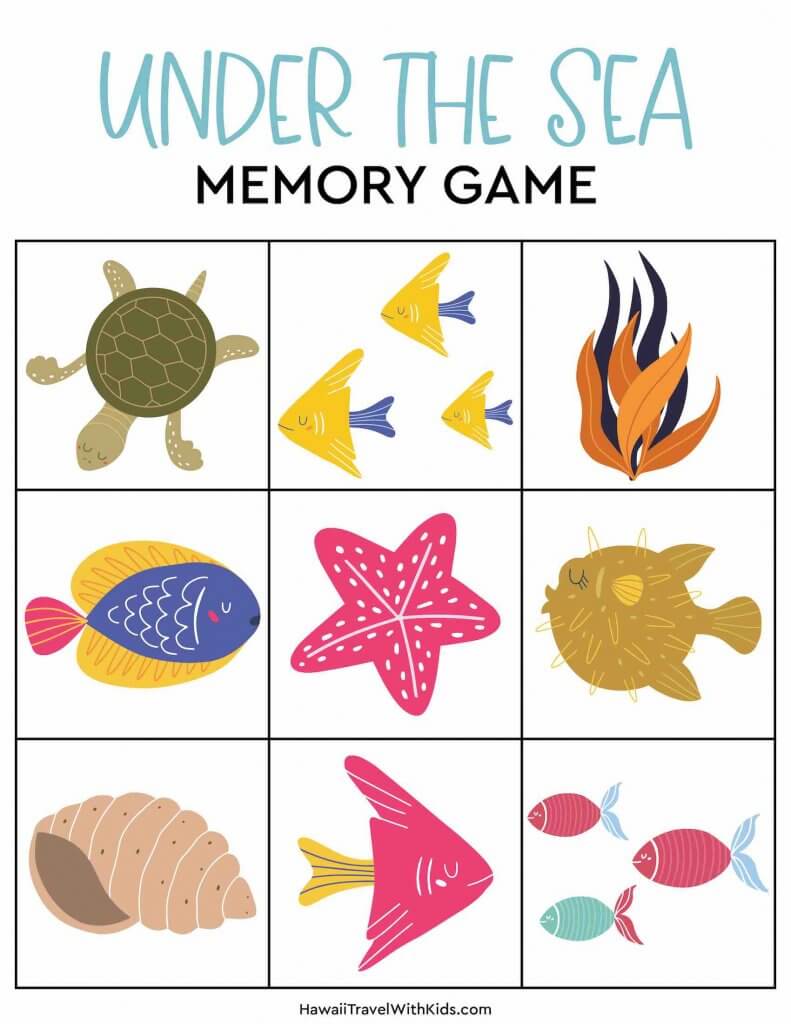 Under the Sea Matching Game Tips
1. Print on Cardstock
If you think you'll be playing this memory card game for kids frequently, it's totally worth printing it out on thicker paper or cardstock.
And if you really want to get fancy, you can print this Under the Sea memory matching game on regular paper and then glue it onto cardboard pieces.
PRINT this Under the Sea Matching Game
2. Store in a Ziploc Bag
We like to store this memory pairs game in a Ziploc bag to keep all the pieces together. It obviously would be frustrating if some pieces didn't have matches!
My kids prefer the ones with the slider on top, since it's easy for them to open and close on their own.
How to Play This Memory Matching Game with a Partner
Some people call it a Matching Pairs Game, Concentration, or Memory, but it's all the same concept.
These memory-based matching games are great for toddlers, preschoolers, and elementary aged kids.
It helps them not only with their concentration skills but also paying attention to details and what other people are doing.
1. Print the Pages
You'll need to print 2 copies of the memory match game on your preferred paper. Thicker paper makes it harder to see the picture through the paper.
2. Cut Out the Cards
Using scissors or a paper cutter, cut each individual piece so that all the cards are the same size and shape.
3. Turn the Pieces Face Down
Mix up the cards and place them face down. We like to put them in rows, but that's not essential.
You just want to make sure not to mix them up while you are in the middle of the game (since the point is to remember where each card is.)
4. Take Turns Flipping Over 2 Cards
Each player will have a chance to turn over 2 cards, in hopes that they both match. Players should pay close attention and remember where each un-matched card is located.
If the cards don't match, turn them back over being extra careful to put them in the same spot.
5. Players Keep Matches
If you get a match, you pick up the matching cards and stack them next to you. You also get another turn as a reward.
6. Winner Has Most Matches
After all the matches have been found, count your cards. Whoever has the most cards wins the game.
Can You Play This Memory Matching Game Solo?
Absolutely! In fact, that's usually what my kids prefer when they need some alone time. Kids can just leave the matches face up on the table instead of collecting matches off to the side.
Wrap Up
Whether it's for a long road trip, an educational game at home or in school, this under the sea memory match game printable is sure to be a hit with kids of all ages.
It takes only minutes to download and print out these pages, and then they can start matching pairs of images from below the waterline!
This fast-paced activity will keep your little ones engaged while you drive (or teach) – or just enjoy some peace and quiet.
We hope you enjoy our free printables as much as we do!