Looking to play a Hawaii game at home? Your family will love this Hawaii Bingo printable game that celebrates Hawaiian wildlife. Perfect for homeschooling, world-schooling, or just having fun with the kids.
This Hawaiian Bingo Printable Game for Kids post contains affiliate links which means if you purchase something from one of my affiliate links, I may earn a small commission that goes back into maintaining this blog.
We've got a game for you, and it's oh so fun! It's big and colorful, with waterfalls of hibiscus flowers, green mountains topped off with palm trees, and blue ocean waves crashing on the shore. This is Hawaii!
We want to send you some of this paradise in the form of our FREE printable Hawaiian Bingo Game for kids.
Each square has a different Hawaiian theme: Tropical Flowers, Island Animals, Tropical Plants, and Hawaii Maps.
You can play these games in many ways depending on your age or group size – solo or as a team against another team;

We're all about incorporating Hawaii into our everyday lives. We can't always be on vacation, but we can do things that remind us of Hawaii. In fact, I have a whole blog post about recreating a Hawaiian vacation at home.
One of the ways we are spending time together as a family is by playing games. Bingo is a family favorite because it's easy enough for our preschoolers and kindergartner to do.
This Hawaiian Bingo printable is super simple yet lots of fun for younger kids.
I suggest printing on card stock if you plan on playing this game multiple times or storing it to play in the future. You can use just about anything as markers.
Download the whole Hawaiian Bingo game, which includes 6 Bingo cards and 1 calling card. Play at home or pack on the plane ride to Hawaii!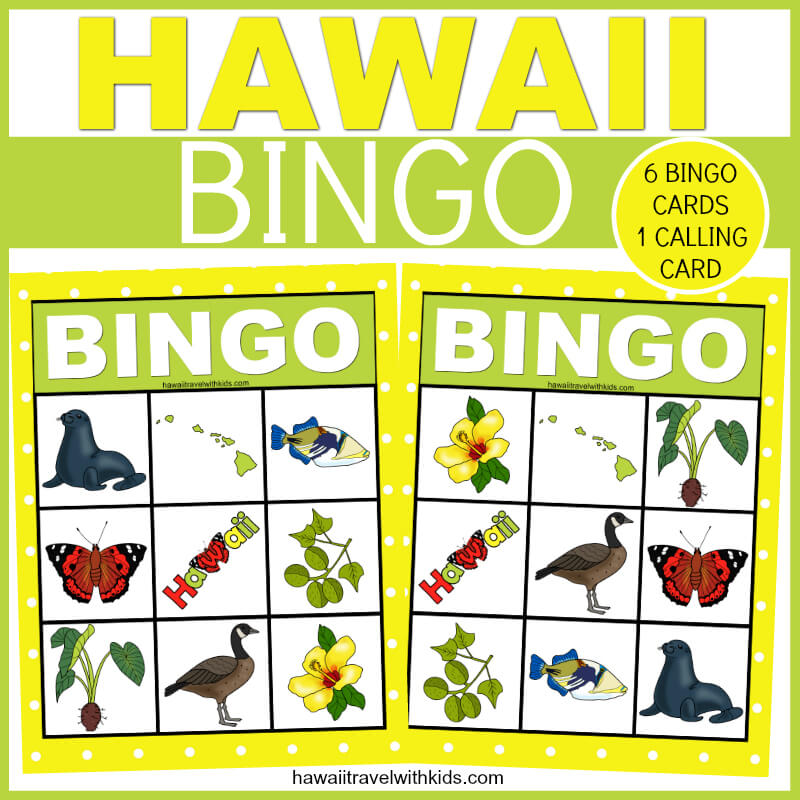 Hawaii Bingo FAQs
How can I use this Hawaii Bingo?
You can use this free Hawaii bingo printable for just about anything, including on the plane to Hawaii, in the car, at home for homeschooling, during family game night, at a Luau party, and so much more! The options are endless.
What age group is good for this free bingo printable?
What is so nice about bingo is that it's good for just about any age group! Young toddlers, preschoolers, and older kids can enjoy this super fun Hawaii bingo.
How many bingo cards does this free set give?
There are 6 different bingo cards to use, which is why it is perfect for families to enjoy during their trip to Hawaii.
Hawaii Bingo Wrap Up
If you're looking for a fun way to spend some time with the kids, or are homeschooling and in need of an educational game that will keep all ages engaged, try this Hawaii bingo card. The best part is that it's free!
Download your copy now so you can enjoy playing at home. Why not play today?