Have you had to cancel your Hawaii vacation? Or looking for ways to bring Hawaiian experiences and the Aloha spirit home? Scroll to find out easy ways to recreate Hawaii experiences from the comfort of your home.
This post about how to Hawaiian experiences at home was written by Hawaii travel expert Marcie Cheung and contains affiliate links which means if you purchase something from one of my affiliate links, I may earn a small commission that goes back into maintaining this blog.
My family was supposed to head to Hawaii for Spring Break this year. Like many other families, we've had to cancel our trip with plans on rescheduling in the future.
I'll be honest. I'm pretty crushed.
We've been going to Hawaii at least once a year for a long time and since my mom lives there, we know we'll be back again and again.
But, the kids had really been looking forward to the trip and the Hawaiian experiences we have planned, and they didn't understand why we couldn't go anymore.
That got me thinking about all the families who were about to experience their first trip to Hawaii. Or those celebrating an anniversary or birthday or graduation. That's what really made me feel heartbroken.
I let myself feel sad for a bit and then I started scheming about ways families can recreate a bit of Hawaii at home.
These are fun DIY Hawaiian experiences and activities that anyone can do for an easy vacation at home. And most are super budget-friendly!
If you do it right, it can feel like one of the best Hawaii vacations!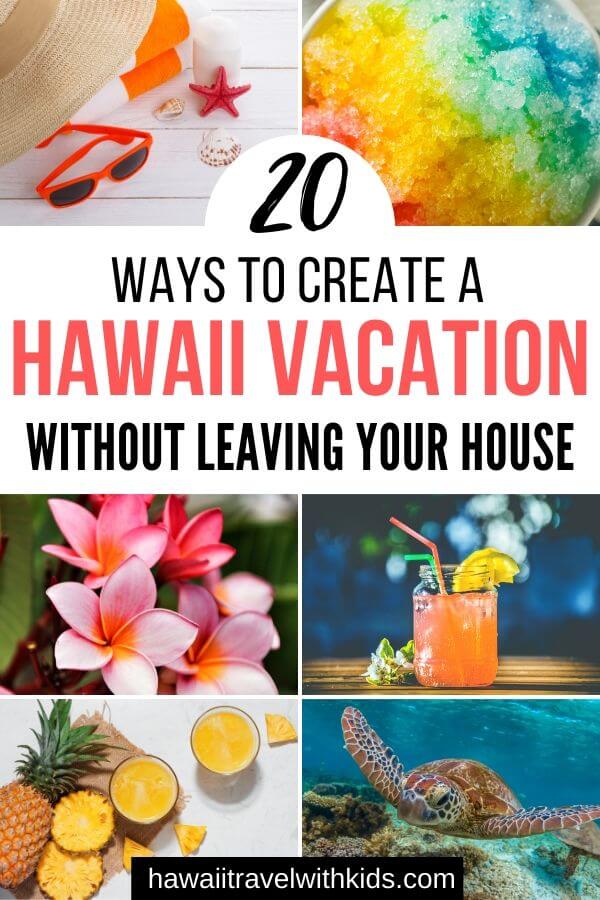 Hawaii at Home FAQs
How do I make my house feel like Hawaii?
There are so many cute Hawaiian home decorations out there. We love shopping at SoHa Living in Hawaii to find Hawaiian pillow covers and wall decor. But, you can also add in anything that's bamboo (either live plants or bamboo furniture.) And you can always include tropical flowers.
What can you smell in Hawaii?
It only takes one whiff of plumeria flowers to instantly transport me to Hawaii. That's because the whole state smells like plumeria flowers! You can get plumeria infusers to set up in your home or just keep a bar of plumeria soap in your bathroom for a bit of Hawaiian scent.
What are ways you can use a pareo?
One of the most versatile things you can buy in Hawaii is a pareo (aka a sarong.) Not only are these perfect as swimsuit coverups or skirts, but you can spread one over your bed, use it as a window covering, or lay it on the ground as a picnic blanket.
20 Hawaiian Experiences Without Leaving Your Home
1. Listen to Hawaiian Music
There's something about Hawaiian music that immediately makes me feel relaxed and calms my nerves. I think it's the melodies and gentle strumming of the ukulele.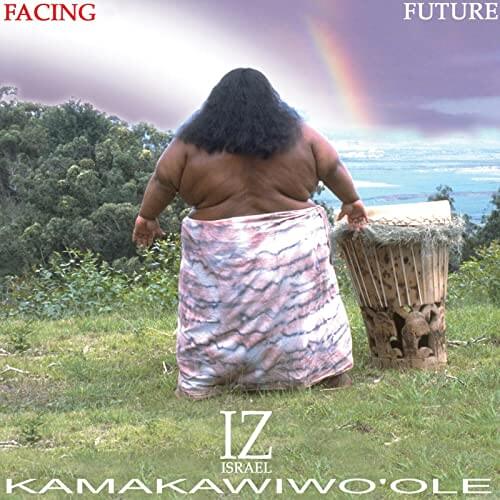 The most popular Hawaiian artists are Israel Kamakawiwo'ole (famous for his rendition of Somewhere Over the Rainbow), Keali'i Reichel, and Amy Hanaiali'i.
You can actually stream traditional and contemporary Hawaiian music at Kapa Radio. It's a local radio station and you can pretend that you are listening to it in the car as you explore Hawaii.
For those who were heading to Disney's Aulani Resort, you can get the music they play in their resort by downloading here.
Find out the top Hawaiian musical artists to add to your Spotify playlist!
2. Order Takeout from a Hawaiian Restaurant
If you are lucky enough to live somewhere with a local Hawaiian restaurant, grab takeout (or get it delivered.)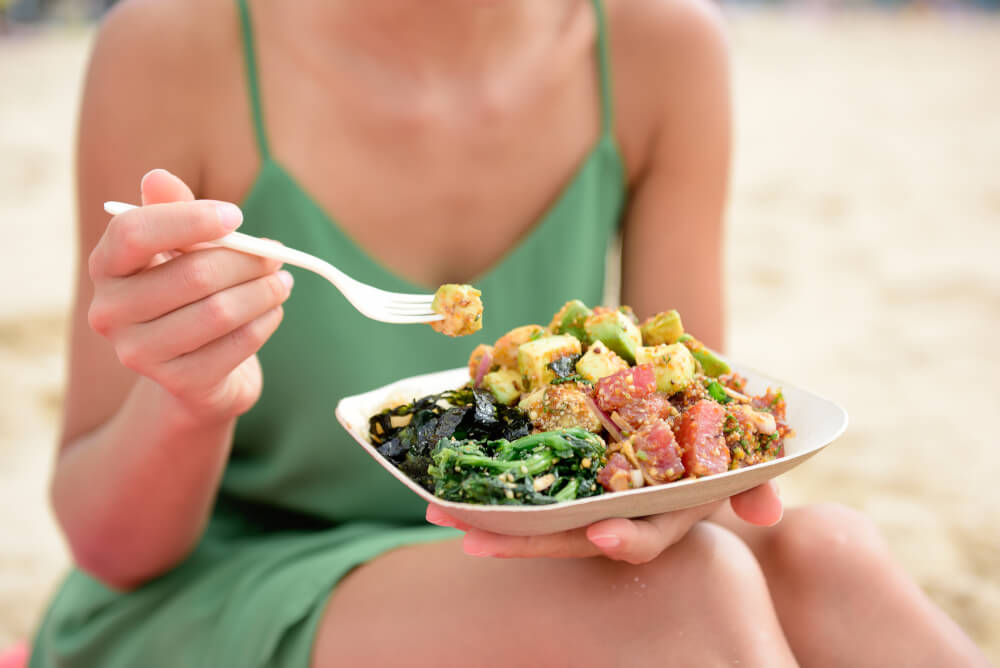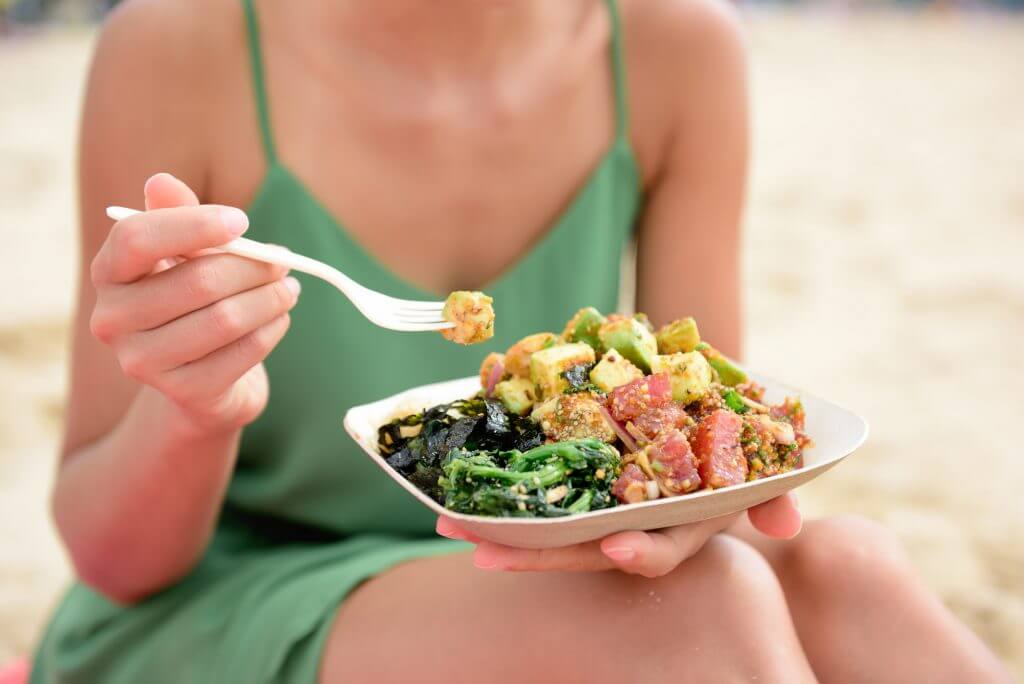 Look at the menu and order a few things you've never tried. Some of the best things to order are loco moco, kalbi ribs, spam musubi, kalua pork, beef stew, lau lau, and poke.
Here in Seattle, we love getting food from Bobby's Hawaiian Style Restaurant, Kauai Family Restaurant, Super Six, Ma'ono, Marination, Sam Choy's Poke to the Max, and Kona Kitchen.
By ordering food, you are supporting a local business.
3. String a Lei
If you live somewhere where you can get fresh flowers, you have the ability to string your own fresh flower lei.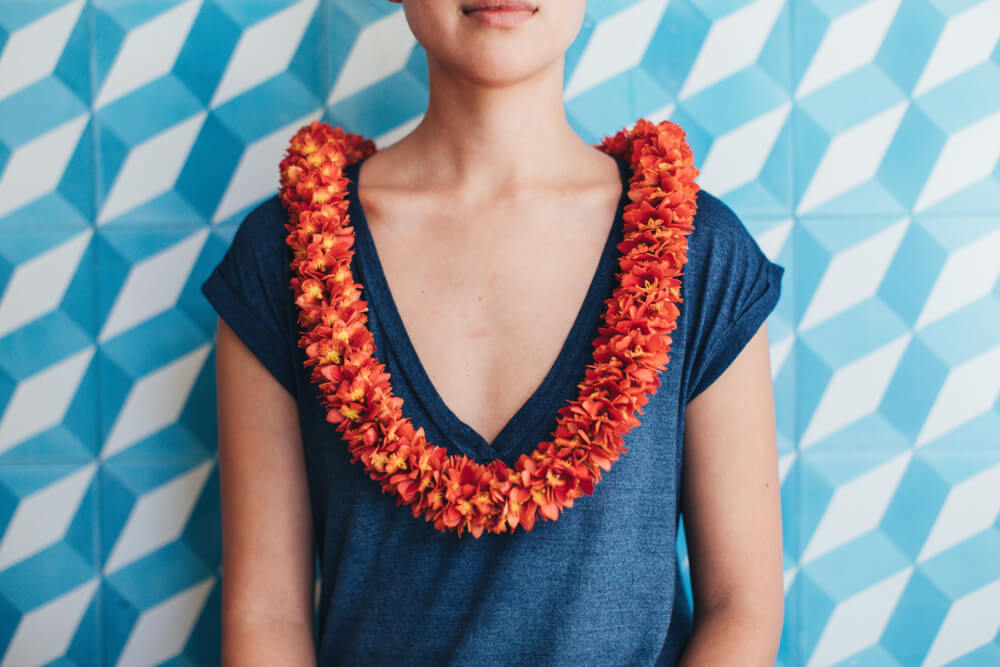 You'll want to get a lei needle, string, and a bunch of sturdy flowers. In Hawaii, people usually learn how to make plumeria or orchid leis. But, you can also use carnations, roses, or daisies (which are easier to find on the Mainland.)
If you really want to get fancy, you can get this lei making book. It will show you some really beautiful flower combinations and teach you a few insider tips and tricks. Find the best prices here.
But, you can also make leis that last forever. Simply switch out fresh flowers for artificial ones like these roses or plumeria.
And you can also learn how to crochet a lei or make ribbon leis.
For younger kids, we usually order this foam lei making kit for birthday parties or classroom activities. And we cut up a few straws for extra spacers to make the flowers stretch a bit more. Check out the latest prices and more details.
4. Make Dole Whip
One of my favorite Hawaiian experiences is get a Dole Whip. Yes, the popular snack you can find at Disney Parks.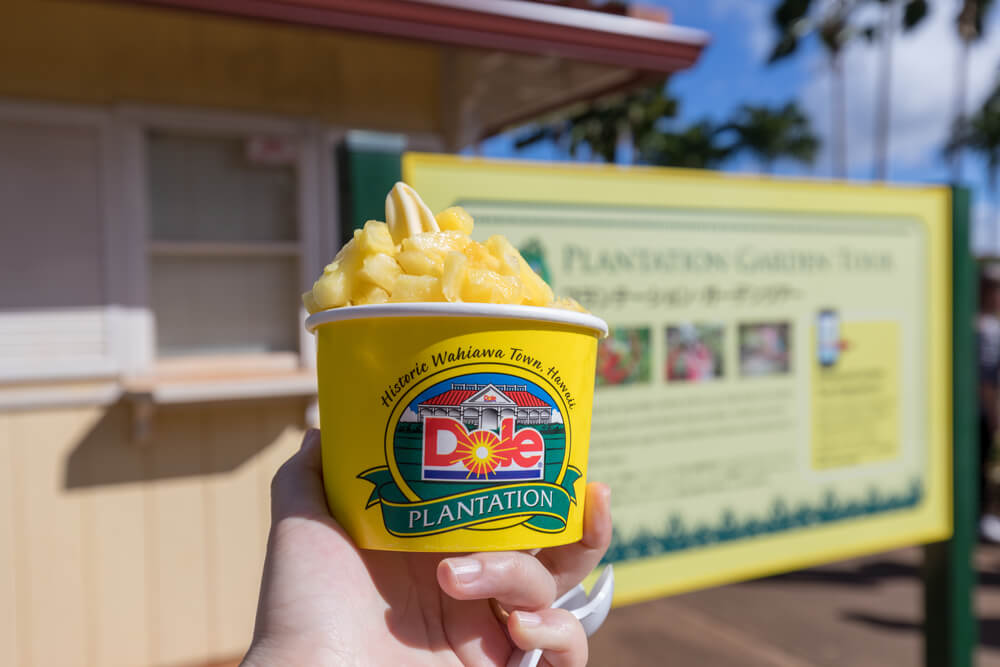 It used to be that you could only find it at the Dole Plantation on Oahu. However, in the past few years, it's been popping up on menus throughout the islands.
A lot of people don't realize it's pretty simple to make. And it only requires a few ingredients.
Here's my 5 minute Dole Whip recipe.
5. Shop at Hawaiian Boutiques Online
Whenever we got to Hawaii, I always set aside plenty of time to go shopping. I love walking around Ala Moana Center to find Hawaiian items at department stores and kiosks.
And I always check out Costco to stock up on yummy Hawaiian snacks and cheap Aloha shirts.
But, I mainly like to hit up local Hawaiian boutique stores. I'm a big fan of shopping local when we travel and I like being able to support small businesses.
You can still support them by shopping online. It's an easy way to get Hawaiian vacation clothing with a click of the button.
After we canceled our trip, I immediately went online to Dolkii to buy some Hawaiian-style graphic tees for myself. While they are actually based in LA, their items are found in a lot of boutique shops in Hawaii.
I also like Manuhealii'i (for dressier Hawaiian clothing) and Mahina for boho/beachy looks.
For kids items, I recommend Izzy and Luke, Small Fry Kauai, and Ivy & Co.
And for home decor, my favorite place to shop is SoHa Living. We bought a bunch of Hawaiian-inspired pillow cases for throw pillows for our couch. They have so many cute items that will make you smile.
6. Make Hawaiian Cocktails (or Mocktails)
Is there anything that screams "Hawaiian vacation" or Hawaiian experiences more than a picture of a tropical cocktail next to a lounge chair on a gorgeous beach?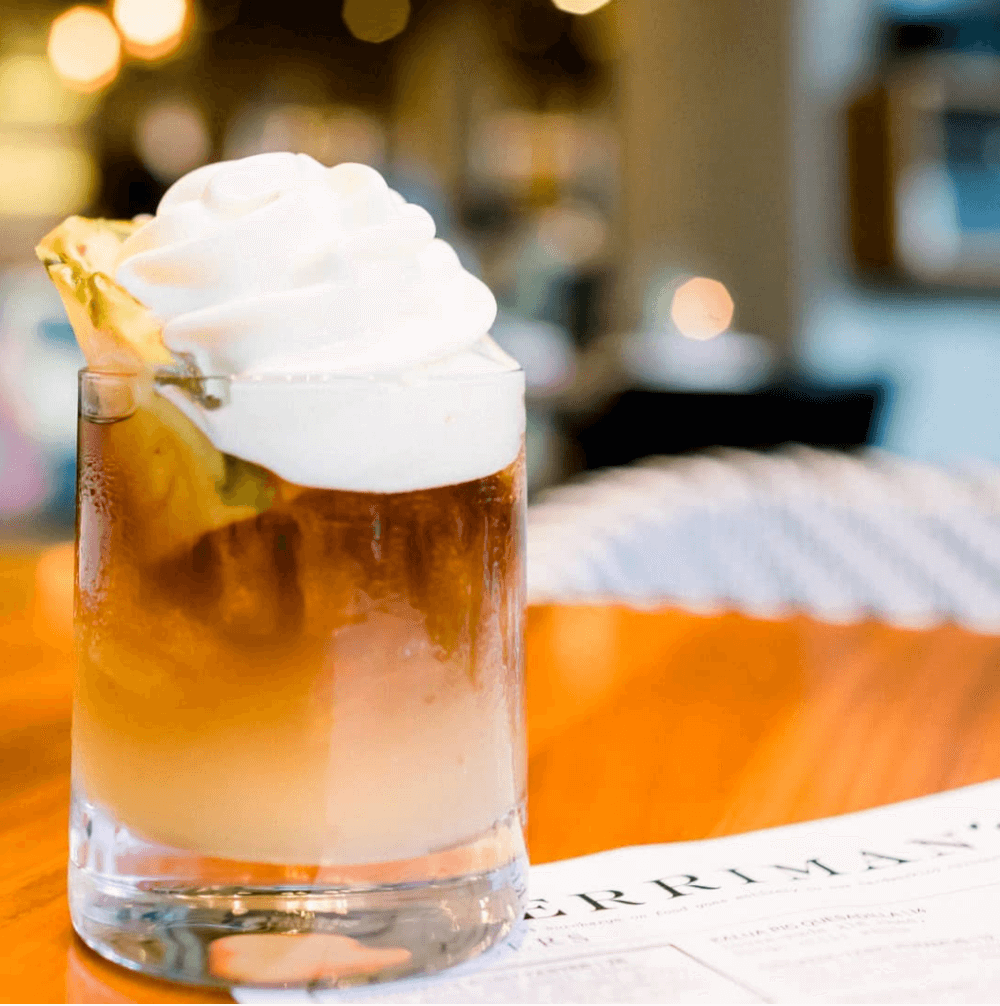 Well, a budget-friendly alternative would be to make your own drink and sip it while relaxing on your couch!
Some of my favorite Hawaiian cocktails are Mai Tais, Pina Coladas, Blue Hawaiians, and Lava Flows. They are all pretty simple to make from scratch or you can order a mix online.
Mai Tai: Here's a good Mai Tai recipe or you can order a Mai Tai mix.
Pina Colada: Here's a great Pina Colada recipe or you can order a Pina Colada mix.
Blue Hawaiian: Here's the recipe for a Blue Hawaiian or you can order a pre-made bucket of Blue Hawaiian.
Lava Flow: This is my husband's favorite Lava Flow recipe or you can order both Pina Colada and Strawberry Puree and combine them.
Of course, you can skip the alcohol to make any of these mocktails. If you really want to get fancy, get a few tiki glasses or coconut cups to sip your drink. Or hollow out a pineapple.
7. Learn to Hula Dance
When I was little, I learned to hula dance from VHS tapes my grandma brought me back from Hawaii. I loved it so much that I started taking hula classes and became a professional hula dancer. In fact, I even taught hula classes for awhile.
Every time I go to Hawaii, I always check out the free hula lessons at shopping malls and resorts. It's so fun to see newbies interested in learning a bit about Hawaiian culture through dance.
Nowadays, the internet has made it SO easy to learn new skills without going on a Hawaii trip.
Here's a great hula dance for beginners:
8. Order Hawaiian Coffee
Something I look forward to on each trip to Hawaii is sipping my coffee while gazing out at the ocean. I can't promise you the ocean view, but I can help you get a cup of Hawaiian coffee.
My favorite brand is Kauai Coffee. They have a variety of dark and medium roasts. They also come in flavors like Vanilla Macadamia Nut and Coconut Caramel Crunch. You can order whole beans, grounds, or even K-Cups.
One of the most popular coffee types in Hawaii is Kona Coffee. Royal Kona, Hawaiian Isles, and Lion Coffee are great options.
You can also just get a bottle of coconut syrup to add to coffee you already have to give it a tropical flair. Find the best prices here.
9. Learn About Hawaiian Animals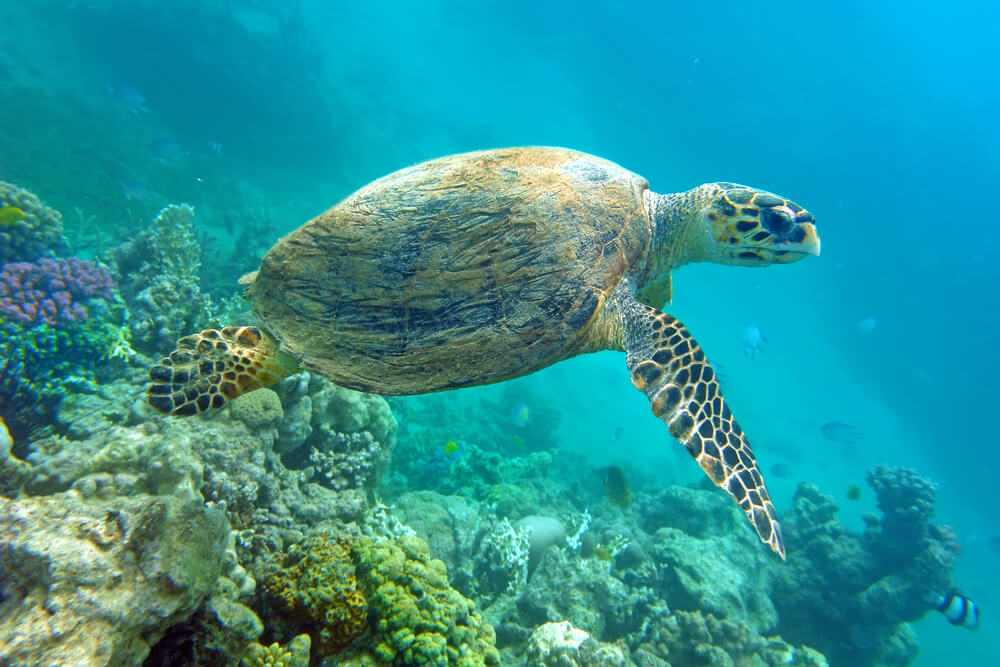 I admit, my oldest isn't that interested in animals. But, he gets SO excited when he sees animals in Hawaii. I think it's because they are in their natural habitat.Some of our favorite Hawaiian animals to see at the beach in Hawaii are Hawaiian Green Sea Turtles (called honu) and Hawaiian Monk Seals.
The next best thing is to read about them or watch videos to see what they are like in the real world. I've listed off some great resources for helping kids learn more about Hawaiian animals.
Hawaiian Green Sea Turtles: This is a great book about how to help endangered animals like the honu. Here's a video of honu swimming and one about Hawaiian Green Sea Turtle conservation. And here's a cute honu plush animal.
Hawaiian Monk Seals: This is one of our favorite books that teaches kids about Hawaiian monk seals. Here's a video about how to help the Hawaiian monk seals. And here's a cute stuffed Hawaiian monk seal.
Humuhumunukunukuapua'a: The joke is that it's name is longer than the fish! The Humuhumunukunukuapua'a is Hawaii's state fish. This is a cute book and here's an educational video. And here's a little plush animal.
10. Spa Day at Home
If you like to spend part of your vacation in Hawaii at the resort spa, you'll be happy to know that you can recreate parts of those Hawaiian experiences at home.
My favorite Hawaiian skincare brand is Malie. Their products are actually used in many resort spas in Hawaii including The Royal Hawaiian, Andaz at Wailea, and Moana Lani Spa at Moana Surf Rider.
All of their items are cruelty free and formulated without parabens, sulfates, phthalates, petrochemicals, mineral oil, silicone, talc, or gluten.
Bubble Shack is another Hawaiian skincare brand that makes the most delicious smelling soaps and lotions. They also make plumeria bath salts that will transport you to the beach.
But you can totally DIY it, too. I've got an awesome mango butter lotion bar recipe as well all coconut oil salt scrub.
I recommend listening to Hawaiian music while pampering yourself.
11. Order Hawaiian Snacks Online
A big part of Hawaiian vacations for my family is eating tons of Hawaiian snacks. We always hit up Costco, Long's, and Foodland to get some of our favorite sweet and salty treats.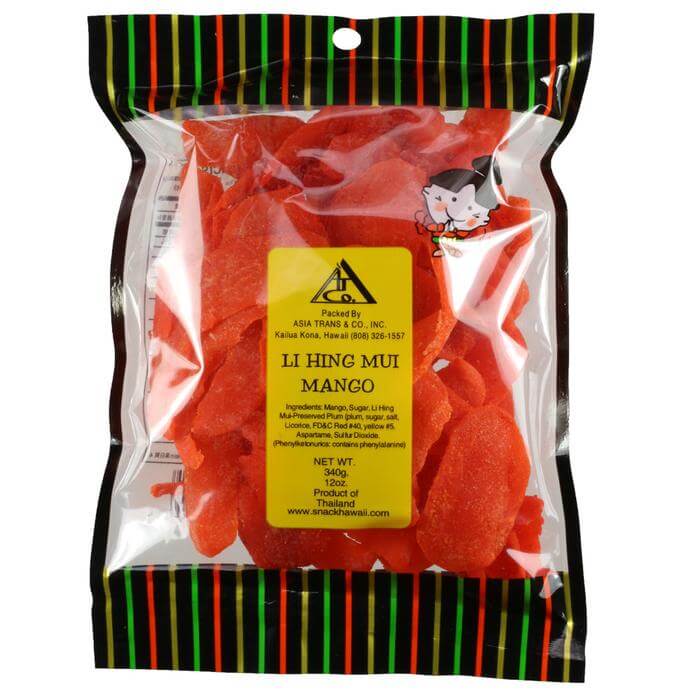 What's great is that you can order a lot of items online and get it shipped directly to your house.
Li Hing Mui Candy: This salty powdered is added to candy for the ultimate sweet/sour/salty combination. We love li hing mui dried mango, li hing sour patch kids, and li hing gummy bears. You can also order li hing mui powder and sprinkle it on fresh fruit or your favorite candy or dried fruit.
Hawaiian Cookies: I eat Hawaiian cookies every day in Hawaii and then I pack tons of them home to enjoy for weeks later. My favorite brands include Kauai Kookie, School Kine Cookies, Diamond Bakery and Cook Kwees.
Hawaiian-Style Potato Chips: We always grab a few bags of Luau BBQ and Maui Onion potato chips.
Chocolate Macadamia Nuts: Of course, I had to list the most popular Hawaiian candy to bring as a souvenir. We recommend Maui Caramacs, Alohamacs, or Mauna Loa Mountains.
12. Have a Beach Day Indoors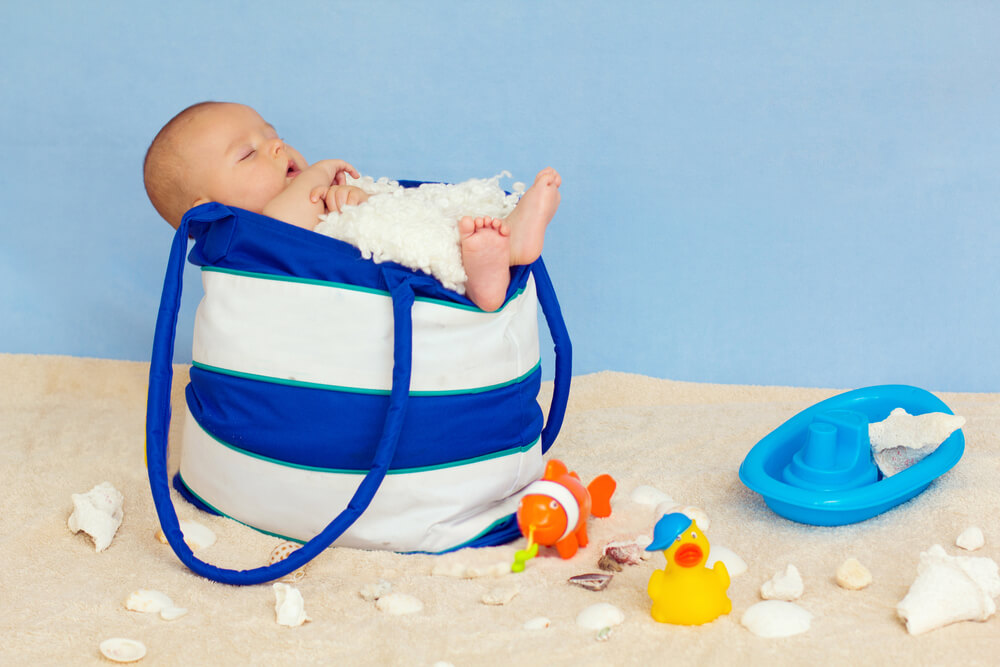 No, I'm not talking about dumping sand in your living room (that episode of Daniel Tiger still gives me nightmares!)
I mean, grab your beach towels or blankets and set up a pretend beach day. You can stream sounds of the ocean or play videos about Hawaiian animals.
Turn up the heat and kids can run around in their swimsuits. Then can even bring water toys into the bath and splash or squirt away.
You can even pack a picnic lunch, snacks, or surprise your kids with their favorite ice cream or popsicle.
Or you can set up an inflatable pool in front of the TV for a "swim in movie" night.
If you want bonus points, get some kinetic sand and sand molds and let kids play in large plastic tub.
13. Listen to a Hawaiian Podcast
Part of why visitors head to Hawaii year after year is that the people in Hawaii are so friendly and love to "talk story."
As a way to still get a bit of that experience, you can listen to a Hawaiian podcast. These are geared for adults and you can listen with headphones as you are doing household chores, taking care of kids, or relaxing on the couch.
Here are some Hawaiian podcasts about politics, the arts, Hawaiian music, life in Hawaii, and one all about the TV show Lost.
14. Make Malasadas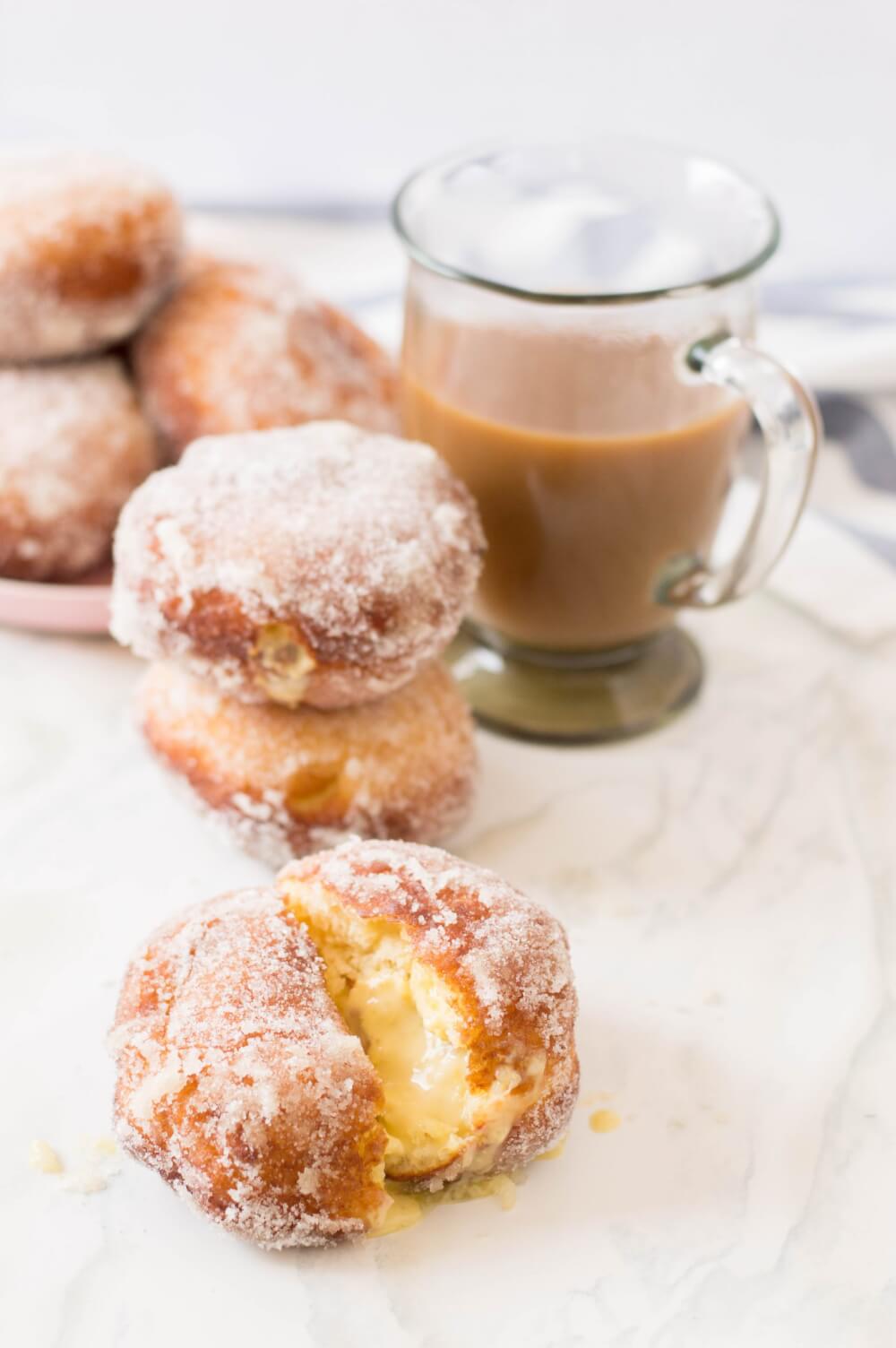 If you ask people in Hawaii what to eat for breakfast, they will definitely tell you to try malasadas. The most famous malasadas come from Leonard's Bakery on Oahu.
Since they don't deliver, the next best thing is to make them at home.
Malasadas are Portuguese donuts and they look like oversized donut holes. Traditionally, they are rolled in sugar or a sugar/cinnamon mixture. In the past few years, bakeries are now filling them with yummy tropical fillings.
There are several shortcut recipes that involve pre-made dough, but they don't taste nearly as good as the real thing so I'm not even going to link to them.
If you want malasadas that will make you drool as soon as you taste them, you'll want to try this malasada recipe. You can fill them with coconut cream, mango curd, or anything you dream up!
15. Cosmic Kids Yoga
Our family just discovered Cosmic Kids Yoga on YouTube recently. It's a fun show where a yoga instructor tells a story as she does a virtual yoga class for kids.
They have a whole episode featuring Moana. It feels a bit like you are doing a kids program at Aulani, which is pretty cool.
My 3-year-old and 6-year-old really enjoy it and it helps them get some wiggles out and calm down. The instructor keeps them occupied and then I get a little break. It's almost like a virtual kids club!
Here's the episode:
16. Do a Hawaiian Puzzle
I know it might not seem like something you'd actually do on a Hawaiian vacation, but it's a relaxing activity that will remind you of Hawaii. You can listen to Hawaiian music or sounds of the ocean as you work on the puzzle either solo or with your family.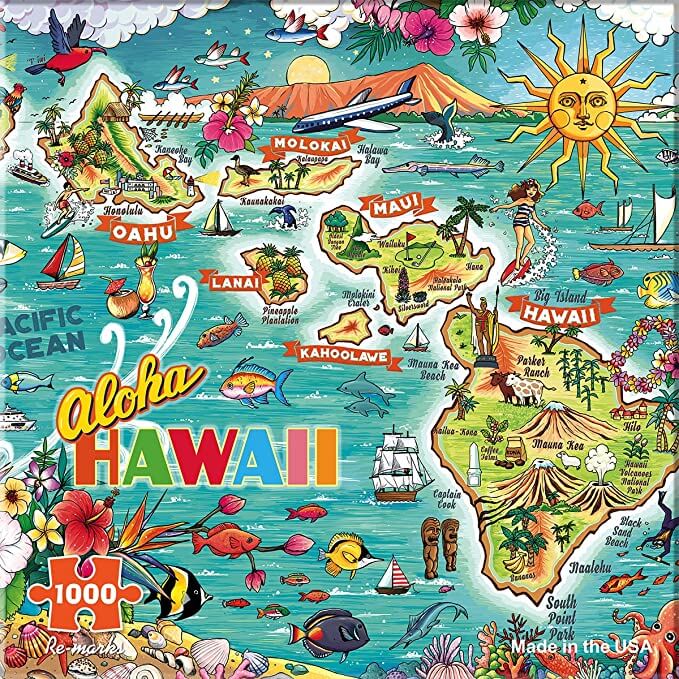 For adults, I like this retro Hawaii puzzle, Waikiki puzzle, or this hula dancer puzzle.
For kids, try this wooden numbers puzzle or Hawaiian islands puzzle.
17. ABC Stores Online
If you've ever been to Hawaii (especially Waikiki) you will definitely recognize the name ABC Store. Even just seeing their white plastic bag with blue letters floods my head with memories!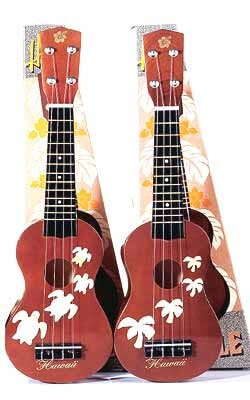 If you were planning on giving your kids a souvenir budget, you can still do that. Let them scroll through the ABC Store website and pick a few items within their budget. You can even turn this into a math activity, if you like.
Here's where you can find kids clothing, nail polish, affordable jewelry, tiki statues, plush, grass hula skirts, and ukuleles.
It's also a great place to find Hawaiian snacks, home decor, at kitschy souvenirs.
18. Read a Book Set in Hawaii
Something I like to do when I travel is read books that take place in the destination where I'm heading. I think it enhances the story for me.
But, books also have the power to transport you to another time and place. Why not let it take you to Hawaii?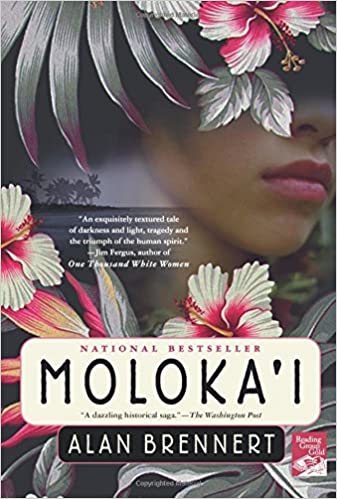 I've read a lot of books that are set in Hawaii. My favorite one is Molokai, which is a powerful story about leprosy. Yes, you will probably tear up and you will have a deeper understanding of what that time period was like.
There are also a bunch of murder mysteries set in Hawaii, like Kona Winds (written by a real Honolulu law enforcement officer.)
And romance novels like Bound in Flame.
Check out my list of Hawaiian Children's Books
19. Watch a Movie Filmed in Hawaii
Another great way to transport yourself is through the magic of movies. Hawaii is so beautiful that it's no wonder why there are so many movies filmed there.
Of course, it all depends on what type of movie you like.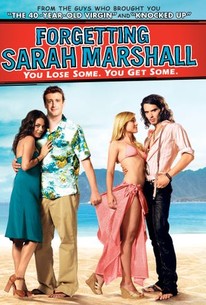 Personally, my favorite one is Forgetting Sarah Marshall. It was filmed at Turtle Bay Resort on Oahu and it includes a lot of hula dancing and beautiful scenery. Plus, it's hilarious and stars Kristen Bell, Jason Segel, and Mila Kunis.
For something on a more serious note, I recommend The Descendants. Filmed on the North Shore of Kauai, this movie starring George Clooney touches on grieving, mending relationships, and tricky family dynamics.
And if you want a movie for the whole family, we like Disney's Lilo & Stitch. It was actually set in Hanapepe on Kauai and they incorporate a lot of Hawaiian music and hula dancing throughout the movie. I recommend watching all the special features with your kids for even more Hawaiian culture.
20. Make Shave Ice
I almost didn't include this on the list because I'm so picky about good shave ice. But, it really one of the funnest Hawaiian experiences for the whole family.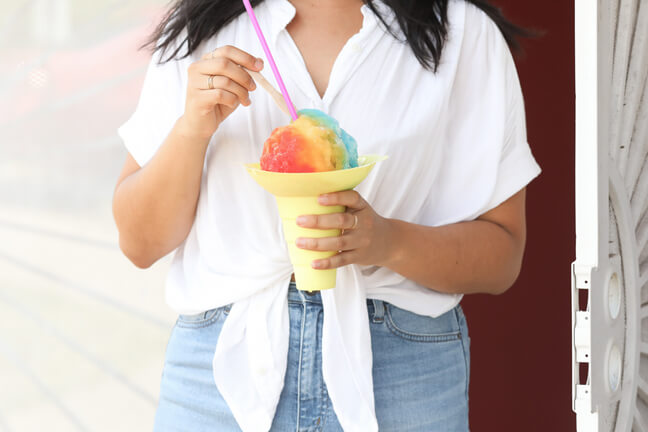 The tricky thing is that you'll need to have a shave ice machine not a snow cone machine. The difference is that the ice needs to be soft like snow, instead of grainy/crunchy.
Then, you can top with shave ice syrup, condensed milk, mochi balls, li hing mui powder, or fresh fruit.
You can order pre-made shave ice syrups or you can make your own with fresh fruit purees.
And there you have it! My top Hawaiian experiences and ideas for creating a Hawaiian vacation without leaving your home!