Heading to Hawaii with kids? Let me tell you about the best kid-friendly brunch spots in Hawaii for a delicious meal!
This family-friendly brunch spots in Hawaii post contains affiliate links which means if you purchase something from one of my affiliate links, I may earn a small commission that goes back into maintaining this blog.
If there is one thing I know about traveling with kids, it is to make sure you have options for food ready!
Now, my boys are not nearly as picky as I feared they might be, but they have been known to throw the odd fit here or there when presented with new or strange-looking (to them) food.
If your kiddos do the same, then I have some information you will want!
On our many trips to Hawaii, I have been able to visit quite a few breakfast and brunch spots.
Little boys who don't sleep past 6 am (in any time zone) give us a great excuse to get up and try out a new restaurant before the crowds hit!
We have so enjoyed our early morning adventures, and we are hoping you will, too! Here are my suggestions for the Best Family-Friendly Brunch Spots in Hawaii.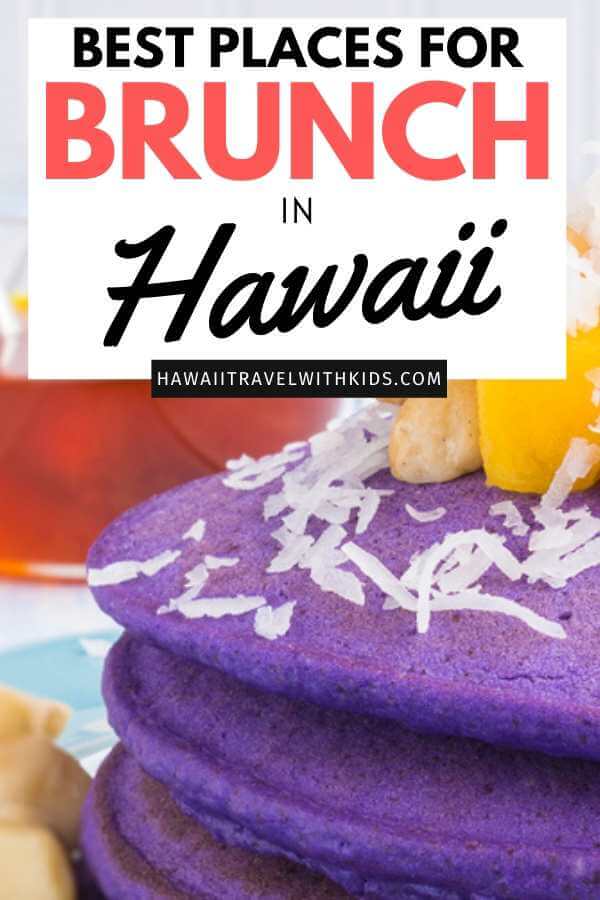 Hawaii Brunch FAQs
What is a typical Hawaiian breakfast?
Usually breakfast in Hawaii includes some sort of meat like Spam or Portuguese sausage and eggs. Loco Moco is another popular Hawaii breakfast item, as is Spam Musubi. And everyone loves Hawaiian pancakes!
Is Loco Moco Hawaiian?
You bet it is! It actually originated in a cafe on the Big Island. Traditional Loco Moco consists of a hamburger patty smothered in gravy over a bed of white rice. Today, there are lots of variations including kim chee fried rice, adding pickled ginger, Portuguese sausage, and more!
What fruits are native to Hawaii?
You'll definitely want to enjoy some Hawaiian fruit during your Hawaii vacation! A few of the best ones include pineapple, mango, lilikoi (passion fruit), and papaya.
Best Brunch in Hawaii
Best Places to Enjoy an Oahu Brunch
Over Easy is a smaller, cafe-style restaurant, but don't let its size fool you! This Kailua hot spot is usually rocking and rolling from open to close.
View this post on Instagram

Kids will love their Keiki option of mini pancakes with powdered sugar and fresh fruit! The must-try here is their Kalua Pig Hash with kalua pork, eggs, potatoes, green goddess and cilantro. Yum!
Sweet E's Cafe in Honolulu has earned it's namesake several awards in Hawaii. Tucked away from bustling Waikiki beach, this little cafe offers generously sized, amazing dishes at reasonable prices.
View this post on Instagram
The owner is a mom herself, so you know she has got some kid-friendly fare on the menu! Please make sure you try the Extreme Mess. Don't ask, just trust me on this one!
Kono's is a three-time "Best of O'ahu" award winner, and is a wonderful stop for brunch along the North Shore.
View this post on Instagram
Whether you were braving the gorgeous waters around Shark's cove to take in the breathtaking under-water sights, enjoying Sunset Beach, or just relaxing with a nice drive along Kamehameha Highway, make sure Kono's makes it on to your itinerary!
The Keiki menu is sure to delight your little ones, with more options specifically for kids than almost anywhere else. While you're here make sure to try any of the Breakfast Bombers, a breakfast wrap with a Hawaiian twist!
Big Island Brunch Spots

Hawaiian Style Cafe has two locations on the Big Island. One location is on the island's east side in Hilo, the other is located farther north in Waimea.
View this post on Instagram
Both locations are fabulous and offer a friendly, welcoming atmosphere.
There are more options here than you will know what to do with, so trust me and try the Banana Macadamia Nut Pancakes. You won't be sorry!
808 Grindz Cafe is located in Kona, and is the sister restaurant to the well-known 808 Grindz Cafe in Maui.
While there is no official Keiki menu, there are plenty of options "From Da Griddle" which is my boys' go-to anyway!
When you do get a chance to try 808 Grindz Cafe out, make sure you ask for some of their "Secret Sauce." It's creamy, sweet, delicious and unfortunately addicting, so don't be surprised if you wake up the next morning craving more!
Splashers Grill on the Kailua Bay is one of the few places on the Big Island that is open every day. Most restaurants close at least one day a week – usually Monday or Tuesday. Splashers Grill does not, which is nice when you want a yummy brunch on a Monday morning!
The Keiki menu here has a lot of options like fruit, toast, mini-cakes, and eggs. Nothing too strange or new here!
The must-have here is certainly their Famous Stuffed French Toast with Hawaiian Bread. It is stuffed with a cream cheese mixture that is to die for, and I wish I could get my hands on whatever magic they put in there!
Places to Eat Brunch on Maui
Kihei Caffe is said to be the "Best Breakfast in Kihei," and it seems they got that right!
View this post on Instagram
Not only do they serve breakfast all day, but their day starts with a 5 am open! We are lucky and the boys don't usually wake us up that early, but you had better believe we would need some of Kihei Caffe's amazing coffee if they did!
In fact, that would have to be the must-have here, the Macadamia Nut Coffee. Think of it as Hazlenut flavored coffee, but richer, darker and slightly less sweet. In other words, perfection!
For your littles, the Caffe has something they will love – that is if they love Whale or Honu (Turtle) shaped chocolate chip pancakes! I have yet to meet a child who can resist these delicious underwater creations!
Charley's Restaurant and Saloon in Paia on the north side of Maui has a backstory almost as good as it's food. The original owner named the restaurant after his pet Great Dane – Charley!
Since then the restaurant has flourished as a niche for families, surfers and tourists alike, drawn to the eclectic and amazing variety of dishes offered.
The pancakes are supposed to be so good and so huge that Willie Nelson once asked if he could help flip them! When you visit, that is exactly what you should ask for – a giant pancake and a coffee just like Mr. Nelson!
The Kula Lodge is worth the trip just for the scenic views alone. The wonderful meal just seems like a bonus!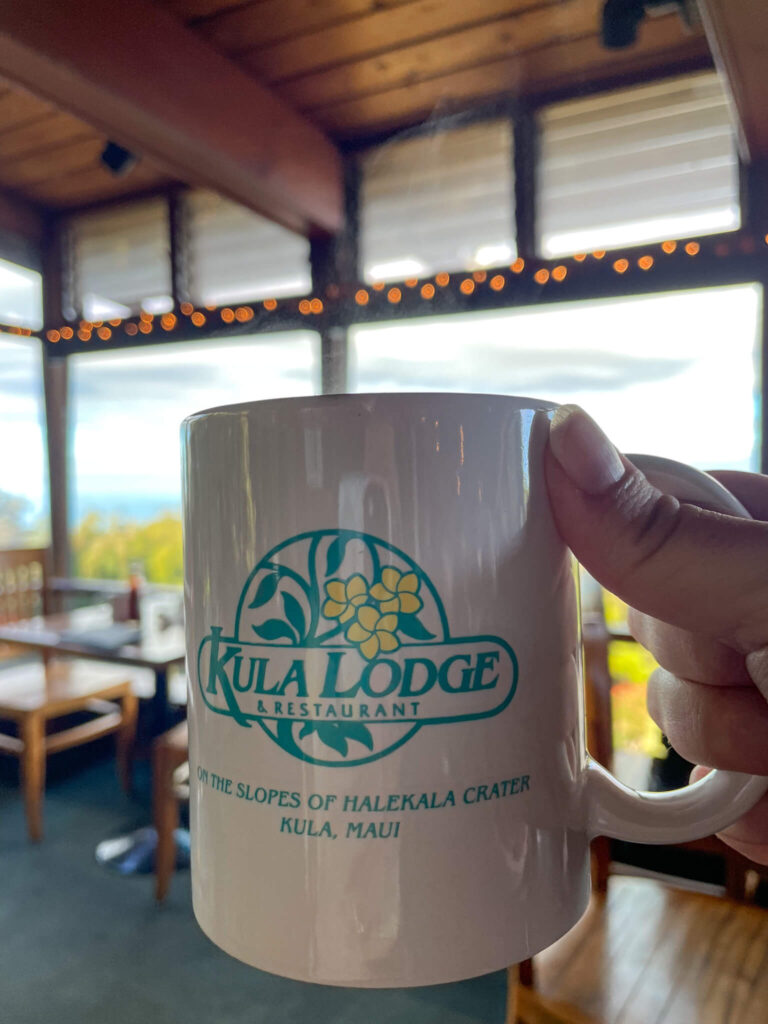 At 3000 feet above sea level, both the indoor and outdoor seating options give the diner a wonderful view of the entire western side of Maui.
The prices are a bit higher here, but the view more than makes up for that, and kiddos can easily find something that interests them on the griddle menu.
The must-try here has nothing to do with the food, just try to take in as much of the beauty from this gorgeous brunch locale as you can!
Best Kauai Brunch Locations
Kountry Kitchen is on Kauai's east side, and is known for its "Hawaiian Sized" portions of food. My boys are eaters, but I don't think even they would be able to finish all that food in one sitting!
View this post on Instagram
The thing that makes my husband and I happiest is that they not only use local ingredients, but they tell you where the ingredients in your dish came from! It makes this mama's heart happy to know that we are not only eating well but also supporting local businesses in the process!
Try the Salty Monkey Waffle the next time you visit. With bananas, nuts and a salted caramel sauce drizzled over it, you might get a few bites in before the kids steal it!
NOM Kauai is shaking some things up in Kapa'a on Kauai! They are a southern-influenced Hawaiian eatery – right down to the local honey used in The Hot Honey, NOM's take on chicken and waffles.
View this post on Instagram
They are closed on Tuesdays, so make sure you plan accordingly.
When you go, be sure to try The Notorious P.I.G., a jalapeno cornbread waffle with maple pork belly and an egg on top. Are you getting hungry yet?
Kalaheo Cafe and Coffee Company is nestled between the beach and 4000 acres of coffee farms on the western side of Kauai.
View this post on Instagram
Kids will love eating there on Sundays when you can get brunch any time of day! Parents will love the variety of meals offered, from a Bagel Benny to Cinnamon Bread French Toast.
After your delicious meal, find a coffee farm nearby to tour and learn about where your favorite coffee comes from, and how it is grown.
Brunch is such a fun meal! We don't get to go out for breakfast much at home, so we make sure to take advantage of the opportunity when we are on vacation.
Hawaii has so much wonderful food to offer, it's no wonder they do brunch right as well!
Let me know which of these Best Family-Friendly Brunch Spots in Hawaii you make it to, and how much you loved the experience! Aloha!