Are you thinking about heading to the biggest hula festival in the world? Get all the best tips and tricks for planning the ultimate Merrie Monarch Festival trip on Hawaii's Big Island. Scroll for all the info!
This Merrie Monarch Festival post was written by Hawaii travel expert Marcie Cheung and contains affiliate links which means if you purchase something from one of my affiliate links, I may earn a small commission that goes back into maintaining this blog.
Merrie Monarch Festival
Hula is more than just a dance. It is the language of the heart that beats to the rhythm of the Pacific.
Hula isn't just an art form to be appreciated; it is a lifestyle and tradition passed on from one generation to the next.
The hula once was a means to communicate history and lessons of old. It was the way not only Hawaiians, but Polynesians expressed their gratitude to the land, sea, and sky.
Today, hula is an art form that transcends time.
It is a story that is spoken with a sway of the hip and the flick of the wrist. The chants tell tales of times past and transport the listener to a different space and time.
It is a magic that can only possessed by those who have learned the craft and each year, the best of the best come together to entrance and entice the listeners.
In the cool month of April, hula dancers from all walks of life, all islands, and all traditions come together under one roof to weave their tales to hypnotic beats and chants.
For three magical days the dancers showcase different styles of hula and different art forms that mold the past and the present together.
The Merrie Monarch Festival is something that must been seen in person to truly experience. It is more than just a hula competition, it is history, tradition, and art all rolled into one.
Don't have time to read a bunch of Hawaii blog posts and reviews? Here are some of our top picks for visiting the Big Island.
Popular Big Island Tours/Activities
Favorite Big Island Resorts/Hotels
Want to Rent a Car in Hawaii?
One of the best places to rent a car in Hawaii is Discount Hawaii Car Rental because they get the best rates from top national companies like Alamo, Dollar, Thrifty, Avis, Enterprise, Budget, and Payless.
Want to skip all the planning and just access my detailed Big Island Itinerary complete with daily schedules, kid-friendly activities, and travel hacks? Click the button below.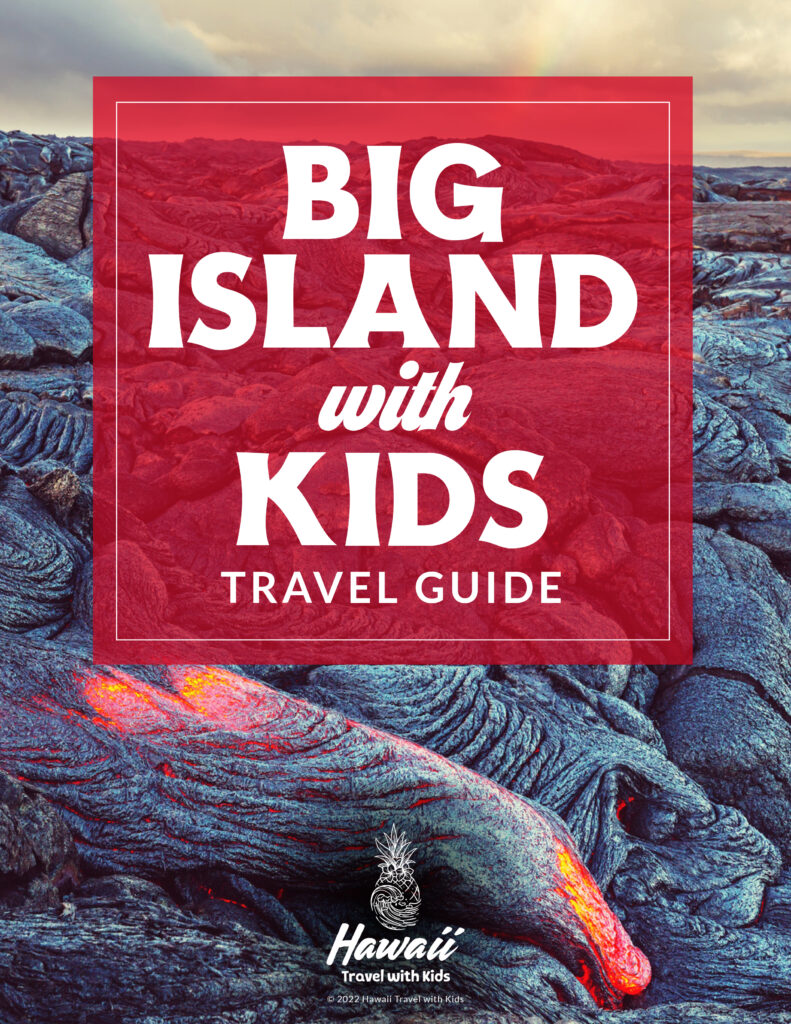 Merrie Monarch FAQs
What does Merrie Monarch mean?
The term "Merrie Monarch" was the nickname of Hawaii's last king, King David Kalakaua. He was a fierce supporter of the arts and he is the namesake of this hula festival.
When was the first Merrie Monarch Hula Festival?
The inaugural festival was in 1964. The festival has evolved a lot since then with more rules and stricter competition guidelines.
How often is the Merrie Monarch Festival?
This annual hula competition runs for a week each April. In 2021, the festival will be streamed online only without any in-person attendees.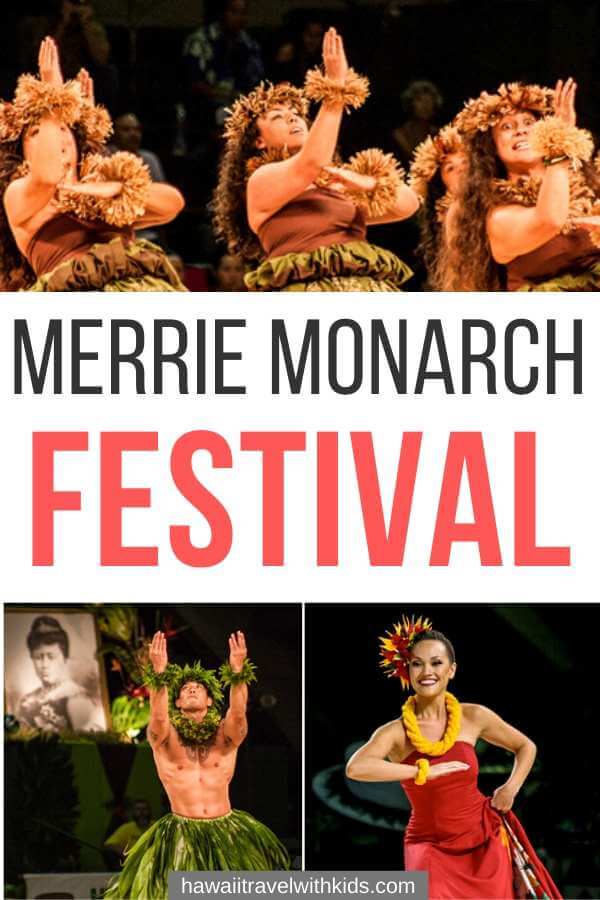 History and Why it's Special
When the Christians came to Hawaii, they wouldn't let the Hawaiians celebrate their traditions or their lifestyle. Hula and other practices were banished and frowned upon.
But there was one who despised this way of thinking and the suppression of his people. King David Laʻamea Kalākaua put his foot down and advocated to regain a fraction of what the Hawaiian people lost during the Christian years.
King Laʻamea Kalākaua wanted to have his people proud of their heritage. He wanted them to know where they came from and strived to renew the pride that went along with hula, medicine, music, and art.
It was during his rule that the 'Iolani Palace was constructed and it became the symbol of pride and sovereignty.
Because the Hawaiians had no written language, they taught through hula and chants. These performances spoke of traditions, myths and legends, genealogy, history and even religion.
Today, while we may not have King Laʻamea Kalākaua, we do have his spirit.
During the Merrie Monarch Festival, Hilo becomes the beacon for which all forms of Hawaiian culture and art emerge. It is a time when the grand parade which showcases the royal court is presented just as in days past.
The event has an arts and craft fair where Hawaiian artists sell and showcase their work for all to see.
The Merrie Monarch is a continuation of what King Laʻamea Kalākaua started so long ago. It brings together the people from all islands to share history and stories and be proud of who they are as a people.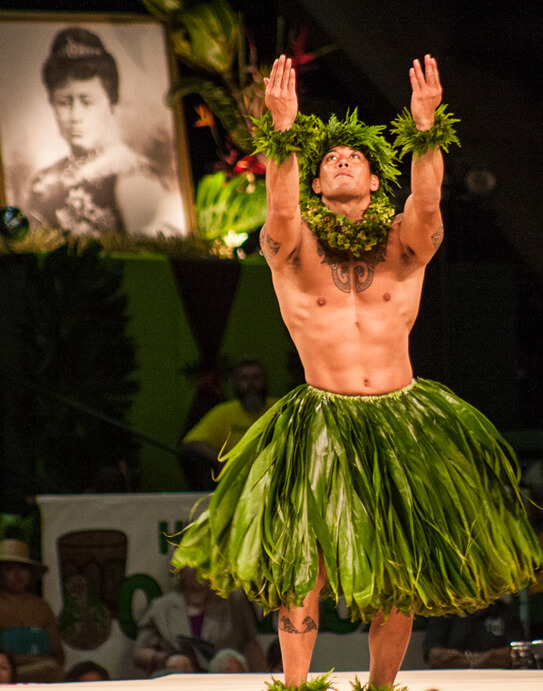 How to Get Merrie Monarch Tickets
Getting tickets to the Merrie Monarch Festival isn't something that you can just go to your local ticket office and get. No, not at all.
Because of the prestige and honor that goes with being presented at the Merrie Monarch Festival you have to request your tickets well in advance.
To request seats for the three day event, you have to print out a form and fill it out. Then you must send the form in with your method of payment along with a self-address stamped envelope.
Ticket requests must be submitted by December 1, or if the date falls on a Sunday, then it goes to December 2. There is no way to request tickets online or through any other process.
The ticket costs range from $7.00 for one day general admission on Thursday for the Miss Aloha Hula. Floor admission is usually the area closest to the stage. If you wish to go for the hula competition on Friday and Saturday then the general admission is $27 for one ticket.
If you'd like to upgrade your seating there is the option to do so, but these ticket prices do go up.
For sections N and NR the ticket price for the Friday and Saturday hula competition is $35. For sections AE, A, B, C, D, K, L, M, P, Q, VL, and VR the ticket price for all three nights will cost you $42.
However, the best seats to watch the Merrie Monarch for all three nights would be in sections E, F, G, H, I, and J. The price for these seats costs $47.
In order to ensure that you get tickets for the Merrie Monarch Festival, you want to get the form filled out and sent on December 1. The tickets sell out fast and the sooner you get your name in the better.
Request your Merrie Monarch Tickets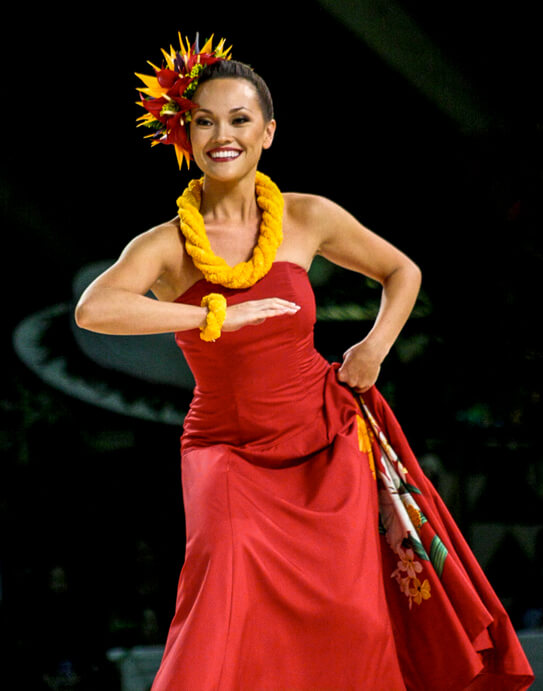 Things to Know When Buying Merrie Monarch Festival Tickets
There are a few things you need to make sure you do so that you get your tickets.
First, to pay for the tickets you need to get a money order or cashier's check. Make sure that you have the self-address stamped envelope so they can mail you back the tickets. Or if by chance tickets have been sold out, you can get a refund.
Now this is important, if you get a money order through a third party you need to make sure that you can cancel it. Often times the tickets for this event are sold out by the end of December and a lot of people will need to be able to get their money back.
So make sure that where ever you get your cashier's check or money order allows you to return it or you'll be out the cost of your tickets.
Another thing you need to be aware of is that you can only request two tickets per person. If you have a group of people that want to attend the festival, then they each need to request their tickets. You can't ask for six tickets. You will be denied and have your funds sent back to you.
You must honor the postmarked date. You can't mail off your form on November 30th thinking that you can skate in earlier. The people in charge of the festival look at the postmark and if they see it is before December 1, they will return it to you.
Where to Stay during the Merrie Monarch Hula Festival
So, you've got your tickets and the date is set. The best thing you can do is book your hotel the day you receive your tickets. The Merrie Monarch Festival not only sells out of the event, but the hotels sell out fast as well.
Hilo is not a very big town in comparison to say Honolulu. It is actually quite small and has a limited number of nice hotels that will make it easy to get to and from the hula competition.
As you can imagine, these hotels book fast and well in advance to the competition. So the moment you know you are going, get your room booked.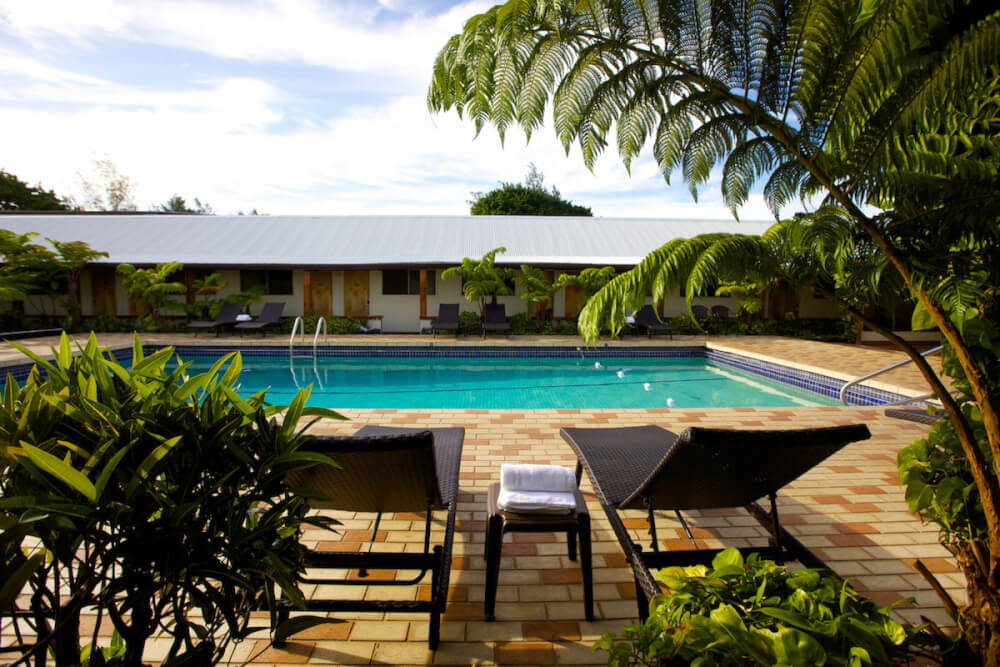 But Where to Stay in Hilo for the Merrie Monarch Festival?
There are at least three decent hotels to stay at in Hilo.
HILO SEASIDE HOTEL
You might want to start by checking out Hilo Seaside Hotel. The Hilo Seaside isn't going to be your five star resort. But what it doesn't have in accommodations, it makes up for in service. Check out the latest prices and more details.
The people here really are super nice and they go out of their way to make your stay as comfortable as possible.
Plus, if you are on a budget this is the perfect place.
You'll also find that the Hilo Seaside Hotel isn't that far from the hula competition, in fact it is only 1.3 miles from the event. You could easily stroll through Downtown Hilo, or grab a cab to get to the event.
The hotel is right on the water line and makes for great sunrises and a spectacular view of Hilo Bay.
GRAND NANILOA HOTEL
Another place you might consider is the Grand Naniloa Hotel. This property is owned and operated by Hilton, so you know it's going to be top notch. Check out the latest prices and more details.
This hotel is a resort and you can find not only great restaurants on site, but a spa and the best view of Hilo Bay. Plus it is only 1.66 miles from the event, so walking there is a breeze.
CASTLE HILO HAWAIIAN HOTEL
If you can't book at the two places, then check out the Castle Hilo Hawaiian Hotel. While this place isn't as glamorous as the Double Tree, it'll be worth the price in friendliness and history. Check out the latest prices and more details.
It is only 1.6 miles from the Merrie Monarch Festival.
The hotels listed are the closest you can get to the event. The sooner you book the more likely you'll be staying right on top of the main events like the parade and the competition, so book earlier.
If you can't get a room at these locations, then check out Hotels.com or Expedia.
The last thing you want to do when looking for a hotel is book directly through the hotel. A lot of hotels know that the Merrie Monarch brings in huge crowds and will raise the rates the closer the event gets.
To avoid the price jumps, book with a third party and find deals that are offered through the third parties.
Also, if you have funds for a car, and traveling for 40 minutes or so isn't an issue for you, then look for hotels that are further away from Hilo Bay. You'll find cheaper rates.
Of course if you really want to fully submerse yourself in the culture and experience it all, get a room at the Kilauea Lodge and Restaurant. Check out the latest prices and more details.
It will be pricey, but how else can you submerge yourself in the beauty and nature that the hula dancers speak of?
Best Restaurants in Hilo
When you are in Hilo, you'll find all sorts of places to eat. There are your typical fast food places for those on a budget and the fancy sit down restaurants for those with a little more cash to burn. But the absolute best place you must go and eat is Cafe Pesto.
View this post on Instagram
Cafe Pesto in Hilo has the best food anywhere. The restaurant fuses Hawaiian delicacies with Mediterranean. You can get the Hakalau sandwich which comes with Kalua Pork or turkey and mango chutney. Or taste their home made pizzas like the Thai Chili Shrimp pizza that is over the moon.
No matter what you get here, you're taste buds will be amazed. The shrimp nachos are also amazing and a must try.
Ways to Get Around Hilo
There are several ways you can get around Hilo. Walking is always the best.
If your hotel happens to be in Downtown Hilo, then you can walk to anywhere and see amazing things. Like Banyan Drive where huge banyan trees line the street and the park is lush and relaxing next to Hilo Bay.
Of course you can also get a taxi for places that are just out of reach, like the mall. But if you really want to experience the wet side of the Big Island, then you should rent a car.
There are several car rental places at the airport or even around some hotels like the Double Tree location. Renting a car is a great idea if you want to explore around and head about 40 minutes out of town and check out the volcano going west.
Or if you go south east, there is always Akaka Falls that is located in Lapahoehoe. But the falls will also be about 40 to 50 minutes outside of Hilo.
There is also the option of renting a moped or bicycle for those who want a faster way to get around than walking. It really depends on what you want to see and how far away you want to travel.
Things to See in Hilo
The Merrie Monarch Festival maybe the reason you are visiting the Big Island, but it doesn't mean that is all there is to see or do during this time. You'll find there are tons of things to see and do in and around Hilo.
You might want to start with the parade. The selected royalty makes their way down the main street in Hilo on beautiful horses. It is tradition for the procession to take place just as it did during King Laʻamea Kalākaua rule before his "Silver Jubilee."
The parade is more than just floats; it is tradition and the start of the festivities.
Then of course there is the Banyan Tree Park and the smooth flowing river that winds lazily through the city. If you have time you can always rent a kayak or paddle board and head to the waterfall at the end of the river. It doesn't take much time, and its easy going. It's a perfect activity for everyone in the family.
Of course if you are more interested in art, then you can check out the arts and crafts fair.
This is where artists from all over the islands brings their designs, and crafts to sell and showcase. Some people will sell Koa wood furniture, or housewares like bowls. Some will have Pahu Mele's decorated (these are the bigger drums), or puniu's (these are the small hand held drums), or colorful ipu's.
But musical instruments aren't the only thing you'll find at the fair. There are some ono grinds here too.
In fact, you may want to just munch on the food that you find here instead of going to a fancy restaurant. The food here is of course homemade and it doesn't get any better than that. Plus there is always the paintings and other artworks that are sold here.
So it's worth checking out especially if you want to get the full experience of the festival and feel the spirit of King David Laʻamea Kalākaua.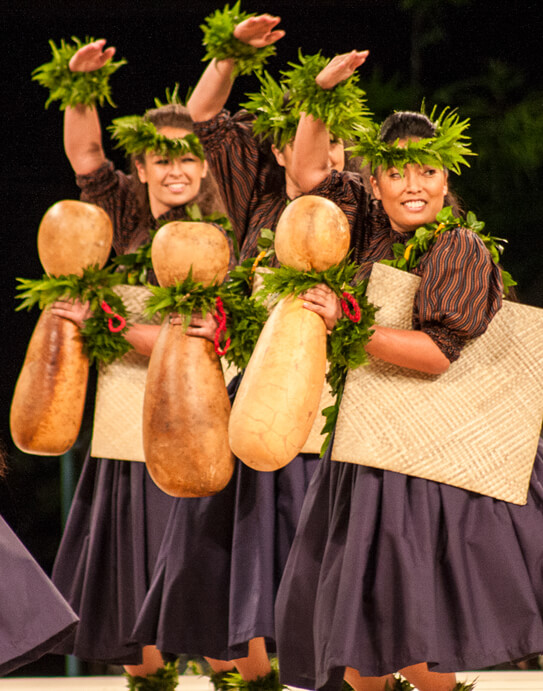 What to Wear to the Merrie Monarch Hula Festival
You may be wondering what you should wear, well business casual always works. Or if you happen to have an aloha shirt or dress you want to wear go for it. The dress code isn't that strict.
However for the competition you'll want to dress nicely. No torn jeans or clothing with holes in them even if that is the style.
You'll also want to bring a light jacket. After all, Hilo is the wet side of the island and tends to rain in the evenings every day during that time of year. Packing an umbrella is your call. The rains in Hilo can be fickle. Sometimes it rains hard for a short period of time and other times it's a light drizzle.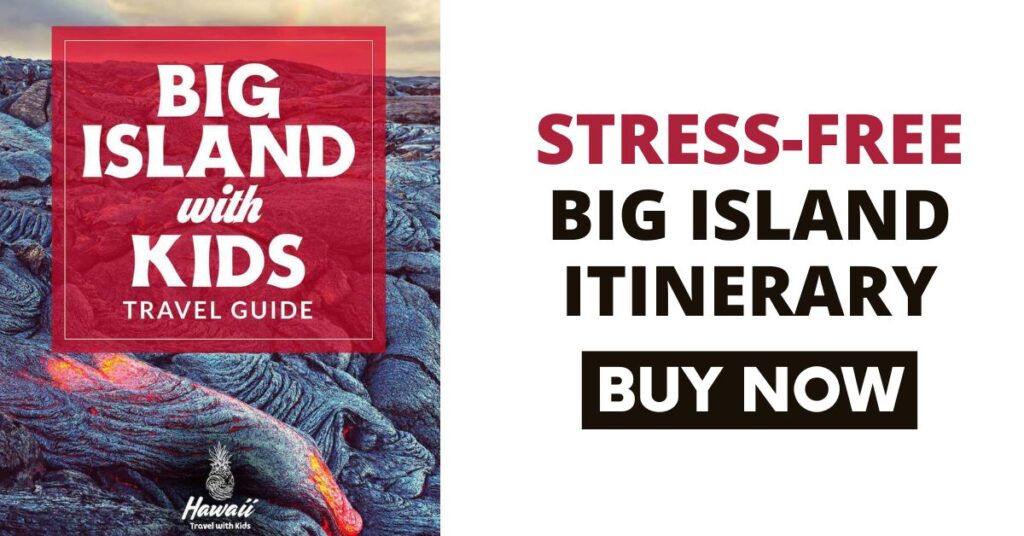 Conclusion on the Merrie Monarch Festival:
The Merrie Monarch Festival is a great event for the whole family. Of course it would be best to experience the competition with children 5 and older since younger kids don't really have the patience for the whole show.
And even if you didn't get tickets to the hula competition, doesn't mean you shouldn't go.
The parade is free to attend, so is the arts and crafts that line the streets. So even if you don't get into the building, you can still enjoy the event.
Plus, there is always the option to catch competition through a streaming service. Or, if you're patient you can always wait for the DVDs to come out.