Planning a trip to the Big Island and want to book a place to stay that doesn't cost an arm and a leg? Find out our top budget-friendly Big Island hotels.
This budget-friendly Big Island hotels post contains affiliate links which means if you purchase something from one of my affiliate links, I may earn a small commission that goes back into maintaining this blog.
How many of the Hawaiian Islands have you been able to visit?
I have to admit, there are a few we have not really made it to. The Big Island, for example, is on our shortlist of places to go for our next family vacation, and I am SO excited!
I visited once when I was in high school but only for 24 hours. That's really not enough time for me to really check it off my bucket list.
There are so many things for families to do, and my head is bursting with the possibilities. My friend just went to the Big Island with kids and now I'm ready to book my ticket!
The thing I always do first, no matter where we are going, is to find a hotel or a place to stay.
Sometimes it's a well-known hotel chain, sometimes it's a condo rental, and sometimes it's a house I found on Airbnb or VRBO.
I am always on the hunt for a good deal – so we can spend less of our budget on the hotel, and more of our budget on making memories!
The nice thing about the Big Island is, well, it's BIG! There are more hotels to choose from here, and a better chance of finding a deal.
I still always recommend booking as early as possible and calling the hotel to confirm you have the best rate.
Often I call before I book, and they will give me a slightly better rate than I could have gotten online – because they don't want to have to pay the service fee! Win-win!
If you are planning a trip to the Big Island and feeling stuck on where to stay, take a look at my list of 10 Budget-Friendly Big Island Hotels!
First trip to the Big Island? Read THIS first!
Don't have time to read a bunch of Hawaii blog posts and reviews? Here are some of our top picks for visiting the Big Island on a budget.
Best Budget-Friendly Big Island Activities
Best Budget-Friendly Big Island Hotels
Grand Naniloa (this is my favorite place to stay in Hilo and it has an incredible ocean view)
Kalani Kai (this is a great, affordable condo option right in Kona town)
Ali'i Villas (it has a heated pool, making it perfect for winter months)
Want to skip all the planning and just access my detailed Big Island Itinerary complete with daily schedules, kid-friendly activities, and travel hacks? Click the button below.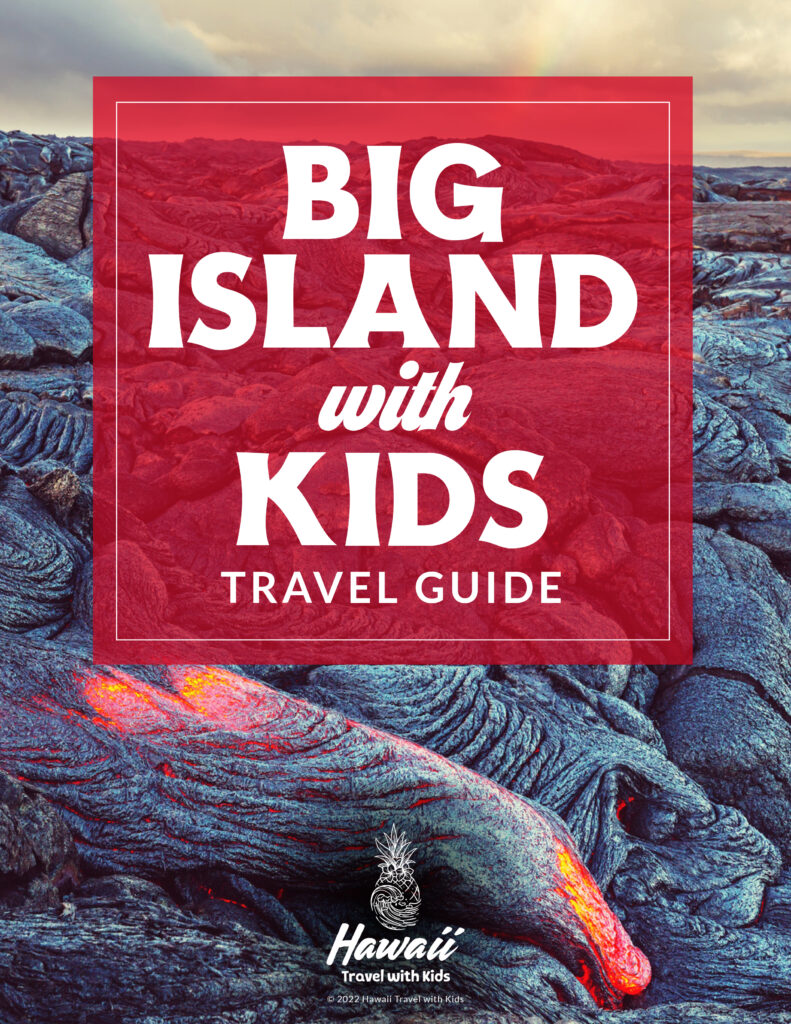 Cheap Big Island Hotels FAQs
What is the best part of the Big Island to stay?
You'll have the most accommodation options on the Kona side. Waikoloa is a nice area to get away from tourists. Hilo is another great option to find cheap Big Island vacation rentals.
What can you do on the Big Island for free?
There are lots of free things to do on the Big Island like exploring Rainbow Falls, going hiking, seeing a hula show, snorkeling, and so much more.
Is Maui or Kona better?
If you're deciding between a Maui or Kona vacation, it comes down to what you want to do. Maui has the Road to Hana, Haleakala Crater, and Molokini Crater. The Big Island has Hawaii Volcanoes National Park, Mauna Kea, and black sand beaches.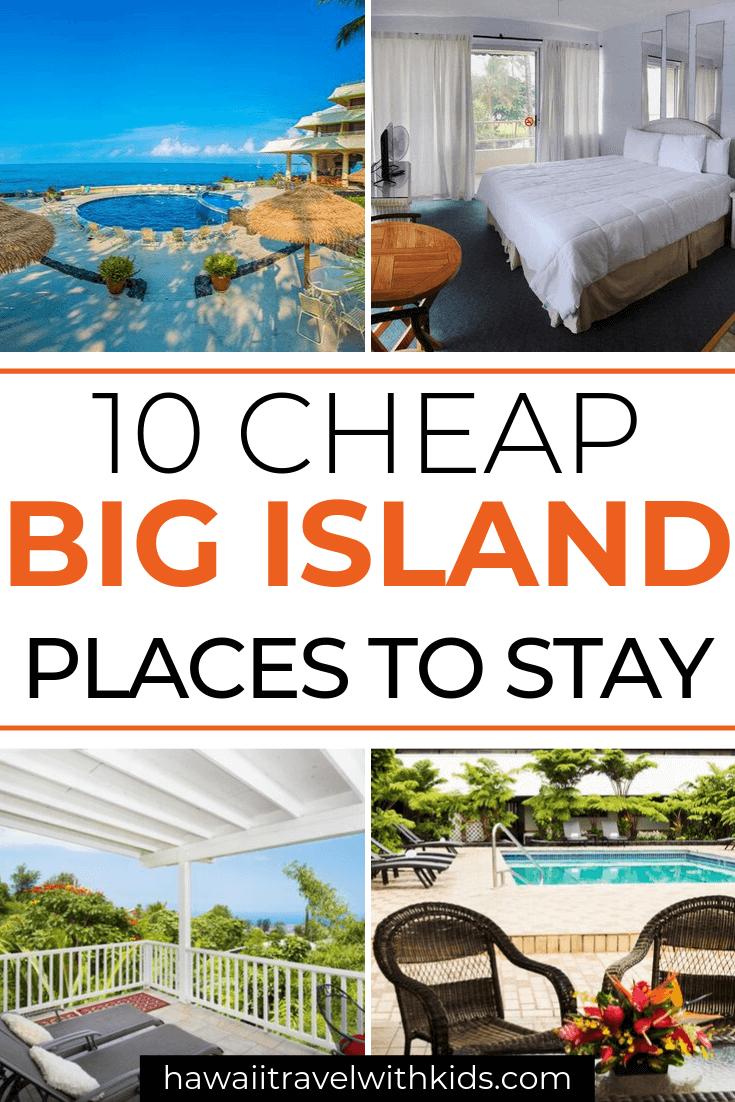 Top 10 Budget-Friendly Big Island Hotels
1. ROYAL KONA RESORT
The Royal Kona Resort is one of the closest hotels to Kona International Airport that could be considered "less expensive."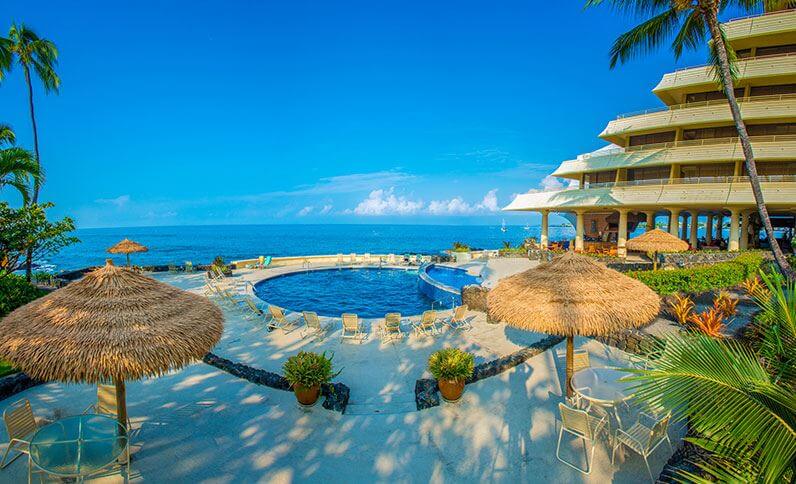 At only 9 miles from the airport, you can get to the Royal Kona Resort in 15 to 20 minutes.
They have everything you could ever need – tennis courts, a spa, a restaurant, pools, a saltwater lagoon, and much more!
Rooms start at about $159 per night for a standard double-bed or king-sized-bed room without an ocean view. Check out the latest prices and more details.
You do need to know that not much comes with the room fee – but is available for a slight upgrade! Wi-Fi, parking, and breakfast are all extra, but this is still one of the only "affordable" Big Island hotels on this side of the island and this close to the airport.
So go, swim, relax and enjoy, knowing that you got an awesome deal!
2. BEARS' PLACE GUEST HOUSE
Bears' Place Guest House is the perfect place to go for quiet relaxation.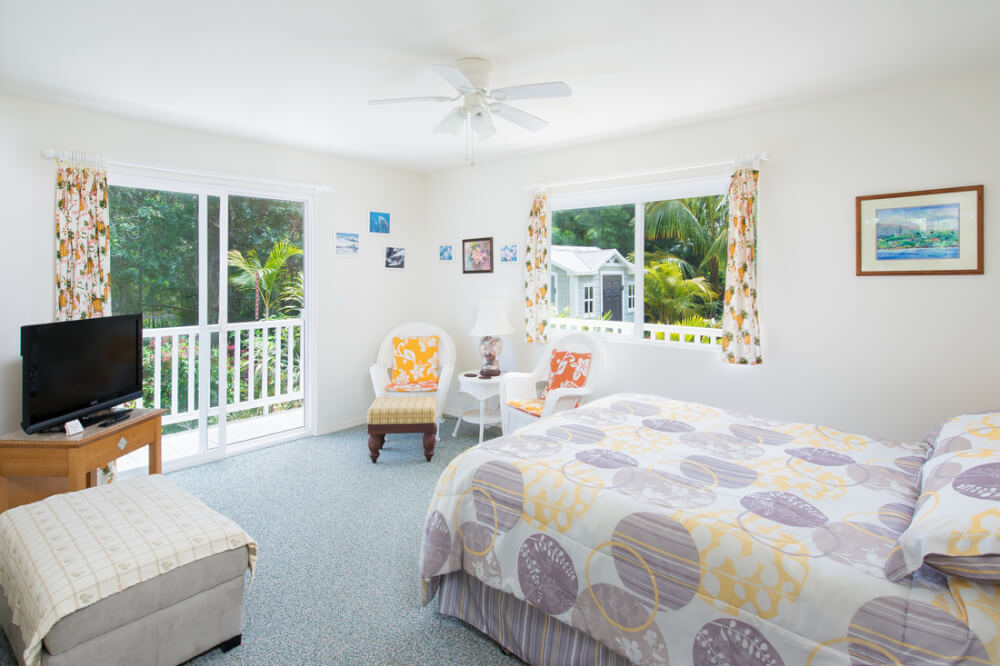 Located about seven miles north of the heart of downtown Kailua Kona, this wonderfully quiet and peaceful retreat can be a starting point for adventure or an escape from the world.
Amenities include kitchenettes in some suites, and sleeper sofas in most.
Prices start at $84 per night for a week stay, but do rise and fall depending on the number of nights you plan on staying and the suite you choose. Check out the latest prices and more details.
If you are someone who is looking for peace and quiet on vacation – you can find it here!
3. ALOHA JUNCTION BED AND BREAKFAST
Are you as excited about anything with the name "Bed and Breakfast" in it as I am?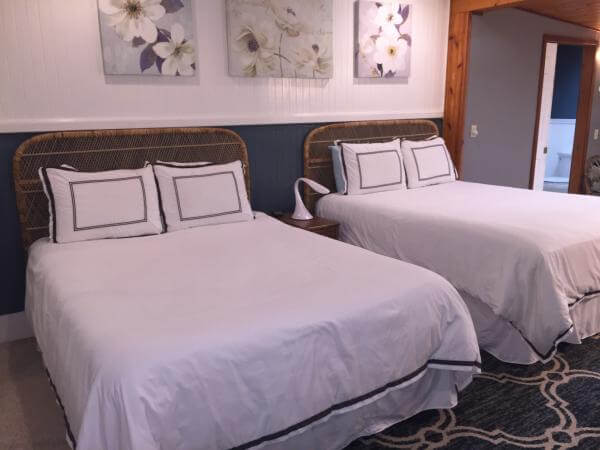 Aloha Junction Bed and Breakfast is just a stone's throw away from Hawaii Volcanoes National Park.
This Bed and Breakfast is situated on a 1925 plantation site, and the owners live just a short walk from the main house.
Robert and Susan take pride in their rooms, and it shows! A double room for a family starts at $139 per night, and that includes a wonderful fresh breakfast each day.
If you are interested in hiking, biking, or exploring Hawaii Volcanoes National Park, this little "B and B" would "B" a wonderful fit!
4. ALOHA HAPPY PLACE
Aloha Happy Place is a Bed and Breakfast located just a few minutes from all the beauty and experiences housed within the Hawaii Volcanoes National Park.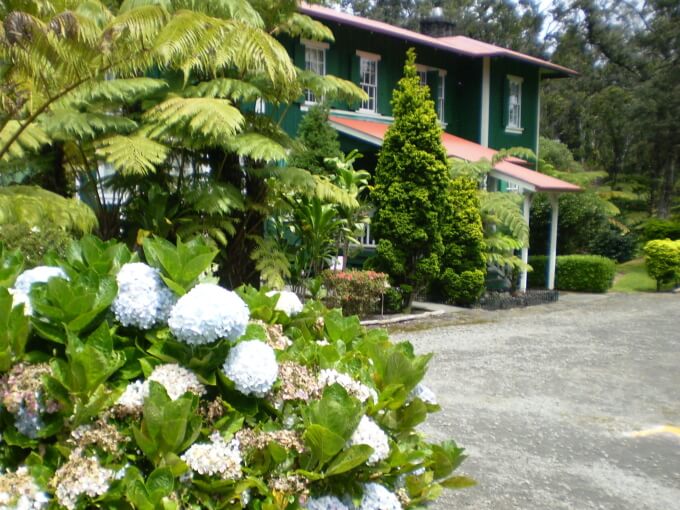 Perfect for couples or 1-child families, the rooms all have either a queen bed, twin beds, or a combination of the two.
The "Paniolo" room has a queen bed and one twin bed. If you are traveling with your loved one or just one kiddo, this would be the perfect place with rooms starting at $125 per night.
5. VOLCANO INN HAWAII
If you choose to stay at the Volcano Inn Hawaii, you will not regret it!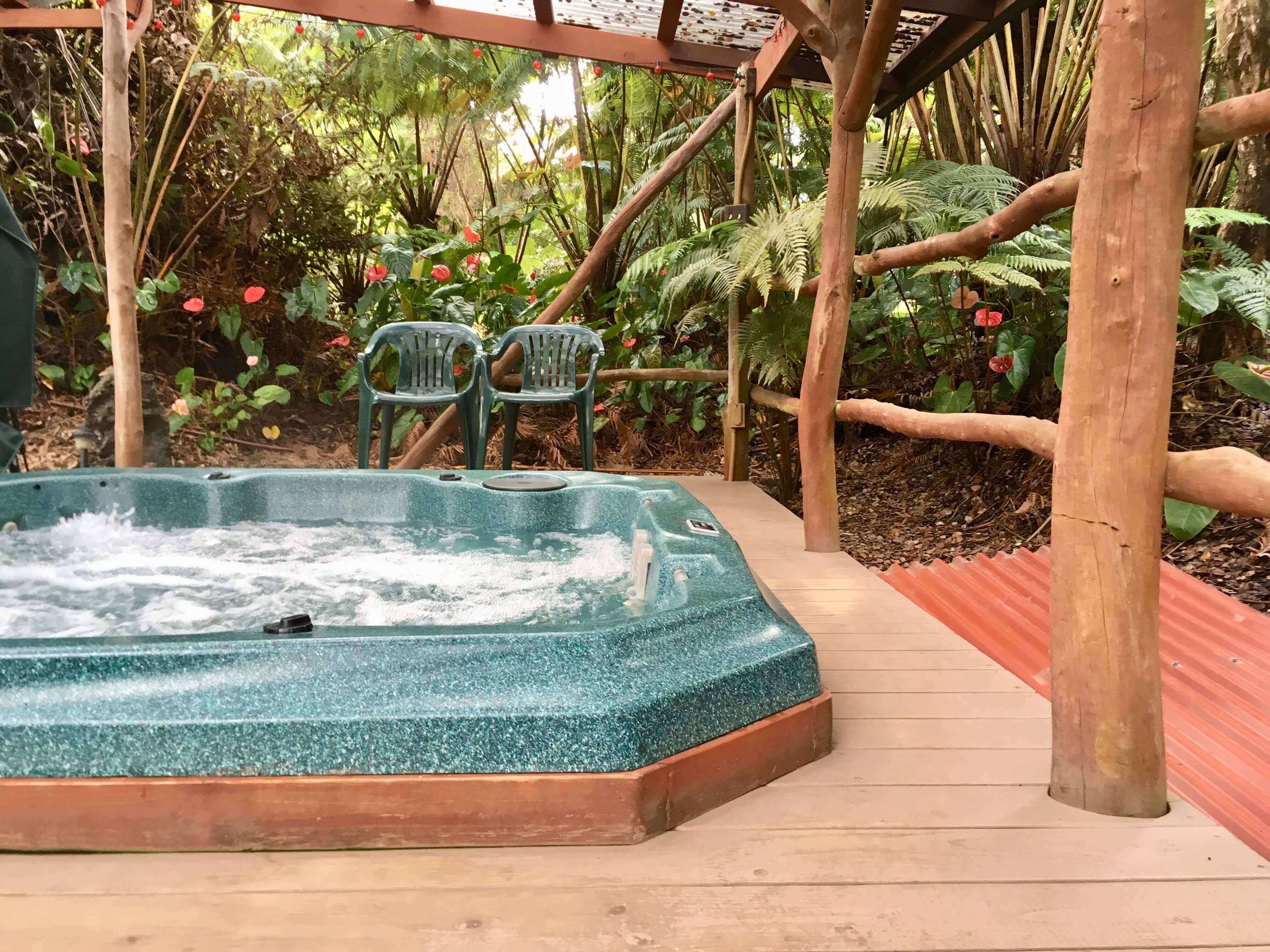 The lush rainforest that surrounds the Inn is visible from all rooms, and just as relaxing and refreshing as you might think!
If just looking at the rainforest isn't good enough for you, try taking a dip in one of the saltwater hot tubs they have situated throughout the grounds in the middle of this dense, serene landscape.
Then you can hop in your car and within just a few minutes, be exploring restaurants, national parks, and many other Big-Island attractions.
With rooms starting at $149 per night, and multiple-night discounts available, it's no wonder this haven of relaxation is consistently ranked the "Best Volcano Hotel Value!"
6. MA`UKELE LODGE
Located on the south-east side of the island, Ma'ukele Lodge has three room choices, all of which would work for couples.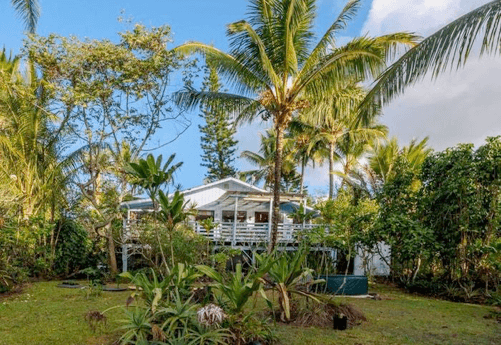 If you are traveling as a family, the Hawaiian suite would work well for you, and starts at $135 per night.
Each additional person costs $40, so plan on a bit more when you bring the kiddos.
This is probably the most interesting part of the island if you like volcanoes, due to the lava flow still visible where the Kaimu Bay black sand beach used to be.
Those of you who like traditional Hawaiian hospitality and a wonderful location near volcanoes, this might just be a great fit for you!
7. ARNOTT'S FAMOUS LODGE AND HIKING ADVENTURES
If you are looking for a one-stop-vacation-shop, you have found it!
Arnott's Famous Lodge and Hiking Adventures not only has suites, apartments, and dormitories, but can also plan excursions and expeditions for you!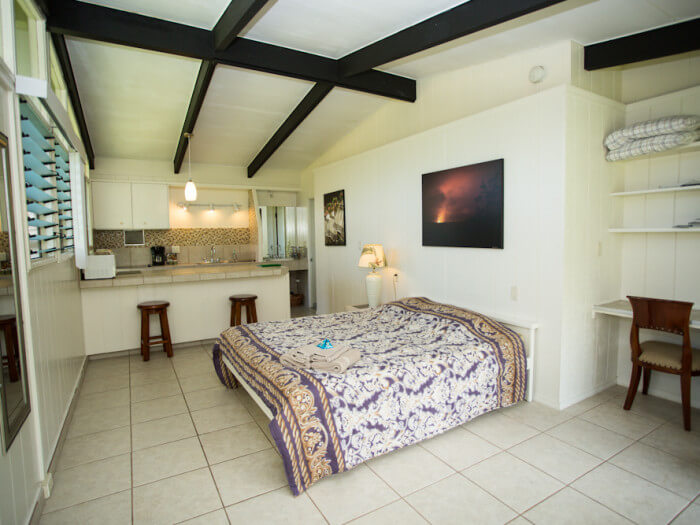 Located in Hilo on the eastern side of the island, this would be a wonderful home base for any adventures you might want to go on.
Rooms that will fit a family of four start at $160 per night for the two-room suite. Check out the latest prices and more details.
Book a wonderful experience like the "Hilo Local Food Tour" or the "Big Island Eruption Encounter" and consider your vacation planned!
8. HILO REEDS BAY HOTEL
Hilo Reeds Bay Hotel is located about 2 miles from the Hilo International Airport on Reeds Bay.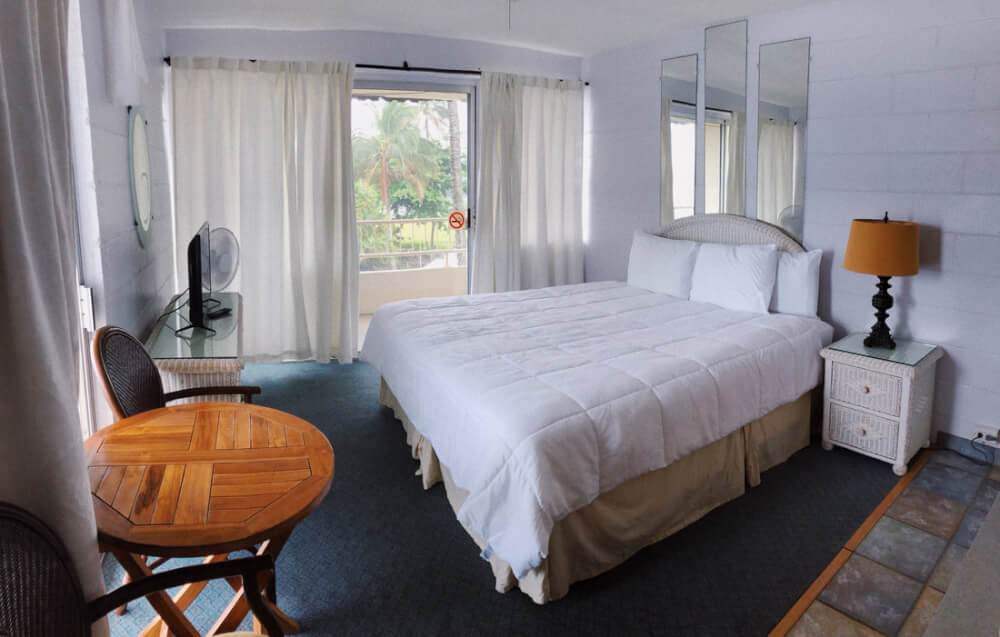 There are three different kinds of rooms, each with their own pricing structure, and different rates for different numbers of occupants.
A standard room will start at $88 for two people, which is a STEAL to be this close to Hilo and everything around it! Check out the latest prices and more details.
Besides going into downtown Hilo, you could explore the nearby public beach park or get in a round of golf at the 9-hole course across the street.
The only thing to be aware of before you go is that the rooms don't have AC. For the most part, you should be fine, but in the middle of summer, you might get a bit warm.
For this price though, I could compromise!
9. SCP Hilo HOTEL
If you are looking for a hotel in Hilo that would be a great "Home away from home", you have just found it!
The owner, Richard Kimi, started the SCP Hotel (formerly the Hilo Seaside Hotel) in 1956 in an effort to showcase the Hawaiian hospitality he experienced as a child on the islands.
Now, his Big Island hotel is known for its clean, relaxing rooms, pool, and proximity to all that Hilo has to offer.
A "Superior" room that has a pair of double beds starts at $129 per night. Wi-fi is free, and there is NO resort fee – which is almost unheard of anywhere on the Hawaiian Islands! Check out the latest prices and more details.
If you are looking for a great place to stay while enjoying the sights, smells, and tastes of Hilo, you found it!
10. KOHALA VILLAGE INN AND HUB
When I am booking a vacation, I love to put myself in the middle of whatever culture we are visiting.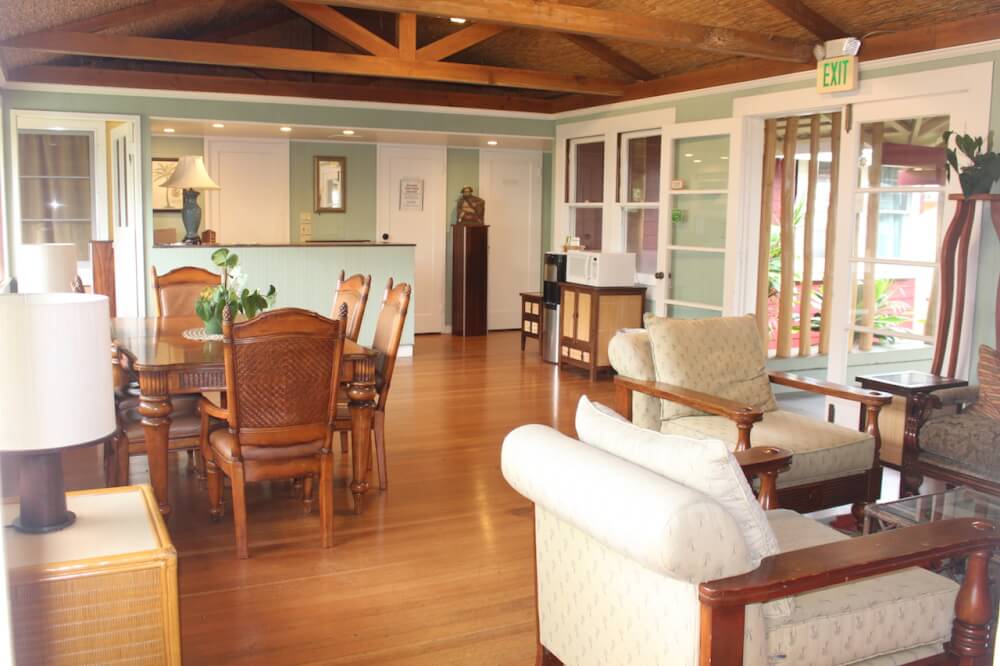 The Kohala Village Inn and HUB is not only an Inn, but a community center as well.
Located in the middle of Hawi, Kohala Village HUB is a place to interact, learn and experience historic Hawaii in all its glory!
There are rooms available with two queen beds perfect for families of four starting at $161 per night. Check out the latest prices and more details.
Make sure you check the calendar of events to see what will be happening during your stay. I love the idea of this inn/community center, and really hope you do, too!
I have so many ideas for where to stay on the Big Island, all I have to do now is pick a date and figure out which place is available!
Once I know which part of the island we will be staying, I can plan on activities and entertainment for myself and my boys.
Which of these 10 Budget-Friendly Big Island Hotels looks best to you? Let me know in a comment below!