Heading to Hawaii Big Island with kids? Find out what you can expect from Seattle travel blogger Abbey Co as she details traveling to the Big Island with a toddler and baby. Keep scrolling for all the info!
This Hawaii Big Island with kids post originally appeared on Abbey Co and contains affiliate links which means if you purchase something from one of my affiliate links, I may earn a small commission that goes back into maintaining this blog.
Post by Abbey Co.
Our Hawaiian 'Big Island' trip came about on accident. It was my last month of maternity leave, and I was having tough feelings about going back to work (who doesn't!!).
My husband and I wanted to find a way to make the end of maternity leave feel like a positive thing and go out with a bang, but weren't quite sure how to go about it.
Extremely ironically, my sister-in-law and her husband had a baby the EXACT same day as us, and her maternity leave was coming up the same time as mine!
However she was so sure of how she was going to celebrate – with a trip to Hawaii! She already had everything booked and had her sales pitch to us perfected.
Since we were basically in the EXACT same walk of life (parents to a toddler and a 2.5 month-old baby), it honestly made a whole lot of sense, and we ultimately agreed!
We thought it would be fun to trade turns offering the other couple a date night, or alternating babysitting each other's kids while the other couple went snorkeling at the beach.
Don't have time to read a bunch of Hawaii blog posts and reviews? Here are some of our top picks for visiting the Big Island with kids.
Best Kid-Friendly Big Island Tours/Activities
Best Kid-Friendly Big Island Resorts
Save Money with Points
My favorite credit card for travel is Chase Sapphire because it offers the best value on flights and hotels. Check out the latest sign-up bonus deal.
Want to Rent a Car in Hawaii?
One of the best places to rent a car in Hawaii is Discount Hawaii Car Rental because they get the best rates from top national companies like Alamo, Dollar, Thrifty, Avis, Enterprise, Budget, and Payless.
Big Island with Kids FAQs
Is the Big Island good for families?
Yes! If your family is looking for a less-crowded Hawaiian island that still has amazing kid-friendly resorts, the Big Island is a great option.
What should you not miss on the Big Island?
Be sure to set aside time to explore Hawaii Volcanoes National Park, see a black sand beach, try Kona coffee, and see some Big Island waterfalls.
Is it better to stay in Kona or Hilo?
Kona is definitely more touristy with more hotel and resort options. Hilo is less crowded, but much more limited places to stay.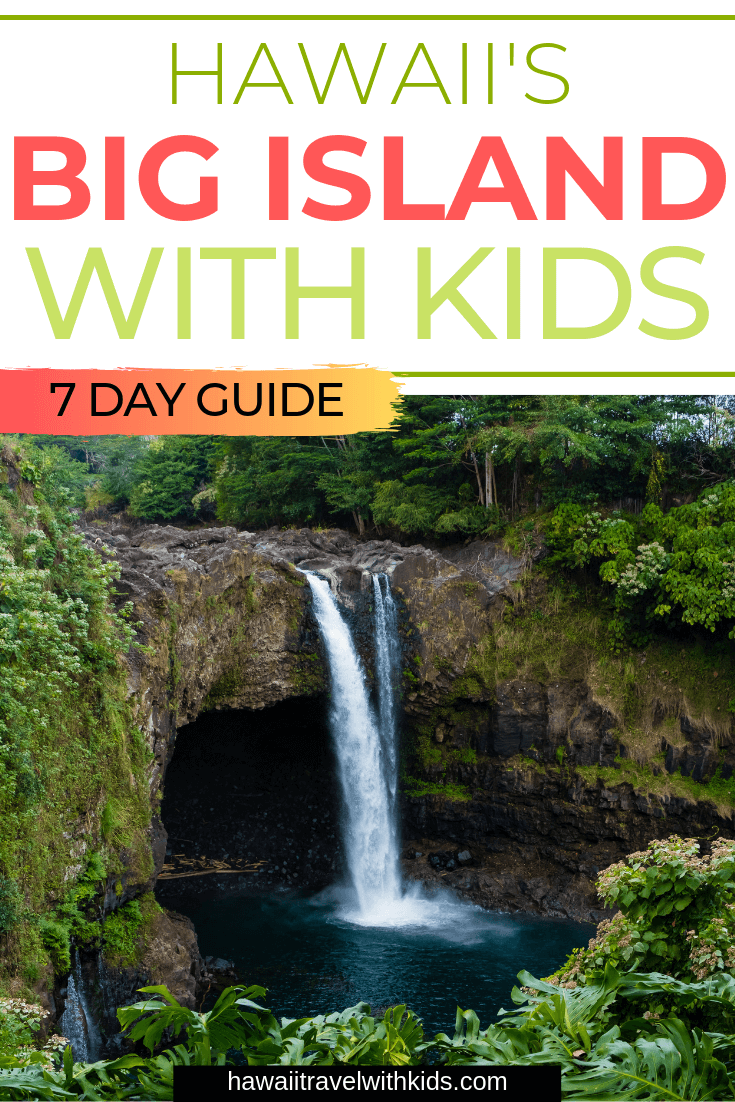 Some things to know about the Hawaii Big Island before we get started…
In regards to hotels, restaurants, etc. it feels a little bit like the budget island.
You can't go in expecting to find areas that feel like Waikiki beach – it is far less populated and posh. You aren't going to find our Gucci stores and chain restaurants here girlfriend!
It however is the island to go to if you want to really unplug and enjoy nature – absolutely go there expecting to see lush rain forest, incredible wildlife, and breathtaking views!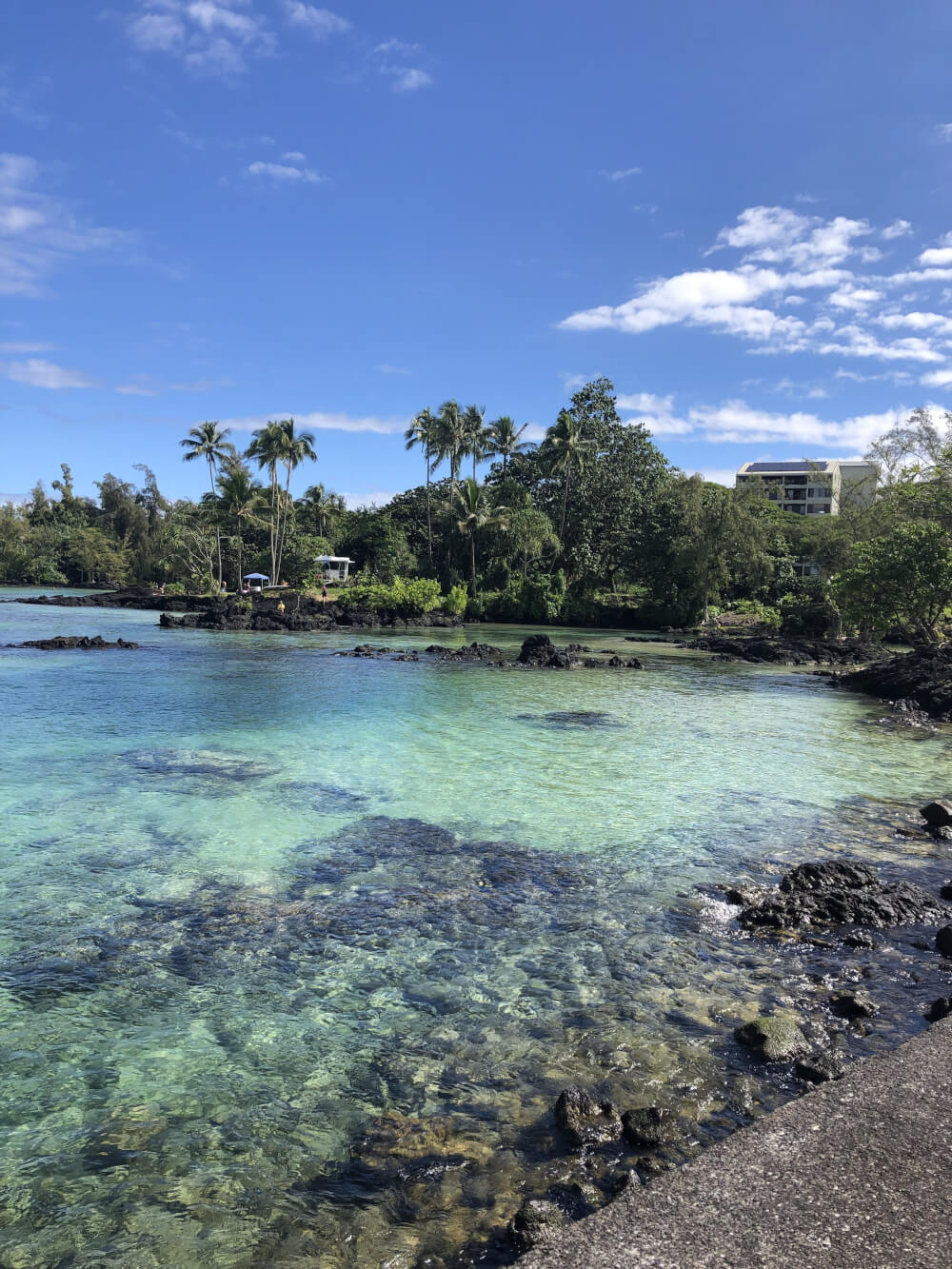 Our experiences snorkeling, hiking, and even just enjoying the beaches far surpassed what we had ever seen on other Hawaiian islands and was truly incredible.
The sad thing is there is even more we wanted to take in, but weren't able to access with newborn babes in tow.
I however will still make these suggestions along the way in case you are headed to the island with bigger kids or even just yourselves – there is so much to enjoy!
Hawaii Big Island with Kids: Exploring Kona
Okay so first things first, we flew in direct from Seattle to Kona International Airport (KOA) on Alaskan Airlines and it was fantastic. If you can fly direct, do it!
For this island, my vote is you absolutely need to rent a car… everything is a little more spread out and you will need one to access good beaches, unless you plan to stay in the same hotel beach-side and not venture very far at all.
Flying into KOA, we grabbed a Jeep (I mean, come on you have to) from an airport rental spot and headed straight to our rental in Kailua-Kona.
This area is one of the more populated ones, and there are grocery and ABC stores, restaurants, art galleries, coffee shops, etc. all readily accessible.
We stayed at an Airbnb which was SUPER affordable (honestly this island is awesome for cost-friendly rentals!), but if you prefer a hotel I would suggest the Courtyard by Marriott King Kamehameha's Kona Beach Hotel.
There are several reasons behind my recommendation; it is immediately on the waterfront and walking distance from all the places you want to get to in Kailua-Kona.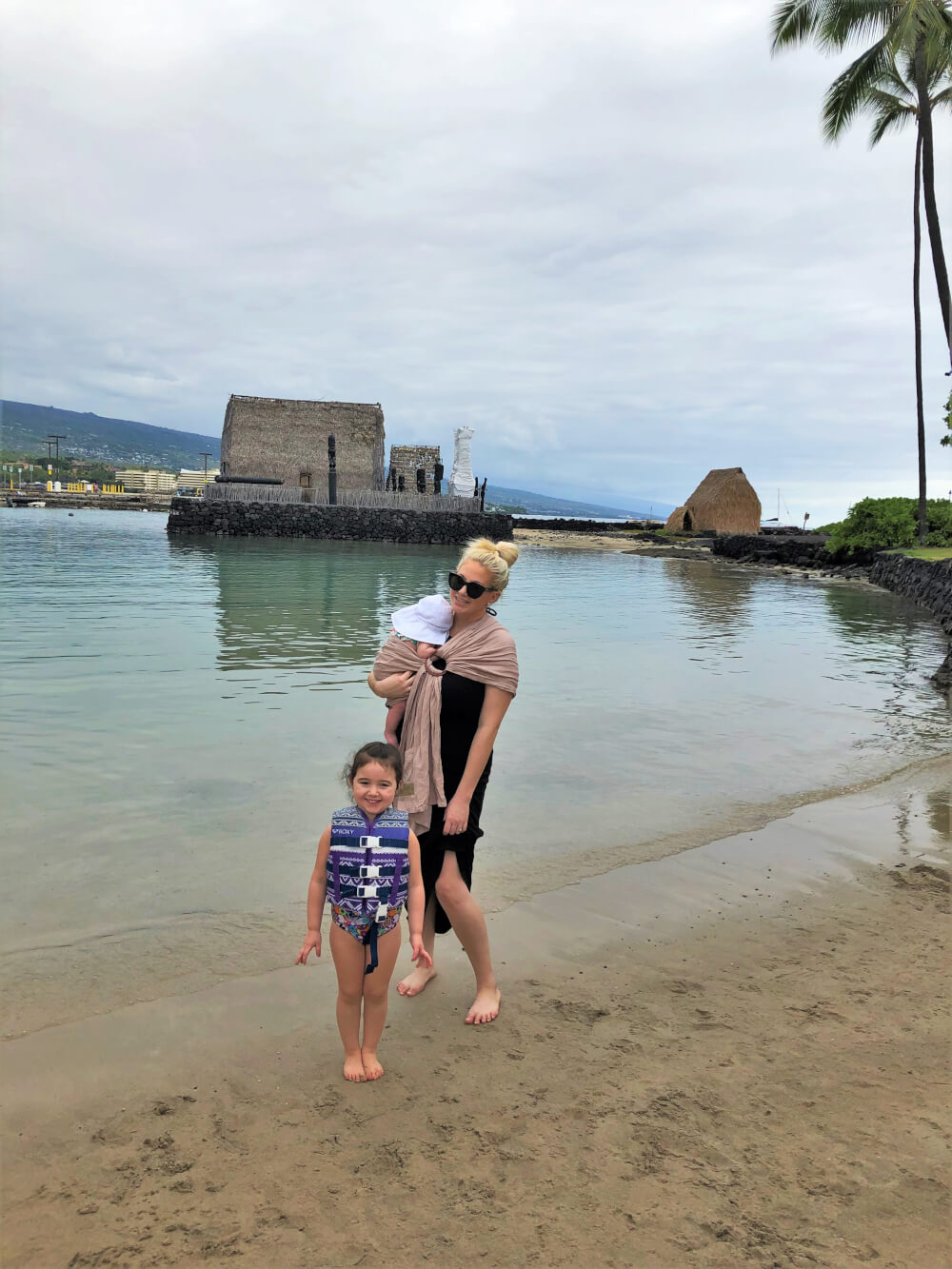 Kamakahonu Beach is a tiny little private beach area right out their front door that is SO kid-friendly, and their Luau is fantastic!
You could just chill there endlessly and enjoy waterfront lounging, paddle board/kayak rentals, dining at Honu's on the Beach, and so much more.
If you want more deets on their Luau, the Island Breeze Luau is the one hosted specifically at the Marriott and it was so well done! Food was delicious, the activities were plentiful, and the performances super fun.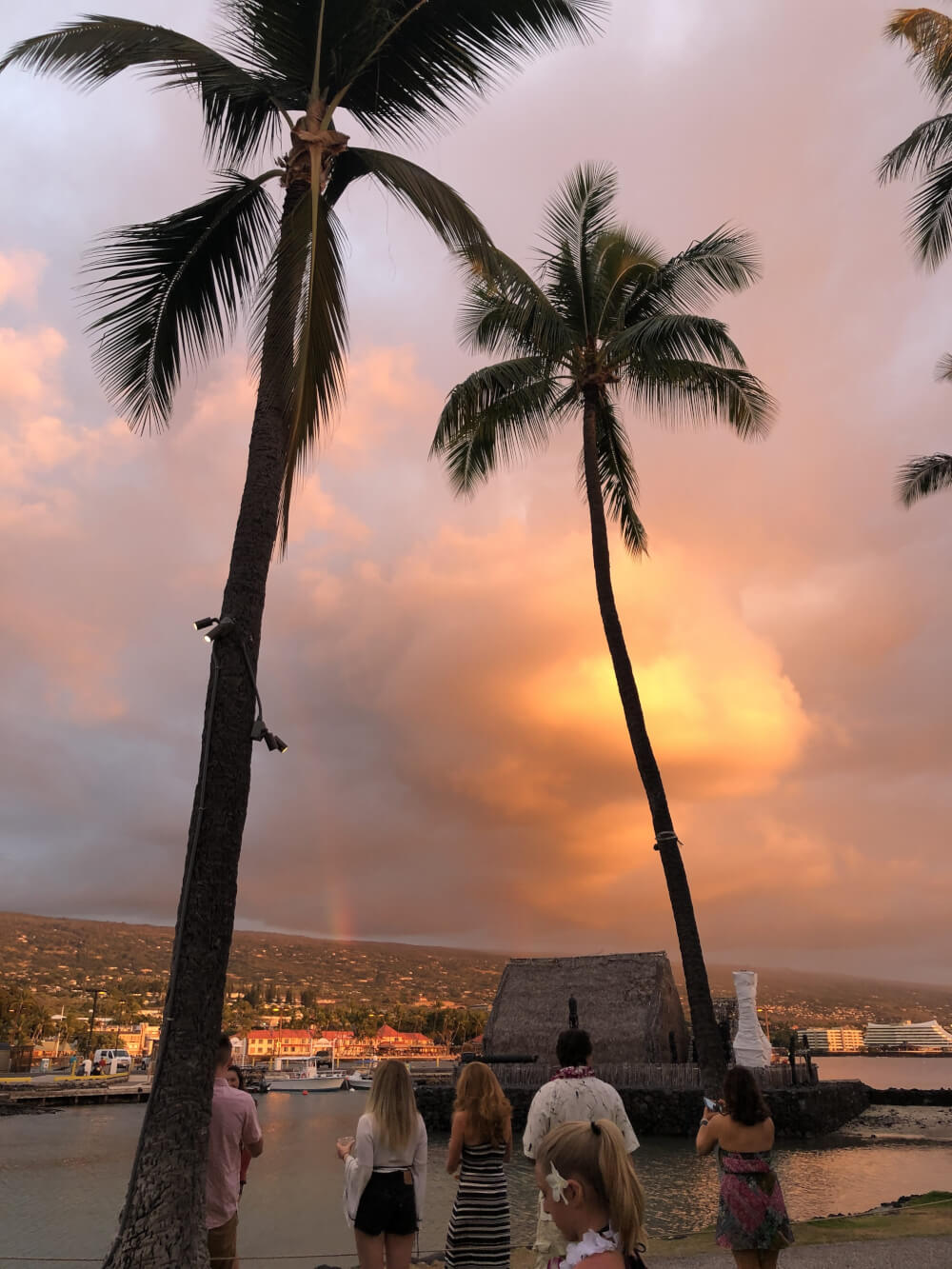 Other suggestions I would make that are super accessible right there in the Kailua-Kona area…
Grab some brews at
Kona Brewing
! My hubby thoroughly enjoyed this and took home the world's most pricey (and honestly awesome growler) as a
souvenir
.
All of these activities in this area could take up a few days to your whole trip! But we ventured on, so please allow me to continue.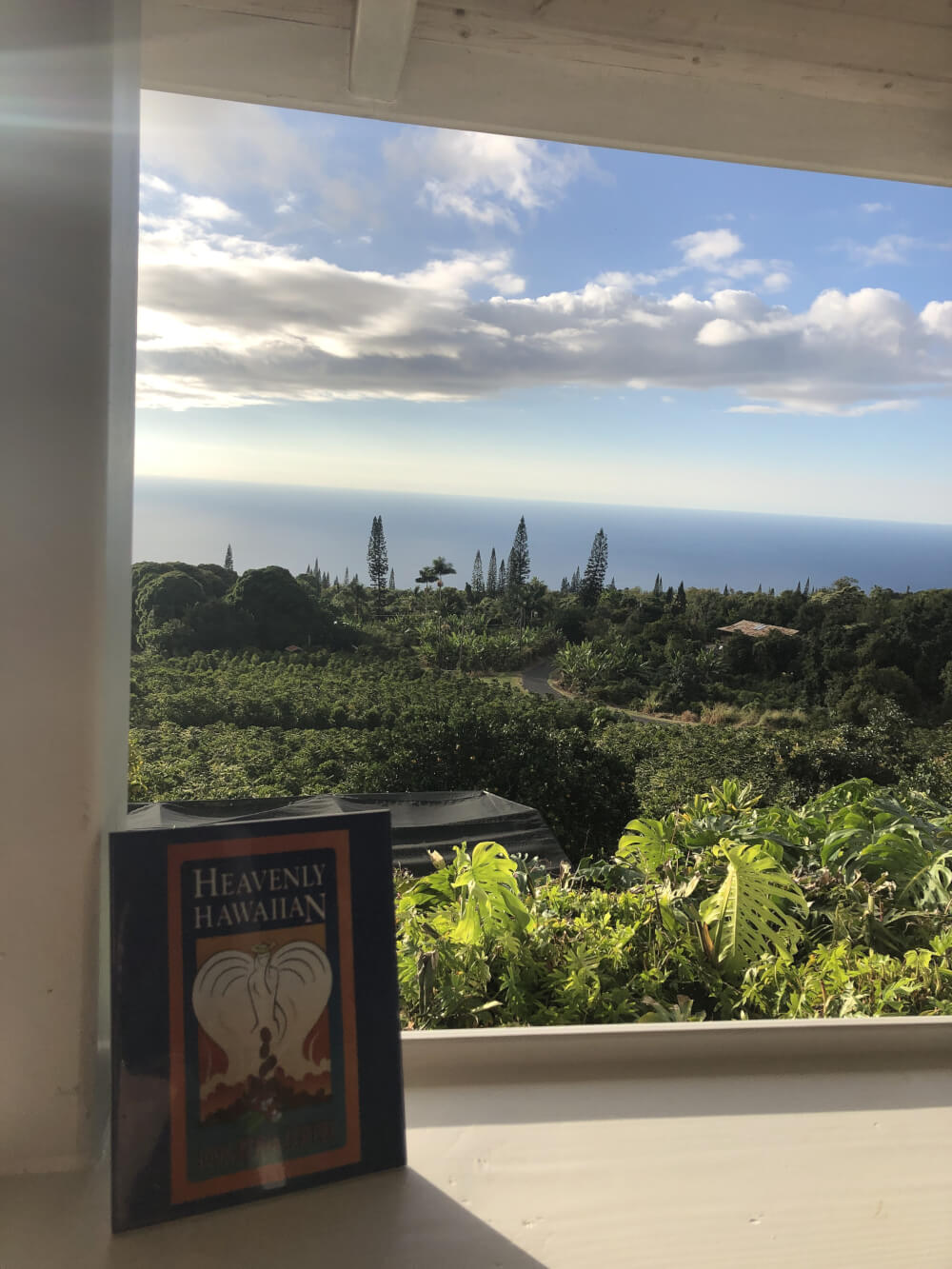 This is where the rental car comes in, because there are some FANTASTIC snorkeling spots in this area.
With a short drive, you can make it to Kahalu'u Beach Park which is a fantastic family snorkeling area! It is honestly not very 'beachy'… think lava rock instead of sand, so wear some good water shoes!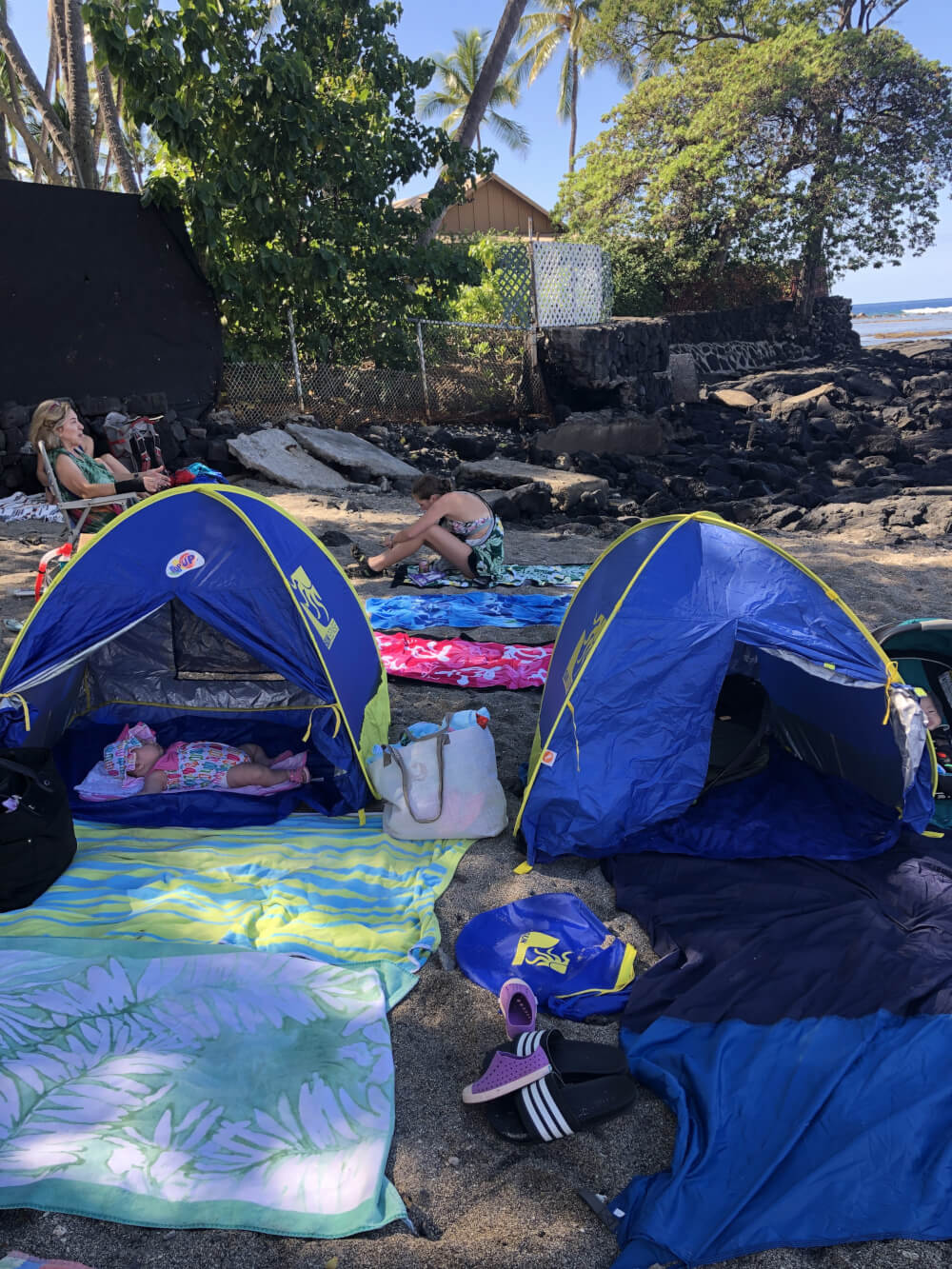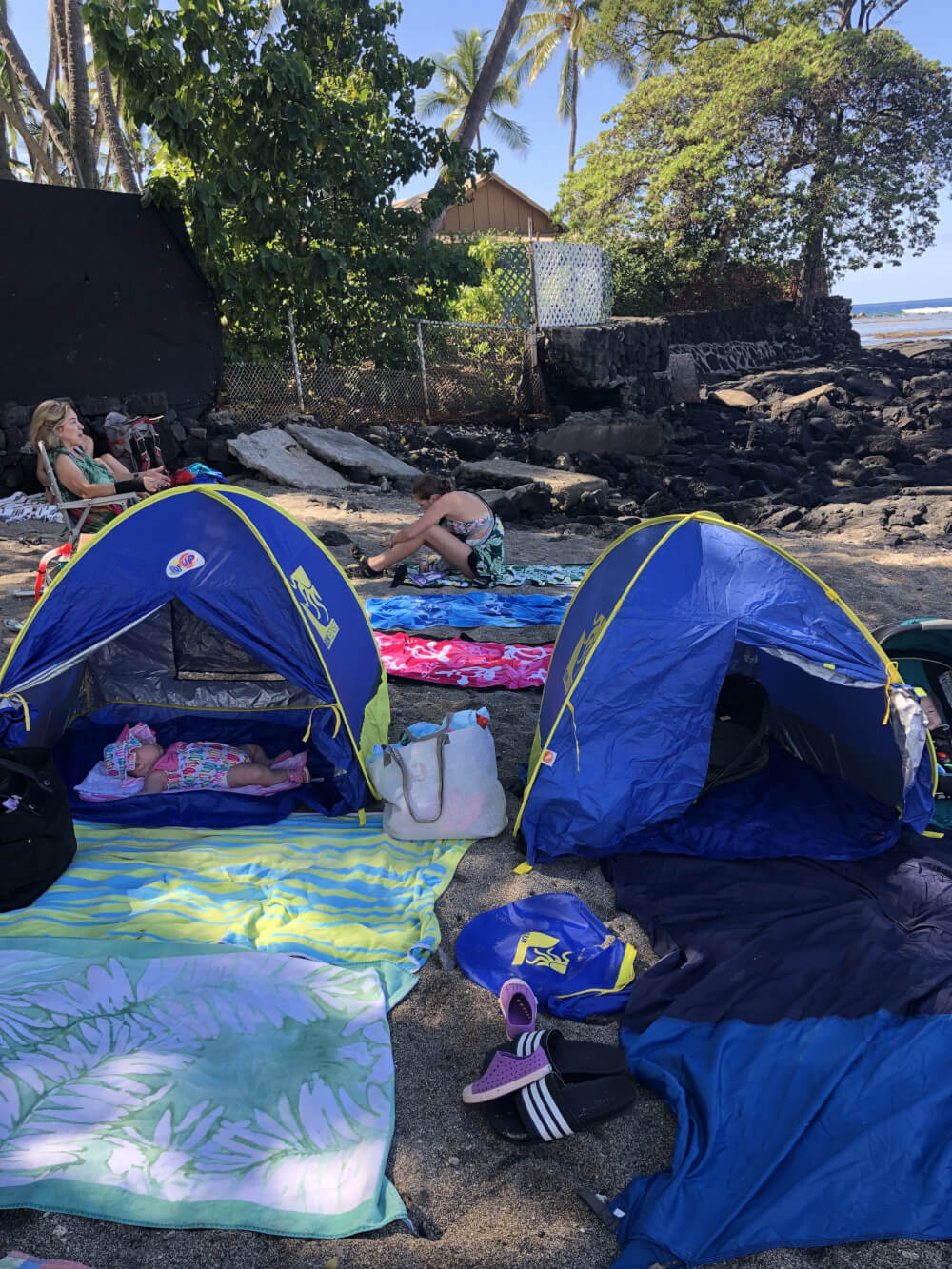 However, there is plenty of sunny and shady areas alike (great for us with itty bitty babies), and the snorkeling is insanely accessible.
All you have to do is step out into the water, put your mask on and your face down and you will see amazingly bright colored tropical fish swimming everywhere… it was incredible!
We enjoyed this immensely as one couple could stay on the beach with the babes while the other enjoyed the sea life, and it was an easy switch shifts back and forth.
There were food and shave ice trucks parked in the parking lot, and we snorkeled and swam the day away!
My dream snorkeling spot is Captain Cook – however to get down to the Captain James Cook Monument area where you can snorkel, there is a decent hike involved.
It is a beginner/intermediate level hike, but it was more than two breastfeeding mommas carrying 2-month-old babies were willing to embark in, so we went and toured some coffee farms instead.
I have however heard it is some of the best snorkeling people have ever participated in, so if you are able to I would absolutely suggest giving a hike to Captain Cook to snorkel a try!
Hawaii Big Island with Kids: Things to Do North of Kona
So far, this has all been very mid-island on the Kona side (west side) of Hawaii, so from here we will venture north on the coastline a little bit.
From Kailua-Kona we ventured to the Waikoloa Village area, specifically to visit Anaehoomalu Bay.
"A-Bay" is in Puako and features a glorious sandbar and crystal blue water that the kids had a blast swimming in.
This is another fantastic place to stay and play, with some nice resorts, shopping, and golf courses… to me it felt like the Florida of Hawaii, if you will, haha!
For family-friendly lodging I would suggest Waikoloa Beach Marriott Resort & Spa or Fairway Villas Waikoloa by Outrigger.
We grabbed a lunch to-go from the adjacent Lava Lava Beach Club, but I honestly had some FOMO not partaking in the party going on there – it looked so fun!
Just a tiny bit further north from here is Hapuna Beach, know for being one of the most beautiful white sand beaches on the big island.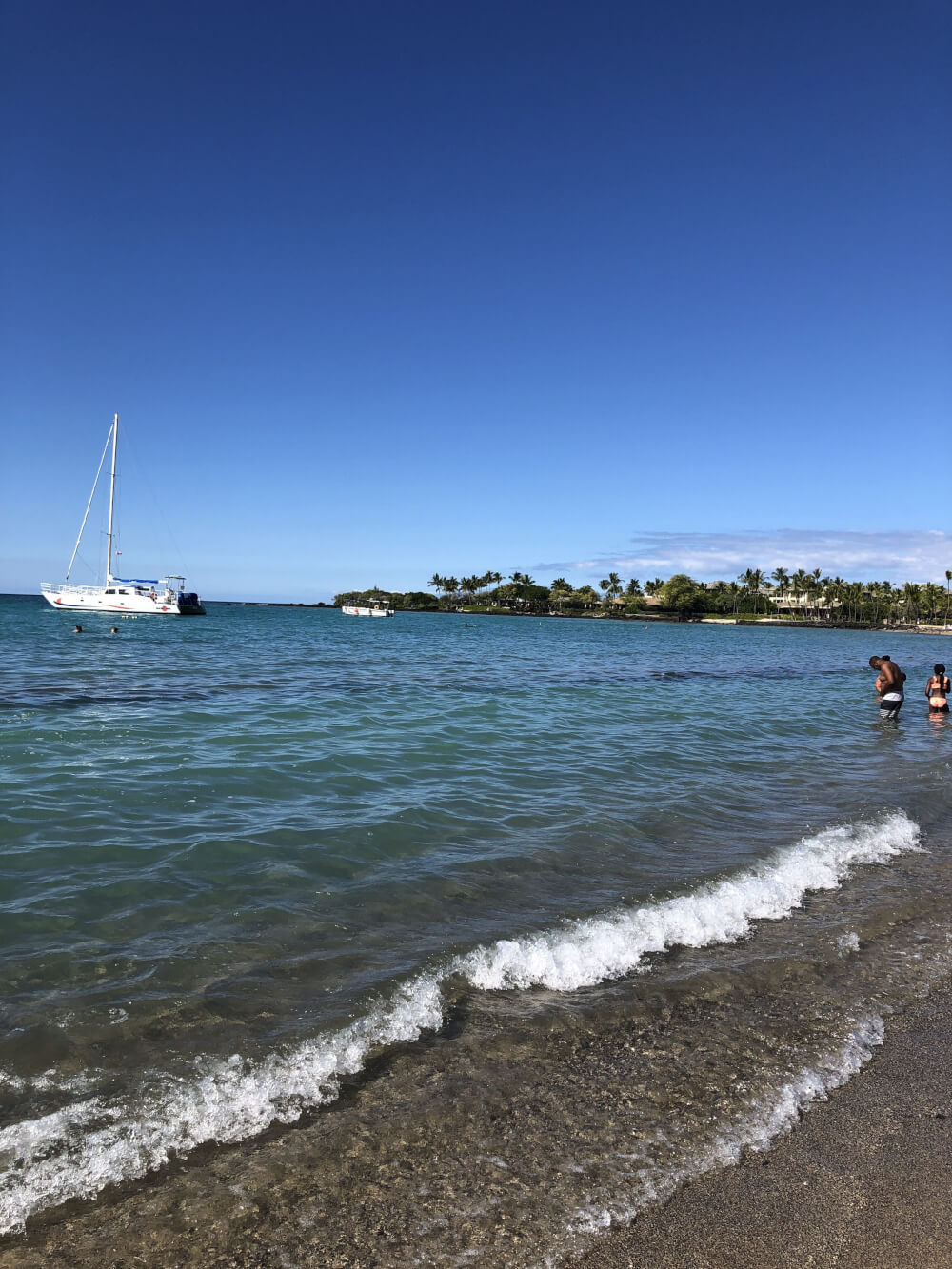 Honestly, I could have spent my entire trip in these areas alone, and next time I return to the Island I might just stick to these spots or this side of Hawaii.
However, we were determined to experience as much as possible, so they journey continues on from here!
Hawaii Big Island with Kids: Exploring Hilo
The Kona side was mostly my favorite… however there are a few really distinct things about the Hilo side I am excited to talk about and MADE the trip for me.
So, here we go, on to the other side of Hawai'i!
One important thing to know about the Hawaii Big Island is that the center is mostly volcano (no-man's) land, and you can really only cut across it on HWY 200, or follow the whole coast line around on HWY 19 (north) or HWY 11 (south).
So, we planned our trip from the Kona side to the Hilo side strategically, with our last stop at Anaehoomalu Bay before hopping on HWY 200 to make it to the other side.
When we left A-Bay, we planned it so that we would hit sunset on top of Manua Kea, one of Hawaii's towering dormant volcanoes.
I honestly was not prepared for how bizarre the experience was traveling over Manua Kea – it was actually relatively intense!
We left the beach and started our ascent up the mountain, and dropped about 30 degrees between the base and summit.
I experienced slight altitude sickness (my stomach is weak) and our itty-bitty baby was also not prepared for this ascent with the dramatic altitude change and started screaming her head off as we made it to the top.
We pulled up to the park at summit to calm her just in time to watch the sun set, and as soon as it was down the clouds and darkness rolled in at apocalyptic speeds – it was insane!
Not only did the sky go almost black but the temps dropped even further, so we jumped back in the car and powered through the remainder of our drive to Hilo.
Tons and tons of lava rock the whole way – crazy!
Not trying to scare you away from checking out Maunu Kea, but I do want to prepare you for the experience if you like me get altitude sickness easily, or if you have a tiny baby with sensitive ears too.
Also, make sure you bring lots of layers and warm clothes – you will FREEZE if you attempt Manua Kea in beach attire.
It took us about two hours, but we made it to Hilo.
Hilo with Kids
The Hilo side of the island is super different… it is even more local feeling that the already low-key vibe in Kona.
Personally if you are a beach kind of person I suggest you stick with Kona, but if you are more of a hiking family, you will absolutely love Hilo!
There are lots of great waterfalls, hikes, and parks… Akaka Falls State Park, Wailuku River State Park, Lava Tree State Park, and of course, Hawaii Volcanoes National Park to name a few.
The tragic thing about our trip was we hit the Hilo side of the island amid a government shutdown – massive National Park closures!
However we decided to not let that halt our experience and ventured to Hawaii Volcanoes National Park to see what we could discover.
A blessing in disguise – not many trails at this park are baby friendly!
The reason for this is that there are high levels of sulfur emitted from many of the steam vents on trails, and it can be extremely dangerous for people with compromised or delicate respiratory systems (AKA newborn babies!); it is however okay for kids but still be cautious with any asthma sufferers.
When we arrived there were two heaven-sent parks department employees that were there on a totally volunteer basis (no getting paid during the shut down!), and they advised us on what trails were newborn safe.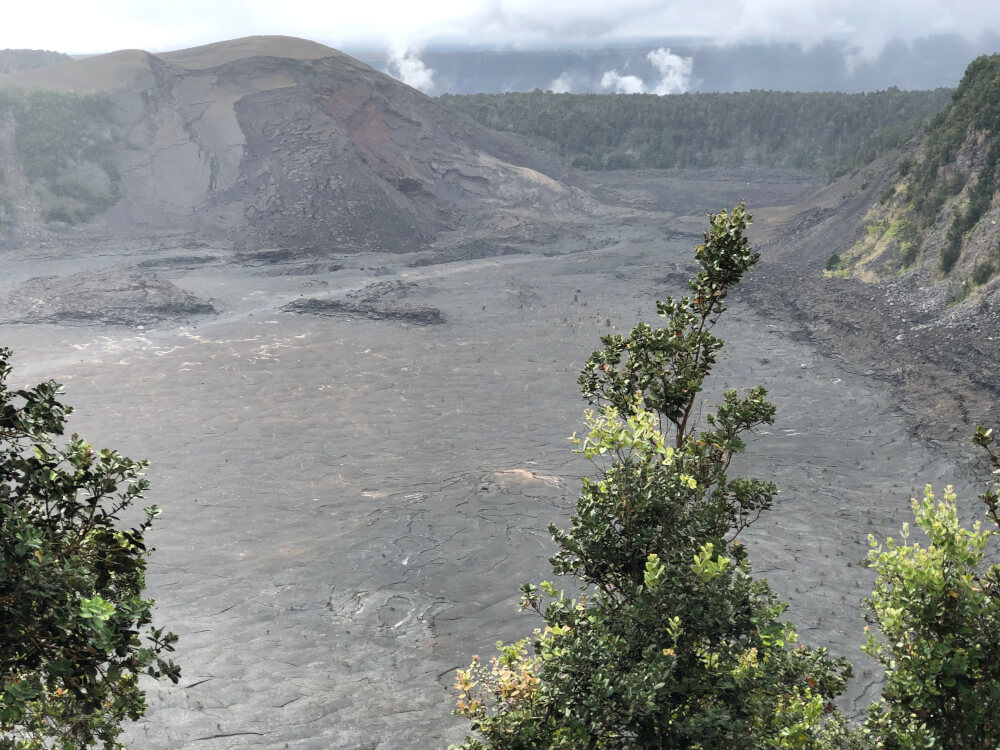 As we embarked I easily saw why areas could potentially not be safe – those steam vents are hot!
Unfortunately – I guess maybe it's fortunate that Hawaii isn't getting covered in molten lava – but there was no active lava for us to see when we where there.
However, the hike was fun and the views incredible! This Hawaii National Park has lava tubes, steam vents, craters, and even just some really great, lush wilderness to see and appreciate.
Best Hilo Restaurants for Families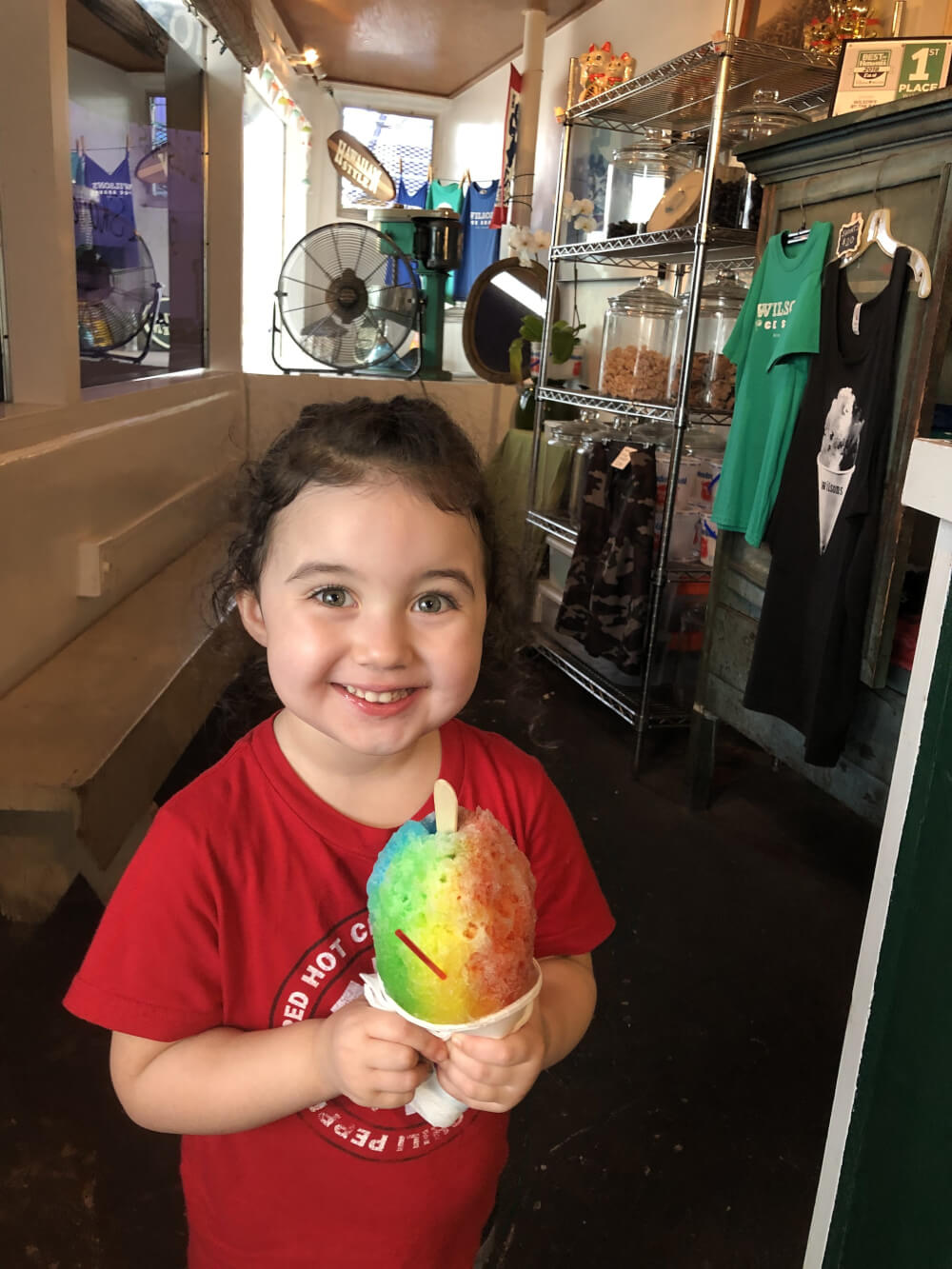 This was a recommendation to us by a friend who was born and raised in Hilo – he said they were declared Hawaii's best shave ice and after chowing mine, I couldn't disagree!
The other cuisine experiences to seek here would be a Hawaiian local hot spot like Pineapple's. It is an open dining setup and they often have live music.
These places are so local/authentic that they don't even have websites for me to link for you, so you are just going to have to trust me and put their location into your Google Maps when you get there, haha!
Another place to dine out that came highly recommended to us was Hula Hula's at the Grand Naniloa Hotel – be sure to call and make a reservation because LOTS of hotel guests dine there and they get quite busy!
If you are looking for a fantastic view, I would suggest dining at the Hilo Bay Cafe. Honestly we did not dine out a whole lot on this side of the island since we were doing so many beach/hike days and our rental had a fantastic full-size dining room and kitchen.
My favorite grocery store in this area was Island Naturals Market & Deli… it was basically a Hawaiian Trader Joes! It is centrally located in Hilo and had good quality organic food selection.
Okay now for my favorite part, eeek! I love revisiting this memory SO MUCH because honestly it was one of my favorite from our whole Hawaii trip.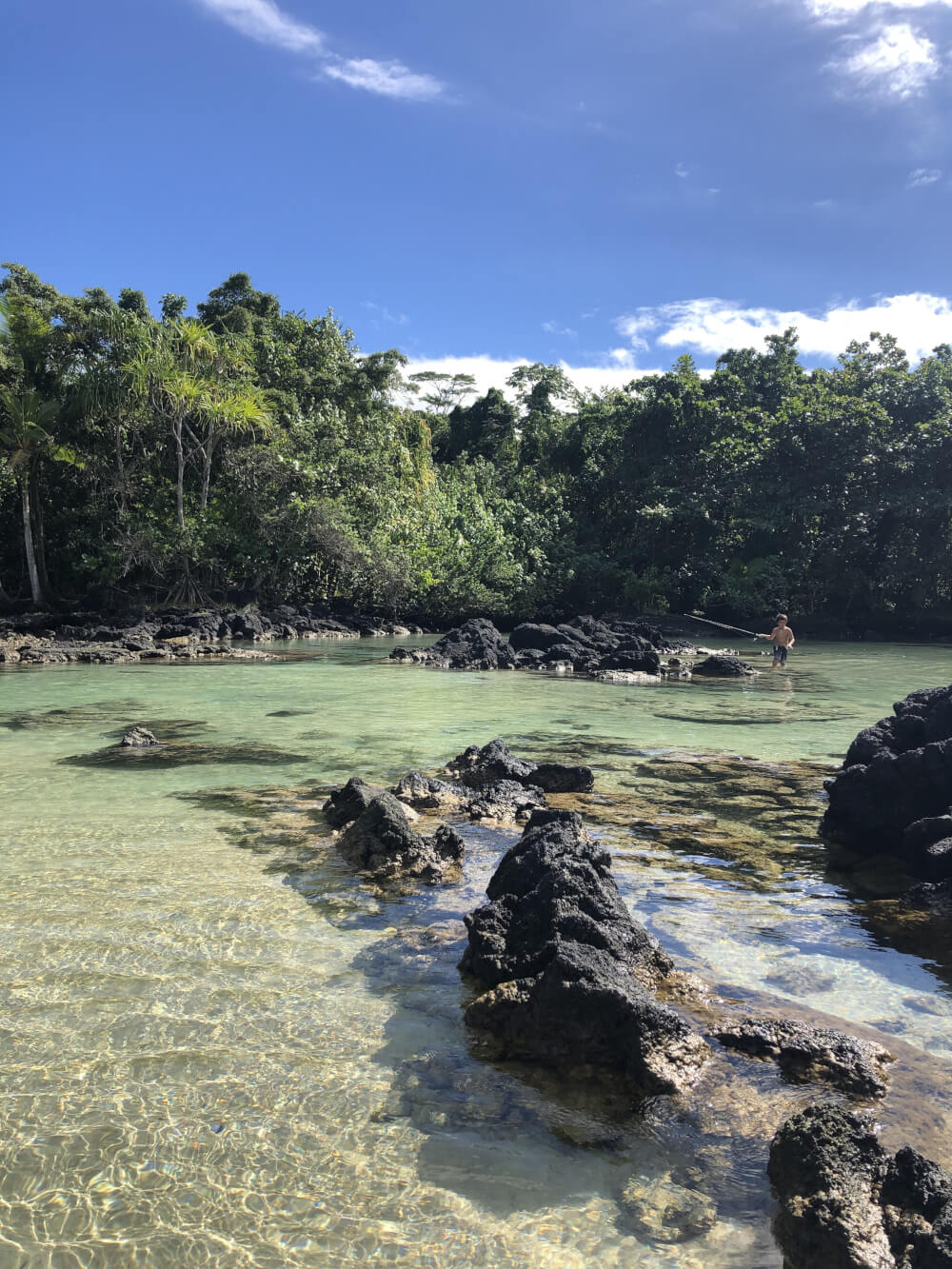 My sister-in-law and I both read a lot about Carlsmith Beach Park in Hilo, their claim to fame being incredible sea turtle activity, so we decided to give it a try hoping the hype was true.
Let me first start off by saying that even if we did not see a single turtle, this beach is breathtaking.
There isn't a ton of sand to walk in, but the grass is nice and well-kept, and once in the water the bottom is sandy.
There are tons of little nooks where you can hide away and find privacy, and there are just as many places to swim and explore.
Now that we have talked about the beach itself, let me tell you that the turtle hype is real – they were EVERYWHERE!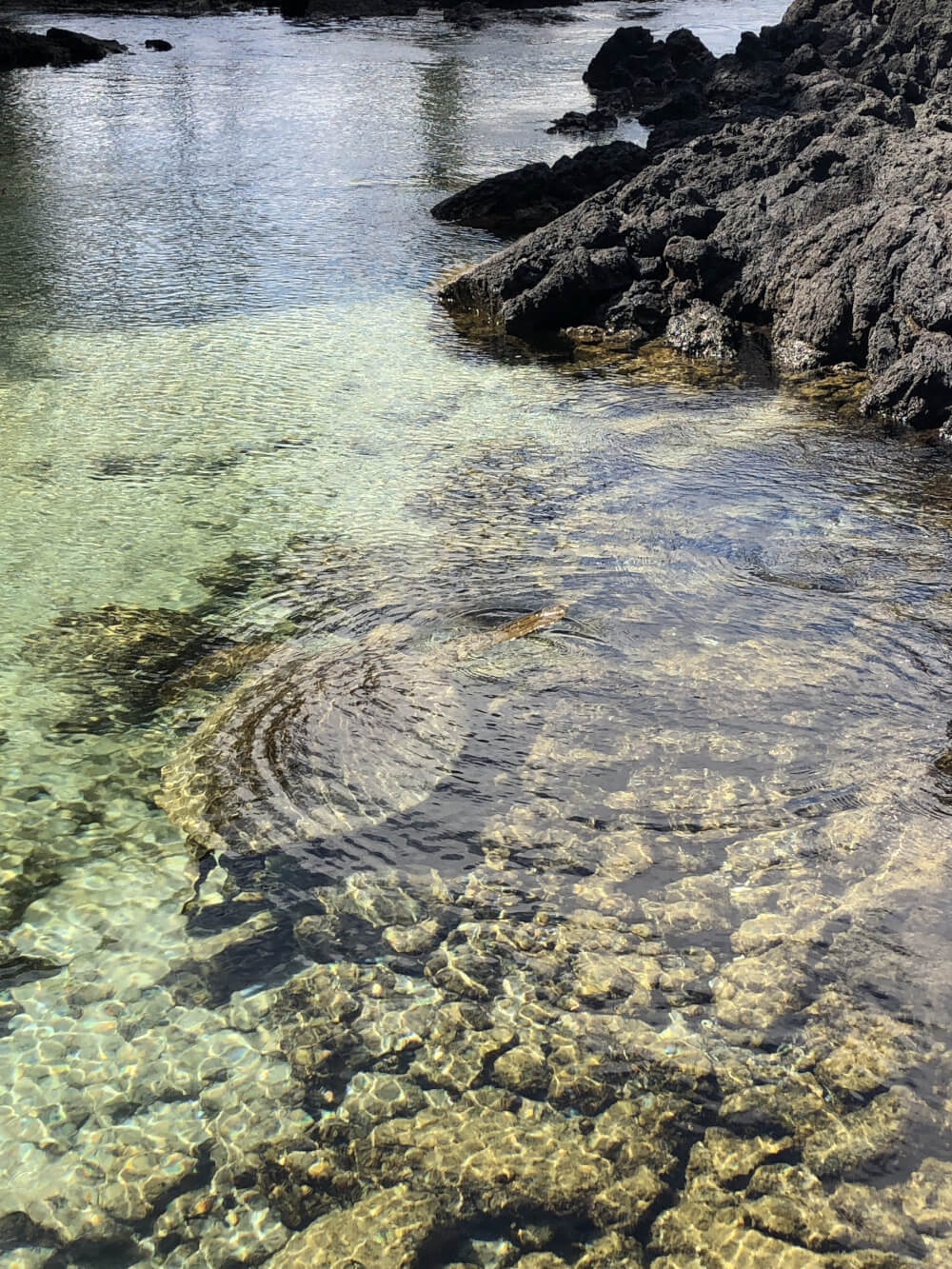 Right off the bat there were two sunning themselves on the lava rocks, and one was swimming in the shallows, what was basically the 'kid area' of the beach.
I went down to snap some pics but in some areas you had to swim to get to where the turtles were… on top of needing to swim my toddler was in a mood and not wanting to participate, so after almost dropping my phone in the water several times I gave up on the pictures.
I brought my kid and my iPhone back to the beach blanket and ditched them both (lol, with my husband of course) and went to go swim and take it all in. Check out the latest prices and more details.
There was a river up to the right with about 4 who were resting on the rocks letting the water run over them.
Then as I was swimming out of nowhere one just breezed right past me, almost touching me!
It is very important to not touch or disturb them, but being in the water coexisting together was very cool and an experience I will never forget.
After all this excitement we sadly only had one day left on the island, and our departing flight was relatively early the morning after.
We had planned to stay in Hilo one more day, but the thought of getting up at 4am (if not earlier!) to leave for the airport and return the rental car was stressing me out like crazy!
The drive from Hilo back to Kona is easily 1.5 to 2 hours, especially if we had some baby-meltdown-mountaintop drama again going back over Manua Kea.
So at the last minute we decided to head back to Kona for a one-night hotel stay so we could wake up near the airport without any stress, and I can't tell you how glad I am we did!
If you are dividing your trip like we did, I would suggest simply flying out of the Hilo side if that is where you end – it is far too long of a trek with kiddos to make it back to Kona for a morning flight!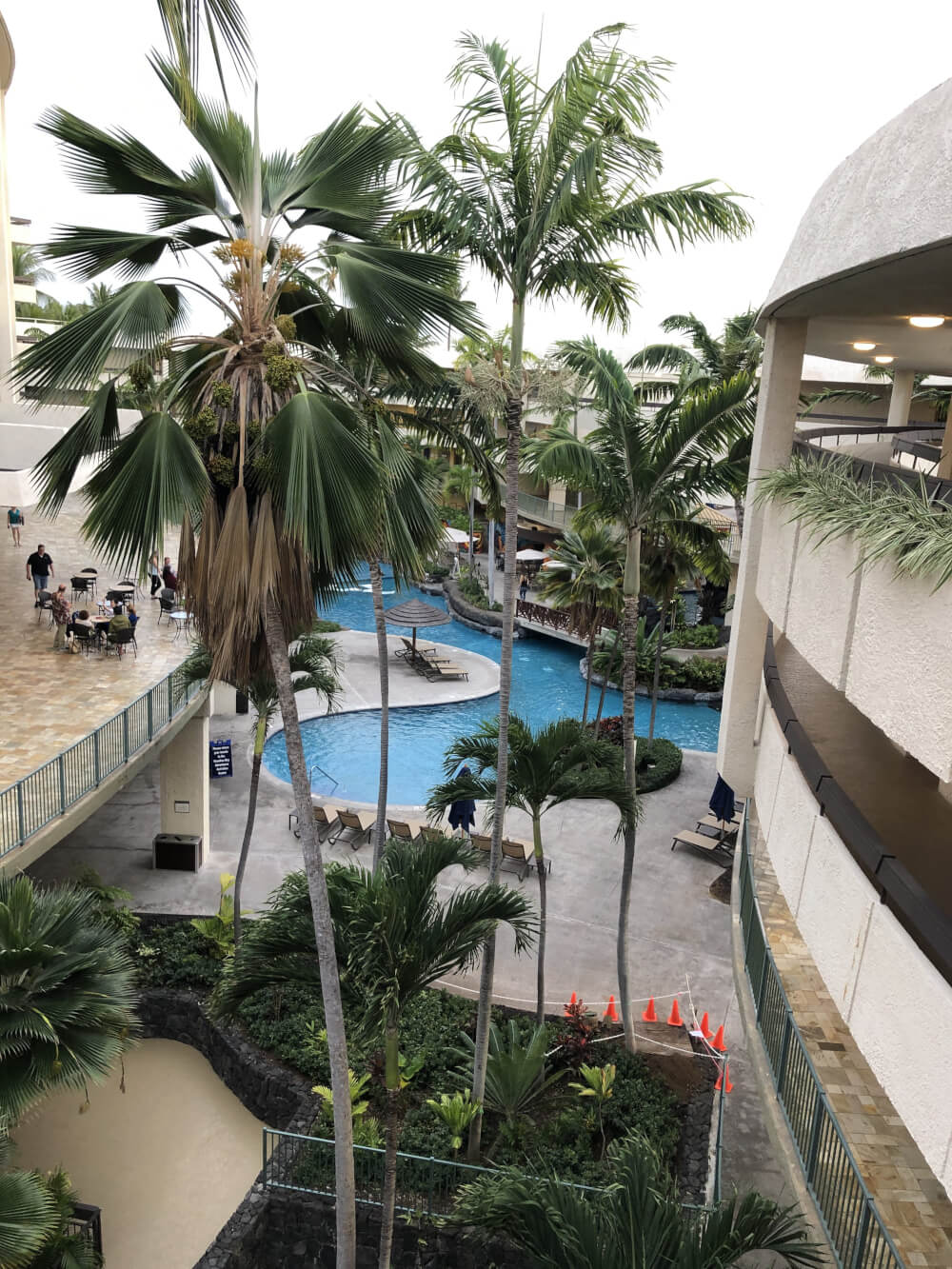 Instead of staying in the exact same area, we decided to explore a new one and booked a hotel room at the Sheraton Kona Resort & Spa at Keauhou Bay.
This hotel is about 25 minutes away from the airport and we chose it because it had fantastic amenities. There are pools to enjoy galore even with rockslides for the kids! There are several bars and restaurants to choose from, tons of space to lounge outside, cute shops, a full spa, and a full activity calendar.
In addition, there is a lot to do in Keahou Bay!
There are paddleboard and kayak rentals, and the one activity I especially wanted to partake in but we didn't have time was night snorkeling!
The evening sea life in that area is fantastic, especially the manta rays. There are snorkel charters that go out a night and light up the waters under their boat – some even have paddleboards with clear bottoms and lights so you can see through!
The resort itself was gorgeous and we spent the day relaxing around the pools, swimming, and just taking it all in.
For dinner we decided to head to their restaurant "Ray's on the Bay" which was a super cool experience!
Because the hotels give off so much light it attracts plankton at night, which in-turn attract hungry manta rays coming to feed.
These mantas are enormous and the restaurant shines lights on the water so that you can enjoy watching them dine while you do the same.
It was a beautiful open-air area and the food was great – I ate so much fresh poke and sashimi!
In all, it was a fun experience and a nice way to end our trip with some good R&R.
Well, I hope you enjoyed following our story and learning more about the Hawaii Big Island!
Have you been to Hawaii Big Island with kids before? If so was there anything I missed that you loved? If you have never visited, I would love to chat and answer questions for you, it was a fantastic trip!
X.O. – Abbey Co.