Want to know awesome things to do in Maui with kids? Check out my complete guide to Maui kid-friendly experiences, restaurants, and places to stay.
This Maui with kids post contains affiliate links which means if you purchase something from one of my affiliate links, I may earn a small commission that goes back into maintaining this blog.
Maui may be synonymous with "Honeymoon" for you, but it isn't just a place for lovebird couples!
My family and I have had a wonderful time exploring the joys that an island like Maui can provide.
Here's what I have learned as I have learned to Explore Maui with Kids, our Ohana – Babies, Toddlers, Kids, and All!
Want to skip all the planning and just access my detailed Maui Itinerary complete with daily schedules, kid-friendly activities, and travel hacks? Click the button below.
Maui with Kids FAQs
Visiting Maui with a Baby
While having a "babymoon" is fun, traveling once the baby is born is often overlooked!
I loved traveling with my boys when they were tiny – they were so portable and easy-going! Maui with a baby is totally doable!
WHERE TO STAY ON MAUI WITH A BABY
No matter where you are planning on going with a baby, my first recommendation is to plan on spending a bit more than you normally would for a hotel.
Between naps, bedtimes, nighttime feedings, and emergency diaper changes (we've all been there!) you will want a comfortable, clean, relaxing room to spend time in.
Along the same lines, you might want to get a suite with two or more rooms. It is nice to be able to lay baby down to sleep, and then slip away and watch a movie or just have a conversation without fear of waking up your sleeping babe.
Make sure that you let the staff know ahead of time that you have a baby, and they can get you a crib or a pack and play for baby to sleep in.
Beyond those thoughts, the world of Maui really is pretty open!
Whether you want to stay in Kaanapali, Lahaina or Wailea, there are resorts that would be a perfect fit for a little family time not too far from your room. Find out the best kid-friendly resorts on Maui.
Think about booking a room with a private lanai as well. Nothing says "relaxing beach vacation" like sitting out in the fresh air watching the ocean with your special someone.
WHAT TO DO ON MAUI WITH A BABY
There is so much you can do on Maui with a baby!
We were lucky in that our boys loved to sleep in their car seats, so we would rent a car and see the whole island while they napped! I know this won't work for everyone, but take advantage of this chance if you have it!
I also can't stress enough how great of an idea a pool float is. They fold down flat for easy packing, and you can use them for pools, tide pools, sand protection, and so much more! Find the best prices here.
My boys hated getting sandy – so we mostly stuck to the calm, clean waters of a pool.
The short answer is – whatever you like to do, they will like as well! Happy, relaxed mamas give babies the best chance at being happy and relaxed themselves!
Visiting Maui with Toddlers
Oh goodness, having a toddler totally changes the parenting game, am I right? They can move, they can play, and they don't want to nap – EVER! Learn from my experiences below!
WHERE TO STAY ON MAUI WITH A TODDLER
Anywhere that will let you…
In all seriousness though, I love Kihei. It is close to just about everything – including a beach.
You can get anywhere you want to without spending too long in the car with a grouchy toddler who doesn't want to be in his car seat. Win-win!
Kihei also has plenty of food options for when your little one decides they now hate macaroni and plenty of other families around to play with.
If naps in the car are not going to happen, make sure you find a nice hotel you love. It's worth the splurge for somewhere you enjoy spending time.
You might also consider the pool area of the hotel and just how toddler-friendly it might or might not be.
Things like a swim-up bar might sound nice as a parent, but it probably won't be the most family-friendly environment around.
We buy new pool toys, and then make the boys wait until we are on vacation to use them. Then, the toys are special!
Plus, swimming wears our boys out, which means an easier bedtime for us.
WHAT TO DO ON MAUI WITH A TODDLER
First of all, don't try to do everything in one trip. That is setting you all up for meltdowns and temper tantrums.
I try to plan something fun for the morning, then play it by ear for the afternoon. We like to stay close to the hotel and see how naps go before planning anything afterwords.
There are actually tons of things to do on Maui with toddlers including boat rides, luaus, an aquarium, half day tours, and more.
We always hit up the Costco right by the airport for snacks. It's so convenient – no matter where you are staying, you have to drive right by. My boys love their pouches, crackers and Hawaiian snacks.
There is also Long's close by to find Asian and Hawaiian cookies and snacks.
As much as I would love to say my boys are avid tourists, I would suggest borrowing or buying some sand toys.
There is nothing better than just relaxing on the beach and letting your toddler(s) play in the sand – and they can keep at it for hours!
Read my ultimate guide to Hawaii with toddlers
Visiting Maui with Kids
When your kiddos get bigger, a whole new world of activities on Maui opens to them! We try to do a few new things each time we visit, and we haven't run out of ideas yet!
Check out our favorites so far!
FREE HULA FAMILY SHOWS
As a hula dancer myself, I INSIST you take advantage of some (or all) of the free hula shows on Maui!
Some of the best information can be found in some of the visitor's brochures you find in the airport or at your hotel. This Week Maui or Maui Gold can be found almost anywhere tourists are on the island. There will be a lot a free hula shows listed in those.
Here are the ones I found that look awesome:
Four Seasons Resort Maui at Wailea
Kaanapali Beach Hotel
Lahaina Cannery Mall
Maui Mall
Napili Kai Beach Resort
The Outlets of Maui
Queen Ka'ahumanu Center
Whalers Village
If your kiddos have done and loved the Finding Nemo Submarine Voyage attraction at Disneyland, they will be in for a treat with the real-life version!
You and your family will get to hang out in a submarine for a few hours, and divers will very carefully bring sea life up to the window for you to see. It's kind of like snorkeling without getting wet!
If you are thinking this would be a great option for your family, it might be a good idea to buy a Maui Value Pass.
You will get into the Maui Atlantis Submarine Adventure, Maui Ocean Center, Maui Tropical Plantation, and the Bailey House Museum for a discounted rate for each.
MAUI HELICOPTER TOUR
One of the best ways to see Maui is from a helicopter. Because this is such a popular option, there is more than one company that provides this service. Here are the ones I have researched:
Maui Helicopter Tour – this tour will take you to see both Maui and Molokai – the small, crescent-shaped island right off of Maui. this tour can accommodate kids of all ages, and children under two are free. Check out the latest prices and more details.
Maui Circle-Island Helicopter Tour – this tour focuses only on the island of Maui. You will be shown Halekala Crater, Iao Valley, and Hana. Children under two are free here as well. Check out the latest prices and more details.
Full disclosure – I have not done a helicopter tour, they terrify me. I am slowly building up the courage, and I know they are super popular, so I wanted to make sure you knew about them!
If you love riding horses and seeing beautiful scenery, this would be a great option for you! This is geared at children ages 7 and older, and takes you to a waterfall for some stunning ocean views. Find the best prices here.
The thing that sold me was the fact that the guides take you through a petting zoo, where you meet all sorts of super interesting animals!
This is probably the number one activity on Maui for families. They have indoor and outdoor exhibit areas, tidepools, traditional aquariums, and an immersion tube where you feel like you are walking through the ocean!
The really neat thing about the Maui Ocean Center is all the Hawaiian Cultural Programs they offer throughout the day. My boys and I learned about all sorts of hula implements (instruments used while dancing) and they just loved it!
This train is a treat! It is only open from Thanksgiving to New Years, and is decked out to feel like the North Pole!
This Hawaiian version of a Santa train would be so much fun for your little ones! The owners are trying to raise enough money to be open year-round, so please buy a ticket and support this awesome cause!
While many boat rides don't allow kids along, this particular one is kid-friendly! Whether you choose to take them along is totally up to you, though!
On this cruise, not only will you enjoy the gorgeous Hawaiian sunset, but you will also receive a plated dinner and an opportunity to dance if you wish to. Check out the latest prices and more details.
If you're really lucky, you might even see some whales off in the distance depending on the time of year!
MAUI TREASURE HUNT
This is a great bonding opportunity! Families are supposed to get wet and muddy as they trek around Maui looking for "treasure."
If you want something to do with your older kiddos, this might be a great opportunity to try something literally "off the beaten trail"!
The Maui Tropical Plantation is a fun-for-all-ages excursion! Make sure you get tickets to ride The Tropical Express – an open-air tram that takes you through fields of fresh fruits and flowers.
After you get done on the tram, take some time to walk around the gardens. They are gorgeous, and unlike anything you have seen anywhere else.
The gift shop is huge, and features quite a few "Made in Hawaii" products, which my family always tries to look for.
Older kiddos (or young-at-heart parents) should try the Maui Zipline – it's a blast!
SNORKELING ON MAUI WITH KIDS
Snorkeling is not something you would think of as toddler-friendly right away, but there are companies out there that will work with you!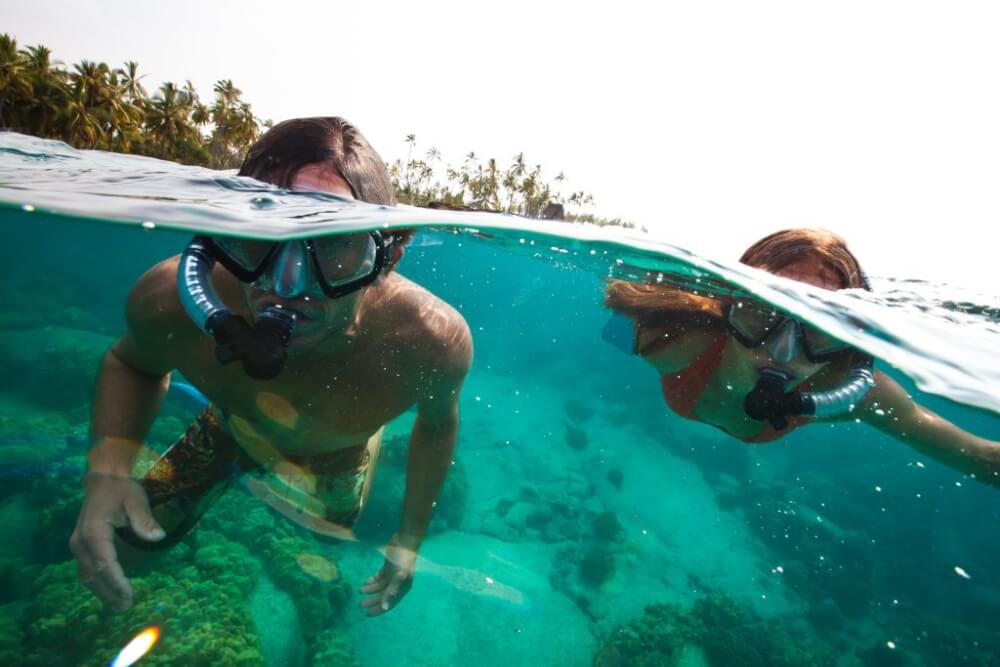 We did some research, and came up with a list of companies that worked with the ages we had in our extended family group.
Four Winds Maui – was awesome for my little one! They had floats with windows, which meant my toddler could snorkel without getting his face wet! Add in a water slide for the older kiddos, and our whole group was happy!
Molokini and Kealewai Snorkel Cruise – is for ages 4+, and looks AWESOME! They focus on helping you find sea turtles right off of Molokini – the little crescent-shaped island off the coast of Maui. Check out the latest prices and more details.
Snorkeling Cruise to Lanai – seems like another great option, and kids 6 and younger are free! With a little water slide on board, the kids can keep playing even when snorkeling loses their interest. We will be checking this one out! Check out the latest prices and more details.
SURFING GOAT DAIRY
If you are planning on driving to Haleakala or just Upcountry Maui, this would be a great activity to plan on. The drive alone is worth it. You get to see a whole new part of the island and get away from some of the more touristy, crowded parts of Maui.
At the dairy, you can feed the goats or sign up as a family for an Evening Chore & Milking tour.
You can also take advantage of their little shop, where they sell goat cheese chocolate truffles, award-winning cheeses, goat milk soap, and so much more!
My boys were still a little timid around the goats, but they found a nice sandbox to play in while my hubby and I learned about the goats a did a little browsing around the shop!
FAMILY SURF LESSONS ON MAUI
Finding surf lessons for kids can be kind of tricky, especially for ages eight and younger. This private surf lesson looks great for them to start learning the basics!
The instructors do a lot of the work for the kids, so they experience success early and often! This is also nice if you have multiple kids in a group, they each get their own instructor, but can still surf together! Check out the latest prices and more details.
For ages six to ten, semi-private lessons might be a great fit! Or, if you have a serious surfer-dude or dudette on your hands, you can sign them up for this beginner surf lesson. It does require an adult to sign up with them, so you can't say I didn't warn you!
If you think your kiddos could do a three-hour excursion in a kayak, this would be a great opportunity for a young turtle or sea life lover! Check out the latest prices and more details.
The main goal is to paddle your way to "Turtle Town" and see lots of sea turtles, but there is often much more sea life than just turtles in the fun, hours-long adventure!
Even when they were babies, my boys LOVED luaus. This is one experience that I would say is a must for any family visiting Maui. The colors, dancing, singing, and costumes are just mesmerizing!
This award-winning luau is probably my top pick for kid-friendly on Maui. Old Lahaina has an option for families to sit on mats on the ground -which is perfect for snuggling with babies, toddlers or preschoolers!
Add in the varieties of food and entertainment available, and you simply can't go wrong! Check latest rates and availability.
This luau is wonderful because it is right on the ocean, so you will be getting traditional Hawaiian entertainments with a traditional island ocean breeze. Find the best prices here.
The only thing you won't have to worry about here is traditional Hawaiian food – the kids' menu has kid staples like mac and cheese, chicken nuggets, and hot dogs.
You will love the fact that this luau gives out shell leis as opposed to the more fragile fresh flower ones. This means your kiddos will have a souvenir to take home with them – and no one will be sad about their lei wilting!
Best Day-Trips on Maui with Kids
I get asked so often about day trips around Maui with kids. So much of the success of your trip will depend on your individual kiddos!
If they travel well in the car, by all means, rent the car and plan some drives! If they get grumpy, motion sick, or are teething, wait and go some other time. The drives are gorgeous, but not worth your sanity as a parent!
Here are some of my favorite day trips:
ROAD TO HANA
I took my son with me on the Road to Hana when he was a toddler, and we had a great time! We were able to explore beautiful gardens, eat yummy snacks, and play at the beach. He then promptly fell asleep for the whole drive back. Mom win!
Here are some tips if you decide this would be a good fit for your family:
Check the weather. Rainy days should be avoided if at all possible.
Start early. My boys do best right after they wake up – so we get on the road early to take advantage of their best time, and love not feeling rushed!
Plan to stop a lot. Both for potty breaks and also to see the sights along the way like the Garden of Eden, Lava Tube, Kahuanu Garden, Wai'anapanapa State Park, Hana Town, and Seven Sacred Pools.
Buy banana bread. Don't ask why. You'll thank me later! The Halfway to Hana Stand is a personal favorite!
Pack snacks and drinks. There are plenty of places to eat, but having backups is never a bad idea. You never know when you might get stuck waiting for a slow-moving animal to cross the road!
Road to Hana Family Tours
There are tours out there that will help you get to Hana and back even if you don't feel like renting a car. This Heavenly Hana Tour can accommodate infants, toddlers, and kids of all ages, AND serves breakfast and lunch!
They also stop at several sites along the way to let you have time to admire the gorgeous views! Check out the latest prices and more details.
This Road to Hana Tour is another choice. They make sure you get frequent bathroom breaks – a huge plus for anyone traveling with little ones! Find the best prices here.
If you want a little more time to swim and explore, this Maui Hana Coast Day Trip might be a great choice for you. Just know that sometimes the weather or road conditions can lay havoc to even the best-made plans! Check out the latest prices and more details.
Read my full Road to Hana guide
HALEAKALA
Haleakala is another drive that some families are scared to do with little ones. Since you're going up a mountain, there will be a change in altitude.
If your little one has motion sickness, I would steer clear of this particular day trip.
That being said, my son LOVED this visit as a toddler! We stopped at the visitor's center, and learned a lot about Haleakala that we didn't know. The walking trails around the visitor's center were awesome to let my little one run around on, too!
Make sure you bring a jacket or a blanket – you will be high enough up and it is windy enough that you will get chilly!
Also, know that you are in a state park, so you will end up paying for parking if you are driving a rental car.
If you don't want to rent a car, there is a Haleakala Sunrise Tour with Breakfast that looks awesome! They welcome kids of all ages. Check out the latest prices and more details.
Sunrise is the busiest time to visit, so you might be there with several hundred of your new closest friends.
If you would rather not wake up in the middle of the night to start driving up a mountain, sunset is also a wonderful time to visit!
If you are looking to experience Haleakala, there are a few activities you can sign up for. The Haleakala Downhill Bike Tour is for all family members 14 and older. You get dropped off at the summit of the mountain and race back down. Fun for some, not for me! Find the best prices here.
If you think "Mars" when you see the landscape, check out this Craters of Mars Mission to Haleakala tour experience. It looks phenomenal! Check out the latest prices and more details.
IAO NEEDLE IN MAUI
If you are not a fan of hiking, I'ao Needle might be a great compromise for you and your family. This is a great middle-of-the-road hike, and is super close to the airport, so it makes a great first stop when you get to Maui.
The nice thing about this trail is that it is paved, which makes it super kid-friendly! When my son was two, he was able to do the whole hike himself with limited help – even the stairs!
This is another state park, so it will cost $5 to park, but it is so worth it! Make sure to wear bug spray – and bring more to re-apply! Those bugs are determined!
Best Beaches to Go to on Maui with Kids
Believe it or not, there are certain beaches that are better for families than others. I suggest bringing a beach wagon with you to easily haul kids and beach stuff. Check out my list of most family-friendly beaches on Maui:
BABY BEACH IN PAIA
When they call this place "Baby Beach" they mean it! I brought my oldest here when he was 9 months old, and it was awesome!
The water is calm enough that he could splash and play without getting soaked, and he loved playing in the cool, wet sand! It is a bit of a walk from the car to the beach, but once you get there, it is so worth it!
BABY BEACH IN LAHAINA
Whether you are staying in Lahaina or Kaanapali, this would be a great beach for you to visit with your little ones. The sand is super soft, and the waves are very gentle.
This is a wonderful place to let your little one explore and play in the sand.
KAMAOLE BEACHES IN KIHEI
This is a group of three beaches that are all great for families with little ones. There is plenty of parking nearby, and they have restrooms – which not all beaches have access to.
My son and I built a lot of sandcastles on these beaches!
KAPALUA BAY
We discovered this beach on our last day on Maui as a place to take family pictures, and I wish I had known about it earlier!
The beach is just so beautiful, and the water seemed calm enough for little ones to play in without being knocked over. It's pretty convenient if you're staying between in either Lahaina or Kapalua.
Maui Family Photography
I am a huge proponent of finding a photographer to capture pictures of your family on vacation. Not only does this ensure that everyone will be in the pictures, but it will give you lots of memories to look back on!
The last time we were on Maui, we hired Flytographer and we loved it! The nice thing about them is that they work with several photographers on Maui, so you can be sure that you will find one that fits your family's style. Check out the latest prices and more details.
Our photographer at Kapalua Bay was Marie, and she was fabulous! She had just the right amount of bubbly personality and photographic eye – our whole extended family felt right at ease with her!
You can save $25 on your photoshoot using this link!
Maui has become quite a family vacation destination lately! While we usually stay at the Honua Kai in Kaanapali, we have come across quite a few great deals on wonderful properties during our research! Here's what we have found:
KIHEI
Kihei doesn't have resorts, but there are condos to rent that are part of nice complexes. I wanted to make sure and include them because they can sometimes be quieter than a typical resort, and more affordable as well!
This would be my number 1 choice for a condo in Kihei. There is a park right across the street that is super kid-friendly, and a pool, wading pool jacuzzi and gym on-site.
You can choose from 1, 2, or 3 bedroom condos, all with kitchenettes and washer/dryers. No more taking home half the beach in your dirty clothes! Check out the latest prices and more details.
If you are looking for a kid-friendly beach within walking distance, this condo would be a great choice! Check out the latest prices and more details.
If your kids are like my boys and get sick of sand pretty quick, you will appreciate the two swimming pools on-site, and all the shops and restaurants nearby to keep them busy.
With in-unit kitchens, you won't have to eat out every meal, and the washer and dryers will be super helpful when the inevitable mess happens.
This is another affordable condo rental option. This property is about a 5-minute walk from the beach. Each unit does have a kitchen, and the grills on-site are perfect for a family BBQ. Check out the latest prices and more details.
The only things these units lack are the washer and dryer, but there are options for coin-based laundry machines on the premises.
LAHAINA
While you would need to rent a car to get here, Lahaina is a nice, quiet, convenient place to stay if you're thinking about renting a boat or taking in a luau.
This is probably THE place to stay with a family on Maui. There are 1, 2, and 3 bedroom villas to rent with full kitchens and washer/dryer sets. Even the guest rooms have kitchenettes! Check out the latest prices and more details.
Kids will be sold by the "super pool" park with waterfalls, water slides, and a grotto. Parents will be sold by the STARBUCKS, in-room bathtubs, and on-site spa. Sip your nitro brew, relax, and let someone pamper you for a change!
If you plan on Uber-ing or Taxi-ing to Lahaina, this would be a great, centrally-located hotel to stay at. Check out the latest prices and more details.
This 34-room hotel is about as historical as you can get, and has a pool that is perfect to help your little ones get rid of some of that extra energy!
If you love the 1950's era, you will love this hotel's throwback vibe. Included in your stay is the use of the pool, unlimited hours lounging on the gorgeous grass lawn, and all the beach time you could want at Napili Beach a few steps away. Check out the latest prices and more details.
Families will appreciate the daily complimentary breakfast (not always a given in Hawaii) and the fully equipped kitchen in the studio units. Be sure to take in the entertainment each week in the pool area!
This condo complex was recently updated and now includes two swimming pools for families to enjoy. The rooms come as a studio or one-bedroom rentals, and feature black-out curtains. Check out the latest prices and more details.
Let me tell you – those curtains are amazing if you are trying to put down a toddler who is cranky because "It's still light out."
When you wake up in the morning, make sure you check out the macadamia nut pancakes at the on-site restaurant. They are a family favorite!
KAANAPALI
The nice thing about Kaanapali is that once you get there, you won't need to leave. There are a bunch of family-friendly hotels within a small area, so you can spend more time relaxing and less time driving places.
If you ask my boys where their favorite place to stay on Maui is, this resort would probably be right up there! Check out the latest prices and more details.
The pool area has 5 different pools, including one with a water slide that is the perfect size for little ones! The beach is just a few quick steps from the pool area, so there can be lots of playing and sandy fun!
Make sure you take time to try to coffee stand, market ice cream, and Duke's restaurant (with a menu just for kiddos) – all of which are on-site.
While the hotel rooms are amazing and huge, the 1 or 2-bedroom suites are perfect for a larger family to be comfortable in. Check out the latest prices and more details.
This resort boasts a kids club called Camp Kaanapali. You kids can learn how to hula dance, string a fresh flower lei, play the ukulele, and create their own kite! I wish they would let me go!
They also have two heated pools – one of which is brand new and surrounded by lush greenery and gardens. So relaxing!
One of the more well-known resorts on the island, this gorgeous hotel has an amazing reputation for a reason. The rooms and suites are impeccably maintained, and there are several choices for entertainment or restaurants on-site. Check out the latest prices and more details.
Between the Camp Hyatt for kids ages 5-12, penguin and koi fish feedings for the younger ones, and an on-site luau, there is literally something for everyone.
I adore watching my boys' eyes light up as they see the hula dancers, then being able to snuggle them all the way up to our (very close) room on the way to bed.
Plus – Ululani Shave Ice is my absolute favorite shave ice spot on Maui, and it's here!
This is another wonderful option for families on Maui. They have an 87,000 square-foot aquatic playground with five pools, water slides, waterfalls, a cave with a hidden Jacuzzi, tropical gardens, and more! Check out the latest prices and more details.
The location itself is right by Whaler's Village, with lots of shops, restaurants, and events to take advantage of. There is also an on-site luau, which is such a nice perk for a family getting tired towards the end of a long day!
WAILEA
Wailea is definitely the most luxurious spot on the island, and you will pay a bit more for places to stay here. The trade-off is that there are wonderful amenities and features for families here.
If there is one hotel that has the idea of catering to families down pat – it's Fairmont. This would be one of my "bucket list" hotels. Check out the latest prices and more details.
There are so many wonderful things about this place, so I am only going to list my top favorites here.
Keiki Dining Program: Kids under 5 eat free, and they have dedicated kid-friendly cuisine at their Kea Lani Restaurant, AMA Bar and Grill, and Kō.
Family Activity Pools: Two pools dedicated to families with a 140-foot water slide connecting the two
Gifts for children: Children receive a gift when they check-in and the staff keeps care packages for the little ones on-hand with things like no-tears hair wash, bubble bath, baby lotion, and baby soap.
Activities for slightly older kids: There is a Kids Club on-site, plus a canoe experience, and a Hawaiian Cultural Program.
Lastly – the Willow Stream Spa is fabulous for parents. Let the kids go to the Kids Club, and carve out some adult time for yourself at the spa!
This is one of the few resorts that have an area just for teens as well as a kids club (Club Grande) for ages 5-12. Kids 5 and under enjoy free breakfast every day, which is so nice as a parent! Check out the latest prices and more details.
There are lots of cultural programs you can take in as a family, as well as ocean-based activities and an on-site luau.
None of that compares to the pool area, though! Wailea Canyon in an on-site water theme park with four jungle pools, five winding slides, a whitewater rapids slide, a Tarzan pool with a rope swing, a sand beach, and so much more!
Enjoy yourself in a Jacuzzi while your little ones explore one of the six waterfalls, or help your baby take their first dip in the infant pool.
Whatever you do, don't forget to try the world's first water elevator! And if you try the Lava Tube Slide – please let me know how much you love it – it's brand new!
The views at this resort look fabulous enough, but add in the fact that their restaurant features the famous Chef Morimoto, and I will be booking soon! Check out the latest prices and more details.
The activities here look wonderful as well, with your choice of coconut leaf weaving, coconut husking, hula lessons, ukulele lessons, or an outrigger canoe experience. If you have a little Moana-lover, they would be in paradise!
There is an on-site luau here as well, in addition to eco-friendly farm-to-table restaurants and an organic spa.
You also won't have to worry about leaving your pet behind, this is one of the few resorts that are pet-friendly as well as people-friendly!
For families with little kids who want to play in a cool pool, you have to check out the Nalu pool at the Marriott Wailea Beach Resort. It's a zero entry pool with fountains and 2 waterslides! Check out the latest prices and more details.
There's also an awesome kids club.
Read more about how to stay at the Marriott Wailea Beach Resort using points!
This brand-new hotel is definitely a more budget-friendly option! It is the first Residence Inn on Maui, and is new enough that we haven't been yet! Check out the latest prices and more details.
Where do you like to stay when you next visit Maui with kids? What do you look for in a kid-friendly vacation? Let me know below! Aloha!