Are you looking for things to do in Maui with kids? Keep scrolling to learn how to do the I'ao Needle hike near Kahului, Maui for a fun adventure.
This post about how to do the I'ao Needle hike with kids contains affiliate links which means if you purchase something from one of my affiliate links, I may earn a small commission that goes back into maintaining this blog.
Looking for a fun and easy hike to do with the kids in Maui?
Check out I'ao Valley State Park! It's home to one of the easiest hikes on the island – perfect for families.
This hike is short and sweet, with a paved path and stairs. You'll love taking in the incredible views of the I'ao Needle.
This Maui hiking trail is always a hit with grandparents and kids!
Scroll down for my full guide to this easy Maui hike, including tips for families.
Don't have time to read a bunch of Hawaii blog posts and reviews? Here are some of our top picks for visiting Maui with kids.
Best Kid-Friendly Maui Tours/Activities
Best Kid-Friendly Maui Resorts
Hyatt Regency Maui (this has the BEST pool area and on-site shave ice stand)
Honua Kai Resort & Spa (this is one of our personal favorites because there are tons of pools and there are condo options)
Fairmont Kea Lani (this is a swanky resort with incredible kids' programming and an awesome pool area)
Want to Rent a Car in Hawaii?
One of the best places to rent a car in Hawaii is Discount Hawaii Car Rental because they get the best rates from top national companies like Alamo, Dollar, Thrifty, Avis, Enterprise, Budget, and Payless.
Want to skip all the planning and just access my detailed Maui Itinerary complete with daily schedules, kid-friendly activities, and travel hacks? Click the button below.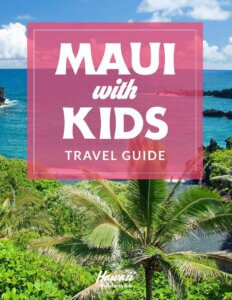 I'ao Valley State Park FAQs
Is there a fee for I'ao Valley State Park?
Yes, unless you are a resident with a valid Hawaii ID. For tourists, it's $5/person, and kids ages 3 and younger are free.
Is I'ao Valley worth visiting?
Absolutely! It's the quintessential Maui destination where you can go for a short hike, swim in the water, have a picnic, or just soak in all the gorgeous scenery. There's a lot of history here too, so it's a great educational stop to learn about the battle of Kepaniwai.
When is the best time to visit I'ao Valley State Park?
If you're hoping for the most optimal views, I suggest heading there right when the park opens at 8 a.m. That way the sky should be clear and you can get the perfect I'ao Needle selfie. Clouds tend to roll in during the afternoon. But it's still a nice hike any time of day.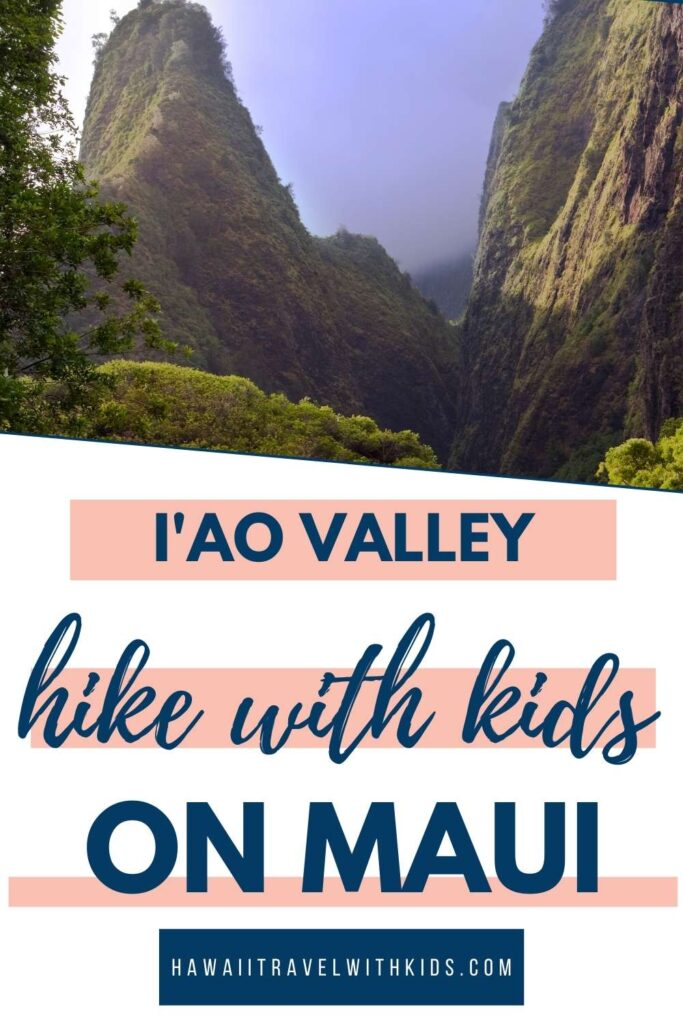 Where is I'ao Valley State Park on Maui?
I'ao Valley State Park is located at 54 Iao Valley Rd in Wailuku. It's a really nice drive through Wailuku town as you make your way up to the park.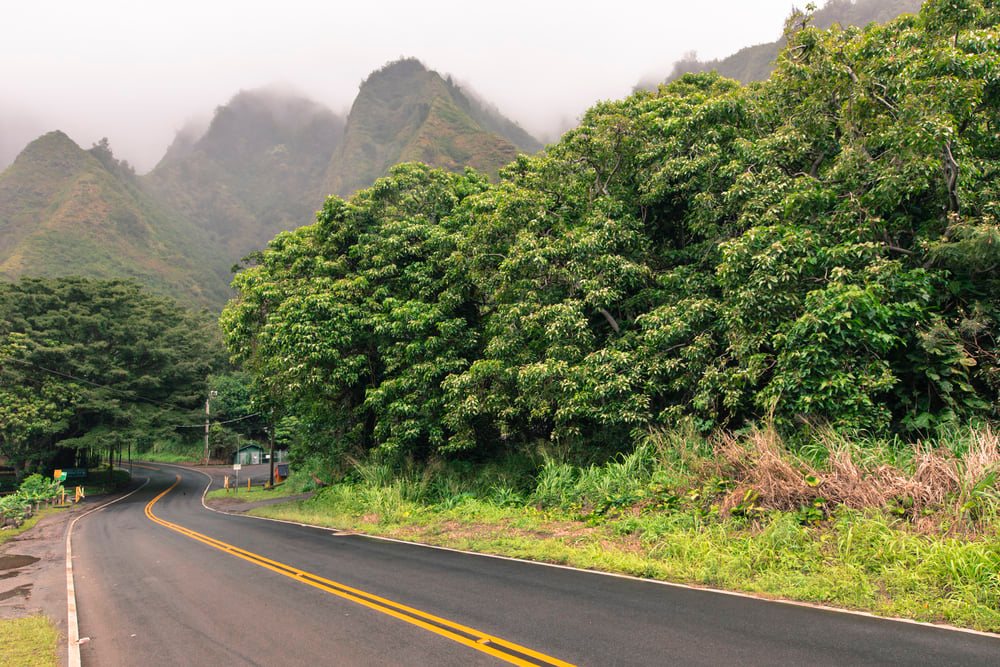 It's just 20 minutes from Kahului and about 40 minutes from Lahaina. Since it's so close to the airport, it makes a great first or last stop.
Parking and Entrance Fees
There is a parking lot attendant who sits next to an electronic pay station in the parking lot. She was really nice and actually keyed everything in for me so all I had to do was pay.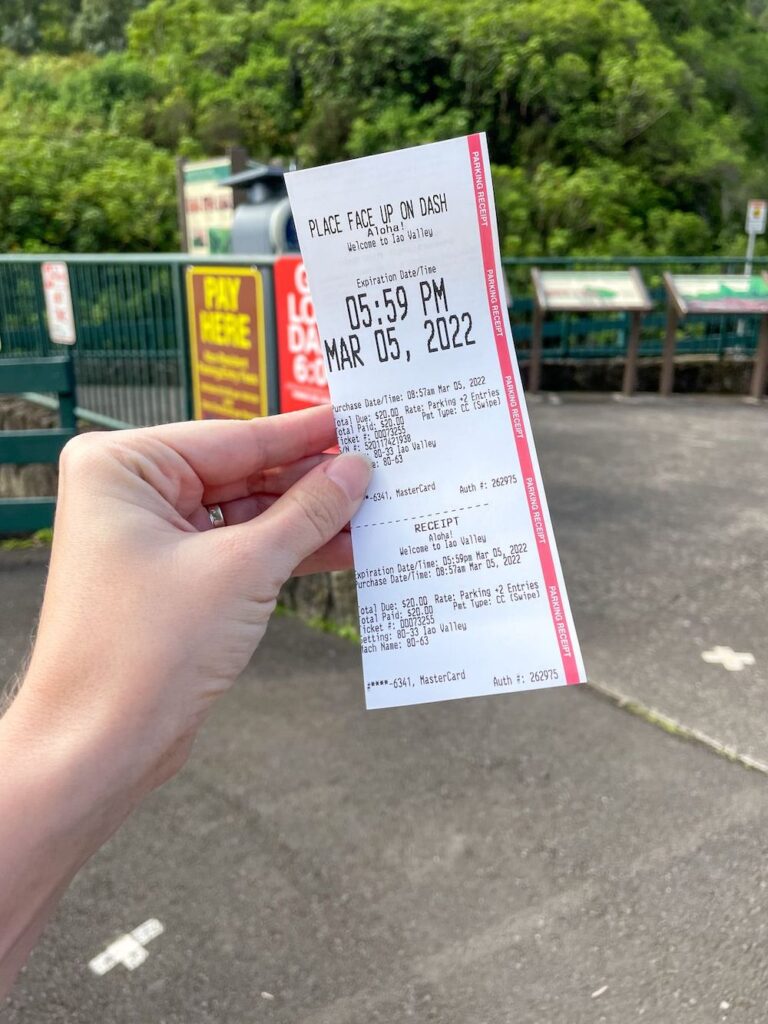 Advance reservations to enter I'ao Valley State Monument are now available online. The parking fee is $10 per vehicle. The additional non-resident entrance fee is $5 per person with no charge for children under three years old.
You'll need to put the receipt on your dashboard so that the parking attendants know you have paid. The parking is good for a full day at I'ao Valley State Park.
Restrooms
I know families always like to know if there's a restroom everywhere they go, so I thought it was important to note that there are public restrooms right near the parking lot and entrance to I'ao Valley State Park.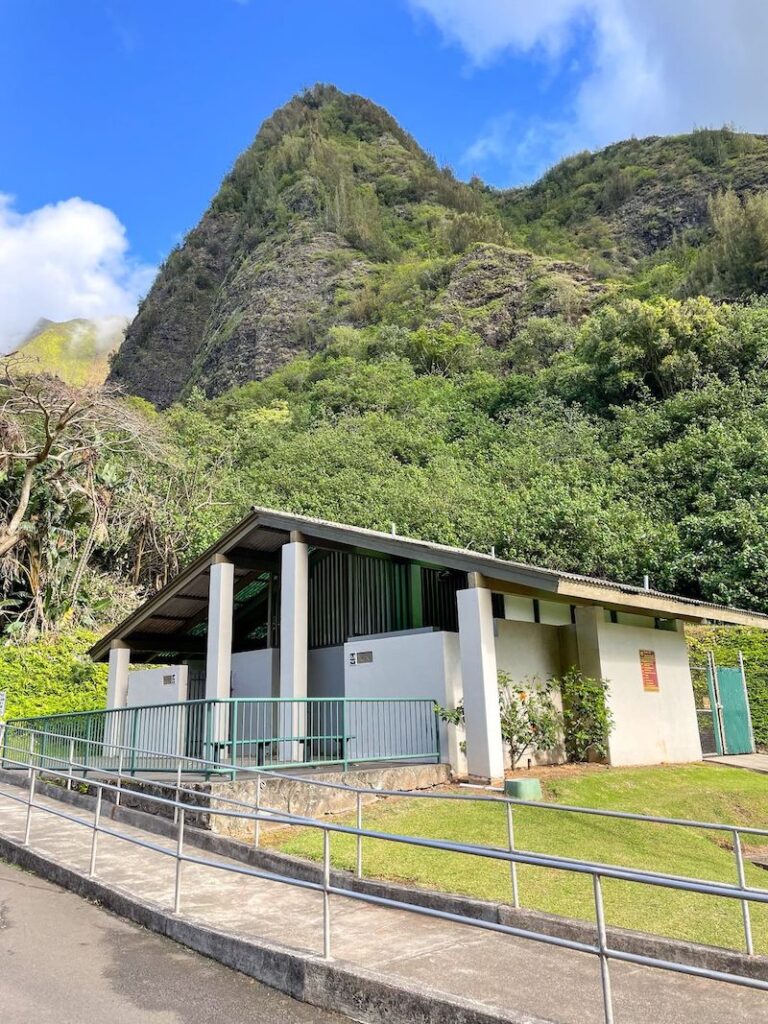 When we were there in March 2022, they were still closed so I was unable to go inside and check the cleanliness. But, I think these restrooms are in the most gorgeous location!
What Can I Do at I'ao Valley State Park?
Hike up to I'ao Needle
The main thing to do at I'ao Valley State Park is hiking up the 0.6 mile trail to the I'ao Needle viewing platform.
This is definitely one of the easiest Maui hikes for families who are okay with climbing some stairs. There are several places to pull off and let other families pass you if you are walking at a slower pace.
Lower Garden
There's also a really cool Hawaiian garden that you can walk down to and explore. The path is still paved the entire way and there are benches for people who'd like a rest.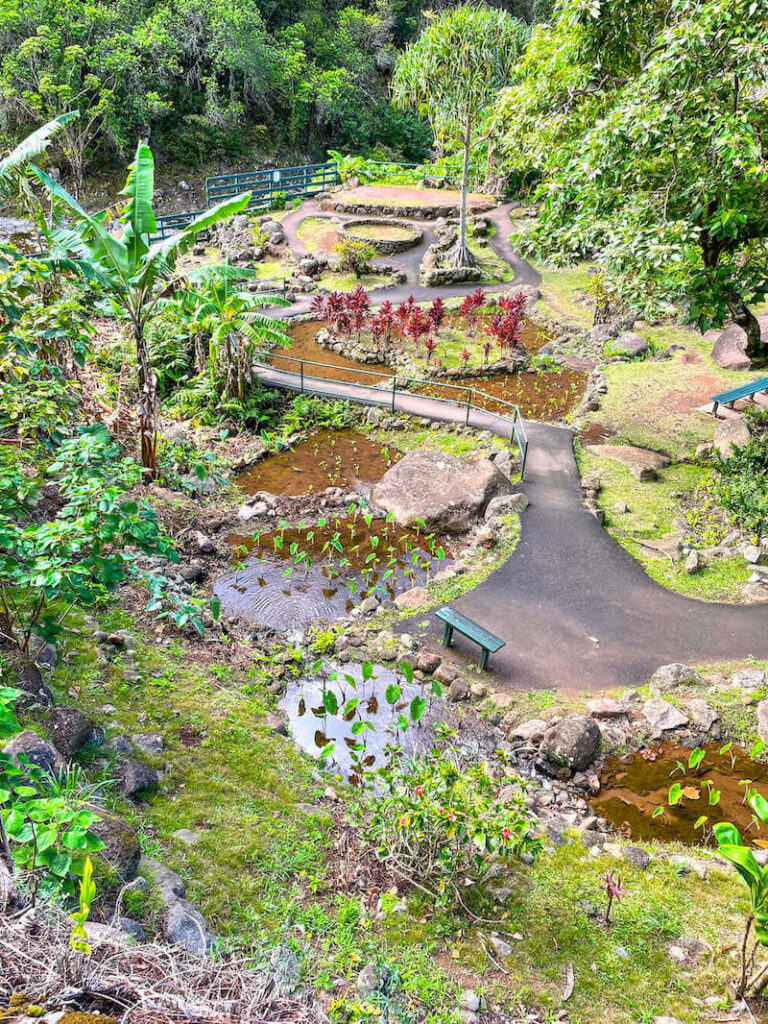 This is a great opportunity to show kids how taro is grown in water. Taro is what poi is made out of but it's also featured in tons of Hawaiian dishes.
Check Out the Swimming Hole
If you'd like to explore a bit off the paved path, you can take a short walk through the forest to get to the swimming hole.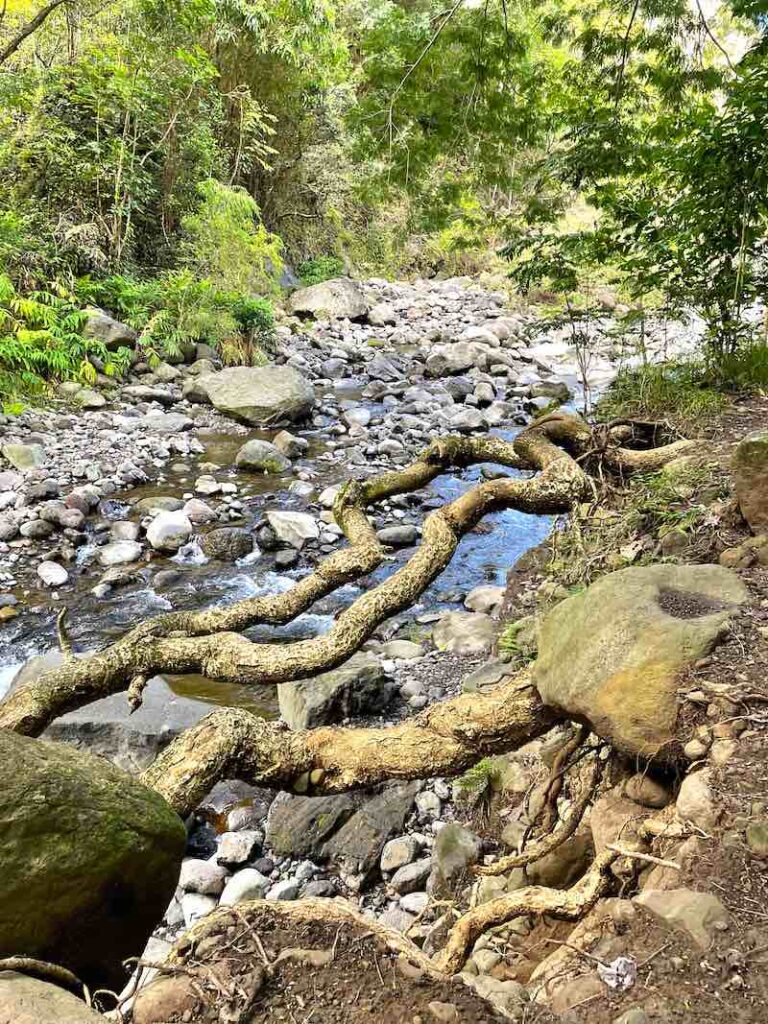 This is where you'll find a mountain stream where you can splash around in the water.
When we were there in March 2022, it was the tail end of a very dry winter. That's why the photo above doesn't seem like a full swimming hole. But, we've gone in the past and there was a lot more water.
Japanese Garden at I'ao Valley
While you're in the I'ao Valley, you might want to stop at Kepaniwai Heritage Gardens, which is located on Iao Valley Road just before I'ao Valley State Park.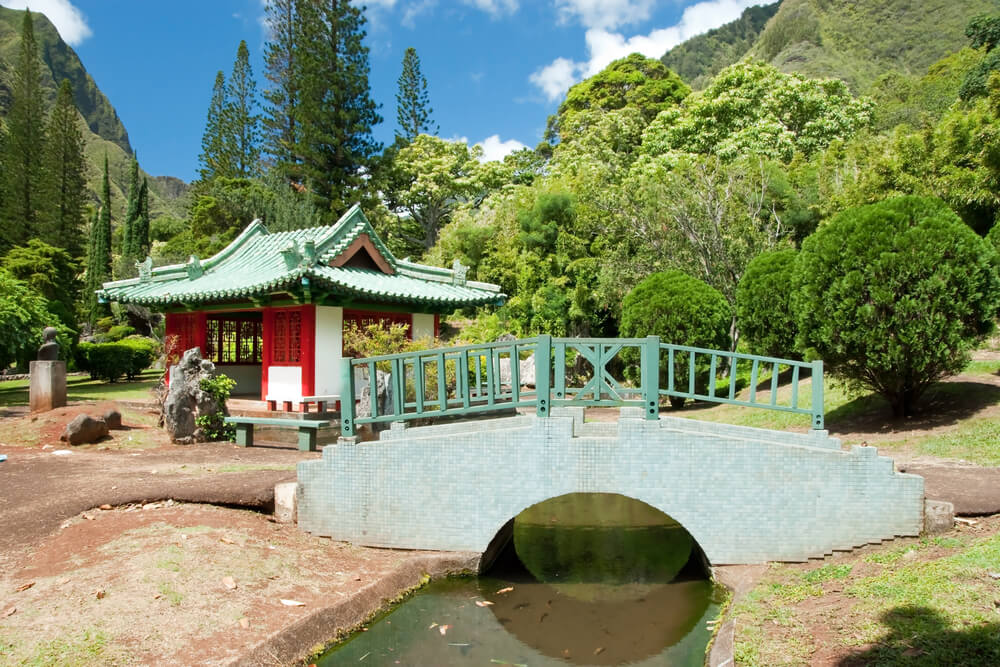 It's a nice public park where you can see cultural displays highlighting the Japanese, Portuguese, Chinese, Native Hawaiian, and Korean people who made Hawaii their home.
5 Favorite Things about Hiking I'ao Needle Near Kahului with Kids
1. The Entire Path is Paved
If you are doing the 0.6 mile path up to the I'ao Needle viewing platform or down into the taro patches, the entire path is paved. There are stairs however, so this is NOT a stroller-friendly path.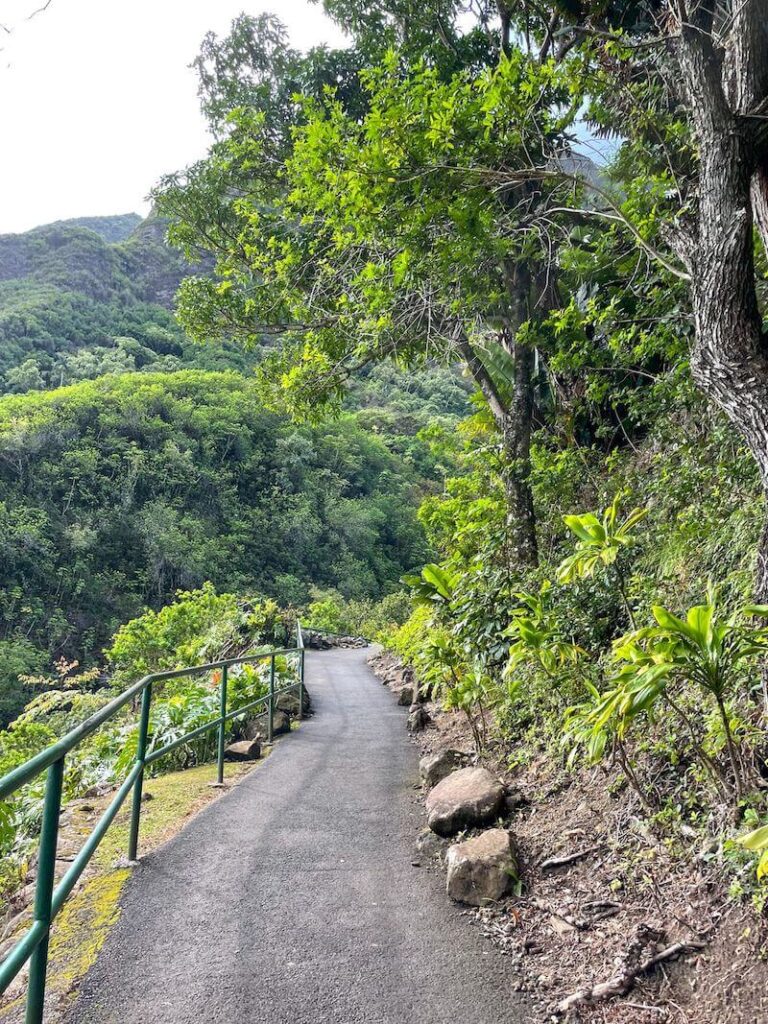 But because it's paved, that means it's easy to wear flip flops or sandals without worrying about tripping over roots or holes in the ground.
2. There are Handrails
There are a lot of stairs so it's nice to have handrails for extra stability. This is helpful for kids (they have a lower railing) as well as adults.
3. Stunning Photo Spot on Maui
There are quite a few great selfie spots along the path to I'ao Needle. I really like taking photos on the first bridge and at the top.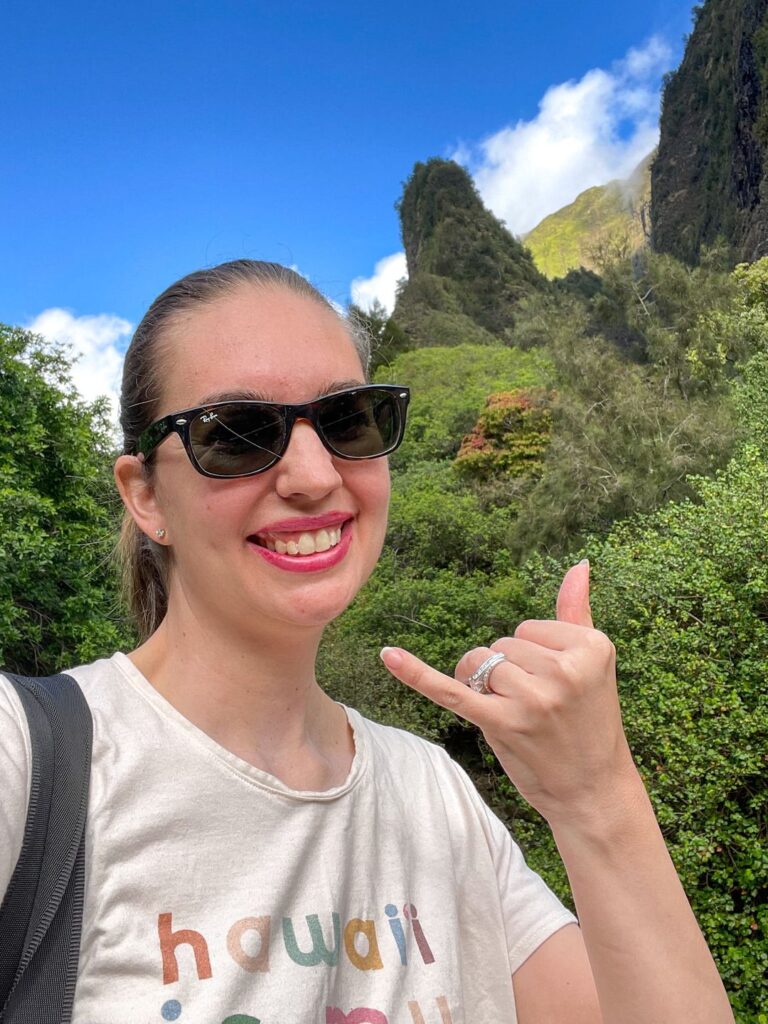 No matter which direction you turn, you'll see something beautiful you'll want to take a photo of. This is where your cell phone will definitely come in handy! Plus it's easy to take tons of selfies.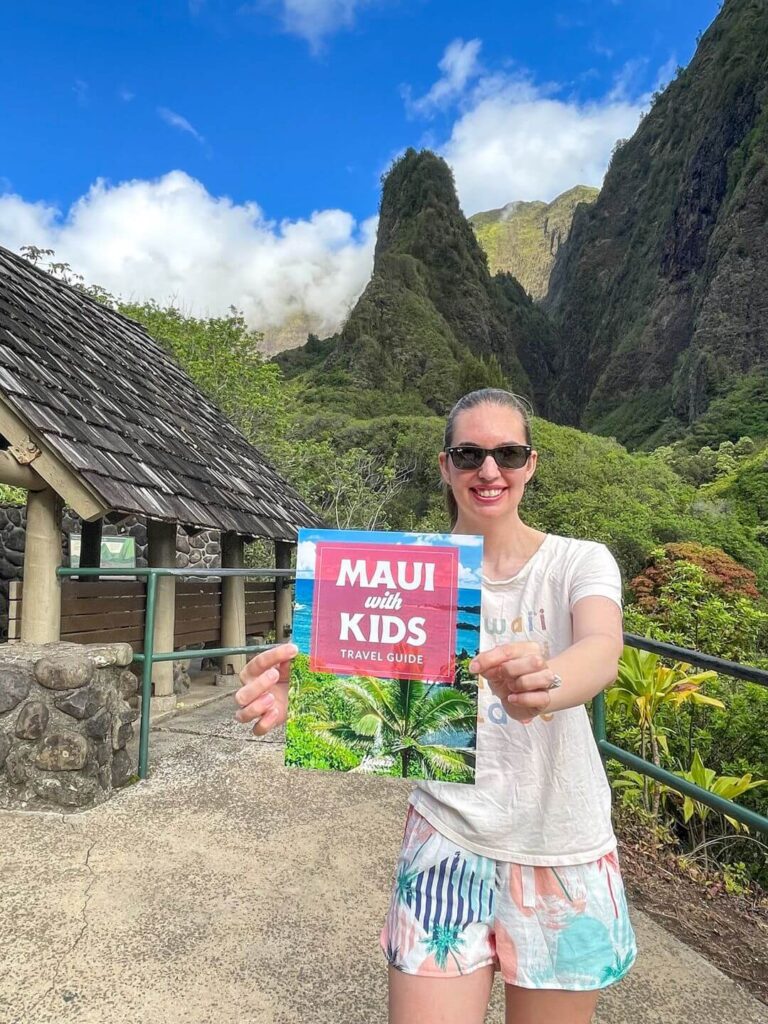 Once you get up to the "summit" there is a bit of room to take photos in front of I'ao Needle or in the little shelter they have. It's best to wait your turn if you don't want strangers in your photos.
4. It Takes Less Than 30 Minutes
I hesitate to even call this an easy Maui hike, but I will because it's not a flat walk. The path goes uphill and there are a bunch of stairs at the end. But, it's very short. When I don't have little kids with me, it takes me less than 10 minutes.
5. There's a Trail to a Swimming Hole
I'ao Valley State Park is also home to one of the best Maui swimming holes. There's a river that comes through the valley that is a popular spot for families to play in the water.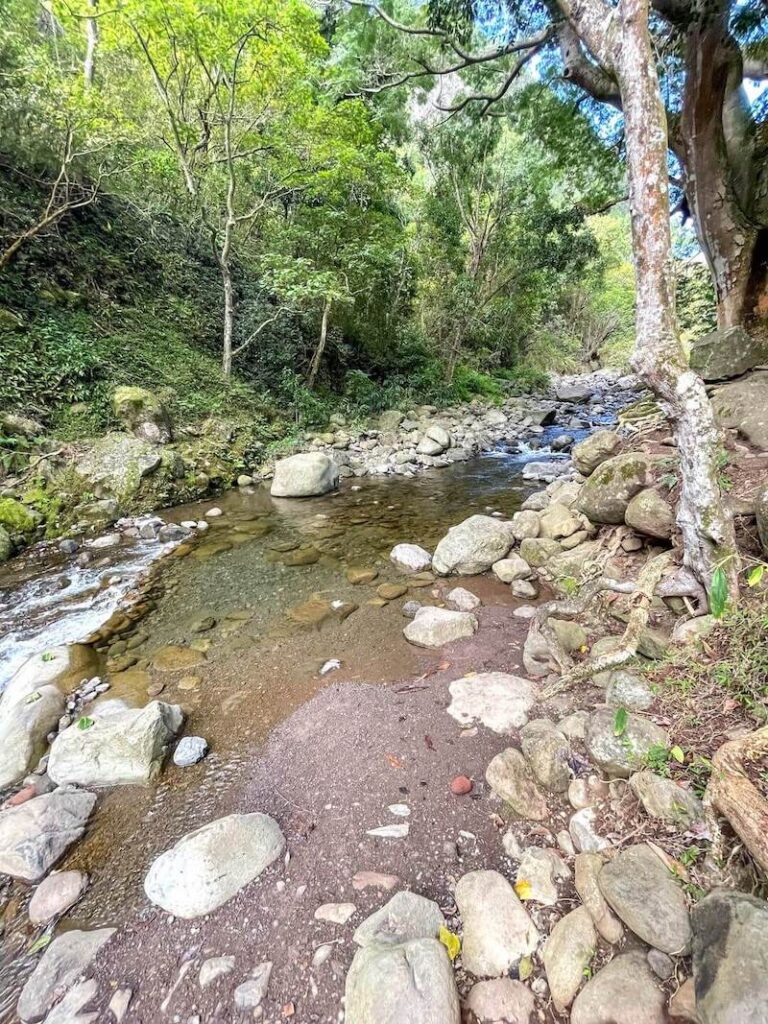 You'll take a dirt trail down from the lower garden area. There are clear signs on where to go and where NOT to go.
Tips for the I'ao Needle Hike with Kids
What to Wear
The weather can be a bit cooler in Wailuku, so keep that in mind when dressing. If you are going early in the morning, you might even want a long sleeve shirt or sweatshirt. Otherwise, a t-shirt and shorts is good.
You can easily do the walks to I'ao Needle and the garden area in sandals/flip flops. But, shoes and socks are also a good idea. Water shoes would be nice if you plan on getting wet.
What to Pack
If you think you might want to get wet, you'll definitely want to either pack swimsuits and a towel or at least an extra set of dry clothes.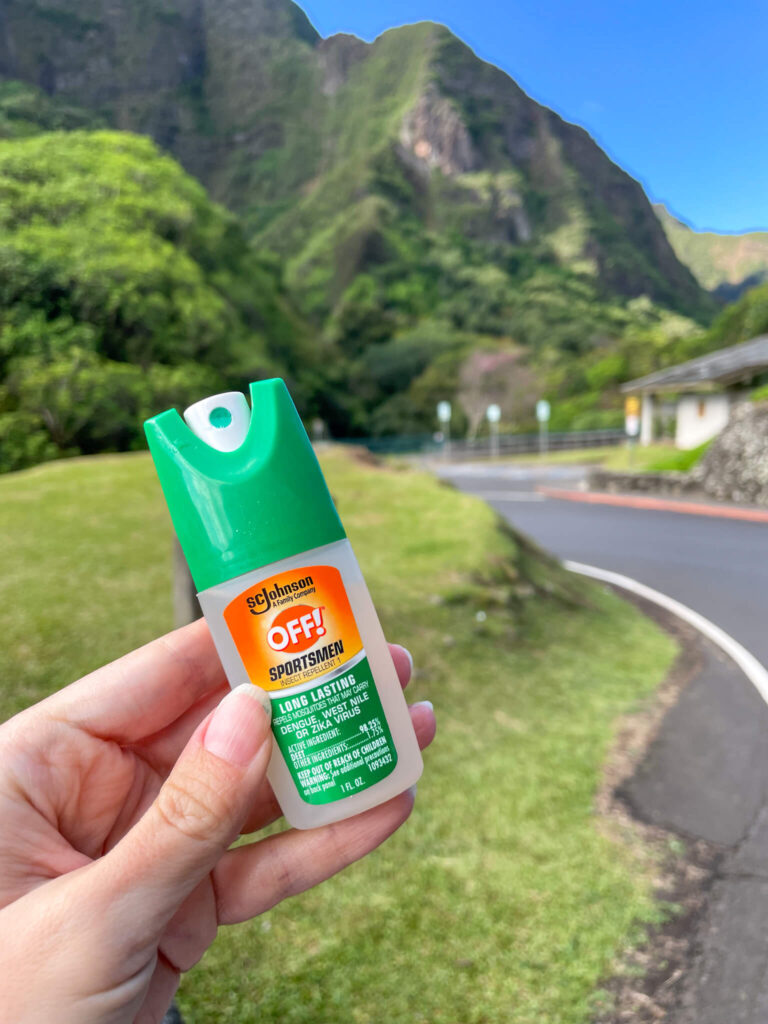 When we've visited I'ao Valley in the past, it was crazy buggy. This happens anytime it rains. So, check the weather and bring bug spray along just in case.
Which Path to Take
I like to start with the path that leads all the way up to I'ao Needle. Then on my way back down, I head into the garden area. From there, we can go to the swimming hole.
Families with Babies and Toddlers
If you are planning on visiting Maui with a baby, I recommend bringing a baby carrier so you can wear your baby on this hike. We saw lots of families doing that.
When I visited when my oldest was a toddler, I just let him lead the way and he did the entire hike without any help. We just pulled over to let other families pass us.
And use your judgement if you want to bring your baby or toddler to the swimming hole area. It can get slippery on the rocks.
So, is it Worth Hiking I'ao Needle with Kids?
Absolutely! This is one of my favorite places to go on Maui with kids because it's pretty easy to walk around and the views are amazing.
I love that it's close to the airport and it's just a short drive to the Maui Tropical Plantation, which is a great second stop.
What Are Some Other Kid-Friendly Hikes on Maui?
If you'd like to do some other kid-friendly hikes on Maui, I recommend the Waikamoi Trail that's along the Road to Hana. It's a short hike through the forest and it's perfect for stretching legs on the long drive.
Twin Falls is also on the Road to Hana and it's a kid-friendly Maui hike that leads to a waterfall that you can swim in.
And there's the Kapalua Coastal trail in West Maui that's a nice option for families.
P.S. Join our Hawaii Travel with Kids Facebook group to get connected with other families planning a trip to Hawaii!