Are you visiting Maui soon and are looking for easy things to do? Keep scrolling to read an honest review of the Maui Tropical Plantation to see if it's right for your family.
This review of the Maui Tropical Plantation was written by Hawaii travel expert Marcie Cheung and contains affiliate links which means if you purchase something from one of my affiliate links, I may earn a small commission that goes back into maintaining this blog.
Looking for a fun and easy day trip with the family?
The Maui Tropical Plantation is the perfect place to explore with your little ones. There's a tram tour that takes you around the plantation where you can learn about Hawaiian fruit.
And if that's not enough, there's also a kid-friendly Maui zipline on the property! Plus you can shop for locally made produce and other made in Maui products.
You won't find another place like it on the island – it's perfect for kids and grandparents alike. Make sure to check out my full review of the plantation below.
Don't have time to read a bunch of Hawaii blog posts and reviews? Here are some of our top picks for visiting Maui.
Popular Maui Tours/Activities
Favorite Maui Resorts/Hotels
Andaz Maui (this is a luxury resort with the best luau on Maui)
Honua Kai Resort & Spa (this is one of our personal favorites because there are tons of pools and there are condo options)
Want to Rent a Car in Hawaii?
One of the best places to rent a car in Hawaii is Discount Hawaii Car Rental because they get the best rates from top national companies like Alamo, Dollar, Thrifty, Avis, Enterprise, Budget, and Payless.
Want to skip all the planning and just access my detailed Maui Itinerary complete with daily schedules, kid-friendly activities, and travel hacks? Click the button below.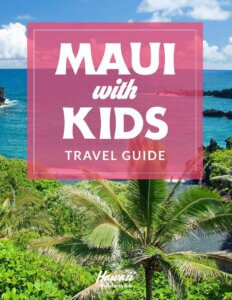 Maui Gardens FAQs
Is Maui Tropical Plantation free?
Yes! It's free to enter the property and walk around the grounds. However, they also offer paid activities like the tram ride and ziplines. And there's also the coffee shop, restaurant, and market.
What are the best Maui gardens for kids?
The Maui Tropical Plantation is the best botanical garden in Maui for kids. That's because you can do a tram tour of the property. The Kula Botanical Garden is also nice to explore. And if you're doing the Road to Hana, the Garden of Eden is beautiful and perfect for getting some wiggles out.
What are the hours of Maui Tropical Plantation?
Maui Tropical Plantation is open Tuesdays-Saturdays from 9 am to 4 pm.
Brief Overview of Maui Tropical Plantation
The Maui Tropical Plantation is located at 1670 Honoapiilani Hwy, Wailuku, HI 96793. It takes about 30 minutes to get there from Lahaina and about 15 minutes from Kihei.
It's one of the top things to do in Maui with kids. That's because there's a cute tram ride, ziplines, a market, a coffee shop, a fabulous restaurant, and more!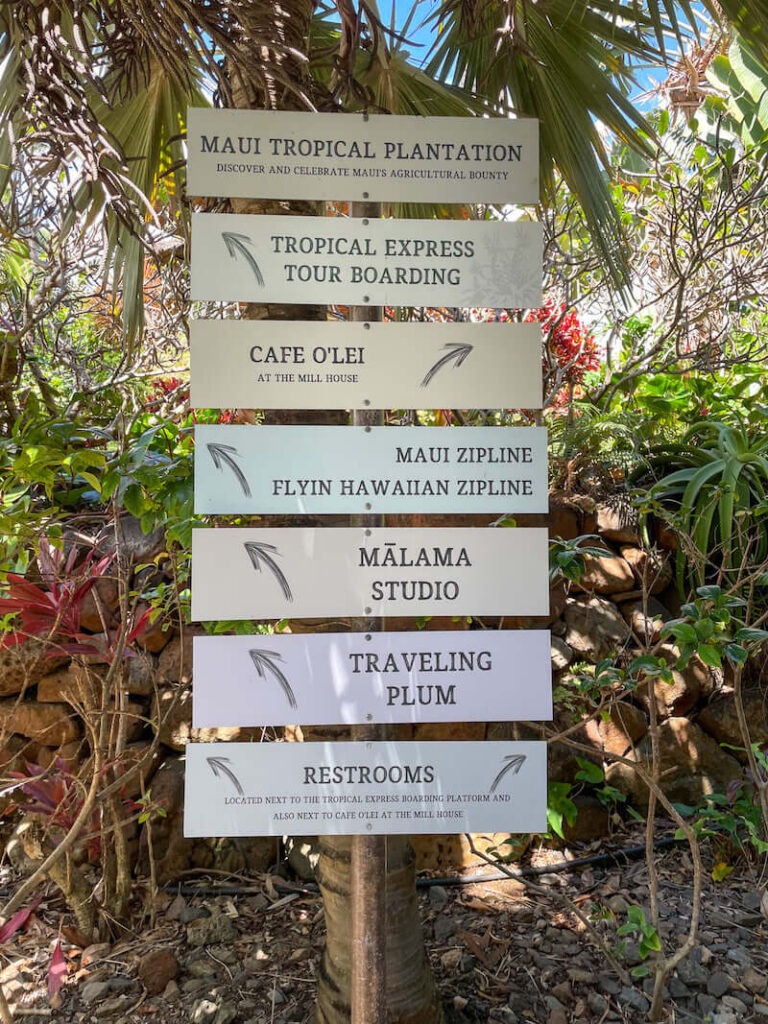 I first did the Maui Tropical Plantation tram tour about 6 years ago when my oldest son was a toddler. He had an absolute blast and I recommended this tour to every family heading to Maui.
However, I heard that they had closed in 2020 and the plantation was sold and I was so sad about that. Thankfully, they re-opened in 2022 with all the same amazing experiences! I went back in March 2022 specifically to write about it for this site.
Maui Tropical Plantation Tram Tour
Tropical Express Tram Ride
One of the best things to do on Maui with toddlers and young children is ride on the Tropical Express. It's an open-air tram that is great for families.
The tram ride itself is 40 minutes long and just does a big loop around the plantation.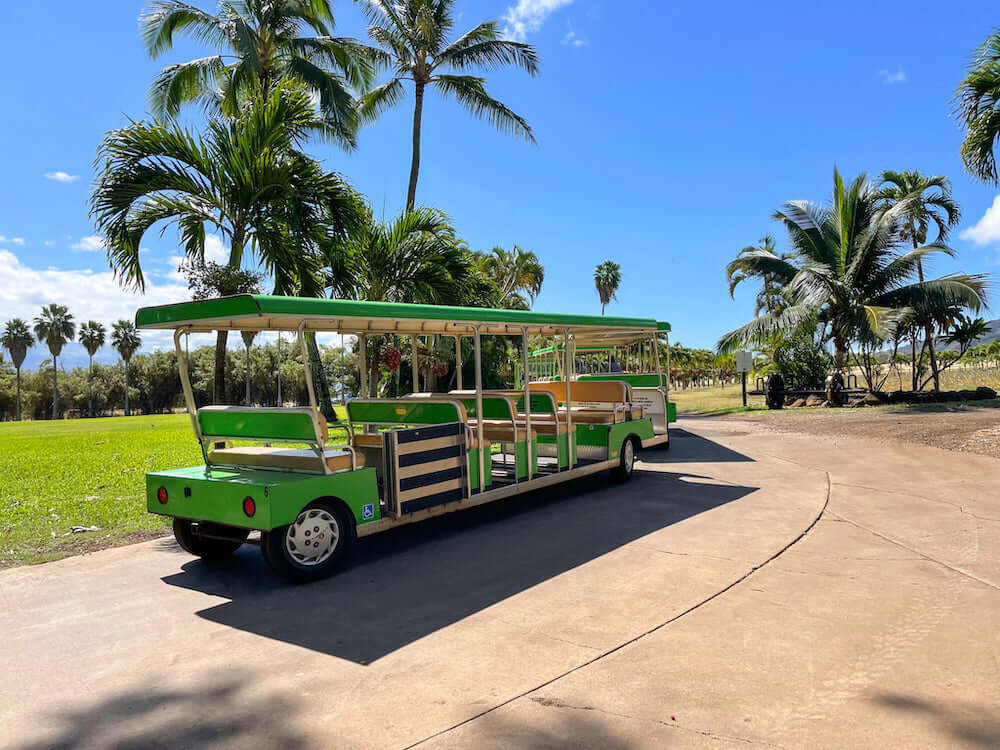 Tickets are $25 for adults ages 13+ and $12.50 for kids ages 3-12 years old. Kids ages 2 and younger are free. You can order them online or buy them at the ticket booth in the back of Maui Tropical Plantation.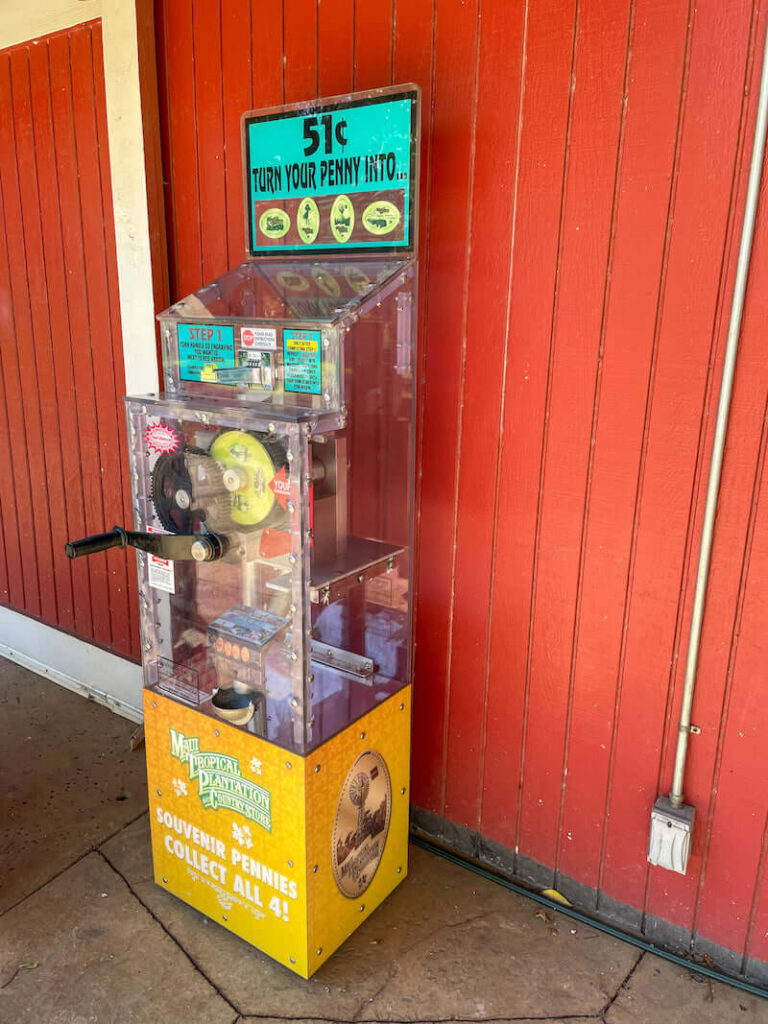 There's a nice outdoor waiting area for people riding on the tram. There's even a souvenir penny machine that is always a hit with kids. If you want to do this, make sure you have quarters and pennies!
Plantation Tour
Like I mentioned before, the tour is about 40 minutes long. Your tour guide will do a nice narration about the area and all the things you see along the way.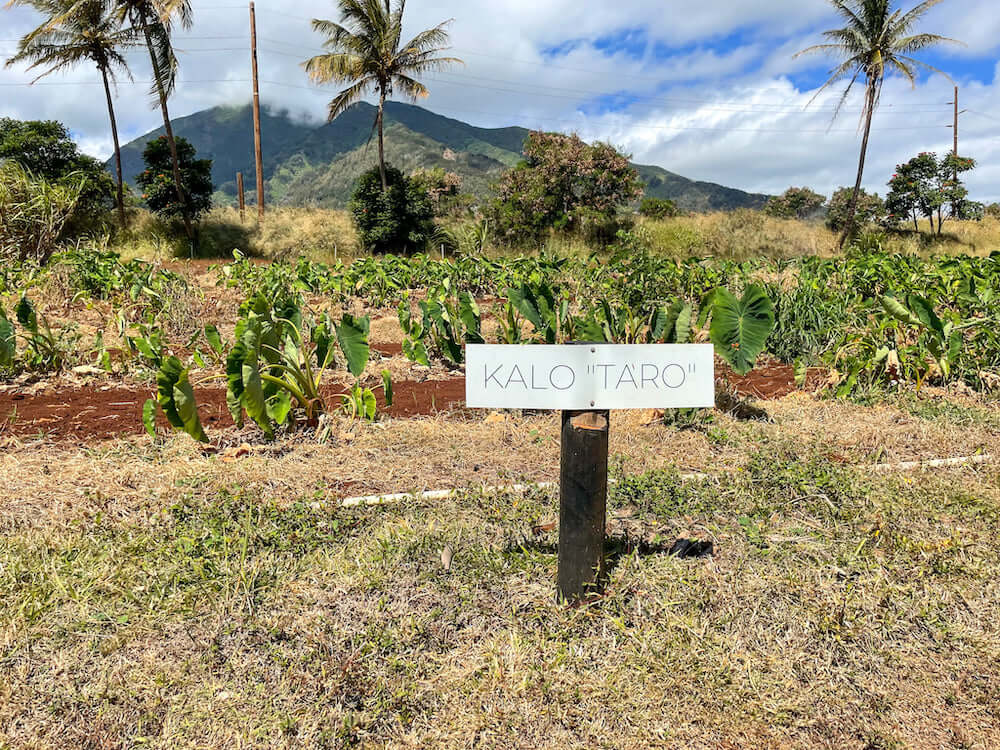 We saw a lot of plants along the way. They have a nice sampling of a lot of different crops. There were mango trees, banana trees, ti leaf plants, red ginger, coconuts, tropical flowers, and more.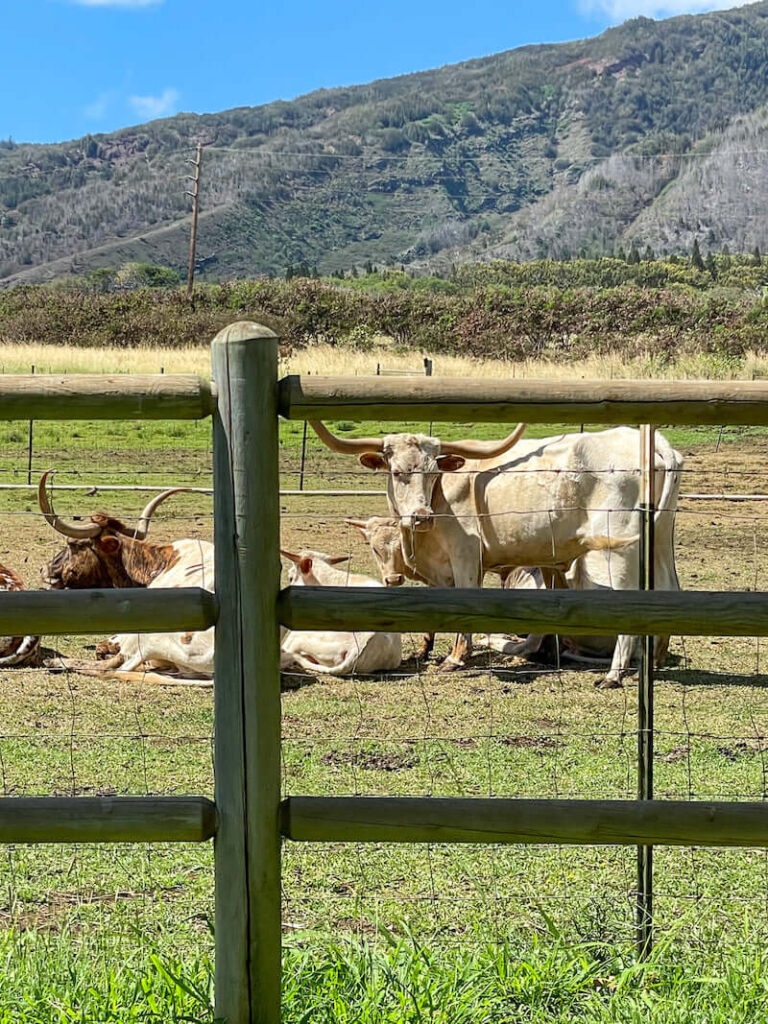 We also saw a bunch of bulls hanging out in a field. I think this is the only Maui botanical garden we've been to where they have livestock!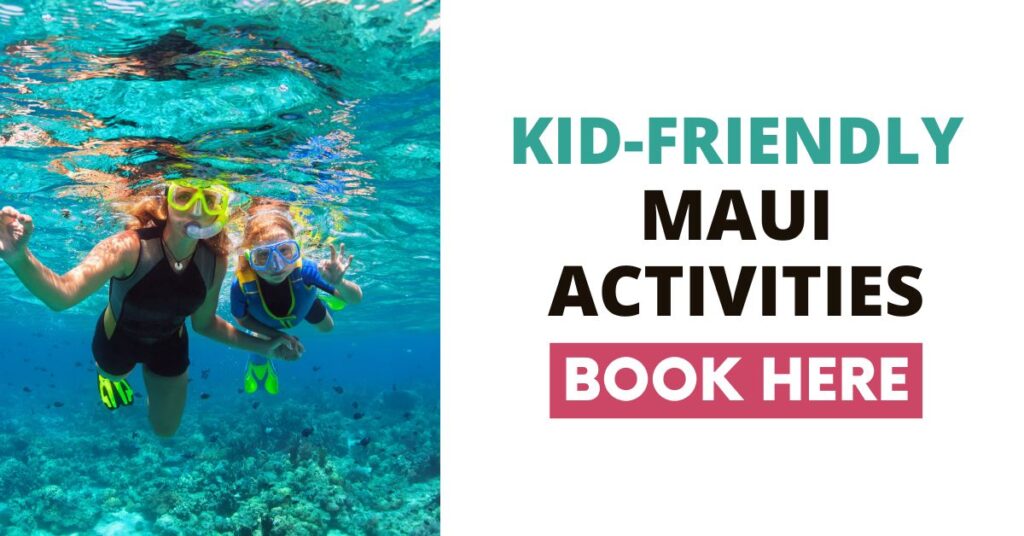 Coconut Husking
One of the coolest things about doing the Tropical Express tour at Maui Tropical Plantation is that they do a coconut demonstration.
Our guide did a full coconut husking demonstration where she removed the outer shell of the coconut. She showed us all the fibers and explained how those are used as fire starters and have lots of other uses.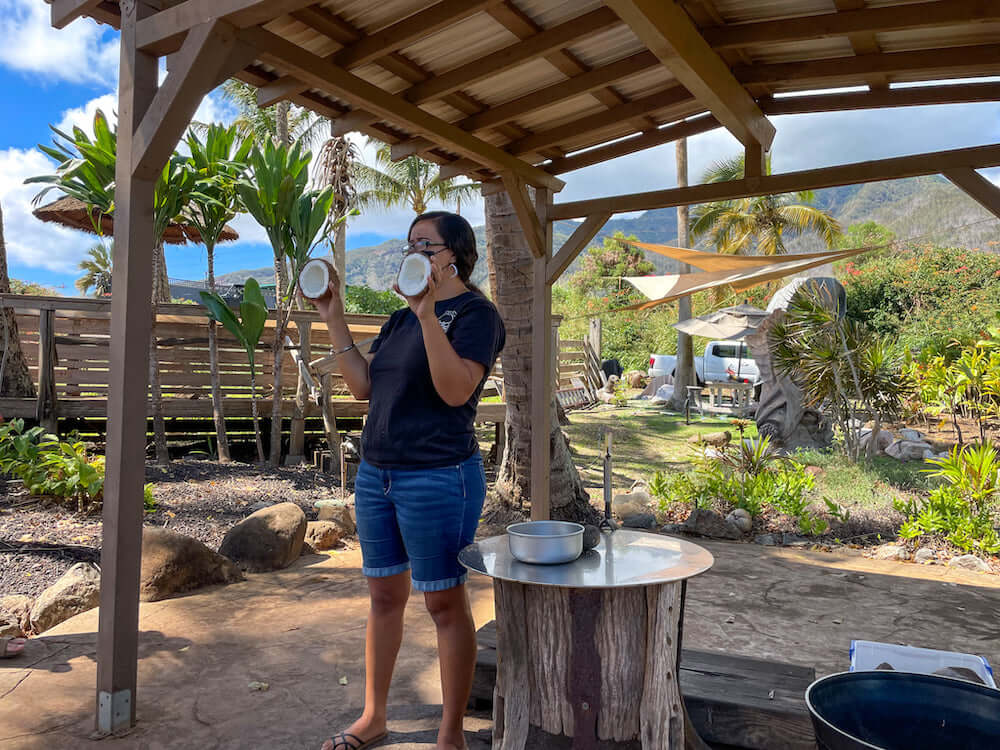 Next, she told us about her technique and cracked open the coconut into two halves. We learned about how hydrating coconut water is and how they make coconut milk by compressing the coconut meat.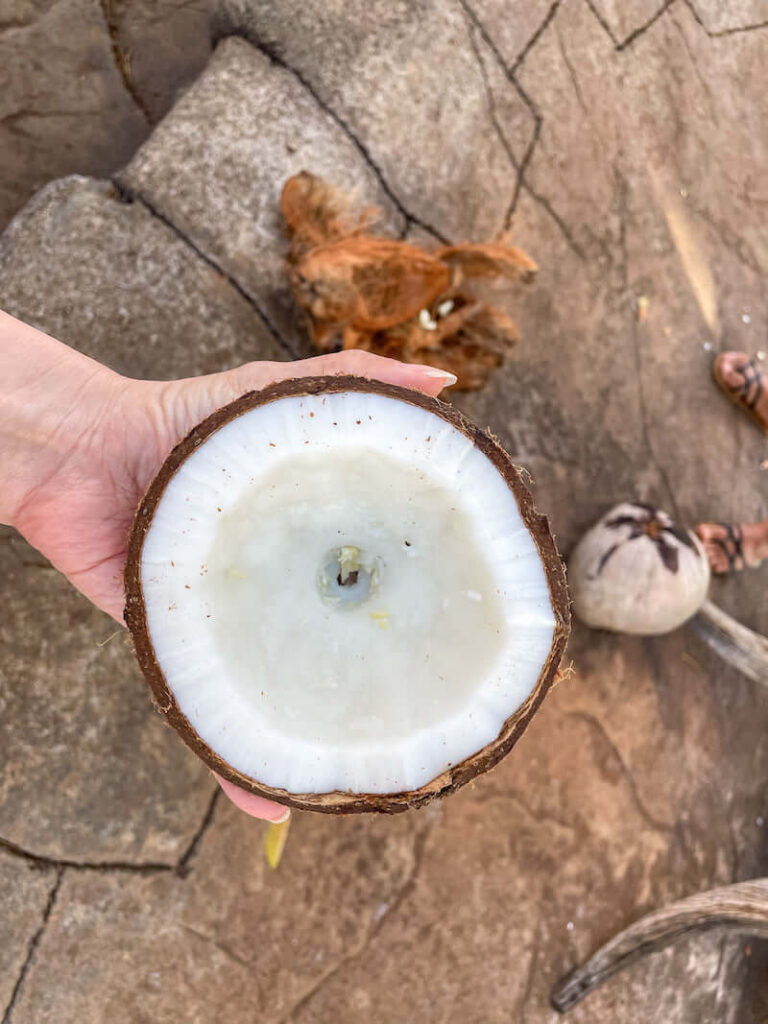 Finally, they passed around the coconut halves and the coconut husk so the audience could check it out. From what I remember about when we went several years ago, they also let us sample it. But, there was no sampling in March 2022.
The tour ends right in front of the Kumu Farms Market.
Other Things to do at Maui Tropical Plantation
Kumu Farm Bar & Cafe
When we arrived at Maui Tropical Plantation, we had some time before our tram tour. Thankfully, they have a really awesome coffee shop right near the entrance.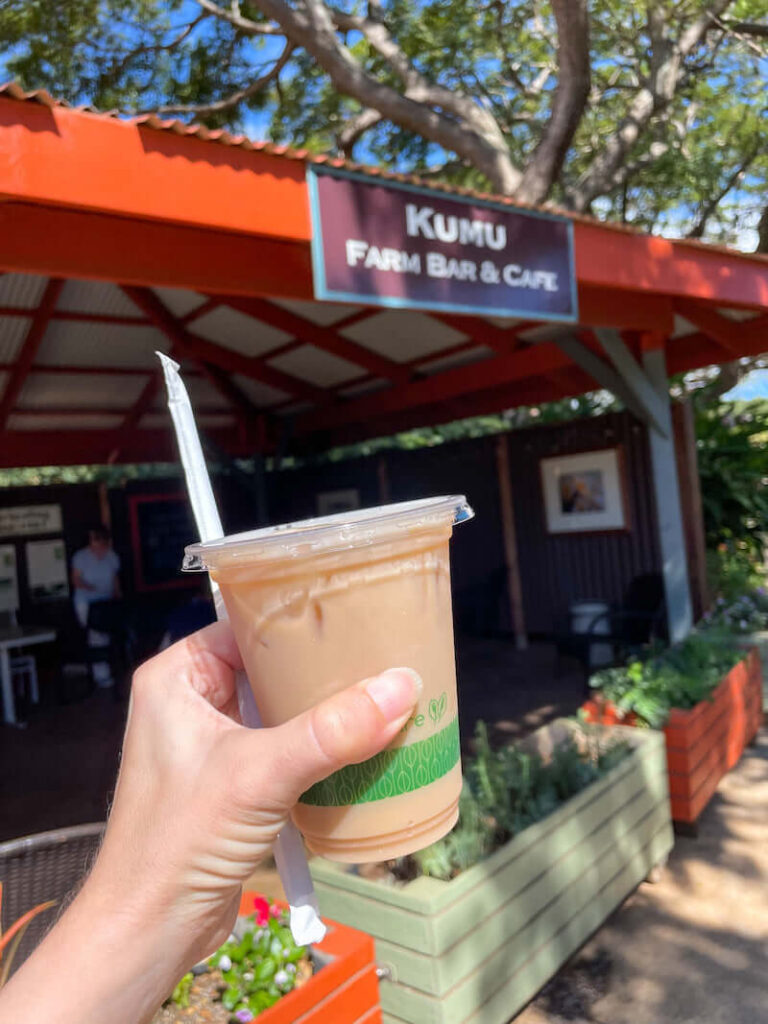 There's a little walk-up window where you can order hot or iced coffee drinks, smoothies, yogurt parfaits, bakery items, and even Shaka Pops!
Plus, they have a nice, shady seating area that's perfect for families.
Kumu Farms Market
Right next to the coffee window is Kumu Farms Market and it's HUGE!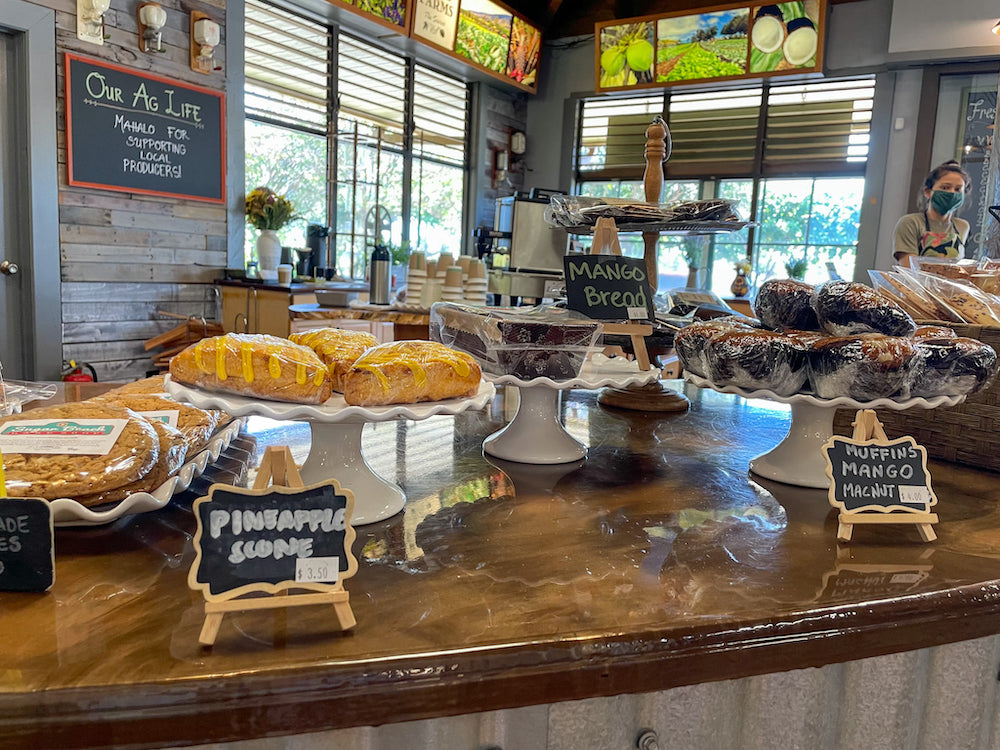 The first area near the entrance is their bakery. I love how everything was pre-wrapped so it's easy to purchase items to pack in your bag to eat later in the day as you're exploring Maui.
I bought some of their cookies and they were super yummy!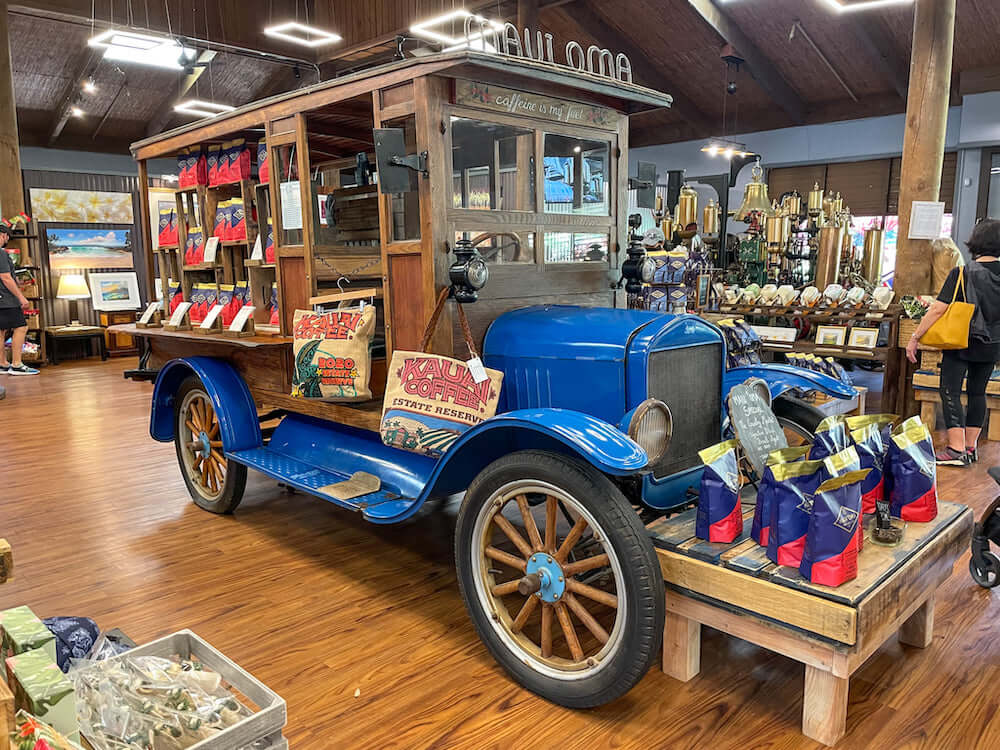 There's also a really large selection of coffee. They serve some of the coffee at the restaurant here, so if you like it, you can buy some at a Maui souvenir!
You can find coffee products from all across Hawaii as well as other gourmet products made in Hawaii.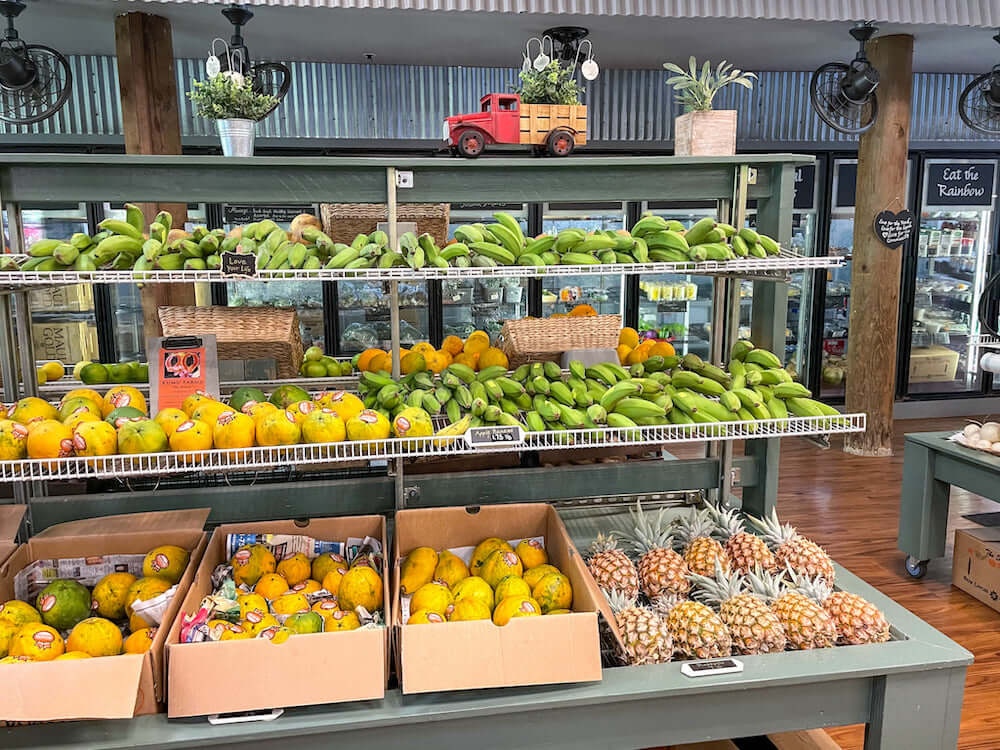 And it wouldn't be a true market without fresh produce! Kumu Farms Market is a great place to find locally grown fruit like apple bananas, papayas, and pineapples without hunting down a Maui farmers market.
They also have a lot of great items in their chilled section. If you're planning ahead, you might want to bring a cooler bag with you so you can stock up on their yummy items to eat later in your trip.
Maui Tropical Plantation Ziplines
Maui Zipline
If you're heading to Maui with kids who want to try ziplining for the first time, this is a great option. It's for kids ages 5 years and older. You'll fly over farmland, tropical gardens, and a nice lagoon.
They have side-by-side ziplines so grown-ups can ride alongside children. The ziplines range from 300 to 900 feet in length and the experience lasts about 2-2.5 hours in total.
They also allow walk-along guests. That means families with babies and toddlers can still go and watch the older family members zipline without completely missing out.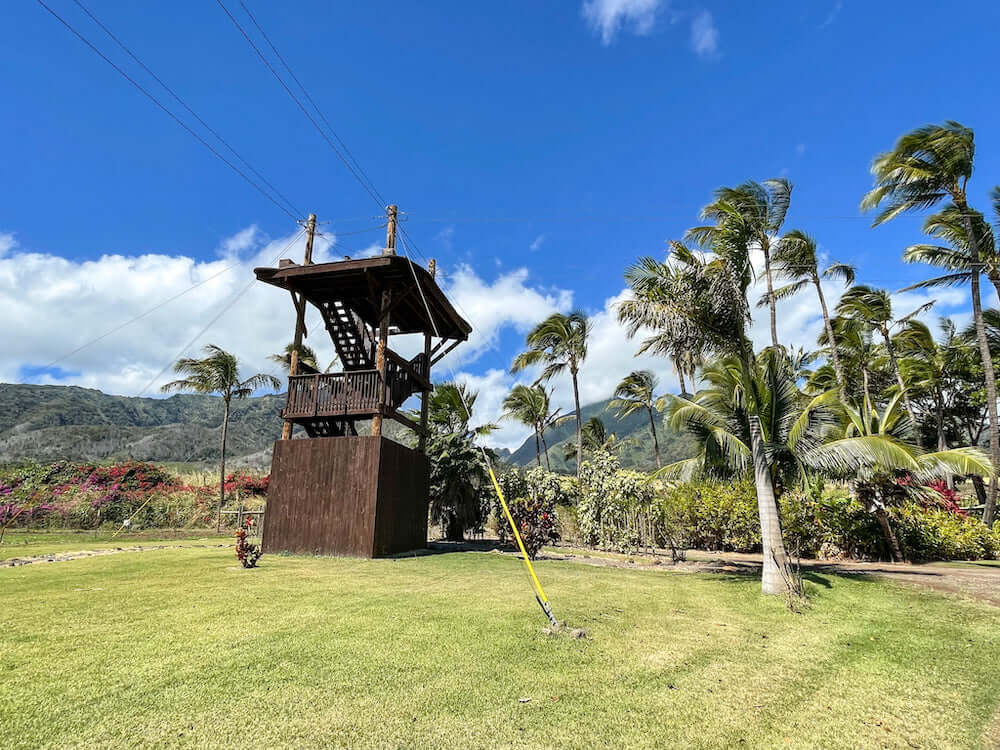 Flyin Maui Plantation Zipline
There's also another zipline at Maui Tropical Plantation that's for kids ages 10 years and older. It's actually the longest and fastest zipline in Maui, so it's perfect for thrill-seekers!
You'll hop on an ATV and head up to the West Maui Mountains where you'll find 8 mountain ridge ziplines. These range from 250 to 2,600 feet long.
This Maui zipline tour lasts between 4-5 hours, making it an awesome half-day adventure for families with tweens and teens.
The Mill House Maui Restaurant
Since there are a few things to check out at Maui Tropical Plantation, you might want to enjoy a meal at the Mill House Restaurant.
This is actually a Cafe O Lei restaurant (which is one of my favorite places to eat on Maui)! It is one of the prettiest locations and I highly recommend eating breakfast, lunch, or dinner here.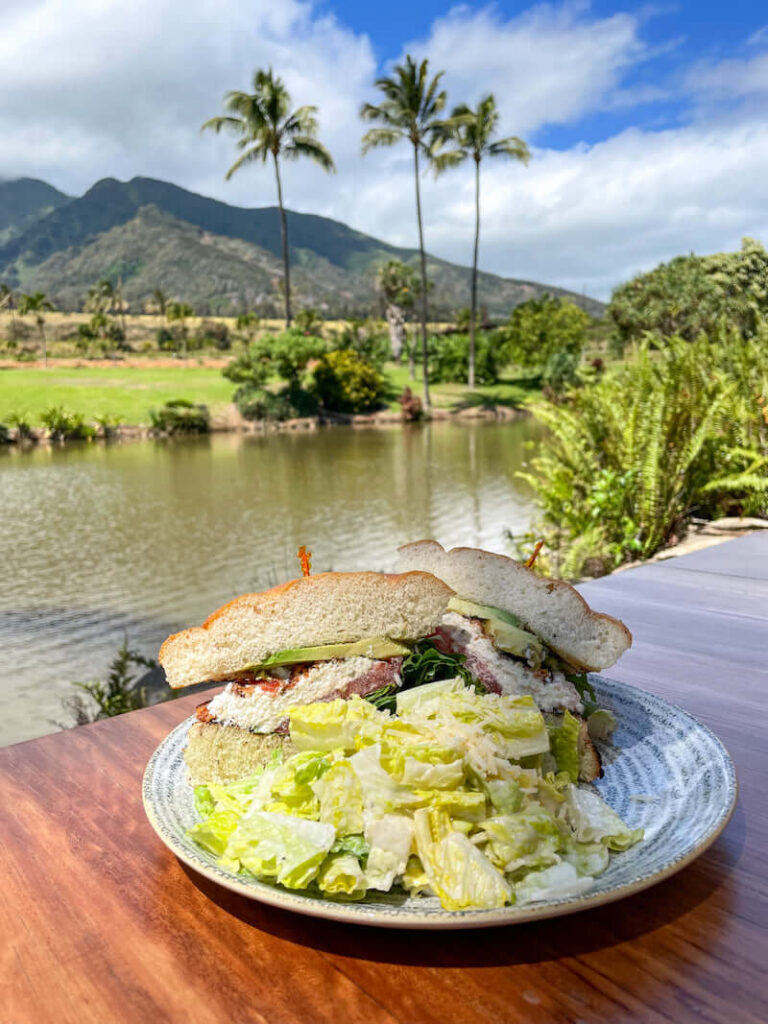 You can make reservations so it will be easy to do it before or after your tram tour. Or you can come just for the restaurant and to enjoy the garden.
They have both indoor and outdoor seating. We had lunch right by the lagoon and this was probably the best view of Maui we had for any dining experience. And the food is SO good!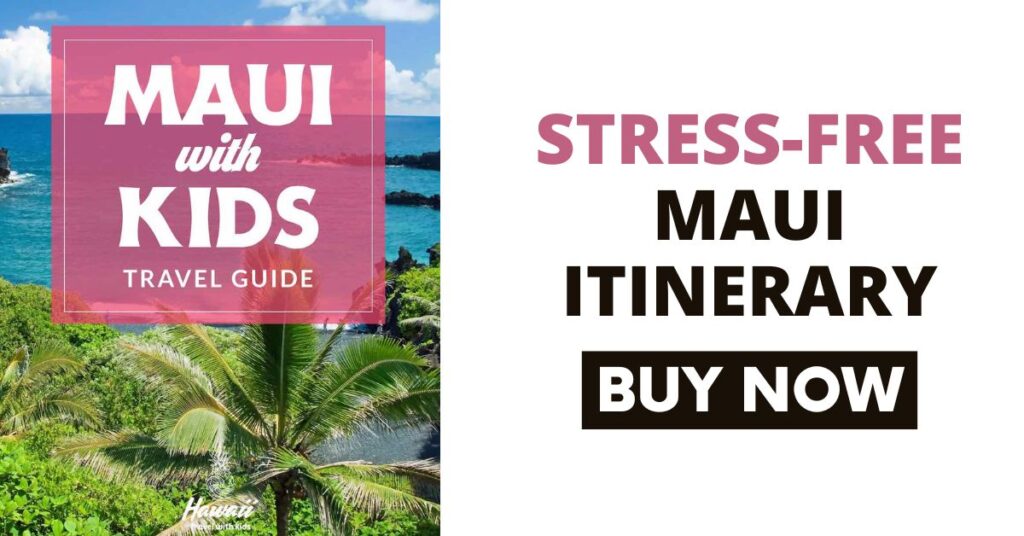 So, is the Maui Tropical Plantation worth a stop?
It's absolutely worth checking out this plantation in Maui! This is an easy family excursion that features a little tram ride, ziplining opportunities, a nice coffee shop, a fabulous market, a really good restaurant, and more!
It's also located just a few minutes from I'ao Needle in Wailuku, so it's easy to pair these two activities together.