Are you looking for the best luaus in Lahaina Maui? Keep scrolling for this honest Myths of Maui luau review for the Royal Lahaina Luau.
This Myths of Maui Luau review in partnership with Viator was written by Hawaii travel expert Marcie Cheung and contains affiliate links which means if you purchase something from one of my affiliate links, I may earn a small commission that goes back into maintaining this blog.
Planning a trip to Maui with the family? Make sure to check out our review of the Myths of Maui luau at the Royal Lahaina Resort.
One of the best luaus on Maui is the Myths of Maui luau at the Royal Lahaina Resort in Lahaina. We recently experienced this Maui luau and have all the tips you need to know before you book this Royal Lahaina Resort luau.
Keep scrolling for our honest Myths of Maui luau review so you know if it's the right luau on Maui for your family.
You'll feel like you're part of ancient Hawaii when you experience this incredible luau. With beautiful surroundings, talented performers, and delicious food, it's a dream come true.
You won't want to miss out on this incredible experience! The Myths of Maui luau is one of the best things to do in Lahaina, and it's perfect for families with kids.
Keep scrolling to read my Royal Lahaina luau review!
Don't have time to read a bunch of Hawaii blog posts and reviews? Here are some of our top picks for visiting Maui.
Popular Maui Tours/Activities
Favorite Maui Resorts/Hotels
Andaz Maui (this is a luxury resort with the best luau on Maui)
Honua Kai Resort & Spa (this is one of our personal favorites because there are tons of pools and there are condo options)
Want to Rent a Car in Hawaii?
One of the best places to rent a car in Hawaii is Discount Hawaii Car Rental because they get the best rates from top national companies like Alamo, Dollar, Thrifty, Avis, Enterprise, Budget, and Payless.
Want to skip all the planning and just access my detailed Maui Itinerary complete with daily schedules, kid-friendly activities, and travel hacks? Click the button below.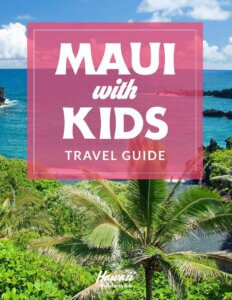 Lahaina Luaus FAQs
Are there any free luaus in Lahaina?
No. A luau is a hula performance paired with a sit-down dinner and those aren't free. But, there are a few free hula shows in Lahaina. These are often children from a local hula school that perform at shopping centers or at parks. Or you can sometimes see hula dancers at restaurants or at hotels.
Are there any luaus on Maui?
Absolutely! The longest-running oceanfront luau on Maui is the Myths of Maui luau at the Royal Lahaina Resort. It's been around since the 1970s and it's still one of the best luaus in Lahaina.
Does Maui have the best luaus in Hawaii?
Some of the best luaus in Hawaii are located in Maui. They have an array of resort luaus like at the Grand Wailea, Andaz Maui, and the Royal Lahaina Resort. They also have the Old Lahaina Luau and the Feast at Lele that are pretty popular.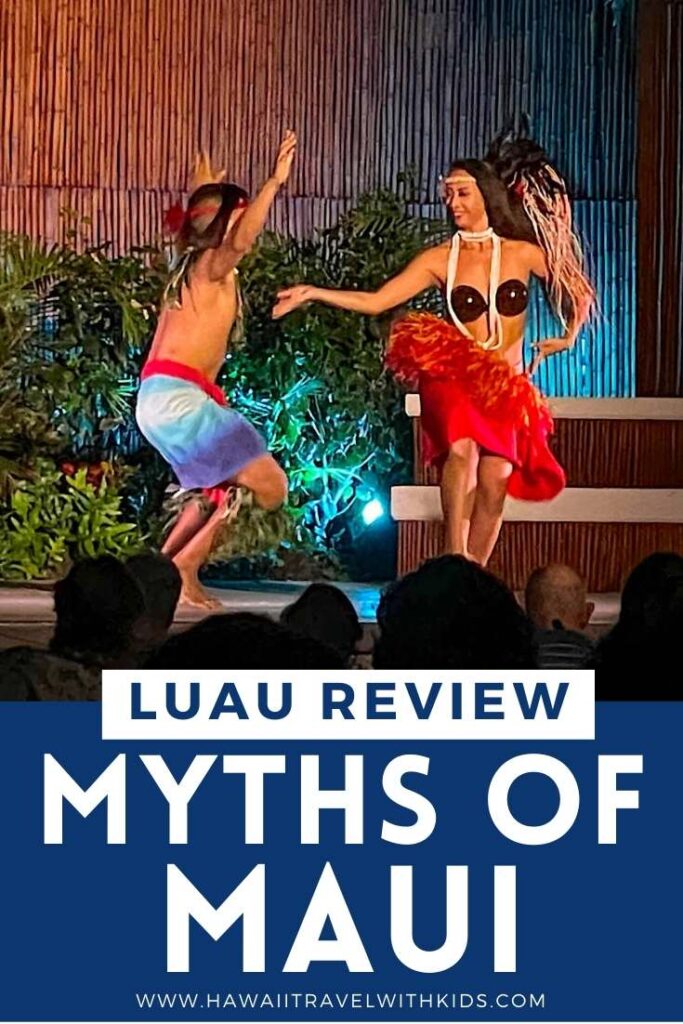 What is a Hawaiian Luau and What Can You Expect at One?
A traditional Hawaiin luau is a community event that consists of Hawaiian food and entertainment. A commercial luau in Hawaii will typically have a bar, live Hawaiian music, either a buffet or plated dinner, and hula dancing (or other Polynesian dancing).
If you are attending a luau, expect it to last about 2.5-3 hours. Most of the time the drinks are complimentary (or they will give you drink tickets). There are often souvenir photos, as well. I've got a whole post about what to expect at a Hawaiian luau including Maui luau prices.
There are NO free luaus in Hawaii. You can see free hula shows at shopping centers, but that is NOT a luau.
Where is the Myths of Maui Luau?
The Myths of Maui luau is located at the Royal Lahaina Resort in West Maui. The address is 2780 Kekaa Dr, Lahaina, HI 96761.
It's really close to Whaler's Village shopping center and lots of Lahaina resorts.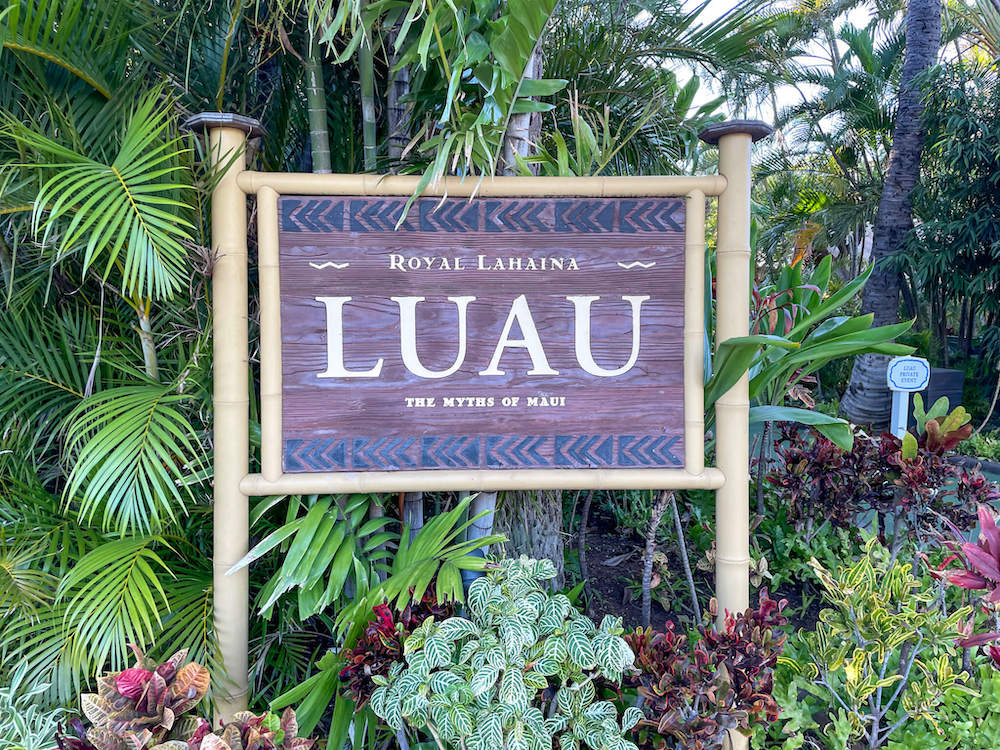 What to Expect at the Myths of Maui Luau
Arrival
There is plenty of parking right next to the luau in the Royal Lahaina Resort parking lot. Just let the parking attendant know your name and they will look at their list and wave you in.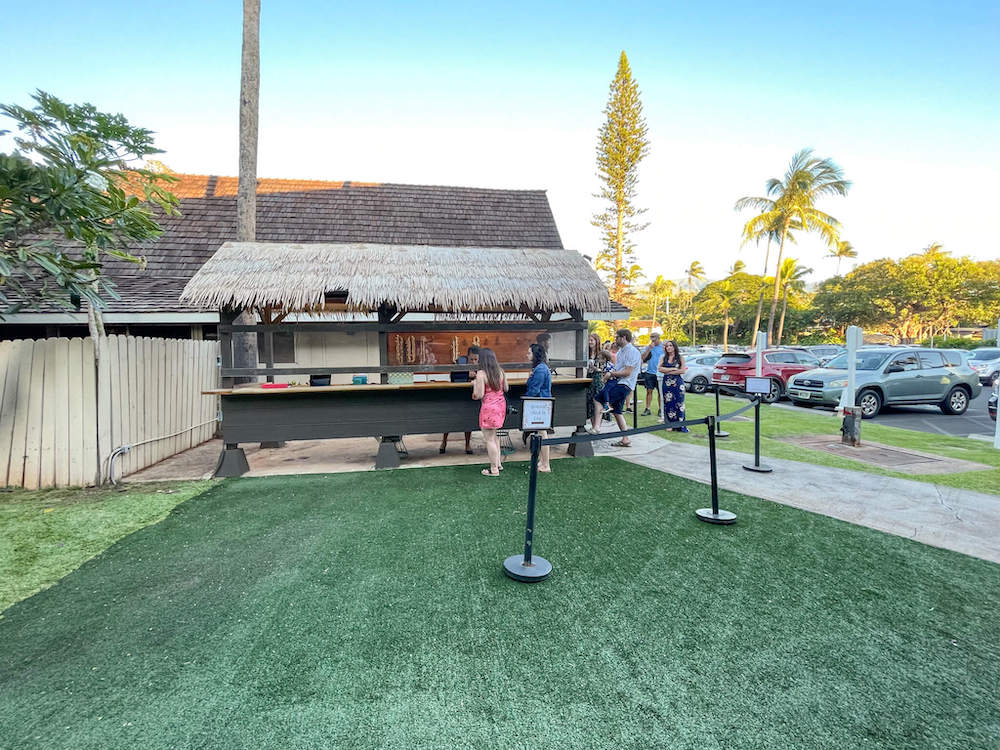 The doors opened at 5:30 p.m. and that's when we got in the check-in line. It took us 30 minutes before we got to the front of the line. The line up takes place next to the parking lot.
We gave them our name and they gave us our ticket with our seating arrangement as well as shell leis. Apparently the shell leis were our "ticket" into the luau and it was strongly recommended that we wear them at all times.
Sunset Photo
After we checked in, we were directed toward the line for photos. These took place on the lawn in front of the beach. It was just a quick photo stop with the luau photographer.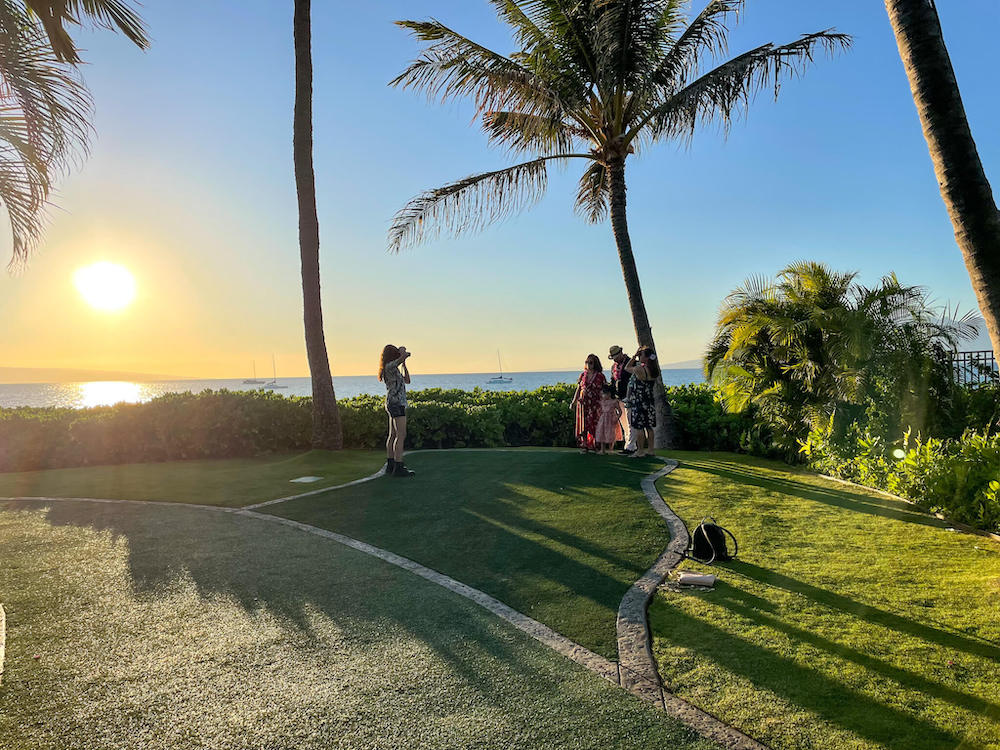 They later came around the area and offered to sell the printed photos for $20. However, no one came to show us our photo, just everyone around us.
Luau Cocktails
We sat down at our shared table at 6:05 p.m. The bartender came around and got our drink orders. There was a QR code on the back of our luau tickets that had the full bar menu on it.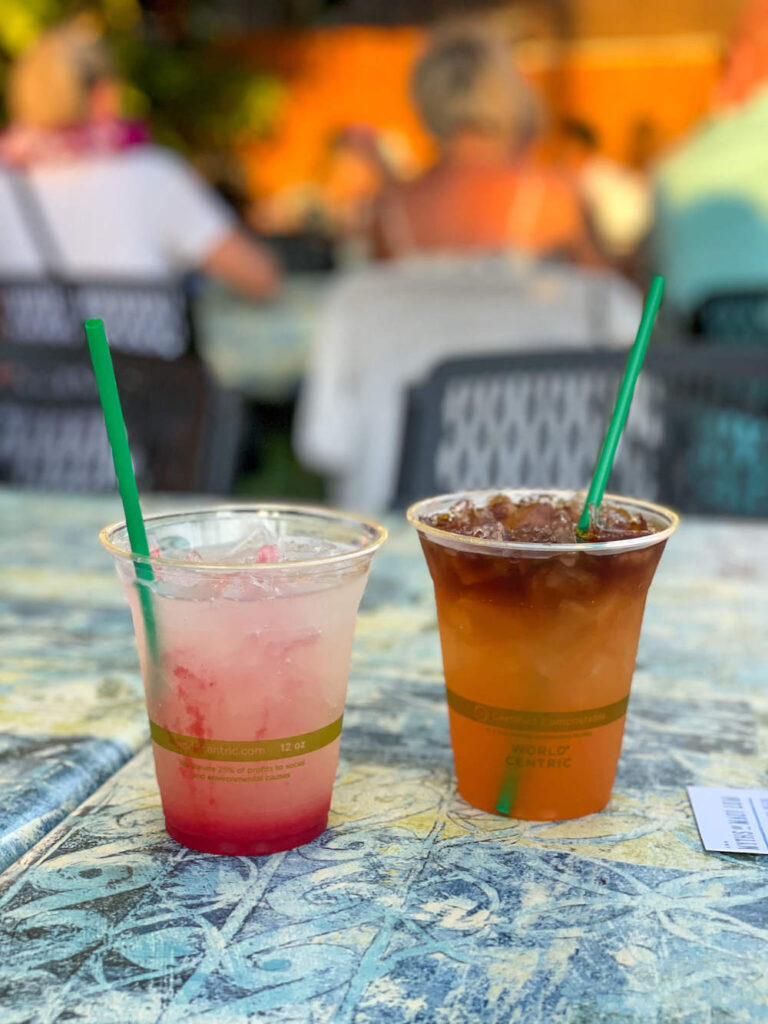 I ordered a mai tai (like I do at every luau) and my mom got a Ka'anapali Sunset (which was rum, strawberry, and pineapple juice).
The guy came around often to ask about drinks and there was also a bar that people could walk up and order something.
Myths of Maui Luau Menu
Our drinks were very tasty, but it's always nice to have some food to go along with it. Luau food can be hit/miss, so I was excited to try it.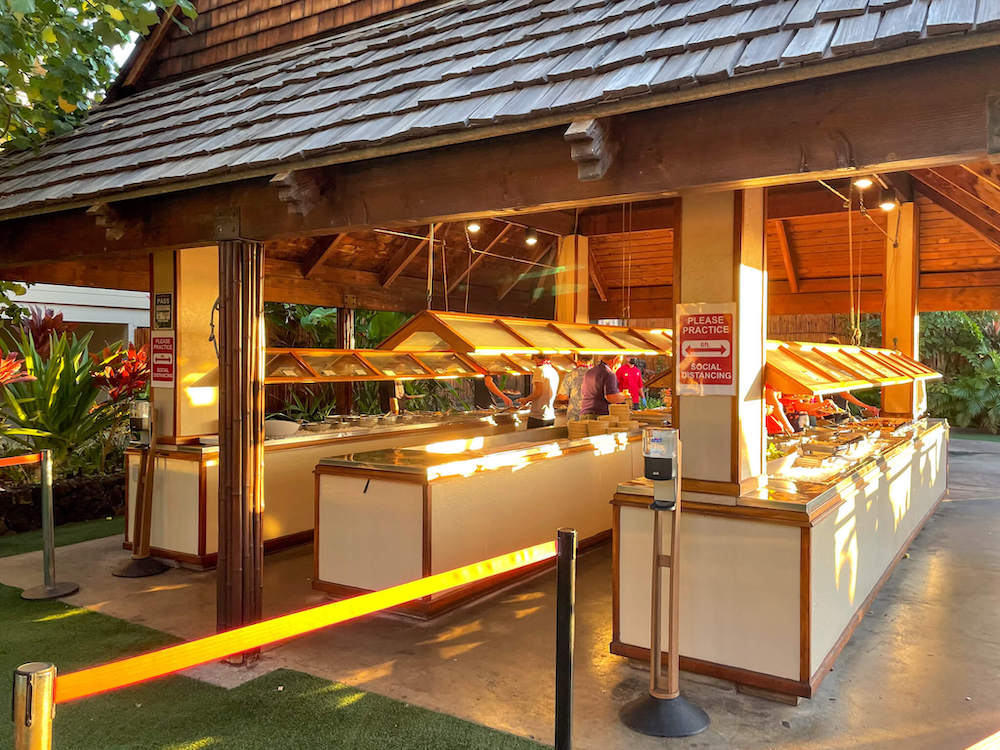 We originally were told to wait until someone dismissed our table to go to the buffet, but no one came and half our table was already eating.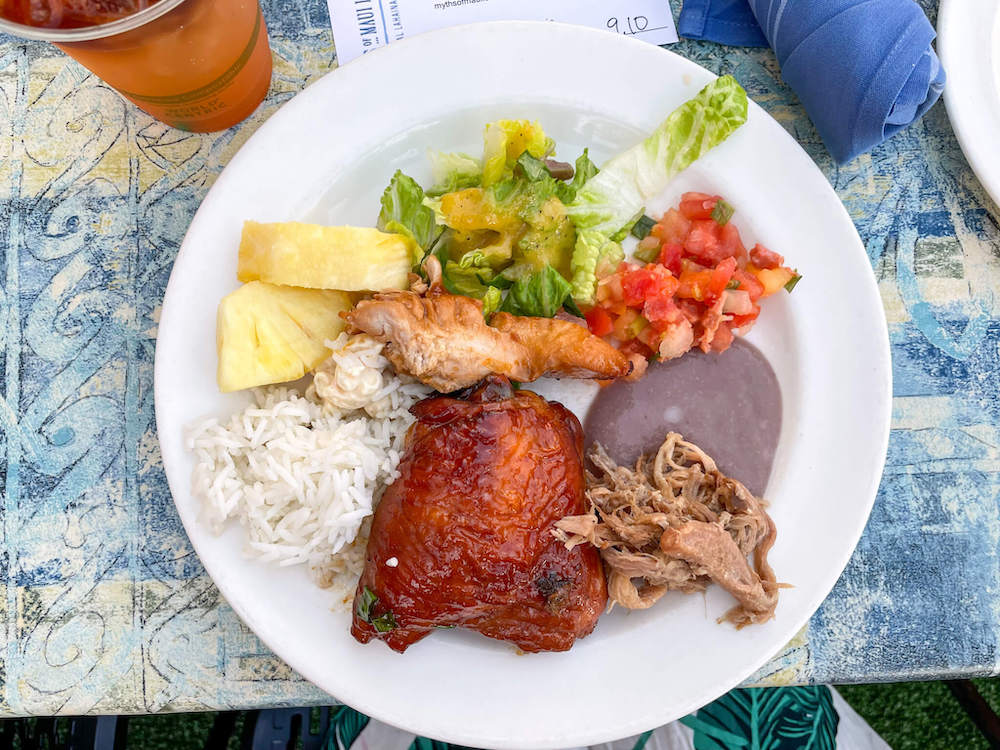 So, we headed over to the luau buffet and there were a lot of choices. Here's what they had:
Teriyaki Luau Chicken
Kalua Pork (This is gluten-free)
Asian Steamed Mahi Mahi Fish
Chicken Nuggets (Great for kids)
Mixed Green Salad | Shredded Carrot (This is vegan and gluten-free)

Papaya Seed Dressing- Vegan/ Gluten Free
Ranch Dressing

Macaroni Salad (This is vegetarian)
Pineapple Wedges (This is vegan and gluten-free
Furikake Jasmine Rice (This is gluten-free)
Hawaiian Poi (Taro root paste that is vegan and gluten-free)
If you're looking for a vegan meal, you can pre-order it 24 hours before the show. They can provide you with a tofu veggie stir fry that's vegan and gluten-free.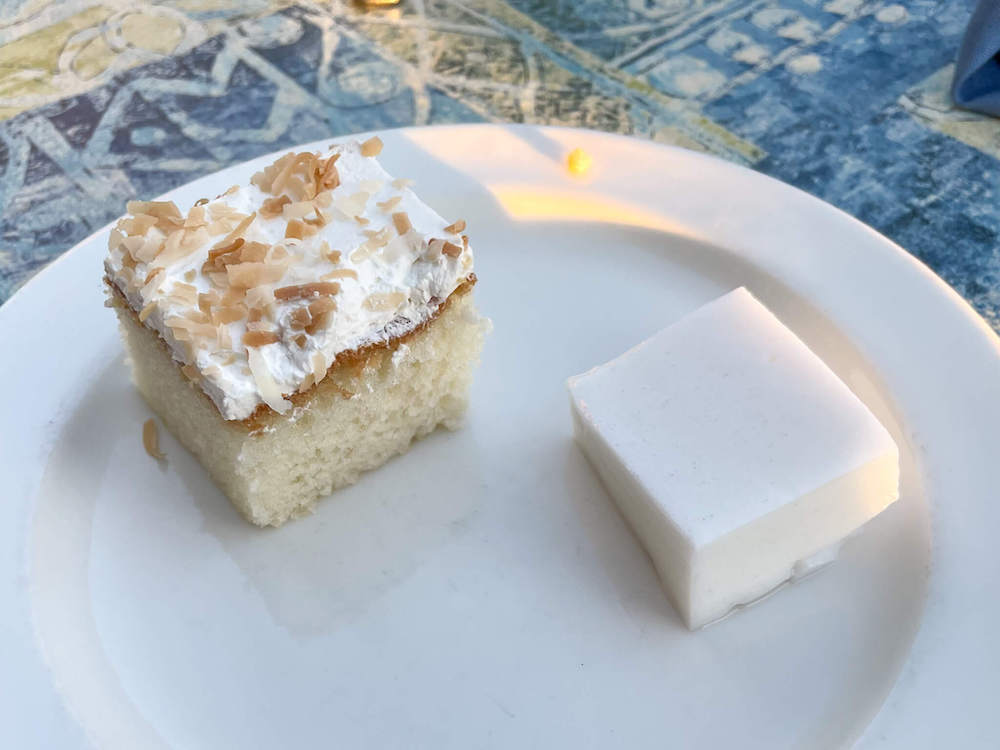 They also had a few dessert options:
Haupia (This is a vegan and gluten-free coconut pudding)
White Cake with Coconut Shavings
Luau Chocolate Cake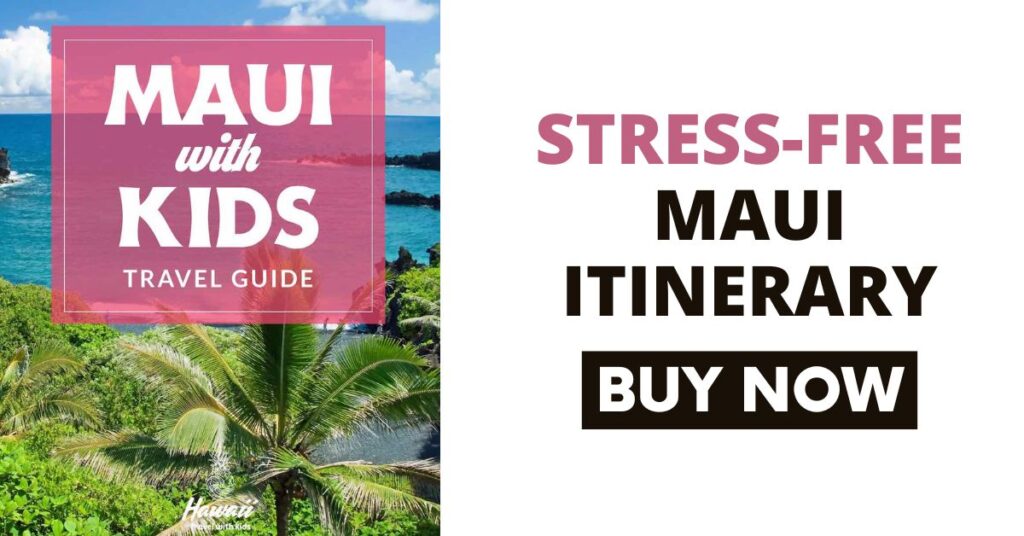 Dinner Entertainment
After I sat down with my dinner, a couple of performers came out to show off a whole roasted pig. This is pretty typical at most luaus.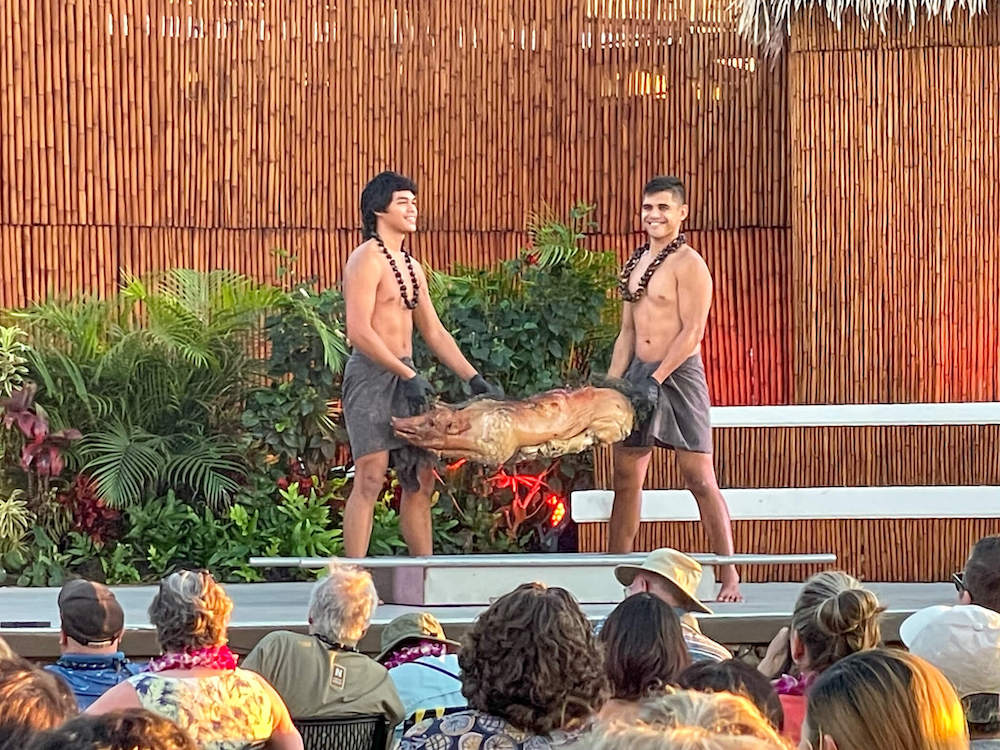 During dinner, a few performers came out to do dances from around the island of Maui. These all took place in different areas of the island and it was a great way to hear about about Maui and the myths and legends surrounding famous places.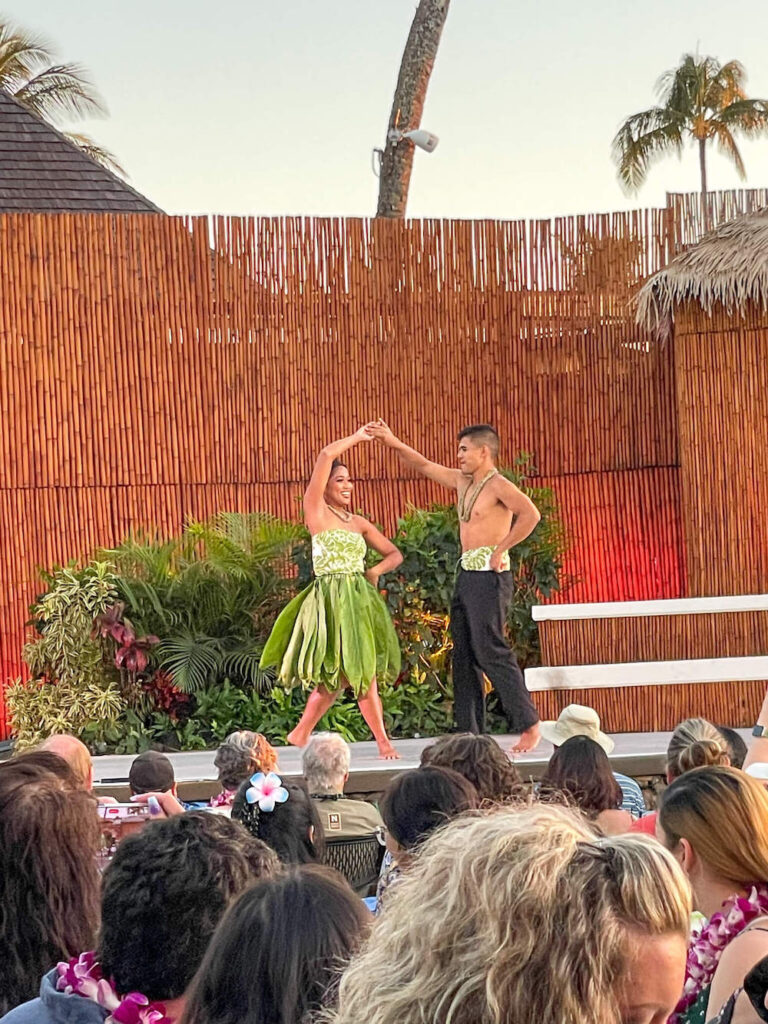 Around 6:45 p.m. they did a group hula lesson to a hapa-haole song. They asked everyone to just push in their chairs and dance right near their table.
Throughout dinner, people also got up to take their own sunset beach photos.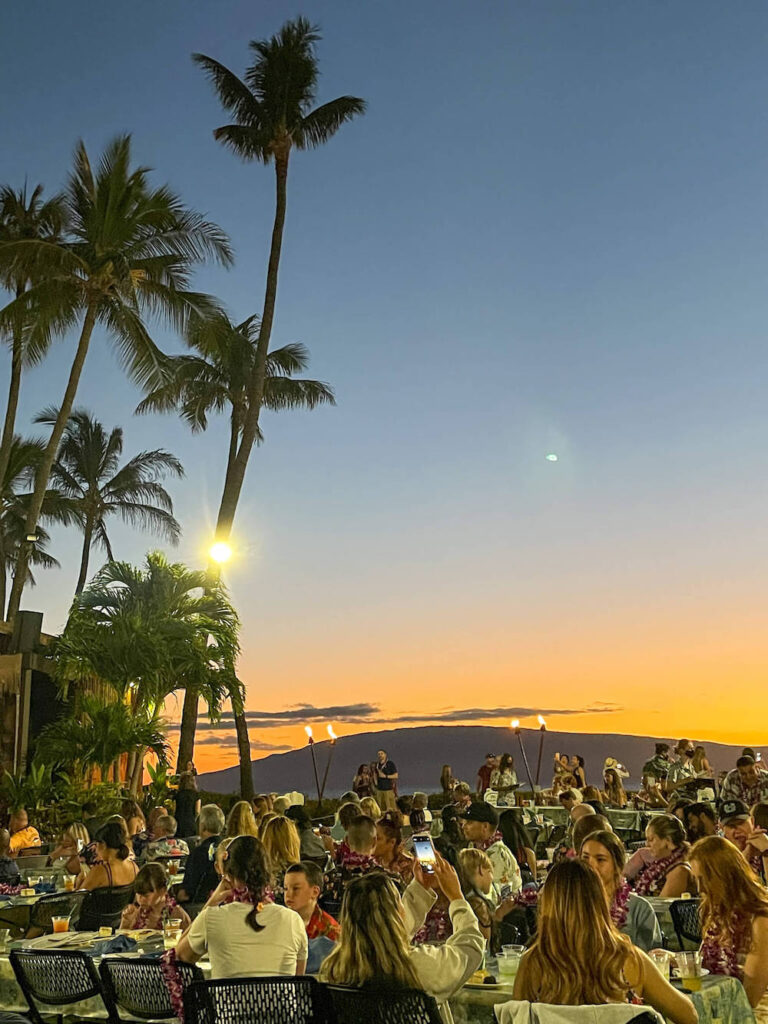 The sun was setting right as the main show was getting ready to start up. Tons of people were taking photos from their seats.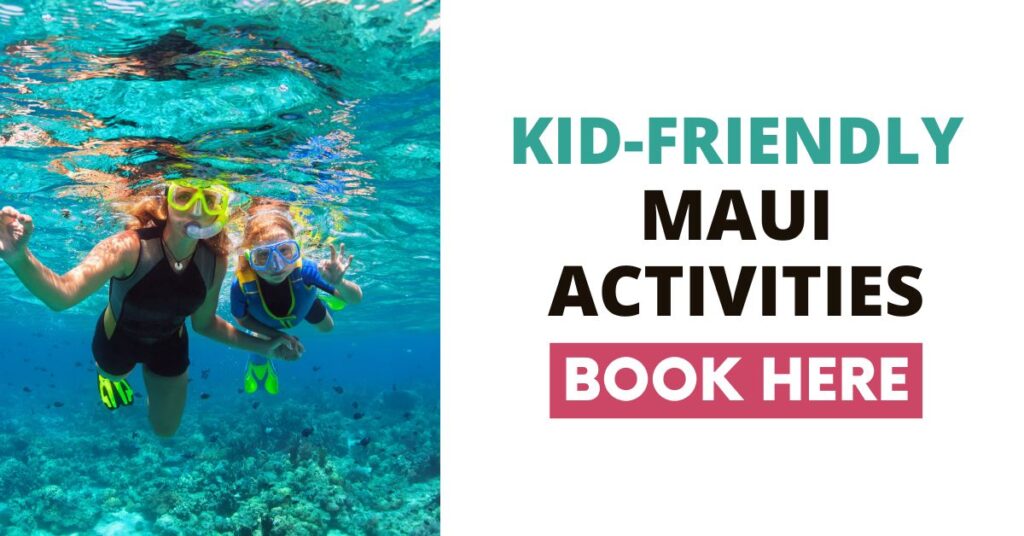 Maui Luau Entertainment
The official luau show started at 7 p.m. and ended right at 8 p.m. It was a pretty tight show without much lagging between numbers.
Tahitian Dancing
They told the whole story about how the Polynesian goddess Pele flirted with her sister's husband which made her mom banish her and her siblings to the Hawaiian Islands.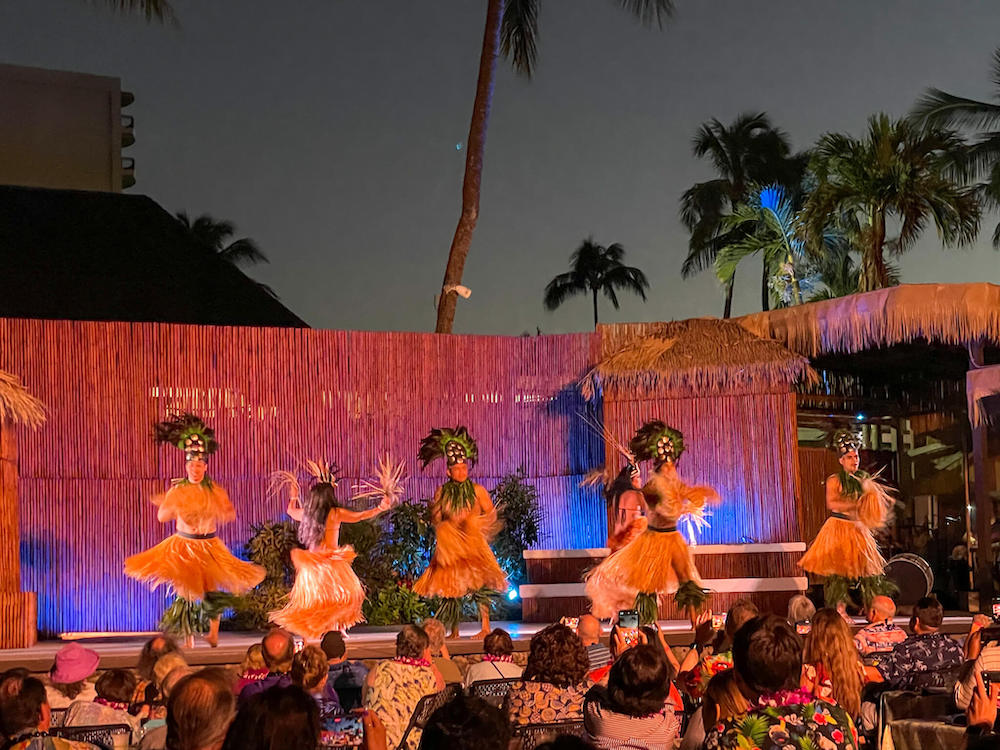 Then, they did a few more Tahitian dances on the main stage as well as the side stage in front of the ocean. A lot of these dances reflected what it was like when the Tahitians first landed in Hawaii and how they probably missed home.
Hula Dancing
We also heard the story about how a Hawaiian chief went searching for Kihawahine (a.k.a. the most beautiful woman in Hawaii) and along the way sort of got engaged to a few other women. One of those women was the snow goddess Poliahu.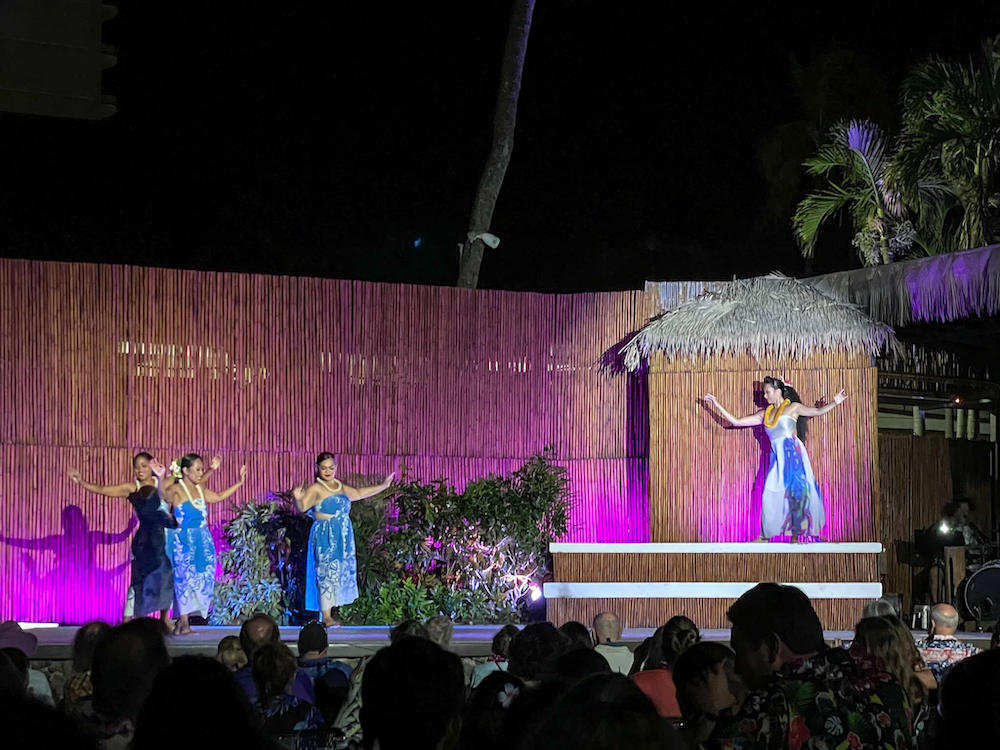 They did a mix of ancient hula (hula kahiko) as well as more modern styles (like hula auana). It was a nice mix of weaving in Hawaiian stories with the dancing.
Maori Dancing from New Zealand
Then it was time for a sampling of several New Zealand dances. They talked about how the men have tattoos on either 1/4 or 1/2 of their faces to show their lineage and any achievements they made. The women just have tattoos on their chins.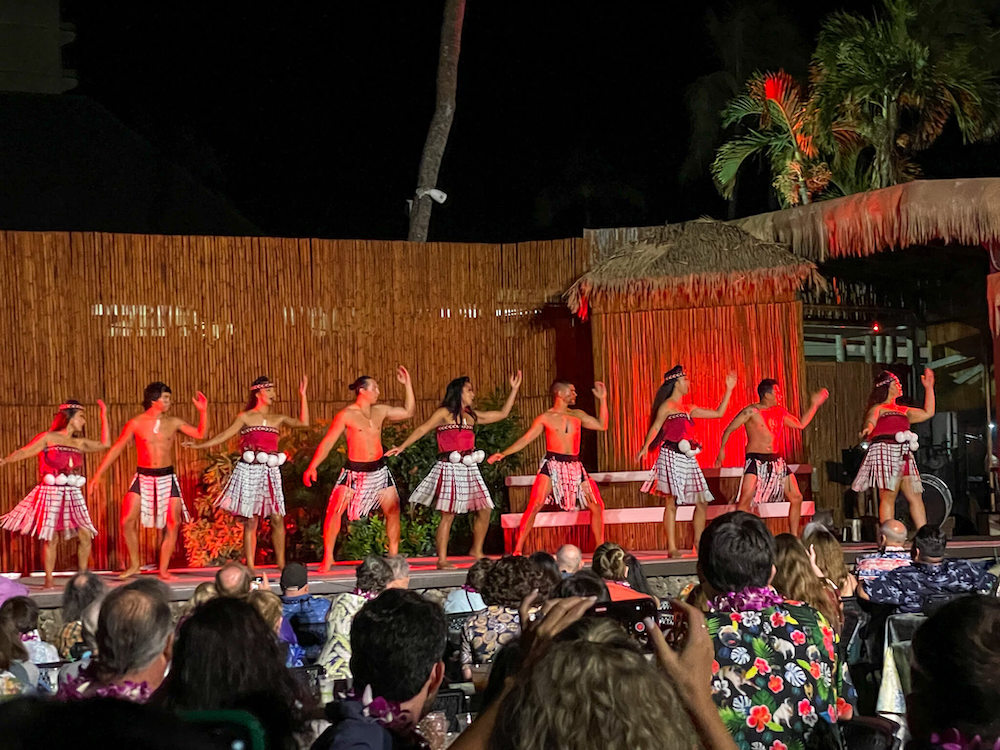 We saw the women doing the wiri dancing (where they shake their hands) as well as using the poi balls. And the men danced the Haka.
At this point in the show, they commemorated wedding anniversaries, newlyweds, and birthdays by encouraging people to get up and dance to the song Ei Nei.
Samoan Dancing
The Samoan segment of the luau was really cool. They started with audience participation where they taught everyone how to do specific clapping used in the sasa dancing (a clapping dance).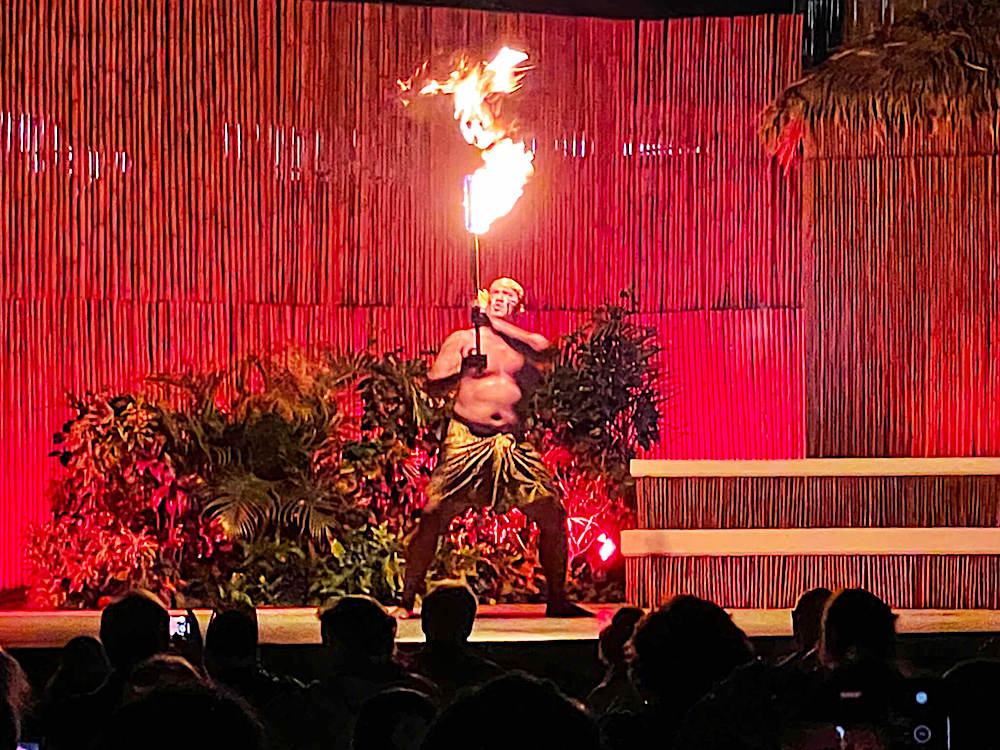 After they taught us the initial claps, there was a competition between each side of the audience to see who could be the loudest.
Then, they moved into Samoan siva dancing and the sasa before the fire knife dancers came out.
That's usually the ending to any Hawaiian luau and that was definitely the case with this one.
Farewell
By 8 p.m. the Myths of Maui luau was over. They brought out all the dancers (I think there were 8 in total) and introduced them by name. They also thanked the musicians, bar tenders, sound guy, and just about anyone else who helped with the show.
Then, everyone just got up and left.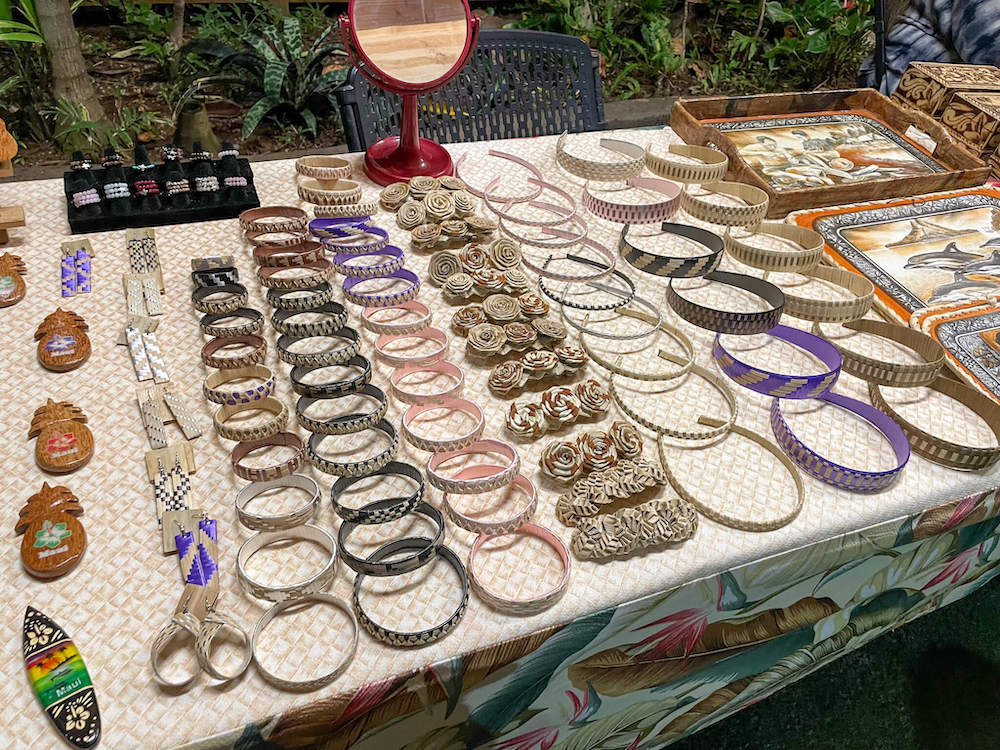 There was a little vendor stand on the way out that sold hair accessories, kukui nut leis, and wood carvings.
Why I Went to This Maui Luau
I've been hearing good things about the Royal Lahaina Resort Luau for years and wanted to check it out for myself. Since it's such a long-running Maui luau, I figured they must know what they are doing. After reading some Royal Lahaina luau reviews, I made my decision.
Plus, I wanted to experience an ocean-front luau in Maui.
I also think it's in a good location for people staying in Lahaina. It's right at the Royal Lahaina Resort and it's easily walkable from several Lahaina hotels.
Is the Myths of Maui the Best Luau in Maui Hawaii for Families?
I think the Myths of Maui is a great "starter" luau for people who have never done one before. There's chicken nuggets and macaroni salad are kid-friendly foods for picky eaters.
The location is also great for families who are staying either on property or nearby. It's always nice to be able to just walk to the luau (and back) especially if you have sleeping kids in a stroller.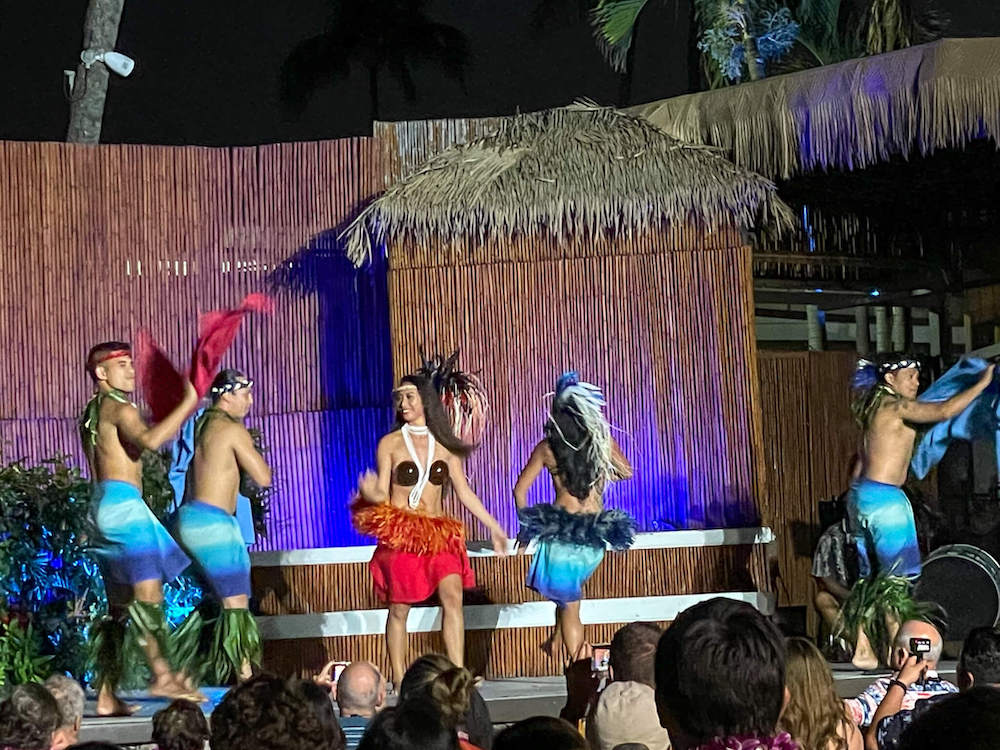 How Does the Myths of Maui Compare to Other Hawaii Luaus?
The Myths of Maui luau does a great job of focusing specifically on the history of Maui and incorporating well-known Hawaiian mythology into the entertainment.
They also have two separate stages that they switch on and off with that's pretty cool.
In terms of the show, they do an awesome job of offering an array of dances from each island. I was most excited to see the Samoan siva and sasa dancing in addition to the famous fire knife dancing.
Otherwise, it's your typical Hawaiian luau. The drinks were good and the food was just…okay.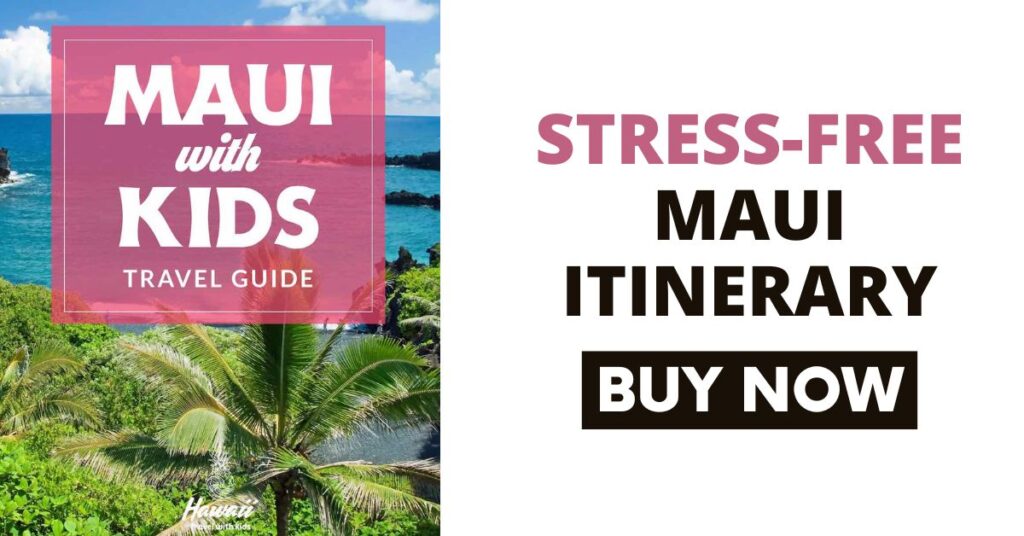 So, Would I Recommend the Myths of Maui?
If you are doing your first luau in Hawaii, I'd definitely say that you can't go wrong with the Myths of Maui. It's your standard Maui luau with Hawaiian style food, live music, a free bar, and great entertainment.
It's also really convenient for people staying in Lahaina near Whaler's Village or at the Royal Lahaina Resort.
How can I make my Myths of Maui luau reservations?
You'll definitely want to make your Maui luau reservations at least a month before your trip. This is especially true if you have a specific date you'd like to book the luau.