Are you currently on a trip to Hawaii or just get back from a Hawaiian vacation and going through your photos? You definitely need to check out this list of the best Hawaii captions for Instagram!
This list of the best Hawaii captions for Instagram was written by Hawaii travel expert Marcie Cheung and contains affiliate links which means if you purchase something from one of my affiliate links, I may earn a small commission that goes back into maintaining this blog.
Today, I'm going through some of our Hawaii vacation photos from our trip this summer and I'm currently daydreaming about the warm weather, deep blue ocean, and the smell of pineapple in the air.
We all know that the best vacation memories happen when you're taking tons of pictures on your phone. And I took a TON of pictures to share with friends and family.
When I scroll through Instagram, I always see people posting these great captions about their vacations that make them seem so fun!
So, to help you out with those memories, I put together a list of captions for Instagram that will get people talking about how awesome your Hawaii trip was!
Here at Hawaii Travel with Kids, we excel in all things Hawaii and think the only thing comparable to a newly-planned Hawaii trip is the memories from one.
Today, we're looking at our favorite Hawaii vacation Instagram captions to get your creative juices flowing.
This list is perfect if you want to show off your vacation pics and make some new friends! All of these are short travel captions for Instagram, so they are easy to add to your cute photos!
Plus, you can even use these to create a Hawaii photo book!
Keep scrolling for the best Hawaii Instagram captions worth stealing!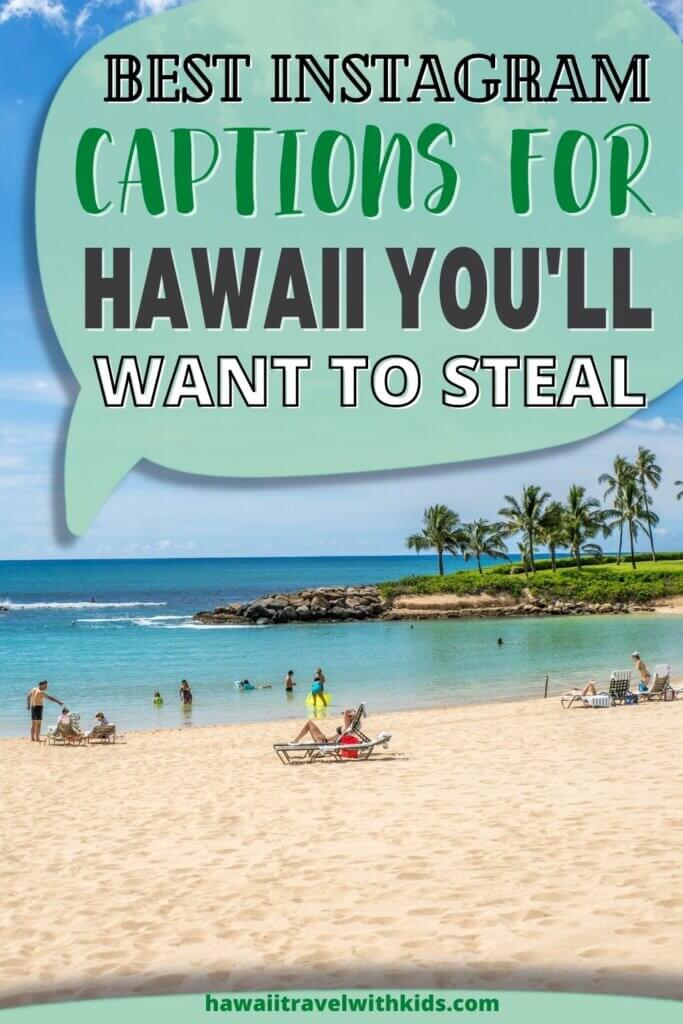 100+ Best Hawaii Captions for Instagram
Because there are SO many awesome Hawaii trip captions for Instagram, I broke them into categories. This way, it's easy to find captions for all the fun things to do in Hawaii, like learning how to surf, tasting shave ice, or just catching a gorgeous Hawaiian sunset.
General Hawaii Instagram Captions
These are the best travel Instagram captions for just about any Hawaii photo you take. You can use them for tourist attractions, Hawaii botanical gardens, photos in the airport, food pics, and just about anything else.
I left my heart in Hawaii
I'd rather be in Hawaii
Hawaii is always a good idea
Living that Hawaii life
You had me at Aloha
Be the aloha you wish to see in the world
Hawaii is calling, and I must go
This is my happy place
Alexa, take me to Hawaii
Ohana means family
Just another day in paradise
You can't buy happiness, but you can buy a ticket to Hawaii and that's pretty much the same thing
Aloha state of mind
Lei-ing low
Meet me in Hawaii
Just checked Hawaii off my bucket list
Flowers in my hair, Hawaii in the air
If found, please return to Hawaii
Living on island time
Life is better in flip flops
But first, shave ice.
No rain, no rainbows
You can never have too much Hawaii
Leis, alohas, and Hawaii days
Live, Love, Aloha.
Island days, island ways
Diamond Head is a girl's best friend
Gone cocoNUTS
A shave ice a day keeps the worries away
Life is always better in Hawaii
Be a pineapple: stand tall, wear a crown, and be sweet on the inside.
The future is wahine (Wahine is the Hawaiian word for woman)
Next stop…Hawaii!
Take me to the islands
Picture it…Hawaii 2022
Hawaii state of mind
When I was in Hawai…
If lost, please return to Hawaii
Just a girl who loves Hawaii
Aloha vacay
May there always be tradewinds behind you, rainbows above you, and aloha around you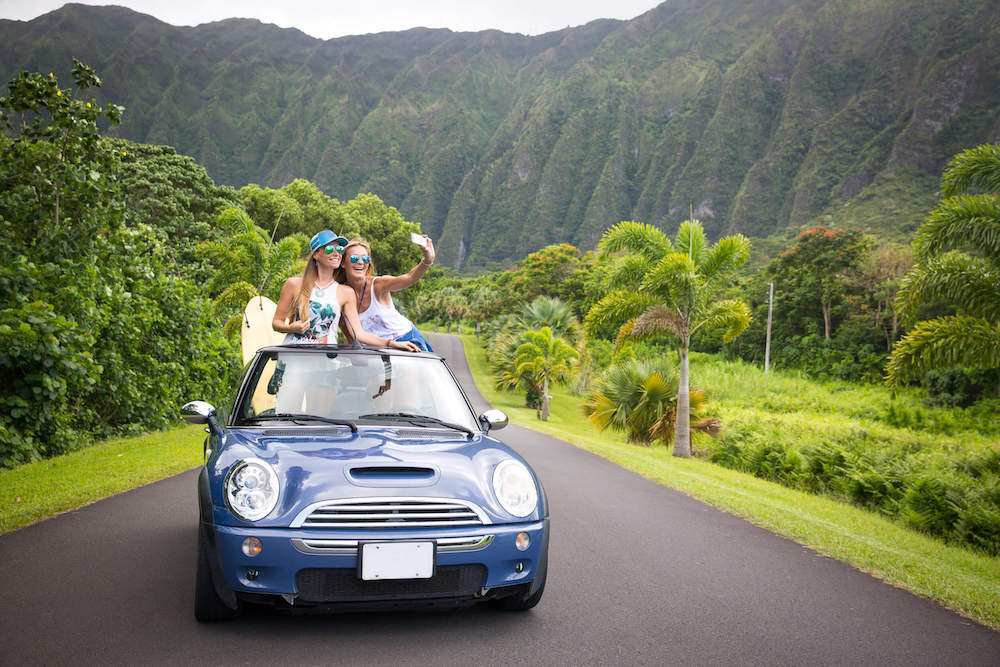 Cute Beach Instagram Captions
These are the best beach Instagram captions that are super easy to copy and paste for just about any beach photo you take. If you're like me, you take TONS of beach photos, so keep this list handy!
I'm so over this sunburn
Salt in the air sand in my hair
Waikiki is just my type
Eat. Beach. Sleep. Repeat.
I'm not actually a beach bunny, but I have to admit that being in Hawaii is making me feel like one. 🌴💕
Life takes you down many paths, but my favorite ones lead to the beach
Salt in my hair, sand in my shoes
I need vitamin Sea
Don't worry. Beach happy.
You me and the sea
Time wasted at the beach is time well spent!
Make some waves
Stay salty
The ocean is calling
Seas the day!
Life is better at the beach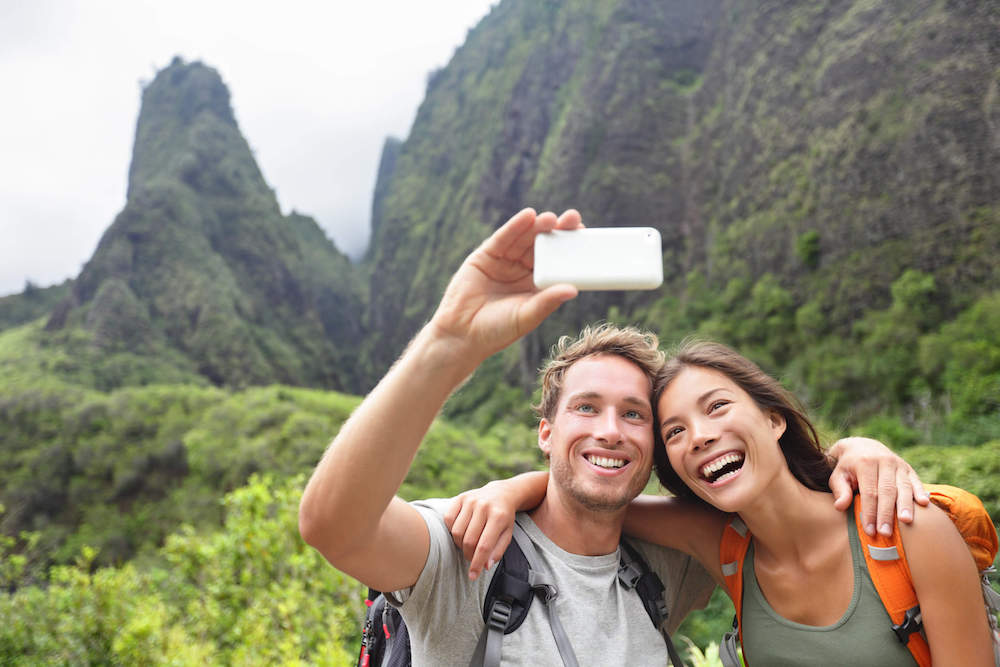 Hawaii Adventure Captions for Instagram
If you're looking for Hawaiian adventure Instagram captions, this is your new go-to list. It's perfect for your photos of hiking in Hawaii, learning to surf, trying ziplining, going snorkeling, and all kinds of other adventures in Hawaii.
You can't stop the waves, but you can learn to surf
Out of all the adventures I've taken, Hawaii is my favorite
Ready, set, hike.
The view from the top of Haleakala is one you'll never forget
"Don't worry, I got this." -me before going ziplining in Hawaii
Seek adventure. Ride new waves
I'm so excited for my first snorkeling trip in Hawaii! I can't wait to see the beautiful fish and coral reefs 🐠🌊
Let the sea set you free
The hike was long, but the view was worth it!
Just another day at the office #snorkeling
Peace. Love. Surfing.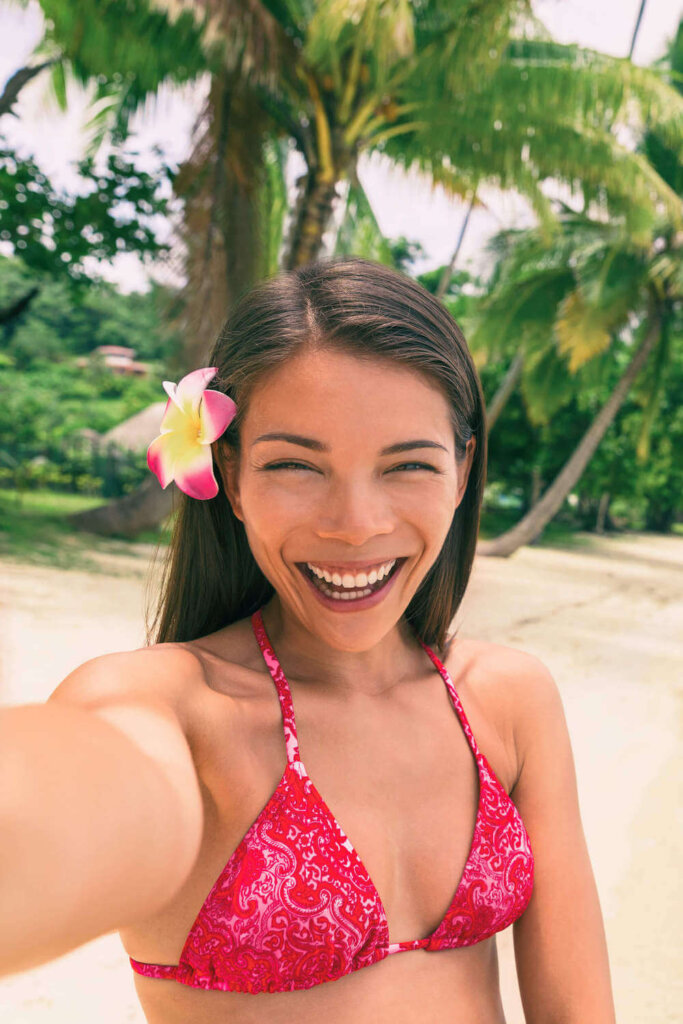 Bikini Instagram Captions for Hawaii
If you love hanging out at the beach or your resort pool, you can definitely use this list of Hawaii picture captions for swimsuit shots. These cute Hawaii captions can help you feel confident as you post that bikini shot.
Life is short. Buy the bikini
The tans will fade but the memories will last forever
Life is better in a bikini
I'm not a model, but I play one on Instagram 🌺
BRB, quitting everything to be a mermaid
If it requires a bikini, my answer is yes
"This is my beach body, and I'm not afraid to show it." – a quote that should be said by everyone in Hawaii this summer 🌞🏖
Fill your life with experiences and bikinis
My Hawaii vacay is the best! I'm living my best life in this new bikini 🌴💕
Reading while sunbathing makes you well red.
I'm not the kind of girl who wears a bikini. I'm more of a one piece kind of gal. But when in Hawaii… 🌺🏖️
A bikini can't solve anything, but it's a good start
I'm not a mermaid, but I can pretend 🐠🌊
Good times and tan lines
Sun. Cocktails. Bikinis. Palm trees
Laying out in my new bikini while on vacation in Hawaii 😍🌴
A bikini kinda life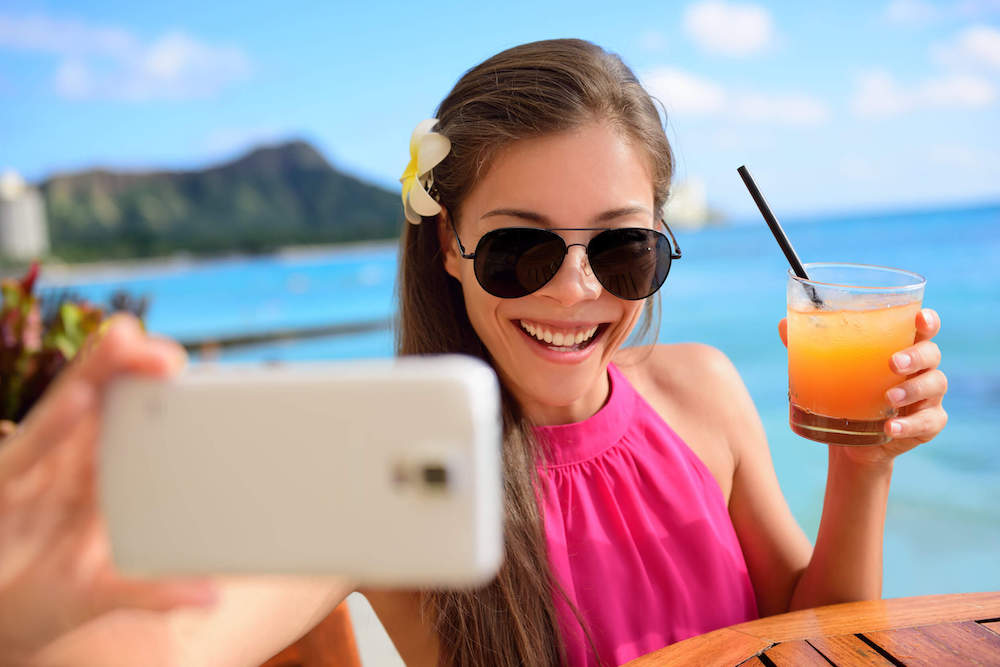 Tropical Drink Instagram Captions
When people dream of a Hawaii vacation, they usually envision sipping Hawaiian cocktails and looking out at the beach. So, these tropical Instagram captions are perfect for posting about your piña colada or mai tai in a cute way.
Mai Tai interest you in a drink?
Coconut? You mean drink holder!
If you like piña coladas and gettin' caught in the rain…
Anytime is Mai Tai time
You are the piña to my colada
Save water, drink cocktails
Hawaii is the best place to have a tropical drink! 😉
I'm having a tropical drink in Hawaii. I can't wait to get my toes in the sand!
Posing for the obligatory coconut drink selfie, and I'm not sorry about it
When life hands you pineapples, you make piña coladas
My dream of having a tropical drink in Hawaii is finally coming true! 🥤🍹
Hawaii is so much better when you're watching the sunset with a drink in your hand
It can't all be sunshine and piña coladas… but it is right now
When you're in Hawaii and the sun sets, it's time for a tropical drink 🍹🌴
I'm not about to let this umbrella drink get away from me
Some say a pineapple a day keeps the worries away. I think it's even better when it's blended with ice, and mixed with coconut and rum
🍹🌴☀️ I think this is the start of a beautiful friendship 😉
"The best things in life are free." -Me, when I was on vacation and didn't have to pay for my drink 🍹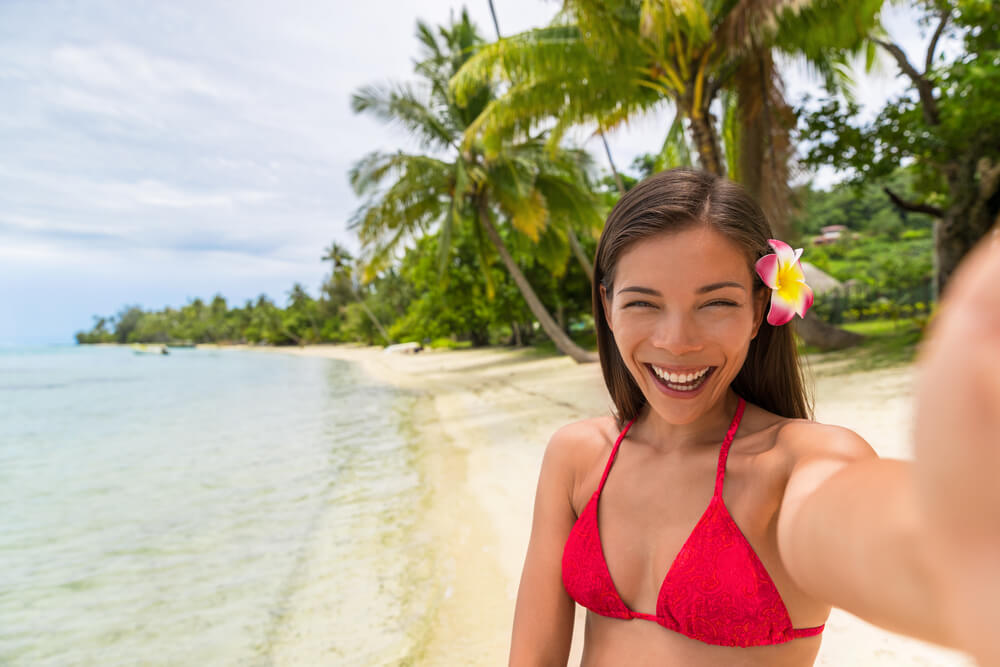 Tropical Breakfast Instagram Captions
If you really want to make people at home jealous, show them food pics from your lanai or favorite Hawaii brunch spot. Here are some good captions for Hawaii breakfast photos.
A pineapple a day keeps the worries away
A tropical breakfast is the best way to start my day! 🌴🍹☕️
Sunshine and breakfast
I like to start my mornings with a healthy dose of pineapple 🍍 and coconut milk 🥥🌴
A perfect way to start the day!
I get way too much happiness from good food
"This is the life!" -me, enjoying a delicious breakfast in #hawaii
Life's short, drink lots of coffee
You're not going to believe what I had for breakfast this morning… #hawaii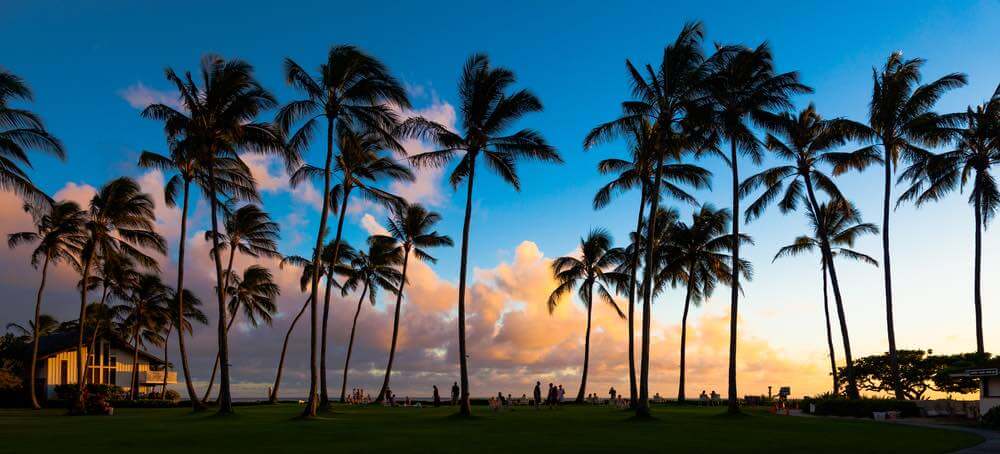 Hawaiian Beach Sunset Instagram Captions
There are few things more stunning than a Hawaiian sunset. You will probably take more photos of sunsets in Hawaii than you expect. Use these Hawaii sunset Instagram captions to post as many as you like.
Sunsets and palm trees
Enjoy every sunset, and look forward to every sunrise
My favorite color is sunset
I never met a sunset I did not like
What a beautiful way to end the day in paradise!
Meet me where the sky touches the sea
I'm not saying I'm a sunset expert, but this sunset is 🔥
All you need is love and sunsets
The sun is setting on the beach in Hawaii and I'm not ready to go home yet
Watch more sunsets than Netflix
There is nothing more magical than a sunset in Hawaii
The only thing better than a Hawaii day is a Hawaiian sunset. 🌴🍹
Hawaiian Language Instagram Captions
A lot of people like to post something in the language of the place they visit. The Hawaiian language is beautiful and there are quite a few phrases that work as Hawaii Instagram captions. I even put the English translation next to it so you know what you're posting.
A hui hou (until we meet again)
E hele me ka pu'olo (make every person, place, or condition better than you left it)
Aloha kakahiaka (good morning)
Kulia i ka nu'u (strive to reach the highest)
Kahuna nui hale kealohalani makua (love all you see, including yourself)
A'a i ka hula, waiho i ka maka'u i ka hale (dare to dance, leave shame at home)
Wrap Up
You've made it to the end of our blog post, and now you have a ton of cute Hawaii captions for Instagram. We hope you found a caption for travel photos that will help you create an awesome post.
Remember to use your favorite as a Hawaii Instagram caption on your next post. And don't forget to share this blog with all of your friends who are planning their own Hawaiian vacations and might want some easy Instagram travel captions.