Planning a trip to Oahu and want to know some fun things to do on Oahu with kids? Keep scrolling to find the best Oahu surfing lessons for kids and families for a memorable experience!
This post about the best Oahu surfing lessons for kids contains affiliate links which means if you purchase something from one of my affiliate links, I may earn a small commission that goes back into maintaining this blog.
As you're working on your Oahu itinerary, it can be hard to narrow down which activities to do during your Oahu trip. There are SO many amazing options.
One of the most popular things to do in Oahu, Hawaii, is learning how to surf.
While it may be tempting to rent a board and try it on your own, it's really much safer to learn from a professional. And thankfully, Oahu is full of qualified surfing instructors!
So, I've got a list of some of the best kid-friendly surfing lessons in Oahu worth booking before your trip. And I've added in the minimum ages to help you figure out which one is right for your family!
See the top-rated Oahu surfing lessons for kids here.
Don't have time to read a bunch of Hawaii blog posts and reviews? Here are some of our top picks for visiting Oahu with kids.
Best Kid-Friendly Oahu Tours/Activities
Best Kid-Friendly Oahu Resorts
Want to Rent a Car in Hawaii?
One of the best places to rent a car in Hawaii is Discount Hawaii Car Rental because they get the best rates from top national companies like Alamo, Dollar, Thrifty, Avis, Enterprise, Budget, and Payless.
Want to skip all the planning and just access my detailed Oahu Itinerary complete with daily schedules, kid-friendly activities, and travel hacks? Click the button below.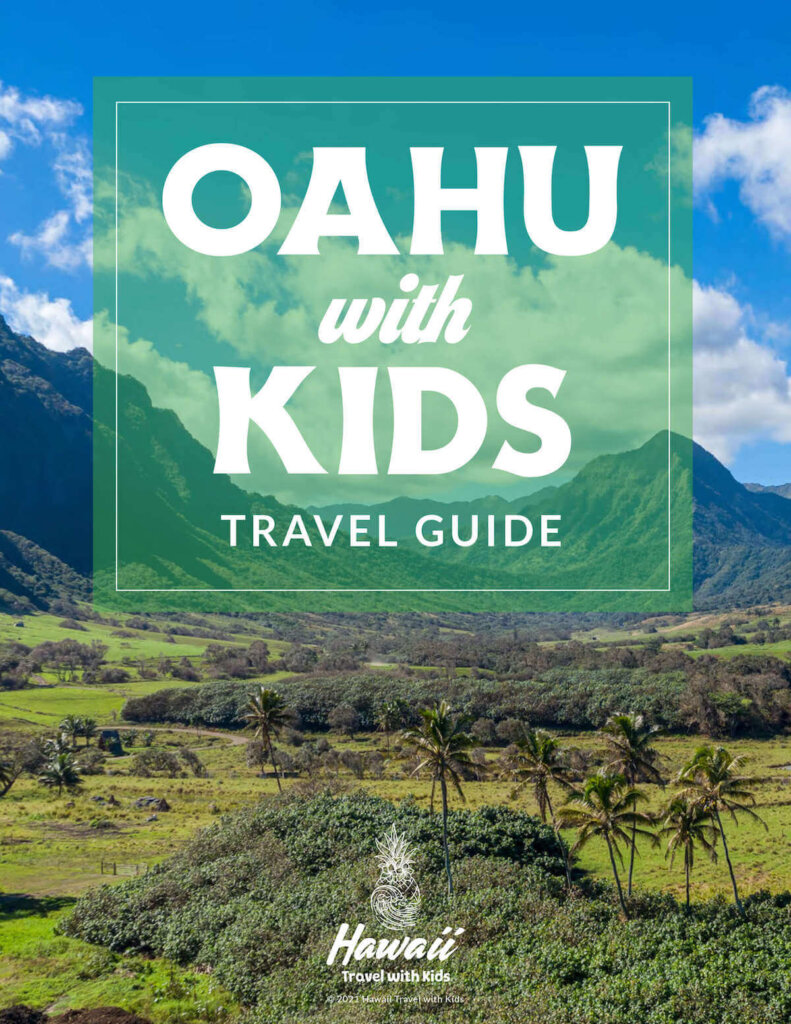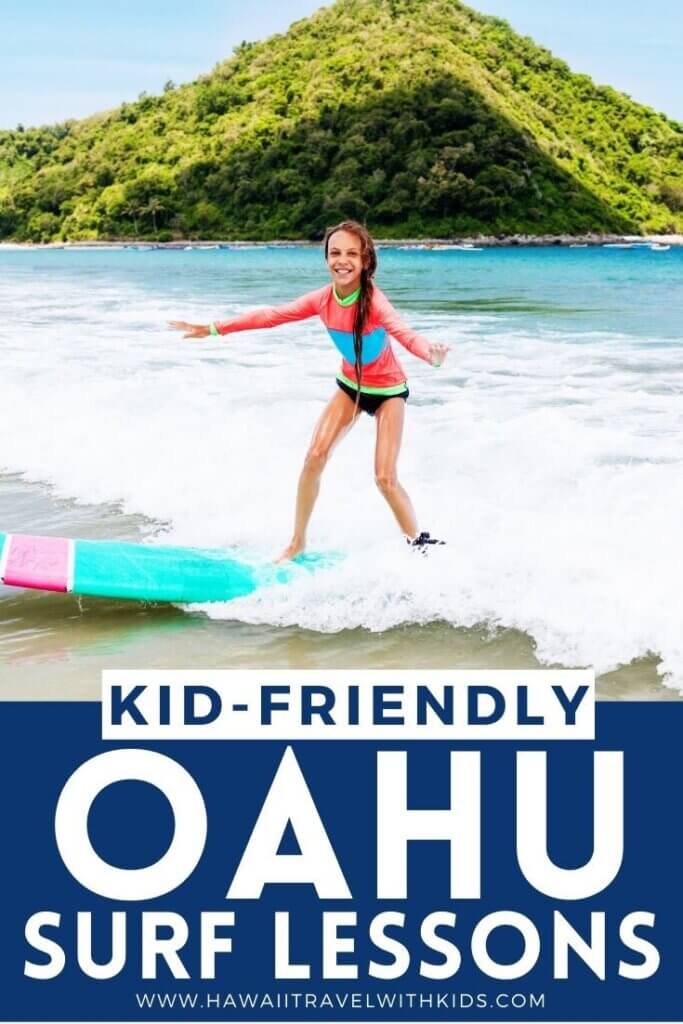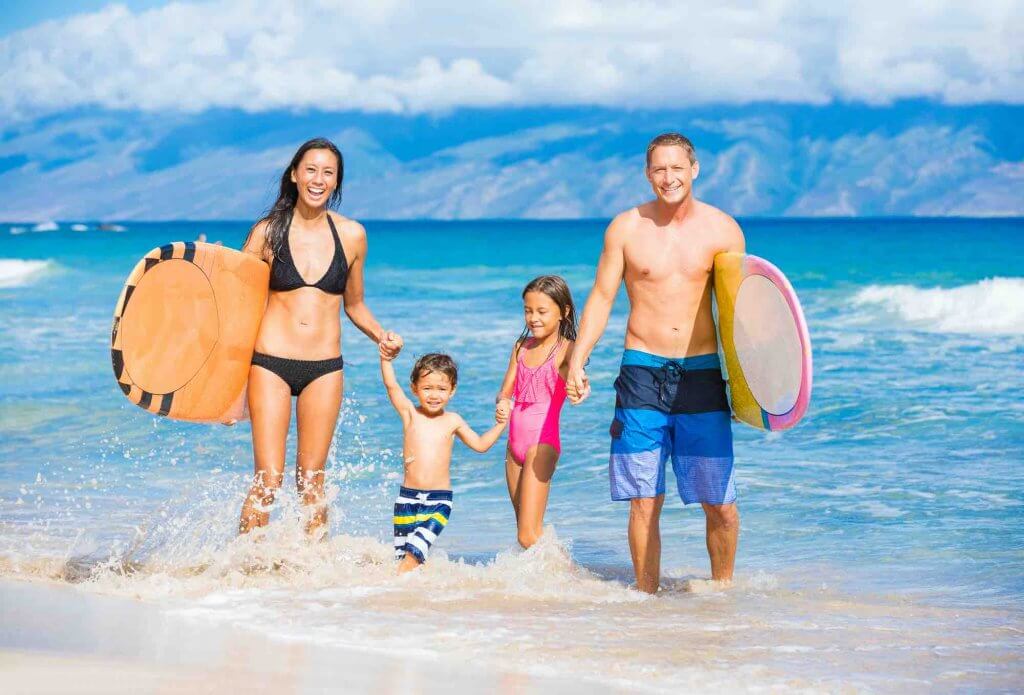 Best Oahu Surfing Lessons for Kids
There are tons of kid-friendly Oahu surf lessons to book! Here are some of the best surfing lessons on Oahu that are great for kids and entire families.
Waikiki Beach Surf Lessons
If you're looking for kid-friendly surf lessons, Waikiki is where to go. This is actually a private family session for kids as young as 6 years old.
They will customize this Oahu surfing lesson for the ages and abilities of your group. Along with learning the proper techniques, your kids can learn about ocean safety too!
All the equipment is included in these surf lessons in Waikiki Beach. Check latest prices and get more information.
Surf Lessons in North Shore Oahu
Try this 2-hour surfing lesson in Hawaii with a certified lifeguard. These North Shore Oahu surfing lessons are for kids as young as 4 years old.
Plus, you might even see some Hawaiian Green Sea Turtles! Check latest prices and get more information.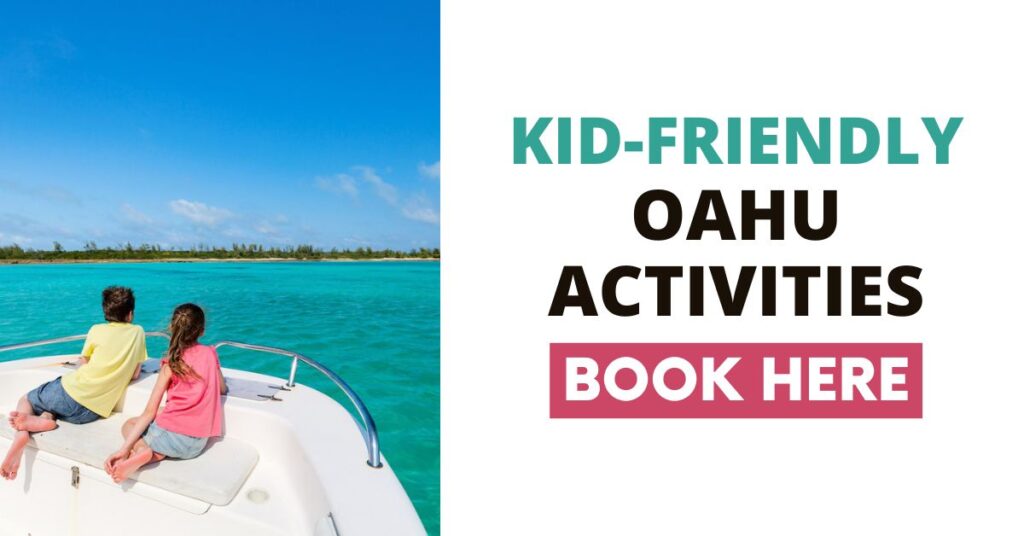 Surfing Lessons North Shore Oahu
If you're really serious about learning how to surf, this is a great option for families, especially these Oahu surf lessons North Shore offers.
Kids as young as 8 years old can sign up for these Oahu surf lessons, which is the recommended age for kids to learn how to surf.
It is a two-hour family lesson you all will love. While you might not catch waves, Oahu's North Shore is great for your first lesson!
Plus, there are plenty of fun things to do on the North Shore, especially some hidden gems. Check the latest prices and get more information.
Haleiwa Surf Lessons
Another place for surf lessons in North Shore Oahu is this one in Haleiwa, where you can choose a 1.5-hour or 2-hour lesson. You can upgrade to a private surf lesson if you want too!
It's for kids as young as 4 years old. Check the latest prices and get more information.
For some of the best surf lessons Haleiwa offers, check out these private or group lessons put on by the DFC Surfing Academy.
Honolulu Surf Lessons with Transportation
If you're staying in Waikiki and not renting a car, this is a really easy surfing lesson in Honolulu that will pick you up from your hotel. You can choose 1-hour or 2-hour lessons, and they take place at Ala Moana Beach Park.
Lessons are for kids ages 5 and older. You will get a professional surf instructor and all equipment needed included in the price. Check latest prices and get more information.
This is another one of the best surf lessons Honolulu has to offer!
Private Waikiki Surf Lesson for All Ages
Younger kids really need private lessons, especially if they aren't strong swimmers. That way, the instructor can focus on keeping them safe. This is one of the best Waikiki surf lessons for beginners.
Kids as young as 2 years old can participate in this private surf lesson, so this is fun for families with toddlers and preschoolers who want to try surfing for the first time.
These private surf lessons last about two hours and is another great family-friendly option to learn to surf in Oahu! Check latest prices and get more information.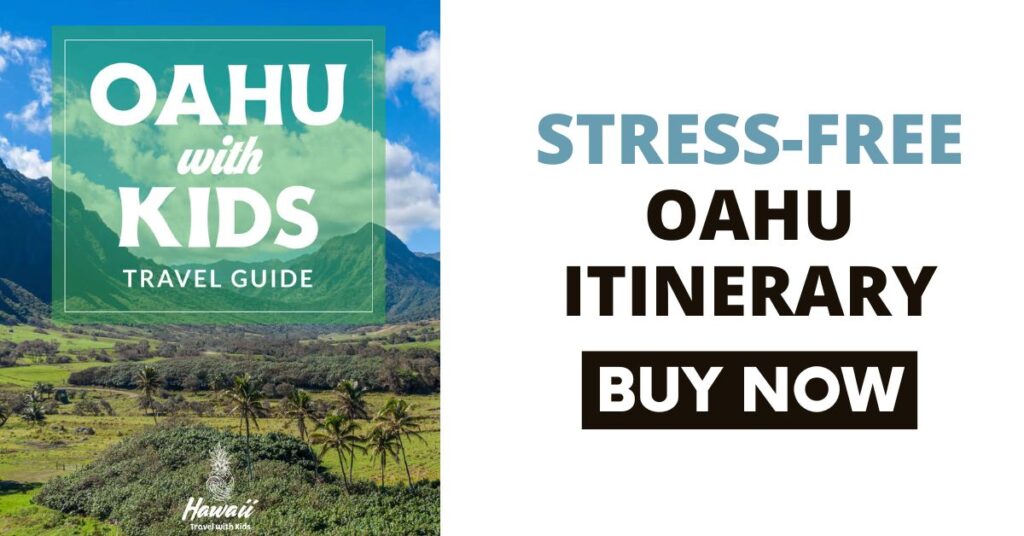 Best Waikiki Surfing Lessons for Teens
Join these 2-hour semi-private surfing lessons at Waikiki Beach that are geared for teens and adults. They offer hotel pickup anywhere in Waikiki and provide everything you need for a stellar time.
This is a semi-private surf lesson for people ages 13 and older at one of the best surf schools on Oahu. Check latest prices and get more information.
Book a Family Photo Shoot
Whenever we travel to Hawaii, we almost always book a family photo shoot with Flytographer. They are super easy, affordable, AND it guarantees that I'll be in some photos. You can get $25 off if you book through this link or use the code HAWAIITRAVEL.
Outrigger Canoe Surfing
If your family isn't quite ready to try surfing on your own, you might consider surfing in an outrigger canoe. It's a unique thing to do on Oahu for families.
This is geared for kids ages 5 and older and can be a blast! Check latest prices and get more information.
This is another one of the best surfing lessons in Oahu by far, and it is so much fun! Although a group lesson, it is the only surf school for teaching surfing in a canoe! Skill level does not matter with this group surf!
Aulani Surfing Lessons
Did you know Aulani has a special surfing lesson too? It does and is perfect for young kids! They even recommend it for kids 12 years and under.
It is a super fun way to teach your kids about surfing and see if they can catch their first wave. They will learn about safety measures and will have a great teacher to help them during this one-hour surf lesson.
It is a great personalized experience for all skill levels. Check latest prices and get more information.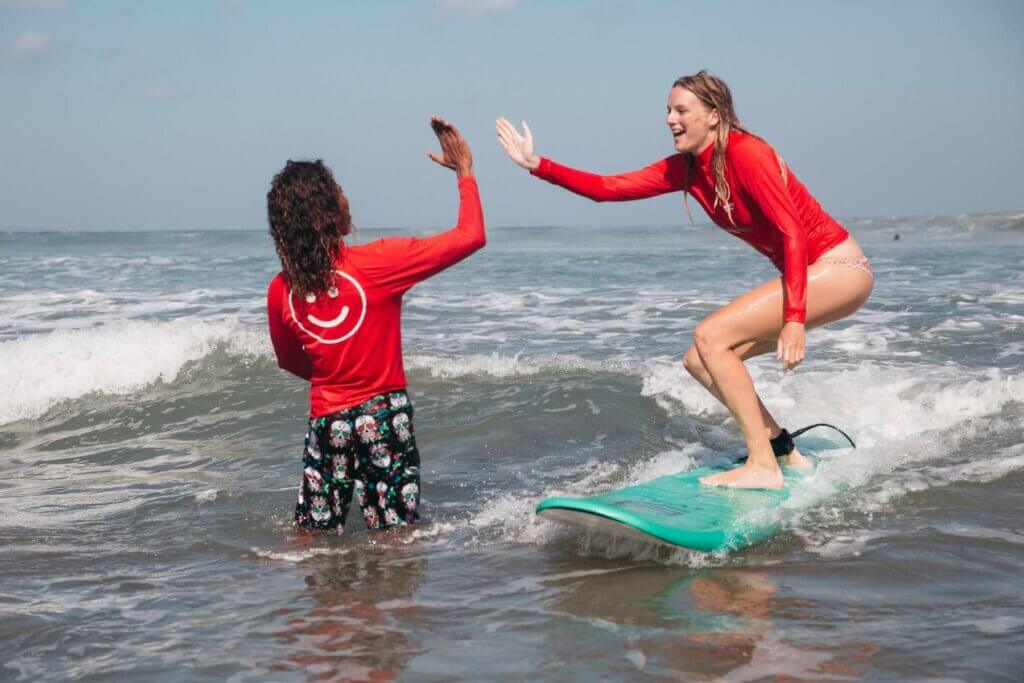 What to Wear for Your Surfing Lessons on Oahu
Rashguard
Some Oahu surfing companies will provide you with a rashguard, but others will encourage you to purchase one at their surf shop. That's totally your call.
It helps to check to see whether or not they will be providing one so you aren't caught off guard. If they don't provide one, you might consider buying ahead of time, especially for kids. Here are the best kids' rashguards worth checking out.
Reef Safe Sunscreen
Whatever you do, don't forget to wear sunscreen! The only sunscreen allowed in Hawaii now is reef-safe sunscreen. These are ones that don't have certain chemicals that can harm the coral reef and sea life.
You can buy your sunscreen in Hawaii or pack it in your suitcase. Here are my favorite reef-safe sunscreens to buy before your trip.
Comfortable Swimsuit
While it may be a no-brainer that you'll need a swimsuit to go surfing, my emphasis is on the word comfortable.
A lot of us own swimsuits that look cute for laying on a beach towel or wading into the water. But, surfing is a lot more adventurous.
Make sure to wear a swimsuit that will stay on, and you won't have to fidget with too much. That will be super distracting while you try to learn to surf. This is our favorite UV swimwear for the whole family.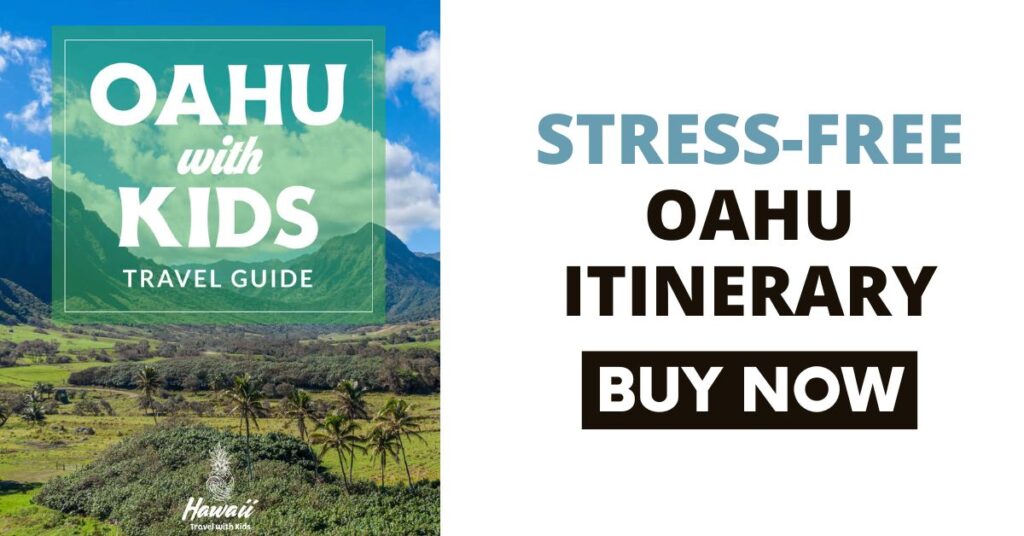 Oahu Surf Lessons FAQs
Can beginners surf on Oahu?
Yes there are plenty of great teachers and places for beginners to surf on Oahu; no surfing experience is needed. Professional instructors can help beginner surfers to stand up and enjoy the waves!
Where should beginners surf in Oahu?
Oahu has tons of amazing surfing beaches. If you're looking for somewhere fun for the kids, head to the beach by Diamond Head. White Plans Beach is also a good spot on the West Shore of Oahu. A lot of surf lessons take place at Chun's Reef up on North Shore Oahu. And Waikiki Beach is always a good bet! Just be sure to check the Oahu surf report before you go.
How much does it cost to get surf lessons in Hawaii?
The answer varies depending on the length of the lesson and whether it's a private lesson or a group lesson. If you're looking at doing a Waikiki surf lesson that's an hour long, it can be anywhere from $40-$80 per person. However, you'll probably want a longer lesson.
How many lessons does it take to learn to surf?
You can learn a lot with just one surfing lesson in Hawaii, but you probably won't be ready to tackle the waves on your own. If you want to feel fairly confident in surfing, it takes about three surfing lessons to truly learn all the basics. When you can catch a wave all by yourself consistently, you're in good shape.
Where is the best place to learn to surf in Oahu?
You will find surf schools and experienced surf instructors all over the island, but some of the best surf lessons Oahu has to offer are on Waikiki Beach or Haleiwa Beach Park.
What island is best for beginner surfers in Hawaii?
If you need a beginner surf lesson, Maui offers some of the best Hawaii surfing lessons you'll find. However, if you are a first-time surfer, you will find some great Oahu surfing beaches where you can learn basic techniques with private or group lessons.
Best Oahu Surf Lessons Wrap-Up
As you can see, there are tons of Oahu surfing lessons for kids of all ages! Your family will make a ton of memories, and your kids will learn a new skill in these beautiful tropical waters. Win-win!
After learning with your surf instructor, you will be catching waves in no time!
There's a reason that surf lessons are one of the most popular things to do in Hawaii for kids. Book now!
P.S. Join our Hawaii Travel with Kids Facebook group to get connected with other families planning a trip to Hawaii!