Are you looking for the best surf lessons in Maui for kids, teens, and adults? Keep scrolling for my top Maui surfing lessons perfect for your trip to Maui.
This list of the best Maui surfing lessons contains affiliate links which means if you purchase something from one of my affiliate links, I may earn a small commission that goes back into maintaining this blog.
Have you always wanted to get better at surfing, or are you interested in learning how to surf in Maui?
Whether you've tried it before or not, it may be a fun activity that you'd like to do more often, but you simply don't know how. The best way to learn surfing is to work with an instructor.
The good news is that while you're staying in Maui, you can take surfing lessons from skilled and experienced professionals who know their way around the water.
In this post, I'll share some of the best Maui surf lessons you should book before your trip.
Don't have time to read a bunch of Hawaii blog posts and reviews? Here are some of our top picks for visiting Maui.
Popular Maui Tours/Activities
Favorite Maui Resorts/Hotels
Andaz Maui (this is a luxury resort with the best luau on Maui)
Honua Kai Resort & Spa (this is one of our personal favorites because there are tons of pools and there are condo options)
Want to Rent a Car in Hawaii?
One of the best places to rent a car in Hawaii is Discount Hawaii Car Rental because they get the best rates from top national companies like Alamo, Dollar, Thrifty, Avis, Enterprise, Budget, and Payless.
Want to skip all the planning and just access my detailed Maui Itinerary complete with daily schedules, kid-friendly activities, and travel hacks? Click the button below.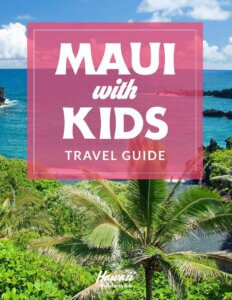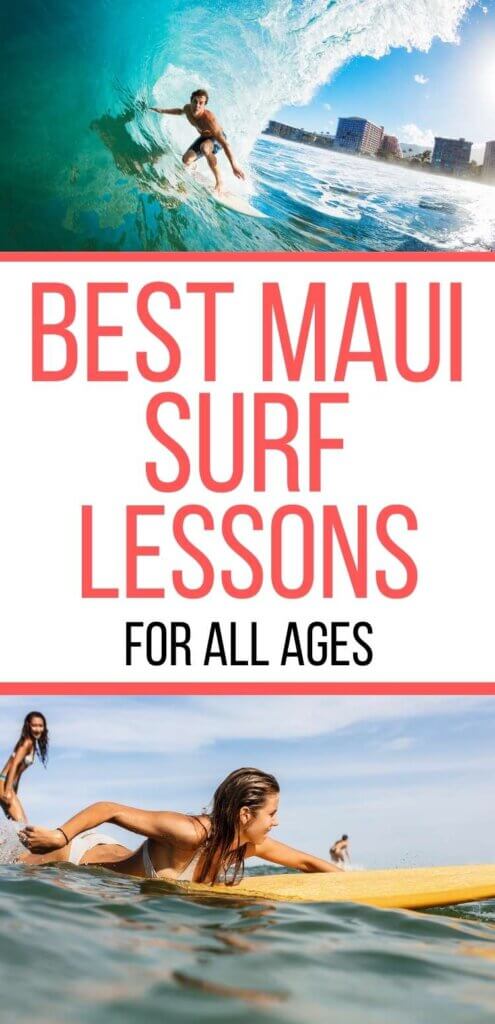 Beginner Surfing in Maui
A lot of people have Maui surf lessons on their bucket list. I mean, who wouldn't want to learn to surf in Maui?
The trick is to find someone with the patience and skill level to teach you. That's where I can help.
These considerate surf instructors listed below will walk you through the steps involved in learning to balance yourself on the board and handle waves of all sizes. You can start small and work your way to more advanced lessons that will have you gliding the waves in no time.
Before you get started, check out this impressive list of surfing lessons in Maui. You can take private lessons, group lessons, and even beginner lessons to gain the skills needed to have success while in the water.
No matter which lessons you decide to take, you can expect to improve your surfing skills in no time.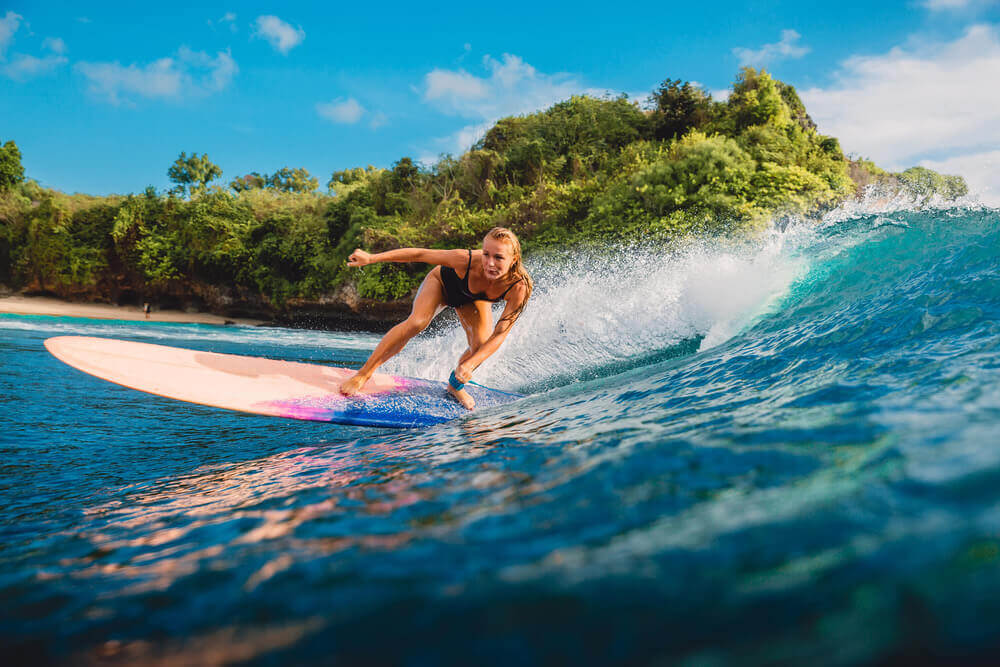 Best Maui Surfing Lessons Worth Checking Out
Get some serious surfing lessons from a pro with the Outrageous Surf School. Lessons are available for small groups, making it easier for everyone to get the chance to observe the instructor and ask questions when need be. Check latest rates and more information.
In addition, the certified professional instructor at this Lahaina surf school provides tips, suggestions, and as much information on surfing as possible to help you feel comfortable while in the water.
Don't worry about buying and bringing surfing equipment along with you because it's provided. The Outrageous Surf School makes sure to give you a memorable and enjoyable experience for its guests! Click here to see more reviews.
This is one of the best surfing lessons in Maui by far and one of the best surf schools you will find.
If you're looking for surf lessons, Kihei Maui offers a few great selections.
Enjoy a group surf lesson that lasts for two hours, giving you more than enough time to get the hang of balancing on the board and riding small waves as they approach you.
These beginner lessons are perfect for those new to surfing who don't have much experience being out in the water and riding the waves. Check latest rates and more information.
The instructor offers pointers on how to ride waves and avoid falling off the board. You'll also get to learn about staying safe in the ocean. Instructors can teach you what to do if you fall off your board while you're riding a wave, which is bound to happen from time to time.
These are great beginner surf lessons Maui offers as it is longer than a normal surf lesson would take. If you're a beginner who wants to get better at surfing, these lessons are ideal. Click here to see more reviews.
Come to one of the best surf spots on Maui and learn to surf and get some much-needed practice with the Waves Hawaii Surf School. You can decide if you'd like to head out in the water with a group or not. If you prefer to learn to surf with fewer people around, semi-private and private lessons are available.
You'll get all the attention needed and plenty of time to ask your instructor questions on how to surf correctly to ride the waves. Check latest rates and more information.
Most lessons last for at least two hours. Expect to have a wonderful experience with patient instructors who want to see you get the hang of surfing in no time.
If you're traveling with any children under eight years old, it's ideal to book a private lesson to ensure they're receiving the attention and assistance needed. Click here to see more reviews.
Taking surf lessons from this surf school will teach you surf etiquette and have you riding waves in no time!
Book a Family Photo Shoot
Whenever we travel to Hawaii, we almost always book a family photo shoot with Flytographer. They are super easy, affordable, AND it guarantees that I'll be in some photos. You can get $25 off if you book through this link or use the code HAWAIITRAVEL.
Skip the crowds and have an intimate experience when booking a private surf lesson for two. The class lasts for 90 minutes and allows individuals to get more one-on-one time with the instructor.
If you choose this lesson, you'll get to spend time surfing near Lahaina in some of the best places to ride the waves. Check latest rates and more information.
You'll learn how to improve your paddling when heading out to the water, practice balancing yourself on the board, and get helpful tips on how to catch the most waves possible. The lesson is ideal for beginners and those looking to improve their skills.
Even if you've spent time on the water, you can still brush up on what you know and get even better at surfing with this lesson. Click here to see more reviews.
If you want to learn how to surf on your honeymoon, these are the best surf lessons Maui offers for couples wanting to learn alone without a group lesson.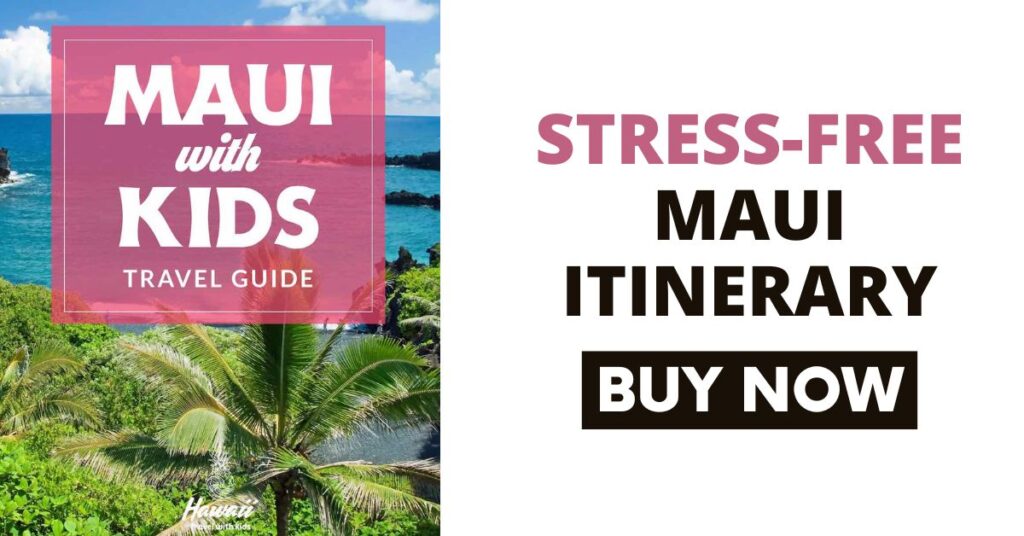 Learn to surf in Kihei at another one of the best surfing lessons Maui has available. Start with the basics and work your way up with the Maui Surf Instruction 101 lesson. You'll spend time in the water by Cove Park in Maui with a skilled instructor who will make sure you're comfortable before you head out.
Ride on some of the best surfing equipment while practicing your balancing and movements before you get into the water. Check latest rates and more information.
Then, test things out in the calm waters near Cove Park to gain that experience and increase your comfort level on the board.
Before you know it, you'll feel like you're ready to head out into deeper water with more waves coming forward as you try to ride them. Click here to see more reviews.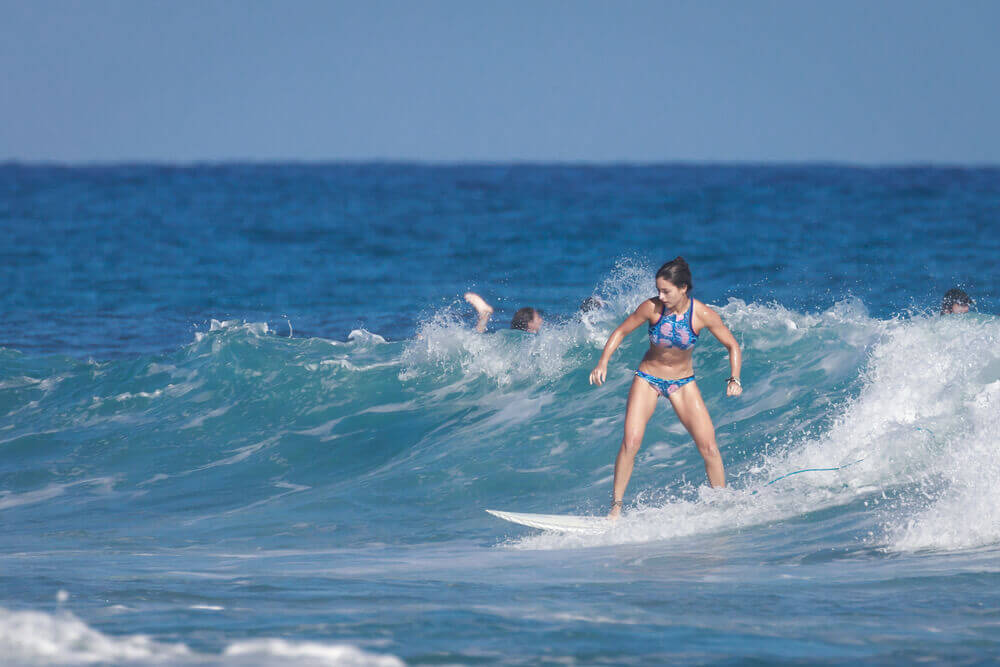 Take a semi-private surf lesson in Lahaina for two hours put on by Maui Waveriders. It's the perfect lesson to take when you're traveling with a group of people. Lahaina Harbor also offers more of the best surf spots in Maui.
Instead of learning to surf with strangers, you'll get to learn how to surf with your group of family or friends with help from a certified instructor. It is an easy lesson that will also teach you about ocean safety, making it perfect for younger kids.
It gives you a chance to ask for help when you need it and gather all the information provided to you before getting in the water with your board. One lesson might be all you need with this surf lesson in Maui! Check latest rates and more information.
Each person in the group gets the opportunity to head out in the water, paddle themselves out a bit, and then attempt to get on the board while surfing the waves.
Don't feel discouraged if you fall off the board! Your instructor from Maui Waveriders will help and make sure you get the hang of surfing during your semi-private lesson. Click here to see more reviews.
Receive the best treatment during this private group surf lesson. The two-hour lesson makes it possible for you to learn surfing basics. Not only will you learn new techniques to try, but you'll get the chance to go out on the water and give it your all.
You don't have to worry about what will happen if you cannot hold yourself on the board because the instructor will stay by your side. Check latest rates and more information.
A certified instructor handles these private group surf lessons, providing each individual with the attention needed to understand better the proper way to surf.
It's the perfect lesson to take as a beginner, especially if you're traveling with children and want them to learn how to surf. Click here to see more reviews.
This private surf lesson is another one of the best private surfing lessons Maui has to offer! It will even provide you with reef shoes, all the surf boards needed, and a rash guard!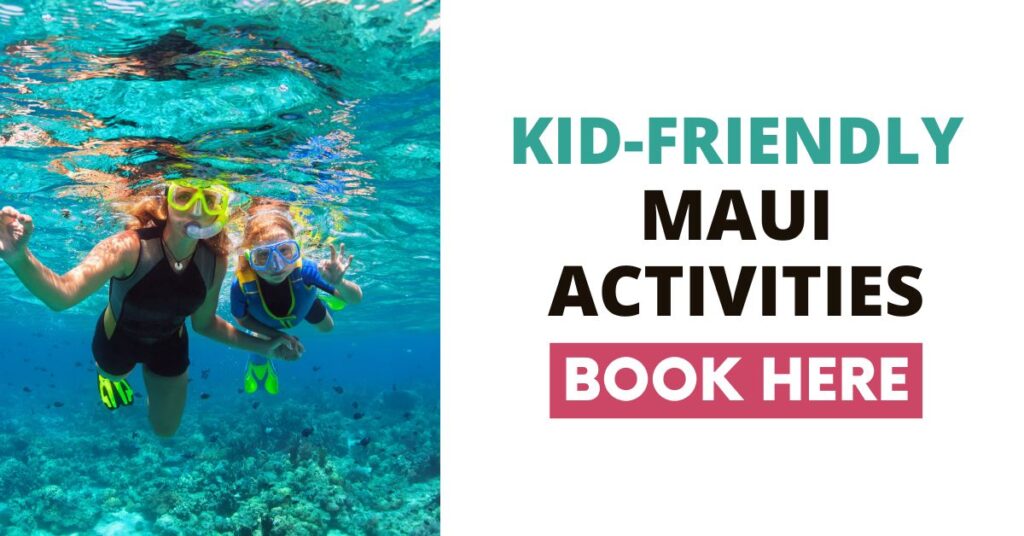 Take a semi-private lesson while at Kaanapali Beach. It's one of the best beaches in Maui for a reason! Not only is it beautiful, but it's also the perfect place to visit when you want to go surfing. Check latest rates and more information.
While taking this semi-private lesson, you'll spend about 90-120 minutes learning surf techniques both on the beach and in the water.
Your Maui surf instructor will guide you through different steps, including helping you learn to balance your body and hold yourself in the perfect position while standing on your board.
What's nice about these Maui surf lessons is that you can learn at a pace that you feel comfortable with and then get in the water to give it a try.
These Kaanapali surf lessons are available at different times of the day, so you can head out in the morning or even in the afternoon to gain experience and test your skills in the water.
The patient instructors work well with people of all ages, so feel free to book this lesson when traveling throughout Maui with the children. Click here to see more reviews.
Be sure to book one of these best surf lessons Kaanapali offers before they sell out! It is another one of the best surf beaches Maui offers by far.
A rash guard, surf shoes, and validated parking are also included.
Spend a full day making memories and trying new things with this Paddle, Snorkel, and Surf session. You'll spend about five hours in the water with certified instructors who want you to make the most of the time, and it is so much fun.
First, you can ride around in a kayak to explore the water and see marine animals, including the giant sea turtles and possibly a few dolphins along the way. Check latest rates and more information.
Once you've finished riding around in the kayak, you can go snorkeling to see colorful fish and other beautiful marine animals in the water from an exciting new view.
You'll also get two hours to spend learning how to surf. Experienced guides provide you with hands-on instruction and suggestions to ensure that you're getting the hang of surfing.
If you look forward to spending a full day in the water, this is the perfect opportunity for you. Click here to see more reviews.
If you want to enjoy surf lessons in Hawaii and go snorkeling and paddle boarding as well, this is the Maui surf school for you!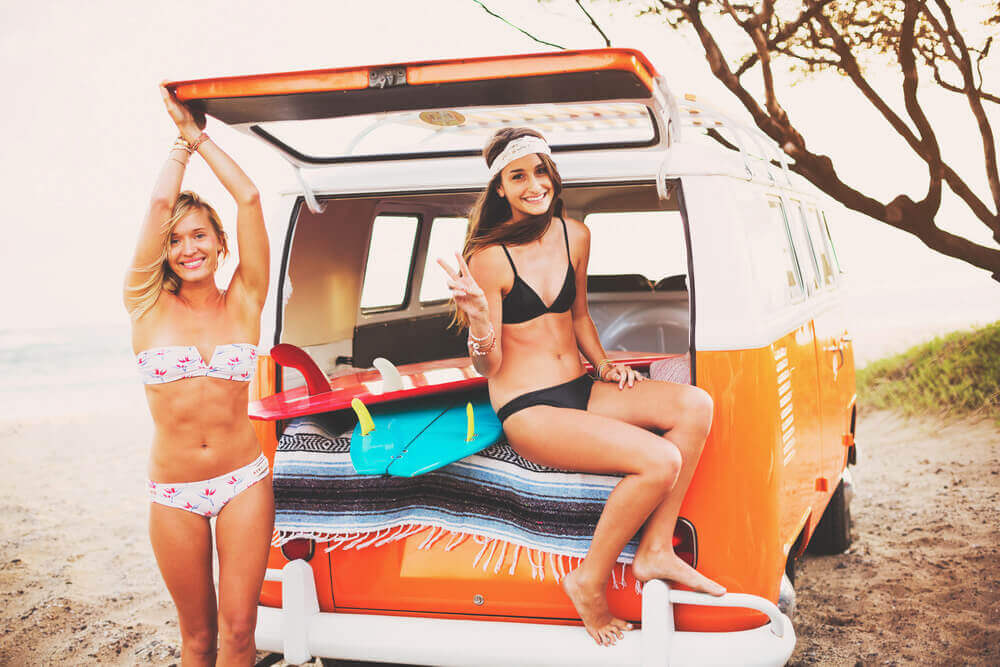 If you want a female-owned surf school, Maui Surfer Girls is another great surfing lesson to enjoy. You will find their surf camps located at Ukumehame Beach Park. Children 5 years and older are welcome to enjoy, making it great for your family.
No surfing experience is required; they will take anyone and help them learn how to hang loose and enjoy surfing. Each surfing lesson is two hours long.
You get the option of choosing private surf lessons, group lessons, or semi-private surf lessons. Maui Surfer Girls even has a special couples and honeymoon package too! Check latest rates and more details.
Reef booties, a professional surfer, a rash guard, and a surfboard are included in this surf schools lesson. Click here to see more reviews.
If you have teen girls, they will love special surf camps dedicated just for them!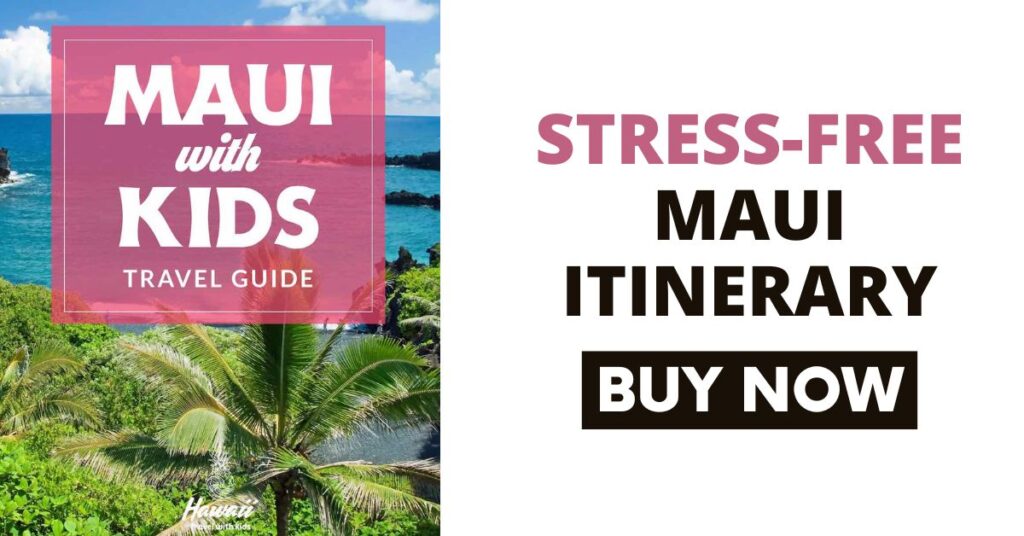 Surf Lessons on Maui FAQs
Is Maui a good place to learn to surf?
Yes, Maui is a great place to learn how to surf. There are plenty of great surfing lessons on Maui for beginner surfers and intermediate surfers alike. Advanced surfers also love Maui for surfing too!
Where are the best places to learn how to surf on Maui?
For newbies heading to Maui, Ka'anapali Beach is one of the best places to learn to surf in Maui. It is well known as being the best surf spot Maui has to offer. Plus, you will find a great surfing lesson at this beach as well.
Where can I watch the best surfing in Maui?
A few of the best surf spots in Maui include Ho'okipa Beach, Honolua Bay, and Olowalu Beach. Sit back and watch surfers of all levels show off their skills.
Are there Lahaina surf lessons?
Yes! If you're staying in Lahaina and don't want to drive very far, you'll want to sign up for the Outrageous Surf School in Lahaina. These small group lessons are a great way to learn how to surf in Maui.
What month is best to surf in Maui?
The best months to catch the best surf in Maui are usually the winter months. You will have no problem catching waves and finding Maui surf lessons for kids and adults between November to March.
How much does it cost to get surf lessons in Hawaii?
This all depends on the surfing schools you choose to get surf lessons. Private surf lessons with your own instructor in Maui will cost more and are usually around $100, while semi-private surf lessons will cost cheaper, sometimes between $50 to $80.
Maui Hawaii Surfing Lessons
Surfing is an amazing water activity that will leave you feeling like you're on top of the world as you ride large waves in the water. There is nothing like riding your first wave. However, it does take time, effort, and lots of practice to have success with it.
If you'd love to get the hang of surfing, plenty of lessons are readily available in Maui. You can choose from some of the best sessions from Maui surf schools, where you'll get to learn everything you need to know about surfing before you step foot in the water.
The instructors have spent years surfing the waves in Maui and can help you learn the ropes with ease. Some lessons are longer than others, and some are more intimate than others. It all depends on what you prefer when learning how to surf.
Regardless of which lessons you decide to take, expect to become a better surfer by the time you've finished working with skilled instructors.
Learn this ancient Hawaiian sport, along with a deeper appreciation for the Hawaiian culture, with any of these Maui surf clinics!