Thinking about renting a bike on Maui? Find out the best Maui bike rentals and what to expect. Scroll down for all the info!
This Maui bike rental shops post contains affiliate links which means if you purchase something from one of my affiliate links, I may earn a small commission that goes back into maintaining this blog.
While vacationing in Hawaii, you likely won't have a car unless you rent one. Thankfully, you won't feel out of place without your car on Maui.
Bike riding is a popular tourist activity on this Hawaiian island, with well-known routes like the West Maui Loop. This bike ride will bring you around the shoreline and western Maui.
With an elevation gain of 5,000 feet, the West Maui Loop is considered a performance bike ride that's suited for experienced bikers.
If you're looking for an even greater challenge after completing the loop, there are more difficult paths to explore.
The Maui bike rentals below have equipment that can accommodate these tough trails, and they're located close to the paths' starting points.
Since you'll need more than just a bike, make sure you have the proper safety equipment. Some of these rental shops have helmets and other accessories available to rent.
Be sure to ask the shop staff any questions you may have about the trails – their insight can make your adventure more enjoyable!
Don't have time to read a bunch of Hawaii blog posts and reviews? Here are some of our top picks for visiting Maui.
Popular Maui Tours/Activities
Favorite Maui Resorts/Hotels
Andaz Maui (this is a luxury resort with the best luau on Maui)
Honua Kai Resort & Spa (this is one of our personal favorites because there are tons of pools and there are condo options)
Want to Rent a Car in Hawaii?
One of the best places to rent a car in Hawaii is Discount Hawaii Car Rental because they get the best rates from top national companies like Alamo, Dollar, Thrifty, Avis, Enterprise, Budget, and Payless.
Want to skip all the planning and just access my detailed Maui Itinerary complete with daily schedules, kid-friendly activities, and travel hacks? Click the button below.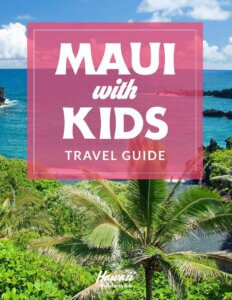 Maui Bike Rentals FAQs
How much does it cost to rent a bike in Hawaii?
The price varies depending on the type of bike, but you can rent a standard road bike for about $25/half day.
Can you bike around Hawaii?
Absolutely! Of course, you'll want to watch out for traffic and bad weather. But islands like Maui have lots of scenic rides and amazing viewpoints you can see by bike.
Can you get a DUI on a bike in Hawaii?
No, you can't. But, please use your judgment for your own safety and the safety of others.

Where to Find the Best Maui Bike Rentals
I'm kicking off this list with the first professional electric bike rental and sales company to establish on Maui.
RideSmart Maui offers electric bike rentals on Maui as well as self-guided Maui bike tours.
They are conveniently located in Lahaina and perfect for renting for a few hours or for your entire trip!
Two-hour electric bike rentals run $30-$50. All day rentals run $60-$90.
If you'd like to rent an electric bike on Maui for a week, it will cost $390-$460.
They also offer folding bikes for weekly rental.
This bike rental shop in Lahaina provides equipment for mountain bike rides, beach cruising, and road peddling.
View this post on Instagram
Each rental includes a helmet, bicycle lock, and tire repair kit to prepare you for your journey to the peak of Haleakala. The road bikes also come with water canisters and water bottle cages.
You can rent a bike for a 24-hour time period or for several days in a row (it's cheaper to rent for multiple days). Bring your own pedals to the shop – the staff will happily install them for you.
If you don't have your own pedals, call ahead to see if they have any loaner pedals available. They're given out on a first come, first serve basis.
When choosing a bike to rent from West Maui Cycles, keep in mind that hybrid and cruiser bikes are not allowed on Maui's Skyline Trail or on the Crater Road descent.
If you're planning to bike along these paths, ask the staff to select a suitable bike. The most expensive bicycle costs $100/day, and the cheapest is $15/day. You can also rent a GPS for $15/day.
West Maui Cycles reminds tourists that there are only two public mountain biking areas on Maui. All of the others are on private land.
They recommend biking through the Kahakapao Trails in the Makawao Forest (one of the best hidden gems in Hawaii), Poli Poli Springs in the Kula Forest Reserve, and the Halaeakala Summit (also known as the Skyline Trail).
Maui Cyclery (also known as Go Cycling Maui) offers bike rentals and tours in Paia on Hana Parkway.
View this post on Instagram
The owner, Donnie Arnoult is passionate about riding and is quite experienced. He raced motocross and BMX in the 1970's and 80's before picking up mountain bike racing. Now, he's excited to offer tourists a cycling experience they'll never forget.
There's no better tour guide than one who loves what they do!
Donnie rents road bikes to tourists on Maui. All of his bikes are carbon fiber bikes with 11-speed drivetrains. His bike rentals are less expensive than West Maui Cycles, but they have different capabilities.
You can also rent a car rack to store your bike while you drive to your starting point.
Rent an inexpensive bike from one of Boss Frog's two locations. Their West Maui shop is in Lahaina, and their South Maui shop is in Kihei.
View this post on Instagram
Their most expensive rental is the Cannondale Road Bike for $45 a day. This bike is suitable for riding on the West Maui Loop or other long-distance routes.
As with most bike rental shops, Boss Frog's rentals are always cheaper if you take the bike for a week. This shop's discounts are much steeper than you'd expect, however.
A hybrid bike is $30/day, but $90/week. You'll get to cruise on a 21-speed comfort cruiser for 7 days, but you'll only be paying for 3!
Since Boss Frog offers bike rentals for typical rides, they're happy to recommend the right bike for any kind of adventure. Whether you want to bike up a mountain or you just want to cruise along the highway, they can help you!
Once you've got a chance to bike along some exciting trails in Maui, head back to Boss Frog to rent other fun sporting equipment. They have bodyboards, snorkeling equipment, and surfboards.
Electric bikes are becoming popular around the country due to their ability to travel faster than a typical bicycle. Maui Electric Bike Rental will connect you to the perfect electric ride from their solar powered workshop.
View this post on Instagram
Since they're committed to supporting green energy, your bike is charged through the solar panels before you receive it. Head to South Maui to score some great deals on efficient bikes!
Maui Electric Bike Rental's best deal is their 1-week rental. Borrow an electric bike for $225/week, which includes a helmet, bike lock, and delivery to Kihei, Wailea, or Makena. A 1-day rental is $75, or you can rent two bikes for $118/day.
This bike rental shop on Maui offers carbon road bikes and mountain bikes in a wide range of sizes. The store is a 45-minute bike ride (or 15-minute drive) away from the Makawao Forest Reserve's bike park.
View this post on Instagram
The shop staff will fill you in on the best places to bike on Maui based on your skill level and how much time you have. The Krank Cycles Maui website has maps of popular biking trails, too!
There's a reason why there are so many rental shops on Maui – the island has some great terrain to ride on. You'll be in good company on the beaches, roads, and mountain trails with your borrowed bike.
To get the most out of your Maui bike riding experience, go with a group of people.
When it comes to riding on trails with plenty of space, there's no harm in making a bike journey a group activity!
Maui Cycling Tours
One of the best ways to cycle down Haleakala is with this self paced tour. You'll be driven up the mountain and hear about the Hawaiian culture and history, points of interest, and great places to eat nearby. Check out the latest prices and more details.
On the way down, you have the freedom to stop at anytime for photos on the side of the road and grab a coffee or a bite to eat at a deli, restaurant or snack stop.
Book this Haleakala Cycling Tour
Waking up before dawn will totally be worth it to see this epic Haleakala sunrise. Check out the latest prices and more details.
You'll cruise down the mountain from the 6,500-foot level and travel 26 miles to the town of Paia.
Book a self-paced tour or guided tour
Experienced cyclists might want to consider this extensive, 40 mile bike tour of Maui. It's a mix of downhill and uphill. Check out the latest prices and more details.
Book this Maui bicycle tour