Planning a trip to Maui on a budget and want to know some cheap things to do on Maui? Keep scrolling to find out how to have a cheap vacation in Maui that rocks!
This list of cheap things to do on Maui on a budget was written by Hawaii travel expert Marcie Cheung and contains affiliate links which means if you purchase something from one of my affiliate links, I may earn a small commission that goes back into maintaining this blog.
Of all the adjectives that describe the islands of Hawaii, "cheap" doesn't usually come to mind.
No matter how often I try to convince my friends and family that a trip to Hawaii does not have to be a budget-buster, cost is always a factor.
Depending on which Hawaiian island you are headed to, there will always be relatively inexpensive, or even free activities.
Since Maui is a popular family vacation destination, I figured I'd share a few things to do in Maui with kids that won't break the bank. In fact, everything is under $10!
Use the following suggestions to plan your Maui itinerary and you will be surprised at how affordable travel to Hawaii – and specifically Maui – can actually be!
Check out 101 epic things to do with kids on Maui!
Don't have time to read a bunch of Hawaii blog posts and reviews? Here are some of our top picks for visiting Maui on a budget.
Best Budget-Friendly Maui Activities
Best Budget-Friendly Maui Hotels
Aina Nalu Resort (this is in the heart of Lahaina town and totally walkable to shops and restaurants)
Maui Beach Hotel (this is in Kahului and it's easy to get to all areas of the island)
Paia Condo (amazing North Shore location right at the start of the Road to Hana)
Want to Rent a Car in Hawaii?
One of the best places to rent a car in Hawaii is Discount Hawaii Car Rental because they get the best rates from top national companies like Alamo, Dollar, Thrifty, Avis, Enterprise, Budget, and Payless.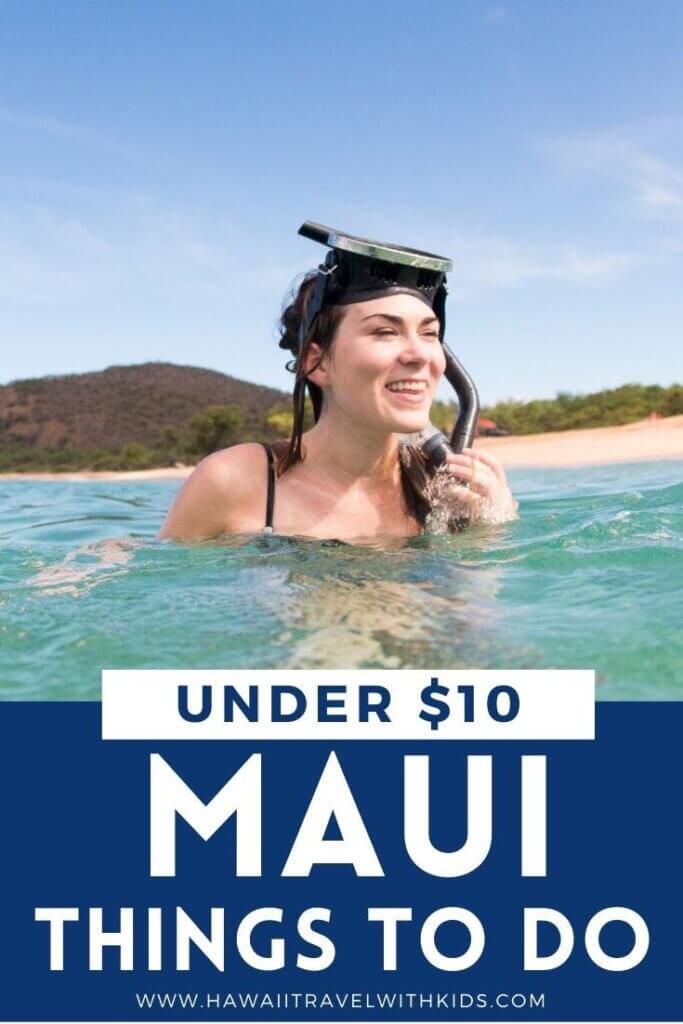 Maui on a Budget FAQs
What are some cheap places to stay in Maui?
If you are visiting Maui on a budget, you can save a lot of money by renting a budget Maui hotel, condo, or Airbnb vacation rental. You can also stay in cheaper areas of the island like Kihei or Kahului.
What is the cheapest month to go to Maui?
It's always cheapest to visit Maui outside of school breaks. That means mid-April to June in the Spring and September to mid-December in the Fall. This is where you'll find the best deals to Maui Hawaii. The winter tends to be expensive because of snowbirds looking for a warm place to go and summer is packed with families.
What are cheap things to eat in Maui?
You can save money in Maui if you know where to eat (without sacrificing your taste buds!) Head to Foodland to pick up fresh poke in their deli section and get Spam musubi from convenience stores. You can also get a couple of plate lunches and share them with your family. And take advantage of Happy Hour appetizers.
10 Amazingly Cheap Things to do on Maui
Heading to Maui on a budget? You're in luck! There are tons of cheap things to do in Maui for visitors! Here are some of our favorites!
1. Explore a new beach!
Whether or not you rent a car on Maui, you will be able to find a beach nearby. Maui has more beach per square mile than any other island in Hawaii.
So no matter where you stay, there is likely a beach to visit!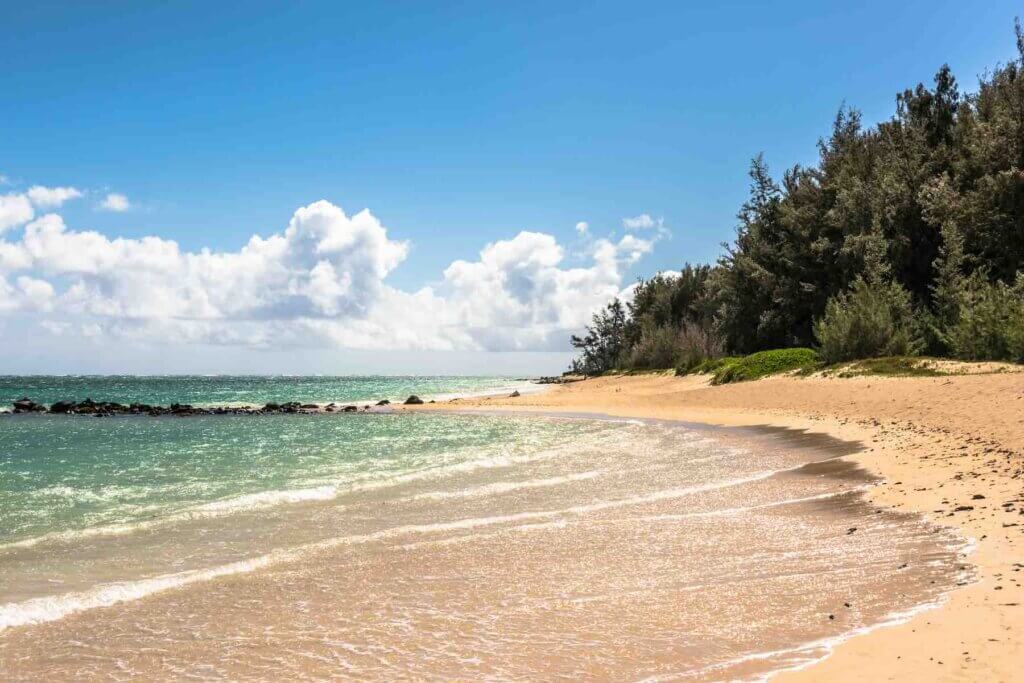 My personal favorite is Kanaha Beach Park, right by the airport. The best part about Kanaha Beach is that it is free!
In fact, most beaches on Maui are free to enjoy, so make sure you plan on making these a big part of your trip. After all, why else are you coming to Hawaii if not to enjoy the beautiful scenery, beaches, and ocean?
2. Get some snorkeling in!
Now, if you can afford it, I will always suggest a splurge on a snorkeling tour, especially if you can get out to Molokini Crater. Check out the latest prices and more details.
However, you don't need a tour guide to enjoy snorkeling around your favorite beach!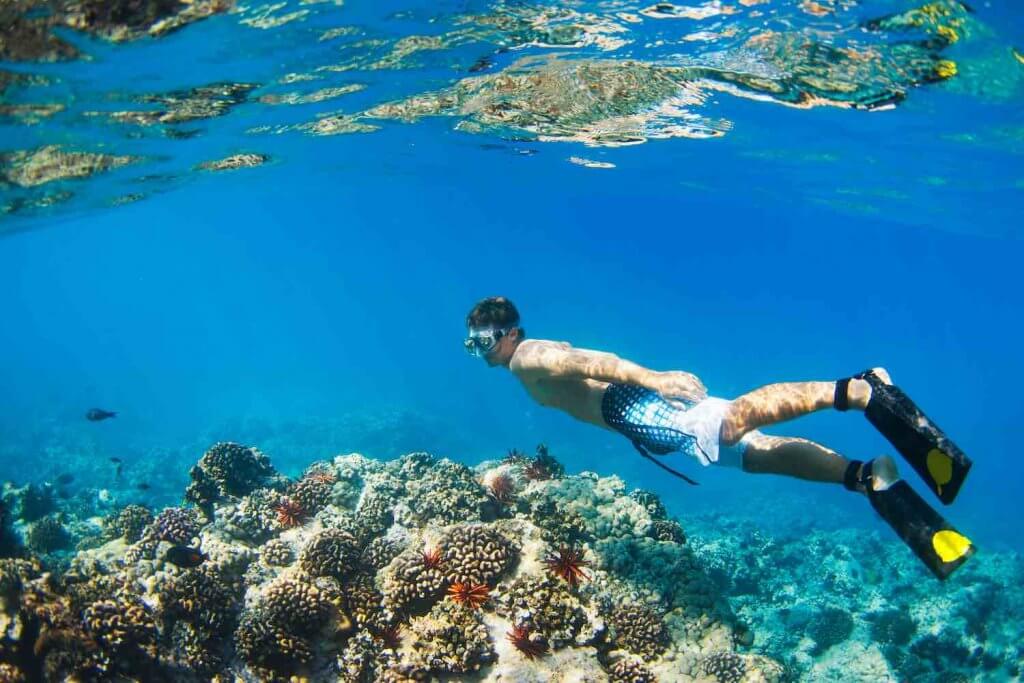 There are a few routes you can go to enjoy the underwater world of snorkeling.
First, you can purchase your own snorkeling equipment and just bring it with you. My hubby and I like the two-piece option. If you plan on doing a lot of snorkeling, buying your own set will save you money. Find the best prices here.
Another option is to rent the equipment you need once you get down there. Most places charge a negligible amount ($1.50 per day) to rent snorkeling equipment by the day or the week.
Boss Frog's is one option if you don't want to pack a bulky snorkel or mask.
However you get to it, snorkeling is a great way to explore the ocean around Maui for a minimal cost!
Find out my favorite places to snorkel on Maui!
3. Find some treasure at the Maui Swap Meet!
The Maui Swap Meet is a farmers market-style outdoor adventure for all your senses!
You will find unique works of art, new and interesting foods to try, and pretty much anything you can imagine needing for island life.
The $.50 per person admission is well worth it, even if all you do is browse, try samples, and people watch.
The Maui Swap Meet is located in the parking lot of the University of Hawaii Maui College.
Personally, I think it's one of the best places for Maui shopping and we always find something cool!
4. Check out a Free Hula Show!
Free Hula Shows are a no-brainer! You probably know by now that I was a professional hula dancer, so trust me when I say that you cannot get this experience anywhere else.
An authentic, Hawaiian hula show is a must-do. And it's definitely one of the top free things to do on Maui!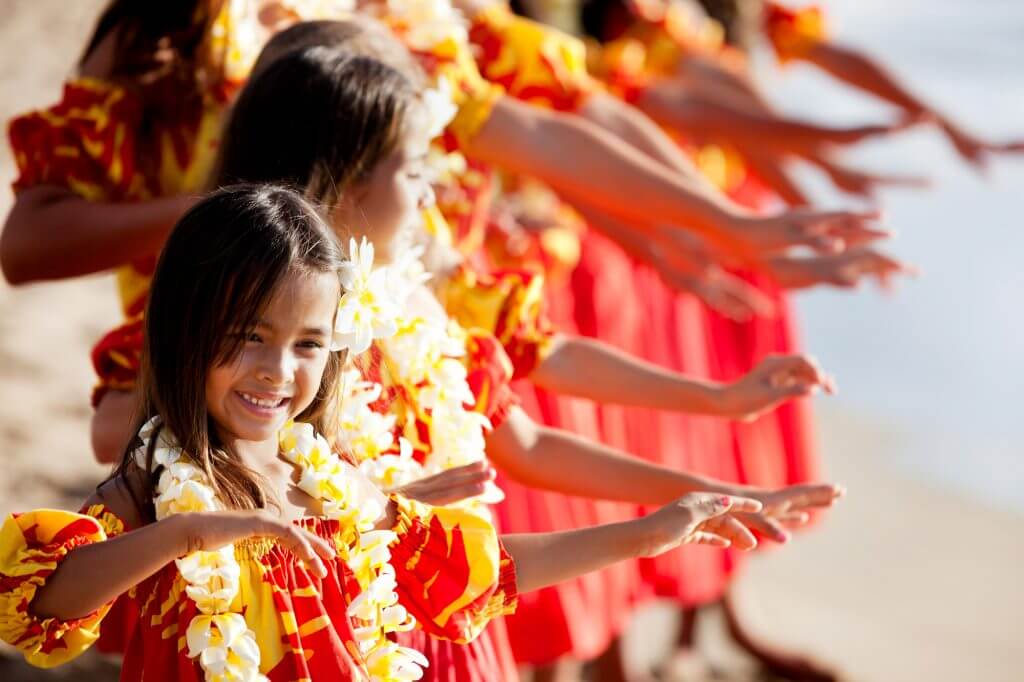 There are lots of free hula shows on Maui. Many take place at shopping centers or hotels.
The most popular Maui hula shows are at the Kaanapali Beach Hotel, Lahaina Cannery Mall, Whaler's Village, and the Outlets of Maui.
What's really special is that they usually feature kid performers, which makes it one of the best things to do in Maui for kids.
5. Take advantage of Happy Hours!
If Hawaiian food is not available where you live, you should definitely plan to indulge in some fresh Hawaiian meals while you're visiting Maui.
But that doesn't mean you need to take out a loan to eat dinner!
If you adjust your eating schedule a little, you can hit multiple happy hours, catch the sunset on your favorite beach, and head back to any restaurant you missed for a less-expensive nightcap!
For families staying around Kahului, check out these awesome happy hours.
Or, if you are somewhere else on the island of Maui, start here to find your closest happy hour deal.
We like to get a bunch of pupus (Hawaiian appetizers) to share with our family. It's always fun to try new foods!
6. Visit a local Lavender Farm!
If you have never visited a lavender farm before, you are in for a treat! The Ali'i Kula Lavender Farm is just a 30-minute drive from the Kahului airport. And at $3 for admission, you can stroll around and explore to your heart's content!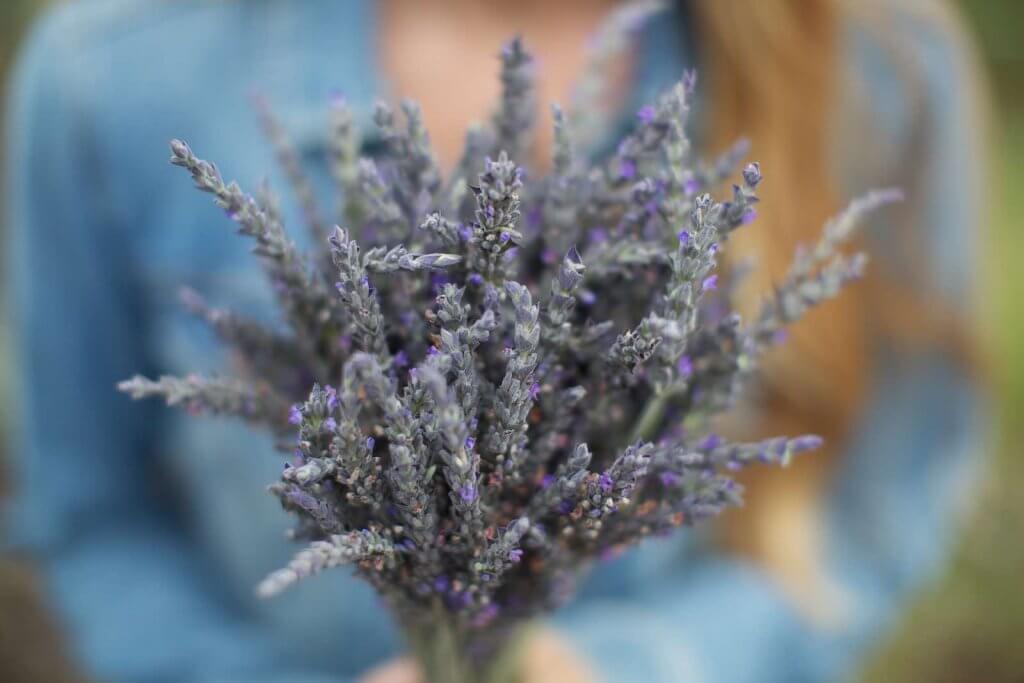 If you are willing to spend a bit more, a guided walking tour is available for $12. But, making a reservation ahead of time will knock the price down to $10.
I don't know about you, but I could probably spend the whole day there and still have more I want to see and learn!
Ali'i Kula Lavender Farm is open on Fridays, Saturdays and Sundays from 10am to 4pm, so be sure to plan accordingly!
7. Go pick some strawberries!
How fun would it be to pick strawberries for a snack straight off the stem? My kiddos adore strawberries, and I enjoy anything that gets them outside in the fresh air. Win-win!
Kula Country Farm is open Wednesdays and Saturdays from 9 to 4 currently, and You-Pick strawberries are $5 per pound.
Kula Country Farm is located very close to Ali'i Kula Lavender Farm. So if it were me, I would make a day trip out of it and bring back some amazing strawberries and lavender to enjoy the rest of the trip!
8. Walk or hike through a state park!
If you were going to ask me to suggest just one state park to visit, I would have to ask you some questions first!
Some have amenities or attractions that others don't, and some are quieter while others definitely have more of a family feel. It all depends on what you are looking for.
To start with, I would suggest checking out the State Park Website. You can find a list of up-to-date restrictions, amenities, and fees. Most parks require visitors to pay a day fee of $10 per vehicle.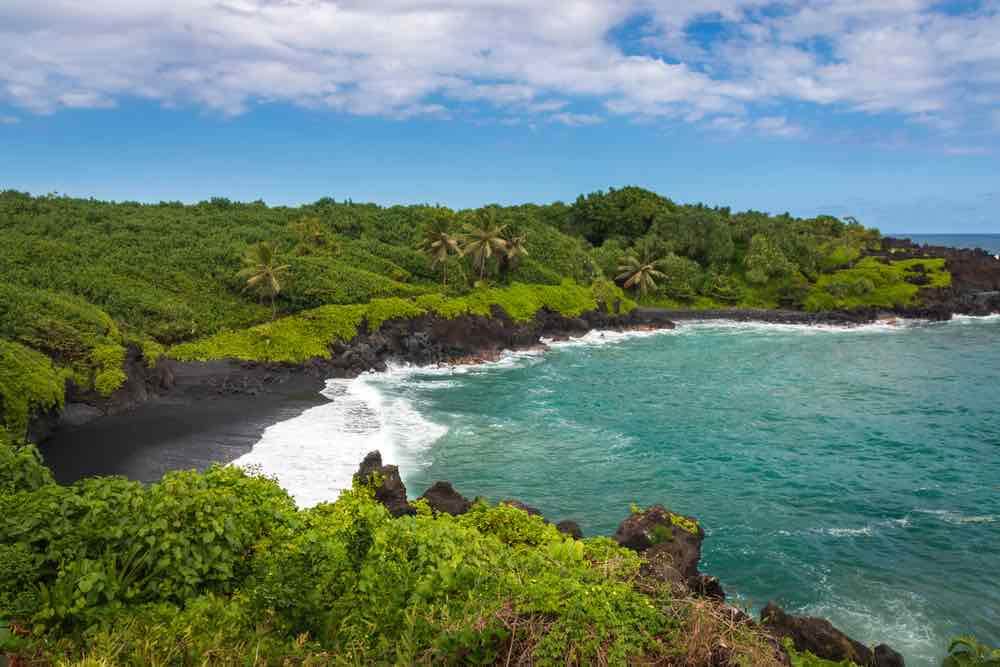 Wai'anapanapa State Park would probably be my suggestion for the views alone – nevermind the black sand beach! Make sure to book reservations beforehand, though. You can read all my tips for visiting this Maui black sand beach.
For those of you more interested in getting in the water than looking at it, Makena State Park might be more your speed.
There are also some Hawaii National Parks, like Haleakala Crater.
No matter where you choose to go, be prepared to be amazed at Maui's natural beauty!
9. Wander around Makawao Town!
If you have never heard of Makawao Town, you are not alone. This little gem is about 20 minutes from the Kahului Airport, and about 100 years in the past.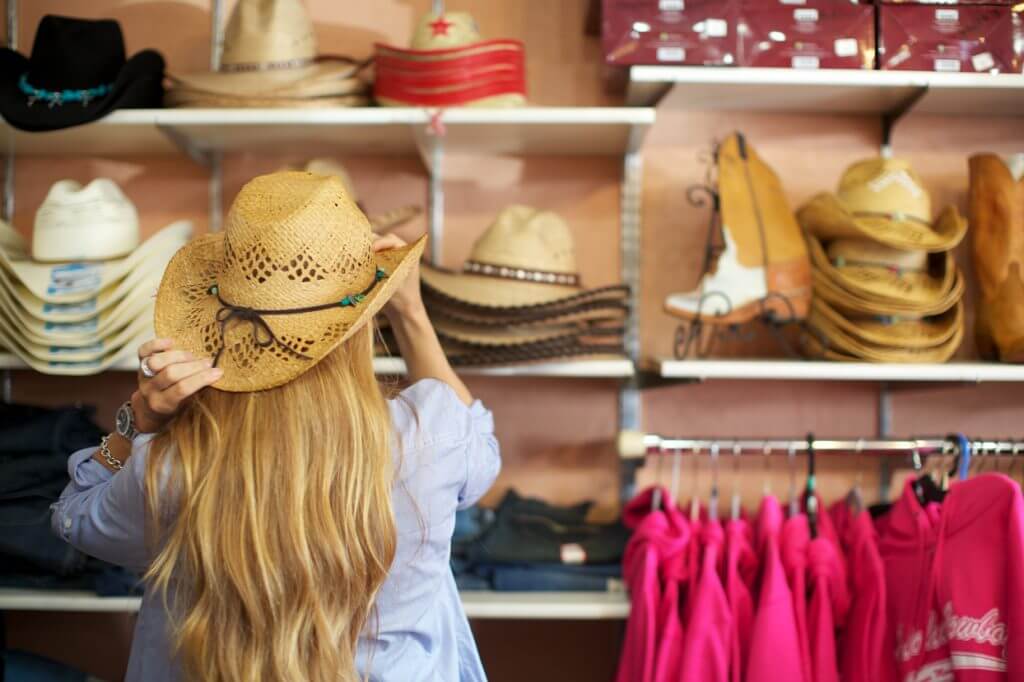 Strolling around the main intersection will allow you to visit a bakery, a general store, and many, many opportunities for people-watching!
If you're there on the right day, you may even be able to catch a glimpse of a Hawaiian Cowboy (Paniolo) riding his long-horn bull!
There is no price to pay besides just getting there. But, there will probably be more than one item that tempts you to open your wallet once you're there!
It's one of the cutest towns in Hawaii to explore with kids.
And if you're feeling adventurous, head to Makawao Forest, one of the best hidden gems in Hawaii!
10. Find a seat and count the whales passing by!
Whale watching is such a fun activity, and it can be completely free!
If you are planning a visit between November and May, I would suggest carving out a chunk of time to pack a picnic lunch or dinner, and just sit on a beach with an eye to the ocean.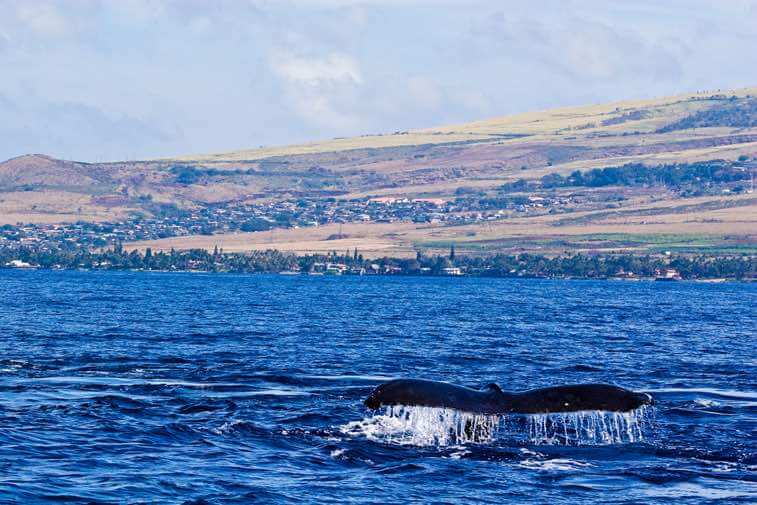 Look for randomly appearing mist clouds, then scan the horizon right below them. Odds are, if you wait long enough, you will see a back a tail, or maybe even (if you're super lucky) a breach!
If you want to try to see a little more clearly from the shore, a pair of binoculars might be a good investment. I personally like these Sky Genius binoculars, mostly because of how far away they let me see.
With or without binoculars, whale watching can be an exhilarating experience for little to no cost!
Read my full guide to whale watching on Maui!
Bonus: Drive the Road to Hana!
As you have been doing your Maui research, you have probably heard of the Road to Hana. This one is an absolute must-do, if you are able!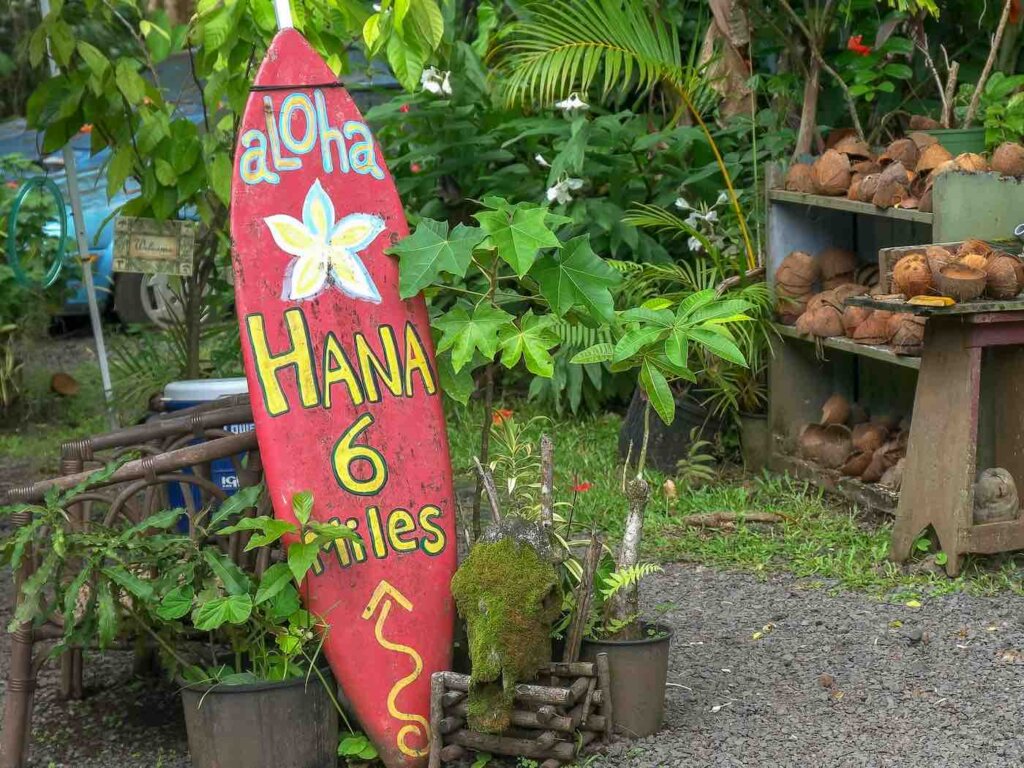 The sightseeing from the road itself is breathtaking, and the stops along the way break up the drive into manageable chunks.
Make sure you don't skimp on the banana bread!
This is a full day adventure, so you'll want to pack up lots of food and drinks or plan on purchasing items at the roadside stands or food trucks.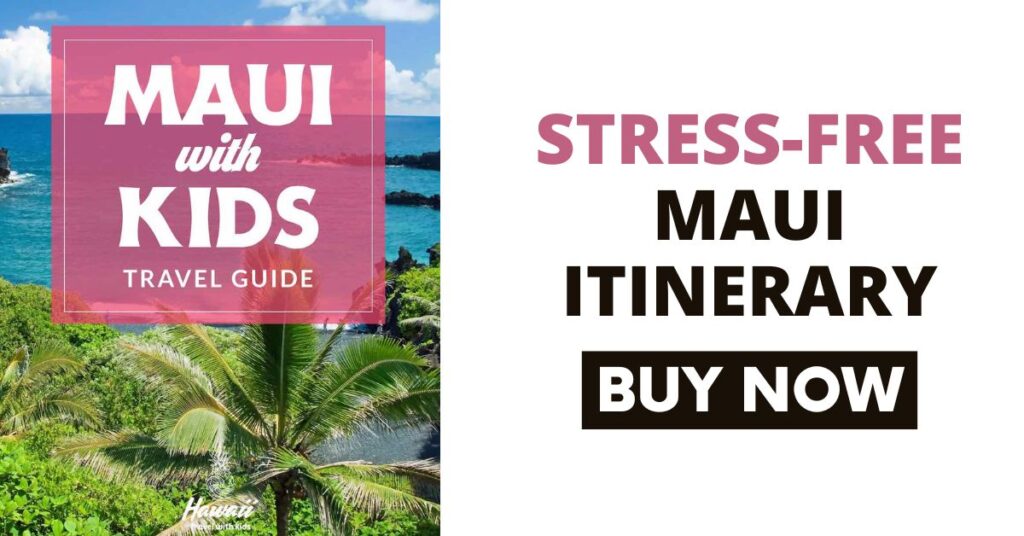 Wrap Up
As you can see, once you get to Maui, there are so many things to do that don't bring along a hefty price tag.
Whether you are a beach-goer, a hiker, a family, or a couple, you will be able to find something to do for little to no cost. These are just a few ideas for exploring Hawaii on a budget.
Just make sure to come back here to help you remember the Top 10 Thing to do on Maui for under $10!