Planning a trip to Maui and want to know whether or not Haleakalā National Park is worth it? Keep scrolling for my top tips for exploring this Maui national park.
This post about Haleakala National Park tips was written by Hawaii travel expert Marcie Cheung and contains affiliate links which means if you purchase something from one of my affiliate links, I may earn a small commission that goes back into maintaining this blog.
There are SO many cool things to do on Maui that it can be hard to fit everything into your itinerary.
Out of all the Maui adventures, one of the top places to go in Maui is Haleakalā National Park. In fact, it's one of the best national parks in Hawaii!
Seeing the sunrise in Haleakala is something people travel thousands of miles to experience. But, few people realize that the sunset at Haleakala National Park is just as awe-inspiring.
In this post, you will get an overview of Haleakalā National Park and my top tips for making the most of your experience so you know exactly what to do in Haleakala National Park!
Get my Maui 5 day itinerary for families HERE!
Don't have time to read a bunch of Hawaii blog posts and reviews? Here are some of our top picks for visiting Maui.
Popular Maui Tours/Activities
Favorite Maui Resorts/Hotels
Andaz Maui (this is a luxury resort with the best luau on Maui)
Honua Kai Resort & Spa (this is one of our personal favorites because there are tons of pools and there are condo options)
Want to Rent a Car in Hawaii?
One of the best places to rent a car in Hawaii is Discount Hawaii Car Rental because they get the best rates from top national companies like Alamo, Dollar, Thrifty, Avis, Enterprise, Budget, and Payless.
Want to skip all the planning and just access my detailed Maui Itinerary complete with daily schedules, kid-friendly activities, and travel hacks? Click the button below.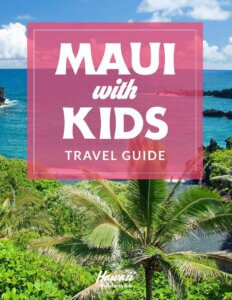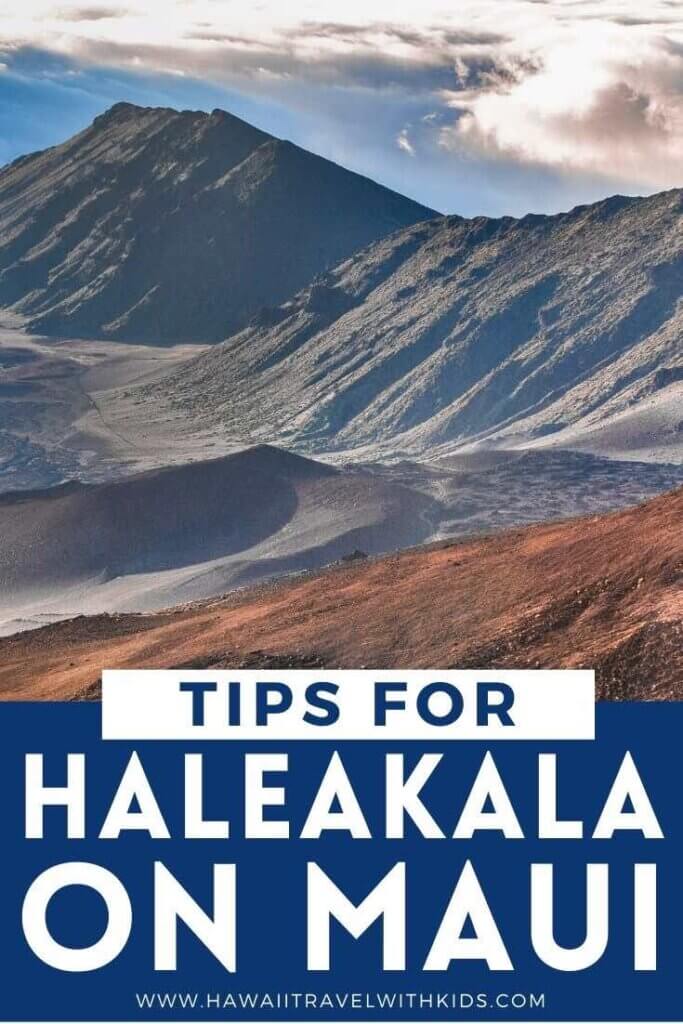 Haleakalā AKA The House of The Sun
Haleakalā holds a legend to its name, as with everything on this god-kissed island.
As the great tale goes, the demigod Maui (yep, the same guy from Disney's Moana) lassoed the sun from its journey across the sky to watch it make a glorious descent as he stood on the volcano's summit.
Last recorded as active in the 18th century, Haleakalā is the larger of two volcanoes that form the island of Maui.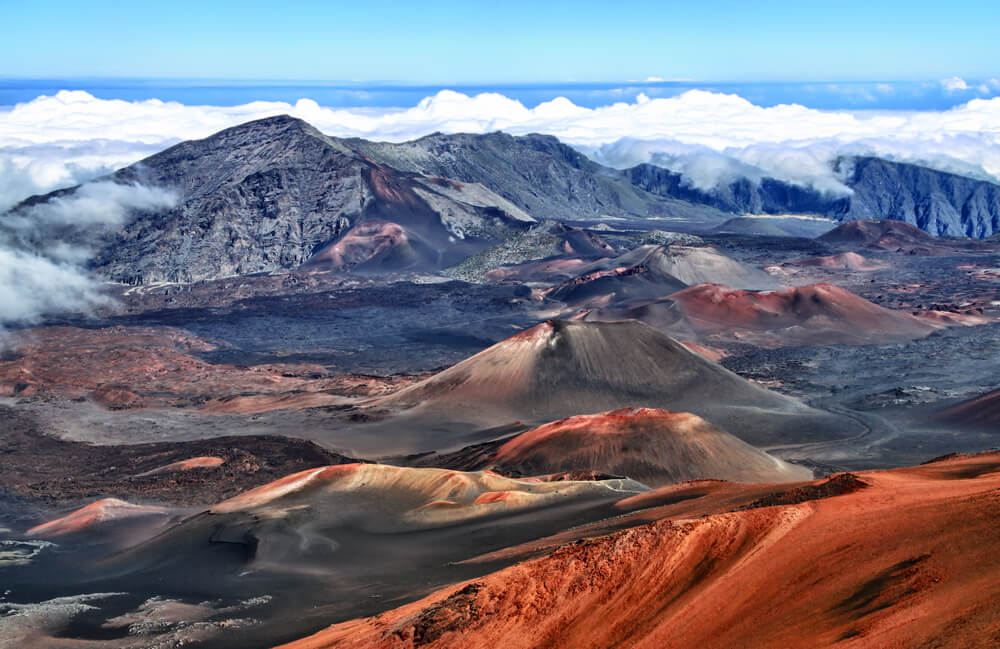 Towering over the island at 10,023 feet above sea level and visible from just about any point, Haleakalā is a beauty to behold in every sense.
This "House of the Sun," or Haleakalā in the Hawaiian language, is a stunning range of landscapes and skyscapes, a real force of nature in every sense.
Haleakalā National Park is just one of the two wilderness reserves and parks nestled in Hawaii and the only one on the island of Maui.
More than one million visitors each year come to explore Haleakala in Maui and the wide variety of flora and fauna seen nowhere else in the world.
They visit from all four corners of the world to learn the cultural significance that Haleakalā holds for the Hawaiian people and catch a glance at the world's most gorgeous sunrise on a clear day.
Haleakalā National Park was established in 1916, 43 years before Hawaii became a state. That makes Haleakalā National Park more than a hundred years old.
Now is the time to see this Maui treasure. It's open 24 hours a day, seven days a week, 365 days a year.
Getting Ready For Haleakala
The Haleakalā summit is the highest peak in Maui and, unbelievably, has five different climate zones, so it is important to know the Haleakala National Park weather before going.
The focal point for visiting Haleakalā National Park is its otherworldly landscapes, which feature rugged trails, cinder cones, and scenic lava rock fields.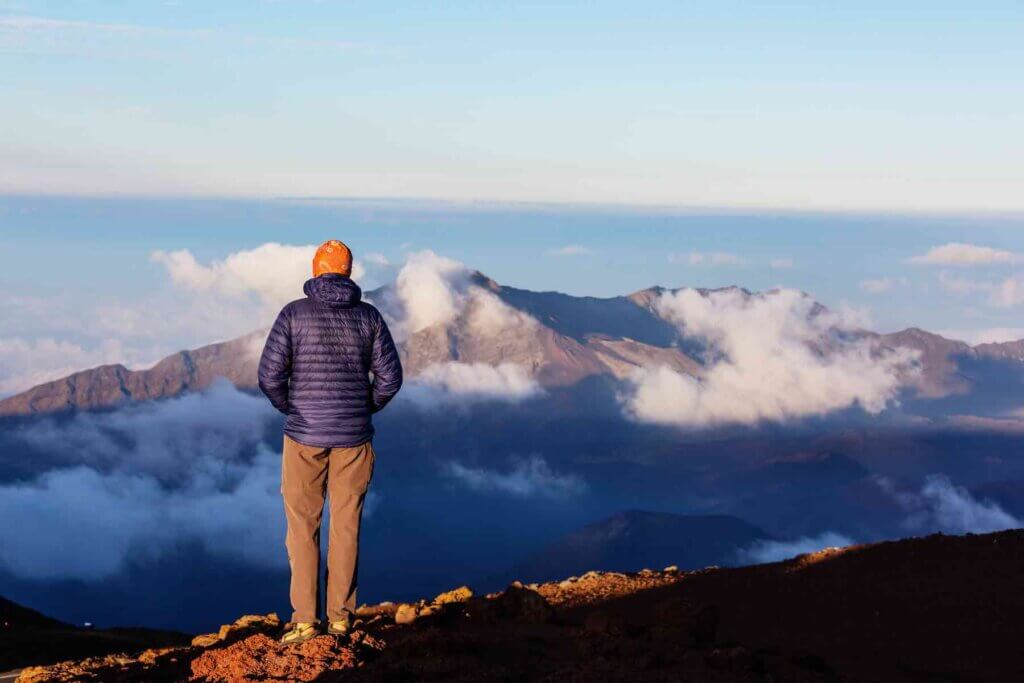 While visiting Mt. Haleakalā at sunrise is a popular choice for many tourists, a perfectly planned Haleakala National Park sunset outing and base camping are an experience worthy of the memory bank.
In a nutshell, Haleakala National Park is an all-out adventure, packed only with nature's best features to offer.
Fresh air, dramatic scenery, and the Maui culture. It is truly one of a kind and definitely not to be missed.
Are you ready for an experience that many often find life-changing? Here are three tips to make that Haleakala visit truly the best experience ever!
The Top 3 Tips For The Ultimate Haleakala Experience
How you want to experience this enchanting place depends on the adventure that best suits your plans.
There are options few and far between, but in the end, every part of the Haleakala National Park experience will not fade in memory.
Fill yourself with wonder and indulge in the trip of a lifetime with these three tips!
Into the Wild We Go
Haleakala National Park is federally designated as a wilderness reserve and provides 80% of its landscape and natural terrain as a home to several endemic species of flora and fauna.
Some are only found in Hawaii and not found anywhere else in the world.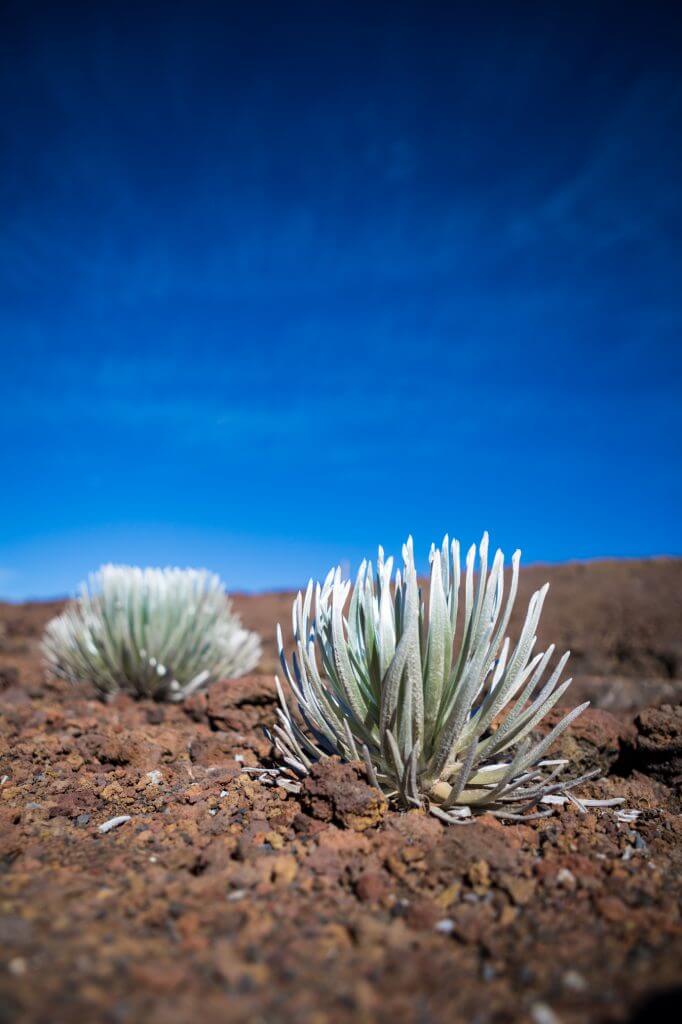 Ever seen a truly remarkable plant that can take up to 50 years to bloom once and then dies? Embrace the chance to check out the Ahinahina (also known as the Hawaii Silversword.)
Uniquely suited to its extreme environment and found to grow only in Maui's tallest summit and nowhere else on earth, the Silversword is a remarkably endemic species found only in Haleakala.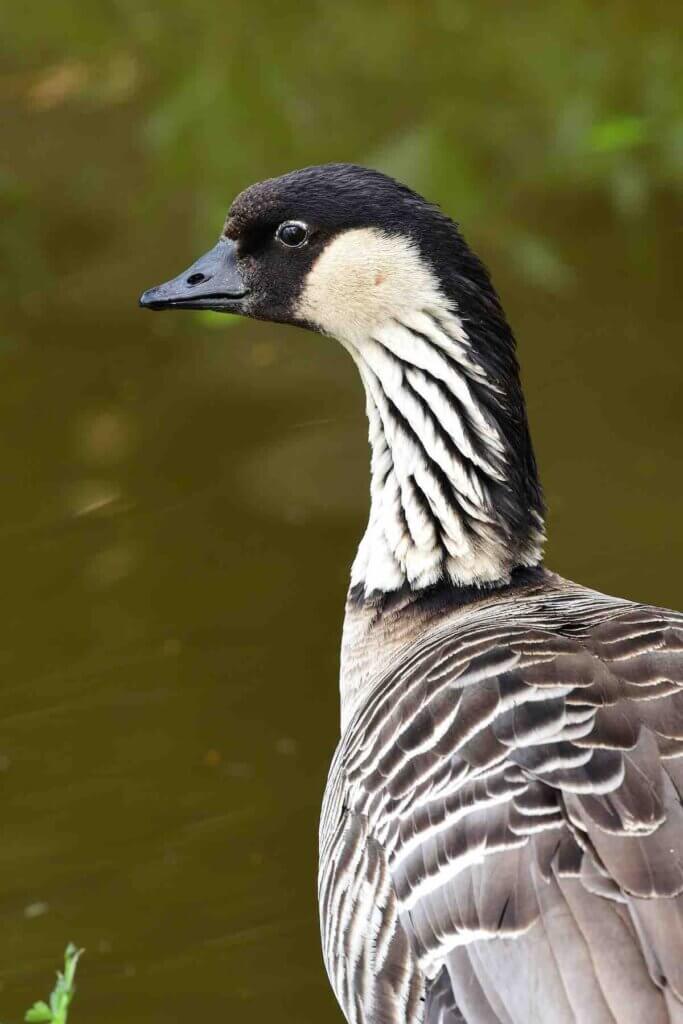 The Haleakala National Park is home to more endangered species than any other national park in the United States and the perfect place to spot the Nene, a Hawaiian goose.
The Nene once teetered on the edge of extinction, with just 30 birds left in the wild back in 1967, caused by hunting and the threat of natural predators.
The Hawaiian Goose now has a record number today at over 3,000 statewide due to Endangered Species Act protections.
See how resilient the national state bird, the Hawaiian Goose is up close and personal, and perhaps volunteer to help protect the endangered species found on Haleakala while you're at it.
Tip Number 1: Take in the scenery & leave everything as is.
Taking a Maui Haleakala Tour is the ultimate way to spot these rare species of both flora and fauna found in the sacred landscape of Haleakala. Check out the latest prices and more details.
Learn more about these endemic species, their unique characteristics, and have fun while doing so. Just remember, leave no trace when visiting the park to ensure that these species continue to thrive in their natural environments.
Also, it is always essential to stay on marked Haleakala trails, never feed wildlife, and treat the residents with the utmost respect.
Haleakala Camping
With so much to see, you dare not want to miss out on everything when in the presence of the majestic wilderness.
That's why you can choose from two campsites found in Haleakala National Park. There's Holua, located 3.7 miles down the Halemauu Trail, and Paliku, located about 9.3 miles along Sliding Sands Trails or 10.4 miles on Halemauu Trail.
Both Maui campsites offer the perfect place to camp, hike, bike, and explore at your own pace.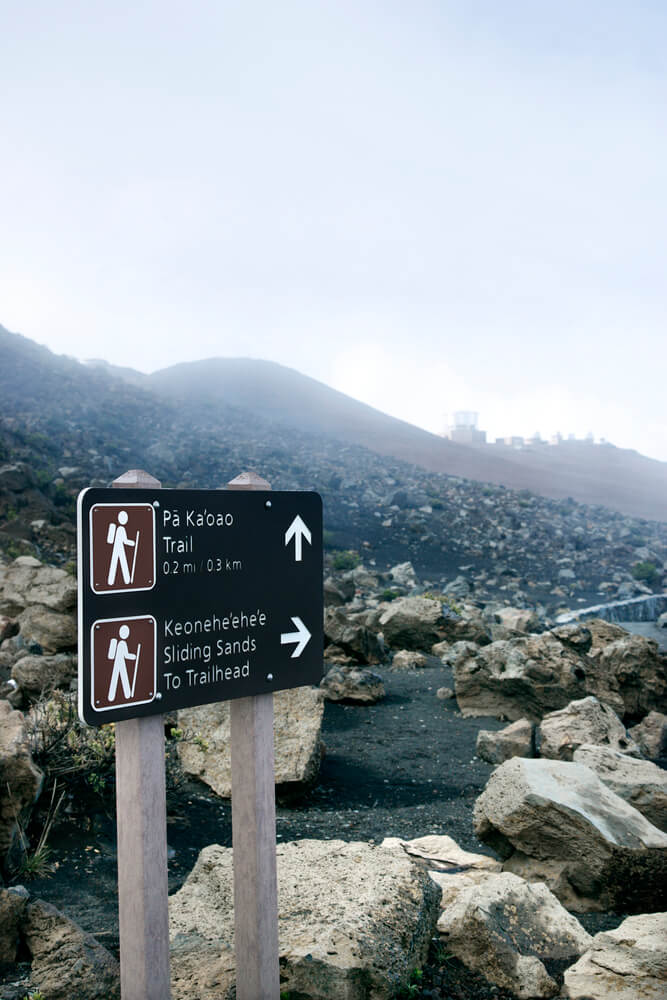 Experienced hikers and newbies alike enjoy the camp-out wilderness experience spending the night outdoors either in a tent or in one of the two primitive wilderness campsites.
Pick up the pace the day after with a Haleakala Bike Tour and be one with the spirit of Maui! Check out the latest prices and more details.
Haleakala is in itself a thrill to behold, but if it is something with a bit of pumping high adrenaline, why not head down Haleakala on a bike?
Grab a bike rental or book a Haleakala bike tour if you think you have what it takes to descend the 21 switchbacks on the western slopes of the mountain.
Come across a panorama of killer vistas that include Maui's central valley and the glorious West Maui Mountains.
Tip Number 2: Pack properly!
The House of the Sun stands over 10,000 feet at the summit with no trees or shade. Bring the proper protection gear, and do not risk getting a terrible sunburn.
Sun protection is a MUST, so pack plenty of reef-safe sunscreen, and a hat to protect yourself from the sun's intense rays.
Gearing up with good hiking boots is essential if you plan on doing some Haleakala National Park hiking. Remember to bring along first aid supplies and the proper trekking stuff for more intense excursions. Find the best prices here.
National parks are NOT theme parks. Injuries abound when you fail to treat nature with respect.
Because the weather at Haleakala National Park changes, you also want to dress appropriately. Sometimes the weather is cold, especially for a sunrise viewing, so dress warmly.
If you plan on going on a Haleakala National Park hike, you'll want to have layers since you might get hot or if there are high winds during your short hike.
Skywatching
Skywatching on the summit is the perfect activity for every visitor. Encompassing enthralling views of sunrise, sunset, stargazing, and everything in between, this activity is undoubtedly an experience that opens you up to the wonders of Maui.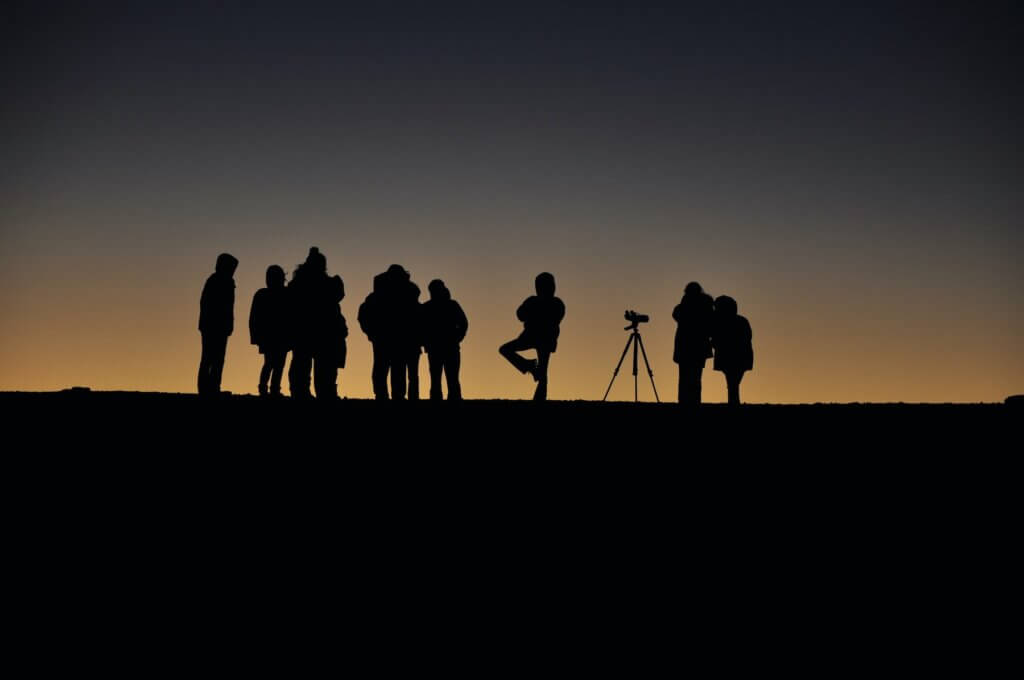 Marvel at the incredible skyline atop Haleakalā Crater. Trailing up the way to the summit, veer away from the traffic, stop and behold the sights with a visual horizon that stretches 115 miles out the open sea.
When heading to the summit at night, know that the night sky conditions are nothing short of phenomenal.
Check out the constellations by mapping out the perfect Haleakala stargazing trip! Grab yourself a map of the stars at the Haleakala Visitor Center or the Haleakala National Park Headquarters Visitor Center.
Stargazing at Haleakala Crater is one of the best things to do on Maui at night.
Tip Number 3: Wear Warm Clothes
Bundle up with warm clothes because the weather in Haleakala National Park will be chillier than you expect.
Maui's classic tropical climate can confuse you and make it easy to forget that the temperature changes when you're 10,000 feet above sea level!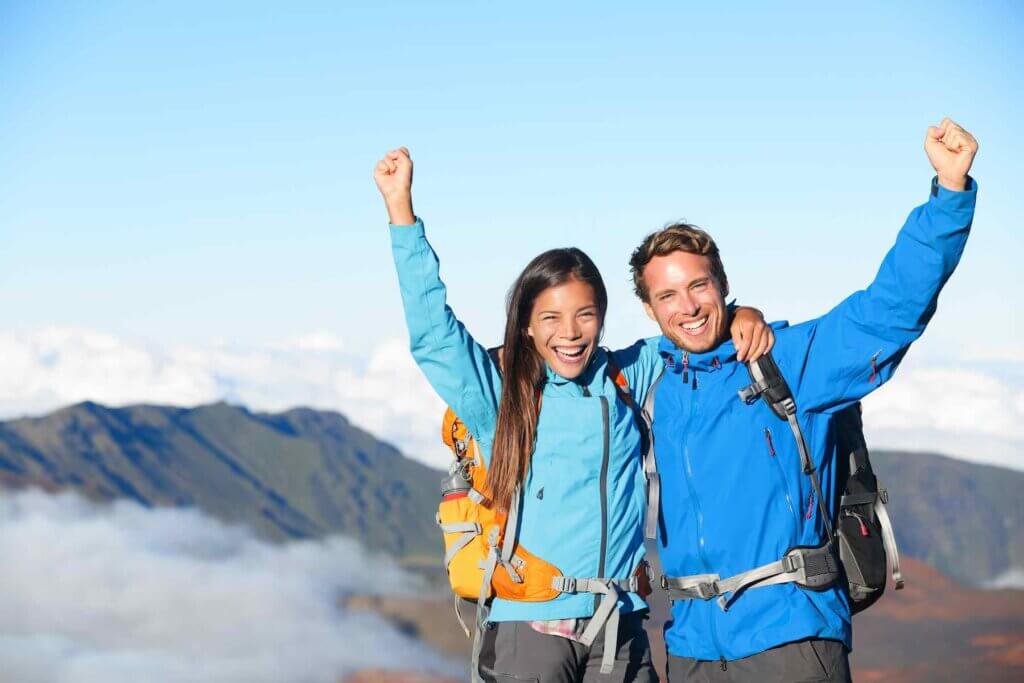 On average, temperatures at the Haleakala summit are about 20 degrees colder than at sea level and often go below freezing.
While the best Maui sunrises happen on crisp, clear days, the weather at the summit can be unpredictable and is frequently windy and wet.
Ensure you have a warm jacket, and swap those flip-flops for a pair of tennis shoes or boots!
How to Make Haleakala Sunrise Reservations
If watching the sunrise in Maui is on your must-do list, please know that you'll need to reserve Haleakala sunrise tickets ahead of time.
It's basically making sure that you have a parking spot so you don't get turned away at the gate. These tickets are $1 per vehicle.
To make a Haleakala National Park sunrise reservation, visit this page up to 7 days before your trip. They tend to sell out quickly, so mark your calendar.
If you don't get a ticket, you will not be able to visit Haleakala for the sunrise. The earliest they will let you in is 7 a.m. (after sunrise.) There are no tickets at the gate.
If you don't end up scoring Haleakala National Park tickets, don't worry! You can still do a Haleakala Sunrise Tour, and you don't have to drive up yourself.
The normal Haleakala National Park entrance fee is $30 per vehicle, $15 per person, or $25 per motorcycle. If you want a Haleakala National Park pass that allows you to go all year round, it is $55.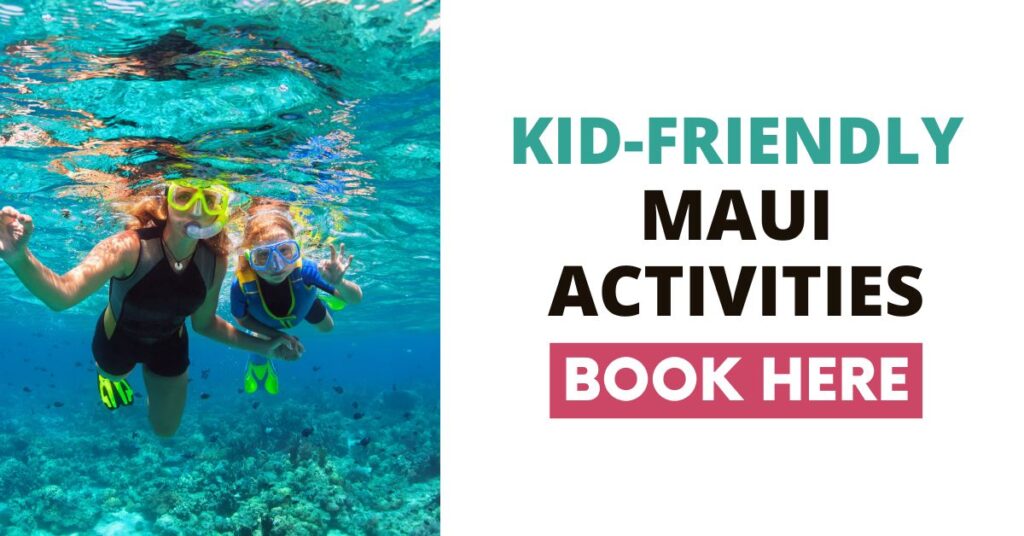 Best Haleakala National Park Tours
While you can totally visit Haleakala National Park on your own, some families prefer to take a tour. And there are lots of Haleakala tours to choose from!
If you want to see the sunrise from Haleakala without driving yourself, this is one of the best Haleakala sunrise tours available. It's a 7-8 hour tour with round-trip hotel pick-up, breakfast, and entrance fees. Check out the latest prices and more details.
This Haleakala bike tour starts at 6,500 ft outside the park entrance, and you'll do a Haleakala downhill bike ride all the way to the adorable North Shore town of Haiku. Check out the latest prices and more details.
Skip the crowds and enjoy the best sunset on Maui from the top of Haleakala. This is one of the best Haleakala sunset tours, and it comes with a 3-course meal. Check out the latest prices and more details.
Want to enjoy the sunset and go stargazing? Then this is the four-hour tour for you! Check out the latest prices and more details.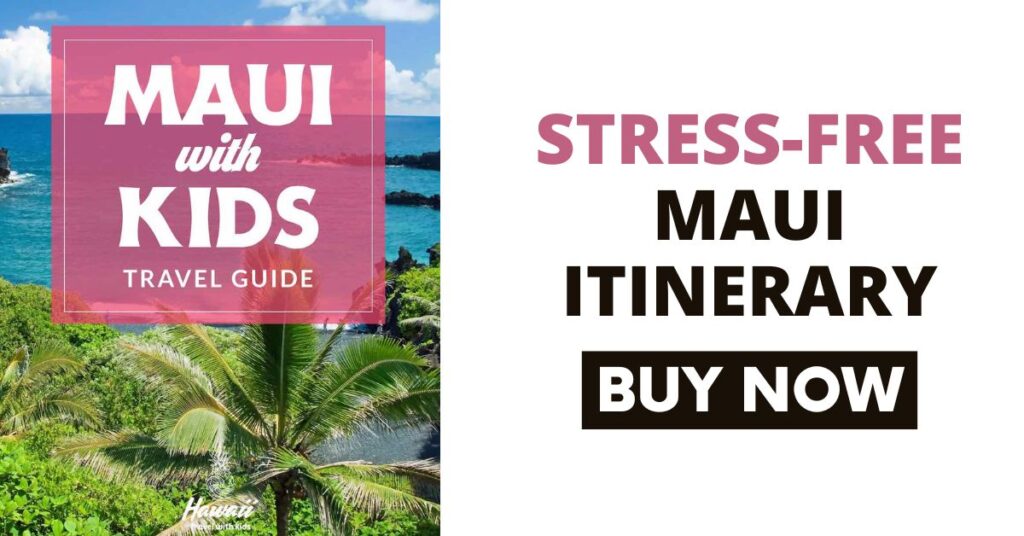 Haleakalā National Park FAQs
Where can I see the best sunrise on Maui?
The most famous spectacular sunrise in Maui is the Haleakala National Park sunrise. You'll need to make a Haleakala National Park reservation up to 7 days before your trip in order to secure a parking spot at this Maui national park. The Haleakala Crater sunrise is definitely worth it!
Is there a volcano on Maui?
There are no active volcanoes on Maui, so you won't be able to see lava anywhere. However, Haleakala is a dormant volcano. Haleakala's last eruption was sometime between 1480 and 1600. But it's always being monitored in case it might erupt in the future.
How old is Haleakala?
Haleakala is about 1 million years old! And it's one of the largest mountains in the world if you measure it from the base at the ocean's floor to the summit.
Where is Haleakala National Park?
This national park is in Maui, on the East Side.
Are there any
things to do at Haleakala National Park?
There are tons of Haleakala National Park things to do! From going on a Haleakala National Park sunrise tour to camping in Haleakala National Park, you will love spending time here. Plus, there is also hiking at Haleakala National Park too and a sunset tour.
What are
Haleakala National Park hours?
The Haleakala National Park in Hawaii is open 24 hours a day. For a sunrise reservation, you will need to get there between 3 and 7 AM.
Are there any
hotels near Haleakala National Park?
If you aren't doing any Haleakala National Park camping but want to stay close to the park, there are a few hotels nearby. To see some options, click HERE.
What is
the Haleakala elevation?
At the top, the Haleakala National Park summit is 10,023′ above sea level.
Is there a
Haleakala parking lot?
You will find plenty of Haleakala Summit parking as they offer 4 parking lots!
How do you say Haleakala?
Here is the Haleakala pronunciation: huh·lay·aa·kuh·laa
Haleakala National Park Maui Wrap-Up
There you have it, the three ultimate tips to get you planning a memorable trip to Maui and visiting the House of the Sun, Haleakala. Take your time, jot it down, and keep all three tips ready when needed.
Let's cap this list off with some much-needed reminders from the National Parks Service when visiting the Haleakala National Park.
If you are planning to visit the summit area for sunrise, please keep in mind the following:
Temperatures immediately before dawn and immediately after dusk are regularly below freezing.
Weather is unpredictable but is often windy and wet.
There are NO weather predictions available for sunrise.
There is no food, clothing, or gas for sale in the park.
The road up and down the mountain does not have streetlights or guard rails.
It takes approximately 1.5 hours to drive between Kahului and the summit area.
Parking is restricted to designated lots only.
Parking lots will be closed when full – especially at sunrise.
You can visit the Haleakala National Park visitor center at any time to help you fully plan out your day once you are there.
The natural beauty and all the fun things to do in Haleakala National Park should not be missed. You will love everything you do here!