Planning a trip to Hawaii? Find out the top things not to do in Hawaii when you are on a budget so you'll have a truly amazing Hawaiian vacation!
This what to avoid in Hawaii when on vacation post was written by Hawaii travel expert Marcie Cheung and contains affiliate links which means if you purchase something from one of my affiliate links, I may earn a small commission that goes back into maintaining this blog.
No matter what you tell yourself, every vacation destination has the good, the bad, and the ugly.
Of course, most places are only going to tell you about the good stuff happening.
If you're vacationing in Hawaii soon, there are some things that you need to avoid.
To avoid anything crazy happening, here are some tips to keep in mind.
Keep scrolling for the top things NOT to do on a Hawaii vacation! From the top Hawaii dangers to safety in Hawaii, here is exactly what to know before going to Hawaii, especially the things NOT to do on the Hawaiian islands.
Want to skip all the planning and just access my detailed Hawaii Itineraries complete with daily schedules, kid-friendly activities, and travel hacks? Click the button below.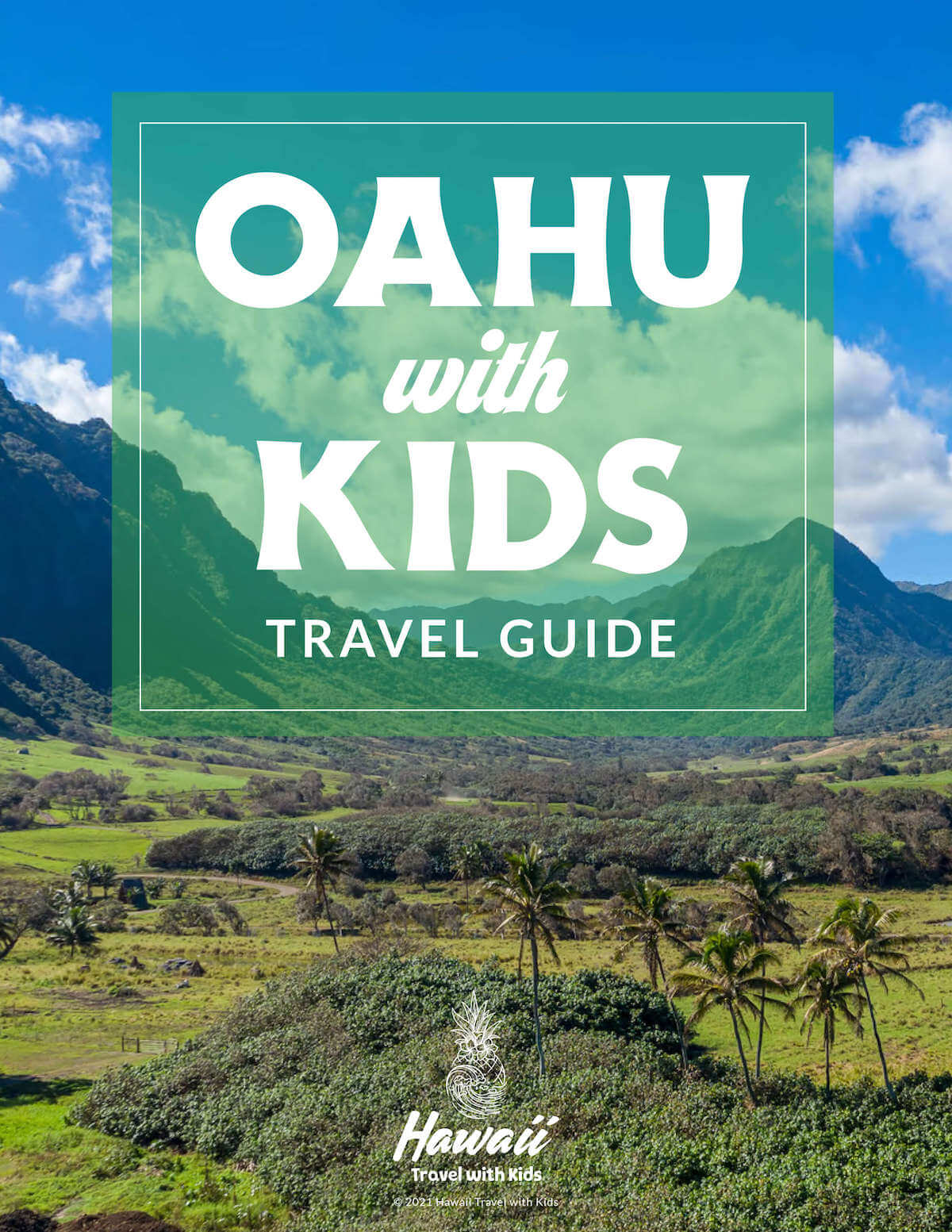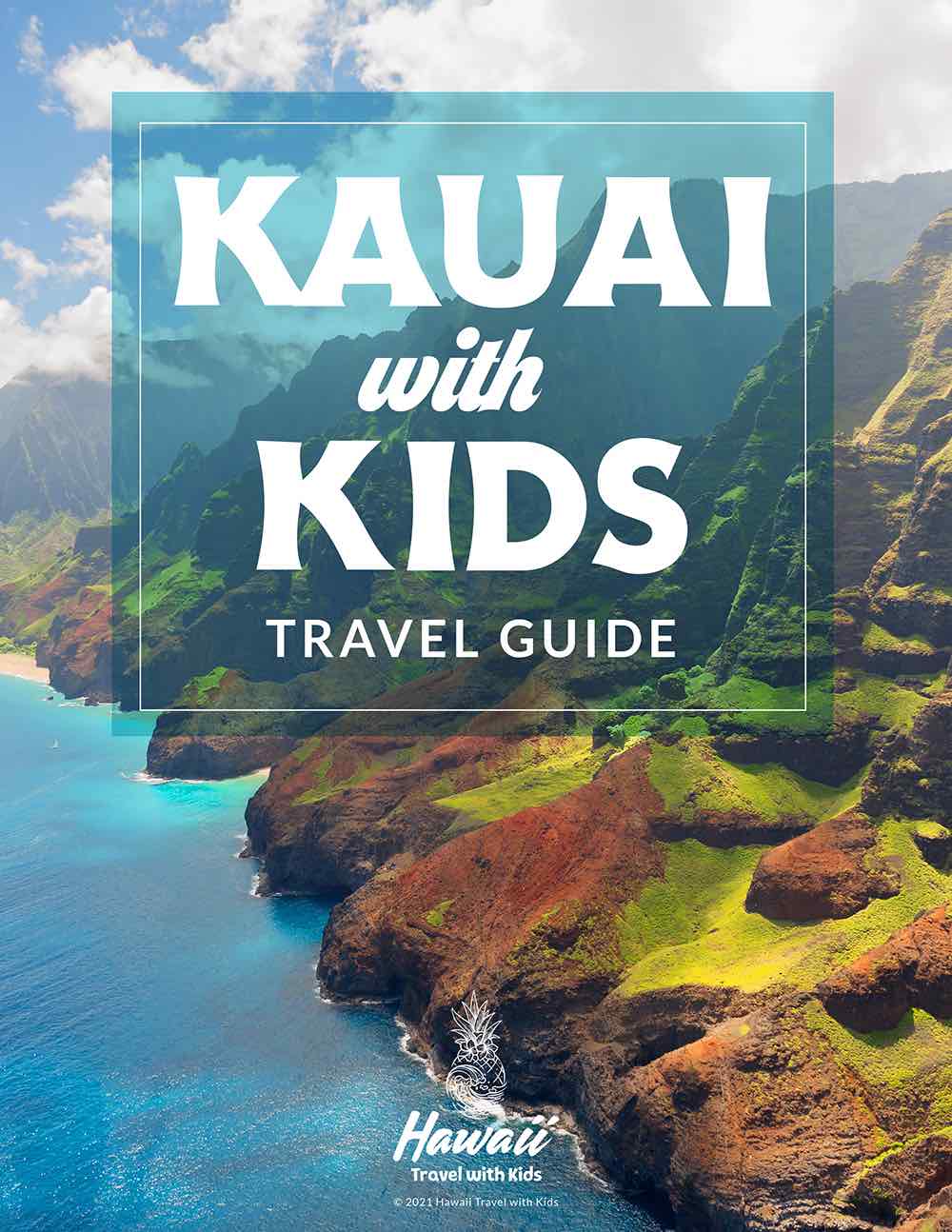 What Not to Do on Your Hawaiian Vacation
Here are some of the top things on what not to do in Hawaii. When visiting Hawaii, these are some of the things you'll want to know before you go so you respect the native Hawaiian culture and enjoy your vacation!
AVOID RUSHING
In most parts of the United States, everyone is in a rush. You rush to work, and you rush home. Mostly missing out on the important things in between.
An important lesson that will need to be learned when you're vacationing in Hawaii is "Island Time."
You may be wondering what in the world Island Time is. Well, you're about to find out.
This means that the current time doesn't mean much.
Vacationers take over the island, which means that it really slows others down, which means it slows the whole Hawaiian island down.
You also need to take into consideration which Hawaiian Island you're staying on.
Life is much more laid back on islands like Lanai and the Big Island, where everything takes just a little longer.
Many visitors struggle with island time in the Aloha state but, by the end of your trip, you will learn to never rush again!
TIMESHARE PRESENTATIONS
Unless you are good at saying NO, you are going to want to avoid all of the timeshare presentation offers you'll get in Hawaii.
I mean, Hawaii is beautiful; everyone knows that.
However, it doesn't mean you need to spend thousands of dollars on a timeshare. You will get lots and lots of offers for timeshares in Hawaii.
Do you have the willpower to say no?
You can get a vacation rental on any Hawaiian island for a great price, so timeshares aren't really needed.
AVOID OVER-SCHEDULING
Are you new to the Hawaii vacationing scene? If so, let me tell you a secret. You do not want to overschedule.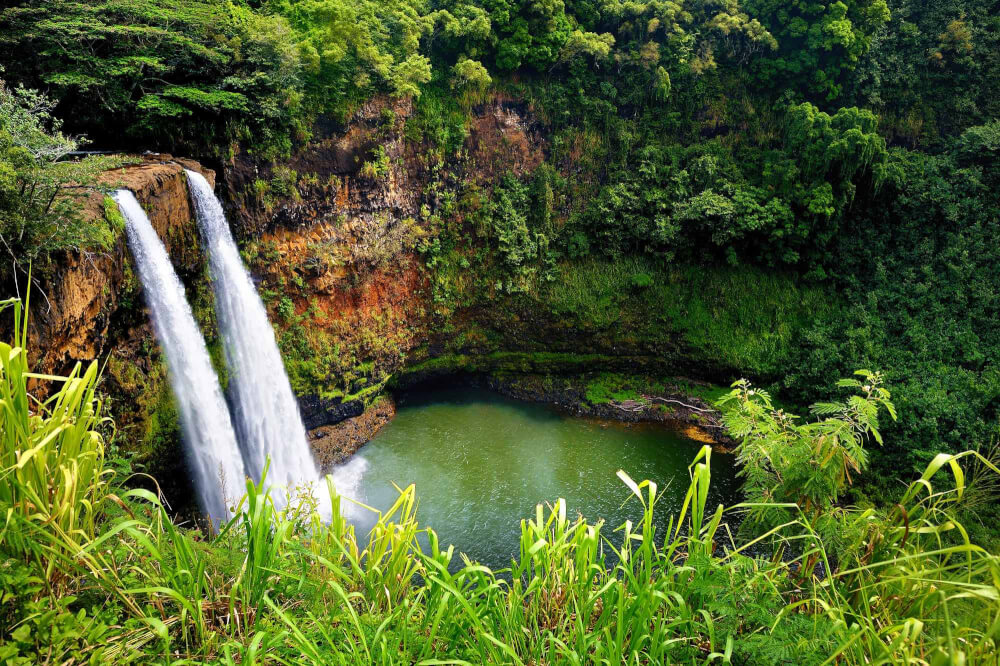 Sure, there are probably a lot of things that you want to see and do. However, you're also going to want to experience those things. It's one of the worst things about Hawaii; you want to do all the things but you don't want to overschedule.
A busy schedule means you won't be able to take it all in.
Plus, Hawaii is a very busy place. You do not want to spend your whole day traveling in a vehicle, missing out on everything!
If you can, avoid over-scheduling while you're in Hawaii!
Instead, check out the following and plan out your schedule so you don't get too busy and can enjoy the top things to do in each of the areas:
SKIP OUT ON THE SCHOOL HOLIDAYS
If you've ever been to Disney World on Spring Break, then you know exactly what I mean.
When you're scheduling a vacation to Hawaii, school holidays are going to be crazy.
Flights are more expensive, hotels are going to cost more, and the Islands are going to be packed.
While you plan your vacation to Hawaii, consider going during the off-season. The off-season is not between Christmas and New Year.
May and October are supposed to be the best months to travel to Hawaii.
AVOID THE EXTRAS
Don't forget that Hawaii is a tourist spot. They want you to spend money. If you're not careful, it's super easy to spend a lot of your cash. It's one of the tourist traps when visiting Hawaii.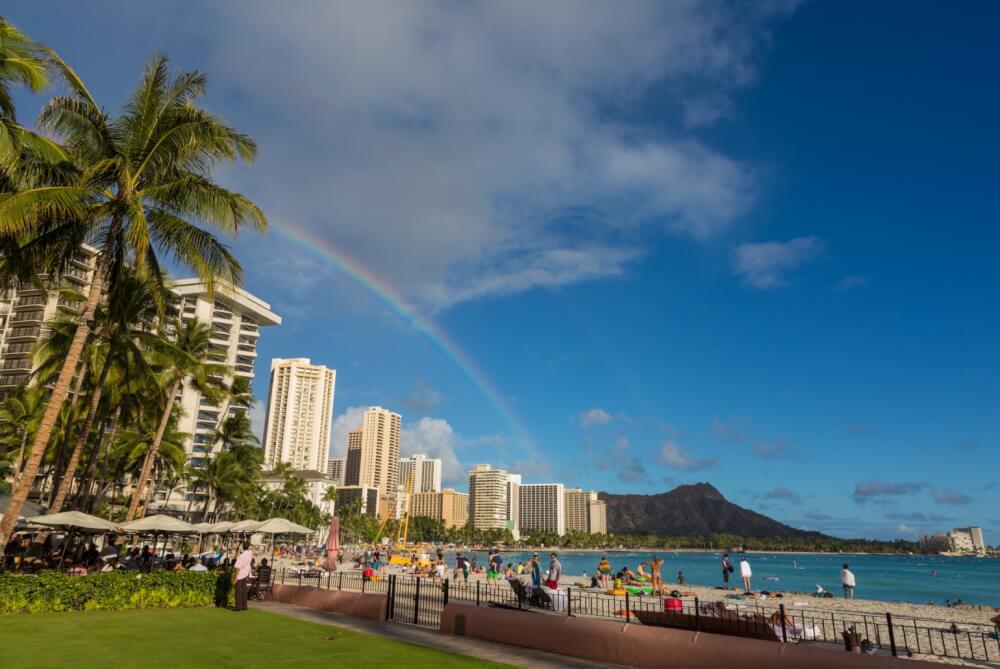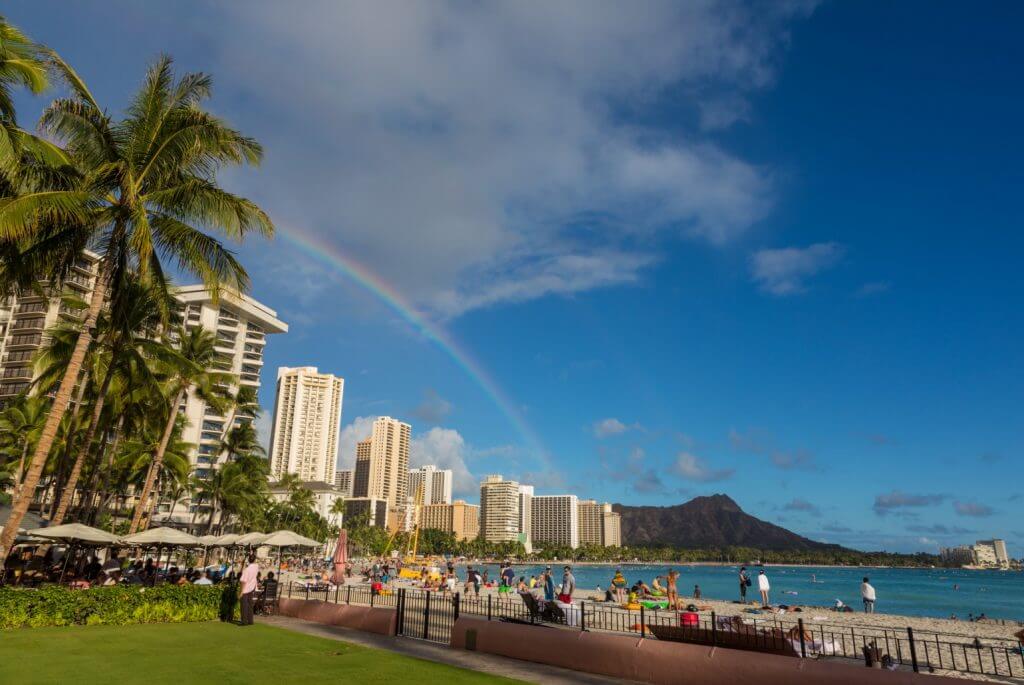 Let's be honest. You're here to see the beach. You don't need to get a helicopter tour, a boat tour, a zip line, or anything in between.
While you're in Hawaii, take the time to enjoy it!
If you set your heart and mind on avoiding these extra activities before you get there, you will save yourself a lot of time and headaches.
Know what you want to do before you get there.
I'm not saying you cannot do these things.
However, if your goal is to leave with money in your pocket, just know that you don't need to do ALL the things (expensive things).
But the biggest "What not to miss in Hawaii" is the beautiful beaches. So as long as you do that, you will enjoy your entire trip.
AVOID STAYING AT RESORTS
This is something you shouldn't do if you want to save money during your trip, but there are plenty of great resorts we love to stay at when you can afford it!
When you have the money to stay at a resort, go for it, but you should know there are other options.
Those who have been to Hawaii many times know that there is always the option of staying at a condo or vacation rental.
There is nothing wrong with staying at an inexpensive hotel rather. Trust me; there are nice hotels and motels in Hawaii.
With the money you save not staying at a resort, you can do extra activities and not break the bank. While it's not always about saving money, most of the time, it is.
AVOID TRYING TO VISIT ALL THE ISLANDS ON ONE TRIP
Now that you're in Hawaii, you're most likely trying to see everything that you possibly can.
If I can give you one piece of advice, it would be to not try and visit all the islands in one stay. Try to pick one or two islands and enjoy those. The other islands can wait. One island is plenty to enjoy during one trip.
There is a lot to do in Hawaii, and if you think you can do it all in one trip, you may learn a hard lesson. Flying to and from the islands can also get costly.
Don't worry; this is only advice; you get to choose which islands you want to enjoy!
DON'T GET A SUNBURN
It is so important to wear sunscreen while on any of the islands, but not just any type of sunscreen. The only sunscreen allowed is reef-safe sunscreen.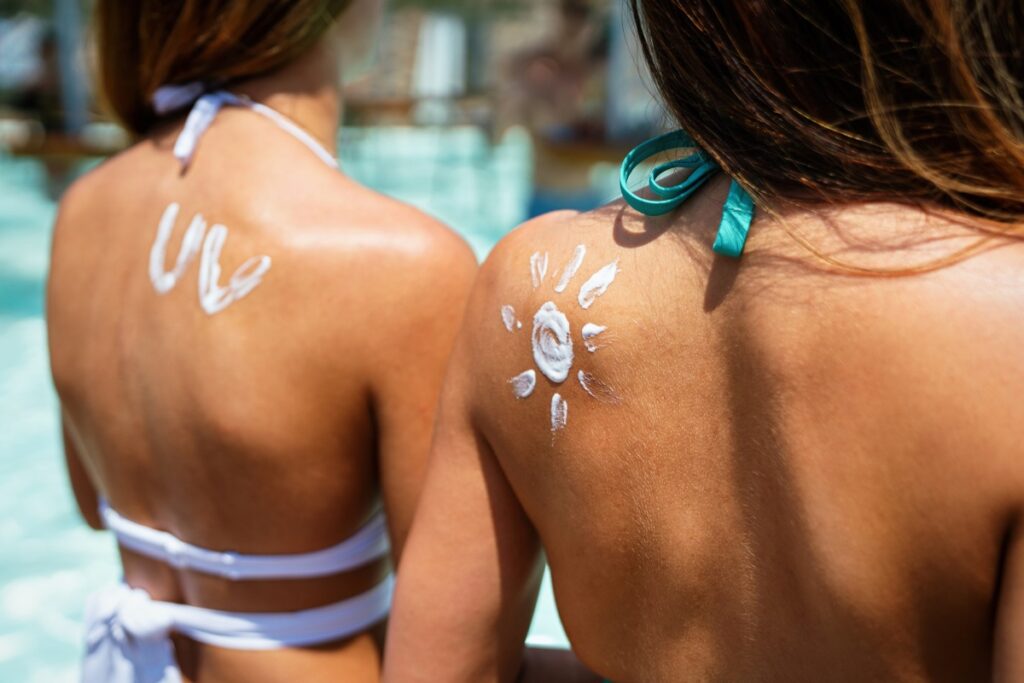 Keep the coral safe and your body by wearing sunscreen during each day of your trip.
DON'T GET DISTRACTED WHILE DRIVING
It is so easy to want to look at all the incredible things and beaches along the way while you drive around the island. However, that often means many will crash their rental car.
This is especially important on the Road to Hana. If you want to see all the Road to Hana offers, be sure to go on a Road to Hana tour instead.
DON'T TAKE LAVA ROCKS
Lava rocks cannot be taken off the Hawaiian islands. That is in part because it is believed that Pele's curse will follow home with you.
If you take a lava rock, you will be cursed. Many tourists still take them and then return them and mail letters saying sorry to Pele for taking a rock.
DON'T TOUCH THE WILDLIFE
It is so tempting when you see the sea turtles to want to get close, but you need to give them space. It is actually illegal to touch the turtles.
This is the same for monk seals and other animals on the islands.
Only pictures around these wildlife animals.
LEAVE THE CORAL REEFS ALONE
Similar to lava rocks, you cannot take the coral reef home with you. However, you don't want to step on the coral, either.
Many sea creatures live in the reef, and when you step on them, you destroy their homes.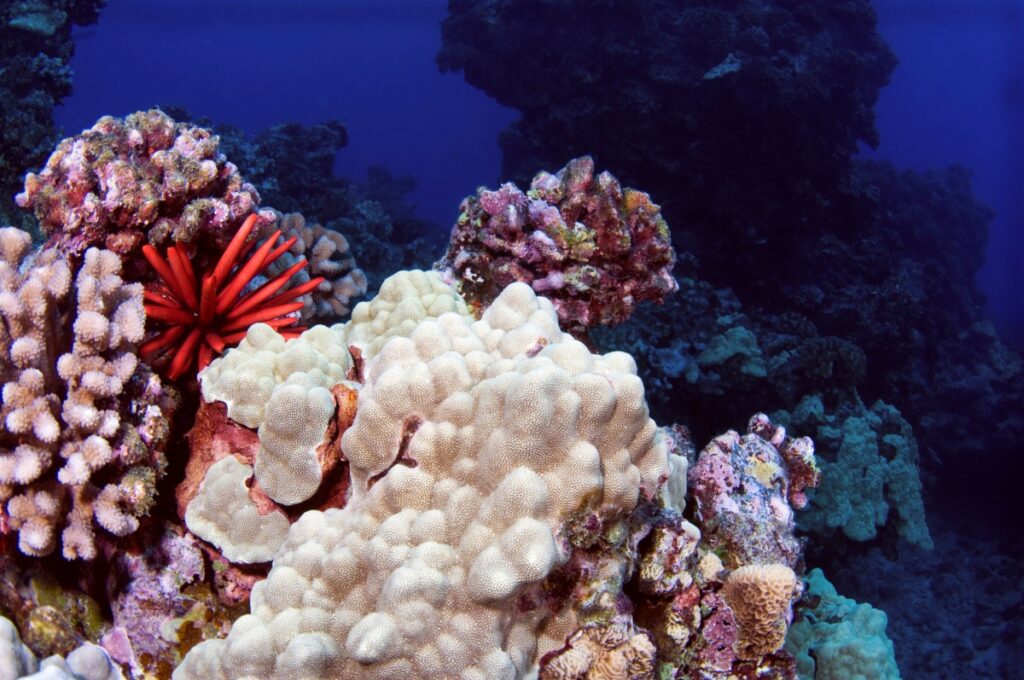 When you go snorkeling in Hawaii, be sure to not touch the coral reefs.
DON'T IGNORE POSTED WARNING SIGNS
You will find many warning signs all over the place. Some are posted at the beaches warning you to not go into the ocean, for a variety of reasons.
Sometimes the waves are too dangerous or there are sharks or jellyfish.
Read all the signs and follow them!
DON'T FORGET TO TRY HAWAIIAN FOOD
Don't just go to all the food places you know from the Mainland. This is a time to try Hawaiian food! Many local restaurants offer delicious food you will love, so don't be afraid to try new things.
Poke is one of our favorite Hawaiian foods to eat each time we go to the Big Island, Oahu, and the other islands too. It's a staple food you will absolutely love!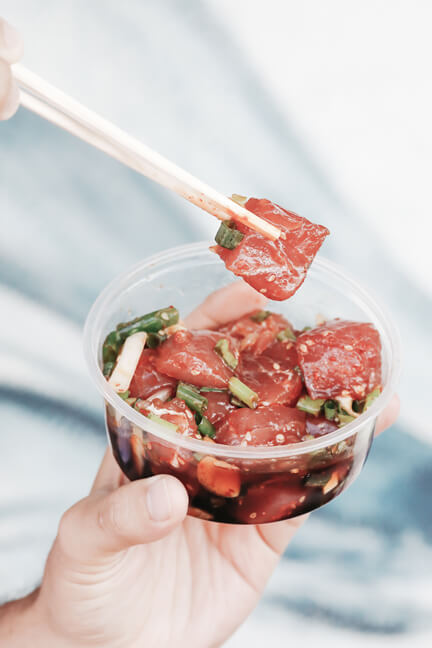 Poke is definitely on the "what not to miss in Oahu" list!
Check out our favorite poke places in Oahu
DON'T TRESPASS
There are a lot of places you might have heard of that are considered private property, so don't trespass. Even if other tourists do, you shouldn't.
Respect the native Hawaiians and all the private property signs, and don't go where you know you shouldn't.
There are plenty of places you can visit, so there is no reason to trespass.
When learning what not to do in Oahu and all the other islands, this should make the top of the list. There is a hefty fine for trespassing, so you have been warned.
DON'T SWIM IN MURKY WATER
After it rains, you might see some beaches have murky or brown water. It is best to not go in that water.
This is mainly because you never know what you'll find in the water. Sometimes sharks stay in the dirty water or other animals that could hurt you.
Find a beach that has clear water so you can always be safe.
DON'T TURN YOUR BACK ON THE OCEAN
While on the subject of the ocean, don't turn your back to it. I know it sounds kind of cliche, but you never know when a wave is going to hit. You should always watch so you don't get hurt.
Most locals swim looking at the ocean so they stay safe and can watch for waves coming their way.
DON'T WEAR SHOES IN SOMEONE ELSE'S HOME
You might have this rule in your own home, but it is a very common thing for Hawaii, so I included it on the list.
It is not polite to wear shoes inside the house, so always take them off. It can bring dirt and other things into the house you don't want.
DON'T FORGET TO TIP
Tipping is still a big thing in Hawaii. From your tour guide to hotel services and more, you will want to tip for good service.
Learn all about tipping in Hawaii
DON'T EXPECT SUNSHINE ALL THE TIME
Even though it is gorgeous and you will find plenty of sunshine during your Hawaiian trip, don't expect it to be perfect weather all the time.
It still rains in Hawaii, sometimes the wind blows, and it can get quite cool, especially at night.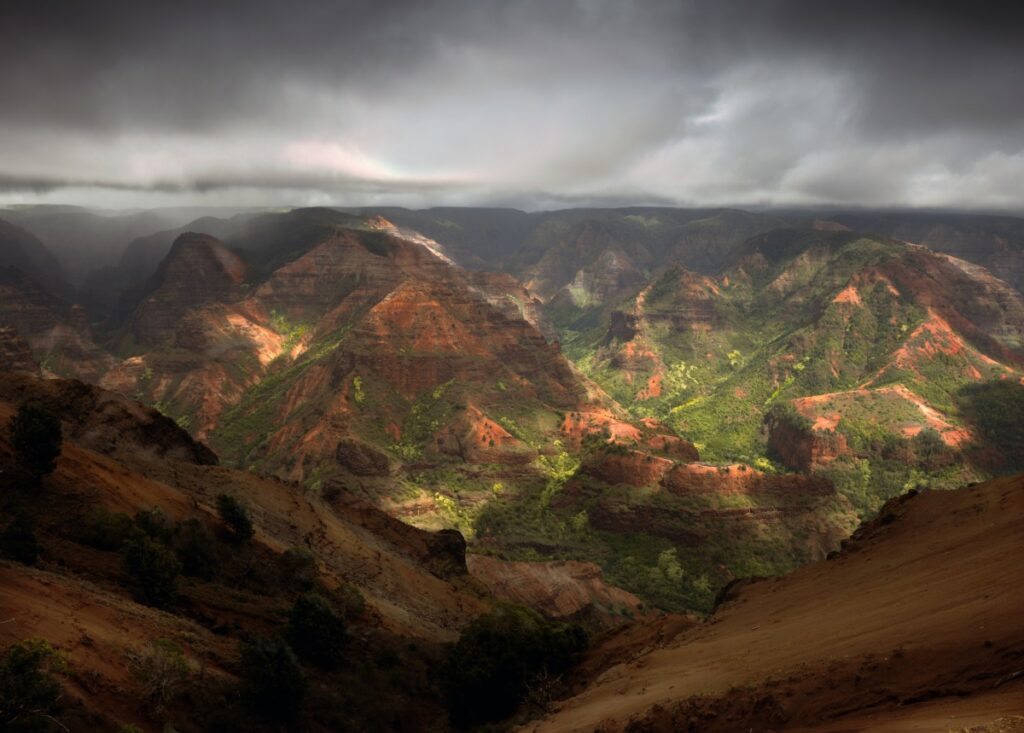 That's why it is a good idea to bring a rain jacket, just in case.
What Are Some Things I SHOULD do in Hawaii?
That may seem like a long list of things to avoid in Hawaii. However, there are some things that you should definitely do.
VISIT THE BEACH
You shouldn't avoid visiting the beach! Any beach in Hawaii is going to be amazing.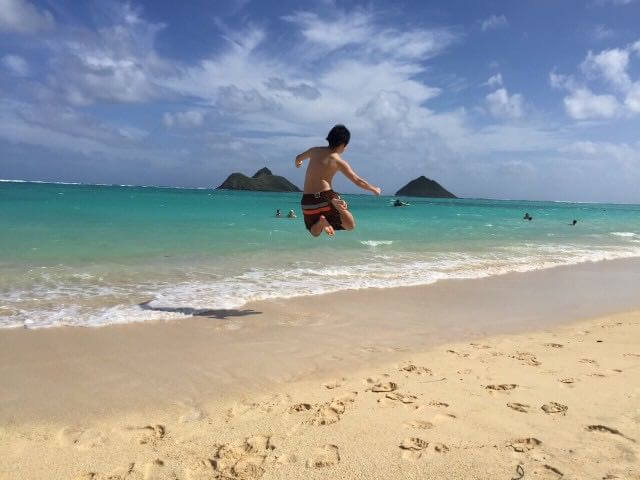 However, you will want to make sure you read up on the beach. Some beaches in Hawaii are good for swimming, and others are not.
ASK THE LOCALS
While I cannot guarantee that every local will be happy to answer your questions, all you can do is try.
I'm a firm believer that you can read all the reviews, but the locals are going to truly know what the best places to eat and experience are.
DON'T AVOID AN ADVENTURE
There is a difference between a tourist trap and an adventure. I would encourage you to research some of the top activities in Hawaii and do them!
There are some things you can do in Hawaii that you can't do anywhere else.
Visiting Pearl Harbor, Volcanoes National Park, the Old Lahaina Luau, Waikiki Beach, and so much more are all great activities to enjoy.
LEARN ABOUT THE POLYNESIAN CULTURE
You will definitely want to learn all about the Hawaiian culture while you are here. There are so many fun cultural activities you will love to do!
The Polynesian Cultural Center will teach you about many of the different Polynesian cultures all while having fun!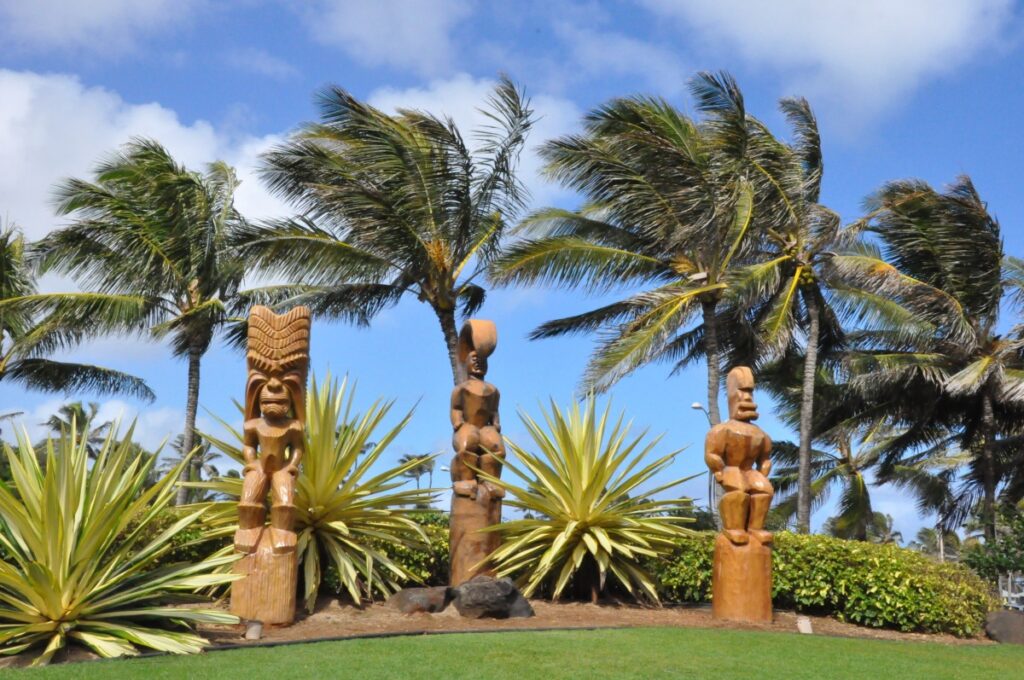 KEEP YOUR CAR LOCKED
If you leave valuables in your car, make sure to keep it locked. While it is a safe place, there is still theft.
You don't want your rental cars being broken into so better safe than sorry.
What Can You Not Do in Hawaii FAQs
Is Hawaii worth the money?
Absolutely! While it can be expensive to fly to Hawaii, there are tons of ways to save money on your Hawaii vacation. Once you get over there, you won't regret your vacation choice! Visiting Hawaii is definitely something you'll want to do!
Is Hawaii dangerous for tourists?
There are many dangers in Hawaii, but it is not very dangerous for tourists on your Hawaii vacation. Also long as you lock your rental cars, and consider the local culture, you should be fine.
What is frowned upon in Hawaii?
When learning what not to do in Maui or any of the Hawaiian islands, there are a few things that are not okay. Touching green sea turtles is very frowned upon as well as not respecting the aloha spirit.
What not to bring back from Hawaii?
There are a few things on what not to take from Hawaii that you need to know. You cannot take lava rocks and you shouldn't take the sand home from the beautiful beaches either.
What can you not bring to Hawaii?
You can't bring agricultural things to the Hawaiian islands. You also cannot bring just any sunscreen; you can only bring reef-safe sunscreen.
What Not To Do in Hawaii Wrap-Up
Hopefully, these tips help you with what NOT to do in Hawaii during your vacation.
While you should avoid some things while on vacation in Hawaii, there are some others that you should take advantage of.
Now that you know, enjoy your trip to any of the Hawaiian islands!