Planning a trip to Oahu with kids and want to find the best kid-friendly attractions, activities, restaurants, and more? Scroll to check out this mega list of the best things to do on Oahu with kids!
This guide on the best things to do on Oahu with kids was originally written January 1, 2021 and was updated October 30, 2021 and contains affiliate links which means if you purchase something from one of my affiliate links, I may earn a small commission that goes back into maintaining this blog.
Oahu is one of the most exciting Hawaiian islands and it's a popular honeymoon and babymoon destination. And it's one of the top islands for traveling to Hawaii with kids.
I've visited Oahu many times over the past 20 years and we always find new things to do. I started visiting with my family when I was a teen and now we do big family trips with our own kids.
Because we've done so much on Oahu, I thought I'd create a huge list of our favorite kid-friendly things to do on Oahu. Some are favorites from when I was growing up and others are new favorites our family has discovered.
By the end of this post, you should know what to do in Oahu with kids.
Oahu is one of my favorite kid-friendly travel destinations in the world. Keep scrolling to find out what to do on Oahu with kids and order a Hawaii Kids' Adventure Journal so they can keep track of their fun experiences!
And if you're planning on doing a lot of Oahu activities, the Go Oahu Card is a great way to save money!
First trip? Find out my top Oahu travel tips!
Want to skip all the planning and just access my detailed Oahu Itinerary complete with daily schedules, kid-friendly activities, and travel hacks? Click the button below.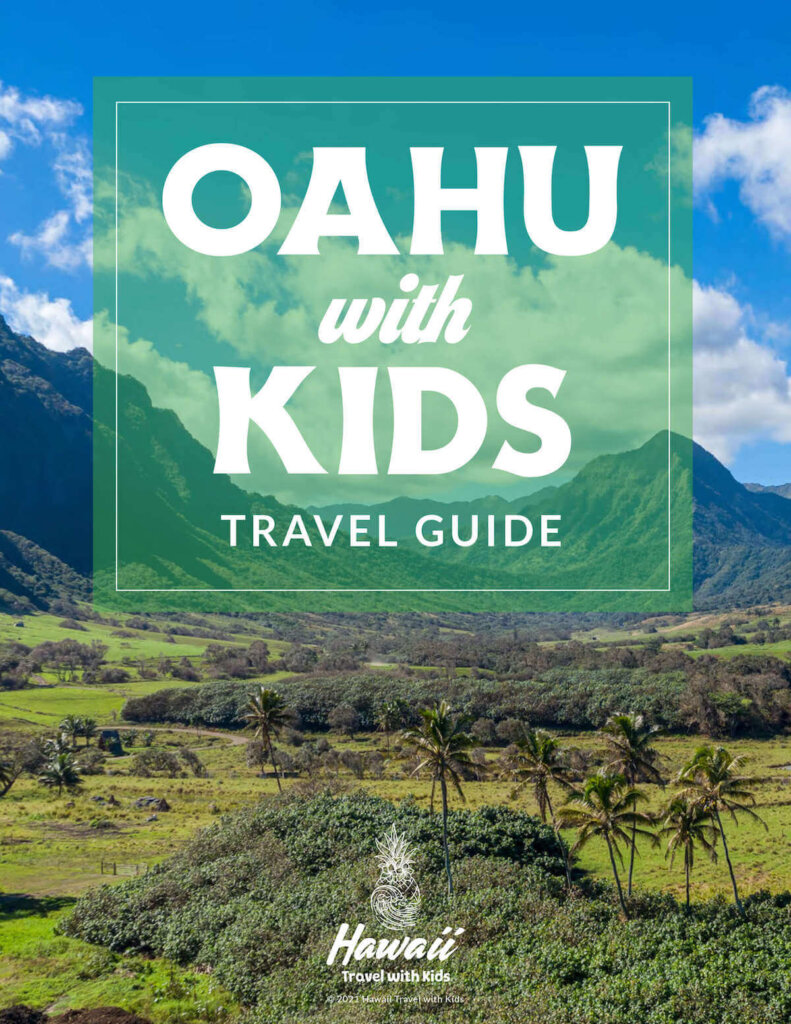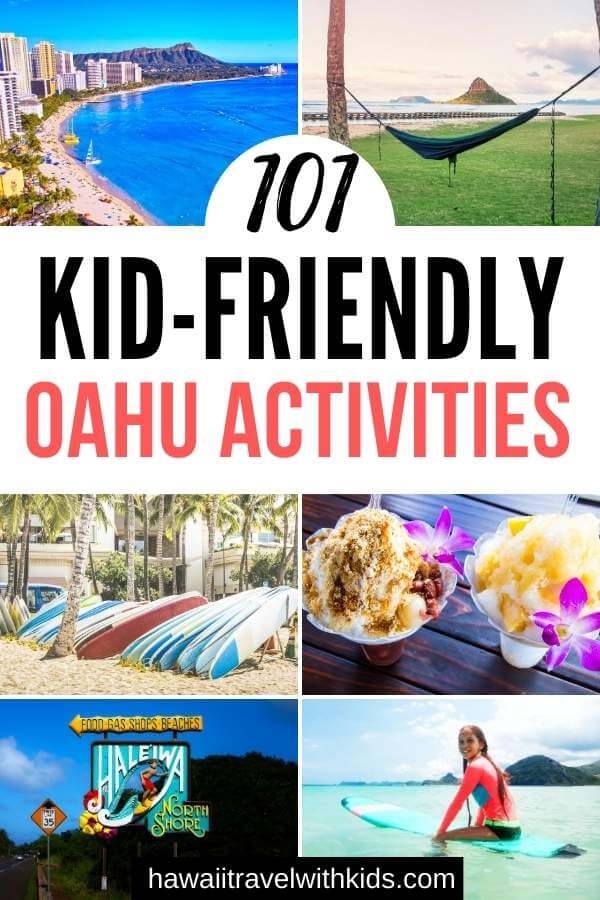 101 Things to Do on Oahu with Kids
Oahu with Kids: Best Oahu Beaches
1. WAIKIKI BEACH
Of course, I had to kick off this list with my favorite beach on Oahu: Waikiki Beach! I've been going there since I was a teen and it's just as magical now as it was back then.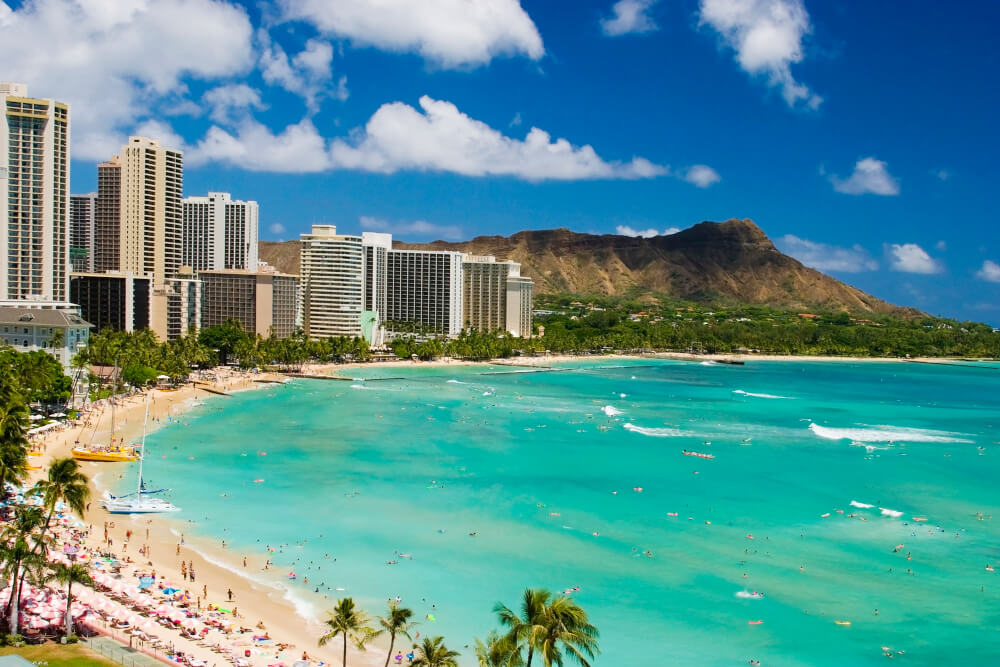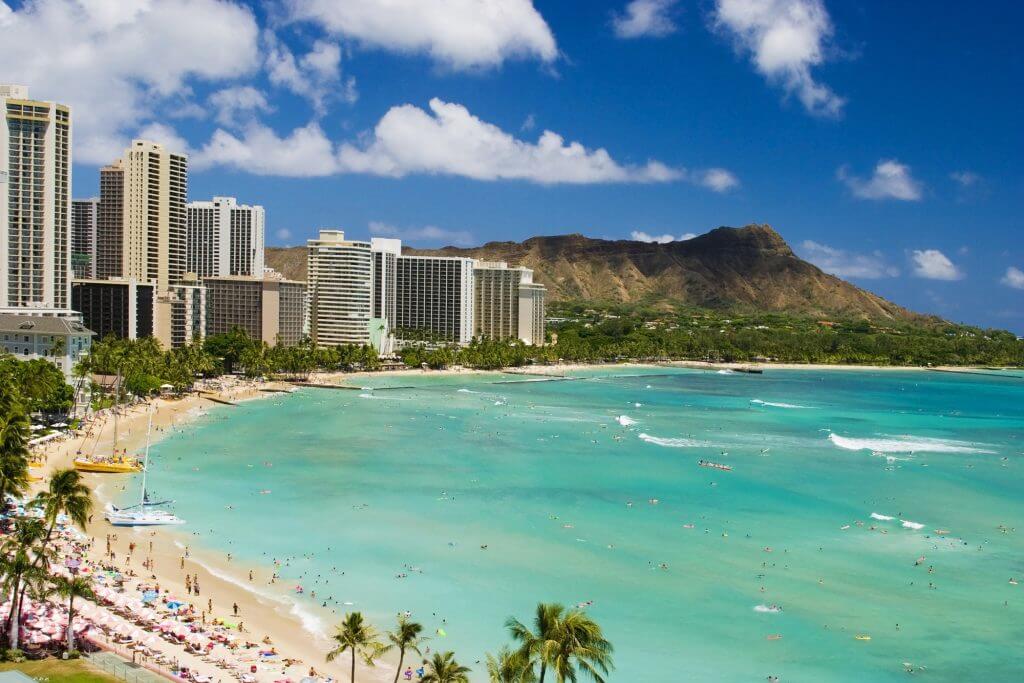 While it's a great beach for any Hawaii traveler, it's especially awesome with kids since the water is so gentle and not very deep.
It's also the perfect place for older kids and teens to learn how to surf or go bodyboarding. Playing at Waikiki Beach is one of the most iconic things to do with kids in Oahu.
Read my top things to do in Waikiki with kids
2. KAILUA BEACH
Another amazingly kid-friendly Oahu beach is Kailua Beach. I've been going there as a teen and I'm still impressed with how incredibly soft the sand is there!
It's usually ranked as one of the top beaches on Oahu and that's because it's gorgeous and relaxing. The water is bright blue and the beach stretches on for more than 2 miles (so you are sure to find a peaceful spot!)
There are also beach showers, public restrooms, and picnic tables, so you can really spend a whole family fun day there!
Plus, you can always book an eco-friendly kayak tour to the little islands you can see from Kailua Beach! Check out the latest prices and more details.
3. KUALOA BEACH PARK
This is a really fun Oahu beach for kids! There's a big, grassy field that is perfect for throwing a Frisbee or playing catch. Plus, there's an awesome view of Chinaman's Hat.
The water isn't super great for swimming (kids might step on some sharp rocks), but it's awesome for kayaking!
It's also one of my favorite beaches to do family photos. No matter which direction you face, there's something epic in the background (mountains, ocean, and islands.)
4. HANAUMA BAY
One of the most famous Oahu beaches for snorkeling is Hanauma Bay. While there are tons of great Oahu snorkeling spots, people come to Hanauma Bay because it's been a protected marine life conservation area and underwater park since 1967.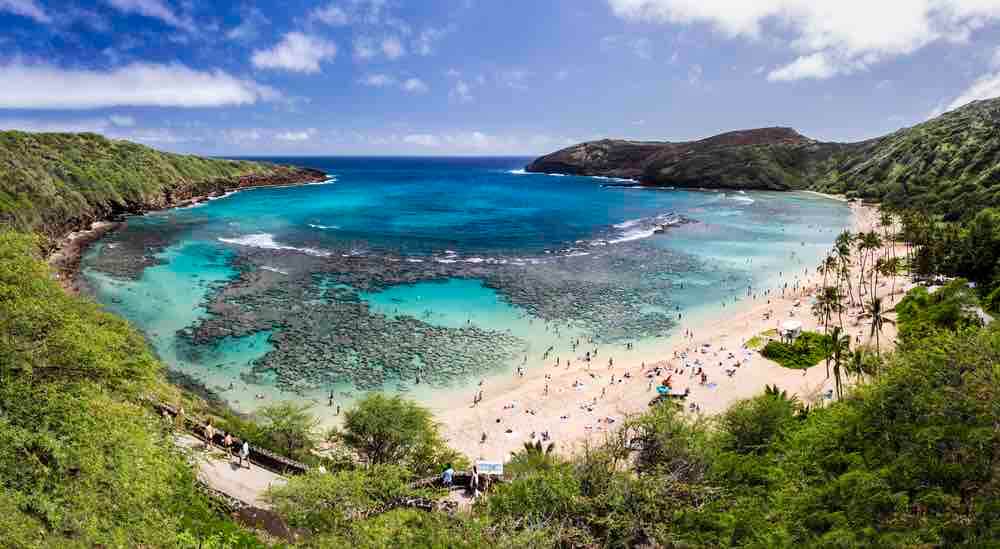 What makes it really great for kids is that they opened a marine education center in 2002 where families can learn about marine life and preservation in a little video. Snorkeling at Hanauma Bay is one of the top Oahu kids activities.
They have lots of snorkeling tours where you can see hundreds of tropical fish and marine animals or you can do it on your own. Check out the latest prices and more details.
5. ALA MOANA BEACH PARK
If you are looking for a super convenient Oahu beach, you'll love Ala Moana Beach Park at the edge of Waikiki.
It's right across from Ala Moana Center. So, you can go shopping and then head straight to the beach. Or, the family can split up and some can go shopping while others hang at the beach.
Either way, you'll want to grab food at Ala Moana Center. They have a massive food court with tons of tasty takeaway options. Oh, and there are a few shave ice places there, too!
It's currently undergoing renovations to upgrade bathrooms, get a new playground, put in a bike path, and more!
6. KO OLINA LAGOONS
Over near Aulani, a Disney Resort & Spa there are 4 little man-made lagoons that are open to the public. They are right next to each other, so you can easily walk between them to find your perfect beach spot.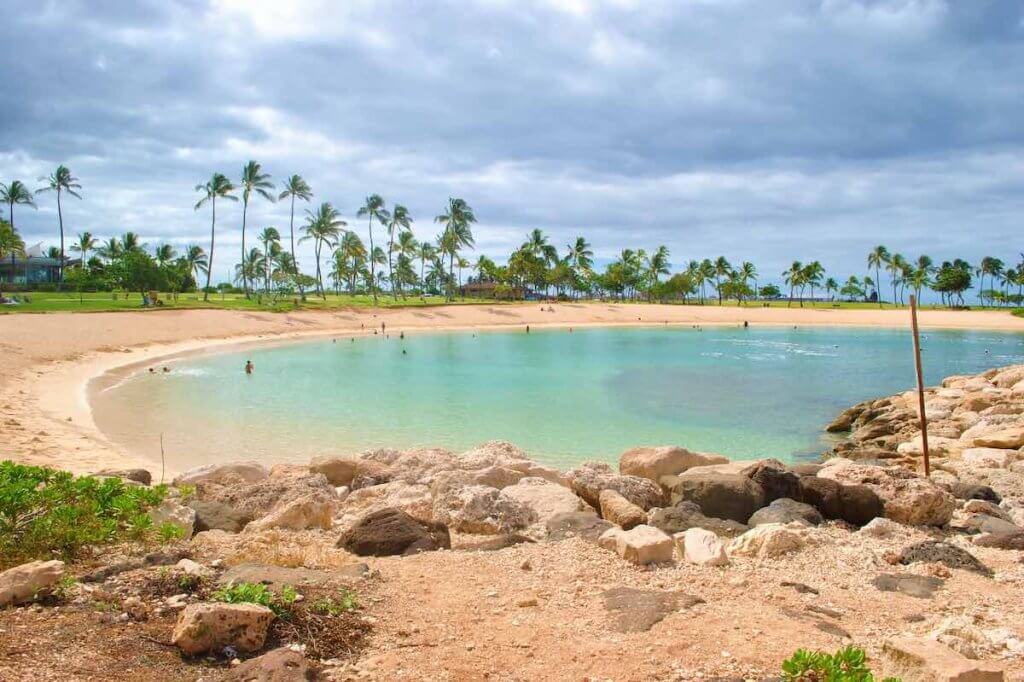 Because of the way the rocks are stacked, they create a safe swimming area for kids of all ages. The water is shallow and there isn't a strong undercurrent.
And because it's on the dry side of the island, chances are you'll have a gorgeous, sunny beach day!
7. KUILIMA COVE
While the North Shore has a reputation for being a surfer's paradise, there are also a few spots that are perfect for little kids.
Kuilima Cove is a kid-friendly Oahu beach near the popular Turtle Bay Resort. The water is almost always calm and it's a fun place for kids to go snorkeling to see Hawaii's state fish: the Humuhumunukunukuapua'a!
You can also rent lounge chairs here, so it's great for visitors who don't want to buy or bring their own.
8. TURTLE BEACH
If seeing Hawaiian Green Sea Turtles up close is on your Hawaii bucket list, you'll definitely want to head over to Laniakea Beach (more commonly known as Turtle Beach.)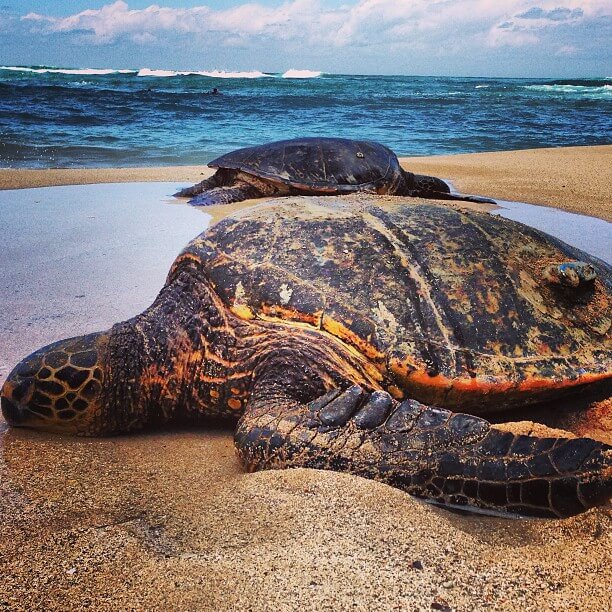 This North Shore beach is a popular place to witness the green sea turtles sunbathing along the sand and then dipping into the ocean for a swim. It's one of the top things to do in Oahu with family.
Of course, you'll want to be respectful and not get too close to the turtles. It's actually against the law to touch them. But, it's such an impressive experience to admire them from afar!
Read my full guide to Turtle Beach
Best Places to Eat on Oahu with Kids
9. DUKE'S WAIKIKI
There are Duke's locations all over Hawaii, but I really like Duke's Waikiki. It's located right on the beach and has one of the best Happy Hours in Waikiki.
They have a kid's menu that includes a bunch of fun drinks, like their Sunrise Lemonade Mocktail!
They are also famous for their Hula Pie which can easily be shared with your entire family! It's an ice cream cake that is as massive as it is delicious!
10. NORTH SHORE FOOD TRUCKS
There are so many amazing places to eat on the North Shore! There's something about sitting by the side of the road eating food off a paper plate that is just so cool for kids!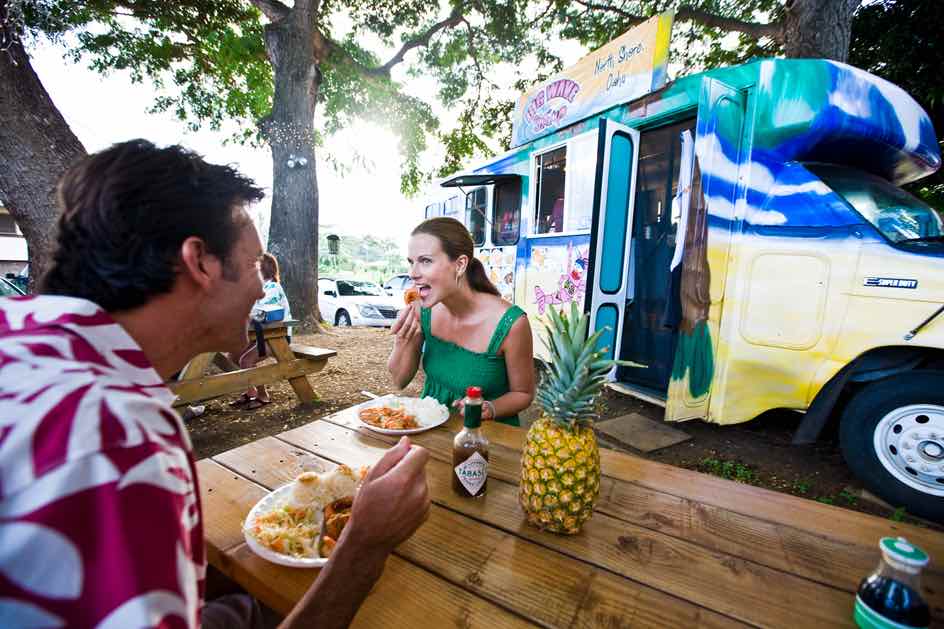 One of the most popular North Shore food truck items is Hawaiian garlic shrimp. These are freshly caught Hawaii shrimp that are sauteed in garlic and butter and served with rice.
There's usually a long line at the good North Shore shrimp trucks, but believe me, it's worth the wait!
11. CINNAMON'S
Up in Kailua, there's an awesome diner called Cinnamon's and they made the best guava chiffon pancakes in the world! The plate can easily be shared with your family so you can try a few different things.
My husband is a big fan of their Loco Moco selections. They have traditional Loco Moco, as well as ones with Prime Rib, kalbi, and kalua pig!
And they have tons of omelets and Eggs Benedict options (both traditional and with Hawaiian touches.)
They serve breakfast all day long and it's a great place to go before or after a morning at either Kailua Beach or Lanikai Beach.
12. HULA DOG
For a kid-friendly place to eat in Waikiki, head to Hula Dog. These are gourmet Hawaiian hot dogs and they are unlike anything you've ever tasted before.
Basically, they take a little loaf of bread and they jam a hot dog in it. Then, you pick what kinds of sauces, mustards, and relishes you'd like and they shoot it in. I'm personally a huge fan of both their lilikoi mustard and guava mustard!
They also have traditional ketchup and mustard, if your kids aren't in an adventurous mood.
This is an easy grab-and-go food item to take to the beach or you can sit at one of their tables. Oh, and make sure to get their freshly squeezed lemonade!
This is one of our favorite places to eat on Oahu for kids.
13. RAINBOW DRIVE IN
If you want to try an authentic Hawaiian plate lunch, head to Rainbow Drive In in Kapahulu (just outside Waikiki), Ewa Beach, Kalihi, or Pearlridge.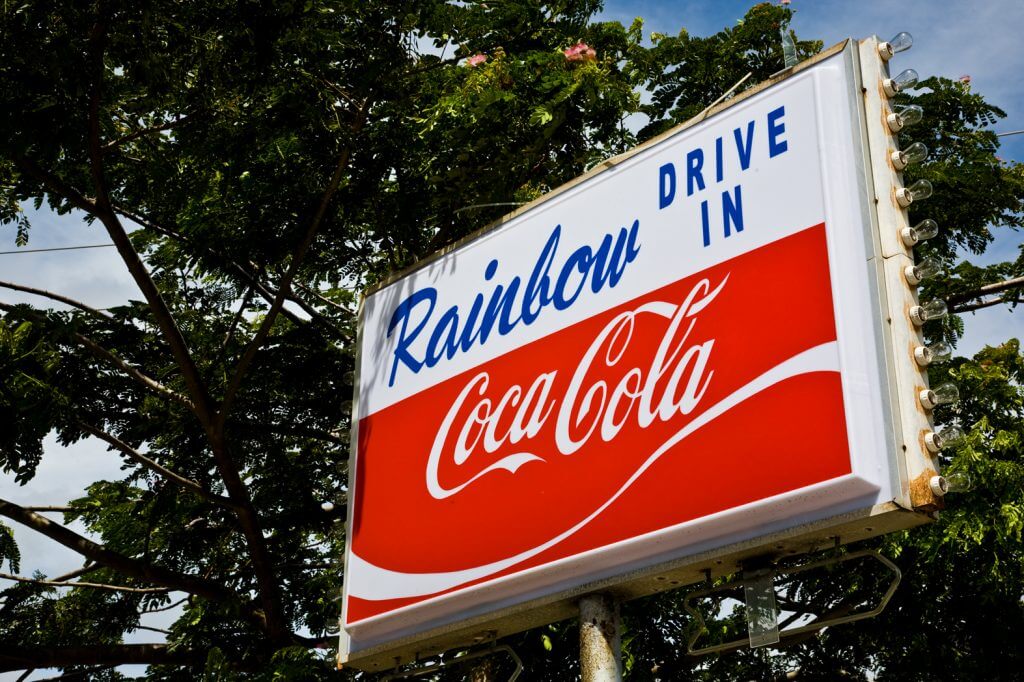 This is where you can find traditional Hawaiian food like kalua pork, Loco Moco, Hawaiian BBQ beef, Mahi Mahi, and so much more. Each plate lunch comes with rice and macaroni salad.
I suggest ordering a few different plate lunches or other Hawaiian entrees and then eating family-style so everyone can get a taste!
14. TEDDY'S BIGGER BURGERS
While this is a chain restaurant that has some locations on the Mainland, Teddy's Bigger Burgers started in Hawaii. There are tons of locations all over Oahu, so I'm sure you'll be near one of them on your Oahu vacation.
Usually, we try to eat local food whenever we are in Hawaii. But, there are some days when the kids just want to bite into a juicy burger.
Teddy's Bigger Burgers offers kids meals plus they have a BYOB policy, so you can bring in the adult beverage of your choosing!
Oahu with Kids: Best Oahu Attractions
15. DOLE PLANTATION
A super fun, kid-friendly Oahu attraction is visiting the Dole Plantation on Oahu's North Shore. Here, you can explore a cute pineapple maze, ride the Pineapple Express train, and taste all kinds of pineapple items.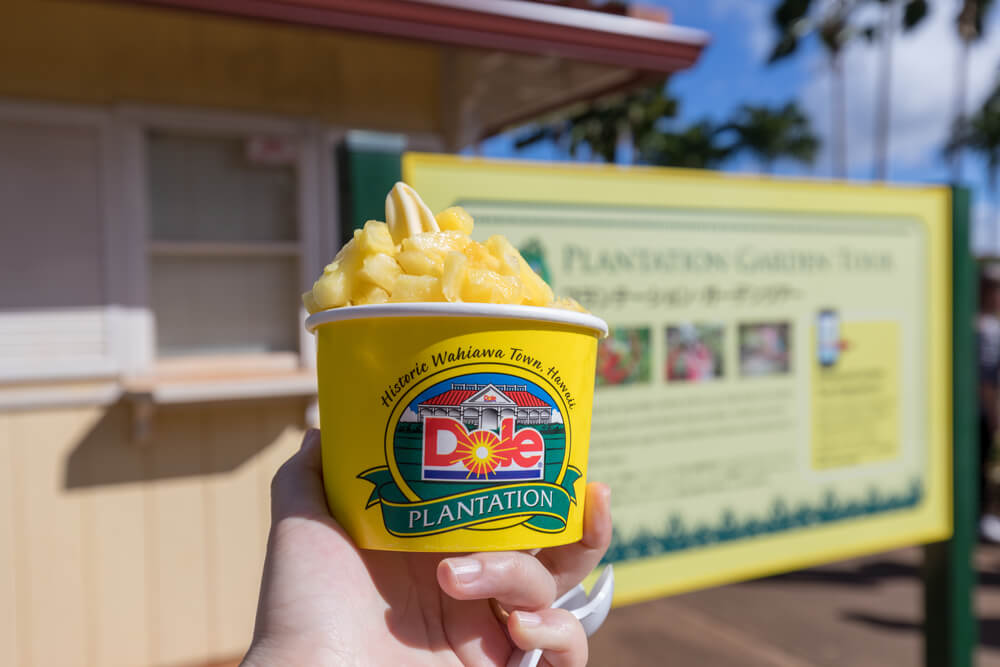 Our favorite is their Dole Whip, which is like pineapple ice cream and the kids can't get enough!
Visiting the Dole Plantation is an easy stop while you are exploring the North Shore. And it's one of the best things to do with kids on Oahu.
16. PEARL HARBOR
For older kids and teens who have learned about World War II, you'll definitely want to visit Pearl Harbor. This is the site where Japan attacked the United States and ignited the United States to participate in World War II.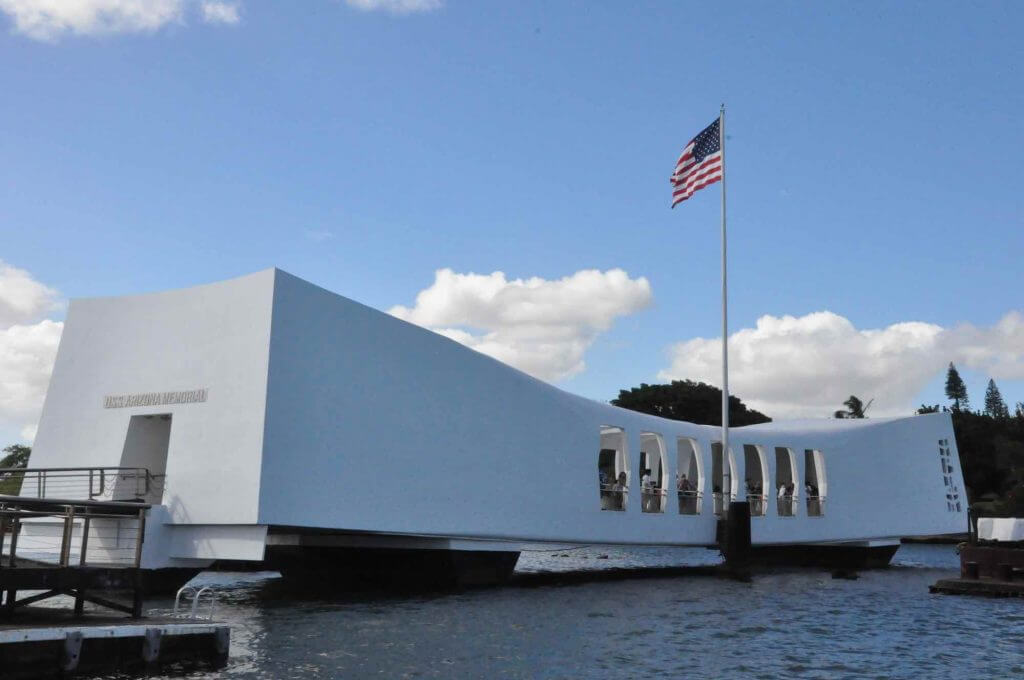 While it can be a somber spot for a lot of visitors, Pearl Harbor is so much more than just the U.S.S. Arizona Memorial.
One of our favorite things to do at Pearl Harbor is touring the U.S.S. Battleship Missouri. Kids will be awed by the gigantic guns and just being on a massive ship.
There's also the Bowfin Submarine that is kind of cool to explore.
17. PEARL HARBOR AVIATION MUSEUM
My husband and I are really big on aviation museums and we try to visit them everywhere we go. We were blown away by how cool the Pearl Harbor Aviation Museum is!
I highly recommend joining a docent-led tour so you can hear all the interesting facts about Hawaii's involvement in the war and ask questions as you look at the impressive displays.
Plus, they will point out the bullet holes in the windows that are from World War II! Check the latest rates and availability.
Read our full Pearl Harbor Aviation Museum review.
18. SEE A WATERFALL
When you think of a tropical paradise, you probably envision a cascading waterfall in the jungle, right? Some of the best Hawaii waterfalls are located on Oahu.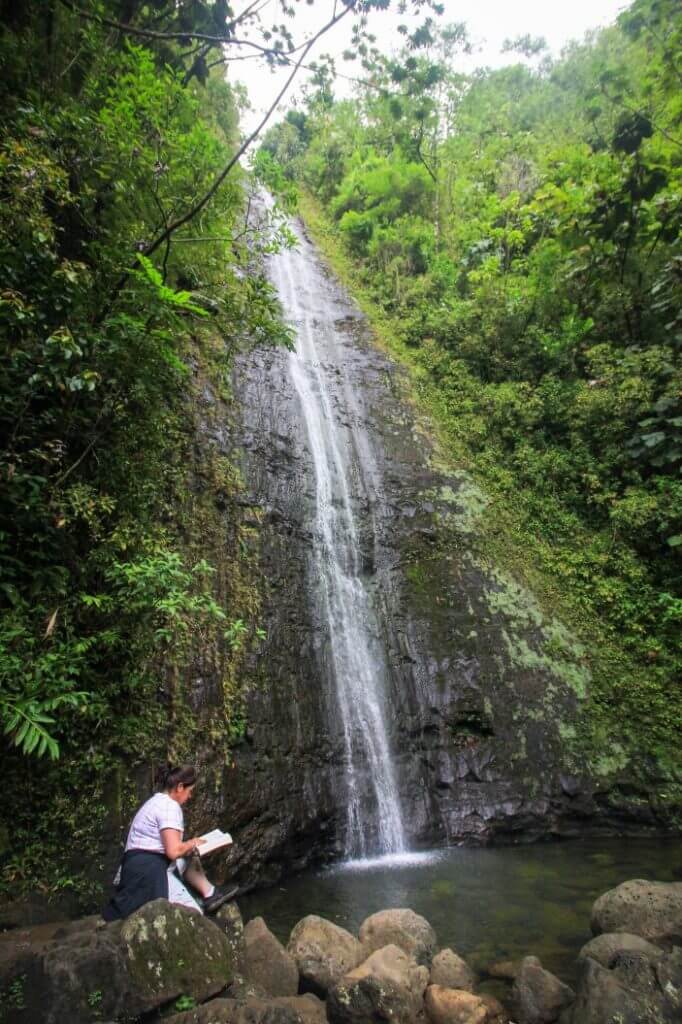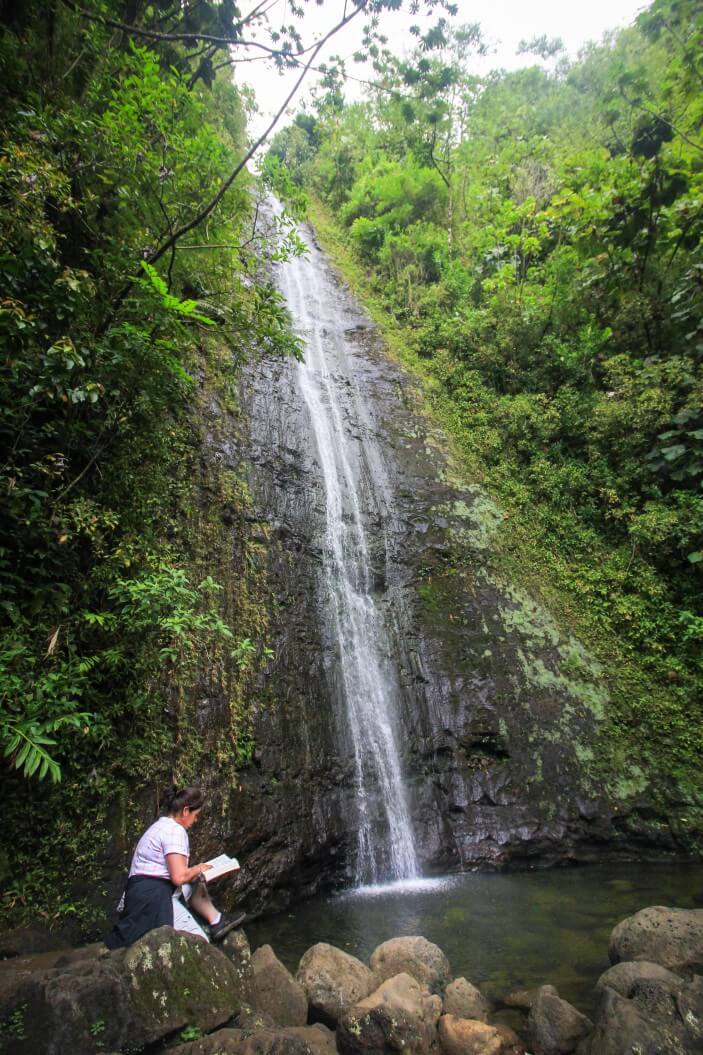 There are a few near Waikiki that are easy to get to (like Manoa Falls), ones you can see as you drive on the freeway and many that you'll have to hike to discover.
Whichever one you choose, you won't be disappointed!
Read my full post about the best waterfall hikes on Oahu
19. VISIT THE POLYNESIAN CULTURAL CENTER
If you are looking for one of the most popular Oahu attractions, look no further than the Polynesian Cultural Center up in Laie. I've been visiting since I was a teen and I have a great time each and every trip.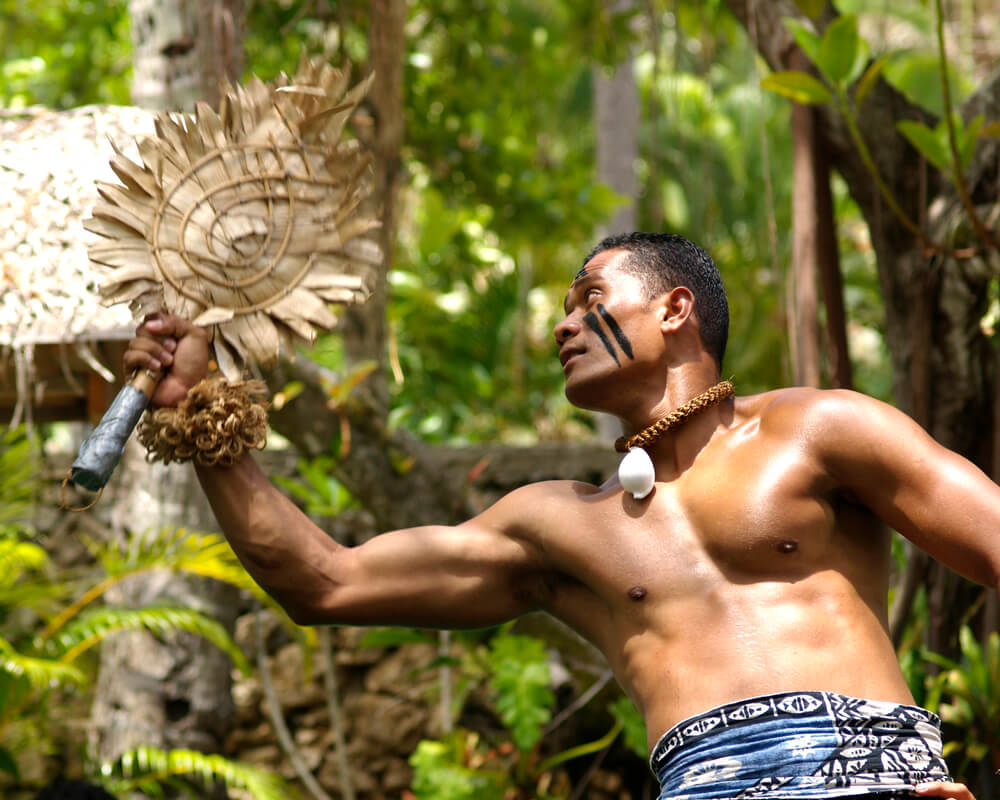 There are tons of hands-on activities and experiences for kids to learn about Hawaiian, Tahitian, Maori, Fijian, Samoan, and Tongan cultures. This is one of the best things to do in Oahu for kids.
Plus, there's a cool dance performance that takes place on boats going up and down the little stream that runs through the Polynesian Cultural Center. You can read my full Polynesian Cultural Center review HERE.
They also have both a luau and a theatrical performance you can get tickets for. It's great to just do the villages with little kids or opt for the full-day experience with older kids. Check out the latest prices and more details.
20. CHECK OUT BISHOP MUSEUM
One of the best kid-friendly Oahu museums is Bishop Museum. It houses the largest collection of Hawaiian cultural artifacts (more than 24 million!) and has been around since 1889.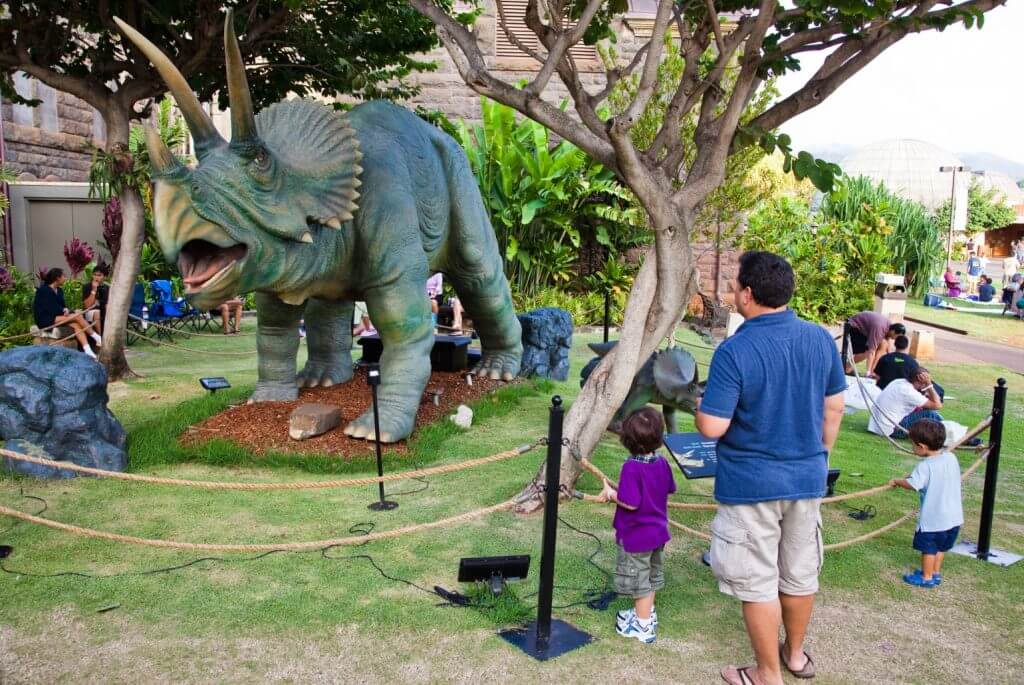 While visiting a history museum with kids might not sound fun, this one will impress kids of all ages. They have exhibits about archeology and zoology, cultural tours, Hawaiian storytelling, shows, and tons of cool activities and events that are fun and educational! Read our full Bishop Museum review HERE.
Oh, and they have a planetarium that is perfect for kids who are obsessed with the wayfinding theme of Disney's Moana! Find the best prices here.
Buy discounted Bishop Museum tickets
21. HONOLULU MUSEUM OF ART
Yes, the Honolulu Museum of Art is a pretty cool place to bring kids.
There are lots of cool art exhibits to check out, plus gallery hunts for kids, art classes, educational programs, and family tours.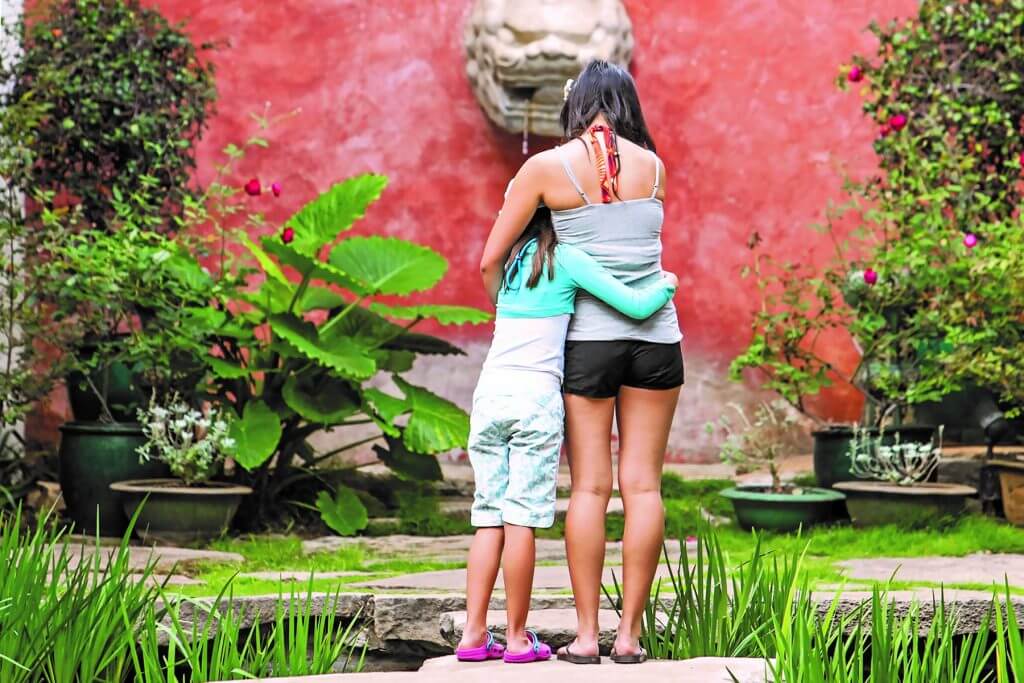 It's even home to Hawaii's largest independent arthouse theatre, which is perfect for those days you are sunburned and need to stay indoors.
Plus they have awesome monthly special events like Family Sunday and ARTafterDARK.
Read my full post about the Honolulu Museum of Art
22. BYODO-IN TEMPLE
For an Oahu attraction that is sure to impress all members of your family, head to the Byodo-In Temple in the Valley of the Temples Memorial Park in the Ko'olau Mountains.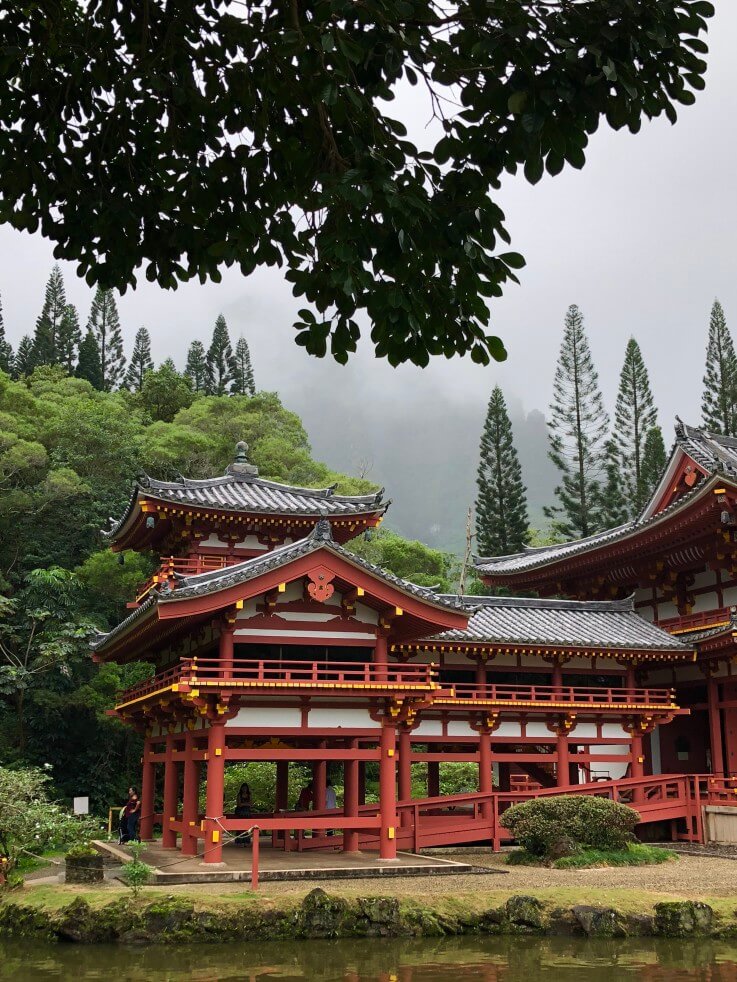 It's a historical place that was built to honor the first Japanese immigrants who came to Hawaii. It's a replica (just a little smaller) than the one at the United Nations World Heritage Site in Japan.
If your family are avid fans of Hawaii Five-O, Magnum, P.I., or Lost, you will definitely recognize the Byodo-In Temple as they have prominently featured this beautiful landmark. Find the best prices here.
It's open to the public to walk around the gardens and see wild peacocks and Japanese koi fish. And there's a reflecting pond, places to meditate, and even small waterfalls.
It's definitely worth a stop as you drive around Oahu.
23. MAKAPUU LIGHTHOUSE
Hawaii has some awesome lighthouses and the most well-known lighthouse on Oahu is Makapuu Lighthouse. It's on the East Shore and has been around for more than 100 years!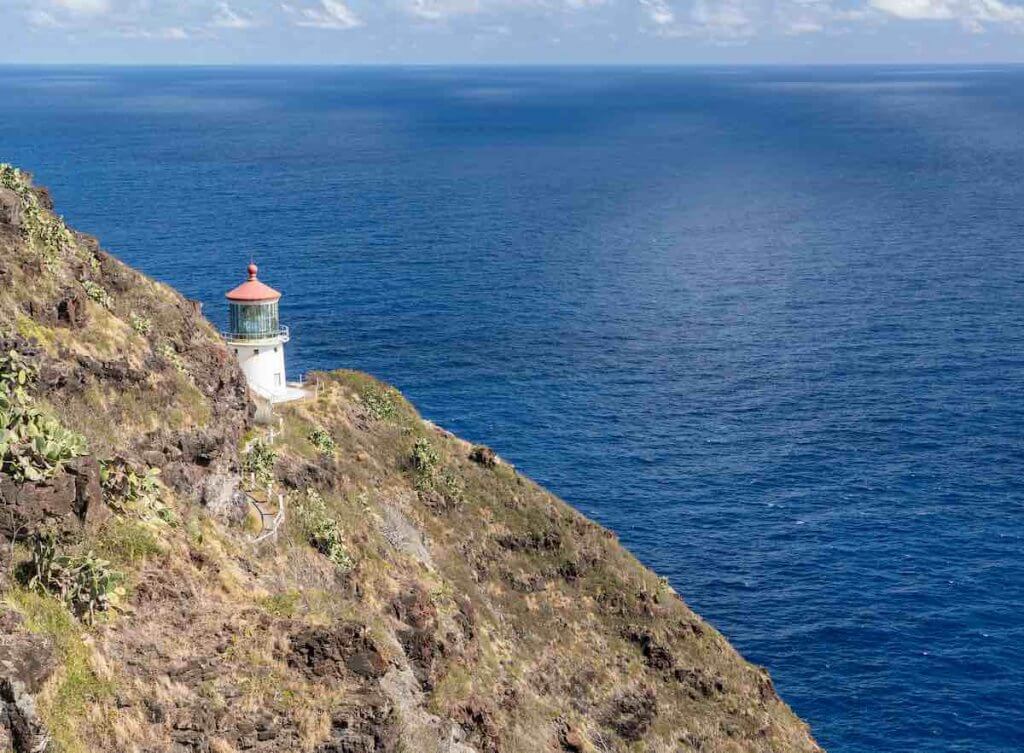 If you're heading to Sea Life Park (see #28), you have no excuse not to stop since it's so close.
There's a recently re-paved 2-mile path that overlooks Makapuu Lighthouse. You can push a stroller and younger kids should have no problem doing this easy/moderate hike.
This easy Oahu hike is totally worth it for the awesome views of the Pacific Ocean, Molokai, and two little tiny islands (Rabbit Island and Kaohikaipu.)
And if you are traveling to Oahu in the winter/spring (December through May), it's a great spot to look for humpback whales!
You can do it on your own or book a shuttle from Waikiki. Check out our tips for hiking Makapuu Point Lighthouse trail.
24. DIAMOND HEAD
One of the most iconic images of Oahu is Waikiki Beach and the stunning mountain in the backdrop is Diamond Head.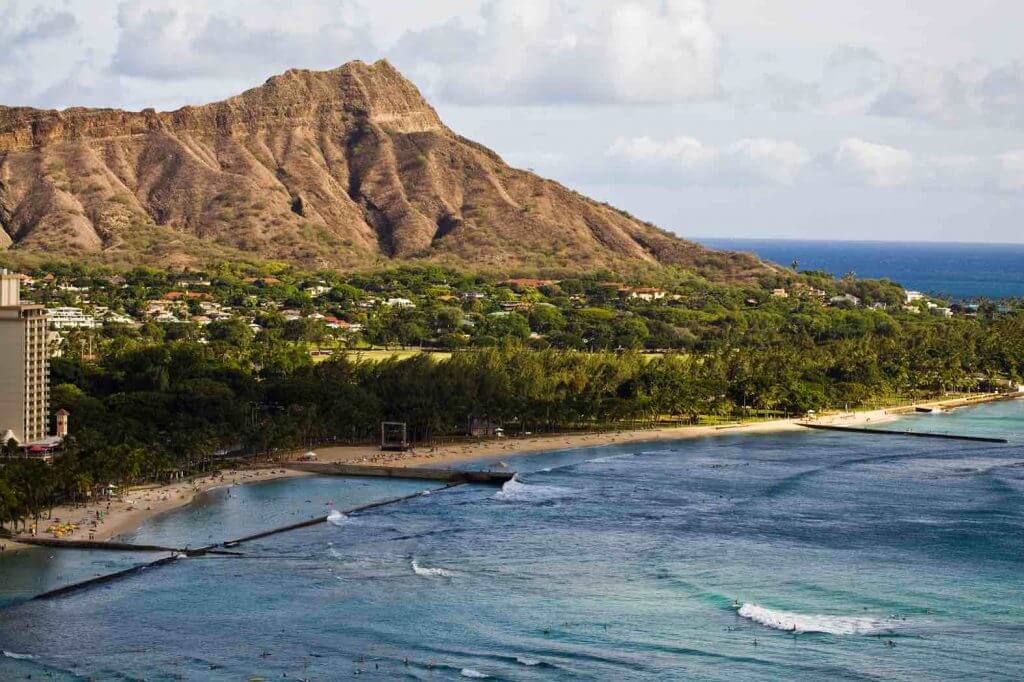 This is another semi-easy Oahu hike for kids that is always a great time. It's a lot of stairs, but you'll feel super accomplished when you get to the top.
This hike does get more crowded (and hot) as the day goes on. I suggest going early in the morning for the best experience.
You can easily do it on your own or take a tour if you want to learn more about Hawaiian history and culture during your hike. Check out the latest prices and more details.
25. WAIKIKI AQUARIUM
Did you know the 2nd oldest public aquarium in the United States is located right in Waikiki?
Waikiki Aquarium is where you'll find Hawaiian monk seals, green sea turtles, tropical fish, coral, crustaceans, and more. This is one of the best things to do with kids in Honolulu if they love sea animals.
Plus, it's also one of the cheap things to do on Oahu with kids. Tickets for adults are $12, kids 4-12 are $5, and kids ages 3 and younger are free!
26. HOOMALUHIA BOTANICAL GARDENS
If you're been looking at Hawaii photos on Instagram, you have definitely seen Hoomaluhia Botanical Gardens.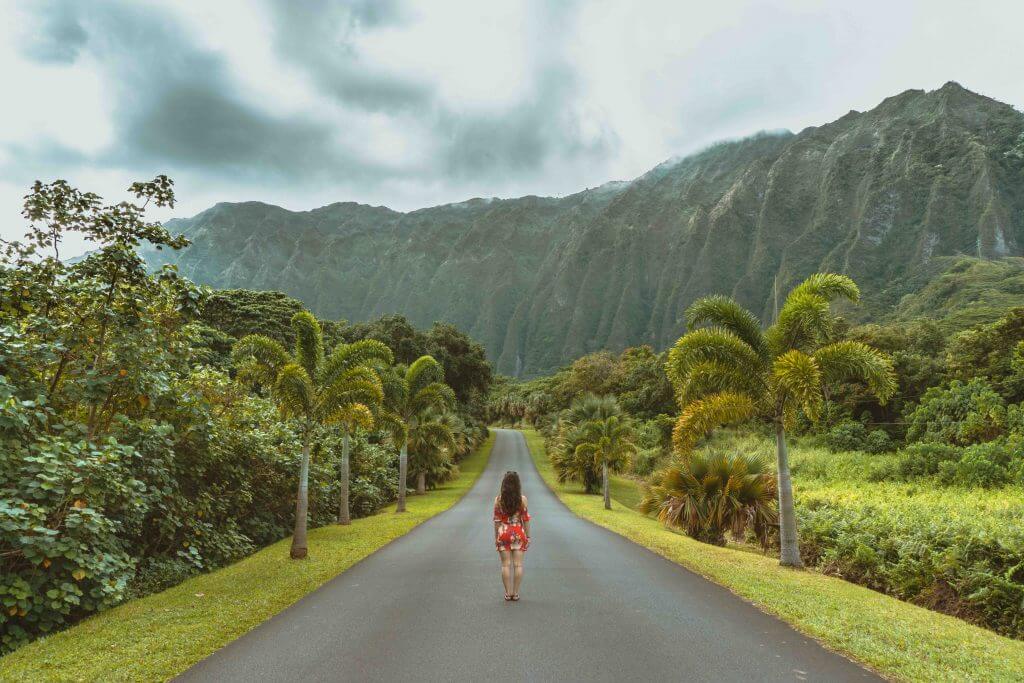 This is where people take photos in the middle of the road with the gorgeous mountains in the background.
But, there's so much more to see in this 400-acre Hawaiian garden.
On weekends, they offer a catch-and-release fishing program for families. And there are weekly art lessons in the garden.
Plus, it's fun to just walk around and marvel at all the beauty.
27. IOLANI PALACE
It's not often that kids get to visit a real palace. And surely not in the United States.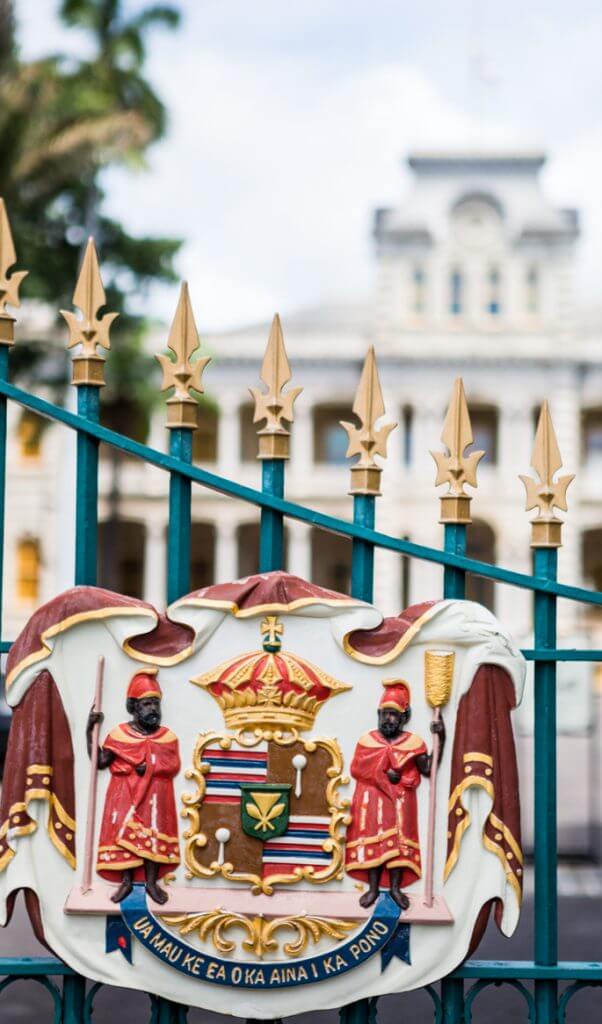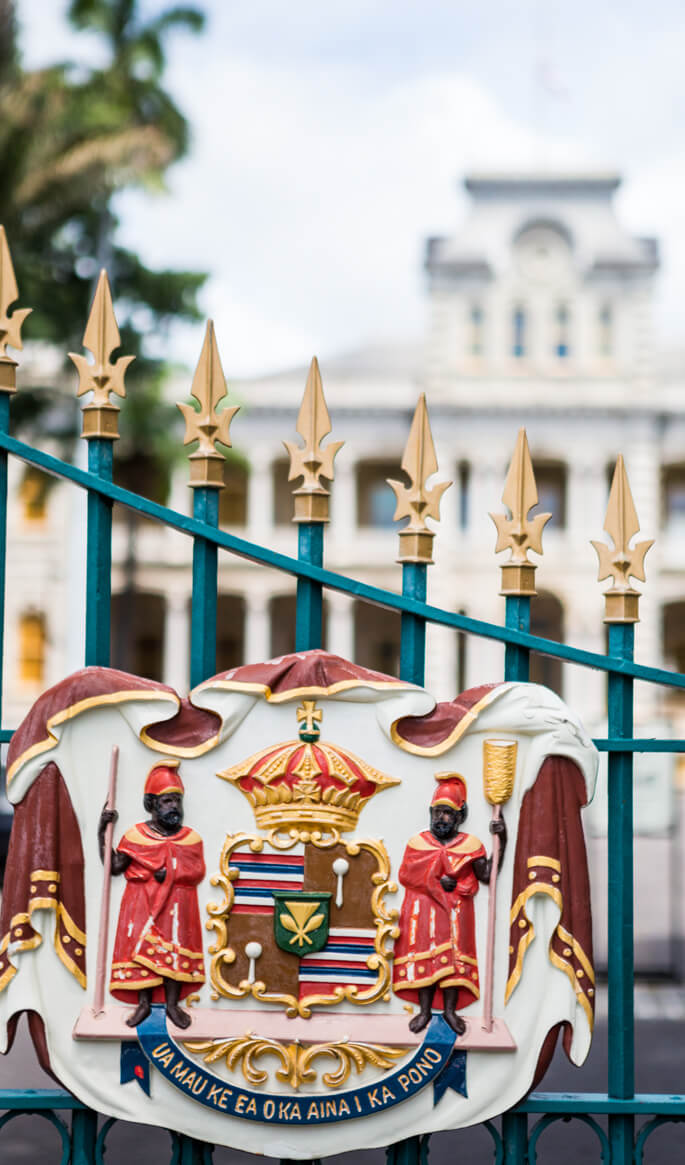 Iolani Palace is the only royal palace in the U.S. and it's a stunning building. You might recognize it from the opening of Hawaii Five-O but rest assured it's not the Hawaii police headquarters!
Inside, you'll see how Hawaiian royalty lived in the 1800s, with incredible artifacts, furniture, and displays.
Join a guided tour so your kids can ask questions about how Hawaii went from being an independent country to the 50th state.
One of the best things to do in Oahu Hawaii with kids who love animals is exploring Sea Life Park.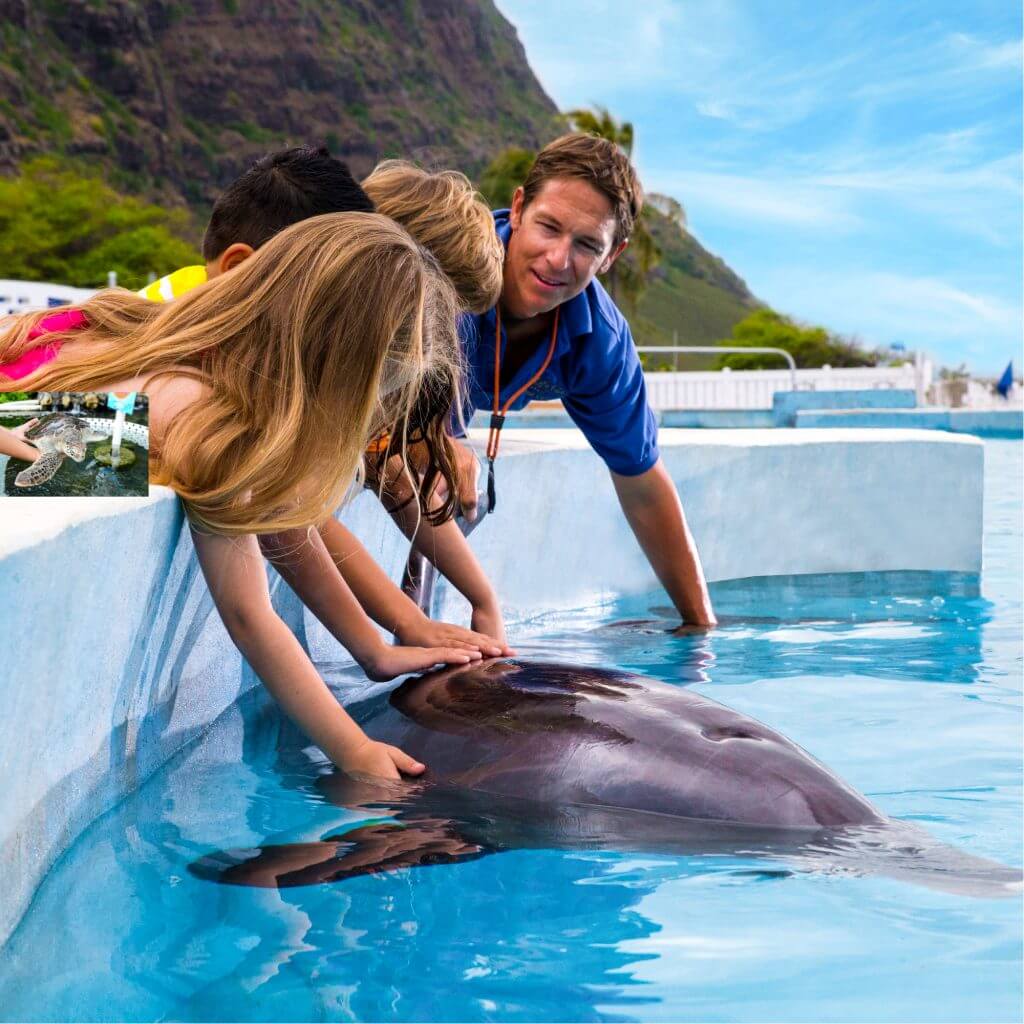 It's an open-air Oahu attraction where families can learn more about sharks, sea lions, penguins, stingrays, and more.
There are hands-on exhibits and performances throughout the day. Read my full guide to Sea Life Park HERE.
If your kids want to swim with dolphins, they have programs for kids of all ages (and even adults) where you can interact with dolphins and other sea mammals. Check out the latest prices and more details.
Read my full post about Sea Life Park
29. WAIMEA VALLEY
One of the best things to do at North Shore Oahu is to explore Waimea Valley.
It's a really cool park that has a botanical garden and tons of cultural programs perfect for families.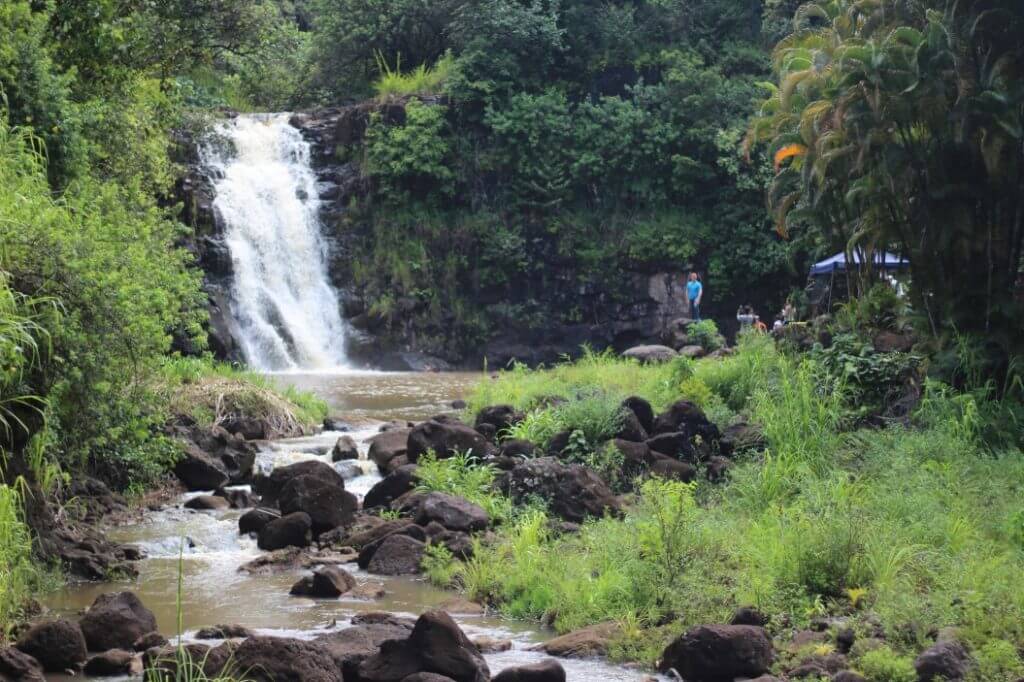 There's also an easy Oahu hiking trail that leads to Waimea Falls. Kids love swimming at the base of the waterfall and parents will appreciate the lifeguards on duty.
This is definitely one of the best places to visit in Oahu with family. Check out our full guide to visiting Waimea Valley with kids.
Plus, you'll get free admission here if you book my favorite Oahu luau: Toa Luau!
30. HONOLULU ZOO
If you're looking for easy things to do in Honolulu with kids, try checking out Honolulu Zoo.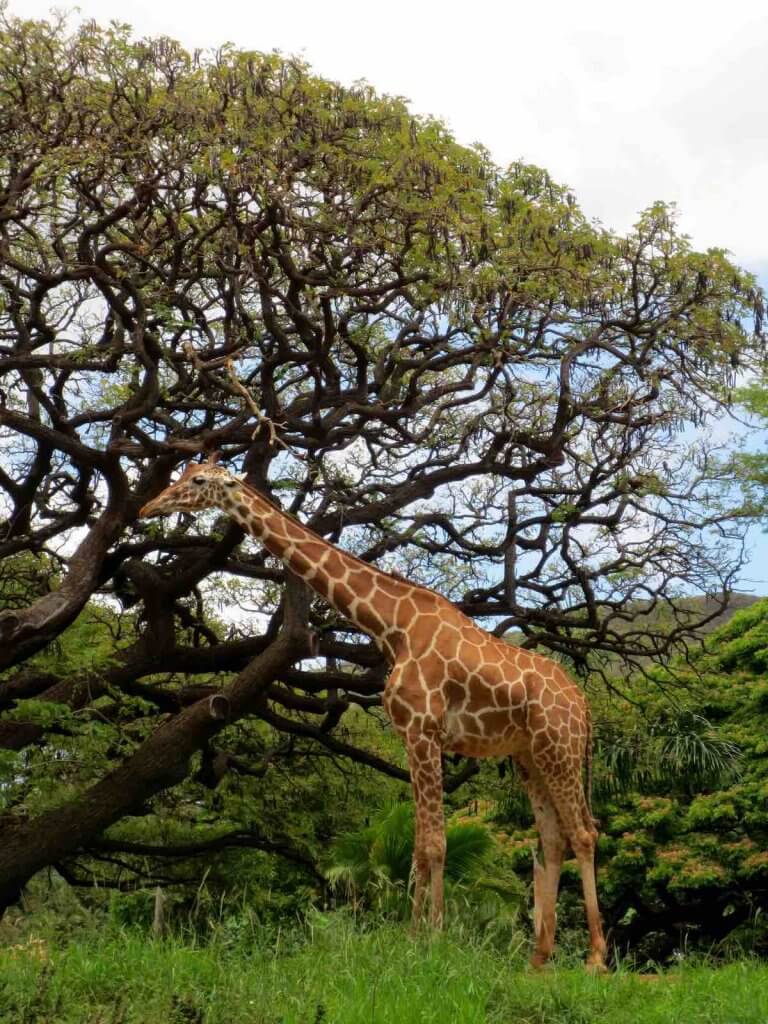 It's a fairly small zoo located at the edge of Waikiki and I think it's one of the best things to do on Oahu with toddlers.
Here, you'll find giraffes, zebras, hippos, rhinos, chimpanzees, elephants, and more.
It's the perfect morning activity to do before nap time!
Oahu with Kids: Best Oahu Shopping
31. ALA MOANA CENTER
If your family likes to shop, head over to Ala Moana Shopping Center, close to Waikiki.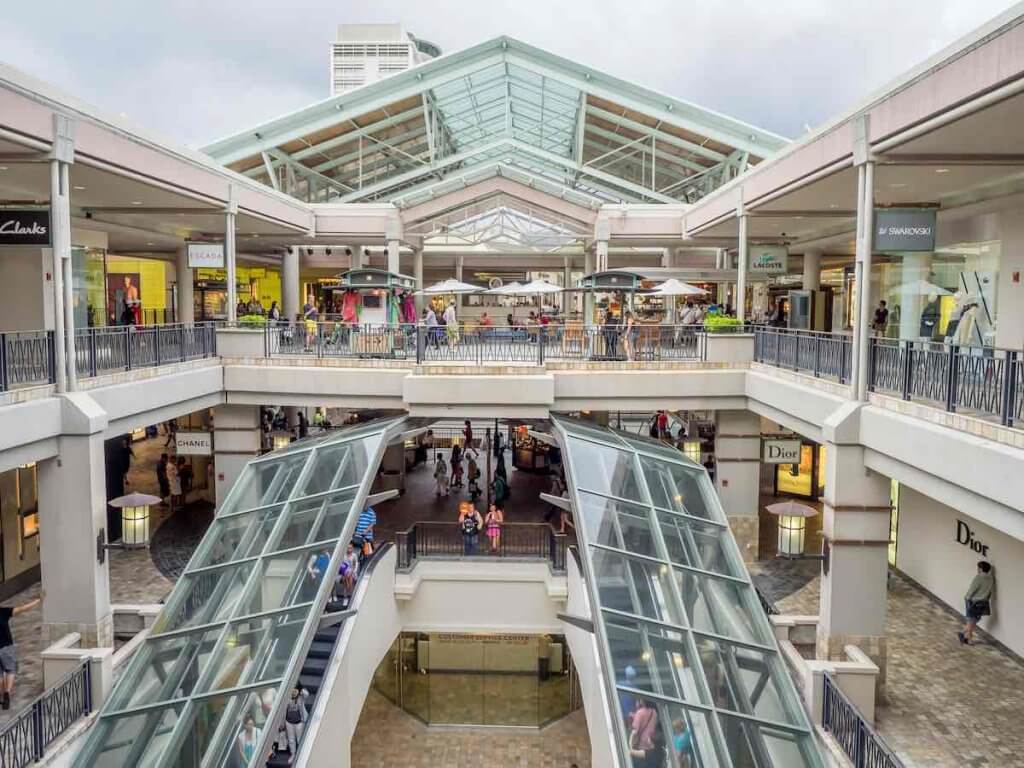 It's the largest outdoor shopping center in the world and it has an array of shopping experiences from high-end luxury brands to small Hawaii boutiques.
It's definitely one of the best things to do in Oahu with teens since parents can hang at the Mai Tai bar while kids can shop on their own. Or they can take the Waikiki Trolley here on their own.
They also offer an amazing (and free) hula show and they have a fairly new play area for younger kids.
Plus, it's also a great place for cheap eats in Waikiki!
32. ROYAL HAWAIIAN CENTER
While the Royal Hawaiian Center in Waikiki is fun for adults to window shop, I added it to this list because of their amazing daily Hawaiian cultural programs.

It's a great place to learn how to make a lei, hear a Hawaiian story, or try hula dancing for the first time.
Plus, they offer a lot of Hawaiian events throughout the year.
33. ABC STORES
You can't go to Oahu without seeing one of the many ABC Stores located across the island. They are on practically every street corner in Waikiki!
This is one of the best places to buy Hawaiian souvenirs for kids because they have tons of Hawaiian books, toys, dolls, grass skirts, and more.
It's also a great place to grab a cheap Hawaiian t-shirt, beach towel, reef-safe sunscreen, postcards, and anything you might have forgotten to pack to Hawaii.
And some ABC Stores even have food items like Spam Musubi!
34. ALOHA SWAP MEET
While it might seem strange to visit a swap meet in Hawaii, I promise you won't regret heading to the Aloha Swap Meet.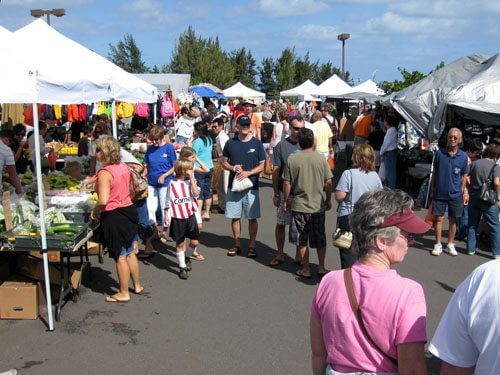 It's one of the cheapest places to find Hawaii souvenirs like t-shirts, Hawaiian dresses, ukuleles for kids, and more.
And it's my personal favorite place to find authentic hula costumes like pa'u skirts, Hawaiian mu'u mu'u dresses, and gorgeous hair accessories (including the popular haku leis!)
35. WAIKELE PREMIUM OUTLETS
I put the Waikele Premium Outlets on this list for visitors who don't have a premium outlet near them.
That's because this one is pretty much like any premium outlet you'll find in the U.S. with stores like Coach, Adidas, Kate Spade New York, LeSportsac, Sunglass Hut, and more.
There isn't really anything specifically Hawaiian (except the food options), but it's a great place to find deals on great brands.
36. DON QUIJOTE
If you're looking for a crazy awesome Oahu store, you'll want to head to Don Quijote in Honolulu, Pearl City, or Waipahu.
It's a one-stop shop that is primarily an Asian grocery store, but it just has so many things.
And it's the best place to find the cheapest Hawaiian treats like chocolate macadamia nuts, cookies, candy, etc.
Oh, and did I mention it's open 24 hours? Perfect for those suffering jet lag!
37. LONG'S DRUG
I know it might sound weird to list a drug store, but this is one of my favorite stores in Hawaii.
Long's Drug has a fairly large Hawaii souvenir section that usually includes items that you can't easily find at other stores. My favorite thing to get there is netting to make Hawaiian candy leis with my kids!
They also have an amazing Hawaiian snack section. Let your kids pick out a few locally-made Hawaiian chips, cookies, or candy that they've never tried.
It's also a great spot to get reef-safe sunscreen and after-sun lotion as well as cheap flip flops.
38. WALMART
I always tell friends that Walmart in Hawaii is different than Walmart on the Mainland. See, Hawaii only has a handful of big box stores and Walmart is the place where you'll find locals (even the mayor!) as well as tourists.
You'll find cheap beach toys, Hawaiian books, Hawaiian home decor, and Hawaiian clothing for the whole family.
What we like to do is give the kids some cash and send them to the huge souvenir section here. Then, they are able to pick out a few items they are excited about.
39. TARGET
One of the more recent "big box" stores to hit Oahu is Target.
We love shopping at Target in Hawaii when we need to grab pool toys, water bottles, snorkeling masks, etc.
It has all the same stuff as the stores on the Mainland, but it's also a great place to find family matching Aloha wear, Hawaiian food items, Hawaiian books, UH merchandise, coffee, etc.
40. COSTCO
Costco is the other major big box store on Oahu that is definitely worth a stop.
They have a great selection of Hawaiian items (like clothing) and the best price on Hawaiian books for kids. They also usually have pool toys, beach chairs, beach towels, and other items for outdoor fun.
Plus, it's a great place to load up on drinks, Hawaiian snacks, deli items, and Hawaiian baked goods to keep your family fed and happy at a good price.
The Best Foods to Try on Oahu with Kids
41. GRAB SPAM MUSUBI
One of the best kid-friendly Hawaiian snacks is Spam Musubi. It's Hawaiian-style sushi that is made with Spam that has been marinated and grilled.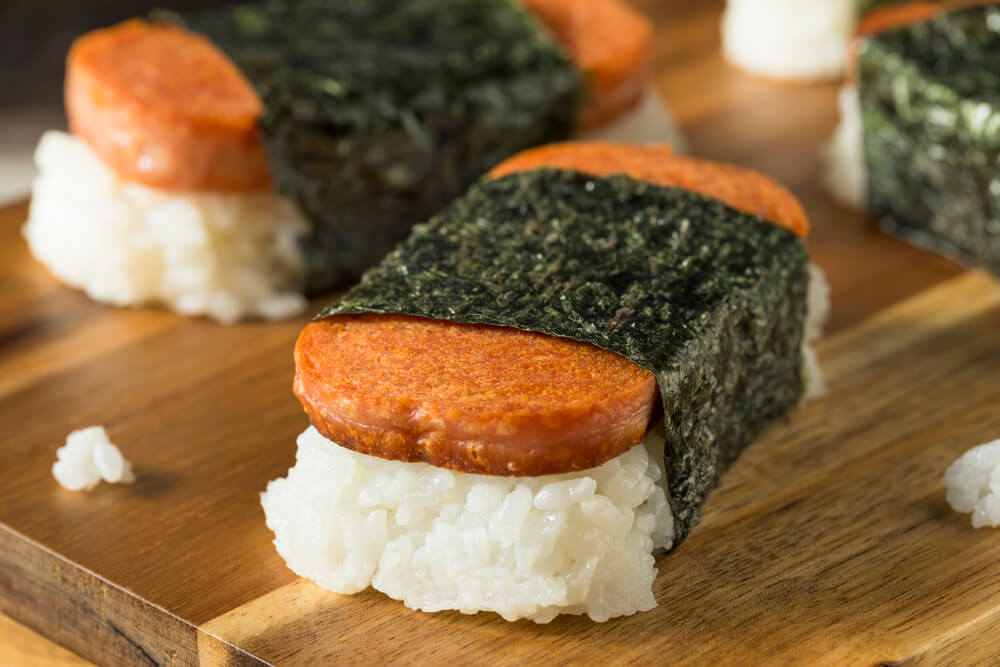 You can find them at lots of restaurants, grocery stores, and even some gas stations. They are individually wrapped, which makes them easy to take to the beach.
We eat them for breakfast, lunch, or afternoon snacks. It's salty and slightly sweet and the kids gobble them up!
Learn how to make Spam Musubi at home
42. COCO PUFF
One of the tastiest things to eat on Oahu is a Coco Puff from Liliha Bakery. In fact, they are world-famous for having the best Coco Puffs in Hawaii!
They are similar to an eclair, but they are smaller and round.
The ones at Liliha Bakery are filled with chocolate cream and topped with a vanilla coconut frosting.
43. GET A HAWAIIAN PLATE LUNCH
If there's one thing I've learned about kids is that they can be picky eaters. Some days they love one food item only to despise it the next.
Hawaiian plate lunches are a great way to try several new foods without committing to an entire order.
There's usually 2 scoops of white rice, 1 scoop of macaroni salad, and then some sort of protein like mochiko chicken, teriyaki beef, or kalua pork. Sometimes you can upgrade to a combo with a few proteins.
Chances are, if your kids won't eat the protein, they can at least fill up on rice and macaroni salad.
44. DRINK POG
In 2020, Hawaii made the news when it was announced that Meadow Gold would no longer make Passion-Orange-Guava juice (called POG.)
Thankfully, the announcement was premature and you can still buy containers of this tasty Hawaiian juice.
If you fly Hawaiian Airlines, they will usually give you a little container of POG to drink on the airplane. But, you can also find it at any Hawaii grocery store (and sometimes on the Mainland!)
45. TASTE FRESH POKE
Hawaiian poke is raw fish that has been marinated and mixed up with other garnishes. It can be served on top of rice for a Poke Bowl, eaten with chips, or straight out of the container.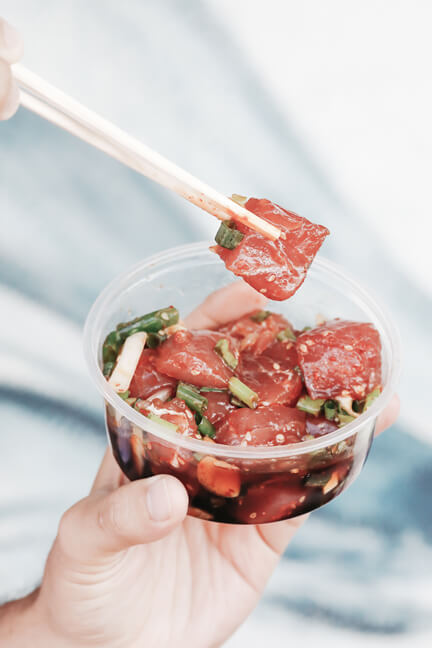 It's the new "it" food on the Mainland so you'll want to taste the real deal in Hawaii to see how it compares to your local poke shop.
The fish is raw and it's not ceviche. Use your judgment if you think your kids are old enough to try.
Find out the best places for poke on Oahu
46. TRY MALASADAS
Malasadas are Portuguese doughnuts that have been a breakfast staple in Hawaii for decades. They are kind of like oversized doughnut holes that are rolled in sugar.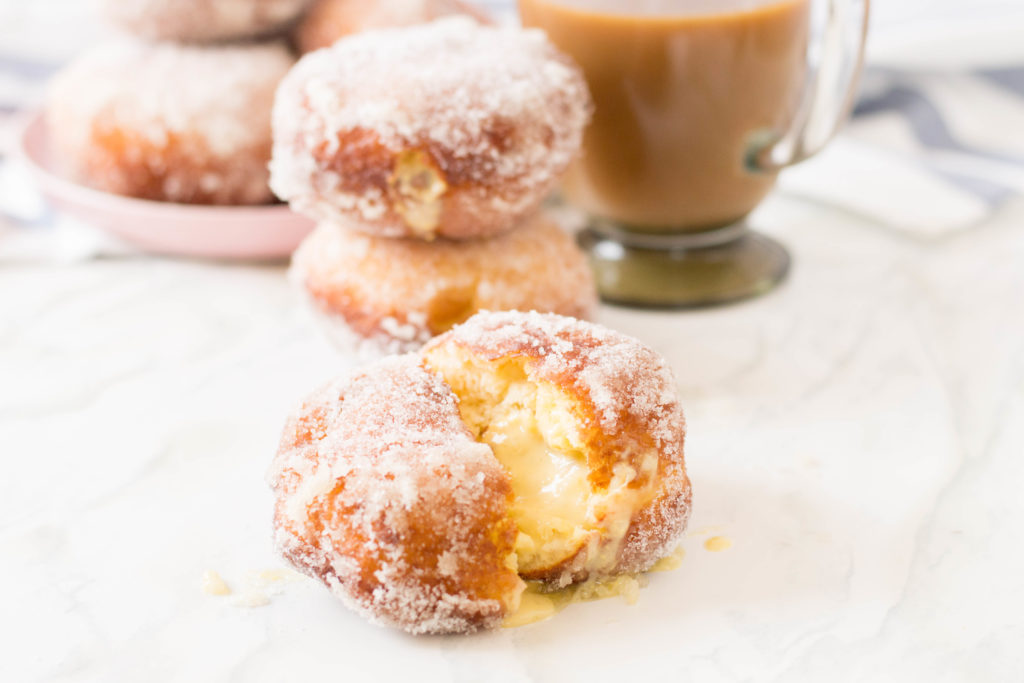 You can find them at local Oahu bakeries (the most famous is Leonard's Bakery) and even some stands outside of shops. Sometimes they are even filled with tropical flavors like coconut, mango, and guava.
They are best eaten warm (or at least the same day), but you can also reheat a bit in the microwave if you have leftovers.
Learn how to make Coconut Filled Malasadas
47. TASTE POI
If you go to an Oahu luau, you'll definitely have an opportunity to try poi. It's a fermented paste made from taro root and it's one of the most traditional Hawaiian foods.
You can definitely try it on its own, but it will probably taste a bit sour. Most locals use it as a condiment and dip their meat in it. It's especially good with kalua pork or fish.
Or, you can mix in sugar and milk for a sweet Hawaiian dessert!
48. DRINK FRESH COCONUT WATER
Kids love drinking out of carved-out fruit, especially coconuts!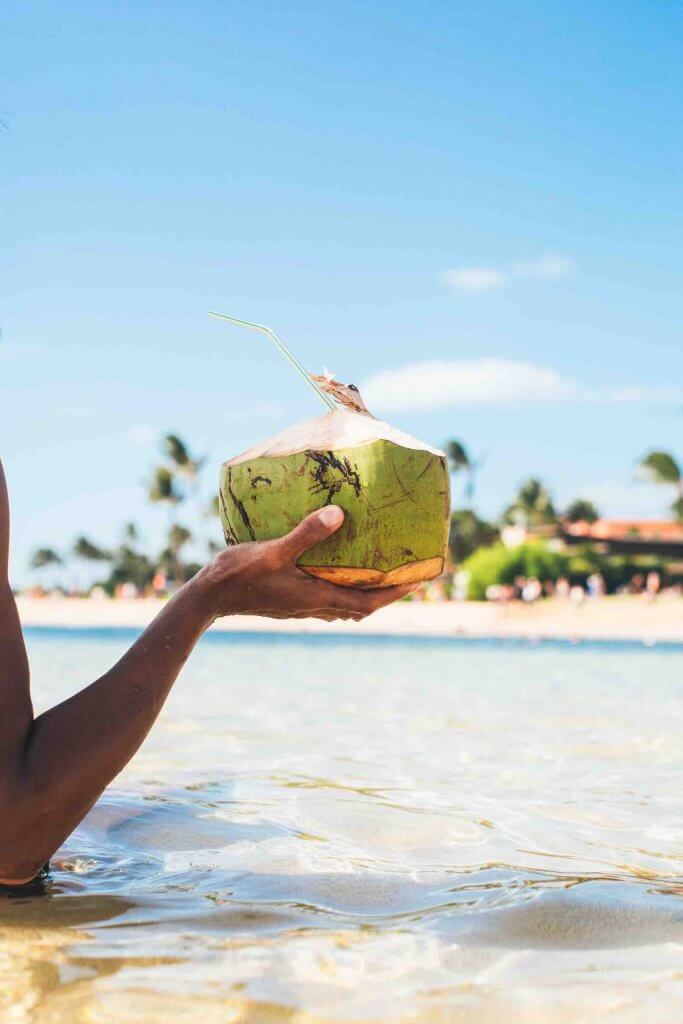 If you're heading to an Oahu Farmers Market (or the Aloha Swap Meet), be sure to pick up coconut water that is still in the coconut. You'll see other people walking around with straws coming out of the coconut.
After you drink the water, you can scrape out the coconut meat. Usually, one coconut is good for a family if they just want to try it.
49. TRY BUTTER MOCHI
A popular Hawaii bakery item is butter mochi. It's usually cut into large squares and it has a custardy, slightly coconut-y taste. Sometimes it's even topped with shredded coconut.
You can find individually wrapped butter mochi at local Oahu bakeries and some grocery stores across Hawaii.
Find out all the Hawaiian foods you need to try!
Oahu with Kids: Best Oahu Shave Ice
50. WAILOA SHAVE ICE
Okay, I'm kicking off this list of shave ice spots on Oahu with Waiola Shave Ice simply because this is where President Obama goes.
It comes in little bowls and has all the classic shave ice flavors plus some new ones worth trying.
Personally, I like Waiola Shave Ice because it's in the middle of Honolulu at a little snack shop off the side of the road with a definite local vibe.
Definitely not as touristy as some other spots.
51. ISLAND VINTAGE SHAVE ICE
So, my mom lives in Hawaii and has tried a lot of different shave ice places over the years. But, I've never seen her as impressed as when she tasted Island Vintage Shave Ice!
It's part of the Island Vintage Coffee brand, which you can find all over Oahu.
What really sets it apart from other Oahu shave ice places is that they use fresh fruit and it's seriously gorgeous to look at!
52. UNCLE CLAY'S HOUSE OF PURE ALOHA
We've been going to Uncle Clay's House of Pure Aloha for years.
They pride themselves on using all-natural, fresh fruit syrup and it completely elevates their shave ice.
Since they don't use artificial flavors, we feel better about letting our kids enjoy this sweet Hawaiian treat!
53. MATSUMOTO SHAVE ICE
I have to include Matsumoto Shave Ice in this list, but it's mostly for nostalgic reasons. It's one of the most famous places to eat shave ice in North Shore Oahu.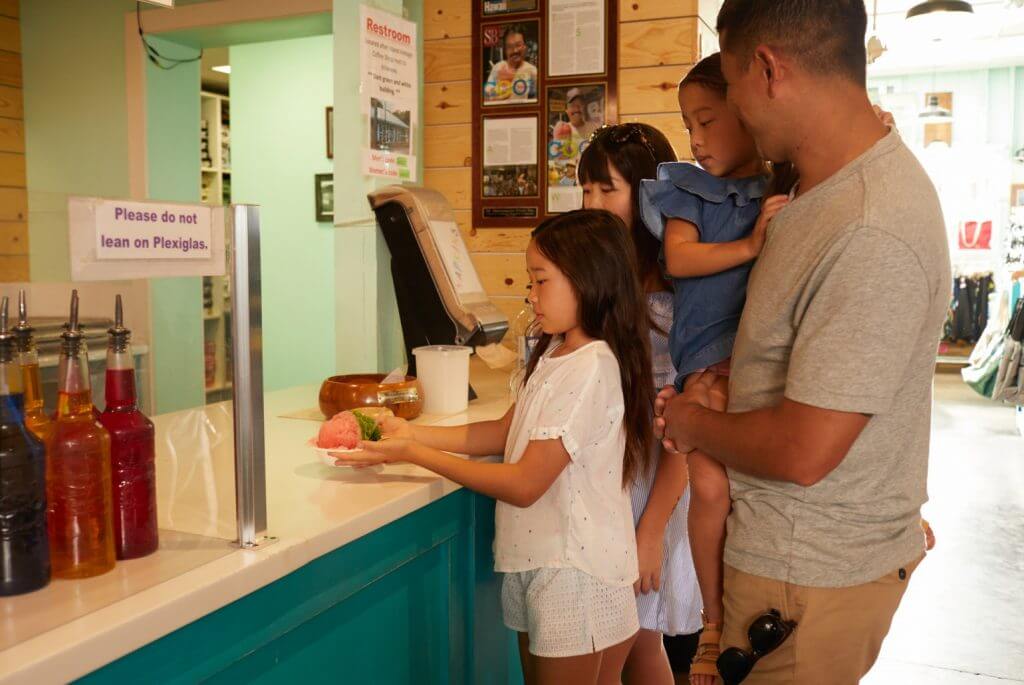 It's located in a cute little shop in Haleiwa and sometimes the line goes out the door.
The shave ice is pretty tasty and it tastes like what I remember when I was a kid.
It really hits the spot on a drive around Oahu or after a day of relaxing at a North Shore Oahu beach.
Find out all the best places to try shave ice on Oahu!
Oahu with Kids: Best Oahu Luaus
54. TOA LUAU
I always recommend that families go to an authentic Hawaiian luau no matter which island they visit.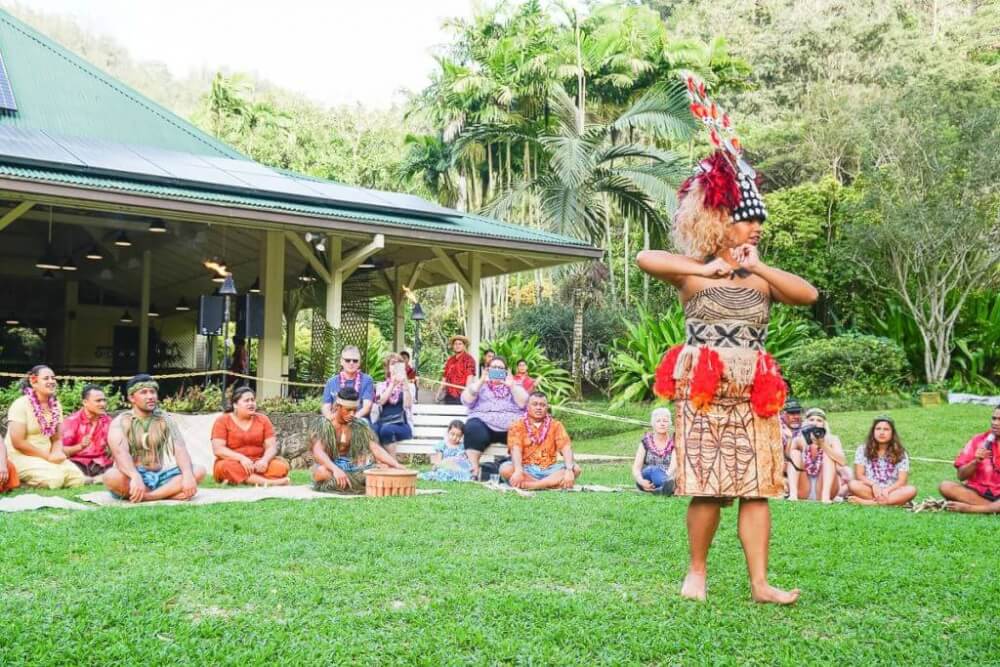 We visit a lot of luaus in Hawaii (I'm a professional hula dancer) and one of our favorite luaus on Oahu is Toa Luau. You can read my full Toa Luau review here.
It's much smaller and intimate than other Oahu luaus and they do a great job highlighting other Polynesian cultures as well as Hawaiian culture through hands-on activities, food, and performances.
But, they also kick things off with a traditional Samoan Kava Ceremony that's pretty special. Check out the latest prices and more details.
55. KA MOANA LUAU
Another popular Oahu luau is Ka Moana Luau located at Sea Life Park.
This one is popular with families because you'll also get entrance admission into the popular Sea Life Park (where you can swim with dolphins.)
While all the entertainment is pretty good, the fire-dancing finale will knock your socks off! Find the best prices here.
If you're looking to be fully entertained at your Oahu luau, book tickets for Chief's Luau in Kapolei.
It's run by a comedian and fire knife dancing champion and families swear it's a ton of fun with all the hands-on activities and high-energy performances.
They offer a few different luau packages that come with tropical cocktails. Check out the latest prices and more details.
57. PARADISE COVE LUAU
If you'd like an Oahu luau that will pick you up from your Waikiki hotel, Paradise Cove Luau is a great option.
It's exactly what you'd expect from a Hawaiian luau. There's Polynesian entertainment, drinks, buffet dining, and hands-on activities.
It's a fun option for your first trip to Oahu. Find the best prices here.
Find out the best kid-friendly Oahu luaus
Oahu with Kids: Best Oahu Activities
58. DO AN OAHU FOOD TOUR
Hawaii is known for having some amazing food, but it can be hard to know where to go.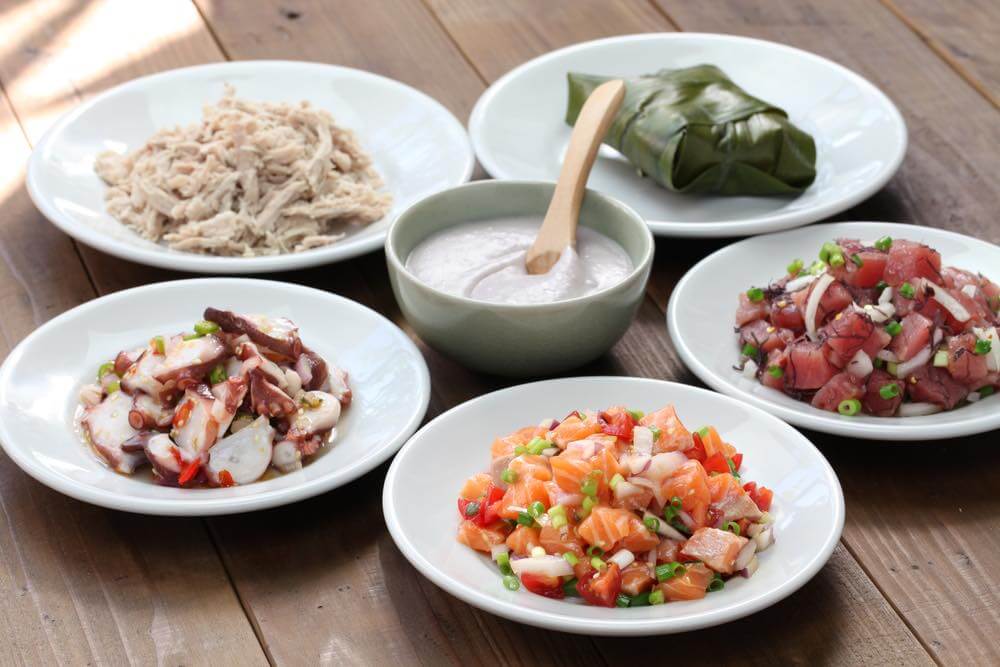 That's why it helps to join an Oahu food tour, so you'll know where the locals go and exactly what to order.
Not only can you sample a lot of different Hawaiian foods, but you'll learn a bit about Hawaiian history and culture from a local expert. Check out the latest prices and more details.
59. GO KAYAKING
If you'd like a moderate outdoor adventure to do with kids in Hawaii, kayaking is a great option.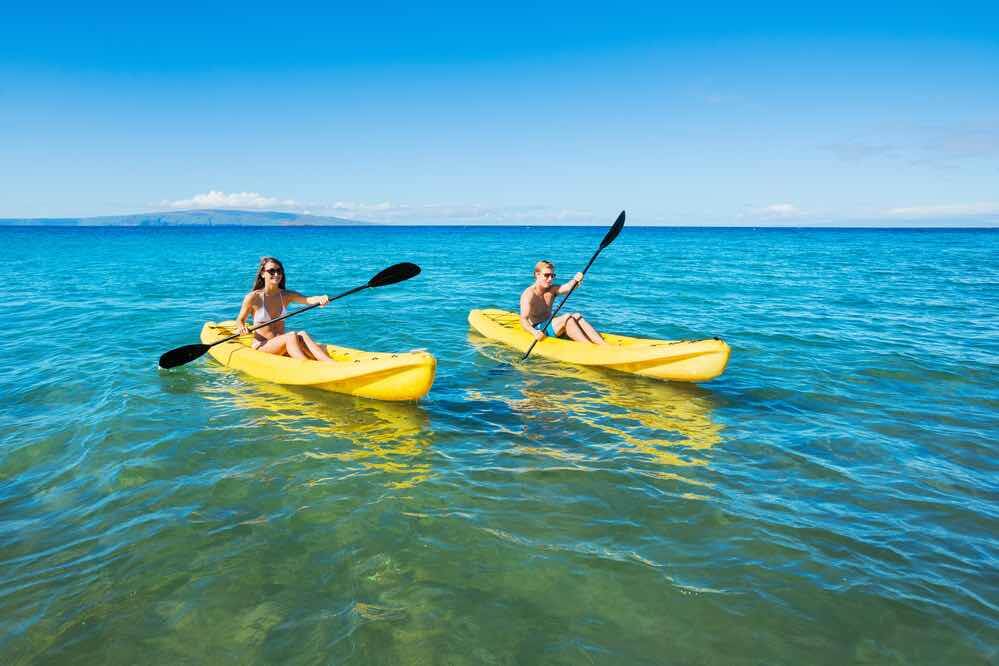 You can join an Oahu kayaking tour or rent a kayak to explore on your own. And there are tandem kayaks available, which is great for parents with young kids.
Just be sure to check the weather report before you go.
Find out the best places to kayak on Oahu
60. HAVE BREAKFAST WITH MICKEY MOUSE
Ok, did you know that you can book a Disney character breakfast even if you aren't staying at Aulani Resort?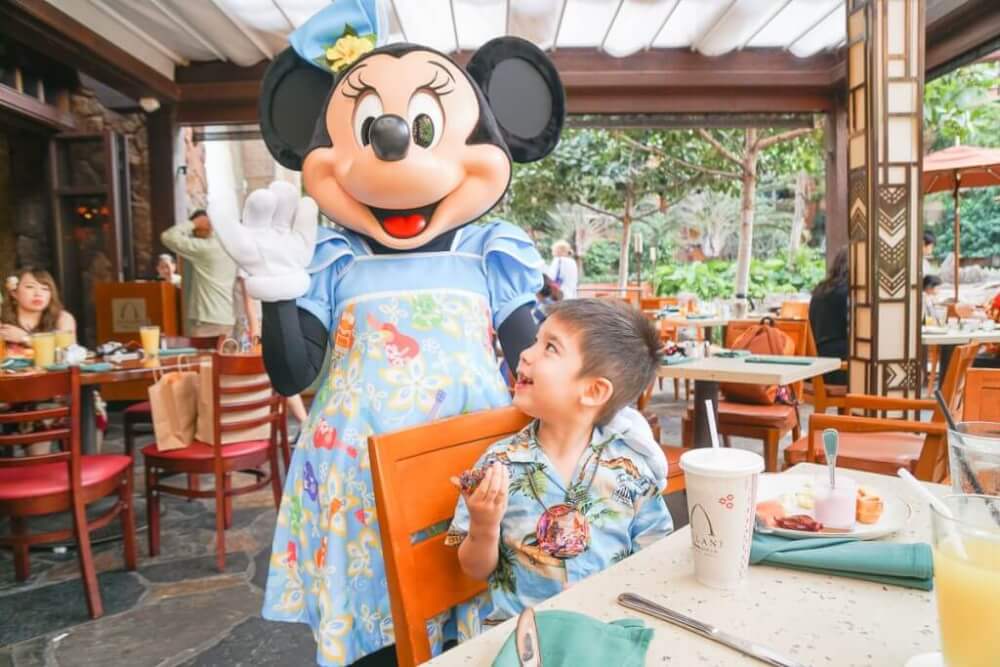 Not only will you get a nice family photo with Mickey Mouse, but you'll get to chat with several classic Disney characters throughout your buffet breakfast. This is one of the coolest Oahu activities for kids who love Disney.
But, I think the coolest part is that Aunty comes around and collects kids to sing and learn a bit of hula dancing (which gives parents an opportunity to sit back and relax!)
Read my full post about the Aulani Character Breakfast
61. ENJOY A BOAT RIDE
One of our favorite things to do on Oahu HI is book a boat tour. Sometimes it's geared for snorkeling or whale watching, but we also like the ones that are just for relaxing.
There's a really cool sunset boat tour where you'll get a tasty dinner and get to see Polynesian entertainment. Plus, the background is a gorgeous Hawaiian sunset!
And if you book this on a Friday, you'll even get to see fireworks from the water! Find the best prices here.
62. OUTRIGGER CANOE SURFING
If you've seen the opening credits of Hawaii Five-O, you'll instantly recognize the Hawaiian outrigger canoes.
You can actually book a 30-minute Outrigger Canoe Surfing experience that's geared for families of all ages and abilities. This is one of the top kid friendly things to do in Oahu.
That's just enough time to get to surf a few waves and not long enough for kids to get bored. Check out the latest prices and more details.
63. EXPLORE CHINAMAN'S HAT
If you spend time at Kualoa Beach Park or Kailua Beach, you'll notice a little island just off the coast of Oahu.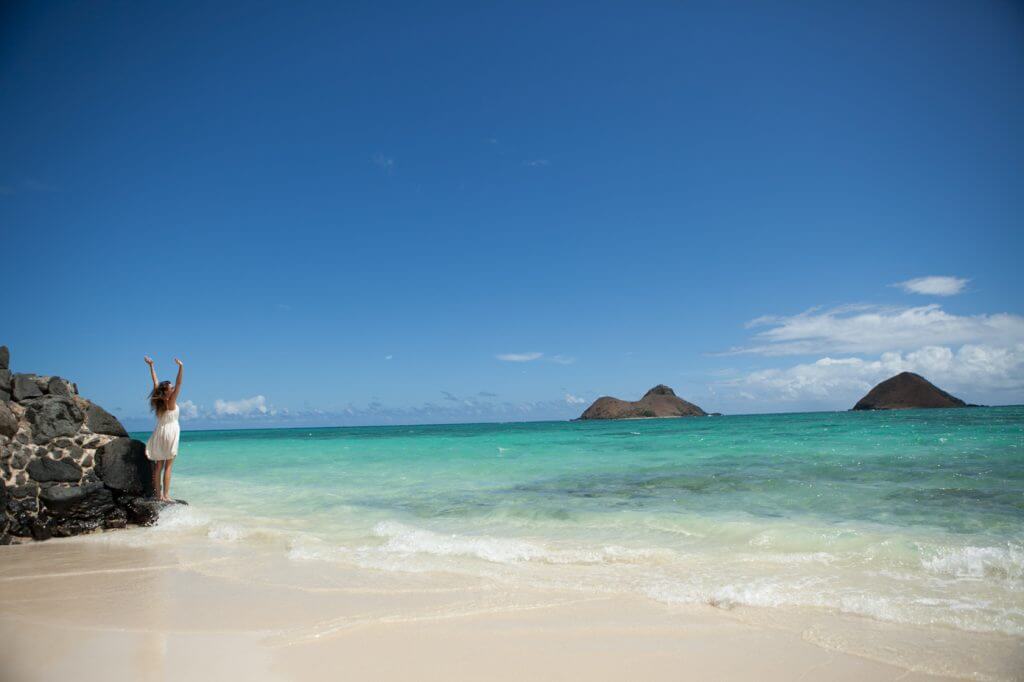 It's officially called Mokoli'i Island, but most locals call it "Chinaman's Hat" because of it's shape.
There's actually a cool Hawaiian legend about the island. It's supposed to be part of a dragon's tail. The word Mokoli'i is Hawaiian for "little lizard."
My kids have grown up reading The Story of Chinaman's Hat, which has a completely different explanation for how the island came to be.
The best way to get to Mokoli'i Island is to rent a kayak from Lanikai Beach or Kailua Beach and paddle over there.
64. SUBMARINE SCOOTER RIDE
For families with kids 10 years old and up, you might consider booking a submarine scooter ride!
These are individual, self-propelled, electric scooters that go underwater so you can see Hawaiian Green Sea Turtles, tropical fish, coral, and more.
The cool thing about this Oahu tour is that you don't even need to know how to swim to see all the cool Hawaiian marine life. Check out the latest prices and more details.
65. GO HORSEBACK RIDING
Did you know Hawaii has a long cowboy history? Hawaiian cowboys are called paniolos and they are on all the Hawaiian islands.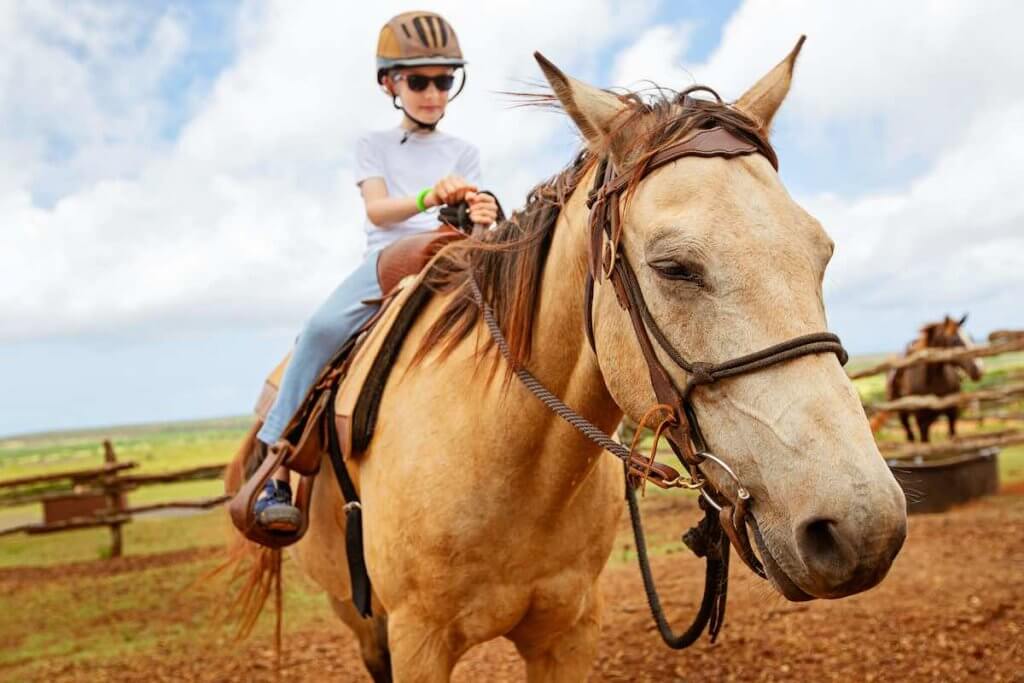 Kualoa Ranch is a popular place to go horseback riding on Oahu. Kids as young as 10 years old can join one of their horseback ride adventures. Check out the latest prices and more details.
What's cool is that your tour guide will tell you all about Hawaii's cowboy history while taking you to one of the most beautiful places on Oahu. This is definitely one of the coolest Oahu family activities worth booking.
66. RIDE A TRAIN
If you are looking for super fun activities for kids on Oahu, you'll want to check out the Hawaiian Railway.
They offer weekend rides for families that go up and down the coast. And there's even an ice cream ride!
Plus, they are a non-profit that is dedicated to preserving Hawaii's railroad history.
67. WAIKIKI TROLLEY
If you're staying in Waikiki, a fun way to get around town is by hopping a ride on the open-air Waikiki Trolley.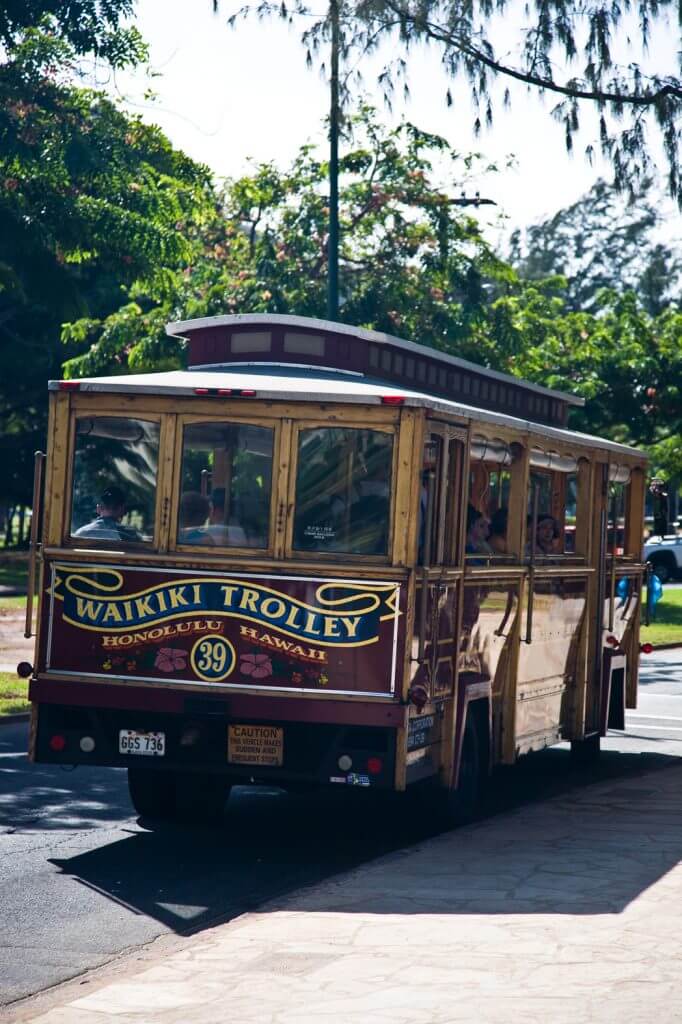 They offer a bunch of different routes all around the Waikiki/Honolulu area and kids will love being able to hop on and hop off.
You can use it like a tour bus (it hits a lot of Oahu attractions) or use it as transportation to pick up groceries, get to/from your hotel, etc. Read our full Waikiki Trolley review HERE.
68. TAKE A HIKE
If you're looking for free things to do on Oahu, it doesn't get much better than taking a hike.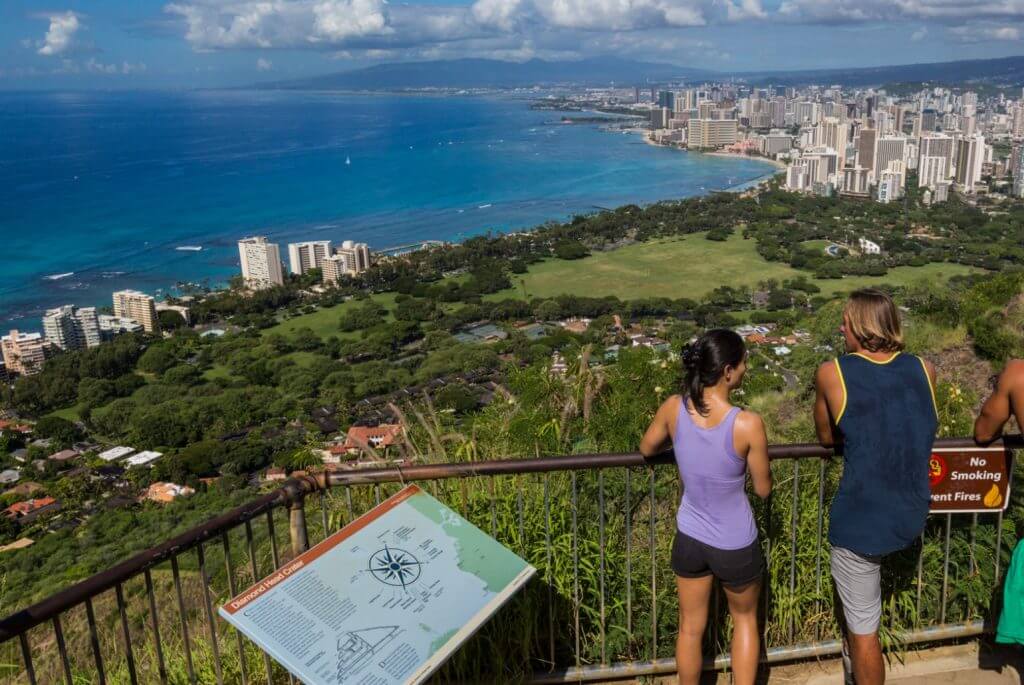 There are tons of easy Oahu hikes for kids or get a bit more adventurous with epic hikes on North Shore Oahu.
Just be sure to pack all the right hiking essentials to ensure a safe and healthy excursion.
69. ATV ADVENTURES
For families that don't mind getting a bit dirty, head to Kualoa Ranch for an ATV Raptor Tour where they filmed Jurassic Park!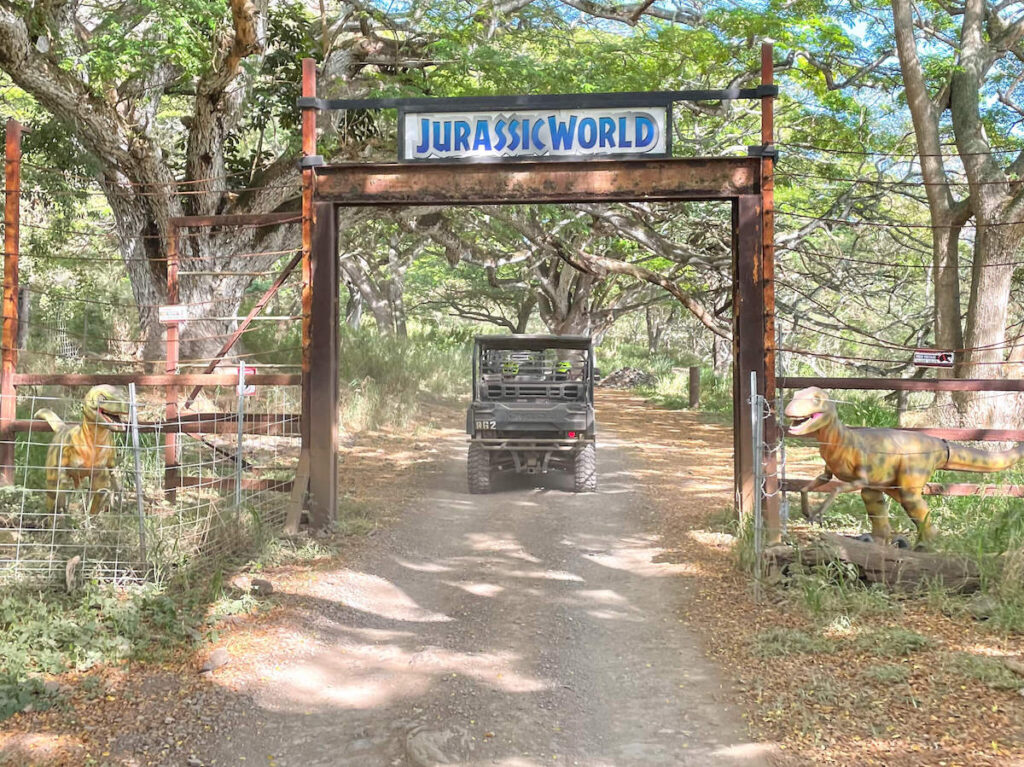 You'll be able to ride around the jungle, crash through streams, and plunge through the mud. Read my hontest Jurassic Park ATV tour review HERE.
Each ATV holds up to 6 people, so it's perfect for families who love adventure. Check out the latest prices and more details.
70. GO SNORKELING
There are tons of snorkeling beaches in Oahu Hawaii for all skill levels.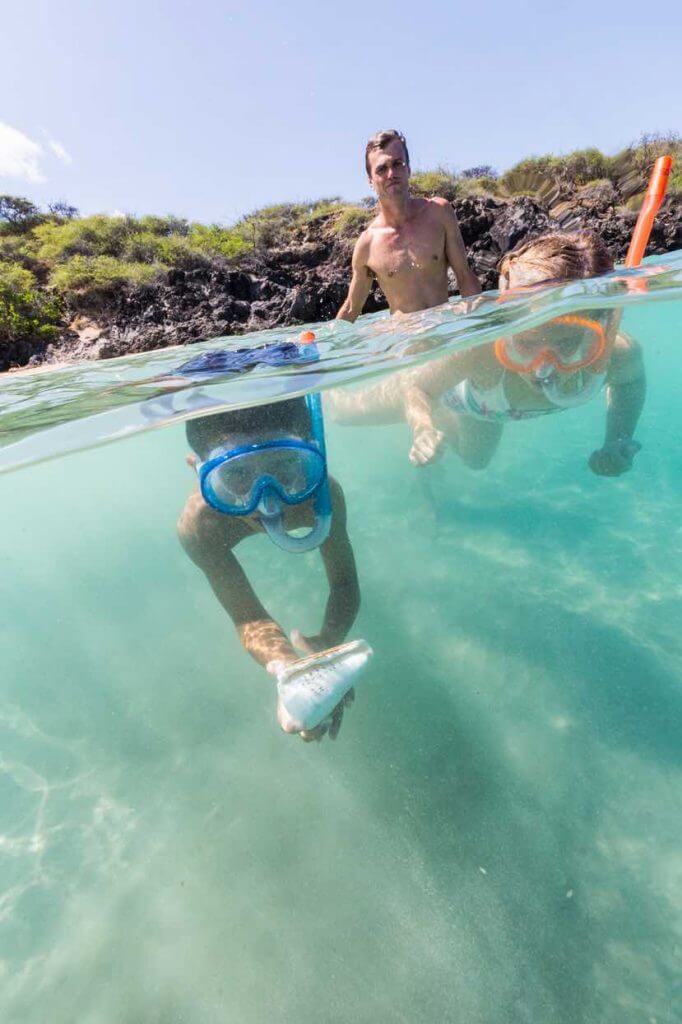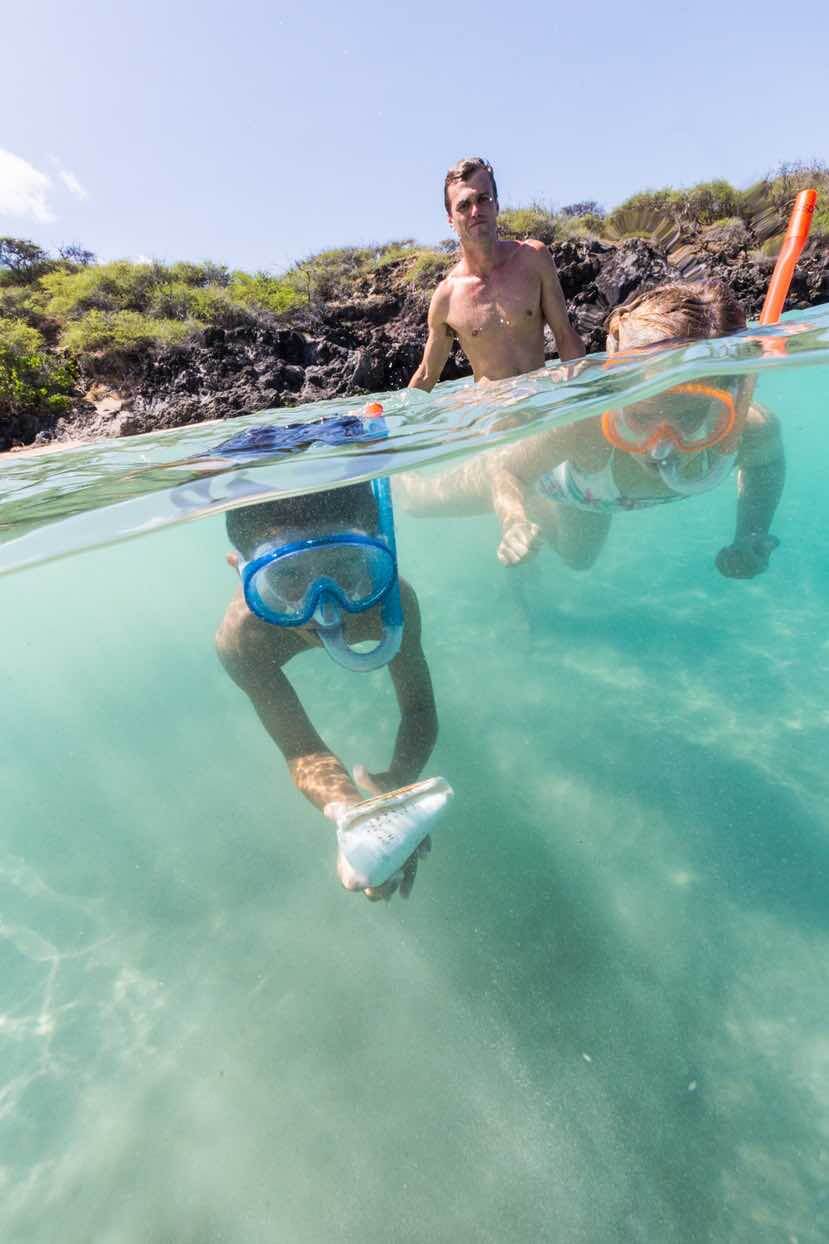 You can easily rent snorkel gear if you are just going for the day, or buy a snorkel set in Hawaii to save money.
When it comes to outdoor activities, snorkeling is one of the top things to do in Oahu.
Find out the best places to snorkel on Oahu
71. SURFING LESSONS FOR KIDS
One of the most famous places to learn to surf is the iconic Waikiki Beach.
That's because the waves are usually pretty gentle and the water is fairly shallow, making it perfect for teaching kids to surf.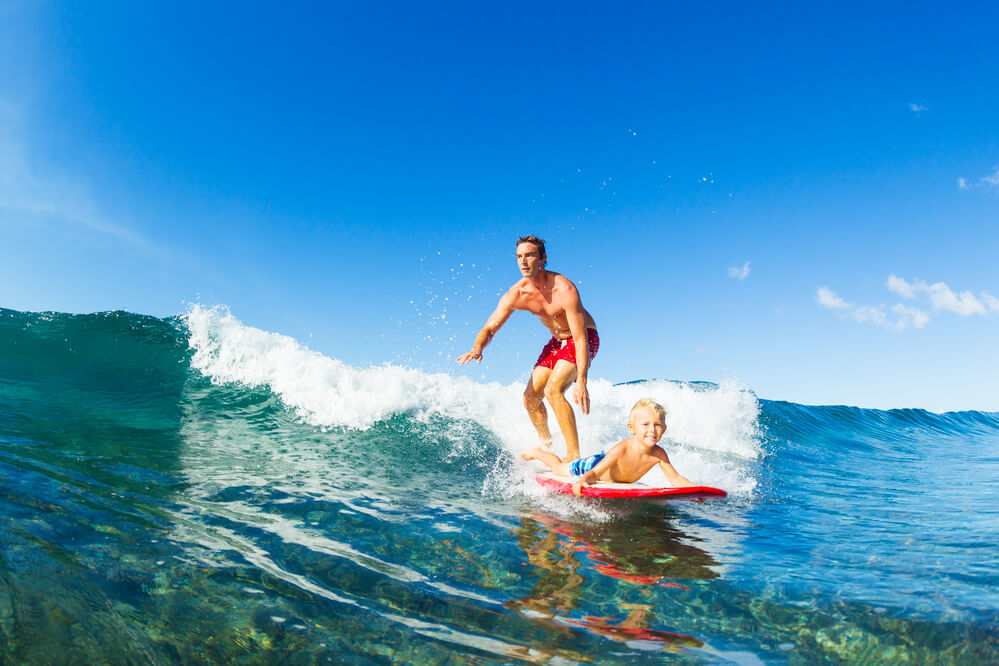 These Waikiki surfing lessons are available for kids as young as 5 years old and they are private so instructors can offer a lot of individual attention.
Learning to surf is one of the most fun things to do in Oahu and kids will love sharing the stories with their friends. Check out the latest prices and more details.
72. LEARN TO PLAY THE UKULELE
The quintessential Hawaiian musical instrument is the ukulele. It's now become one of the trendiest instruments to learn to play for both kids and adults.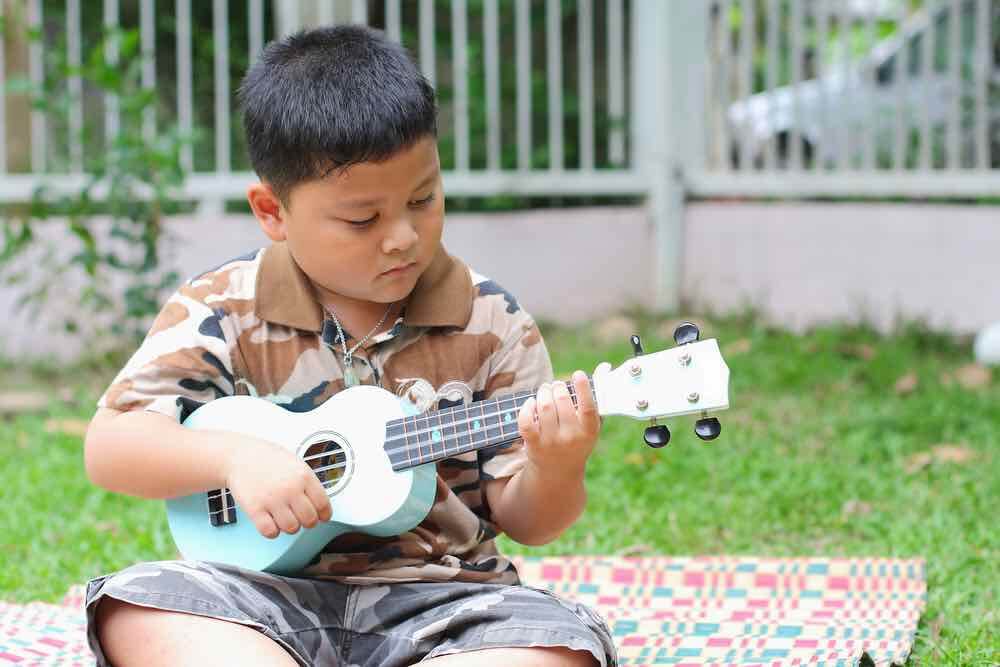 Why not spend a few hours of your vacation learning how to play?
There are lots of ukulele classes throughout Oahu (you can always check with music stores.)
Then, continue your classes online once you get home! It's a great way to learn how to play Hawaiian music.
Find out the best ukuleles for kids
73. HELICOPTER RIDE
One of the coolest things to do on Oahu is taking a helicopter ride over the island.
If you want to take video or photos, your best bet is to book an open-air helicopter ride (without doors) and you'll get the best view that way. But, that's only available for families with kids at least 8 years old.
Otherwise, kids of all ages can enjoy an Oahu helicopter ride to see waterfalls, mountains, and amazing scenery. Find the best prices here.
74. PLAY AT THE HAWAII CHILDREN'S DISCOVERY CENTER
If you need some Honolulu indoor activities during your trip, put Hawaii Children's Discovery Center at the top of your list!
This is a super fun indoor play space that's perfect for rainy days or when you need to get a break from the sun.
In fact, it's one of the top things to do with toddlers in Oahu!
75. GO ON A SUBMARINE RIDE
If you'd like to have an underwater experience without getting wet, book an Atlantis Submarine Tour in Waikiki.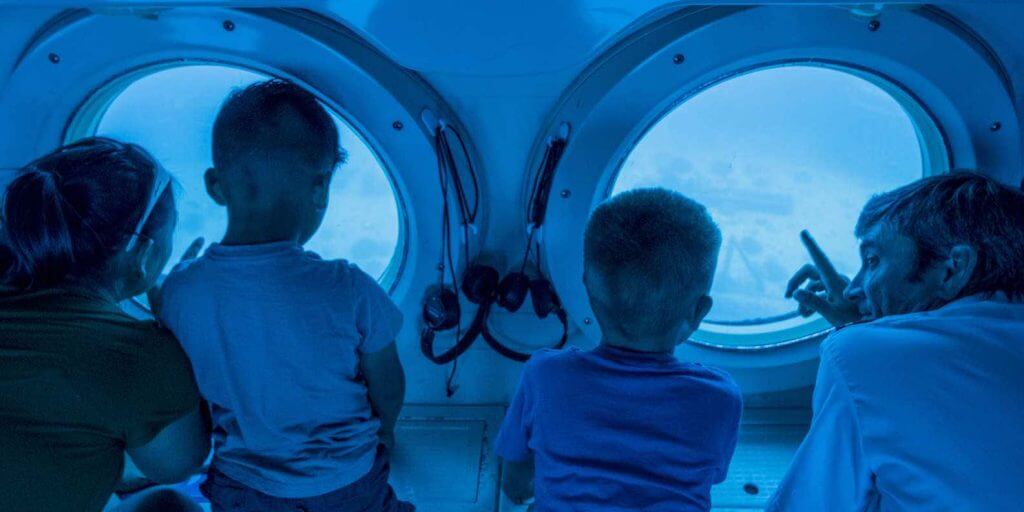 This is one of our favorite things to do in Oahu with toddlers because they can see all kinds of Hawaiian sea life. The divers will actually bring items right up to the window.
Plus, kids will love getting to go inside a real submarine! Check out the latest prices and more details.
76. TRY STAND UP PADDLING
Another one of the top activities in Oahu Hawaii is to try to Stand Up Paddling (aka SUP.)
You can rent boards and try it yourself, but I suggest joining a group tour. There's a family SUP experience in Waikiki that seems like a great choice for first-timers.
It's perfect for families who want to try something other than surfing. Find the best prices here.
77. OAHU MOVIE TOURS
One of the most popular movie and TV sites is Kualoa Ranch. It's where they filmed 50 First Dates, Lost, Hawaii Five-O, Magnum P-I, and so many more.
You can hop on a 1-hour Oahu movie tour through the property to see where the most iconic scenes were filmed.
This is one of the top things to do on Oahu for families who love movies. The whole tour takes place inside a bus, making it easy to do with kids of all ages. Check out the latest prices and more details.
78. MAKE A FLOWER LEI CROWN
If you scroll Instagram looking at cute Hawaii pictures (I know I'm not the only one), I'm sure you've seen people wearing Hawaiian flower lei crowns in their Insta-worthy photos.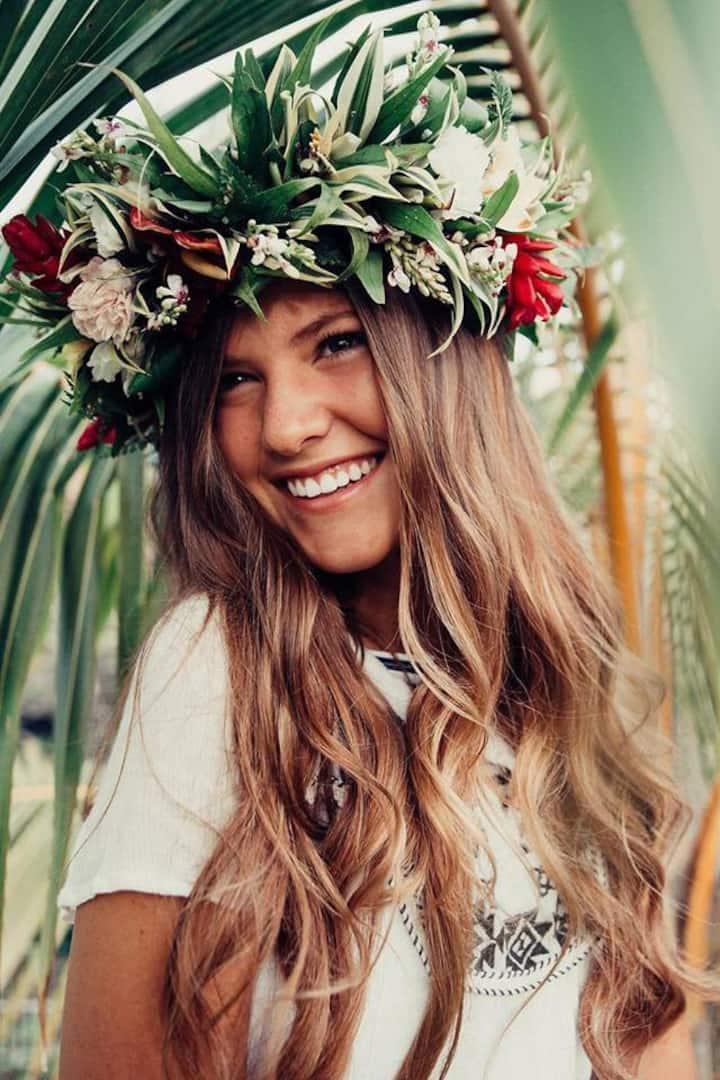 These are actually called haku leis (or sometimes lei po'o) and you'll frequently see them on hula dancers and musicians.
If you're heading to Oahu with teens, booking this experience will make you a rock star!
Basically, you'll learn how to make a flower crown and then get a professional photoshoot wearing the lei po'o. Read our full review HERE.
79. DO AN OAHU FAMILY PHOTO SHOOT
One of my favorite travel souvenirs is booking a professional photoshoot with my family. It takes the pressure off for getting cute family photos during the rest of our vacation. Check out the latest prices and more details.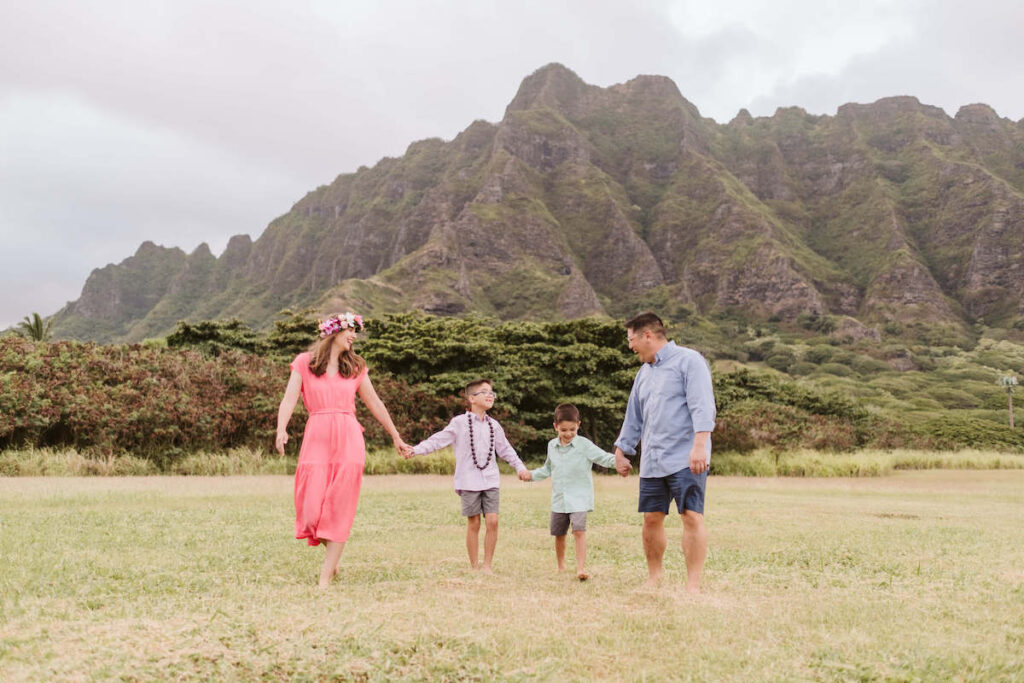 A fun way to get the kids extra excited is to end your shoot by giving them a treat like an ice cream cone or Hawaiian shave ice! Those usually make for some of our best photos! This is one of the best things to do in Oahu with family. Check out our photos HERE.
We love using Flytographer because it's so easy to book. Plus, you can save $25 if you use my link!
80. GO FISHING
If you're looking for less touristy things to do in North Shore Oahu, you should try fishing!
There's a shoreline fishing option, so you don't even need to get on a boat. Plus, they bring all the stuff so you literally just show up and fish.
And it's catch and release, which makes it even easier with kids. Check out the latest prices and more details.
81. GO MERMAID SNORKELING
Ok, so one of the most unique things to do in Oahu with kids is going mermaid snorkeling.
It's a small group tour where everyone wears mermaid tails and heads for a memorable snorkeling experience.
The tour guides will even take photos of you and your kids as you spend a few hours pretending to be mermaids!
82. SWIM WITH DOLPHINS
If your family is serious about swimming with dolphins on Oahu, one of the best places to go is Dolphin Quest at the Kahala Resort.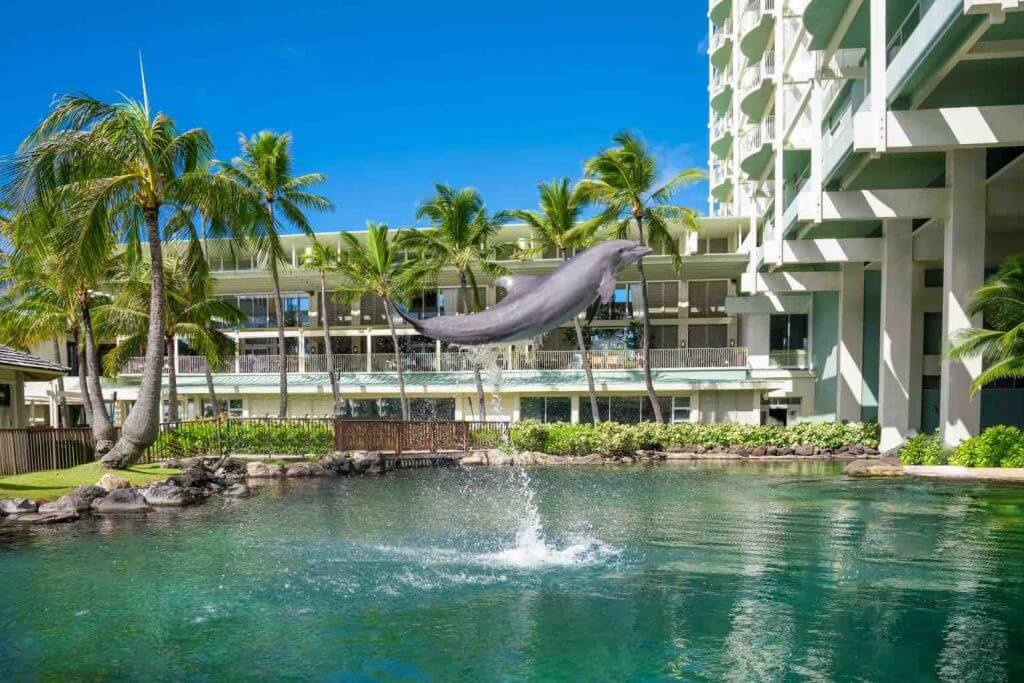 They offer tons of specialized programs where kids of all ages can swim with dolphins in Oahu, near Waikiki. Find the best prices here.
They even have a family swim option where everyone can do it together! Read my full Dolphin Quest review HERE.
83. GO ZIPLINING
Kids as young as 7 years old can try ziplining on Oahu from one of Oahu's longest zip lines.
This tour kicks off with an ATV ride up the mountain before you'll head out on some super high (and super quiet) zip lines.
The views are incredible and it's one of the top family things to do on Oahu because of the adrenaline rush! Find the best prices here.
84. TAKE AN OAHU PHOTOGRAPHY TOUR
If you are interested in learning more about photography, Oahu makes an exciting backdrop. There are several different Oahu photo tours you can choose from.
What's cool about them is that a local guide will take you to places you may or may not visit on your own. And, they will also show you where to stand and how to frame awesome photos.
This is a great activity to do with your kids because younger kids can pose and older kids can learn right alongside you.
85. DIVE WITH SHARKS
Now, I know this sounds scary, but families just rave about this shark diving experience in North Shore Oahu.
You'll be safely secured inside a cage as you plunge into the Pacific Ocean to get an up-close view of sharks.
Plus, there's a good chance you'll see dolphins, Hawaiian Green Sea Turtles, and whales (in the winter.) Check out the latest prices and more details.
86. SEE HUMPBACK WHALES
If you are heading to Oahu in winter, you have an incredible opportunity to see whales in Hawaii.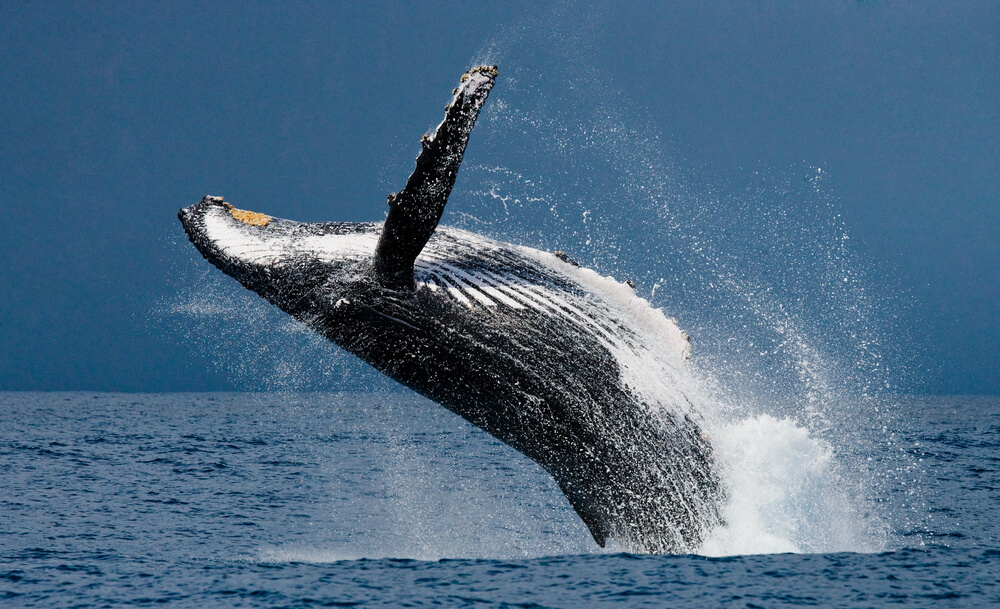 While the best places to see humpback whales are Maui or Kauai, there are still great options on Oahu.
You can take a whale-watching boat tour where your family can learn about whale migration as you keep your eyes out for these beautiful mammals. Check out the latest prices and more details.
Free Things to Do on Oahu with Kids
87. SEE AN OAHU SUNRISE
There are no shortages of special spots to see a gorgeous Oahu sunrise, but one of the easiest places is actually right at Waikiki Beach.
Just be sure to look East (toward Diamond Head) in order to get the full experience.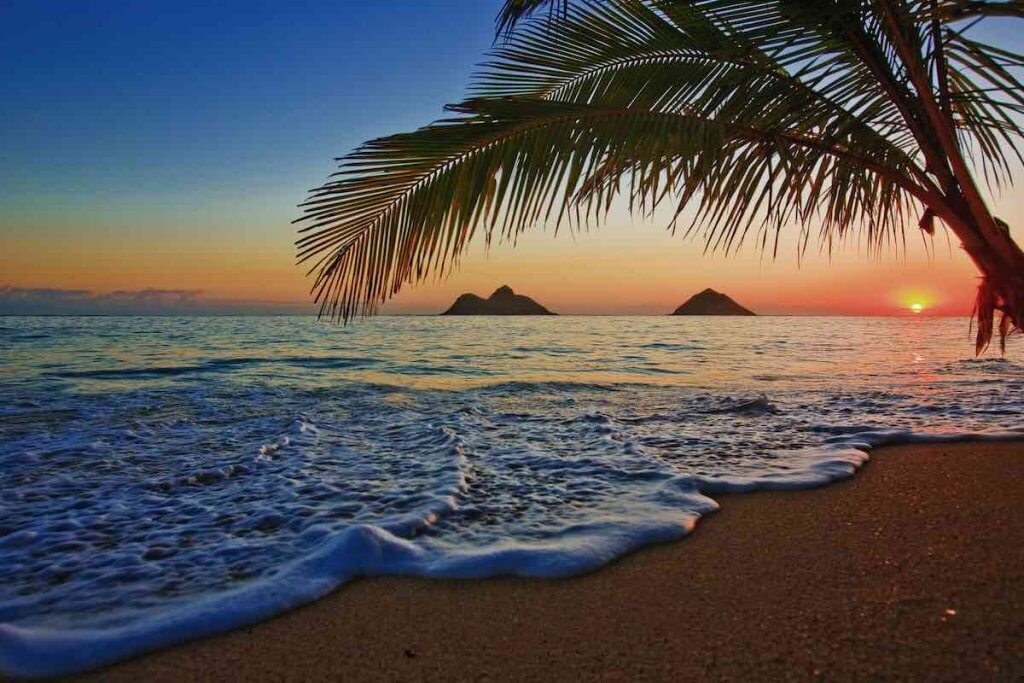 Another gorgeous Oahu sunrise spot is Lanikai Beach. It's actually one of the top spots for family photography, too.
If you want a bit more adventure, try hiking at Lanikai Pill Boxes for a really beautiful view of sunrise on Oahu.
88. SEE AN OAHU SUNSET
On the flip side, there are also some stunning places to see an Oahu sunset.
Sunset Beach in North Shore Oahu is a famous place to see the sunset on Oahu. Bring up your own food for dinner with a gorgeous view.
Of course, you can still see the sunset from Waikiki Beach and it's especially fun to see from a beach bar with a cocktail in hand!
89. EXPLORE HALEIWA TOWN
If you want to see what a real surf town in Hawaii looks like, head up to Haleiwa in North Shore Oahu.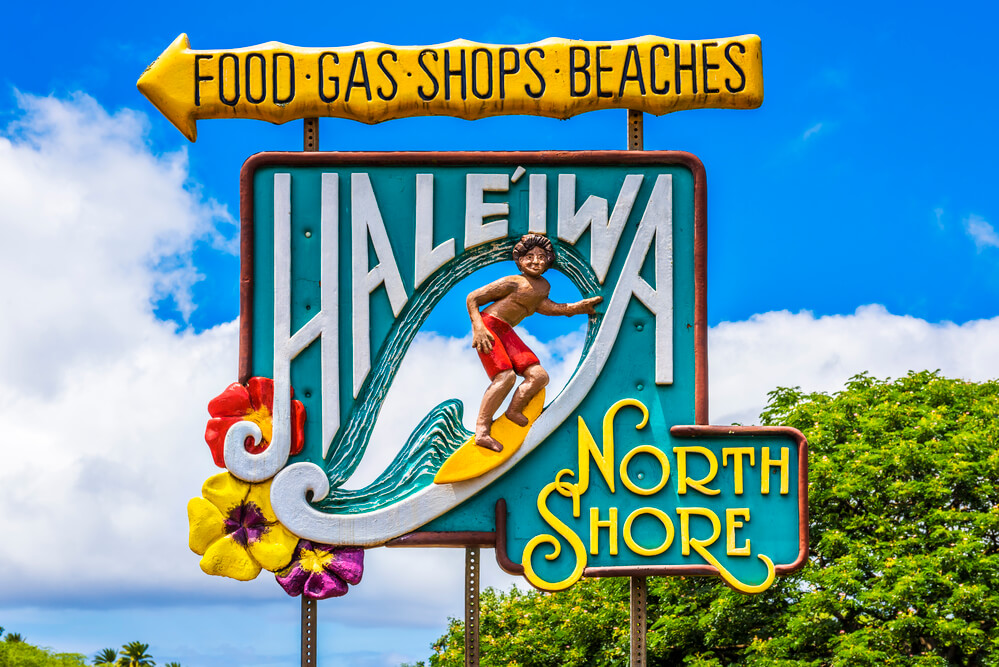 After you snap a photo with the iconic Haleiwa sign, park your car and walk around town.
You can browse cute surf shops and boutiques, as well as some pretty cool art galleries.
Then, head to one of the many world-famous surfing beaches.
Read my full post about things to do in Haleiwa
90. FREE SAMPLES AT HONOLULU COOKIE COMPANY
My family goes nuts for the pineapple-shaped cookies in Hawaii. We always buy boxes of them to bring home for souvenirs.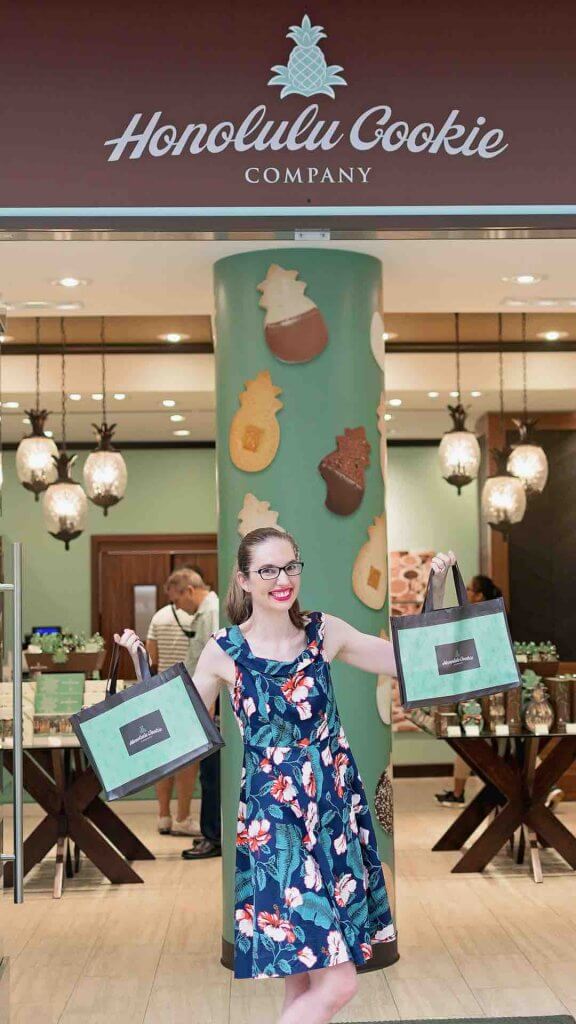 But, they also offer a ton of free samples!
My kids love trying new flavors in order to come up with the perfect gift box to bring home for friends and family.
Plus, it's usually the perfect treat to keep their energy up as we walk around Waikiki!
Read my full post about the Honolulu Cookie Company
91. FIREWORKS SHOW AT THE HILTON
Every Friday night, the Hilton Hawaiian Village in Waikiki does a spectacular firework show that you can see from many places in Waikiki.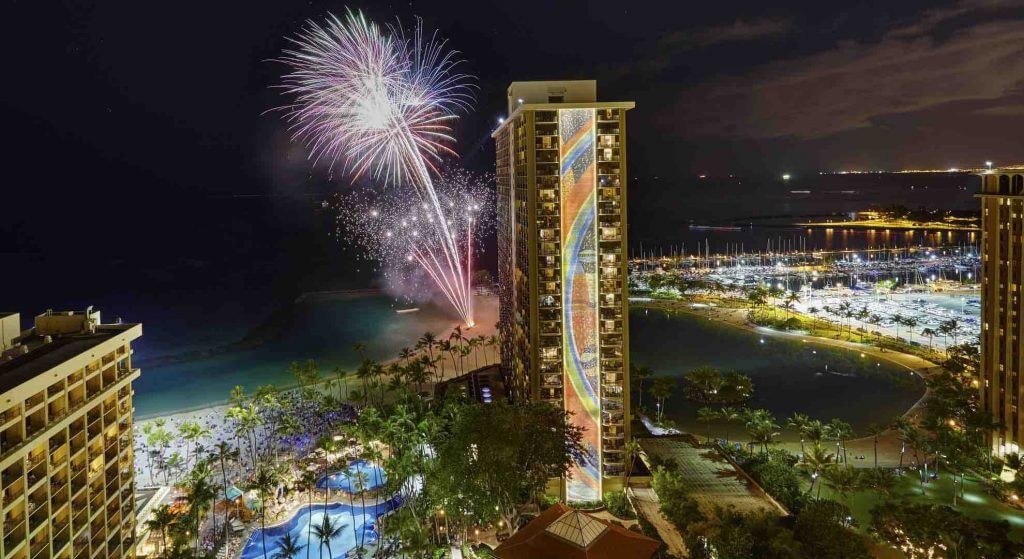 You can easily bring a beach blanket and find a nice spot near the Hilton to sit back and enjoy the show with your family.
Or, you can always head to the hotel and grab a drink for the best seat in the house!
92. GO CLIFF DIVING
I added Oahu cliff diving to my list specifically for adventurous families with teenagers looking for a thrilling experience.
There are tons of cliff jumping places on Oahu for those brave enough to try it.
The most popular places include Halona Blowhole, Laie Point, and Leap of Faith.
93. VISIT A STATE PARK
Oahu has several state parks that are worth checking out. Many offer incredible hiking trails, fantastic beaches, and some are even perfect for camping in Hawaii.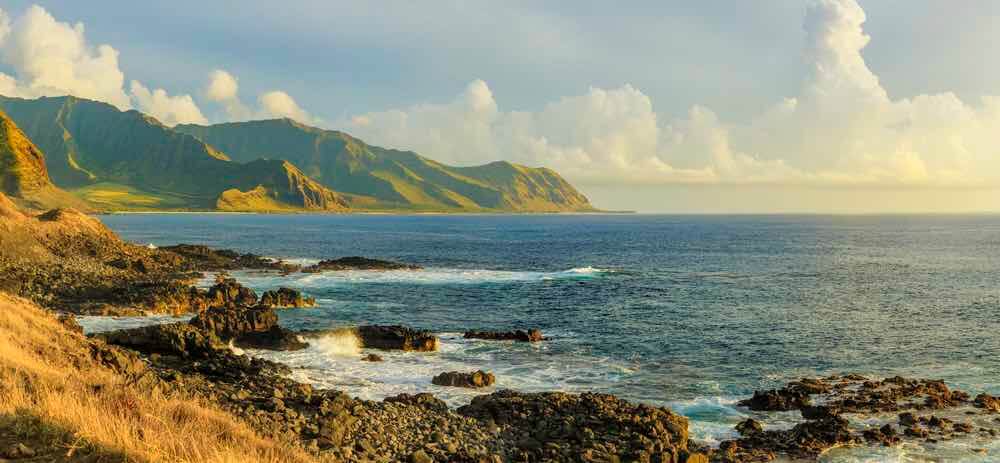 And most of them are also historic sites, so it's great for families who are world schooling or want to add in a bit of education to their vacation.
94. FREE HULA SHOWS
One of my favorite free things to do in Oahu is going to a hula show. Most of them include lots of kids in their performances, which is something you usually don't see in luaus.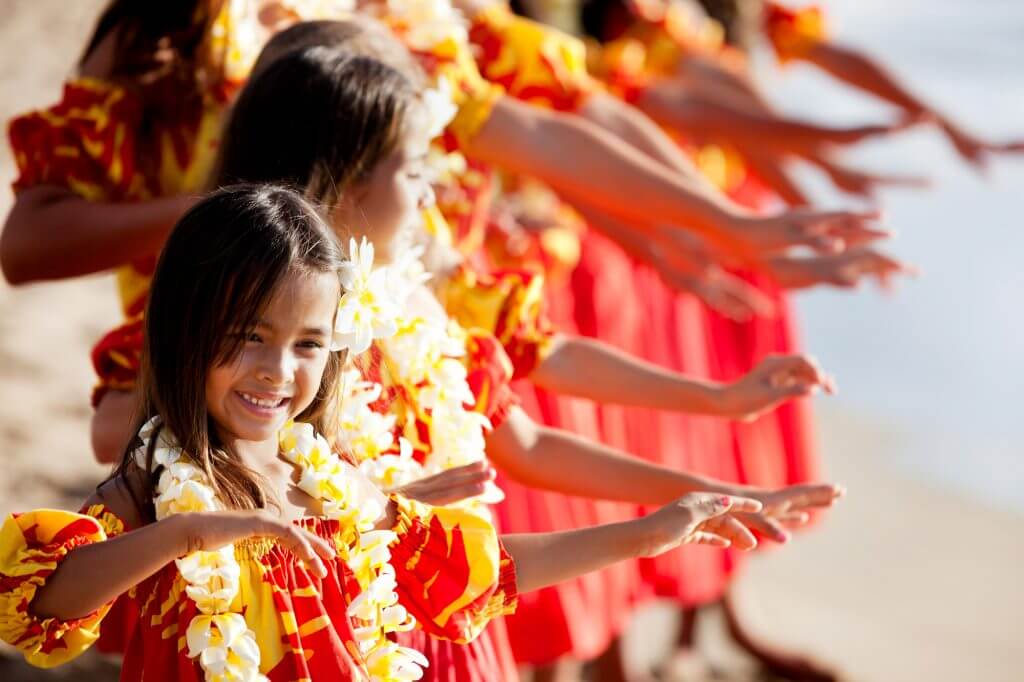 You can find lots of free hula shows in Waikiki or at shopping malls like Ala Moana Center.
Plus, they often invite kids to come up and learn how to hula dance!
95. GO TO A PLAYGROUND
If you're heading to Oahu with toddlers or preschoolers, you might be interested to know that there are lots of playgrounds on Oahu.
I will warn you, sometimes the play equipment at parks can get quite hot in the sun, so it's great to go early in the morning or in the evening.
A few local favorites include Paki Playground (which has lots of shade), Kalakaua Recreation Center Playground, and Petrie Community Park. These are fun Oahu activities for families.
96. LOOK AT ART GALLERIES
Depending on the ages of your kids, they might really enjoy seeing work by local Hawaiian artists.
There are tons of Oahu art galleries to choose from all over the island covering many different artistic styles.
Some of the ones that kids might find interesting include Sunshine Arts, Tabora Gallery, and the Arts at Marks Garage.
97. OAHU FARMERS MARKET
If you want to learn more about Hawaiian fruit, vegetables, and agriculture, head to one of the many Oahu Farmers Markets.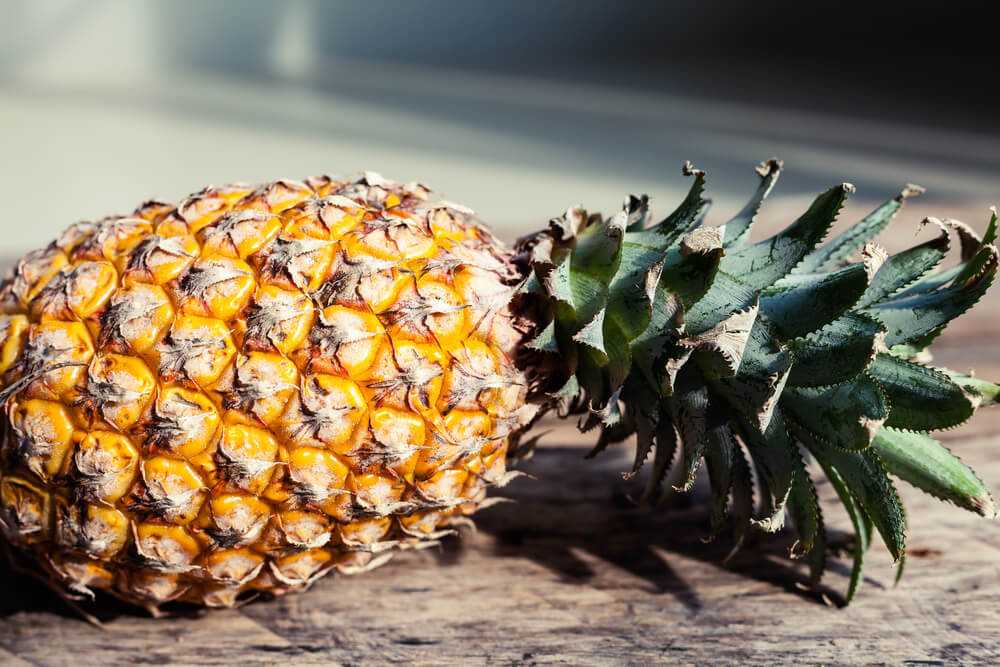 You can see the array of foods grown in Hawaii and can even sample some of them for free.
Of course, it's a little more fun if you spend a few dollars to support the farmers! Try giving your kids some money to buy their own Hawaiian fruit.
Then, you can slice it up and see which ones you like best.
98. VISIT AN ANCIENT HAWAIIAN HEIAU
There are a lot of sacred places in Hawaii that many people drive right past because they don't know about them.
Many of these are Hawaiian heiau, which were built by Hawaiians many years ago. Some honor Hawaiian gods and goddesses and others have historical significance.
Today, they are mostly ruins but they are still pretty fascinating. You'll even see offerings (usually tied with ti leaves) at some of them.
And there are usually plaques that say what used to happen at the sites. Definitely cool for kids fascinated by ancient cultures and ways of life.
99. EXPLORE TIDEPOOLS
If you need to figure out what to do with kids in Oahu who don't really like swimming, you might opt to check out some of the tidepools on Oahu.
There are lots of beaches with shallow water so kids can wade in and look for Hawaiian sea life (like crabs or small fish) or collect shells.
Baby Makapu'u is a popular Oahu tide pool for families. Plus, you can see Makapu'u Lighthouse and a few little islands.
There's also a little spot near Shark's Cove with a bunch of lava rock that creates some cool tide pools for kids. It's especially fun in the summer when North Shore waves are calm.
Get my top beach essentials for babies!
100. CHECK OUT STREET ART IN KAKA'AKO
A lot of people don't realize that Kaka'ako is a trendy neighborhood known for its epic street art in Hawaii.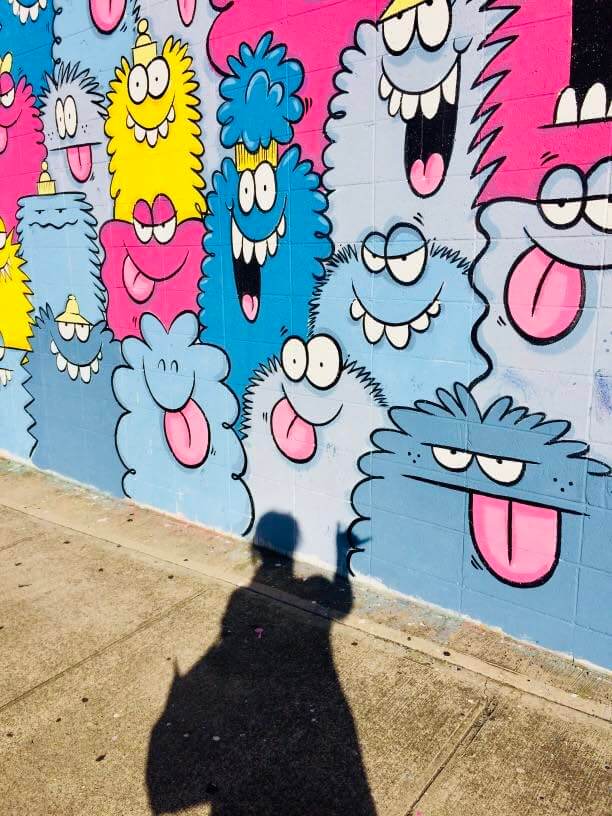 Here, you'll find incredible murals and some of the most Insta-worthy spots on Oahu.
You can turn it into a photo contest to see which family member can get the cutest photos. Or let older kids explore on their own to see who can find the coolest mural.
You can totally see Kaka'ako street art on your own (which is totally free) or you can book a tour that will take you to all the best spots. Check out the latest prices and more details.
101. LOOK FOR RAINBOWS
The rainbows in Hawaii are like nowhere else in the world. You can often see double rainbows and sometimes even TRIPLE rainbows!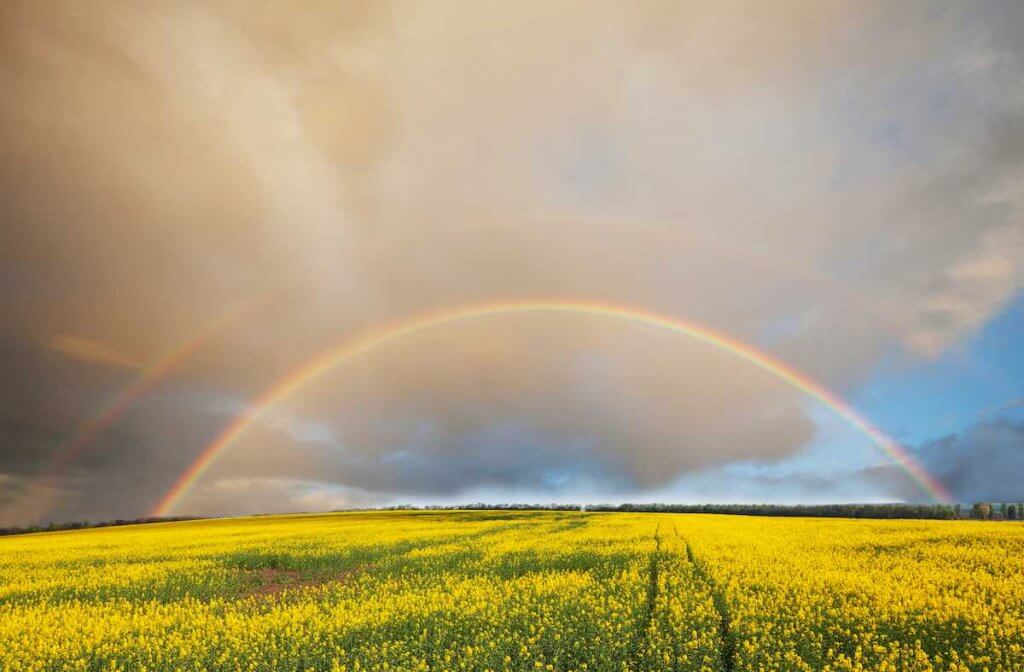 You're almost guaranteed to see at least one rainbow during your trip to Oahu with kids, and you might even see one every day!
We like to turn it into a contest to see who can be the first to spot a rainbow each day.
Where to Stay on Oahu with Kids
If I've convinced you that Oahu is the best Hawaiian island to visit with kids, you're probably wondering where to stay.
These are my top picks for kid-friendly Oahu resorts:
If you are a Disney family, you'll definitely want to stay at least a few nights at Aulani Resort in Ko Olina.
Here, you can hang out with Mickey and Friends, have a character breakfast, see a luau, play at their water park, and take advantage of their free kids club! Check out the latest prices and more details.
If you're looking for a nice North Shore Oahu hotel, head to Turtle Bay Resort. You'll recognize it as the setting for Forgetting Sarah Marshall.
In Summer 2021 they renovated the resort and added lots of kid-friendly amenities and activities. Check out the latest prices and more details.
The Hilton Hawaiian Village is definitely one of the most popular kid-friendly resorts in Waikiki. Read my full Hilton Hawaiian Village review.
They have tons of amazing pools and even a private lagoon for water activities. Plus classes (like lei making and hula dancing). Check out the latest prices and more details.