Heading to Oahu and want to learn more about Hawaiian history while visiting the only royal palace in the United States? Scroll to get all the tips in this ultimate guide to Iolani Palace in Honolulu Hawaii.
This guide to Iolani Palace in Honolulu Hawaii contains affiliate links which means if you purchase something from one of my affiliate links, I may earn a small commission that goes back into maintaining this blog.
Did you know that Hawaii is the only state with a royal palace?
If you're looking for something fun and educational to do on your vacation, look no further than Iolani Palace.
This beautiful palace was home to Hawaiian royalty and is full of interesting history and culture. You can learn all about it on a guided tour!
Not only will you have a blast learning about Hawaiian history, but you'll also get to see some amazing architecture. Iolani Palace is one of the most beautiful buildings in Honolulu and is definitely worth a visit.
Keep scrolling to find out more about Iolani Palace and how you can visit it on your next trip to Hawaii!
Don't have time to read a bunch of Hawaii blog posts and reviews? Here are some of our top picks for visiting Oahu.
Popular Oahu Tours/Activities
Favorite Oahu Resorts/Hotels
Want to Rent a Car in Hawaii?
One of the best places to rent a car in Hawaii is Discount Hawaii Car Rental because they get the best rates from top national companies like Alamo, Dollar, Thrifty, Avis, Enterprise, Budget, and Payless.
Want to skip all the planning and just access my detailed Oahu Itinerary complete with daily schedules, kid-friendly activities, and travel hacks? Click the button below.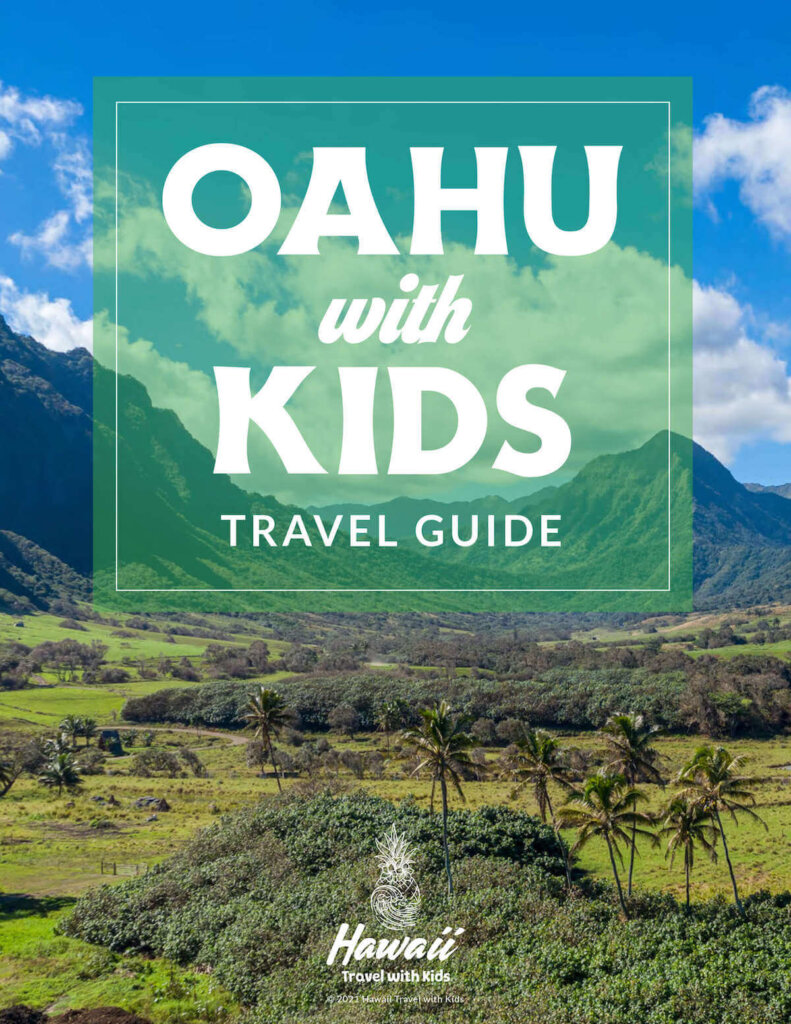 Hawaii Royalty FAQ
Who were the most prominent members of the Hawaiian royal family?
While there were lots of chiefs on each Hawaiian island and many people know about King Kamehameha I-V, the most recent prominent members of the royal family in Hawaii include King Kalakaua, Queen Kapiolani, Queen Liliuokalani, and Princess Kaiulani.
Does Hawaii still have a royal family?
It depends on who you talk to. There are descendants of the monarchy who are alive today, and some people refer to them as princes or princesses. That's to show respect for their status as a descendant of Hawaiian chiefs. And Abigail Kinoiki Kekaulike Kawananakoa is Hawaii's last living princess. But things get a little muddled because Hawaii is part of the United States, which is a democracy, not a monarchy.
What happened to the royalty of Hawaii?
On January 17, 1893, a group of 13 Caucasian businessmen and lawyers staged a coup against Queen Liliuokalani and the Hawaiian government. The queen was imprisoned inside Iolani Palace for 8 months before moving to house arrest at her home in Washington Square. She reached out to the U.S. presidents and Congress to appeal the annexation, but those efforts didn't go anywhere. She ended up setting up a trust to support Hawaiian children and impoverished families.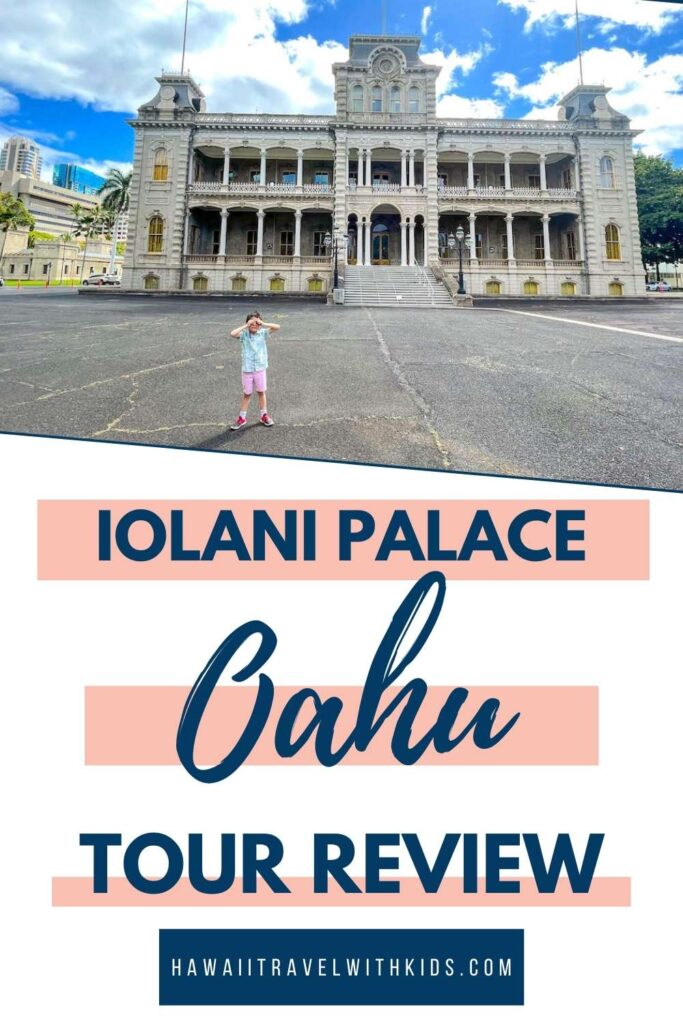 History of Iolani Palace and Hawaiian Royalty
Who Lived in Iolani Palace?
King David Kalakaua was inspired by European royalty and decided to build a royal palace of Hawaii. The construction of this Hawaiian palace was finished in 1882.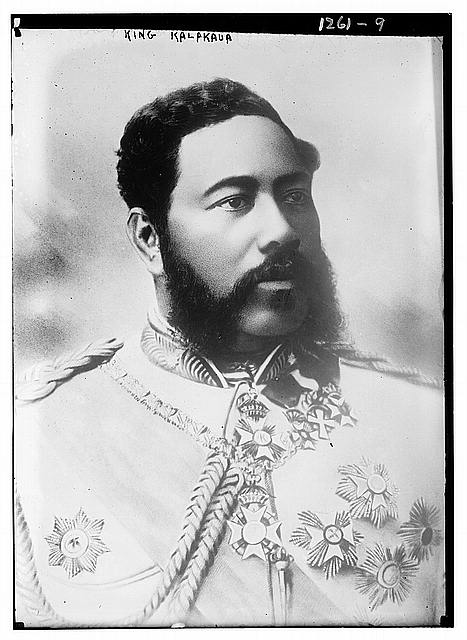 King Kalakaua lived there with his wife Queen Kapiolani as well as his sister (and successor) Queen Liliuokalani.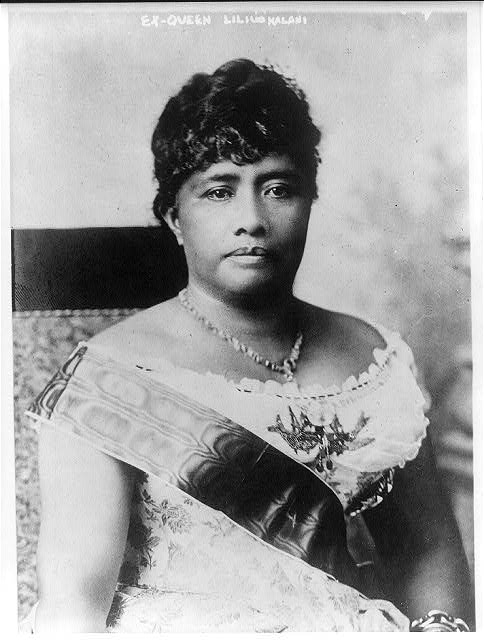 After King Kalakaua's death, his sister took the throne for a few years before the U.S. government overthrew the Hawaiian government. She was later imprisoned inside the palace. That's a painful part of the Iolani Palace history.
Once the U.S. annexed Hawaii, most of the items inside the palace were sold at auction and the palace itself became a government building.
In the 1970s, steps were made to restore Iolani Palace to its former grandeur and give people a place to learn about the Hawaiian monarchy.
What Does the Word Iolani Mean?
The Hawaiian name "Iolani" translates to "Royal Hawk." It's also part of the full name of King Kamehameha IV. King Kalakaua named the palace after King Kamehameha IV.
Why is Iolani Palace Important?
Most Americans never learned about Hawaiian history in school. That's a shame because they don't understand that Americans overthrew the Hawaiian monarchy and forcefully annexed the islands.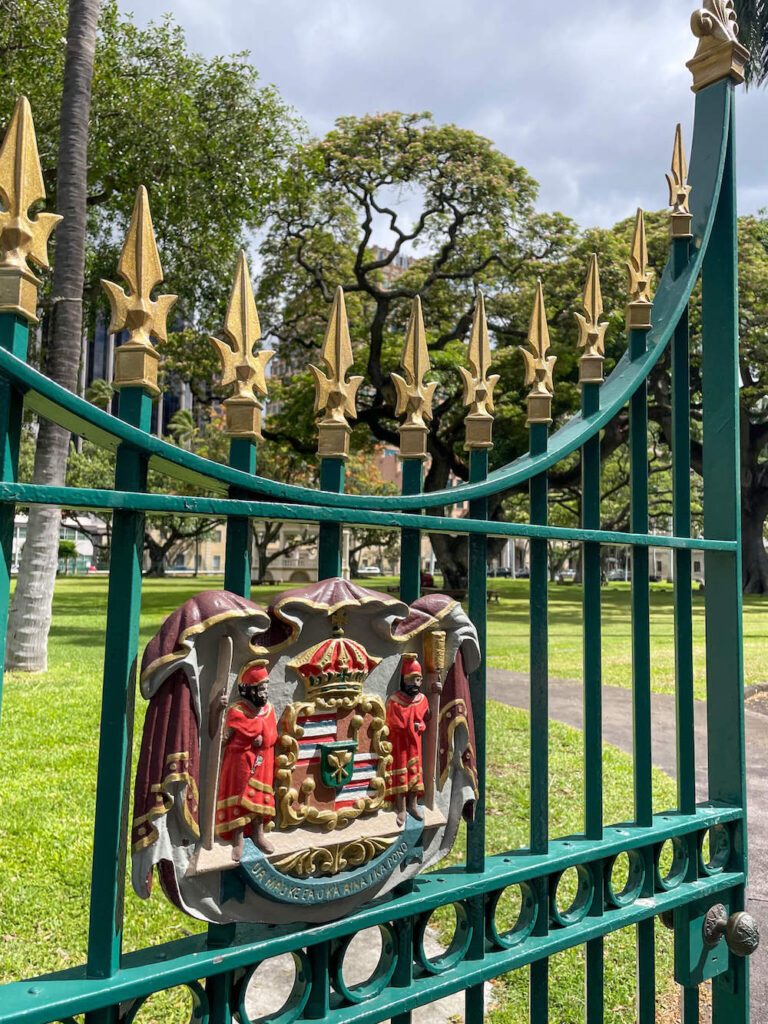 The Hawaiian monarchs traveled the world meeting with leaders and inventors. Iolani Palace even had electricity years before the White House. It was actually the first royal palace in the world to have electricity.
Hearing the stories of what happened and walking through the same halls as the Kings and Queens of Hawaii puts history in perspective.
Iolani Palace Tours
If you want to get inside Iolani Palace, you'll need to book a tour. They actually have several tour options available.
The cheapest Iolani Palace tickets are for the self-guided audio tour. The rates are $25 for adults (18+), $20 for teens (13-17), $10 for kids (5-12), and kids 4 and younger are free.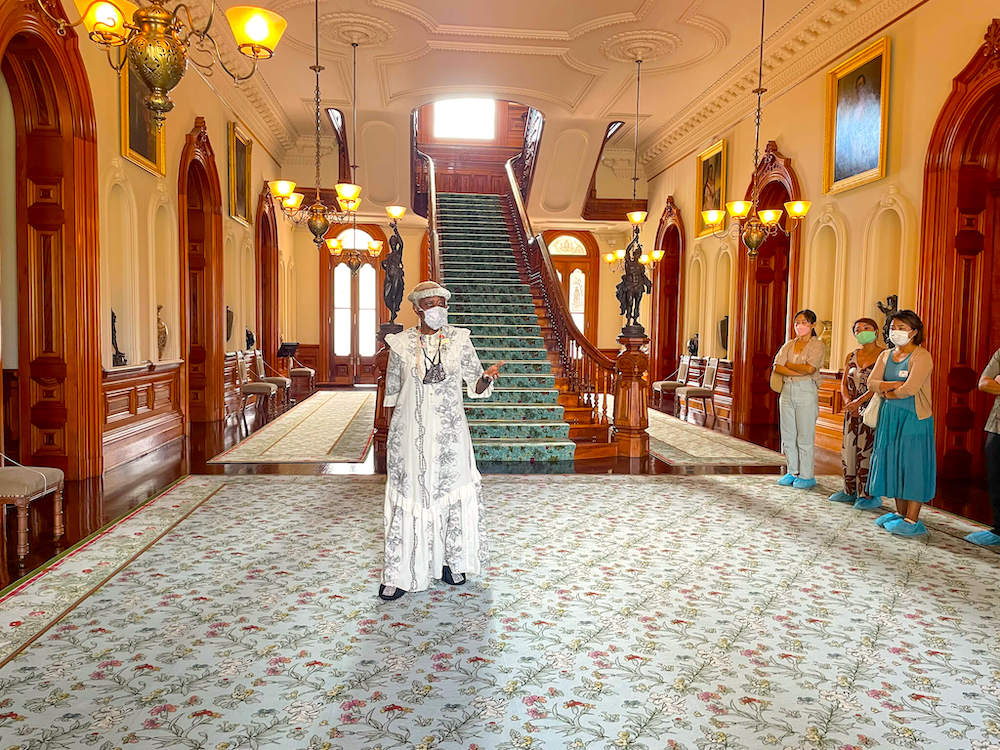 However, I highly recommend spending a few extra dollars to upgrade to the docent-led tour. It's much more engaging than an audio tour and you can ask questions.
The rates for the Iolani Palace docent-led tour are $30 for adults (18+), $27 for teens (13-17), $12 for kids (5-12), and kids 4 and younger are free.
They also have an array of specialty/private tours. These are great for returning guests who want to go a bit deeper into Hawaiian history and culture.
No matter which you pick, you'll need to make Iolani Palace tour reservations ahead of time.
What to Know Before You Visit Iolani Palace on Oahu
WHEN IS IOLANI PALACE OPEN?
The Iolani Palace hours can vary throughout the year. They are closed Sundays, Mondays, and holidays. They are usually open Tuesdays-Saturdays.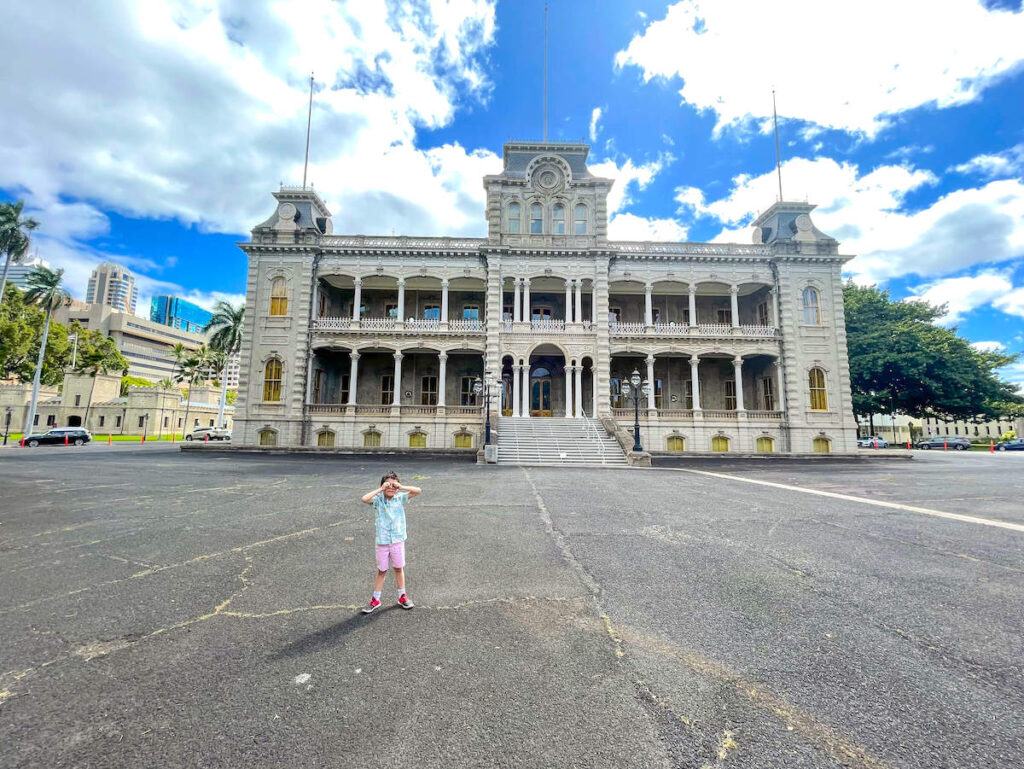 They offer tours at specific times on certain days of the week. Check this schedule for up-to-date information.
IOLANI PALACE PARKING
I'm not going to sugarcoat it, the parking around the palace SUCKS. You really need 2 hours of parking and most of the metered street parking is either 1-hour maximum or there are no parking signs.
There is limited metered parking on the palace grounds, but those tend to get snapped up quickly.
I recommend leaving an extra 15 minutes early from your previous destination so you have time to find parking. And you'll need quarters to pay for the meters.
IOLANI PALACE ADMISSIONS
You will need to purchase your Iolani Palace tickets ahead of time. They no longer accept walk-up guests. Check Iolani Palace Tour Times.
WHAT TO WEAR
Because this is a historical place in Hawaii where kings and queens used to live, it's important that you dress respectfully.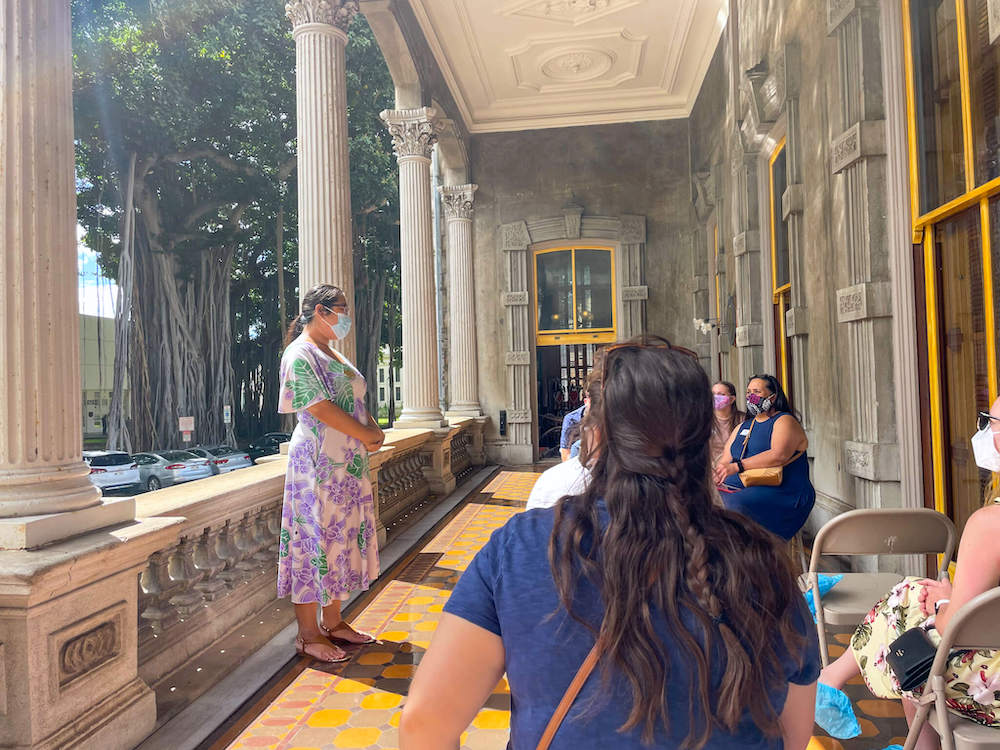 That means you shouldn't show up in your beachwear. And you'll need proper shoes/sandals.
I suggest wearing your luau clothes for the tour. That's what we usually do and it shows respect as well as gets you in the spirit of celebrating Hawaiian history and culture.
WHAT NOT TO BRING
You cannot bring large bags or backpacks. They do have lockers available if you need to store something. I'd suggest using the lockers over keeping bags in your car.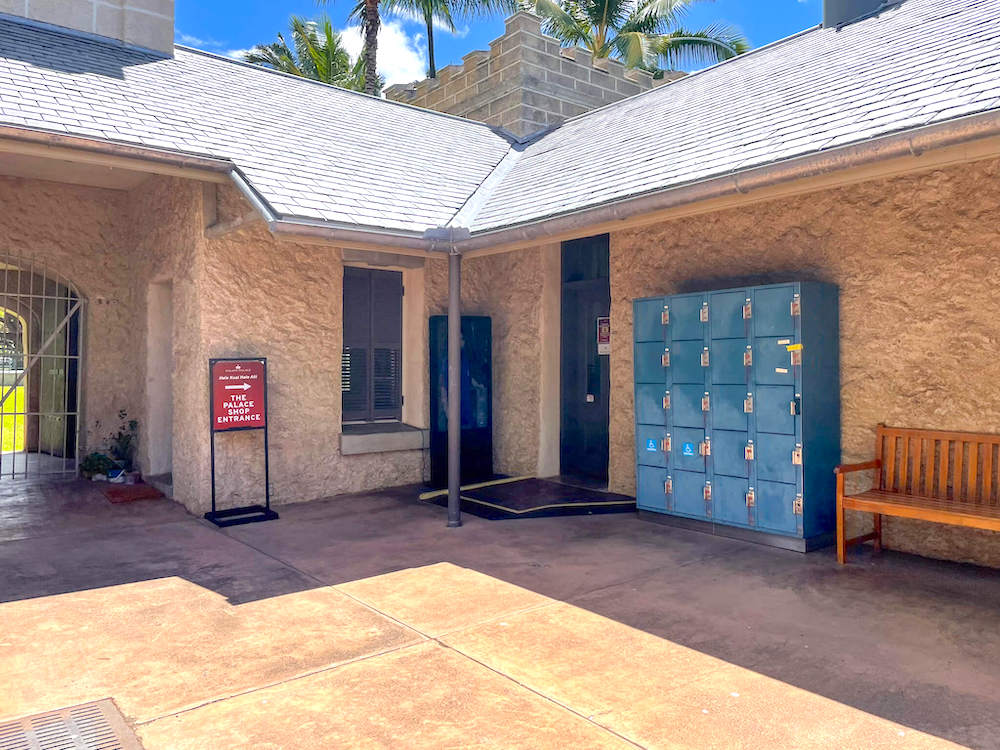 It's right by the check-in area as well as the gift shop, so it makes an easy first and last stop.
What is the Iolani Palace Tour Like?
I always recommend that people do a docent-led tour of Iolani Palace. I've done the audio tours in the past and it's just not the same.
Check In
Your first stop will be the Barracks, which is located to the left of the palace. Follow the signs and you'll let them know that you have reservations for a tour.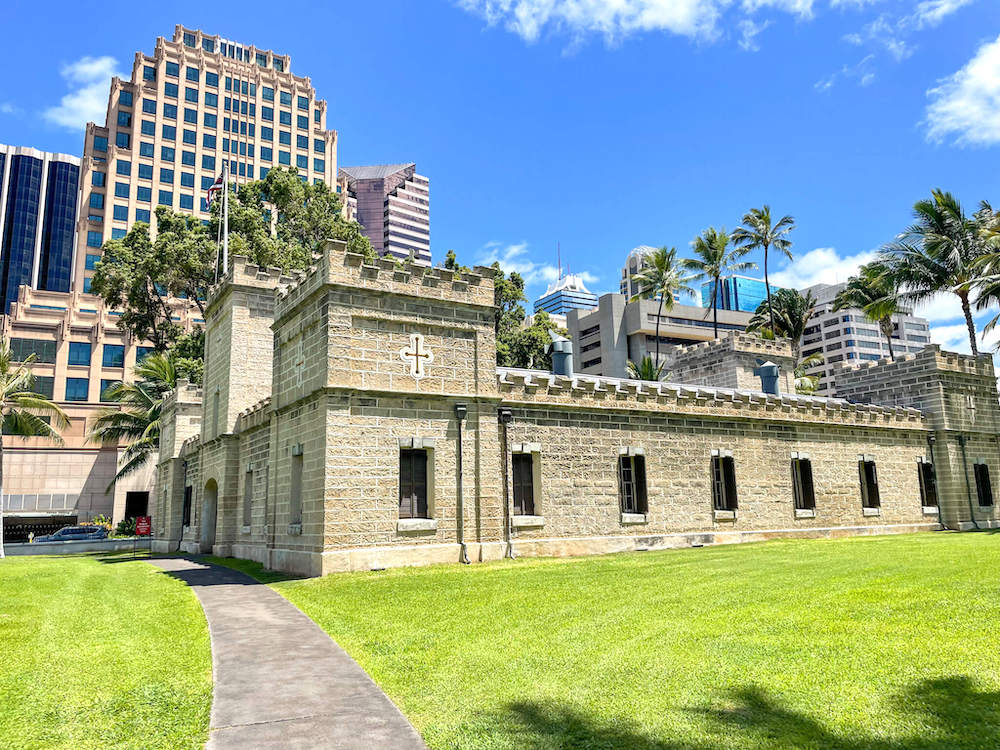 If you have a large bag or backpack, you can take advantage of their lockers right behind the check-in area.
Next, you'll head over to the "Tour Starts Here" sign and wait for them to let you up to the balcony.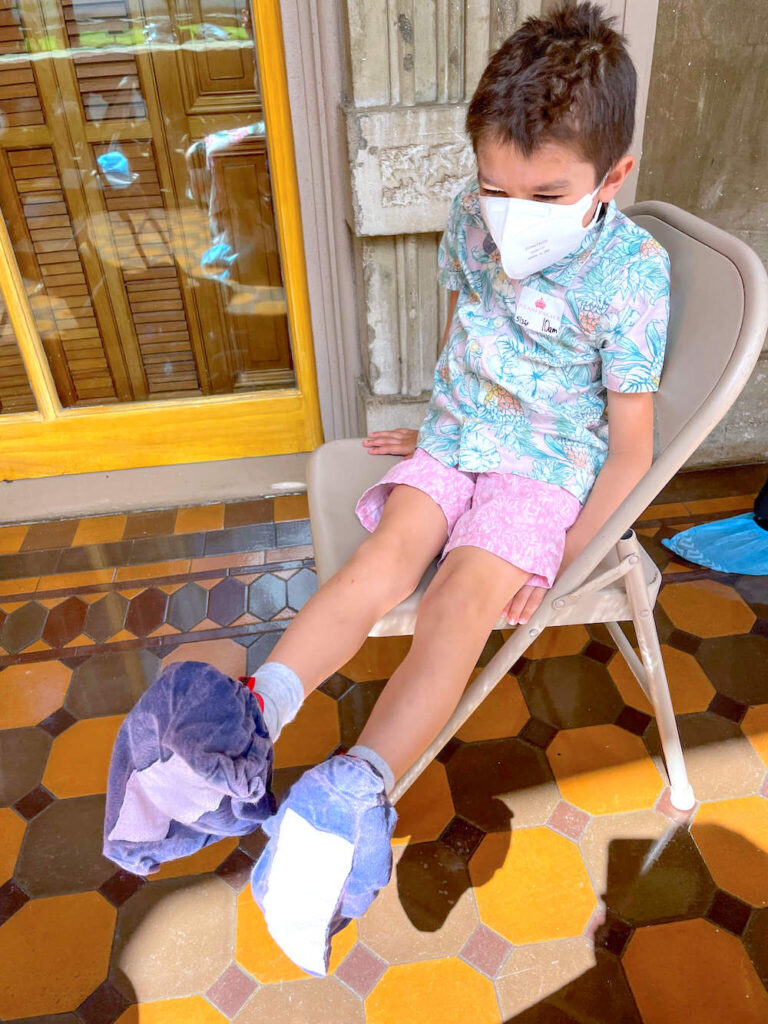 Once you get up there, you'll be asked to put on shoe coverings to protect the palace floors. They even have kid sizes!
Then, you'll get a quick briefing on expectations and how to be respectful inside the palace. And you'll meet your docent tour guide.
Main Level
We entered the main level and stood in a semi-circle at the bottom of the staircase. Our guide showed us the paintings of the monarchs that hang in the foyer.
She told us a lot about how the palace came to be and how King David Kalakaua was inspired by European royalty as he created this palace.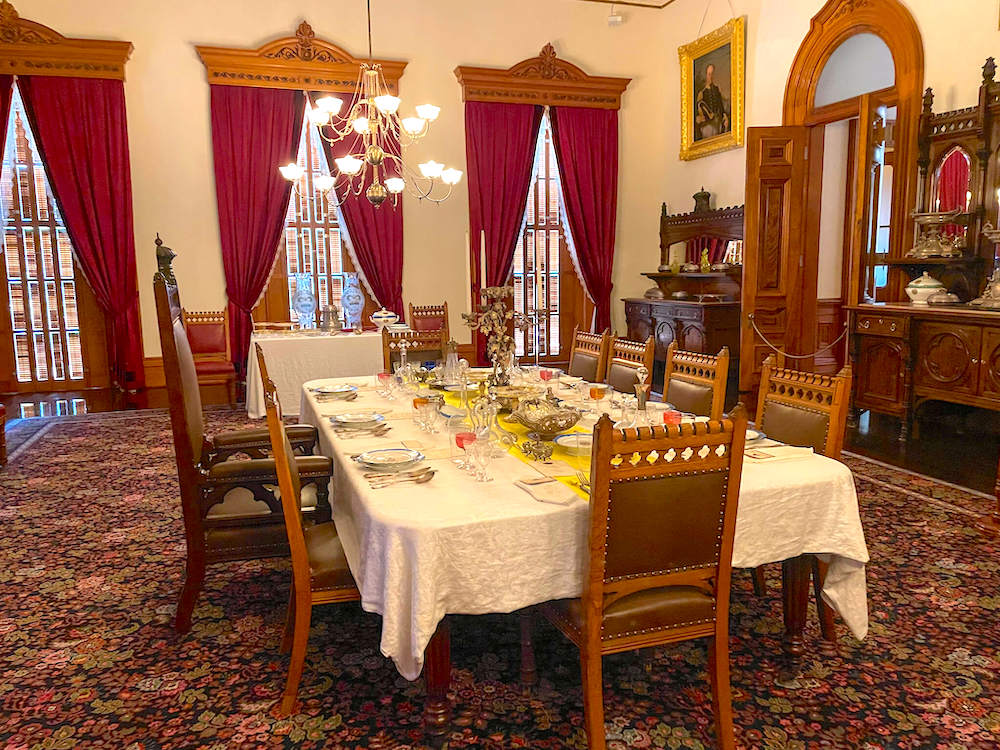 We also heard about all the fun palace parties! The king was known to throw lavish parties with an extensive dinner menu.
He was so well-known and respected that leaders from all over the world sent him their portraits for him to hang in the palace.
Upstairs
The staircases at Iolani Palace are simply stunning. We were allowed to hold onto the railing, which is the only thing we were permitted to touch in the palace.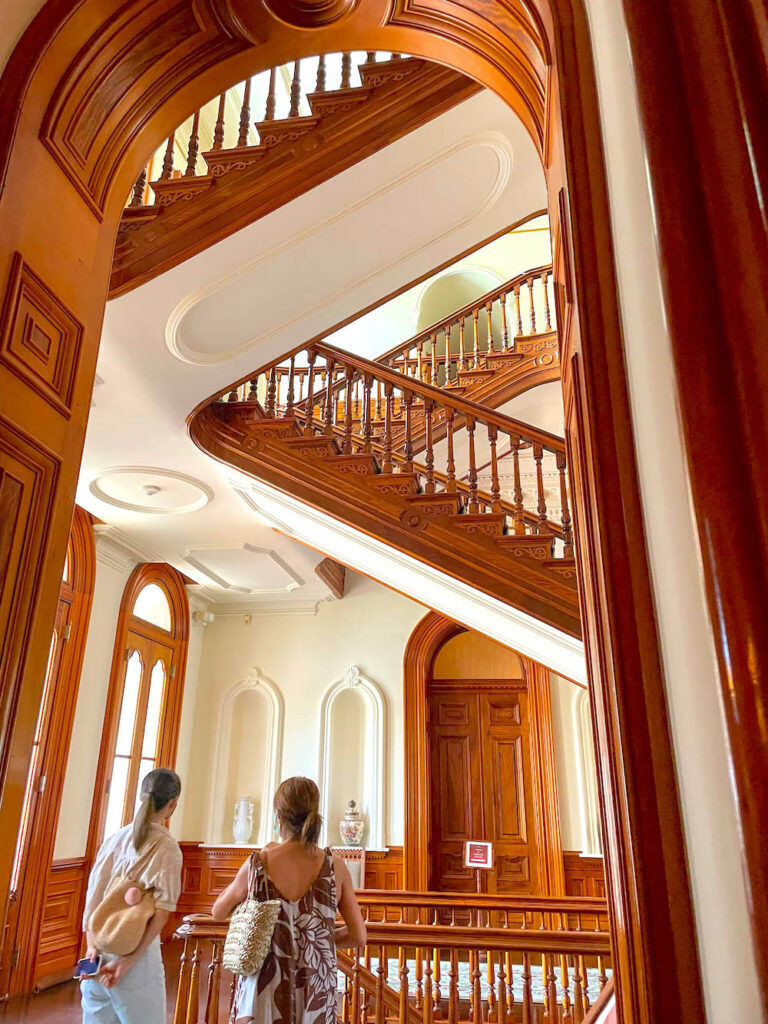 Upstairs, we entered the ballroom and throne room. Some of the monarchs' royal clothing was on display and they were gorgeous pieces!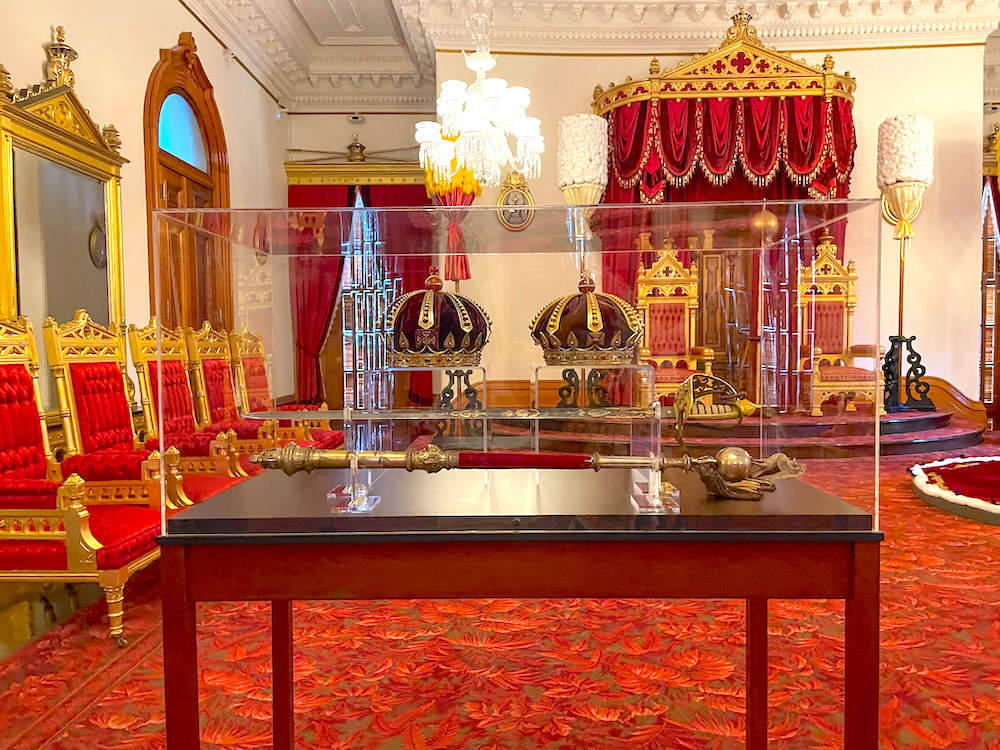 We also saw their crowns and swords. And we learned about the Hawaiian kahilis that were placed by the throne.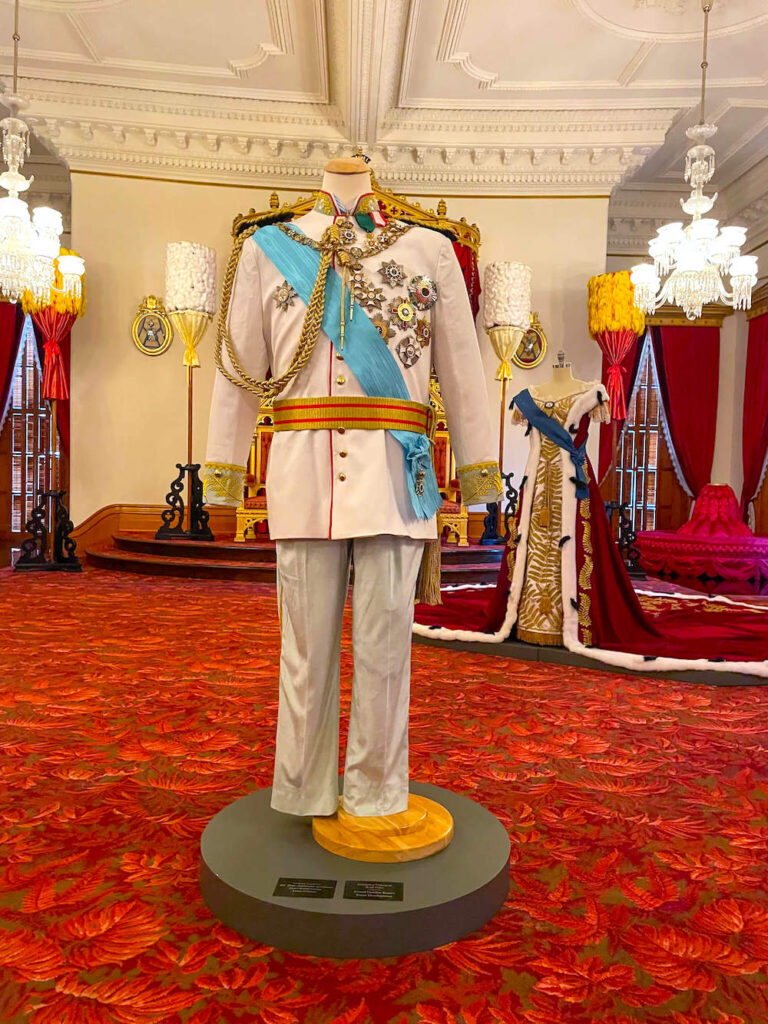 Our guide shared stories about what the royal balls were like and how the king would dance with every single woman in attendance.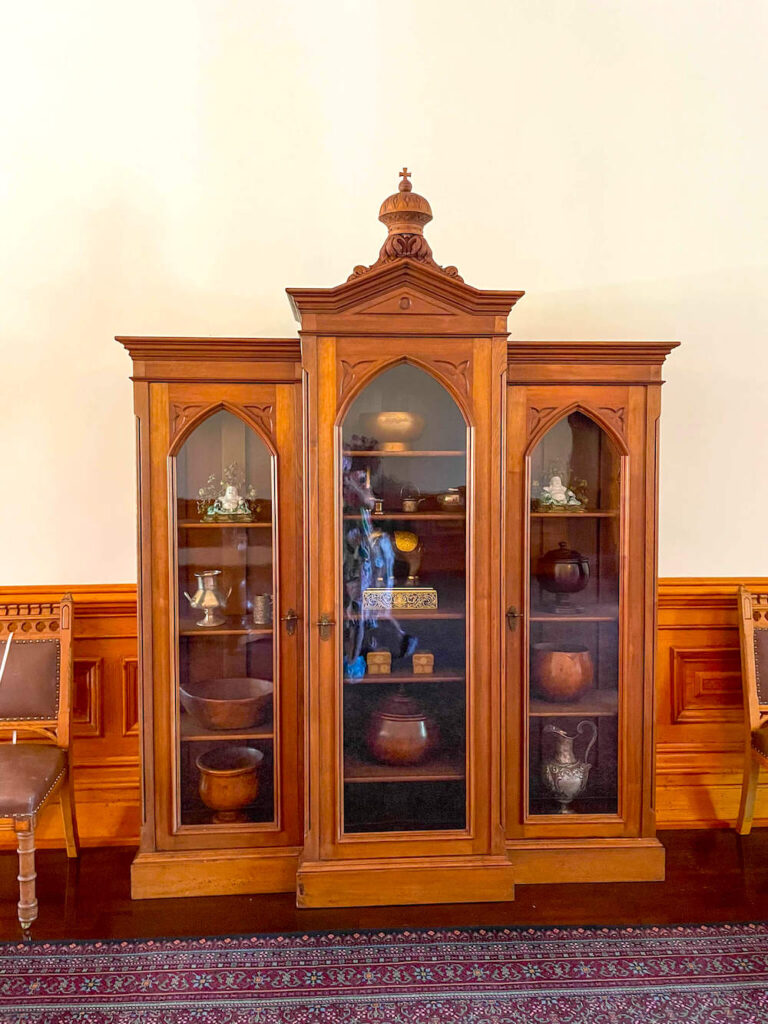 One really crazy thing about Iolani Palace is that after the United States overthrew the Hawaiian government, they sold off all the furniture and items in the palace.
These items ended up all over the world and they are slowly making their way back to the palace.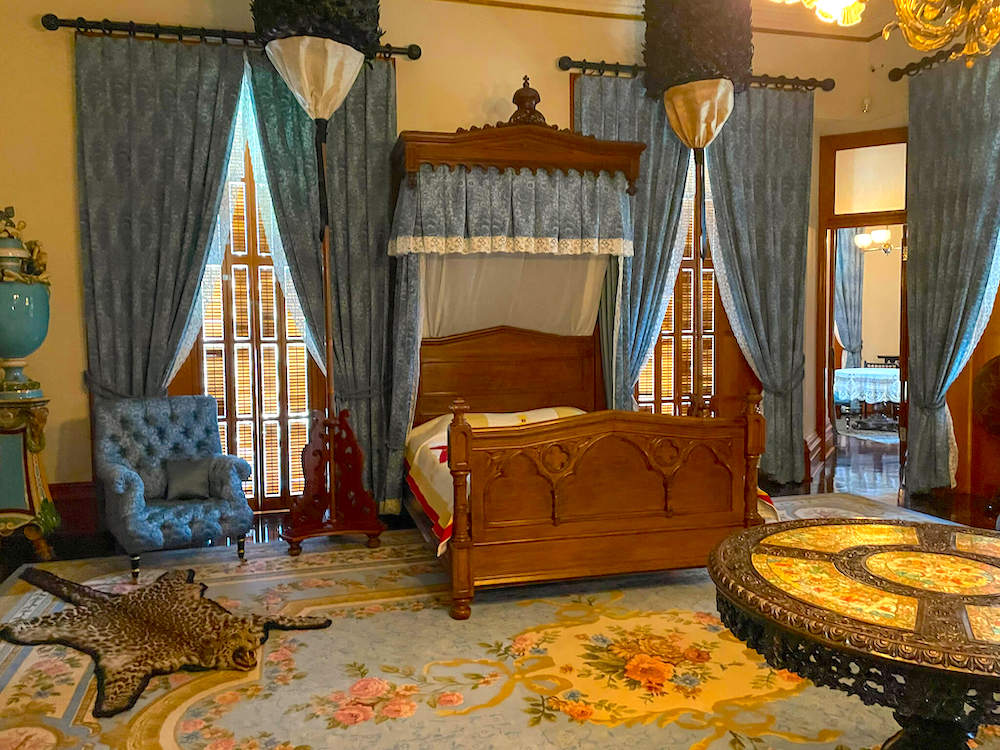 We also saw the royal bedrooms for the king and queen. These rooms were so massive that the beds look tiny in comparison.
Another cool thing about Iolani Palace is that they had telephones in a few of the rooms.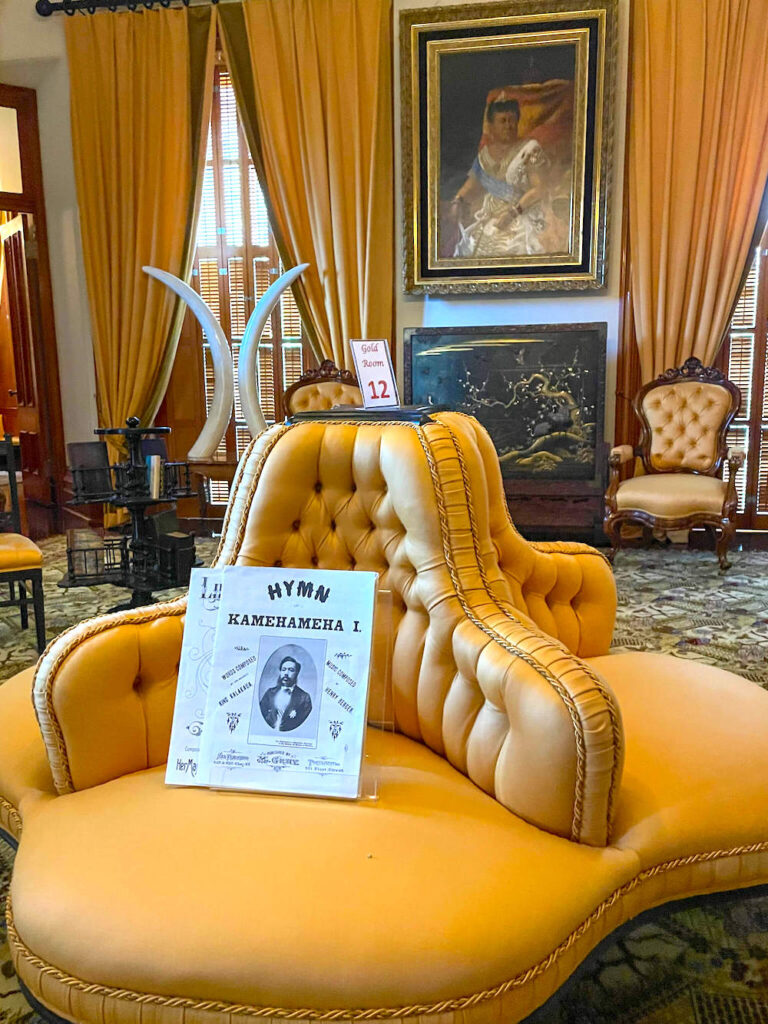 And we also got to see the music room. Many members of the Hawaiian royal family were also accomplished musicians.
But one of the most moving parts of the Iolani Palace tour was seeing the room where Queen Liliuokalani was imprisoned for 8 months after the overthrow of the government.
She spent that time working on a stunning quilt that's on display.
As we walked through the rooms, we also saw a few more of the gorgeous ballgowns worn by Hawaiian royalty. These were replicas made by local designers.
My favorite was the peacock dress. The colors were so vibrant and it must have been a total showstopper!
Basement Level
The basement level was where the tour ended and we were invited to check out the displays on our own time.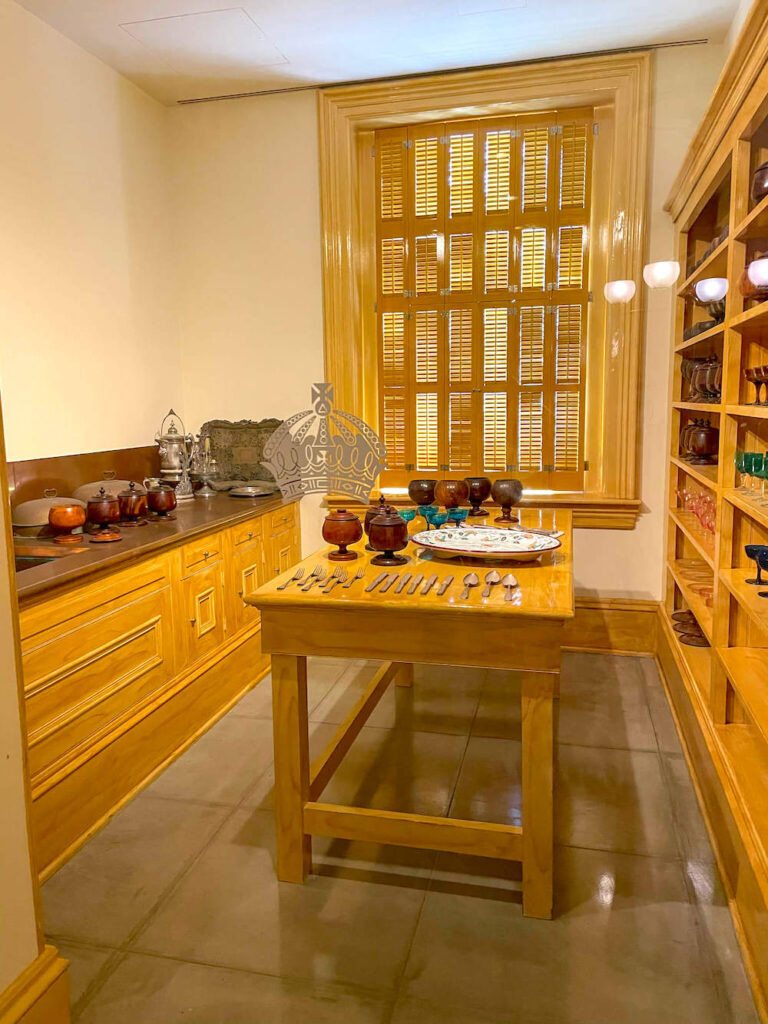 We saw the kitchen area where the staff prepped all the royal food and sent them up through the dumbwaiter.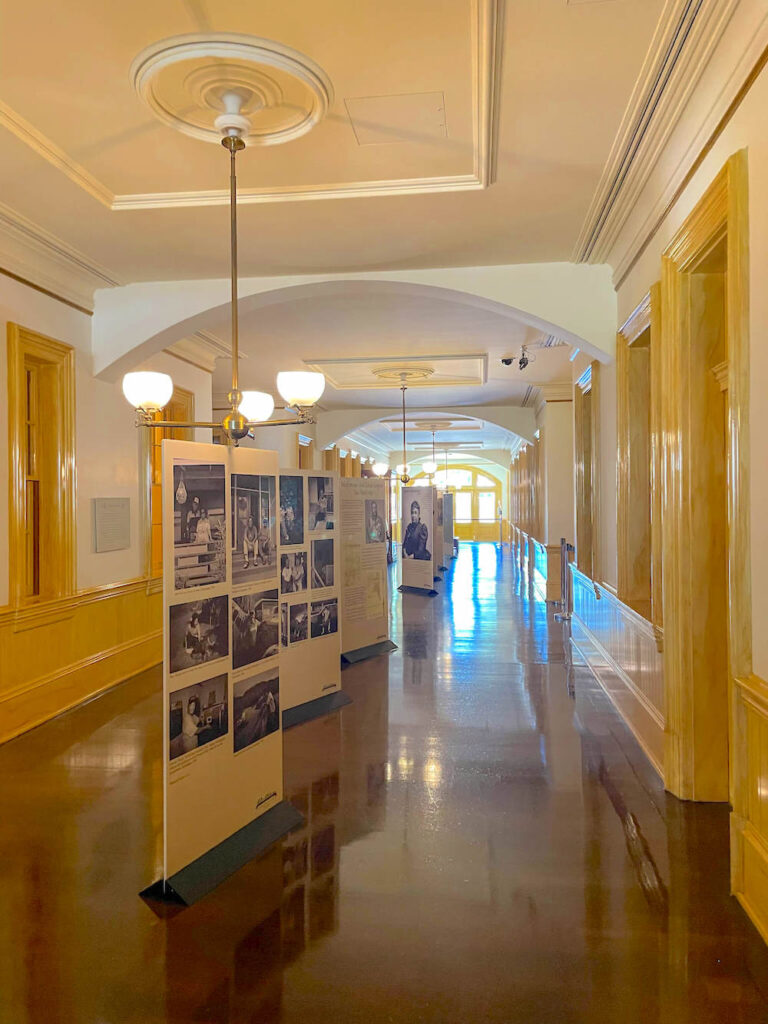 There were also some great displays about Hawaiian history and stories.
And there were a few rooms with more artifacts and royal items on display.
Video Presentation
After the tour, we were invited to head to the Hale Keaka Kahiko video theater to check out the film about the palace.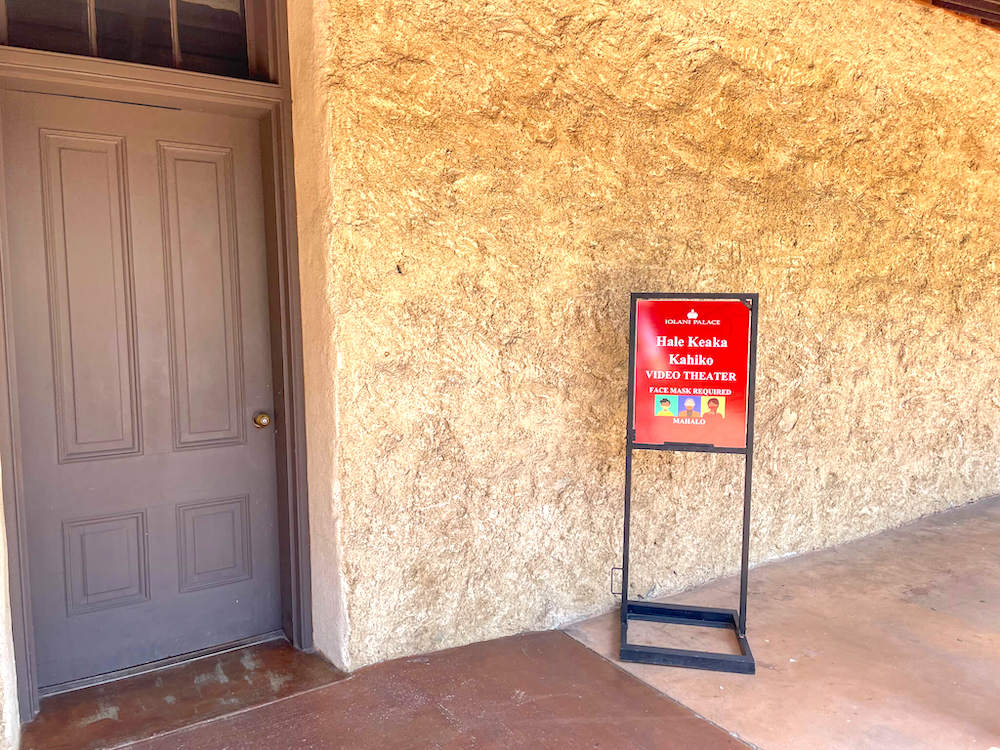 We didn't have enough time on our parking meter to do this, but it looked interesting!
Iolani Palace Gift Shop
We always joke that we haven't met a gift shop we didn't like. And that's true for the Iolani Palace gift shop.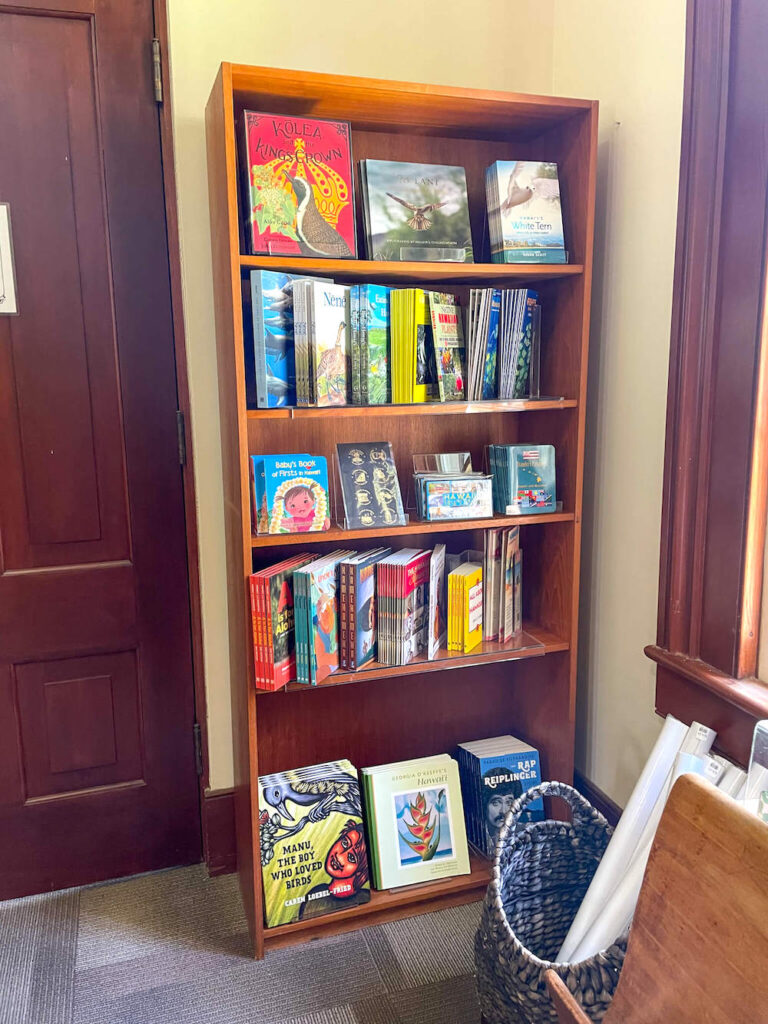 It was primarily books about Hawaiian history, culture, and the royal family. They also had some kids' books.
And if you're into music, they had CDs as well as the Queen's songbook, which looked really cool.
Finally, while it's not actually inside the gift shop, there is a souvenir penny machine in the courtyard outside of the gift shop.
How to Prepare for Your Visit to Iolani Palace
I think Iolani Palace is one of the places that you really need to know its significance before you visit in order to fully appreciate it.
Hawaii's Story by Hawaii's Queen
I read this book as a teenager and it was my first "lightbulb moment" about how Hawaii eventually became a state.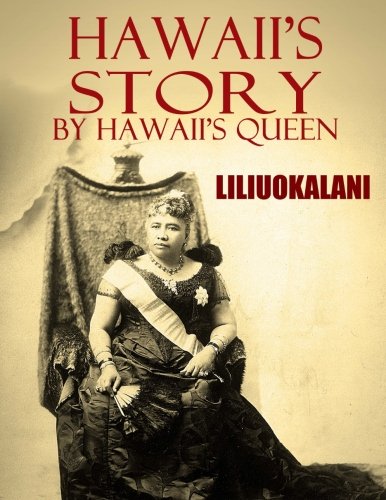 It's written by Queen Liliuokalani, the last queen of Hawaii and it fully talks about what was going on during annexation and the whole series of events that led to the overthrow of the Hawaiian government.
I highly, highly recommend this book if you're interested in history. Check prices and availability.
The Last Princess
If you're visiting Iolani Palace with kids, I suggest grabbing a copy of The Last Princess. It's the story of Princess Kaiulani, who was the last princess of Hawaii.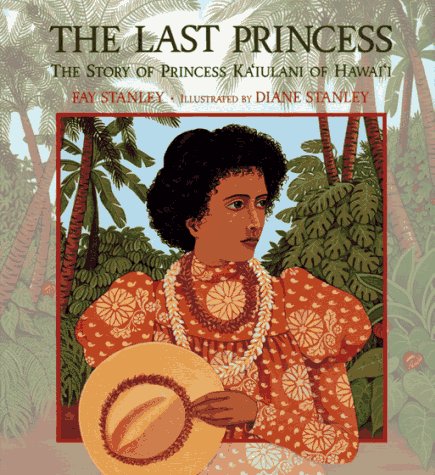 It's a picture book that shows what it was like to grow up in the palace and go to London to finish her education. It also shares the story of Hawaii's annexation in an easy-to-follow way. And it highlights how she advocated for her people.
This was one of my favorite books as a child. Check prices and availability.
Aloha Oe
One of the easiest things you can do before visiting Iolani Palace is listening to the song Aloha Oe. Yes, it's featured in Disney's Lilo & Stitch, but it was actually written by Queen Liliuokalani.
Even if you listen to it in your car before you head in, it's worth it. You'll feel her emotions and it will put you in the right mindset for your tour.
Visiting Iolani Palace with Kids
I admit that I was a little hesitant to bring my 5-year-old to Iolani Palace because I wasn't sure about his attention span.
There was some mention somewhere in my confirmation email that they might ask unruly kids to leave and that made me panic just a little.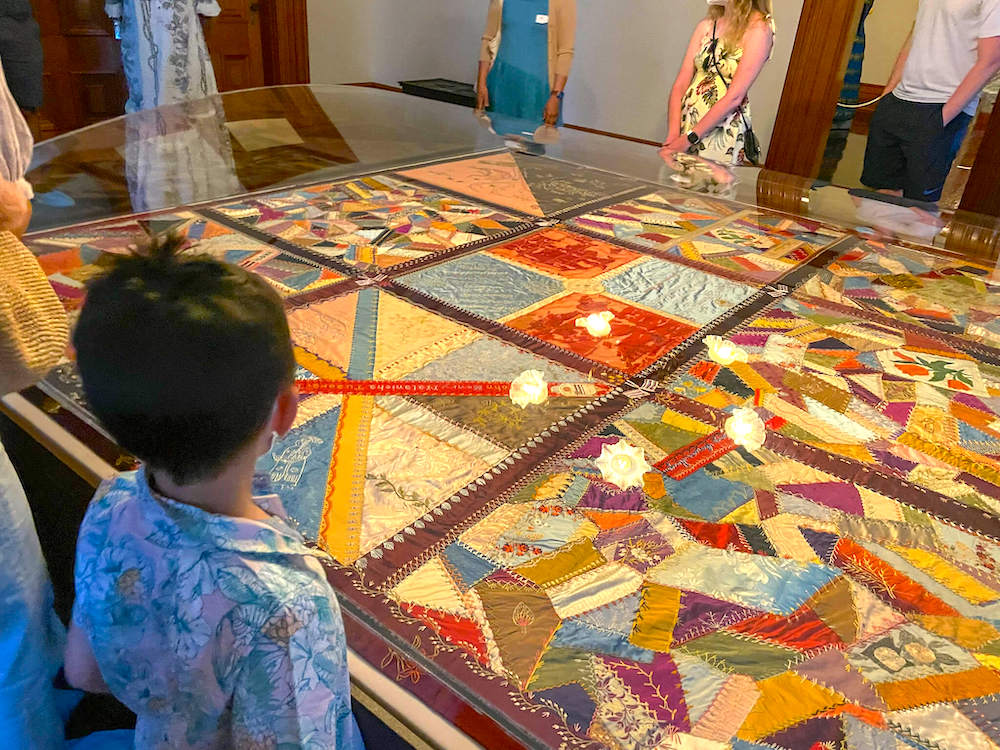 I think the main issue is that you aren't allowed to touch anything at the palace except for the handrails on the stairs.
So, I think that's important to keep in mind. It's also a sacred place and most people stay quiet except to ask questions.
All that said, I think it's a really great place to bring kids. My 5-year-old was actually really engaged with the stories and everything our docent talked about. And he thought it was cool being inside a palace for the first time.
There's a nice grassy area outside where kids can run around and burn off energy. And you might want to promise them pool time afterward (that's what we did)!
Where Else to Learn About Hawaiian History
BISHOP MUSEUM
One of the best museums in Hawaii is the Bishop Museum in Honolulu. They have an extensive collection of Hawaiian artifacts and cool exhibit areas.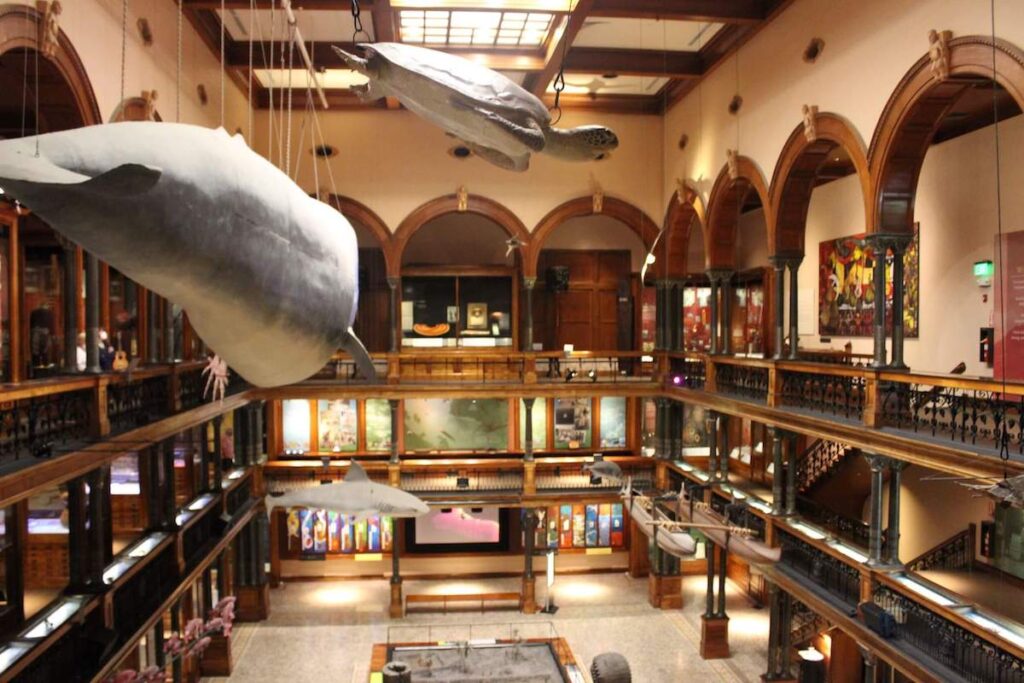 They also have rotating featured exhibits that are pretty amazing. This year, they had one that focused on contemporary street art and another that was all about Polynesian tattoos.
Check out my full post about Bishop Museum with kids.
QUEEN EMMA SUMMER PALACE
The Queen Emma Summer Palace is another cool historical place in Hawaii. This was the summer home for Queen Emma of Hawaii from 1857 to 1885, her husband King Kamehameha IV, and their son, Prince Albert Edward.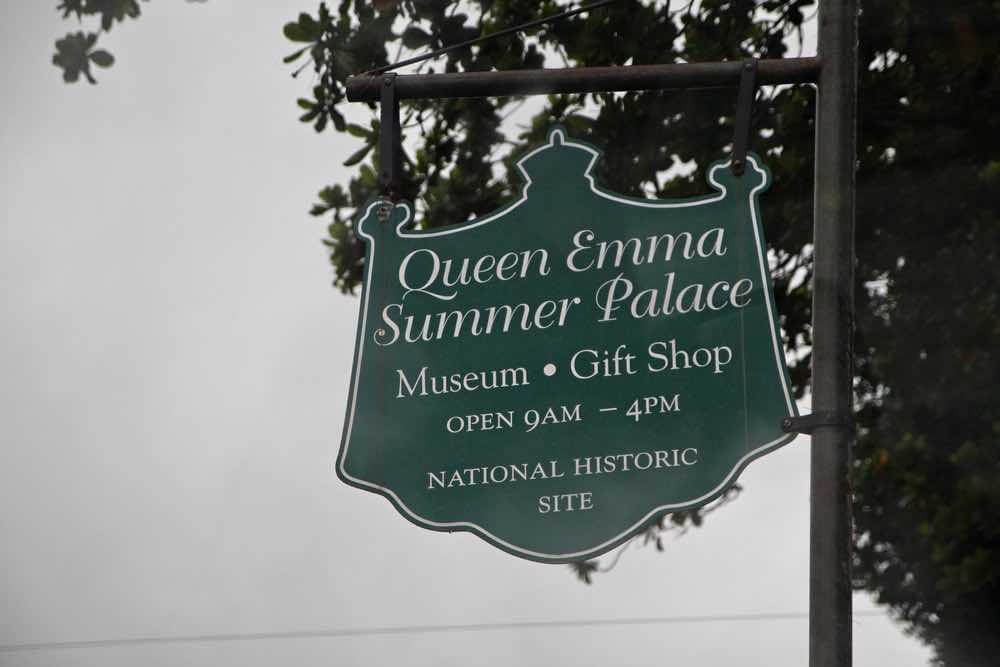 They offer self-guided tours as well as docent-led tours where you can learn more about the royal family of Hawaii.
POLYNESIAN CULTURAL CENTER
I almost want to put an asterisk by this one because they cover several Polynesian cultures and the education component is…a bit slanted.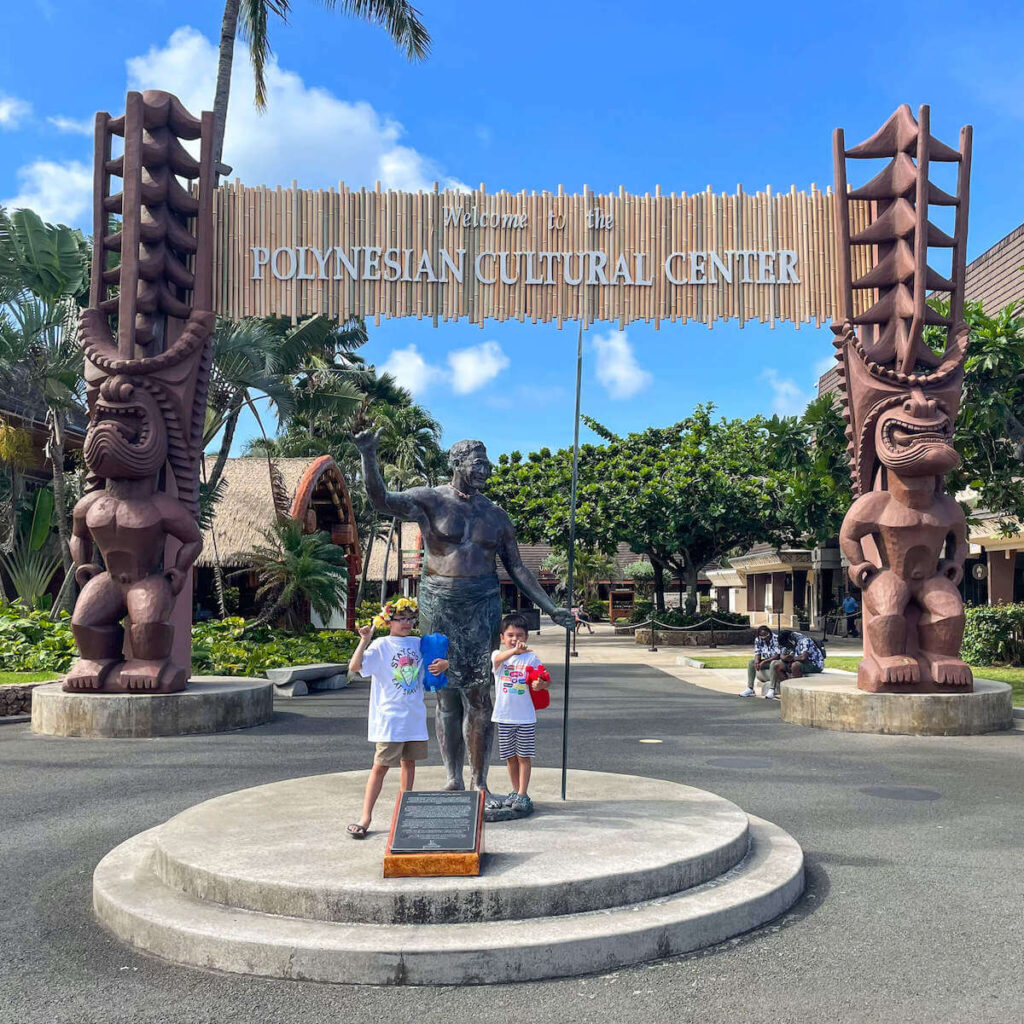 But, if you can handle the corny jokes, they do offer some cool hands-on activities like throwing a fishing net, learning hula dancing, etc. Read my full guide to the Polynesian Cultural Center.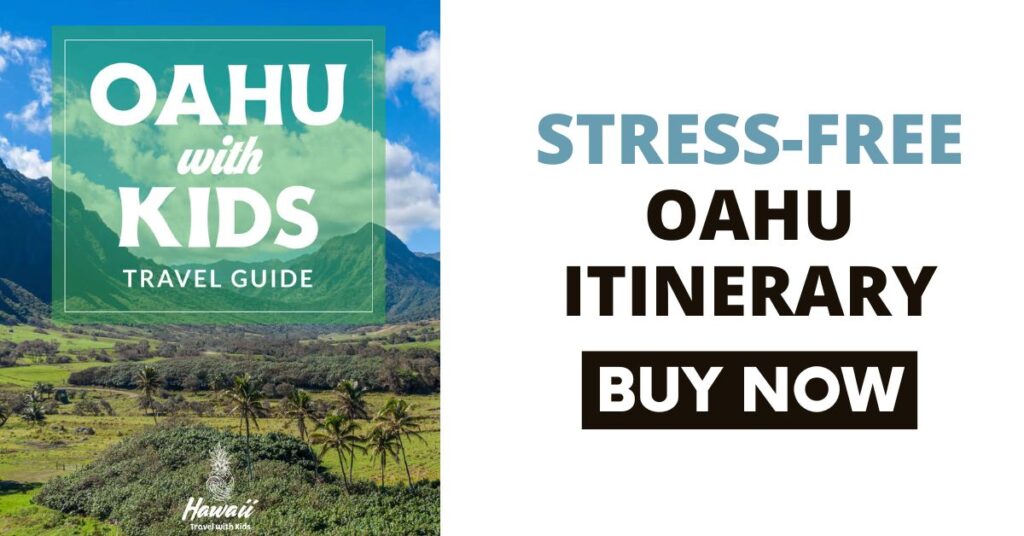 Visiting Iolani Palace in Hawaii Wrap Up
It's really important to learn a bit about the islands when you visit Hawaii. You'll get a deeper appreciation for the land and the people who make it such a magical place.