Are you planning a trip to Kauai and want to know the top food spots? Find out where to eat on Kauai with kids for families who love tasty food!
This post about where to eat on Kauai with kids was written by Hawaii travel expert Marcie Cheung and may contain affiliate links, which means if you click on the link and purchase the item, I will receive an affiliate commission at no extra cost to you. All opinions remain my own.
"Garden Island" Kauai, Hawaii's fourth-largest island, is known for its lush, dramatic landscape with emerald valleys, sharp mountains, and crooked cliffs.
Snorkel in the pristine waters, fly in a helicopter along the Na Pali Coast, zipline over green canopy treetops, and jump into waterfalls outside.
There is no doubt that there are many things to do in Kauai, however, what a trip to this island will quickly show you is that there are many great food options for families as well!
Whether you have with you a picky eater or your troop is just a bunch of total foodies, our guide will offer you the best of where to eat in Kauai on your next vacation.
Don't have time to read a bunch of Hawaii blog posts and reviews? Here are some of our top picks for visiting Kauai with kids.
Best Kid-Friendly Kauai Tours/Activities
Best Kid-Friendly Kauai Resorts
Grand Hyatt Kauai (this is a personal favorite for my kids because of the water slide and saltwater lagoon)
Royal Sonesta Kauai (my kids LOVE the pool here because it's the largest one in Hawaii)
Hilton Garden Inn (we like renting the cottages here because you can walk to a massive playground)
Want to Rent a Car in Hawaii?
One of the best places to rent a car in Hawaii is Discount Hawaii Car Rental because they get the best rates from top national companies like Alamo, Dollar, Thrifty, Avis, Enterprise, Budget, and Payless.
Want to skip all the planning and just access my detailed Kauai Itinerary complete with daily schedules, kid-friendly activities, and travel hacks? Click the button below.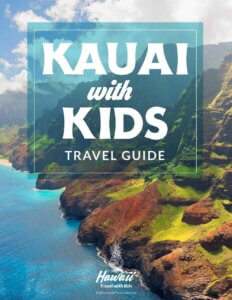 Restaurants on Kauai FAQs
What food is Kauai known for?
In addition to Hawaiian food like plate lunch, kalbi ribs, huli huli chicken, and kalua pork, Kauai is most famous for their shrimp. They are super sweet and flavorful. The best place to taste Kauai shrimp is at Shrimp Station where you can get it prepared several different ways (their coconut shrimp is incredible)! Kauai is also known for Hanalei poi.
Does Kauai have good food?
Absolutely! In fact, it's considered a "foodie" island because of the variety of food trucks, cafes, plate lunch spots, and fine dining options. Many restaurants use locally grown produce, island-grown beef, and freshly caught Kauai shrimp and fish.
Can you eat Kauai chicken?
When you visit Kauai, you'll see wild chickens EVERYWHERE. They got displaced during Hurricane Iniki and they have been roaming the island freely ever since. Some people wonder whether or not you can eat Kauai chickens. The answer is: you can but you won't want to. They have tough meat and they aren't very tasty (according to people who have tried it). The joke is that locals get their chicken from Costco.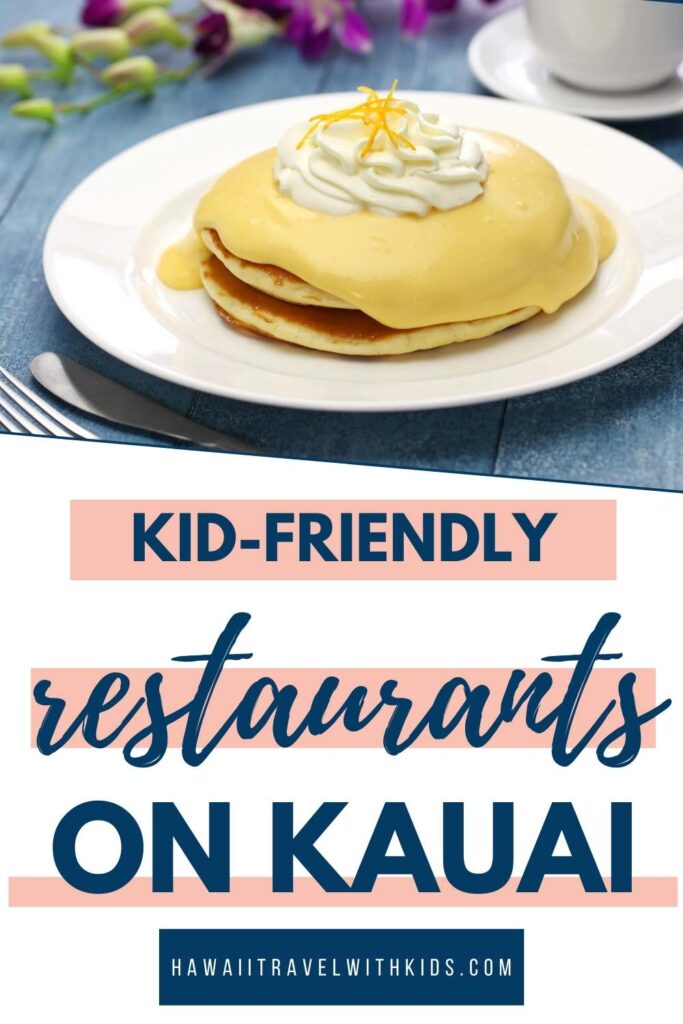 Dining in Kauai: a Guide for Families
Kauai island is home to a wide variety of local and traditional foods, including dishes that are infused with Japanese, Thai, Filipino, and Western gourmet influences.
Much like the cuisines of the other Hawaiian islands, Kauai's local food scene boasts fresh island ingredients in all flavors and colors.
We hope that this list shows you that the best dining in Kauai isn't limited to one experience. Between the food trucks that dot the island, upscale cafés near the beach, and thrifty restaurants for the best cheap eats in Kauai, there's a lot to explore!
Best Restaurants in Kauai for Kids
Best Kauai Bakeries
Passion Bakery
Passion Bakery is an island favorite for its breakfasts, lunches, and baked goods galore. Located in the Kinipopo Shopping Village, the quaint little bakeshop sells a variety of fresh homemade cookies, pastries, artisan bread, and pizzas.
The friendly staff will have you and your little ones feeling warm and gooey in no time, just like their cream cheese muffins and macadamia nut cookies!
There is absolutely no way you can resist their malasadas, a mouthwatering deep-fried treat that will surpass your expectations.
Another favorite is their Mexicano Eggwich, a spicy breakfast with a twist that comes assembled with freshly baked bread.
It is a good idea to call ahead of time or be prepared to wait in line because of its popularity among both locals and tourists.
Hanalima Bakery
If you're looking for a grab-and-go breakfast spot that is both affordable and famous, look no further than Hanalima Bakery. This iconic hole-in-the-wall bakery is located on the highway between Lihue and Poipu and is easy to spot thanks to its azure exteriors.
While the bakery is well known for its freshly baked bread rolls and breakfast options, there are two dishes that are notorious for being sold out the quickest: the Portuguese sausage rolls and the spicy crab rolls. So be sure to grab those if you get the chance!
For a filling and flavor-filled breakfast combo pick up their famous loco moco, a Hawaiian dish that combines rice, hamburger, fried egg, and gravy. And don't forget to give their Bango (Banana and Mango) bread a try! You won't regret it.
Keep in mind that Hanalima Bakery is open only on weekdays until 1 p.m.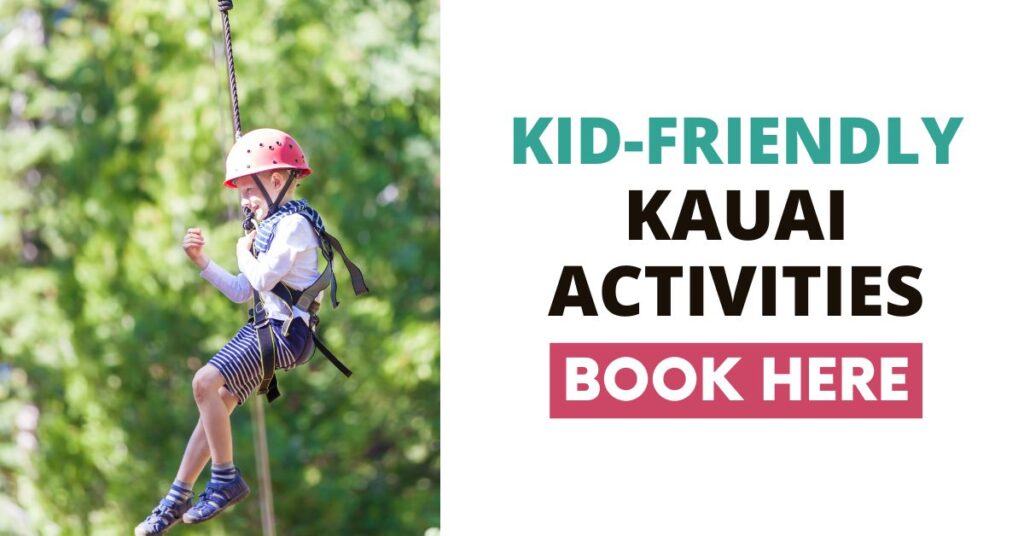 Best Kauai Breakfast Spots
Holey Grail Donuts
While this isn't a full-service breakfast spot, Holey Grail is where you'll find the best donuts on Kauai. They are freshly made with taro and they are crazy delicious!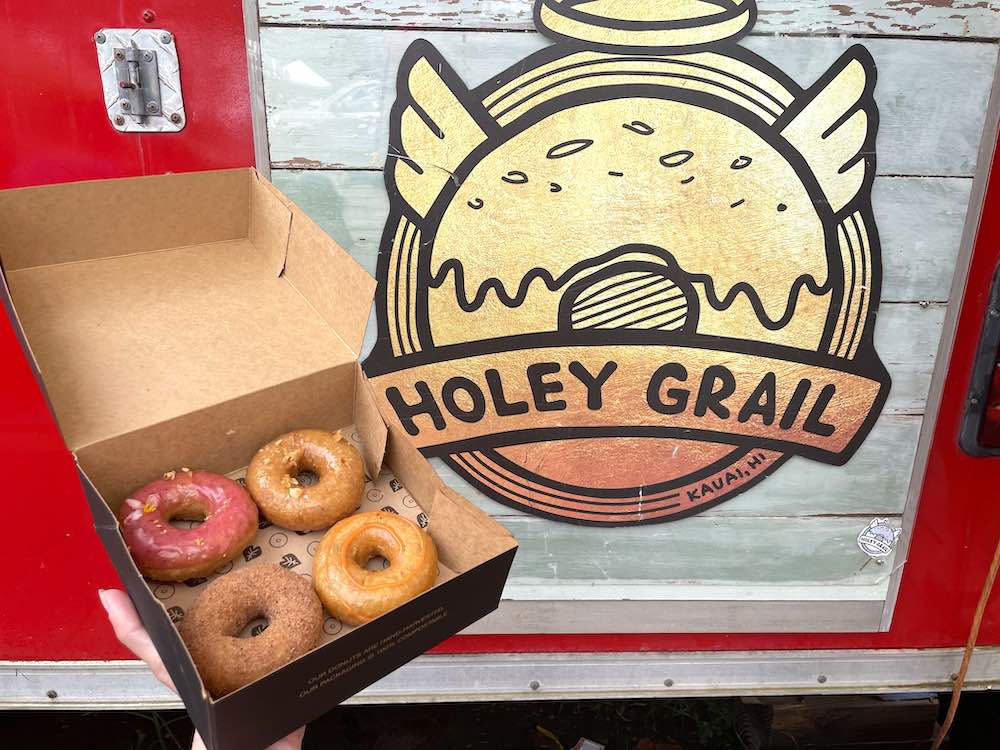 You can buy donuts individually, but I recommend getting their Tasting Box because you can sample 4 different donuts.
They also serve tasty lattes and chai tea made with non-dairy milk.
They are located in Hanalei next to a bunch of other Kauai food trucks. It's best to check their Instagram page for up-to-date hours.
Kalaheo Cafe
Head to Kalaheo Cafe for breakfast and coffee at a plantation-style establishment that makes its food exclusively from locally sourced produce.
Located in the lush mountains of upcountry Kalaheo, it's the perfect place to try a Hawaiian Kahili breakfast and much more. It's one of the best Kauai coffee shops.
Treat yourself to a warm cinnamon roll and tasty corn muffin paired with a freshly brewed hazelnut latte. Starting your day a little later than usual? No worries, this cafe is great for brunch too. The best part is that almost all of their meal options include vegan alternatives and gluten-free options.
The amazing service, huge portions, warm ambiance, and variety of dishes at this place will leave everyone in the family feeling happy and satisfied. Finish off your meal with their delicious coconut cake – the kids will love you for it!
Kountry Kitchen
Hawaiians really know how to serve up some hearty portions, especially at breakfast time! Kountry Kitchen is a cozy, delectable breakfast spot and one of the best restaurants in Kauai Hawaii for generously sized meals.
Indulge in their spectacular spread of southern-style breakfast options. We recommend their Macadamia nut pancakes paired with their coconut syrup to start your day on the sweetest note possible. Their exclusive Keiki breakfast menu offers the chocolate pancake that's famous for being deliciously huge. It's totally worth trying.
Best Kauai Food Trucks
Kickshaw's
True to their tagline, Kickshaw's is definitely "not your ordinary truckin' food!" This one-of-a-kind food truck serves experimental dishes that are created using avant-garde techniques by mad-scientist-chef Seth Peterson.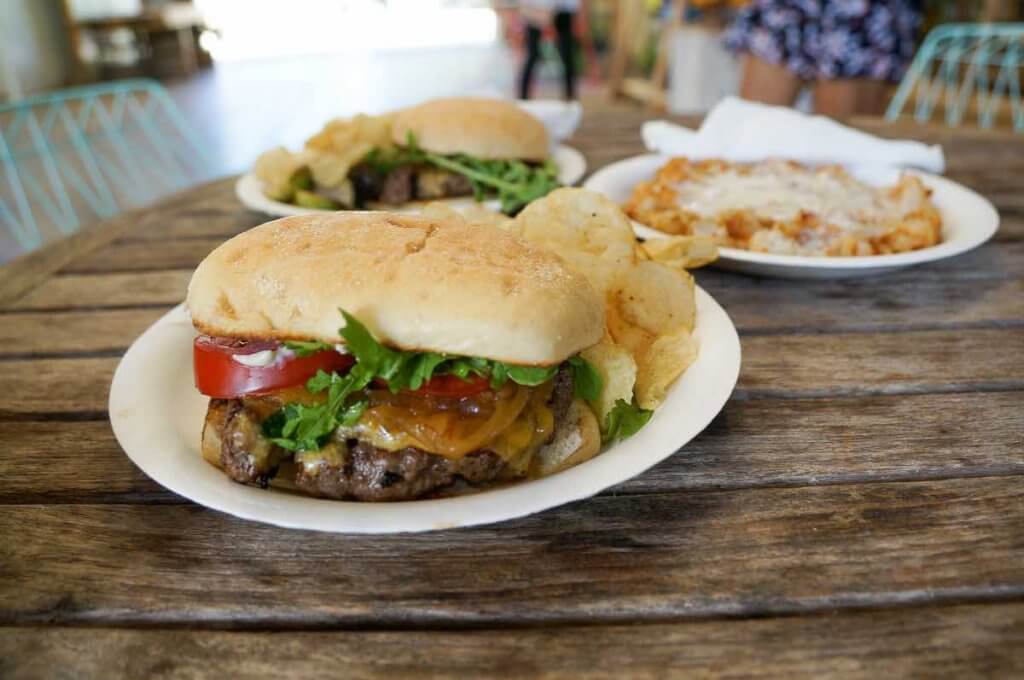 The food truck's menu combines a fusion of New American food with an emphasis on molecular gastronomy and features all the most quirky dishes, prepared to perfection. Their outstanding burgers and cheesesteak sandwiches are sure to have your kids asking for seconds.
Just keep in mind that the food truck lab is open only between Wednesdays and Saturdays.
Porky's
Porky's makes the perfect end to a long day hiking at the Waimea Canyon. This tiny but impressive food truck offers delicious porky goodness with a Hawaiian twist. You know the twist we're talking about – sweet, tangy, pineapples, of course!
Try their all-time favorite pineapple pork sausage hot dog which comes with an extra dose of pork on top for the best Porky's experience. This place is a tad bit pricier than most other food trucks but once you try their juicy pulled pork, you'll see that it's worth every penny.
Hanalei Taro and Juice Co
Anyone who's looking to fill up on comfort food before an afternoon nap on Kauai knows Hanalei Taro and Juice Co is the place to go.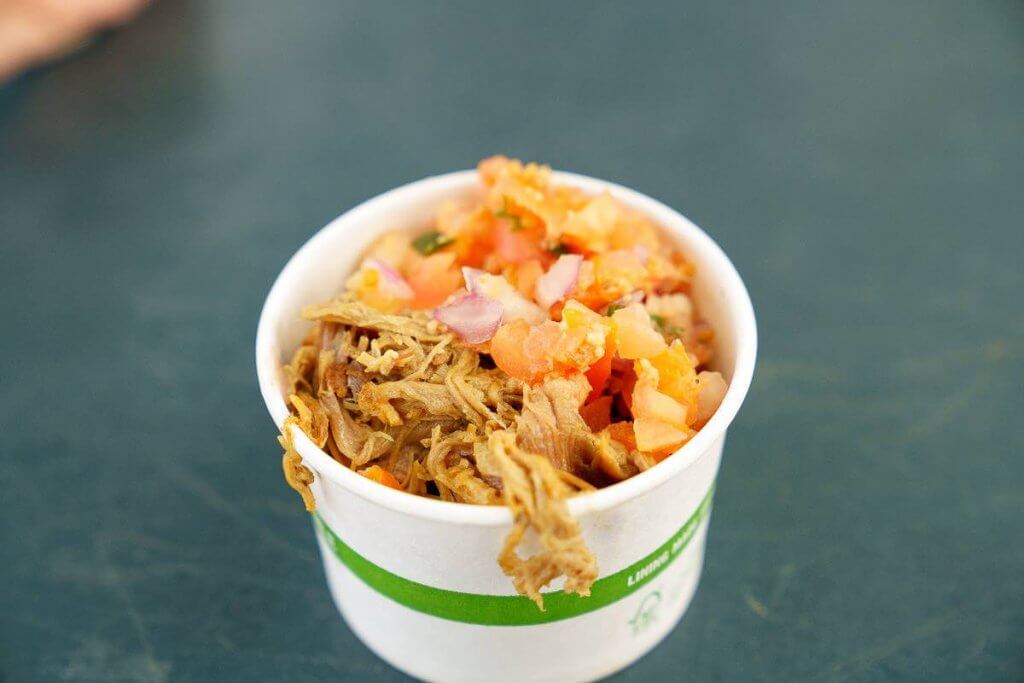 The famous food truck has its roots in a taro-farming company whose legacy spans generations in the Hanalei area. Today, it's known for serving some of the most authentic island flavors at reasonable rates.
Families love their meat platters filled with kalua pork or lau lau pork served with rice, salmon, mac salad, poi, and hot sauce for their size and deliciousness. Your kids won't be able to get enough of the taro mochi (a Japanese sweet rice dessert), so be sure to order enough for everyone!
Best Local Food in Kauai
Mark's Place
It might take a bit of effort to find this fantastic spot hidden in the middle of a busy industrial estate on Haleukana Street but once you do, you're in for a real treat!
When it comes to good takeout, the people of Kauai seem to agree on Mark's famous mix plate. It consists of chicken katsu, teriyaki beef, beef stew along with rice, and a potato macaroni salad. You also won't want to miss out on their sinfully tender katsu chicken meat in a stew that is served with a specialty sauce.
Their pineapple rum cake and mochi ice cream will give your kids a serious case of the puppy eyes. Grab their pre-packaged omiyage snacks for the drive or as a food souvenir.
Be sure to avoid the busiest times of the day to skip the lines, like when Kauai's children are making their way home from school.
Shrimp Station
Located in Waimea on the South Shore of Kauai, Shrimp Station is probably the best roadside restaurant on Kauai.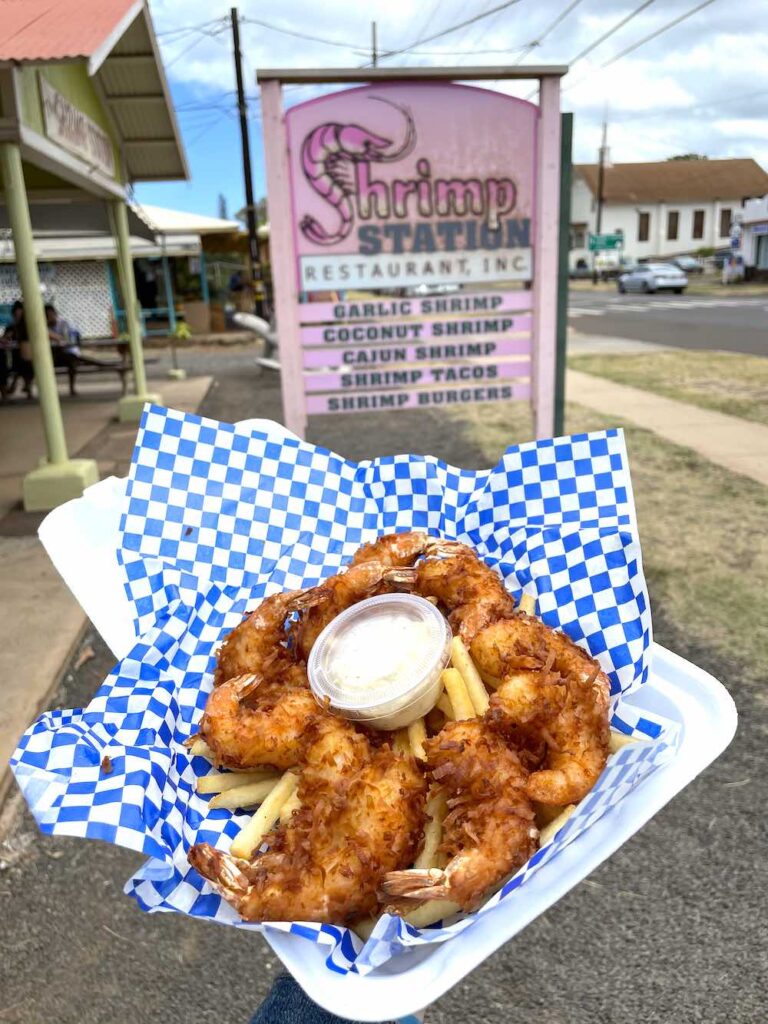 They sell freshly-caught Kauai shrimp, which is known to be sweet and extra flavorful. You can get the shrimp prepared several different ways.
They are most famous for their coconut shrimp and homemade tropical coleslaw that is out-of-this-world delicious!
Koloa Fish Market
Located on Poipu Road, Koloa Fish Market is arguably the best place to eat in Kauai when it comes to local food and is often referred to as a poke bowl paradise. The restaurant has been serving fresh and delectable varieties of fish and pork on their beloved lunch plates since 1994.
According to the locals, the food here is flavorful and fresh enough to "break your mouth," so try their popular poke bowl with ahi avocado furikake and spicy aioli with sushi rice and see for yourself.
You'll be happy to learn that the poke here won't poke a hole in your pocket! Just be sure to arrive a little before peak hours like lunchtime to avoid the lines.
Kid-Friendly Kauai Restaurants
Duke's
A Hawaiian vacation is simply incomplete without a visit to Duke's Restaurant in Kauai. This tropical gem, located on the grounds of the Royal Sonesta Resort, offers unforgettable views of the ocean and the plunging 30-foot waterfall that meanders below.
Order a tasty lunch from their extensive menu and add their specialty, the Hula Pie, to your tab. This heavenly pie comes with macadamia nut ice cream stacked high on a scrumptious chocolate cookie crust.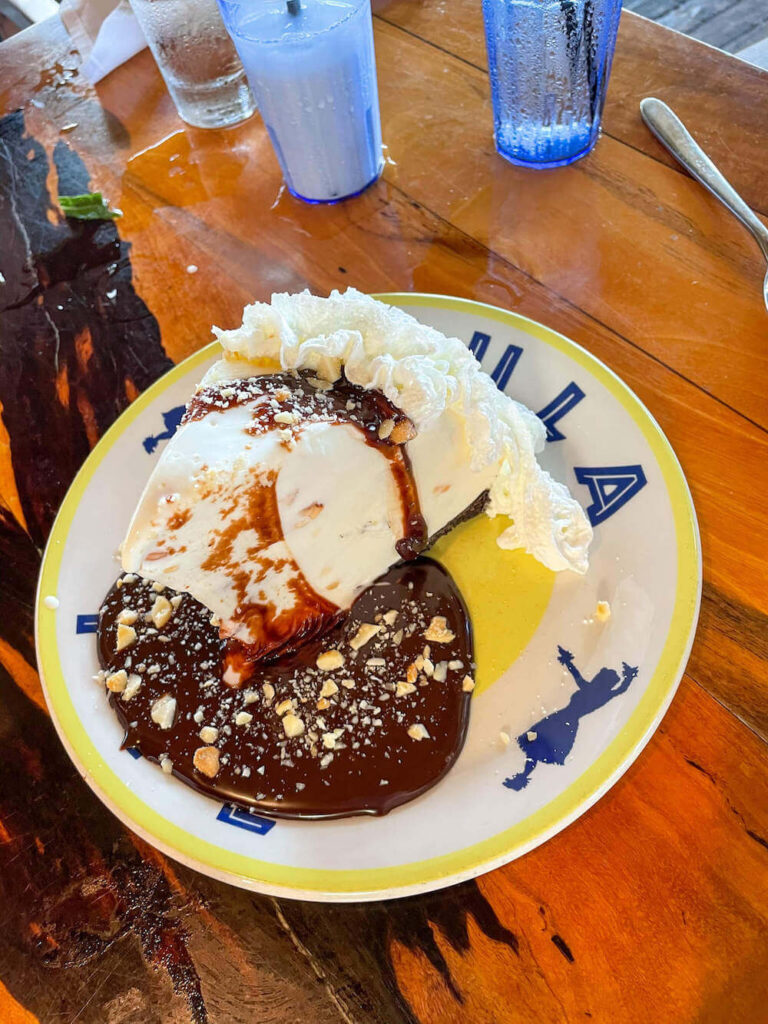 It is served with the hot chocolate fudge oozing over the whipped cream, covered with even more toasted nuts. If this doesn't have your kids jumping in their seats, we don't know what will!
Little ones also have a keiki menu to choose from that includes items like cheeseburgers, mac & cheese, and fried chicken so don't worry if you've got a picky eater on your hands.
Hukilau Lanai
Located on Aleka Loop, this restaurant takes fresh and flavorful local ingredients and upgrades them with unique methods of preparation.
It is known for adding modern spins to traditional Hawaiian delicacies. Poke nachos, candied ahi, and Kauai clams are just some of the ingenious inventions this reputable establishment has come up with.
The keiki menu at Hukilau Lanai starts with a pineapple appetizer and ends with a scoop of ice cream. They offer gluten-free options as well as a fully-stocked artisan bakery.
Coconut's Fish Cafe
Located in a strip mall in Kapaa, Coconut's Fish Cafe is the Kauai location for the famous Maui restaurant known for their fish tacos.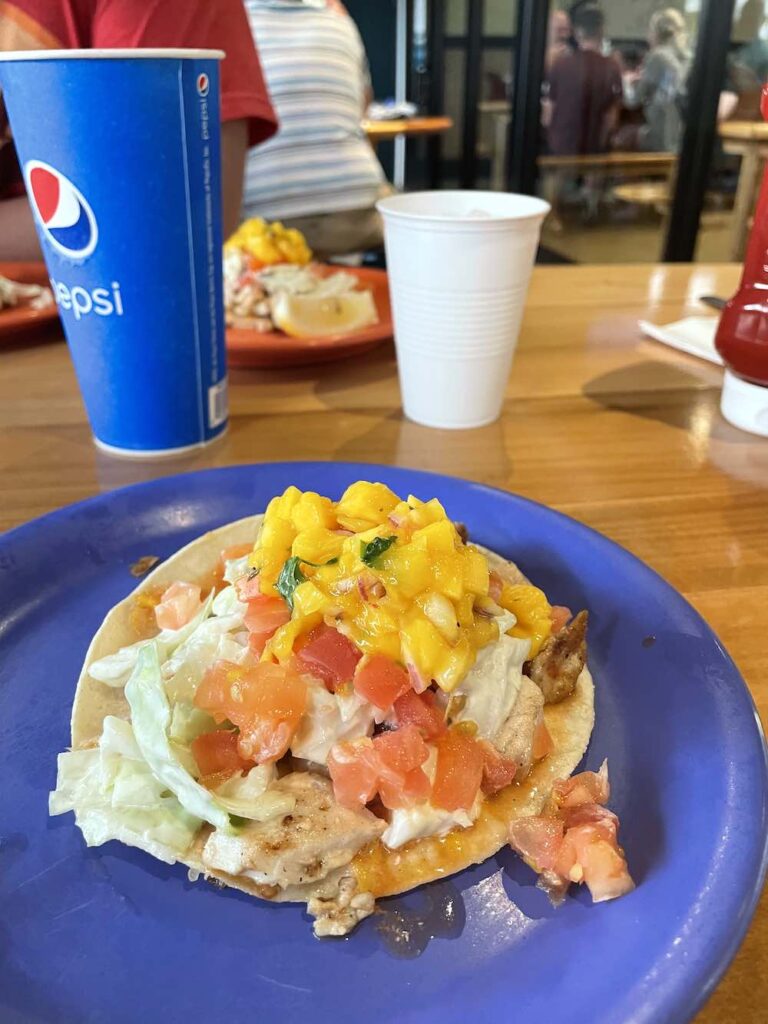 They have 17-ingredient tropical fish tacos that are arguably the best in Hawaii. And once you try them, you'll want to return again and again.
But, this is a great casual restaurant for families on Kauai because they have an extensive menu for people who don't like seafood plus a great kids menu.
Famous Restaurants in Kauai
Tahiti Nui
Known locally as the Nui, this restaurant is set apart by its old-fashioned Polynesian charm. The funky building's broad, shaded porch, and rattan bar give it a lot of character.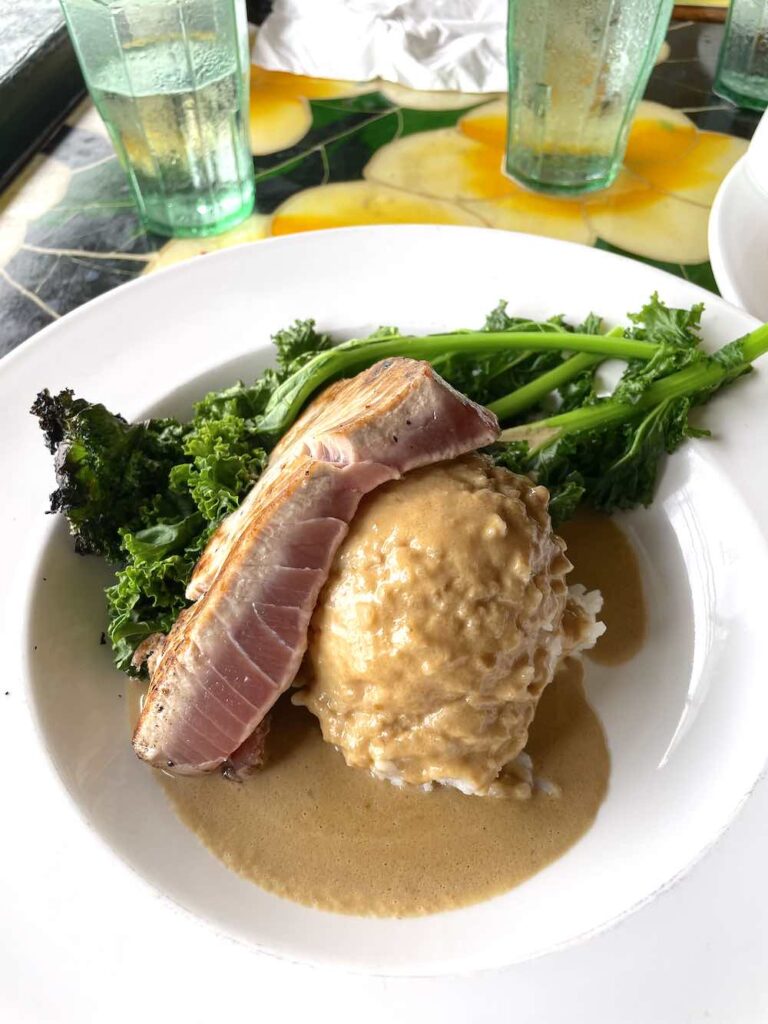 Known primarily for its surf 'n' turf fare, the Kauai prawns with macadamia honey are to die for. The Tahitian Poisson cru is another interesting choice if you're looking to try something new.
Quirky yet respectable, this institution in sleepy Hanalei still continues to host its famous luau on Wednesdays at 5. The popular hangout is always busy with locals and tourists, offering live music every night and Hawaiian slack key guitar on Friday nights.
It's definitely one of the most famous restaurants in Kauai.
Best Dessert Spots in Kauai
Pineapples in Paradise
If you love Dole Whip, you'll definitely want to check out Pineapples in Paradise. It's a food truck that goes all over Kauai selling their tasty treats.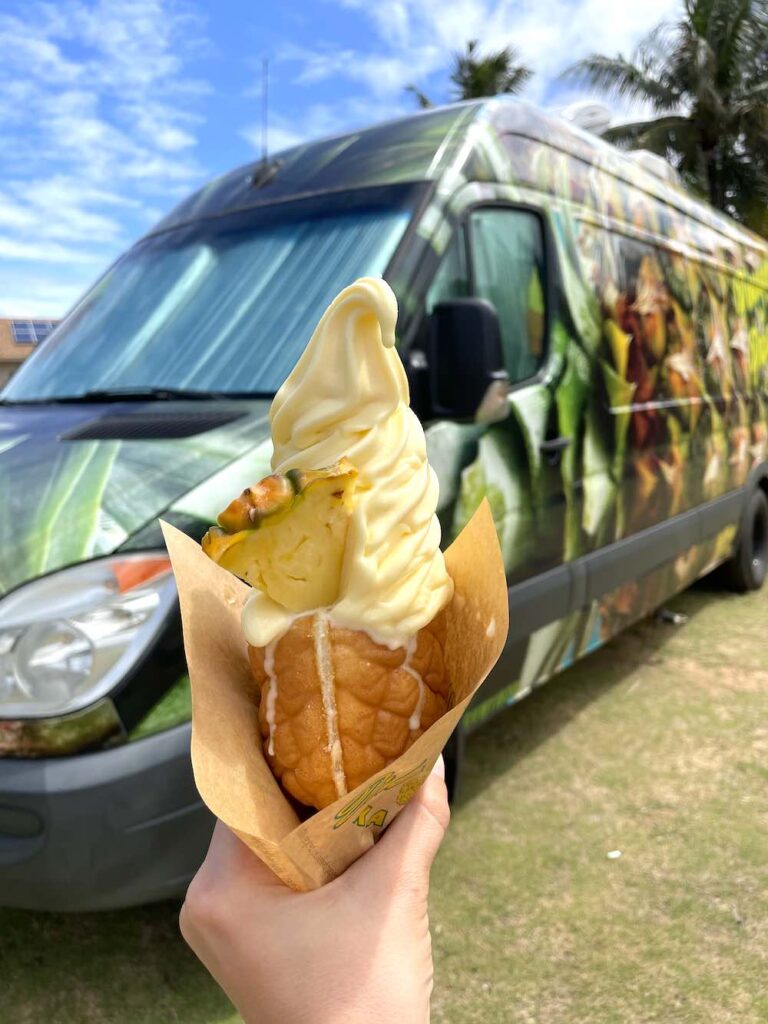 They are served in a pineapple-shapped taiyaki cake cone and it's so yummy. Plus, they have other flavors, if you aren't a fan of pineapple.
You'll definitely want to follow their Instagram page for the most up-to-date hours and locations.
The Right Slice
Situated on the southern side of the island in Kalaheo, The Right Slice is the pie mecca that meets everyone's hunger pangs. It serves both savory and sweet slices of deep-dish, hand-rolled butter crust pies as well as keiki pies since 2009.
Whether it's macadamia nut, mango lilikoi (passionfruit), Belgian chocolate, or the classic apple, this bakery has something for everyone.
Wishing Well Shave Ice
Since opening in 1983, Wishing Well has transformed into a modern-day staple in Hanalei. It operates out of an old bus on Kuhio Highway and serves organic shave ice, acai, coffee, smoothies and so much more.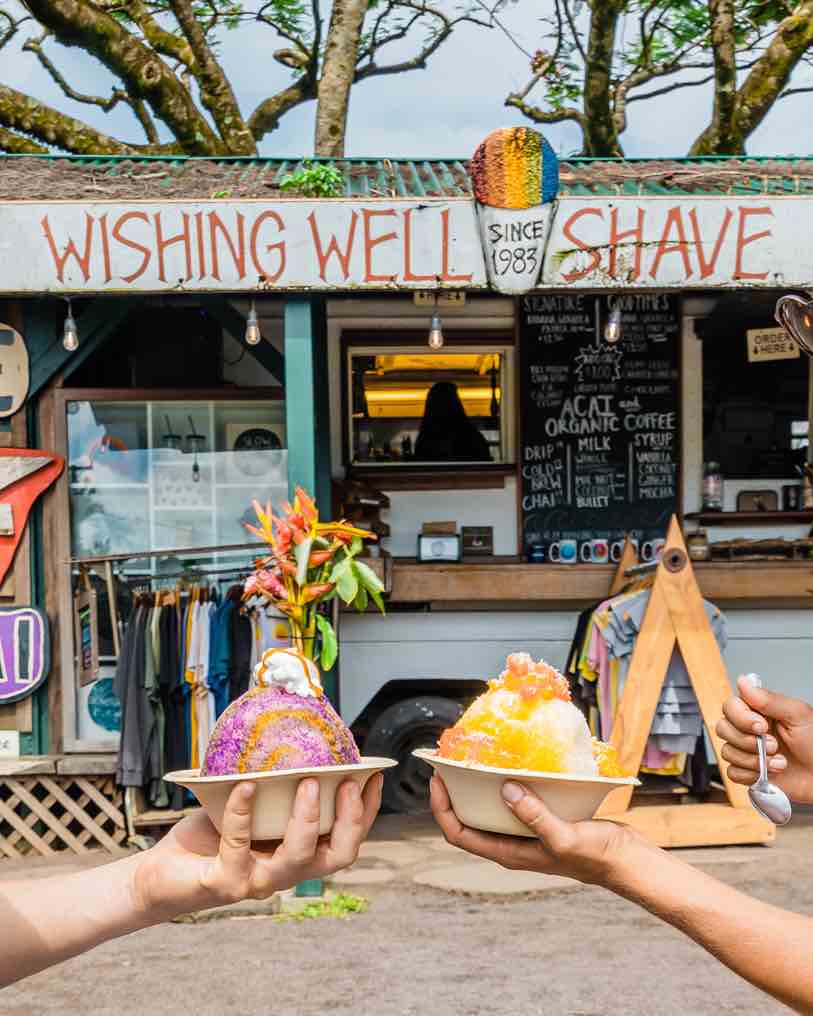 Shave ice is authentic to Hawaii and makes a great treat for kids trying to beat the heat. Strawberry, banana, coconut, hibiscus lime, and coffee are just a few of the flavors to choose between from their colorful, extensive selection.
Where to Eat in Poipu
Brennecke's Beach Broiler
Apart from their usual menus and their Friday sushi special menu, Brennecke's also offers a keiki menu to make your little ones feel special.
It features budget and child-friendly food like chicken tenders, pizza, grilled cheese, hamburgers as well Keiki mocktails. The Pink Panther with strawberries and cream comes highly recommended.
Keoki's Paradise
This open-air steakhouse and seafood establishment is surrounded by a trickling stream and tropical foliage.
Diners of all ages come from near and far to enjoy delicious food while surrounded by a mystical banyan tree, fish ponds, and live bands playing Hawaiian folk music. Illuminated by tiki torches, it is ideal for both dates as well as family outings.
Brick Oven Pizza
There's hardly a combination that guarantees more fuss-free dining than children and pizza! Even more so if the pizzeria in question is of the old-fashioned, stone-oven kind that serves their pizzas with a countless array of toppings. That's Brick Oven Pizza on Kauai!
A total crowd favorite and easy on the wallet, this top restaurant in Kauai feeds four people with a single 15-inch cheese pizza.
Where to Eat in Lihue
Kauai Pasta Lihue
Once you're done trying all the Hawaiian classics and feel like you've finally had enough shave ice and pineapples, head to Kauai Pasta Lihue for a simple, inviting bowl of pasta. Humble and affordable, this restaurant is well known for its hospitality and standout Italian offerings.
Ask for the kids menu and save yourself the trouble of guessing what your little one will like. The Alfredo pasta here is especially notorious for leaving everyone wanting more, kids included.
Children who are itching to get the wiggles out will be glad for the paper and crayons that are provided while waiting for their meal.
Hanamaulu Restaurant
Hanamaulu Restaurant is a Japanese/Chinese eatery that is popular for both its generous portions as well as its affordable rates.
Kids love the novelty of eating in a Japanese-garden setting complete with low tables on tatami floors.
Where to Eat in Hanalei
Hanalei Bread Company
Always packed with patrons, this open-air cafe is a great brunch place offering various kid-friendly crepes and a variety of egg dishes.
Its menu caters to all allergies and food preferences, so you don't have to think twice about picking up some pre-packed picnic snacks before heading to the beach. This place is totally worth the hype!
Postcards Cafe
This delightful cafe oozes old Hawaiian charm through its vintage photographs and island postcards that make it ideal for a family outing.
The menu effortlessly combines the local fresh produce with seafood for a delicious meal. The taro fritters and grilled fish are a must-try.
Hanalei Dolphin Restaurant
Owing to the fish market being practically right next door, fresh seafood is the house specialty at this family eatery. Baked shrimp, ceviche, crab, and fish cooked to perfection are absolute must-tries here.
Although luxuriously priced, you will find that they more than make up for it with their portion sizes.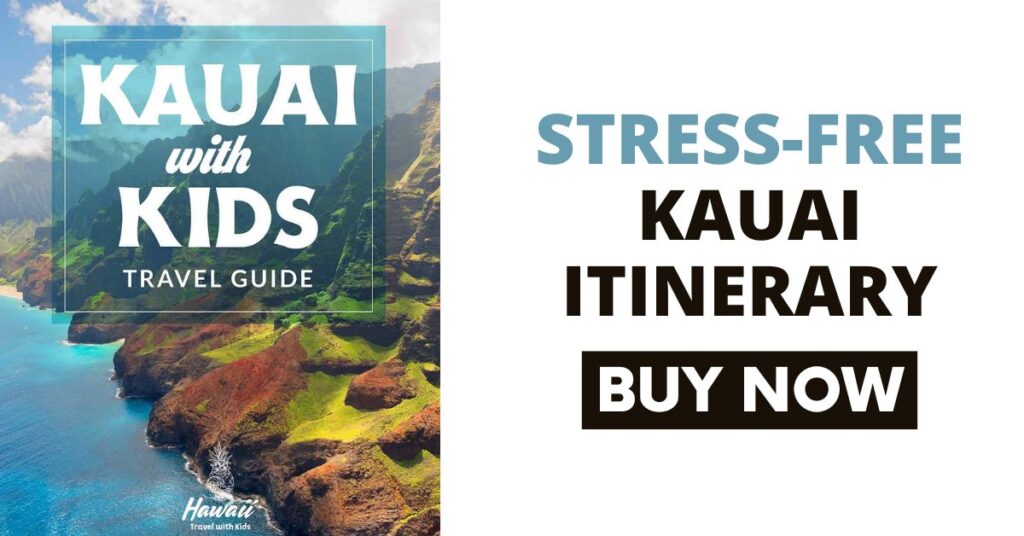 Best Kauai Restaurants for Families Wrap Up
Now that you have a handle on where to eat in Kauai with our guide, we hope you are ready to make the most of your next family vacation on the Garden Island!
Remember, the more you wander, the more reasons you have to eat!
P.S. Join our Hawaii Travel with Kids Facebook group to get connected with other families planning a trip to Hawaii!