Are you planning an Oahu vacation and want to know where to find the best coffee in Waikiki? Keep scrolling to check out my list of the best Waikiki coffee shops worth a stop!
This list of where to find the best coffee in Waikiki Oahu contains affiliate links which means if you purchase something from one of my affiliate links, I may earn a small commission that goes back into maintaining this blog.
Planning a trip to Waikiki and want to know where to get your caffeine fix?
It doesn't matter if you are a basic coffee drinker or a sophisticated coffee connoisseur, if you plan to visit Waikiki, you have to visit one of these best Hawaiian coffee shops and try a cup of joe during your trip.
Keep scrolling for my list of where to find the best coffee in Waikiki. You won't regret it!
Make sure to bookmark this page so you can reference it while planning your trip – and don't forget to bring your appetite because these shops serve up some delicious food too!
This list also includes breakfast spots in Waikiki with vegan, vegetarian, and meat choices – something for everybody.
Don't have time to read a bunch of Hawaii blog posts and reviews? Here are some of our top picks for visiting Oahu.
Popular Oahu Tours/Activities
Favorite Oahu Resorts/Hotels
Want to skip all the planning and just access my detailed Oahu Itinerary complete with daily schedules, kid-friendly activities, and travel hacks? Click the button below.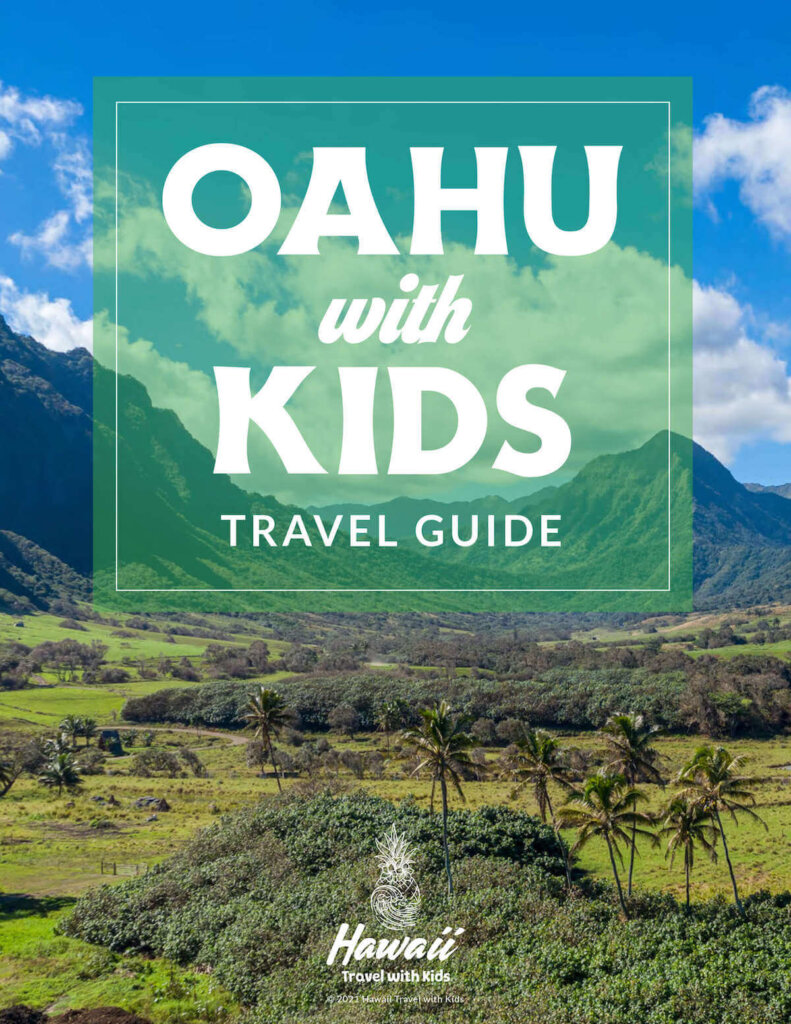 Best Coffee from Hawaii FAQs
What's the best coffee in Hawaii?
You'll definitely want to try Kona Coffee no matter where you stay in Hawaii. It's grown on the slopes of a volcano on the Big Island and there's really nothing else like it. You'll find it served in many coffee shops in Hawaii.
Where can I find the best coffee in Honolulu?
Of course everyone has different tastebuds, but Island Vintage Coffee has some of the best coffee in Oahu. Try either their hot drinks or their iced coffee with macadamia nut or coconut syrups.
Where can I find the best breakfast in Waikiki?
If you want something more than a Waikiki coffee shop, head to Cinnamon's at the Ilikai. They have the most delicious lilikoi chiffon pancakes that will blow your mind! Other options include Eggs n Things, Boots & Kimo's, or Goofy Cafe.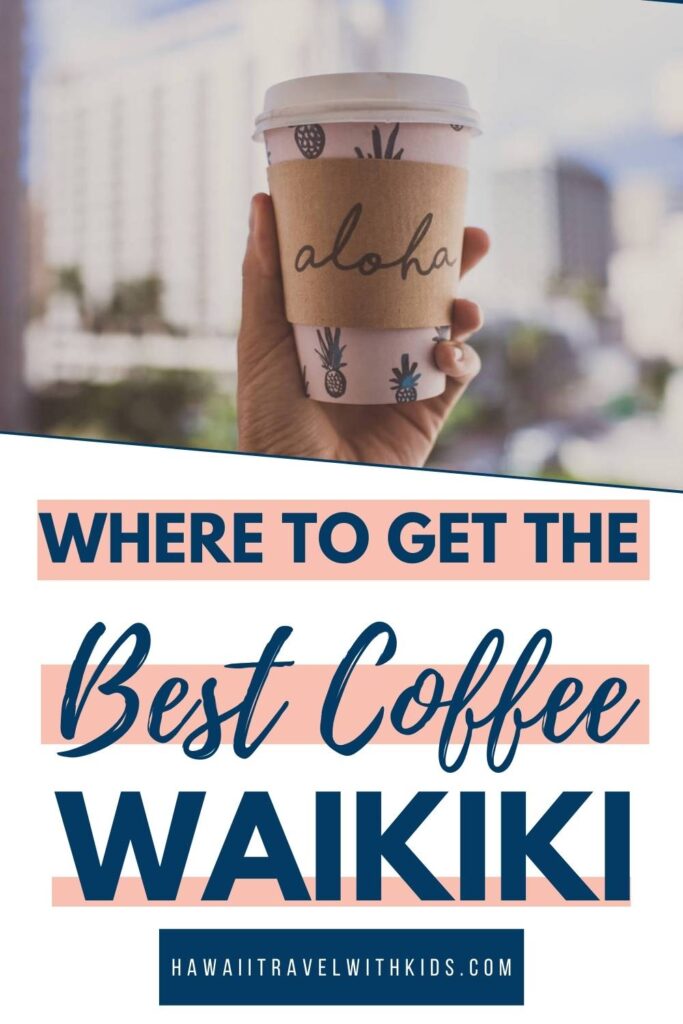 Top Picks for Best Coffee in Waikiki
1. Brew & Foam Coffee House
First day in Waikiki? The best place to have brunch is at Brew & Foam Coffee House.
Not only do they offer one of the best coffees in Waikiki, but they also have the best acai bowl. Vegan, vegetarian, and meat-eater can find something on their menu. If you are running for the airport, the takeaway from this shop is also popular.
You can get to Brew & Foam Coffee House from Waikiki Bay by walking from Kalakaua Avenue, towards the west, and then taking a right turn at McCully Street. It should take you 20-minutes on foot or a 5-minute drive via Ala Wai Boulevard.
Address: 1909 Ala Wai Blvd, Honolulu
2. Maleko Coffee and Pastries
If the line is too long at Brew & Foam, on the other side of the block is Maleko's Coffee and Pastries. They are known for their malasadas (a Portuguese doughnut) and drip coffee.
Although there are sitting areas here, most customers order to-go, which means you shouldn't have to wait too long for your order. They also have other pastries such as danish, croissants, brownies, cookies, and even pizzas.
Address: 444 Niu St Ste 106, Honolulu
3. Glazer's Coffee
A little further from Waikiki Beach is Glazer's Coffee. Popular as a Seattle-style coffee house, most of its patrons are students getting some work done. It's also not that from the University of Hawaii.
The most favorite order here is the bagel, classic yet something you definitely have to try. Its espresso and latte art also hasn't gone unnoticed.
This is the spot you want to go if you want to read a book or finish some work and be somewhere with a good ambiance and a quiet atmosphere.
Glazer's Coffee is about an 8-minute drive from Waikiki Beach through Kapahulu Avenue which will take you to S King Street.
Address: 2700 S King St unit #D101, Honolulu
4. Da HI Brew
Situated along Ala Moana Boulevard, near Ala Wai Boat Harbor, Da HI Brew is a known spot both for locals and tourists since it is surrounded by hotels. The shop specializes in modern coffee featuring local beans and international ones.
This Hawaiian coffee house appeals to customers who are looking for a relaxed setting yet near popular businesses. During your visit, make sure to order the breakfast burrito and avocado toast.
It's not hard to get to Da HI Brew, which is located in Discovery Bay. From the popular Fort DeRussy Beach, it's only an 11-minute walk towards the northwest or a very quick 0.6-mile drive.
Address: 1778 Ala Moana Blvd Suite 216, Honolulu
5. ALO Cafe Hawaii
This gem is a vegan paradise. If you are looking for a great vegan breakfast spot in Waikiki, ALO Cafe is for you.
Their menu consists of combo choices, which means you can get a drink and food and at the same time be able to save a few dollars. Smoothies, acai bowl, banana bread, and cold brew coffee are the most sought-after items on the menu.
But if you are looking for food or coffee only, that's also not a problem. All the "milk" used in coffees is vegan-friendly. While the food is also 100% plant-based, remember to ask if there's honey on the food or drink, you can always ask for agave as a substitute.
It's only a 5-minute walk to ALO Cafe from Waikiki Beach. Head to K'iulani Avenue then turns right on the Princess Ka'iulani Triangle. You can also go through Uluniu Avenue, then turn left on Kuhio Avenue.
Address: 159 Kaʻiulani Ave, Honolulu
6. Coffee Shop 831
If you are a pour-over kind of person, this coffee place is for you. A very cute little coffee shop hidden away in a street, but only a few minutes walk from Waikiki Beach.
Customers don't tend to sit around here, hence, there's basically no line almost at any time of the day.
The most sought-after drink here are pour-overs, lattes, and smoothies. For light meals, go for panini, acai bowl, and the colorful papaya boat.
To get here, take Kaiulani Avenue, then left to Kuhio Avenue, and finally, turn right to Nahua Street.
Address: 411 Nāhua St, Honolulu
7. Ali'i Coffee Co
Right on Kuhio Avenue, in the heart of Waikiki, you will find this Hawaiian coffee shop that appeals a lot to those who like to be adventurous when it comes to their coffee. Try out Ube latte, nitro cold brew, and specialty espresso – all featuring Kona coffee.
If you find yourself craving some food, avocado toast and breakfast sandwich are the two best sellers.
You can get here from Waikiki Beach by taking Kalakaua Avenue then turning right to Royal Hawaiian Avenue, then left to Kuhio Avenue, it shouldn't be more than a 15-minute walk or an 0.8-mile drive.
Address: 400 Royal Hawaiian Ave, Honolulu
8. The Sunrise Shack Waikiki
This Instagrammable cafe in Waikiki is worth a visit. The interior alone is so vibrant, but once you get your order you can't stop taking photos of your food because they are colorful and looks so delicious.
The smoothies and acai bowls are really must-tries, matched with any bullet coffee on the menu board. The location is also fantastic, right in front of the stunning Waikiki Beach.
Apart from food and drinks, you can also buy souvenirs such as string bags and t-shirts.
Address: 2335 Kalakaua Ave, Honolulu
9. Kona Coffee Purveyors
Kona Coffee surely has one of the best Honolulu coffee shops (not only in Waikiki). It is so popular that there is an hour-long queue, especially at the weekend, but it's worth the wait.
Make sure to try Kona cold brew, flat white, and latte. They partnered with the popular b patisserie from California, where the most sold desserts and pastries are Kouign-Amann, affogato, almond croissant, and pineapple croissant.
If you are looking at buying coffee beans, there is a coffee tasting bar inside the shop, where you can try out different coffees first.
You can reach Kona Coffee, by going on a 6-minute walk or a 3-minute drive from Waikiki Beach. Take Kailulani Avenue then turn left at Kuhio Avenue.
Address: Kuhio Avenue Mall Entrance – 2330 Kalakaua Ave #160, Honolulu
10. Banyan Breeze
Banyan Breeze is tucked away in a busy building of Banyan Waikiki. The place is mostly quiet, but during weekends, a wave of tourists and locals flocking the area and it can get a little crowded.
This is hands-down one of the best cafes in Waikiki, it offers a limited yet delicious menu. Acai bowl is pretty popular, however, you should also try the soup, breakfast sandwich, and Bagel cream cheese.
For your drink, don't forget to get a Kona coffee in form of either americano or latte.
From Waikiki Beach, head east along the shore, about 2 blocks on foot, and turn to Ohua Avenue. It should only take you an 8-minute walk.
Address: 201 Ohua Ave 102, Honolulu
11. Knots Coffee Roasters
Right in front of Honolulu Zoo, you will find Knots Coffee Roasters. It is on the ground floor of Queen Kapiolani Hotel, however, it has nice outdoor seating, quite unique for Hawaii due to its humid weather.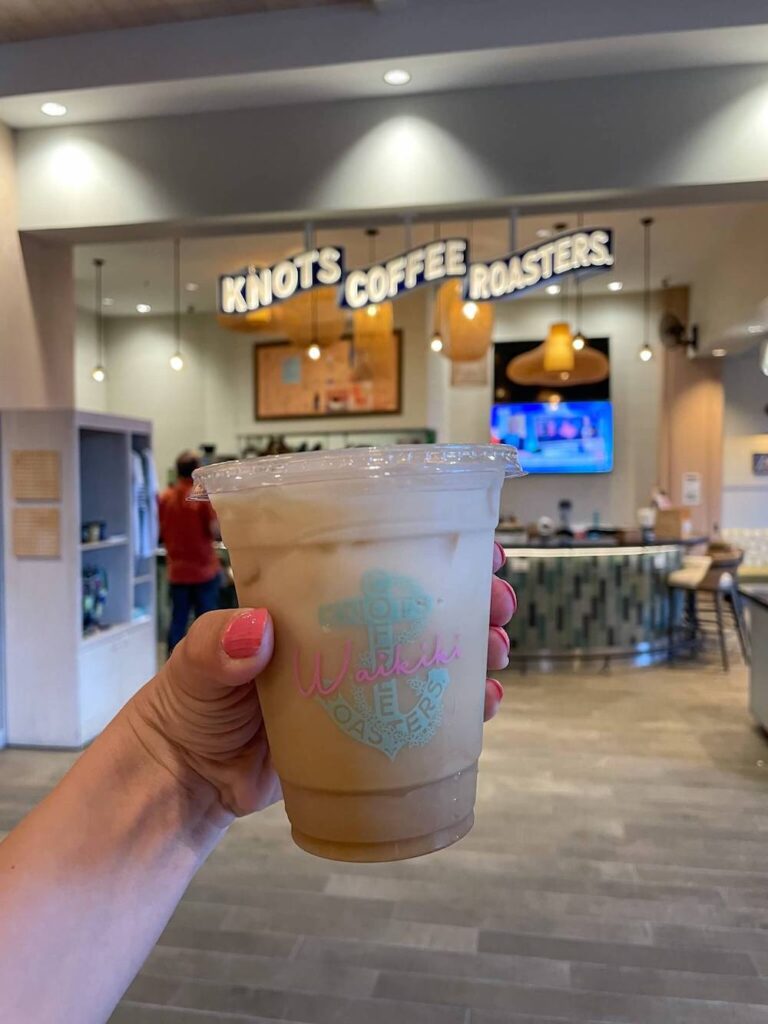 If you need a strong coffee, you must try the pour-over, while the vanilla-iced coffee is perfect when it's warm outside.
Sauteed shrimp is a popular light meal order. If you are a local or will be in Waikiki for a while, go for the monthly membership which is $40/month.
Address: 150 Kapahulu Avenue, Honolulu
12. Holoholo Cafe & Market
This coffee shop in Waikiki is your one-stop shop. You can get your coffee fix of the day, eat a yummy breakfast, and shop for some souvenirs or basic food and drinks.
This is a convenience store that serves delicious food and drinks. Believe it or not, you can even enjoy happy hour from 3 PM to 6 PM, then 9 PM to 11 PM. It's a great place to get cheap eats in Waikiki.
Address: 2330 Kuhio Avenue, Honolulu
13. Island Vintage Coffee Waikiki
The next on the list is another spot for vegans. Although not everything on the menu is vegan, there is no shortage when it comes of plant-based breakfast and drink choices.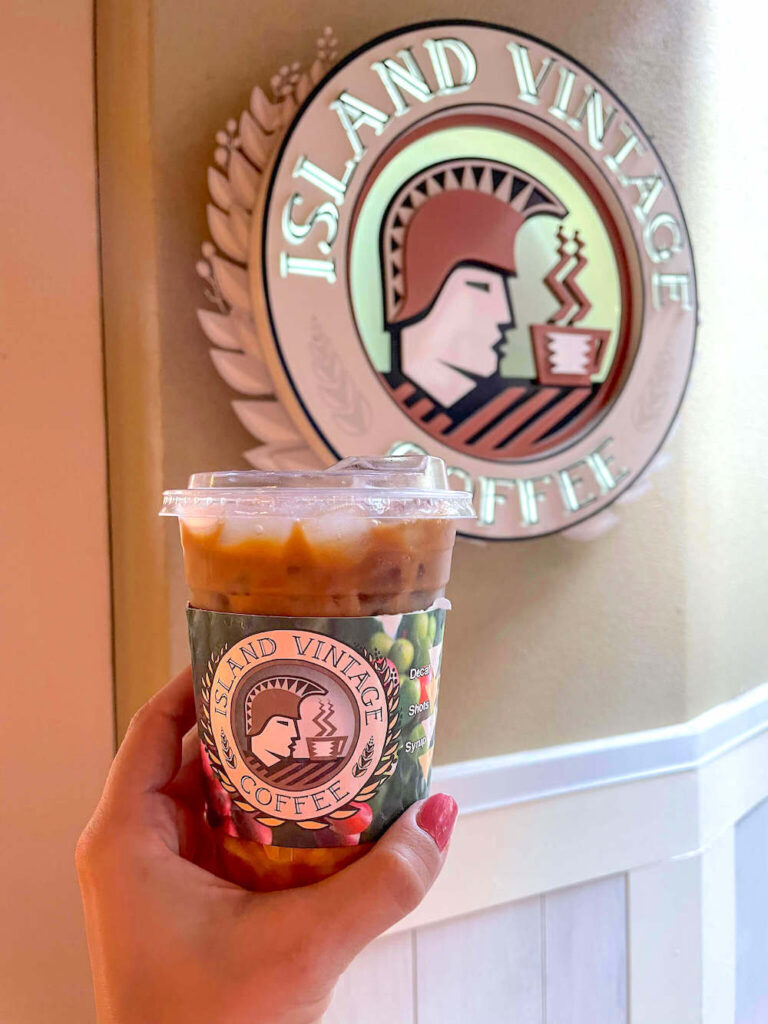 Your coffee can easily be made vegan since you can choose between almond, soy, or coconut milk. For the food menu, there are vegan burgers, all-fruit poke bowls, and vegan main dishes.
Getting to Island Vintage Coffee is also no problem, it's along Kalakaua Avenue. There are inside and outside seating. But remember, since it's a popular spot, the line can be very long, especially during weekends and peak season.
Address: 2301 Kalakaua Ave #C215, Honolulu
14. Hawaiian Aroma Caffe
This gem sits right in the middle of busy Waikiki surrounded by many businesses. But when it comes to coffee, locals and tourists alike head to this establishment for their much-needed caffeine.
Waffles with tropical fruits are one of the best sellers when it comes to breakfast dishes. For a coffee, try the iced latte which is perfect during the summer season.
You only need to walk about 4-minutes from Waikiki Beach along Kalakaua Avenue and take a quick turn to Dukes Lane.
Address: Beachcomber Waikiki Hotel, 2300 Kalakaua Ave, Honolulu
15. Honolulu Coffee
This Honolulu coffee shop by far has the best location among all cafes in Waikiki on this list. It's next to Moana Surfrider Hotel, which means that the beach is just across the street.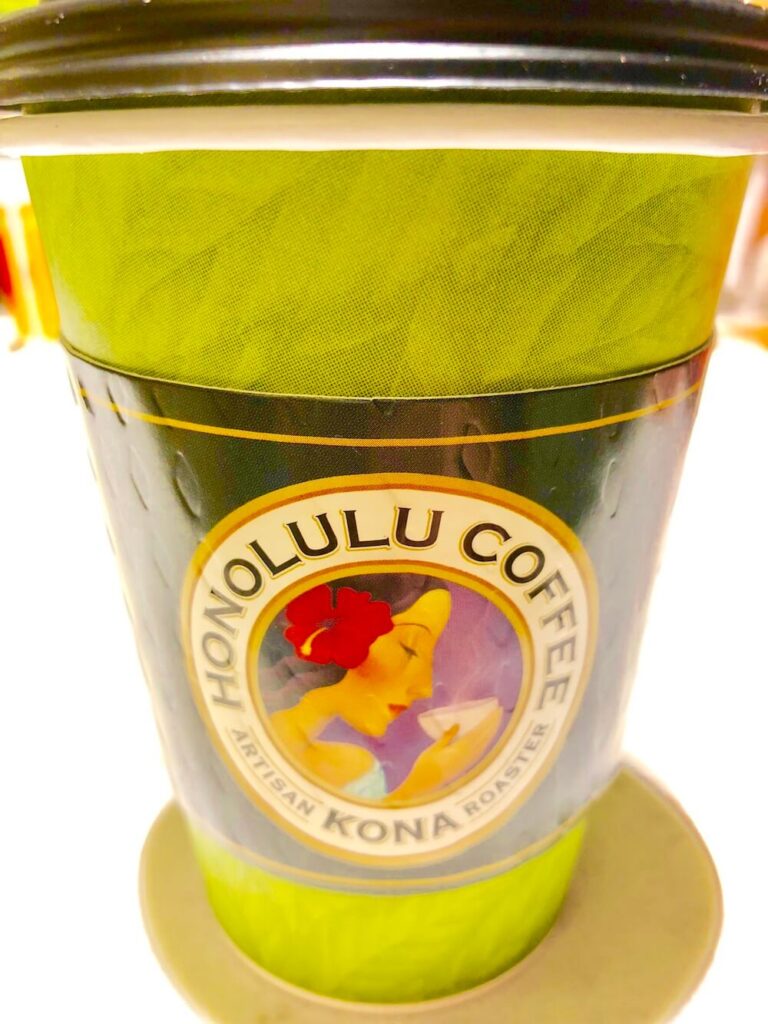 The most popular food on the menu is acai bowls and cheese and ham croissants. While Hawaiian latte and mocha specifically made of Kona coffee is definitely a must-try.
Address: 2365 Kalakaua Avenue, Honolulu
16. Coffee or Tea?
Coffee or Tea is quite an unorthodox cafe if you look from the outside. But once you come in, you will be welcomed with a massive choice of drinks.
Although they don't offer much food except cake slices, crackers, and desserts, the drinks menu will take you a moment to decide because they all sound and look great.
Most customers actually go for boba teas and smoothies, but if you really want a coffee, it's very affordable compared to the rest of the coffee shops in Waikiki.
To get here, simply walk along Kalakaua Avenue and take Seaside Avenue as you turn, it should only take you 7-minute on foot or a 6-minute drive.
Address: 333 Seaside Avenue, 150, Honolulu
17. KaiFresh
For those who really just want a quick coffee and not looking to sit and hang out, stop by KaiFresh. This is a stall shop along the busy Ka'iulani Avenue.
Although it looks like their menu is filled with colorful desserts, they also serve very affordable coffee and you don't have to wait for it for too long.
If you want to enjoy your drink or dessert, KaiFresh has a small sitting area in front of the stall. The most ordered items on the menu are acai bowls, waffles, latte, and avocado toast.
Address: 120 Kaʻiulani Ave, Honolulu
Wrap Up
When it comes to great coffee spots Waikiki has plenty. Especially since the state curates their own coffee beans.
Regardless if you are traveling with a group of friends or family who don't drink coffee, most cafes in Waikiki have a wide range of food and drink menus – there's always something for everybody.
But of course, if you are looking for familiar brands such as Starbucks and Coffee Bean and Tea Leaf, locations can also be found all around Waikiki.