Are you planning a trip to Oahu and are going to drive up to the famous North Shore Oahu? Keep scrolling to find out the best North Shore food trucks that are totally worth the drive!
This North Shore Oahu food trucks post was originally published November 6, 2020 and was updated November 9, 2021 and contains affiliate links which means if you purchase something from one of my affiliate links, I may earn a small commission that goes back into maintaining this blog.
When you are planning an Oahu vacation, it can be hard to know which places are worth adding to your itinerary or skipping.
Families staying in Waikiki might be thinking about renting a car and driving around the island.
The North Shore on Oahu is famous for its beautiful beaches, epic hikes, and amazing surf spots.
And there are so many things to do in Haleiwa, explore the Dole Plantation, and learn at the Polynesian Cultural Center.
However, it's also famous for its shrimp farms.
That said, it's no wonder that some of the best food trucks in Hawaii can be found here.
I've rounded up some of my favorite Oahu food trucks located on the North Shore that are totally worth the drive.
Keep scrolling to find out the best food trucks Oahu has to offer!
And find out 101 kid-friendly things to do on Oahu!
North Shore Food Trucks FAQs
What is Hawaiian Garlic Shrimp?
Hawaii has some of the sweetest shrimp in the world. These shrimp trucks saute with garlic and butter with the shells on for the tastiest Hawaiian garlic shrimp!
What is considered North Shore Oahu?
North Shore Oahu begins with Hauula, Laie, Kahuku, Sunset, Waimea, Haleiwa, Wahiawa, and ends with Mililani.
How far is the North Shore from Waikiki?
Usually, it's a 45 minute drive if you go on non-peak hours and don't make any stops. But, it really depends on traffic. It's taken us 2.5 hours when we went during the evening rush hour.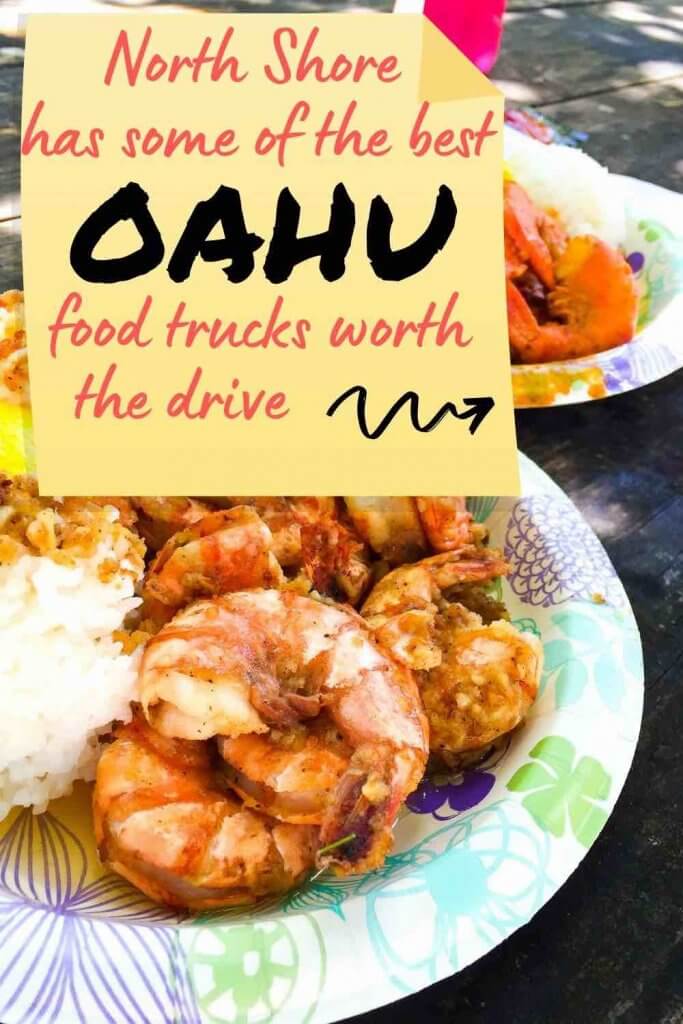 These Are The Best North Shore Food Trucks
There are way too many North Shore Oahu food trucks to list all of them. These are our personal favorites that are worth a stop!
In 1993, Giovanni's began operating out of a converted bread truck with no more than a few recipes for great shrimp.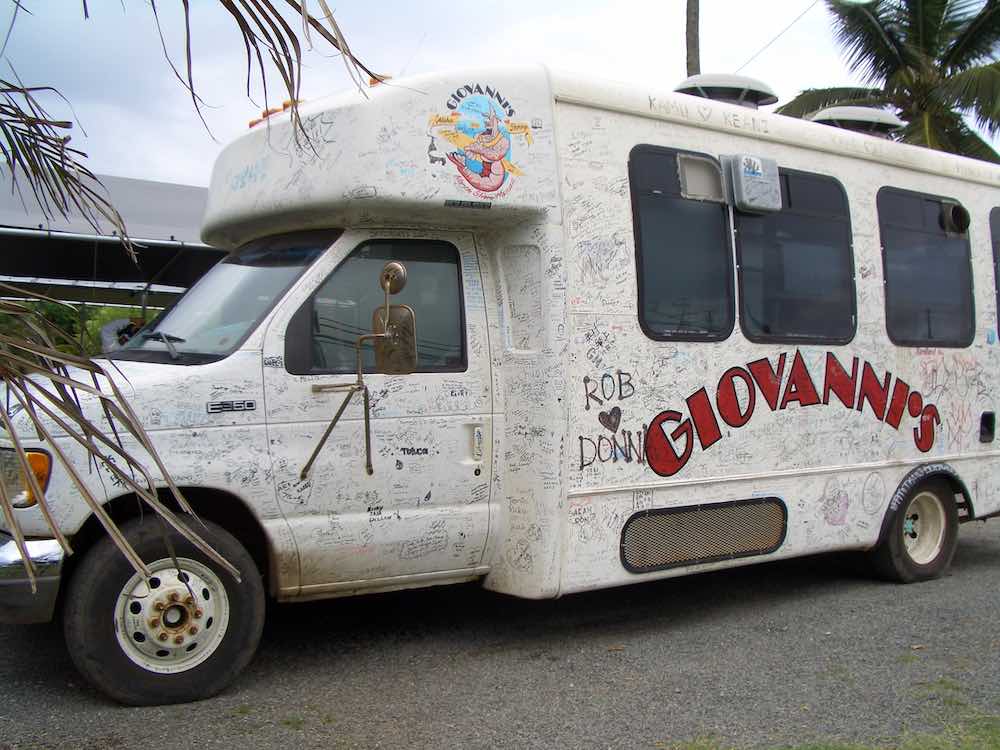 Not long after, people heard about the delicious shrimp dishes at the truck and told their friends about it. Because of this, the shrimp truck had to add another truck in 1997.
All that said, it's no question why so many people visit Giovanni's at 56-505 Kamehameha highway; their shrimp is amazing!
In some way, Giovanni's actually started the food truck trend in the North Shore.
The food truck is open daily from 10:30 AM to 5:00 PM and the price range is also incredibly reasonable.
In fact, plates cost only $14.00 and already come with a dozen jumbo shrimp and 2 large scoops of rice.
As for Instagrammable, Giovanni's has become historical since 1993 when Ed Hernandez left a mark on the truck. Years later, people, employees, and locals have made their own marks with their signatures on the truck.
If you're a fan of history and the local ambiance, this place is for you. It's one of the most famous Haleiwa food trucks.
If you're looking for Mexican and Latin Cuisine, Surf N' Salsa is the food truck for you.
People can visit Surf N' Salsa at 66521 Kamehameha Highway in Haleiwa. They're open from Mondays to Saturdays from 11:30 AM to 7:00 PM.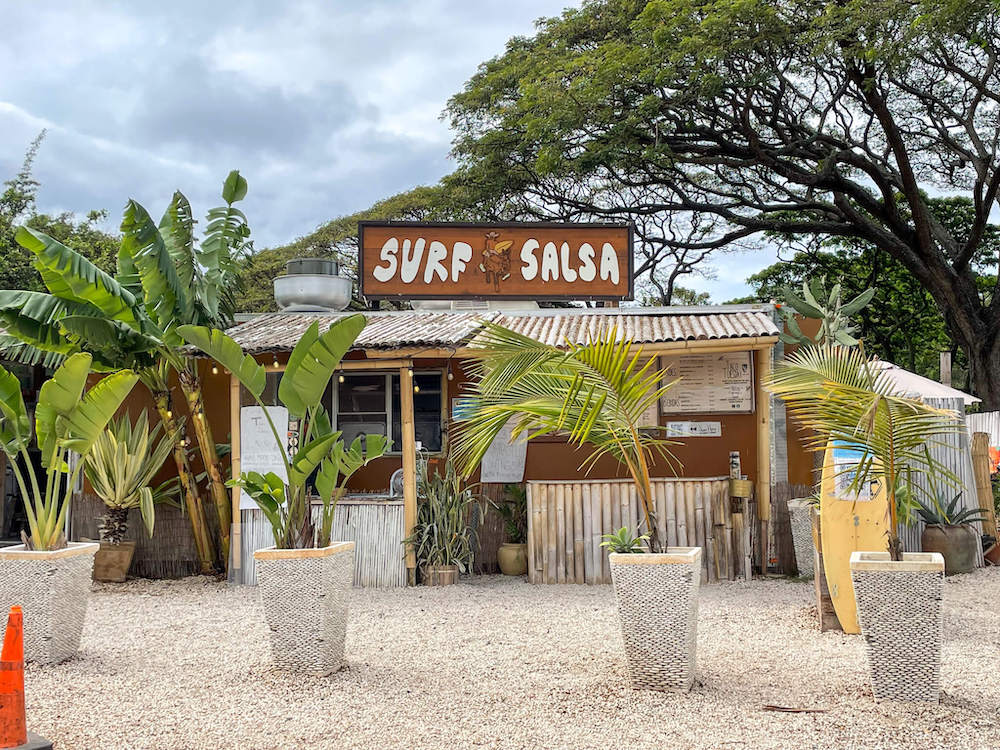 The food truck opened in 2013 and has since served authentic Mexican and Latin Food.
Surf N' Salsa operates with farm to table produce, making sure that their ingredients are fresh and local. In addition, the food truck is proudly a family-run business.
Today, the food truck is widely known as the best Mexican food truck in Oahu, with customers raving over their Chimichangas and Burritos.
Customers often talk about the depth of flavor, authenticity, and attention to detail the food truck offers. Also, their price range is very reasonable.
In fact, their burritos range between $12.00 to $13.75. On the other hand, handmade tacos cost $4.75 each. A plate of tacos cost $13.00 and already includes two tacos, rice, and beans. Their plates range between $14.50 to $17.00 and include rice, beans, guacamole, sour cream, and tortillas.
Another best on the list is Mike's Huli Chicken. Locals and tourists visit 56-565 Kamehameha Highway in Kahuku for Mike's Huli Huli Chicken.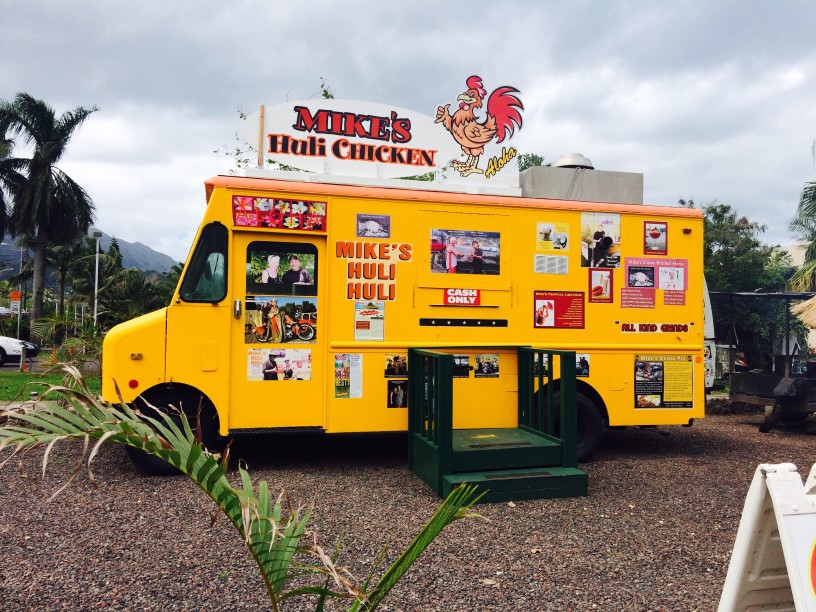 "Huli Huli" in Hawaiian translates to turn and Mike serves the best Hawaiian chicken BBQ in the North Shore. The food truck is open from Saturday to Sunday from 11:00 AM to 7:00 PM.
The chef and owner, Mike Fuse, is a North Shore local and has been cooking Huli Huli Chicken since 2010.
Mike makes sure to broil his chicken over Kiawe wood and the wood gives the chicken its smoky flavor.
Proudly local, the food truck serves Hawaiian Style Chicken, Kalua Pig, Lomi Lomi Salmon, Pulehu Steak, Ahi, Spicy Shrimp, and fresh fruit smoothies.
As for price range, Mike's Huli Chicken also provides a competitive range between $12.75 to $16.50 for their 12 plate dishes. The bright yellow food truck attracts both locals and tourists. It's no wonder why this is one of the top North Shore Oahu food trucks.
Another great food truck in the North Shore is No. 7 Japanese Food Truck.
Although it was only established in 2017, the food truck has definitely created quite a buzz in Oahu's food truck scene.
Customers visit the food truck at 66-235 Kamehameha Highway in Haleiwa. The food truck is open daily from 11:00 AM to 8:00 PM.
People visit the food truck for their Poke Bowls, Crispy Ahi Bowls, and Rolls. Poke bowls are made of fresh local tuna & salmon, local greens, seaweed, sweet onions, smelt egg, and shiso leaf over sushi rice.
Regular bowls cost $13.00 while mini bowls cost $8.00. Aside from this, rice bowls range between $11.00 to $15.00.
As for the food truck's aesthetic, it's mostly Japanese decor and lanterns. Wooden planks cover the sides of the food truck and make a great background for some great Instagram photos!
Haleiwa Bowls is home to some of Hawaii's best açai bowls and smoothies. In fact, bowls are made with organic homegrown fruit and are proudly sugar and preservative-free.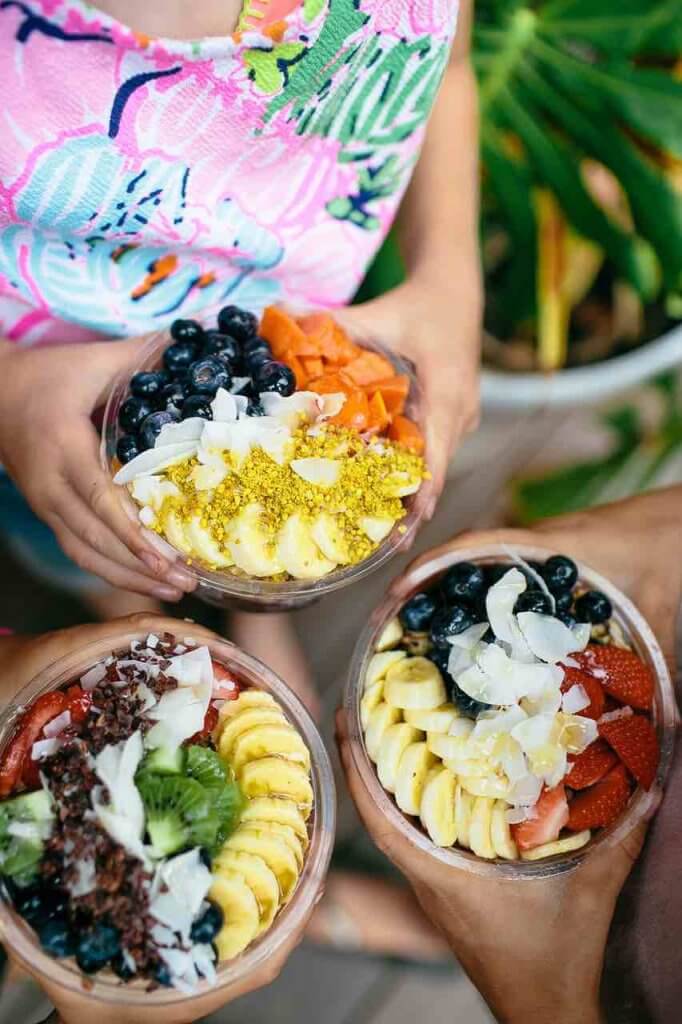 Locals and tourists can visit 66-030 Kamehameha Highway in Haleiwa. They are open daily from 7:30 AM to 6:00 PM.
Customers love the bright, colorful, and delicious açai bowls served in cute cups. Small bowls cost around $8.00 – $10.00 and large bowls range between $11.00 – $13.00.
All açai bowls come with organic granola, fresh bananas, raw coconut flakes, and raw Hawaiian honey. And extra toppings cost 75 cents each.
The food truck attracts a lot of tourists and locals because of its very tropical and Earth-friendly decor. The wooden planks on the wall give the "shack" feel rather than food truck ambiance and it's perfect for some photos!
If you're hungry for some Pad Thai and other delicious Thai food, The Elephant Truck is for you.
Swimmers and people strolling along Sunset Beach can drop by the Elephant Truck at 59-186 Kamehameha Highway. The Truck is open from Mondays to Saturdays from 12 PM to 8:30 PM.
While their menu changes from time to time, their staples include Papaya Salad, Tofu & Herb Salad, Pla Goong, Yum Pla, Yum Nua, Yum Gae Yeng, and Pad Thai. The prices range between $7.00 to $14.00.
A lot of customers note that The Elephant Truck is best for hungry vegans!
The food truck is standard-looking. However, the plain gray background seems to pave the way for some great food photos! Customers can sit on the benches outside while waiting for their food.
Of course, the only pizza food truck in the North Shore makes the "Best" list! Tourists and locals can visit the Impossibles Pizza food truck along Kamehameha Highway.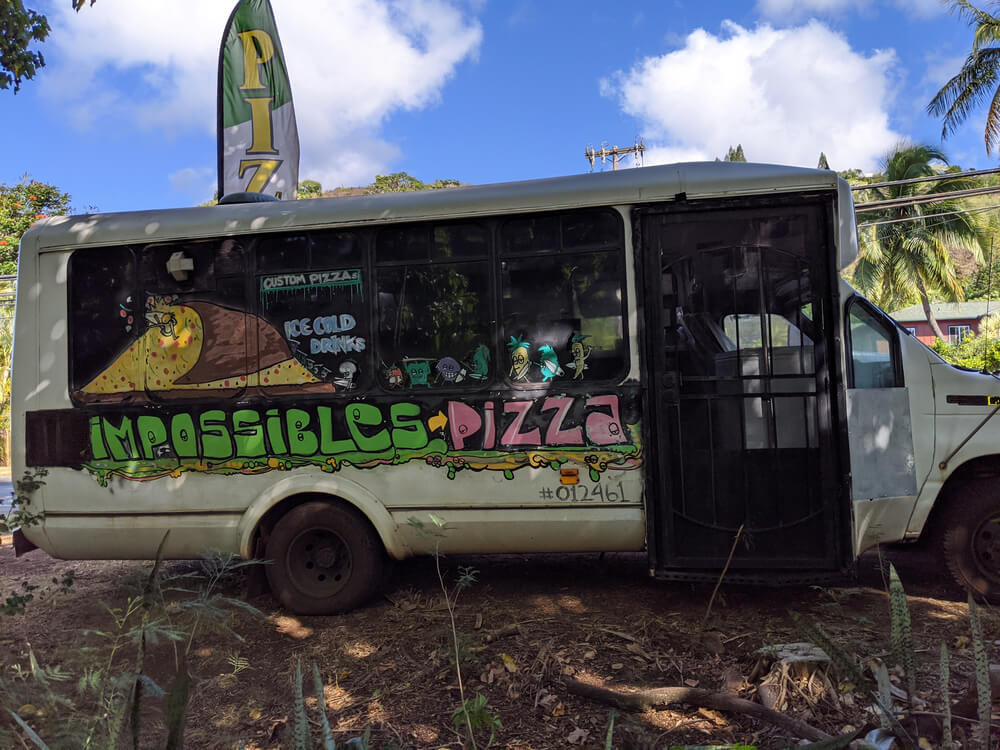 The food truck is known for its BBQ Chicken pizza and Pepperoni. But, customers can also create their own pizza and add their preferred toppings.
Their toppings include the traditional toppings like pepperoni, cheese, and etc. but they also offer Hawaiian favorites like Kalua Pig, Maui onions, and pineapples.
A 20-inch extra-large cheese pizza costs $20.
The food truck is open from Thursdays to Saturdays from 3:00 PM to 8:00 PM. Aside from this, customers love taking photos of their colorful neon pen-covered pizza truck. It's one of the best food trucks in Oahu.
Oahu Eats
If you love food trucks, Oahu's North Shore is home to some of the best food trucks in Hawaii.
We hope you enjoyed our list and if you're still looking for more food content, you can check our guides here.
We've also put together a list of Cheap Oahu Eats here. For desserts, here's a list of the Best Shave Ice in Oahu and the Best Oahu Ice Cream Spots. However, if you want some Poke Bowls, this list is for you.
Hawaii food trucks are a lot of fun to visit and they can be extremely budget-friendly.