Are you planning a Big Island vacation and want to know where to find the best coffee in Kona? Keep scrolling to check out my list of the best Kona coffee shops worth a stop!
This list of where to find the best coffee in Kona Hawaii was written by Hawaii travel expert Marcie Cheung and contains affiliate links which means if you purchase something from one of my affiliate links, I may earn a small commission that goes back into maintaining this blog.
Heads up coffee lovers, if you are visiting Hawaii, you have to go to the Island of Hawai'i, a.k.a Big Island because this is where Kona coffee came from.
On the west side of the island, you will find the region of Kona known for many things but mostly for its coffee that could never go wrong.
If you are looking for the best coffee spots in Kona, this list will guide you on where to find them.
Whether you craving a quick Americano or want something to cool you off after you catch some waves, we've got you covered. You surely cannot leave Kona without trying out a great breakfast partnered with a locally-sourced coffee.
But before we start, Starbucks and other international coffee-chain businesses can also be found in Kona if you are looking for a particular or a basic place to have your morning cup of joe.
Don't have time to read a bunch of Hawaii blog posts and reviews? Here are some of our top picks for visiting the Big Island.
Popular Big Island Tours/Activities
Favorite Big Island Resorts/Hotels
Want to Rent a Car in Hawaii?
One of the best places to rent a car in Hawaii is Discount Hawaii Car Rental because they get the best rates from top national companies like Alamo, Dollar, Thrifty, Avis, Enterprise, Budget, and Payless.
Want to skip all the planning and just access my detailed Big Island Itinerary complete with daily schedules, kid-friendly activities, and travel hacks? Click the button below.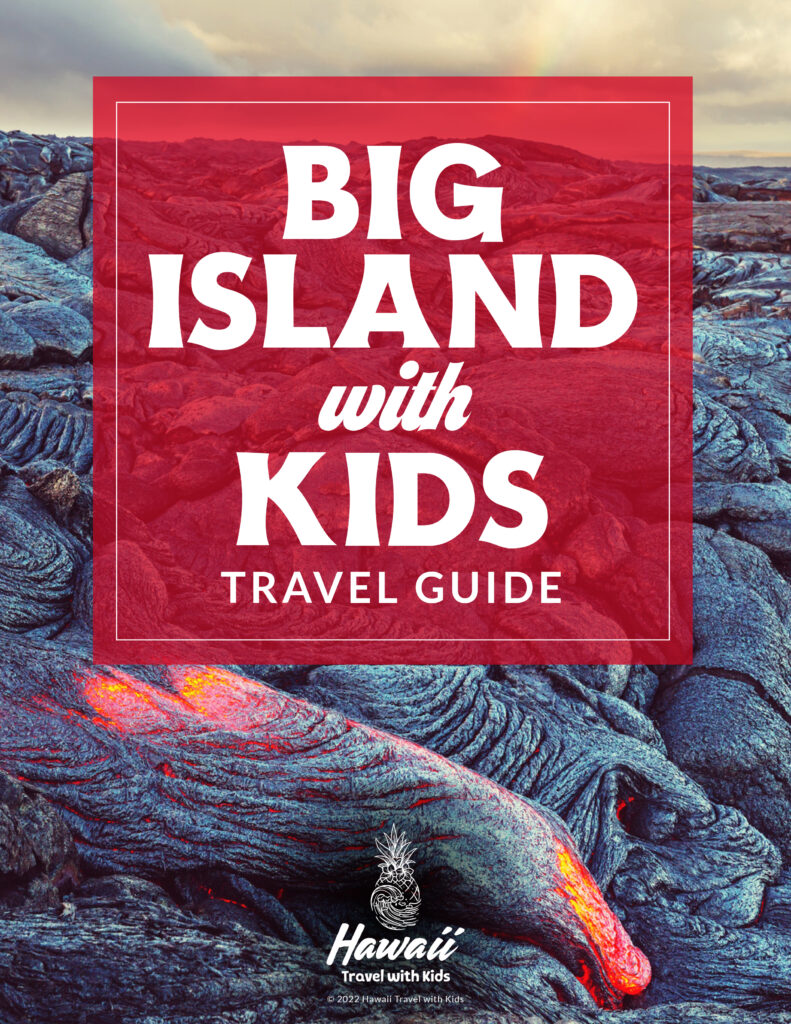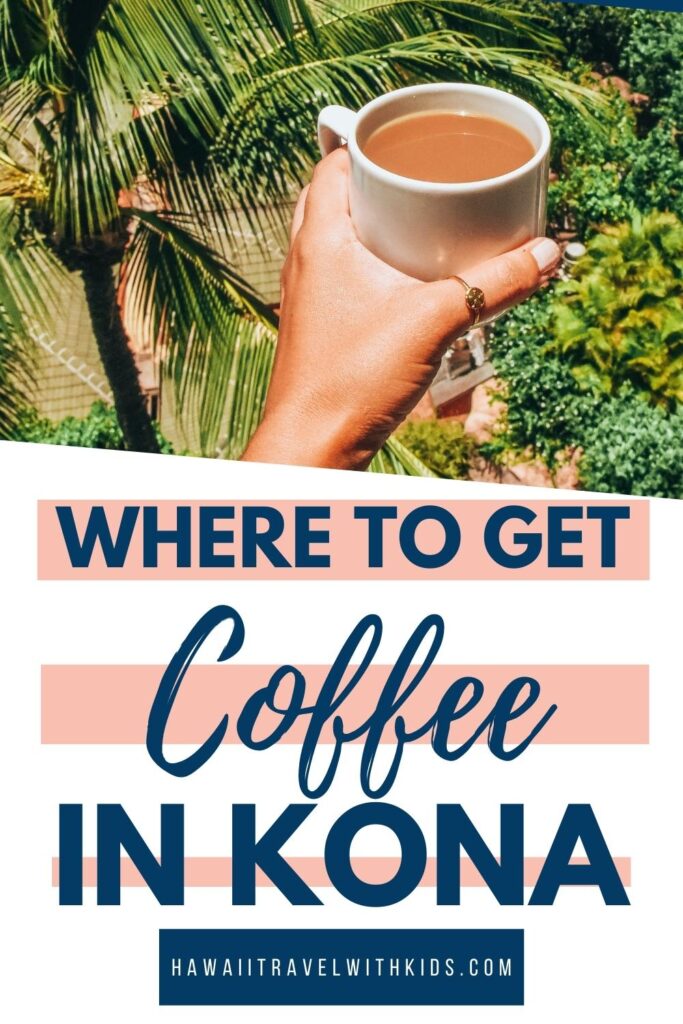 Best Kona Coffee Shops
1. Kona Coffee & Tea
Where best to get your coffee but from the farmer themselves. That's true, Kona Coffee & Tea have its own farm just a mile from its coffee shop.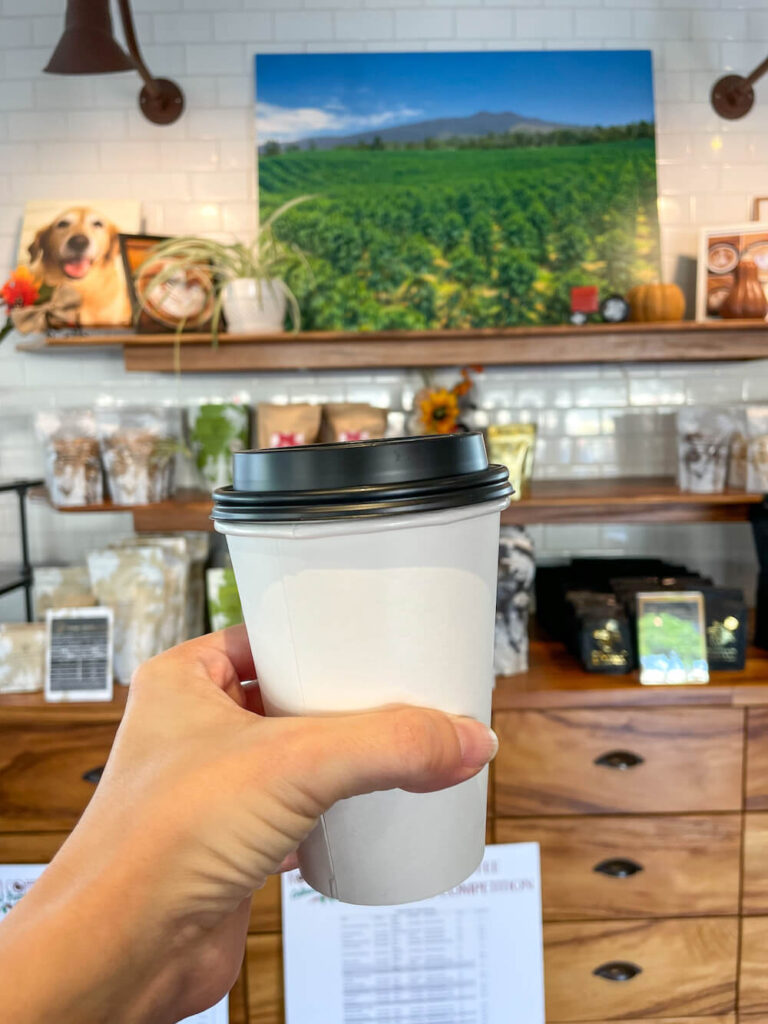 It is also a family-owned business committed to producing high-quality coffee beans. Visiting this place means you are getting the coffee from the farm right to your cup.
They used to have a popular acai bowl, but it's no longer on the menu. However, apart from amazing Kona Coffee, have that with a bagel or half papaya which are equally famous food choices.
The cafe is not hard to find, it's right downtown, near the crossroads of Hawai'i Belt Road and Palani Road.
Address: 74-5588 Palani Rd, Kailua-Kona
2. Kona Mountain Coffee
This Kona coffee house serves espresso drinks but is also loved for its massive collection of chocolates and gifts making it an awesome location to buy souvenirs if you are only visiting Kona or Hawaii in general.
Before you order your coffee, you can try their roasts and see which one you like the best. If you enjoy their drinks, you can buy coffee beans and grounds to bring home with you.
There are not many options for food, only cakes and bread. But they also offer teas and vegan substitutes for milk.
Kona Mountain Coffee is a little bit outside the main town center. It is about 5 miles or a 9-minute drive. Stick to Queen Ka'ahumanu Highway, then take a right turn once you reach the crossing to Hulikoa Drive, it's right on that corner.
Address: 73-4038 Hulikoa Dr #5, Kailua-Kona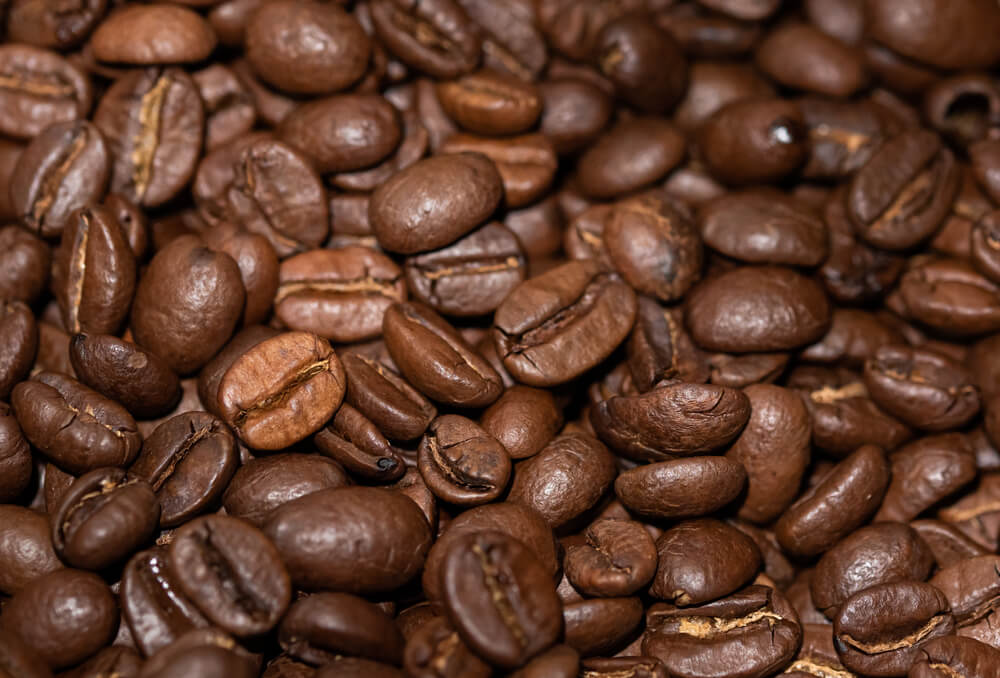 3. Kona Coffee Cafe
A cafe with a view of the ocean and serves the best coffees in Kona, check out Kona Coffee Cafe. It sits right on the beach, a popular spot for surfers, locals, and visitors alike.
It does look like a small coffee stall, but they have seating at the back facing the water. You can find it right on the main beach of Kailua-Kona.
Kona Coffe Cafe offers regular coffee but also tons of variety such as peaberry and chocolate macadamia nut. You can even do a free tasting before deciding what you want. They don't have a big food menu, but they have muffins and small snacks.
Address: 75-5744 Ali'i Dr #123, Kailua-Kona
4. Holualoa Kona Coffee Co
The location of Holualoa Kona Coffee Co is 14 minutes or 7 miles from the main town, but it's worth checking out. This Kona coffee shop has its own plantation and they offer free tours in their mill plus tasting.
This place is exactly where you want to be if you want to learn more about Kona coffee, even children will find the process quite fascinating.
There isn't food served here, but when it comes to coffee beans and roasting, you don't want to be anywhere else. It's the spot to buy beans and ground coffee to bring home with you.
Address: 77-6261 Mamalahoa Hwy, Holualoa
5. Green Flash Coffee
This tiny yet one of the best coffee shops in Kona Hawaii is also a famous breakfast spot. For food, you can choose between sandwiches, paninis, bagels, and croissants.
For drinks, you can of course get a great Kona coffee, smoothies, and teas. The most ordered item on the menu is breakfast sandwiches and iced Kona coffee.
There is some outdoor sitting area, but most customers would order a takeaway and head down to Honl's Beach. Green Flash Coffee is a 5-minute drive from the town center or half an hour on foot.
Address: 75-6000 Ali'i Dr, Kailua-Kona
6. HICO – Hawaiian Coffee
HICO is conveniently located in downtown Kailua-Kona. There are plenty of seating areas inside and outside the coffee house, which attracts students and people who work on their laptops.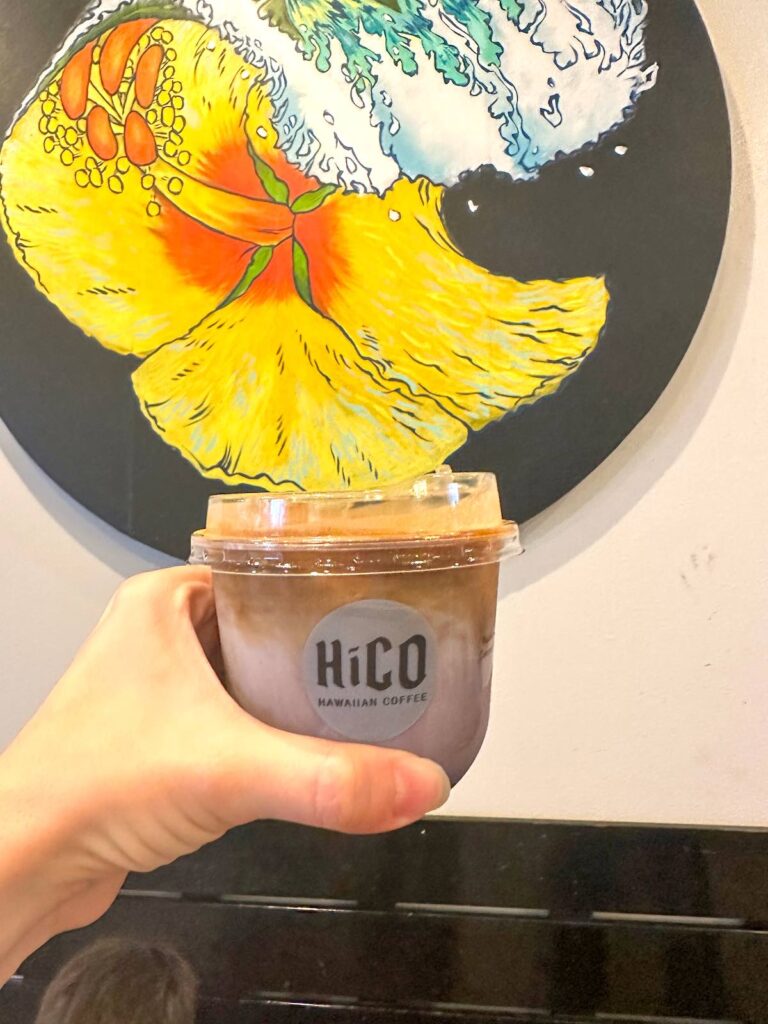 This spot has a nice and comfortable ambience, and a great location to bring a book, read, and drink amazing Kona coffee.
They offer speciality coffee, but the particularly popular on the menu are ube latte and classic Kona coffee. For food, musubi and avocado are must-tries. There are also plenty of choices for vegans, you can ask for plant-based alternative milk.
If you are already in Kailua-Kona, head to Kaiwi Street, then take a turn at the end of the Pawai PI alley. The place gets busy in the morning and even in the afternoon, but lunchtime is a good time to come by.
Address: 74-5599 Pawai Pl #B3, Kailua-Kona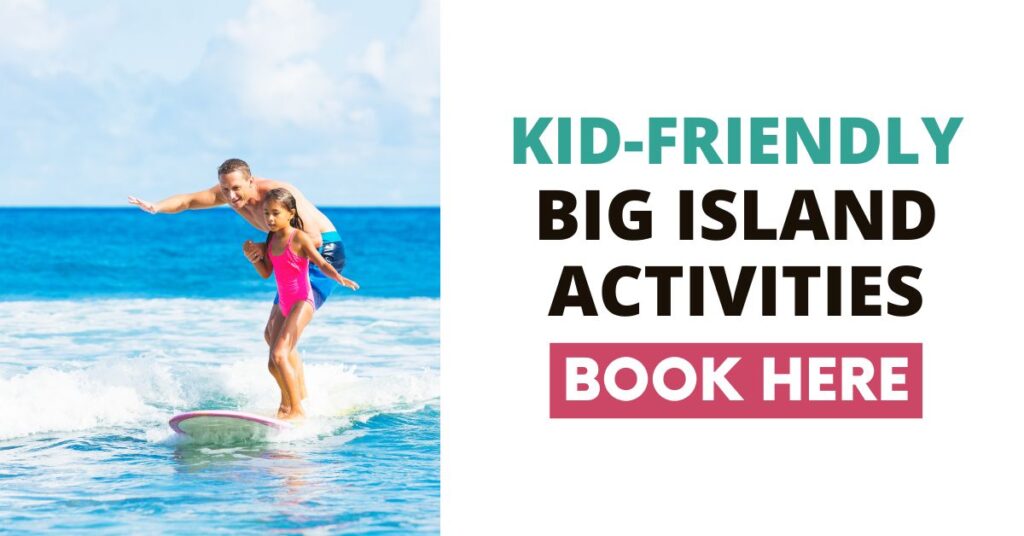 7. Menehune Coffee Company
Although located in King Kamehameha Hotel, this coffee shop in Kona is not part of the hotel. So, don't be shy and come in, check out one of the best spots for coffee in Kona.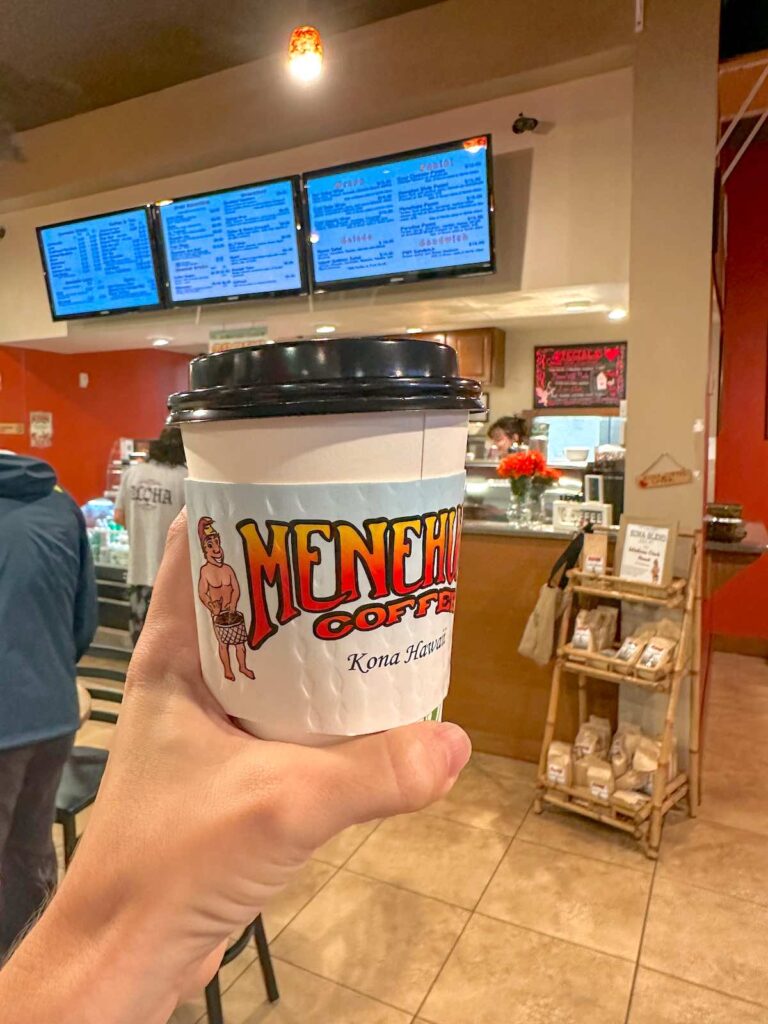 This is also a favorite place for breakfast in Kona and they offer the best cold wraps. Enjoy it with an iced or hot latte or even a fresh smoothie.
If you are staying in the hotel, you can get $2 off, but regardless, the prices are reasonable for its amazing location and wide-range drink and menu choices. You should be able to find it easily, but if not, it's a few steps away from Kamakahonua Beach.
Address: 75-5660 Palani Rd #101, Kailua-Kona
8. Island Corner Cafe Corp
This cute and charming little cafe in the heart of Kona is a must-visit. Its interior is minimalist and gives a relaxing atmosphere. It might look like a simple cafe in Kona but it actually has a good-sized menu.
To get here from Palani Road, turn to the parking lot before the Hawai'i Belt Road.
For food, you can choose between a big breakfast, salads, soups, wraps, and sandwiches but the most recommended is the breakfast wrap and pesto on focaccia bread.
For drinks, go for iced americano or breakfast smoothies. It's undeniable that you can find one of the best breakfasts in Kona at Island Corner Cafe Corp.
Address: 75-5595 Palani Rd STE A-10, Kailua-Kona
9. Kona Wave Cafe
This is not a hidden gem and at the weekends especially at brunch time, the line can get busy at Kona Wave Coffee. They sell the best acai bowl in Kona and shave ice.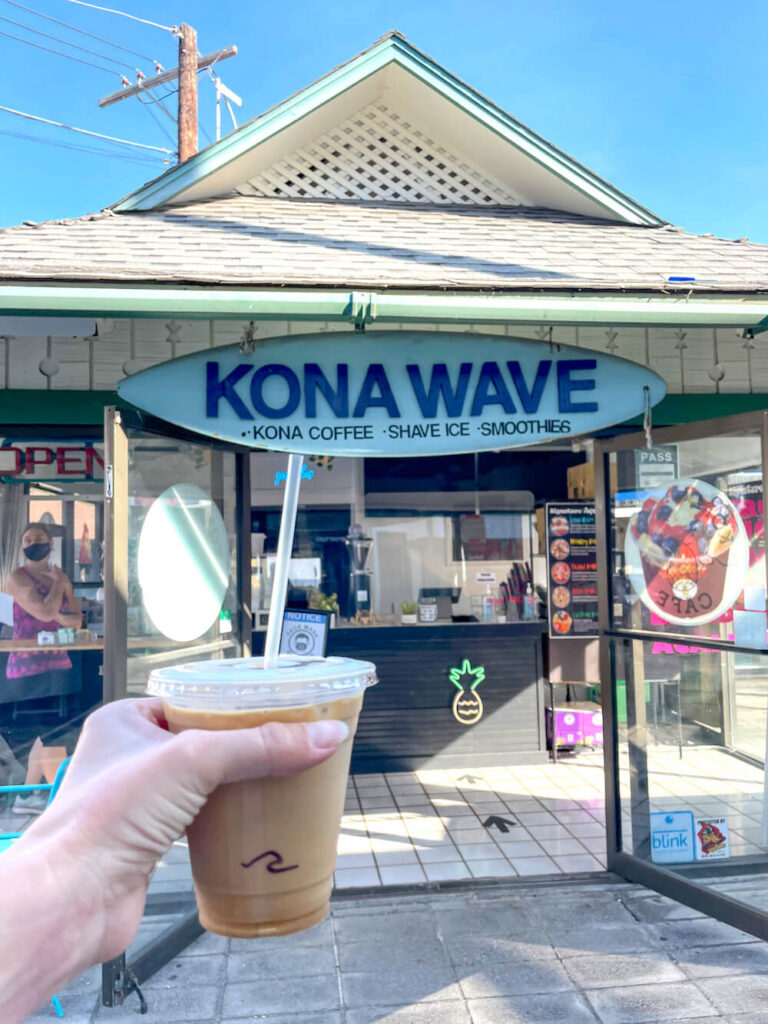 The options on the menu are limited but it has something for everybody, even non-coffee drinkers.
During your visit, make sure to order a Kona wave latte or Kona cold brew especially when it's a very hot day. To get here, simply walk along Ali'i Drive, it's located right across from the Downtown Village Stroll Market.
Address: 75-5669 Ali'i Dr #1109, Kailua-Kona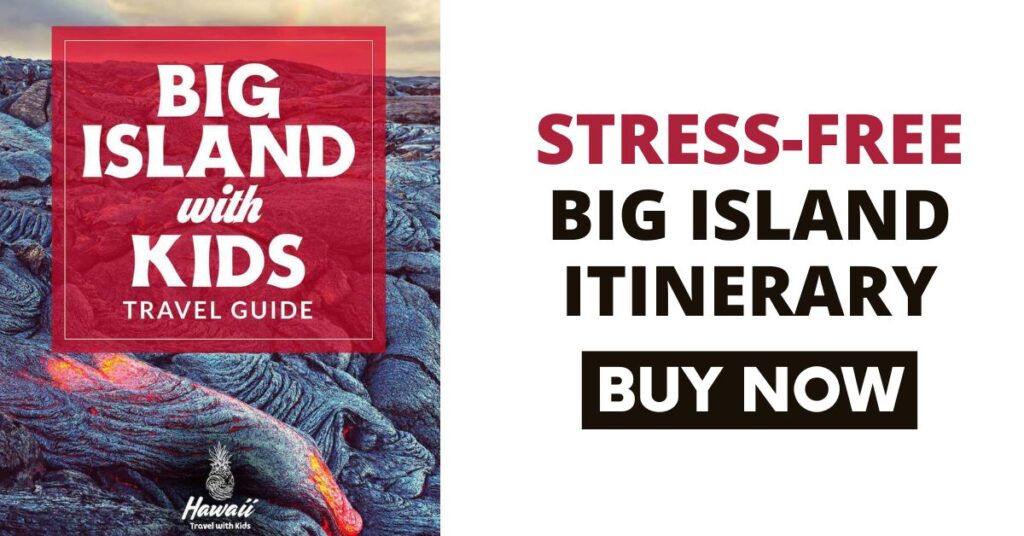 10. Pink Mocha Cafe
Pink Mocha Cafe is sandwiched between Kailua-Kona and South of Kona International Airport, both 4.5 miles or 8-minute drive away.
The ambience here is very cool because the management of the cafe house goes an extra mile decorating the place, especially during holidays such as Halloween, Christmas, and Easter – a total instagrammable cafe in Kona.
If you are hungry for some food or snack, you must try the pitaya or acai bowls. For hot drinks, make sure to order 100% Kona coffee, an espresso, or tea.
To reach Pink Mocha Cafe, when you are on Queen Ka'ahumanu Highway, turn to Hina Lani Street.
Address: Hale Ku'i Plaza, 73-4976 Kamanu St Ste 101, Kailua-Kona
11. Kopelani Inc
At this point, it's hard to deny that you can find the best coffee shops in Kona on Ali'i Drive. Located in Kona MarketPlace, is Kopelani Inc. This is an incredible spot for coffee, sandwiches, and ice cream.
Their Kona Coffee is one of the most popular items on the menu, but if you are visiting with young children, ice cream is the favorite.
When it comes to food, try out the turkey sandwich. This cafe is located on a busy street, and there are sitting areas both inside and outside. You can also get a to-go coffee and ice cream, then head down to Niumalu Beach for a walk.
Address: 75-5719 Ali'i Dr Suite E, Kailua-Kona
12. Holuakoa Coffee Shack
For those who are looking for a cafe in Kona that is away from the crowds, head to Holuakoa Coffee Shack. You will still get to enjoy a nice Kona coffee and amazing food without too much noise and traffic.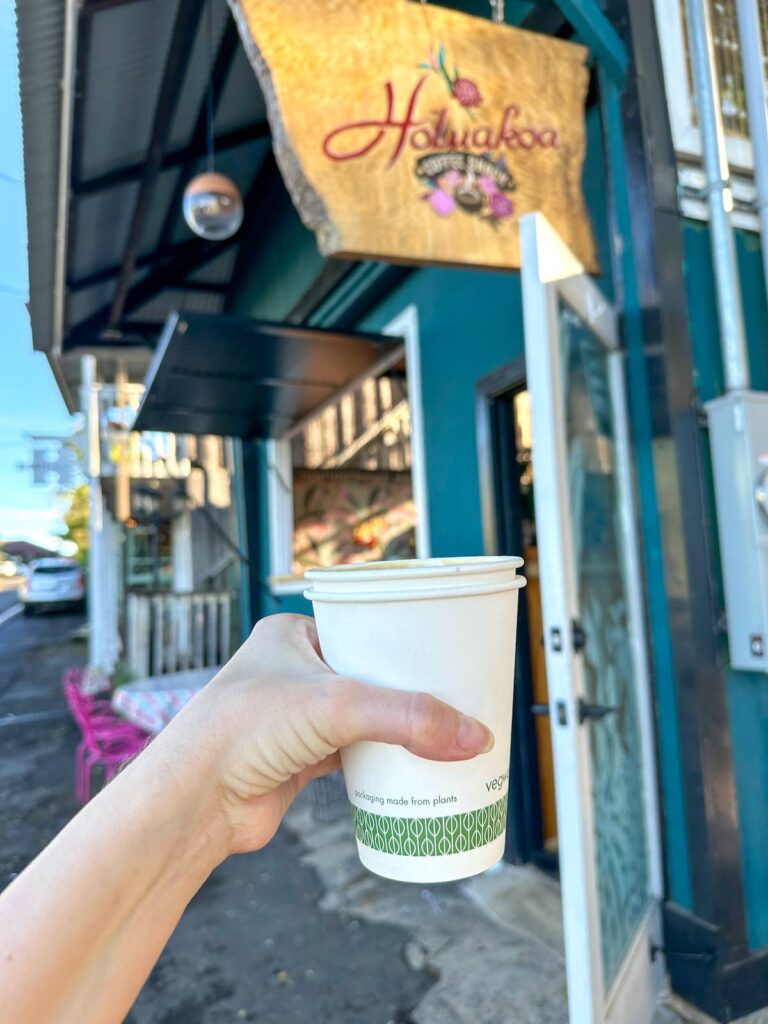 This place has a backyard setting and is surrounded by trees and plants. It's on top of a hill and overlooks the ocean.
For quick bites, try donut or breakfast burrito, when it comes to drinks, you must order 100% Kona coffee or latte. They also offer frappes, teas, and other sweet bread and cake. This spot is about 11-minutes away from Kailua-Kona.
Address: 76-5900 Mamalahoa Hwy, Holualoa
13. Kalikala Cuisine
Along the busy Ali'i Drive, you can find Kalikala Cuisine. Although it is more of a restaurant than a cafe, its breakfast or brunch menu has a wide variety of choices.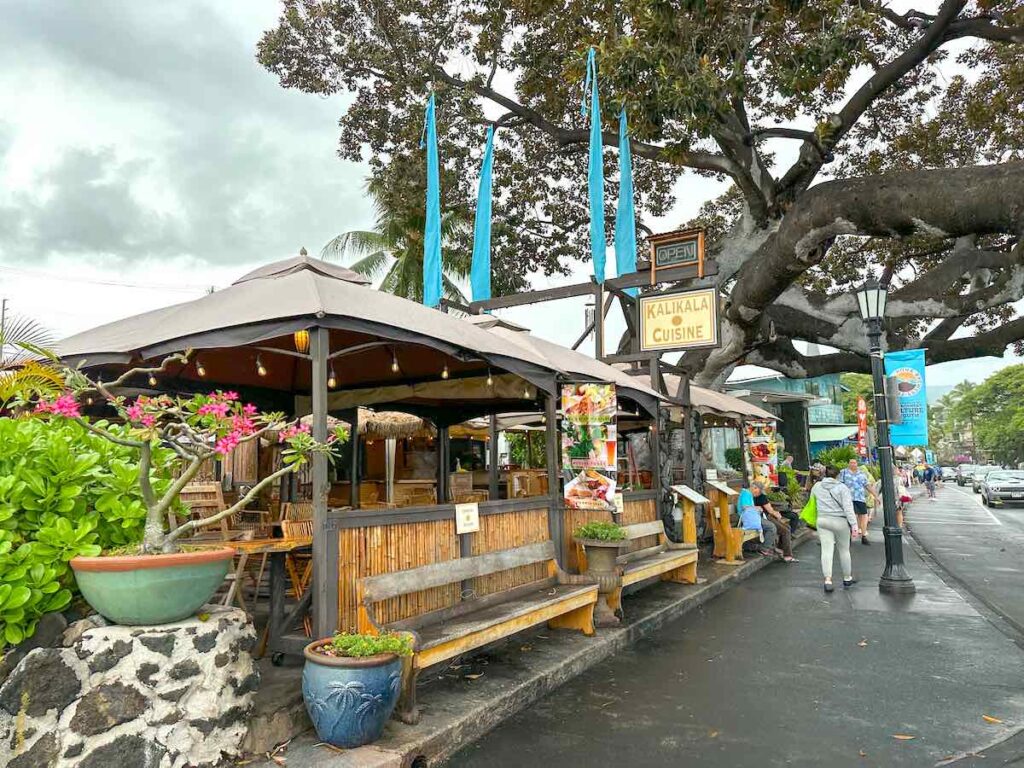 Their french toast is something you have to eat before you leave Kona, partnered with 100% Kona coffee or a latte.
Kalikala Cuisine is open later than most coffee houses in Kona, however, it's a great place if you are not a morning person but requires a delicious and energizing breakfast and a perfect cup of joe. There are many chairs and tables and the shop faces the stunning Pacific Ocean.
Address: 75-5685-75-5699 Ali'i Drive, Kailua-Kona
14. Tea:licious Cafe
Don't be deterred by its name, Tea:licious Cafe also serve 100% Kona coffee at a great price. The interior design gives a nice home vibe and a comfortable feeling. For tea lovers, you will have a massive option to choose from.
If you are ready for a quick and light bite, check out the cream cheese pastry and a chopped bowl of fruits. They also serve their food and drinks in really cool chinas, a total feeling of a "high-tea" experience in Kona.
You can get here by taking the Kuakini Highway and turning to Walua Road. It's only a 3-minute drive from the town center or half an hour on foot.
Address: 75-159 Lunapule Rd, Kailua-Kona
15. Kaya's Kawanui Inc
Kaya's Kawanui Inc only serve coffee from Kona. They open very early in the morning, it's easily one of the spots you can go to for your morning cup.
Bagels are one of the best-sold food here, for coffee, a simple Kona coffee and cardamom mocha are the two best options.
This is the spot for people looking for gluten-free and vegan food. While you can easily switch to a plant-based "milk" if you prefer that.
Although it's not in central Kona, it's only a 14-minute drive south, it's right along Mamalahoa Highway. The service is also impeccable, it's surely worth the trip.
Address: 79-7300 Hawaiʻi Belt Rd, Kealakekua
16. 808 Grindz Cafe
For speciality coffee and speciality pancakes, there's no better cafe in Kona than 808 Grindz Cafe. It's tucked away in Ololi Road, only a few steps from the busy Palani Road, but you can still enjoy a quiet time while sipping delicious coffee and enjoying your breakfast.
If you are feeling experimental, loco moco is something you can try, it's one of the best sellers here. Since this is a speciality cafe, you have to try the macadamia nut pancake or keep it simple with banana pancake.
The food menu is massive, and although the coffee options are not much, all you have to order is Kona coffee or a latte and you're good.
Given its location and amazing food and drink choices, the prices are quite affordable compared to other coffee houses in Kona.
Address: 75-5660 Kopiko St, Kailua-Kona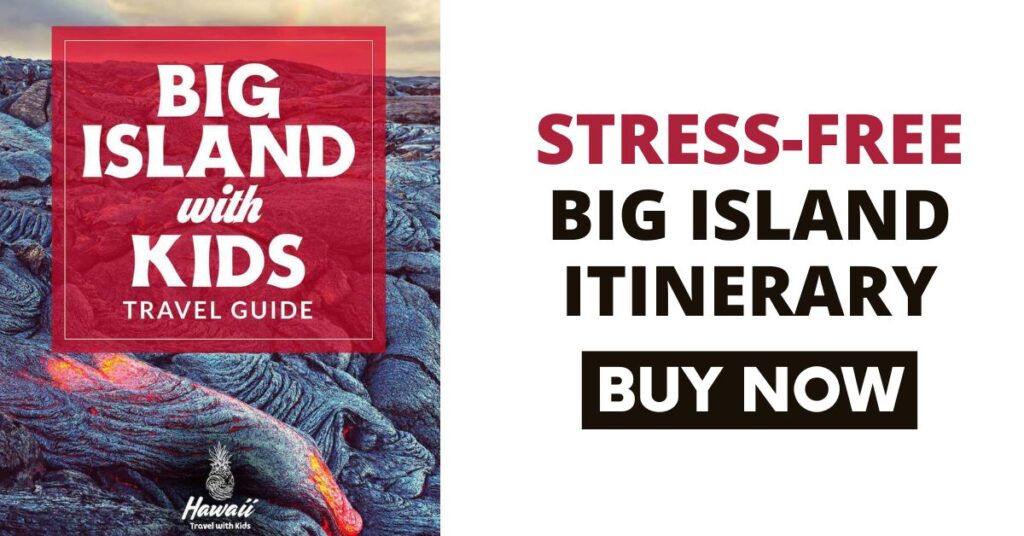 Kona Coffee FAQs
What's so special about Kona coffee?
Many Kona cafes serve 100% pure Kona Coffee, which is special because it's grown in the slopes of a volcano. This affects the taste of the coffee, like a fine wine.
Is Kona coffee the same as Hawaiian coffee?
Sort of. Hawaiian coffee covers any coffee grown in the islands. However to be consider Kona coffee, the beans MUST be grown in the Kona area of teh Big Island.
What's the difference between Kona coffee and Kona blend?
A Kona blend means that it usually has about 10% Kona coffee and it's mixed with 90% cheaper coffee. This means that the Kona coffee flavor is dilluted. As you might guess 100% Kona coffee only contains beans grown in the Kona region and has complex flavor notes.
Where to Find Kona Coffee Wrap Up
Although Kona is a small town on a big island (get it?), there's no shortage when it comes to finding a coffee house that offers locally-sourced coffee beans, breakfast choices, and places that can accommodate coffee lovers and non-coffee drinkers.
Before you leave Kona, you must try one of these places and bring a few bags of coffee with you to try at home or as a gift to friends and family.