Are you planning a trip to Oahu and want to know the best places to eat in North Shore Oahu? Keep scrolling to find out the best cafes on the North Shore of Oahu worth a stop.
This list of the best cafes on the North Shore of Oahu was written by Hawaii travel expert Marcie Cheung and contains affiliate links which means if you purchase something from one of my affiliate links, I may earn a small commission that goes back into maintaining this blog.
There are a variety of wonderful, unique cafes on the North Shore of Oahu! People think of the great surfing beaches of North Shore, but the area is also full of coffee and chocolate farms!
Did you know that a rare type of Hawaiian coffee is grown on North Shore? You can find bustling farmers markets in Haleiwa, as well as some of the best coffee in Oahu.
When you're on North Shore, make sure to check out all the great cafes. Some are strictly committed to good food and great coffee, but some have unique treats! Try a honey smoothie or amazing Hawaiian crepes.
Below you'll find some of the best North Shore Oahu restaurants and cafes. We'll go from Waialua to Kahuku, with stops in between like Waimea Bay and Haleiwa's Sunset Beach.
And it's easy to get from Waikiki to North Shore Oahu, even if you aren't renting a car.
So, keep reading for my picks of the best cafes on the North Shore!
Don't have time to read a bunch of Hawaii blog posts and reviews? Here are some of our top picks for visiting Oahu.
Popular Oahu Tours/Activities
Favorite Oahu Resorts/Hotels
Want to Rent a Car in Hawaii?
One of the best places to rent a car in Hawaii is Discount Hawaii Car Rental because they get the best rates from top national companies like Alamo, Dollar, Thrifty, Avis, Enterprise, Budget, and Payless.
Want to skip all the planning and just access my detailed Oahu Itinerary complete with daily schedules, kid-friendly activities, and travel hacks? Click the button below.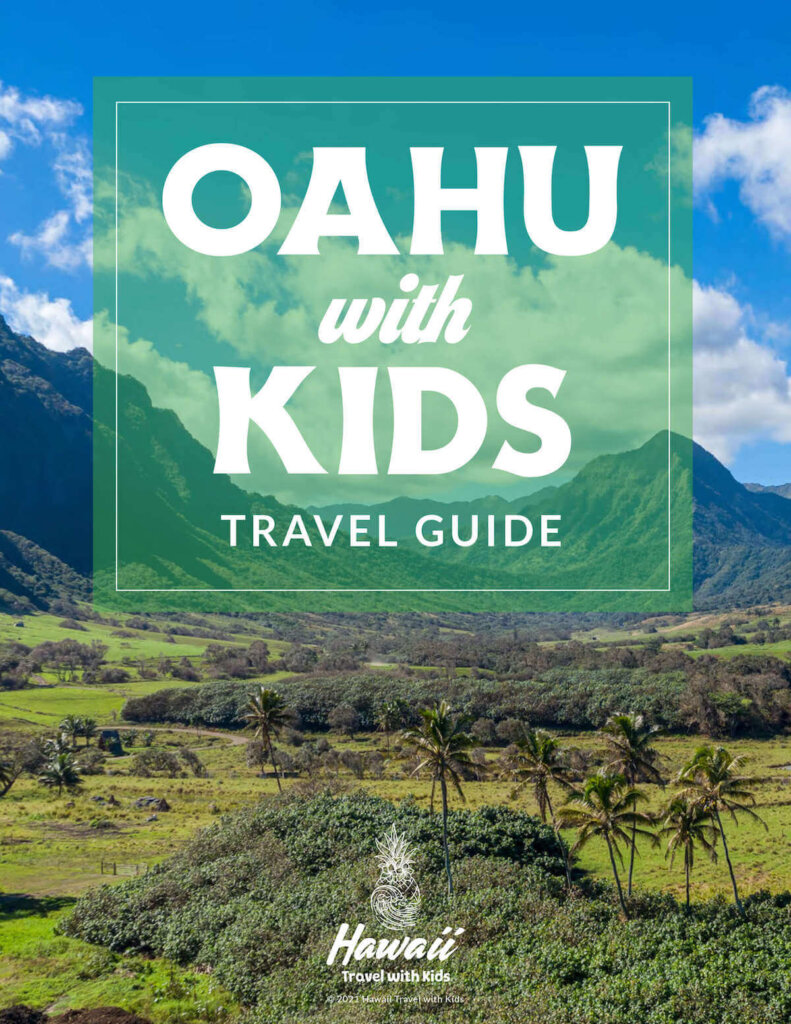 FAQ about North Shore Cafes
Do cafes in North Shore accept credit cards?
It's always safest to carry some cash on you. Most places will accept cards, but some cafes on North Shore accept only cash!
How is a café different from a coffee shop or restaurant?
Cafés always offer coffee, but unlike coffee shops, they usually offer a bigger menu of breakfast and lunch offerings. And you don't usually get table service at a café like you would at a restaurant. Instead, you order from a counter and pick up your food yourself.
Can you buy Kona coffee at cafes on the North Shore?
A lot of North Shore cafes offer certified Kona coffee! But I also suggest looking for Waialua Estate coffee on the menu. While Kona coffee is grown strictly in Kona on the Big Island, Waialua Estate coffee is actually grown on the North Shore of Oahu!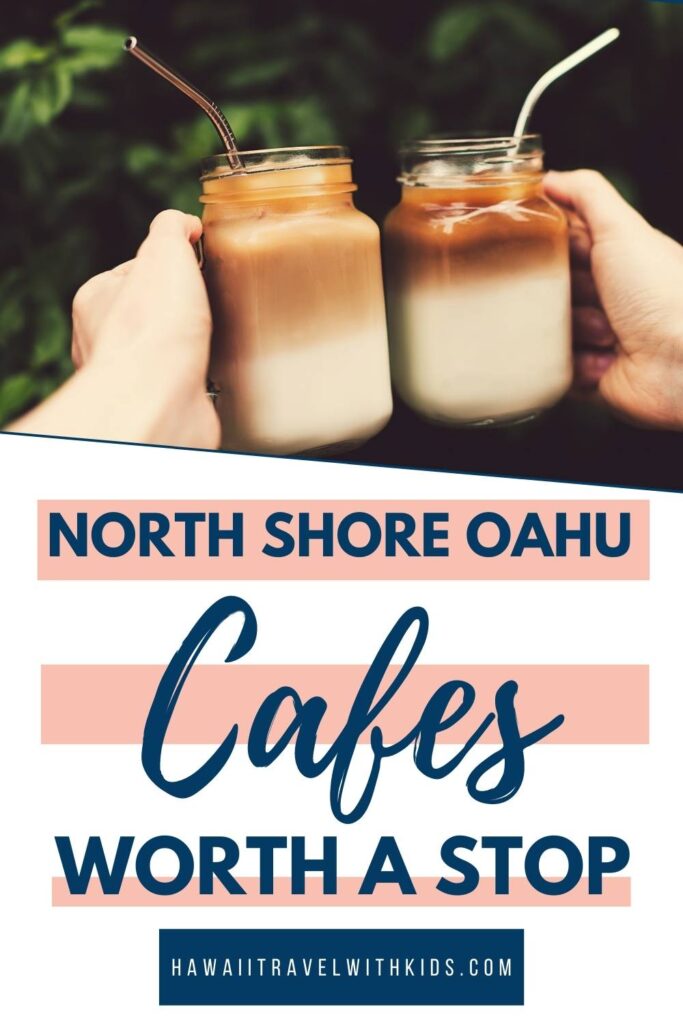 My Picks for Best Cafes in North Shore
67-292 Goodale Ave #105
Waialua, HI 96791
First on my list of cafes on the North Shore is Brew & Foam Coffee. It's a contemporary café with great prices and a relaxing vibe.
Choose from a variety of espresso and drip coffee drinks, including affogatos, americanos, iced coffees, and more. Unless noted, the coffee beans are probably Kona.
Brew & Foam actually sources their coffee, including their house blend, from Kona Coffee Purveyors.
If coffee isn't your thing, they also have different teas, hot chocolate, or even water kefir!
The food menu is small, but it includes quality offerings like acai bowls, smoothies, and milkshakes. And they often have fresh, local banana bread and other pastries for sale!
66-935 Kaukonahua Rd
Waialua, HI 96791
Another great North Shore Oahu restaurant is the new Wicked Hi Café! They've actually been a sustainable, eco-friendly company that's been around Oahu for a while with their honey slushes. But now you can try a slush or a coffee with honey in it at their new café.
You'll love the surfer vibe of this bright and cheery eatery! Choose from a great menu full of locally sourced items. They're known for their sourdough pizza and pasta, but also offer breakfast and delicious salads.
66-460 Kamehameha Hwy
Haleiwa, HI 96712
The aloha spirit of Café Haleiwa is undeniable to visitors and locals alike! You can't miss the colorful storefront along the busy Kamehameha Highway. This café is family-owned and has been serving North Shore for 40 years.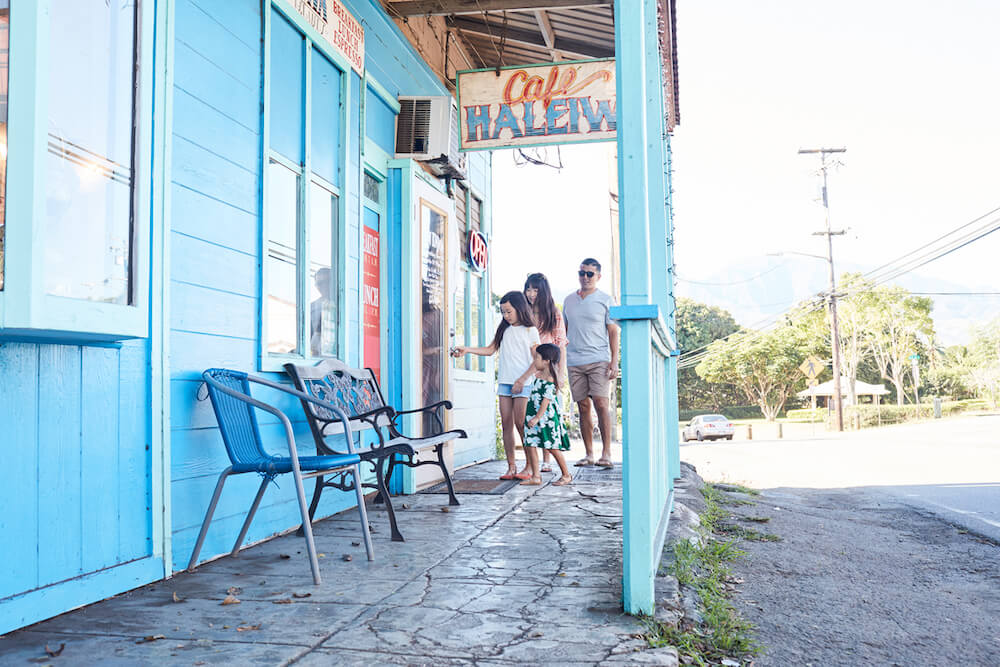 Inside, everything feels casual and warm! When you see the handwritten menus on the wall you'll realize really fast what a treat you're in for!
Café Haleiwa serves tons of different American breakfast and lunch dishes with treats like fresh local papaya and homemade kombucha. And all their coffee is made with Hawaii's own Lion Coffee.
66-437 Kamehameha Hwy #104
Haleiwa, HI 96712
If you're craving amazing vegan food, one of the best restaurants in Haleiwa is Beet Box Café.
Choose from a creative, full menu of flavorful vegan and vegetarian options. There are lunch and dinner dishes, smoothies, bowls, and freshly squeezed juices.
And for coffee try their drip or cold brew, only made with North Shore Coffee Roasters!
66-470 Kamehameha Hwy
Haleiwa, HI 96712
North Shore Crepes Café has been run by owner Jonathan Pajo out of an adorable vintage bus at the Haleiwa Food Truck Lot since 2006! Originally from France, he brings his expertise and passion with him to make amazing food.
You can choose from all kinds of savory or sweet crepes and galettes. They also offer an impressive espresso bar, as well as drip coffee, cold brew, and tea. You can enjoy your meal at picnic tables at the food truck lot.
66-250 Kamehameha Hwy
Haleiwa, HI 96712
When it comes to Haleiwa food, you can't get more authentic than Kono's North Shore! While they have a handful of locations in Hawaii now, as well as Las Vegas, and even Japan, their Haleiwa is their original location. It opened in 2002 with a distinct voice.
It's easy to see why they are so successful. Come for breakfast or lunch where most of the plates feature Kalua pork. They also have their own house blend coffee, as well as smoothies, and milkshakes.
66-320 Kamehameha Hwy
Haleiwa, HI 96712
Literally built in a middle of a field, Farm to Barn Café is a beautiful little open-air café with lots of outdoor seating. They're all about community with regular events, including regular live music on the weekends and yoga in the evenings!
They source all of their decadent plant-based breakfast and food items from local farms in Haleiwa. Along with your food, order cold-pressed juices, kombucha, sun tea, or coffee.
66-250 Kamehameha Hwy c106
Haleiwa, HI 96712
There's a little bit of everything at the Coffee Gallery! They roast small-batch coffees in-house and are considered one of the best roasters on the North Shore.
Shop their adorable gift shop, check out the art that's all over the place, or purchase coffee to take home.
Coffee Gallery has a huge menu with breakfast platters, sandwiches, salads, homemade granola, smoothies, and more. They also have fresh pastries under the glass, as well as an extensive hot and iced coffee menu!
59-712 Kamehameha Hwy
Haleiwa, HI 96712
Leaving Haleiwa, you can find even more amazing cafes on the North Shore along the beaches. Sunrise Shack has 2 locations there (and 1 in Waikiki): 1 across the street from Shark's Cove and another across from Sunset Beach Park.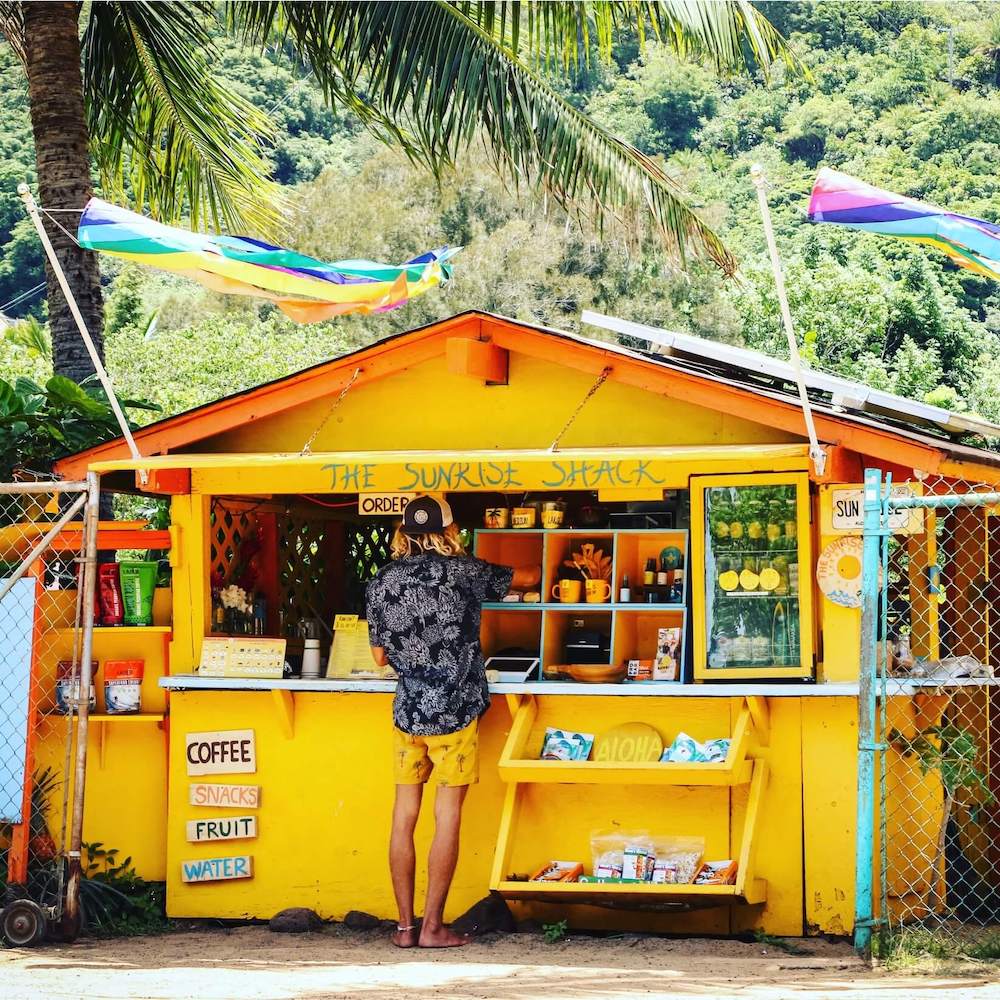 As soon as you walk up to the shacks, you know they're something special, from the cheerful yellow branding to the positive messages all around the outdoor dining areas! The family-owned cafes provide lots of healthy, tasty, trendy dishes and drinks.
Try a bullet coffee or wellness shot. Enjoy some avocado toast, a smoothie, or a smoothie bowl. And the papaya bowl is a crowd favorite, featuring half a papaya topped with fruit, seed, nut butter, honey, and more.
Okina Café
66-472 Kamehameha Hwy
Haleiwa, HI 96712
Another food truck at the Haleiwa Food Truck Lot is Okina Café. They've grown up in the last few years and don't just offer coffee anymore. Try a sandwich, poke bowl, salad, or another meat-based lunch plate.
They have a decent offering of coffee drinks, as well as a variety of teas, including milk tea. Or try one of their smoothies or fresh squeeze lemonades!
59-024 Kamehameha, State Rte
Haleiwa, HI 96712
While you're looking for Haleiwa cafes, you have to take the opportunity to stop by Ted's Bakery. This family-owned pie shop has a rich history deeply enmeshed with that of the island of Oahu!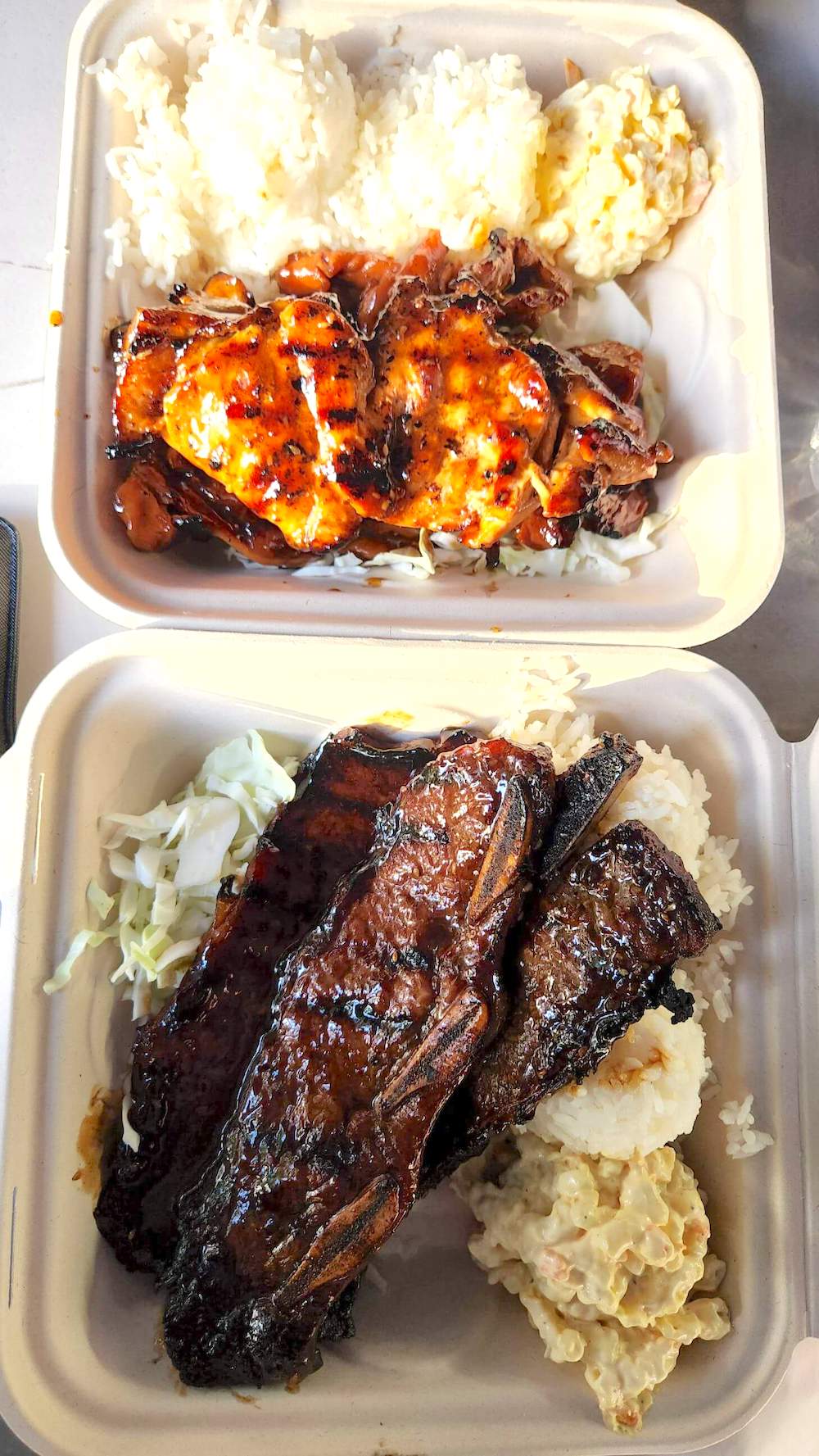 Once a gas station, it became a pie shop until the last few decades when the menu was expanded.
Known for their signature chocolate haupia cream pies and macadamia nut pineapple cheesecakes, you can also get a long list of breakfast and lunch items. The shop stays popular serving up Oahu favorites, like loco moco and Hawaiian BBQ.
The portions are large and the coffee is hot. Ted's Bakery stays busy, selling out of their full glass pastry and pie cases every day!
66-111 Kamehameha Hwy #503
Haleiwa, HI 96712
Island Vintage Coffee is a lovely experience with their clean, glowing café at the Haleiwa Store Lots. You can order a variety of delicious breakfast plates and acai bowls. Or they have fresh poke bowls, sandwiches, and salads.
The café roasts their coffee fresh in-house daily and offers top-notch, quality coffee in their extensive gift shop.
Also, the shop is located in a row of adorable storefronts that look over a lawn covered in shade trees. Sit there on benches or in the shade of the shop porch.
66-215 Kamehameha Hwy Suite 1
Haleiwa, HI 96712
When it comes to Haleiwa restaurants, Nalu is just as welcoming as the rest! You'll love the murals on the wall, and the bright, airy aesthetic. The café strives to source from local organic farms and you can taste the quality of their food.
They offer several flavor-packed plant-based salads, sandwiches, and wraps, as well as a few breakfast items and acai bowls. You can also enjoy many nutrient-filled smoothies and fresh-pressed juices, as well as locally grown and roasted coffee.
56-800 Kamehameha Hwy
Kahuku, HI 96731
Continuing our tour of the best cafes on the North Shore, make your way to Kahuku! Here, along the highway, Kahuku Farms greets you with beautiful signage and a lovely little yellow café.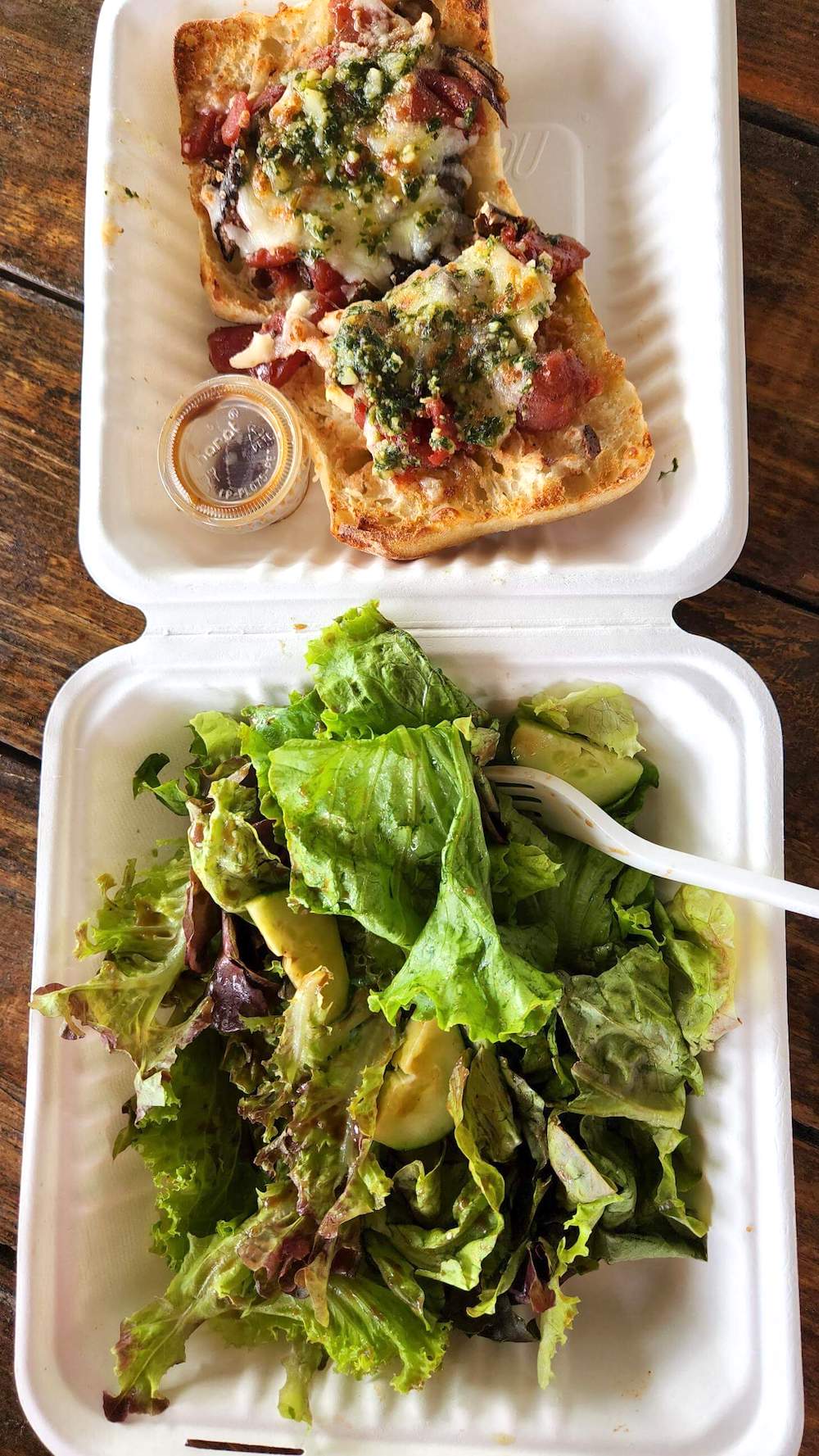 Named after its namesake, Kahuku Farms offers dishes and beverages that use the seasonal harvest of the farm where it's located.
Enjoy smoothies, sandwiches, sweets, and more made with Kahuka Farm harvests like honey, mango, papaya, and cacao. Try acai bowls made with acai from the farm or their homemade lilikoi butter mochi.
You can also peruse their products, like skincare made from seed butters and even chocolate bars!
56-565 Kamehameha Hwy
Kahuku, HI 96731
In the heart of the village of Kahuku is Raised by the Waves. They're an eco-friendly café that believes in the healing power of food.
With a completely plant-based menu, Raised by the Waves is known for its delicious vegan "cheeze" and beet poke bowl! They also serve up exclusively Hawaiian coffee with a selection of vegan creamers.
While the Kahuku café offers all vegan options, everyone should experience this lovely plantation village eatery. It's located inside an old historic sugar mill and has a refreshing white look from the outside in.
56-565 Kamehameha Hwy
Kahuku, HI 96731
Also located inside the Kahuku Sugar Mill is another one of the best restaurants in North Shore Oahu. The Country Eatery's barista offers up all kinds of delicious coffee drinks, but the star of the show is the food.
Chef and nutritionist Susan Prior started The Country Eatery in 2016 with a vision to offer renewing juices and meals.
The café only uses local, seasonal, organic produce. You'll love the stunning presentation of sandwiches, savory bowls, salads, fruit salads, and more.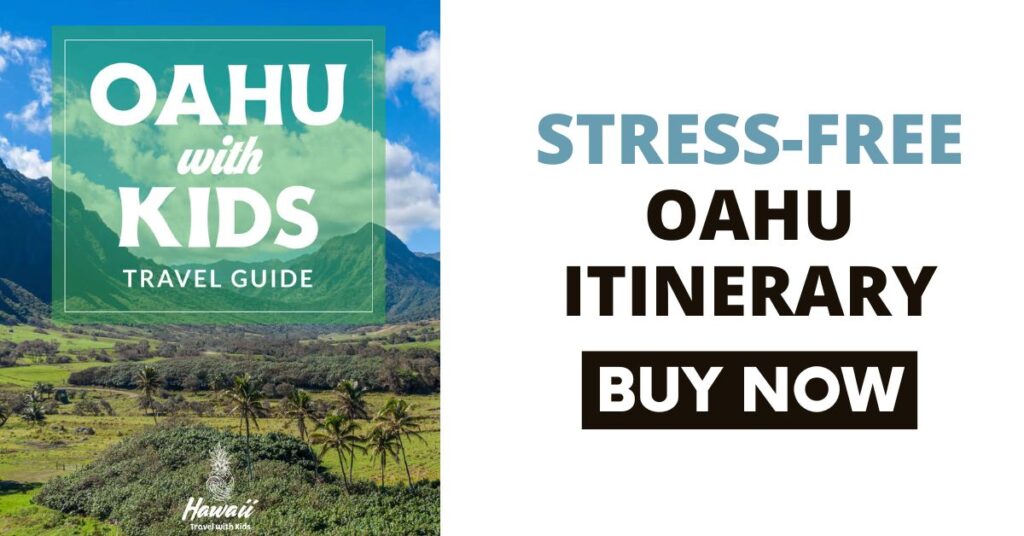 Which Cafes on the North Shore Will You Visit?
People think of North Shore and still consider it an isolated, sparse place with local surfer and plantation villages. But the heart and people are what make the cafes on the North Shore so successful.
In the last 10 years that visitors have really started to love the northern coast of Oahu, the eateries have met the challenge and welcomed the hustle. You can feel the aloha spirit in every delicious cup of Hawaiian coffee that you enjoy as you travel the Kamehameha Highway!
Did one of the stops on my list of North Shore cafes pique your interest? Let me know which one you're going to visit on your next family vacation to Oahu!