Planning on surfing on the North Shore of Oahu? We asked surf journalist Craig Jarvis to give us the scoop on everything visitors need to know about this famous Oahu surfing spot.
This Oahu surfing on the North Shore post contains affiliate links which means if you purchase something from one of my affiliate links, I may earn a small commission that goes back into maintaining this blog.
Written by Craig Jarvis
Seven Mile Miracle: The Pinnacle Of The Sport Of Surfing
One of the most popular spots for surfing in Hawaii is in Oahu, in particular, North Shore Hawaii surfing. The surf conditions on the Hawaiian islands are incredible!
Surfing is a very popular thing to do when you visit Oahu. Even if you don't know how, you can still learn how to surf in Hawaii, with all the Oahu surf schools and lessons.
If you've wanted to learn more about surfing, here is your ultimate guide for Oahu Hawaii surfing! You will learn where to find the best surfing in Oahu for beginners and advanced levels, along with the top Oahu surf lessons.
Check out the best Oahu surfing lessons for kids and families for how to learn to surf here.
Don't have time to read a bunch of Hawaii blog posts and reviews? Here are some of our top picks for visiting Oahu.
Popular Oahu Tours/Activities
Favorite Oahu Resorts/Hotels
Want to Rent a Car in Hawaii?
One of the best places to rent a car in Hawaii is Discount Hawaii Car Rental because they get the best rates from top national companies like Alamo, Dollar, Thrifty, Avis, Enterprise, Budget, and Payless.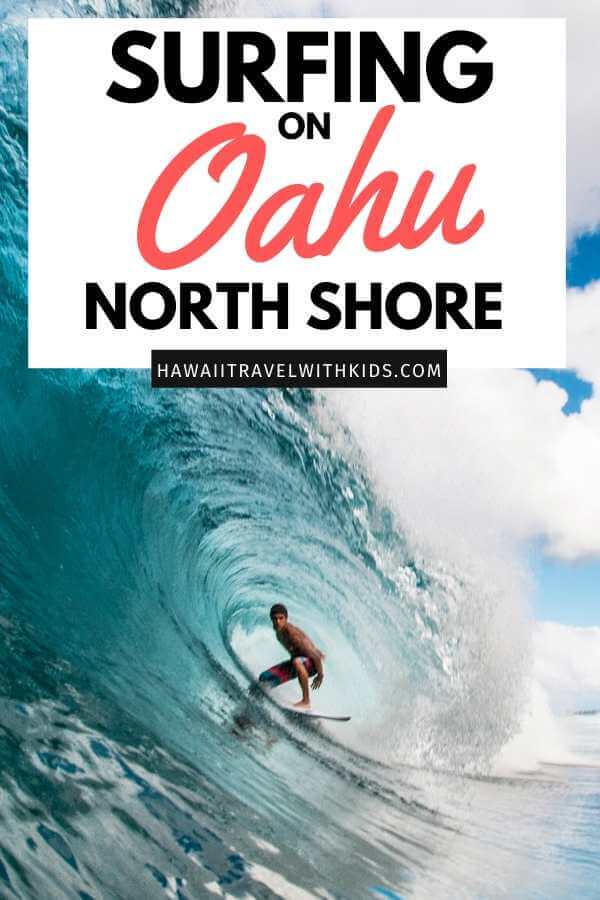 Surfing Competitions on the North Shore
Every year the best surfers in the world gather on the North Shore of Oahu, Hawaii, to battle it out amongst the biggest and most extreme waves in the world. These professional surfers have one goal – to be the world champion.
The final event of the World Surf League (WSL) Championship Tour (CT) is the Pipeline Masters, a surf event that takes place at the notorious Banzai Pipeline, the world's most dangerous surf break.
There are other events in Hawaii at the same time however, including competitions at Sunset Beach, as well as at Haleiwa, and combined with the Pipe event they make up what is known as the Triple Crown.
Winning the World Title is the most prestigious victory in the sport of surfing, but winning a Triple Crown is a close second, and it is for these very reasons that the North Shore of Oahu is the most important venue in the sport of professional surfing.
Professional surfing is broken down into two main tours, an elite tour known as the Championship Tour, and a qualifying tour known as the Qualifying Series (QS).
There are three main events on the North Shore beaches during winter.
This is a QS event that takes place at the awesome wave called Haleiwa on the North Shore. It is an exciting QS event and has up to 144 of the best surfers in the world competing for valuable points and prize money.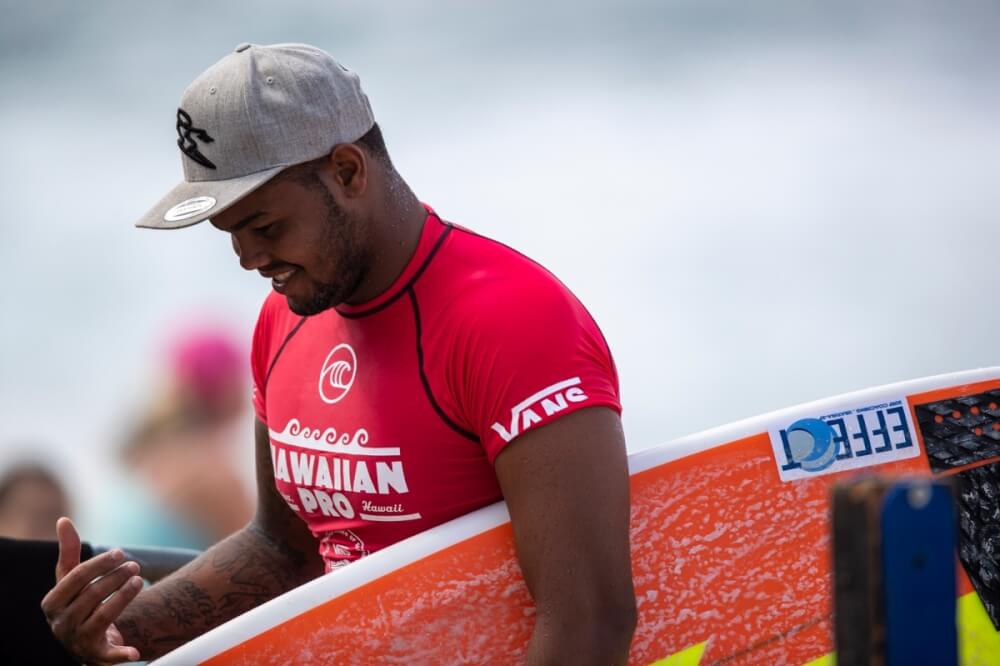 Haleiwa is one of the North Shore surf spots that garners respect from the people who surf out there because it gets big and scary, and is always a challenge to surf, even on the smaller days.
This event is one of the most well-known surf competitions taking place on the North Shore because it takes place at possibly the most famous North Shore wave in Sunset Beach.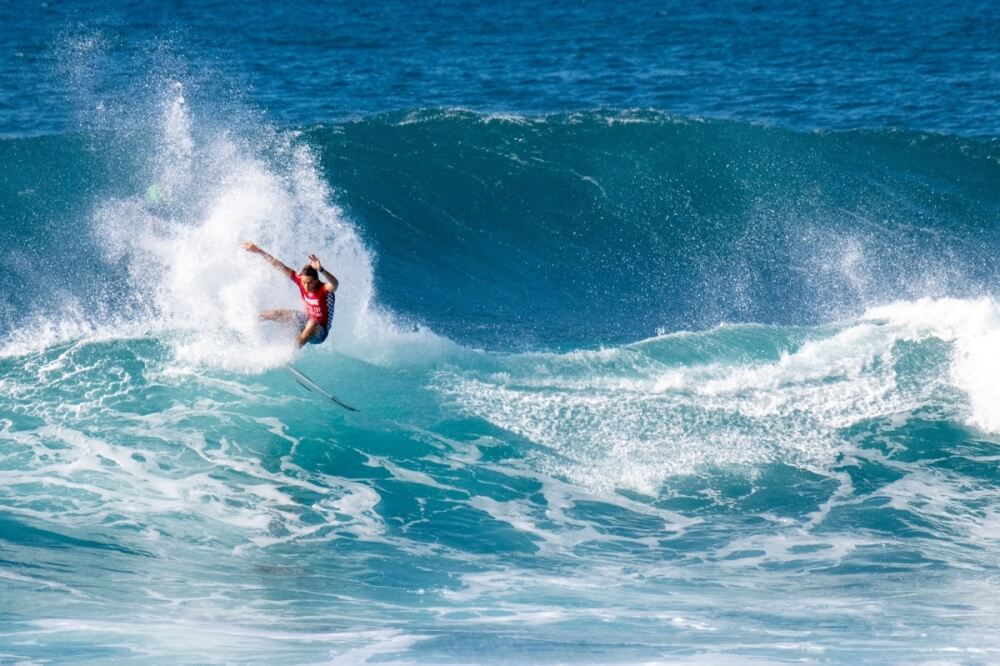 This beach has forever been the staple destination for visiting surfers and locals alike, and apart from the incredible surf breaks there, it is also one of the most beautiful of all the North Shore, Oahu's beaches.
A final event at the Banzai Pipeline is the most thrilling way to finish the tour and crown the World Champion as it is the most dangerous wave on the North Shore and in the world of surfing.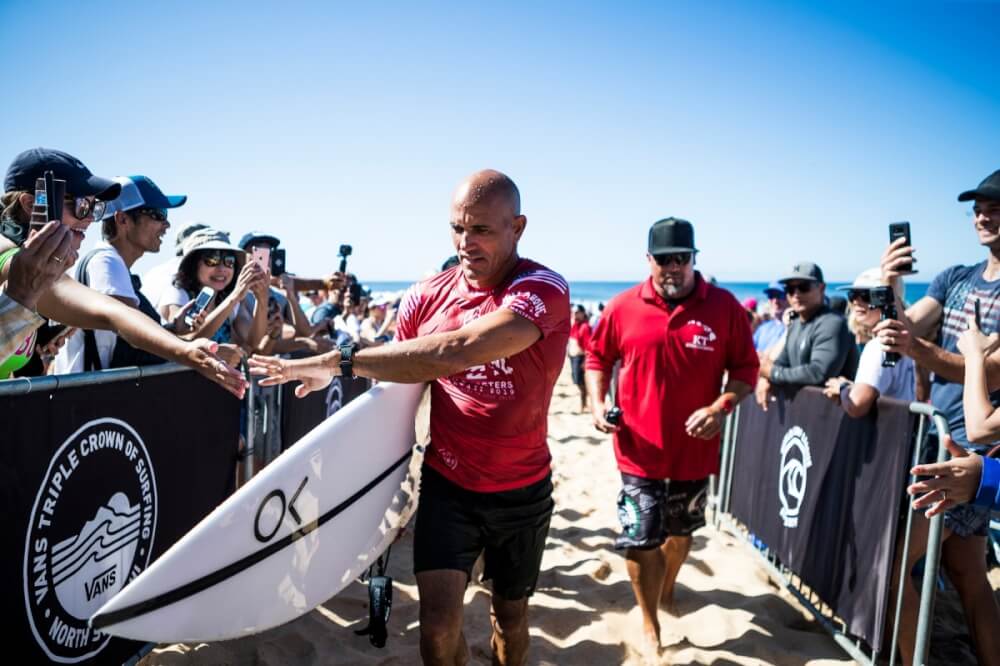 It gets the rating for being the most dangerous by the simple rating factor of having had the most deaths while surfing out there.
It is a relatively small reef, and it occupies just a short stretch of beach out of the seven miles of the North Shore so it does not pose any danger to tourists and visitors, only to those surfers brave enough to venture out there.
Best North Shore Hawaii Surf Spots
Here are some of the best North Shore surfing beaches.
Sunset Beach
One of the top North Shore Oahu surfing spots is Sunset Beach. Here you will find incredible surf breaks with waves ranging from 6 to 10 feet on average.
This place is best for intermediate and advanced surfers as it can be dangerous with the lava rocks and coral reefs.
The Duke Kahanamoku Classic is held on Sunset Beach. It is widely regarded as one of the best spots for surfing on the Hawaiian islands.
Banzai Pipeline
Surfing North Shore Oahu does not get any better than the Banzai Pipeline. It is close to Sunset Beach located on Ehukai Beach Park.
The Vans Triple Crown takes place here every year and offers stunning waves for professional surfers to enjoy. This surf spot probably isn't the best for beginners though. You can get injured very easily.
During the summer the waves are not as big as in the winter months.
Velzeyland
To the east of Sunset Beach is Velzeyland, a small wave spot that breaks perfectly over a shallow reef, providing incredible barrels for those surfers who manage to get a few.
It is one of the most crowded surf spots on the North Shore, however, and local surfers tend to get more waves than visitors out there.
Rocky Point
This is a high-performance wave, situated just west of Sunset Beach that breaks both left and right over a combination of sand and coral bottom.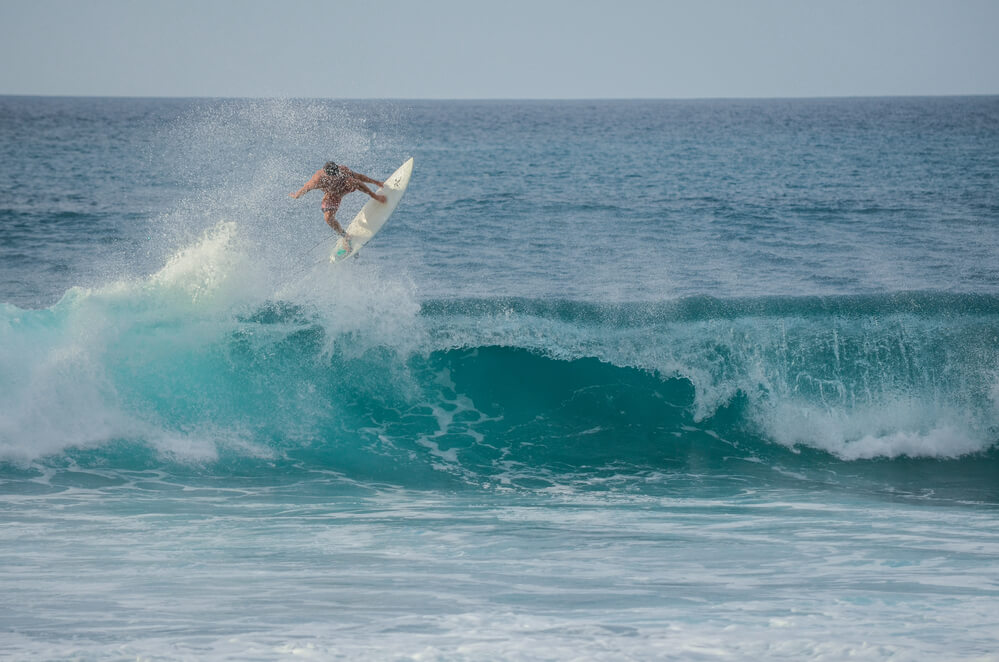 It gets really good, with solid barrels on the right-handers on a north swell, and perfect peeling lefts on the slightly higher tide.
Off-The-Wall
A dangerous and fast right-hand wave that breaks over extremely shallow coral, and is notorious for injuring surfers and breaking boards.
It is generally only surfed by the best surfers, those who have absolute faith in their capabilities.
Log Cabins
A slightly nondescript wave that is frequented by the North Shore local surfers, and that breaks in front of a log cabin on the shoreline.
It gets very good and is generally less crowded than most other spots due to its more removed location.
Waimea Bay
The most famous big wave sport on the North Shore, Waimea Bay is home to the Eddie Aikau Invitational, a specialty invite-only big wave surfing tournament dedicated to a Waimea lifeguard Eddie Aikau who lost his life at sea.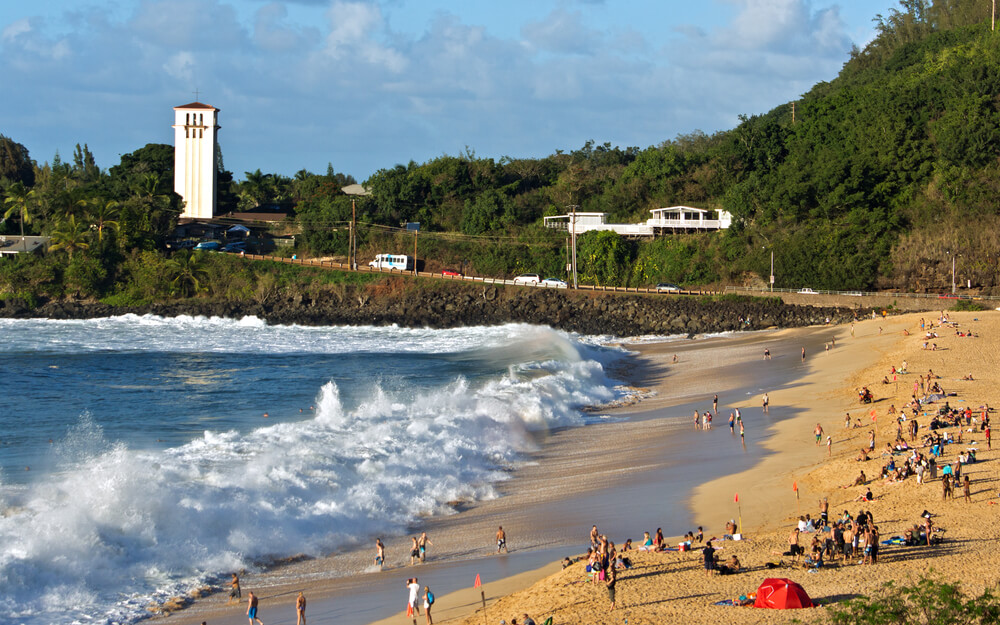 The competition is only called on when the waves get to a certain size and height – generally over thirty feet on the face of the waves – so it doesn't happen every year.
When it does, it is probably the most watched surf contest in the world, with spectators the world over dialing into the live webcast to watch the big wave gladiators compete among these giant moving mountains of water.
Laniakea
This wave, situated just off the Kam Highway, is one of the jewels of the North Shore surf spots, providing long and fast walls for brave and adventurous surfers.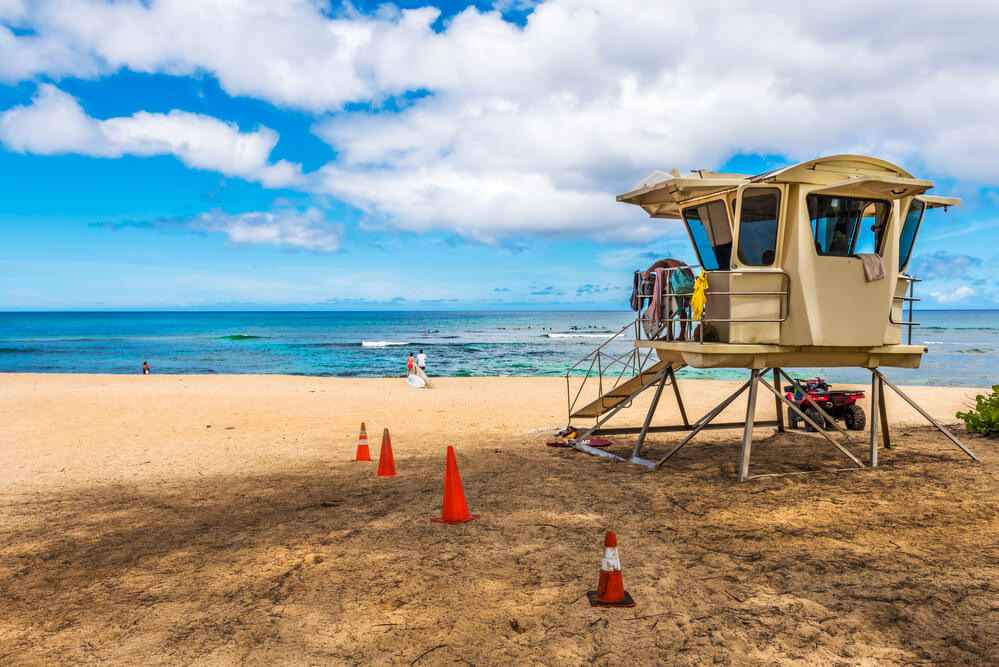 It has an easy paddle out that brings surfers behind the peak and with easy access to some of the best and fastest waves on the whole of the seven-mile stretch.
It's also a great place to see Hawaiian Sea Turtles!
South Shore Surfing Spots
Here are some of the spots to try out on the South Shore!
Waikiki Beach
Waikiki Beach surfing is perfect for beginners. The waves are very small and allow you to practice the basics of surfing pretty easily.
It's the top beginner surf spots Oahu offers, and many surf schools are located here.
Some of the best Waikiki surf spots include the Waikiki Wall, Canoes, and Queens. While it can get crowded at times, this area is centrally located to many of the resorts and is the perfect beginner surf location to try out.
Ala Moana Bowls
You can also go Ala Moana surfing! At this Honolulu surf spot, you can usually find some waves year-round. This spot probably offers the biggest wave break along the South Side!
Here you will find some reef and sea urchins, so be careful. If you do head here, be prepared to share. It gets pretty crowded!
Sandy Beach
Another one of the Honolulu surf spots, Sandy Beach is a fun place to enjoy when the winds are just right. Usually, body surfing is the best thing to do here if you are a beginner. The waves are very intense here.
For advanced surfers, you can sometimes get a tube wave to ride in, which is so fun and such a thrilling adventure.
This is not a beginner surfing Oahu location but would be fun for those who know what they are doing.
Makapu'u Beach
In the winter, Makapu'u Beach is pretty similar to Sandy Beach when it comes to its waves. It offers strong currents and is quite rocky, so you'll want to know what you are doing before heading over there.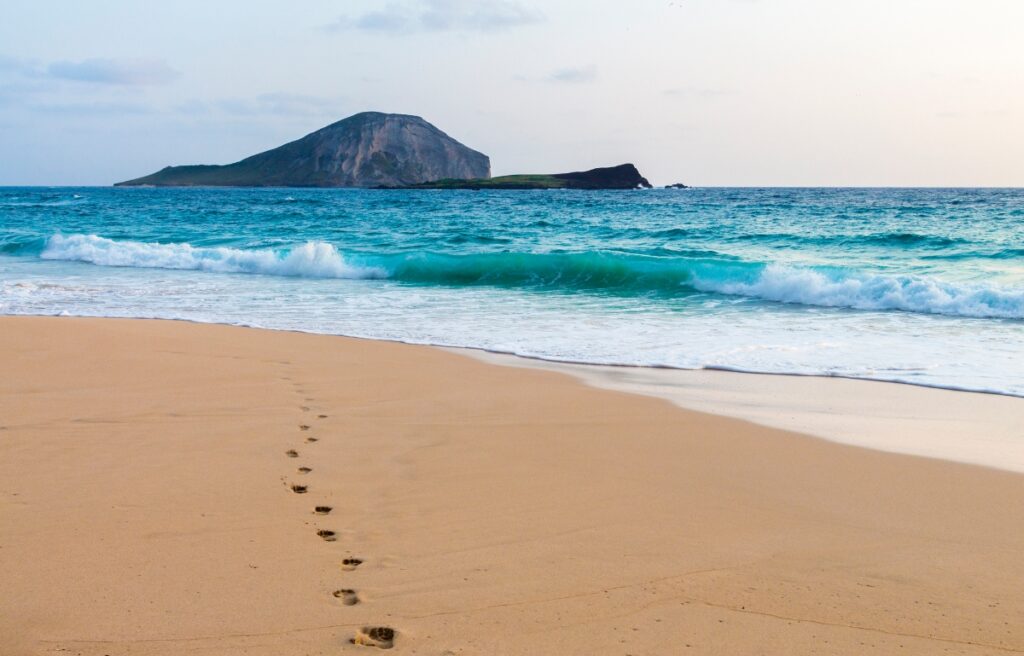 Most people like to enjoy a hike to Makapu'u Lighthouse while they are over here.
West Side Surfing Spots
If you are staying on the West Side, here are the top places to go surfing.
Makaha Beach Park
The Makaha surf breaks are quite big! You can find waves around 25 feet tall at times during the winter times. In the summer, it will not be as intense.
For the best surfing Oahu offers on the West Shore, definitely head to Makaha Beach Park.
Keawa'ula Beach
Also known as Yokohama Bay, Keawaula Beach also offers some great waves break surfers will love.
At this Oahu surfing beach, you will find a secluded beach that gets some pretty big waves in the wintertime.
It does have a pretty steep drop-off, so if you are a beginner, it is best to avoid this area.
Where to Rent a Surfboard
Due to the policies of the airlines servicing Oahu, there are sometimes exorbitant fees for transporting surfboards to Oahu. But, there are many ways around this.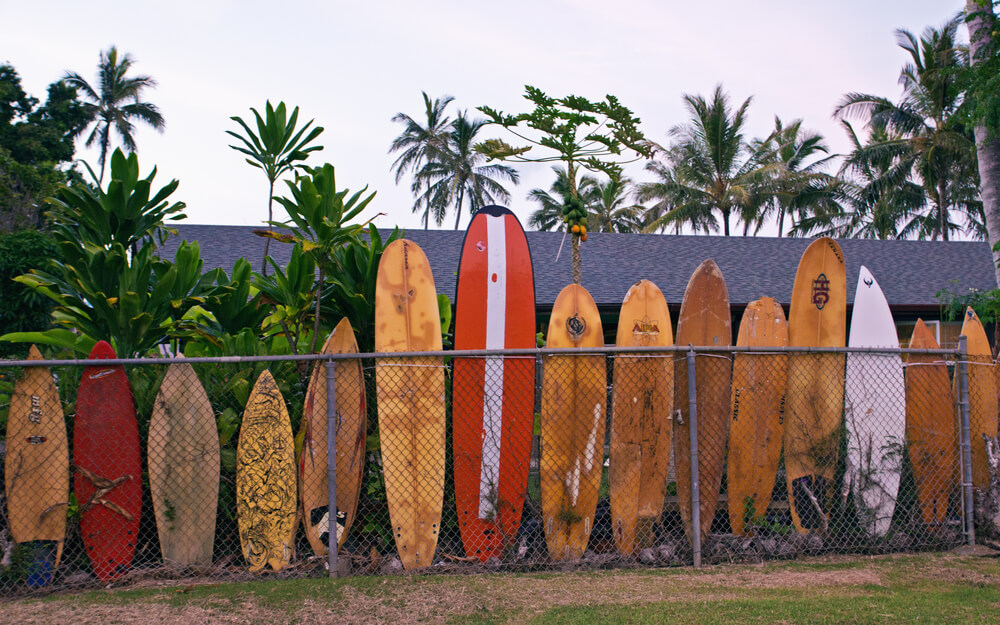 Borrow a Surfing Board
There are so many boards on the North Shore, after years and years of locals and visitors free surfing, as well as fifty years of surf competitions. Many of these surfboards are still on the North Shore, usually left under people's houses.
There is a good chance that wherever you stay there will be a board there for you to use, or someone nearby who will be happy to lend you a board. It is a bit of a chance, but you're likely of a good outcome.
Rent a Surfing Board
This is a guaranteed method of getting the exact equipment that you want, although it might be a little bit dated and yellowed. Here are plenty of surf shops Oahu has to offer.
North Shore Surf Shops
The best location for board rentals is Haleiwa, with Go Nuts being the best Haleiwa surf shop. They offer shortboard, longboard, soft-tops, and SUPs for rent, so you will find what you're looking for.
Other great surf shops North Shore Oahu offers include Surf N Sea, North Shore Surf Shop, and North Shore Beach Boyz.
South Shore Surf Shops
If you want to buy a used surfboard, you will love this surf shop Honolulu offers. Used Surfboards Hawaii helps you find the perfect used board for you at an affordable price!
For surf shops in Waikiki, check out Moku Hawaii, Hawaiian South Shore, and Blue Planet Surf Shop.
West Side Surf Shops
For a Kapolei surf shop, Surf HNL has you covered. You can get surf lessons from them, along with tons of rentals too.
Other surf shops on the West Shore of Oahu include Makaha Surf & Souvenirs, Kainalu Surf Shop, and Da Surf Shack.
Buy a Surfing Board
Although there are a number of board makers who reside and work on the North Shore of Oahu, they are all too busy over the winter season to be able to make you a board on order.
It is their busiest season, making boards for the traveling professionals, as well as fixing their boards as they get damaged on the coral or by the waves.
However, there are always a number of surfboard garage sales in and around the North Shore, normally on the westerly stretch between Waimea and Haleiwa.
These sales always have some absolute gems for sale, at very reasonable prices, with owners usually wanting to get rid of them to make some space in their homes as opposed to making money off visiting surfers.
You can really score on a North Shore garage sale.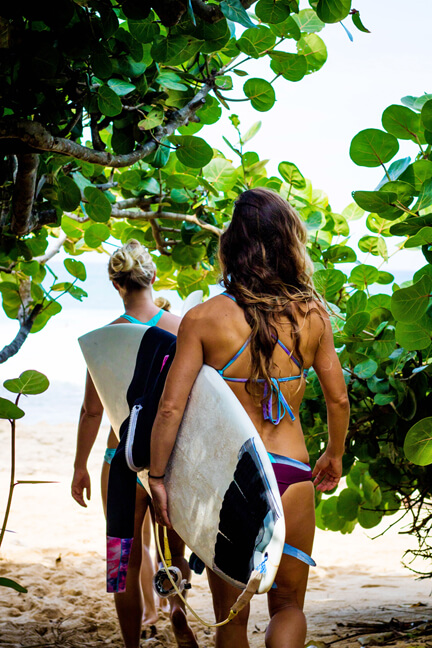 Best Oahu Surf Lessons
If you want to learn to surf, Hawaii has got you covered.
Even if you are a beginner surfer, it's probably a good idea to get some instruction from a professional surfer. Thankfully, there are a few places for surf lessons on Oahu.
Surf Lessons on the North Shore of Oahu
For the best North Shore Hawaii surf lessons, you will love a lesson from Sunset Suzys Surf School.
Enjoy a 2-hour surfing lesson with an experienced guide who is also a professional lifeguard in Hawaii. Check out the latest prices and more details.
Learn to read the surf and ride the waves during a lesson that includes instruction on the beach followed by practice in the warm waters of Oahu's North Shore.
This is a great option for kids and there is a chance of seeing Hawaiian Green Sea Turtles.
Book this North Shore surf lesson
Private Family Surfing Lesson
Head to Kahalewai Place in Haleiwa to meet your licensed surf instructor, who will teach you the basics and help you catch gentle waves. Check out the latest prices and more details.
No experience is necessary, and beginning surfers can choose from lessons in the afternoon or morning. Use of all equipment, including surfboard and wet suit, is included.
Book this private North Shore surfing lesson
North Shore Beginner Surf Lesson
Join a 2-hour surfing lesson that begins with an introduction on land before heading out to the water. They will go over falling safely and ocean etiquette. Check out the latest prices and more details.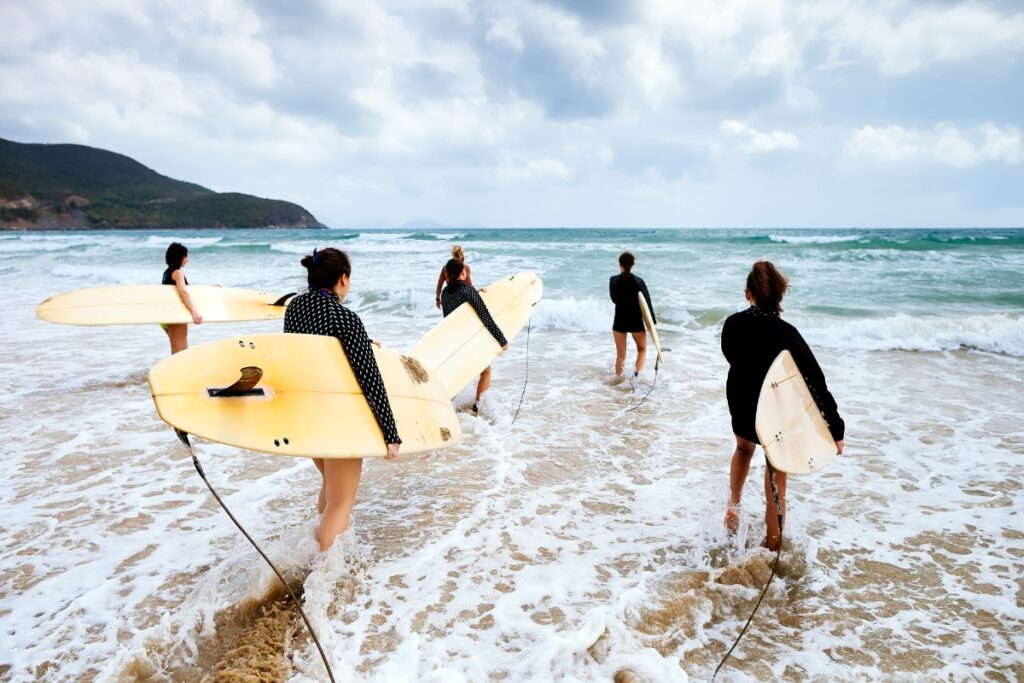 You'll learn how to catch waves, what type of board to use as a beginner, where the best surf spots are for beginners, and more.
Book this North Shore Beginner Surf Lesson
Private Waikiki Surf Lesson
If you want to learn to surf in Waikiki, why not try a private lesson from this Waikiki surfing school?
Waikiki surfing lessons are so easy to get to if you have a resort in town and are perfect for beginners! With these Waikiki surf lessons, you will have 1.5 hours to learn exactly what you need to know about how to surf. Check out the latest prices and more details.
It is for children 13 years and older, and since it is a private lesson, you will get a personalized experience!
Book these top surf lessons in Waikiki
Honolulu Surf Lessons
For Honolulu surfing lessons, get these lessons from Surf HNL at Ala Moana Beach. You can choose between 1 or 2-hour-long sessions, private or group settings, and so much more. You can personalize it to fit your needs exactly!
For the best surfing in Honolulu for beginners, you will love this surf school lesson! Check out the latest prices and more details.
Book this Honolulu Surf Lesson
Canoe Surfing
For a unique experience, try canoe surfing in Waikiki!
You will head out on the ocean for about 30 minutes to catch a few waves on an Outrigger Canoe. Check out the latest prices and more details.
Each canoe holds 4 to 6 people, so it is a great family-friendly activity for Oahu!
Oahu Surfing FAQs
Does Oahu have good surfing?
There are tons of great Oahu surf spots to enjoy all over the island! For experienced surfers, Oahu's North Shore is perfect. You will find plenty of surf schools and the best surf spots in Oahu for beginners on the North Shore and at Waikiki Beach.
Where can I surf in Oahu for beginners?
The North Shore can be a tricky spot for surfing newbies if you don't know where to go. Chun's Reef is a popular spot for surfing lessons for kids and beginners. Otherwise, your best bet is to stick near Waikiki Beach.
Where can I watch surfing in Oahu?
Whether you are looking for a professional surfing competition or just want to see some super amazing surfing, North Shore Oahu is the place to be! And the waves during the winter months are insane! Many of the Oahu surfing competitions are at the many North Shore Oahu surf spots.
What beach has the biggest waves in Oahu?
Waimea Beach Oahu is famous for having some crazy big waves (sometimes reaching 30 ft tall!) That's why experienced surfers flock there!
What time of year is best for surfing Oahu?
The winter months are when you will find the best surfing on Oahu conditions, which is why the North Shore Oahu surfing competitions are usually in December, January, or February.
Which side of Oahu has the best surfing?
While you will see some Oahu South Shore surf spots, you will find the best places to surf in Oahu all along North Shore's beaches.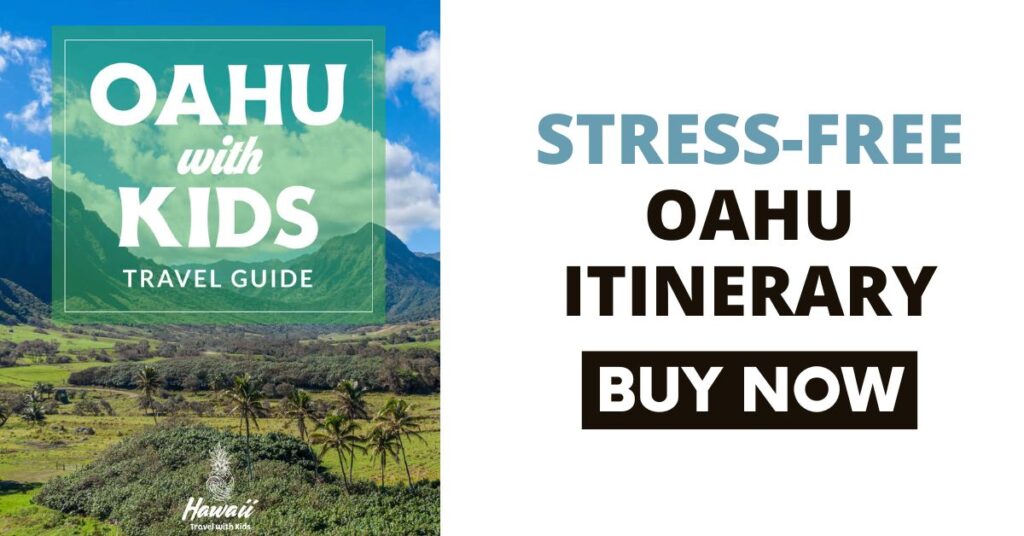 Oahu Surfing Wrap-Up
Now that you know the many surf spots on Oahu, add surfing the powerful waves to your Oahu itinerary!
If surfing is not your thing, you can also enjoy watching the big wave surfers while you are here.
Find out everything you need to know in this Ultimate Guide to North Shore Oahu.
You can also read posts about the coolest things to do in Haleiwa, the best North Shore food trucks, best cafes in North Shore Oahu, the awesome Oahu snorkeling spots, best North Shore Oahu tours for families, epic North Shore hikes, and more!
About the Author
Craig Jarvis is a former surf magazine editor and is currently a freelance surf journalist. He has been to the North Shore of Oahu many times to cover the surf contests, and he usually finds time to get a few surf sessions when traveling to Hawaii.