Are you thinking about planning a trip to Oahu in January? Find out some of the best things to do in Oahu in January that are worth adding to your itinerary!
This list of things to do in Oahu in January contains affiliate links which means if you purchase something from one of my affiliate links, I may earn a small commission that goes back into maintaining this blog.
Visiting Oahu in January is a fantastic way to escape the cooler winter weather elsewhere.
Avoid all that ice scraping, shoveling, and blustery weather by taking off to Hawaii in January. You won't regret it.
The Oahu weather in January is not the only reason to start planning your vacation. In fact, there are several fun things to do in Oahu in January.
Whether you visit Waikiki in January, Honolulu in January or anywhere else on this beautiful island, you are going to have a blast.
Start the new year off right with a gorgeous Hawaiian vacation this year.
Don't have time to read a bunch of Hawaii blog posts and reviews? Here are some of our top picks for visiting Oahu.
Popular Oahu Tours/Activities
Favorite Oahu Resorts/Hotels
Want to Rent a Car in Hawaii?
One of the best places to rent a car in Hawaii is Discount Hawaii Car Rental because they get the best rates from top national companies like Alamo, Dollar, Thrifty, Avis, Enterprise, Budget, and Payless.
Want to skip all the planning and just access my detailed Oahu Itinerary complete with daily schedules, kid-friendly activities, and travel hacks? Click the button below.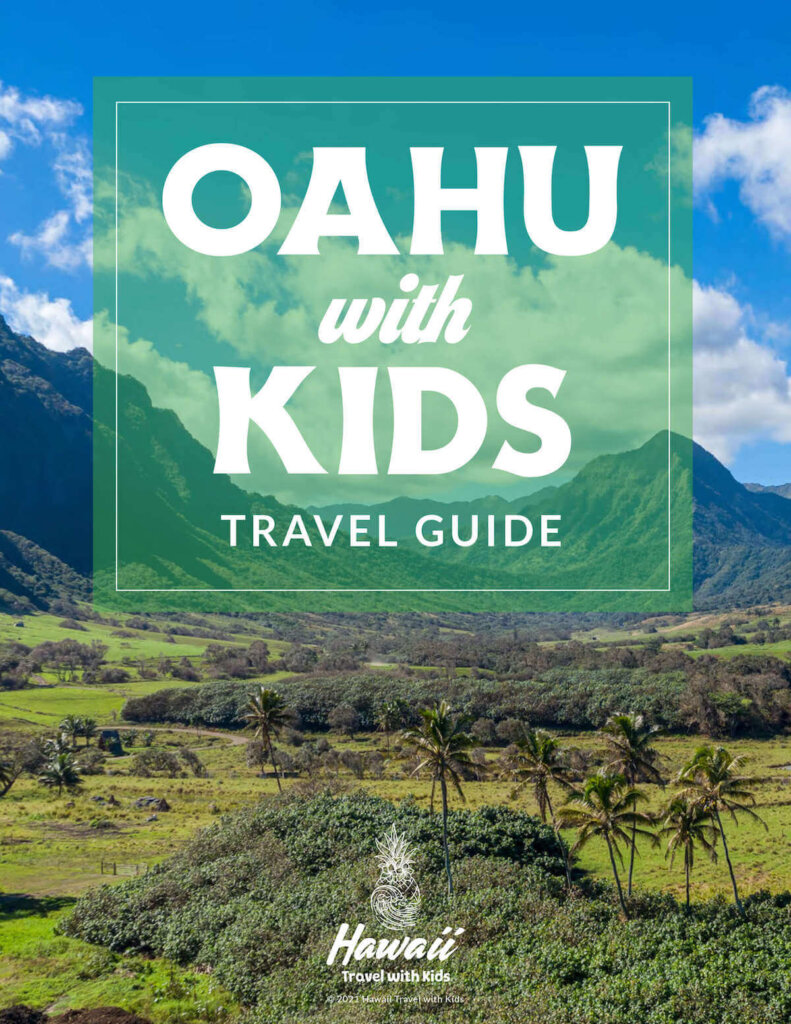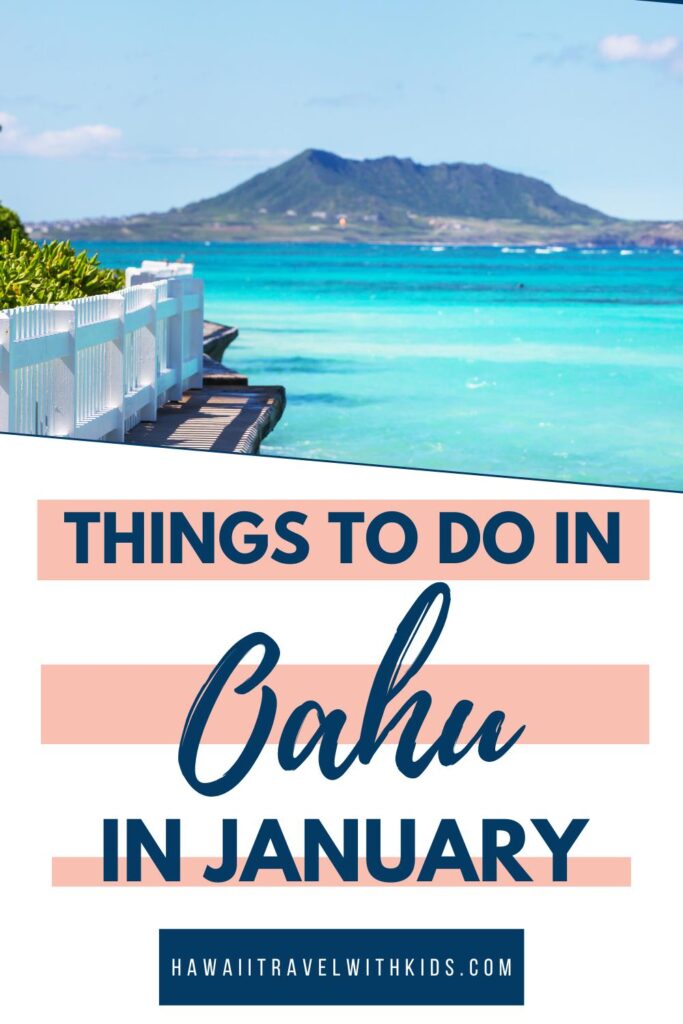 Oahu Weather in January
The weather in Oahu in January offers a fantastic reprieve from the cold and blustery weather in other parts of the world. Offering up several opportunities to enjoy some outdoor activities, you are sure to enjoy the weather here this month.
Average Temperature in Honolulu in January
The temperature in Honolulu in January is gorgeous, even in the winter months. The average temperatures rarely dip below 66 degrees Fahrenheit at night. The normal daytime highs in Honolulu can reach 80 degrees Fahrenheit.
Waikiki Weather in January
Located on the island of Oahu, the Waikiki Weather in January as a whole is gorgeous. The average temperatures in Honolulu and Waikiki are similar.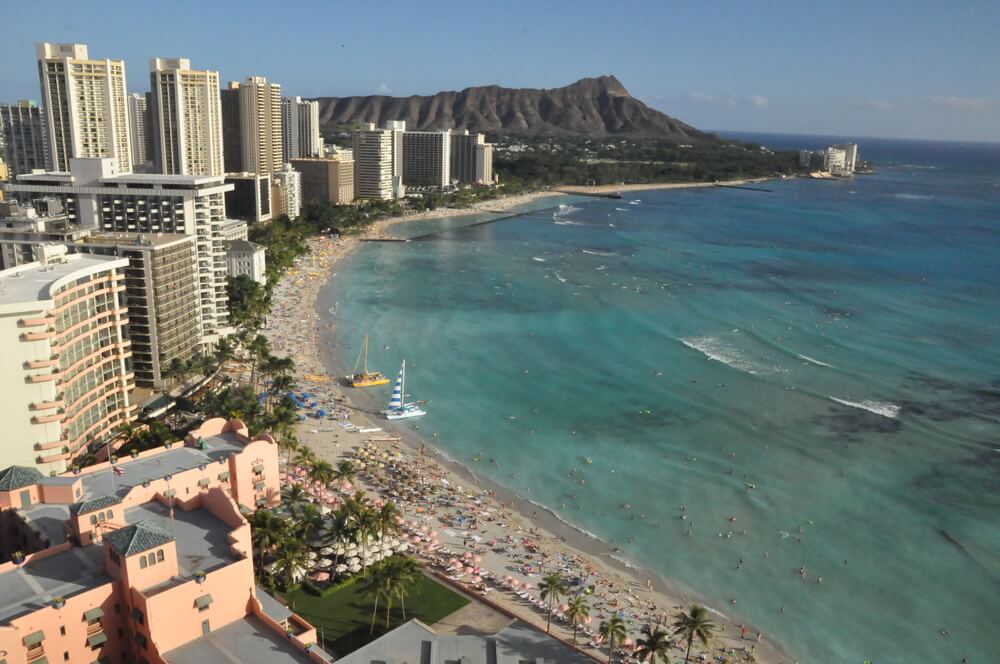 Keep in mind though, the trade winds are high on the island in the month of January and with the temperature dipping a bit in the evening, you will want to be prepared. Pack a warm sweater to bring with you just in case.
Keep in mind that January in Oahu follows the rainiest month of December. There is still a chance for some rain. It is also a good idea to pack some rain gear just in case.
Things to do in Oahu in January
There are so many fun and exciting activities in Oahu in January. Whether you are looking for cheap things to do in Waikiki, things to do on Oahu for free, or more fun things to do in Honolulu Hawaii, you are sure to find something that you will enjoy.
Whether you choose to celebrate the Chinese New Year in Hawaii or take part in some of their other exciting activities, you will have a great time.
New Year Luau
Start the New Year off right in Oahu with a fantastic Hawaiian Luau. Paradise Cove is not another run-of-the-mill experience. You can read my full review HERE.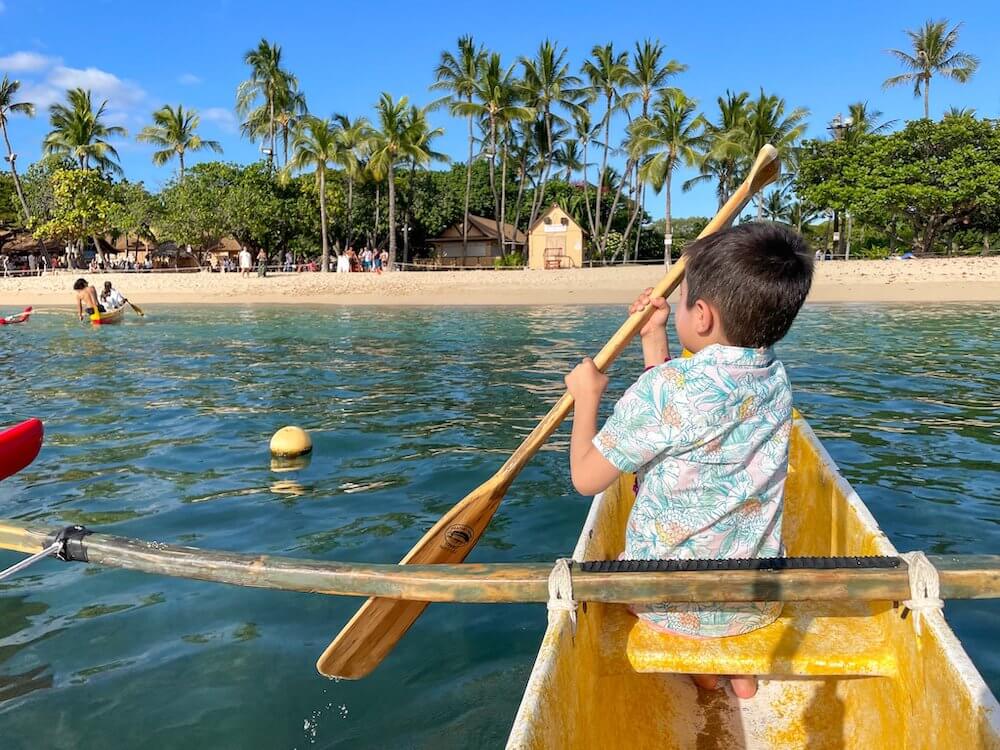 Here you will enjoy lots of activities, entertainment and more. Start your afternoon with some refreshing beverages and join in on the festivities and celebration.
This New Year Luau is a great experience for all involved. Apart from enjoying the company of others, you will watch a Kalua Pork Imu ceremony, play traditional games and take part in a hukilau.
You can also listen to live local music and enjoy many hula and Polynesian performances. Check the latest rates and availability.
'The Eddie' Big Wave Surf Contest
Every year a group of sponsors hosts an annual big wave surfing contest to honor the memory of Eddie Aikau.
This contest happens over three months, waiting for the biggest waves to tackle. At this event you can watch surfers paddling into huge waves at Waimea Bay, competing for the title.
The opening ceremonies take place at the end of November, and the contest continues until the middle of March.
For more information visit the Eddie Would Go website.
KCC Farmers Market
Every Saturday morning in January, you can visit the KCC Farmer's Market. Located on the side of Diamond Head, this Market features some of the greatest stuff the island of Oahu has to offer. Check out some amazing food creations, pop-up restaurants, and more.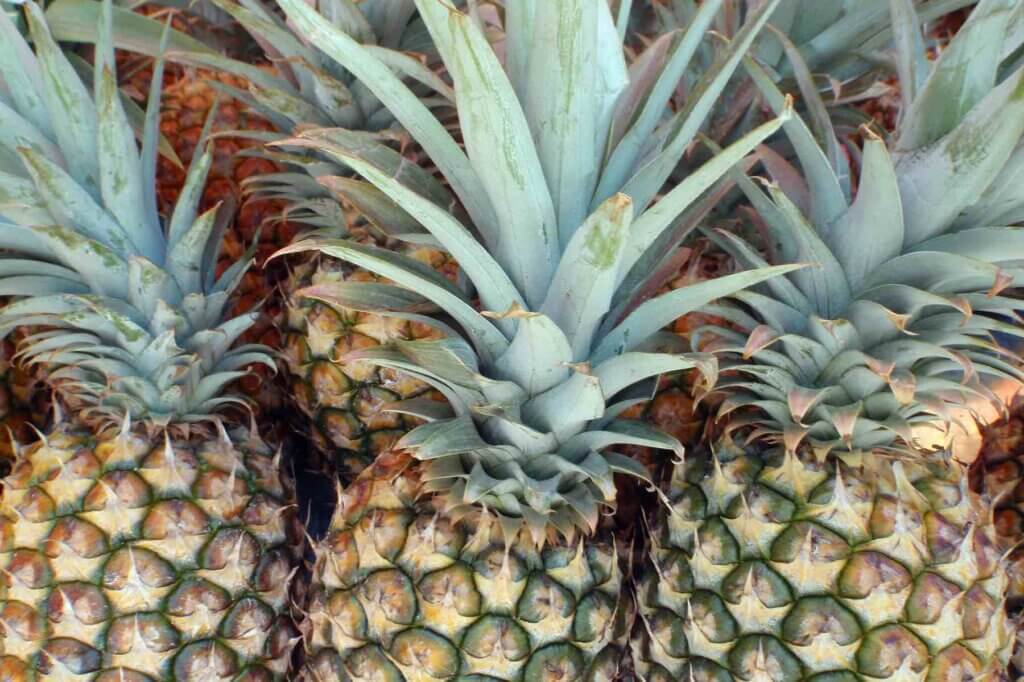 Want to buy some fun local items? You can get fresh local fruits, island flowers, nuts, delectable sauces, and other unique offerings.
Visit the KCC Farmers Market Website for more information.
Da Hui Backdoor Shootout
Now you can have a chance to watch some of Hawaii's professional surfers battle it out at Ehukai Beach Park. They will try to capture the wave of the day all while pulling off some mind-blowing stunts.
There will also be bodyboarding, bodysurfing, longboarding, and more.
Check the Da Hui website for more information.
Chinese New Year in Hawaii
Celebrate the Lunar New Year in Hawaii this year. Oahu offers an exciting festival that is sure to impress its visitors.
Night in Chinatown Festival
The Night in Chinatown Festival is one of the best things to do on Oahu for free. You can celebrate the Lunar New Year with this exciting festival taking place in Honolulu.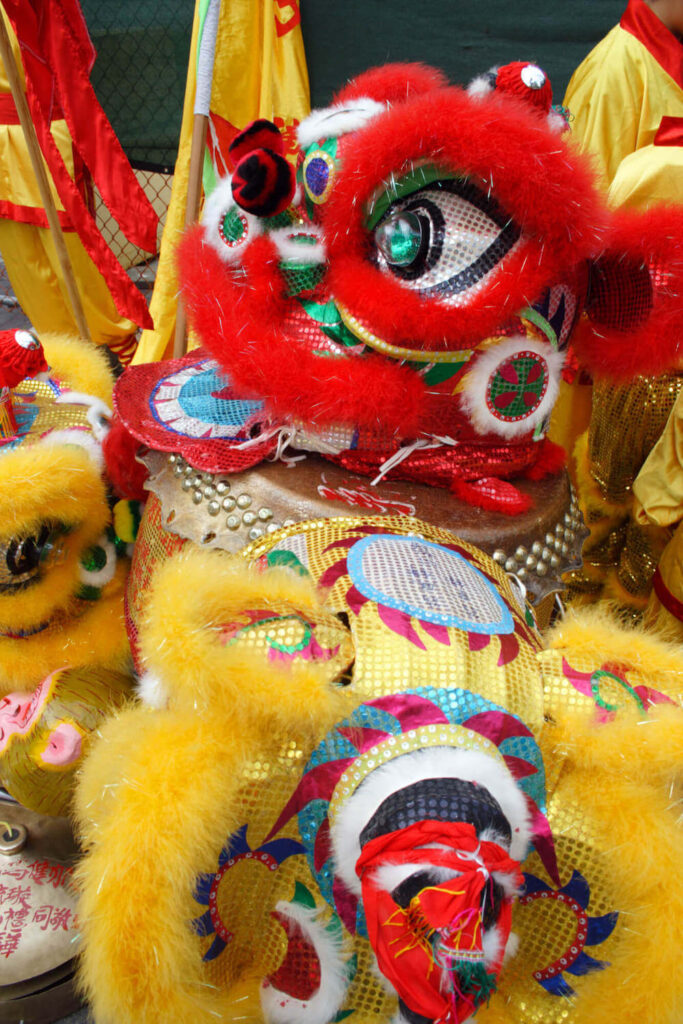 There is a parade, live entertainment, and more. This day-long event features delicious foods, craft vendors, and more.
Celebrate the Chinese New Year in Honolulu this year.
Check out the Chinatown Website for more information.
Visit How to Celebrate Chinese New Year in Hawaii to learn more.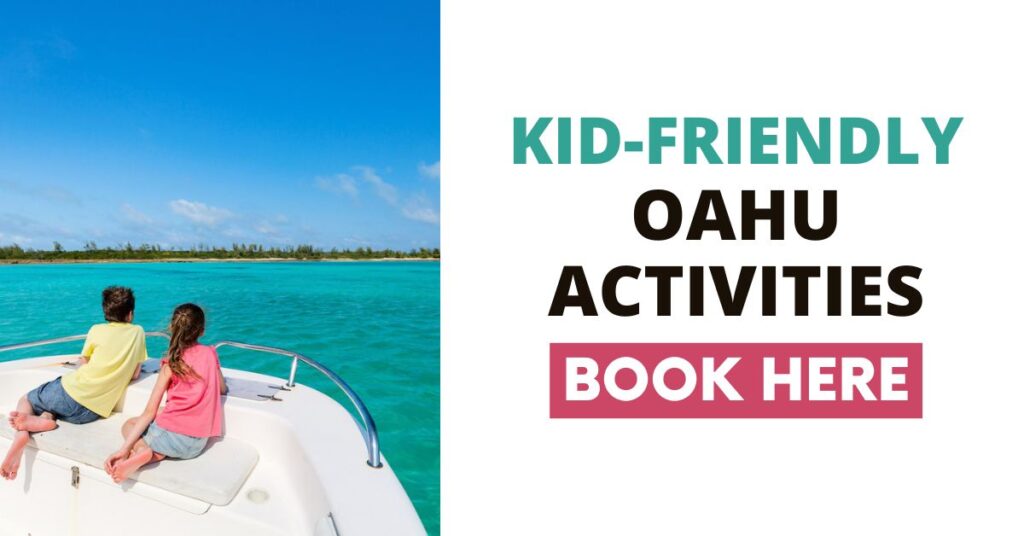 Top 10 Oahu Attractions in January
Visiting Ohau in January is a fantastic way to enjoy some amazing outdoor activities.
Whether you are looking for fun things to do in Honolulu Hawaii, things to do in Oahu for free, or cheap things to do in Waikiki, there is something for everyone here.
Schedule some amazing activities to participate in on your vacation with some of the best things to do in January.
1. Diamond Head State Park
A visit to Diamond Head State Park is one of the best things to do in Honolulu Hawaii in January.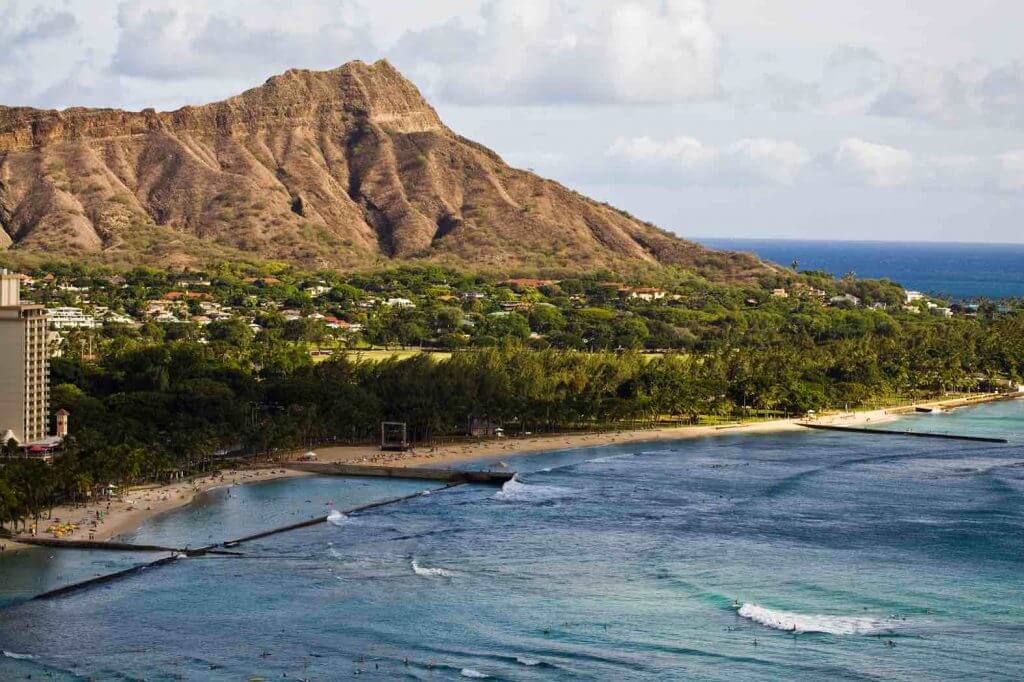 This gorgeous State Park is perched upon a volcanic cone. Also known as Lēʻahi. This somewhat translates to "the brow of the tuna."
At this beautiful park, you will experience amazing views of the Pacific Ocean and Honolulu. This is also a great place to enjoy historical displays, hiking trails, and more.
2. Whale Watching
The opportunities to go whale watching in Oahu in January are plentiful. This is because, during the winter months, humpback whales migrate to Hawaii to give begin the breeding process.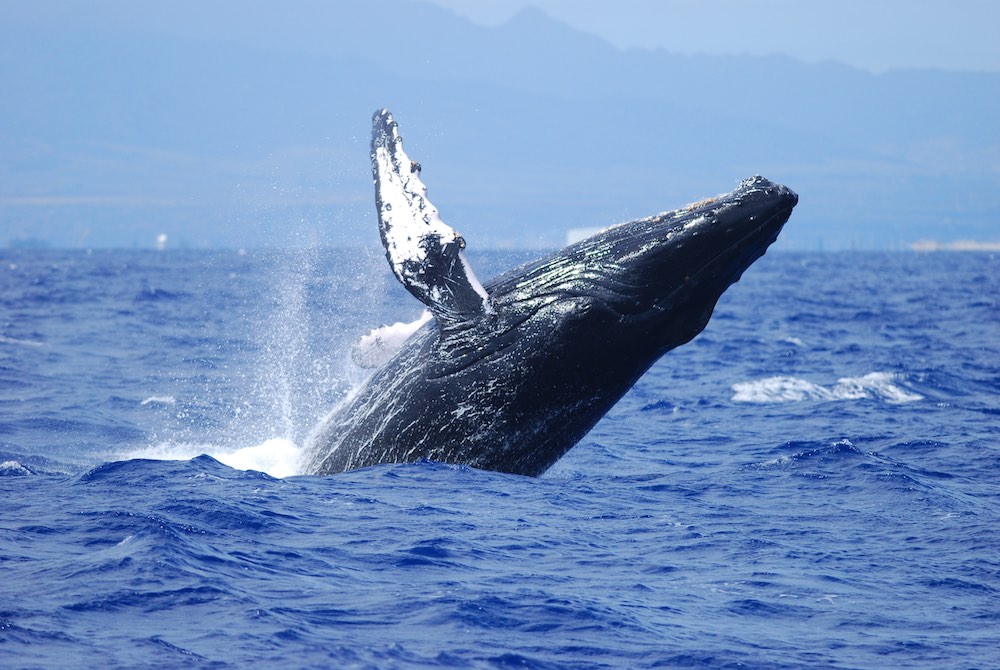 There will be approximately 10,000 humpback whales migrating to Hawaii in the winter months. You can see humpback whale populations from the shoreline and several different beaches in Oahu.
You can also take a whale-watching tour. These tours are a great way to learn more about the whales and the best way to ensure that you spot them. There are several different tours to choose from, so pick the one that works best for you.
3. Go Surfing
Waikiki has some amazing beaches that are perfect for surfing. With multiple surf schools set up around the beach, you are sure to find the perfect surfing experience for you.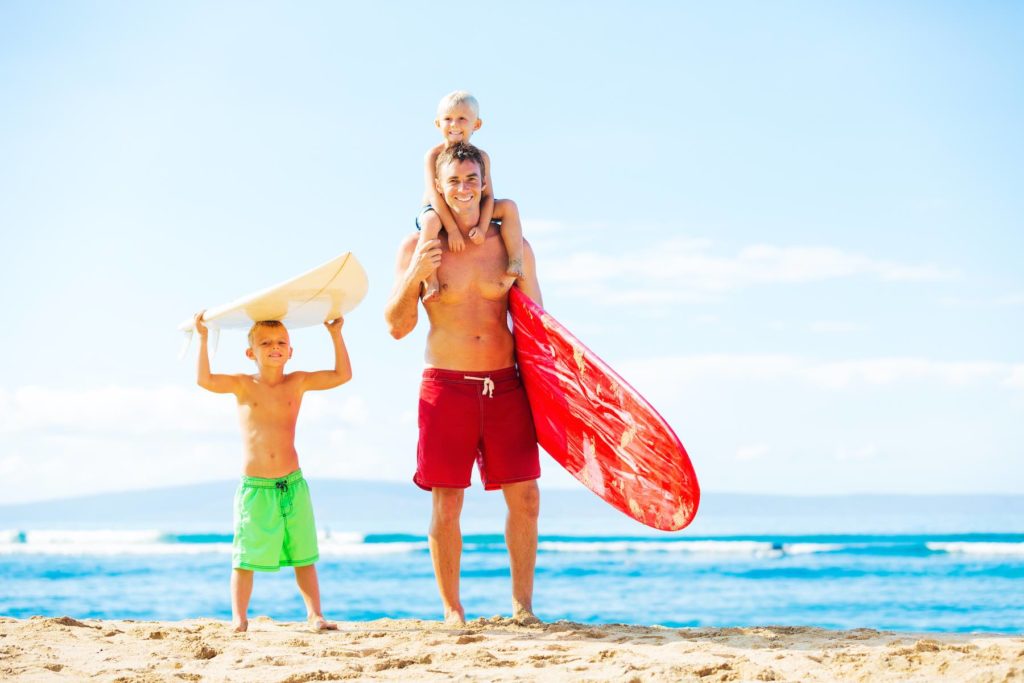 Don't want to surf? That's ok, you can easily visit one of Waikiki's beautiful beaches and spectate.
If you are looking for cheap things to do in Waikiki, surfing is a great choice.
4. Go Shark Diving
Get up close and personal with some of nature's most intimidating creatures. Shark diving tours are available from several different places on the island.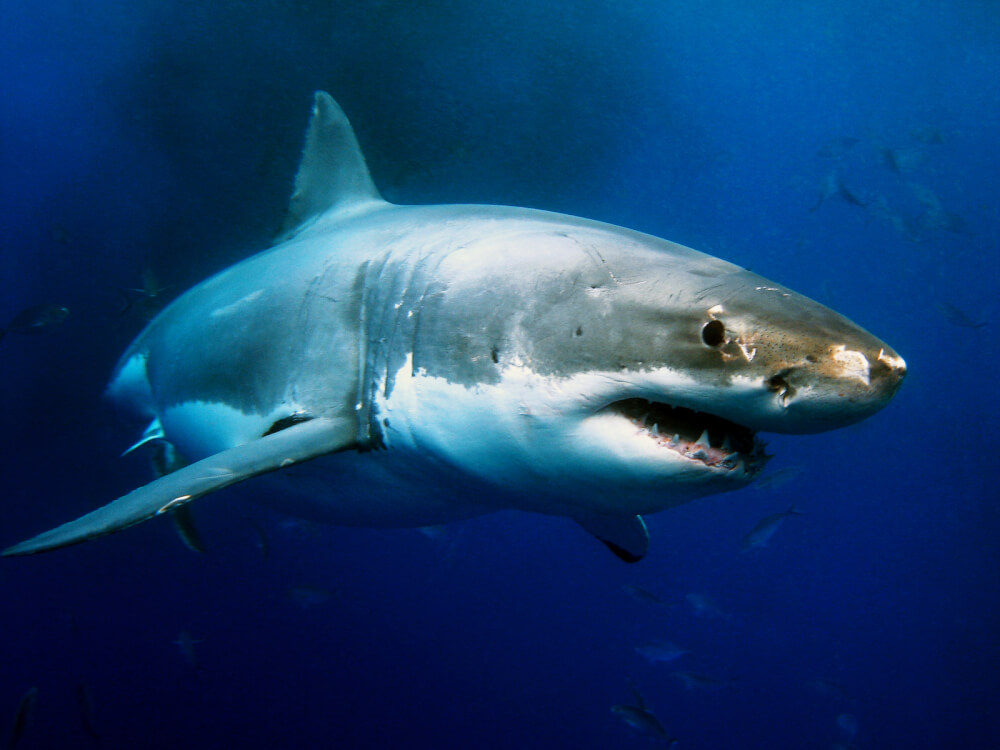 These tours use extremely sturdy cages to ensure ultimate safety and protection. Most tours travel approximately 3 miles away from the shore. This makes it easier to see the sharks.
Not only are you likely to see sharks, but you will probably also spot other sea life. From dolphins to turtles and maybe even whales, these beginner-friendly tours are an exciting experience.
5. Visit Lulumahu Falls
If you want to find a peaceful area to enjoy an afternoon, visit Lulumahu Falls. The hike into the falls is located right next to the Pali Highway and only takes approximately 30 minutes.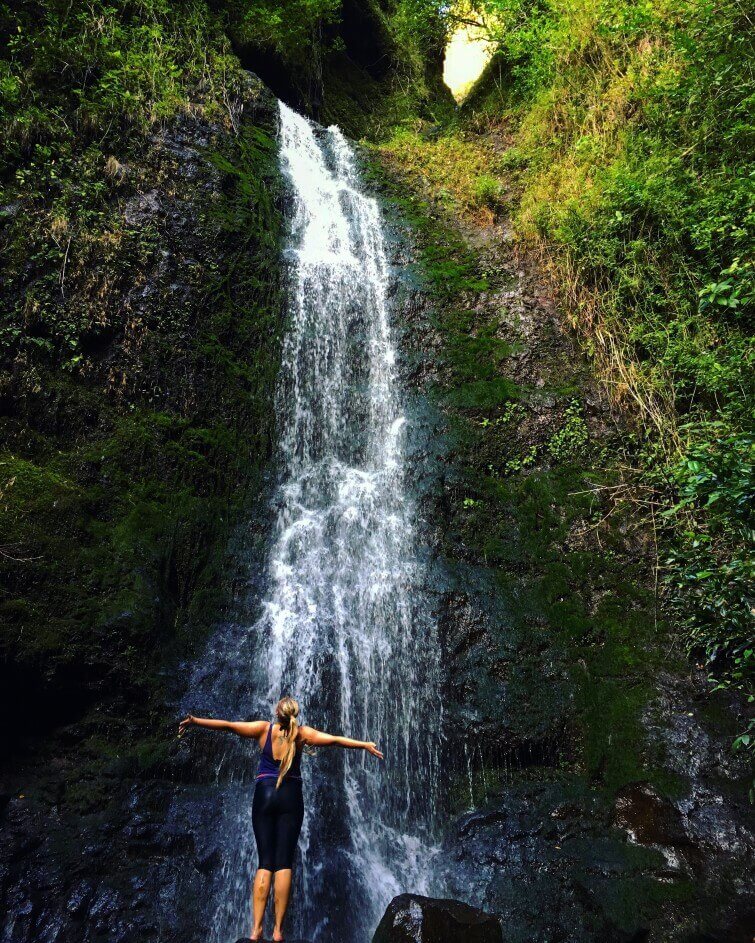 Once there you can swim in the pool below the waterfall. Well, you might just be able to dip your toes in. There are so many beautiful sights at this waterfall in Oahu.
6. Visit the Dole Plantation
Stop on the way to the north shore for a delicious pineapple treat at the Dole Plantation. They offer tours and have a gigantic hedge maze you can navigate through.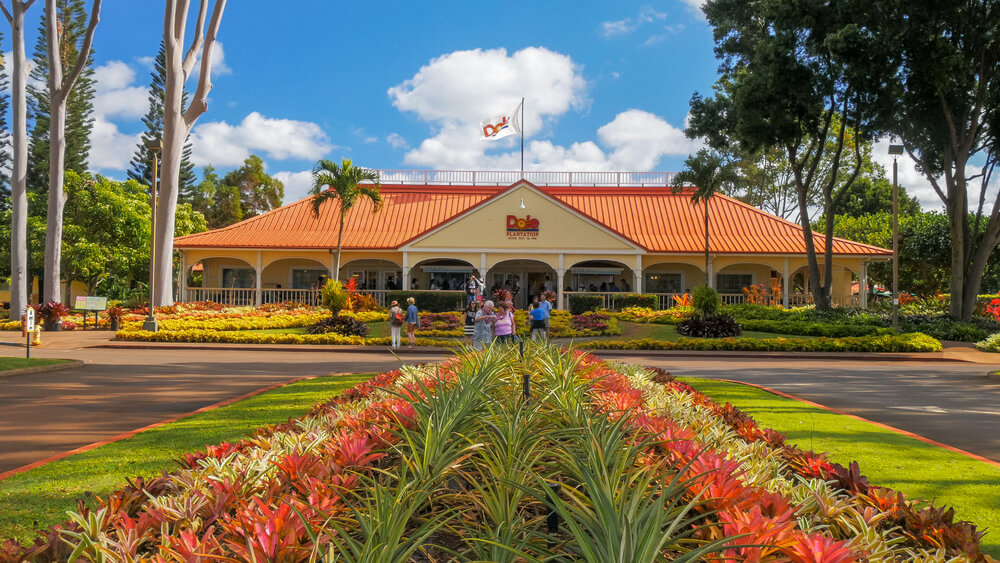 The best part? Enjoy some fresh Dole Whip. It's so incredibly delicious and many people love it.
7. Catch an Oahu Sunrise
If you get up early enough, you can head to the east coast of Oahu just before the sun rises. This area is the ideal place to watch the sunrise.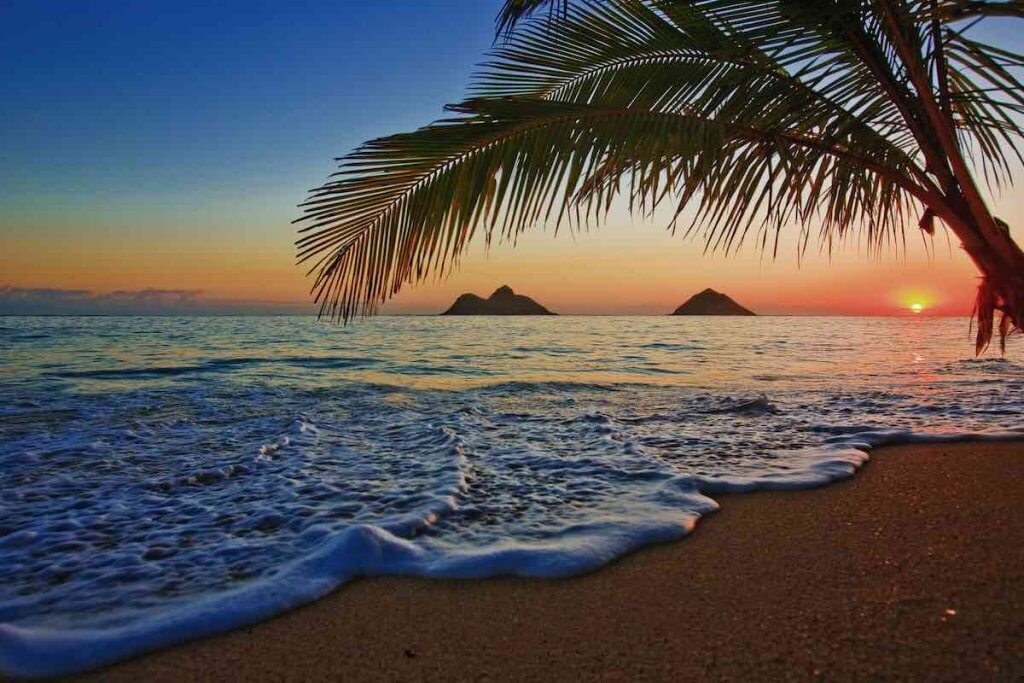 The sunrise is not only gorgeous, but it lights up the mountains and creates a beautiful silhouette in the water.
This is one of the most beautiful experiences you can have on Oahu and it's absolutely free. Plus, it's great to do this in winter when the sun rises a bit later.
8. Bishop Museum
If you want to take in some natural history and Polynesian culture the Bishop Museum is a must-visit.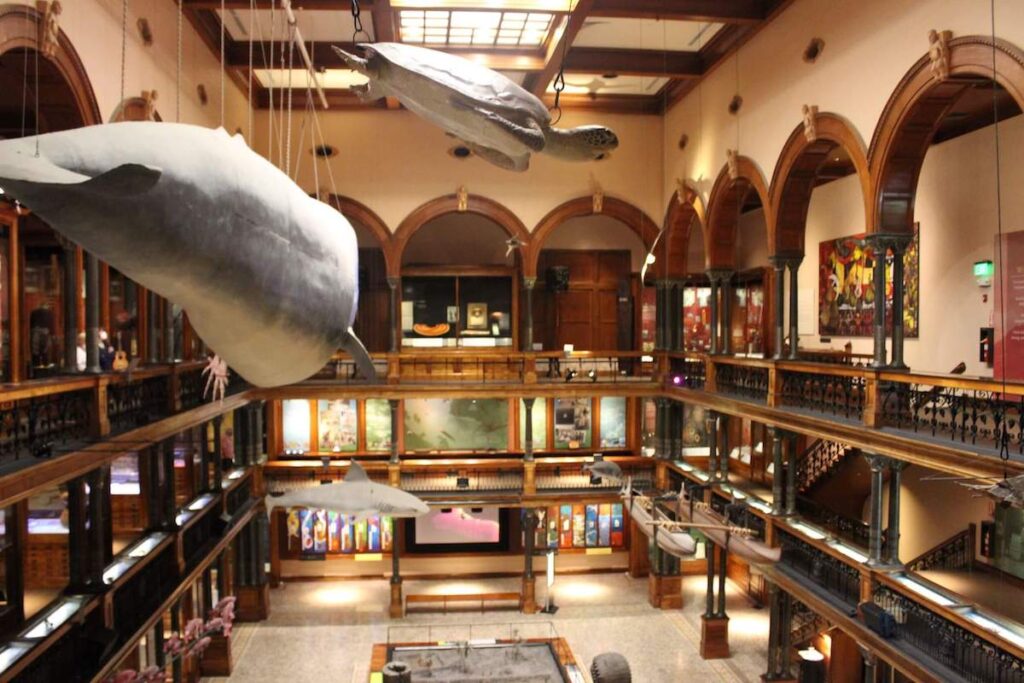 Being the largest museum in the state, it has so many amazing displays, from planetarium shows to Royal capes there is something here for everyone.
There is an amazing planetarium show that has you on the deck of the Hokulea, which was a traditional voyaging vessel. This show will teach you the navigation techniques that the crew used to navigate the ocean.
The Bishop Museum provides a fantastic experience for all who visit.
9. Take a Glass Bottom Boat Tour
Stay dry and get a first-class look at Hawaii's lively sea life with a glass-bottom boat tour. This is perhaps one of the most exciting things to do in Waikiki.
Cruise above the gorgeous tropical reefs in a catamaran as you take in some beautiful views. Keep your eye out below you to see dolphins, schools of fish, and the region's famous green sea turtles.
You can even upgrade your package to include a buffet. If you want a romantic experience, check out the sunset tour.
10. Visit the Waikiki Aquarium
This beautiful aquarium is the second oldest public aquarium in the entire united states. With both indoor and outdoor sections, this is a great place to visit to learn more about Hawaii's rich ocean life.
There are a range of ocean plants and seaweed to see as well as several different species of fish and other sealife.
Check out the tropical fish, monk seals, sharks, jellyfish and more at the Waikiki Aquarium.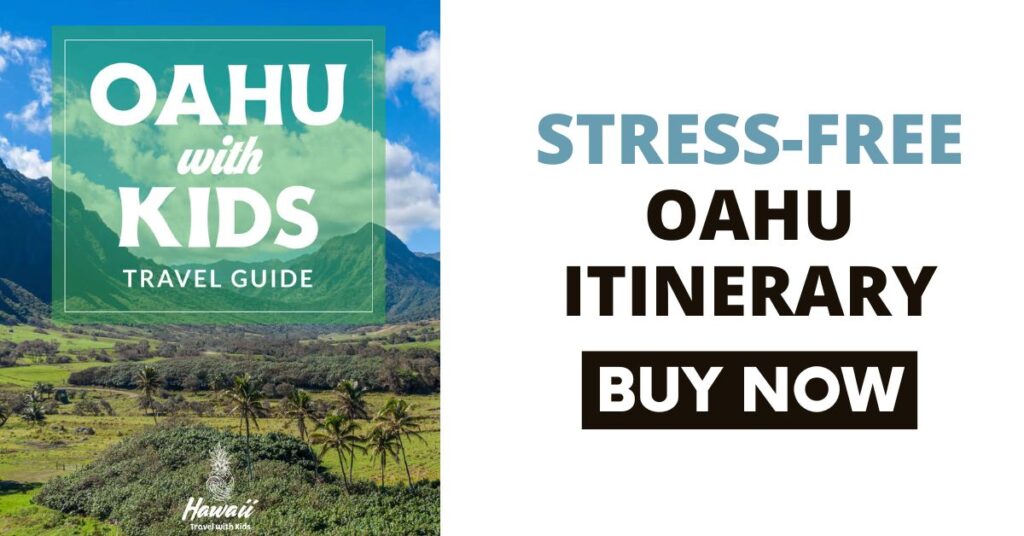 Oahu Hawaii in January Wrap Up
There are so many exciting things to do in Oahu in January. The weather is great, the activities are fun and the events are plentiful.
Whether you are celebrating the Chinese New Year in Oahu, or simply there to escape the cooler weather and enjoy the outdoors, you are sure to enjoy your vacation.