Are you heading on an Oahu vacation but aren't sure how long to stay? Let me break it down for you in this post about how many days in Oahu is ideal!
This post about how many days in Oahu do you need contains affiliate links which means if you purchase something from one of my affiliate links, I may earn a small commission that goes back into maintaining this blog.
Are you planning a trip to Oahu and are trying to figure out how many days you'll need to explore the island?
I'm so excited for you! Oahu is one of the most exciting and family-friendly islands in Hawaii. With plenty of activities and attractions for both kids and adults, you'll be able to create memories that will last a lifetime.
But how many days do you need to see all the top Oahu attractions? That's what I'm here to help you figure out. Keep scrolling down for my expert advice on how many days you should spend in Oahu.
I've visited Oahu many times with and without kids and I have lots of advice on how to plan your Oahu itinerary so you can see all the top Oahu attractions.
So, how many days do you need in Oahu? Keep scrolling to find out!
Don't have time to read a bunch of Hawaii blog posts and reviews? Here are some of our top picks for visiting Oahu.
Popular Oahu Tours/Activities
Favorite Oahu Resorts/Hotels
Want to Rent a Car in Hawaii?
One of the best places to rent a car in Hawaii is Discount Hawaii Car Rental because they get the best rates from top national companies like Alamo, Dollar, Thrifty, Avis, Enterprise, Budget, and Payless.
Want to skip all the planning and just access my detailed Oahu Itinerary complete with daily schedules, kid-friendly activities, and travel hacks? Click the button below.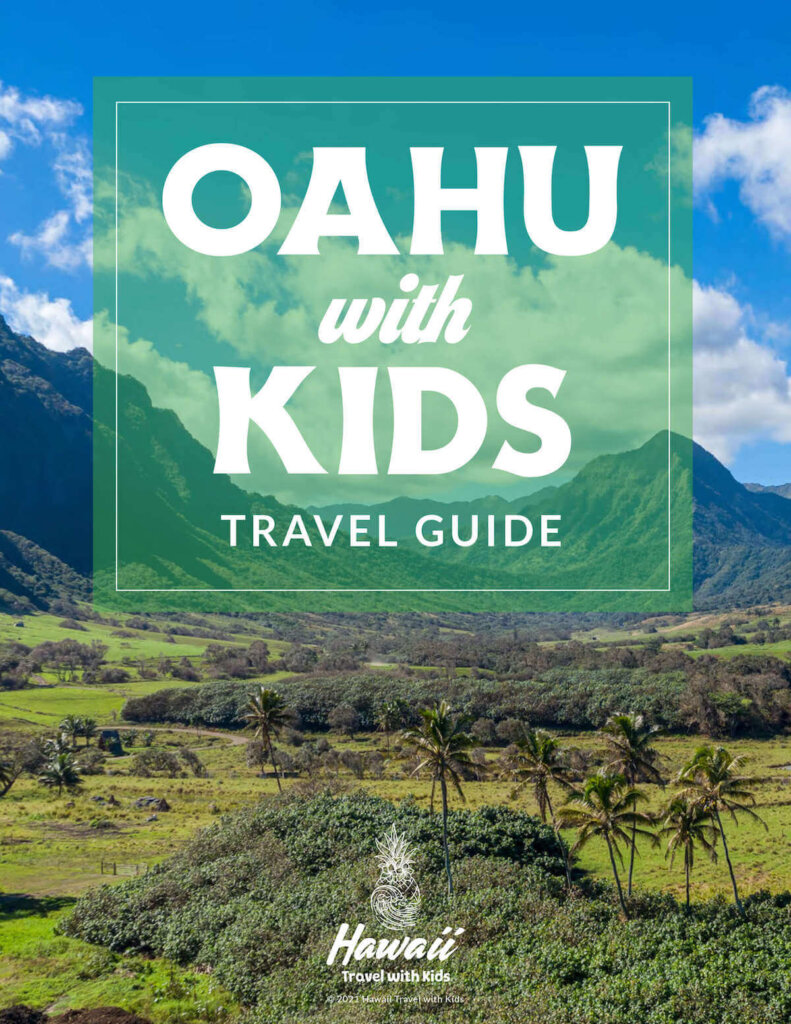 How Many Days to Spend in Oahu FAQs
Is 5 days enough for Oahu?
With so many fun things to do on Oahu, you'd have to make some choices on what to do on Oahu in 5 days. You could hit up Pearl Harbor, explore the North Shore, spend time at Kualoa Ranch, and walk around Waikiki.
Is 10 days enough for Oahu?
With 10 days on Oahu, you'll have plenty of time to hit up the top Oahu attractions, see the sights, hang out at a few beaches, do a few adventures, and relax at your hotel pool.
How many days do you need in Waikiki?
You really only need one day to explore Waikiki. That will give you time to enjoy a few Waikiki restaurants, walk around the boutiques and shopping centers, and have time to play at Waikiki Beach.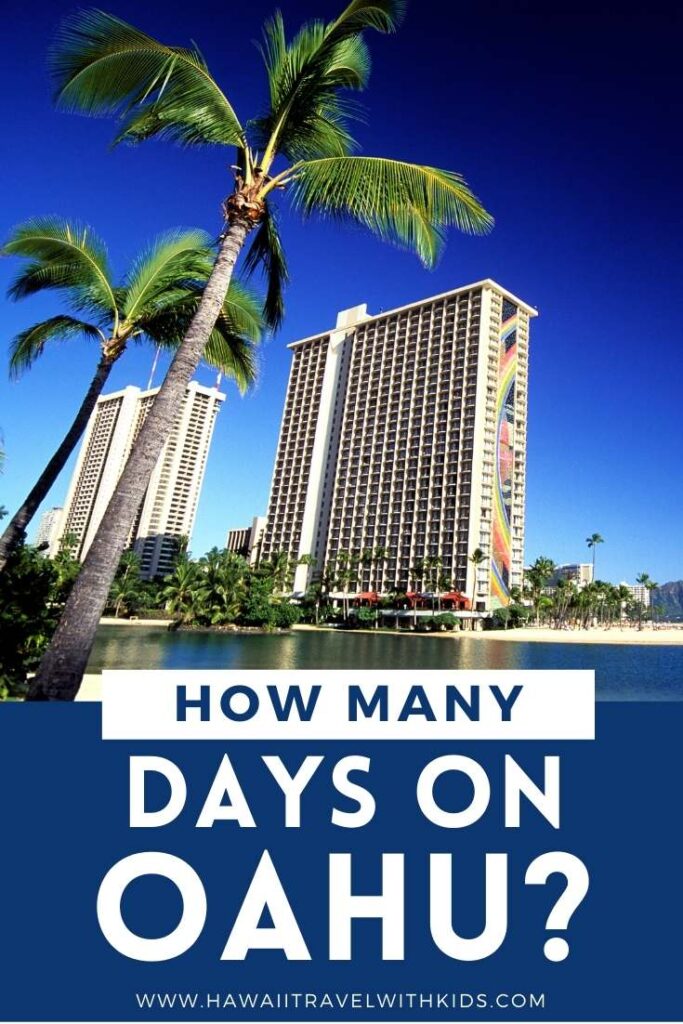 Overview of Oahu
As the third-largest island in Hawaii, Oahu is often called the 'gathering place.' The blend of ancient and modern on this island is both unique and fantastic.
Whether you want to spend time in a bustling city or a laid-back surf town, Oahu has an exhilarating combination of Eastern and Western cultures.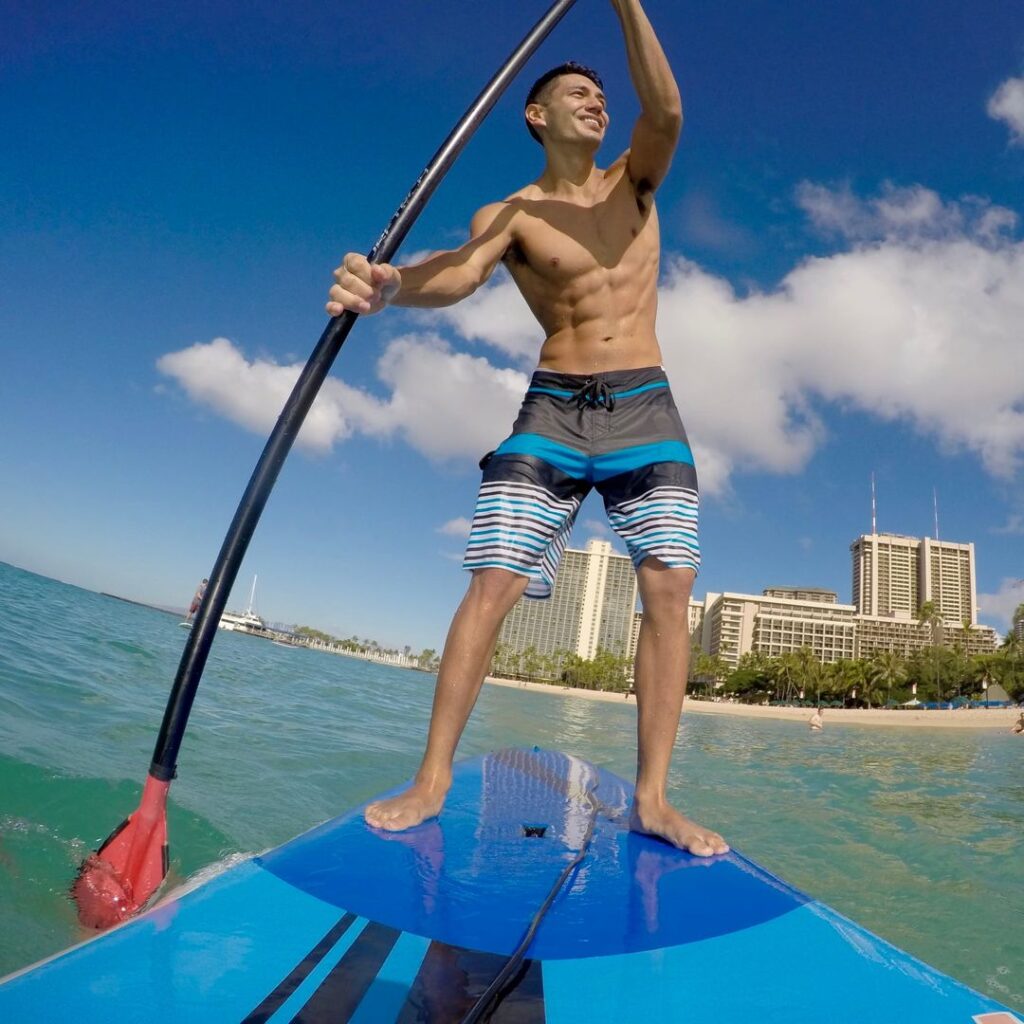 As one of the most popular Hawaiian islands, this tropical paradise sees an estimated 6 million visitors a year.
If you're looking for adventure, Oahu has plenty of amazing activities to offer. Use this guide to Oahu to plan your perfect Hawaiian vacation to this must-visit island.
Save Money with Points
Here are the best credit card offers for families who travel and want to use points to pay for airfare and hotels in Hawaii.
Getting To Oahu
Getting to Oahu is easy as Honolulu International Airport (HNL) is Hawaii's major airport. Honolulu International serves at the entry point for most Hawaiian visitors.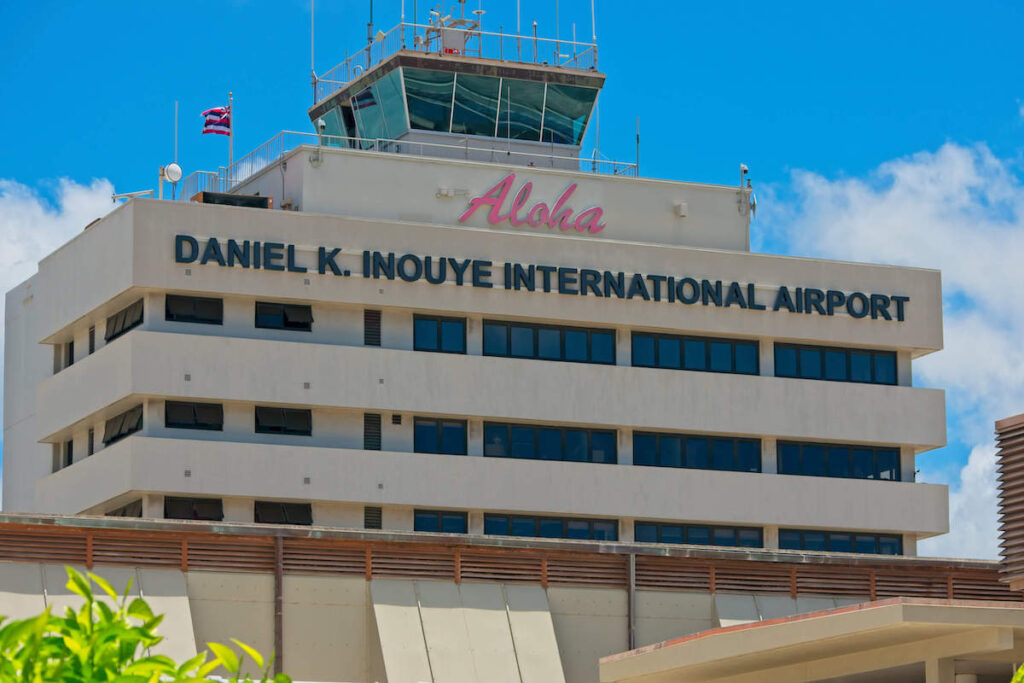 All major domestic airlines and many international carriers serve Oahu, making getting to the island a breeze.
Do You Need a Rental Car?
Most people traveling to Oahu will rent a car. That's because there are SO many fun things to see and do on this island.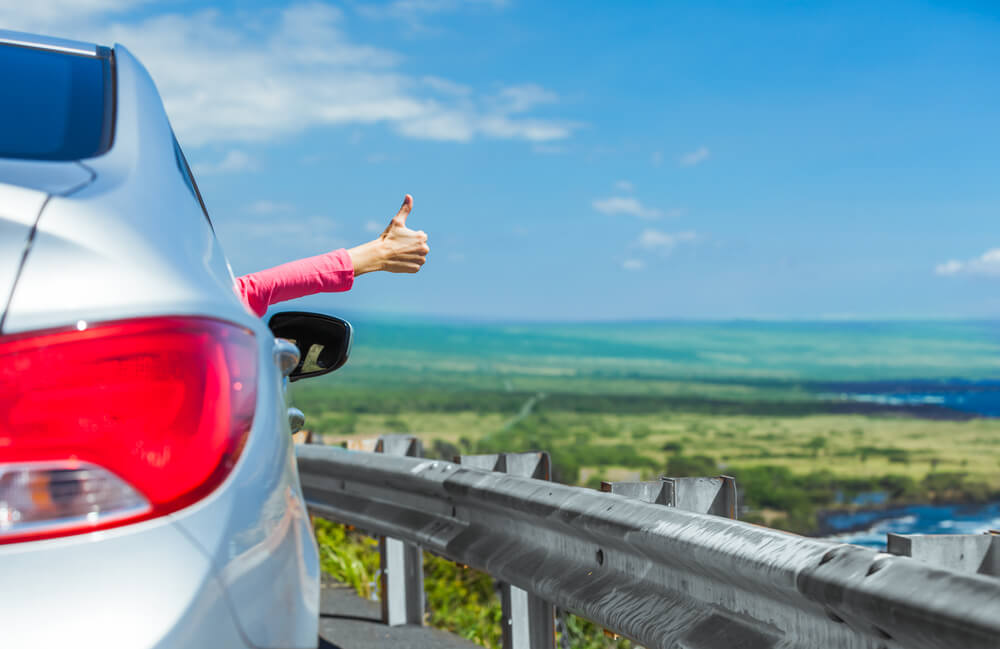 In December 2021, they made picking up a rental car at Honolulu airport even easier. You can now find a ton of Oahu car rental companies in one consolidated place.
The cheapest place I've found is Discount Hawaii Car Rental. They get the best rates from top national companies like Alamo, Dollar, Thrifty, Avis, Enterprise, Budget, and Payless. Check out the latest prices and more details.
When To Visit Oahu
If you take the weather, crowds, and prices into consideration the best time to visit Oahu is early April, September, and early October.
Although Oahu has excellent weather year-round, the hotel prices and crowds increase during peak summer seasons.
Another thing to consider is hurricanes and tropical storms, although they rarely affect the Hawaiian Islands. Hurricane season is typically from June through November.
Where To Go In Oahu
Honolulu/Waikiki
Honolulu is the largest city in Hawaii and is also the capital of the state. You'll find the city electric while you enjoy activities ranging from historical landmarks to excellent shopping and dining.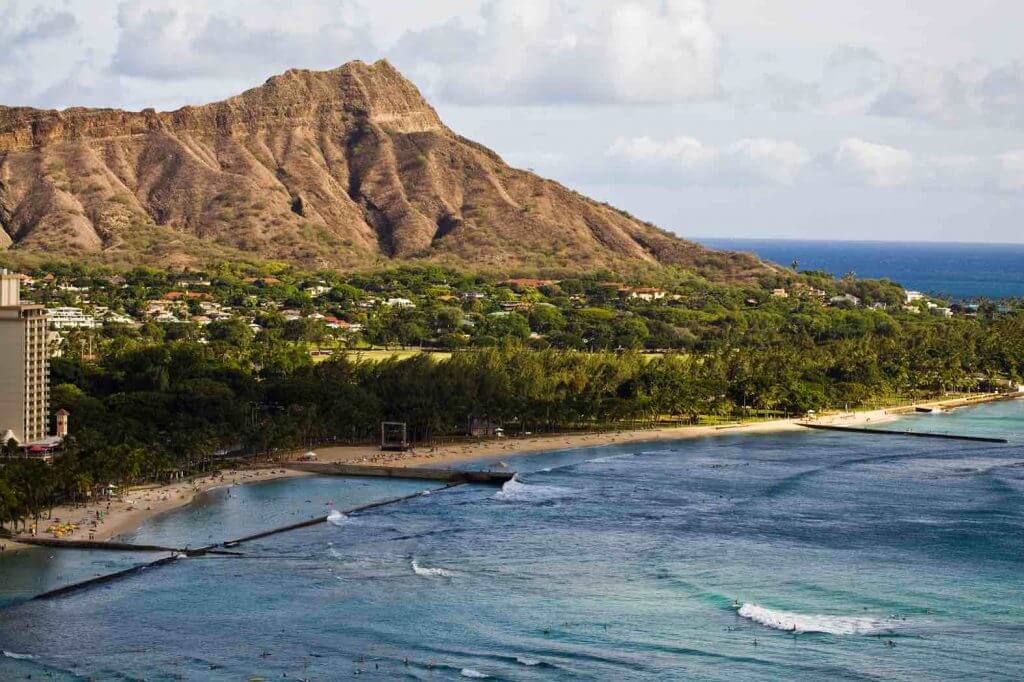 Honolulu stretches across the southeastern shore of Oahu and is home to the world-famous Waikiki Beach.
Visit the gorgeous 'Iolani Palace, the only royal palace in the United States. Or hike Diamond Head Monument for stunning views of the city from above.
Book a Family Photo Shoot
Whenever we travel to Hawaii, we almost always book a family photo shoot with Flytographer. They are super easy, affordable, AND it guarantees that I'll be in some photos. You can get $25 off if you book through this link or use the code HAWAIITRAVEL.
Windward Coast
The Windward Coast is full of lush green valleys, shimmering turquoise waters, and a slower pace that will have you feeling relaxed in no time. You can find the most stunning natural beauty in all of Hawaii on the Windward Coast.
Highlights include Makapuu Point Lighthouse and Nuuanu Pali lookout. From the town of Kailua you can drive one of two ways to explore this beautiful coast.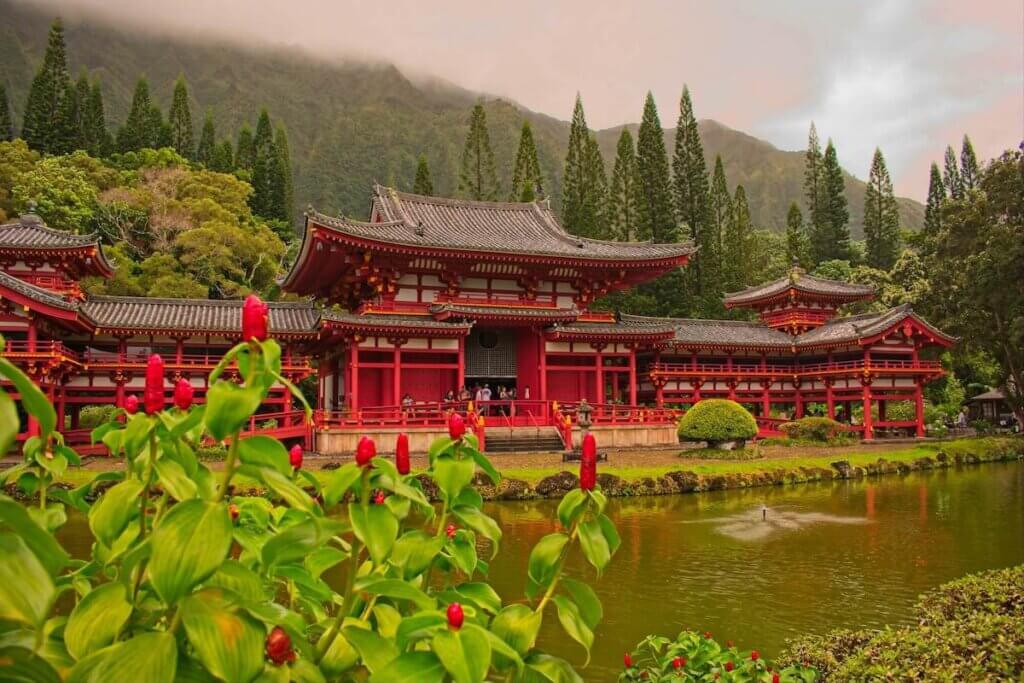 Drive north to explore sites like the Byodo-In Temple, a stunning Japanese Buddhist Temple. Or drive clockwise along the coast to eventually end up in Waikiki.
North Shore
The North Shore of Oahu is known as the big wave capital of the world. These waves draw the best surfers in the world to the region with over 7 miles of coastline, the beaches of the North Shore host the world's premier surf competitors.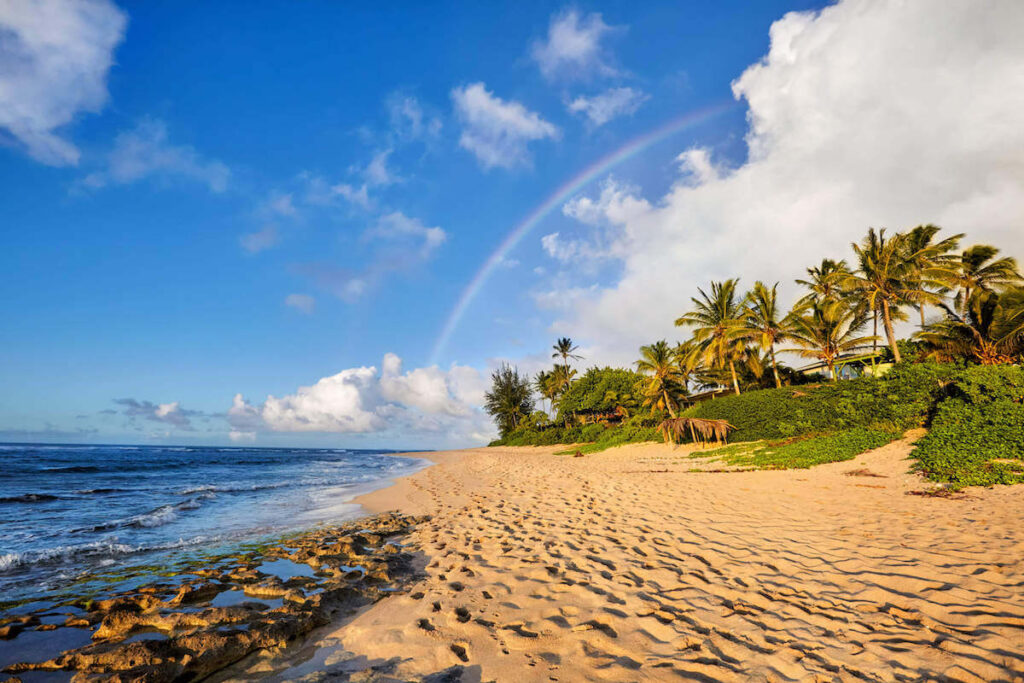 Beginners should visit during summer for gentler waves. Some of the most popular beaches on the North Shore are Waimea Bay, Ehukai Beach, and Sunset Beach.
Visit from November to February for the biggest waves, some even reach an astounding 30 ft. That's not all, the North Shore is also home to plenty of charming surf towns like Haleiwa Town.
Leeward Coast
The Leeward Coast is known for its amazingly sunny and dry weather. Located at the base of Waianae mountains, you'll find that this area is less developed and features off-the-beaten path beaches more than other areas of Oahu.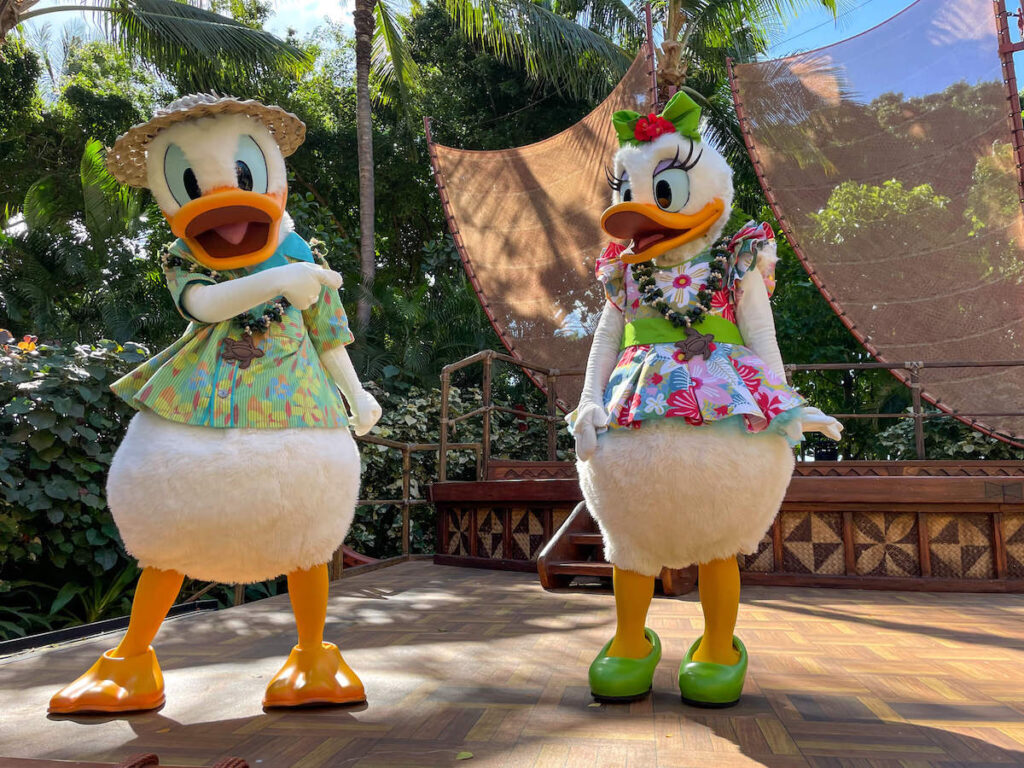 The Leeward Coast has several luxe beach resorts including the Aulani Disney Resort and Spa.
This is a great area for families because it's also home to the Wet and Wild Hawaii water park and the Paradise Cove Luau. Make sure to visit Kaena Point for amazing views of the Pacific Ocean.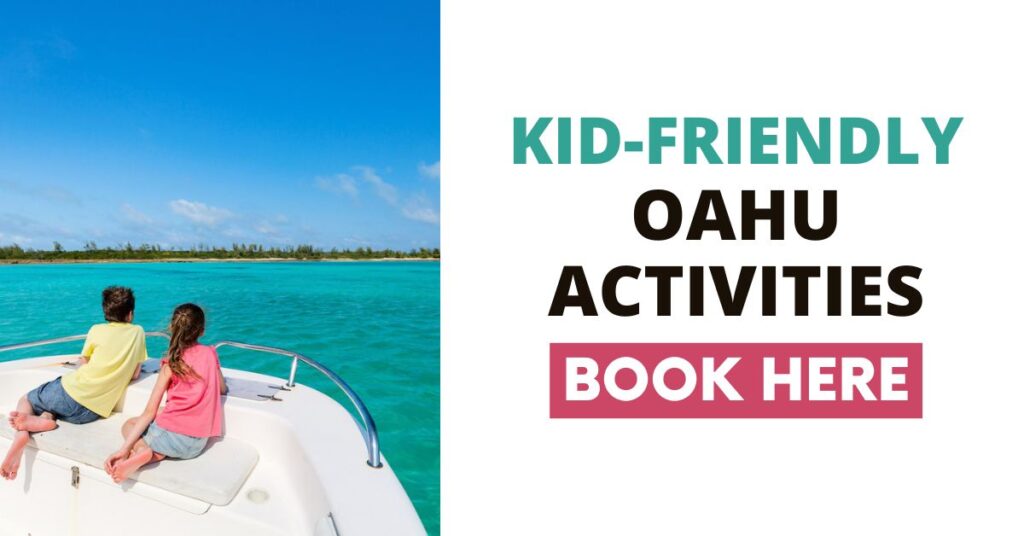 Central Oahu
Central Oahu is home to one of the most important historical sites in Hawaii, Pearl Harbor. You can visit and pay your respects at 5 different historical sites.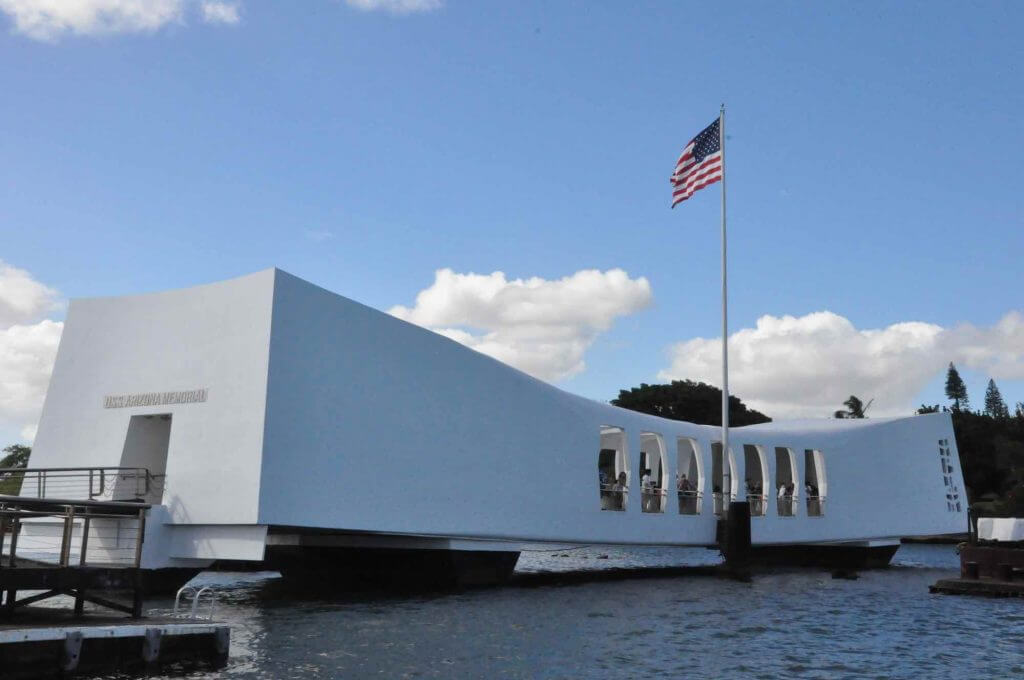 While Central Oahu doesn't have quite as much to offer as the coastal regions, it's incredibly beautiful.
Other attractions in the area include the Leilehua Plateau with its sprawling pineapple fields. Visit the Dole Plantation for a closer look at the pineapple. You can also check out Aloha Stadium, home to the impressive University of Hawaii Warriors.
Top Oahu Attractions
Since you're researching a trip to Oahu, you're probably wondering about the top Oahu attractions. There are some places to see on Oahu that you can't find on the other islands.
Pearl Harbor
Most people planning a trip to Oahu want to visit Pearl Harbor. This is where Japan bombed the United States and brought the U.S. into World War II.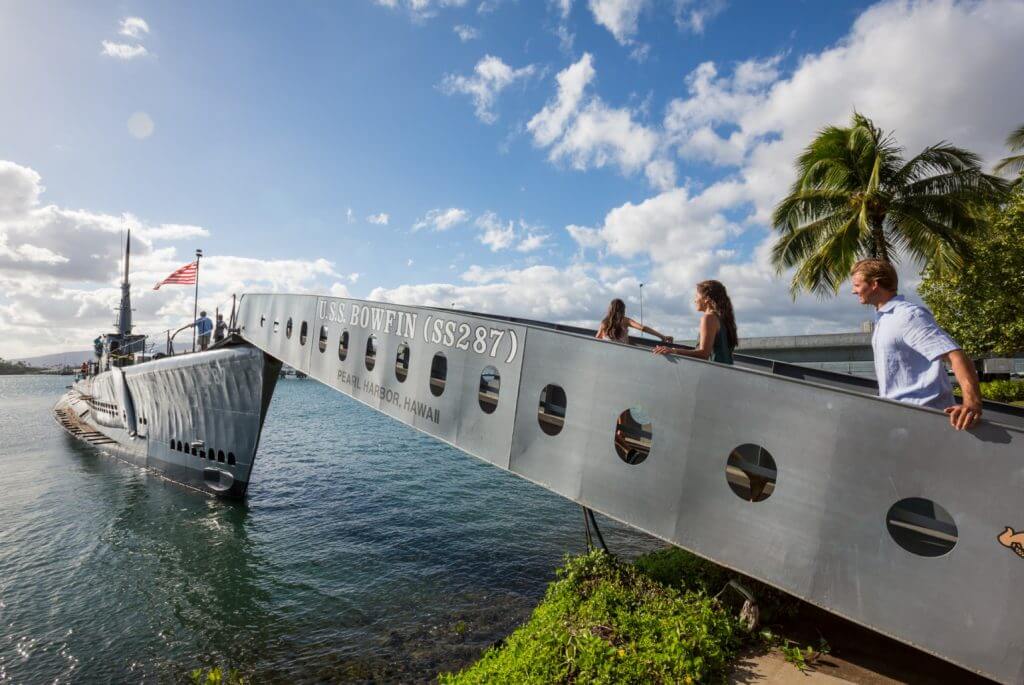 Visiting Pearl Harbor is often a full-day experience. That's because there are 4 main attractions: the USS Arizona Memorial, USS Battleship Missouri, USS Bowfin Submarine, and the Pearl Harbor Aviation Museum.
Even if you just do the USS Arizona Memorial and one other attraction, you'll definitely be there for a half-day. So, it's important to consider this when planning your Oahu vacation.
Polynesian Cultural Center
Another fun thing to do on Oahu is to explore the Polynesian Cultural Center. This is an Oahu attraction where visitors can learn about several different Polynesian cultures through demonstrations and hands-on activities.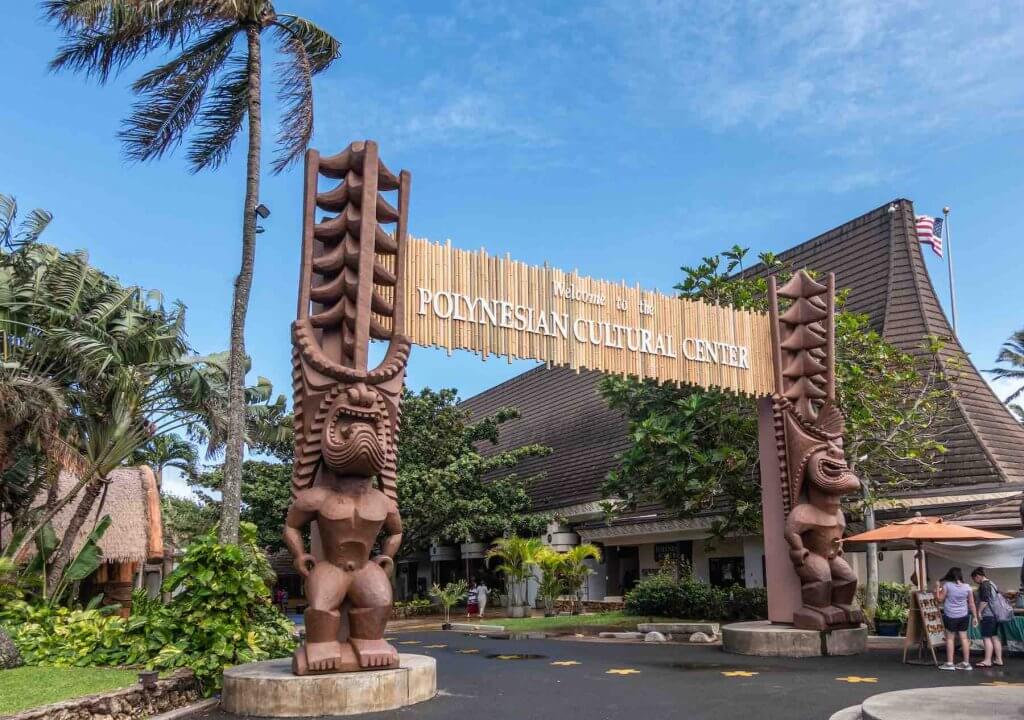 They even have their own luau and Ha: Breath of Life Show.
This is definitely a full-day excursion, even if you just explore the villages and skip the luau.
Waikiki/Diamond Head
One of the most iconic places on Oahu is Waikiki Beach. This is the beach itself as well as the bustling strip of shops, restaurants, and performers. It's the best place for nightlife in Hawaii.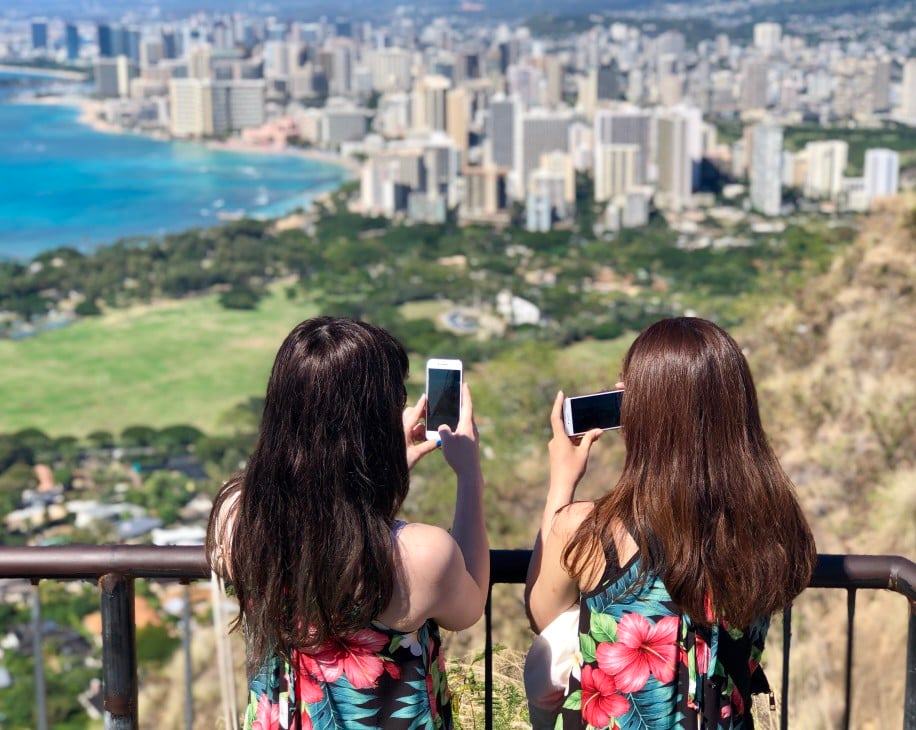 From Waikiki, you also have an awesome view of Diamond Head. It's a short hike that most people do first thing in the morning to beat the heat.
As of May 12th, 2022 all out-of-state visitors must have an advanced reservation to enter Diamond Head State Monument. Make your reservations HERE.
Kualoa Ranch
If you like adventures and movies filmed in Hawaii (like Jurassic Park), you'll definitely want to head to Kualoa Ranch.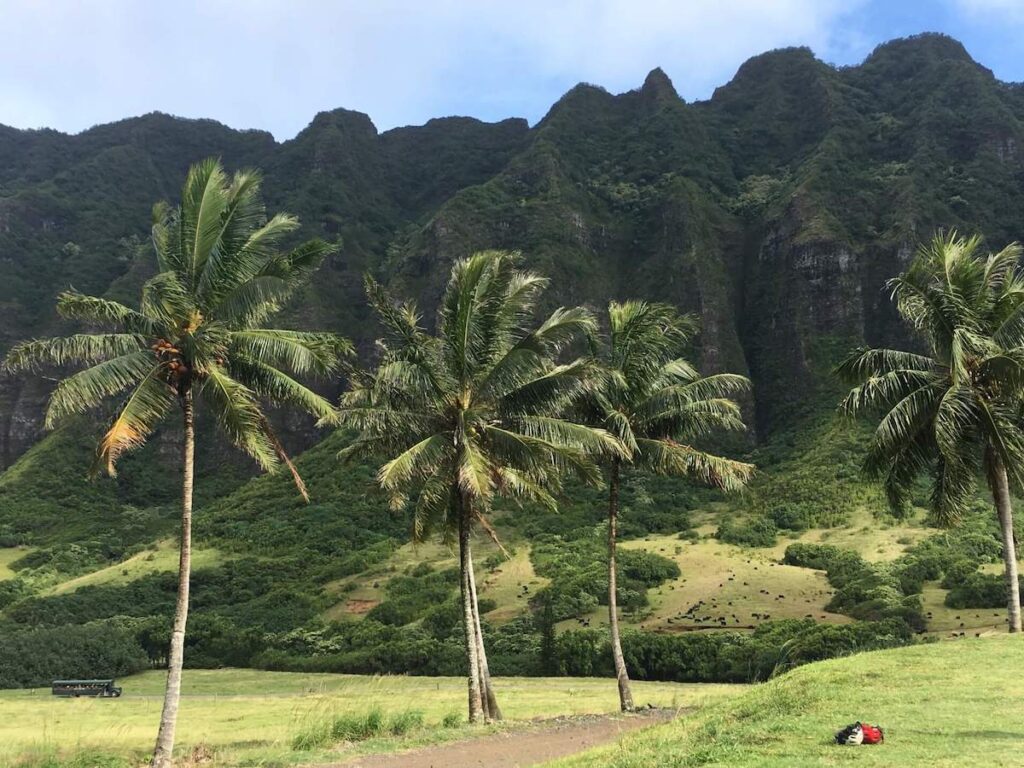 It's one of the most beautiful places on Oahu and it's home to many exciting tours like the ATV Raptor Tour, a jungle expedition, a movie tour, and more.
They have tours for all ages and abilities and you can do either a half-day or a full-day here.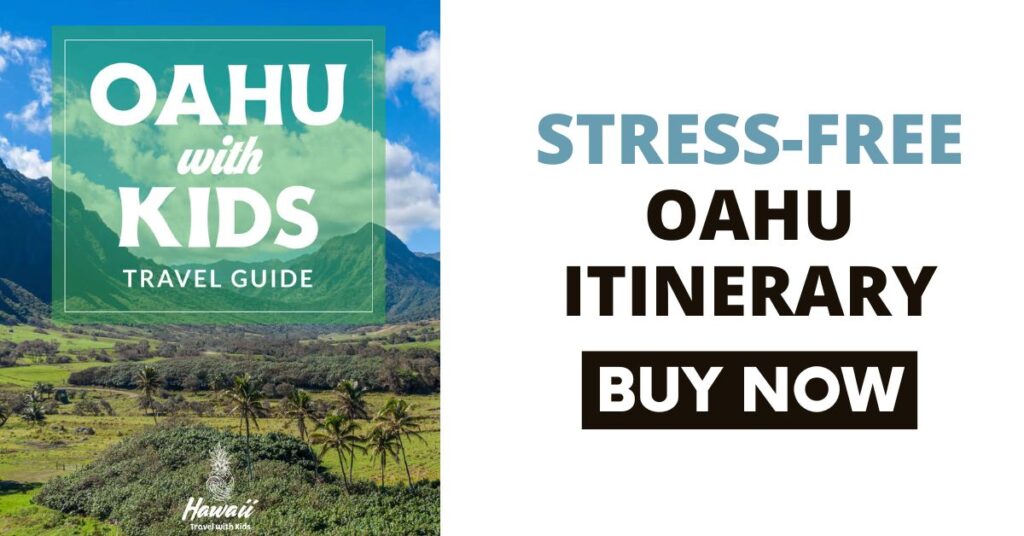 Best Things to do in Oahu
Enjoy an Oahu Luau
If you're planning on doing a luau in Hawaii, Oahu is a great island to book one. They have traditional Hawaiian luaus as well as some small/intimate experiences. There's also a variety of price points and locations.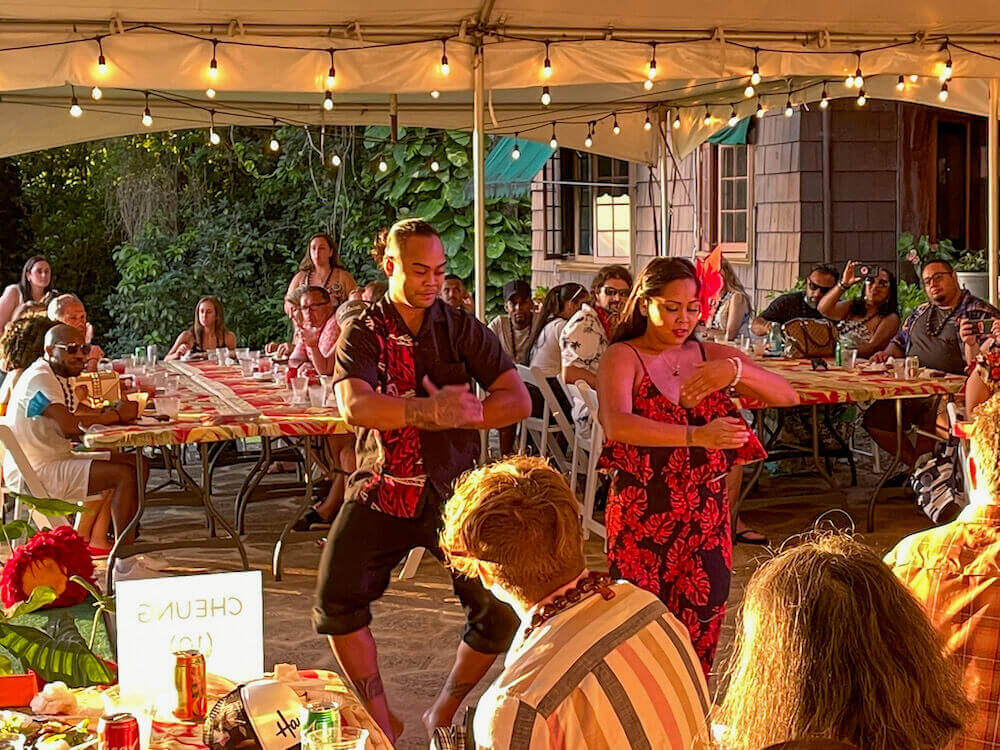 My top two luaus are Experience Nutridge Luau in Honolulu and Toa Luau in North Shore Oahu. Both of these are really small events with only 50-60 guests. And they have amazing hands-on activities, performances, and tasty food.
Relax at the Beach
Oahu is known for its amazing beaches and coastline. If you are looking for powdery white sands, turquoise waters, and big waves, then you will love the beaches in Oahu.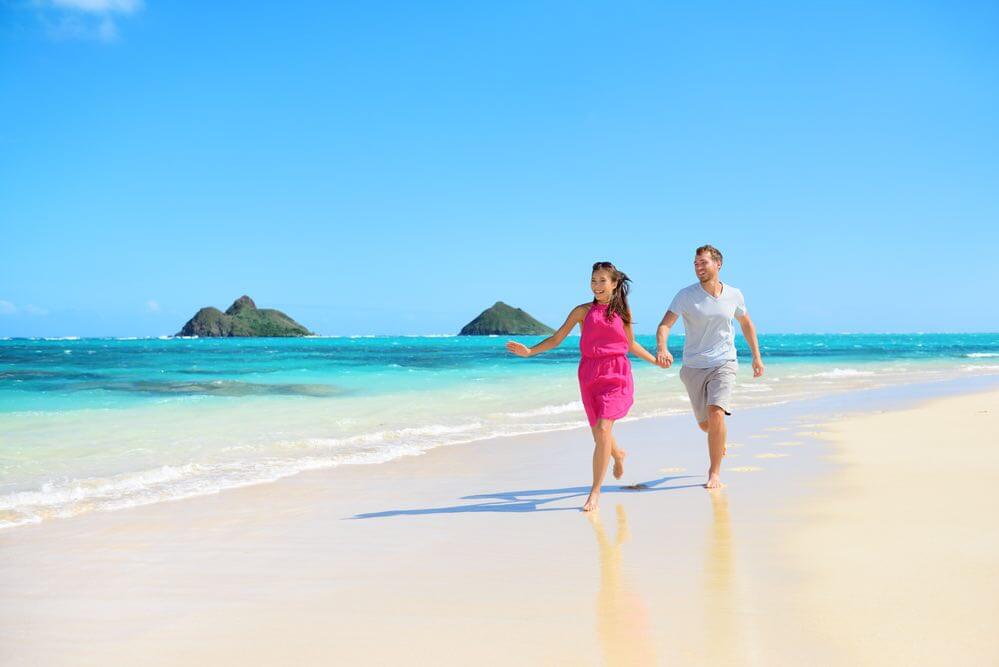 With more than 125 beaches on the island, you have so many beach options, such as Waikiki Beach, Kailua Beach, Lanikai Beach, Secret Island, and Sunset Beach.
Learn to Surf
Hawaii is hugely famous for its importance in the world of surfing. It only makes sense to learn how to surf while visiting Oahu.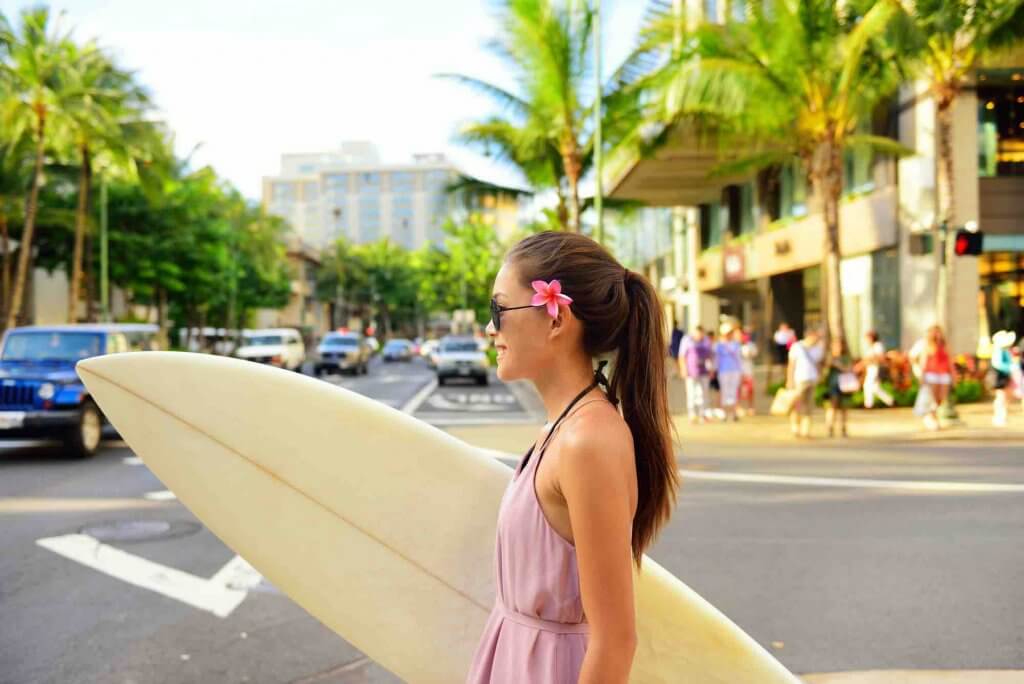 There are plenty of places to rent a board on the island and Waikiki has some of the best beginner waves. Some of the best places to rent boards include Surfboard Rental LLC, Moku Hawaii, and Quality Surfboard Hawaii.
But if you really want to learn, you'll want to sign up for an Oahu surfing lesson.
Tour a Pineapple Farm
While Hawaii used to be a lead producer of pineapple, now there are only a few commercial pineapple plantations in Hawaii.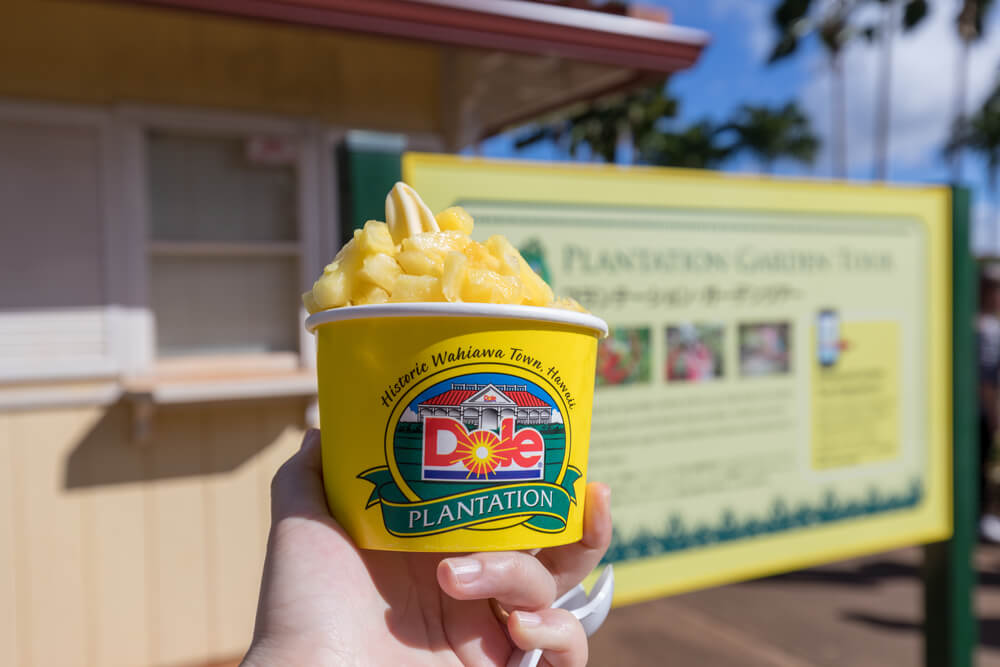 One of the most famous ones is the Dole Plantation. This is a popular tourist attraction on Oahu. They have a little pineapple train tour, the largest pineapple maze in the world, and an amazing gift shop where you can get Dole Whip.
Explore Oahu by Hiking
Oahu is 2 million years old, and the millions of years of erosion have created dramatic peaks and ridges perfect for hiking. Whether you are looking for a difficult challenge or a family-friendly hike, Oahu has a trail for every hiker.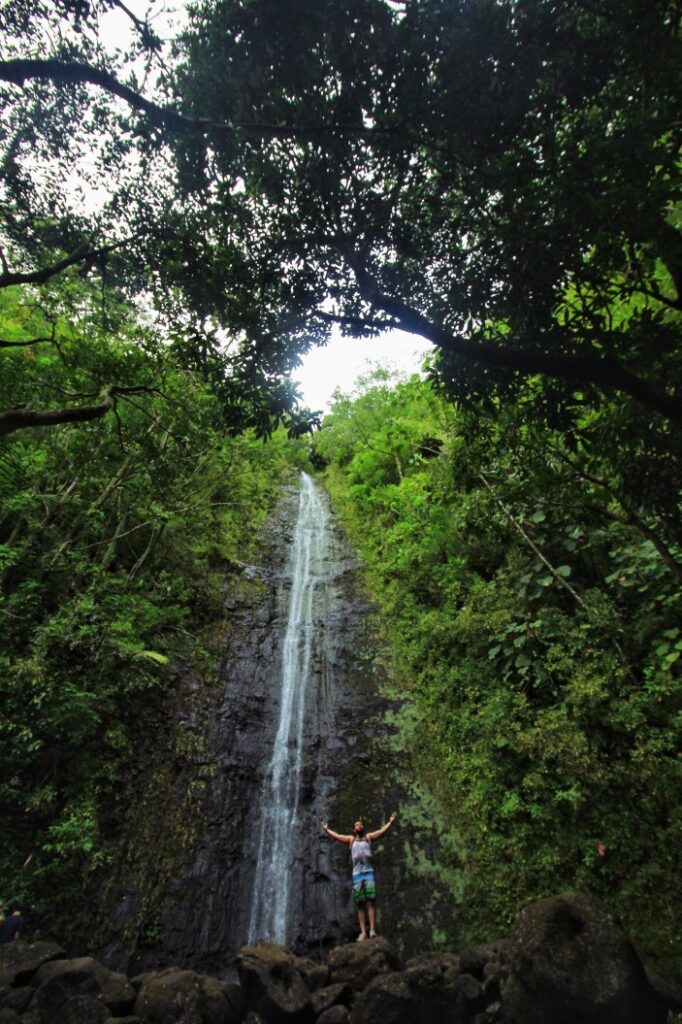 The most famous place to hike is Diamond Head to get a sweeping view of Waikiki. But, there's also Manoa Falls nearby which is a great opportunity to hike to an Oahu waterfall.
And if you'd like to swim in a waterfall on Oahu, head to Waimea Falls. There's a short hike and they provide life jackets. Plus, you can explore the botanical garden and cultural park.
Go Swimming with Dolphins
If swimming with dolphins in Hawaii is on your bucket list, you'll definitely want to head to Oahu. They have a bunch of different experiences through Dolphin Quest at the Kahala Resort & Hotel.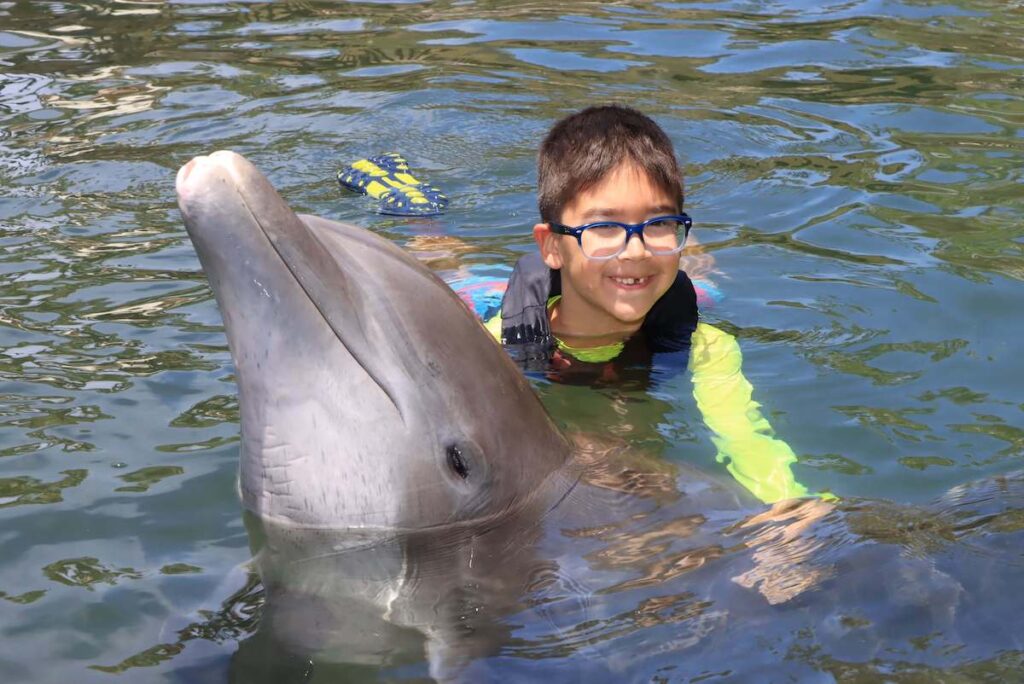 Families with young kids might also want to check out the dolphin experiences at Sea Life Park.
Get Malasadas from Leonard's Bakery
One of the most popular pastries in Hawaii is the malasada, which is a Portuguese donut. While you can get them at many different Oahu bakeries, the most famous one is Leonard's Bakery.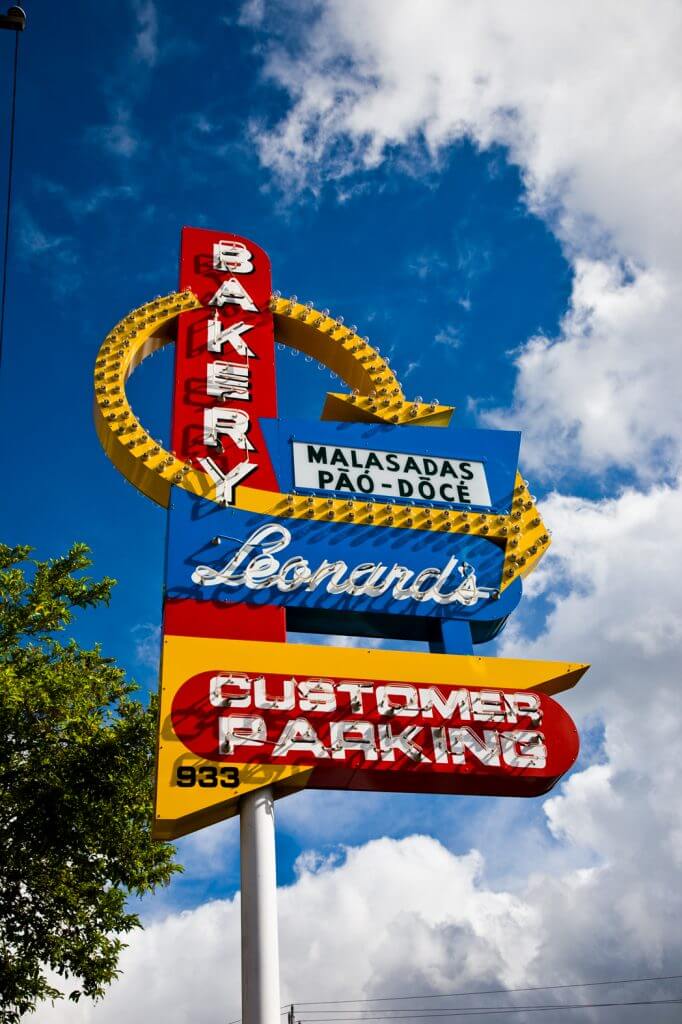 Here, you can find traditional malasadas rolled in sugar and cinnamon as well as ones with tropical fruit custard filling.
So, How Many Days Do You Need in Oahu?
If Oahu is the only Hawaiian island you'll be visiting, you'll want at least 7-10 days to explore the island. That will give you enough time to do a few day trips, take a few tours, check out the beaches, and have plenty of time to relax and unwind.
If you are island hopping, you'll want 5-7 days on Oahu and 5-7 days on another island. You'll want to prioritize the activities you can only do on Oahu (like Pearl Harbor and Kualoa Ranch).
However, I know that some families are pressed for time but still want to see Oahu. Keep scrolling to check out some easy Oahu itineraries for 1-7 days on Oahu.
Oahu Day Trip
If you are staying on another island and just want to do an Oahu day trip, it's totally possible, but you'll have to make some decisions.
You could do a circle island tour where you start off in Waikiki, see Diamond Head, stop at Byodo-In Temple, see Kailua Beach Park, and then spend time on the North Shore. To do this, you'd need to take an early flight and leave late.
An alternative would be to spend the day at Pearl Harbor. You can choose a tour with airport pick up.
Or you could plan on doing an adventure like the Kualoa Ranch ATV ride, swimming with dolphins, or a boat tour.
Oahu Itinerary: 2 Days
With 2 days in Oahu, you have a little more flexibility. I suggest staying in Waikiki because it's easy to book tours with hotel pick up if you aren't renting a car.
You could spend one full day at Pearl Harbor. This would include visiting the USS Arizona Memorial, USS Battleship Missouri, USS Bowfin Submarine, and the Pearl Harbor Aviation Museum. They have places to eat there for lunch.
The next day, you can book an Oahu Circle Island Tour to see all the main sights of the island and stop at some tasty spots along the way.
Oahu Itinerary: 3 Days
It's easy to do 3 perfect days in Oahu. I still recommend staying in Waikiki.
I'd suggest doing the 2 days in Oahu itinerary (see above) but do an Oahu adventure between those days. My top picks would be the Kualoa Ranch ATV tour, an Oahu boat tour, visiting Secret Beach, or doing the Polynesian Cultural Center.
Oahu Itinerary: 4 Days
With 4 days in Oahu, you'll have a bit more flexibility with your lodging. I'd choose somewhere in Waikiki or Ko Olina that has a nice pool area or other amenities.
Plan a full day at Pearl Harbor. That way you can see the USS Arizona Memorial, USS Bowfin Submarine, USS Battleship Missouri, and the Pearl Harbor Aviation Museum. You can either do this on your own or book a tour.
You'll also want a day to head up to North Shore Oahu. I suggest stopping at Dole Plantation along the way to get some Dole Whip and do the pineapple maze. Then, you can shop in Haleiwa, relax at one of the beaches, do a hike, enjoy a North Shore food truck, and stay for Toa Luau.
Another day, you can either hike Diamond Head or do an adventure at Kualoa Ranch. Then you can relax at Kualoa Beach Park or Kailua Beach Park.
You can also spend a day in Waikiki. You can shop at Ala Moana Center, do a Waikiki Submarine Ride, go for a boat ride, shop the boutiques, have cocktails at a beachfront bar, play on Waikiki Beach, or just walk around town.
Oahu Itinerary: 5 Days
With 5 days in Oahu, you'll want to do the Oahu 4 day itinerary (see above) but add in a beach day.
Since you'll be driving around Oahu, you'll probably have an idea of where you might want to spend a few hours at an Oahu beach.
I suggest picking up plate lunches at Rainbow Drive In or Diamond Head Market & Grill to enjoy at the beach. And stop for shave ice on your way back!
Oahu Itinerary: 6 Days
For 6 days in Oahu, you have a lot of flexibility. You could even do a split stay at Disney Aulani or Turtle Bay Resort and enjoy resort life.
Another option is to add in more beach or pool time. Or plan to stop at an Oahu farmers market or make reservations for a few nice dinners.
Oahu Itinerary: 7 Days (or longer)
For trips 7 days on Oahu or longer, you have almost limitless options.
Use the 5 day Oahu itinerary as a guide and then add in a few tours, a couple of adventures, and time to relax at the beach or at your hotel pool.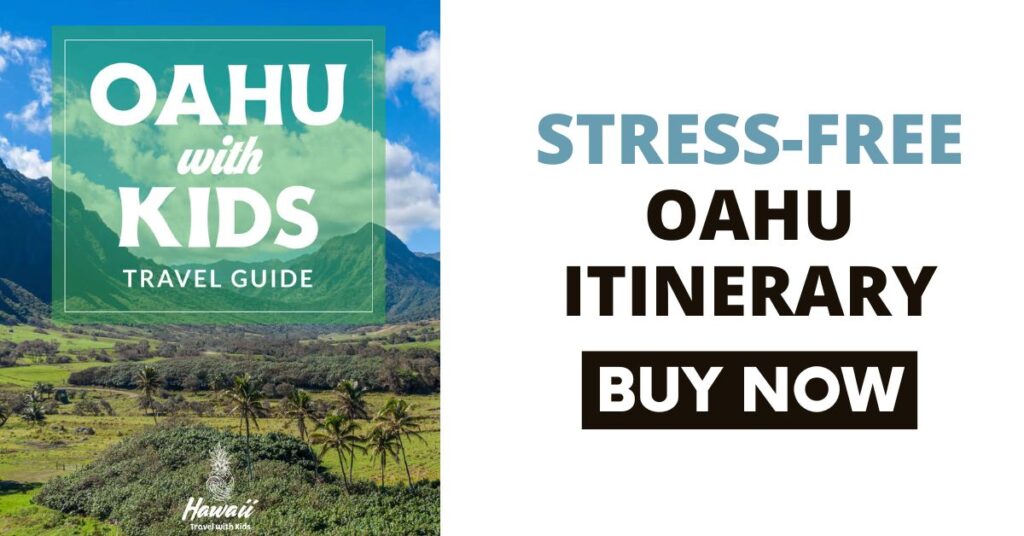 How Many Days Do You Need in Oahu Wrap Up
I hope these mini-itineraries have helped you figure out how many days to spend in Oahu. While 7-10 days in Oahu is optimal, you'll still have a total blast with fewer days. Plus, it's a great excuse to come back!
Want to skip all the planning and just access my detailed Oahu Itinerary complete with daily schedules, kid-friendly activities, and travel hacks? Click the button below.