Are you trying to decide between visiting Oahu or Kauai on your next family vacation? We've compared the two so you can make an informed decision about the best Hawaiian island for kids. Scroll to see the results!
This post about Oahu or Kauai was written by Hawaii travel expert Marcie Cheung and contains affiliate links which means if you purchase something from one of my affiliate links, I may earn a small commission that goes back into maintaining this blog.
Are you looking for the best Hawaiian island to visit with your family?
It may be difficult to decide which is the best Hawaiian island for families. You'll want to include some of the most family-friendly options for a wide variety of ages.
There are many great islands in Hawaii, but Oahu and Kauai are two of the most popular. Both offer a wide variety of activities that will appeal to kids of all ages.
Read on to learn more about what there is to do in Oahu and Kauai so you can determine which island you should visit on your next Hawaiian vacation.
You'll find plenty of things for everyone in your family, from toddlers through teenagers, to enjoy while visiting either one of these beautiful islands.
The beaches alone make both Oahu and Kauai worth visiting! But if you're looking for other fun things to do during your trip, read on for my top suggestions.
Keep scrolling to figure out whether Kauai or Oahu is the best Hawaiian island for your family vacation.
First trip to Hawaii? Get my step-by-step Hawaii planning guide
Best Hawaiian Island for Kids FAQs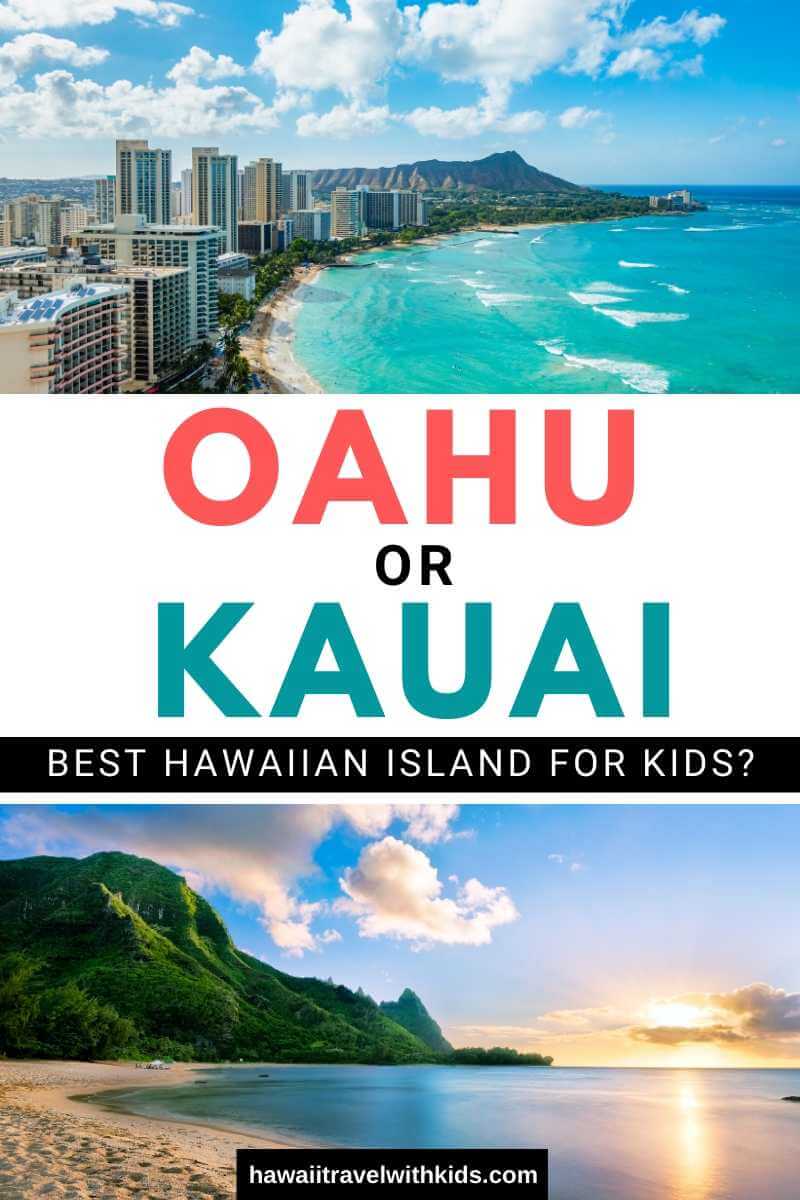 Is Oahu the Best Hawaiian Island for Kids?
The island of Oahu boasts stunning mountain ranges in the east and some of the most gorgeous beaches on the islands.
Surfers flock to the Oahu's North Shore area while central Oahu is home to Pearl Harbor and the U.S.S. Arizona Memorial.
If you're looking for some of the best activities on the Hawaiian islands for kids, Oahu may be just the vacation spot for your family.
Be sure to read my top 101 things to do on Oahu with kids!
Free Things to Do on Oahu
Best Oahu Beaches for Kids
There are a number of kid-friendly beaches on Oahu including the most-popular, Waikiki Beach.
Because of its popularity, it can be a bit crowded but the beachfront is ideal for young children and there are several restaurants nearby to grab lunch and relax.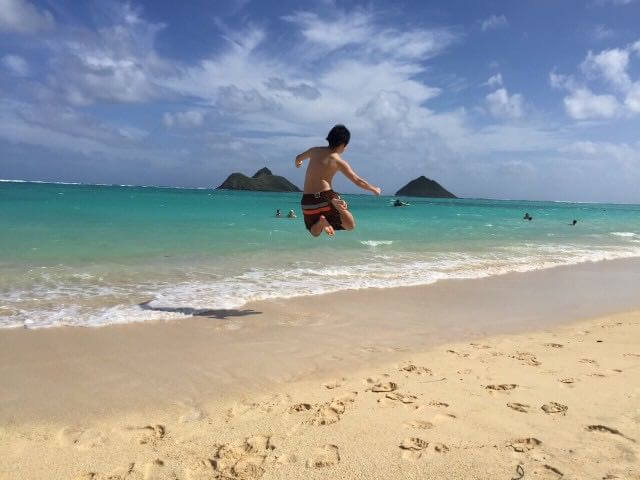 Kailua Beach is a small beach that is protected from harsh waves, so it works well for younger children that prefer to wade in shallow water or play in the sand onshore.
If you're interested in adding an educational component to your beach trip, the tide pools are a wealth of discovery with sea life waiting to be explored by curious little hands.
Another great beach for kids is Hanauma Bay. Much like Kailua Beach, there are very few waves making it great for young children.
While not free, it is a great beach for beginning snorkelers and parents looking to relax on the beach without worrying about kids being knocked down by crashing waves.
And if you just want to enjoy beach views, head to North Shore Oahu to watch surfers do their thing!
Visit Pearl Harbor with Kids
If you're looking for free things to do on Oahu with kids, consider an educational visit to the USS Arizona Memorial at Pearl Harbor.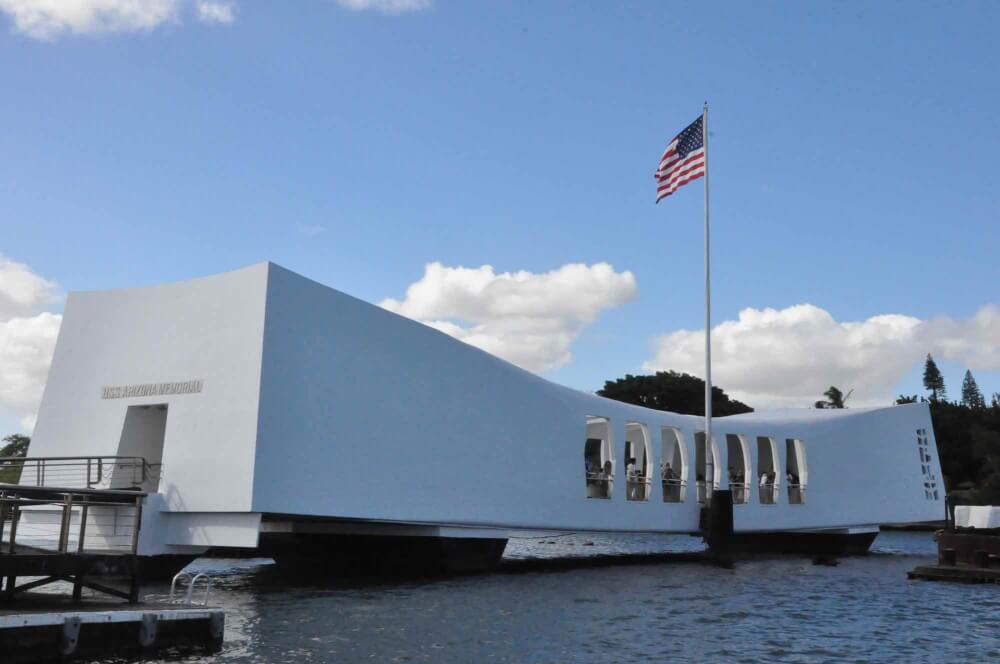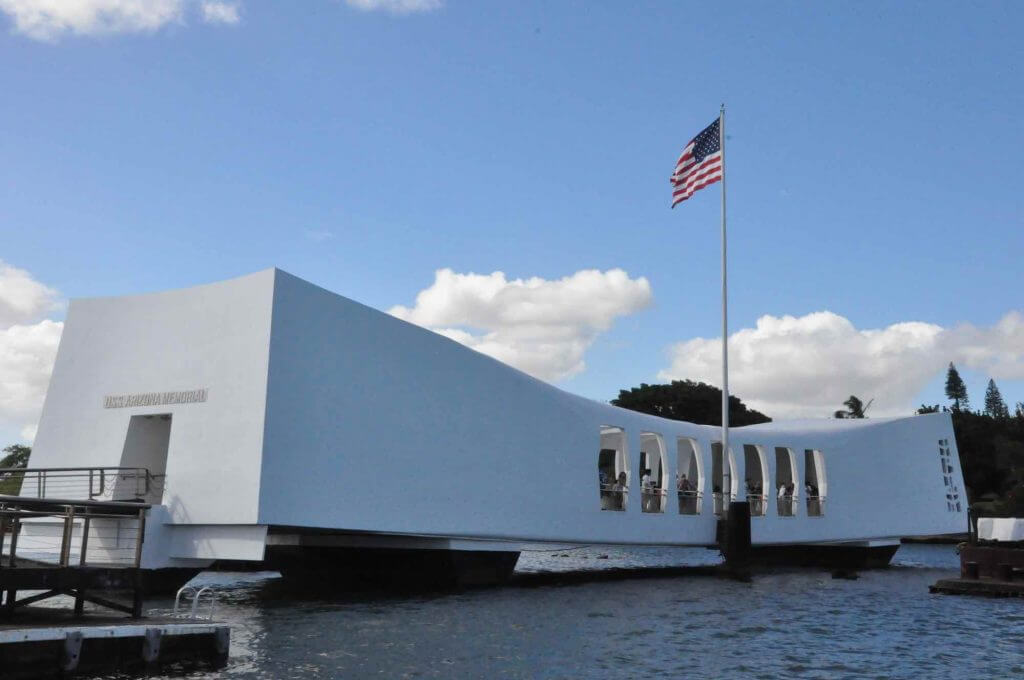 Here you'll be able to check out several exhibit galleries that pay tribute to men women and children killed during the Attack on Pearl Harbor.
If you're visiting with young children, consider checking out the American Girl book Growing Up with Aloha: A Nanea Classic to introduce young readers Pearl Harbor in an age-appropriate way. Find the best prices here.
Book a Family Photo Shoot
Whenever we travel to Hawaii, we almost always book a family photo shoot with Flytographer. They are super easy, affordable, AND it guarantees that I'll be in some photos. You can get $25 off if you book through this link or use the code HAWAIITRAVEL.
Hike the Makapu'u Point Lighthouse Trail
While the road leading directly to the lighthouse is inaccessible, this 1.5 mile, paved hiking trail is ideal for families with young children.
It is advised to stay along the trail and of course, keep children nearby at all times as there are steep drop-offs. Check out our tips for hiking Makapu'u Lighthouse Trail with kids.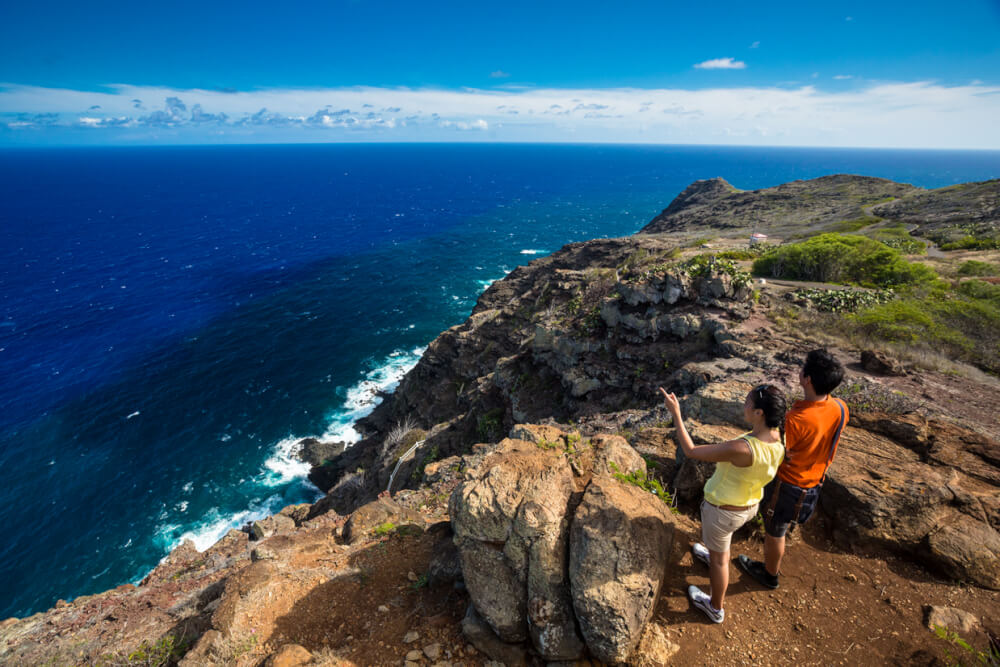 With sweeping views from the observation deck and a variety of plants and flowers along the way, this hike will hold the interest of children of ages. At lookout points along the trail, you'll be able to catch a glimpse of West Maui.
If you're lucky enough to be visiting during the humpback whale migration season, the Makapu'u Point Lighthouse Trail is the place to be for dramatic whale sightings.
Read more Free Things to do on Oahu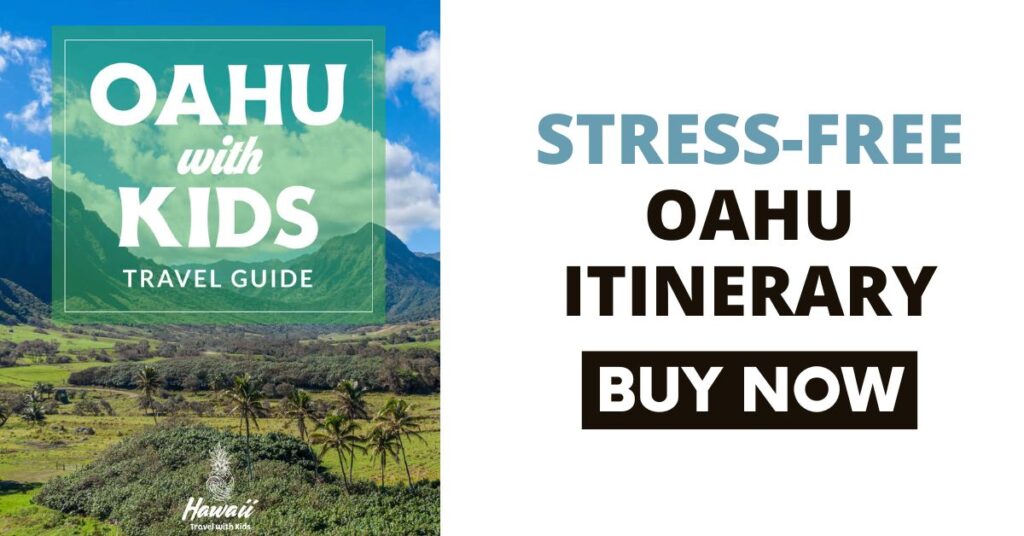 Kids will love visiting the Dole Plantation in Wahiawa on your way up to the North Shore. The pineapple plantation offers free admission.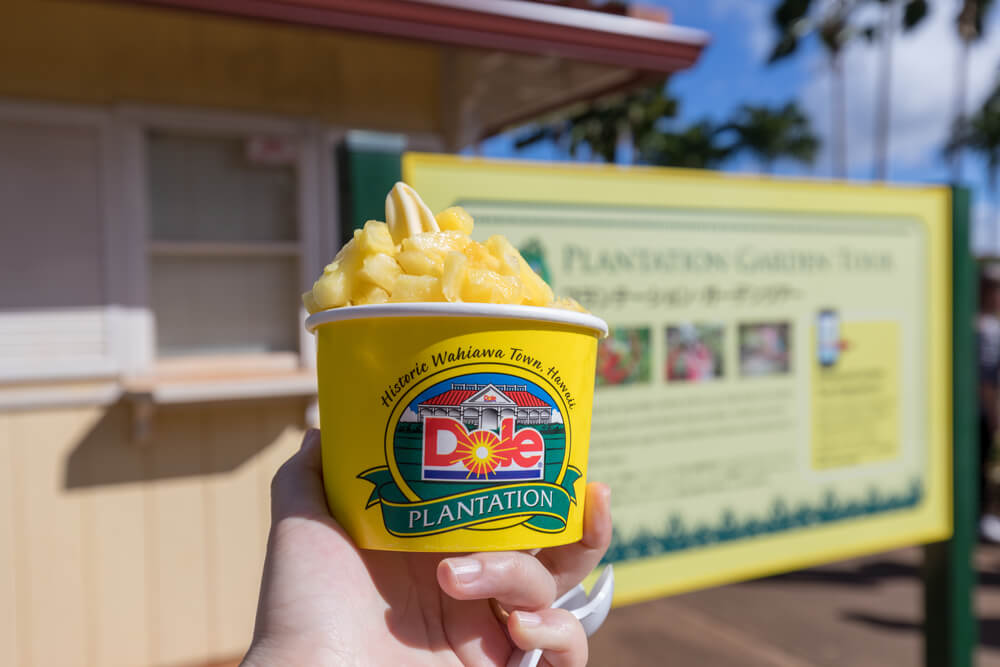 You'll be able to experience pineapple demonstrations and tastings and, for an additional cost, take a Pineapple Express Train Tour and the visit the Pineapple Garden Maze.
Read my full North Shore Oahu guide
Breakfast with Mickey Mouse
Another fun thing to do on Oahu with kids is head to Aulani, a Disney Resort & Spa to have breakfast with Mickey Mouse.
This Disney character meal has a huge buffet, lots of character interaction, and kids will love the entertainment.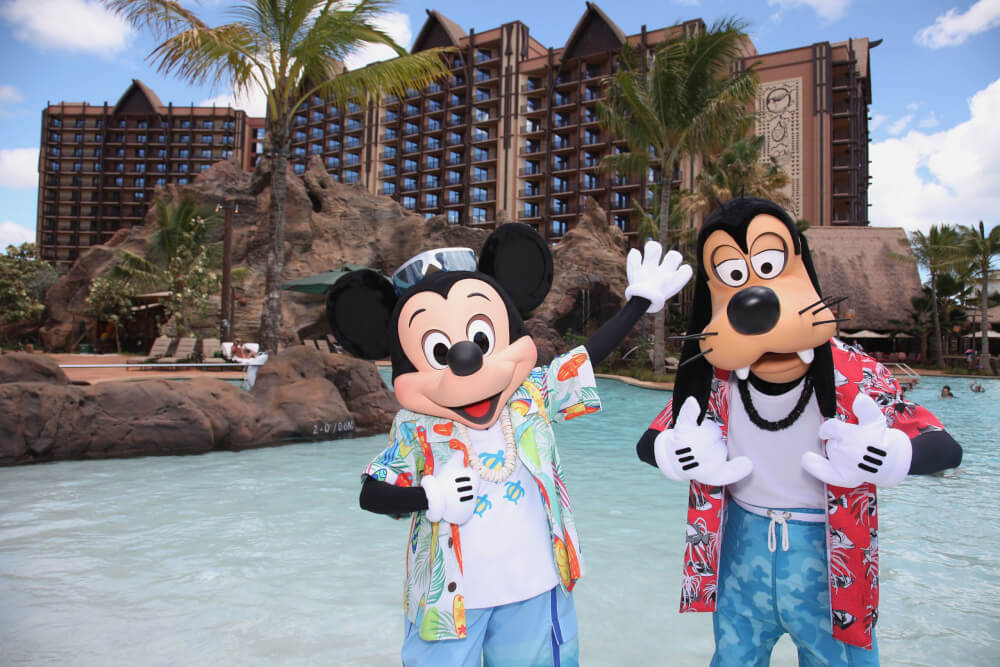 You don't need to be staying at Aulani to do the breakfast. They will even give you complimentary parking. Some people say Oahu is the best island in Hawaii for kids specifically because of Aulani.
Save Money with Points
Here are the best credit card offers for families who travel and want to use points to pay for airfare and hotels in Hawaii.
Waterfall Hikes on Oahu Island
Waimea Falls is a popular, paved Oahu waterfall hike for families.
The trail is 1.5-miles in length and a great beginner hike for kids. Families can opt to hike the trail on foot or take advantage of the provided golf-cart shuttle. This way you can gauge your young child's' hiking ability stress-free.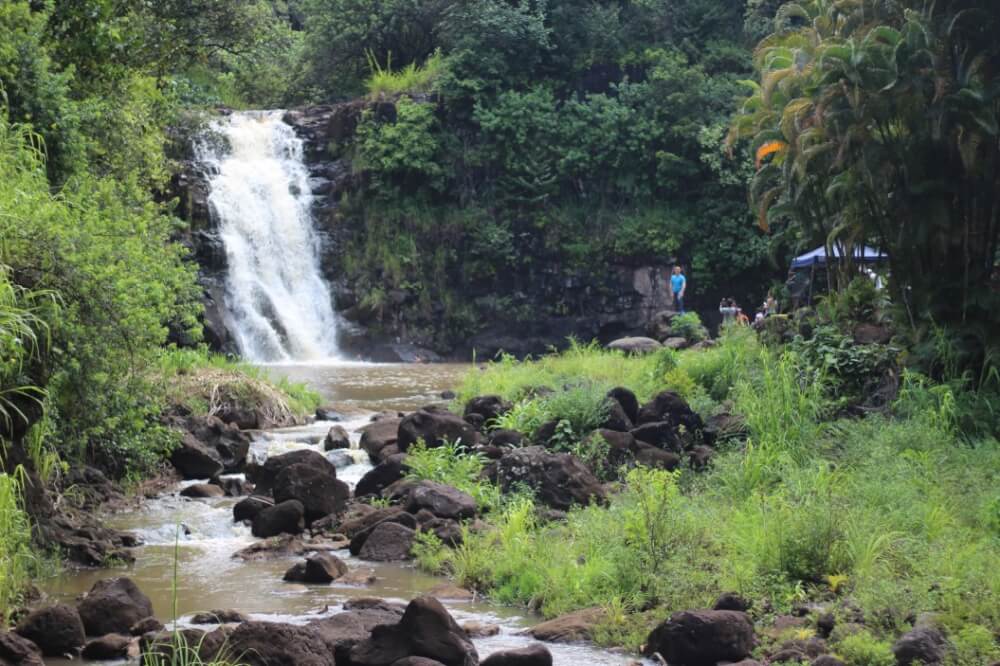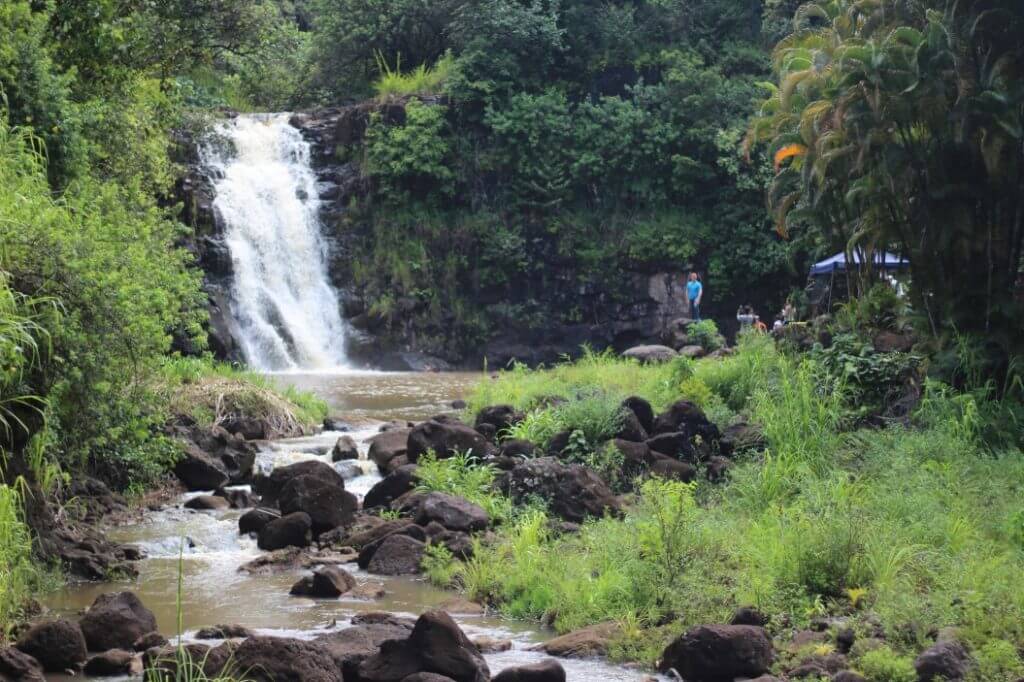 Attempt the hike to the 45-foot waterfall on foot and if it looks as though your children are going to have a tough go of it on the way back, you can hop on the shuttle.
For a larger waterfall, consider Manoa Falls. Located near Oahu's capital of Honolulu, Manoa Falls is just over 1.5 miles and traverses through a bamboo forest as it brings you to the 150-foot falls.
Read my full post about waterfall hikes on Oahu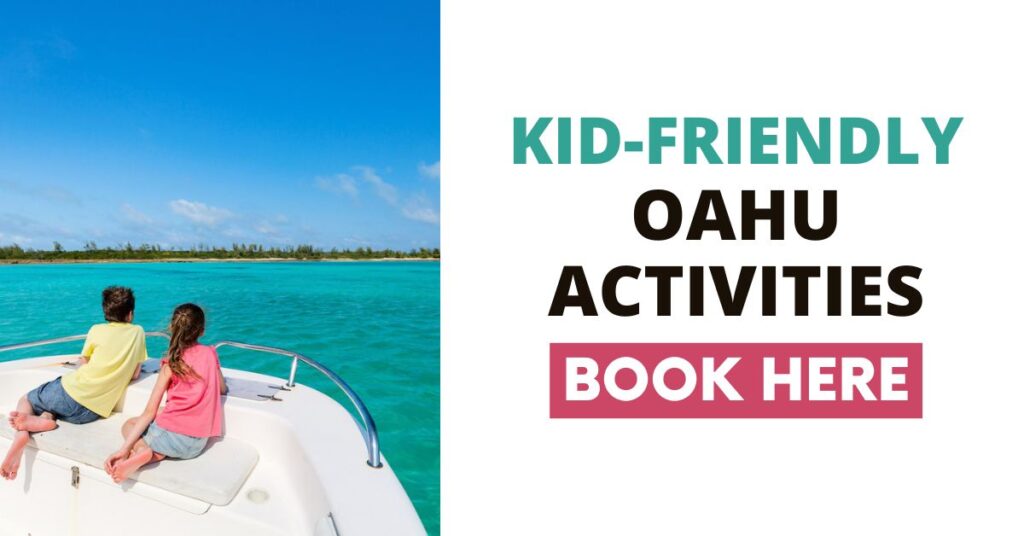 Family-Friendly Oahu Attractions
Kualoa Ranch
Kualoa Ranch is a cattle ranch offering a variety of family-friendly things to do. Here guests can take horseback rides, zipline through the landscape or take an ATV ride through the jungle. Check out the latest prices and more details.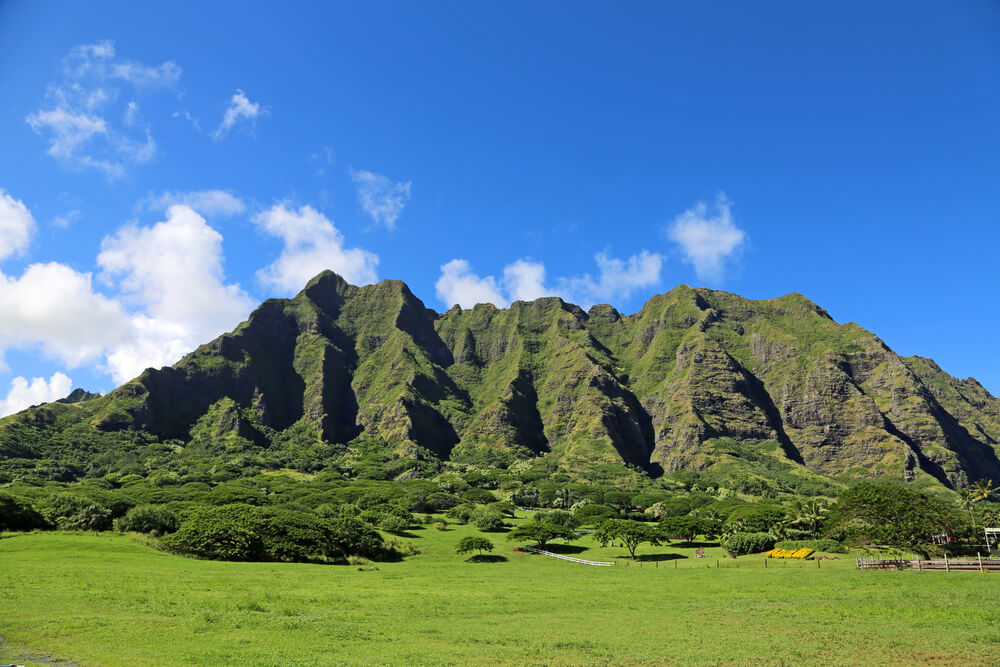 Classic movie lovers may recognize the ranch as the setting for the first Jurassic Park movie. The ranch offers a movie tour and provides picnic tables for lunch. Read my full Kualoa Movie Tour review HERE.
There's also a 3-hour Secret Beach drop that allows visitors to board a pontoon boat and spend a few hours relaxing on the beach.
If you happen to visit on a Sunday, take advantage of the Hawaiian fishpond tour and a free petting zoo.
Polynesian Cultural Center
Finally, the Polynesian Cultural Center provides a look at the history and culture of the area.
This living history museum offers visitors a look into the culture of Polynesia and is a family-friendly, educational spot to visit on North Shore Oahu.
Kids can get passports stamped throughout the seven villages within the park as they visit and interact.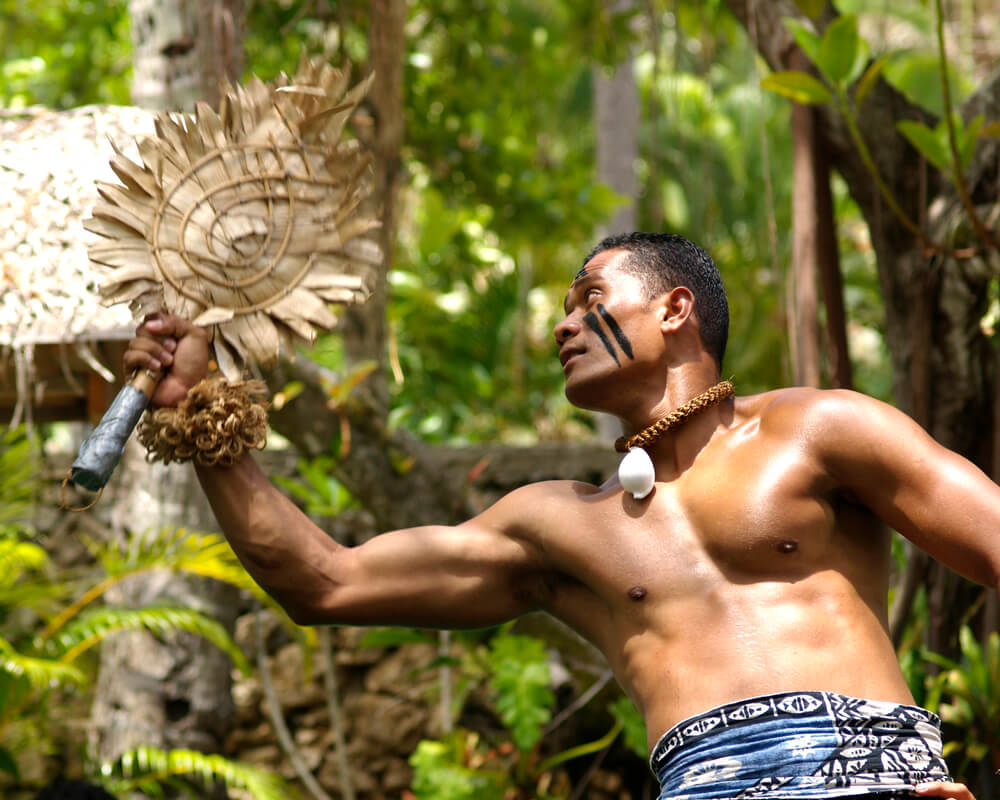 Canoe tours take guests throughout the center to help provide a lay of the land and is an ideal first activity upon entering the attraction.
Plus, they also offer a luau and one of the coolest theatrical presentations highlighting Polynesian culture. It's just one of the reasons why people say Oahu is the best Hawaii island for families.
The Polynesian Cultural Center provides an engaging, hands-on, interactive experience for all ages and is a must-visit when on Oahu. Check latest prices and availability.
Is Kauai the Best Hawaii Island for Kids?
Similar to Oahu, Kauai's is a mountainous region with stunning beaches. Its east coast provides ample vacation rental options and is a popular destination for families visiting the Hawaiian island for the first time.
Free Things to Do on Kauai with Kids
Best Kauai Beaches for Kids
On the North Shore of Kauai, Pu'u Poa Beach is close to the resorts in Princeville. The waters here are calm, making it the perfect beach for young children.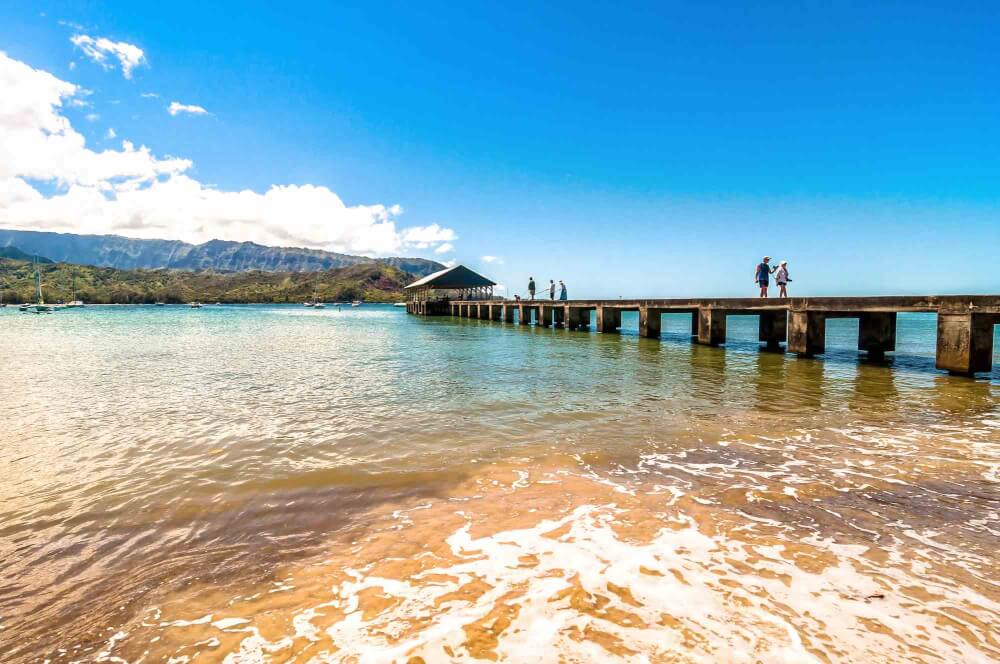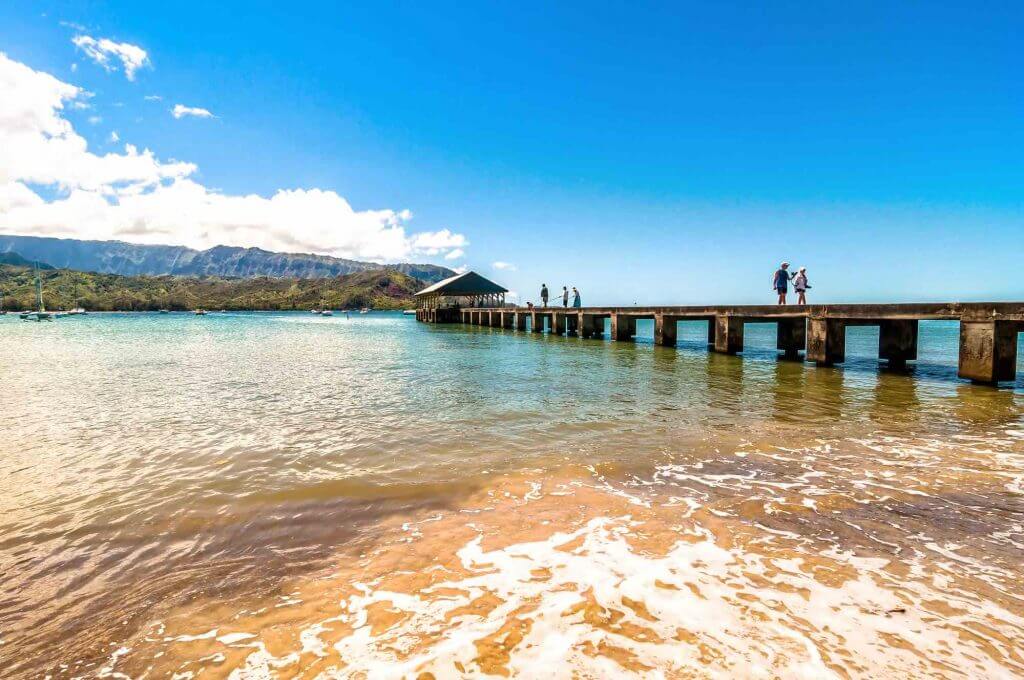 There's also Hanalei Bay and Anini Beach that are always a huge hit with my boys.
If you're heading to the chocolate farm (see below), consider making a day of it and spend time at Lydgate Beach Park on the East Shore for a full-day of adventure, education, and relaxation.
For families visiting the South Shore of Kauai, Poipu Beach is a popular family-friendly destination.
Complete with lifeguards, snorkeling and shallow wading spots for toddlers, Poipu is one of the best options for families with kids of varied age ranges.
And head a bit further and check out Salt Ponds.
Tour a Coffee Plantation
Even if you aren't a big coffee fan, you won't want to miss the biggest coffee farm in the US. It's Kauai Coffee and they have free walking tours multiple times a day.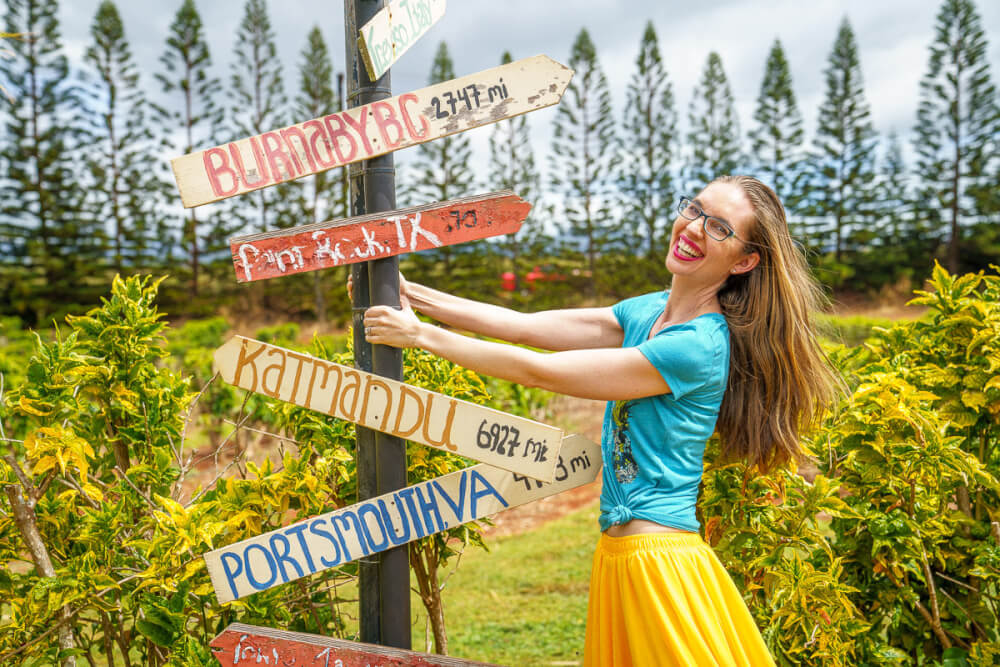 They have free coffee samples available for adults and there's a cool scavenger hunt on Wednesday mornings where families can earn a free bag of coffee when they complete it.
If you are foodies (like our family) you'll want to set aside time to check out the Kauai Culinary Market at The Shops at Kukuiula.
Every Wednesday from 3:30pm – 6pm, guests can see live cooking demonstrations and take a look at locally grown food and treats.
Plus, there are live musicians and activities.
Read more Free Things to do on Kauai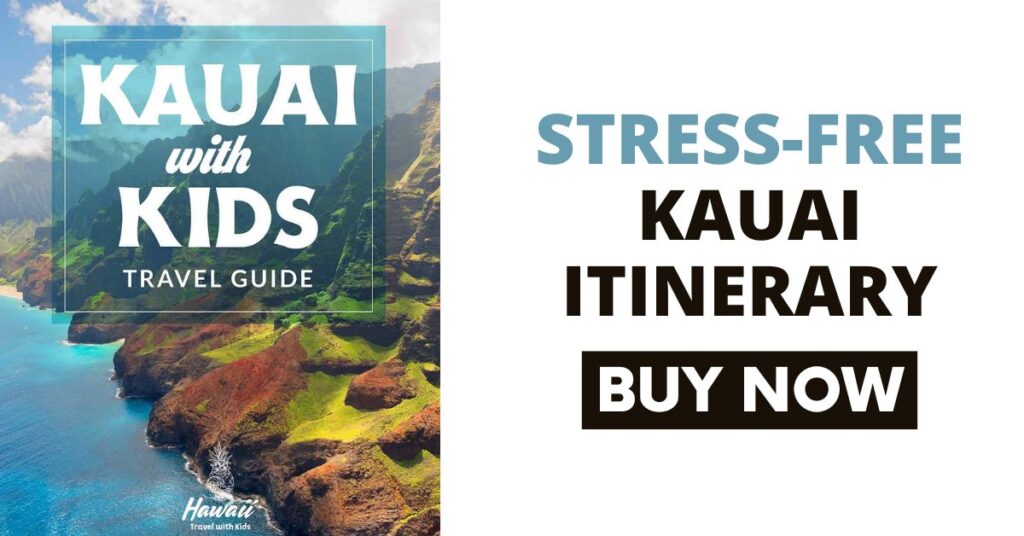 Things to Do With Kids on Kauai
Visit a Hawaiian Chocolate Farm with Kids
Lydgate Farms offers a 3-hour tour provides guests with a botanical garden tour with honey, chocolate and fruit tastings and sampling.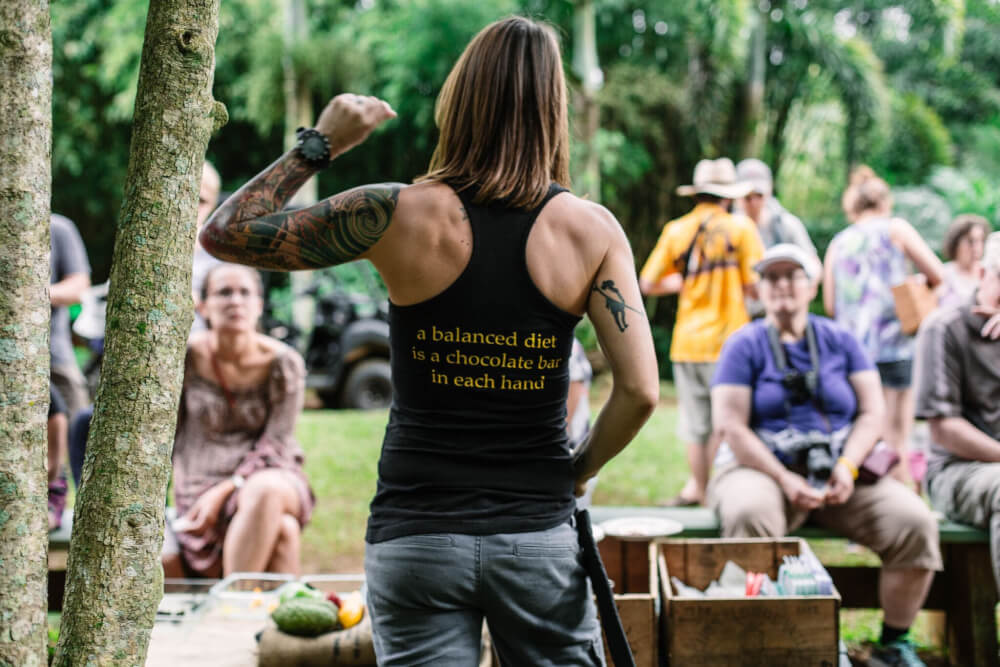 Here you'll learn about cacao trees and see how they're made into delicious chocolate. Lydgate Farms is located in Kapa'a on Kauai and is a perfect family-friendly way to spend an afternoon.
A visit to a chocolate factory may be one of the best Hawaiian island activities for kids and adults. Check out our full Kauai chocolate farm tour review.
Kid-Friendly Kauai Hiking
Sleeping Giant Trail is located near Wailua and is a short, out and back trail. It offers fantastic mountain views and is perfect for a day trip and afternoon picnic.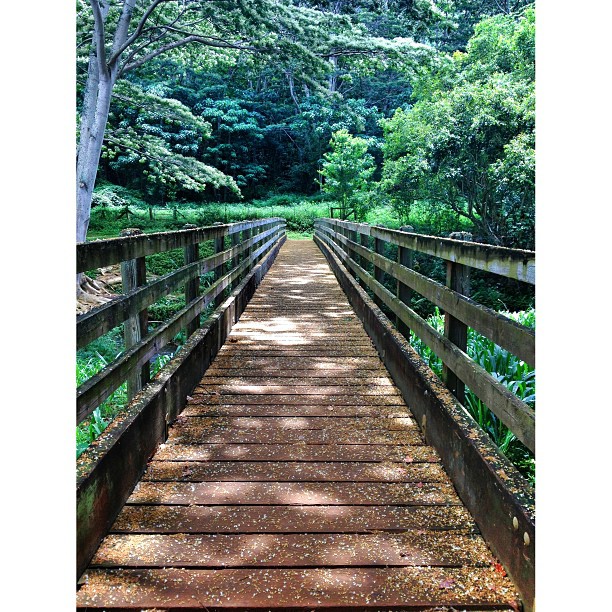 The Kuilau Ridge Trail is another popular kid-friendly Kauai hiking trail that goes for 3.7 miles.
Personally, I think that Kauai is the best Hawaiian island for hiking because there are so many options and they usually aren't as crowded as the hiking trails on Oahu.
See Where Disney's Lilo & Stitch Was Set
Hanapepe town is Kauai's "biggest small town" and it was the inspiration for the Disney movie Lilo & Stitch.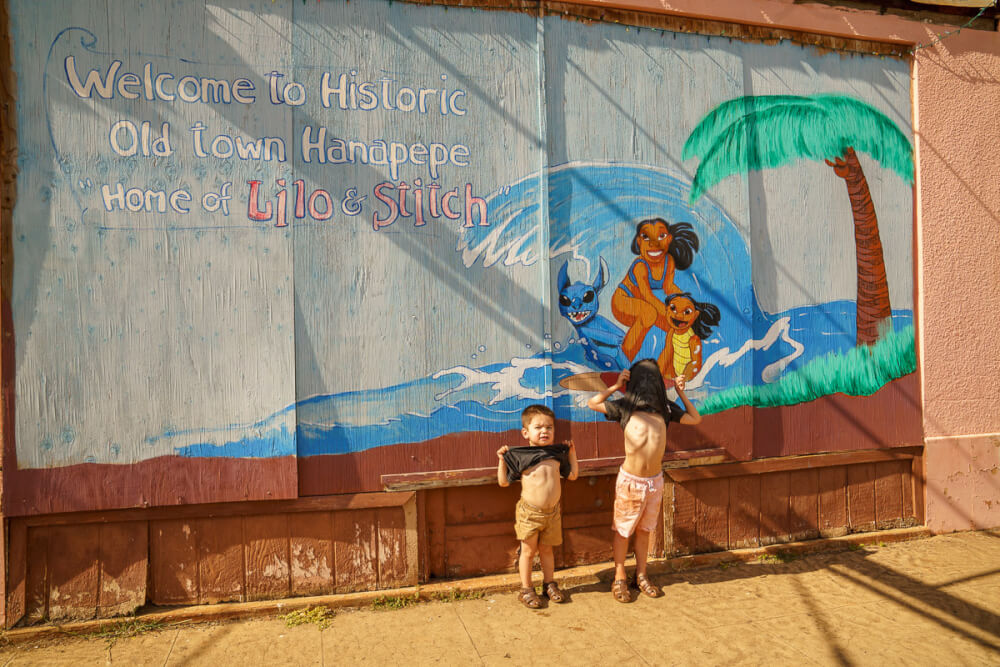 There are some murals featuring this dynamic duo all over town and you'll see little nods in the shops and restaurants.
Hanapepe also offers a really cool Art Walk where you can see local artists and buy locally made crafts.
Waterfall Hikes on Kauai
Waipoo Falls is a popular Kauai waterfall hike that is 3.2-miles roundtrip and sweeps through rainforest and vegetation to an 800-foot waterfall.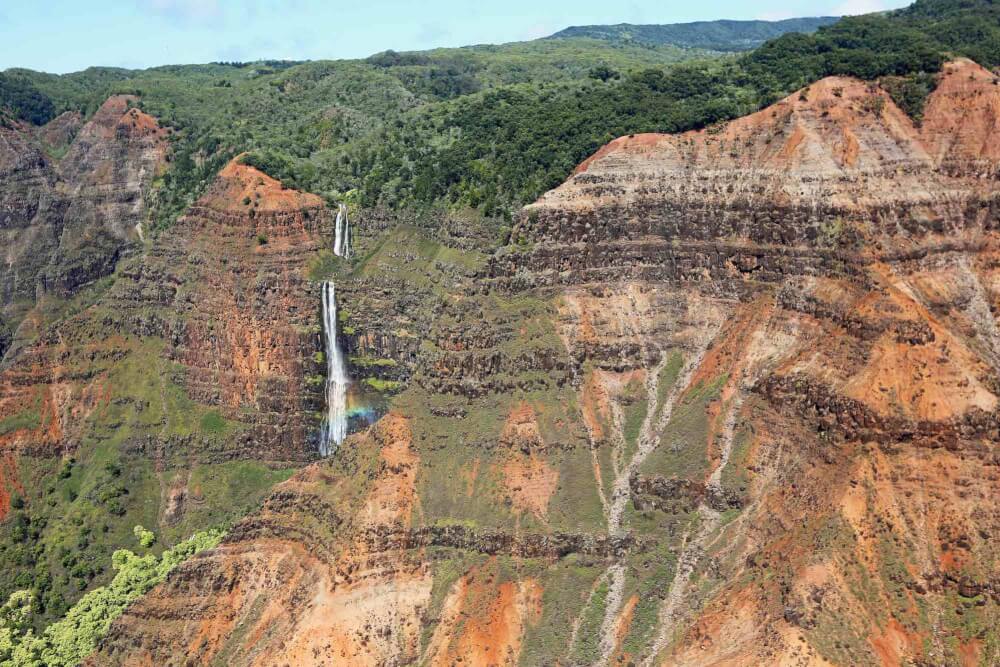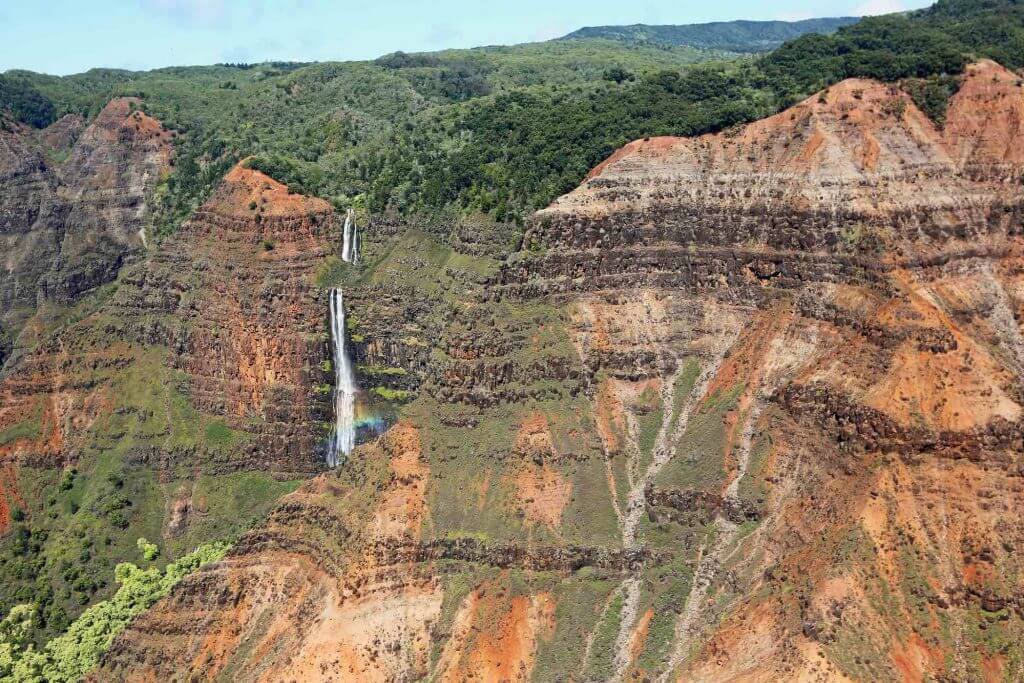 Another family-friendly waterfall hike on Kauai is Ho'oip'i Falls. This trail is located near Kapa'a and the waterfalls here were also depicted in the first Jurassic Park movie.
Read more about Kauai waterfalls
Family Friendly Kauai Luaus
Also located in Kapa'a, Smith Family Luau is a 4-hour experience with a traditional buffet. The extensive all you can eat buffet meal includes salad, seafood, pork, beef, chicken and a wide variety of fruits and dessert. Check out the latest prices and more details.
An open bar for guests over 21 is included as well as a tram tour of the gardens and a beautiful traditional performance. Plus, you can take a boat ride to Fern Grotto before the luau. Read my Smith Family Luau review.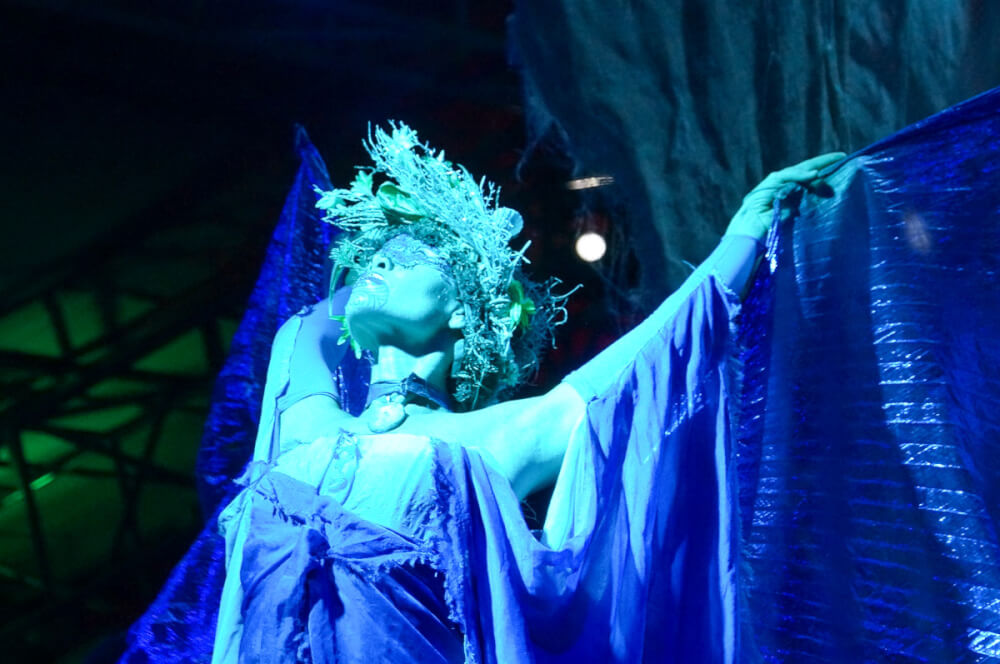 There's also Luau Kalamaku at Kilohana Plantation. This luau has really good food and they do a theatrical Polynesian presentation instead of a traditional luau show. Check out the latest prices and more details.
Kids will love taking the Kauai train tour around the plantation prior to the luau. You can read my full Luau Kalamaku review HERE.
Read about all the kid-friendly Kauai luau options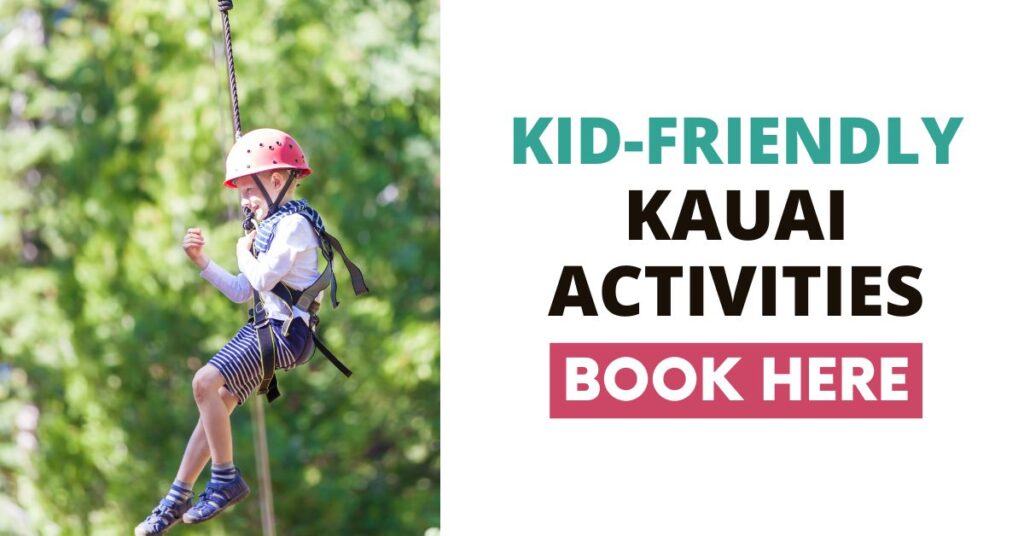 Family-Friendly Kauai Attractions
Waimea Canyon
Waimea Canyon State Park stretches for 10 miles with a depth of 3,000 feet. It is known as the Grand Canyon of the Pacific.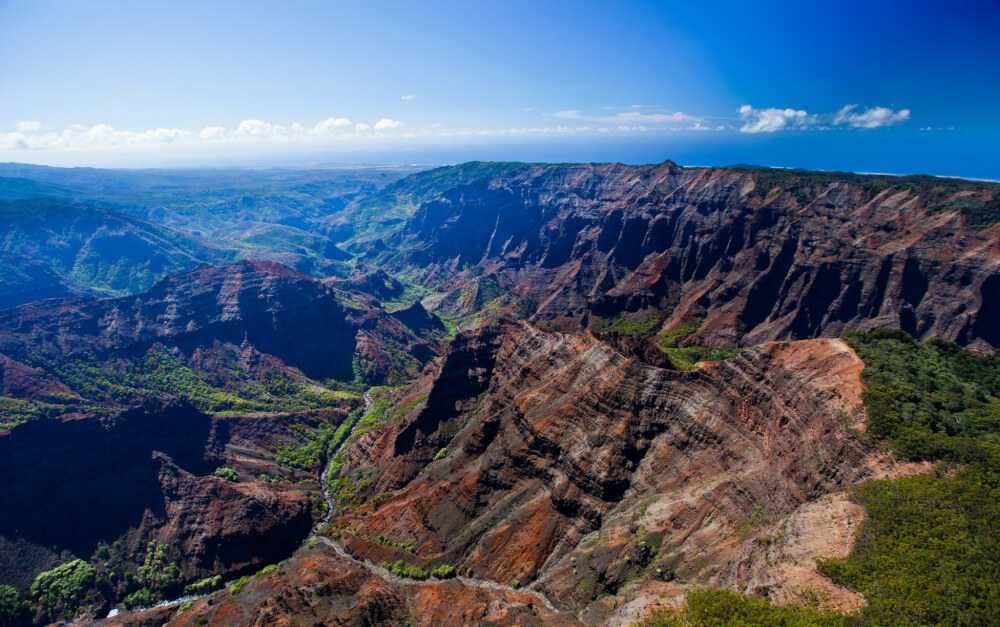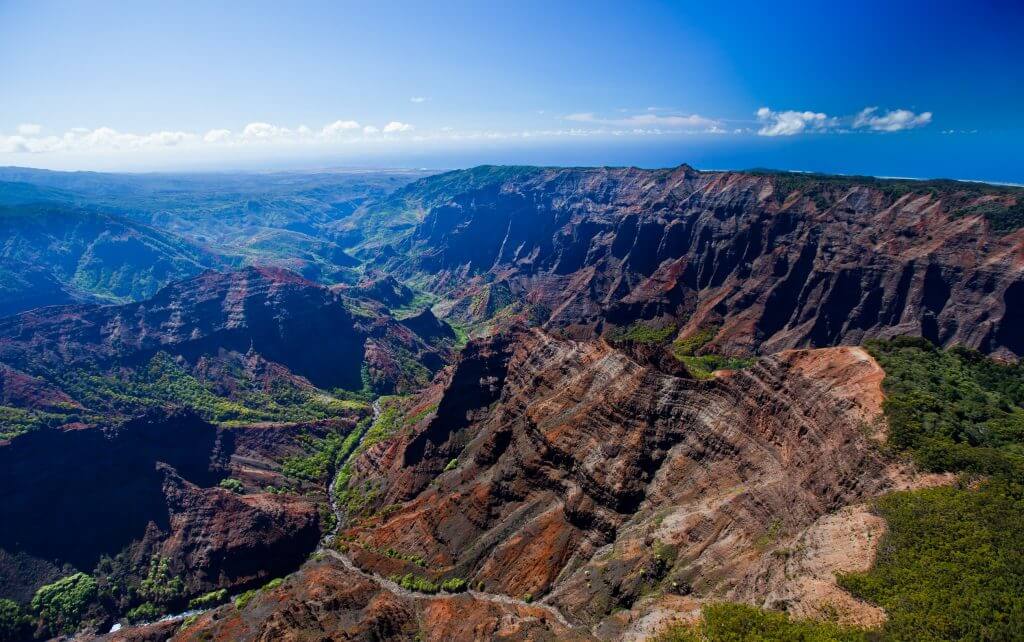 The perfect day trip from several resorts, Waimea Canyon State Park is great for families that enjoy being in the outdoors. Bring a picnic and spend the day exploring this geological marvel.
Natural wonders like Waimea Canyon make Kauai the best island in Hawaii for families who like a bit of adventure when they travel.
Another geological marvel that kids may enjoy visiting is Spouting Horn. This spout often shoots water 50 feet high as waves crash underground and through a hole on the coastline.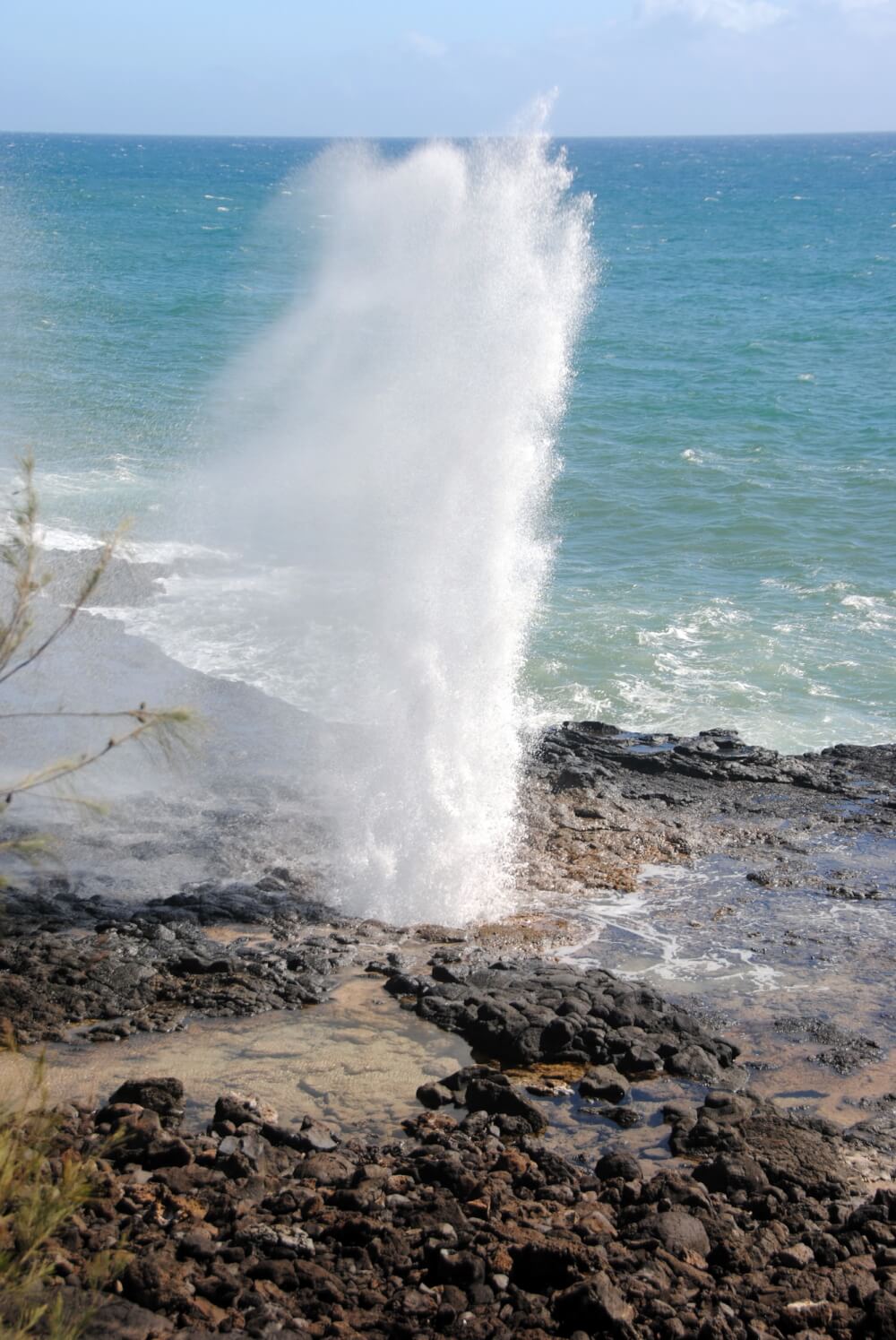 Spouting horn is a great stop off to visit from the overlook on your way to or from Poipu Beach on the South Shore of Kauai. It's also one of our favorite Kauai toddler activities.
Na Pali Coast
One of the best things to see in North Shore Kauai is the majestic Na Pali Coast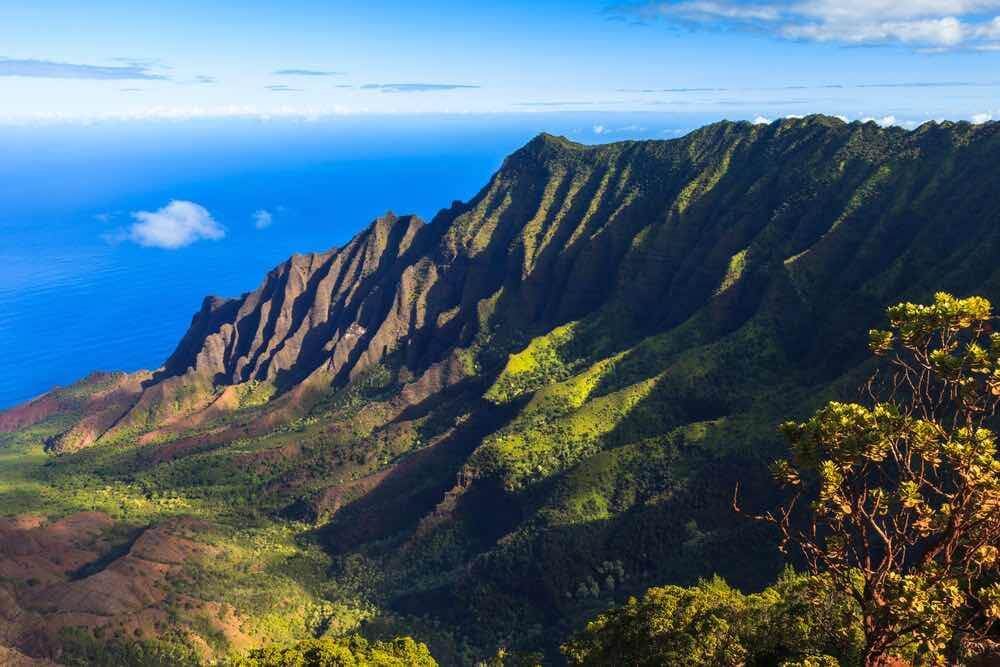 The easiest way to see the Na Pali Coast with kids is by driving up to the Kalalau Valley lookout near Waimea Canyon. Another option is to drive to Ke'e Beach on the North Shore of Kauai.
And if your kids are a bit older, you might do a Na Pali Coast boat ride for the best views of the Na Pali Coast on Kauai.
Find out 101 amazing things to do on Kauai with kids!
So, Oahu or Kauai? Which is the Best Hawaiian Island for Kids?
The best Hawaiian island for kids to visit will depend greatly on your family's interests and activity level. Whether you choose to visit Oahu or Kauai, you're sure to come home with experiences and memories that will last a lifetime.
I hope this post helped you decide the best island to visit in Hawaii with family.
Want to do Both Hawaiian Islands?
If you want to island hop, it's really easy to travel from Oahu to Kauai or vice-versa.
Flights are about 25 minutes, so you have tons of time to explore if you want to do a day trip from Oahu to Kauai.
Just be sure to book a really early morning flight to maximize your time, especially if your kids tend to fall asleep early in the evening. And see how many days in Kauai is ideal.
P.S. Join our Hawaii Travel with Kids Facebook group to get connected with other families planning a trip to Hawaii!