Are you looking for some awesome Big Island beaches for your next Hawaii trip? These are the top beaches on the Big Island for kids and families.
This list of the best beaches on the Big Island with kids was written by Hawaii travel expert Marcie Cheung and contains affiliate links which means if you purchase something from one of my affiliate links, I may earn a small commission that goes back into maintaining this blog.
Planning a trip to the Big Island, Hawaii with your family?
You're in for a treat! The Big Island is home to some of the most beautiful beaches in the world. From black sand beaches to white sand beaches, there's something for everyone.
And best of all, these beaches are perfect for families – they're safe and fun for kids of all ages.
Whether you're looking for stunning sands, crystal clear waters, or safety for your little ones – we've got you covered.
So what are you waiting for? Start planning your trip today and make sure to include a visit to one (or more!) of these amazing beaches. You won't regret it!
Keep scrolling to find out the best beaches on the Big Island you have to see to believe!
Don't have time to read a bunch of Hawaii blog posts and reviews? Here are some of our top picks for visiting the Big Island with kids.
Best Kid-Friendly Big Island Tours/Activities
Best Kid-Friendly Big Island Resorts
Save Money with Points
My favorite credit card for travel is Chase Sapphire because it offers the best value on flights and hotels. Check out the latest sign-up bonus deal.
Want to Rent a Car in Hawaii?
One of the best places to rent a car in Hawaii is Discount Hawaii Car Rental because they get the best rates from top national companies like Alamo, Dollar, Thrifty, Avis, Enterprise, Budget, and Payless.
Want to skip all the planning and just access my detailed Big Island Itinerary complete with daily schedules, kid-friendly activities, and travel hacks? Click the button below.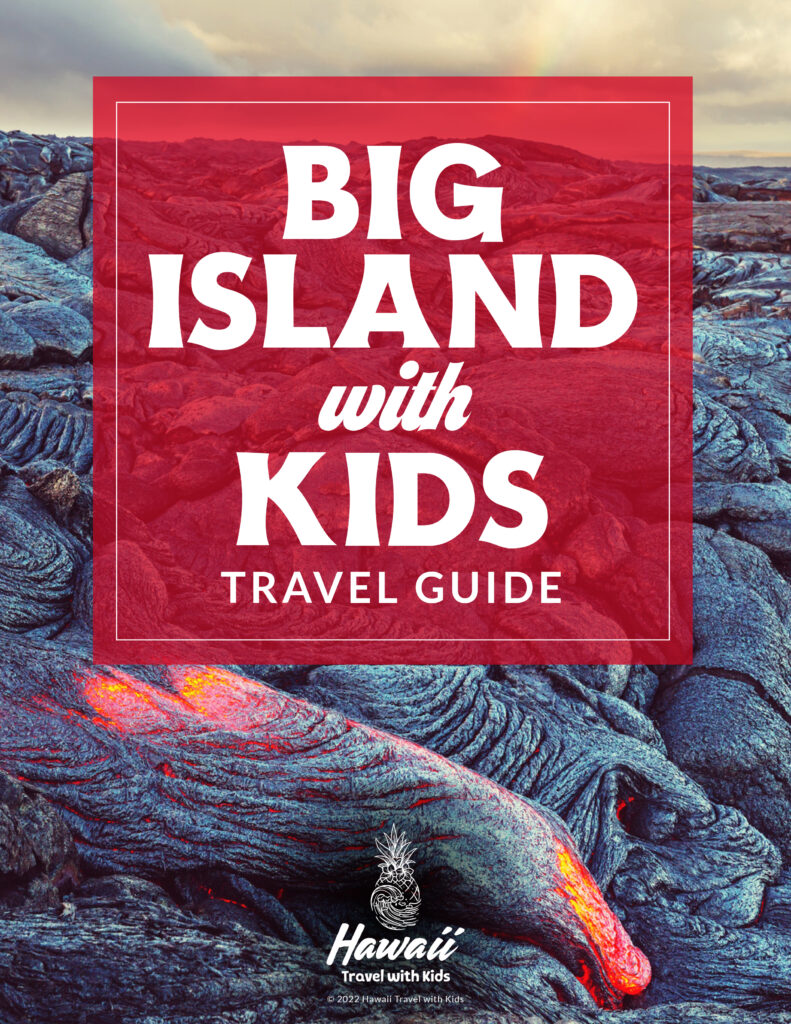 Big Island Beaches FAQs
Does the Big Island have good beaches?
Out of all the Hawaiian islands, Hawaii Island has the most diverse array of beaches. There are white, black, and green sand beaches here. Plus, there are Hawaiian beaches for all kinds of activities like surfing, swimming, snorkeling, and more.
Are there white sand beaches in Kona?
While Kona may look like it's covered in lava rock, Maniniowali is the best Kona white sand beach. The water is super clear and great for snorkeling on a calm day. Plus you can find cool Hawaiian sea life like dolphins and turtles.
What island has black sand beaches?
You'll actually find Hawaiian black sand beaches on both Maui and the Big Island. Punaluu Black Sand Beach is located on the South Shore of the Big Island and it's the most famous black sand beach in Hawaii.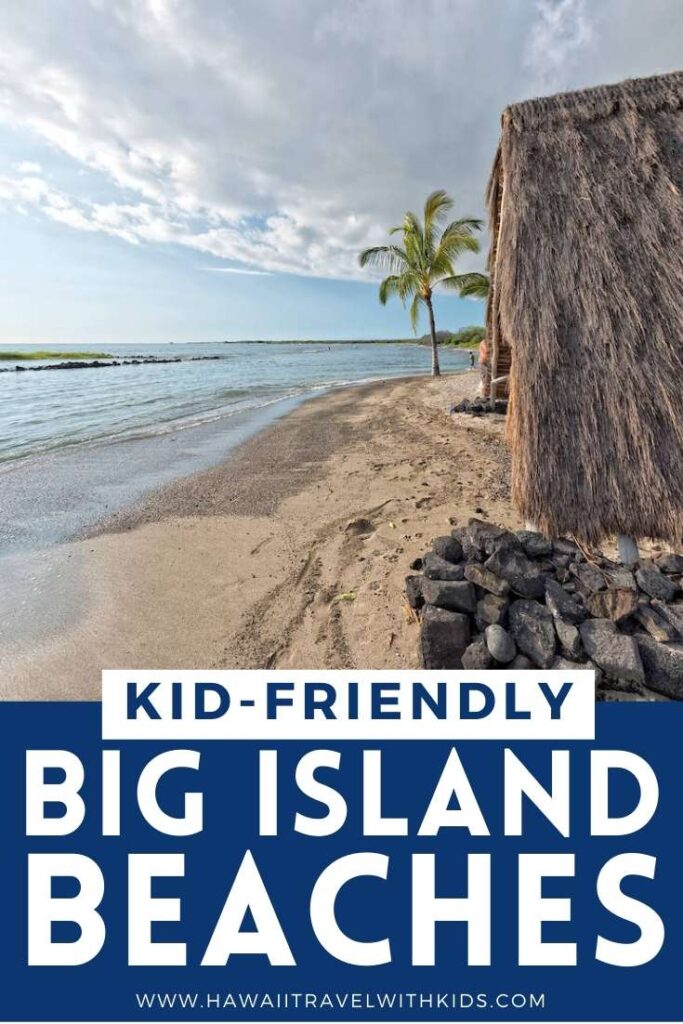 Best Beaches in Big Island for Families (Mega List)
Check out my map below to find the beaches closest to your resort or ones that will easily fit into your Big Island itinerary.
1. Old Kona Airport State Park
When looking for the best beaches in Kona Hawaii look no further than the Old Kona Park.
Once an airport landing strip has been transformed into a family-friendly location that will offer something for everyone.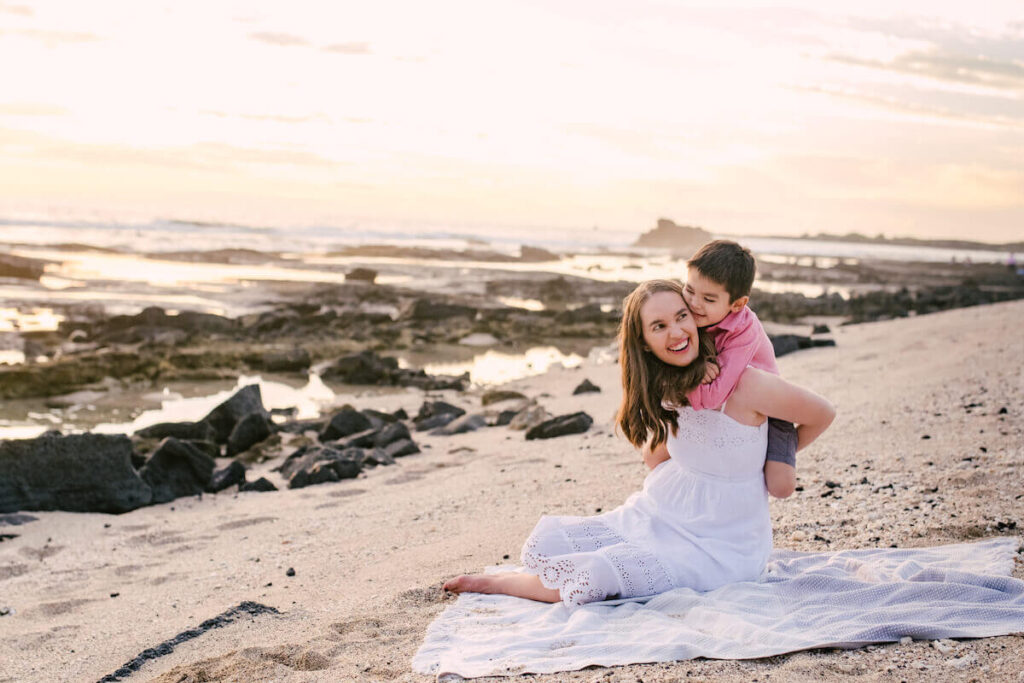 Whether you and the little ones love exploring rock pools or enjoy heading into the water for some surfing or snorkeling, this place has it all.
The northern section of the beach tends to have more activity, whereas further south, you will find it is a little quieter. Perfect for little ones.
In the surrounding areas, you will find picnic tables, stretches of grass to relax or play on, and other amenities such as toilets and showers. The perfect spot when looking for beaches in Kona.
2. Onekahakaha Beach Park
Hilo is a popular spot for families and Onekahakaha Beach Park is one of the best beaches in Hilo Hawaii. This location will provide you with an afternoon of warm sun, white sandy beaches, and calmer waters. A place the whole family will enjoy.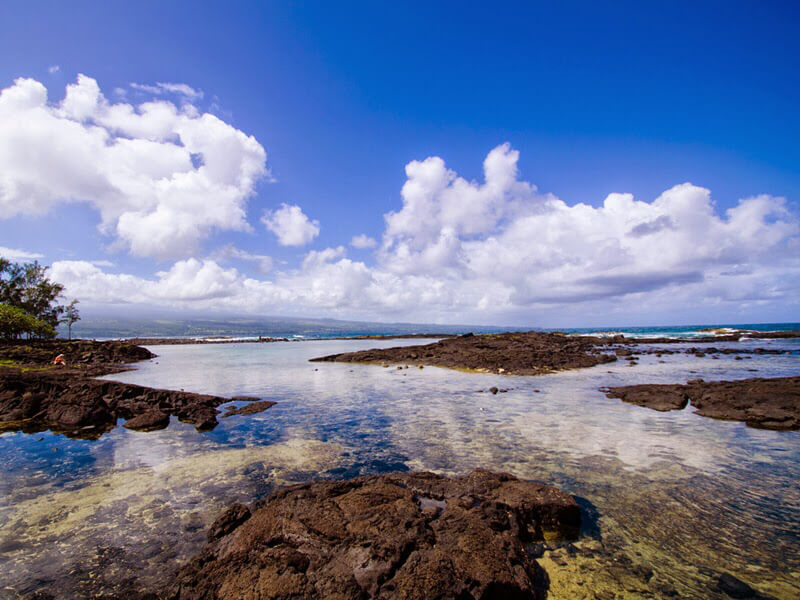 Onekahakaha Beach was once considered one of the best swimming beaches on the Big Island and was certainly one of the best beaches in Hilo and the surrounding areas. This is because it has lifeguards on duty helping the whole family to feel safe.
You can also enjoy activities such as snorkeling, as the protected breakwaters offer up a chance to spot some incredible marine life.
3. La'aloa Beach Park (aka Magic Sands)
If you are looking for another one that is considered to be the best beach for swimming on Big Island then La'aloa Beach Park is one of the ones to consider.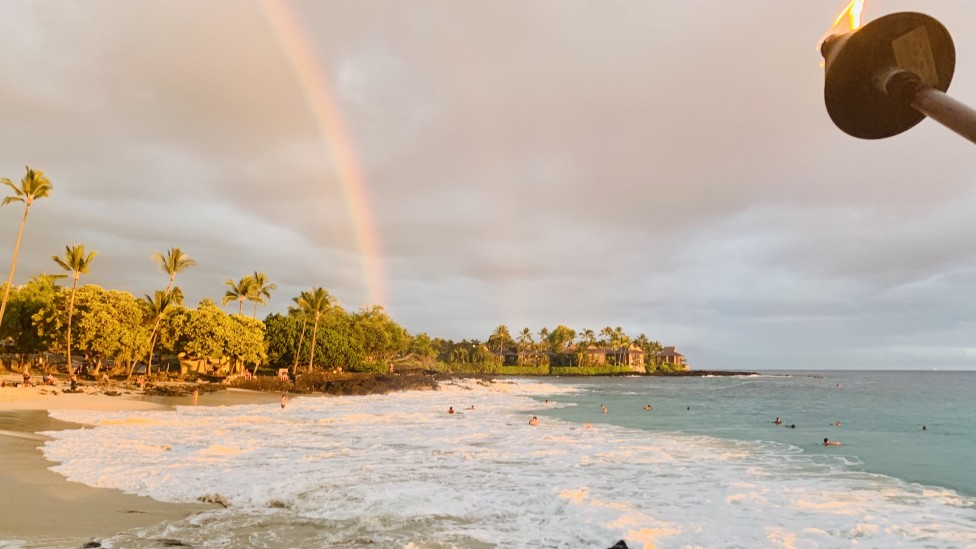 It is a popular spot with the locals as it has small and calming waves. It is one of the beaches near Kona that will give you that assurance that your little ones can enjoy the water for swimming, bodyboarding, and snorkeling.
However, this beach is one of the ones that disappear when the tide is fully in, so be mindful of that when spending the day there. A great spot for families with young children.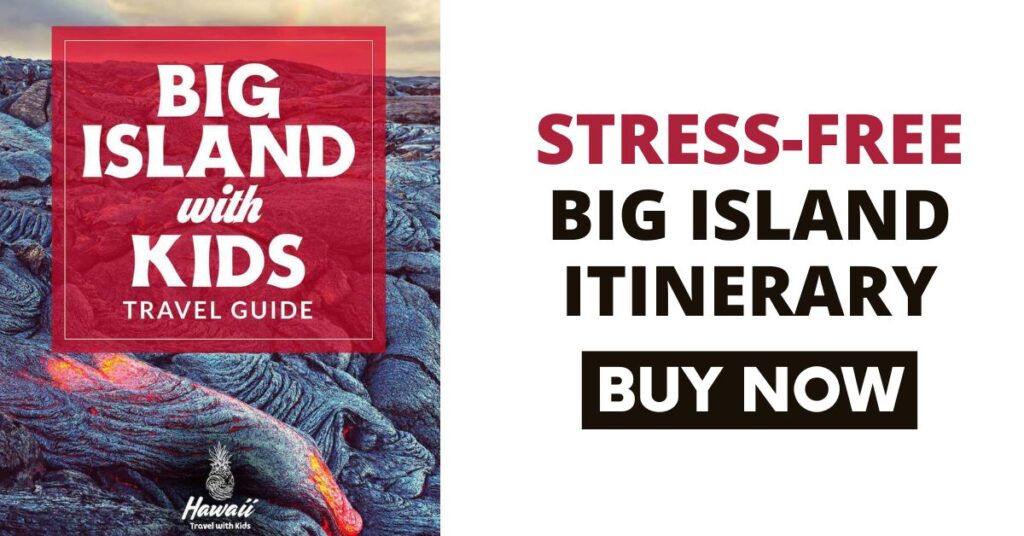 4. Anaehoomalu Bay Beach (aka A Bay)
If you were hoping to find a beach on Big Island that is full of activity and fun for children that are a little older and can handle themselves in the water, then look no further than Anaehoomalu Bay Beach. It happens to be one of the best places to snorkel on the Big Island.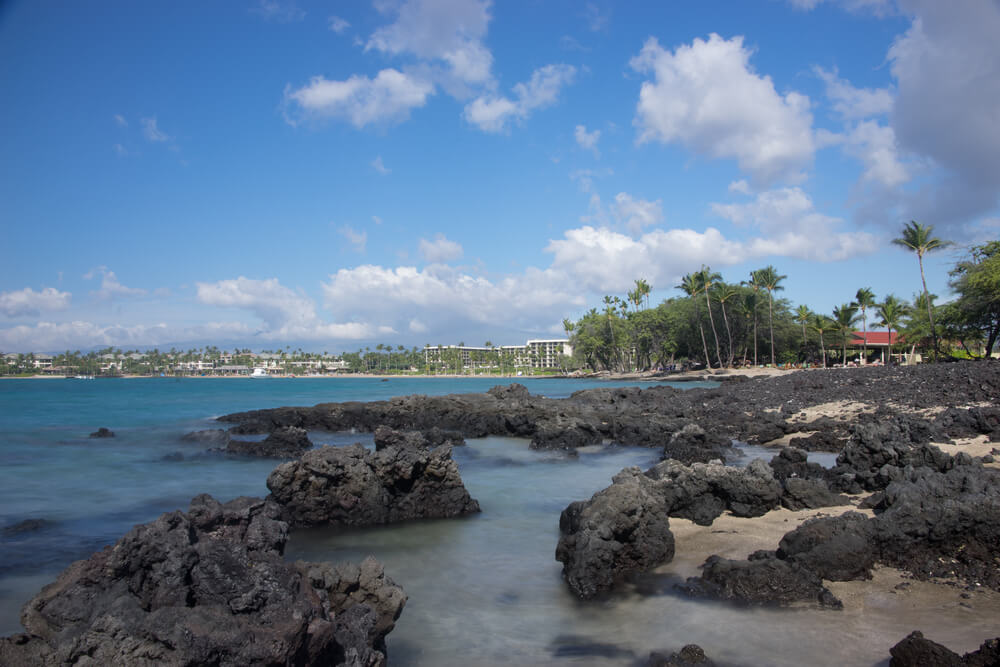 However, it isn't just snorkeling that you can enjoy, you can embrace other activities such as kayaking or paddleboarding. The beach is home to two fish ponds, which can give you an education on life in ancient Hawaii.
While the beach is perfect, some activity families like a little more going on, so take a stroll along the hiking trail that you will find at the southern point of the island providing some of the most picture-perfect spots and experiences.
5. Punalu'u Beach (Black Sand Beach)
One of the most well-known and has been listed as being one of the best beaches in the Big Island is Punalu'u Beach.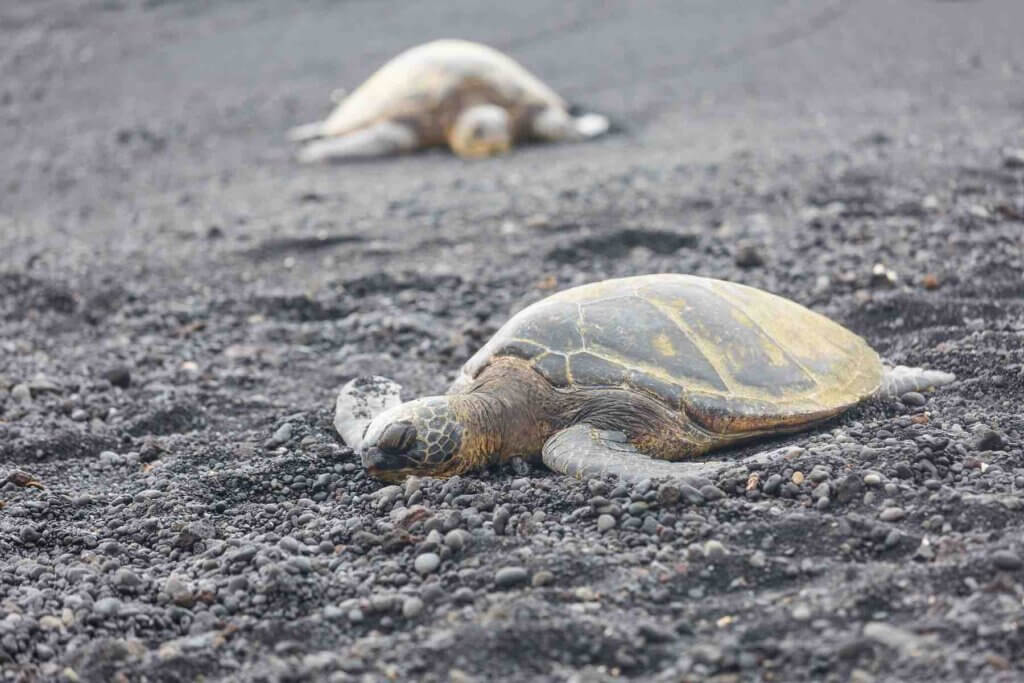 This is one beach that might not be ideal for unconfident swimmings because the water is a little stronger with the waves, but it is certainly popular for families who love to sit back and enjoy the experience of the beach.
Here you will get the opportunity to do some turtle watching. It is the best beach on Big Island to see these mystical marine creatures in their natural habitat and an experience not to be missed.
6. Mauna Kea Beach (Kaunaoa Beach)
Some families love to be close by to facilities and amenities and what better than to experience the Mauna Kea Resort. It happens to have one of the best beaches around and is perfect for active families.
Here at Kaunaoa Beach, you will find a high surf perfect for surfing or bodyboarding, but not ideal for swimming. So you may want to head here if you have older children and a family that is confident in the water.
That being said, from here you will be able to see the Mauna Kea Volcano. If you stay in the evening, the evening light attracts plankton which in turn attracts beautiful mantra rays. Another fabulous location to enjoy marine life.
7. Hapuna Beach
If you are interested in experiencing an award-winning beach then Hapuna is the place to go. It is a golden crescent lagoon that is considered one of the most prestigious beaches on Big Island.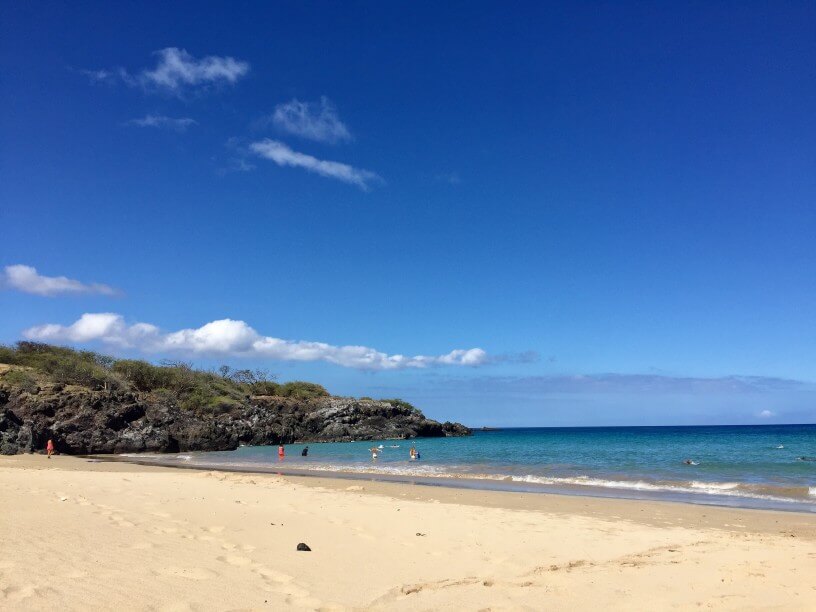 Your children will love bodyboarding here as the waves are not too high but still pack a punch for the adrenaline junkie.
The sand slopes gently into the water which is beautifully clear on a calm and sunny day. A great spot between Mauna Lani Resort and Mauna Kea Beach Resort. Giving you that flexibility of local amenities.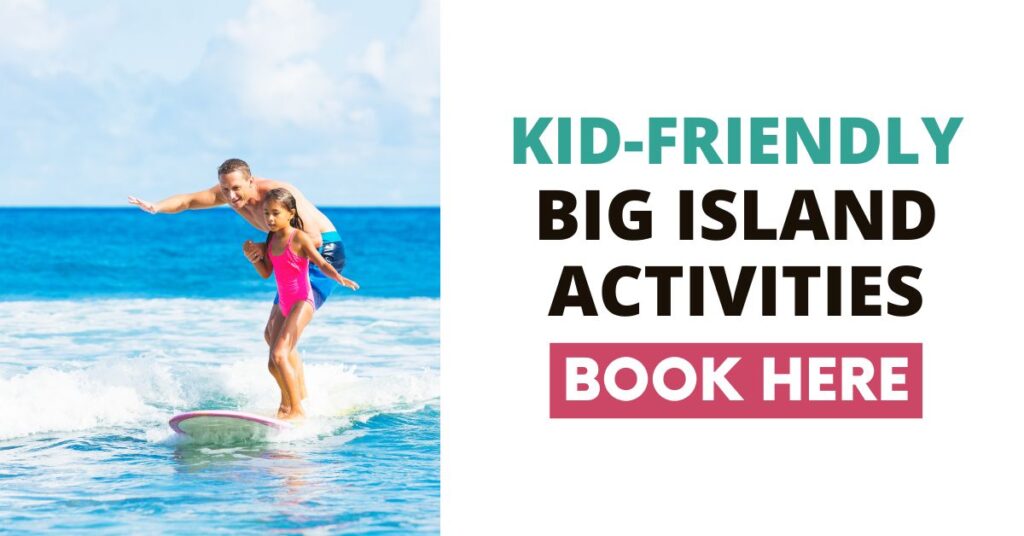 8. Kikaua Point Beach
Sometimes a family wants a beautiful beach but doesn't always want to be in the direct sun, after all, it can feel too much. So one of the best beaches near Kona will give you the best of both worlds.
With lava rocks and palm trees for shade, there is also a grass lawn that is ideal for relaxing on or letting the children play. Kikaua Point Beach is located next to a golf course as well.
9. Maniniowali Beach
Another one of the best beaches near Kona Big Island is Maniniowali Beach. One of the smaller covers with beautiful white dancy slopes and very clear crystal blue waters.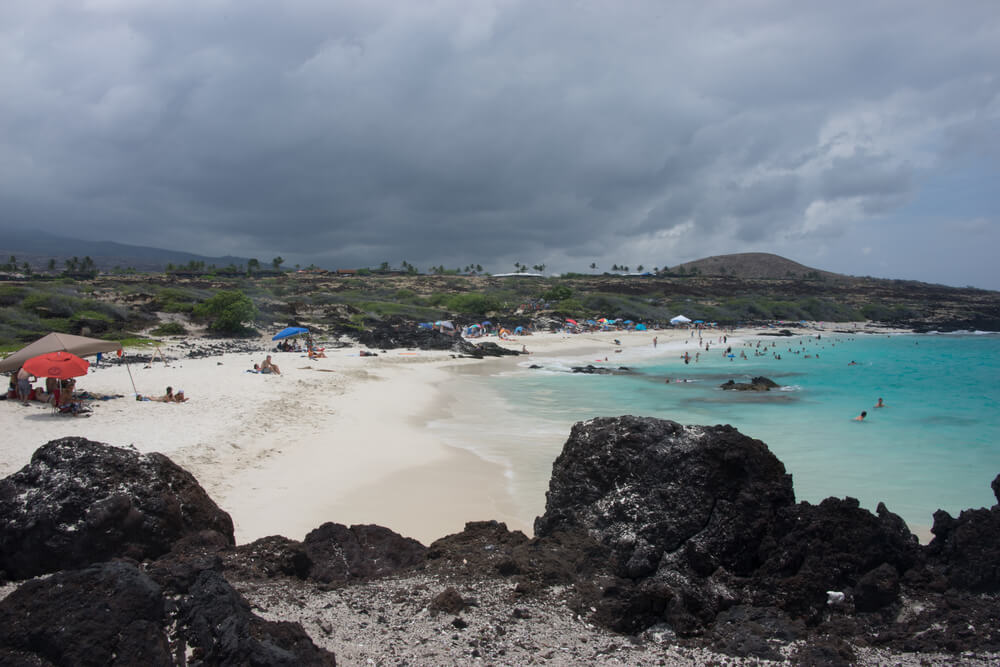 When the surf is not too high then it is one of the best beaches in Kona for swimming. Perfect if your children like to play in the water while you soak up the rays. There can be waves at times, but they are of moderate level so you can still enjoy bodyboarding and surfing.
There are also amenities close by including toilets and showers. An ideal spot for families.
10. Makalawena Beach
If your family loves surfing then one of the most scenic and best beaches on Big Island where you can enjoy high surf is Makalawena Beach.
It is great for surfing and bodyboarding and has a great stretch of white sands to enjoy people watching from. This beach also has sand dunes where you can keep a lookout for sea turtles.
Lastly, just inland there is a freshwater pool which is a great place for rinsing off.
11. Wawaloli Beach
Heading to Wawaloli Beach is one of those places where you can spend the entire day. Beautiful white sands and perfect crystal blue waters to enjoy where you can rest assured that there are no huge waves.
This beach has all of the amenities you could ever need from toilets and showers to picnic tables and BBQ pits.
Here you also get a great view of the Hualalai Volcano and the Kona Coast. It is definitely one of the best beaches on the Kona coast for families.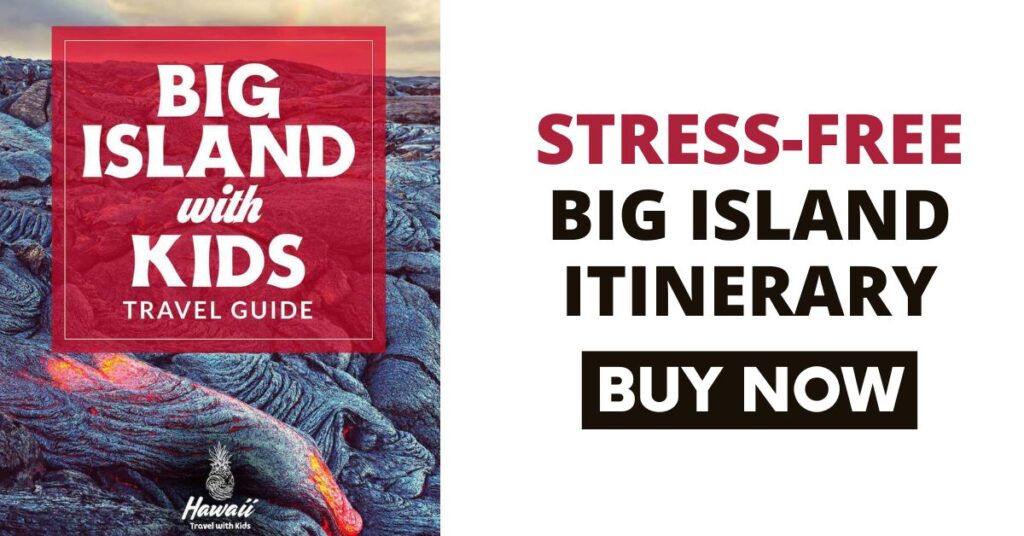 12. Aiopio Beach
One of the more protected areas but still worth visiting is Aiopio Beach. It is an offshore reef which makes it a great place for children to swim.
You might also find sea turtles coming to feel here and it is one of the best beaches on the Big Island for snorkeling. More of a hidden gem at Kaloko-Honokohau National Historical Park but worth seeking out for a family fun-filled afternoon.
13. Hookena Beach
Some families have younger children, and one of the best beaches on Big Island that will help you to feel safe with younger kids is Hookena Beach.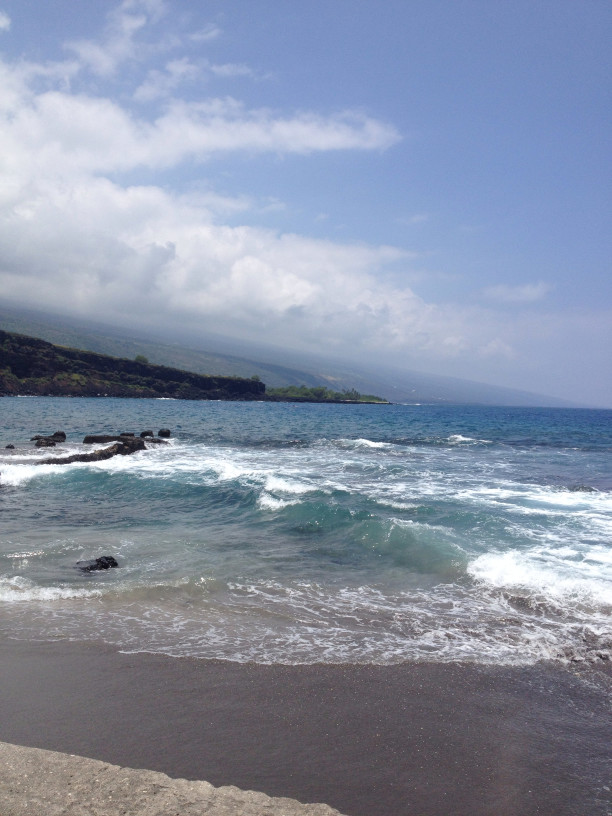 It is a fun place for children to enjoy and a great place for swimming. You will also find that there are some restrooms and showers to use when you need to.
However, the surf can get big at times, so check this before making a stop. It is ideal for kids on a calm day.
14. Mahana Beach
Heading south and you will find Mahana Beach. This is a great place to visit for kids but not for them to enjoy the water.
This is more of a location for them to explore the shoreline where they can go searching for different things amongst the rocks.
It isn't good for swimming as there is no shore break, so the current can be strong. One to visit for kids if you need to pass a little time.
15. Waipio Beach
If you were hoping for something a little different then head to Waipio Beach in the gorgeous Waipio Valley. It is a little different than some of the other beaches on Big Island as it has black sand.
It is also a beach that has strong currents, so while it is a great place to enjoy yourself with the children, it is best to stay on the shoreline.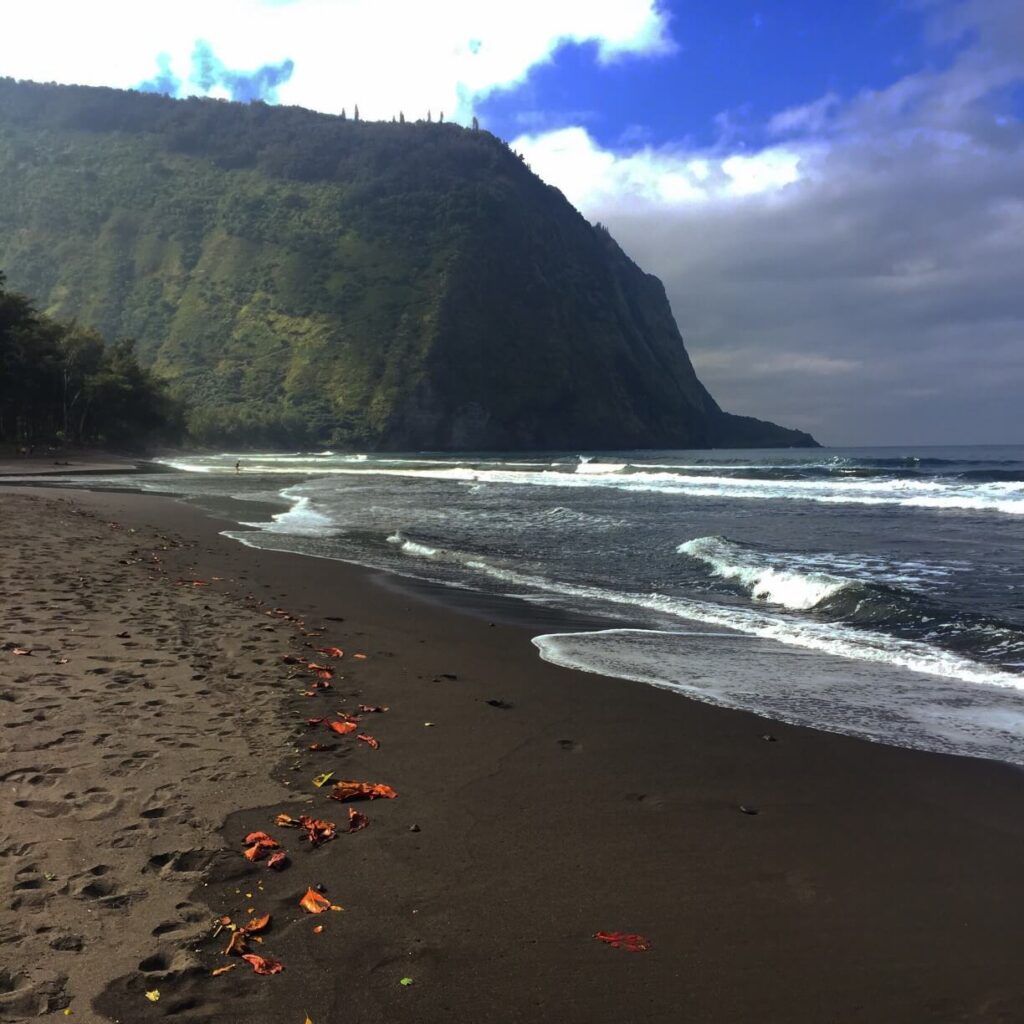 The reason why this beach has found itself on the list of best beaches on Big Island is that it is a great spot for whale-watching. From November until March the whales will pass and you will get to see them in their natural habitat.
Bear in mind that this beach is fairly secluded, so you will need to either hike down or take the Waipio Valley Shuttle. If you are an adventurous family, then this one is for you.
16. Spencer Beach
This is a lovely beach to take children if you are hoping to find a location with natural tree shade, low and moderate waves as well as amenities such as showers and picnic benches.
Spencer Beach also has a very helpful sitting tide pool on the north side which is conveniently located in the shade which can be a welcome break from the breeze and sun. It is one of the most family-friendly Big Island beaches.
17. Mauna Lani Resort Beach
A lovely resort beach in Big Island that has free public access whether you are staying there or not. It is one of the more luxurious beaches on Big Island and perfect for children. You can park up at the hotel and enjoy the amenities that are on offer as well as the beautiful beach.
Close by there is access to another little cove where you can find calmer waters and a quieter location. This is especially great if you have little ones and want a little privacy.
There is a lot of marine life as well, so there is a lot to see and do here.
18. Honaunau Bay
If you were wanting one of the best beaches on Big Island for snorkeling then Honaunau Bay Beach delivers on all counts.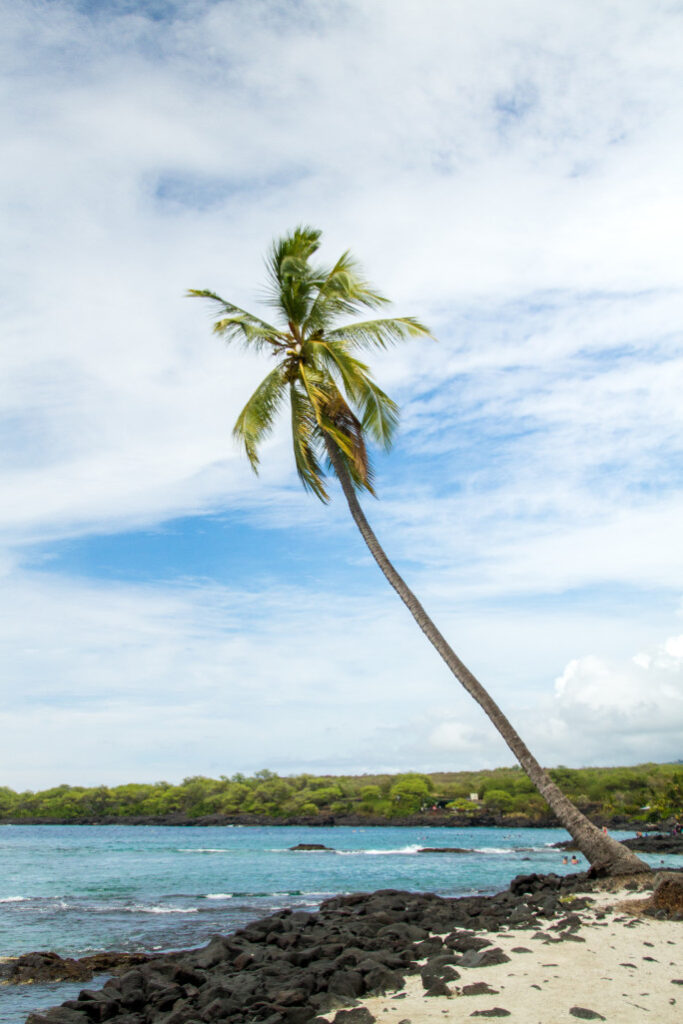 Here you could find yourself swimming with sharks, turtles, eels, dolphins, and plenty of beautiful and colorful fish. If you and the children love to snorkel, then this bay has to be on top of the list.
The waves are also fairly calm and moderate, so you can enjoy the surf without worrying too much about the currents and swell. There are also smaller little ponds where you and the children can look at marine life.
There aren't too many amenities here that as a family you would find useful. It is a more rustic location, but it still delivered on beauty and fun. Definitely, a great place to visit with the children.
19. Puako Beach Park
If you were hoping to find a place that is ideal and easy to enjoy with children then look no further than Puako Beach Park.
A great spot to enjoy with young children and ideal to play in the sea, relax on the beach, and enjoy watching marine life including green sea turtles.
This is also a nice location to enjoy and one that you can frequent as often as you like. This place has a feeling of safety around it, so a perfect spot for the younger ones as well.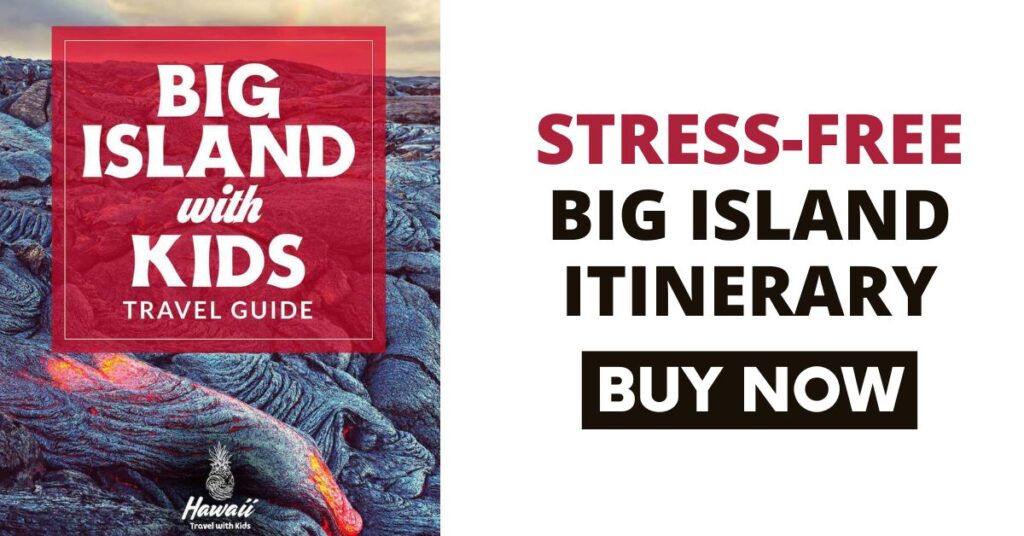 Best Big Island Hawaii Beaches Wrap Up
I hope that this has given you plenty to think about when looking for Hawaii Big Island beaches that the whole family can enjoy.
P.S. Join our Hawaii Travel with Kids Facebook group to get connected with other families planning a trip to Hawaii!