Are you planning a trip to Maui and want to do a day trip to Lanai? Keep scrolling to find out how to take the ferry from Maui to Lanai for the ultimate Lanai day trip.
This post about how to take the ferry from Maui to Lanai contains affiliate links which means if you purchase something from one of my affiliate links, I may earn a small commission that goes back into maintaining this blog.
Are you planning your Maui itinerary and want to do a day trip to Lanai?
If so, then you're probably wondering how to get from Maui to Lanai. Well, I'm here to tell you that it is possible!
In fact, there are several ways of getting from one island to the other. And in this post, I will share my personal tips and tricks for taking the ferry from Maui over to Lanai.
Plus, I'll let you know what to wear and what to pack.
Keep scrolling for my guide on how to take the Maui Lanai ferry!
Don't have time to read a bunch of Hawaii blog posts and reviews? Here are some of our top picks for visiting Maui.
Popular Maui Tours/Activities
Favorite Maui Resorts/Hotels
Andaz Maui (this is a luxury resort with the best luau on Maui)
Honua Kai Resort & Spa (this is one of our personal favorites because there are tons of pools and there are condo options)
Want to Rent a Car in Hawaii?
One of the best places to rent a car in Hawaii is Discount Hawaii Car Rental because they get the best rates from top national companies like Alamo, Dollar, Thrifty, Avis, Enterprise, Budget, and Payless.
Want to skip all the planning and just access my detailed Maui Itinerary complete with daily schedules, kid-friendly activities, and travel hacks? Click the button below.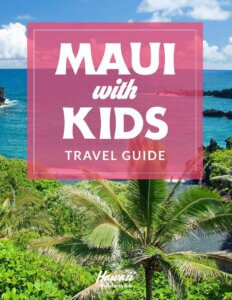 Ferry from Lahaina to Lanai FAQs
How much is the ferry from Lahaina to Lanai?
The ferry ride from Lahaina Maui to Manele Harbor on Lanai costs $30.
How long is the ferry from Maui to Lanai?
The Maui Lanai ferry ride is about 50 minutes long and there are great opportunities to see the gorgeous Lanai coastline as well as Maui, Lanai, Molokai, and Kahoolawe in the distance. There's even a chance to see some sea life like dolphins or whales, depending on the time of year.
Is Lanai worth visiting?
Absolutely! There's a little something for everyone on Lanai. Whether you are looking for a luxury resort or want to snorkel in one of the top places in Hawaii, Lanai has you covered.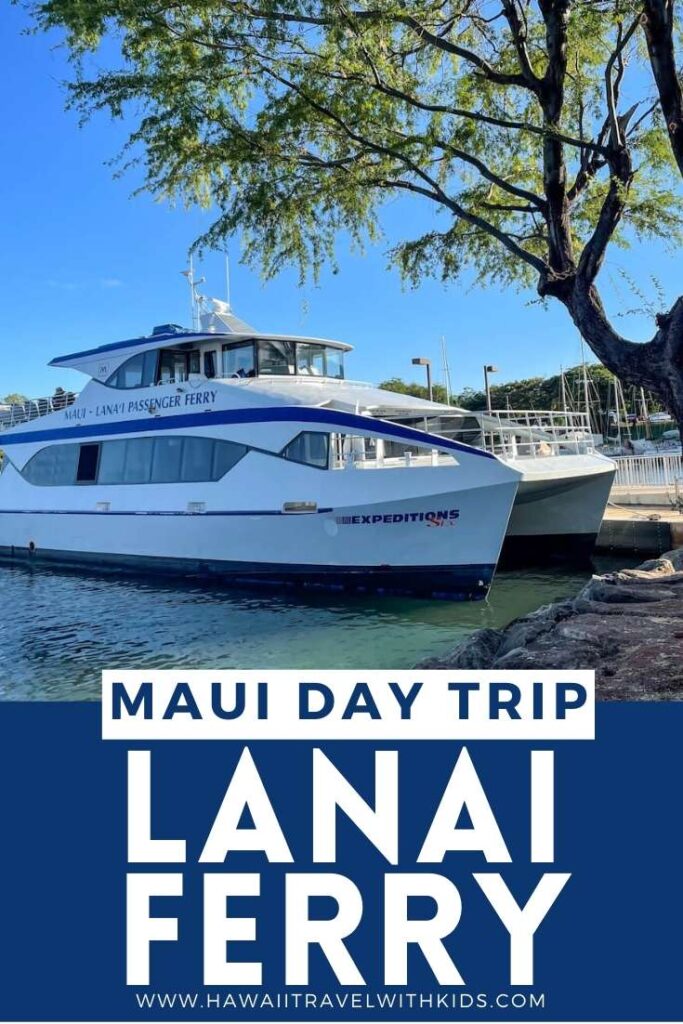 Brief Overview of Lanai and Why You Should Visit
Lanai is one of the smallest main Hawaiian islands. Most people visit Maui, Kauai, Oahu, or the Big Island and think they have covered all the Hawaiian islands. That's just not true!
You can actually see Lanai from the West Side of Maui and it's a cute little island.
In 2012, Oracle billionaire Larry Ellison purchased 95% of the island for about $300 million. Since then, he's been making a lot of chances to the island. There are two main Four Seasons Resorts on the island with wellness centers and golf courses for the elite.
But, there's also a free swimming pool and golf course for locals and an influx of homes being built on the island (both high-end and low-income housing).
However, I think Lanai Island is worth a day trip just to get a feel for what Hawaii was like several decades ago. There are no traffic lights on the island and they have very small grocery stores. Not all their roads are even paved.
So, if you've already been to some of the islands or you are looking for a unique day trip from Maui, think about visiting the island of Lanai.
How to do a Maui to Lanai Day Trip
There are actually 3 ways you can do a Lanai day trip from Maui: ferry, boat tour, or an inter-island flight. Let me break those down for you.
Ferry
The Lanai Ferry is by far the most popular way to visit Lanai from Lahaina. It's a passenger-only ferry that runs a few times per day between Maui and Lanai.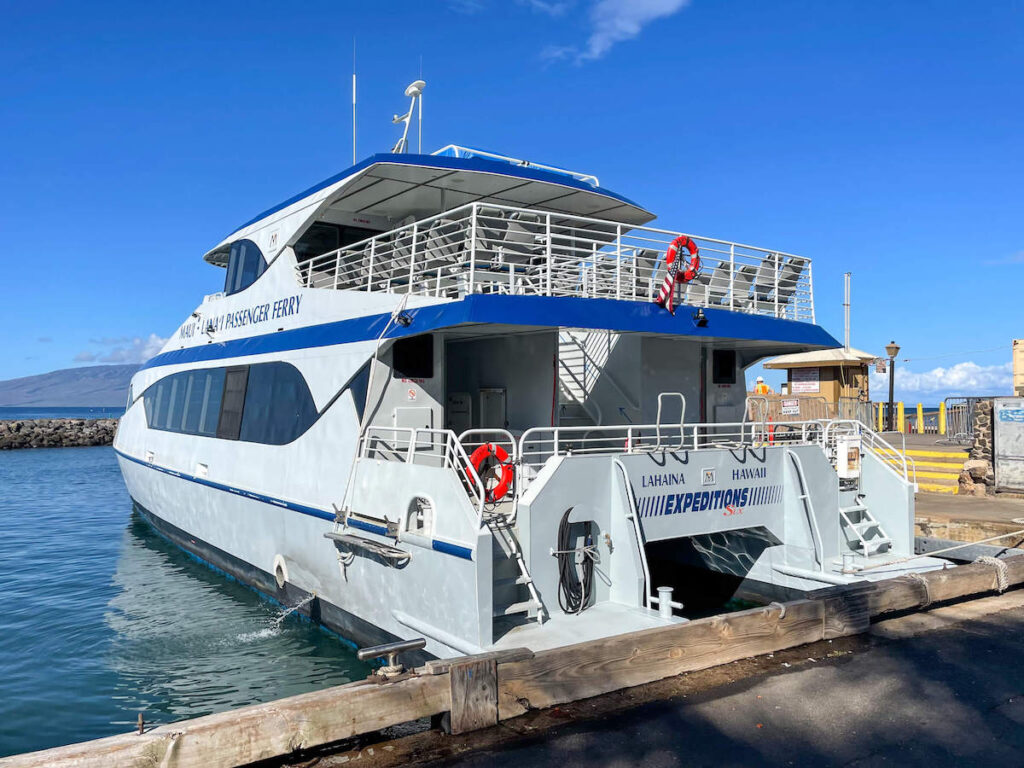 The ferry takes about 50 minutes from Lahaina to Lanai and vice-versa. And it's only $30.
There are two levels for seating on the Lanai Maui ferry. There's a bunch of indoor seating, but you'll need to go up to the upper deck if you want outdoor seating.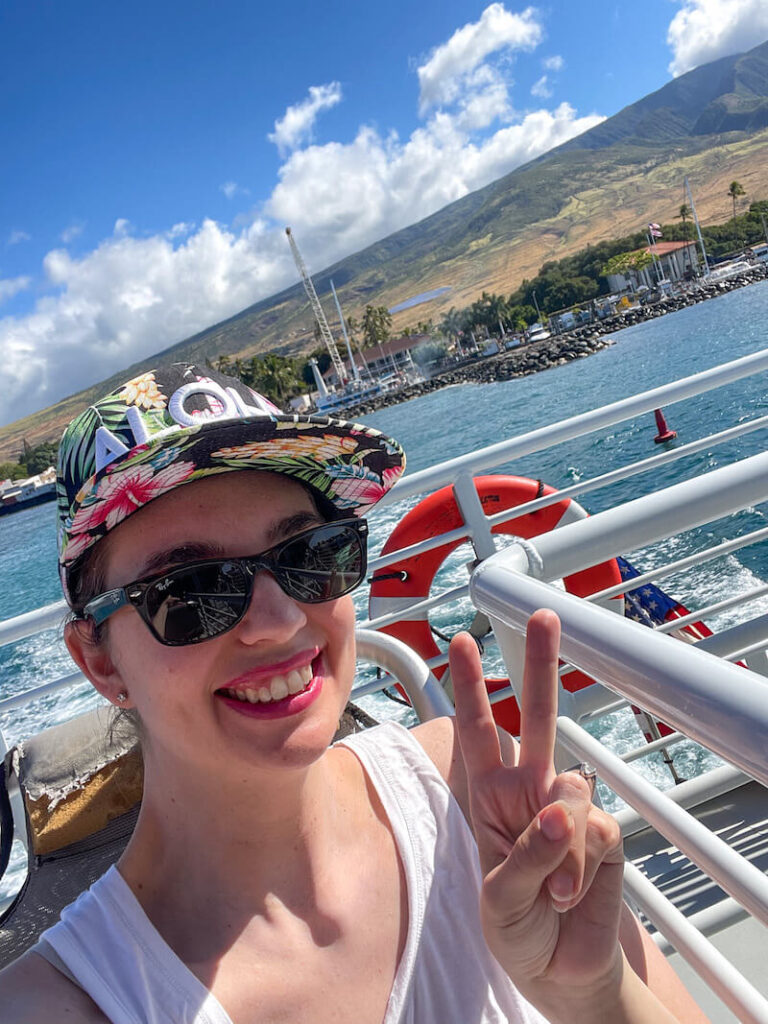 If you aren't sure what to do when you get to Lanai, we did a really cool 4×4 Jeep tour of Lanai that came with ferry tickets. Check it out HERE.
Boat Tour
Another option is to take a Lanai boat tour from Lahaina. My friend did this in late 2021 and wrote a review of the Trilogy boat tour to Lanai.
Usually these Lanai boat tours focus on snorkeling somewhere off the coast of Lanai and don't have much time on the island itself. However, it's perfect for families who love to snorkel.
If you're looking for a Lanai snorkeling tour, here are some options to consider: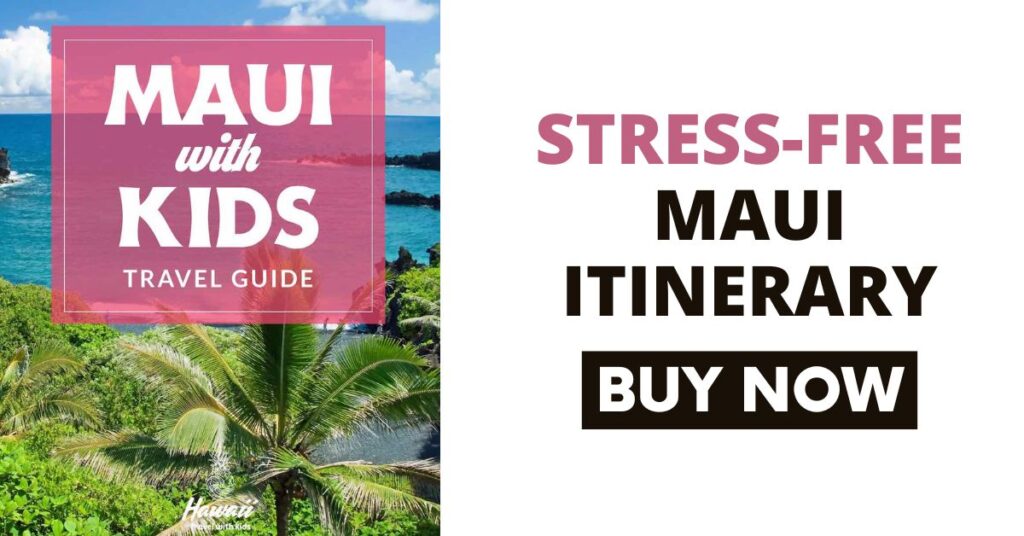 Inter-Island Flight
If you don't want to visit Lanai by boat, you can always take an inter-island flight from Maui to Lanai. It's about a 25 minute flight with Mokulele Airlines, one of the top Hawaii inter-island airplane services.
You'll be in a small 10-passenger airplane for a no-frills flight to Lanai from Maui. The Mokulele Airlines terminal is at Kahului Airport, but it's about a 5 minute walk away from the baggage claim area.
How to Take the Ferry from Maui to Lanai
The most popular (and cheapest) way to visit Lanai from Maui is to take the ferry. So, I'll be sharing my top tips and tricks for taking the ferry from Maui to Lanai Island.
The first thing you'll need to do is take a look at the Maui ferry schedule to decide when you'd like to leave Maui and when you'd like to return.
I'd like to note that the Lanai ferry terminal is pretty far from Lanai City, so you'll need to reserve a taxi or rent a Jeep if you plan on exploring the island. The only thing within walking distance is the beach.
Ferry Schedule from Maui to Lanai
Typically, visitors will leave Lahaina in the morning and return in the early or late afternoon. The ferry leaves Lahaina at the following times:
6:45 a.m.
9:45 a.m.
1:00 p.m.
4:00 p.m.
Ferry Schedule from Lanai to Maui
Usually, visitors will do either a half-day or full day in Lanai. The ferry leaves Lanai at the following times:
8:15 a.m.
11:15 a.m.
2:30 p.m.
5:30 p.m.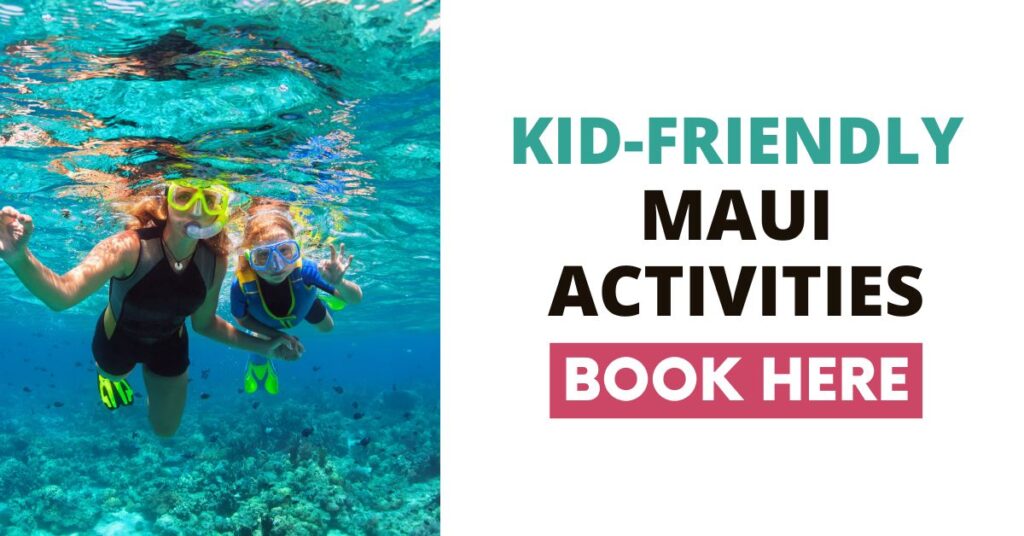 Where to Book Your Maui Ferry Tickets
If you know you'd like to visit Lanai, I recommend booking your Maui ferry tickets at least a month in advance. It's a really small ferry and sometimes they book up quickly for the most desirable times.
Where is the Maui Lanai Ferry Located?
On the Maui side, you'll head to Lahaina Harbor. There are a bunch of boat tours that leave from Lahaina Harbor, but you'll be looking for the Expeditions ferry signs. They are easy to spot.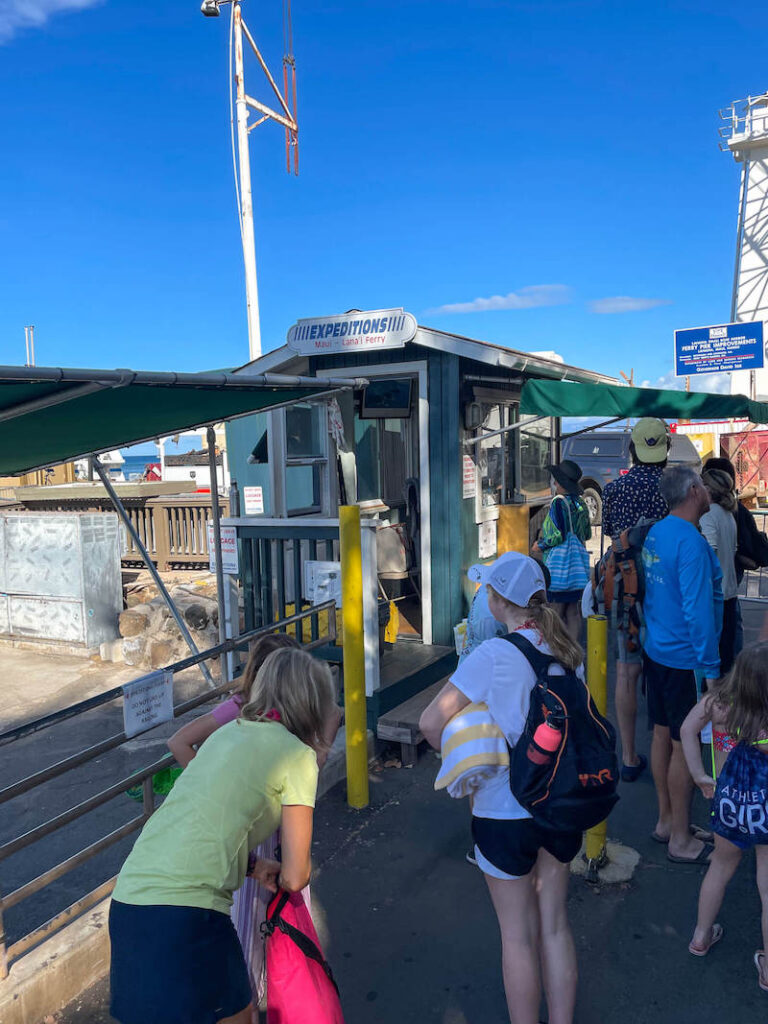 Where can you park in Lahaina?
There are actually several public parking lots in Lahaina near the Lahaina Harbor. These are paid lots. We paid $25 total for 10 hours of parking in the lot with the big blue sign that says Public Parking.
Parking in Lahaina can be tricky so remember to give yourself extra time so you aren't scrambling.
Arrival at the Maui Ferry Terminal
When I booked my ferry tickets, they told me to arrive 30 minutes before our ferry time in order to get checked in and hop in line. I'm so glad we did because the line gets long and there are limited outdoor seats.
Maui to Lanai Ferry Time
Our ferry ride took about 50 minutes to get from Lahaina to Manele Harbor on Lanai. Since we went in March, it was prime whale watching time and we saw SO many. It was basically a super cheap Maui whale watching tour!
Arrival on Lanai
Once we docked, the crew unloaded the people on the lower level first and then the upper level. It was really easy to walk off the ferry with our bags and we headed out to do a 4×4 Jeep Tour of Lanai with a guide.
Lanai Ferry Terminal
This is a very small ferry terminal. There are some public restrooms located there as well as a small snack shop.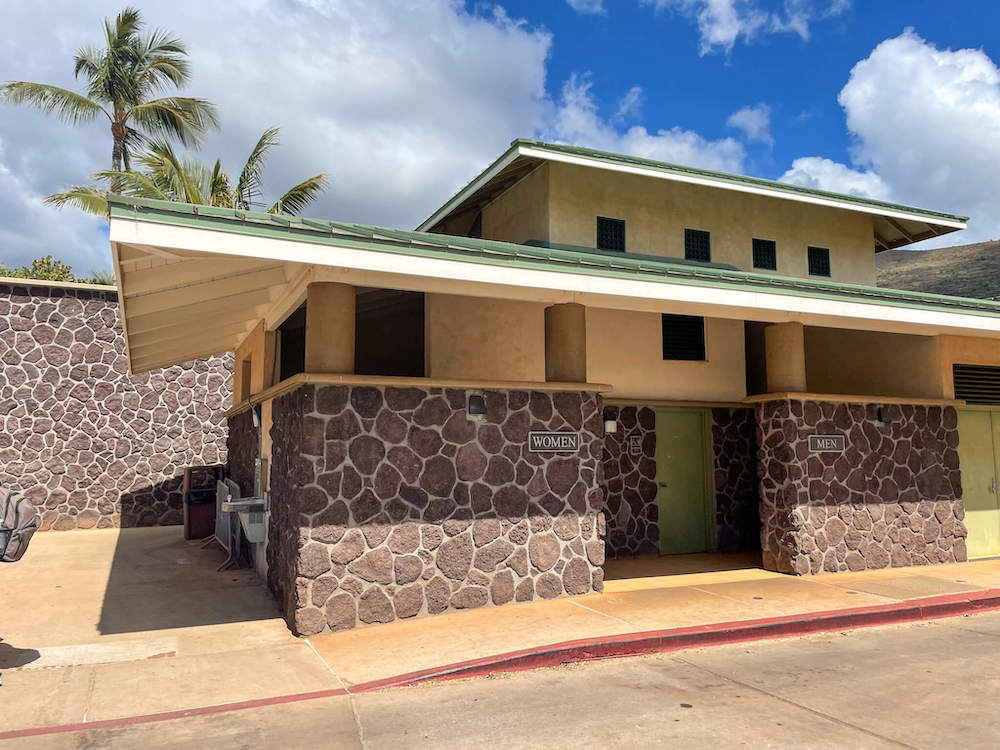 We noticed that the snack shop was open when we arrived around 10:45am, but it was closed by then time we went back to the terminal around 5pm.
There are very few public restrooms on Lanai (especially if you are driving around) so I highly recommend that you take advantage of the facilities as soon as you disembark.
Things to do on Lanai for the Day
I think it's super important to think about what you actually want to do on the island. That will help you figure out how long to stay.
If you are taking the 9:45 a.m. ferry from Lahaina, you probably will be ready to go back around 2:30 p.m. if you are just hitting the beach or going to town.
Beach
If you aren't planning on renting a car or going into town, you'll probably want to hit the beach. Hulopoe Beach is about a 10 minute walk from the Manele ferry terminal. This is a pretty nice beach park that goes part way in front of the Four Seasons.
What's great about this beach is that there are restrooms so it's easy to change out of your wet swimsuit for the ferry ride back to Lahaina.
Walk Around Lanai City
Another option is to hire a taxi to take you up to Lanai City (which is about a 20 minute drive). I supposed someone could walk (it would take 3 hours) but it's all uphill. We didn't see anyone walking it when we were there.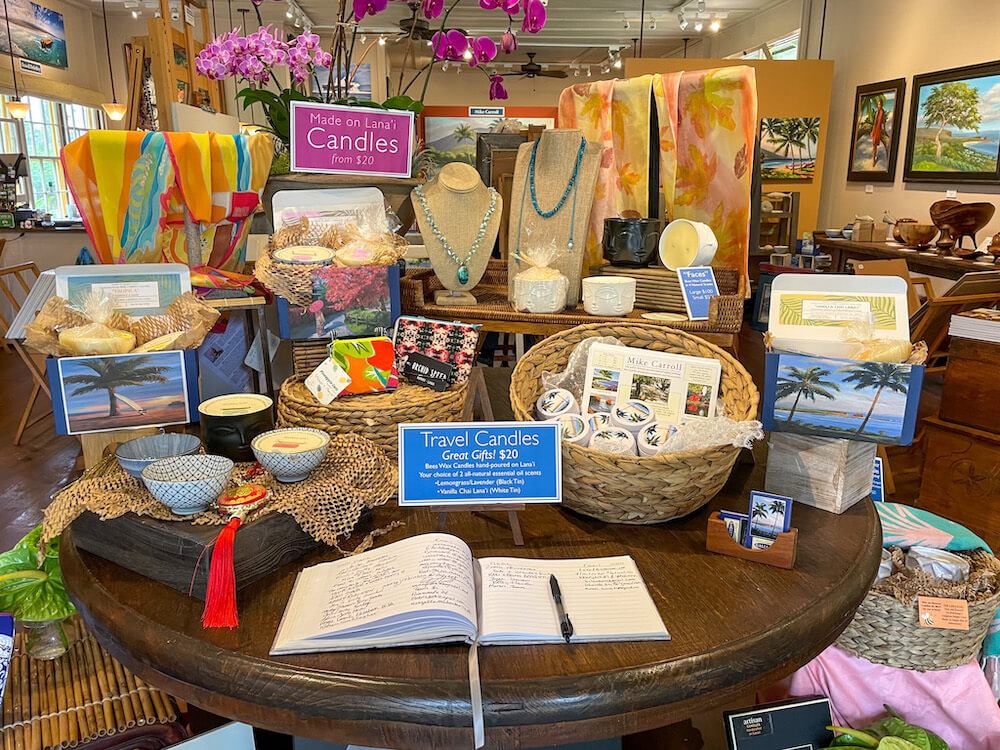 Lanai City is basically a giant grassy square park with little shops, restaurants, grocery stores, and businesses dotted around the square.
Most of these stores are actually operating out of a little plantation style house. Some are actual plantation homes while others are modern replicas.
I'm not joking when I say that you can walk around the entire town in about 20 minutes.
Lana'i Cat Sanctuary
Surprisingly, one of the most popular things to do on Lanai is visit the Lana'i Cat Sanctuary. This is where you can snuggle with more than 600 rescued cats or even adopt one to take home.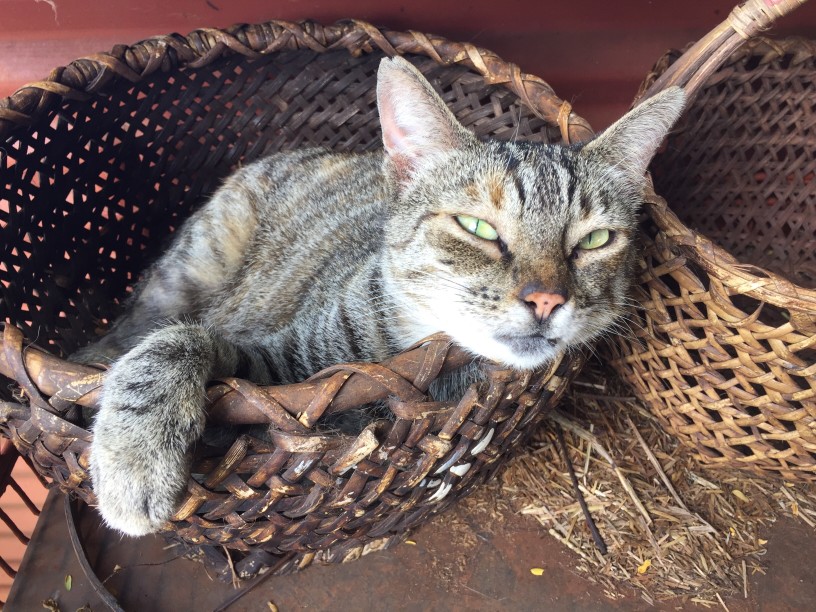 You don't need an appointment or anything. They do have some snacks and drinks to purchase if you want to make a whole day out of it.
If this is at the top of your list, they actually have a shuttle that will take you from the ferry terminal to the Lana'i Cat Sanctuary.
4×4 Tour of the Island
If you're really interested in exploring Lanai, I suggest booking a 4×4 tour of the island with a local guide. That's what we did on our most recent trip to Lanai and it was awesome!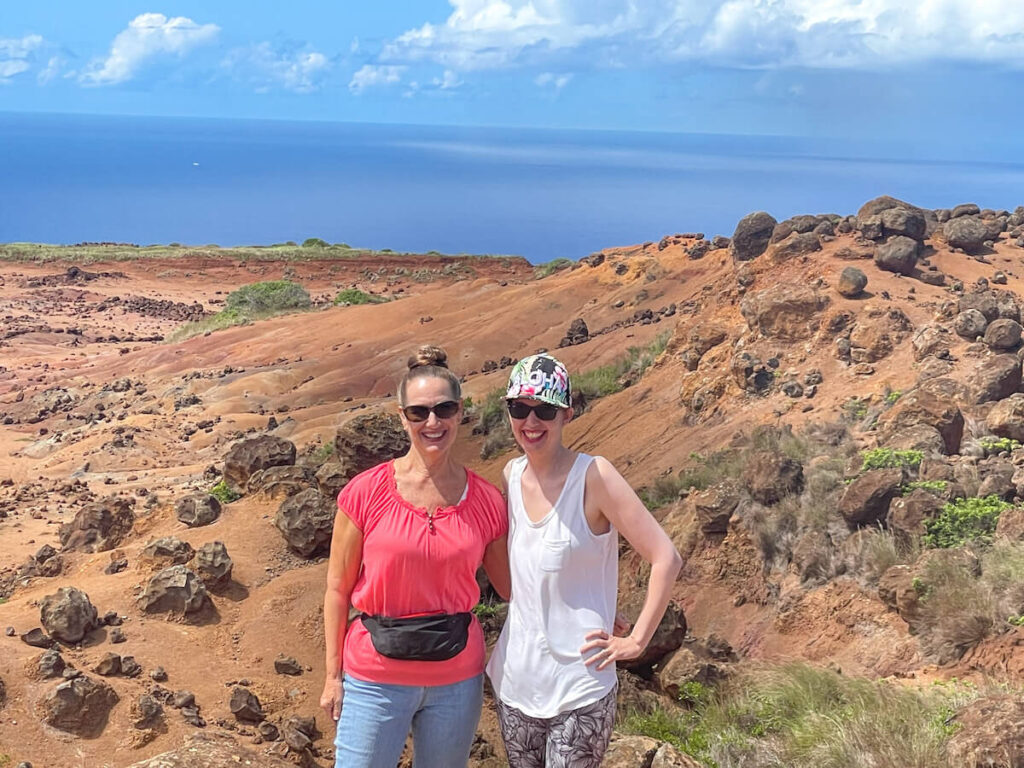 Basically, our guide Bruce drove us all over the island (Garden of the Gods, Shipwreck Beach, Lanai City, and tons of other places). Along the way, he talked about his own experience living and raising his son on this rural island.
We were the only people on the tour so we were able to suggest where to go and stay as long as we wanted some places. Check the latest prices and availability.
Tips for Taking the Ferry from Maui to Lanai
Restrooms
There are public restrooms located at both the Maui ferry terminal as well as the Lanai ferry terminal. And there is a restroom on board the Expedition ferry.
Food Options
From the Lahaina Harbor, it's easy to walk over to Whaler's General Store to get some snacks and drinks to bring with you on the ferry.
Once you arrive in Manele Harbor, you can pick up additional snacks and drinks at the shop there or pick something up in Lanai City.
What to Wear
For the ride over in the morning, you'll want to make sure to wear sunscreen and wear comfortable clothing as well as a hat and sunglasses.
For the ride back, you might want long pants and a sweatshirt.
Do You Need Motion Sickness Medicine?
I took a Bonine before the trip because we were going in March (a winter month) where the waves are usually choppy. However, we had a really smooth ride over to Lanai.
I've heard that morning time is usually really calm water but the afternoon ride back can be bumpier. This was definitely our experience.
Where to Sit
You'll definitely want to line up early so you have a shot of getting the upper level outdoor seating. Ideally, you'll find seats on the right side of the boat so you can look for whales (in the winter) or dolphins.
The Highlight of This Maui to Lanai Ferry Ride and What You Should Look Out For
Since we went in the middle of whale watching season, our entire boat ride (both ways) was us basically just keeping our eyes peeled for whales jumping. And we saw SO many!
It was also really gorgeous to see the coastlines of Maui and Lanai as we trekked across the channel.
We were really lucky that the water was smooth. My aunt did it a few years ago and the water was super choppy and she felt so sick.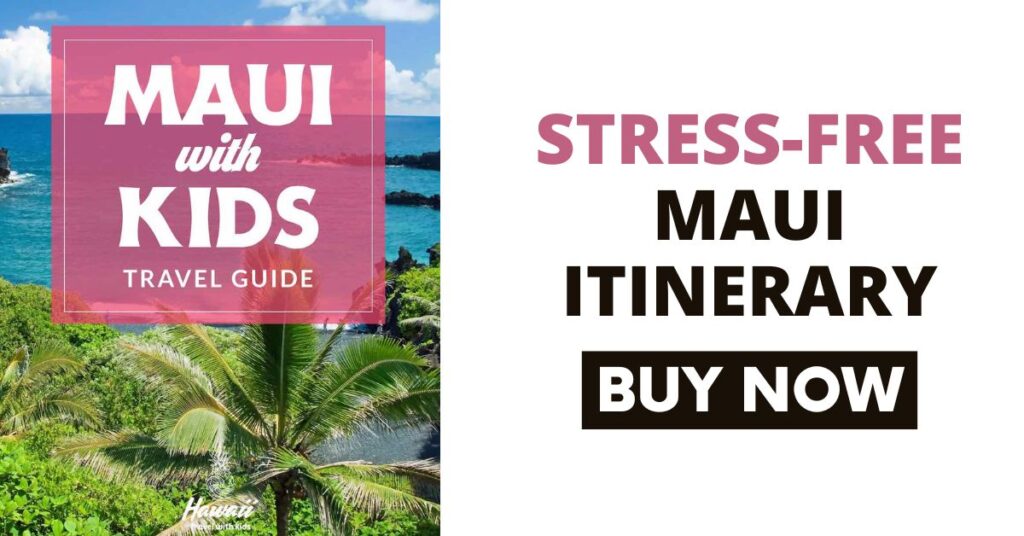 So, is the Lanai Ferry from Maui Worth It?
Yes! It's such an easy and affordable way to island hop in Hawaii. It makes an awesome day trip or even overnight adventure. Plus if you are going in winter, it's the cheapest Maui whale watching tour!