Are you interested in the most secluded, relaxing, and rejuvenating vacation ever and wondering where to stay on Lanai Island? Check out these 6 Budget-Friendly Stays on Lanai, keep scrolling down for all the info!
This budget-friendly places to stay on Lanai post contains affiliate links which means if you purchase something from one of my affiliate links, I may earn a small commission that goes back into maintaining this blog.
Have you heard of the island without a traffic light? If so, did you know it's part of Hawaii?
The island of Lanai is just such an island, with only 140 square miles of land, one town, one school, and one hospital.
The nickname for Lanai is "Pineapple Island" due to the use of the island as a Dole pineapple plantation for many years.
Lanai City is the only town of any size on the island, and many roads require the use of a four-wheel-drive vehicle to access.
The benefit of visiting Lanai is the ability to completely immerse yourself in the beauty and tranquility that is the smallest inhabited island in Hawaii.
You won't be bothered by hordes of other people on the trails, and you won't have to wait in line to get to a beach parking lot.
Lanai is the perfect opportunity to unplug, unwind, and just sink into island life.
Hubby and I have been looking for a solo (no boys!) trip we could take to celebrate our upcoming anniversary next summer, and I have been dropping hints about Lanai for a few months now!
Hubby does not love crowds but loves the ocean, white sand beaches, and relaxing by the pool.
I have been looking for a rental or resort that combines all of his favorite things and adds in my favorite – finding a deal!
Working within a budget does get tricky on Lanai.
The lack of opportunities means that owners and resorts can charge pretty much what they want, and usually get it.
With that in mind, I did have to adjust my budget a bit – and aimed for under $300 per night as opposed to under $200 or even $150 on other, larger islands.
Please don't let my time researching be in vain! Learn from and use my list of 6 Budget-Friendly Stays on Lanai!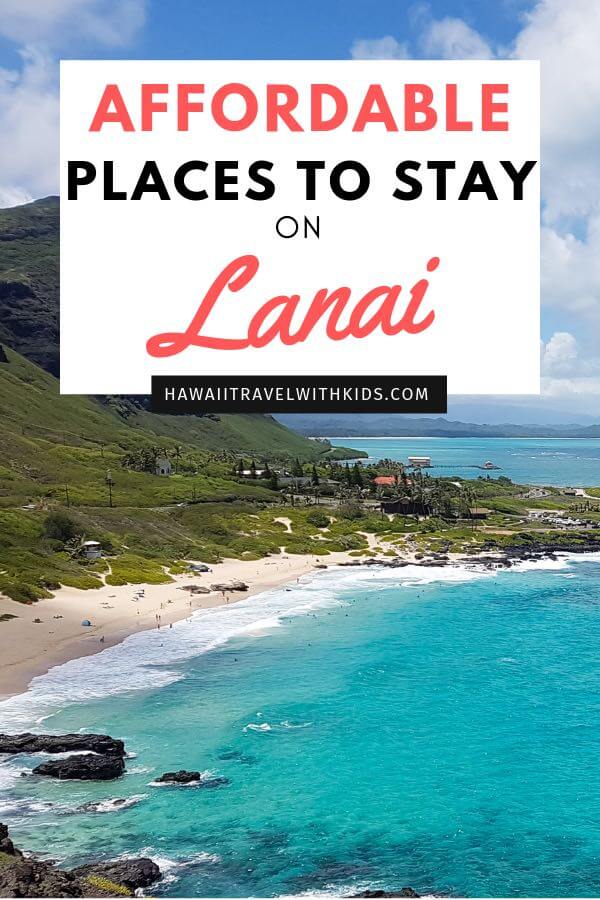 Lanai Travel FAQs
Is Lanai worth visiting?
Absolutely! Whether you are looking for a fun day trip or a secluded getaway, Lanai is a stunning island where you can truly unplug.
Which is better Lanai or Molokai?
Lanai has some incredible snorkeling and diving options, while Molokai is famous for the Kalaupapa National Historic Park.
Do you need to rent a car on Lanai?
Yes. There is a small shuttle on the island, but you'll definitely need a car if you want to get out and explore on your own.
Where to Stay on Lanai Island? 6 Top Cheap Places
Affordable Lanai Resorts
828 Lanai Ave, Lanai City, HI 96763
(808) 565-7211
When the "budget" hotel on the island has rooms for over $1000 per night, what does that tell you about the "luxury" option??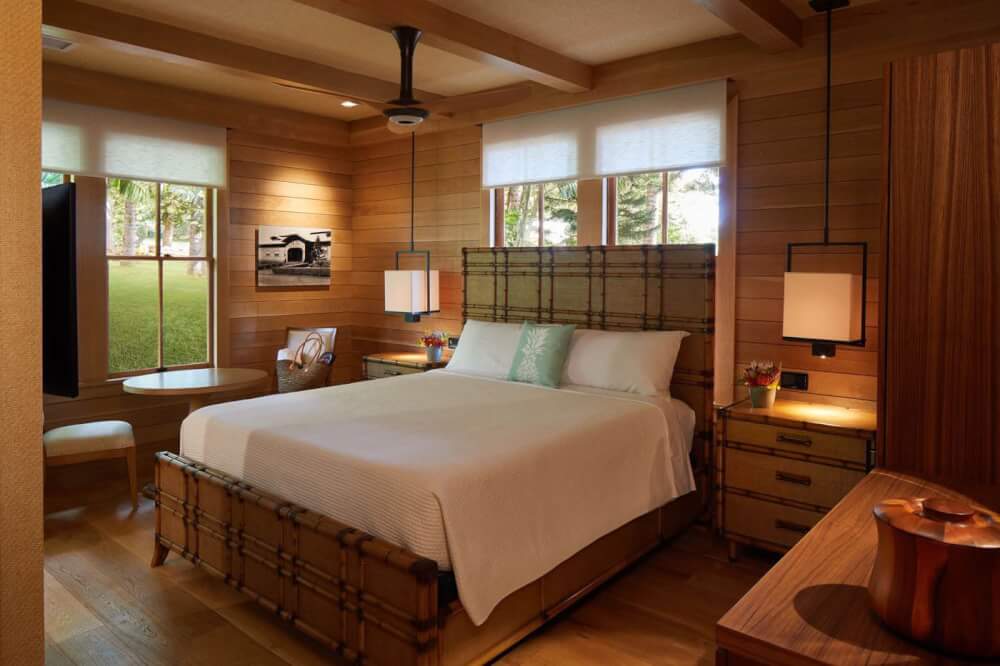 Luckily, Hotel Lanai is worth the "budget" and more!
Garden rooms can be booked for $285 a night, and come with so many "extras" that you will forget there's even a different option in town! Check out the latest prices and more details.
There are only 10 rooms in this hotel, and each of them comes with complimentary breakfast at Lanai City Bar and Grille every morning.
Your options range from the Garden Room to a Deluxe Garden Room, to a Lanai room, each with its own pricing.
There is also a cottage available for those of us who would like to live like a Dole Plantation owner – in high style!
From Hotel Lanai, you can book any activities you may like to take advantage of.
Snorkeling, scuba diving, four-wheeling, horseback riding, and even archery can all be booked at a moment's notice by the front desk staff.
If you are looking for a wonderful stay and money well worth it, this is your place!
Lanai Rentals
Don't discount Airbnb due to its popularity! You can often find great deals on rentals via this newer platform.
Mauka Hale – Charming 2 Bedroom Plantation Home
Lanai City, Hawaii
If the pictures of this adorable home in Lanai City are even 50% true, this would be a wonderful place to stay!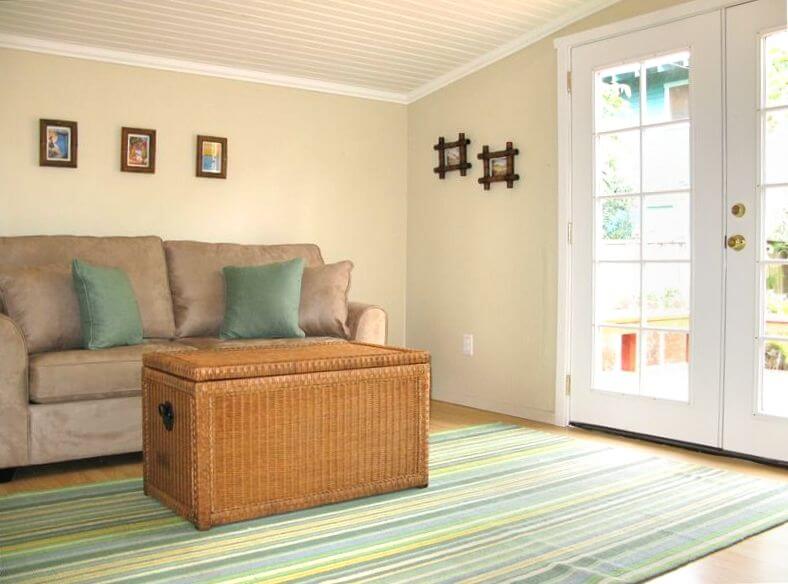 Mauka Hale boasts all brand-new furniture, including new mattresses! The beautiful kitchen is only overshadowed by the gorgeous landscaping outside – with a grill/patio to enjoy!
The owners also consider their guests' needs by providing any and all beach accessories you might need.
If they thought of that, I feel pretty confident that they thought of other things as well!
Book today – at $195 per night, I'm sure openings don't come around very often!
Lanai City, Hawaii
This two-bedroom, two-bath home in the heart of Lanai City would be perfect for a family vacation.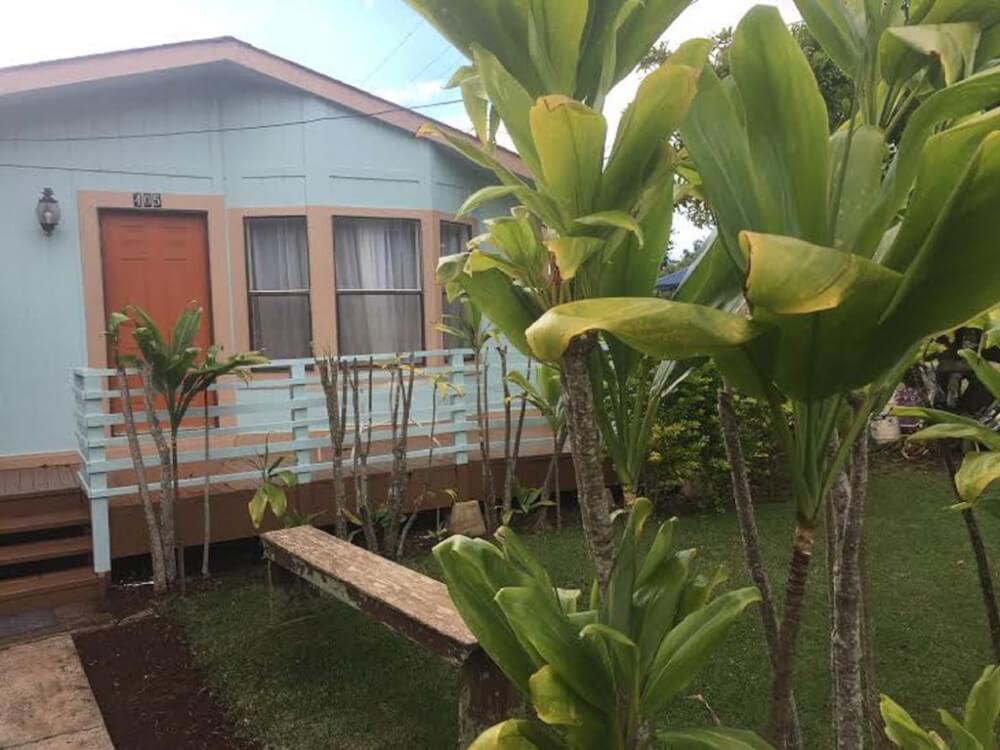 This Plantation Style Home looks just like the home of your favorite Hawaiian Aunty or Grandma, and is sure to be a comfortable and relaxing stay for all.
At $195 per night, this home has everything a family could need, and more!
For the chance to be this close to all the beauty that Lanai has to offer, that is a great deal!
House in Lanai City
Lanai City, Hawaii
If you are looking for a long-term rental in the middle of Lanai City, you have found it.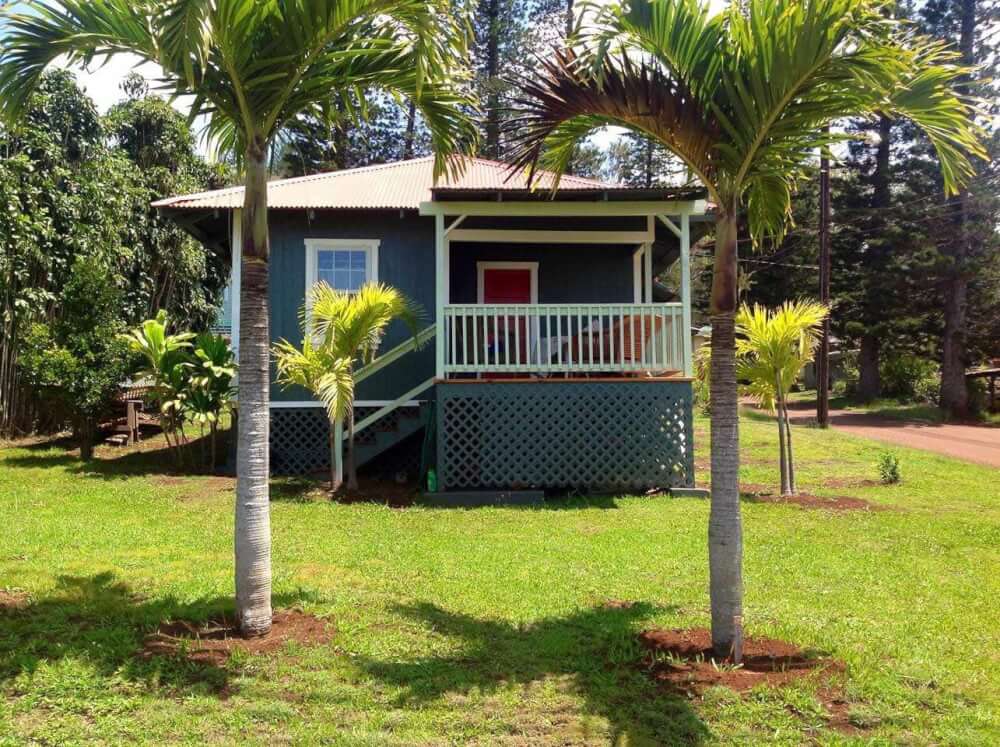 House in Lanai City is only available as a long-term rental, but at $89 per night, it is the least expensive rental on Lanai.
You have the entire re-done plantation cottage property to yourself, and are only a block from all that downtown Lanai City has to offer.
If you need a place to stay for longer than a week – check this place out!
Lanai City, Hawaii
Lanai Hale can sleep up to 5 guests and is located in the middle of Lanai City.
The full kitchen, washer/dryer, and parking spaces put this cottage at the top of my list – I HATE coming home with dirty laundry!
This rental is $175 per night, which is actually on the low side for Lanai. Seclusion comes at a cost!
Live like a local in this truly Hawaiian Lanai City rental!
Lanai City, Hawaii
I am SO stinking excited about this rental!
This 3 Bedroom Plantation Home has a gorgeous recently re-done kitchen, with full-size versions of everything you might need to feel like you're home!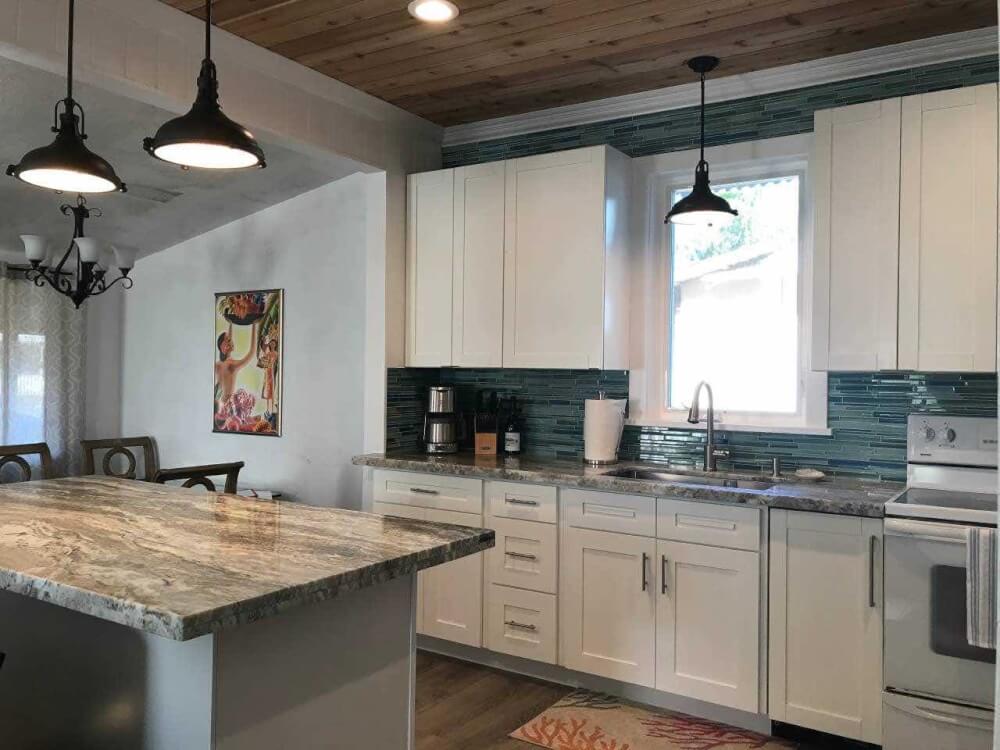 This home comes with ample seating in the living room, and no less than 3 queen-sized beds.
At $225 per night, you could split this three ways with two other couples, and have a screaming deal!
Or, you could have the whole house to yourself and choose a different room each night – up to you!
Whatever you choose to do, you will love this rental in the heart of Lanai City!
There is a reason that Lanai is more expensive and harder to book lodgings on than any other Hawaiian Island – and the size is only part of it.
Lanai, like Molokai, has the attraction of a Hawaii that has been lost to the decades.
Tourism is almost non-existent, and if you want to stroll down the street, you will be greeted with welcoming smiles and handshakes.
The Hawaiian Hospitality is alive and well on Lanai!
I hope you saw something that made you excited and give you ideas on where to stay on Lanai Island!