Are you interested in the most secluded, relaxing, and rejuvenating vacation ever and wondering where to stay on Lanai Island? Check out these 6 Budget-Friendly Stays on Lanai; keep scrolling down for all the info!
This budget-friendly places to stay on Lanai post contains affiliate links which means if you purchase something from one of my affiliate links, I may earn a small commission that goes back into maintaining this blog.
Have you heard of the island without a traffic light? If so, did you know it's part of Hawaii?
The island of Lanai is just such an island, with only 140 square miles of land, one town, one school, and one hospital.
The nickname for Lanai is "Pineapple Island" due to the use of the island as a Dole pineapple plantation for many years.
Lanai City is the only town of any size on the island, and many roads require the use of a four-wheel-drive vehicle to access.
The benefit of visiting Lanai is the ability to completely immerse yourself in the beauty and tranquility that is the smallest inhabited island in Hawaii.
You won't be bothered by hordes of other people on the trails, and you won't have to wait in line to get to a beach parking lot.
Lanai is the perfect opportunity to unplug, unwind, and just sink into island life.
Hubby and I have been looking for a solo (no boys!) trip we could take to celebrate our upcoming anniversary next summer, and I have been dropping hints about Lanai for a few months now!
Hubby does not love crowds but loves the ocean, white sand beaches, and relaxing by the pool.
I have been looking for a rental or resort that combines all of his favorite things and adds in my favorite – finding a deal!
Working within a budget does get tricky on Lanai.
The lack of opportunities means that owners and resorts can charge pretty much what they want, and usually get it.
With that in mind, I did have to adjust my budget a bit – and aimed for under $300 per night as opposed to under $200 or even $150 on other, larger islands.
Please don't let my time researching be in vain! Learn from and use my list of 6 Budget-Friendly Stays on Lanai!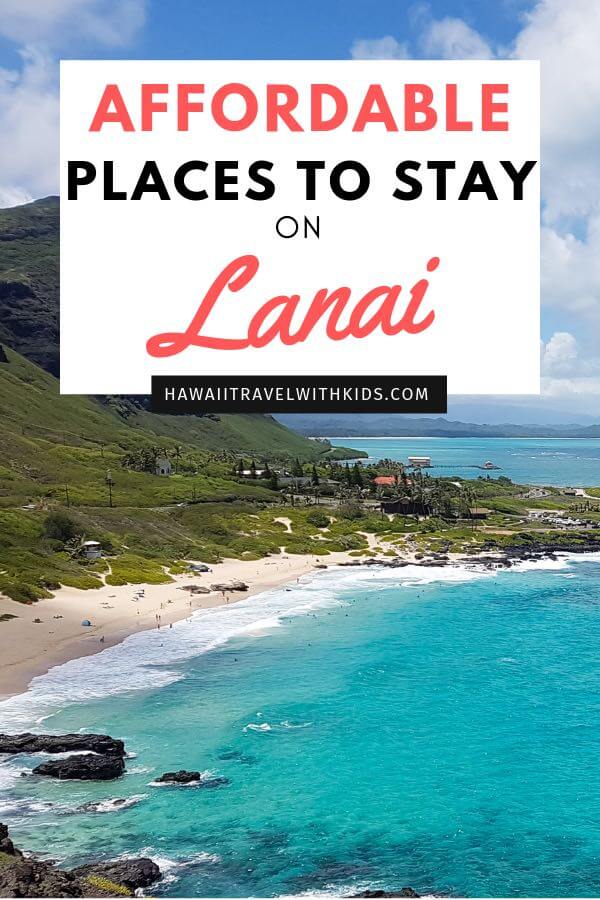 Where to Stay on Lanai Island? 6 Top Cheap Places
If you are looking for where to stay on Lanai, HI, here are some of the best places you'll find!
Affordable Lanai Resorts and Hotels
Most of the resorts in Lanai, Hawaii, are very expensive. Here are some of the best hotels in Lanai, Hawaii, that are both affordable and amazing!
828 Lanai Ave, Lanai City, HI 96763
(808) 565-7211
When the "budget" hotels in Lanai Island has rooms for over $1000 per night, what does that tell you about the "luxury" Lanai Hawaii resorts??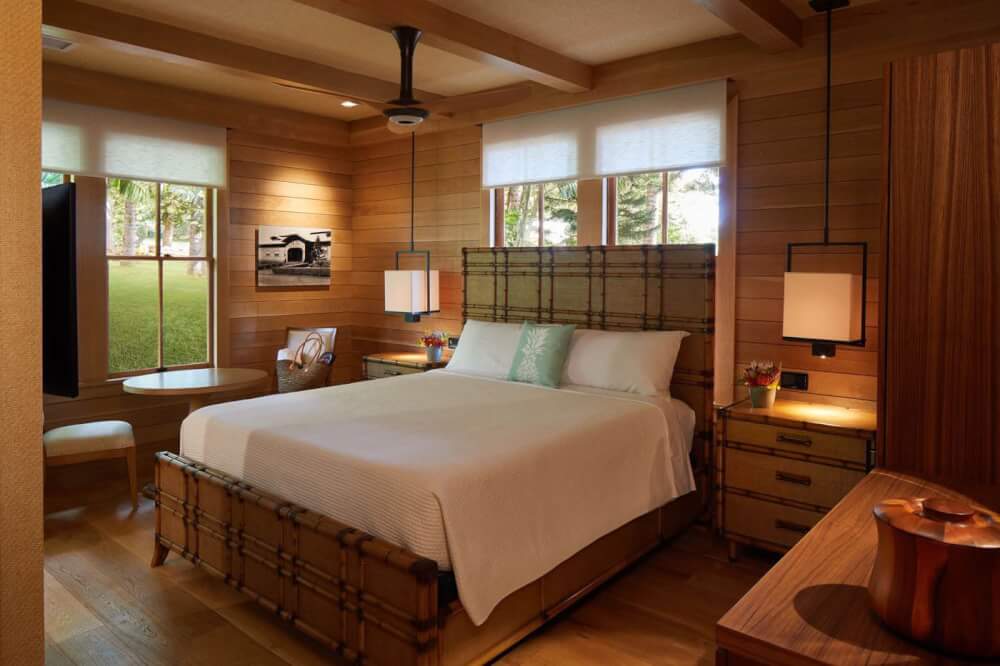 Luckily, Hotel Lanai is worth the "budget" and more and is one of the best hotels on Lanai!
Garden rooms can be booked for $330 a night and come with so many "extras" that you will forget there's even a different option in town! Check out the latest prices and more details.
There are only 10 rooms in this hotel, and each of them comes with complimentary breakfast at Lanai City Bar and Grille every morning.
Your options range from the Garden Room to a Deluxe Garden Room to a Lanai room, each with its own pricing.
There is also a cottage available for those of us who would like to live like a Dole Plantation owner – in high style!
From Hotel Lanai, you can book any activities you may like to take advantage of, making it another one of the top Lanai hotels.
Snorkeling, scuba diving, four-wheeling, horseback riding, and even archery can all be booked at a moment's notice by the front desk staff.
If you are looking for a wonderful stay and money well worth it, this Lanai City hotel is your place!
Save Money with Points
Here are the best credit card offers for families who travel and want to use points to pay for airfare and hotels in Hawaii.
Lanai Rentals
While there are a few Lanai Island hotels, there are some more vacation homes to enjoy on the island too.
Don't discount Airbnbs or VRBOs due to their popularity! You can often find great deals on rentals via these newer platforms.
Here are some of the best places to stay in Lanai, Hawaii, other than the Lanai Hawaii hotels!
Plantation Style Home in Lanai City
Lanai City, Hawaii
This two-bedroom, two-bath home in the heart of Lanai City would be perfect for a family vacation.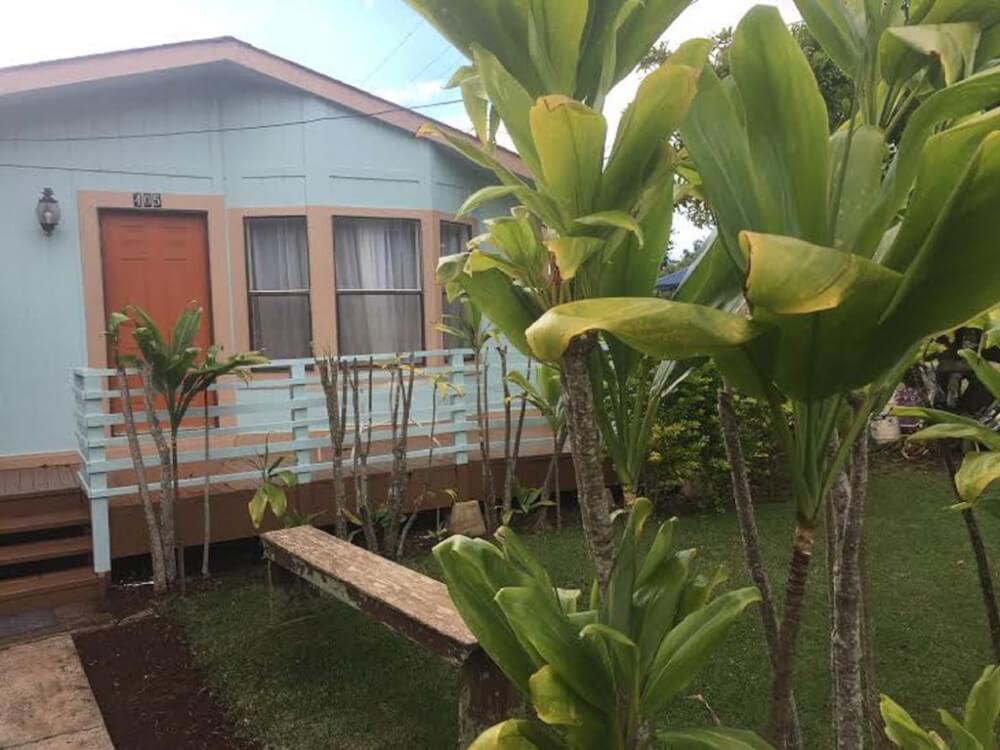 This Plantation Style Home looks just like the home of your favorite Hawaiian Aunty or Grandma and is sure to be a comfortable and relaxing stay for all.
At $235 per night, this home has everything a family could need and more!
For the chance to be this close to all the beauty that Lanai has to offer, is a great deal!
Lana'i Paradise Getaway
This Lanai Paradise Getaway offers two bedrooms with one queen bed and two twin beds, perfect for a family.
From a kitchen to laundry options, this truly is the best place to stay for a family trip to Lanai!
It averages about $295 per night and is super close to the city center, so you can enjoy all the things to do in town too.
3 Bedroom Home in Lanai City
If you will be staying with a larger family or a group, this 3 bedroom home is perfect for you. Everything is updated for you to enjoy.
Here you will find mountain views from the windows, a kitchen, a heated outdoor pool, two bathrooms, and extra water gear for fun activities.
You are located near Hulopoe Bay, where you can enjoy the Pacific Ocean. Since you are so close to the city, breakfast, and dining options are close to you as well!
Prices are around $389 per night, which is not bad for a large home that is very convenient. It will make for a great stay.
The Artist's House
The Artist's House is a bit pricey at $403 per night, but it is a little two-bedroom house that is the perfect getaway place to enjoy.
There is plenty of indoor and outdoor spaces that guests will love. Each room has its own bed, so it's great for families looking to stay in Lanai.
Because it is centrally located, you are close to the Manele golf course, the community pool and fitness center, and of course, the Pacific Ocean to enjoy whenever you want!
Manele Bay 2-Bedroom Home
On the southeastern coast, stay in Lanai at this 2-bedroom home. While it is not considered one of the "cheap" places to stay on Lanai, it is a lot cheaper than the Four Seasons Resort Lanai offers, so I figured I would include it.
One thing that makes this one of the best Lanai accommodations is that a Hummer H3 is included with your stay! That means you can enjoy places that require a 4-wheel drive during your stay in Lanai!
This is a 2 bedroom, 2 bathroom home that offers free wifi, a washer/dryer, air conditioning, and a beautiful ocean view.
This home in Manele Bay is close to the Manele golf course and offers exceptional island hospitality during your stay. It is also close to Hulopoe Bay, where you can go snorkeling or spend your days lounging on the relaxing beach.
Here you will get an outdoor shower, a large outdoor terrace, a fully equipped kitchen, air conditioning, and so much more.
While there are not really any affordable resorts in Hawaii on this island, this is the most affordable option and is right next to the Four Seasons Resort Lanai.
Lanai Travel FAQs
Is Lanai worth visiting?
Absolutely! Whether you are looking for a fun day trip or a secluded getaway, Lanai is a stunning island where you can truly unplug.
Which is better Lanai or Molokai?
Lanai has some incredible snorkeling and diving options, while Molokai is famous for the Kalaupapa National Historic Park.
Do you need to rent a car on Lanai?
Yes. There is a small shuttle on the island, but you'll definitely need a car if you want to get out and explore on your own.
Is it worth staying in Lanai?
It is nice to stay in Lanai for a day or two to enjoy all the scenic spots located all over the island!
How many days should you stay on Lanai?
If you can, a few days of lounging and enjoying all this island has to offer will be perfect for travelers. It is even the perfect place for a day trip from Maui!
Is Lanai walkable?
You can walk around Lana'i City Center and explore this area. You will find restaurants, Lanai Cat Sanctuary, the Mike Carroll Gallery, Manele Harbor, and many other cool places to enjoy.
Can you stay on Lanai?
Yes there are many places to stay on Lanai Island the entire family will love. From the Four Seasons Resort Lanai (used to be called the Manele Bay Hotel) to other Lanai hotels and vacation home rentals, you won't have a problem finding lodging on Lanai.
How to say Lanai?
You pronounce it as Luh-nai.
How to fly to Lanai?
You can fly from any of the Hawaii islands to Lanai, or you can take the ferry from Maui.
How to get around Lanai?
You will want to get a rental car to get around Lanai and explore all that is available on this island. There are some shuttle services from Four Seasons Resort Lanai and some taxis, but no public transportation or Uber.
Lanai Where to Stay Wrap Up
There is a reason that Lanai is more expensive and harder to book lodgings on than any other Hawaiian Island – and the size is only part of it.
Lanai, like Molokai, has the attraction of a Hawaii that has been lost for decades.
Tourism is almost non-existent, and if you want to stroll down the street, you will be greeted with welcoming smiles and handshakes.
The Hawaiian Hospitality is alive and well on Lanai! There are no traffic lights on the island and only three paved roads, so travelers will have a great, tranquil stay in Lanai for sure!
While most hotels are located in Lahaina Town on Maui, there are a few good hotels on Lanai Hawaii that are affordable as well as many vacation homes to enjoy.
I hope you saw something that made you excited and gave you ideas on where to stay on Lanai Island!