Finding the right place to stay in Hawaii is crucial for a fun vacation. Let's break down the differences between renting a Hawaii vacation condo vs hotel. Scroll down for all the tips!
This hotels vs. condos post was written by Hawaii travel expert Marcie Cheung and contains affiliate links which means if you purchase something from one of my affiliate links, I may earn a small commission that goes back into maintaining this blog.
Booking a trip to Hawaii is full of big choices.
Which island do you want to go to? Now which part of the island? Finally, do you want to book a hotel or a condo?
This is no easy choice, and you definitely need to weigh the pros and cons of each.
Be sure to set a budget ahead of your trip; your choice of a hotel or a condo is a deciding factor for your budget and will impact your transportation costs, your food costs, and even the cost of your activities.
Here are all the pros and cons to determine if you want hotels or condos during your trip. Condos in Hawaii vary widely from single-family homes for VRBO vs hotel stays, so you will want to continue reading to know the difference!
Want to skip all the planning and just access my detailed Hawaii Itineraries complete with daily schedules, kid-friendly activities, and travel hacks? Click the button below.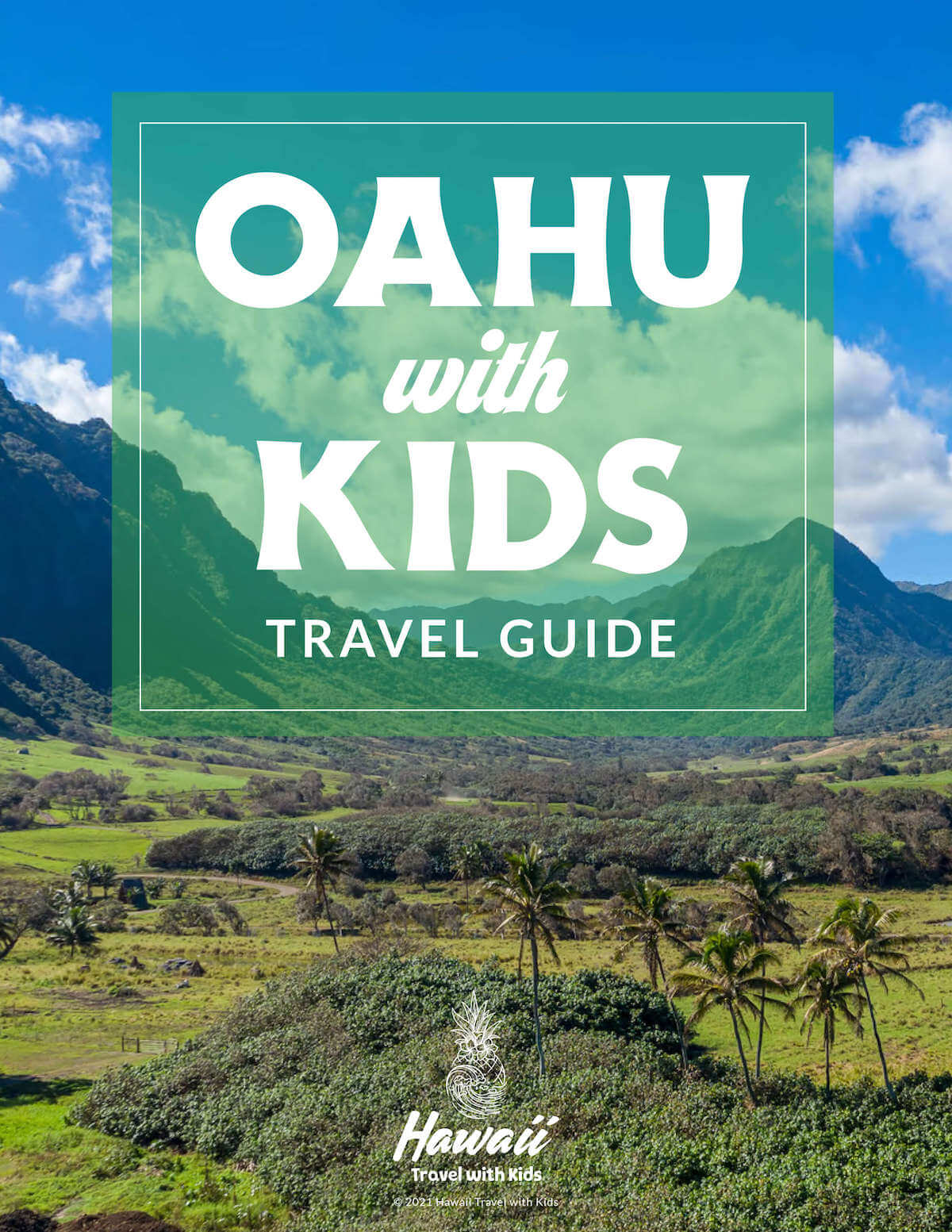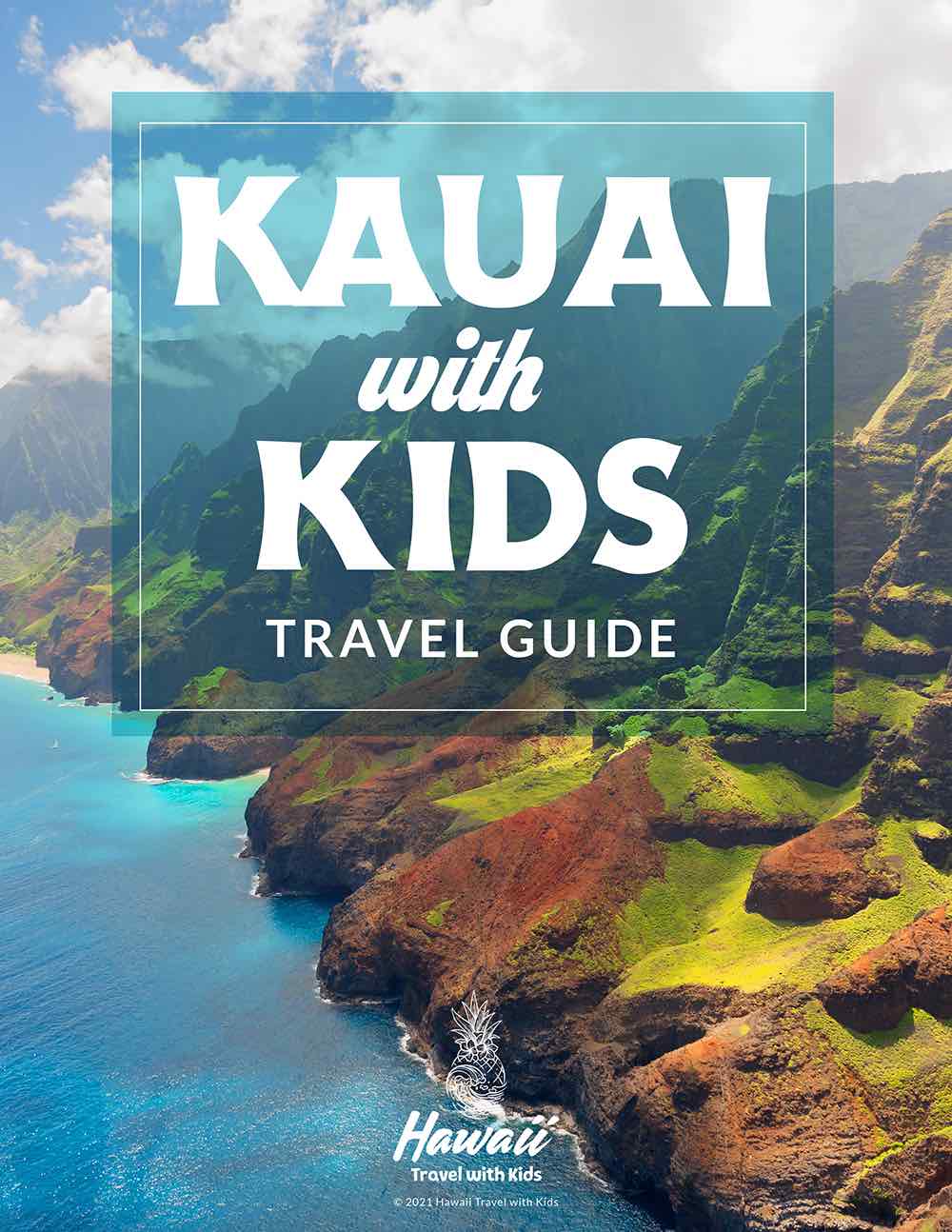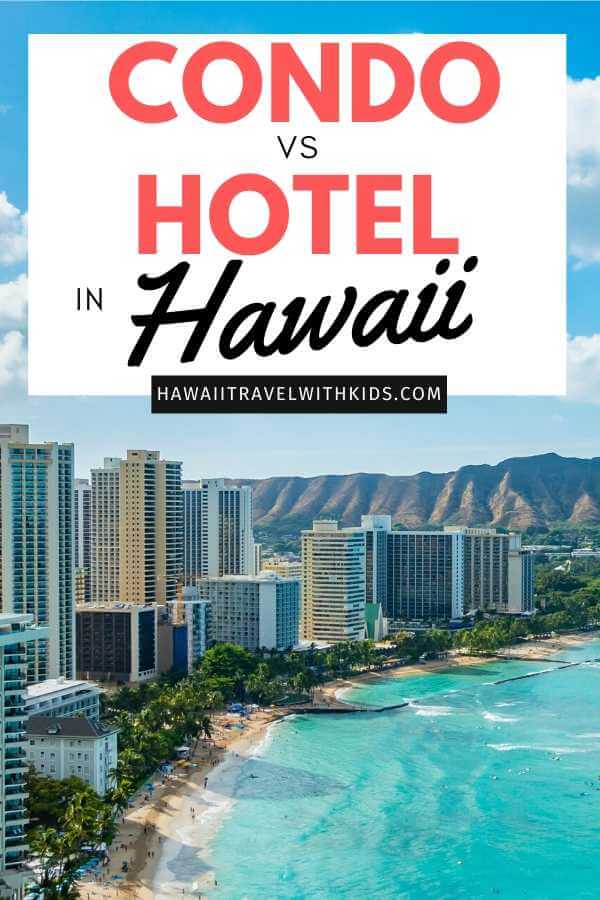 Why Book a Hotel in Hawaii?
Here are all the reasons why you will want to book a hotel during your trip. These are some of the pros for getting one or two hotel rooms during your trip!
HOTEL AMENITIES
One of the big pros of booking a hotel is the amenities that a hotel provides.
Many hotels have big pools, restaurants, bars, entertainment, spas, and kid's clubs all in one place.
In theory, because of the amenities provided, you can stay in one place for your entire stay.
It is important to remember that while these amenities are provided for guests, not all amenities may be included. For some hotels, there might not be a spa, or during peak season, the parking lot might be full.
Hawaii has no truly all-inclusive resorts on any of the islands, so using some amenities may incur an extra charge.
The key difference between a condo apartment vs hotel room is having the hotel staff to help you whenever you need. Even with condo-style hotels, you will still need to reach out to the unit owner when you need help with your condo hotels.
Save Money with Points
Here are the best credit card offers for families who travel and want to use points to pay for airfare and hotels in Hawaii.
LOCATION
Many, but not all, hotels are located in prime locations around Hawaii.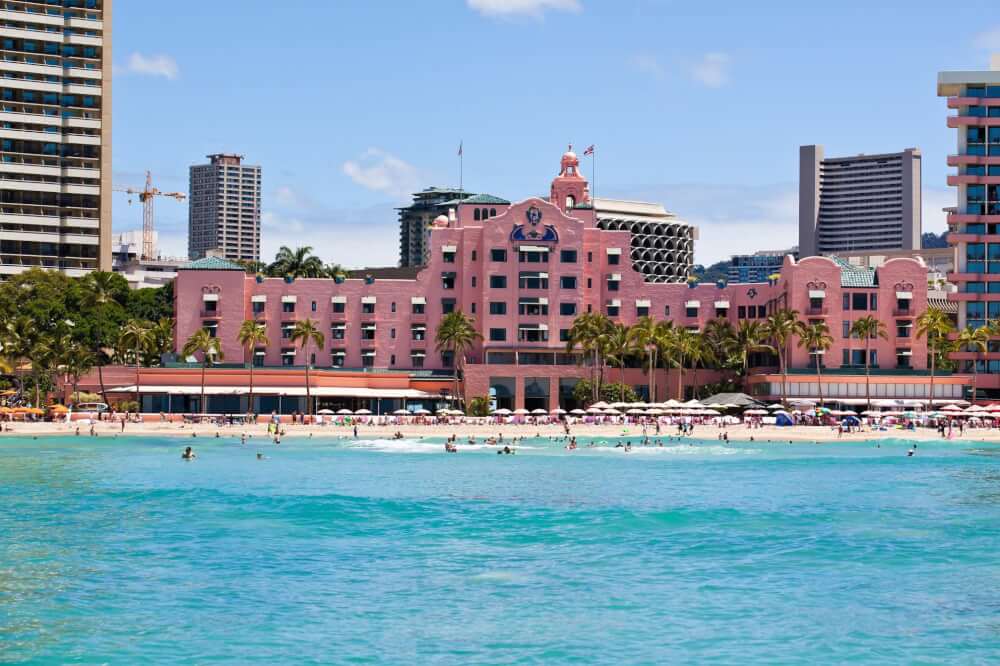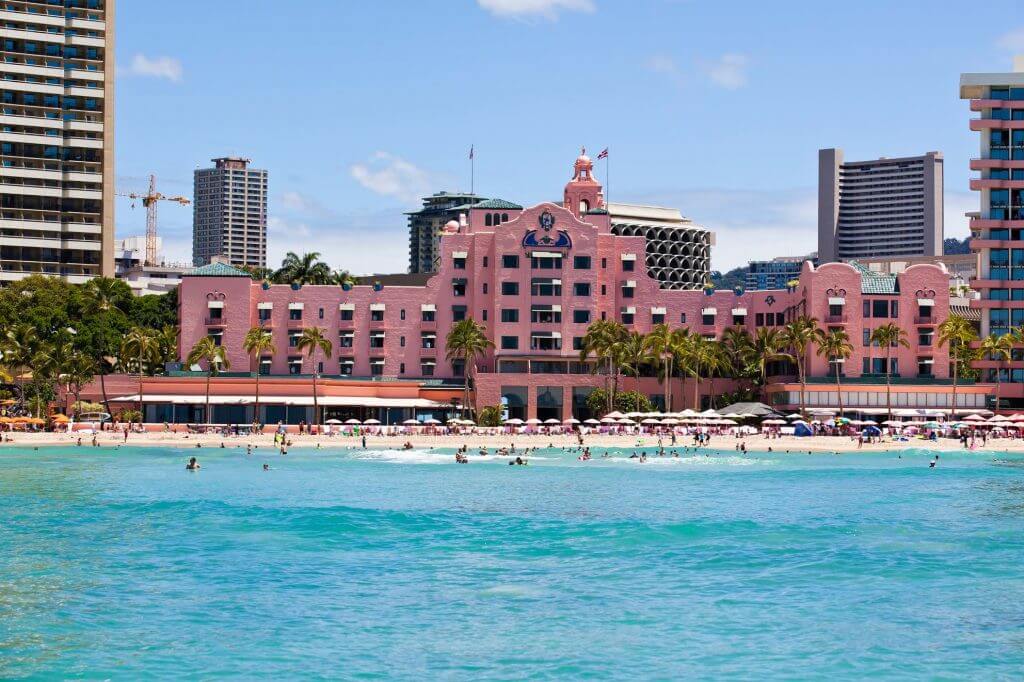 You will find that hotels often are on prime beachfront property with access to the beach and gorgeous ocean views.
Remember that all beaches in Hawaii are public, so the hotel does not own the beach in front of its property.
DAILY CLEANING
A big perk of staying in a hotel is not having to worry about any cleaning!
Often throughout your stay, if not daily, the hotel's cleaning staff will come in and make your bed and freshen up your towels and/or sheets.
You are able to truly enjoy your vacation without having to worry about the cleanliness of your room!
Cleaning is an extra fee when you book a Hawaii hotel condo or apartment, and only happens at the end.
Why Should You Reconsider Booking a Hawaii Hotel?
Here are the cons of staying in a hotel in Hawaii.
INCREASED FOOD COSTS
In general, hotel rooms do not have a kitchen. This means you will need to budget for all of your meals to be eaten at a restaurant.
Many hotels offer restaurants on-site, but they can get quite expensive.
For a large family, eating out in Hawaii can be very costly.
In choosing a hotel, pay attention to both the restaurants offered on-site or at neighboring establishments in order to create a food budget that will work for your family.
A HOTEL HAS ADDED FEES
The price you see for a hotel room may not be the price you end up paying at the end of your stay.
On top of the per-night room rate, hotels add on local and state taxes, resort fees, and potentially other fees.
Resort fees are generally per night and per room and can vary greatly by hotel.
These fees pay for your access to the hotel's amenities, mainly the pool, exercise rooms, and any activities included by the hotel.
Hotels also often charge a daily parking fee, which can add up quickly if you rent a car to see sites around the island.
At check-in, you can ask for the fees or call ahead to create your budget.
SMALL ROOMS
Room configurations do vary across hotels, but generally are one-bedroom and one-bath rooms with queens or king beds, and you can expect them to be on the smaller end.
Larger rooms can be available depending on the hotel but will increase significantly in cost with the addition of each bed.
For a large family, it may be necessary to reserve multiple bedrooms.
Why Book a Hawaii Vacation Condo?
Now, here are all the pros for booking a condo in Hawaii! Use this as your Hawaii condo guide to determine if a condominium hotel is right for you.
ABILITY TO COOK YOUR OWN MEALS
For the most part, condos include the use of a kitchen and the items that you would need to cook with.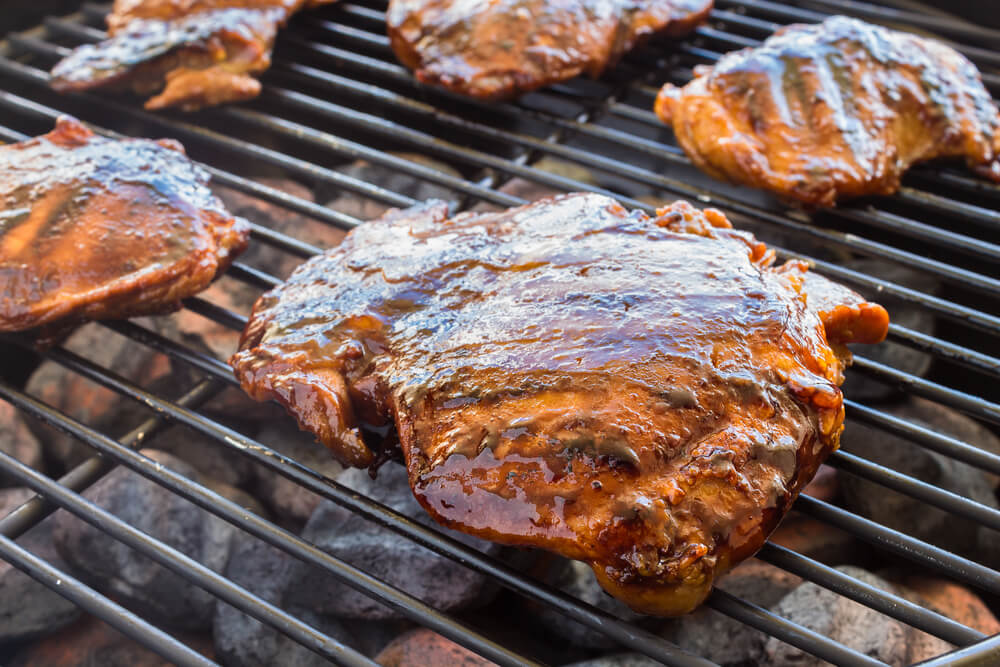 This allows you to cook the majority, or even all, of your meals rather than eating out. This alone can save a lot of money, especially if you have a larger family.
Many condo complexes also have communal grills outside to use, as well as one of the common areas you can enjoy when you rent a condominium unit.
Save money by cooking in Hawaii
EXTRA SPACE IN A CONDO
Hawaii has a variety of condo configurations that can fit small to large families.
Even a one-bedroom condominium would include a living space and a kitchen, giving more space than an average one-bedroom hotel room.
These extra couches and living spaces can allow for more people to join on a trip (assuming they would be okay sleeping on a couch!)
In some of the best condos in Hawaii, unit owners will make sure to have all the bedding you need and might even provide some cribs if needed too!
A HAWAII VACATION CONDO IS COST EFFECTIVE
While the per-night rate may be higher for a condo, there are fewer hidden fees associated with a condo than a hotel.
Many condos do not charge resort or parking fees.
The price you see when booking is more likely to reflect the final price that you pay, which is another pro for a condo hotel.
Why Should You Reconsider Booking a Hawaii Vacation Condo?
While a Hawaii condominium hotel might seem like a nice option, here are the cons to Hawaiian condo resorts you can rent.
LOCATION
Condo complexes are less likely to be located beachfront or close to a resort community.
You may need to drive from your condo to a town to take advantage of amenities such as restaurants or a grocery store.
Or, you may need to walk farther from your condo complex to the beach, especially if this is a single-family home you are renting.
When booking your condo, research the location and map out drive times to the areas you would be most likely to visit.
A VACATION CONDO HAS FEWER AMENITIES
In general, Hawaii condo vacation packages provide a pool for the guests to use. Often this pool is a basic pool and not as grand or flashy as many hotel pools.
To some families, a simple pool is just fine. Others may want the bigger pool with slides, etc.
Most of the time, you will also not find restaurants, spas, exercise rooms, kid's clubs, etc., at a condo complex.
If these amenities are an important part of your vacation, you may want to consider booking a hotel, as this is a pretty big difference.
YOU'RE IN CHARGE OF CLEANING YOUR CONDO
Once you check into your condo, for the most part, you are left on your own during your stay.
This means that you will often not have a cleaning service come in to wash towels or sheets or vacuum.
Many times, you will have a washer and dryer in your unit or complex to do your own laundry.
Some condos do arrange for a cleaner to come and do a short clean in the middle of your stay, but this is rare.
Save Money with Points
Here are the best credit card offers for families who travel and want to use points to pay for airfare and hotels in Hawaii.
Hawaii Condos vs Hotels FAQs
What is the best month to visit Hawaii?
For the best Hawaii travel deals and the mildest weather, plan on visiting Hawaii from mid-April to June or from September to mid-December. This is Hawaii's shoulder season, and it's usually less crowded.
How many days in Hawaii is enough?
Ideally, you'll want to spend 7-10 days in Hawaii, especially if you are sticking to one island. If you plan on island hopping, you'll want at least 5 days on each island.
Is it better to stay in a hotel or condo in Hawaii?
Hawaii condo rentals are nice for long-term stays, while hotel rooms are better for short-term stays. Most condos have kitchens to enjoy cooking and plenty of space, especially in common areas, to spend time with your family. Most resorts and hotels have guest services, room service, and resort amenities that are quite nice as well.
Why are vacation rentals cheaper than hotels in Hawaii?
A condo in Hawaii usually is cheaper for big family vacations for an extended period of time. However, some Hawaii rental condos are single-family homes that are quite expensive, especially if you are not staying long. It all depends. If you are comparing a luxury hotel vs condos Hawaii offers, they are usually cheaper.
Are there any Hawaii condo rentals on the beach?
Yes! You can find a few properties to rent that are right on the beach! There are a few Hawaii condo resorts on the beach as well, including a Waikiki condo hotel and an Ala Moana condo hotel for an Oahu Hawaii condo rental.
Should I do a condo or hotel in Maui?
Both hotels and condos in Maui are great! If you are going on an extended stay in Maui, you might want to do a condominium. A Maui Hawaii condo rental is often cheaper, and usually, most people find them a more comfortable place than a hotel room. But if you want daily housekeeping for your space, tennis courts, and a pool, you might want to do a hotel.
So, Should You Book a Hawaii Vacation Condo or Hotel?
Hotels and condos both have their pros and cons! Find out the cheapest places to stay on Oahu, Maui, Kauai, Lanai, Molokai, and the Big Island.
Research both when making a decision, and be sure to decide based on what is most important to you.
Whether you decide to go for a Hawaii vacation condo or hotel, you will be vacationing in one of the most gorgeous locations!