Looking for amazing places to go hiking on Lanai? Find out the 5 best Lanai hikes to do on this gorgeous Hawaiian island. Scroll down to see them all!
This top Lanai hikes post contains affiliate links which means if you purchase something from one of my affiliate links, I may earn a small commission that goes back into maintaining this blog.
The island of Lanai is sometimes referred to as Pineapple Island because it used to be a huge pineapple plantation.
There's also said to be more cats than people on the island, not sure if this is considered good or bad.
The island has some amazing scenery of the beach and rock formations to explore. It's the perfect island for a weekend getaway with many great hiking trails to choose from.
Take a look at some of these top hiking trails you will find on the island of Lanai.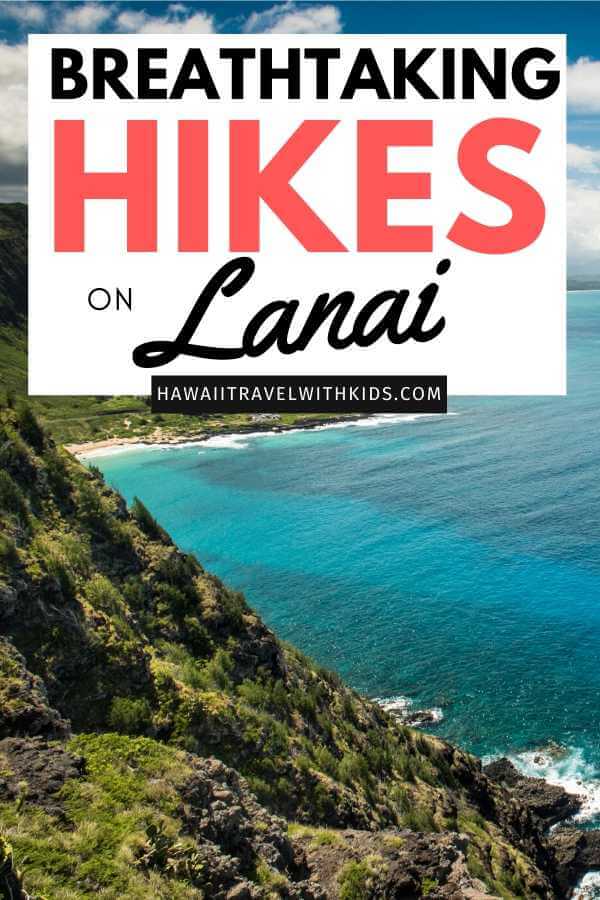 Lanai FAQs
Is Lanai worth visiting?
Whether you are looking for a day trip from Maui or want to spend a few days in this secluded Hawaii paradise, Lanai is totally worth it.
Do you need a car in Lanai?
Yes, renting a car is the easiest way to explore Lanai, as there are limited transportation options on the island.
How do I get to Lanai?
You can take the ferry over from Maui or you can fly to Lanai from Maui or Oahu.
Top 5 Lanai Hikes
Difficulty: Moderate
Length: 5 mile hike
Hiking the Koloiki Ridge Trail will take you anywhere from 3-4 hours depending on how much you stop to take in the scenery or catch a breather.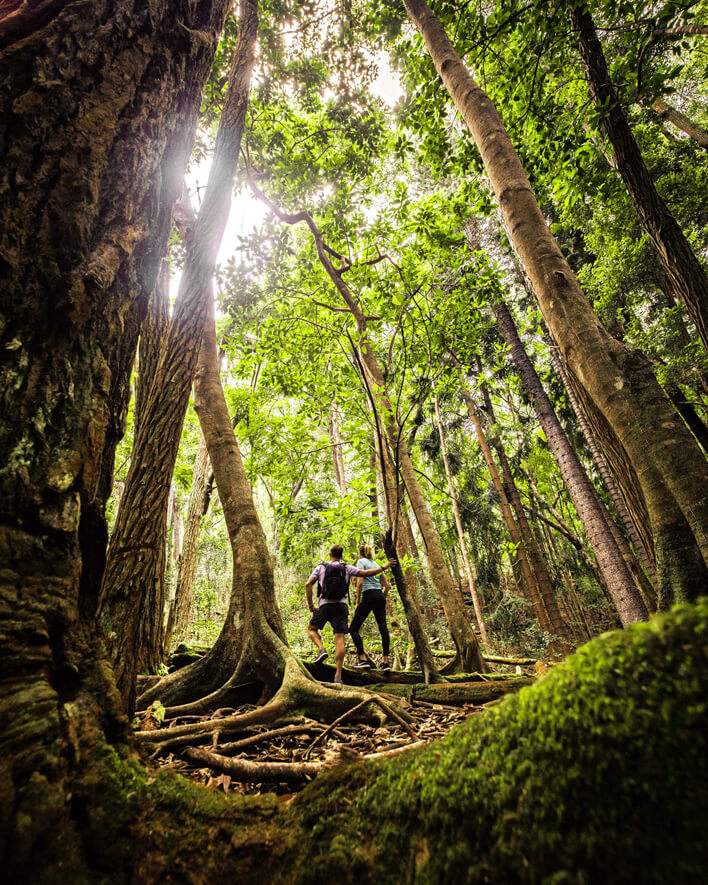 The trail is well shaded with lush green trees and neat flowers and plants you will come across. It's also a great hike for the whole family, as it's a pretty safe trail.
Keep an eye out for deer and sheep that graze down on the slopes of Maunalei Gulch.
Once you reach the top, there are great views of the surrounding island and Koloiki Ridge making the whole hike worth it.
Difficulty: Moderate
Length: 12.8 Mile hike with scenic views
Let's take a look at Lanai's most popular hiking trail. The Munro Trail Loop begins just north of Lanai city and will take you to the top of Lanaihale, an elevation of 3,370 feet. It will take a good portion of the day to hike Munro trail.
If the weather is cooperating, you will be able to see 5 Hawaiian islands and great scenic views from these heights.This is the only point in Hawaii where you can do so.
It's a dirt trail great for biking or 4-wheel drive vehicles. There are some steep climbs and difficult at times due to slippery conditions.
Difficulty: Moderate
Length: 9.6 mile hike there and back
The Polihua Trail passes by the Garden of the Gods and finishes on Polihua Beach, one of the most isolated beaches around. It's also the largest strip of beach on the island.
You are recommended to do this trail by 4-wheel drive, as it has rough terrain. This trail is unique from the contrast in landscapes that you will encounter.
Difficulty: Moderate
Length: 5.2 mile hike
The Koele Keomuku Trail is a lightly-trafficked trail located on the northern part of the island, with great views along the way. It's also a great trail for running if you wish to do so.
The trail has an eagle's eye view of the island and the Pacific Ocean off in the distance.
5. Puu Pehe (Sweetheart Rock)
Difficulty: Easy
Length: N/A
This is a super easy hike and should only take around 15-20 minutes along rocky cliffs to reach this iconic point.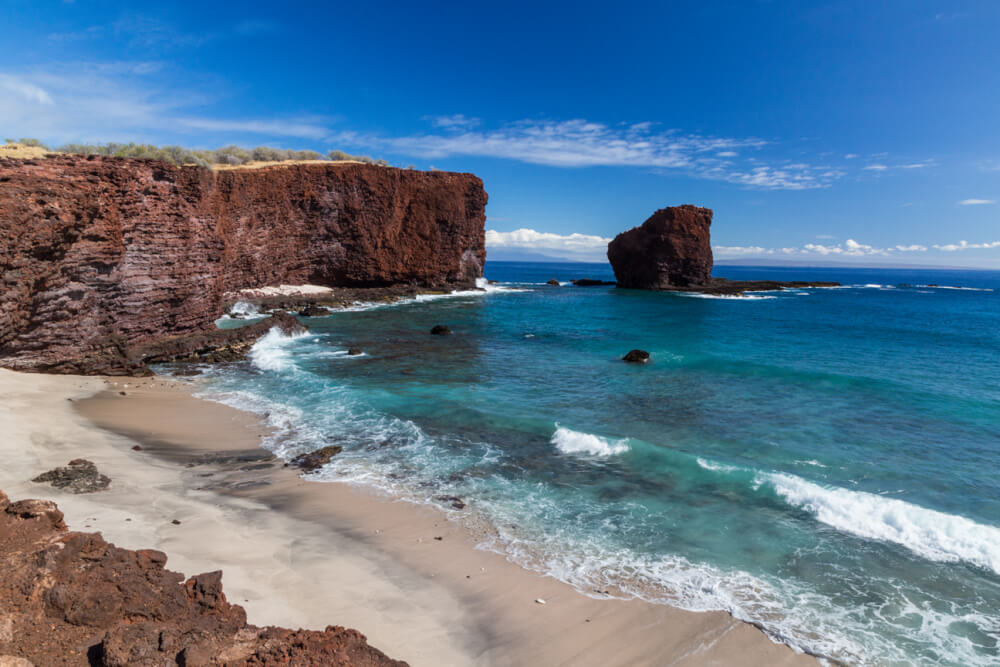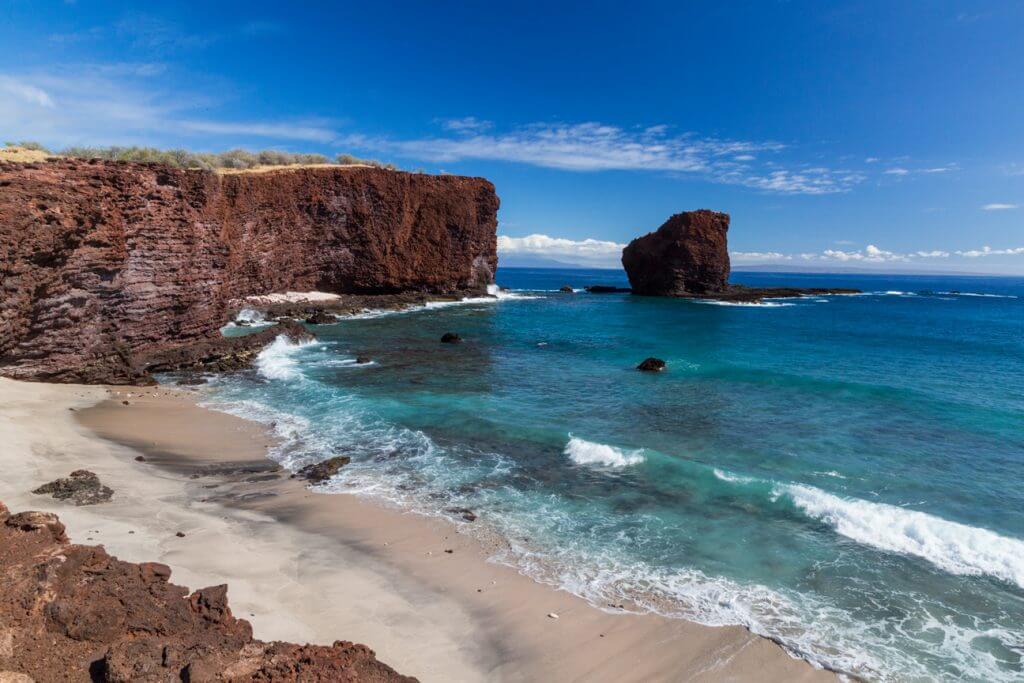 Make sure you keep children close to you, as there are steep drops the entire way.
On the southern coast of Lanai is Puu Pehe, a huge rock jutting 80 feet out of the ocean bay.
Puu Pehe is best seen during sunset, as it offers a romantic view of the bay. The rocky cliffs put off deep reddish hues against the deep blue waters.
The beautiful rock formation itself is intertwined with Hawaiian folklore and mystery.
These are a few of Lanai's top hiking trails that you will want to explore when you visit the island.
Which of these Lanai hikes and trails has you gearing up for an adventure? If you've already been to the island of Lanai and have hiked a few of these trails, tell us about your experience.