Are you looking for the best kid-friendly Oahu restaurants that your whole family will love? Keep scrolling for this list of where to eat on Oahu with kids.
This list of where to eat on Oahu with kids was written by Hawaii travel expert Marcie Cheung and contains affiliate links which means if you purchase something from one of my affiliate links, I may earn a small commission that goes back into maintaining this blog.
Planning a trip to Oahu with your family?
While traveling with kids can be loads of fun, picking the right places to eat almost always ends up becoming a quest in itself! I mean, finding healthy, filling, and delicious meals that don't burn a hole in your pocket is no easy task.
So if the thought of starting on your travel itinerary makes you sweat, don't worry, we have got you covered! Our guide on where to eat on Oahu with kids will simplify things and help you settle on a few favorites to visit on your trip there.
Keep scrolling for my list of the best restaurants on Oahu for families.
Don't have time to read a bunch of Hawaii blog posts and reviews? Here are some of our top picks for visiting Oahu with kids.
Best Kid-Friendly Oahu Tours/Activities
Best Kid-Friendly Oahu Resorts
Want to Rent a Car in Hawaii?
One of the best places to rent a car in Hawaii is Discount Hawaii Car Rental because they get the best rates from top national companies like Alamo, Dollar, Thrifty, Avis, Enterprise, Budget, and Payless.
Want to skip all the planning and just access my detailed Oahu Itinerary complete with daily schedules, kid-friendly activities, and travel hacks? Click the button below.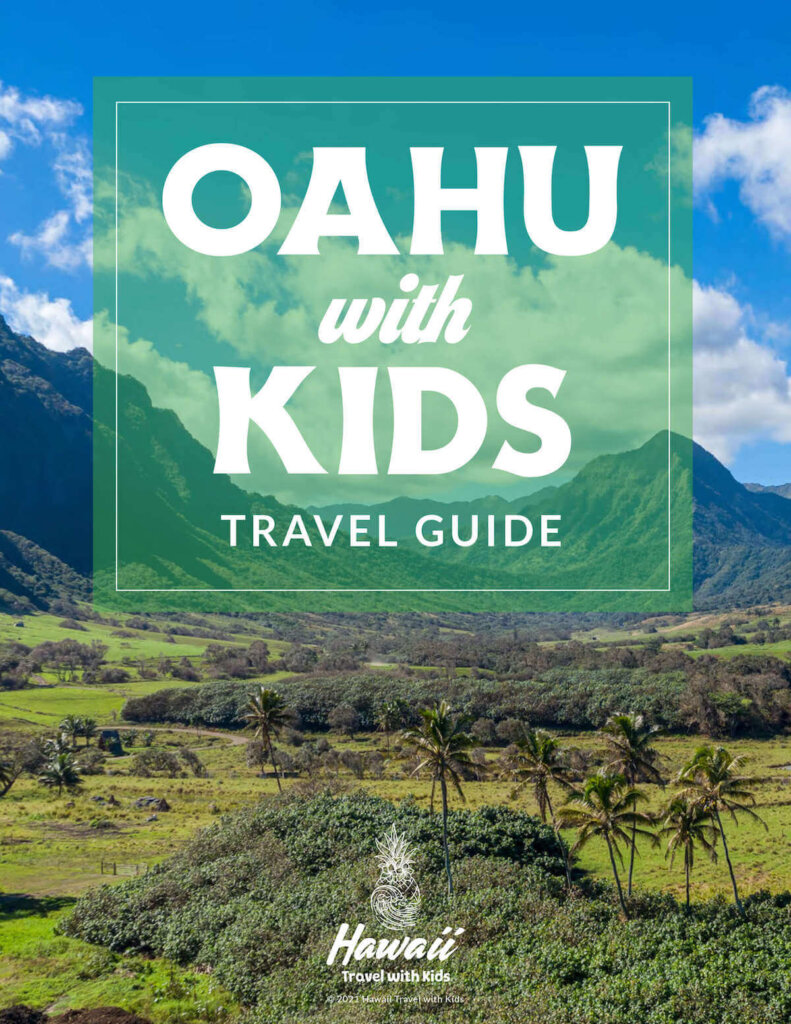 Best Food in Oahu FAQs
What are the famous Oahu restaurants?
Alan Wong's was the most famous Oahu restaurant but it sadly closed down. Duke's is really well-known among tourists. Rainbow Drive-In is a nostalgic restaurant for locals and tourists. And Ted's Bakery up in North Shore is pretty well-known.
Where can I get the best shave ice on Oahu?
There are a TON of places to get Oahu shave ice. My favorite is Island Vintage Shave Ice because it's finely shaven ice and they use fresh fruit syrups and have yummy toppings. Uncle Clay's House of Pure Aloha is another great option.
What is Oahu famous food?
Some of the most famous things to eat on Oahu include malasada's from Leonard's, coco puffs from Liliha Bakery, shrimp from Geste Shrimp Truck, pie from Ted's Bakery, and Hawaiian plate lunches from Rainbow Drive-In.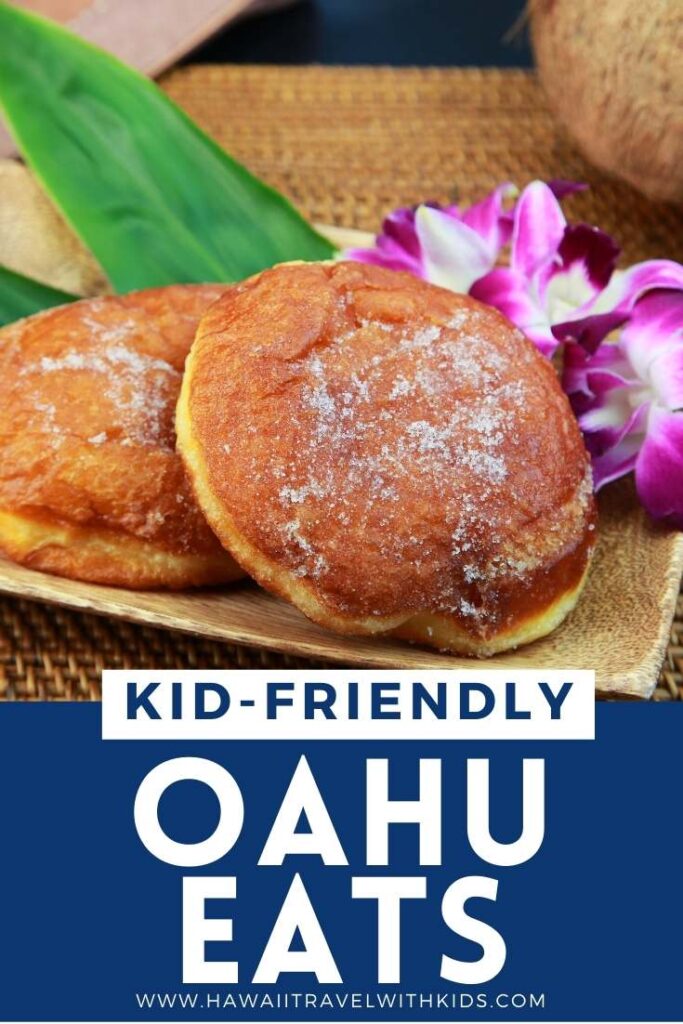 Dining in Oahu: a Guide for Families
When it comes to experiencing the diverse dining scene of Hawaii, nothing beats Oahu.
The cuisine is influenced by many cultures and traditions that have passed through the land and includes everything from Polynesian delicacies to dishes from Japan, France, Italy, and the USA. What's more, is that the dining experiences are just as varied as the land and cuisine itself.
Oahu provides visitors and residents alike with tons of traditional options and modern reinterpretations to choose from, from casual bites on Waikiki's beaches to some pretty high-end meals in Honolulu.
Food trucks that offer sizzling shrimp, fresh baked goods that are easy on the pocket, and elegant restaurants that are out of this world are some of the options on Oahu for people who like to eat.
But if you want to find the best place to eat in Honolulu, you have to go to the beach. With views of the sunset over the sea, open-air seating, and delicious food, there's no way you won't find an eatery (or two) that you'll remember for the rest of your life!
Best Restaurants in Oahu for Kids
Best Oahu Bakeries
Leonard's Bakery
An absolute must-eat in Oahu for every foodie, this Hawaiian gem brings in tourists and locals for just one thing, malasadas. Malasadas are a specialty donut the size of your fist and a favorite on the island.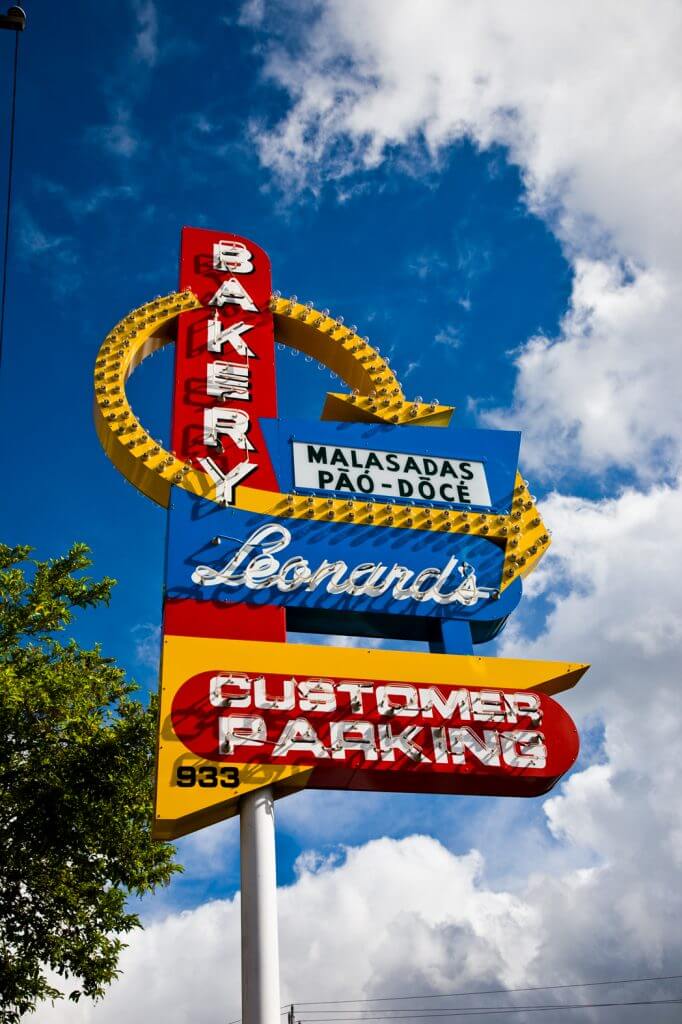 This Portuguese deep-fried dessert is rolled in sugar, flavored with lemon and cinnamon, and is enough to satisfy even the most hardcore sweet lovers (read kids!).
For those who want to try a modern twist on the classic, give the bakery's stuffed malasadas puffs a taste. They're extra fun because they come in a variety of flavors, with one flavor being featured each month!
Located on Kapahulu Avenue, Leonard's Bakery is popular among locals for being a grab-and-go kind of spot, so drop by during off-hours to skip the lines!
Liliha Bakery
Featuring some of the most famous Oahu best eats, this diner-bakery combo on Kuakini Street in Honolulu is straight from a foodie's dreams.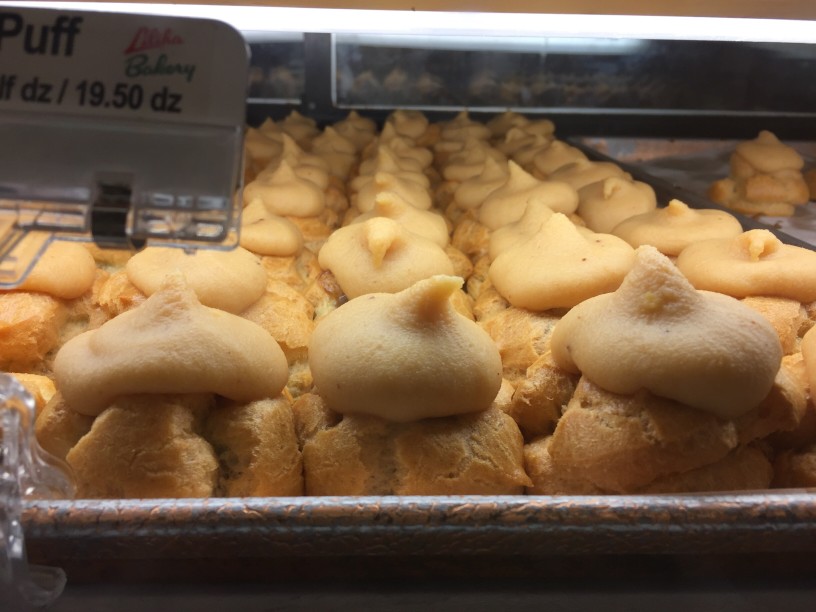 The coco puff is Liliha Bakery's signature creation, and if you are a fan of the hit TV show, Hawaii Five-0, you will recognize it! The chantilly-laced mini cream puff stuffed with chocolate pudding will most likely be the highlight of your day.
But if you want to fill up before starting on your adventures, the butter rolls, loco moco, and pancakes are all must-tries too!
Best Oahu Breakfast Spots
Cinnamon's
Breakfast is said to be the most important meal of the day, and the folks at Cinnamon's take this very seriously! Known for their many delectables but most famous for their guava chiffon pancakes, this corner restaurant in Kailua Square has been swarmed by people since 1985.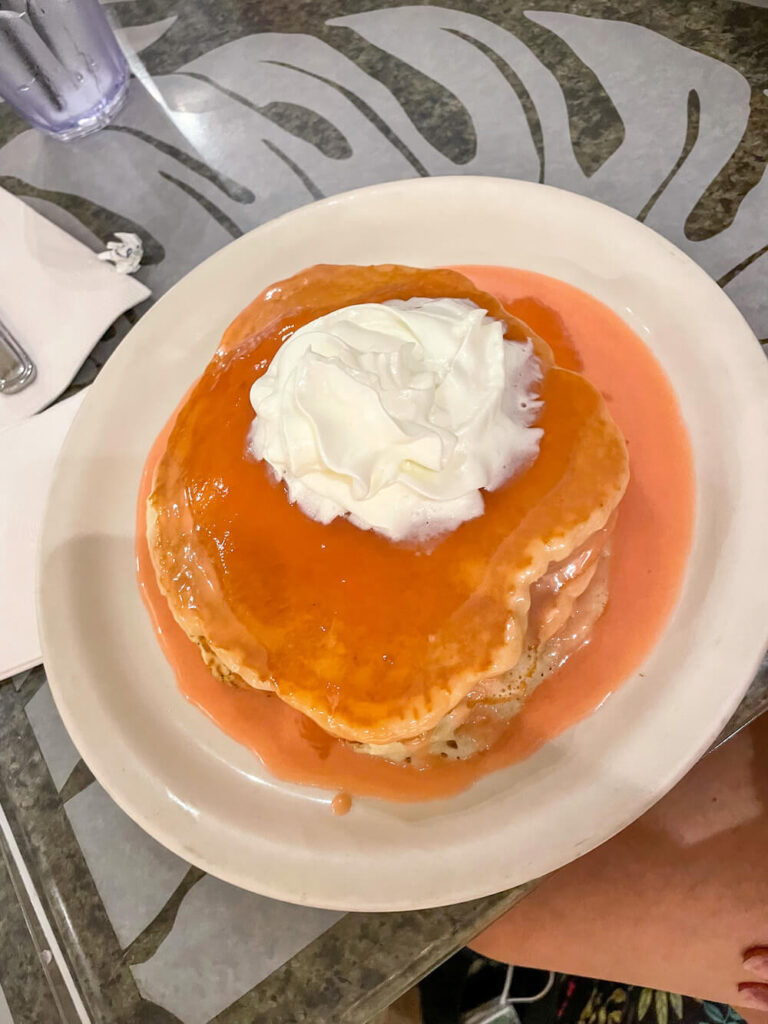 Try their eggs Benedict with their homemade hollandaise sauce, crab cakes, kalua pork, and special coffee blend made from Hawaiian coffee farms to enjoy the multiethnic flavors of the islands all in one place.
Hands down the best place to eat in Oahu before or after a morning at either Kailua Beach or Waikiki Beach, breakfast at Cinnamon's is an unforgettable affair indeed.
Makahiki
Makahiki is a restaurant that is located in Aulani, a Disney Resort and Spa in Ko Olina, and is most well-known for its Disney-themed breakfast buffets by the beach. Book yourself a table to watch your kids' faces light up as "Aunty" makes her way around the tables playing her uke.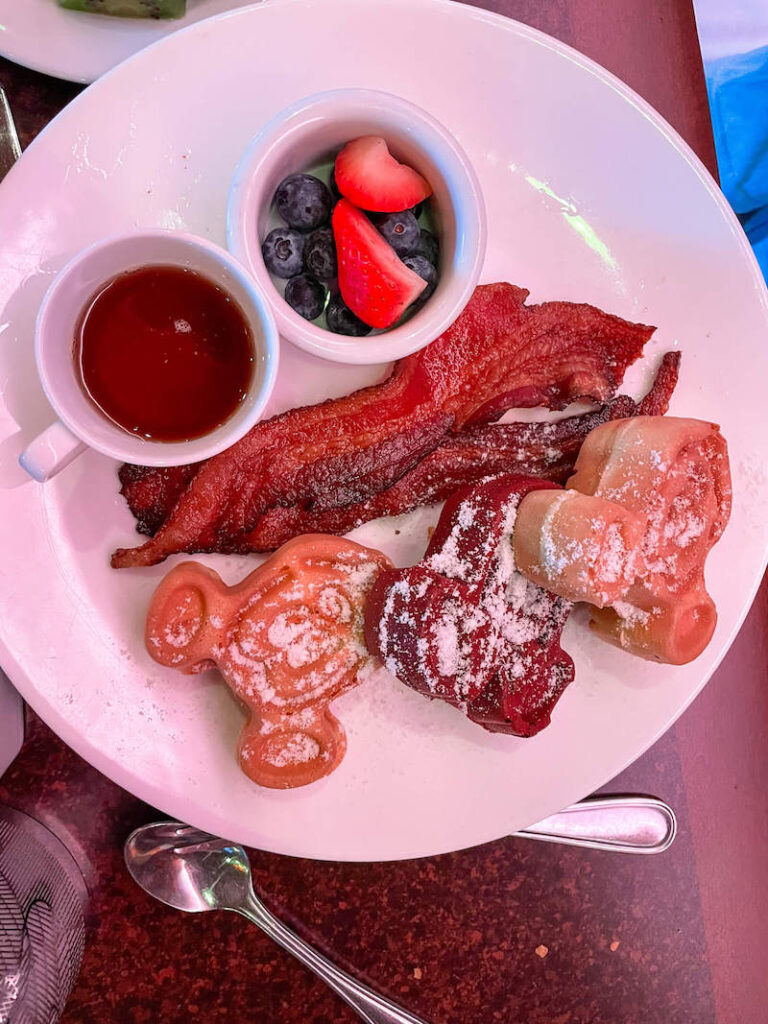 But while posing with Mickey, Minnie, Pluto, and Goofy dressed in Hawaiian costumes is certainly fun and exciting, the restaurant is just as famous for offering some of the best food in Oahu as well!
The 3-course breakfast features a mouth-watering spread made from fresh local ingredients. It even includes a Keiki (kids') meal that comes with Mickey or Minnie waffles!
As of March 2022, character appearances only take place on Mondays, Fridays, and Saturdays, and character dining is only available to resort guests. But, you'll want to check with the resort since this might change soon.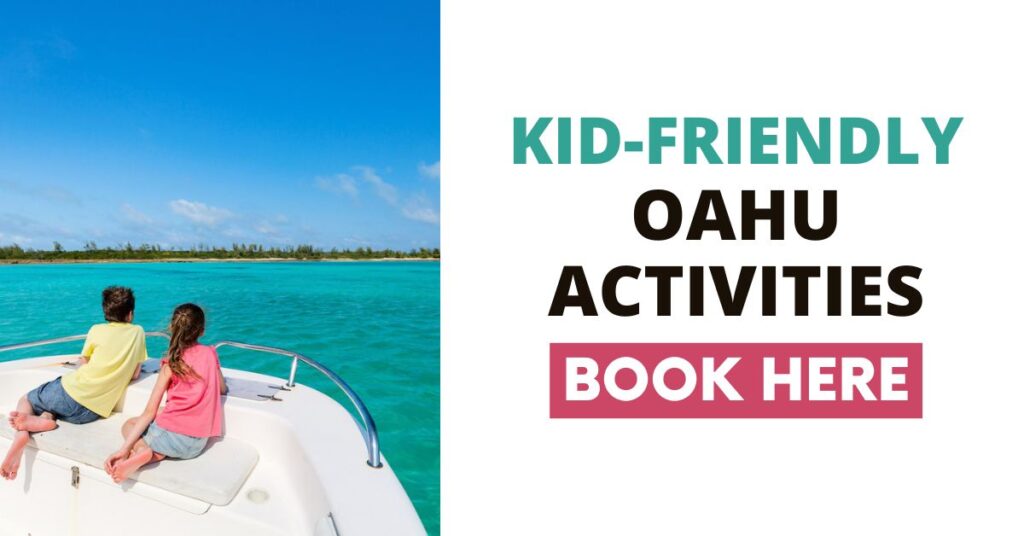 Best Oahu Food Trucks
Geste Shrimp Truck
Have a craving for shrimp and wondering where the best places to eat on Oahu are? Look no further than Maui's best food truck, Geste Shrimp Truck.
While there are plenty of other good places to get your shrimp fix, Geste's has made it their specialty by focusing on keeping things simple. Their garlic shrimp is to die for and the generous servings and budget-friendly pricing just go on to seal the deal.
So get your family in the car and drive down to the North Shore to ease those grumbling tummies before they run out for the day!
Leonard's Food Truck
If a bakery on wheels feels like a dream come true, we have some great news for you. The "Malasada Mobile" run by Leonard's bakery is a food truck on wheels that brings the best of Oahu's sugary goods to not just one, but four locations!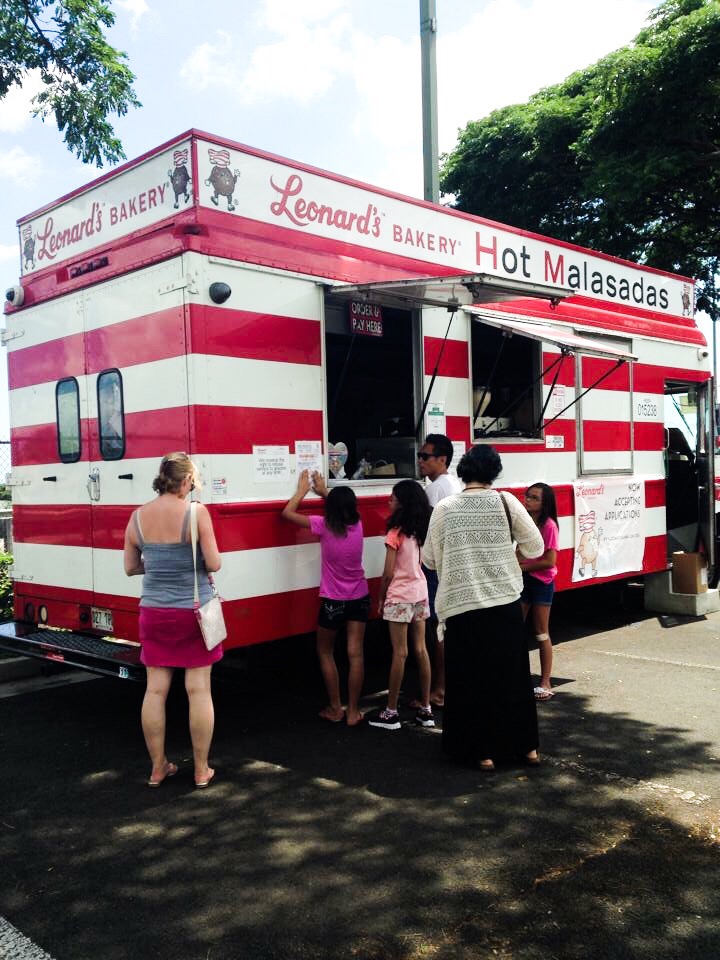 These fully loaded bakery trucks are parked at Waikele Shopping Center, Pearlridge Shopping Center, Windward Mall, and Koko Marina Shopping Center every day, making it easy to satisfy your sweet tooth without interrupting your fun with the family!
Best Local Food in Oahu
Rainbow Drive-In
When it comes to deciding where to eat in Oahu, trust the locals and head to Rainbow Drive-In for an ono meal of comfort food.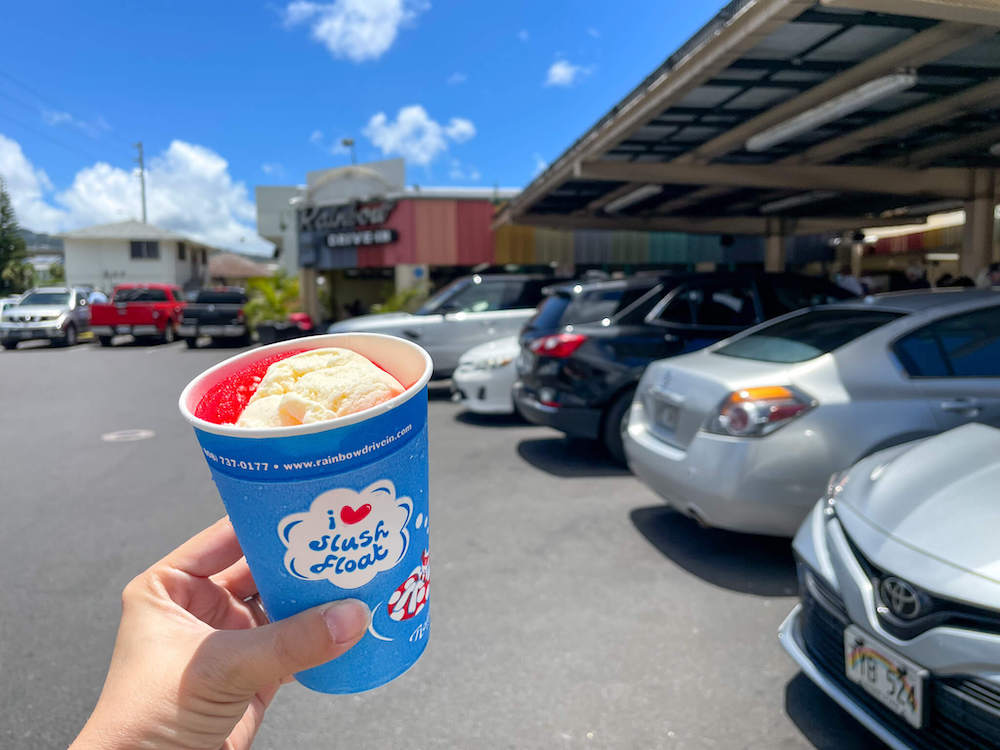 This favorite pit stop for office workers and beachcombers serves all the Hawaiian-style fast food favorites such as chili dogs and slush floats.
But it's their pocket-friendly plate lunches consisting of an entree, 2 scoops of rice, and a scoop of macaroni salad or coleslaw that is the real star of the show!
Kid-Friendly Oahu Restaurants
Duke's Waikiki
After a fun day of frolicking in the sun, bring your entire family to one of the best restaurants on Oahu: Duke's Waikiki.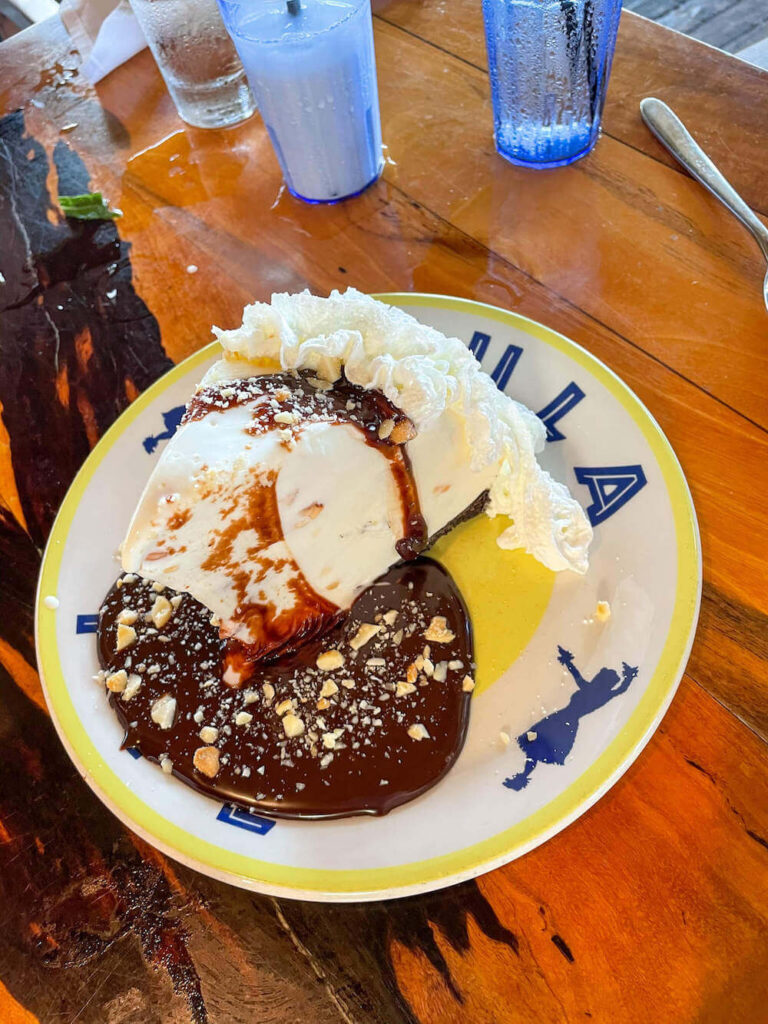 Located right on the edge of Waikiki beach, this iconic establishment pays homage to surf legend Duke Kahanamoku with its open-air seating, beautiful views, live music, delicious food, and Hawaiian spirit.
Simply put, it is the perfect place to unwind. So kick back, relax, and let your little ones enjoy the keiki menu while you sip on a mai tai.
And whatever you do, don't skip tasting the delectable Kimo's Original Hula Pie – we promise, you won't regret it!
Monkeypod Kitchen by Merriman- Ko Olina
With a kid's menu available, and free dining for children under 3, Monkeypod Kitchen is the perfect place for families that love to eat!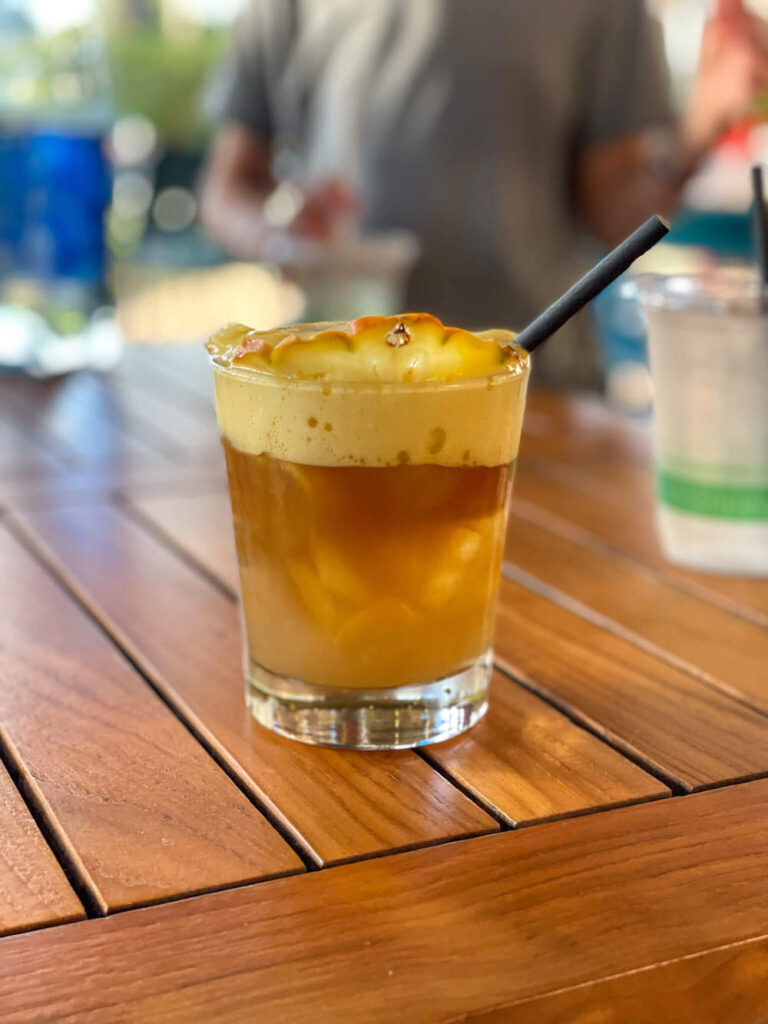 Feast on gourmet farm-to-table meals as the lazy strums of a guitar fill the air at this eatery that is committed to showcasing the very best of Hawaiian cuisine.
Monkeypod is ranked one of the best local restaurants in Oahu that is also kid-friendly, and with all their ingredients and 36 craft brews locally sourced, it's no wonder why!
Best Oahu Dessert Spots
Island Vintage Shave Ice
Can a trip to Hawaii's beaches and volcanic views be complete without a cup of fluffy shaved ice that melts in your mouth?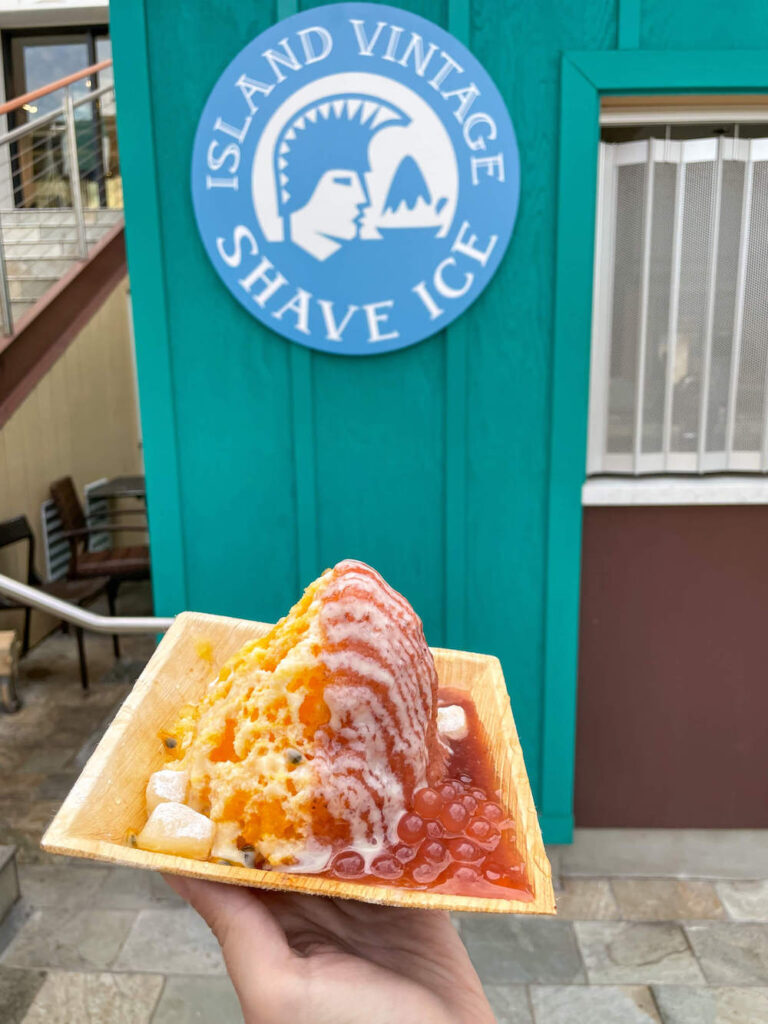 To sample authentic tropical flavors of this classic dessert like the "Heavenly Lilikoi" and "Pink Island," drop by Island Vintage Shave Ice at the Royal Hawaiian Shopping Center in Honolulu.
All-natural, always fresh, and intensely flavored, a bowl of one of Island Vintage's signature concoctions is a delight with every bite for both the taste buds as well as the eyes! So, have your camera ready to snap some Instagram-worthy shots before digging in.
Dole Pineapple Plantation
There's no better place to try the classic Pineapple Dole Whip in Hawaii than the Dole Pineapple Plantation. Plan to stop at the pineapple wonderland for a couple of hours on the way to Pearl Harbor to grab a serving of this sweet treat and have a lot of fun!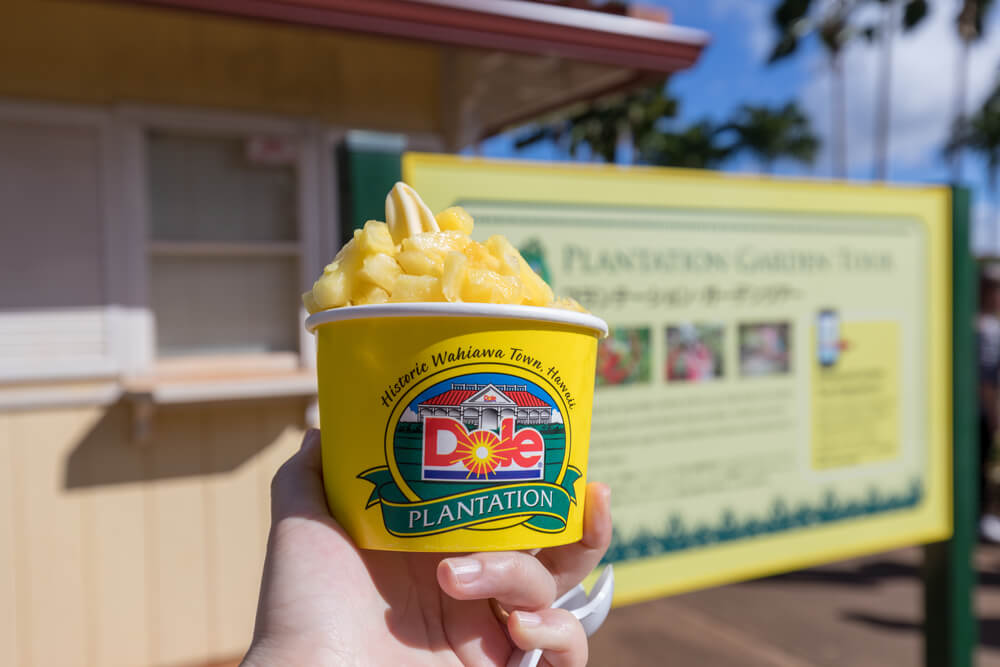 An experience in itself, there are train rides for younger kids, a pineapple maze for teens, and eight gardens for adults, making it the dream destination for families who love adventure and all things pineapple.
Best Places to Eat in Waikiki
When the excitement of travel gets too much for your toddlers, seek refuge at Keiki and the Pineapple in Kapiolani Boulevard. This judgment-free cafe is for tired parents who want to drink their coffee hot while their kids play safely. Plus, their menu is pretty inclusive and offers a kid's option too.
On the other hand, if huge portions of hot kimchi fried rice, spicy yakisoba, and juicy pork chops are what get you going, the Side Street Inn off Pi'ikoi Street is the perfect place for your family. Suitable for older kids and teens, be sure to visit this joint with an empty stomach or prepare to return with leftovers!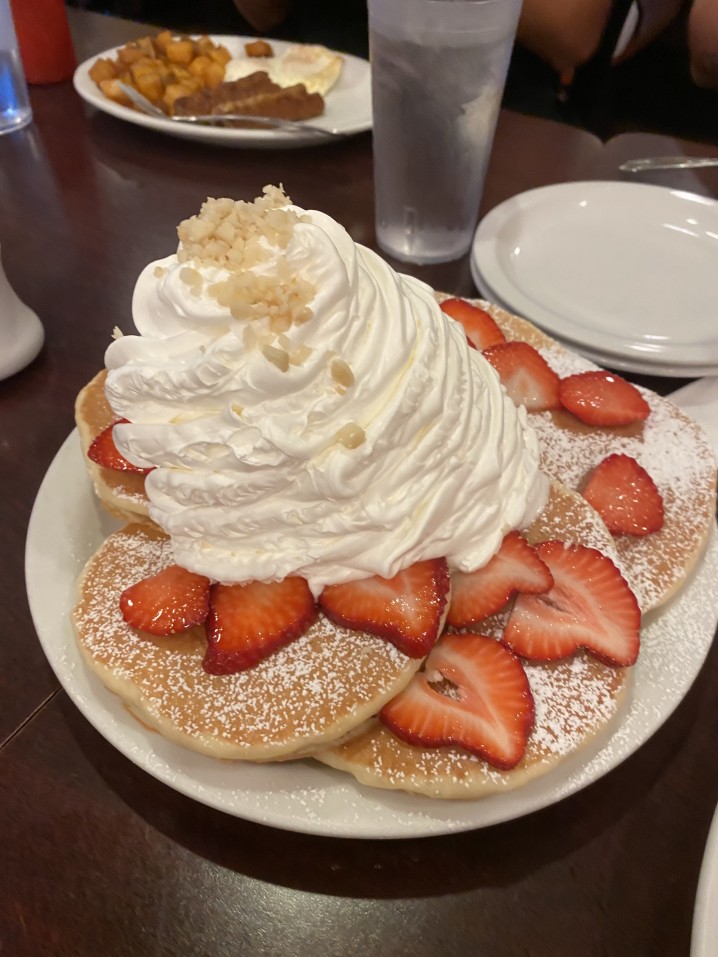 Another popular spot you don't want to miss while in Waikiki is the famous chain restaurant, Eggs 'n Things. Known for serving the "Best Breakfast in Hawaii" for more than 30 years, this outlet offers kids under 10 a dedicated menu just for them, and the rest of the fam, scrumptious burgers, omelets, and pancakes.
Where to Eat in Ko Olina
My Cafe in Kapolei is the go-to place for everything from loaded waffles to chorizo breakfast burritos at a reasonable price. The main event is the "flight of pancakes," which is a sampling of three of their specialty pancakes. The adults will love the locally produced coffee so be sure to ask for some to accompany your meal!
For an open-air experience with views for days, visit MINA's Fish House. The beachfront restaurant celebrates the ocean and her bounty with sea-to-plate meals and fish sommeliers ready to guide you on your seafood journey. It's an experience that makes it one of the best places to eat in Honolulu.
And lastly, if you're looking to try Hawaiian-Asian-based cuisine, there's no place better than Roy's Ko Olina to do so. Overlooking the golf course, the restaurant offers a fine dining experience that will exceed all your expectations.
Where to Eat in North Shore
The charming Kono's Northshore in Haleiwa is a great breakfast spot for trying some fantastic food in a low-key environment.
The "bombers" or breakfast burritos will change your life, and the milkshakes are good enough to tempt even the most hardcore coffee lovers. But don't worry, because the coffee here is great too!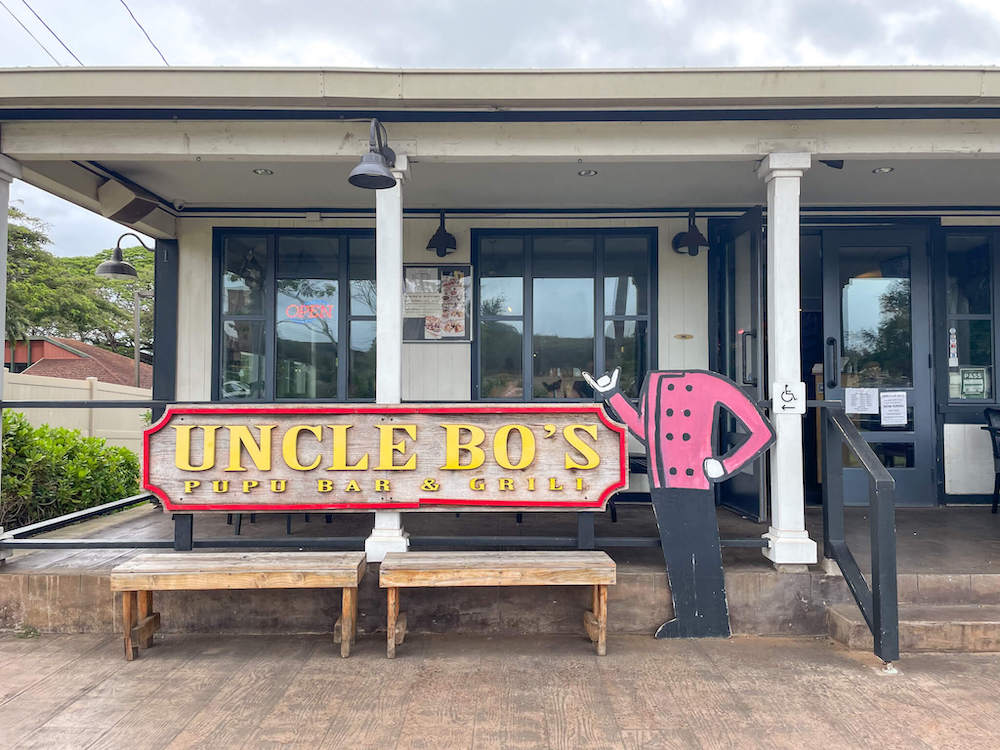 Lunch at Uncle Bo's Pupu Bar & Grill is another casual affair in Haleiwa, and the pupus come highly recommended. It's a pretty nice place for large families, thanks to the large portions that make the food perfect for sharing!
If you want to be let in on a local secret, head to the Wicked Hi Cafe in Waialua, a hidden gem on Oahu's North Shore. The pizza, sourdough waffles, fresh pita bread, and super yummy, legendary honey dragon fruit lemon slush make the cute spot the perfect post-beach hangout!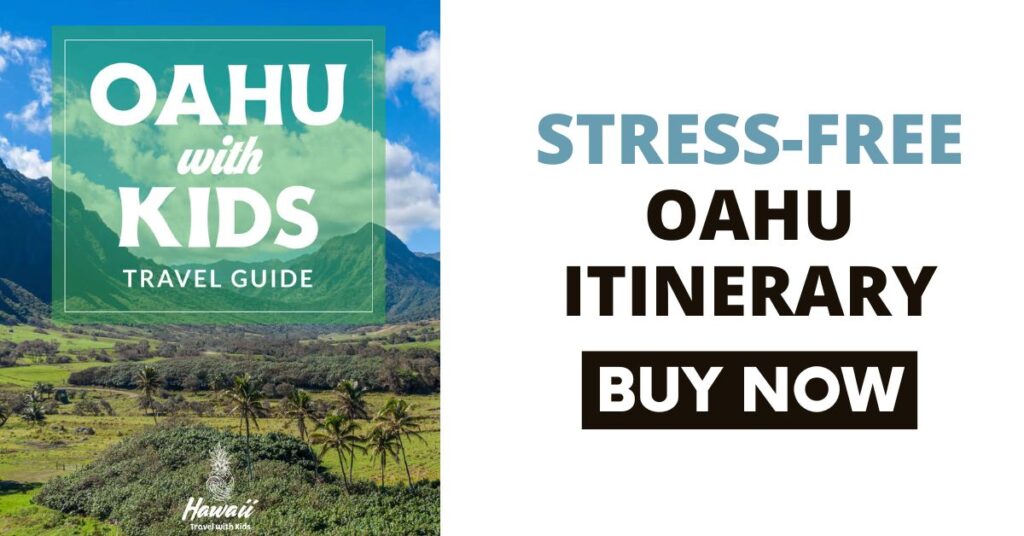 Where to Eat on Oahu with Kids Wrap Up
So now that you know where to eat on Oahu, all that's left to do is to get out there and try all the onolicious food there is. And remember, the more you wander, the more reasons you have to eat!
P.S. Join our Hawaii Travel with Kids Facebook group to get connected with other families planning a trip to Hawaii!