Are you planning a trip to Oahu with kids and want to know the best places to eat on Oahu? Keep scrolling to find out the best Oahu ice cream spots worth making a stop.
This list of the best Oahu ice cream spots was written by Hawaii travel expert Marcie Cheung and contains affiliate links which means if you purchase something from one of my affiliate links, I may earn a small commission that goes back into maintaining this blog.
Are you looking for a fun way to spend your day with the kids?
Ice cream is always a good idea! And if it's in Hawaii, even better. Oahu has some of the best ice cream places around and we have compiled a list of our favorite spots on this island. You will find everything from soft serve to gelato and more!
Here are some great places to stop by when you need an afternoon pick-me-up or just want something sweet after dinner.
Find out where these delicious treats can be found so that you don't miss out on any of them while vacationing in Hawaii. We know how hard it can be to travel with kids but these Hawaii ice cream spots make it easy for everyone involved!
Ok, let's dig into this list of where to find ice cream on Oahu!
Don't have time to read a bunch of Hawaii blog posts and reviews? Here are some of our top picks for visiting Oahu.
Popular Oahu Tours/Activities
Favorite Oahu Resorts/Hotels
Want to Rent a Car in Hawaii?
One of the best places to rent a car in Hawaii is Discount Hawaii Car Rental because they get the best rates from top national companies like Alamo, Dollar, Thrifty, Avis, Enterprise, Budget, and Payless.
Want to skip all the planning and just access my detailed Oahu Itinerary complete with daily schedules, kid-friendly activities, and travel hacks? Click the button below.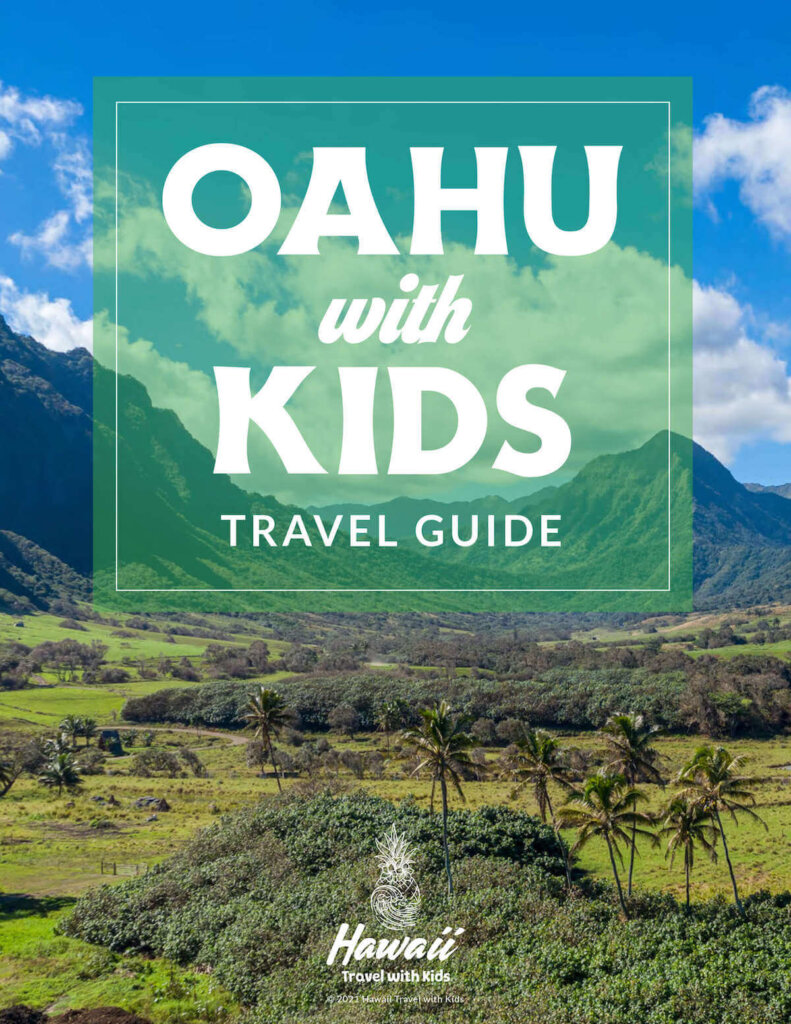 Oahu Ice Cream FAQs
Where can I find the best ice cream in Hawaii?
There are a lot of great contenders for Hawaii's best ice cream. You'll be able to find local ice cream shops on Oahu, Maui, Kauai, and the Big Island that serve classic flavors as well as island favorites.
What are the most popular Oahu desserts?
There are some pretty famous desserts on Oahu. Some of these include Hula Pie at Duke's Waikiki, chocolate haupia pie from Ted's Bakery, coco puffs from Liliha Bakery, and malasadas from Leonard's Bakery.
What's better? Oahu ice cream or shave ice?
Hawaii is known for its shave ice, so personally, I always suggest people at least try shave ice on their Oahu vacation. You can even get shave ice with a scoop of ice cream at the bottom to get the best of both worlds. Try it with locally made macadamia nut ice cream for a tasty treat!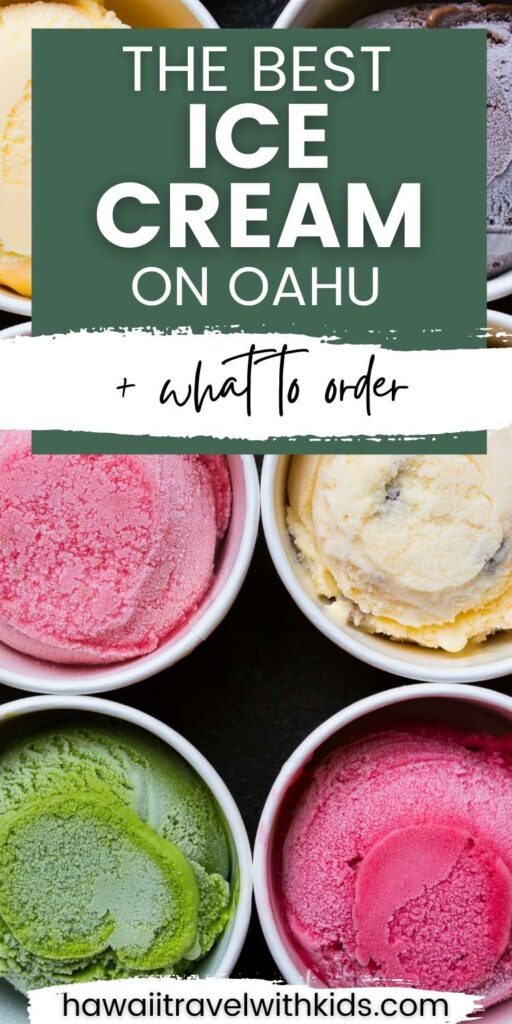 Where to Find the Best Ice Cream on Oahu
Here are some of the best ice cream places in Hawaii. These Oahu desserts will make your mouth water, and I wish you were in Hawaii to try them right now!
Angel's Ice Cream
Located in Laie, Angel's Ice Cream has been around for over 20 years. Michelle Obama and her daughters love this place and visit often. It has some of the best customer service you will find on the island, along with the best desserts in Oahu too!
At Angel's you will find just about any cold dessert you can think of; they even have the famous Dole Whip from Dole Plantation! From a huge variety of ice cream flavors to custom treats, you will find something for everyone in your family to enjoy!
Magnolia Ice Cream and Treats
Magnolia Treats is another one of the best Hawaii ice cream places. There are four locations all around Oahu: Honolulu, Waikiki, Kapolei, and Waipahu. With this one, you'll be able to visit it no matter where you are staying!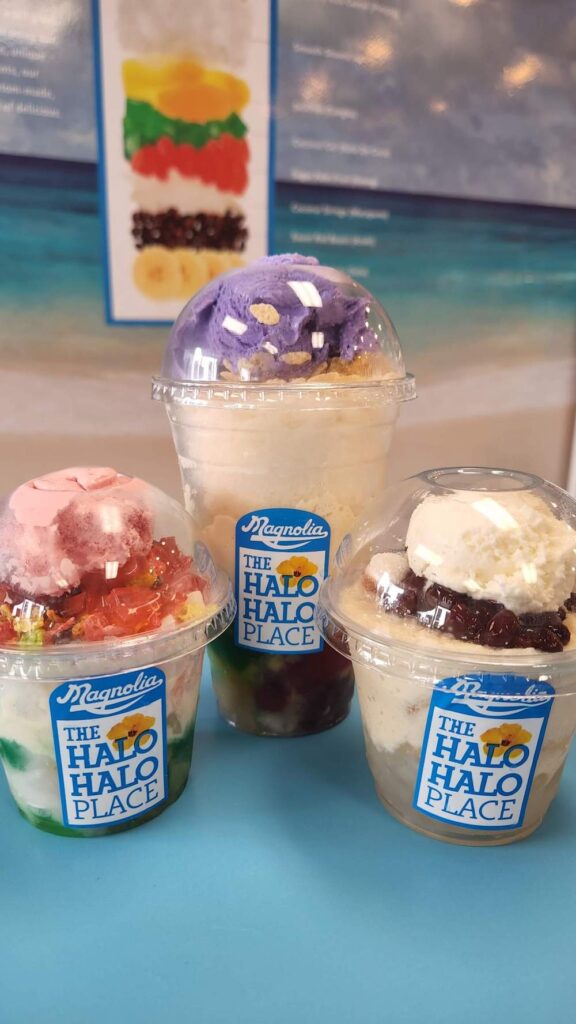 Magnolia has some of the best dessert creations I've ever tasted! They combine shaved ice, ice cream, and a whole variety of toppings to create the perfect cold treat.
Magnolia is one of the best places to visit because its flavors are traditional tropical flavors local to Hawaii. Here you can experience a traditional and local dessert that you will love!
Lucy's Lab Creamery
Lucy's Lab Creamery is one of the best ice cream in Honolulu you'll ever taste. Lucy's makes homemade ice cream that is so creamy and delicious! The majority of their ingredients are locally sourced, which is why the ice cream tastes so good.
One of their best desserts is a Pan de Creme. This is a toasted bun with ice cream inside and is so good you have to try it out when you are in Honolulu!
Bubbies Homemade Ice Cream and Desserts
Bubbies Ice Cream is not an actual location but a brand found in most grocery stores around the island. They specialize in mochi, a type of ice cream surrounded by a paste usually made of short-grain rice, water, sugar, and cornstarch, and is a true Japanese specialty.
It is a super tasty snack, especially during these hot sunny days at the beach.
Their flavors are impressive compared to the norm. Flavors such as pistachio, chocolate espresso, or even salted caramel will leave you craving for more. Bubbies Ice Cream prides itself on being locally made for over 30 years.
Dave's Ice Cream
Dave's Ice Cream is another well-known brand on the island of Oahu. Its founder David Leong opened the business in 1982, and the flavors he has created continue to please everyone today. Several stores can be found all over the island, and their delicious product is also available in most grocery stores.
The brand has an impressive variety of over 50 different flavors, from the delicious caramel macadamia to the well-established rocky road. Dave's Ice Cream is also well known for its most innovative flavors, such as blue cotton candy, green tea, Kona coffee, poha berry, or banana mochi berry.
Whatever your favorite flavor may be, Dave's Ice Cream probably has it!
Tropical Dreams Ice Cream
This company has been serving the island of Oahu for over 25 years and is one of a kind. All the ice cream is made right in Waimea and is premium. They use only 18% butterfat, which makes the ice cream less airy and richer.
Try some delicious, unique flavors, including Kona Coffee, passionfruit cream, ginger, and so much more. They also make delicious gelato, sorbets, and frozen yogurt. Enjoy some of this delicious ice cream in Honolulu during your vacation here in Hawaii.
Scoops of Paradise
Located in Haleiwa is Scoops of Paradise; just the name is intriguing! Enjoy some tasty homemade local ingredient ice cream along the North Shore. This shop is family-owned and has unique ice cream flavors and desserts you'll want to try.
Choose from an acai bowl, ice cream cone, milkshakes, or some homemade mochi. No matter what you get, it will be so good you'll want to come back for more!
Black Sheep Cream Co
Black Sheep Cream Co is owned by Tasi, who started this business in her twenties. Since then, she has opened up this shop in four different locations on Oahu: Waipio, Ko Olina, Kaka'ako, and Wahiawa.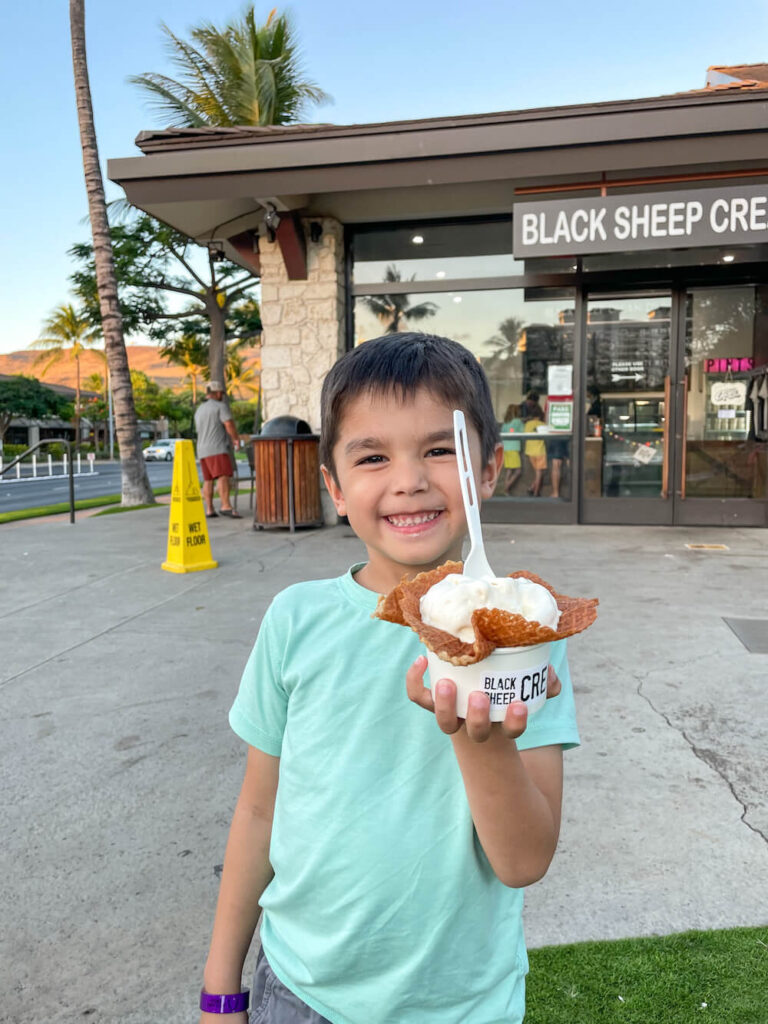 The name represents who she is and what she stands for, along with her business. She wants everyone to feel included and welcome to enjoy some of the best homemade ice creams you'll find!
You will only find some of their flavors at Black Sheep Cream Co, such as lavender latte, brown sugar fig, and many more delicious recipes.
Cream N' Roll
Cream N' Roll is a unique ice cream shop that offers their ice cream in a beautiful little roll. Not only is it uniquely made, but they will make your roll fresh right in front of your eyes! They add all the ingredients to a metal freezing pan and get to work creating your beautiful masterpiece ice cream roll.
You can find a Cream N' Roll in Honolulu and Aiea. It involves a four-step process to creating your own custom ice cream! First, choose a liquid base. Then, choose the items you want to be chopped into your ice cream. From there, simply choose your toppings and drizzles and watch in amazement as they go to work creating your roll! It is so relaxing and satisfying to watch.
Cafe Glace
Cafe Glace has the best ice cream in Oahu; it is just amazing. It is an ice cream shop in Waikiki. You'll find 32 flavors of ice cream here every single day. If you are looking for dessert in Waikiki, they also make crepes, pastries, coffee, and more!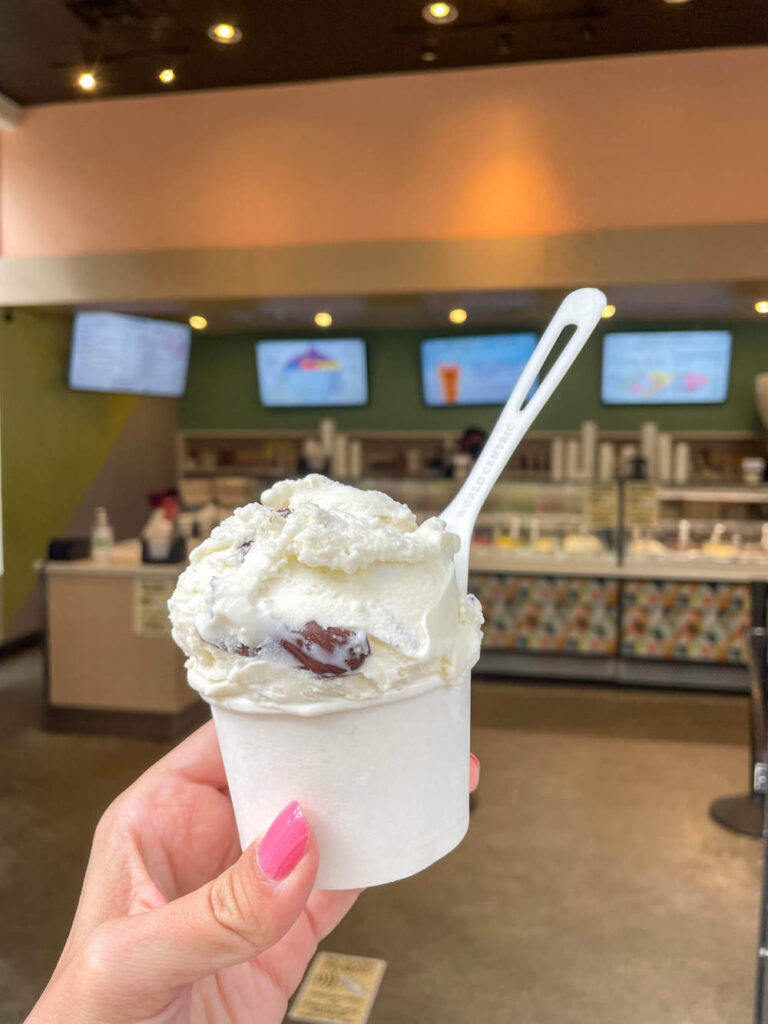 This ice cream shop is locally owned and uses local ingredients to make its products. You will find them in Waikiki and Honolulu as well. Try one of their flavors along with a homemade waffle cone for a delicious treat to eat at the beach!
Via Gelato
Via Gelato is one of the best places you can visit for ice cream in Honolulu, and not just for the ice cream. This company gives back and truly is trying to make a difference for the economy.
When you dine in, you will have metal spoons and ceramic bowls to help with wasteful products. Ordering to go uses paper bowls instead of plastic. When you buy their products, they will donate one to someone in need.
This started from a small truck when the owner wanted to have homemade authentic Hawaiian-flavored ice cream instead of the traditional boring flavors. Now they have their own shop in Honolulu and still hand make every single thing they use, from the ice cream to the toppings. You can eat in, pick it up, or even get it delivered to your home!
Many of their ice cream flavors are vegan and sugar-free, which makes these only more delicious! The S'mores gelato proceeds go to helping the local children for the Make a Wish Foundation.
This is truly an amazing ice cream shop on Oahu, so be sure to visit during your vacation. You will be helping out a local business and so many other amazing children in Hawaii by grabbing some delicious ice cream here!
Frostcity
Frostcity may not have the traditional ice cream, but it is an amazing dessert to try while in Oahu. Frost is a shaved ice mixed with ice cream that looks and tastes delicious. This would be a great Oahu Instagram spot as the desserts are gorgeous!
Here you will also find some traditional shaved ice, bubble tea, and many more delicious desserts. Frostcity is located by Ala Moana in Honolulu. This is another Honolulu ice cream you definitely will want to try!
Matsumoto
Matsumoto is a famous shave ice place in Haleiwa on the North Shore. Many will come and stand in line for hours just to try some of their desserts. One of our favorite recipes for shaved ice includes adding ice cream to the top!
Matsumoto not only has countless flavors of syrups but will also add vanilla ice cream to your creation for a perfectly tasty cold dessert on a hot sunny day in Hawaii.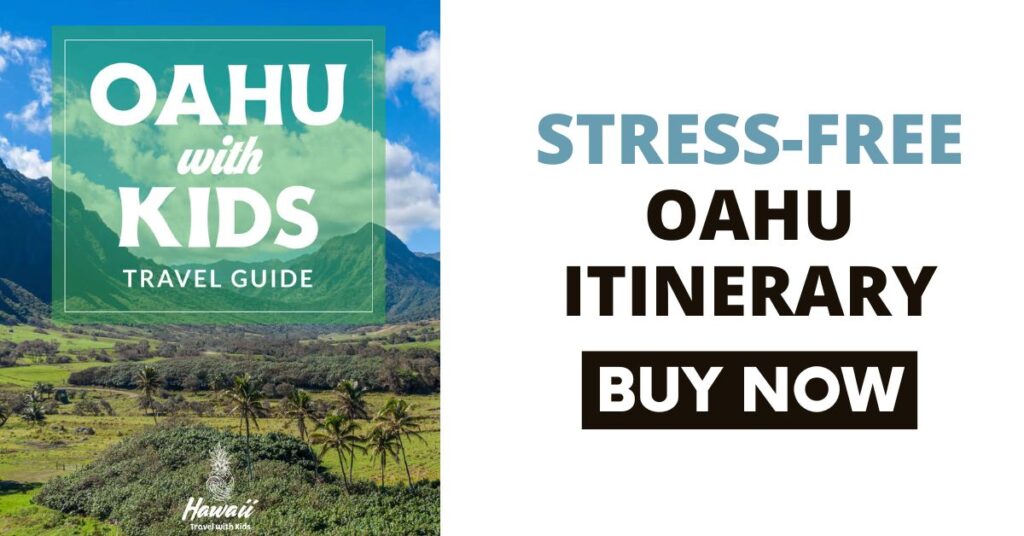 Oahu Hawaii Ice Cream Wrap Up
These are some of the best ice cream spots on Oahu you will find. Some of these are hidden gems and best-kept Oahu secret spots. And all of them make for cute Oahu Instagram spots. Find them and enjoy tasting all the delicious cold treats during your sunny vacation in Hawaii!
You won't find more delicious ice cream than you will here in Oahu from these locally made ice cream shops! This list is of the truly best ice cream Oahu has to offer!