Are you heading to Oahu on a budget? You can save a lot of money on food if you know where to eat. Keep scrolling for the best restaurants in Waikiki for people traveling to Hawaii on a budget.
This post about the best restaurants in Waikiki for budget travelers was written by Hawaii travel expert Marcie Cheung and contains affiliate links which means if you purchase something from one of my affiliate links, I may earn a small commission that goes back into maintaining this blog.
One of the best ways to explore and get to know a new place when traveling is through food. Food is easily understandable, doesn't need much translation, and most importantly, tells a variety of stories.
In fact, one of the most exciting things about traveling is getting to know the local cuisine. However, eating can get really expensive when tourists get too excited.
How do you find the right dishes for your budget, though?
Before anything else, it's important to go back to remember how much your budget and preference is. Many tourists lose themselves in the idea that great food means expensive food.
However, the truth is that some of the best food in a place can cost you less.
So, where to eat in Waikiki on a budget?
When looking for the best eats in an area you're traveling to, the key is to look where the locals flock to.
Checking your Instagram, travel websites and YouTube can easily give you ideas on where to dine. Our Where To Eat Guides can help you decide which places to hit in Hawaii.
Keep scrolling for the best places to eat in Waikiki on a budget that are worth it!
Check out my post about how much a Hawaii vacation costs!
Don't have time to read a bunch of Hawaii blog posts and reviews? Here are some of our top picks for visiting Oahu on a budget.
Best Budget-Friendly Oahu Tours/Activities
Best Budget-Friendly Oahu Hotels
Want to Rent a Car in Hawaii?
One of the best places to rent a car in Hawaii is Discount Hawaii Car Rental because they get the best rates from top national companies like Alamo, Dollar, Thrifty, Avis, Enterprise, Budget, and Payless.
Want to skip all the planning and just access my detailed Oahu Itinerary complete with daily schedules, kid-friendly activities, and travel hacks? Click the button below.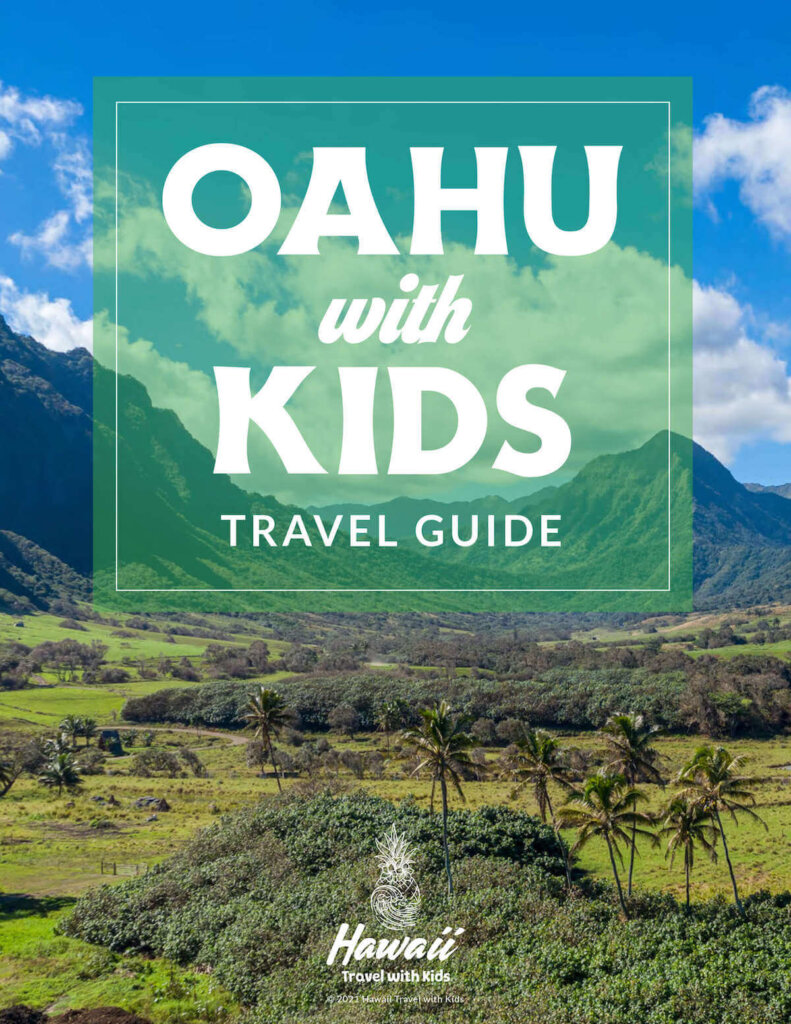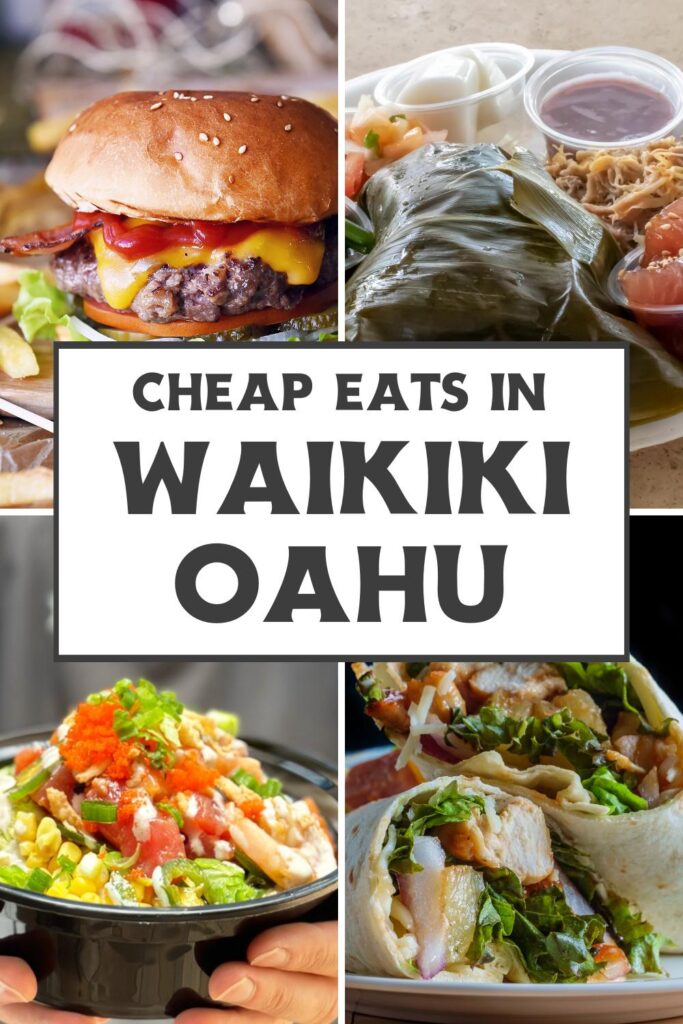 11 Places to Eat in Waikiki on a Budget
Waikiki is one of the neighborhoods of Honolulu and is part of the island of Oahu. Being that it is the third-largest island of Hawaii, Oahu is famous for its activities, nightlife, and city life.
Waikiki beach is where locals and tourists flock to whenever they feel the need to enjoy the ocean's breeze.
The cuisine in Waikiki is amazing and of course, world-class. The dishes combine traditional Hawaiian cooking with influences from Japan, China, The Philippines, and classic American cuisine.
That said, it's very easy to find great dishes for cheaper prices. We've put together a list of all the must-try eats in Waikiki that won't break the bank.
Some are Waikiki beach restaurants and others are nearby.
Excited? Let's get to it!
Raymond Reyes, the co-founder of Uncle Sharkii who hails from Hawaii, is devoted to creating Poke Bowls inspired by his homeland.
Embracing the concept of Ohana and family gatherings, Uncle Sharkii's menu has been thoughtfully designed to cater to families, offering tasty and nutritious options that all can enjoy.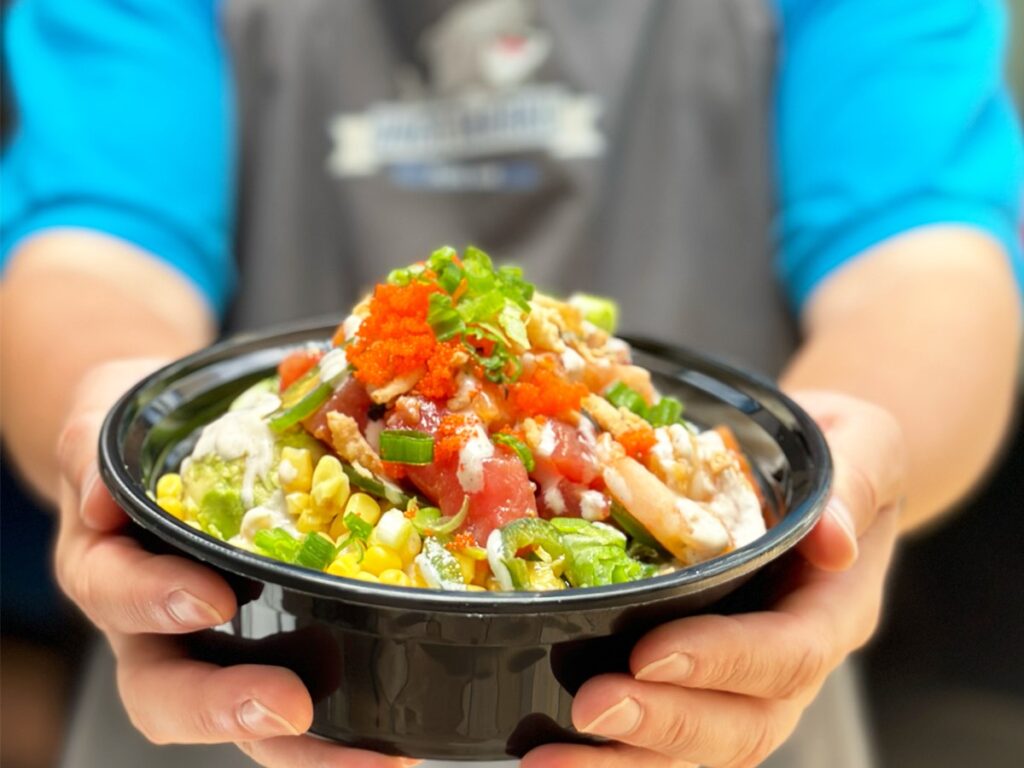 At Uncle Sharkii, they believe that everyone deserves access to healthy and nutritious meals.
So, they've ensured that their menu remains straightforward and wallet-friendly.
Their Poke Bowls are brimming with your preferred proteins, consistently addressing the primary concern of Poke Bowl enthusiasts: "How much fish is in my bowl?"
Besides their tasty Poke Bowls, they also serve Boba Milk Teas and Dole Soft Serve. It's the best place to go for a well-rounded, satisfying meal that is reasonably priced, healthful, and scrumptious.
Marukame Udon Waikiki is one of the most famous cheap eats in the area. Locals and tourists alike flock to line up the Udon chain from Japan.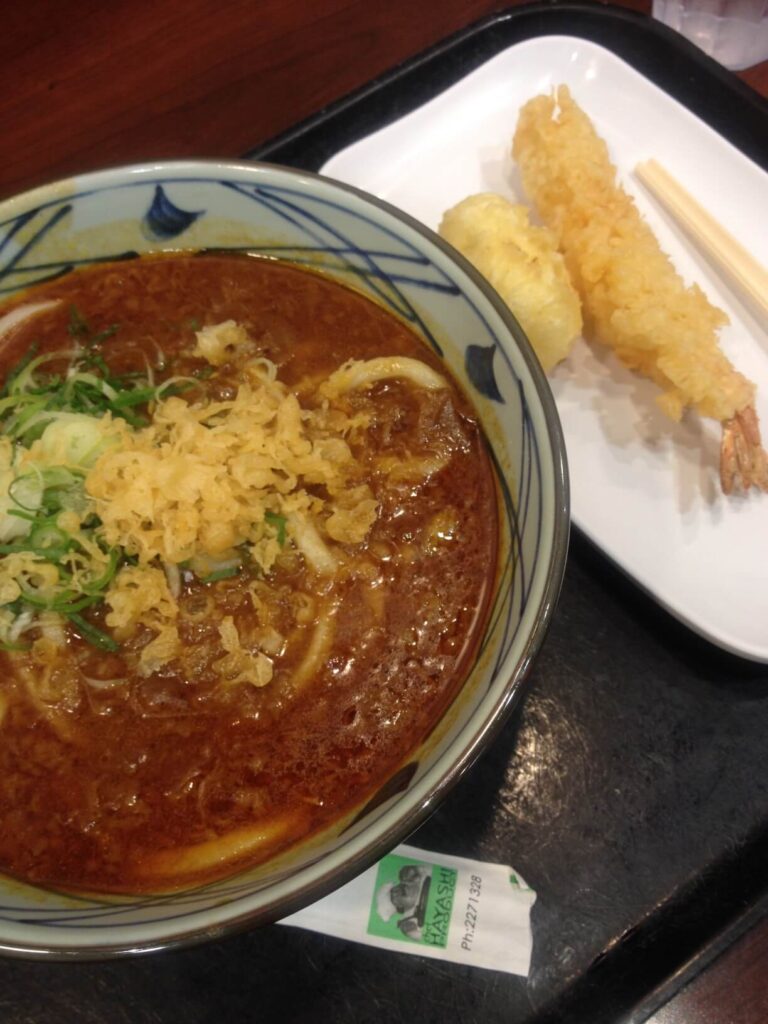 Just like most Japanese restaurants, Marukame Udon serves fresh-fried Tempura cooked every day. The restaurant pays great attention to the freshness and authenticity of its dishes.
In fact, their Waikiki food menu features dishes such as the Teriyaki Chicken/Beef Bowl, Chicken Katsu Sando, Tempura, and Harumaki.
On the other hand, their udon range from Kama-Age, Kake, Bukkake, Ontama, Kitsune, Nikutama, Curry, Beef, and Curry Nikutama.
People usually order any of their udon and add side dishes like Shrimp Tempura. The best thing about their menu? The most expensive dish is a mere $10.50!
This is the best restaurant in Waikiki for ramen lovers! And it's a must eat Waikiki restaurant for both tourists and Hawaii residents.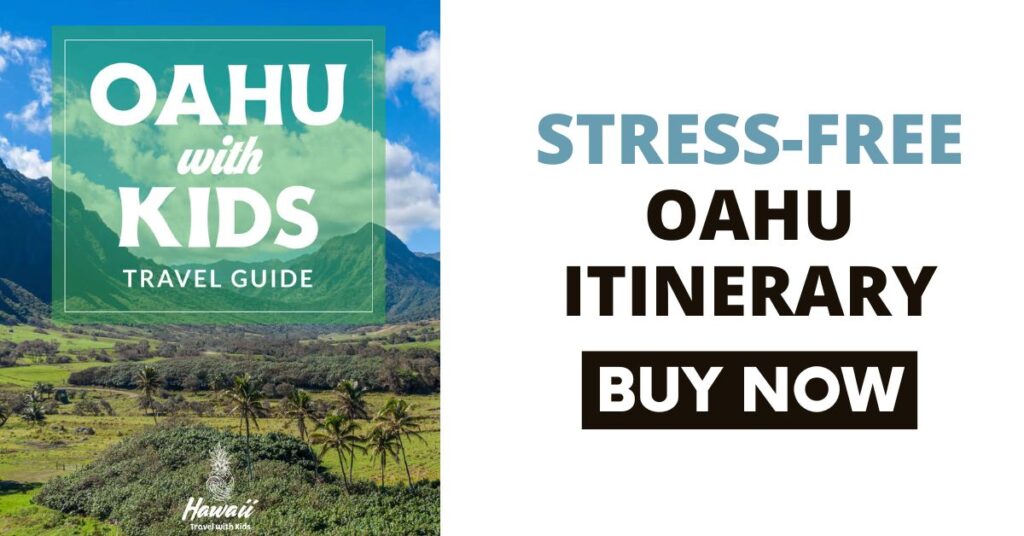 Another great place to visit for a quick and cheap bite is Waikiki's Steak Shack. What's a better way to enjoy the view of the ocean than with a plate of hot steak, right?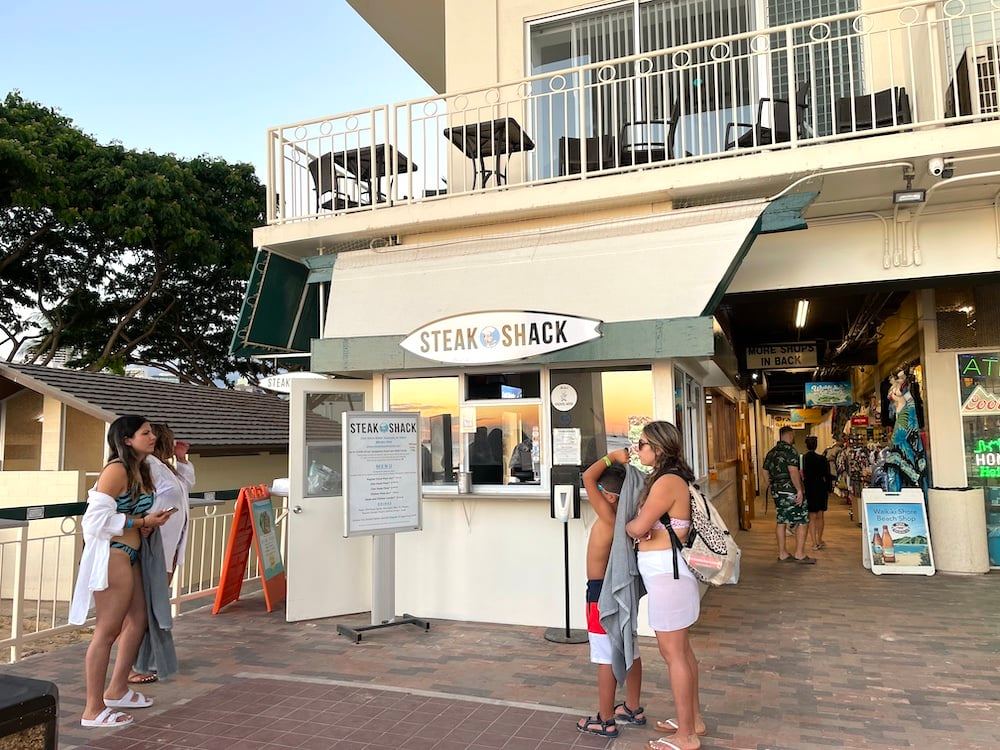 Their serving is amazingly large, fresh and unbelievably cheap! The regular steak plate of 6 oz costs $9.50 and their chicken plate costs $8.75. Each plate comes with rice and a salad. Pretty worth it, if you ask us.
You can see tourists and locals buy their steak plates and happily eat it on one of the outdoor tables or right by the beach. Steak shack also sells desserts from a local cupcakery for that sweet tooth fix.
You can find the Steak Shack restaurant in Waikiki on the second floor of a beachfront building next to Outrigger Reef Beach Resort.
Musubi Cafe Iyusame is the perfect go-to place for fast and cheap eats in Waikiki. The place is part walk-up counter, part knick-knack store and cafe. That said, it's no wonder that people treat it as a local treasure.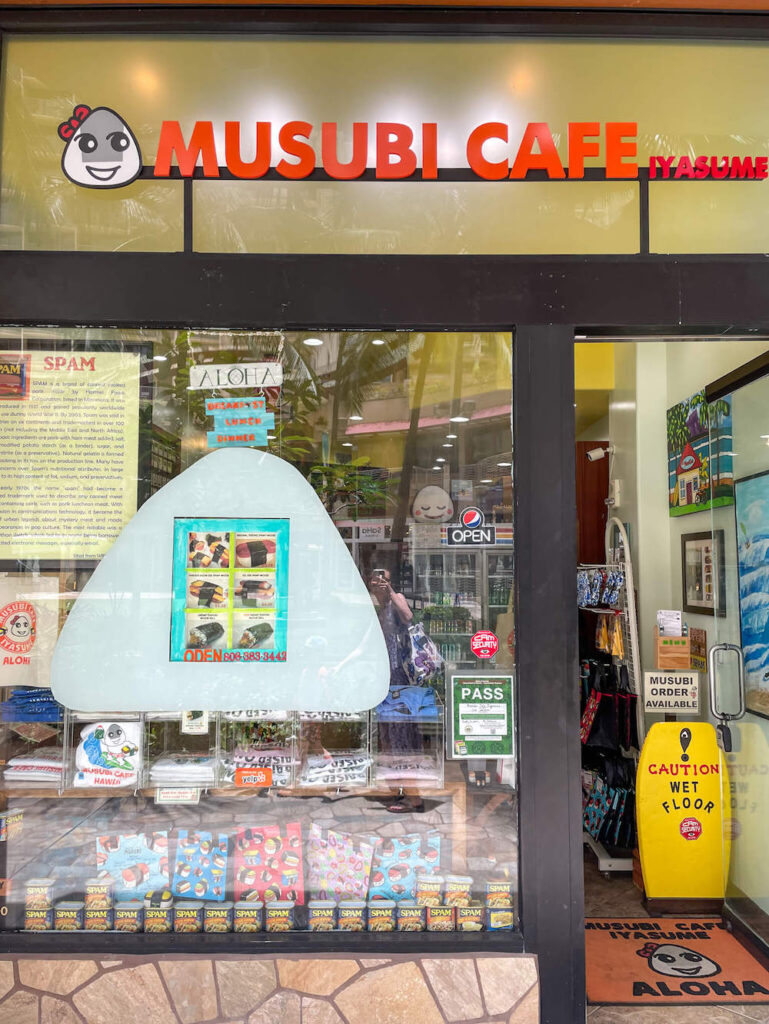 While many tourists can go overboard with the selection of 35 musubis, locals have their own set of favorites. The Cafe also serves a combination menu that includes 2 musubi and miso soup.
However, even the combination menu offers prices that don't exceed $10, with the most expensive one being only $8.50. This is the best place to eat in Waikiki for a quick bite.
Because of its vicinity to Waikiki Beach, people can easily grab a musubi to-go. Tourists love it because of how much they get for their money and at the same time, get a taste of local cuisine.
The Musubi Cafe Iyasume is on 2427 Kuhio Avenue, Mitsuwa Market Place.
If you're looking for a heavier and heartier meal, you can choose to go to the southern side of Waikiki and go to Rainbow Drive-In. This is one of the most famous must eat places in Waikiki.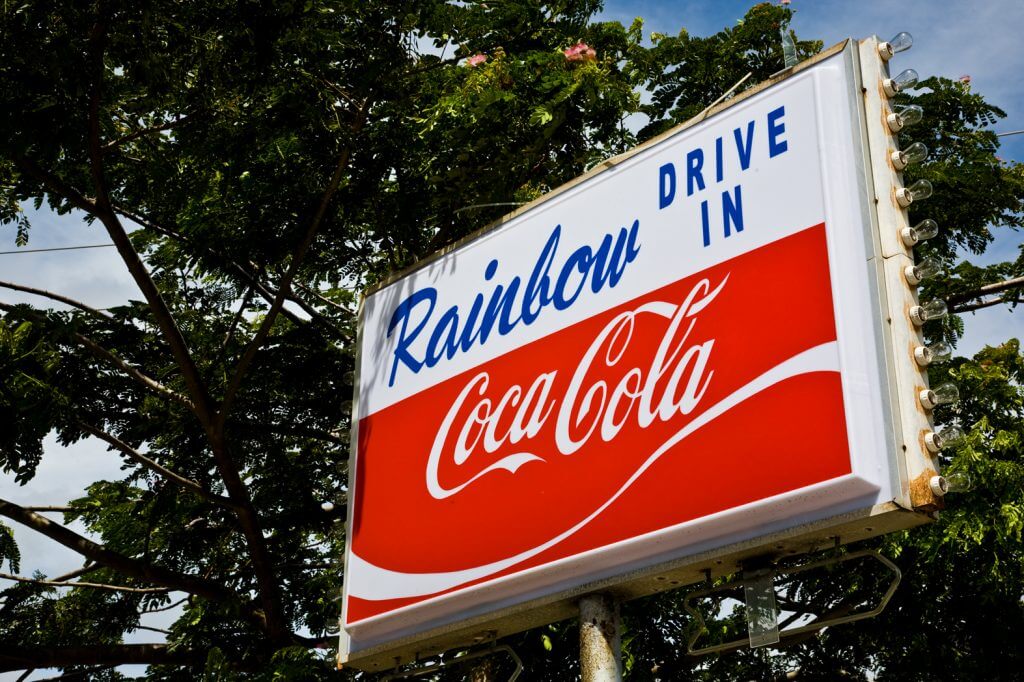 The Drive-In is well-known for its plate lunches that come with two scoops of rice and one scoop of macaroni. Family-owned and operated since 1961, Rainbow Drive-in produces about 1,000 plates a day!
The Drive-In began serving with only 50-cent chili and rice plates, BBQ beef plates and 25-cent hamburgers and 14-cent fries.
Today, their menu has become a mixture of different lunch plates that showcase Hawaii's local and Polynesian cuisine.
Their most popular lunch plate, the Mix Plate, includes BBQ Beef, Boneless Chicken, and Mahi Mahi for only $10.50.
Aside from their lunch plates, they also serve sandwiches and burgers that range from $2.00-$5.00.
Of course, none of these would be complete without any delicious comfort food as side dishes. Their side dish menu includes classics like tater tots to local favorites like Loco Moco Bowl and Saimin.
Aside from all those dishes, the Drive-In also serves Daily Specials, Breakfast, and Drinks that all cost below $10.00. Talk about worth it!
The Rainbow Drive-in also has a large parking space for those bringing their own cars.
We go here every trip because it's one of the best restaurants in Waikiki Hawaii for any budget!
Teddy's Bigger Burgers is part of a chain of restaurants that started with backyard cookouts. Owners Ted and Rich have created a reinvention of the burger joints of the 50s.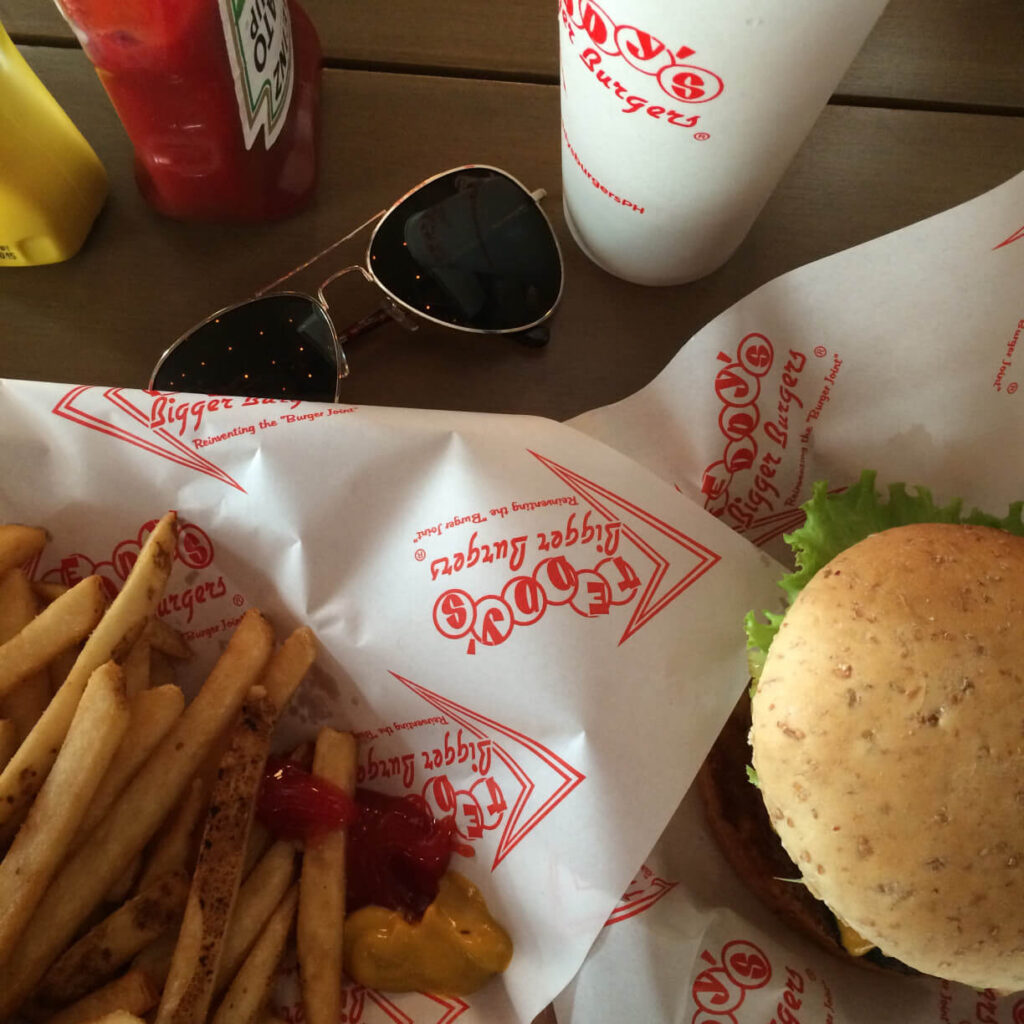 Because of how fresh the ingredients and the burger are, orders can take a bit longer to prepare. However, Teddy's Bigger Burgers has made it their goal to make their burgers worth the wait.
Aside from the delicious burgers, the restaurant serves classic burger joint staples such as chicken tenders, salad, fries, ice cream floats, fountain drinks, shakes, and even offer a Kids' menu.
Their burger prices range from $7.99 to $13.99.
Tourists can find Teddy's Bigger Burgers at Kapahulu Avenue, in Waikiki.
Our first desserts' place on this list is Henry's Place in 234 Beach Walk, Waikiki. Henry's Place is your go-to ice cream place after swimming and enjoying the hot Waikiki sun.
All ice cream and sorbets are made with fresh fruit and one bite can easily prove it.
Aside from the ice cream, Henry's Place also serves fruits and sandwiches. In fact, visitors can enjoy their wide variety of fruits right in their store.
Prices range from $5.25 for ice cream and $8.00 for sandwiches. It's one of the tastiest dessert restaurants Waikiki has.
Another great place to have heavy meals is Me's BBQ in 151 Uluniu Ave in Waikiki. Me's BBQ is a local barbecue place that serves over 48 different plate lunches.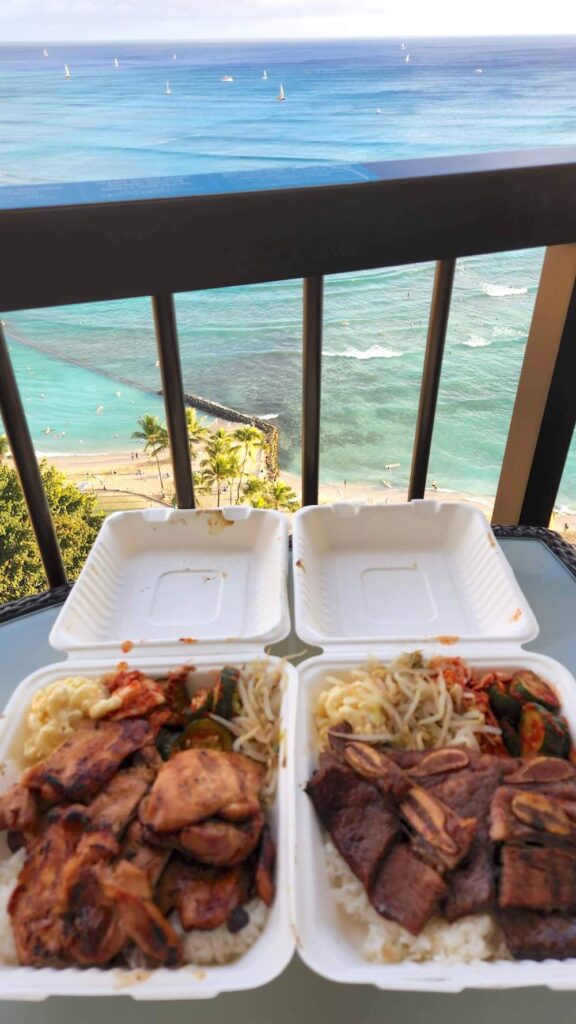 Their bestseller, the Kalbi bbq meal costs only $9.50 and it includes a generous amount of rice, macaroni salad, some greens, and Korean short rib. Amazing!
If you're famished from a day spent swimming and traveling, Me's BBQ will definitely make it worth your while. Almost all dishes cost around $7-$15.00, depending on the sides.
Another Korean BBQ place in Waikiki is Yummy Korean BBQ near the International Market Place in Kalakaua Ave. This Korean BBQ place is often packed but you can get it for take-out and enjoy your order out on the beach.
Yummy Korean BBQ began in 1986 by Peter Kim. Over the years, the restaurant has grown into the local favorite that it is today.
The menu offers a variety of Korean dishes that range from Kal Bi, BBQ Beef, BBQ Chicken, Bi Bim Bap, BBQ Pork, Chicken Katsu, and Fish Jun.
The "mini" plates' prices range from $7.00-$10.00 while the full lunch/dinner plates cost around $11-$17.00.
Tourists and guests consider the restaurant a "hidden gem" across the back entrance of the International Market Place. It is a small and often packed but really worth the wait.
If you're into Poke Bowls and wondering what to eat in Waikiki, Maguro Spot is for you. Hawaiian Ahi Poke bowls are simple dishes made with chopped seafood, onions, soy sauce, and and sesame oil. Maguro Spot celebrates this dish in 16 different variations.
However, customers can also opt to create their own Poke Bowl by picking their preferred size, rice, sauce, and topping.
Prices range from $5.00-$12.50, depending on the topping. Maguro Spot is on 2241 Kuhio Avenue in Waikiki, very close to the other restaurants on this list.
Customers love the fresh fish, taste and value of Maguro Spot's Poke Bowls. In fact, some even name it as the best local poke spot in Waikiki.
Oahu Mexican Grill is the freshest tex-mex on the island. The restaurant makes use of only grass-fed, free-range beef and all-natural meats.
The Grill is known to be a refreshing option for customers who want something different from the usual Hawaiian fares.
Another hidden gem in Waikiki, OMG's location is perfect for a cool night of people-watching and enjoying the view of the ocean. They also serve drinks and breakfast.
For $4.50, customers can enjoy a single chorizo breakfast burrito. The regular menu prices range from $8.00- $12.75, depending on the meat and dish type.
The Oahu Mexican Grill can be found on the second floor of 2520 Kalakaua Avenue in Waikiki.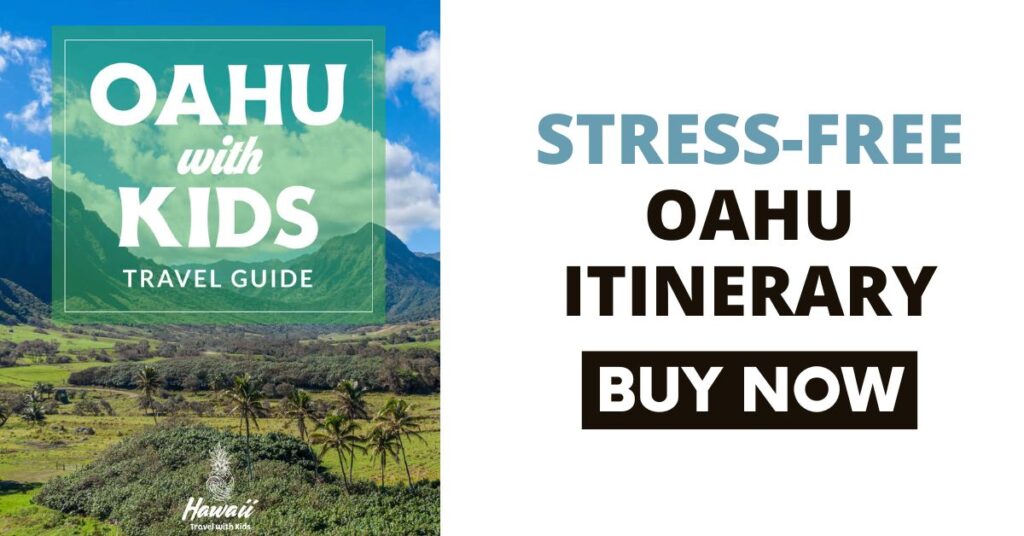 Top Questions about the Best Restaurants in Waikiki
Where can I find Waikiki restaurant deals?
Always be sure to grab the free tourist brochures at the airport and in hotel lobbies. They often have Waikiki dining coupons. You can also check Groupon in Hawaii to see what deals are running at some of the best Waikiki restaurants.
What is there to eat in Waikiki?
Waikiki has practically every type of food you can imagine. You'll find all kinds of Asian food, Hawaiian food, American chain restaurants, Kona coffee shops, fast food, shave ice, steakhouses, and so much more.
And there is a wide array of prices. You'll find super fancy (read expensive) fine dining restaurants frequented by celebrities (many of them have live music) but you'll also find super casual cafes and food trucks.
There are plenty of good restaurants in Waikiki for all budgets and taste buds.
Where do the locals eat in Waikiki?
Anywhere they like! Some of the best restaurants in Oahu are right in Waikiki.
Like any major city, there are plenty of special occasion restaurants where locals go for bachelorette parties, birthday celebrations, anniversary dinners, etc.
But, if you're asking for more "authentic" places to eat in Waikiki, you'll probably want to hit up places that sell plate lunches, bento boxes, and musubi. Those are some of the best food in Waikiki.
How much does it cost to eat in Hawaii?
I know that Hawaii has a reputation for being expensive. That's because they have to import a lot of their food items they can't grow in the islands.
It really depends on what you eat and how big of portions you are looking for.
But, I'd say you should budget about $10-$15 per person for breakfast or lunch. A casual dinner can run about $15-$25 per person. And fancier Waikiki best restaurants are usually $25+ for dinner entrees.
Can you drink tap water in Waikiki?
Absolutely!
In fact, we usually order tap water with every meal to save a lot of money on drinks when we are dining in Waikiki restaurants.
How can I eat cheap in Hawaii?
My biggest tip for doing Hawaii on a budget is to plan on eating some meals in your condo or hotel. I've got a bunch of tips for cooking in Hawaii to save money.
But, it's really easy to hit up a grocery store and get easy items for breakfast. I like grabbing canned Hawaiian iced coffee, which saves me a lot of money I would normally spend at a cafe.
And you can get items to make your own sandwiches and add in Hawaiian potato chips or other local snacks.
However, I know that eating out is always a fun way to explore a new city. And you can treat yourself to some of these best restaurants in Waikiki while sticking to a Hawaii vacation budget.
When dining out, breakfast and lunch are usually much cheaper than dinner. So, you can plan on doing a big breakfast and skip lunch. Or do a late lunch and skip dinner.
Another option is to take advantage of Waikiki Happy Hour deals. The Hawaiian pupus are usually a great deal and they have drink specials.
Finally, you can always choose restaurants with large portions and split an entree with someone.
Traveling for Cheap Eats
Sometimes, the best way to get to know the city or town you're traveling to is getting to know how the locals eat. And these are some of the best restaurants Waikiki has to offer.
Cheap dining options will not only save you money, but also let you learn a little bit about the community you're in.
In addition, Hawaii is one of the best places to eat yourself through. Waikiki is a treasure trove of great free activities.
For those of you planning a Waikiki and Oahu food trip on a budget, here are some cheap but great places to stay in the area: Aqua Oasis Hotel, Coconut Waikiki Hotel, Paradise Bay Resort and Hotel, Vive Hotel Waikiki, Hampton Inn.