Staying in Waikiki, Oahu for your next Hawaiian vacation? Scroll to find out the best things to do in Waikiki with kids that will keep your whole family entertained!
This post on the best things to do in Waikiki with kids contains affiliate links which means if you purchase something from one of my affiliate links, I may earn a small commission that goes back into maintaining this blog.
If you are planning a family vacation on Oahu, chances are you'll be spending some time in Waikiki. Not only is it one of the most popular places to stay on Oahu, but there are tons of kid-friendly Waikiki activities.
It's really easy to get to Waikiki from Honolulu Airport and it's the ultimate place for multi-generational travel in Hawaii. Waikiki has world-class dining, shopping, incredible resorts, and the famous Waikiki Beach.
Whether you are planning your first trip to Hawaii or you go frequently, there's something for all families to do in Waikiki.
Take a look at this list of the best things to do in Waikiki for families with babies, toddlers, preschoolers, young kids, tweens, and teens.
And be sure to check out my top 101 things to do on Oahu with kids!
Want to skip all the planning and just access my detailed Oahu Itinerary complete with daily schedules, kid-friendly activities, and travel hacks? Click the button below.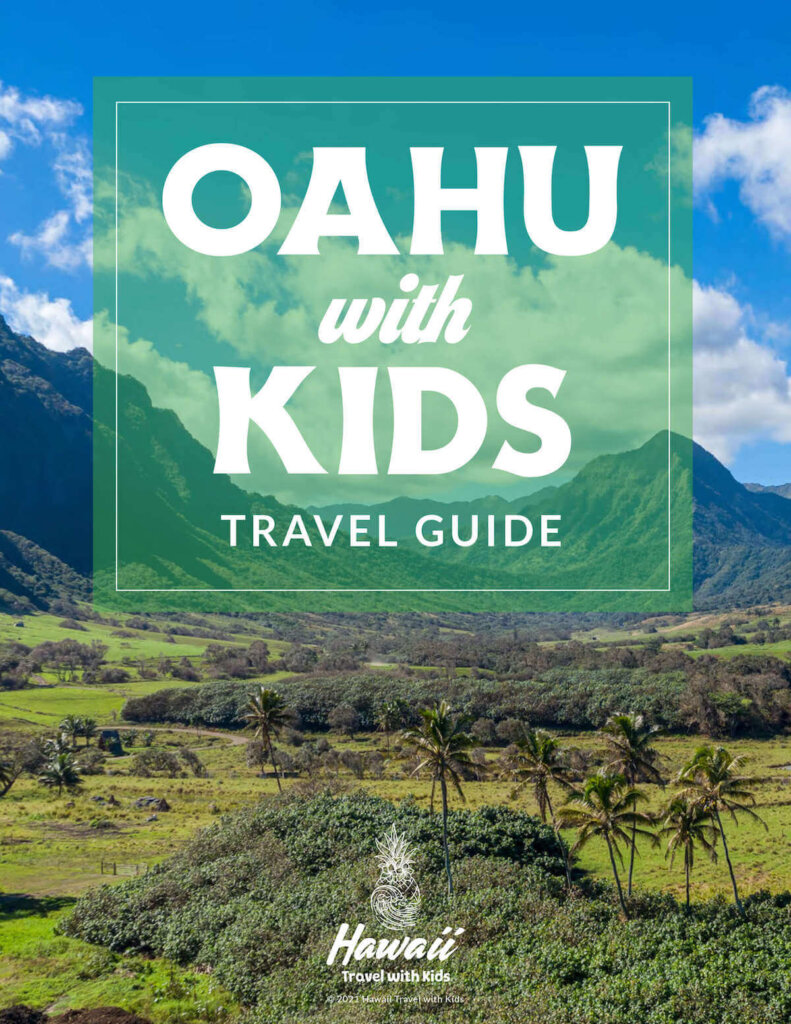 Waikiki Travel FAQs
What is the best time to go to Waikiki?
If you are planning a Waikiki vacation and don't want to deal with crowds, try visiting during one of Hawaii's shoulder seasons (mid-April to June or September to mid-December). The weather is usually decent and you'll avoid school vacations.
Why is Waikiki so popular?
It's a pretty fantastic vacation destination for couples, families, and solo travelers. There are some amazing oceanfront hotels, a vibrant food/drink scene, and tons of activities and attractions nearby.
Do you need a car in Waikiki?
If you are planning on sticking close to Waikiki or doing a few tours, you won't need to rent a car. You can take advantage of the Waikiki Trolley to get you everywhere in Waikiki (Uber is another option). Many tours and luaus offer shuttle service from Waikiki. You can easily rent a car for a day or two if you want to explore Oahu on your own.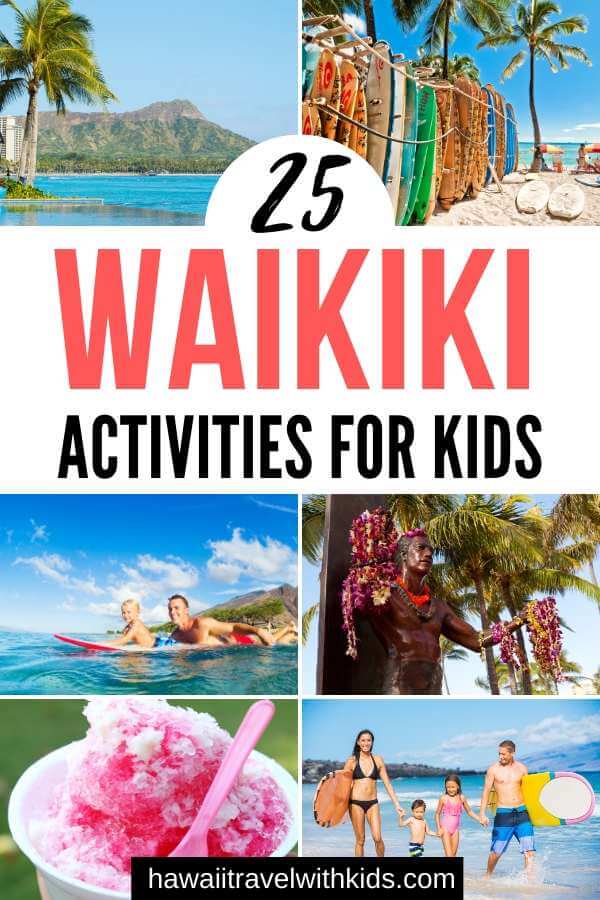 25 Incredible Things to do in Waikiki with Kids
Is there anything more iconic than learning to surf in Hawaii? Waikiki Beach is perfect for learning how to surf because the water is pretty calm. In fact, there are tons of Waikiki surfing lessons for kids of all ages.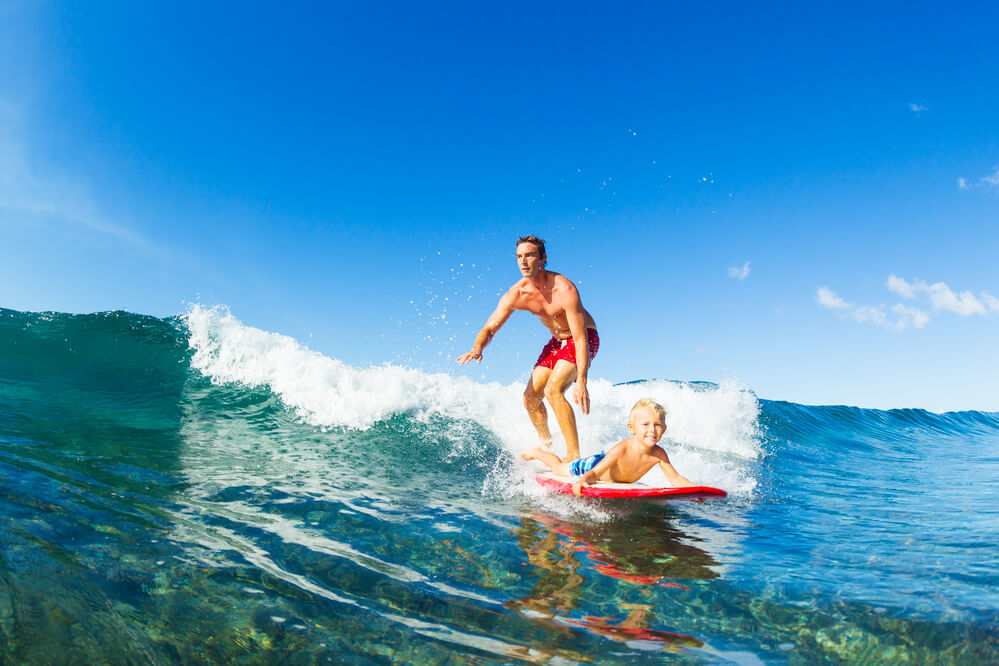 It's one of the best things to do with kids in Waikiki because it keeps them active while they learn a new skill. Check out the latest prices and more details.
While there are lots of places to rent surfboards in Waikiki, you might want to sign your kids for surfing lessons at one of the most famous beaches (and where surfing is rumored to have started.)
Book your Waikiki Surfing Lessons
If you are looking for a decadent Hawaiian dessert, look no further than Duke's Waikiki. They make a massive Hula Pie that is perfect for the whole family to share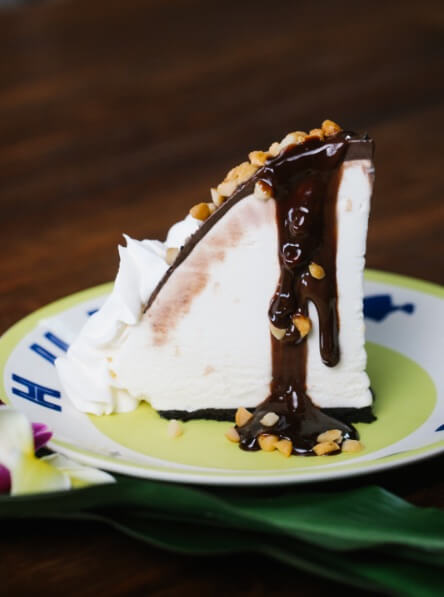 There's macadamia nut ice cream and fudgey chocolate in a chocolate cookie crust pie. It's unbelievable!
If you are renting a car, it's really easy to do this Diamond Head hike on your own. It's not a long hike, but it includes a rocky staircase and a dark 200-foot tunnel. It's one of the best kid-friendly hikes on Oahu.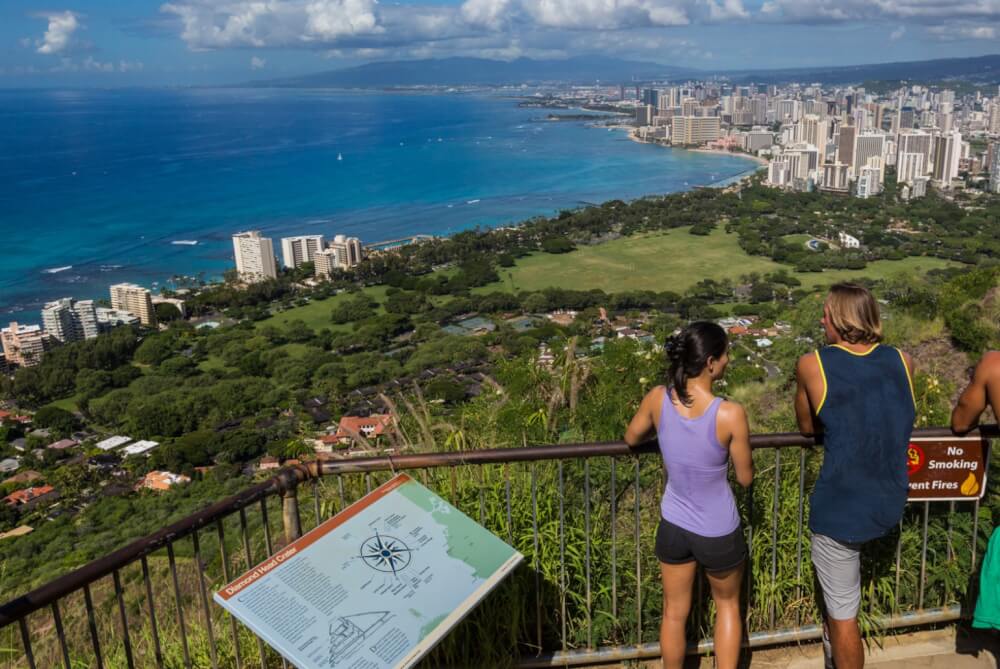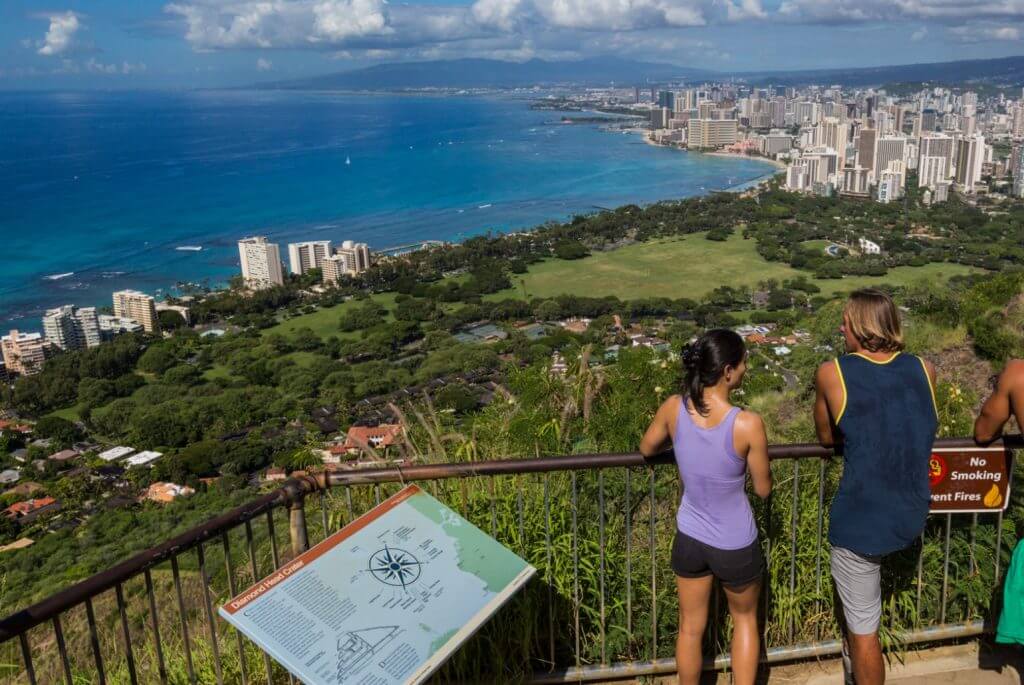 Once you get to the crater summit, you'll get an amazing 360 degree panoramic view at the summit.
However, if you don't have a rental car, you can always book a shuttle to take you there. This shuttle even has the option of stopping to get fresh malasadas. Find the best prices here.
Book your Diamond Head Hiking Tour
4. See the Duke Kahanamoku Statue
One of the most famous Waikiki attractions is the big Duke Kahanamoku statue right at Waikiki Beach. He was a legendary Hawaiian surfer and Olympic gold medalist.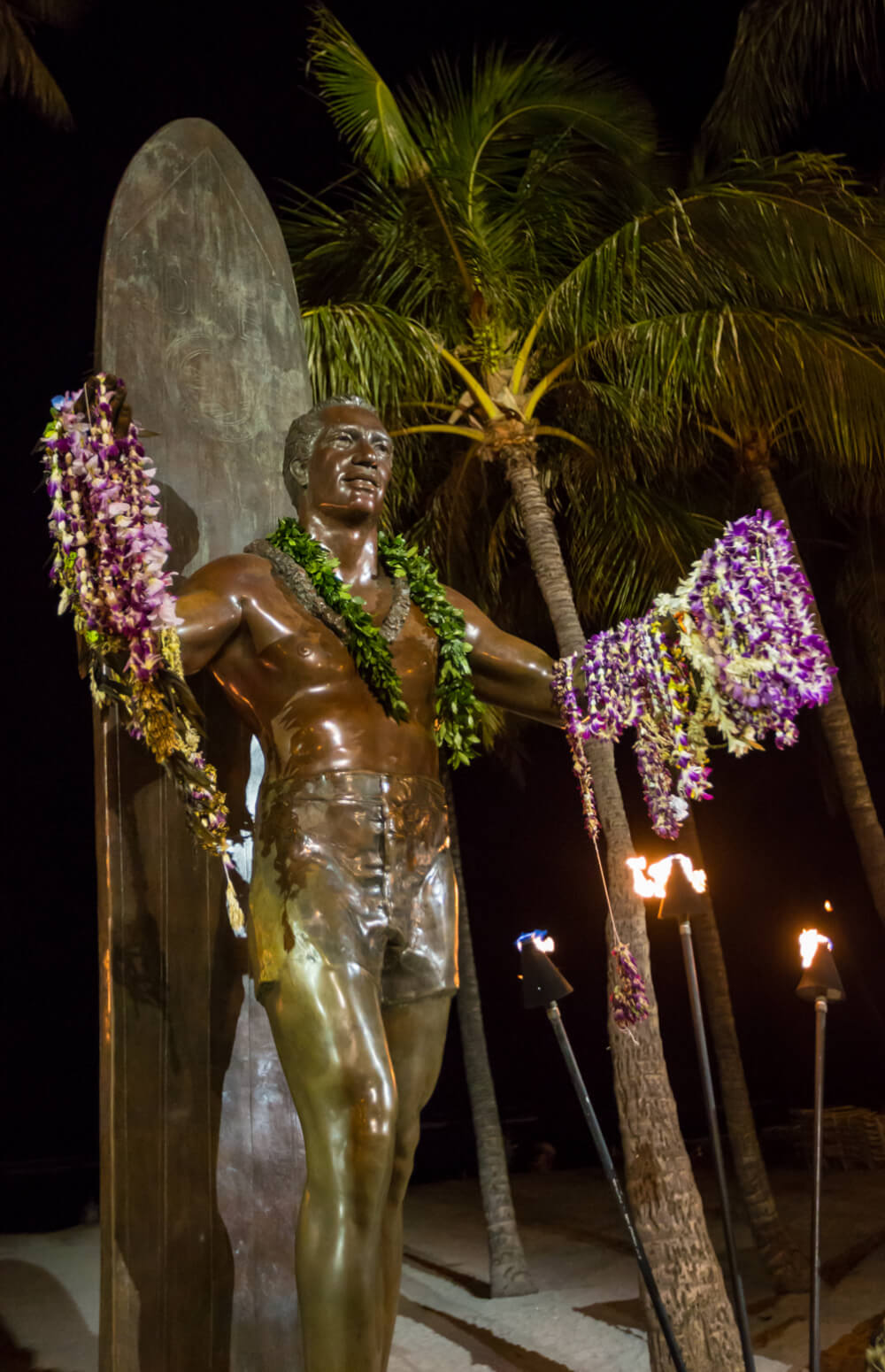 People come from all over the world to drape him in leis. It's also a top Waikiki photo spot.
If you are in Waikiki with kids, sign up for a one-hour parasailing adventure. You'll hop in a 12-person boat and spend 8-10 minutes soaring up in the skies. You might even see dolphins, tropical fish or sea turtles. Check out the latest prices and more details.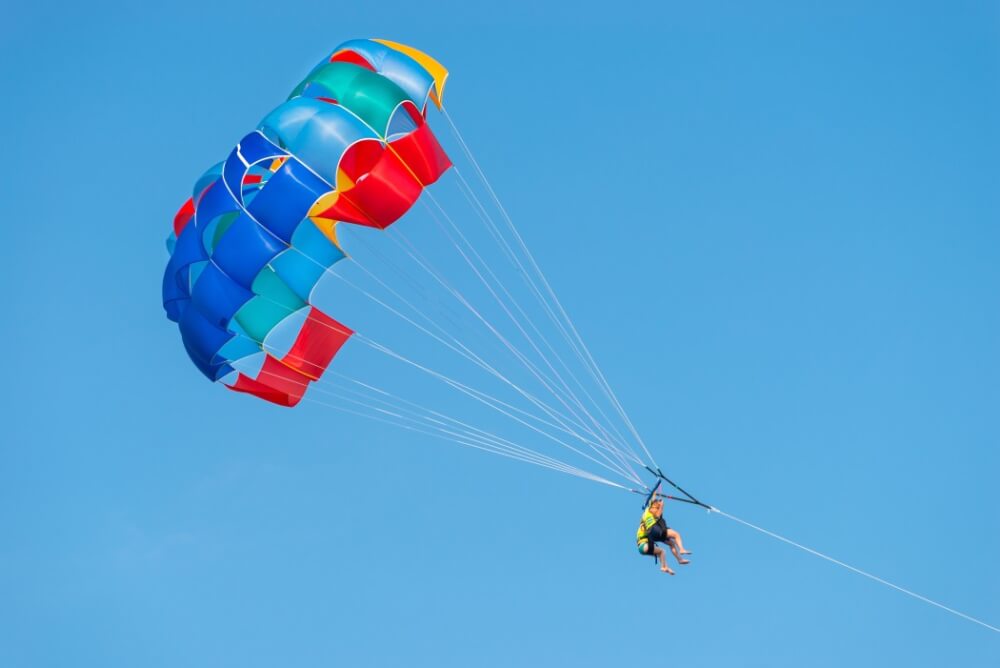 They take kids who are at least 5-years-old, but it's also a hit for tweens and teens. Plus, they can pick up straight from your hotel.
Book your Waikiki Parasailing excursion
6. Taste Shave Ice from Ice Monster
While Hawaiian shave ice is always a good idea, one of the coolest places to get shave ice in Waikiki is Ice Monster. It's actually Taiwanese shave ice and it comes topped with sorbet, panna cotta, and fresh fruit.
Some of their most popular flavors include mango, strawberry, papaya, and matcha.
Note: these are a bit pricey but can easily be shared.
Your teen or tween will love doing this 75-minute yoga class on Waikiki Beach that focuses on mindfulness and appreciating Hawaii's beauty. Check out the latest prices and more details.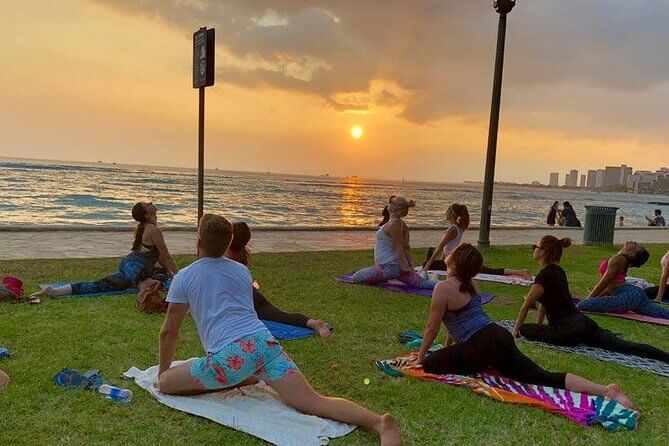 Not only will you feel a bit more connected to the island, the ocean, and yourself, but you'll get spectacular sunset views with Diamond Head as the backdrop.
Classes are for people ages 8 and older and for all yoga levels.
Book your Waikiki Sunset Yoga Class
8. Check out a Free Hula Show
One of the best free things to do in Waikiki is the incredible hula show at the Kuhio Beach Hula Mound. It's right by the Hyatt Regency Waikiki Beach hotel and it's perfect for families.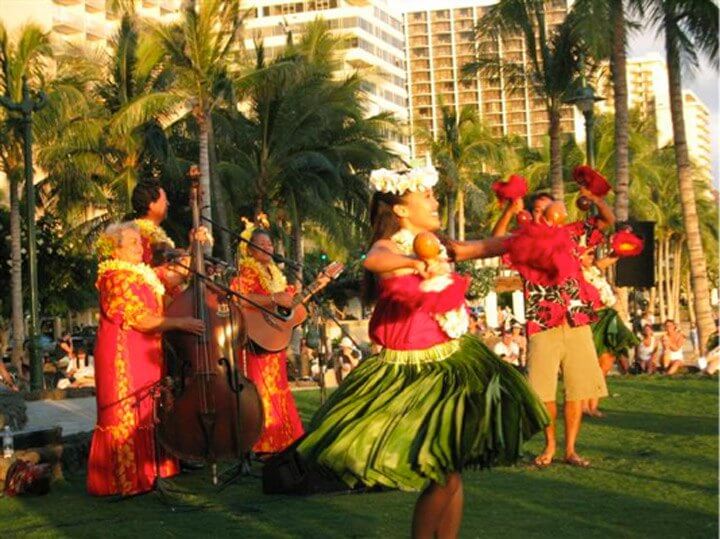 This hour-long authentic Hawaiian hula show kicks off with tiki torch lighting and the traditional blowing of the conch shell. It's great for families with babies and toddlers who might not be able to sit through a full luau.
Another fun thing to do in Waikiki with kids is to attend the Rock a Hula dinner show. It's one of the longest running shows in Waikiki.
Here, you'll get to see hula dancing, Elvis and Michael Jackson impersonators, fire dancers, and more. Check out the latest prices and more details.
This Waikiki dinner show is open for kids of all ages.
Book your Rock a Hula Dinner Show
Geared for kids ages 5 and up, this mermaid photo shoot takes place on Magic Island and it's one of the most unique things to do in Waikiki. Find the best prices here.
You'll get to dress up in a mermaid tail and go into the water for a really cool photo and video shoot.
Mochi donuts are a new trend that is sweeping the United States right now and one of the top places to find mochi donuts in Hawaii is MoDo.
These donuts are made with Japanese mochiko flour, which makes them extra chewy. Plus, you can get yummy, tropical flavors like lilikoi, taro sugar, coconut, mango, and more.
If you are staying in Waikiki without renting a car, you'll definitely want to get a multi-day Waikiki Trolley Hop On Hop Off pass. It's the easiest (and super kid-friendly) way to explore Waikiki without walking. Find the best prices here.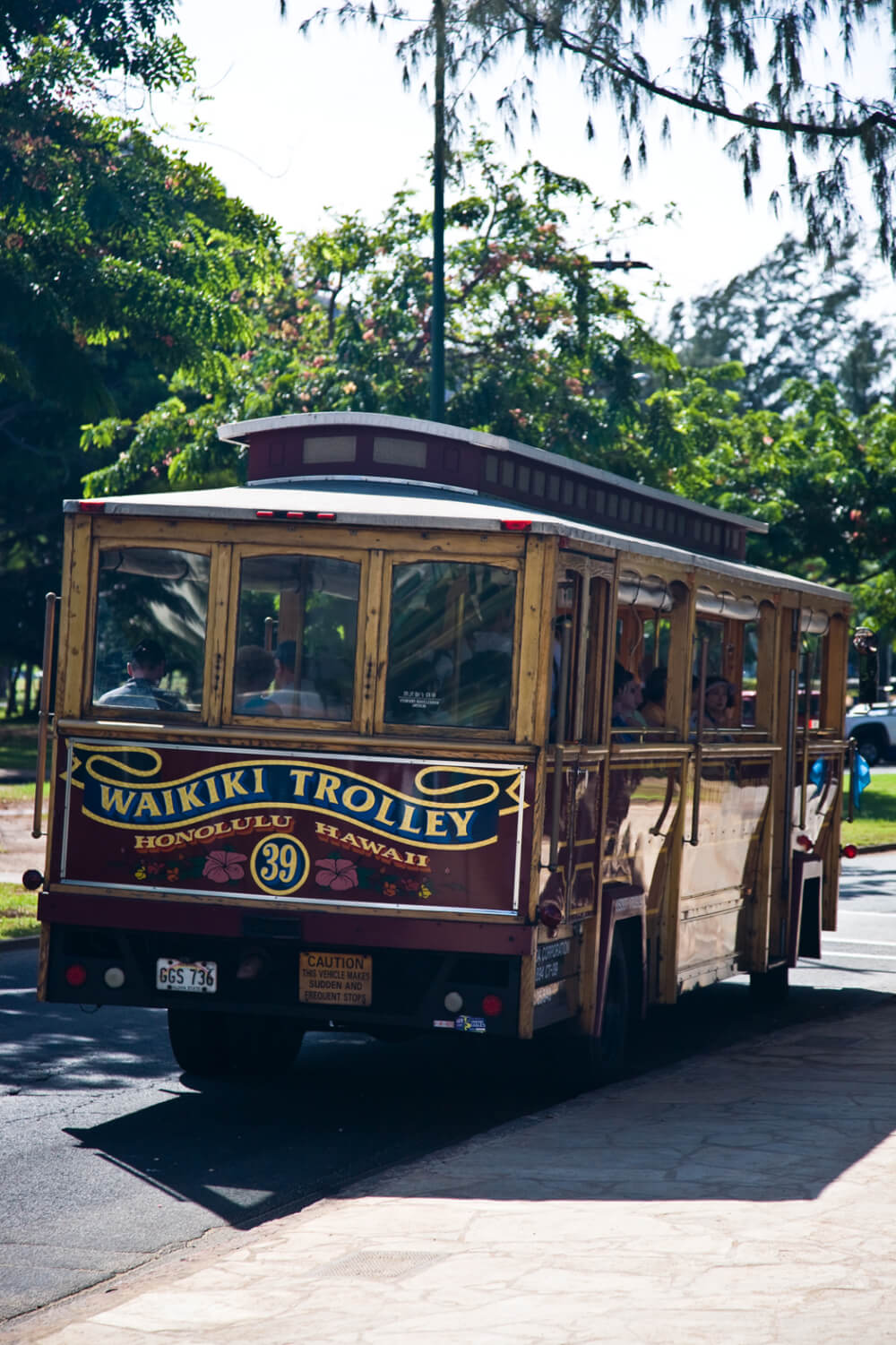 They have a ton of different routes that can take you everywhere from Diamond Head to Hanauma Bay to Ala Moana Center. It's fun just to take it as a one-day Waikiki tour, too.
Plus, kids will love seeing Waikiki from the top of a double-decker bus or an open-air trolley. Read our full Waikiki Trolley review HERE.
Book your Waikiki Trolley Tour
13. Go Bodyboarding when Visiting Waikiki with Kids
If you love doing adventures with your family, why not book a family bodyboarding lesson in Waikiki? Here, you'll get to learn how to bodyboard alongside your kids. Seems like the perfect way to laugh with (and at) each other! Find the best prices here.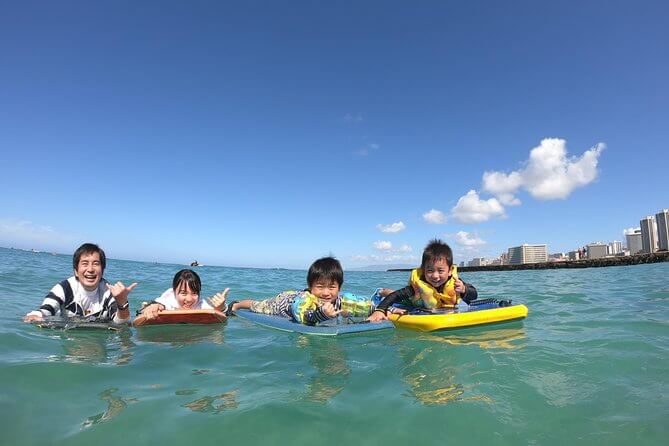 You'll be picked up from your hotel by a CPR-certified instructor who will provide rash guards, fins, and the bodyboards.
Book your Family Bodyboarding Lessons
14. Go Shopping at Ala Moana
If your kids like to shop, head over to Ala Moana Shopping Center. It's the largest outdoor shopping center in the world and it has an array of shopping experiences from high-end luxury brands to small Hawaii boutiques.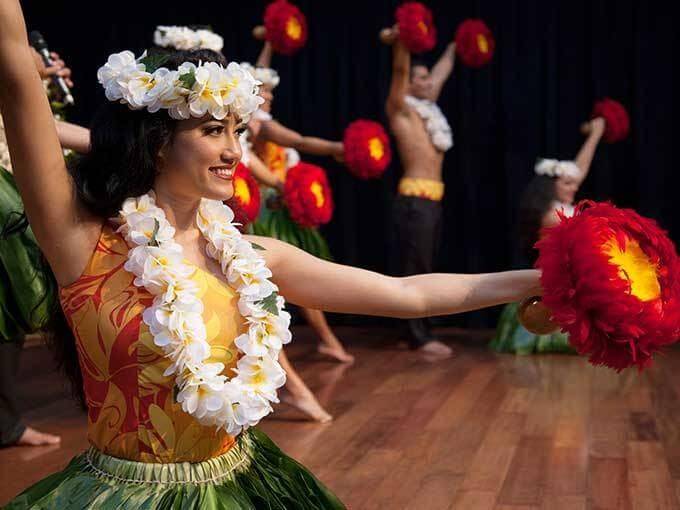 They also offer an amazing (and free) hula show and they have a fairly new play area for younger kids.
Plus, it's also a great place for cheap eats in Waikiki!
Want to go scuba diving but don't have your scuba diving certification? Join this introductory ocean dive from Waikiki. Check out the latest prices and more details.
It's not a scuba certification course, but it's an easy way to discover Hawaii's colorful coral reefs and marine wildlife without going through weeks of training.
This scuba diving adventure is perfect for exploring Waikiki with teens and tweens (the minimum age is 10 years old.) And you'll be supervised by a Professional Association of Diving Instructors member.
Book your Waikiki Scuba Diving adventure
16. Get Dole Whip from Aloha Whip when Visiting Waikiki with Kids
One of the best treats to get in Hawaii (besides shave ice) is Dole Whip. It's dairy-free pineapple ice cream that is sold at Dole Plantation and Disney Parks.
However, you can also get some at Aloha Whip, located at the Queen Kapiolani Hotel in Waikiki. Not only do they have the famous pineapple ice cream, but they also have other flavors like raspberry and mango. And they have fresh fruit slushies.
Learn how to make your own Dole Whip at home
17. Attend a Luau
One of the best things to do in Waikiki with kids is attending a Hawaiian luau! From the hands-on activities to the food and the show, there's something to entertain kids of all ages.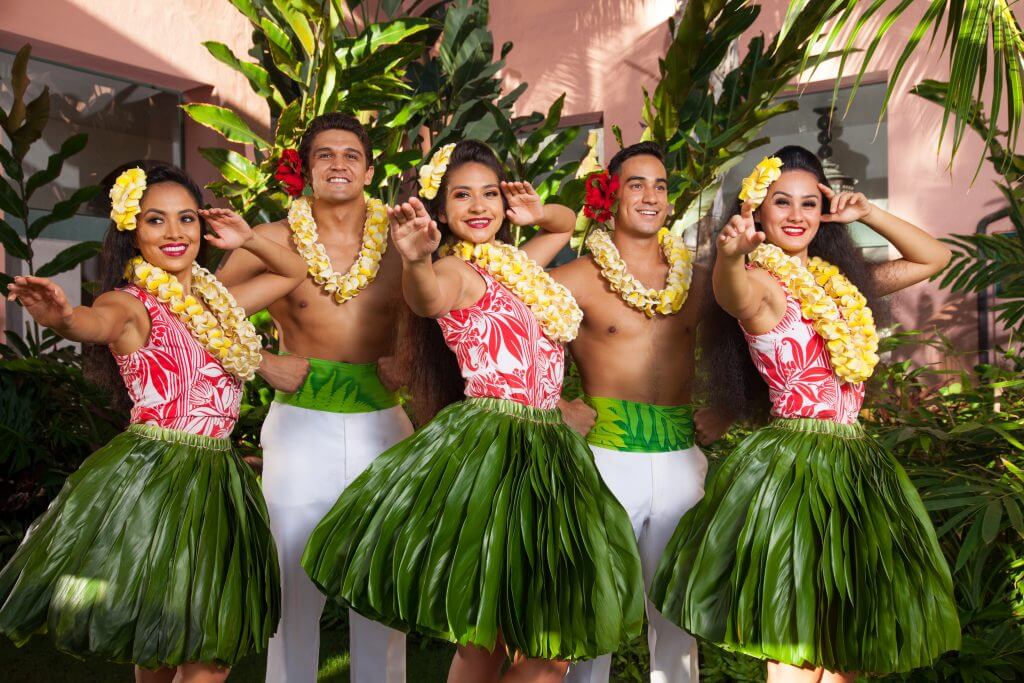 There are several Waikiki luaus, including the Aha'Aina Luau at Royal Hawaiian Hotel, that are easy to get to and lots of fun. Find the best prices here.
However, if you are looking for a super authentic Polynesian experience, plan a trip up to the Polynesian Cultural Center (they have shuttles from Waikiki.)
Check out all the best kid-friendly Oahu luaus
If you are heading to Waikiki with kids who have a hard time walking for a long period of time, consider booking a Shaxi Tour of Waikiki. Check out the latest prices and more details.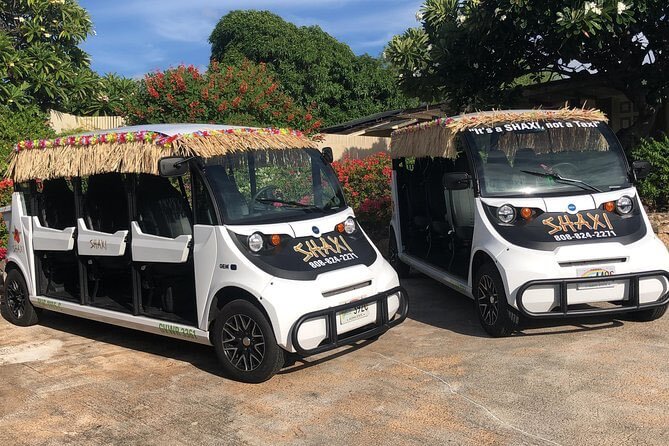 Your kids will love speeding around in a modified golf cart to see all the best Waikiki sights, including Diamond Head and Leonard's Bakery.
Kids must be at least 6 years old to participate. It's also a great way to tour Waikiki with grandparents.
Book your Shaxi Waikiki Tour
Another fun thing to do in Waikiki with teens is Stand Up Paddleboarding (aka SUP.) Hop in a Mercedes-Benz Sprinter van and get whisked away to an almost-private beach that is perfect for SUP. Find the best prices here.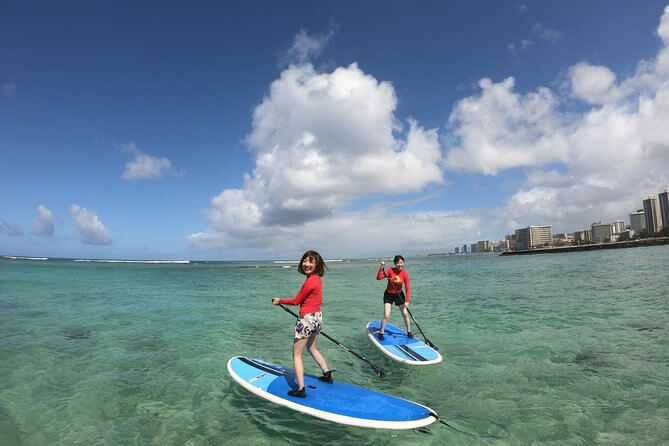 Your instructor will go over safety instructions and tell you what to do before handing out paddleboards and rash guards. When you're ready, you'll head into the water for an experience of a lifetime!
These lessons are semi-private so you'll have lots of individual attention.
20. Try Spam Musubi
One of the best snacks in Hawaii is Spam Musubi. It's a super easy (and affordable) breakfast or lunch. They sell them all over the place, including the popular ABC Stores.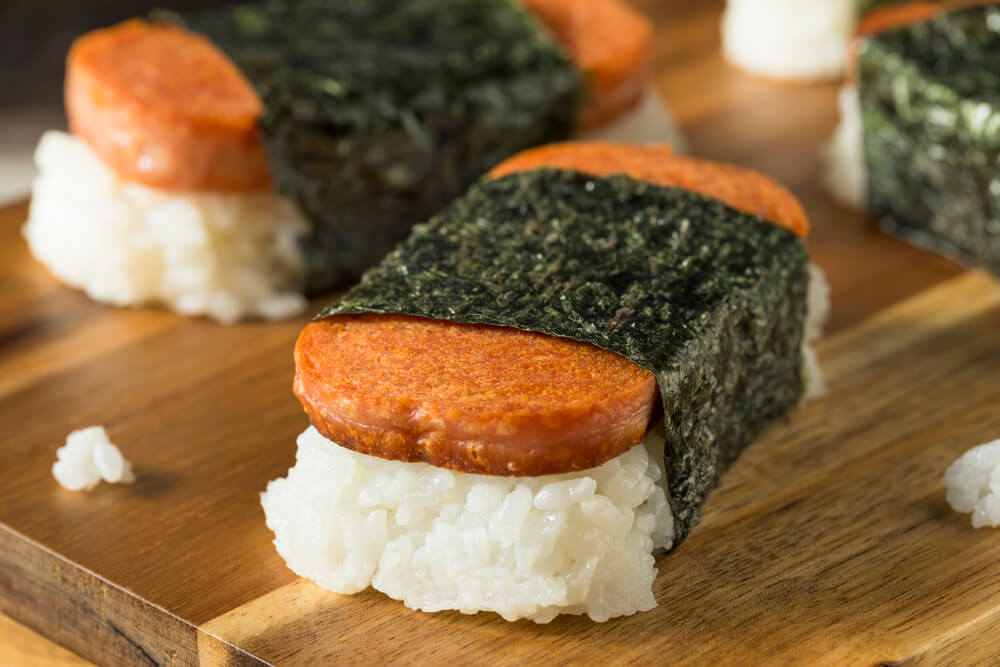 However, I recommend heading to Musubi Cafe Iyasume in Waikiki. It's a tiny, stand that can only fit a couple of people at a time, but they have a huge assortment of different types of musubi.
Let your kids pick out a few to try and then eat them on Waikiki Beach.
You can even make it at home with my Spam Musubi recipe!
21. Cruise in a Glass Bottom Boat when Visiting Waikiki with Kids
If you're looking for a kid-friendly Waikiki boat tour, you'll love this 90-minute Glass Bottom boat ride on the Pacific Ocean. You'll cruise over live tropical reefs and the site of one of Hawaii's shipwrecks. Check out the latest prices and more details.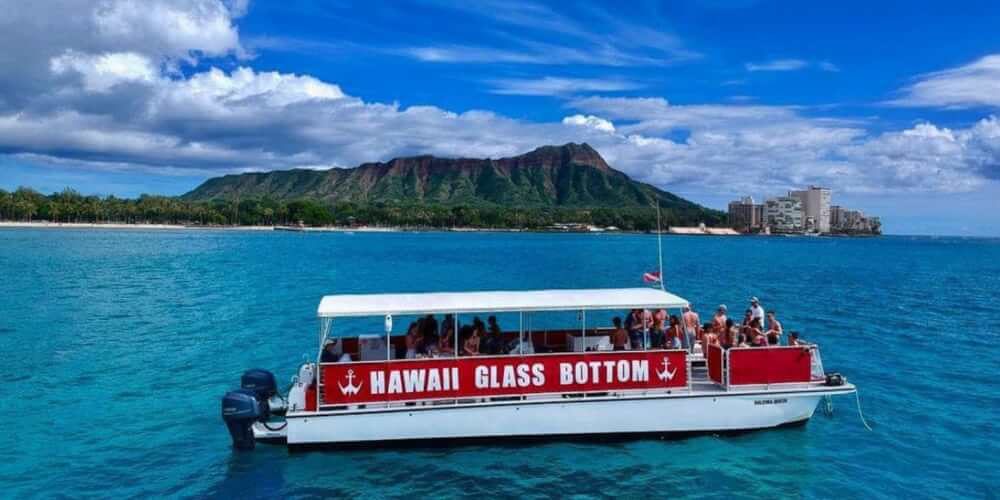 Keep an eye out for sea turtles, eels, reef sharks, tropical fish, and even dolphins! It's a great way to see Hawaii sea life without getting wet!
Get your Waikiki Glass Bottom Boat Tour Tickets
Another option is the super popular Atlantis Submarine Tour in Waikiki. Your family will climb inside a real submarine that will take you under the ocean's surface where you can get an up-close look at Hawaiian sea life. Check out the latest prices and more details.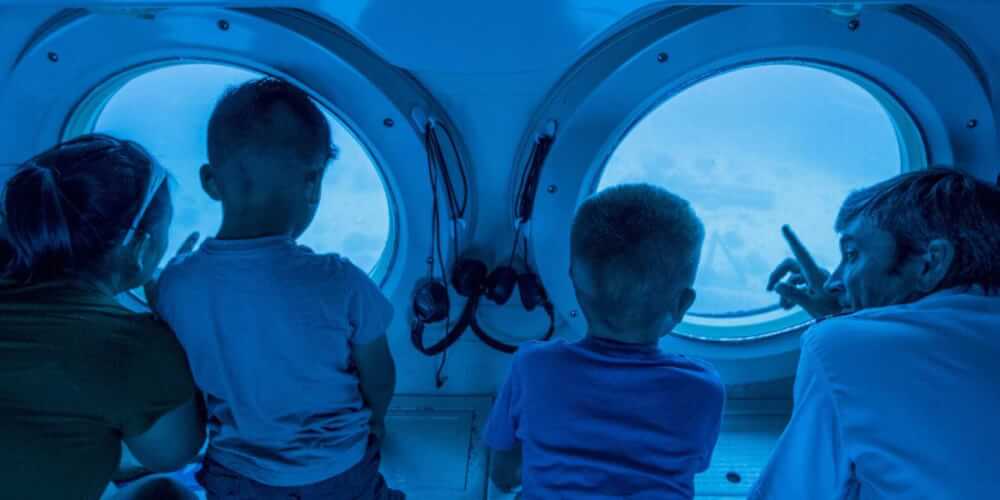 A diver will bring all kinds of sea creatures up to the submarine windows so your kids can get a great peek at animals they might not otherwise see on their trip to Hawaii. Read our full review of the Atlantis Waikiki Submarine tour HERE.
Get your Atlantis Submarine Tour Tickets
Let's face it, sometimes teens and tweens are just about getting the ultimate Instagram photo to show their friends back home. Might as well take them to the most Insta-worthy spots in Waikiki.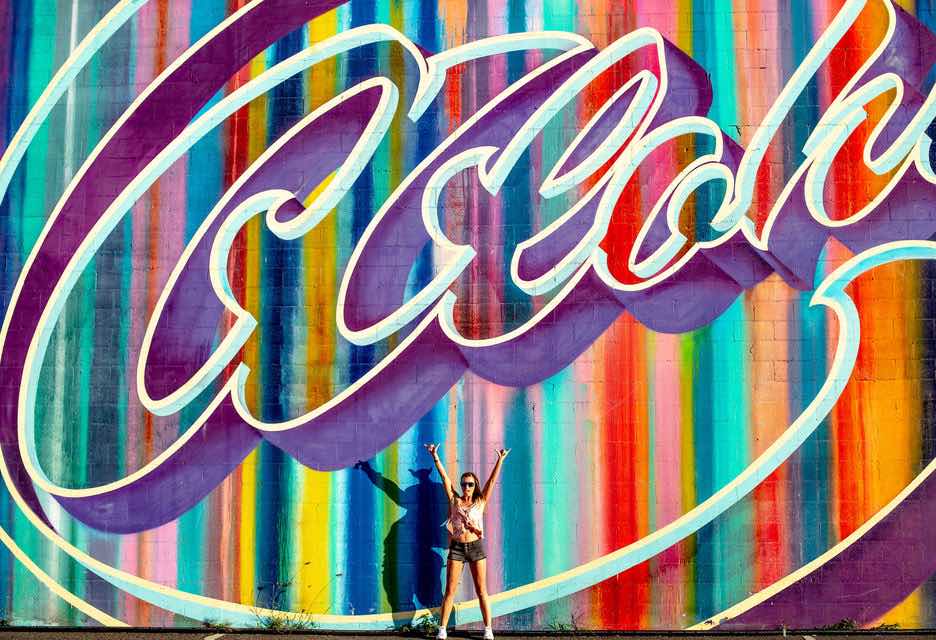 This full-day tour will take them to a bright green secret bamboo forest, tons of colorful murals, hidden caves, an amazing sandbar, and more! They can even get an action shot cliff jumping into the ocean! Find the best prices here.
Along the way, they'll also learn about Hawaii's culture and history, so it's educational!
Book your personal Waikiki Instagram Photo Shoot
24. Go Snorkeling with Kids in Waikiki
If you are looking to go snorkeling on Oahu with kids, this Waikiki Snorkeling Tour is perfect! You'll take a 2-hour boat ride out in Waikiki Bay where you'll have an opportunity to snorkel with sea turtles! Check out the latest prices and more details.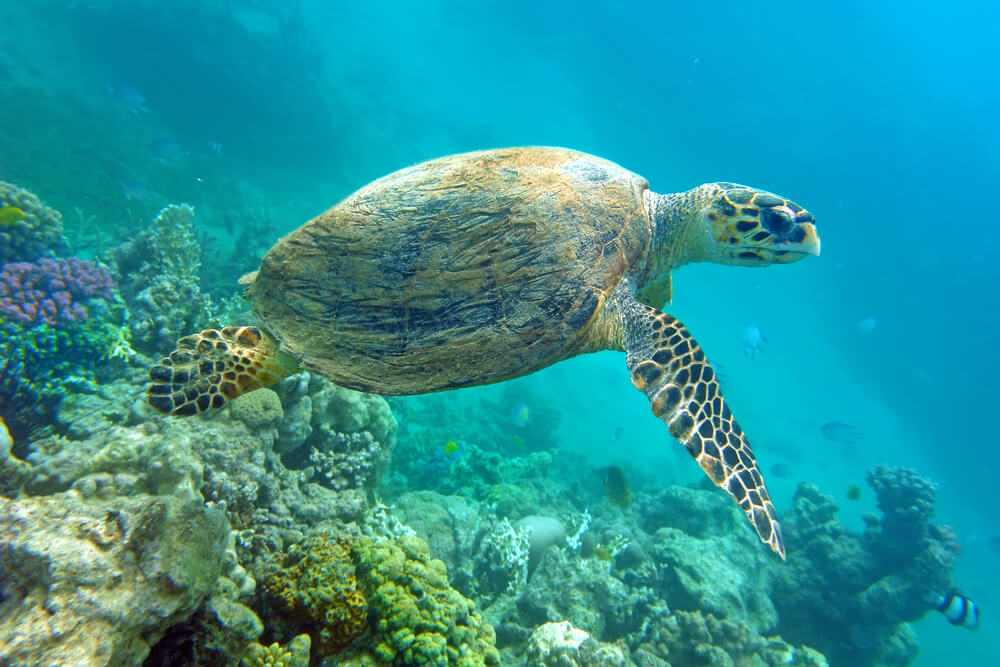 The water is super clear, making it easy to see lots of tropical sea life. The tour comes with an inflatable snorkel safety vest and snorkel gear.
And if you don't see sea turtles, you'll be invited back for free!
Book your Waikiki Snorkeling Tour
25. Swim at Waikiki Beach
Finally, there really isn't anything better than planning a full Waikiki Beach day! The sand is golden, the water is calm and clear, and the view is simply wonderful!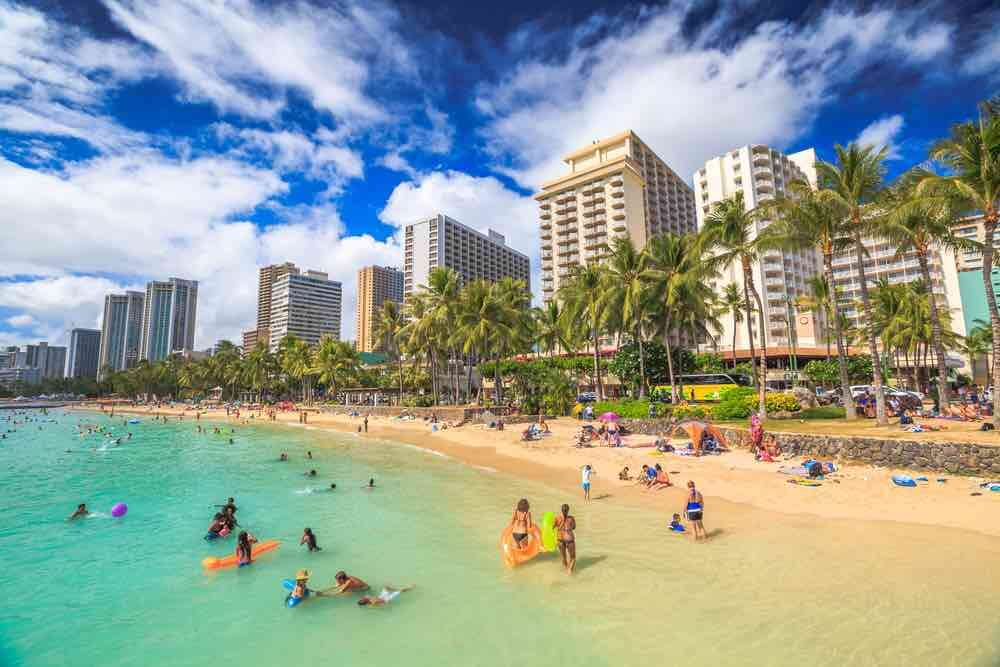 Grab your beach towels and spend the day soaking up one of the best beaches in the world!
The Best Kid-Friendly Waikiki Hotels
If you are planning on staying in Waikiki with kids, you'll want to take a look at these awesome kid-friendly Waikiki resorts and hotels.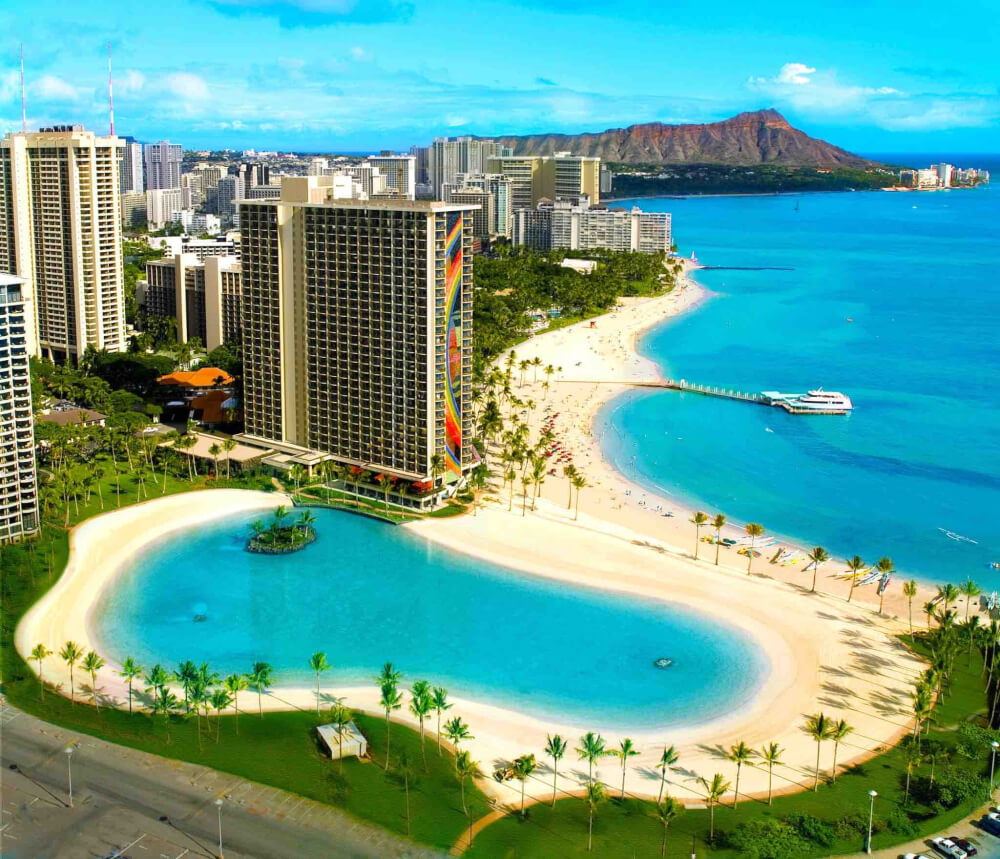 One of the most popular places to stay in Waikiki with kids is the Hilton Hawaiian Village. They are known for their amazing kids programs, private saltwater lagoon, and on-site luau. Check out the latest prices and more details.
Plus, with more than 20 restaurants, you'll find something for even the pickiest eater in your family. Read my full Hilton Hawaiian Village review.
Check rates and availability
The Hilton Waikiki Beach is a great jumping off point for exploring Waikiki with kids. They have a cool rooftop pool with pool toys that is sure to be a hit with your family. And it's just a block from Waikiki Beach. Check out the latest prices and more details.
They also have a Waikiki Trolley stop right in front of the hotel, so it's easy to get to top attractions like the Bishop Museum, Diamond Head, Hanauma Bay, and more.
Check rates and availability
The Hyatt Regency is another great location to explore Waikiki. The rooms are spacious and set up great for families. Check out the latest prices and more details.
And they have tons of kids activities like lei making, hula dancing, and learning how to play the ukulele. Read our full Hyatt Regency Waikiki Resort review HERE.
Check rates and availability