Are you thinking about planning a trip to Oahu in June? Find out some of the best things to do in Oahu in June that are worth adding to your itinerary!
This list of things to do in Oahu in June was written by Hawaii travel expert Marcie Cheung and contains affiliate links which means if you purchase something from one of my affiliate links, I may earn a small commission that goes back into maintaining this blog.
Visiting Hawaii in June is a great experience. The Island of Oahu is stunningly gorgeous during the summer months.
If you are looking for a place with a wide variety of culture, sights, and fun activities, Oahu in June is a great choice.
From the gorgeous Oahu weather during the month of June to the exhilarating festivals and events, there is no doubt you will find something everyone will love.
It doesn't matter if you are visiting Oahu with family, friends, or for a romantic vacation. The possibilities are endless on this amazing island.
Book your flights to Hawaii in June and you will not regret it. Especially if you are looking for great ways to celebrate Father's Day in Hawaii.
Don't have time to read a bunch of Hawaii blog posts and reviews? Here are some of our top picks for visiting Oahu.
Popular Oahu Tours/Activities
Favorite Oahu Resorts/Hotels
Want to Rent a Car in Hawaii?
One of the best places to rent a car in Hawaii is Discount Hawaii Car Rental because they get the best rates from top national companies like Alamo, Dollar, Thrifty, Avis, Enterprise, Budget, and Payless.
Want to skip all the planning and just access my detailed Oahu Itinerary complete with daily schedules, kid-friendly activities, and travel hacks? Click the button below.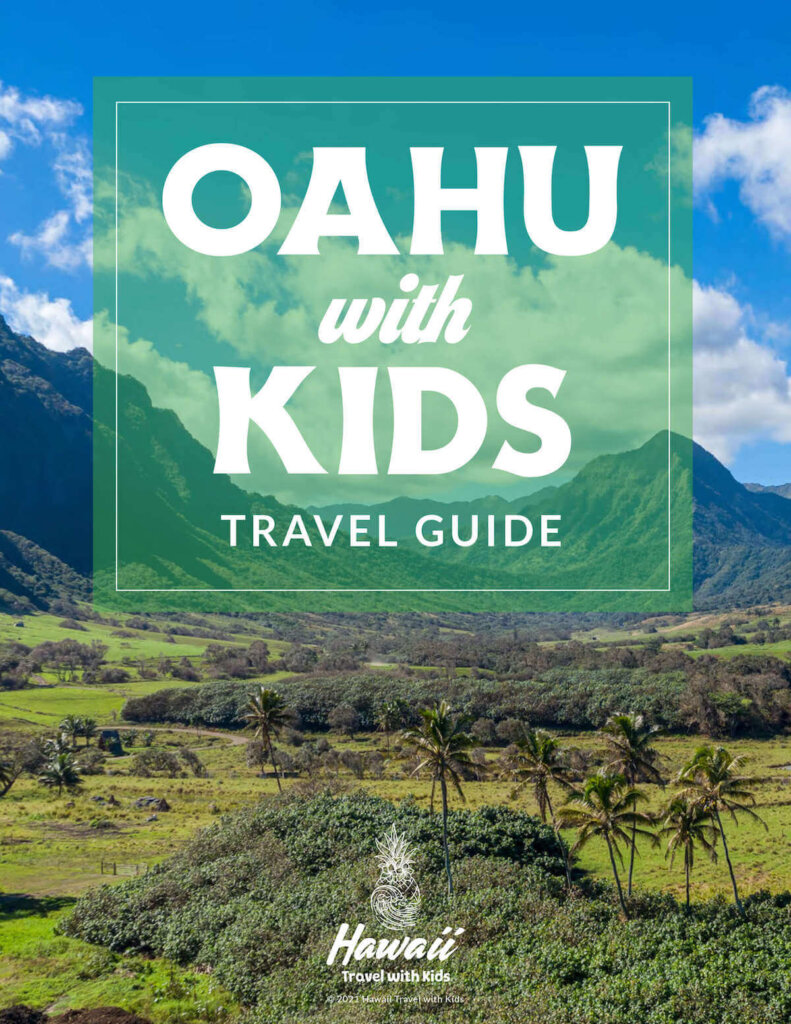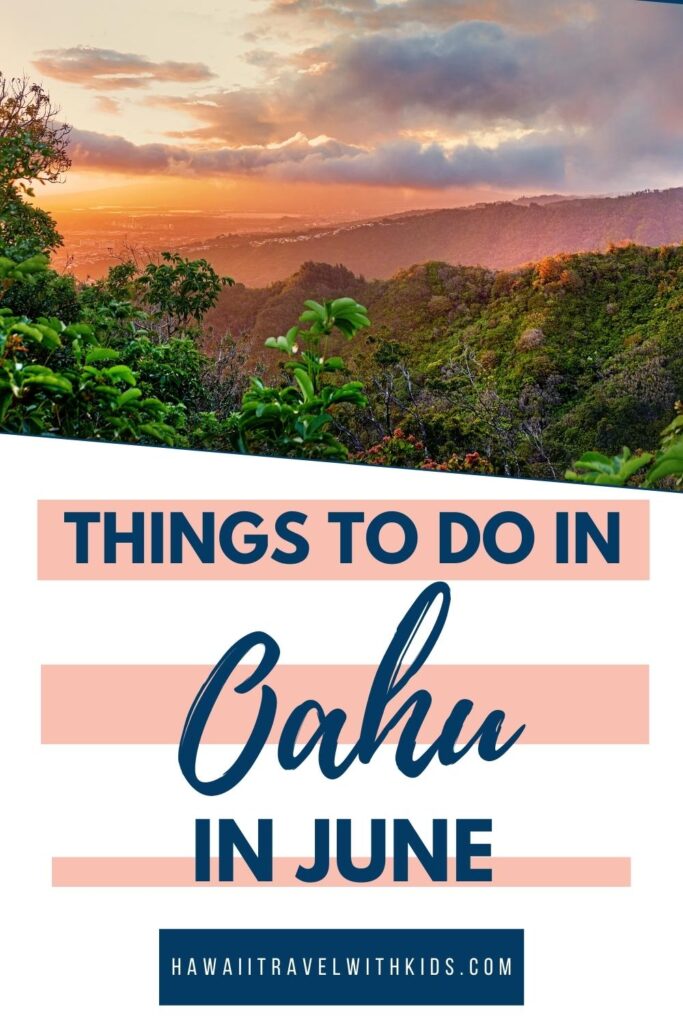 Oahu Weather in June
The June weather in Oahu Hawaii is phenomenal. When the Hawaiian summer begins the temperatures climb higher and higher, the sun is strong and bright and the chance of rain decreases.
With amazing Honolulu weather in June like this, there is virtually nothing standing in the way of enjoying one of many stunning Oahu Beaches in June.
The Average Temperature in Honolulu in June
Taking a trip to Oahu in June is an amazing way to experience some great weather. Taking into consideration the temperature in Hawaii in June, a vacation is a must.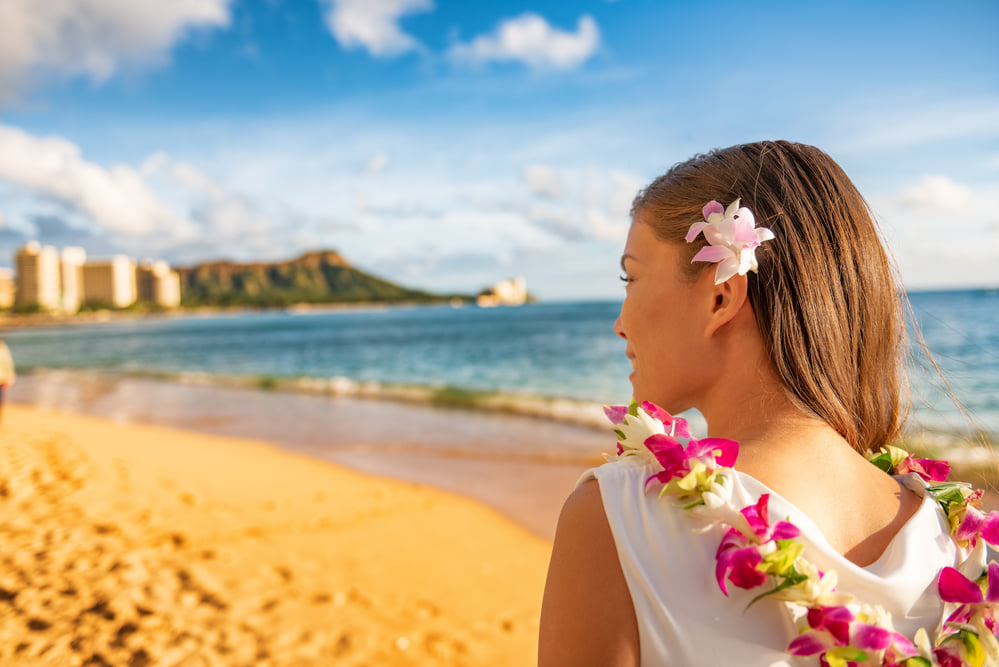 The average temperatures permit you to bask in the warm sun and take a dip at the beach.
June is a hot month for the island of Oahu. The temperature in the daytime hours is an average of 79.5 degrees Fahrenheit.
During the evening hours and through the night, the lowest the temperature gets is an average of 74 degrees Fahrenheit.
Weather in Oahu Hawaii in June
The Oahu weather in June is gorgeous and hot. The trade winds have dissipated, making way for less forceful currents.
You can expect an average of 10.8 hours of sunshine in the daytime hours. In fact, June is one of the driest months of the year on Oahu. Visiting Honolulu in June during the summer is a wonderful way to enjoy some fantastic weather.
For more information check out What's Hawaii Summer Like?
Things to do in Oahu in June
Whether you are looking for things to do in Honolulu in June, Waikiki in June or events taking place in Oahu as a whole, there are many things to choose from.
A Hawaii vacation in June is a wonderful way to enjoy a getaway and some great festivities.
Father's Day in Oahu
There are several ways to celebrate Father's Day in Oahu. Whether you have a delicious Father's Day Brunch, a yummy dinner or take part in one of the various events, Dad is sure to be impressed.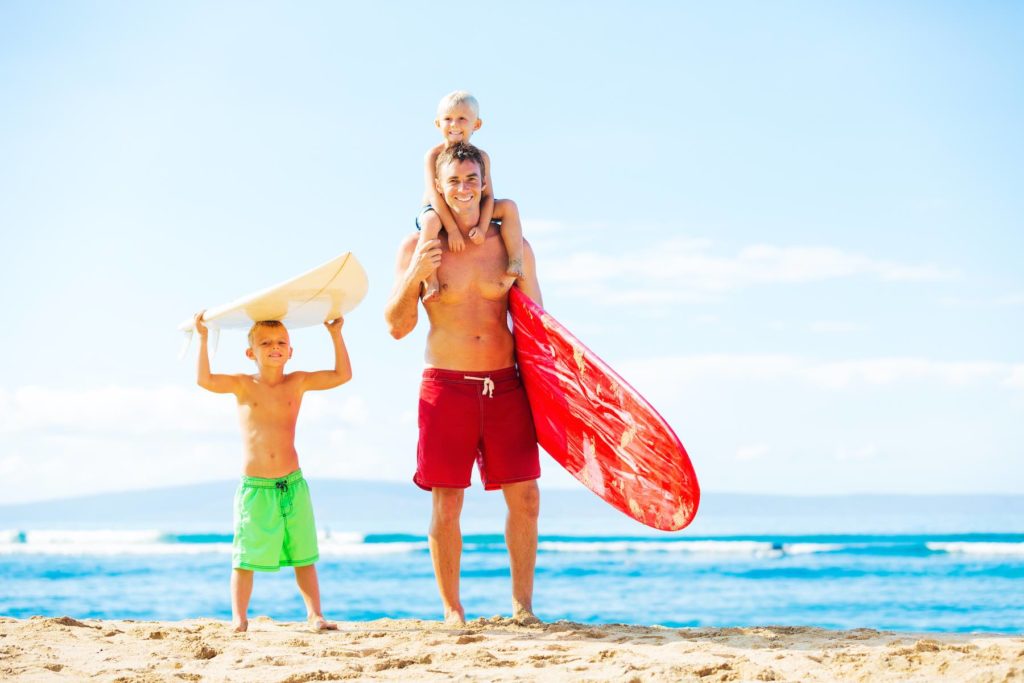 Father's Day Brunch
There are several restaurants on the island that offer a delicious father's day brunch. The menu depends greatly on where you choose to go, but most offer buffet options that everyone can enjoy.
Check the local restaurant listings to find a Father's Day brunch that suits your needs.
Father's Day Dinner
Take dad out for a delicious dinner at one of the fabulous Oahu restaurants. There are many restaurants on the island that offer a specialized dinner menu, especially for Father's day.
Make sure that you check out the menus offered and make sure you check if reservations are required.
Father's Day Dinner Cruise
Sit back and relax with a Mai Tai all while watching a stunning sunset aboard a Father's Day Sunset Buffet Cruise.
On this cruise, you will take in the "Polynesian Journey" show and enjoy a delectable dinner. Make Father's Day memorable by cruising the Pacific.
Rockin' Dads at Rock-A-Hula
Take your father out for a night he will never forget in Oahu. There are 3 different Father's Day Rock-A-Hula packages to choose from. Here you will enjoy live entertainment, fire shows and more.
Enjoy a delicious gourmet meal and a special dessert all while enjoying Waikiki's Biggest Hawaiin show. Read my full Rock-A-Hula review.
Visit How to Spend Father's Day in Hawaii for more.
Book a Family Photo Shoot
Whenever we travel to Hawaii, we almost always book a family photo shoot with Flytographer. They are super easy, affordable, AND it guarantees that I'll be in some photos. You can get $25 off if you book through this link or use the code HAWAIITRAVEL.
State Fair
The state fair kicks off summer in Oahu. This event takes place annually and draws people from all around. Taking place at the Aloha Stadium, you are sure to enjoy this fair with the whole family.
At the state fair, you will find food booths, games, rides, and lots of entertainment. Check out the Amazin Anastasini Circus, a petting zoo, featured rides, and some other fantastic surprises.
Visit the State Fair Website for more information.
Annual Habilitat Luau
The Annual Habilitat Luau at Kualoa Ranch is the largest luau on the island that benefits Hawaii's Habitat. There is a huge benefit that goes towards preserving Hawaii, and you are sure to enjoy the fun day.
At this event, there is live entertainment, loads of fun activities, a grand daytime luau, and an enormous silent auction. You can also enjoy some fun activities for your little ones. There will be bouncy castles, face painting, and more.
Check out the live entertainment that will include an 8-course luau and more.
Visit the Habiltat website for more information.
Annual World Oceans Day Celebration
Participate in some amazing ocean education as well as exciting sustainability activities.
This event lasts an entire week and provides several different activities and celebrations at the Honolulu Museum of Art. Eat at some of the food booths and explore the live entertainment.
Check the Honolulu Museum of Art Website for details.
Annual Pan-Pacific Festival
This 3-day international celebration is not to be missed. Head to Waikiki and take part in this fabulous celebration of Pan-Pacific culture.
This block party parade will give you the chance to see some fabulous performances. Check out live demonstrations, and great performances including hula dancing, live entertainment, and lots of food vendors.
The parade is a lively one with great foals and colorful costumes.
Visit the Pan-Pacific Festival website for upcoming dates.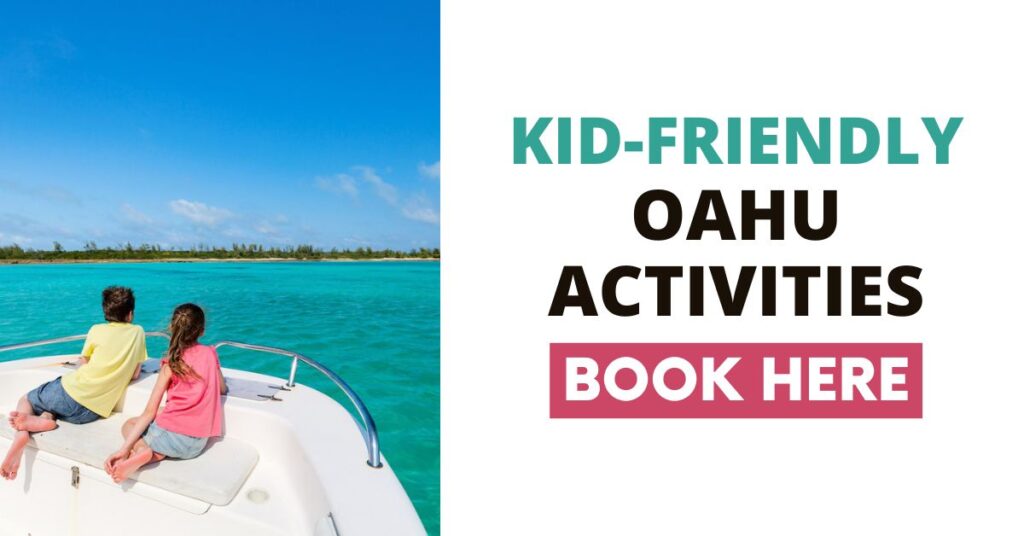 Top 10 Oahu Attractions in June
If you are seeking some great things to do in Oahu Hawaii in June, you are in luck. There are so many fun Oahu attractions to choose from.
Whether you take a hike, enjoy a helicopter tour, or anything in between, you are sure to enjoy your Hawaii vacation in June.
1. Take a Scenic Helicopter Tour
A helicopter tour on Oahu is sure to impress. Not only will you create so many fabulous memories but you are sure to enjoy the sights from above.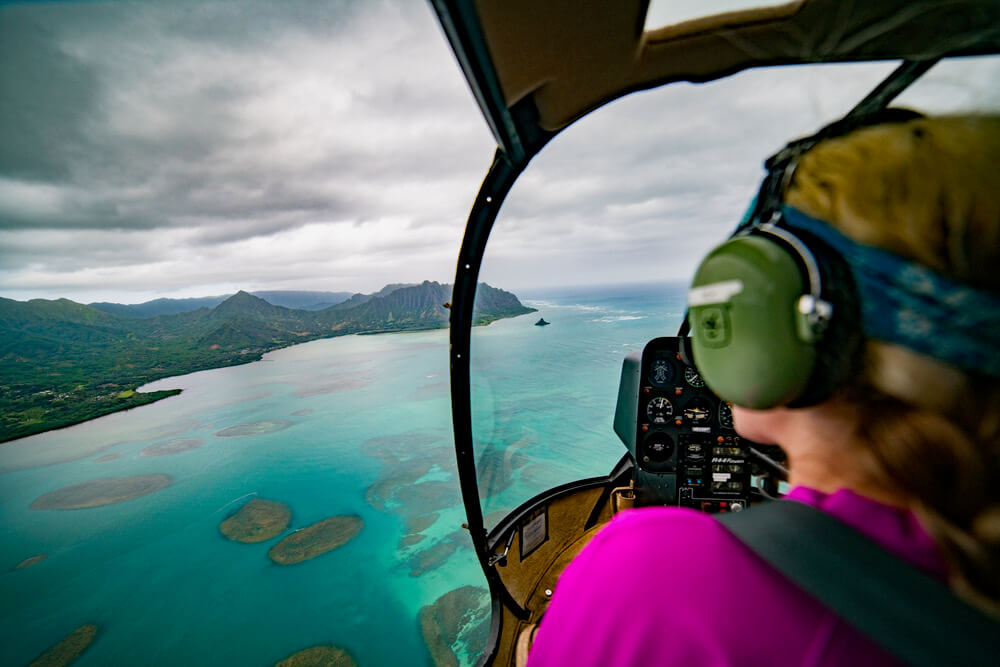 With a helicopter tour, you can fly above several famous locations. This is a once-in-a-lifetime experience that you won't want to forego.
2. Glass Bottom Boat Tour
Get a clear view of the Pacific Ocean aboard the Haleiwa Queen. Aboard this beautiful glass bottom vessel, you will cruise over one of Hawaii's shipwrecks and live tropical reefs.
This boat tour allows you to see deep into the Pacific Ocean, with several great views of several different species of fish and more.
Your entire family will enjoy exploring the depths of the Pacific Ocean without having to get wet.
3. Oahu Atlantis Submarine Adventure
This is quite frankly one of the most unique boat tours on Oahu. Dip below the surface of the Pacific Ocean to see all the beauty that the underwater world has to offer.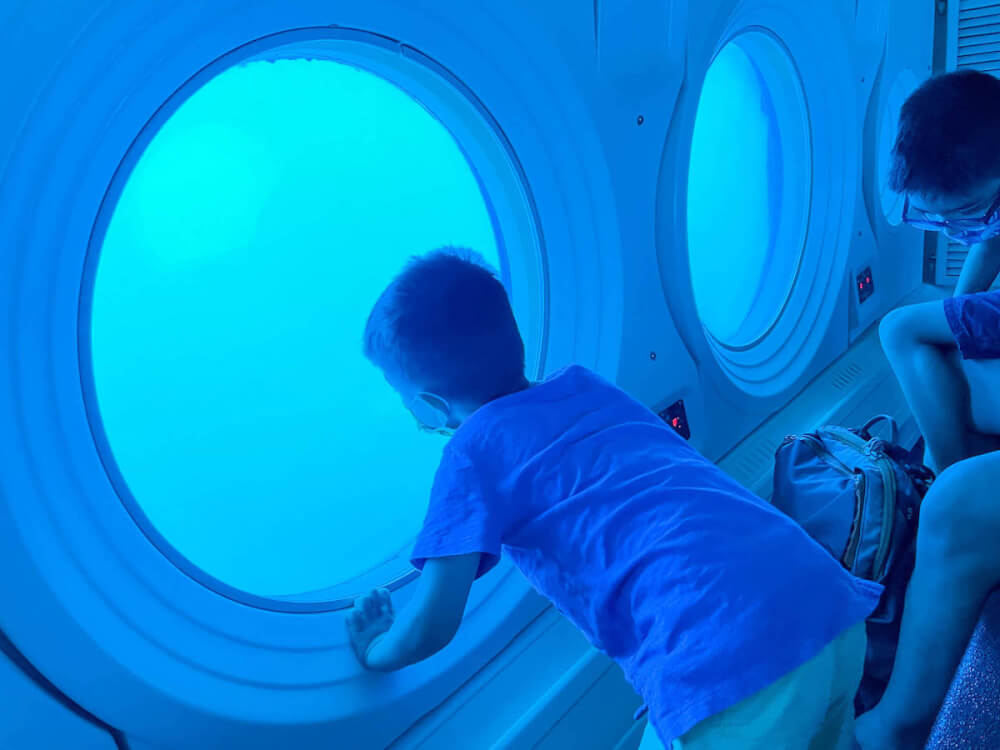 This submarine tour departs from Waikiki and transports you to the submarine dive spot. This one-of-a-kind experience offers a close-up view of exotic coral reefs, sunken vessels, and a wide array of sea creatures.
4. Crouching Lion Hike
With steep drop-offs and amazing views, the Crouching Lion Hike is an amazing experience.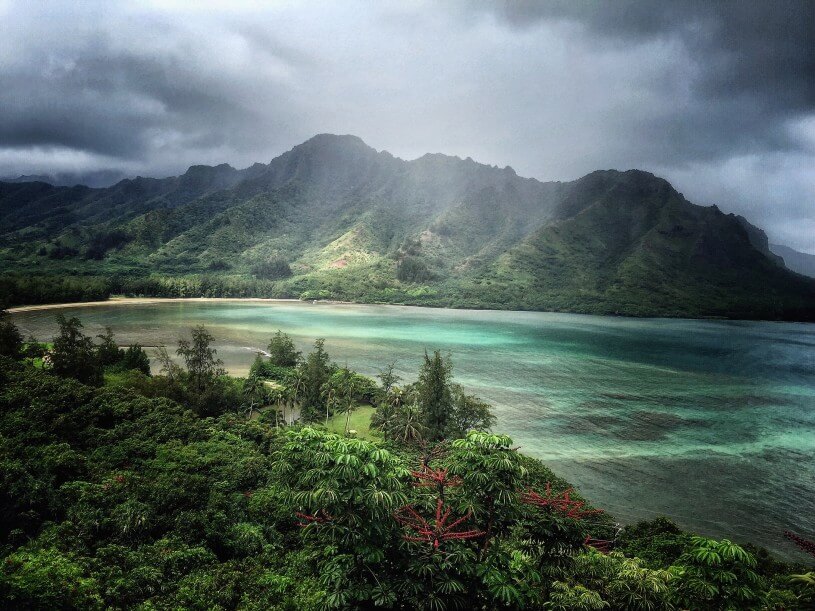 Here you will look out over Kahana Bay and take in its beautiful lush surroundings. Located on the northeast side of Oahu, this hike is a must while you visit Oahu.
5. Rock Jumping
Visit Waimea Bay and go rock jumping. Resting half in the water and half on the shore, this easy-to-climb rock offers a fantastic jumping opportunity.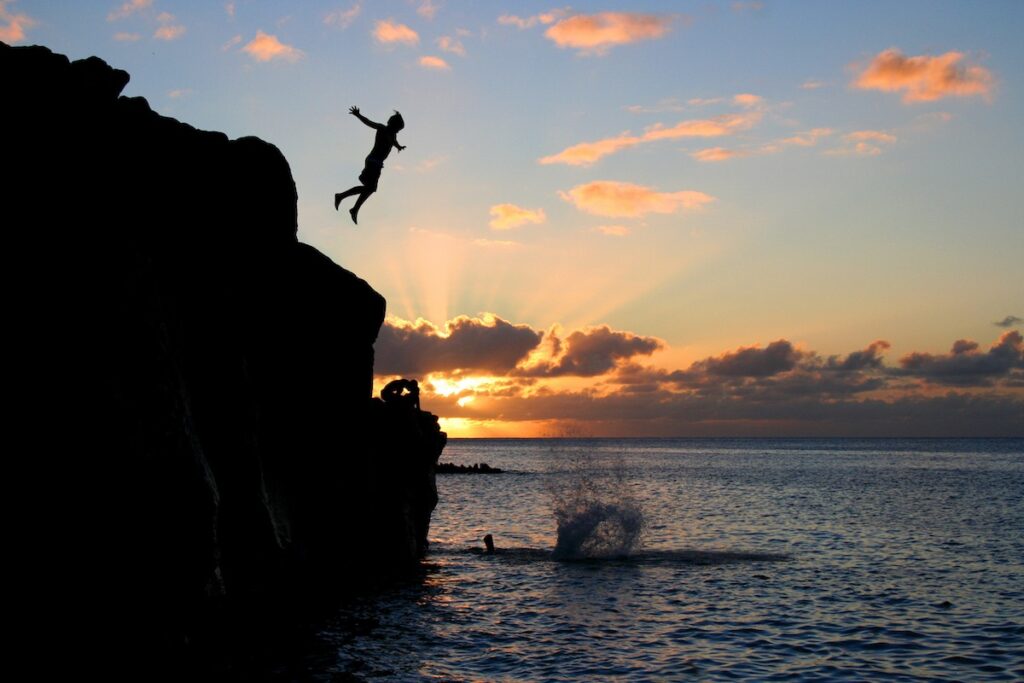 The water here isn't overtly deep but it is a great place to take that leap of faith. Jumping off the Waimea Bay Rock is one of the most quintessential experiences you can have on Oahu.
6. Cockroach Cove
Located next to the Halona Blowhole, Cockroach Cove is a must-visit. This little beach is often empty on early weekdays, so if you are looking for a more quiet beach trip, this is the place to go.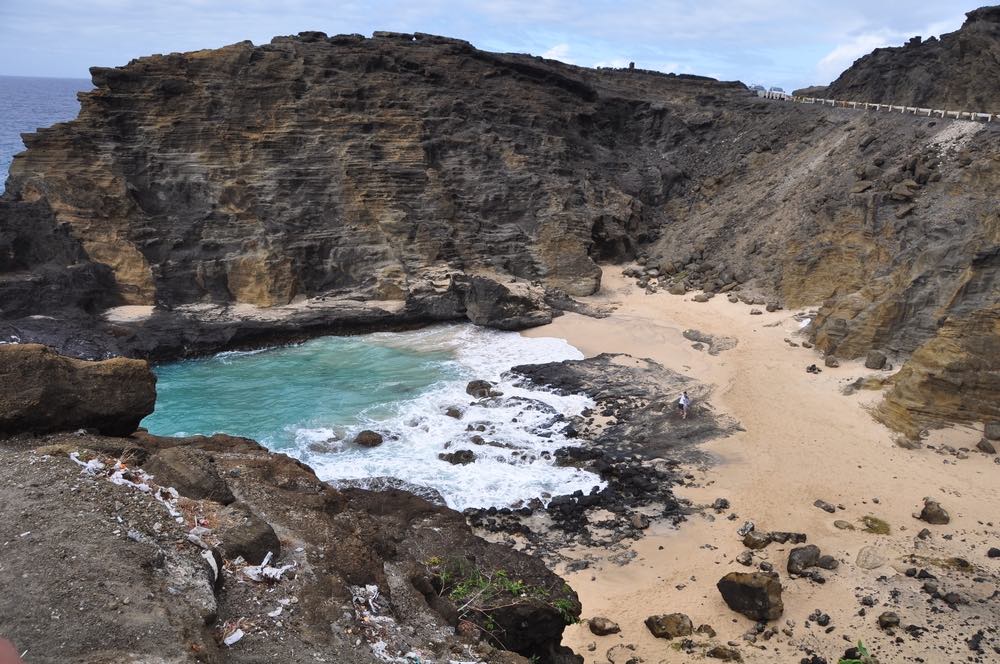 This long sandy beach is great for snorkeling, longboarding, and checking out some of the fun tide pools.
If you plan on spending the day at this cove, make sure to pack some reef-friendly sunscreen. There isn't much shade cover here so you will want to ensure you are prepared.
7. The Kaniakapupu Ruins
This is a slice of Hawaiian history that you just won't want to miss. Take the Nu'uanu Oahu hike to discover this place, also known as King Kamehameha III's summer home.
The hike to get there isn't very long, in fact, it shares the same trails as the Luakaha waterfall so you can discover quite a bit along the way.
These ruins are a great experience of Hawaiian history. Make sure to bring your camera.
8. Polynesian Cultural Center
This cultural center is one of the most frequented locations on the island of Oahu. It is broken down into a variety of different Polynesian nations such as Samoa, Hawaii, Fiji, and more.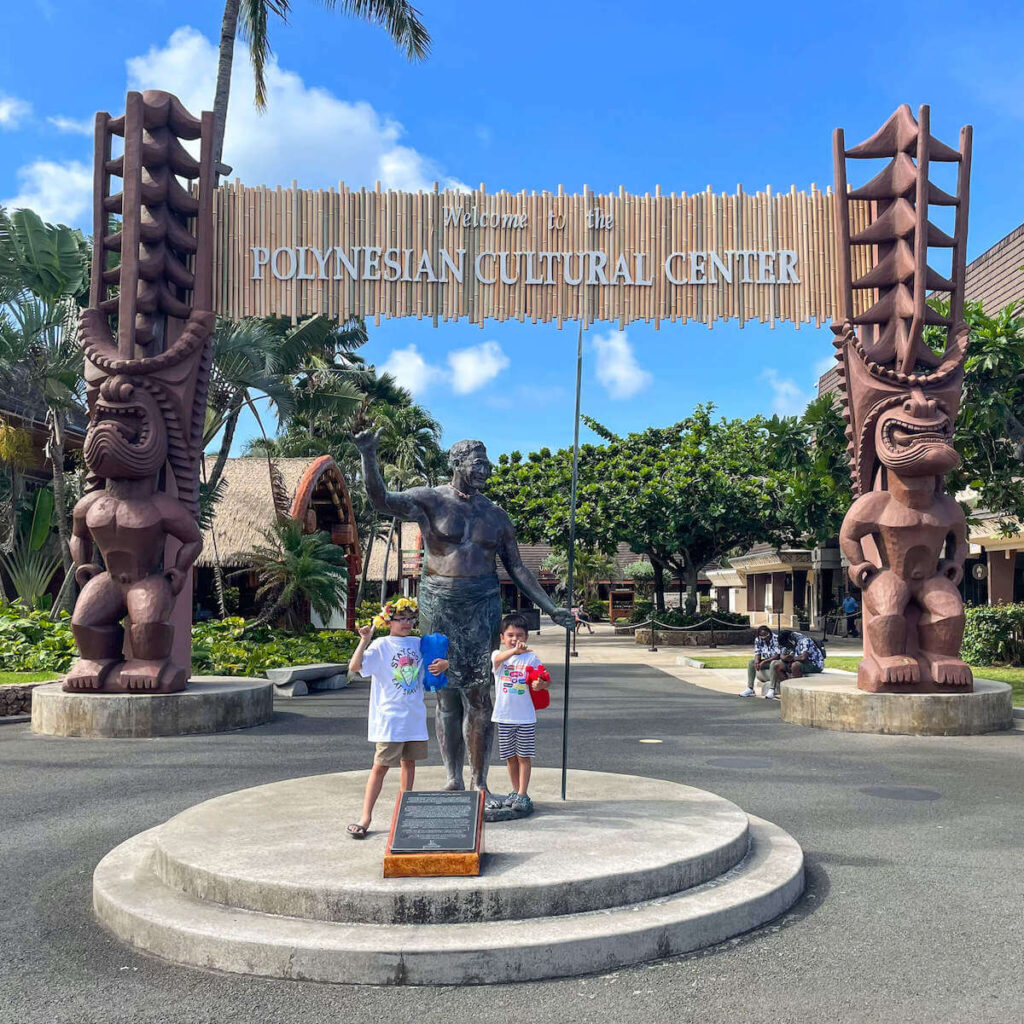 These areas showcase their collective and individual cultures through cultural performances, dances, culinary demonstrations and so much more.
Check out the evening luaus, interactive games, and more. Don't miss a visit to the Polynesian Cultural center.
9. Honolulu Zoo
This zoo is easily accessible from most of Waikiki. Featuring animals from all over the world, this zoo is almost entirely outdoors.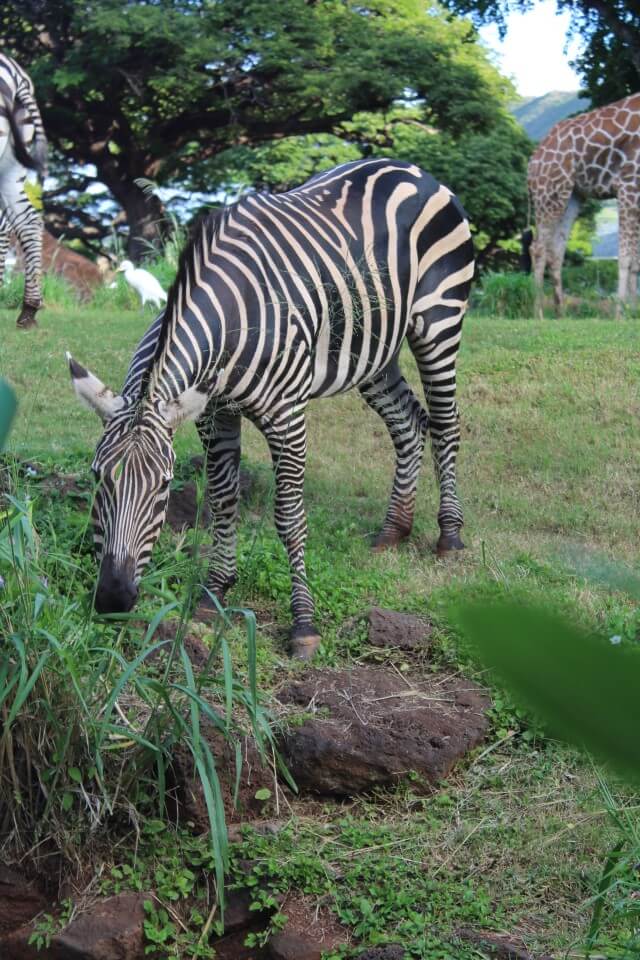 Visit the giraffes, elephants, rhinos, lions, monkeys and so much more. This is probably one of the best things to do on Oahu with your kids. They will love watching the amazing animals at the Honolulu Zoo.
10. Lanikai Pillbox
This hike is one of the island's most popular treks. The Lanikai Pillbox creates a wonderful experience for all who wish to enjoy it. If you want to take in a beautiful sunrise experience, this is the place to do it.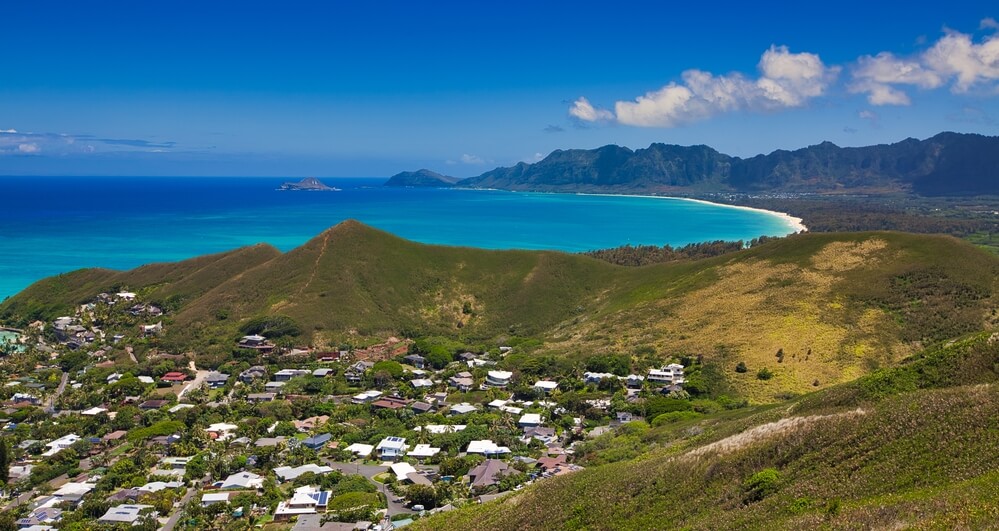 The short climb to the hills above the Lanikai neighborhood is worth it, especially once you realize how beautiful the view is.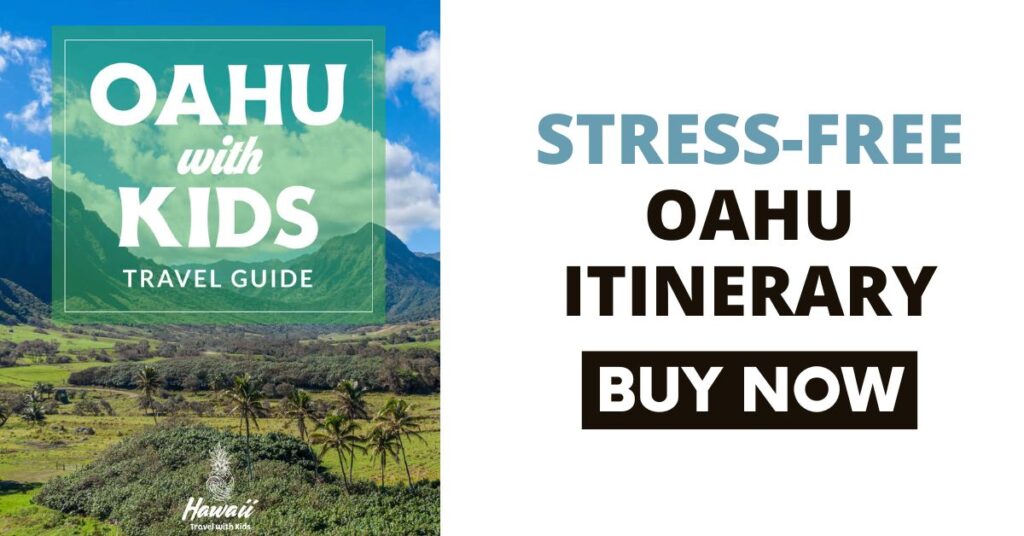 Oahu Hawaii June Wrap Up
Visiting Oahu in June is a great way to enjoy a fantastic getaway. From the wonderful father's day celebrations to all the great events and attractions, you are sure to enjoy your experience.
Make sure to book your flights as soon as possible. You will not regret your beautiful June Oahu getaway.