Are you looking for the best things to do in Oahu Hawaii? Keep scrolling to find out why you should visit Kualoa Ranch on Oahu and the top things to do there.
This guide to Kualoa Ranch on Oahu was written by Hawaii travel expert Marcie Cheung and contains affiliate links which means if you purchase something from one of my affiliate links, I may earn a small commission that goes back into maintaining this blog.
Are you looking for a family-friendly adventure in Hawaii?
Kualoa Ranch is one of the most popular Oahu attractions. It's home to some of the best Oahu tours and adventures, including horseback riding, ATV tours, movie site visits, and ziplining.
You can even see Jurassic Park! Keep reading to learn more about this top attraction on Oahu.
If you love movies or TV shows like Lost or Jurassic Park then you should definitely plan a visit to Kualoa Ranch while visiting Hawaii with your family.
This ranch has been featured in many famous films over the years so it's always exciting when visitors get to explore these locations during their vacation.
Plus there are tons of other fun activities at Kualoa Ranch that will keep your kids entertained all day long! They have everything from zip lines and horseback rides through beautiful scenery to movie site visits.
There are also plenty of delicious food options available if you want lunch while enjoying your time at this amazing location on Oahu!
The views alone make it worth planning a trip here but once you add in all these other great activities then I know that everyone will have an unforgettable experience at Kualoa Ranch!
So don't wait any longer – book your tickets today before they sell out!
Keep scrolling to read my full guide to Kualoa Ranch on Oahu.
Don't have time to read a bunch of Hawaii blog posts and reviews? Here are some of our top picks for visiting Oahu.
Popular Oahu Tours/Activities
Favorite Oahu Resorts/Hotels
Want to Rent a Car in Hawaii?
One of the best places to rent a car in Hawaii is Discount Hawaii Car Rental because they get the best rates from top national companies like Alamo, Dollar, Thrifty, Avis, Enterprise, Budget, and Payless.
Want to skip all the planning and just access my detailed Oahu Itinerary complete with daily schedules, kid-friendly activities, and travel hacks? Click the button below.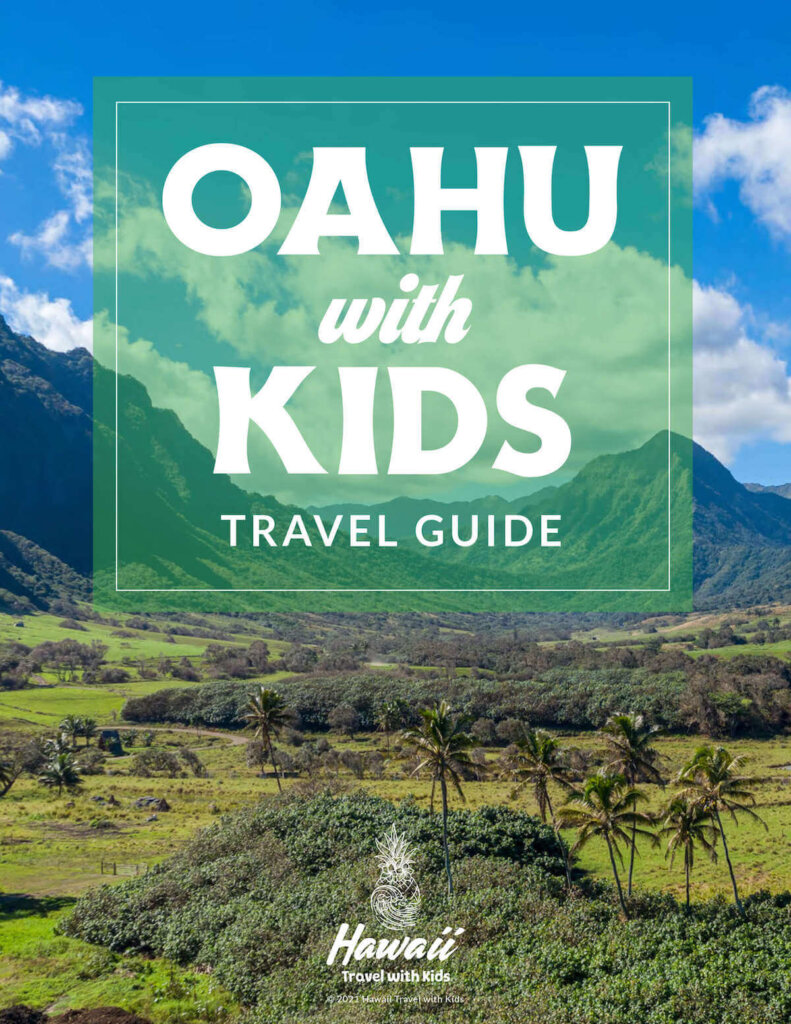 Oahu Kualoa Ranch FAQs
Are there hotels near Kualoa Ranch?
There aren't really hotels super close to Kualoa Ranch. Paradise Bay Resort is about 4 miles away and the Courtyard by Marriott Oahu North Shore is about 10 miles away.
What are the Kualoa Ranch hours?
Kualoa Ranch is open 8 a.m. to 6 p.m. seven days a week.
Do I need Kualoa Ranch reservations?
Absolutely. Most of the tours sell out weeks in advance and the ATV tour sometimes sells out months in advance. So, it's best to book as soon as you know your dates and which tour(s) you want to do.
Can you visit Kualoa Ranch without a tour?
Technically yes. Anyone is able to visit their gift shop or restaurant. But, you won't be able to just walk around the property on your own. You'll need to book a tour if you want to see the movie sites and valleys.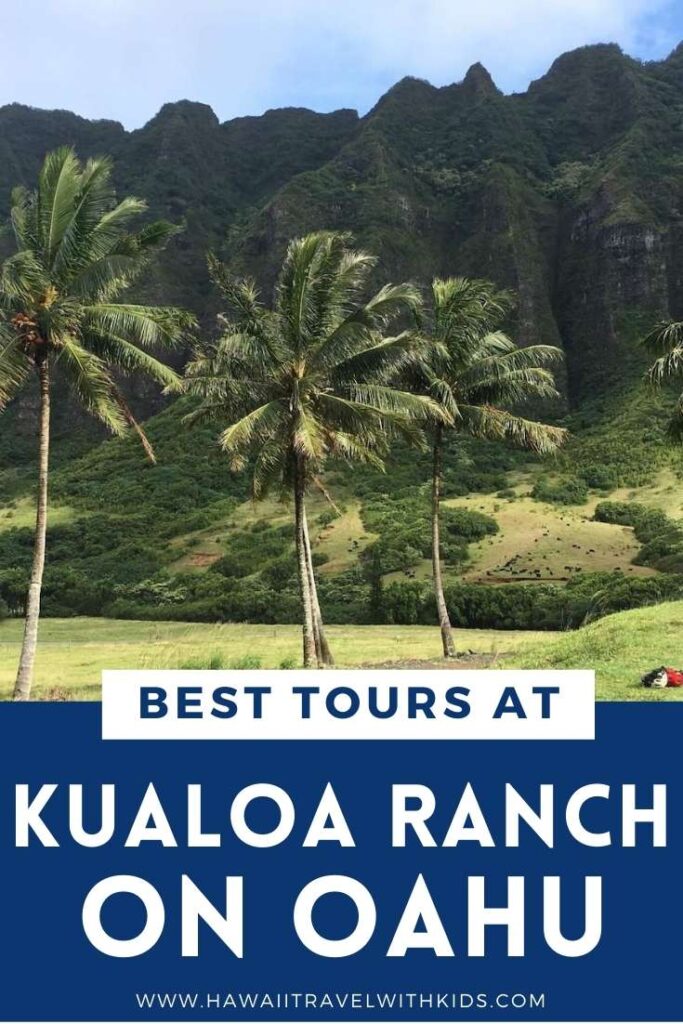 Brief History of Kualoa Ranch in Hawaii
Kualoa Ranch was founded by Dr. Gerritt P. Judd back in 1850. He came to Hawaii from the East Coast to help treat Native Hawaiians who were battling diseases and new illnesses.
After seeing how Waikiki and Honolulu were quickly developing, he decided to purchase the 4,000-acre Kualoa Ranch property for $10,000 in order to preserve the sacred land.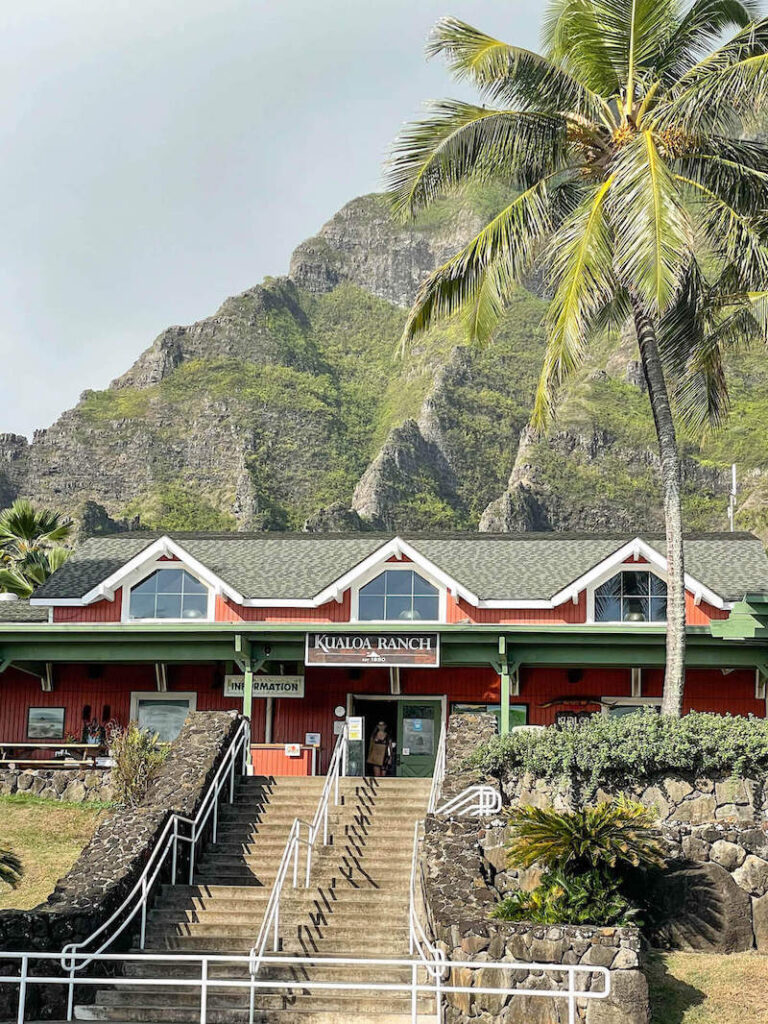 Today, eight generations later, the land is still owned and managed by Dr. Judd's descendants. They offer tours, event rentals, and commercial activities in order to keep the land at Kualoa undeveloped and pristine for future generations.
Movies Filmed at Kualoa Ranch
Over the past few decades, more than 79 movies and TV shows have been filmed at Kualoa Ranch on Oahu. So, chances are, you've seen Kualoa Ranch is something at some point. Here are some of the most famous things filmed at Kualoa Ranch:
50 First Dates
Lost
Jurassic World
Karate Kid II
Godzilla
Pearl Harbor
E.R.
Hawaii Five-0
Finding 'Ohana
Kualoa Tours Worth Booking
There are a LOT of Kualoa Ranch tours. So, if you have a hard time finding activities that your whole party wants to do, you can split up. There's really something for everyone here.
And if you are pretty energetic, you could also do more than one tour in a day. Just be sure to leave time to refuel with food and drinks in between.
Scroll down for more info on each tour offered.
Kualoa Ranch ATV Tour
This ATV tour is by far the most popular thing to do at Kualoa Ranch. It's 2 hours long and you get to ride in a 6-passenger UTV. Check the latest rates and more information.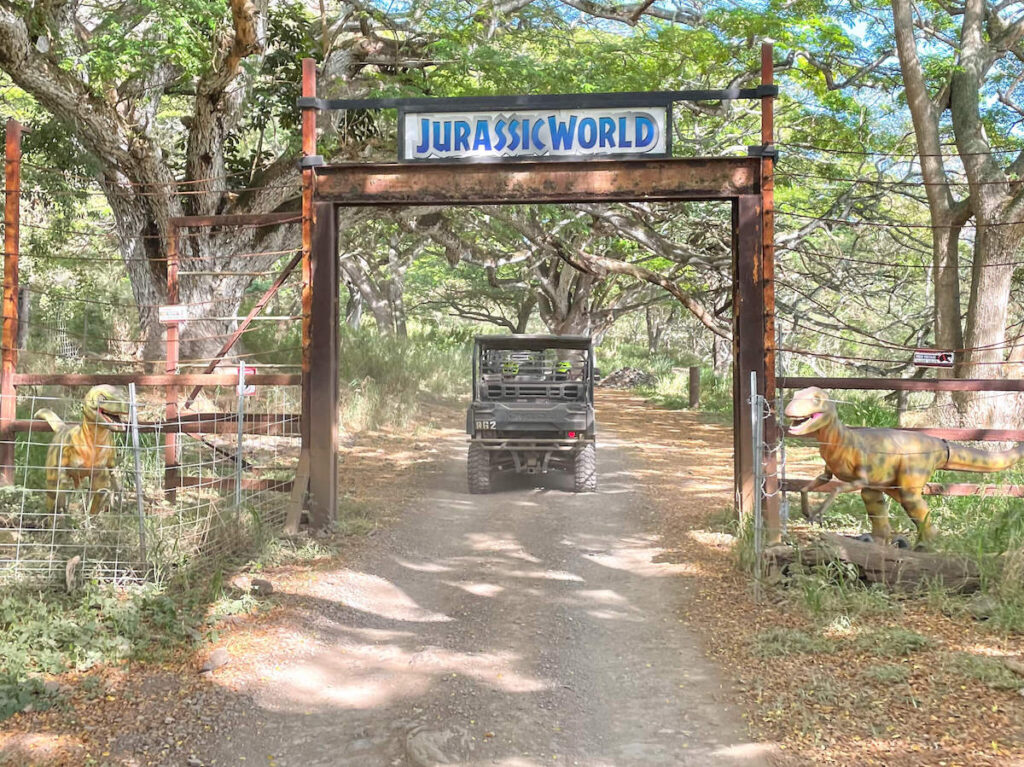 It's an organized tour so you follow the line of ATVs and stop at specific spots where you can get out, hear some stories, and take photos. You'll get to see all three valleys and the views are incredible! Plus, you can check out cool movie sites.
Kids must be at least 5 years old to participate. And you'll need to wear closed-toe shoes and long pants are recommended. Read my full Kualoa Ranch ATV tour review HERE.
Kualoa Ranch Zipline Tour
One of the top things to do on Oahu is going ziplining and one of the best Oahu ziplines is at Kualoa Ranch. Check the latest rates and more information.
It's a 4-hour experience that includes a 7-line zipline, a rope bridge adventure, and short nature walks. You can even do tandem rides which allow families and younger riders to zipline side-by-side with a partner.
Kids must be at least 7 years old to participate. You must wear closed-toe shoes, too.
Kualoa Ranch Secret Island Tour
Did you know that Oahu has a secret beach? And the only way you can visit it is by taking this tour from Kualoa Ranch. That's because it's located on Kualoa property. Check the latest rates and more information.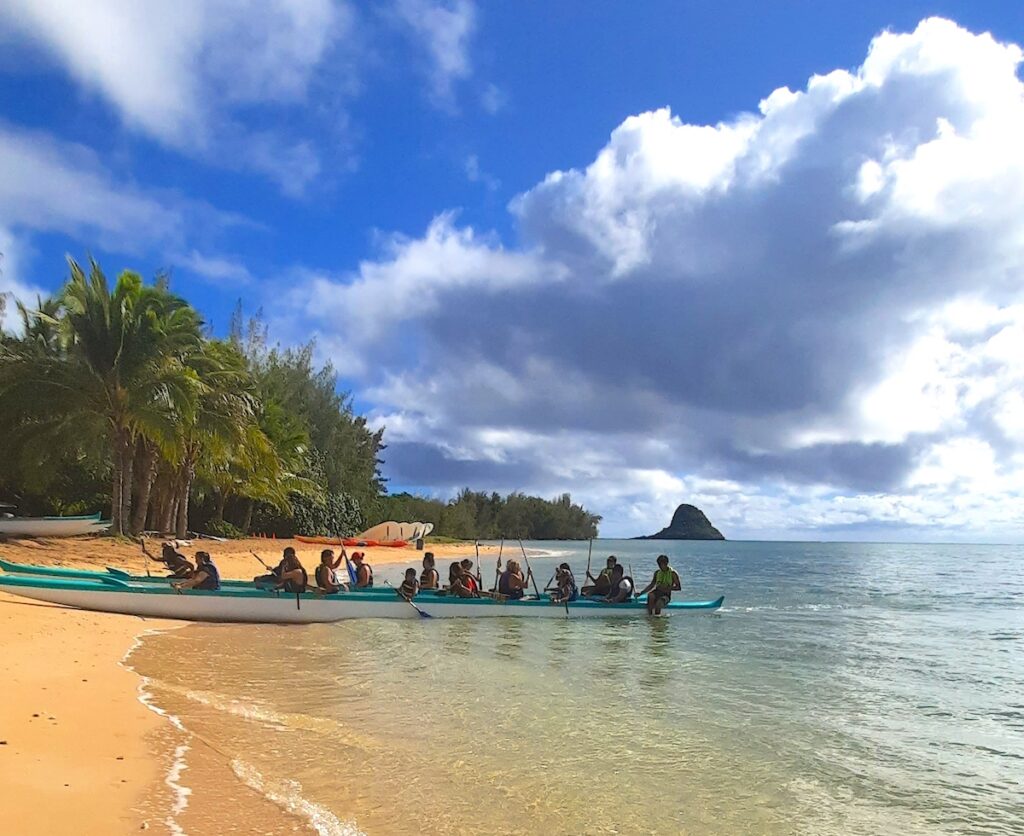 It's a really cool beach day where everything you need is provided. You just show up and can take advantage of lounge chairs, kayaks, etc. They have both a full-day and a half-day option.
This is open to families with kids of all ages. Read my full Kualoa Ranch Secret Island tour review HERE.
Kualoa Ranch Movie Tour
Another top Kualoa Ranch tour is this Hollywood movie tour. Thousands of people come from all over the world each year to do it. Check the latest rates and more information.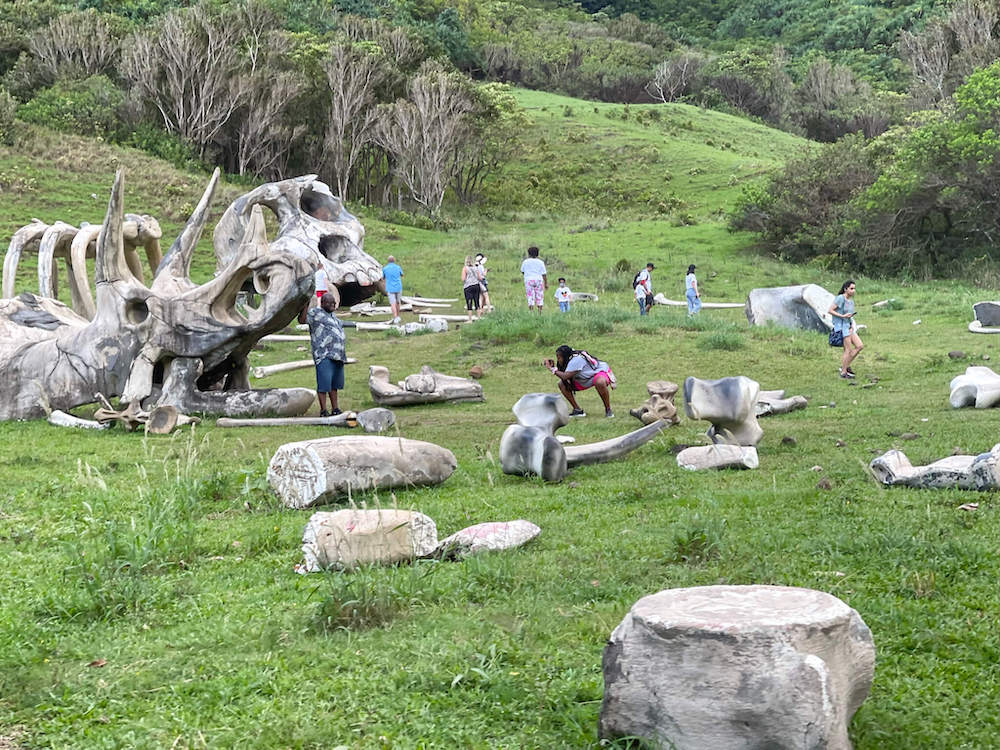 You'll get to see the original Kualoa Ranch Jurassic Park film set and tons of other Jurassic Park filming sites. Plus, you can see where they filmed Lost, Hawaii Five-0, 50 Frist Dates, and more!
This 90-minute tour is open to people of all ages (including babies and toddlers). Read my full Kualoa Ranch Movie Tour review HERE.
Kualoa Ranch Horseback Riding Tour
Kualoa Ranch is one of the prettiest places to go horseback riding on Oahu. You'll get to ride through the 15-year-old working cattle ranch and learn about the ancient Hawaiians who first lived on the land. Check the latest rates and more information.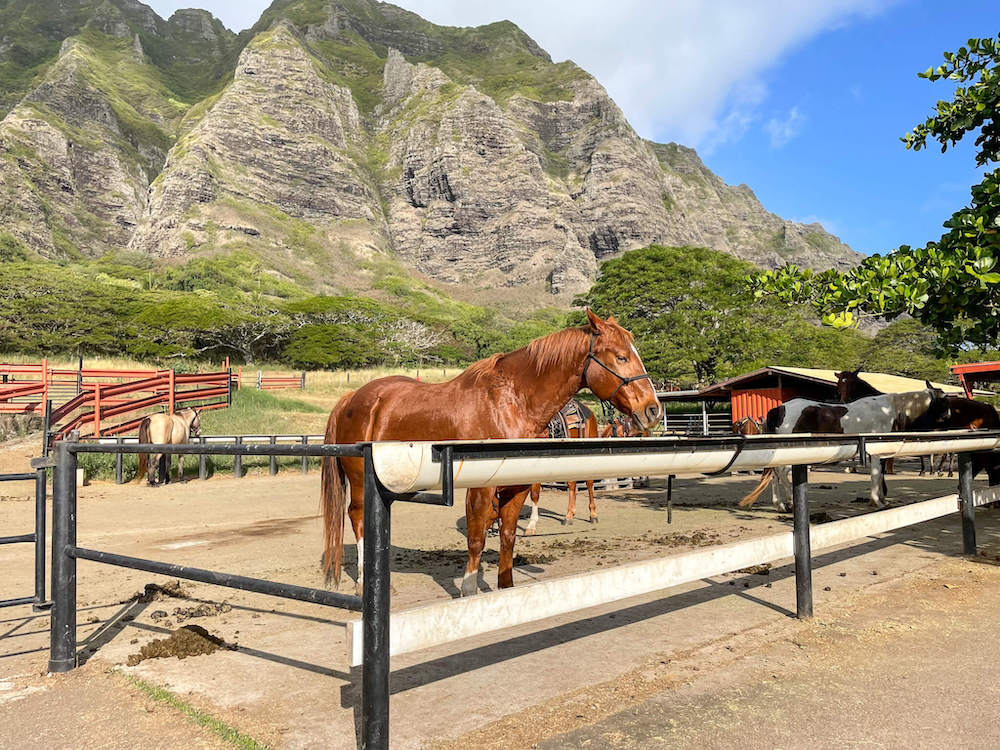 The views of the ocean, mountains, and valleys are incredible. And you'll even get to see some TV and movie sites along the way.
This 2-hour tour is open to kids ages 10 and up. You can also add on transportation from your hotel.
Kualoa Ranch Jurassic Valley Electric Mountain Bike Adventure
One of the most unique ways to explore Kualoa Ranch is on this e-bike tour. You'll cover 4,000 acres of this popular Oahu landmark. Check the latest rates and more information.
Plus, you'll stop at lots of filming locations and get to marvel at the gorgeous scenery.
This 2-hour tour is open to kids ages 10 and up.
Kualoa Ranch Catamaran Cruise
Another cool Kualoa Ranch tour is this relaxing catamaran cruise. While you won't get to explore the lush valleys, you will get to tour around Kaneohe Bay and get some epic views of the Kualoa mountains, Chinaman's Hat, and Hokulea Beach. Check the latest rates and more information.
You'll do a 20-minute tour of ancient Hawaiian fishponds before heading into the ocean for a 45-minute voyage.
Aloha Aina Kualoa Ranch Farm Tour
Even though Kualoa Ranch is most famous as a movie site, it's also an active ranch and working farm. And the coolest part is that guests are welcome to see it first-hand. Check the latest rates and more information.
Families can hop on an open-air trolley and explore tropical fruit and flower gardens, see an ancient Hawaiian fish pond, and even get a peek at Secret Beach.
This is a relaxing 90-minute tour for kids ages 3 and older.
Jurassic Jungle Expedition Tour
Families will get a kick out of exploring a Hawaiian rainforest in a huge jungle jeep! It's a way to feel like you're on a tropical adventure without having to really exert yourself. Check the latest rates and more information.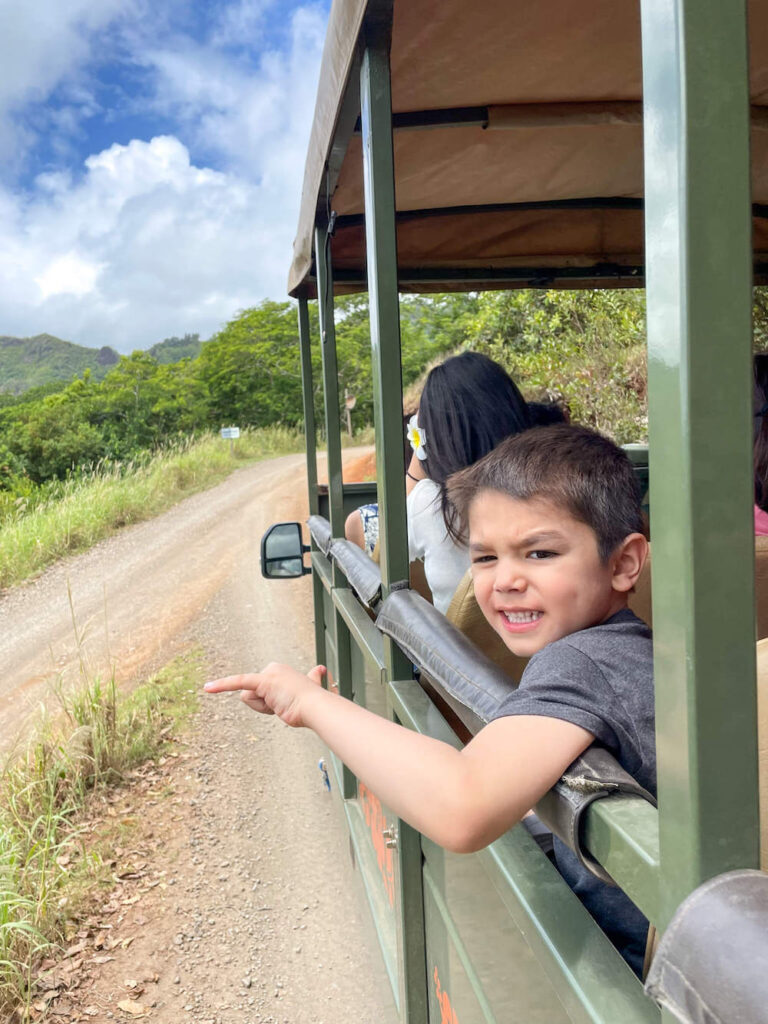 You'll go through a gorgeous valley that was the filming site for Jurassic World, Kong Skull Island, and Jumanji.
This is a 90-minute tour for kids ages 3 and older. Read my full Kualoa Ranch Jungle tour review.
Best of Kualoa Experience Combo: Movie Tour, Jungle Tour, & Farm Tour with Lunch
If you're thinking you'd like to do a few tours, you might consider booking this Best of Kualoa Experience Combo. It includes the movie tour, jungle tour, and farm tour. Plus you get lunch! Check the latest rates and more information.
This combo is actually open to families with kids of all ages. Families with kids younger than 3 years old will do Kaneohe Ocean Voyage Tour instead of the jungle expedition.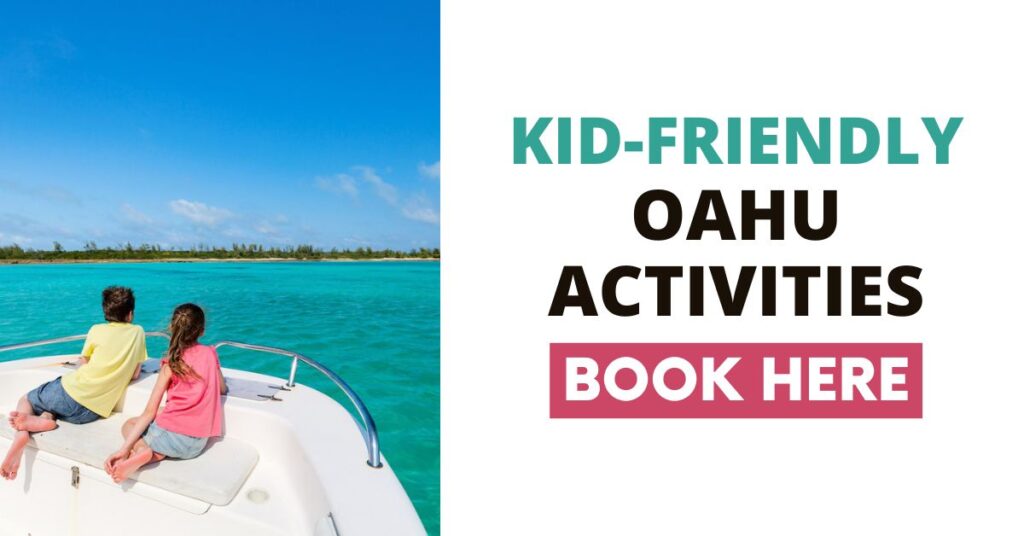 Eating at Pat's Cafe: a Kualoa Ranch Restaurant
One of the cool things about Kualoa Ranch being an actual working cattle ranch and farm is that they have some of the freshest food items. I highly recommend stopping at Pat's Cafe for a meal.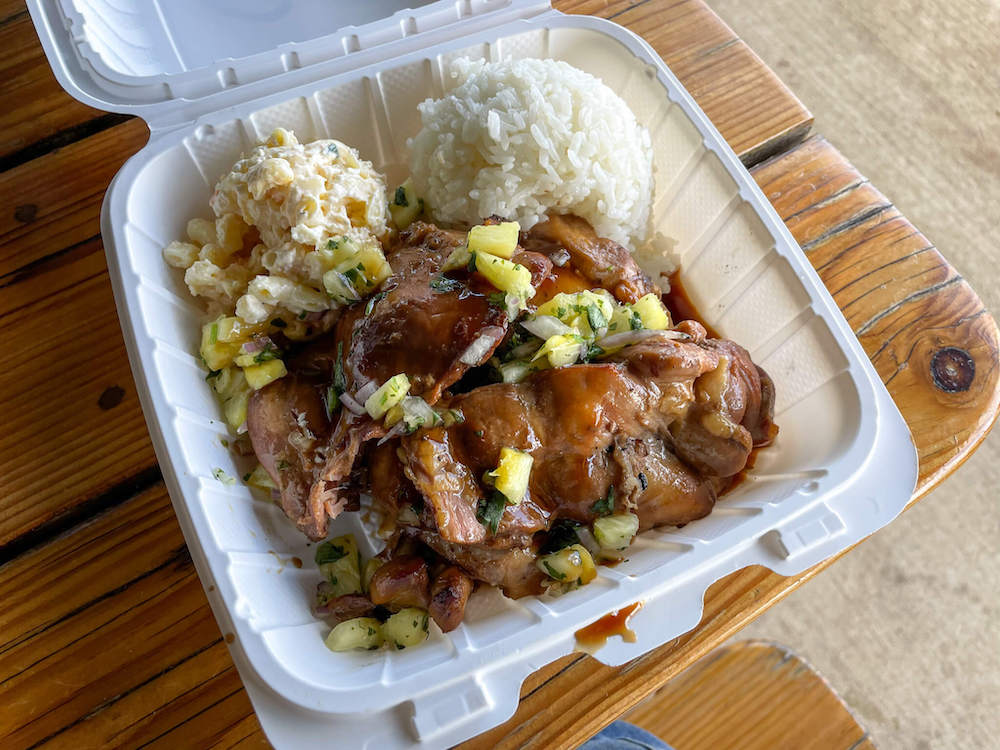 They have a great menu selection of classic American dishes plus some with islands twists. You'll order your food at the counter and then pick it up and find a table.
They also have lots of grab and go snacks and beverages, so it's a great place to stop after you've checked in for your tour and are waiting around.
Kualoa Ranch Gift Shop
Our family's motto is we've never met a gift shop we didn't like. Well, it's really the case with this one!
They have a TON of cool items if you're Jurassic Park fans or love the other movies filmed here. There's quite the selection of merchandise.
I'd recommend placing an order for your food first and then head into the gifts shop (it's in the same building) to go shopping.
Other Things to do Near Kualoa Ranch
One of the top questions I see families ask is about what else there is to do near Kualoa Ranch. Maybe you have a morning tour and want to know how to spend the rest of your day if you stay on that side of the island.
Here are a few easy suggetions:
Ho'omaluhia Botanical Garden
The botanical gardens in Hawaii are pretty impressive and one of the most famous gardens on Oahu is the Ho'omaluhia Botanical Garden.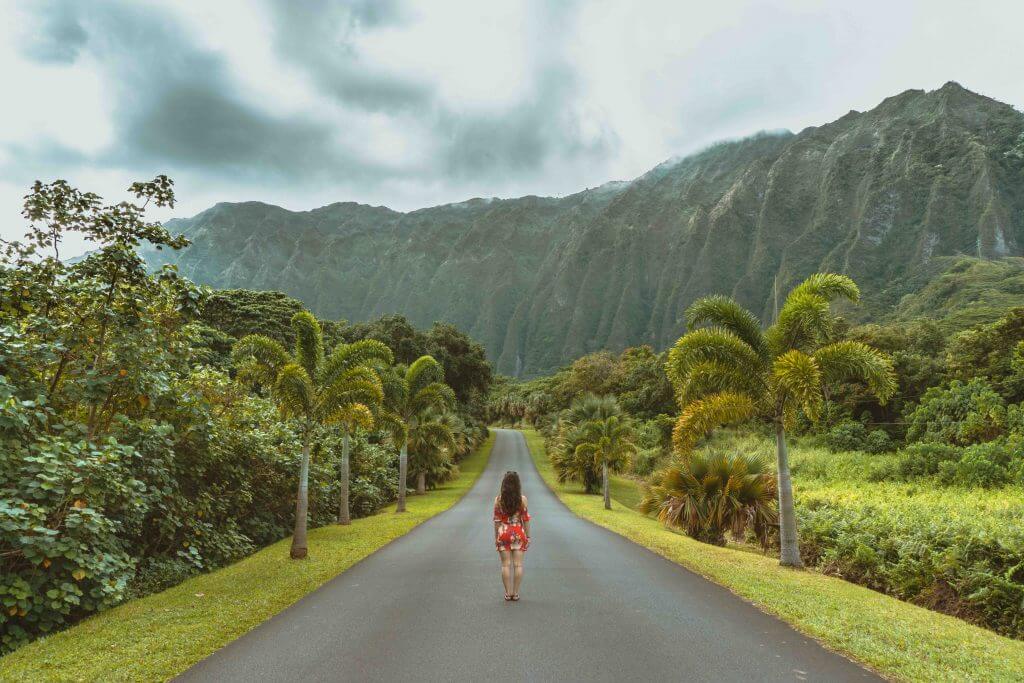 It's only a few minutes away from Kualoa Ranch and it's one of the top places to take Instagram photos on Oahu. You've probably seen their iconic entrance that features a road in the midst of a gorgeous garden.
But, they also have events throughout the year. And it's just a pretty place to walk around.
Byodo-in Temple
Another thing to do in Kaneohe is check out the Byodo-In Temple. It's also a nice photo spot and you really will feel like you're touring Japan.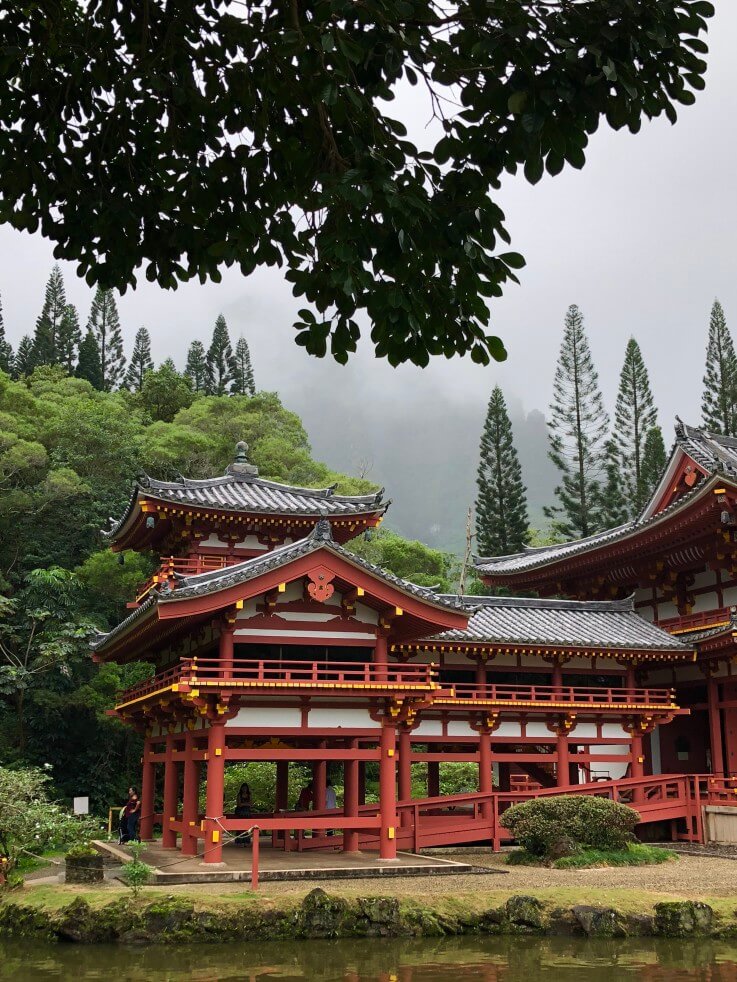 It doesn't take very long to explore this area, so it makes a quick stop either before or after a tour at Kualoa Ranch.
Kualoa Beach Park
Finally, there's always the BEACH!
Kualoa Beach Park is pretty awesome because it has a huge parking lot and a long stretch of beach. That means it's really easy to visit.
Plus, it's right across the street from a large grassy field. That's a great spot for kids to burn off the rest of their energy before heading back into the car to drive back to your hotel.
Kualoa Ranch Tips for Families
Book Ahead
I know a lot of families like to be spontaneous in Hawaii or wait to book activities until they get there. However, the most popular Kualoa Ranch tours often sell out months in advance.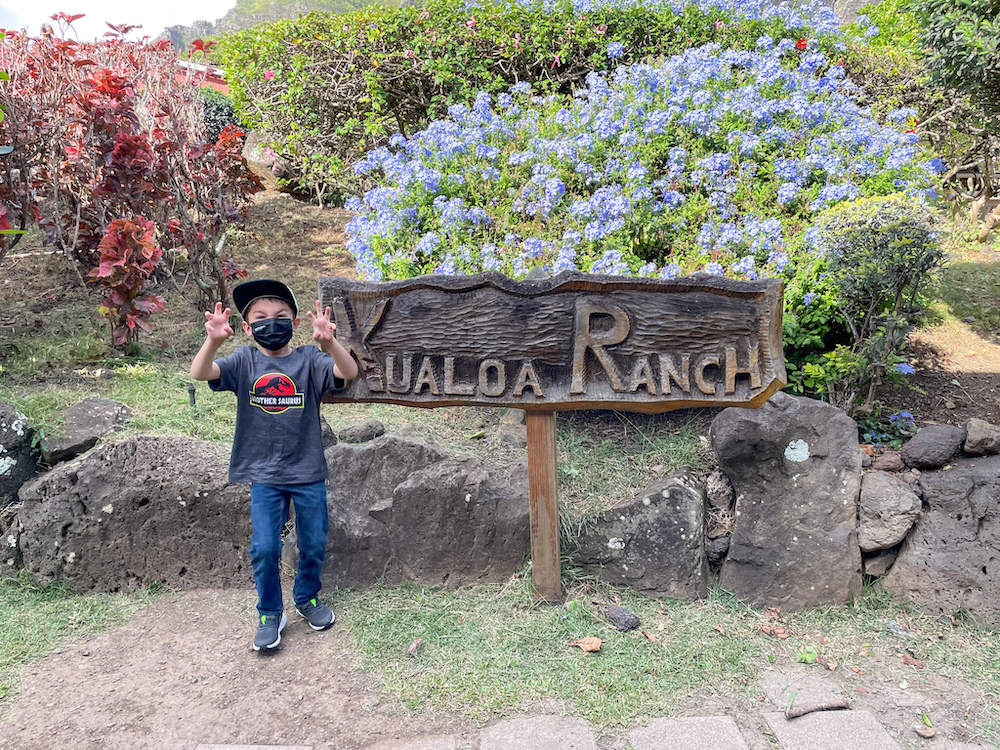 So, if you know that you want to do a specific tour or have date restrictions, it's best to book early!
Bring Extra Clothes
Depending on the tour you do, you might end up getting really dusty or at least sweaty. And some of the tours even require long pants and closed-toe shoes. That means you might be really hot by the end of the tour.
So, it's nice if you can change into fresh clothing. And you might even want to bring baby wipes to wipe away sweat or dirt and feel a bit more refreshed.
Take Lots of Photos
There are so many epic views and cool movie sites to see that you'll want a good camera with you (that can totally be a cell phone). You might also want to bring a gimbal or a GoPro if you want to capture video while doing the activity.
Family Matching Shirts
If you want to be "extra" you can really get into the spirit with matching Jurassic Park shirts for your whole family. I found our set on Etsy and they had a LOT of fun options!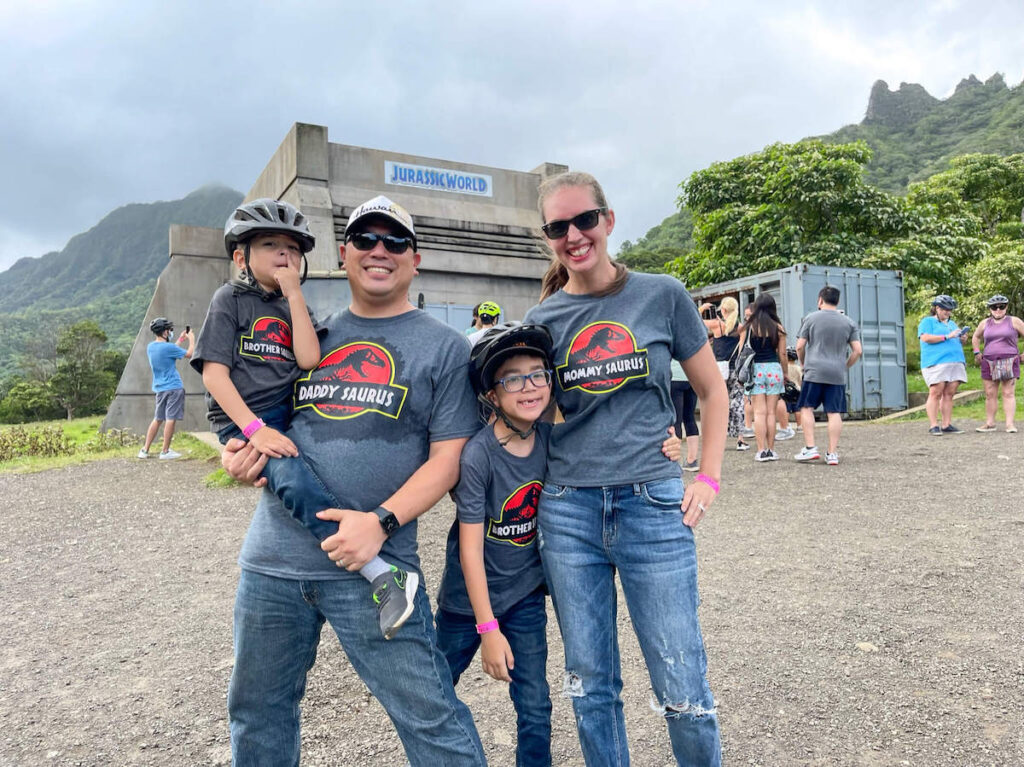 You could also look on Amazon, Kohl's, or Target to see what they have. We got a ton of compliments on our shirts and it made the kids feel special.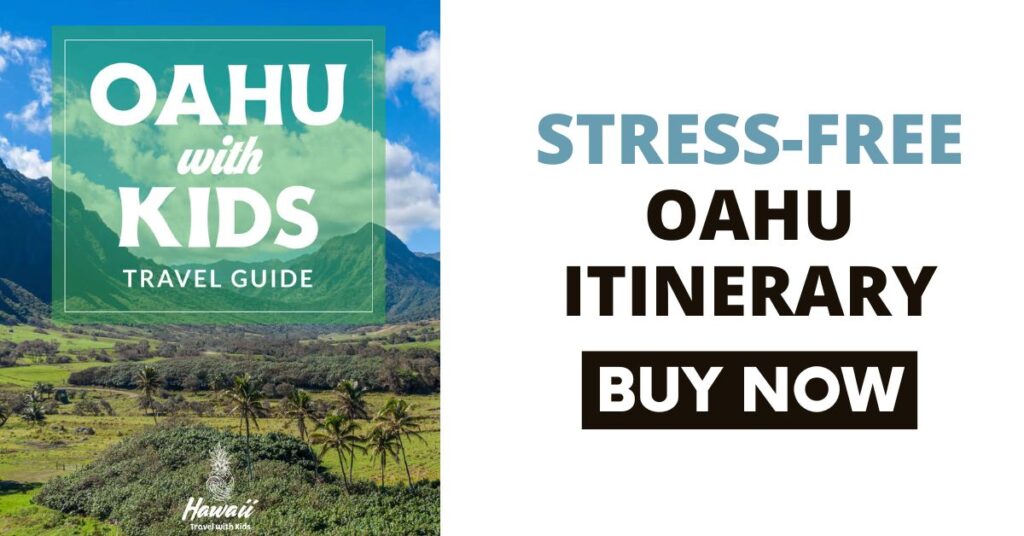 Kualoa Ranch Activities Wrap Up
By now, you should know why Kualoa Ranch is a popular Oahu attraction. And you should have an idea of which tours appeal most to your family. Plus, you have some ideas for what to do in addition to Kualoa Ranch!
Keep scrolling for additional ideas of things to do on Oahu with kids!