Are you looking for some awesome Big Island waterfall hikes? These are the top Big Island hikes with beautiful waterfalls you have to see to believe!
This list of the best Big Island waterfall hikes contains affiliate links which means if you purchase something from one of my affiliate links, I may earn a small commission that goes back into maintaining this blog.
If you're planning on doing a bit of hiking on the Big Island when you visit, you're in for some great news!
Out of all the islands, Big Island is home to some of the best waterfall hikes in the state. Whether you're hoping to witness a huge waterfall or one that's surrounded by epic scenery, you won't be disappointed.
If you're visiting with children, you'll be thrilled to know that most hikes to these falls are not too strenuous.
So, without wasting any more time, these are some of the best and most beautiful Big Island waterfall hikes that you'll find anywhere in Hawaii.
Don't have time to read a bunch of Hawaii blog posts and reviews? Here are some of our top picks for visiting the Big Island.
Popular Big Island Tours/Activities
Favorite Big Island Resorts/Hotels
Want to Rent a Car in Hawaii?
One of the best places to rent a car in Hawaii is Discount Hawaii Car Rental because they get the best rates from top national companies like Alamo, Dollar, Thrifty, Avis, Enterprise, Budget, and Payless.
Want to skip all the planning and just access my detailed Big Island Itinerary complete with daily schedules, kid-friendly activities, and travel hacks? Click the button below.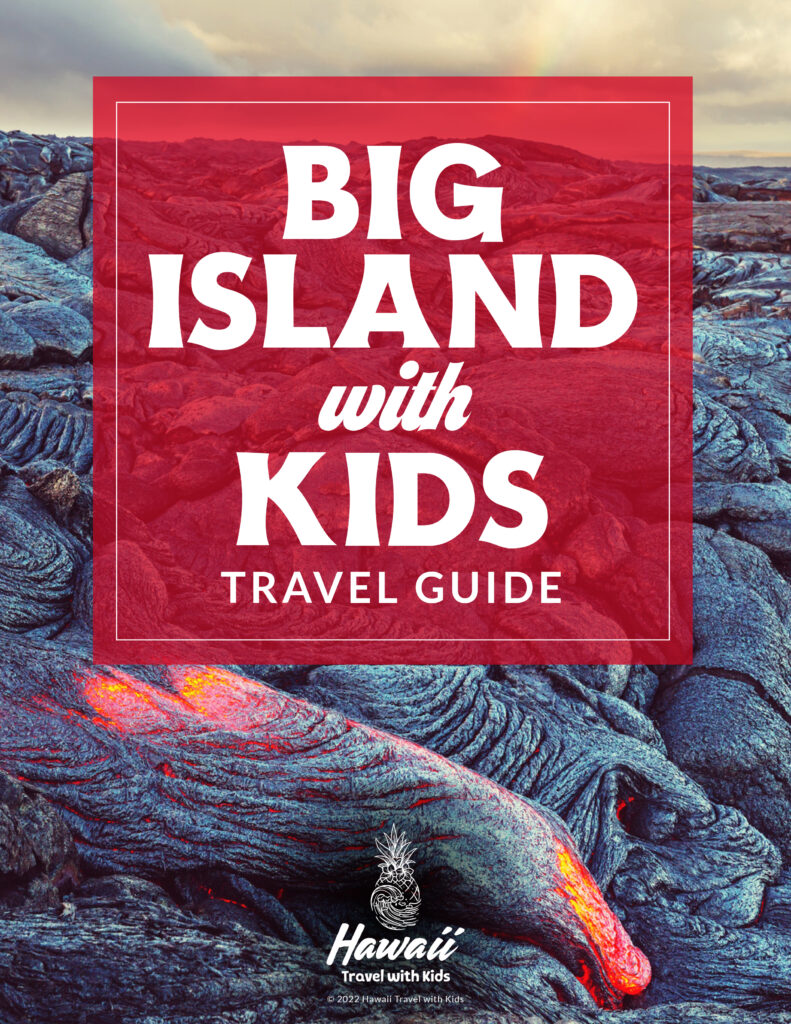 Big Island Hiking FAQs
Where can I hike in Kona?
While there aren't really any hike-able waterfalls in Kona, there are lots of Kona hiking opportunities including Kekaha Kai State Park, Cook's Monument Trail, and the Pu'u Wa'awa'a Cinder Cone Trail. Plus there are several trails where you can see Ancient Hawaiian petroglyphs like the Puako Petroglyph Archaeological Preserve.
How hard is the Pololu Valley trail?
One of the best places to hike on the Big Island is the Pololu Valley. It only takes about 30 minutes to hike down to the valley from the scenic lookout. The hike itself is fairly steep, but it's not a super hard hike.
Is the Waipio Valley hike worth it?
Absolutely! It's a pretty steep hike down into the valley (and an exhausting hike back up) but it's an incredible place. Plus, you'll be able to check out Hi'ilawe Falls once you are in the valley itself. But, it's not a kid-friendly hike. I'd suggest taking the Waipio Valley Shuttle if you have young kids in tow.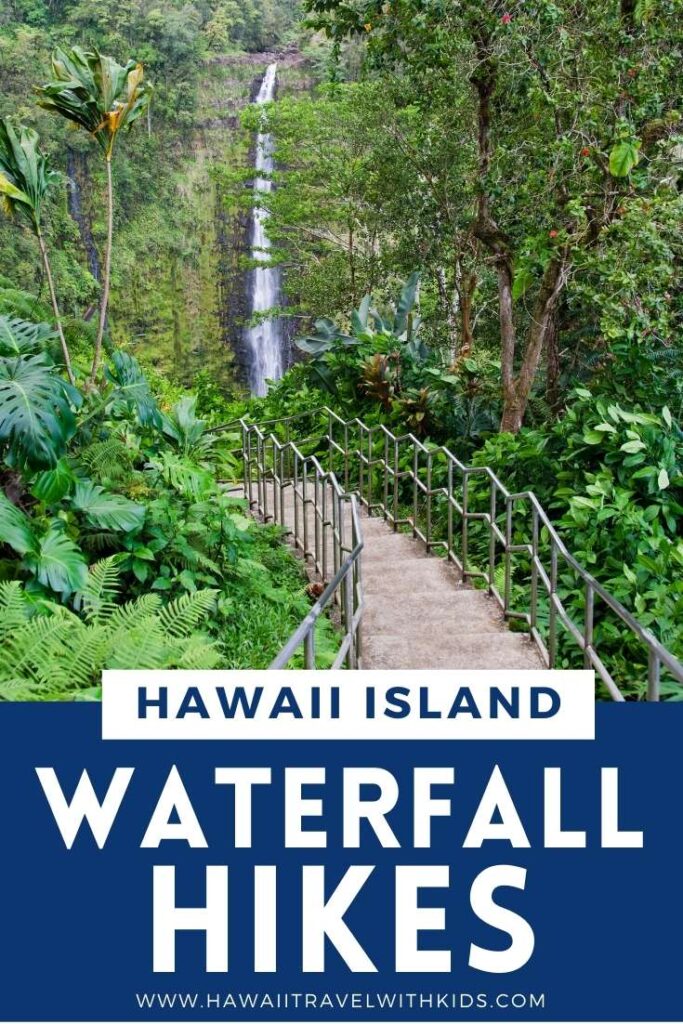 7 Amazing Big Island Waterfall Hikes Worth Checking Out
If you're looking for incredible hikes on the Big Island, you're in luck! These are some of the coolest Big Island waterfall hikes worth a stop!
Akaka Falls
Akaka Falls State Park

A couple of the best waterfalls near Hilo can be seen in Akaka Falls State Park, including Akaka Falls (422 feet) and Kahuna Falls (100 feet).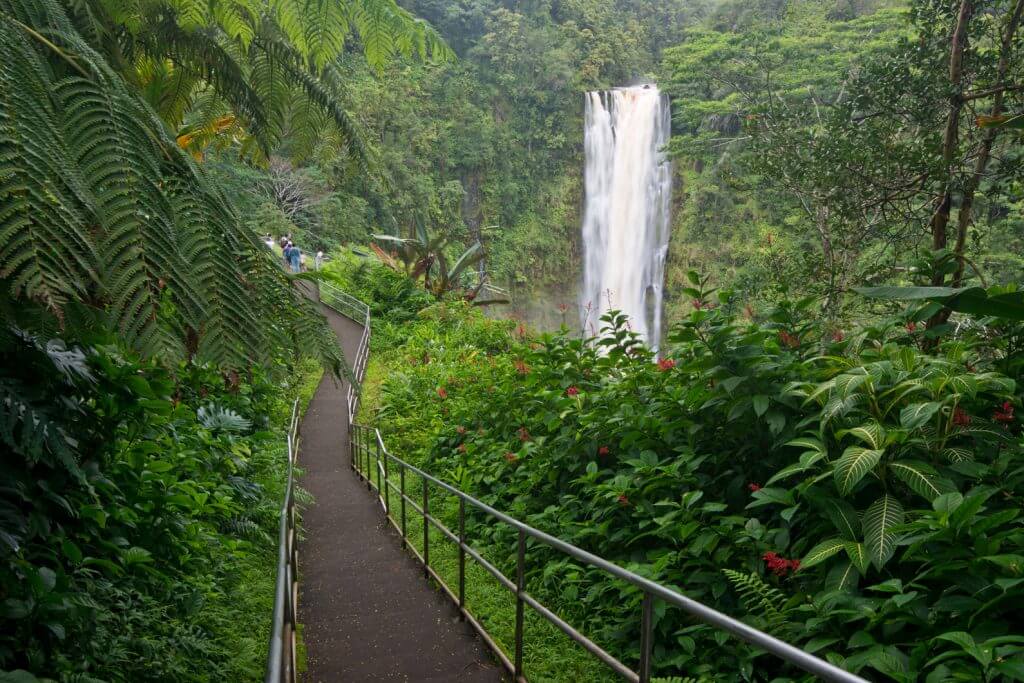 On the paved uphill Akaka Falls Loop Trail, you'll venture past these two beautiful waterfalls, along with lush green rainforest scenery consisting of bamboo, orchids, and other tropical vegetation.
Keep in mind that there is a $5 entrance fee per individual and a $10 parking fee for nonresidents. I've got a whole article about whether to hike Akaka Falls with kids.
Hawaii Forest & Trail Kona Headquarters
Kona

Does swimming in a private waterfall sound relaxing to you? Should you be staying on the west side of the Big Island, there are easy Kona waterfall hikes and other tours that you'll come across at the Hawaii Forest & Trail Kona Headquarters.
Besides hiking to a number of waterfalls, you can customize your experience by witnessing an active volcano, ziplining, wildlife viewing, and much more.
So, don't hesitate to visit these waterfalls near Kona and enjoy a few of the other exciting tours they have available for you.
Hi'ilawe Falls
Kohala Coast

This Kohala waterfall hike will take you to one of the tallest and most impressive cascades on the entire island, Hi'ilawe Falls.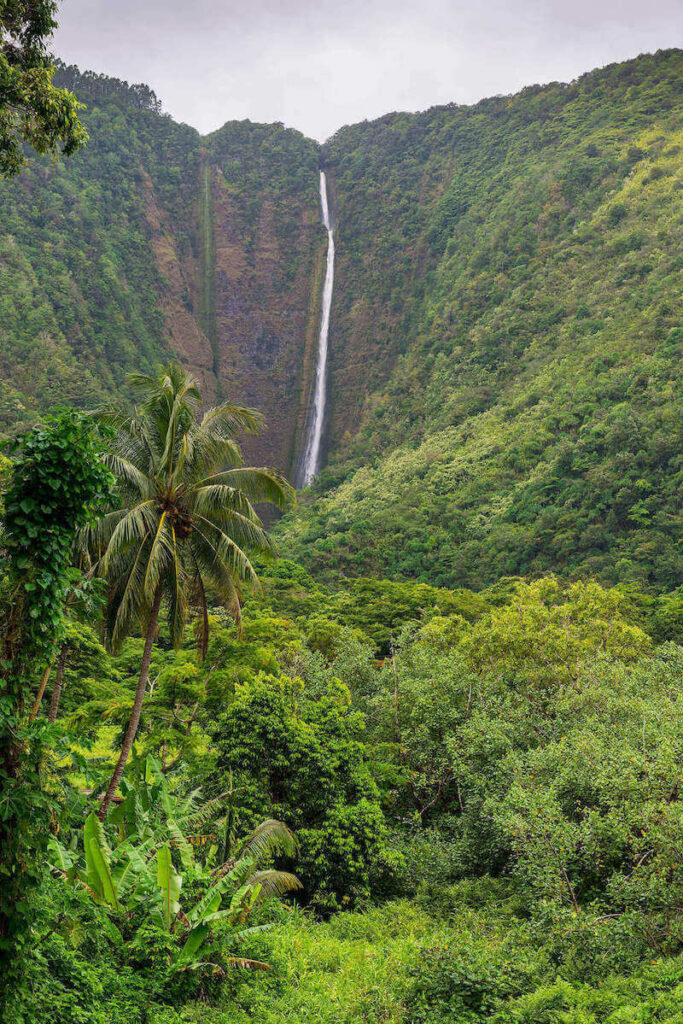 It's a staggering 1,450-foot waterfall that's surrounded by epic scenery that's also equally as spectacular. The hike itself is not too difficult and will take you no more than an hour to an hour and a half to reach the waterfall.

Due to the gorgeous tropical setting and the amazing height of Hi'ilawe Falls, it's without a doubt, one of the best hikes on the Big Island.
Just remember that if you're visiting in March, the falls may be a bit dry, but it's still worth the visit.
Kama'e'e Falls
Botanical World Adventures and World Botanical Gardens
Are you wanting to witness a waterfall but your kids are complaining that their feet are hurting? You may be put off by the idea of a waterfall being located in a botanical garden that charges you money to see it, but don't be!
While there isn't any hiking involved, Kama'e'e Falls is absolutely beautiful and arguably amongst the most stunning waterfalls in all of Hawaii.
Many visitors especially enjoy swimming while others dare to climb the waterfall cliffs and jump back down into the pool. Ziplining is another activity that you can also participate in while visiting these falls.
Nanue Falls
Hamakua Coast

Should you be searching for a hidden gem that very few people seem to know about, Nanue Falls is considered one of the least touristy and amongst the best hikes on the Big Island.
While the hike to the falls is a very short distance (.3 miles), it's how you get there that makes the hike take so long.

Reaching the series of falls takes about an hour and involves stepping from one slippery rock to the next down in a streambed most of the way. Even experienced hikers are known to get a little wet from slipping.

Some visitors enjoy swimming and cliff jumping into the deep pool that you'll find there. If you're planning to do this hike, be advised that flash floods can come out of nowhere, so use careful discretion.
Rainbow Falls (Waiānuenue Falls)
Wailuku River State Park

Rainbow Falls is without a doubt, one of the most popular waterfalls on the Big Island. Though it's only 80 feet in height, the falls features beautiful surrounding scenery and a deep pool where you have a great chance to witness rainbows earlier on in the day.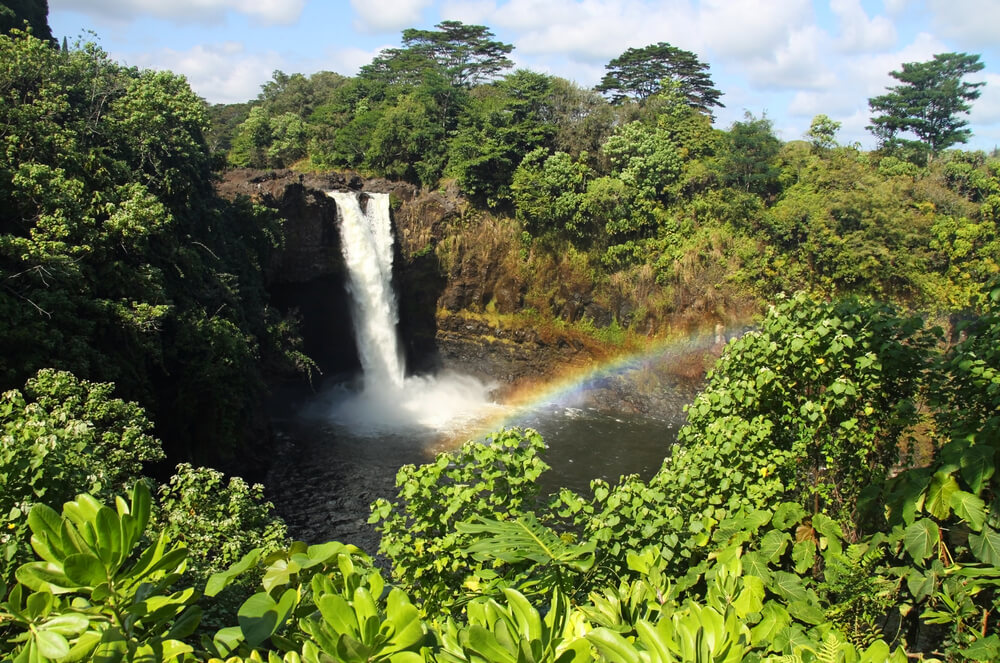 While you're on one of the shortest, yet best Hilo waterfall hikes, be sure to head upstream just a bit further to Pe'epe'e falls.
It too is equally as mesmerizing and worth visiting. Both of these waterfalls can be found inside Wailuku River State Park.
Umauma Falls
Hakalau

Are you wanting to experience another type of adventure with your family besides hiking Big Island Hawaii waterfalls?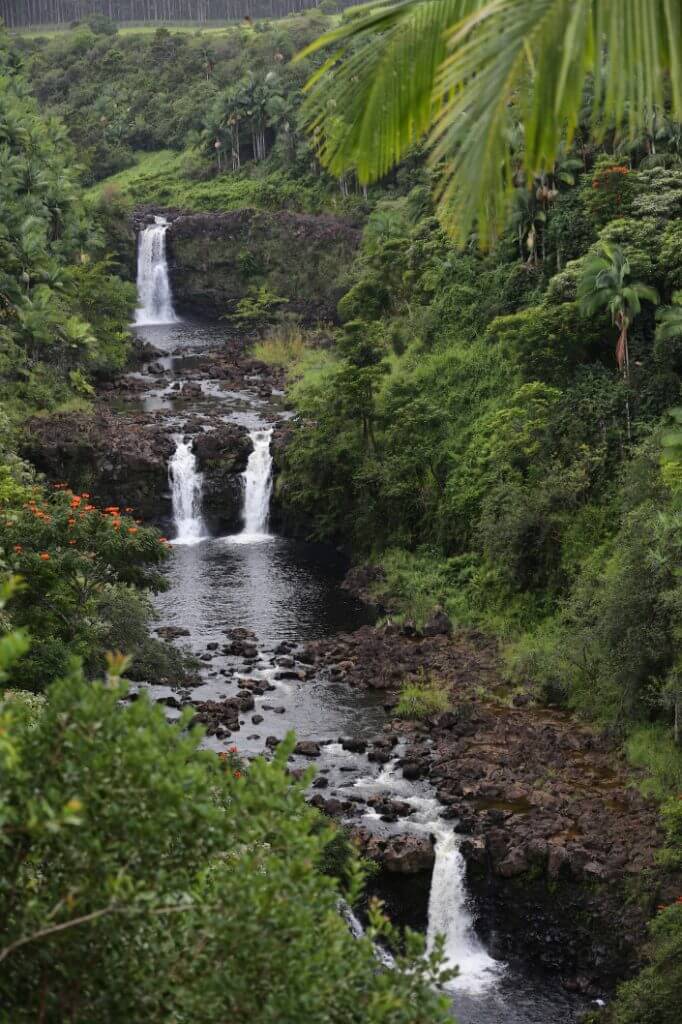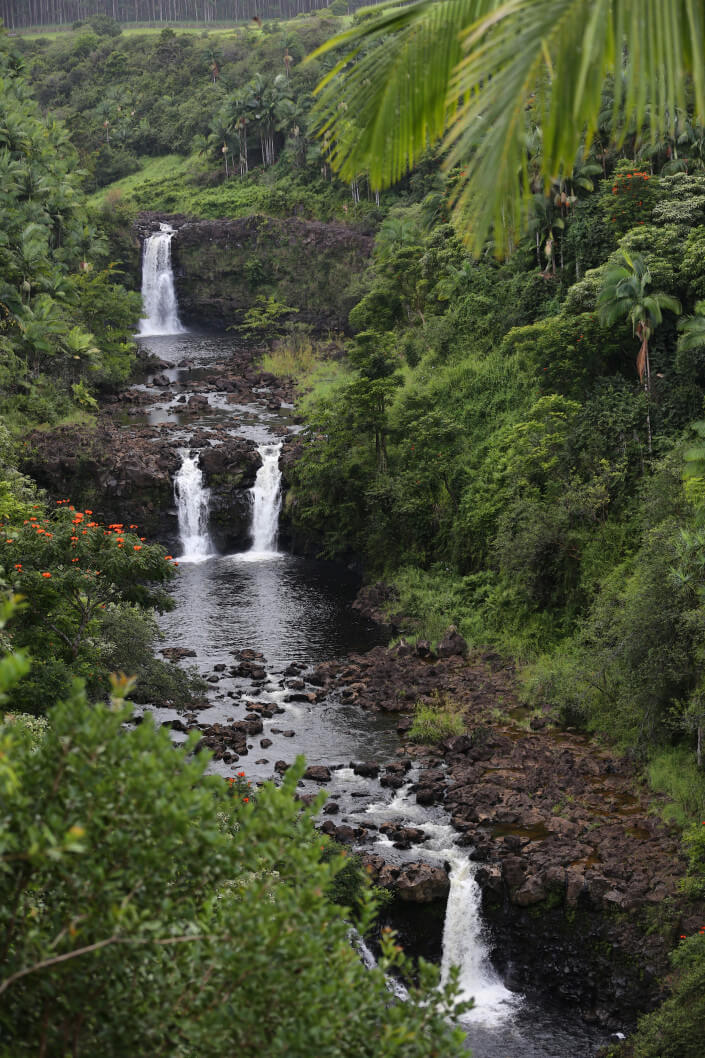 The Umauma Falls is a series of three waterfalls that are located along the Umauma River. And if you consider yourself much of an outdoor enthusiast that loves a thrill, you're not going to want to skip out on this one.

There you will discover several different types of tours, including ziplining, rappelling, horseback riding, and ATV rentals. You're able to observe all three waterfalls from an observation deck, but there is a fee to do so.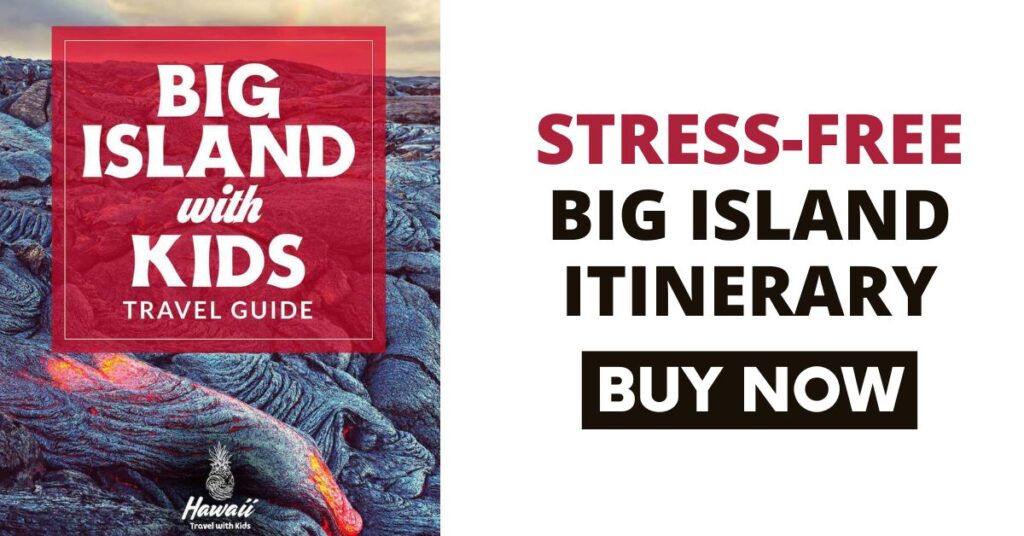 Things to Bring on a Big Island Hike
Before you set out hiking on the Big Island of Hawaii, make sure that you've packed the following items with you. While you may not end up using all of them, it's better to be safe than sorry.
Plenty of water – you don't want to get dehydrated
Snacks – give yourself more energy with snacks like protein bars, jerky, and mixed nuts
Comfortable shoes – your shoes may get wet so water shoes may be a good option
Sunscreen – the sun at times can be bright and you'll burn easy
Insect Repellant – at certain points of the year there's a lot of mosquitos on these hikes
Camera – you want to be able to share your experience with others on some of the best waterfalls on Big Island Hawaii
And don't miss these cute Hawaii hiking gift ideas!
This list includes several of the best Big Island hiking trails that you won't want to miss when visiting the island.
If you've already been there before, what did you consider the best hikes on Big Island? If it's still your first time, which of these Beautiful Big Island Waterfall Hikes do you plan on completing?